Good Morning Longhorn Fans!
Gun Jack Left Menu Two
Is there really any other way to start the newsletter for a game between Southern Cal and Texas?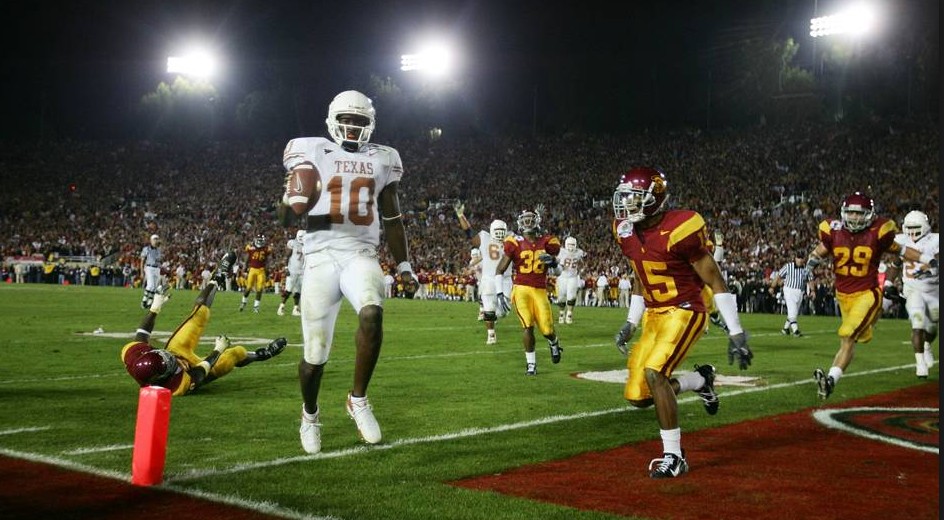 Congratulations to Vince Young, a 2018 inductee into the Rose Bowl Hall of Fame.  If this video doesn't give you chills, you need a new team to cheer for.
Back to Fourth and Five, the video quality isn't great, but hearing Craig Way is all you need.
Texas Gameday
The Trojans and Longhorns kick-off on what may be a rainy Saturday night in Austin, Texas.  The 7:00 p.m. game will be broadcast on FOX, with Gus Johnson, Joel Klatt, and Jenny Taft.
I have come to like Joel Klatt.  That he can come and call a Longhorns game without getting the heebie-jeebies is impressive.  You may recall his Big XII Championship game against the 2005 Longhorns, which included this:
Texas 70, Colorado 3, and that catapulted Mack Brown and the Horns to Pasadena.
Radio, listen to Craig Way, Roger Wallace, and Quan Cosby on Bob Cole's Austin Radio Network – 104.9 The Horn, but also on legendary KOKE FM, 98.5.  Sirius 134, XM 199.
If you are in Alpine, KVLF 1240 AM.  Del Rio, KWMC 1490 AM.  Paris, KFYN 104.3 FM (yes, Paris has an FM station), and of course in Tyler, KTBB 600 AM.  Same station I listened on as a kid.  Full listings.
https://texassports.com/sports/2013/7/27/sponsor_0727135359.aspx#football
Texas and Southern Cal meet for the 7th time, with the Trojans owning a 5-1 overall record.  But that is a big "1".  And if you weren't aware of it, USC doesn't count the loss, as it was vacated.  This isn't one of those bogus SEC-counting issues.  No, this is thanks to that wonderfully logical organization, the NCAA.  As USC's game notes explain:
"Why does USC list a 5-0 record against Texas even though it lost to the Longhorns in the 2006 Rose Bowl (BCS Championship Game)?  After all, Texas lists its record against USC as 1-5.  Due to an NCAA penalty, USC was required by the NCAA to vacate its appearance in that Rose Bowl…and therefore the loss had to be vacated by the Trojans.  However, Texas was not required to vacate its victory.  That is the protocol for vacated games, per the NCAA, and it is how both teams' record is reflected in the Official NCAA Football Record Book.  So, yes, USC lost the game, but it can't list it that way in its records, per the NCAA."
Thank you Reggie Bush!
Texas is playing in its 1300th game and looking for its 900th win.  I am bit confused about how many games USC has officially played, officially won, and/or officially lost.  But for our purposes, they have 835 wins (ranked #9) and are right behind Texas at #8 in winning percentage (.702).
Full preview:
https://admin.texassports.com/news/2018/9/10/football-preview-texas-vs-no-22-21-usc-sept-15-2018.aspx
The full game Texas game notes:
https://texassports.com/documents/2018/9/10//2018_Texas_Football_Notes_03_USC.pdf?id=12334
Texas opened as a 3.5 point favorite, and were still at 3.5 points in the early hours of Friday.  Over/Under is 47, and it might rain cats and dogs.  As of 12:45 Friday morning, 30-40% chance of scattered thunderstorms during the day, then a spike to 65% at 6:00 p.m.
This is the second meeting in Austin since Ed Price's last year as Texas head coach, 1956.  The year before, Texas had gone to Los Angeles and lost 7-19 to Troy.  The Longhorns opened the 1956 season with USC and a 20-44 loss.   Price would win the next game against Tulane, but that was it for one of the worst years in Texas football history.  DFL in the SWC with no wins, a 45-0 butt-kicking by a somewhat legendary Number 1 Land Thieves team, and a home loss to Texas Agricultural & Mechanical.  That season would end on November 29, and within weeks, Darrell K Royal was in Austin as the new head coach of The University of Texas.
Back to the 1956 game, also from the USC Game Notes:  "Star USC fullback C.R. Roberts, who played a key role in the Trojans' 1956 sociologically historic victory at Texas, and The Precursors, the first African-American students admitted to Texas in 1956, will be honored at this Saturday's USC-Texas game.  In that 44-20 win over the Longhorns in 1956, Roberts set a USC game rushing record (251 yards) that stood for 20 years.  After learning that the Austin hotel the Trojans had booked was segregated, USC head coach Jess Hill moved his team to an integrated lodging that would accommodate Roberts and his other African-American teammates.  Sadowski Sport Films collaborated with Roberts to tell his story of fighting injustice and inspiring change through forgiveness and positivity.  "Breaking Down Barriers:  The C.R. Roberts Story", a documentary that was released last fall, was featured in the Capital City Black Film Festival in Austin on Aug. 31 and made its Southern California debut at the Burbank Film Festival on Sept. 8."
The last time USC came to Austin was September 17, 1966, and the John McKay coached Trojans beat DKR's Horns 10-6.  Chris Gilbert led the Horns rushing, with 103, and my law partner and friend Ed Small was the top receiver, with 3 catches for 42 yards.
One more favorite:
Last year, Texas and the Horns nearly pulled off a huge win for Tom Herman in the Coliseum, taking the Trojans to double overtime before falling 27-24.  It was an exciting game.  If this year's game is half as good, with a Texas win, we will have a great Saturday night at DKR.  Let's just hope it is a dry evening (and day, as we have a huge tailgate planned – more below).  Although maybe a rainy night would be good.  According to their game notes, USC is 171-60-4 record at night, including 55-26 on the road.  They are officially 23-5-1 against teams from the State of Texas, and they 19-10-1 all-time record against current Big 12 teams.  But they are 23-23-2 in games in which it rained during a major portion of the contest.
This year, Southern Cal comes to Austin with the same record as Texas brings to the table, 1-1.  The Trojans opened with 43-21 win over UNLV, then got buried by Stanford last week on The Farm, 17-3.  They weren't very good.
Offense:  Freshman quarterback J.T. Daniels, No. 18, is doing pretty well.  The 6-3, 210 pounder out of Mater Dei in Irvine is 37-69, 497 yards, 1 TD, 2 picks (both picks against Stanford).  I am pretty sure he was in some coming of age movie in the 1980's, but I can't place it.  Why didn't someone help him with his collar?  Base tuition for a semester is $27,660, and they can't find a decent fitting shirt in all of Los Angeles?
USC has one of the finest running back traditions in the country, although some of them have had to keep running after graduation.  Different issue.  So far this year, the leading RB is Aca'Cedric Ware (#28), of DeSoto Texas.  The 205 pound senior posted an even 100 against UNLV and had 59 last week against the Cardinal, on 18 carries.  Methinks the Stanford defense is solid.  Sophomore Stephen Carr (#7) has 106 yards, 54 vs. UNLV and 52 against Stanford.
Amon-Ra St. Brown (#8), Tyler Vaughns (#21), and Michael Pittman, Jr. (#6) all have over 100 yards receiving.
Defensively, linebacker Cameron Smith (#35) leads the Trojans.  The 6-2 250 pound senior has 16 tackles (9 solo), 2 TFL for 11 yards, and a sack.  Five Trojans with 8 tackles each.  Marvell Tell III (#7, senior safety, and a name that screams to be lead vocals in an awesome R&B band), Iman Marshall (#8, senior CB), John Houston, Jr. (RS Junior, #10), Isaiah Pola-Mao (RS Freshman Safety, #21), and Porter Gustin (#45, a 6-5 260 pound Senior outside linebacker).
A lot of folks in Austin know Robert Jones.  His son Levi, a Westlake Chap (#13), is a linebacker for the Trojans.  He had 2 tackles against UNLV.
Of note, vis-à-vis Texas, is kicker Chase McGrath.  6-7 this year:  1-1 (20-29), 3-3 (30-39), 2-2 (40-49), and the only one he missed was over 50 yards.  Last year, he made his first career field goal against Texas with no time left to send us into overtime, and then second was the game winner.
Best story on the team:  Long snapper Jake Olson.  Lost his eyesight to cancer at age 12.  Made two snaps in 2017, both on successful PAT's.  That is cool.  Fight on.
Head Coach Clay Helton has stabilized the Southern Cal program.  After starting the 2015 season as the offensive coordinator/quarterbacks coach, Clay Helton was named USC's permanent head coach after, well, see below. The 46-year-old Helton, who has been at USC since 2010, is 28-11 (.718) as the Trojan head coach with 9 victories over AP Top 25 teams, including 3 Top 5 teams.
From the always reliable source, TMZ: "USC had every right to fire Steve Sarkisian after a drunken meltdown in 2015 … so says an arbitrator who ruled the University owes ZERO dollars to the ex-football coach who had sued for $30 MILLION."
www.tmz.com/2018/07/09/usc-steve-sarkisian-lawsuit-football/
Full USC Game Notes:
https://s3.amazonaws.com/sidearm.sites/usctrojans.com/documents/2018/9/9/texrel18_fb.pdf
Injury report as of Thursday night:  Shackleford and Burt both out, Ingram unlikely, but Brandon Jones is back.  The depth chart has Elijah Rodriguez starting at center and Sam Cosmi at right tackle.  We will be fine.
The Statistics
I usually wait 3 weeks before doing the statistical analysis and comparison, but I needed some encouragement and hoped to find it in the numbers.  I did.
Offense
| | | |
| --- | --- | --- |
| Statistic | Texas | Southern Cal |
| Rushing Offense | #53 – 191.5 ypg | #75 – 166.5 ypg |
| Passing Offense | #54 – 250 ypg | #54 – 250 ypg |
| Total Offense | #59 – 441.5 ypg | #73 – 416.5 ypg |
| Scoring Offense | #82 – 28.5 ppg | #96 – 23 ppg |
| First Downs | #65 – 22/game | #72 – 21.5/game |
| Sacks Allowed | #31 – 2, 7 yards | #100 – 6, 45 yards |
| Tackles for Loss Allowed | #73 – 12, 26 yards | #83 – 13, 62 yards |
| Third Down Conversions | #114 – 29.6% | #40 – 45.5% |
| Red Zone Offense* | #116 – 67% / 67% | #65 – 88% / 38% |
| Long Scrimmage Plays | #50 – 32/10+; 10/20+; 6/30+ | #50 – 32/10+; 11/20+; 6/30+ |
| Penalties | #107 – 18, 167 yards | #32 – 10, 93 yards |
*45 teams at 100%      Texas has not yet attempted a FG
Defense
| | | |
| --- | --- | --- |
| Statistic | Texas | Southern Cal |
| Rushing Defense | #91  – 166 ypg | #112 – 233.5 ypg |
| Passing Defense | #70 – 214 ypg | #19 – 140 ypg |
| Total Defense | #78 – 380 ypg | #74 – 373.5 ypg |
| Scoring Defense | #85 – 27.5 ppg | #50 – 19 ppg |
| Sacks | #113 – 1, 9 yards | #37 – 5, 21 yards |
| Tackles for Loss | #87 – 10, 25 yards | #40 – 14, 41 yards |
| First Downs Allowed | #59 – 19/game | #26 – 15/game |
| Third Down Conversions | #29 – 28.1% | #45 – 32.1% |
| Red Zone Defense | #22 – 67% / 44% | #50 – 80% / 60% |
| Long Scrim. Plays allowed | #79 – 28/10+; 9/20+; 4/30+ | #34 – 21/10+; 12/20+; 5/30+ |
Match-up Comparison
| | |
| --- | --- |
| Texas Offense | Southern Cal Defense |
| Rushing Offense – 191.5 ypg | 233.5 ypg – Rushing Defense |
| Passing Offense – 250 ypg | 140 ypg – Passing Defense |
| Total Offense – 441.4 ypg | 373.5 ypg – Total Defense |
| Scoring Offense – 28.5 ppg | 19 ppg – Scoring Defense |
| First Downs – 22/game | 15/game – First Downs Allowed |
| 3rd Down Offense – 29.6% | 32.1% – 3rd Down Defense |
| Red Zone Offense – 67/67 | 80/60 – Red Zone Defense |
| LSP – 32/10+; 10/20+; 6/30+ | 21/10+; 12/20+; 5/30+ – LSP Allowed |
| | |
| --- | --- |
| Texas Defense | Southern Cal Offense |
| Rushing Defense – 166 ypg | 166.5 ypg – Rushing Offense |
| Passing Defense – 214 ypg | 250 ypg – Passing Offense |
| Total Defense – 380 ypg | 416.5 ypg – Total Offense |
| Scoring Defense – 27.5 ppg | 23 ppg – Scoring Offense |
| First Downs Allowed – 19/game | 21.5/game – First Downs |
| 3rd Down Defense – 28.1% | 45.5% – 3rd Down Offense |
| Red Zone Defense – 67/44 | 88/38 – Red Zone Offense |
| LSP Allowed – 28/10+; 9/20+; 4/30+ | 32/10+; 11/20+; 6/30+ – LSP |
Okay:  Offensively, we are pretty even.  Dead even to the yard in passing offense, with a better run game.  But Southern Cal's pass defense ranks a lot higher.  Southern Cal's weakness is run defense, and I think our running game will be really good this week.  Edge to Texas, especially if the weather is bad.  We are dead even in long scrimmage plays on offense.  But we are in the lower ranks in two categories that can hurt:  #114 in third down conversions, and #107 in penalties.  The latter hurt us last week.  I think the other place we have to be better is defending long plays from scrimmage.  #79, but that is based on 10+ yards.  Note that USC is worse at both 20+ and 30+.  Texas must clean up the penalties.
I have been doing this comparison analysis a long time now.  My conclusions about win or loss have been right most of the time (of course, if my conclusion is that Texas is going get its butt kicked, I don't report the conclusion).
This week, I am solid with Las Vegas:  Texas wins this game.  The offense continues to improve, with more RPO for Sam and more touches for LJH.  Todd Orlando figures out:  (1) how to defend the sweep, and (2) how to protect Kobe Boyce.  And something tells me Hager is going to get it back on track and have a big game.  I hope so.
Tulsa Golden Hurricanes vs. Texas Longhorns
For a game that started off totally on fire, it sure did take on a different life by the fourth quarter.  That fire was lit as DBU freshman Caden Stearns intercepted Luke Skipper's first pass on the first play from scrimmage.  Texas set up at the Tulsa 47, and 2 Golden Hurricane offsides later, the Horns are at the Tulsa 37.  Ehlinger to LJH for 36 yards, and then Sam took it in himself.  7-0 after 42 seconds.  I will admit I immediately reset my expectations to Full Blown Ass-Whippin' (from, "I hope Texas plays well and covers the spread by 8 or so").
But the next series, Tulsa grinds out a 49 yard drive and misses a field goal.  Then Texas drives 72 yards, has it first and goal at the 7, but can't get in after 3, and we throw an incomplete pass from the two yard line on fourth down.  Empty possession.  Like an unproductive out with the bases loaded.  Win every at bat.  Win every inning.  Win every possession.
Texas did force a 3 and out, and the next possession was what I really think the Texas offense wants to be this year.  A decently executed screen pass to Keontay Ingram (I apologize for the misspelling of his name last week- spell check correction I didn't catch), then LJH in the pistol (or wildcat or wildhorn, whatever we are calling it) for 8, then Sam to Collin Johnson for 13.  First down on the Tulsa 29.  Here is my favorite:  Keontay Ingram up the MIDDLE for 29 yards and pay dirt.
Texas forces another 3 and out, and has the ball as the second quarter begins.  I didn't like this series as much, which included an incomplete screen and a screen for loss of a yard.  Good defenses can hurt us on those.  Another 3 and out by the Texas D, then another short drive which ends with a blocked punt.  Tulsa had a short drive stall at the Texas 12, and missed another very makeable field goal.  Still 14-0 Texas, but it could easily have been 14-6 or 14-10.
I did like the response here, as Texas executed an 80 yard drive, started with 4 Tre Watson rushes totaling 26 yards, a 10 yard run by Ingram, then a 40 yard touchdown pass from Ehlinger to LJH.  21-0 Horns, which it would be at half thanks to yet another missed Tulsa field goal (actually 2, since KB ran into the kicker on the first miss, and Tulsa got a second chance from the Texas 19).
21-0 Texas at the Half.  We are looking good to not just cover but to put up the kind of W teams like Texas are supposed to post against teams like Tulsa.
I didn't really enjoy the second half.  I think some other folks in DKR weren't really happy either.  The 3 and out (due to a penalty on first down), the fumble on the next Texas possession, and then letting Tulsa get down to the 5 yard line (okay, they started on the 32 because of the fumble).  Another empty series for Texas, and the next time Tulsa got the ball, on the Texas 33 thanks to a bad punt, they finally got points too.  The 21 yard run by quarterback Skipper covered a third of the yards Tulsa needed.  21-7 Texas with a minute to go in the third.
The carryover series was just 5 plays before Texas gave the ball back.  The Tulsa scoring drive included a 48 yard pass against Texas.  21-14 Texas with 12:38 to play, and the discomfort was real.
Credit to Herman and the Texas offense that they didn't freeze up here.  Ehlinger was confident and steady as he guided Texas 75 yards on a time-consuming 6+ minutes' drive.  Sam was 7 for 7 on the drive, with completions to LJH, Ingram, Joshua Moore (nice to see him), Collin Johnson, and the final one a 14 yard touchdown to Tre Watson.  The 28-14 score seemed safe, although Tulsa made it interesting by answering with a lightening quick 75 yard scoring drive that included a 16 yard pass, a 16 yard run, and a 35 yard touchdown pass.  If Luke Skipper and the mighty Golden Hurricane can do that to Texas at home in the Fourth Quarter, then we may want be a little concerned about some of the teams on our schedule who have pretty good offenses.  Like the Land Thieves, West Virginia, and Texas Christian.  The Horns did execute a four minute offense to run the clock out, and we did get to sing the Eyes of Texas after a winning boom from Smokey.
A few stats of note.  Sam was an excellent 21 of 27 for 237, with 2 touchdowns and no picks, and he ran for 51 and a score.  Texas posted 241 yards rushing, with 74 from Watson, 64 from Ingram, and 41 from Young.  Let's hope Ingram heals quickly.  Lil'Jordan Humphrey had 7 catches for 109, and 8 other Horns had receptions.
Wheeler led the defense with 7 tackles, 6 solo, and 1.5 TFL.  Boyd and Roach each with 6.  PJL3 and Gary Johnson each with 5.
Love the way this shows up in the box score now.  Under UT- Field Goals, it says "No data available in table".  I do think we should have let Dicker attempt a field goal, just so he has tried one in a game before he has to make one in a game.
A few additional thoughts.  The defense was better, but the long plays are hurting, especially when you take into account the opponent.  But for an exceptionally solid game by Sam Ehlinger and the missed field goals and dropped touchdown passes by Tulsa, we could be in a very difficult situation.  Not going to play ifs and buts.  We won.
Offensive line is definitely better.  As expected, LJH is our key offensive weapon.  Keontay Ingram is everything Craig Way predicted he would be in August.  We are fortunate that Tre Watson to have decided to do post-graduate work at The University of Texas.
My wishes are not second guessing the coaches.  I wish we would run from the offense from a set with blocking back.  We have some big fast athletes, and I would think that someone hitting the line at speed in front of Watson or Ingram or Young could make a difference.  I think Beck and Brewer are both really good tight ends.  I don't like the bubble screens or whatever we are calling the play that used to be in my score book as a "CSP6", for Chris Sims Pick 6.  I wish that after Maryland succeeded with jet sweeps we would have been more successful in defending the Tulsa jet sweep.
On a different topic, but same day:  the two new gameday features implemented by Chris Del Conte were, by all reports, resounding successes.  Bevo Blvd. and Longhorn City Limits were big hits.  Kudos to CDC and his staff.  Also, if you didn't read the Alcalde article I linked to about DKR and gameday, I recommend you read it.  The paper version hit mailboxes this week.  Congratulations to Arthur Johnson and the small army that make Texas Longhorn football happen.
With the great tailgate, the first home game, and all the other stuff that we had last Saturday, this is hands down my favorite photo.  I would give credit to the photographer, I think someone from the Statesman.  My apologies for not knowing, as this went viral.  Looking good Dowell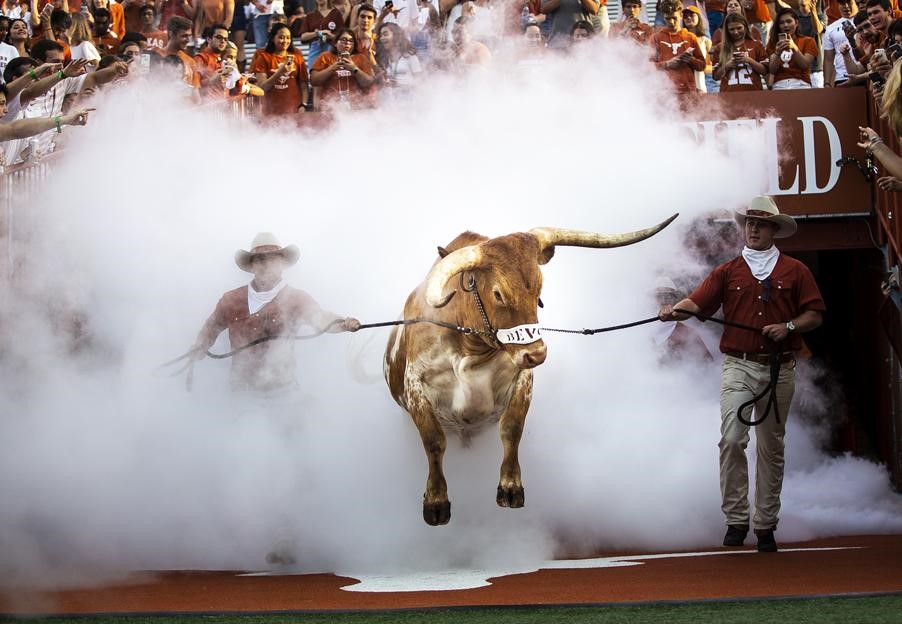 Video:
😤🤘🐂 #ThisIsTexas #HookEm @TexasMascot pic.twitter.com/ul8CP3r8wC

— Texas Football (@TexasFootball) September 11, 2018
Polls
AP Poll:  Alabama, Clemson, Georgia, Ohio State, OU, Wisconsin, Auburn, Notre Dame, Stanford, and Washington.  Louisiana State at 12, West Virginia at 14, Texas Christian up to 15, Southern Cal at 22, and Oklahoma State at 24.
Coaches Poll:  Bama, Clemson, Dawgs, Ohio Statement University, Land Thieves, Wiscy, War Eagle, L'Université de Notre Dame du Lac, The Leland Stanford Junior University, and PSU.  Louisiana State at 13, Texas Christians at 14, West Virginny at 15, Okie A&M at 19, and Southern Cal at 21.  Texas Agricultural & Mechanical first in the ORV category, sniffing a ranking despite the loss to Clemson.
Big 12 – Week 3
West Virginia's game with NC State is cancelled due to Hurricane Florence.  Let's keep all those folks in our prayers.  Looks like the Carolinas and Virginia are going to get hammered pretty bad.
The Land Thieves open Big 12 play in Ames.  Iowa State and OU kick-off at 11:00 a.m. in Jack Trice Stadium.  ABC.  Land Thieves are favored by 17.5, and the over/under is 55.5.  Line seems low.  Oklahoma is good.
Kansas hosts Rutgers, also at 11:00 a.m.  I didn't realize Rutgers sucked so bad.  Jayhawks favored by 2.5.  Over/under is 44.5.
No. 17 Boise State in Stillwater for a game with No. 24 Oklahoma State.  2:30 p.m. on the Entertainment & Sports Programming Network.  This should be a good game, and I am surprised the over/under is only 64.5.  Okie Aggies favored by 2.
Undefeated Baylor hosts undefeated Duke.  The Blue Devils beat Army 34-14 and thumped highly regarded Northwestern 21-7 last week.  Brazos Baptists favored by 6.5, and the over/under is 49.  I've got Duke and the points.
UTSA at K State, 3:00 p.m.  Roadrunners looking for win.  Don't think it will be found this weekend.  Wildcats favored by 21.5, and the o/u is 46.5.
Sand Aggies get Houston in Lubbock.  3:15 p.m. on FOX.  Houston favored by 1.0, over/under at 69.  Both teams 2-0.  Should be an interesting game, as Coach Skinny Pants matches wits with Major Applewhite.  In 1999 Major and the Horns beat the crap out of Texas Technical and Kliff, 58-7.  Major's line:  22-34-1, for 241 yards and 3 TD's, 1 sack.  KK's line:  5-19-0 for 87 yards with no scores and 4 sacks (Kliff didn't start, Peters did).  In 2000, Texas and Major beat the Sand Aggies again, in Lubbock.  Major's line a pedestrian 18-33-1 for 164 yards with no scores and 2 sacks.  Kingsbury meanwhile threw the ball a lot.  28-49-2 with 282 yards and a score (3 sacks).  Kliff was playing for a new coach, Mike Leach.
The Big 12 has another marquee game at 7:00 p.m., this one Arlington.  No. 15 Texas Christian plays No. 4 Ohio Statement at Jerry World.  ABC.  Buckeyes favored by 13, and the over/under is 59.5.  Should be an interesting game.  Guessing the Frogs force a couple of overtimes before covering.  Good luck.
This Week in College Football
No. 2 Clemson with Georgia Southern at Memorial Stadium.  11:00 a.m. on ESPN2.  Georgia Southern's undefeated season will meet a swift end.  Clemson favored by 33, o/u is 47.
No. 3 Georgia back at Sanford Stadium, with Middle Tennessee between the Hedges.  11:00 a.m. on ESPN News (I think this was originally 6:15 p.m. on ESPN2).  Georgia favored by 33.5, o/u is 54.5.
No. 12 Miami (FL) in Ohio to play Toledo, 11:00 a.m., also on ESPN2.  Canes a mere 10.5 point favorite, O/U is 57.
Kent State and NO. 11 PSU.  11:00 a.m. on FS1.
No. 9 Stanford plays their third straight game at home on The Farm, with UC Davis.  1:00 p.m. on the PAC 12 Network.  No line.
No. 8 Notre Dame also with another home game, this week with Vanderbilt.  1:30 p.m. on NBC.  Vandy is undefeated, with big wins over Middle Tennessee and Nevada.  Irish favored by 13.5, and the over/under is 52.
Brigham Young at No. 6 Wisconsin.  2:30 p.m. on ABC.  Badgers favored by 22 and o/u at 47.5. (Ilkenhans, both the line and over/under have bumped up this week).
Big game for CBS and the $EC at 2:30 from Jordan-Hare.  No. 12 Louisiana State and No. 7 Auburn open conference play undefeated.  Auburn favored by 10.5, o/u at 44.5.
No. 19 Michigan welcomes the Southern Methodists to Ann Arbor.  Last week the Ponies played the Horned Frogs in front an official attendance of 24,216, but from what I saw that might be overstating the humans in Gerald J. Ford Stadium by about 15,000, if not more.  Last week, the Wolverine faithful were officially a sell-out, at 110,814.  Going to be a little different game environment for the Mustangs, except for the result.  The ESPN Matchup Predictor gives SMU a 1.3% chance.  2:30 p.m. on the Big 10 Network.  Michigan favored by 36, over/under at 53.5.
San Jose State at No. 20 Oregon.  4:00 p.m. on the PAC 12 Network.
No. 1 Alabama in Oxford.  Ole Miss hosts the Crimson Tide at Vaught-Hemingway at 6:00 p.m. after what should be an outstanding day in The Grove.  Bama favored by 21.5, and over/under at 70.5.  Come on Rebs.  Hotty Toddy.
Ragin' Cajuns in Starkville.  Louisiana plays No. 16 Mississippi State at 6:30 p.m., SEC Network.  State favored by 33.5, and over/under is 64.5
No. 10 Washington at Utah.  9:00 p.m. from Rice-Eccles Stadium.  Huskies favored by 5, and over/under is 47.
No. 23 Arizona State at San Diego State, 9:30 p.m. on CBSSN.  Sun Devils favored by 6, and o/u is 48.
East Carolina at No. 13 Virginia Tech cancelled.  No. 18 UCF at North Carolina cancelled.
Other Games of Interest This Week
Louisiana Monroe at Texas Agricultural & Mechanical.  6:30 p.m. on the $EC Network, with aggy favored by 26.5 and over/under at 67.5.  Jimbo should roll up points on the Warhawks.  I'd bet the agriculturalists and the over.
With the hurricane, Virginia is going to Nashville to play Ohio.  The always gracious Commodores with a friendly gesture to the Cavaliers.  3:30 p.m. on the ACC Network.  Wahoos a mere 3.5 point favorite.  Over/under is 54.  Go Hoos!
Miami (OH) plays Minnesota in Minneapolis.  2:30 p.m. on BTN.  Gophers favored by 13, o/u at 46.5.
Temple plays undefeated Maryland in College Park.  11:00 a.m., BTN.  Terps favored by 17.
UTEP heads to Knoxville.  The Volunteers and Miners with an 11:00 a.m. game on SEC Network.  Tennessee favored by 30.5, over/under at 47.5.
Rice in Hawaii.  10:59 p.m. kickoff.  Rainbow Warriors favored by 17.5.
Previews on the Interwebs
HornMafia, on The Week That Will Be, wasn't posted as of my print deadline, which, for the record, is about 9 hours after the Austin American Statesman.
Week 3 College Football Viewing Schedule:
https://www.burntorangenation.com/2018/9/13/17855590/college-football-viewing-schedule-game-time-television-week-3
Bill Connelly, for the sportsmen:
https://www.sbnation.com/college-football/2018/9/13/17854190/college-football-picks-week-3-2018-predictions-odds-spreads
Longhorn Hall of Honor
Fifteen former University of Texas student-athletes and staff were inducted into the Texas Athletics Hall of Honor.
The 62nd Men's Hall of Honor class included Justin Blalock (Football, 2003-06), two-time All-American and member of the 2005 National Championship team who played eight seasons in the NFL; J. Brent Cox (Baseball, 2003-05), first-team All-American and 2005 NCBWA Stopper of the Year who led Texas to the 2005 National Championship; Derrick Dockery (Football, 1999-2002), first-team All-American who played 10 seasons in the NFL; Michael Griffin (Football, 2003-06), second-team All-American and member of the 2005 National Championship team who played 10 seasons in the NFL; and Leo Manzano (Track and Field, 2005-08), five-time NCAA Champion, 11-time All-American and two-time Olympian.
The 19th Women's Hall of Honor class included Ruth Stiver Dew (Rowing, 2000-04), the first rower in program history to earn first-team All-America honors and who helped UT's first varsity eight boat make its first two appearances at the NCAA Championship; and Vicki Hall (Basketball, 1988-93), a three-time first-team All-Southwest Conference selection who led Texas to three SWC regular season titles and a member of the SWC All-Decade Team for the 1990's.
Juan Heisman Tailgate
The Crew made a triumphant return to Lot 38 last Saturday.  A day that saw the rain threat dissipate in what turned out to be a very splendid September afternoon in Austin.  The Juan Heisman Tailgate began Friday evening, as once again Barry Barksdale volunteered for the early shift, arriving on Red River Street well before midnight to secure a spot at the front of the line.  Barry, thank you.  Jack Nash was in line with the pit well before 6:00 a.m., which worked out well since the normal opening time of 7:00 a.m. was inexplicably pre-empted and the gates were open by 6:00.  Rick Whiteley is heading up Early Crew for the season, and he and the young guns and Bill Skeen were there early.  The whole tailgate was basically set up by 6:30 that morning.  Thanks Barry, Jack, Bill Skeen and the entire contingent of JHT's next gen – Judd Messer, Collin Shaw, James Butters Barton, Grant Martin, and Hunter Wilcox.  Terkel arrived for early relief, and Walter Keene Linscott Ferguson, Jr. and Henry "Tony" Dewar were there trying get the satellite and TV working when Laughlin and I arrived with beer around 9:30.  It was a fun morning getting everything ready, but not sure how much fun Tony and Scott were having with their friends at DirecTV.  Anyway, Marcus and Otis rolled in at 10:56 a.m. ahead of their scheduled noon arrival (Marcus' motto:  early is on time and on time is late).  By this point, several of the Crew had discovered a new Dulce Vida Tequila product graciously provided by Chad Auler – "RTD".  Ready to drink.  Palomas and margaritas.
After a mid-day break, we got going again around 3:00 or 3:30.  The rain held off.  JD Gins and Megan Klein arrived with Texas Beer, and I enjoyed draft Pace Bend Pale Ale the rest of the afternoon.  But what I really enjoyed was the fellowship with the rest of the Juan Heisman Tailgate Crew, their families, and my friends and family.  The weather was perfect, and we had a really exceptional tailgate party.  The smoked hatch chile sliders were amazing, and the venison sausage was exceptionally good.  Thanks Farmer.  The San Pedro is producing some good deer.
If you have never made it to Juan Heisman, the Statesman had a photographer roaming around and we have photos: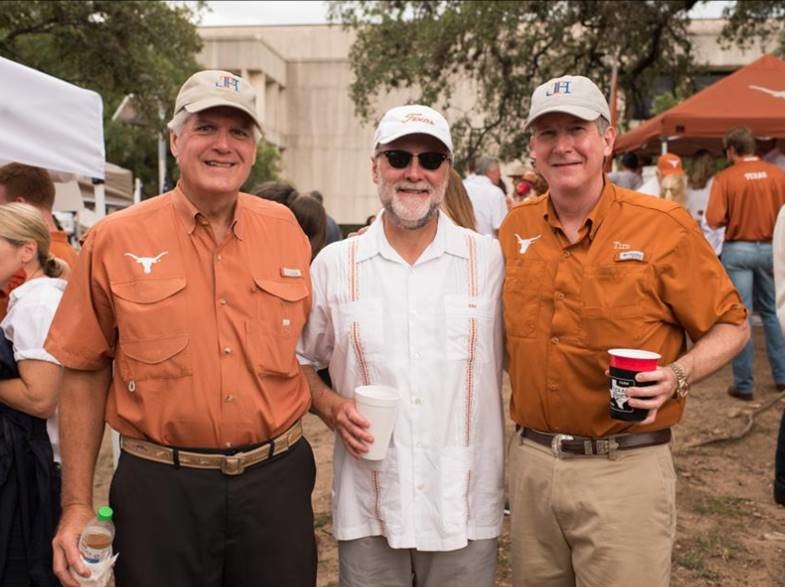 https://www.statesman.com/sports/college-football/photos-texas-fans-tailgate-ahead-game-against-tulsa-sept-2018/GU2cQInnLZsRyVJvUUKqTN/#1
Note the caps Jack and I are sporting.  Judd Messer, COO of the Juan Heisman Tailgate, designed a new logo for the Juan Heisman Tailgate, and the hats are really cool.  Big kudos to Judd for the hats and for his great work.  Someone started a rumor that I was not going to keep writing this newsletter.  Not true.  I enjoy this tremendously.  Just like I enjoy the tailgate.  But the pre-game tailgate organization, shopping coordination, etc. is pretty demanding.  So the Board of Directors has asked Judd to assume more management of the tailgate, a challenge he as accepted and embraced, and the goal is to have the Judd and the Young Guns managing the tailgate soon.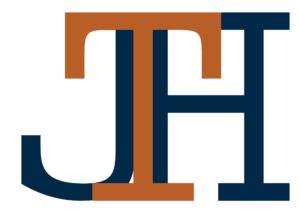 This is a good analogy, although I am not sick.  Just ready to let the next generation have a little more of the fun and the responsibility.
Texas Beer Co. will be back this Saturday with some more great Taylor-Made craft brewed Texas beer.  https://texasbeerco.com/
We will also have plenty of Dulce Vida Tequila, courtesy of Chad Auler, with personal service from a DVT Brand Ambassador.  Oh hell yeah.
This week, we will have smoked brisket (beef courtesy of Franklin Hall and Lone Star Food, and smoking courtesy of Matt Sullivan and House Park Bar-B-Q – Need No Teef).  I will have my ribs, and we will have plenty of venison sausage.
Thanks to Matt Harriss and Capitol-Wright for supplying the rest of our beer.
Thanks also to my friend and law partner of over 30 years, Steve Martens, for some might fine Lee County post oak for the smoker.  Steve has been supplying JHT with fine smoking hardwood for several years, and it is a difference maker.  Just wait for the lamb in November.
If you are coming to the tailgate, you don't need to bring contributions of food or beer, but contributions to the tip jars are always welcome.
Music
Longhorn City Limits debuted last weekend in Juan Heisman's backyard, and I will have to say the tunes were good.  This week, we have Reckless Kelly, with The Peterson Brothers opening.
Austin's own, The Peterson Brothers possess a modern blend of blues, soul, and funk. Glenn Jr. (guitar and vocals) and his brother Alex (bass and vocals) have been playing together since they were kids.  They have played with and opened for Gary Clark Jr., the late B.B. King, Buddy Guy, Los Lonely Boys, North Mississippi Allstars, and Willie Nelson.  Like many of Austin's greatest musicians, they have a weekly gig at the world famous Continental Club.
Meet The Peterson Brothers
Gary Clark with the Peterson Brothers at Antone's
The Peterson Brothers, Come On
Reckless Kelly is a great American music story.  I recommend their story to you, which you can read on their website.  The founders of Reckless Kelly are Cody and Willy Braun.  They started playing music as boys in their dad's band, Muzzie Braun and the Boys.  Their brothers Micky and Gary joined Mr. Braun and Cody and Willy as they played with legends like Johnny Cash, Glen Campbell, and Merle Haggard.  Check this out.  May remind you of a little kid who has become famous from singing in Walmart.
Micky and Gary have their own band, well-regarded Micky and the Motorcars.  The family gathers each summer in Challis, Idaho, for the Braun Brothers Reunion Festival.  Americana, Texas Country, Red Dirt, and Bluegrass.  Robert Earl Keen, Randy Rogers, Cody Canada and the Departed, Asleep at the Wheel.  I am not big on music festivals, but may have to make that trip one of these years.
Reckless Kelly is one of the best and coolest bands in Austin.  Kudos to CDC and the University for getting them to play Longhorn City Limits.
Motel Cowboy Show
Snowfall
Eight More Miles, Live at Stubbs
Vancouver
Crazy Eddie's Last Hurrah
Keeping Austin Weird: Scooter Infestation
In addition to being the Live Music Capital, Austin has become a key center for scooter infestation.  Unlike the annual cricket infestation, which can generally be handled with a broom and large dustpan, the scooter problem is quite a bit more intractable.  If you live in a place that isn't littered with electric scooters and where walking down a sidewalk is still a relatively safe experience, be thankful.  Every week I hear stories of folks walking down a sidewalk in Austin or crossing a street and nearly being hit by someone (not necessarily a young person) zipping by on a scooter at maximum speed.  Which is close to 20 mph.  "Scoot" is no longer the verb associated with two-stepping in a dancehall to Asleep at the Wheel or Bob Wills.  Now, "to scoot" means to get on a smartphone ignited electric scooter and go whizzing down sidewalks, streets, the Ann and Roy Butler Trail on Lady Bird Lake, and in our very expensive dedicated bicycle lanes.
My first story on the scooter infestation is more about Austin Weird.  I am walking up Colorado Street, and I stop at the intersection with Third Street.  If you are familiar with downtown Austin, there are median-separated bike lanes on the north and south side of Third, and the cyclists even have their own little stop light that go green before the vehicular stop lights turn.  Different story, but I will defer that to another time.  So, I am standing on the corner (and no, a flatbed Ford didn't slow down), and whizzing (scooting) up in the eastbound bike lane is one of Austin's downtown residents who does not abide indoors, on a Lime scooter, smoking his cigarette.  He stops to panhandle me.  One would assume the look of "WTF" on my face would have been enough for him to scoot on, but no.  He asked again for money.  I just said no, and walked on as the light changed.  Yes, America, Austin's homeless have smartphones and use their apps on the smartphones to get electric scooters and roll around downtown begging for money.
The second story comes from a friend, a very prominent Austin attorney, who posted this on her Facebook page.  It is pretty typical of the stories one hears:
Scooter Saga 9/12 Edition – I was walking from my car to an appointment at 5th and Lamar at 8:30 tonight, when on the sidewalk two scooters came toward me.  The one ridden by a young woman pulled off the sidewalk but the guy on the scooter continuing barreling right at me and I had to jump to one side and off the curb onto 5th street to avoid being hit.  I yelled at him, "Get off the sidewalk…those things are dangerous".  He spun his scooter around and came back toward me and began yelling "You get off the f..king sidewalk. This is my f…king sidewalk, you old bitch.  F… you". And then my particular favorite, "You look like an old witch…you are just a f….king old witch."  Then the young woman began to yell, "You get off the sidewalk, bitch".  Of course, neither had on a helmet, and ironically I had just come from a Dell Medical Society Health and Business dinner about brain disorders and cognitive functioning where one of the things we discussed was how easily the brain can be injured.
No kidding.  That's what we put up with now.
Washington & Lee
The Generals with a big road win over rival Sewanee, 47-14.  501 yards of total offense.  After taking a 13-0 halftime lead, the Generals scored three times in less than five minutes:  a 20 yard punt return, the rarest of W&L scores, a long touchdown pass of 62 yards, and then a sustained drive to take a 27-7 lead.  Amazingly, Sewanee ran 86 plays to W&L's 65.  W&L had 402 yards rushing and 99 through the air, while Sewanee had 102 rushing and 388 passing.  So why the big win?  3 interceptions and 5 sacks, plus that commanding Generals ground game.  Drew Richardson with 133 yards on 17 carries, averaging 7.8 ypc; Josh Breece with 69 on 12, 5.8 ypc, and QB Trey Laughlin with 60 yards on 8, 7.5 ypc.  2 completed passes, both to Montgomery Owen.  Trey Laughlin threw for 99.
This week's game with Maryville has been pushed to Thursday due to Florence, for a rare weeknight football game in LexVegas.  The fifteenth meeting with the Scots, with the series tied at 7-7.  Maryville is 0-2 after dropping their opener to Centre, 40-6, and then getting crushed by Berry, 38-3.
Full Game Notes:
http://www.generalssports.com/sports/fball/2018-19/files/Maryville_Notes.pdf
IVY LEAGUE INAUGURAL REPORT FOR 2018 SEASON
By Lonnie Schooler
The "real" college football games begin in earnest this coming weekend, weather permitting.  Anticipation is in the air as the first kickoff brings hopes and dreams for success in the FCS.
The League comes off a banner year in 2017, with two of its graduates (Justin Watson, a WR from Penn; and Foye Oluokun, a LB from Yale) selected in the 2018 NFL Draft in the fifth and sixth rounds, respectively.  Watson was drafted by Tampa Bay, and joins fellow Ivy Leaguer, Ryan Fitzpatrick of Harvard (safe to say Mr. Fitzpatrick stunned everyone in the football world with his performance this past Sunday against New Orleans!).
Recent reports indicate that the League placed four teams in the top 15 recruiting classes in the FCS for this year (including one recruit, Brevin White, a quarterback, who opted to attend Princeton rather than Alabama!).
Prediction for the Year: In 2017, the Yale Bulldogs were the champs.  This year, Yale is again predicted prevail, closely followed by Princeton and Harvard.  The Columbia Lions and the Fighting Quakers of Penn are picked 4th.
SCHEDULE FOR SEPTEMBER 14-15:
The schedule for this weekend's games is as follows (all times CDT):
Friday:  The Brown Bruins begin the season in California on Friday night, taking on the Cal Polytechnical School (8:00 P.M.)
Saturday:  Harvard hosts San Diego State on Saturday morning at 10:00 A.M.  The Yale Bulldogs travel to Worcester, Mass. to play the Holy Cross Crusaders (11:00 A.M.).  The Big Green of Dartmouth host the Hoyas of Georgetown in the hills of New Hampshire at 11:30 A.M.  The Penn Quakers host Bucknell in Philadelphia (1:00 P.M.), and the Delaware Mud Hens host the Big Red of Cornell at 1:30 P.M.
Enjoy your football this weekend, now that there is a hint of autumn in the air in the Northeast.  Go Horns!
HAAM
Most of y'all know I have been heavily involved with Health Alliance for Austin Musicians for years – over 12 now.  Last Tuesday was HAAM Day, and for years, I have always included info on HAAM Day in my email the week before.  I fumbled.  But it is not too late to help:
God Bless Texas.
Tim Taylor
 Tailgating before Home Football Games
The Juan Heisman Tailgate 
Lot 38, East of Sid Richardson Hall.
HOOK EM HORNS!!
© Timothy C. Taylor, Sr. 2018.  All Rights Reserved (as to original material).
On Twitter:  @tctayloratx
On LinkedIn:  www.linkedin.com/in/tctatx
On Instagram:  @tctayloratx
On Facebook:  www.Facebook.com/Tim.C.Taylor
and:  www.Facebook.com/Juan.Heisman