Kansas Jayhawks 48, Texas Longhorns 50
 To my amazement (and I am sure to yours), the shootout we were expecting in the Cotton Bowl a couple of weeks ago instead materialized last Saturday night in Darrell K Royal Texas Memorial Stadium.  Against Kansas.  A game in which Texas jumped out to a 14-0 lead and looked as if the 21 point line would be an easy mark turned into a nail-biter that thankfully ended with Dicker the Kicker drilling it through the north endzone uprights as time expired for the Longhorn victory.  Plenty more below, even some sunshine-pumping positive spin.  On the bright side, Texas now leads the Kansas series 16-3 and we are 9-0 in Austin.
Texas Volleyball!
The Texas Volleyball Team swept the No. 1 and previously undefeated Baylor Bears Wednesday night at Gregory Gymnasium, 25-19, 25-10, and 25-19.  Texas, ranked No. 4, is undefeated and in first place in the Big XII Conference.  Attawaytogo girls!
Texas Longhorns vs. Texas Christian Horned Frogs
The No. 15 Longhorns are heading to Cowtown as 1 point favorites, after the line opened with the Horned Frogs favored by 2.5.  Unranked Texas Christian is 3-3 (1-2 in Big 12), and have a solid defense (see stats and analysis below), but this is far from Gary Patterson's best team.  The opening 2.5 point line was an indictment of the precipitous fall in respect for the Texas Longhorns.
The game kicks off in Amon G. Carter Stadium at 2:30 p.m.  The game will be broadcast nationally on FOX, with Joe Davis (PxP), Brock Huard (analyst), and Bruce Feldman on the sidelines.  On the radio as usual with the voice of the Longhorns, Craig Way, Roger Wallace with analysis, and Quan Cosby on the sideline with insight from the field.
Texas leads the series 63-25-1, and we are 27-11 in Fort Worth.
Gary Patterson is a good coach, and he has owned the Horns since the Texas Christians came in the league in 2012.  That first year, Mack's Horns got beat in Austin 20-13.  In 2013, Texas got a 30-7 win in Fort Worth.  The next year, Texas Christian was our Thanksgiving weekend replacement for Texas Agricultural & Mechanical, and the No. 6 Frogs came to Austin and thrashed Charlie Strong's Horns 48-10.  In 2015, the Horns were beat even worse in Fort Worth by No. 4 Texas Christian, 50-7.  Next year's Black Friday game with the Horned Frogs at DKR was another loss, 9-31.  Coach Herman's first year, No. 10 Texas Christian beat the Horns 24-7 in Cowtown, but last year we finally got another win over Patterson, 31-16 over his No. 16 Frogs.  So 2-5 since 2012 in the Big 12, and a couple of the games have been blow-outs.
This year's Frog team is just 3-3 and 1-2 in the Big 12 as we head into this weekend.  They opened with an easy 39-7 win over Arkansas-Pine Bluff, then went to West Lafayette Indiana and got a good Power 5 road win over Purdue, 34-13.  The next weekend, they ran into the Southern Methodists, which as we now know are the real deal this year.  But the Frogs kept it close, falling to the Mustangs 38-41.  Their 51-14 win over Kansas is sure looking better, now that we know that Kansas is so good.  But the Horned Frogs have dropped two in a row – 24-49 to Iowa State in Ames and then 17-24 to K State in Manhattan.  The Texas Christians are so mad, they got some of the ugliest alternate jerseys for this weekend's game I have ever seen outside of Oregon and Waco.  What were they thinking?  I am so grateful CDC doesn't want to mess with Texas.
No. 15 Max Duggan and No. 16 Alex Delton have both seen action in all 6 of Texas Christian's games.  Duggan is 80/142, no picks, 874 yards, and 9 TDs.  He's rushed for 161 net, 251 gross, and 2 scores.  Texas is going to have to watch him.  Delton is 27/50, 1 pick, 318 yards, and no scores.
Leading rusher for the Frogs is No. 6 Darius Anderson.  588 yards on 83 attempts with 6 scores, averaging 7.1 per carry.  Very solid.  No. 33 Sewo Olonilua has 271 yards on 60 carries with 3 TDs, averaging 4.5.
No. 1 Jalen Reagor has 23 catches for 271 yards, 11.78 average, 3 TDs.
Official preview:
https://texassports.com/news/2019/10/21/preview-no-15-15-football-at-tcu-oct-26.aspx
The Game Notes:
https://texassports.com/documents/2019/10/21//Texas_Week9_Notes.pdf?id=13516
The Statistics
Added info this week, let me know what you think:  First Ranking is National, Second Ranking is Big 12.
Offense
| | | |
| --- | --- | --- |
| Statistic | Texas | Texas Christian |
| Rushing Offense | #58; #6 – 173.9 ypg | #12; #3 – 239.5 ypg |
| Passing Offense | #17; #4 – 307.0 ypg | #96; #9 – 202.0 ypg |
| Total Offense | #16; #5 – 480.9 ypg | #39; #7 – 441.5 ypg |
| Scoring Offense | #9; #2 – 40.9 ppg | #38; #6 – 33.8 ppg |
| First Downs | #2; #1 – 27.4/game | #28; #6 – 23.2/game |
| Sacks Allowed | #116; #10 – 22, 139 yards | #57; #7 – 13, 92 yards |
| Tackles for Loss Allowed | #97; #9 – 47, 190 yards | #37; #3 – 35, 146 yards |
| Third Down Conversions | #2; #1 – 55.8% | #15; #2 – 48% |
| Red Zone Offense | #16; #3 – 93% / 86% | #6; #1 – 97% / 59% |
| Long Run Plays | #23; #3 – 46, 7, 2, 1, 1 | #35; #5 – 40, 16, 5, 3, 2, 1, 1 |
| Long Pass Plays | #7; #2 – 89, 25, 9, 6, 4, 1, 1 | #108; #9 – 49, 16, 10, 4, 1 |
| Long Scrimmage Plays | #3; #2 – 135, 32, 11, 7, 5, 1, 1 | #95; #8 – 89, 32, 15, 7, 3, 1, 1 |
A month ago, Texas was ranked No. 45 in sacks allowed nationally with 7 for 42 yards.  The last three games have seen us fall 71 spots.
Defense
| | | |
| --- | --- | --- |
| Statistic | Texas | Texas Christian |
| Rushing Defense | #71; #5  – 159.9 ypg | #17; #1 – 100.0 ypg |
| Passing Defense | #126; #10 – 310.0 ypg | #18; #2 – 181.0 ypg |
| Total Defense | #119; #9 – 469.9 ypg | #11; #1 – 281.0 ypg |
| Scoring Defense | #93; #8 – 30.7 ppg | #53; #5 – 24.7 ppg |
| Sacks | #98; #8 – 11, 63 yards | #98; #8 – 11, 60 yards |
| Tackles for Loss | #68; #5 – 41, 139 yards | #98; #9 – 36, 103 yards |
| First Downs Allowed | #117; #8 – 23.4/game | #2; #1 – 12.7/game |
| Third Down Conversions | #90; #7 – 40.8% | #18; #3 – 30.69% |
| Red Zone Defense | #101; #5 – 88% / 59% | #126; #9 – 94% / 78% |
| Long Run Plays Allowed | #81; #5 – 37, 11, 4, 2, 1, 1 | #6; #1 – 17, 6, 3, 3, 1, 1 |
| Long Pass Plays Allowed | #127; #10 – 87, 33, 14, 9, 4, 1 | #1; #1 – 36, 21, 11, 3, 1 |
| Long Scrim. Plays Allowed | #125; #10 – 124, 44, 18, 11, 5, 2 | #1; #1 – 53, 27, 14, 6, 2, 1 |
Fourth from last in pass defense, and bottom 10% in Total Defense.  Not good.
Other
| | | |
| --- | --- | --- |
| Statistic | Texas | Texas Christian |
| Punt Returns | #130; #10 – -0.63 yds/return | #1; #6 – 18.4 yards/return |
| Turnovers | #22; #2  – 7:4F; 3I | #30; #5 – 8:7F; 1I |
| Turnover Margin | #19; 12:7; 0.17 | #104; 5:8; -0.5 |
| Penalties* | #102; #9 – 51, 436 yards | #27; #3 – 37, 346 yards |
*Based on total number of penalties.
Texas is dead last in punt returns and the only team in FBS with negative yardage.  Air Force is #129 at 1 yard per return.
This is a possibly critical part of the game:  Texas has had terrible field position the last 2 games especially, and our opponents (Land Thieves, understandable; Kansas, inexplicable) have had great or at least good field position.  If this is a defensive struggle with a lot of punts (hard to fathom given how our defense has played, but it is possible), then the game could turn on punting and field position.
Match-up Comparison
| | |
| --- | --- |
| Texas Offense | Texas Christian Defense |
| Rushing Offense – 173.9 ypg | 100.0 ypg – Rushing Defense |
| Passing Offense – 307.0 ypg | 181.0 ypg – Passing Defense |
| Total Offense – 480.9 ypg | 281.0 ypg – Total Defense |
| Scoring Offense – 40.9 ppg | 24.7 ppg – Scoring Defense |
| First Downs – 27.4/game | 12.7/game – First Downs Allowed |
| 3rd Down Offense – 55.8% | 30.69% – 3rd Down Defense |
| Red Zone Offense – 93% / 86% | 94% / 78% – Red Zone Defense |
| LRP – 46, 7, 2, 1, 1 | 17, 6, 3, 3, 1, 1 – LRP Allowed |
| LPP – 89, 25, 9, 6, 4, 1, 1 | 36, 21, 11, 3, 1 – LPP Allowed |
| LSP – 135, 32, 11, 7, 5, 1, 1 | 53, 27, 14, 6, 2, 1 – LSP Allowed |
| | |
| --- | --- |
| Texas Defense | Texas Christian Offense |
| Rushing Defense – 159.9 ypg | 239.5 ypg – Rushing Offense |
| Passing Defense – 310.0 ypg | 202.0 ypg – Passing Offense |
| Total Defense – 469.9 ypg | 441.5 ypg – Total Offense |
| Scoring Defense – 30.7 ppg | 33.8 ppg – Scoring Offense |
| First Downs Allowed – 23.4/game | 23.2/game – First Downs |
| 3rd Down Defense – 40.8% | 48% – 3rd Down Offense |
| Red Zone Defense – 88% / 59% | 97% / 59% – Red Zone Offense |
| LRP Allowed – 37, 11, 4, 2, 1, 1 | 40, 16, 5, 3, 2, 1, 1 – LRP |
| LPP Allowed – 87, 33, 14, 9, 4, 1 | 49, 16, 10, 4, 1 – LPP |
| LSP Allowed – 124, 44, 18, 11, 5, 2 | 89, 32, 15, 7, 3, 1, 1 – LSP |
Some very interesting statistical comparisons and match-ups.  Patterson has a great defense, and Herman and Beck are going to have to call a great game.  No turnovers Texas.
The Depth Charts
Been thinking a lot about this game since I wrote and sent the newsletter last night.  I think Texas wins this game, 33-24.
Texas Pregamer – NSFW
https://www.barkingcarnival.com/2019/10/25/20931746/texas-pregamer-tcu
1969 National Champions
Bill Atessis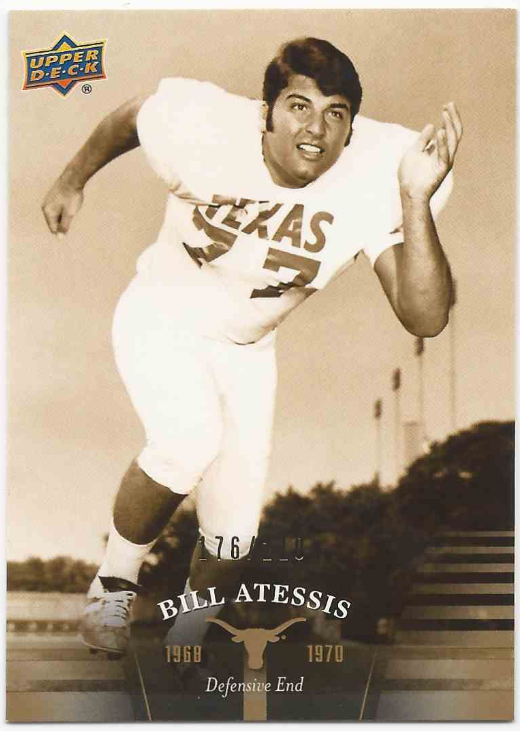 My first 1969 National Champion to be interviewed for this weekly missive is Mr. Bill Atessis.  No. 77 was the biggest man on that team, at 235 pounds.  Coach Mike Campbell's left end was a key player on those great Texas teams that won 30 straight games.  Consensus All-Southwest Conference his junior and senior years (1969 & 1970), second team All-American as a junior, and a consensus All-American his senior year.  He was voted Longhorn defensive MVP by the Dallas Morning News and Houston Post (1969, 1970).  He was a finalist for the Outland Trophy in 1970.
Bill was a truly great defensive end.  Bleacher Report published a 50 Greatest Longhorns list in May 2010.  They list Bill as No. 21.  Ahead of such Texas defensive legends as Johnny Treadwell (#39), Aaron Ross (#35), Tony Degrate (#31), Jammer, Thomas, Vasher, & Huff (30, 29, 28, & 27, respectively; lordy what I would give for 1 or 2 of those men right now), and Kenneth Sims (#24).  The list is interesting, and would be a wonderful evening of debate over cocktails, but the top 4 are Earl, Ricky, Nobis, and VY.  Hard to argue with that Mount Rushmore of Texas.
I had a wonderful visit by telephone with Bill Atessis and his wife when they were driving up to Austin last Friday for the 1969 reunion and Kansas game.  Bill, I am most appreciative of your time.  Here are the highlights:
On DKR:  Coach Royal expected you to know how to do your job and to do it. There was no compromising on what he expected of you.
Great DKR Story:  "He did apologize to me once in front of the whole team after a game. I was on punt return as a defenseman, because defense played punt return [no special teams], and I peeled back on the punt.  As the offense's left tackle was coming down the field I laid him out, rolled up on him, and I was flagged for clipping. When I went to the sideline Coach Royal greeted me, and he was mad.  He benched me for a couple of series as my punishment, to make sure I understood that there was a consequence of my action [the clipping penalty].  Well, on Sundays we watched film. As we are watching the film from that game, Coach Royal stopped the projector, and he apologized to me in front of the whole team.  He said it was a good block and a bad call."
We talked about the 1969 game with Arkansas, the Game of the Century, and Bill shared this memory:  "Coach Royal wasn't real big on emotional pep talks. But before the Arkansas game he had told the team that "I want to let you guys know we asked Arkansas that if the game was tied at the end, could we have a playoff.  We checked with the conference, and they are okay with it.  However, Arkansas declined."  We all knew that if they were scared of a playoff [what would now be overtime], then they're sphincters were so tight that they couldn't pass a pumpkin seed."
I asked about the great Coach Mike Campbell.  "He was a different kind of animal.  He made me the player I was. You have to remember that Coach Campbell and the other coaches fought in World War II. They had a nerves of steel.  Being in a tight football game was nothing compared to what they had seen and been through in the War."
Coach Campbell had his defense spend a lot of time practicing goal line stands, and as we know, that Texas defense was very good at it.  Bill said "If they drove down the field and were on our 2 or 3 yard line, we felt like we had them right where we wanted them".  The Texas defense made a number of goal line stands that year, and the strength of that defense is not remembered as well as the prolific wishbone offense, but it should be.
Great stuff:  "On defense we all had position responsibilities. I loved the option because the quarterback options off the defensive end [the position Bill played], and the quarterback was always watching me.  If I sat on the line and didn't create a gap, then that forced the quarterback to make the decision quick.  If he kept it, I tackled him, and if he pitched it, I was in position to make that tackle."  Great example of the discipline on Coach Royal's team and Coach Campbell's defense, and what Bob McKay emphasized over and over:  you went out and did your job.
As I noted, my conversation with Mr. Atessis was on his drive up to Austin for last weekend's 50th reunion of the 1969 National Champions, and he said he was just excited Friday to see his teammates and be at The University as he was 50 years ago.  He said he still gets goosebumps.
Bill, thanks for your time!  Great to visit with you.  Hook em!
Headliners Club with Ted Koy, Bob McKay, and Bill Little
Our good friend and fellow Headliner Ed Clements put together a great program this past Wednesday featuring two great Longhorns from the 1969 National Championship team, Co-Captain Ted Koy and Bob McKay, who were joined by Bill Little.  I am going to save most of the great stuff from Ted and Bob for another week, in the hope that I can convince Ms. Meller to upload the video from lunch so that it can be shared with all of you.  Plus, there is no way I can do justice to McKay's humor.  That is one funny big man.  But, an added bonus to the day was the gift which Bill Little had for the 1969 team last week at their reunion:  a replica of the "Nixon plaque".  In the picture below, Ted Koy, Bill Little, Bob McKay, Randy Peschel, and Bill Hall.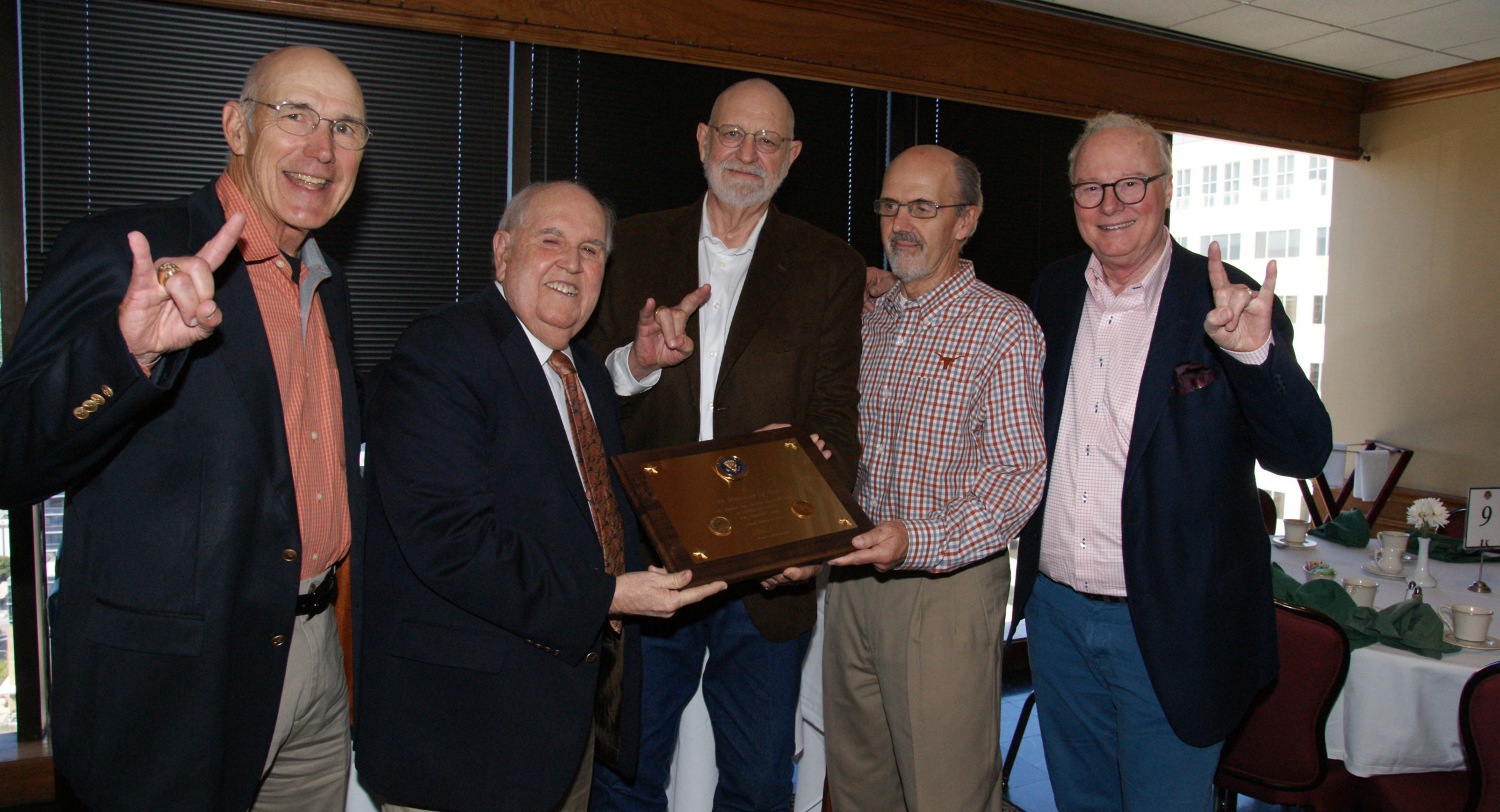 Koy, Little, McKay, Peschel, & Hall with the Nixon PlaqueThis is a great story, and Kirk Bohls wrote an excellent article on it, which I commend to your reading.  Big thanks to Bill Little, Bill's wife Kim Scofield, CDC, and his wife Robin Ward, for making all of this possible.
https://www.hookem.com/columns/bohls-fifty-years-later-long-lost-nixon-plaque-gave-texas-finds-way-home/
By the way, I know where the original Nixon plaque is:
Good Stuff
The 1969 National Champions tour the new Denius Family Hall of Fame
https://texassports.com/news/2019/10/22/football-video-1969-national-champions-tour-texas-athletics-hall-of-fame.aspx
The most watched games of the college football season so far:
– Notre Dame @ Georgia – 9.35M
– LSU @ Texas – 8.65M
– Oklahoma vs Texas – 7.23M
– Oregon vs Auburn – 6.87M
Texas is real popular.
Jayhawks 48, Longhorns 50
Never for a moment leading up to Saturday's game did I suspect that the match with the Jayhawks would turn into dogfight that Texas would have to win on a last second field goal.  Like most folks, I was assuming we would maybe see Sam in for one or two series in the third quarter, then all of us would relax, buy an extra cold one for the fourth quarter, and enjoy the camaraderie of Burnt Orange Nation and a big victory for Texas.
I still felt that way after the first quarter, as Texas had opened the game with a solid first drive that went 65 yards in 6 plays and 2:04.  Two rushes from Sam, a pass to Collin Jonson, and then with a first and ten at the Kansas 42, the Horns only need two plays to get into the endzone.  A 28 yard completion to Brennan Eagles, and then a great 14 yard run by Roschon Johnson for the score.
Kansas responded with a nice drive that stalled at the Texas 28, and the Jayhawk kicker missed the field goal.  Yes, a good drive, but 30 yards of the 47 Kansas picked up were on Texas penalties (back to back 15 yarders).  Pooka looked good, but I was expecting that.
Wasn't too concerned, especially when the next Texas series was the Ehlinger Show, as a 10 play scoring drive had 9 Sam plays, the sole exception being a 5 yard run by Ingram.  One rush by Sam, and 7 pass completions (only one incompletion), as Texas moved 72 yards to take a 14-0 lead.
The next Kansas possession did get me a little uncomfortable, as on the second play of the drive Pooka ripped off a 65 yard run to the Texas 11.  Fortunately, the Texas defense stiffened and forced a field goal.  That was the first drive I noticed Byron Vaughns in the game playing the B-Backer, where he plays up on the line, giving Texas a 4 man front, albeit with Vaughns up.  Vaughns had a key tackle on that series.  It was 14-3 Texas.  Not a lot to worry about.  Yet.
In the next series, we saw our first glimpse at a perplexing decision that would not be our last.  First, Jamison decides to return the kickoff, putting Texas at the 13 instead of the 25 (just don't understand that decision making; same stuff we saw in Dallas, over and over again, which was the reason we had such crappy field position).  But that wasn't the perplexing decision.  No, that was the decision to go for it on fourth and 2 at our own 49 coupled with the decision to run a play with Jake Smith in the wildcat sweeping left.  First, with a 14-3 lead, what's wrong with playing field position? Second, with our line and Ingram and Johnson, why not line up and punch Kansas in the face for the first down?
So Kansas gets the ball at midfield, and just like the Land Thieves did with good field position, the Jayhawks took advantage.   Carter and Williams took turns carrying the ball, and all of a sudden it was 14-10.
Texas with bad field position again, starting at our own 17 (Kansas had kicked off from the 50, after the B.J. Foster personal foul on the KU TD was enforced on the KO).  Ingram picked up some yards on the ground, and Ehlinger connected with Eagles again.   But after a 6 yard completion on third down when we needed 8, it was fourth and 2.  At the Kansas 40.  We need 2 yards.  We are Texas.  Slant pass to Brewer incomplete.
So Kansas gifted great field position again, and Les Miles knows what to do with it:  Strike fast, and he did.  Stanley with a perfect pass to Parchment.   50 yards, first down Jayhawks on the Texas 10.  3 plays later, Kansas has a 17-14 lead.  Discomfort is growing.
Texas goes 3 and out, minus 7 yards, as Sam was sacked on third and 7.  A good punt but a decent return, and yet again our opponent has great field position.  Kansas started at their own 41, but this time the Texas defense held the Jayhawks to a much needed 3 and out.
Texas started on the 16, and Ingram got the Horns out of the hole with a 32 yard first down run.  A near disastrous fumble at midfield, and Texas had a third and 5 at the KU 47.  We need to let Sam be Sam, and on that play he was.  He read the field and broke off a great 24 yard run. From there, Ingram contributed some good runs, Devin with a key third down conversion catch, and on third and goal from the KU 5, Ehlinger hit Eagles for a 5 yard score.  84 yards in 10 plays, and Texas regained the lead, 21-17.
With 2:19 to play in the half, Miles and his quarterback put together a nice drive.  Stanley Carter and Pooka Williams continued to cut up the Texas defense before they finally stopped them at the Texas 19.  Joseph Ossai came up big, blocking the field goal with 15 seconds in the half.
Kansas got the ball to start the second half.  It didn't seem to me that their game plan changed (or ours):  their two best skill players on offense were Stanley and Williams, as we had all seen in the first half.  And that's who moved the ball on that first second half drive, just as they had in the first.  All 14 plays on that 75 yard drive were either a Pooka run or a Carter pass or run (including picking up a couple of yards on 3 and 1 at the Texas 18).  Carter completed the drive with a 9 yard pass to Robinson, and KU took a 24-21 lead.
Texas got a touchback on the ensuing kickoff (!), and Ehlinger started at the UT 25.  Sam rushed for 5 then 17, and Texas was moving.  Ingram had a good 14 yard run, but after Sam got sacked, again, it was third and 16 from the Jayhawk 32.  The 11 yard completion to the KU 21 set up the Dicker 39 yard field goal to tie the game at 24.
One of our better defensive series on the next KU possession, as the Horns held the Jayhawks to 15 yards on 6 plays, thanks to a 7 yard sack. Once again Pooka had a big run, a 20 yard burst into Texas territory.
Next Texas series started at the Horn 21.  Lots of Sam, including another 16 yard run.  Fourth and 2 at the Kansas 44, and of course Texas went for it. Thank goodness Roschon Johnson picked it up plus a couple as the third quarter came to a close.  Johnson added an 11 yard run, Ehlinger to Eagles for 12, RoJo for 3, then a 14 yard touchdown completion to Duvernay – a very solid and typical Texas scoring drive.  31-24 Horns, and I was sure that the Great Texas Longhorns would go on to dominate the final frame.  I was so very wrong.
After holding Kansas to 23 yards on their next possession, the Jayhawks were nonetheless in Texas territory, and after a good KU punt fair caught by Brandon Jones, Texas set up at the 9 yard line.
Instead of a great drive to start putting the game out of reach, Sam was intercepted on the first play, and Kansas had a first down at the Texas 16.  Pooka needed one touch to get a touchdown.  And then one of the most critical plays of the game, as somehow, someway, Malcolm Roach got a hand on the Jones PAT kick, and D'Shawn Jamison snatched the ball out of the air at about the 10 and took it to the house.  33-30 Texas instead of tied at 31.
I love it when a Coach and a team know how to take momentum and use it.  That is true after turnovers (Kansas had already done it twice that night), and this time it was Texas' turn.  Thanks to a KU kickoff out of bounds, the Horns got the ball at the 35.  A couple of Ingram rushes (+4, ‑1) and on third and 7 Sam ran for 19, then on the next play connected with Duvernay who had gotten behind the Jayhawk defender and made a nice catch at about the 10 and took it in. 40-30 Texas, and I thought surely, at this point, we will play defense against Kansas (for crying out loud) and put the Mad Hatter and his Jayhawkers away.  But no.
The next Kansas drive would yield just a field goal, but it included Stanley Carter running up the middle for 36 yards.  40-33 Horns.
On the second play of the ensuing Texas drive, what looked like a first down pass to Jake Smith instead ended with a fumble (I still think Brewer had it), and Kansas was in business at the Texas 36.
This Kansas drive probably encapsulates my frustration with the Texas defense.  After 3 good plays it is fourth and 10 at the Texas 36.  Fourth and 10.  And we let Kansas complete a 23 yard pass on fourth down as we are clinging to a 7 point lead.  13 yards was nothing for Stanley and Pooka by this point, as they had plenty of confidence in their ability to move the ball against the Texas defense.  And they did, as Carter connected with Parchment for an 11 yard TD (I will say that I thought Jamison played it pretty well; it was a great catch by Parchment, who proved he was not just good on paper).  40-40 with 4:25 to play.
Sam didn't screw around, and after a very Gregish call by Beck on 2nd and 13 (screen pass on our 32), Sam hit Collin Johnson for 14 and a first down to midfield.  Then a huge pass completion to Cade Brewer (a good call), who got over 20 yards after the catch and got Texas to the KU 3.  Ingram punched it in (with a little help), and it was 47-40 Texas with 2:47 to play.
Les Miles is a good coach, and he has clearly coached up this Jayhawk team.  A raucous DKR under the lights, and his boys showed no fear and no quit.  Several moderately productive plays and the clock is rolling and both teams use timeouts.  Fourth and 5 at the Kansas 42, and once again Texas cannot contain.  How many times have we seen it this year?  This was at least the third time, maybe the fourth.  Opponent in Fourth and long, and we give up a big pass play.  Re-watching, it looks like a little confusion on the coverage, and a catch that just maybe could've been stopped immediately for a turnover on downs (the ball was caught short of the sticks), instead goes for 31 more yards as 7 Longhorns chased Lassiter before tackling him at the Texas 22.  Once again, a quick strike (good call Les), as Carter hit Robinson (again) as Estell was beat and the Jayhawks were a point away from tying. Or 2 from a lead.  I knew they were going for 2.  Les Miles.  Are you kidding?
Game on the line, against Kansas at home.  They are going for 2 to potentially win the game.  Here is what the Texas coverage looked like, right before Carter drilled Charlot: That's him behind 7 Texas defenders, alone.  By at least 6 yards in every direction.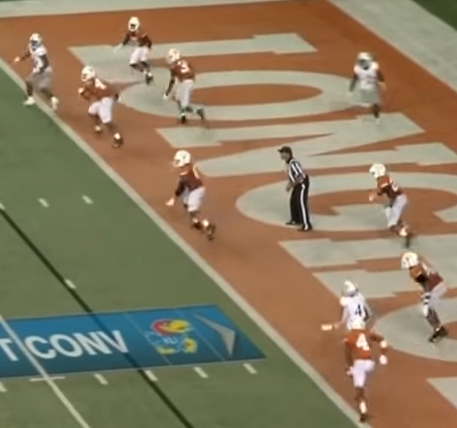 Yes I am frustrated.
Thank God for Sam Ehlinger.  I am guessing Sam in the huddle is like it was 50 years ago with James Street.  Sam was going to make it happen.  The Horns had 71 seconds to get at least 3 points, or else suffer a loss that would be more painful, more embarrassing, than the Charlie Strong loss in Lawrence.  Sam did it.  That final drive saw completions of 5, 16, 20, and 11 yards to Collin Johnson, with a pass to Keaontay and an Ehlinger 8 yard rush on third and 6 mixed in.
That last 11 yard pass to CJ had Texas on the Kansas 21 with 8 seconds to play.  Well within Dicker's range.  Texas takes its final timeout, and I think we all assumed that Dicker the Kicker would come in, he would kick it through the uprights, and Texas would escape with a win.  But no.  We decide to run one more play.  A pass play.  Yes, it worked, and it was Sam to Duvernay, just about as close to a sure thing as Texas has.  But all the things that could have gone wrong.  Devin gets stopped before getting out of bounds (the clock would have run out).  Interception (Sam is no longer invincible, as we have seen).  And there is a short list of penalties that can result in a 10 second runoff, which would have ended the game (intentional grounding among them).  Or an offensive player's helmet comes off.  Game over.  Texas loses.  Coach Herman is a gambler and aggressive, I get it.  But it sure seems to me that this was an unnecessary risk.  Doesn't matter now. Texas won. Thank God.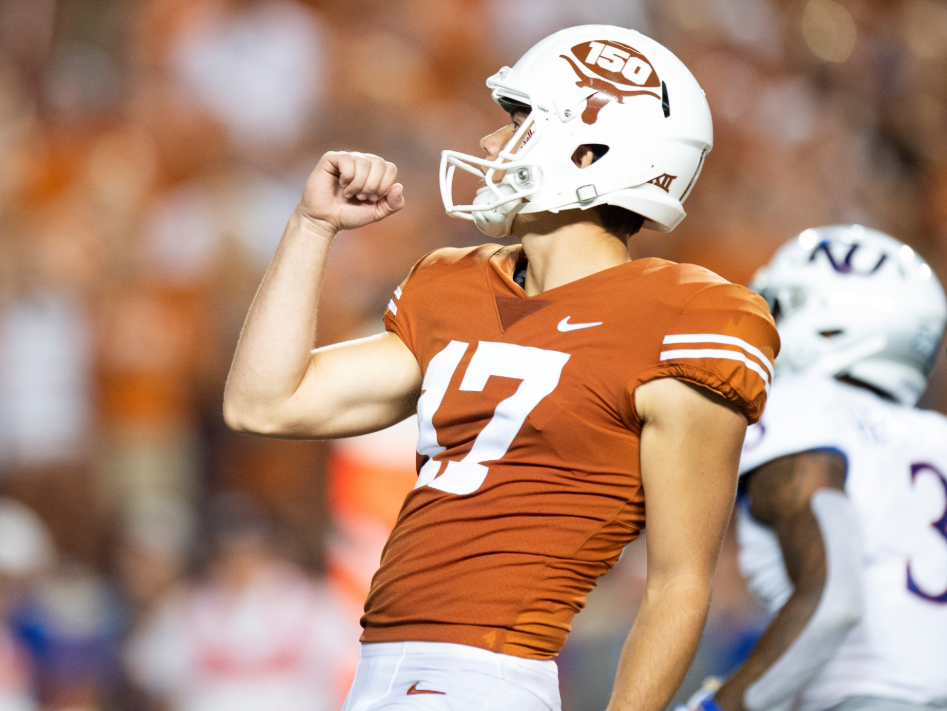 Highlights from the Big 12 (6:29)
Highlights (14:22)
50 points scored in the fourth quarter. I have not researched it, but I wonder when was the last time Texas gave up 24 points in the fourth quarter.
Kansas rushed for 259 yards, with Pooka Williams getting 190 on 25 attempts, averaging 7.6 per carry.  Carter added 65 on 9 attempts for 7.2 yard average.  Passing, Carter was great – 27/47, 310 yards and 4 TDs, no picks.
Sam had a great night, and of course saved the game for us.  31 for 44, 399 yards, with yet another 4 touchdown game.  The one pick was his blemish.  He also rushed for 91 (but for the sacks, which totaled 24 yards, Sam would have been a 100 yard rusher).  Despite the 3 sacks, Sam still averaged 6.5 yards per carry.  Ingram with 101 yards and a score, averaging 7.2.  Duvernay with another All-American game – 8 catches for 110 yards and 2 scores. Collin Johnson with 8 catches too, 96 yards.  Eagles had 6 for 76, and Brewer had 3 for 71.
So, how do I spin this up for a positive, especially given this was Kansas, at home, and the Horns were favored by 3 touchdowns? It ain't easy.  Texas had a lot of explosive plays.  As seen in the stats above, we are now No. 7 nationally in long pass plays and No. 3 in long scrimmage plays.  We are top 10 in scoring, and No. 2 in both first downs and third down conversions. That is very good offense.
Here is one explanation for the Kansas game, although an explanation is not an excuse.  We are young. Here was our defense against Kansas.  First list is starters, second all defensive participation (good work and thanks Spence).
TEXAS DEFENSE
Starters
#          Player                                                              Position
19        Brandon Jones (SR)                                     S
31        Overshown, DeMarvion  (SO)                       S
40        Ayodele Adeoye (RS/FR)                              ROV
98        Moro Ojomo (RS/FR)                                    NT
99        Keondre Coburn (RS/FR)                             NT
25        B.J. Foster (SO)                                            NB
33        David Gbenda (FR)                                       MLB
49        Ta'Quon Graham (JR)                                   DE
4          Anthony Cook (SO)                                       CB
5          D'Shawn Jamison (SO)                                 CB
46        Joseph Ossai (SO)                                         BLB
Others Participants:
#          Player                                                                          Position
1A       Chris Adimora (FR)                                                    DB
2H       Mason Ramirez (SR) (Walk on, scholarship)             DB/RB
32        Malcolm Roach (SR)                                                  DL
35        Russell Hine (SO) (Walk on, scholarship)                  LB
38        Kobe Boyce (SO)                                                       DB
39        Montrell Estell (SO)                                                   DB
42        Marqez Bimage (JR)                                                  DL
44        Tyler Owens (FR)                                                      DB
50        Byron Vaughns (RS/FR)                                            LB
57        Cort Jaquess (SO) (Walk on, scholarship)                LB
5B       Jett Bush (FR) (Preferred walk on)                            LB
6X       Juwan Mitchell (SO) (Transfer)                                  LB
91        Jamari Chisholm (SR)                                               DL
93        T'Vondre Sweat (FR)                                                 DL
That is young team, and a lot of guys who did not come to the Forty Acres on scholarship.
But the fundamental is Texas won.  Ehlinger was great, the rushing game was solid (as it should have been, as KU came in ranked #122 in rush defense).  Texas had 638 yards of offense.  We were 6-6 in the redzone.  We had huge special teams plays (the blocked PAT was the difference in the game, and of course Dicker the Kicker winning it).  I won't dwell on the negatives.  Suffice to say, Orlando better have a lot of things figured and fixed by tomorrow, or it is going to be a disappointing trip to Cowtown.
Game ball to Ehlinger.  Thank you Sam.  His 490 yards of offense are third most in school history, and he now has 2 of the top 4 total offense games (thanks John Bianco).
Polls
 AP Top 25:  Alabama, Louisiana State, The Ohio State University™, Clemson, Oklahoma, PSU, Florida, Notre Dame, Auburn, Georgia.  Texas stays at No. 15.  Baylor up to 14, and the Methodists are up to 16.  Iowa State back in a No. 23.
Coaches Poll:  Roll Tide, Clemson, Bayou Bengals, The Ohio State University™, Land Thieves, PSU, L'Université de Notre Dame du Lac, Go Gata, UGa, War Eagle.  Horns at  No. 15.  BU 14, Southern Methodist at No. 17.
Juan Heisman Tailgate
We have a very nice tailgate Saturday.  Another perfectly executed Early Crew, with Jack Nash, Trey Salinas, Jim Stone, Tim Crowley, Bill Skeen, Rick Whiteley, Grant Martin, and Butters Barton.  I think I left someone out.  Sorry.
The tamales were outstanding, and Rose Marie's queso and salsa were perfect!  The Frito Pie was good (we tried chili from Cover 3, and it was dang good).  Marcus and Otis did their usual excellent work.  I made the interesting decision, for the first time in several years, to go early with the Dulce Vida Tequila palomas instead of pacing with beer.  Little did I know that a few hours later I would be grateful for that tequila.  Thanks to all who helped with tailgate, and thanks to all who stopped by.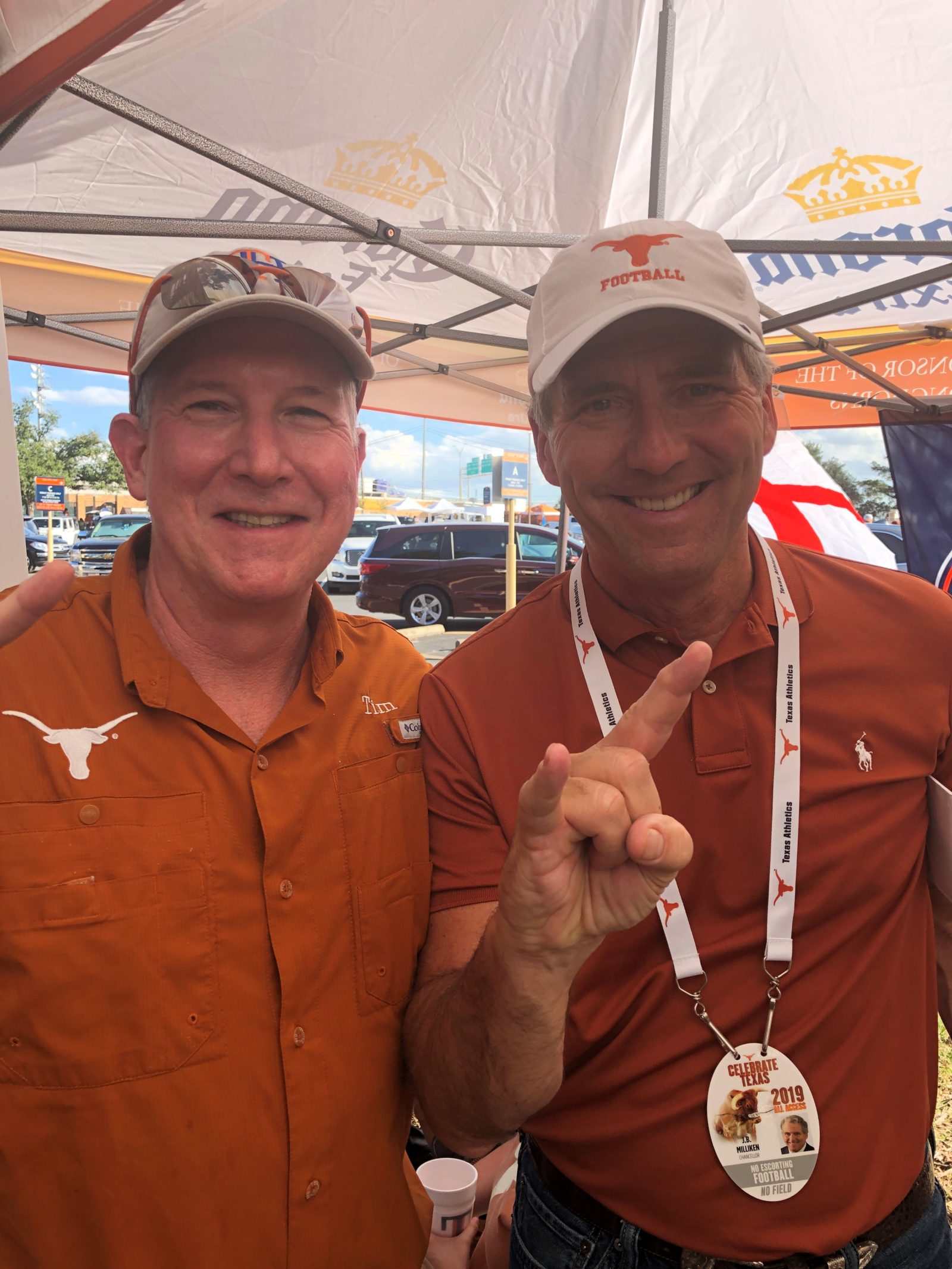 See y'all for Kansas State on November 9.
Week Nine in College Football
Big XII
The No. 5 Land Thieves head to the Little Apple to play Kansas State. 11:00 a.m. on ABC.  Wildcats are 4-2 and 1-2 in the Big 12.   Oklahoma favored by 23.5, and the over/under is 57.5.
Oklahoma State (4-3, 1-3 Big 12) at No. 23 Iowa State (5-2, 3-1 Big 12).  2:30 p.m. on FOX Sports 1.  Cyclones appear to be back on track, and Brock Purdy may be in a groove.  Iowa State favored by 10.5, and the over/under is 63.5.  I like Iowa State to win, Okie Aggies to cover.
Texas Technical plays at Kansas.  Sand Aggies are 3-4, 1-3 Big 12, and the Jayhawks are 2-5 and 0-4.  Despite this, Tech is only a 5 point favorite.  See, I told y'all Kansas was good.  Over/under is 64.5.  Might be another shootout!
Top 25
Thursday Night
Big game in Houston!  No. 16 and undefeated Southern Methodist and the Cougars played a heck of a game, as the favored Mustangs escaped H Town with a 34-31 win.  Houston's Clayton Tune out-dueled Shane Buechele, 407 yards and 2 TDs to Buechele's 20/38 for 203 with 2 scores.  But the Southern Methodists won and remain undefeated.
Saturday
No. 3 The Ohio State University™ hosts No. 13 Wisconsin (6-1) in the Horseshoe.  11;00 a.m. on FOX. This had all the makings of a great Big 12 game and national match-up until the Badgers crapped the bed last week in Champaign.  Wisconsin is still a good team, but this game lost a lot of luster.  And I don't go out of my way to watch the Buckeyes, but if it is close late, I will flip over and watch some of this.  Taylor is worth watching.  Buckeyes favored by 14.5, and the over/under 49.5  On Wisconsin.
No. 20 Iowa at Northwestern.  11:00 a.m. on ESPN2.  Hawkeyes favored by 9.5, and the over/under is 37.  (Not a typo:  thirty-seven)
No. 21 Appalachian State at South Alabama.  11:00 a.m. on ESPNU from beautiful Mobile, Alabama.  App State favored by 27, and the o/u is 52.  Mountaineers are rolling.
Fantastic game in Baton Rouge, unfortunately the same time as Texas and the Frogs.  No. 9 Auburn at No. 2 Louisiana State.  Auburn with the one loss to Florida.  2:30 p.m. on CBS.  Bayou Bengals favored by 10.5, and the over/under is 58.5.  LSU with a big win and covering the line.
No. 6 PSU at Michigan State, 2:30 p.m. on ABC.  PSU giving 6, o/u is 44.  Go Spartans.
I, and many others, woke up Sunday to realize that Minnesota is undefeated.  WW.  Maryland is 3-4 and 1-3 in the Big 10.  2:30 p.m. on ESPN.  Gophers favored by 16.5 over the Terrapins.  Over/under is 59.
No. 1 Alabama hosts Arkansas. Pigs are 2-5 and winless in the $EC.  Tis a pity.  6:00 p.m. on ESPN.  I will watch some of this just to enjoy watching Arkansas get their butts kicked.  Crimson Tide favored by 31.5, and the over/under is 55.5.  Roll Tide!
Boston College (4-3, 2-2) at No. 4 Clemson (7-0).  6:30 p.m. on ACC Network.  Tigers are 34 point home favorites, and over/under is 59.  Dabo's got this one.
Best game of the evening and to which I will be tuned is a big one in the Big House.  No. 8 Notre Dame at No. 19 Michigan.  6:30 p.m. on ABC.  Now, until Mark Dean joined our family, this would have been a no-brainer. Big Blue all the way.  I have always liked Michigan, and pre-MarkDean, I had an abiding dislike for the Irish.  That was all because of the 1978 Cotton Bowl.  No other reason.  So now I am conflicted, but I have to go with family.  Go Irish!  The line is Michigan by 1 (was even), and the over/under is 52.  Bias aside, I think Notre Dame wins by 10.  This is a great rivalry, and one of college football's great games.
No. 24 Arizona State at UC Los Angeles.  Not really at Los Angeles, since UC Los Angeles plays in Pasadena, in the Rose Bowl.  6:30 p.m. on PAC 12 Network, Sun Devils favored by 3, and over/under is 55.  Line is low.
California at No. 12 Utah.  9:00 p.m. on FOX Sports 1.  Appropriate that I will tune in to California for part of my late night viewing as I will be finishing a Staglin Family Cabernet about that time.  Utes favored by 21, and the over/under is 36.5.
The other late night game from the West Coach features the Pirate and his Cougars at No. 11 Oregon.  9:30 p.m. on ESPN, and this will be a raucous game in Autzen Stadium.  Washington State is 4-3 and 1-3 in PAC 12 play after the hot start, and Oregon has run the table since the opening weekend loss to Auburn.  May have to pop another cork to watch this one.  Ducks favored by 14, and the over/under is 65.5.
Other Games of Interest
Friday Night.
Very good game on ESPN2, if you have lost interest in baseball.  Or if you have lost interest by 8:00 p.m.  Southern Cal at Colorado.  Trojans are 4-3/3-1, and the Buffs are 3-4/1-3.  Important game for Southern Cal, as they are still in play in the PAC 12 South.  Arthur, I heard the wedding was really nice.  Sorry to miss it.  Trojans favored by 12, and the over/under is 64.
Saturday
College Gameday is in Brookings.  South Dakota, but you knew that.
Why?  The South Dakota State Jackrabbits are 6-1 and ranked 3 in the FCS, and they are hosting the North Dakota Bison, who are undefeated and ranked 1.  The game will be played in Dana J. Dykhouse Stadium, which I am sure is familiar to many of you.  Just as is the Argus Leader.
https://www.argusleader.com/story/news/2019/10/21/espn-college-gameday-south-dakota-state-jacks-brookings-ndsu-bison/4056784002/
San Jose State at Army.  11:00 a.m. on CBS Sports Network.  Bet it is beautiful on the banks of the Hudson River.  May have to tune in to see some of this.  Army favored by 10, and the over under is 53.
This week the Northern Illinois Huskies play the Zips of Akron.  As my friend John Hagelman, who sits to my left on Row 30 of Section 6, pointed out last week, I mistakenly said they were the Salukis.  I knew that, just cerebral flatulence.  John actually lived in DeKalb (NIU's town), and spent a year at NIU before transferring to Texas.  A bit warmer in Austin than in Northern Illinois.  The Salukis are Southern Illinois, who compete in the FCS Missouri Valley conference.  Which happens to include the aforementioned North Dakota State Bison and South Dakota State Jackrabbits, as well as the Northern Iowa Panthers (damn you Jesperson), Larry Bird's Indian State Sycamores, and that coaches incubator, Youngstown State.  Anyway, MACtion in DeKalb, with the Huskies favored by 23 over the Zips.  2:30 p.m. on ESPN3.
Mississippi State at Texas Agricultural & Mechanical, 11:00 a.m. on SEC Network.  Aggies favored by 10. By the way, as some Agriculturalists beat their chests about wanting to play The University of Texas, Texas Agricultural & Mechanical announced last week they had scheduled Prairie View A&M for a game in the future.  Meanwhile, CDC was responding from a tweet from the Florida Gators looking for a Power 5 opponent from another Power 5 Conference. It just means more to some SEC schools.  Whoop!
Southern Mississippi at Rice.  Poor Owls.  0-7.  12:00 noon on ESPN+.  Owls are only 9.5 point home dogs.  Over/under is 50.
Virginia at Louisvile.  2:30 p.m. on ACC Network. Cavaliers favored by 3.5, and the over/under is 52.  Go Hoos!
Arizona at Stanford, 2:30 p.m. on PAC12 Network.  Line has moved from even to Stanford -1.5.
Tulane at Navy.  Middies are 5-1.  Big game for them.  Navy favored by 3.5.
Miami Redhawks at Kent State.  2:30 p.m. on ESPN+.  Miami only a 2.5 point road underdog.
Duke at North Carolina.  Both teams 2-2 in ACC play.  A great basketball game, a passable football game, but a heck of a lot better game now that Mack is there.  3:00 p.m. on "ACCNX".  Good luck Coach!  Heels favored by 3 at home.  Over/under is 53.5.  Light the tower blue Mack!
Louisiana Tech at UTEP.  7:00 p.m. on ESPN3 from the Sun Bowl in El Paso.  I really need to make it out to El Paso someday.  LATech favored by 20.5.
The Week that Will Be:  1-0?  From HornMafia:
https://www.barkingcarnival.com/2019/10/23/20929925/the-week-that-will-be-texas-longhorns-football-big12
Week 9 Viewing Guide:
https://www.burntorangenation.com/2019/10/24/20931037/week-9-college-football-viewing-guide-game-time-television
Last Week in College Football
Big XII Week VIII
The Land Thieves were 33.5 point favorites at home in Norman, and they covered easily 52-14 over West Virginia.  Hit the over (63).  Hurts with 316 in the air and 75 on the ground.
Brock Purdy had a great game for Iowa State (378 yards and 3 TDs), as the Cyclones took down the Sand Aggies in Lubbock, 34-24.  ISU covered; over/under was 57.  Dang.
Texas Christian lost 17-24 at Kansas State.  Horned Frogs had been favored by 3.5.
Baylor is good.  45-27 over Oklahoma State in Stillwater in a game where the Cowboys were favored by 4.  I was wrong, and Vegas was wrong.  Texas going to have a tough game in Waco.
Top 25 in Week 8
Friday Night
No. 4 Ohio State just destroyed  Northwestern 52-3.  As I feared, an ugly game.
Saturday
No. 1 Alabama stayed that way because they beat Tennessee 35-13.  Vols covered.
No. 3 Clemson was at Louisvile and were favored by 24. I said "Hope they (Clemson) cover by a touchdown."  45-10 Clemson.  Thanks Dabo!
College football is wondrous and fun because good things happen to bad teams.  College football is brutal and cruel because bad things happen to good teams, breaking their fans' hearts and shocking those who enjoy the sporting life.  No. 6 undefeated Wisconsin was favored by 31 over Illinois, who was 0-3 in the Big 12.  A last second field goal lifted the Fightin' Illini 24-23 over the Badgers.  Oh Wisconsin.
Florida 38 -27 over South Carolina.
Auburn 51, Arkansas 10.  War Eagle!
Michigan lost a tough one to PSU, 21-28.  Wolverines fought hard, and I was rooting for em!
Huge upset in Nashville, and one which I approve!  Vanderbilt 21-14 over Missouri.  I am glad I called this one wrong. Congratulations Commodores!
Georgia with a 21-0 win over Kentucky, but it was 0-0 at half.  Bet there were some tight ones in Athens.
Iowa 26-20 over Purdue.  Hawkeyes win, but Boilermakers cover.
Louisiana State 36-13 over Mississippi State, covering.  Geaux Tigers!
Minnesota 42-7 over Rutgers.
Cinci 24-13 over Tulsa.
Southern Methodist beat Temple 45-21, in a game that I thought might be a trap game for Dykes and his Ponies.  Good win.
Heck of a game out West, as Oregon scored 7 in the fourth quarter to beat Washington 35-31, keeping the Ducks undefeated and conference and with a shot at the CFP.
Brigham Young upset Boise State, 28-25.  "This feels like an upset."  Nailed that one.
Arizona State goes down 3-21 to the Utes.  Utah covered.
Other Games of Interest Last Week
Thursday night, Stanford lost to UCLA on the Farm, 16-34.  Bummer.
Saturday
Miami beats Northern Illinois!  Redhawks 27-24 over the Huskies.  Congrats Jimmy U!  Surely you had Miami.
Navy sinks South Florida 35-3.  Charlie having a tough year.  Line was 14.5.  big cover.
North Carolina lost 41-43 at Virginia Tech.  Tough loss for Coach Mack, and nice cover by the Hokies.
Virginia rebounded in a big way over Duke, 48-14, blowing away the 3 point line.
Rice 27, UTSA 31.  Too bad Owls.
Army with a tough loss at Georgia State, 21-28.
Leach and his Cougars with a big 41-10 win over Colorado.
UTEP loses 17-32 at FIU.
Texas Agricultural & Mechanical 24-17 over Ole Miss.
Southern Cal ran all over Arizona, winning 41-14.
Air Force 56-26 over Hawaii.  The line was 3.  Wow.
Washington & Lee
Heartbreaking loss for W&L at Emory & Henry, as the Wasps completed a 39 yard Hail Mary with time expiring to beat the Generals 48-42.  The teams combined for 1,041 yards of offense:  W&L had 174 in the air and 327 rushing, and E&H put up 368 passing and rushed for 172.  The Generals were flagged 8 times for 93 yards, which hurt.
Tough game for the Generals this week, as undefeated Bridgewater comes to Lexington.  1:00 p.m. Shenandoah Valley time at Wilson Field.
Notes for the game:
https://generalssports.com/news/2019/10/21/football-game-notes-for-the-bridgewater-game.aspx
Texas Basketball
Coach Shaka Smart and the Texas Longhorns return to the hardwood in a couple of weeks, November 5 against Northern Colorado at the Erwin Center, with a weekend trip to West Lafayette to play Purdue.  More to come on this season, but there is already such good news.  Andrew Jones, who we have all been praying and pulling for, is healthy.  A few days ago, Jones had 20 points in 21 minutes in Texas' 92-76 win over UTSA in a scrimmage.  Praise!
Shaka's big point of emphasis is trying to establish more consistency, which he'll definitely lean on a more experienced backcourt to provide that.  Here's link to his presser at yesterday's Big 12 media day:
His appearance on LHN's pre-game football show last Saturday:
Texas Baseball
The Horns have a noon scrimmage on Sunday at Disch-Falk with McLennan Community College.  Look forward to being back in the Disch.
Last weekend, Texas opened the new J. Dan Brown Family Player Development Center.  It is nice.
https://texassports.com/news/2019/10/19/baseball-opens-j-dan-brown-family-player-development-center.aspx
IVY LEAGUE REPORT FOR WEEK 6 (Oct. 26, 2019)
By Lonnie Schooler
I was up late last night attending World Series Game 2 (my request for a refund is pending!).  Anyway, the Ivy League is in full swing this weekend as league play continues in earnest, with all teams now concentrating on playing League opponents through the rest of the season.  Here are results from Week 5 and the schedule for Week 6.
GAMES ON OCTOBER 19:
All of last week's games were held on Saturday.  The League leading Big Green of Dartmouth traveled to Poughkeepsie New York and had no trouble handling Marist, 49-7.  The Princeton Tigers journeyed to Providence to play the Brown Bruins, and overwhelmed the Bruins, 65-22, showing that its ranking in the FCS Top 25 is no fluke.
The Harvard Crimson ventured to Worcester Mass. to confront the Holy Cross Crusaders, and prevailed, 31-21.  In a match of upstate New York foes, the Colgate Raiders went to Ithaca to play the Big Red of Cornell, and eked out a victory, 21-20, on a last minute score.  The Yale Bulldogs traveled to Richmond, Virginia, to play the University of Richmond, and likewise eked out a last quarter victory, 28-27.
Finally, the Fighting Quakers visited the Upper West Side of Manhattan to take on the Columbia Lions.  In the upset of the week, probably of the year, the favored Quakers were trampled (literally and figuratively) by the Lions, 44-6.  First win by the Lions in this series in several years.  Congratulations to Mr. Pat Sharkey.
At this stage, Dartmouth, Harvard and Princeton are all tied atop the League with "2-0" records.
GAMES ON OCTOBER 25-26.
All times are CDT.
On Friday evening, fresh off its resounding triumph against Penn, Columbia travels to Hanover to play the Big Green of Dartmouth (5:00 P.M.)  The game will be broadcast on ESPNU.
On Saturday, the Penn Quakers journey to New Haven to take on the Yale Bulldogs, hoping to bounce back from their loss to Columbia (11:00).  Harvard travels to New Jersey to tangle with the Princeton Tigers, in a match of conference unbeatens (Noon).  Lastly, Brown ventures forth to upstate New York to play the Big Red of Cornell in Ithaca (12:30).
Enjoy your football this weekend, as the weather turns colder in the Northeast.  And go Astros!
Astros!
Well, I sure thought I was going to be talking about a 2-0 Houston lead heading to Washington, or at least a 1-1 even series.
On a positive note, regardless of the outcome of the Series, this is the is the first decade since the 19-teens that the New York Yankees have not won a pennant.  The Houston Astros stopped them 3 times.
The loss Wednesday night was ugly, and the Astros have a long row to hoe.  Going to have to win Friday night, or a team that has no appeal to me whatsoever is going to take the Series.  Let's Go Stros!  Take it Back!
Music
My son Charles is great about introducing me to new music and artists.  Here are 3 cool ones that will get you exploring
Marcus King with "Goodbye Carolina", Live at the Opry.
Gov't Mule with Marcus King, "Can't You See"
The Teskey Brothers "I Get Up"
The Teskey Brothers "Hold Me"
The Teskey Brothers "Crying Shame"
God Bless Texas
Tim Taylor
Tailgating before Home Football Games
The Juan Heisman Tailgate
Lot 38, East of Sid Richardson Hall.
HOOK EM HORNS!!
© Timothy C. Taylor, Sr. 2019.  All Rights Reserved (as to original material).
On Twitter:  @tctayloratx
On LinkedIn:  www.linkedin.com/in/tctatx
On Instagram:  @tctayloratx
On Facebook:  www.Facebook.com/Tim.C.Taylor
and:  www.Facebook.com/Juan.Heisman
You can contact me by mail:

Tim Taylor

P.O. Box 5371

Austin, Texas  78763-5371