Land Thieves vs. Longhorns
The TCT email for Hate Week and the Red River Shootout with the Land Thieves is usually all about the Greatest Day in College Football, when the Oklahoma Sooners and Texas Longhorns meet in the Cotton Bowl in the middle of the State Fair of Texas with 125,000 or more other folks milling around and drinking beer and eating a lot of fried foods.  Not this year.  Thanks a lot coronavirus.
But the Longhorns and the Land Thieves will play in the Cotton Bowl in front of a limited crowd.   The usual spectacular division of the stadium at the 50 yard line – Burnt Orange to the North, Crimson to the South, will not be quite as amazing; however, I am still anticipating a great college football game between two great rivals who will be playing for the 116th time.
Texas enters the game ranked No. 22, after the bitterly crushing loss to the Horned Frogs.  The Land Thieves enter unranked, also coming off a loss.  This will be the 92nd straight year that the RRS has been played in Dallas, and 84th in the Cotton Bowl.  Texas leads the series 62-48-5.  OU is the home team this year, so our Longhorns will be in the icy whites.
Do you know why we say y'all instead of you?  Because we leave out the 2 worst letters – OU.
The Vegas line opened with Texas 2 point underdogs (some had us 2.5).  Wednesday night the line was down to 1.5.  Over/under has been bouncing around 72.  As you will note from the stats below, 72 points in this game seems highly likely.
Kickoff is 11:00 a.m. on FOX.  Coach Herman is 5-6 in 11:00 o'clock games at Texas.  The game will be broadcast on FOX with Gus Johnson on the PxP, Joel Klatt with commentary and analysis, and Jenny Taft on the sideline.  The game will be broadcast around the world on the Longhorn IMG Radio Network.  Craig Way, Roger Wallace, and Quan Cosby.
The social media team at UT put together a great collection of tweets.  Here are a couple.
"Earthquake" – Dicker the Kicker
#TBT: 2018 – "EARTHQUAKE!" pic.twitter.com/b1P47GHmTe

— Texas Football (@TexasFootball) October 8, 2020
Quan.  Oh Quan.
#TBT – 2008 @QCosby17 🤘 pic.twitter.com/c7KsEY69w3

— Texas Football (@TexasFootball) October 8, 2020
From SBNation.com.  They have a whole blog devoted to College Football History.  My friend Randy McEachern is a Legend.
http://www.footballstudyhall.com/2011/10/7/2475141/the-historical-texas-mceachern-miracle-and-cornells-fifth-down
Texas Christian Horned Frogs 33, Texas Longhorns 31
In 1961, the Texas Longhorns were ranked No. 1 in both polls and had Texas Christian in Austin on the Saturday before Thanksgiving (and a trip to College Station).  Darrell K Royal's undefeated Longhorns managed to lose to the Horned Frogs, 0-6.  The lone score was a TCU 50 yard touchdown pass (PAT blocked).  I guess I should have tracked down Jack Collins or Mike Cotten to get the story on this game, because there must be one.  Mike was our quarterback.  Jack, James Saxton, Jerry Cook, and Tommy Ford carried the ball for a combined 165 yards.  Pat Culpepper led the Horns with 13 tackles, and other defenders on the field that day included Don Talbert, David McWilliams, and Johnny Treadwell (along with offensive starters, as men were still playing on both side of the ball).  Texas had zero penalties, of note.  Anyway, I believe it was that frustrating loss that resulted in the great Coach Royal quote:  "TCU is like a cockroach.  It's not so much what he eats and totes off but what he falls into and messes up."  Yep.
I find it hard to articulate the severity of my frustration and disappointment with the loss to the horny toads on Saturday.  It probably starts with the mistakes.  Penalties, simple football plays not executed (e.g., offsides, illegal man downfield, passes dropped, stretching out the ball when it was unnecessary).
Oklahoma Sooners vs. Texas Longhorns
 The Official Preview:
https://texassports.com/news/2020/10/5/no-22-22-football-preview-vs-oklahoma-oct-10-2020.aspx
The Official Texas Game Notes:
https://texassports.com/documents/2020/10/5//Texas_2020_Notes_4.pdf
If you want some great stuff on Sam Ehlinger, download the game notes and go to page 11.  Six pages of Sam stats, facts, and information.  Worth a few minutes of your time.
Depth Chart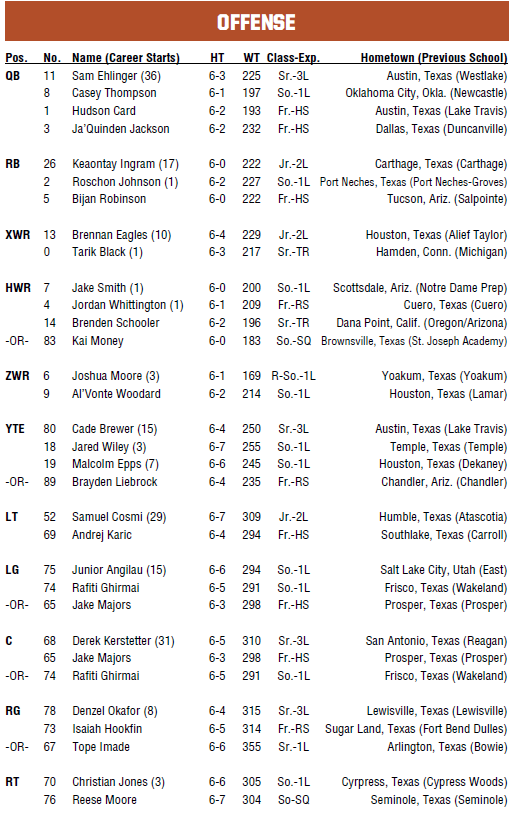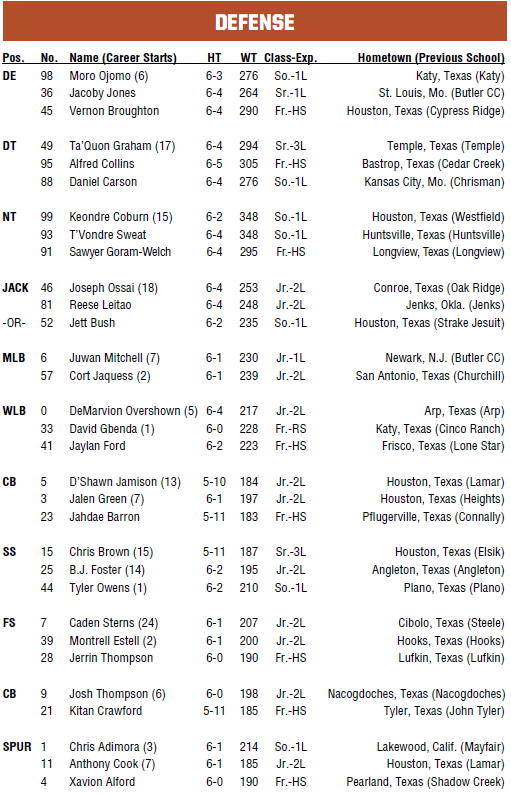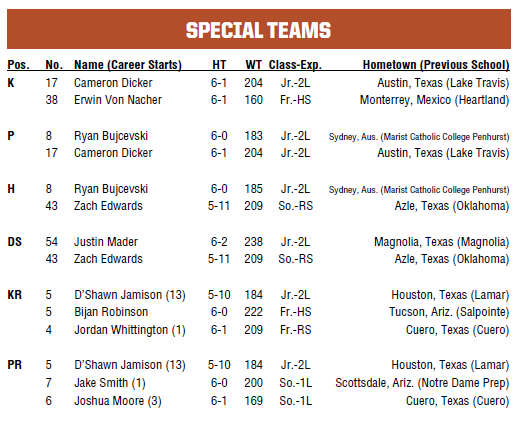 The Statistics
Offense
| | | |
| --- | --- | --- |
| Statistic | Texas | Land Thieves |
| Rushing Offense | #23 – 191.3 ypg | #57 – 122.7 ypg |
| Passing Offense | #12 – 326.3 ypg | #2 – 390.3 ypg |
| Total Offense | #6 – 517.6 ypg | #8 – 513.0 ypg |
| Scoring Offense | #1 – 51.0 ppg | #19 – 37.7 ppg |
| First Downs | #22 – 23.7/game | #13 – 25.7/game |
| Sacks Allowed | #7 – 2, 18 yards | #61 – 9, 45 yards |
| Tackles for Loss Allowed | #17 – 11, 38 yards | #62 – 25, 94 yards |
| Third Down Conversions | #44 – 42.5% | #27 – 46% |
| Fourth Down Conversions | #18 – 66.7% | #18 – 66.7% |
| Red Zone Offense | #27 – 89% / 78% | #36 – 86% / 64% |
| Long Run Plays | #25 – 16/10; 6/20; 3/30; 2/40 | #36 – 14/10; 2/20, -0- |
| Long Pass Plays | #13 – 37/10; 16/20; 9/30; 6/40 | #1 – 48/10; 18/20; 9/30; 4/40 |
| Long Scrimmage Plays | #13 – 53/10; 22/20; 12/30; 8/40 | #4 – 62/10; 20/20; 9/30; 4/40 |
There are 15 teams tied for #1 in Red Zone Offense at 100%
Defense
| | | |
| --- | --- | --- |
| Statistic | Texas | Land Thieves |
| Rushing Defense | #29  – 126.7 ypg | #8 – 81.7 ypg |
| Passing Defense | #38 – 250.7 ypg | #31 – 232.3 ypg |
| Total Defense | #29 – 377.4 ypg | #14 – 314.0 ypg |
| Scoring Defense | #48 – 30.7 ppg | #29 – 25 ppg |
| Sacks | #55 – 3, 22 yards | #29 – 6, 33 yards |
| Tackles for Loss | #19 – 23, 75 yards | #32 – 18, 65 yards |
| First Downs Allowed | #32 – 21/game | #3 – 13.3/game |
| Third Down Conversions | #25 – 36.7% | #6 – 25% |
| Fourth Down Conversions | #10 – 20% | #50 – 66.7% |
| Red Zone Defense | #27 – 77% / 54% | #57 – 90% / 60% |
| Long Run Plays Allowed | #28 – 10/10; 3/20; 1/30; 1/40 | #11 – 6/10; 3/20; 1/30 |
| Long Pass Plays Allowed | #49 – 28/10; 8/20; 3/30; 1/40 | #12 – 18/10; 12/20; 7/30; 4/40 |
| Long Scrim. Plays Allowed | #40 – 38/10; 11/20; 4/30; 2/40 | #9 – 24/10; 15/20; 8/30; 4/40 |
Other
| | | |
| --- | --- | --- |
| Statistic | Texas | Land Thieves |
| Turnovers | #36  – 4; 2F, 2I | #62 – 6; 1F, 5I |
| Turnover Margin | #31 –  5:4, +.33 | #65 – 2:6, – 1.33 |
| Penalties | #66 – 28, 247 yards | #66 – 28, 243 yards |
*Based on total number of penalties.
Match-up Comparison
| | |
| --- | --- |
| Texas Offense | Land Thieves Defense |
| Rushing Offense – 191.3 ypg | 81.7 ypg – Rushing Defense |
| Passing Offense – 326.3 ypg | 232.3 ypg – Passing Defense |
| Total Offense – 517.6 ypg | 314.0 ypg – Total Defense |
| Scoring Offense – 51.0 ppg | 25 ppg – Scoring Defense |
| First Downs – 23.7/game | 13.3/game – First Downs Allowed |
| 3rd Down Offense – 42.5% | 25% – 3rd Down Defense |
| 4th Down Offense –  66.7% | 66.7% – 4th Down Defense |
| Red Zone Offense – 89/78 | 90/60 – Red Zone Defense |
| LRP – 16/10; 6/20; 3/30; 2/40 | 6/10; 3/20; 1/30 – LRP Allowed |
| LPP – 37/10; 16/20; 9/30; 6/40 | 18/10; 12/20; 7/30; 4/40 – LPP Allowed |
| LSP – 53/10; 22/20; 12/30; 8/40 | 24/10; 15/20; 8/30; 4/40  – LSP Allowed |
| | |
| --- | --- |
| Texas Defense | Land Thieves Offense |
| Rushing Defense – 126.7 ypg | 122.7 ypg – Rushing Offense |
| Passing Defense – 250.7 ypg | 390.3 ypg – Passing Offense |
| Total Defense – 377.4 ypg | 513.0 ypg – Total Offense |
| Scoring Defense – 30.7 ppg | 37.7 ppg – Scoring Offense |
| First Downs Allowed – 21/game | 25.7/game – First Downs |
| 3rd Down Defense – 36.7% | 46% – 3rd Down Offense |
| 4th Down Defense –  20% | 66.7% – 4th Down Offense |
| Red Zone Defense – 77/54 | 86/64 – Red Zone Offense |
| LRP Allowed – 10/10; 3/20; 1/30; 1/40 | 14/10; 2/20 -0- – LRP |
| LPP Allowed – 28/10; 8/20; 3/30; 1/40 | 48/10; 18/20; 9/30; 4/40 – LPP |
| LSP Allowed – 38/10; 11/20; 4/30; 2/40 |  62/10; 20/20; 9/20; 4/40 – LSP |
 [As a side note, when doing this week's stats, I couldn't help but notice how strong Oklahoma State's defensive rankings are:  #6 in scoring defense, #15 against the rush, #14 in pass, and #7 overall.  That Halloween trip to Stillwater is looking even scarier.]
No huge surprise that Lincoln Riley's offense is an efficient air raid machine.  Second in the country in passing yards.  Top in long pass plays sorted by 10+ yards, #3 at 20+, tied with several including Texas at second for 30+.  At 40+ yards, Texas is tied for #4 with Southern Miss, and OU is tied with a bunch for #10.  (BTW, the Southern Methodists are way up there in these categories; Buechele having a good season so far.)  I think the game turns on how well our defense plays against the pass, and that will depend in large part on how good a job Chris Ash and the rest of the defensive coaches do in getting ready to defend Lincoln Riley.  It can be done, and I suspect the outcome of this 117th meeting between the Longhorns and Land Thieves will depend on that.  My guess is the Horns are going to have to pressure Rattler (c'mon Ossai!), get a couple of interceptions, and limit the big plays.  I think the Land Thieves have the edge here, at least on paper, but I am hoping there is an inspirational leader on defense who flips that edge on the field and gives it to the Longhorns.  There are several young men who could do it, and I think there has to be one who wants to write his name in the Texas History Book for a legendary performance in a win over OU.
The good news is that the Texas offense is just as good as OU in 2020.  Not sure when the last time we entered this game with a higher scoring average and more yards per game, but I bet it was a while back.  This Longhorns offense can and will go toe to toe with Riley and his minions, and I really think Yurcich is going to have the Longhorns in a position to win.
So, probable edge to OU offense over Texas defense passing game.  Texas probably has the edge on run defense versus OU, but it is razor close if at all.  The Land Thief run defense has been really good, and that concerns me, especially if RoJo and Bijan are still banged up.  I don't want Sam having to run a bunch, because you know those Thieves will bring the lumber.  I think we have the clear edge with Dicker the Kicker on field goals, but we have seen this year, all too clearly, that Texas has some issues in other aspects of special teams.  Oh, and penalties.  What a surprise.  Texas and OU are both near the bottom in the country, tied at 66, each with 28 penalties in 3 games.  Those Big XII referees.  I am guessing they had an off-season continuing education seminar with Joe West on "How to Make the Game About You Instead of the Players" and from someone else on "Every Penalty Matters, Even if it Doesn't".  I am really sick of the officiating in this conference.  Wish I had been a fly in the wall in CDC's suite last weekend with Bob Bowlsby there.  Or even a fly on someone's head.
Here's the real deal:  none of that matters.  If there is one thing I know about this great, spirited rivalry, stats and records just don't make a big difference.  Kids come to Texas to play in this game.  I assume kids go to OU for the same reason, because it surely can't be that they want to live in Norman for 4 or 5 years.
I think Texas wins this game. For one reason:  Sam Ehlinger.  I think Mr. Ehlinger is going to will this team to a win, lead them to a victory and those great big grins as the kids put on the Golden Hat and laugh and experience the true joy of beating your greatest rival.  I believe in Sam Ehlinger, and I believe nothing matters more to him as a football player right now than beating the Oklahoma Sooners on October 10, 2020.
The Statesman's Cedric Golden's take on Sam's outspoken leadership this week:
"There are a lot of guys that haven't necessarily spoken up that need to step up and need to voice how they're really feeling about taking everything with discipline and doing things right all the time," Ehlinger said.

That's Leadership 101. The message has been received that No. 11 runs the locker room and if that's too much for teammates, there's always the portal. Ehlinger is all about victories and nothing else, and if that makes him unpopular, so be it.

"I wouldn't say that I'm pushing guys not to like me," he said. "In the end, winning and seeing at the end of the day if we win, people will respect that and be content with that over a maybe friendly conversation if someone messes up."

Angry Sam is Motivated Sam and likely Winning Sam.
Agreed Ced!
More details: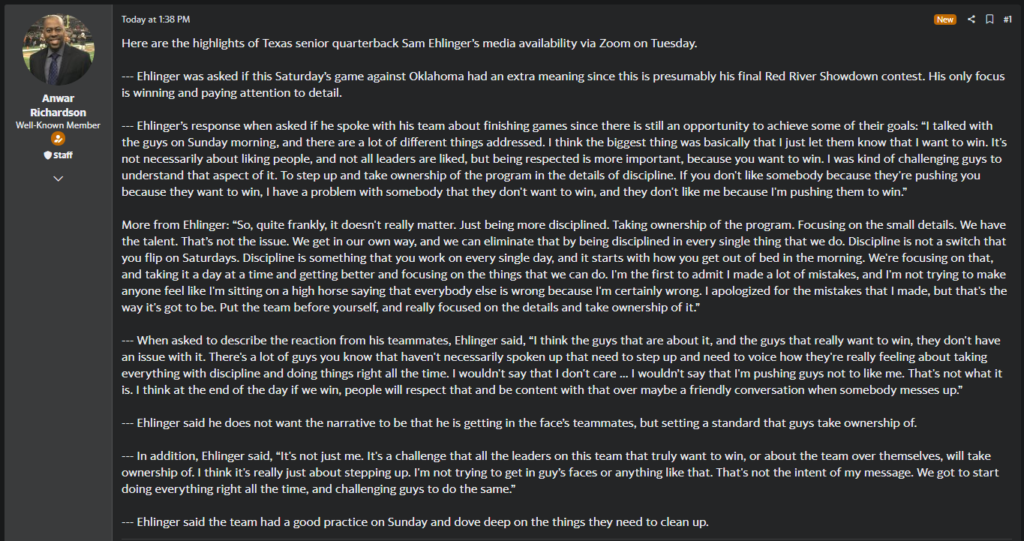 Oklahoma Land Thieves
 As angry an frustrated as Texas fans are, our amigos from north of the Red River are really in a foul mood.  The Land Thieves opened the season with high expectations and a nonchalant 48-0 beat down of Missouri State.  September 26 in Norman, they found a way to lose to K State 25-38.  Last weekend they went to Ames and got beat by the Cyclones, 37-30.
Oklahoma is tied with Kansas and Tech for last place in the Big XII Conference.
The strap on Lincoln Riley's visor is pretty tight.  While he is still regarded as one of the most brilliant offensive minds in the college game, a 1-2 start doesn't sit well with Sooner Nation.  Lincoln has lost 8 games in 4 years (that includes the 2 losses this season), and that is pretty good.  In his first three seasons: 3 conference championships, 2 Heisman Trophies, and 3 CFP berths.  My advice to my Sooner friends is this:  it is 2020, and OU entering the Red River Shootout tied for last in the Big 12 just fits with the year.  For attentive fans, you will realize when you read the names below, there a lot of new faces in Norman.
The Land Thief Offense is led by Spencer Rattler (#7, RF, 6-1, 205), who enters the game with 977 passing yards, 73.4% completions, 325.7 yards per game, 10 TDs, and 4 interceptions.  He is ranked #8 in the nation among quarterbacks, right behind Buechele.  Ehlinger is No. 10.  I don't want to jinx us, but Rattler has netted 16 yards on 21 rushing attempts.
The Sooner ground game is off to a surprisingly slow start.  Let's hope it stays that way.  No. 57 in the nation in rushing, the Land Thieves are led by #1 Seth McGowan (Freshman, 5-11, 211 out of Mesquite Poteet), who has 181 yards on 34 carries and 2 TDs.  That does equate to 5.3 yards per carry, which is good.  T.J. Pledger (#5, Junior, 5-9, 193) has 88 yards on 24 attempts.
Riley's air attack has some good receivers.  Austin Stogner (H-Back, #18, 6-6, 262), has 11 catches for 174 yards (no scores).  That kid will give Texas problems.  Charleston Rambo (WR, #14, 6-1, 175) has 171 yards on 13 catches for 2 scores, and Marvin Mims (WR, #17, 5-11, 177) has 11 for 144 yards and 3 scores.  Yards per catch for the top 3:  15.8, 13.2, and 13.1.  Your offense can chew up a lot of yards with those numbers.
Land Thief defense is led by Brian Asamoah (LB, #24, 6-1, 230), with 18 tackles, 7 solo, and 1.5 TFL for 3 yards.  Delarrin Turner-Yell (S, #32, 5-10, 195) has 15 tackles (7 solo, 1.5 TFL) and an interception.  Woodi Washington (S, #0, 5-11, 192) has 12 tackles, 5 solo.  DeShaun White (LB, #23, 6-0, 227) has 12 tackles (7 solo), 4 TFL for 18 yards and 2.5 sacks for 15 yards.  If I am reading the stats right, their top 3 defensive lineman have 17 tackles combined and 1 sack.
Some stuff I found on in the internet that worries me.
Tom Herman is 1-11 at Texas trailing in 4th quarter.
Tom Herman is 2-12 at Texas trailing at half.
TCT Prediction
One might think I would skip a prediction this week after the last two.  But I am a glutton for punishment and it gives some folks so much pleasure to poke fun at me when I whiff.  I am not whiffing this week:  Texas wins.
Texas – OU Stories and Streaks
A few years ago, I started to occasionally include in the RRS email some stories from friends and readers about their OU games and how many years they had attended.  This year, with the SARS-CoV-2 virus and the pandemic, many streaks are ending.
The Honorable Lee Yeakel, United States District Judge, Western District of Texas
Judge Yeakel and I met and became friends back in the 1980's.  I was a young lawyer, and Lee was a well-respected Austin attorney and chairman of the Travis County Republican Party.  Our friendship of 40 plus years now touches five decades (I know Judge, blew me away too).  The most common bond for His Honor and I has been Texas sports, especially Longhorn baseball, along with the Headliners Club, especially cocktails in The Press Box.  Judge Yeakel:
The streak: I've attended every Texas vs. Oklahoma game at the Cotton Bowl beginning with the 1963 game and ending with the 2019 game; 57 total.

The outliers:  I attended the 1958 game; Darrell's first win over Oklahoma and Bud Wilkinson. Also the 2018 Big XII Championship Game at Jerryville.

Thus, in person at 59 Texas-Oklahoma contests. That will end this year. My football will be restricted to television, until the plague is long gone.
Brad Laughlin
Brad is one of my closest friends, a wonderful Christian man, and the Chief Financial Officer of the Juan Heisman Tailgate.
This will be my 53rd in a row.  First non-sellout for sure.  Thinking back, I remember gathering on the field before the game in 1977.  As a Texas Cowboy, we had passes for that sort of thing.  Sitting around Ole Smokey, I asked one of our Kappa Alpha brothers (who that year were in charge of that sort of thing) where the shotgun shells were.  His face turned pale upon realizing he had left all the shells at the home he was staying at in Highland Park.  Thanks to a DPS escort with siren screaming and lights flashing, he made it there and back before the game began.  Good thing because we would need those shells as Texas beat ou and Barry Switzer by a score of 13-7.
Trey Hoffman
Trey Hoffman, a long-time reader and true OrangeBlood:  "Covid or no Covid.  Band or no band.  I am headed to Dallas next Saturday for my 57th consecutive Texas-OU game."
Joe Holt
Joe Holt, Austin leader and former chairman of JP Morgan Chase here:  "My streak will end at 52 straight. This would have been 53. At least I got to cross 50. See you soon.  Holt"
Mario Espinoza
Mario Espinoza, who is one heck of a Longhorn:  "There are too many great TX/OU weekend stories and memories to share but this looks like this will be my first absence from a TX/OU game since 1985. But, then, 2020 will go down in history with a big asterisk."
Gary Pickens
Gary Pickens from Dallas has been to 55 straight, a great streak that ends this year.  "I went to my first Texas-OU game in October 1964….and haven't missed one since.  With all kinds of weather from sleet (hail), to torrential rain, to blistering sun….I've been to every game in 55 years and enjoyed them all.  It's obviously too long of a story to talk about it all….but I was a Silver Spur and was in charge of getting Bevo to the games in the Fall of '75 and we had a huge incident with a drunk OU fan on the field at halftime. At that time the Cotton Bowl held about 76,000 and virtually everyone saw it unfold (both sides) and there was a near riot.   Bevo was slightly injured but with what ensued….actually the whole incident was wonderful.  It got 76,000 out of their seats."  That is a story my friends!
Rob Dollars
My old friend and colleague Rob Dollars from the Small, Craig & Werkenthin days sent this story (he left SCW to go to the Flahive firm, not sure when).  A mandatory prelude to the story, or any Rob Dollars story, is the great memory of the suggestion by some young wag to rename the firm (which hopefully never reached Mr. Small or Mr. Werkenthin).  In addition to smart young associate Rob Dollars, we also had Byron Cox and Carla Cox in the firm.  The suggestion was that a great law firm name would be Small Cox & Dollars.
Anyway, Rob's story.
Seen a few. Nothing like the Stonie Clark game, 94 if memory serves. That was a damn hard year for our little law firm. I think we only had 14 lawyers to start the year.  We ended with 12. Ted Flahive, one of our founders passed. That was sad, but age appropriate, I guess. We also lost Jimmy Ross Weaver, in his forties, to cancer. One of the most passionate Longhorn fans I have ever loved. Grew up in Navasota. Buried on a family plot in Courtney. I stop by there every chance I get. His parents made him go to A&M. That lasted a year. Then it was UH. That lasted a year. Finally made it to UT, where he wanted to go all along. Undergrad and law. He was a force. Brilliant. Would out argue you, then buy you a drink. Remembered every precedent. First guy I knew with laptop (Compaq). Funny as hell. Good Dad. Good husband. Mostly. Drank too much. Smoked too many gd Kools. All he wanted every season was to beat the damn farmers and the damn cherry heads (OU). Frankly, I'm skeptical about religion and heaven. But when Stonie stopped that last OU drive, I looked up and cried like a baby. RIP, Jimmy Ross Weaver. Beat the hell outta OU. But bless them and their families.
Gordon Appleman
A great Longhorn and supporter of the University, Gordon shared not a streak but a picture.  Gordon was a Cowboy manning the cannon, and he came into the possession of a Ruf-Nek's paddle.  He didn't share the story, but I will assume that the statute of limitations has run.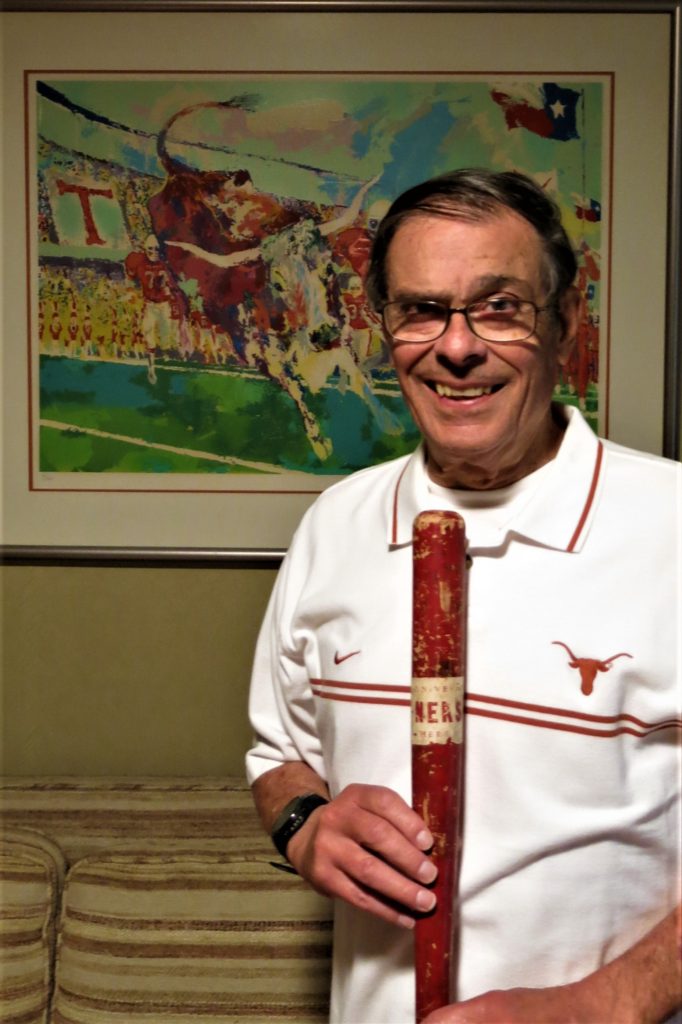 Lastly, two great Longhorns who are no longer here with us.
John Fainter's streak started in 1958, and we think he went to his last one in 2018.  He missed in 1957 because he had a quiz that morning in Austin.  We forget that Saturday has not always been a day off, and that the "weekend" as we know it today has really come about in my lifetime.
The great Longhorn and benefactor of The University, Frank Denius, had the longest streak which may never be broken.  His first Texas-OU game was in 1946, and his last was 2017.  He didn't go when he got back from Europe in 1945 because he didn't have a ticket, but he listened to the game on the radio.
Cameron Parker on Burnt Orange Nation:
https://www.burntorangenation.com/2020/10/8/21505200/oklahoma-sooners-texas-longhorns-preview-spencer-rattler
A great rivalry:
We are Texas.
They are Oklahoma.  "No sport is more uniquely Oklahoman than noodling".
Campbell-Williams Field
https://texassports.com/news/2020/10/5/football-video-campbell-williams-field-feature-fox.aspx
Texas Christian Frogs 33, Texas Longhorns 31
I picked a great week to not have time to re-watch the game or even the rewind on LHN.  I don't have much to say anyway.  The game experience was quite good.  Kudos again to Chris Del Conte and his staff.
One of the best parts of the game was getting to go and watch it Charles and Claudia.
The game was defined by penalties from the kick-off.  Marred by poor officiating, neither team could get in a rhythm.  I am not, in any form or fashion, blaming the Texas loss on the referees.  No, the frogs had more.  I blame that almost unwatchable football game on the calling of crap and not calling the obvious.  Only fitting that the game that began with flags ended with flags, and even the Big XII conference admitted it was fouled up:
https://big12sports.com/news/2020/10/5/football-statement-on-last-play-of-tcu-vs-texas-game.aspx
But, I do know this:  If Texas had not made some bonehead mistakes, and if a few of these flags had just stayed in the pocket, Texas would have won.  I haven't verified this but from a trustworthy source:  Over 240 yards of Texas offense was called back last Saturday on penalties.
240 yards?   Texas had 152 yards rushing and 236 yards passing.  Not hard to connect those yellow dots.
Texas lost because of that Max Duggan 26 yard run right up the middle in the fourth quarter.  Even I could see that hole.  If that was the alignment the defense was supposed to be in, then that page of the playbook needs to be used to light the charcoal Saturday night.
Texas lost because Max Duggan, who Ash said before the game was the best dual-threat quarterback Texas would face in the conference, ran for 105 yards anyway.  We knew that.  We knew it and Max Duggan still ran for 105 and threw for 231.
Texas lost because Texas Christian was the better team on the field last Saturday, at least the better coached team.  I am included on a post-game email that Scott Ingraham sends out.  Scott has deep, deep ties to the University and Texas football.  He knows what he's talking about.  You may recall that there were some who wanted Steve Patterson to go hire Gary Patterson after Coach Brown left.  Scott observes:
Coach W believes the following happens with Gary Patterson hired 7 seasons ago:

– UT would've experienced no losing seasons, rather than 3.

– UT would've sent many more players to the NFL.

– UT would've lost about 21 less games in that 7 season stretch (3 per season)

– UT would've won 2 Big Titles instead of ZERO

And if Gary Patterson had been our head coach since the 2014 season Texas would NOT have gone 1-6 against TCU.  Probably 6-1.
https://www.espn.com/college-football/story/_/id/13683231/the-steve-patterson-era-texas-just-put-us-hell
I am not making this up:  6+ hours of computer and network issues Thursday night/Friday morning.  This was the last section of my newsletter I was going to write this week.   So that is all I got for you on the TCU game.  I guess one might say I have been penalized by the internet referees.  The must be from the Big 12.
Earl Christian Campbell
On a happier note, this great piece on the Tyler Rose, Earl Campbell:
"Campbell was once seen as the baddest man on the planet. He left tacklers and pieces of his tearaway jersey on the field behind him. Off the field, he wore Wranglers and giant belt buckles and did Skoal commercials. He was declared an official State Hero in 1981 by the Texas legislature, an honor previously bestowed upon only Stephen F. Austin, Sam Houston and Davy Crockett."
Earl got up: Inside the second act of a Texas legend
https://www.espn.com/college-football/story/_/id/30046975
Great History on the Rivalry from Billy Dale and TSLN:
https://texas-lsn.squarespace.com/texasou-games
Polls
AP Top 25:  Clemson, Alabama, Georgia, Florida, Notre Dame, The Ohio State University™, Miami (Florida), North Carolina, PSU, and Oklahoma State.  Southern Methodist at 18, Texas Agricultural & Mechanical at 21, and The University of Texas at 22. Iowa State back in at 24 after beating OU.
Coaches Poll:  Clemson, Roll Tide, Go Gata, Dawgs, L'Université de Notre Dame du Lac, The Ohio State University™, Miami of Florida, PSU, Tarheels, and Okie A&M.  Texas Agricultural & Mechanical 20, Southern Methodist at 21, and The University of Texas Longhorns at 22.  Cyclones at 24.
This Week in the Big 12
 Texas Technical at Iowa State, 2:30 pm on ABC.  Second week in a row that the Red Raiders play a cow school (as Casey Dobson likes to call them) from the Big 8 on the road.  I prefer Land Grant college.  Anyway, tough draw this week for Tech, as the Cyclones are playing good football and are favored by 12.5, which of course means in 2020 that Tech will win by a couple of scores.  Over/under is 64.5.
The only other conference game features purple on purple violence, as Kansas State goes to Fort Worth for a 3:00 pm game at Amon G. Carter Stadium.  FOX.  Texas Christian favored by 8.5, over/under is 50.  I don't get that line, but that's why I write a blog and don't make odds.
This Week in the Top 25
Big game in Chapel Hill, as No. 8 North Carolina plays No. 19 Virginia Tech.  Both schools 2-0, and I bet this is a good football game.  11:00 am on ABC.  Carolina favored by 5, and the over/under is 59.  Mack Brown seems to have a hot hand right now, and I think he and his Heels get the win.  Not sure about the line.
Coastal Carolina (3-0) was supposed to play at No. 23 Louisiana (3-0), 11:00 a.m. from Cajun Field in Lafayette.  As best I can tell late Thursday night, postponed by Delta.
No. 21 Texas Agricultural & Mechanical hosts No. 4 Florida at Kyle Field.  11:00 am on ESPN.  Gators favored by 6.5, and the over/under is 58.
Missouri at No. 17 LSU, 11:00 AM on SEC Network Alternate.  Be interesting if they get this game in.  Louisiana State Tigers favored by 14, and the over/under is 54.
No. 3 Georgia gets No. 14 Tennessee in Athens.  The 2:30 p.m. Columbia Broadcasting System $EC Game of the Week.  Both teams 2-0.  Georgia favored by 12.5, and the over/under is 43.  Bulldogs are playing really good football, and Kirby Smart will have those Dawgs ready to play.  Going with UGA to win and cover.
UT San Antonio heads to Provo, Utah to play No. 15 Brigham Young.  2:30 p.m. on ESPN2.  BYU expected to run over UTSA, and favored by 34.5, and the over/under is 63.5.
Arkansas at No. 13 Auburn.  3:00 p.m. on the $EC Network.  Auburn favored by 13.5, and the over/under is 46.  I will take the Tigers to win and cover.  War Eagle!
When I started writing earlier this week, I said "The only place I'd rather be on Saturday than Dallas is Oxford, Mississippi."  Given the weather, not so sure now.  No. 2 Alabama and Ole Miss play at 6:30 p.m. on ESPN.  Tide favored by 23.5, and the over/under is 69.5.
No. 1 Clemson and No. 7 Miami (Florida) are on ABC at 6:30 p.m.  The Clemson Tigers are home favorites by 14 points, and the over/under is 62.5.  I am not a huge Clemson fan, but I will be Saturday night.
A night game for Notre Dame, as the Irish host Florida State.  6:30 p.m. on NBC.  Notre Dame favored by 21.0, and the over/under is 53.  As noted in prior weeks, not a good year for the Seminoles.  Going to be hard to right the ship against the Fighting Irish.
Other Games of Interest
Tulane and Houston played Thursday night.  The Cougars with a solid 49-31 win.
NC State in Charlottesville to play Virginia.  11:00 a.m. on ACC Network.  Wahoos favored by 8, and the over/under is 59.5
Duke (0-4) at Syracuse (1-2), 11:30 a.m.  ESPN3.  Winless Duke favored by 1.0 on the road?  Over/under is 52.  Might be an ugly football game, but I bet they don't have 26 penalties.
The Citadel (0-3) at Army (3-1), 12:30 p.m. on CBSSN.  Army 31 point favorites, o/u is 47.
Texas State at Troy, 2:30 p.m. on ESPN3.  Bobcats 7 point road dogs, and the over/under is 60.5.
Pitt at Boston College.  3:00 p.m. on ACC Network.  Panthers favored by 6, over/under is 43.5.
Temple at Navy, 5:00 p.m. on CBSSN.  Temple hasn't played a game, but is favored by 3.5.  Over/under is 50.5.
Mississippi State at Kentucky, 6:30 p.m. on $EC Network.  Wildcats 2 point favorites?
UTEP at La Tech, 6:30 p.m. on ESPN2 from beautiful Ruston, Louisiana.  La Tech favored by 14.
Good Stuff
The Week That Will Be:  Red River Disarray.  HornMafia (Matt Craig) on Barking Carnival.  Really good work.
https://www.barkingcarnival.com/2020/10/8/21507266/the-week-that-will-be-red-river-disarray-texas-longhorns-football
Texas Pregamer
https://www.barkingcarnival.com/2020/10/8/21508726/texas-pregamer-ou-hate-week-2020-red-river-rivalry
Facts, from Kyle Umlang
From @kyleumlang:
No team has lost more BCS/NY6 Bowls than the Oklahoma Sooners.  Even if you broke it out by most BCS Bowl losses and most NY6 Bowl losses, no one has lost more of either than Oklahoma.
More viewers have seen Oklahoma lose in the College Football Playoffs than the Series Finale of Seinfeld.
Dell Med
Great article on Dell Medical School.  I commend this to your reading.
https://alcalde.texasexes.org/2020/09/how-a-brand-new-med-school-faces-the-biggest-health-care-crisis-in-a-century/?
Last Week in the Big 12 – Week 5
 Iowa State handed the Land Thieves their second loss of the young and weird 2020 season, 37-30.  A dang good game.
West Virginia with the Double Overtime win over Baylor, 27-21.  Baylor was a 2.5 point favorite.  As I said, an interesting game.
Okie State was favored by 22.5 at Kansas and doubled down, 47-7.  Noteworthy that the over/under was 54.
Texas Technical 21, K State 31.
Last Week in the Top 25 – Week 5
Clemson with a little challenge from the Hoos, but a 41-23 win.
Roll Tide!  Yes, Texas Agricultural & Mechanical thought this might be a big upset win in Tuscaloosa.  Not so much.  Alabama 51, Texas Agricultural & Mechanical 24.
Florida 38, South Carolina 24.  Muschamp and his Cocks are 0-2.
Georgia with a mighty win between the hedges over Auburn, 27-6.
UCF was a 21 point favorite and the golden boys of the "Group of 5 will be in the CFP this Year".  Yeah. Right.  Tulsa 34, UCF 26.  See ya.
Tarheels escape Boston with a 26-22 win over the Eagles.  Mack 2-0!
Cinci 28-7 over S Florida.
Cannot believe Arkansas beat Mississippi State.  That's the problem with Leach.  He is just as likely to beat the number 1 team as he is to lose to a bottom quartile team.
LSU sinks Vandy, 21-7.
Tennessee off to a good start, and the Vols took down Missouri 35-12.
NC State upset Pitt 30-29.
Southern Methodist 30, Memphis 27.
Other Games of Interest Last Week
UAB 21-13 over UTSA
Army blasts Abilene Christian 55-23.
Ole Miss with an overtime thriller over Kentucky.  Wildcats missed the PAT in OT.  Wow.
Air Force just obliterated Navy, 40-7.  A big win like that sure wasn't on my radar.
Red River Rivalry Videos
Quan Cosby makes friends with Lendy Holmes
Red River Shootout – 10 minutes, but good.
Red River Rivalry – 4:30.
Austin High Maroons
The Maroons came back and won against Bowie Thursday night behind University of Texas commit Charles Wright. They were down 56-35 with just under six minutes left.  "Charles Wright strapped the Maroons on his back and tossed three consecutive touchdown passes to pull within 56-55 with eight seconds remaining. Bypassing the traditional extra point that would have tied the score, Wright connected with junior Herd Holland for the two-point play, and the win."  – John Harris, Austin American-Statesman.  Wright threw for 496 yards and 6 touchdowns, plus the touchdown run in this tweet.
Wow! UT commit @cwrightjr14 leads @AustinMaroonFB to a 57-56 win over Bowie- after trailing 56-35 in the 4th!#HookEm #txhsfb @fox7austin 📹: @ClifOnFOX7 pic.twitter.com/XplRd5arCL

— Dennis de la Pena (@dennisonfox7) October 9, 2020
Music
Django Walker.
Texas Longhorn:
Texas On My Mind:
Cross Canadian Ragweed.  Boys from Oklahoma.  Not politically correct and NSFW.
Little Texas – God Blessed Texas.
One of my favorites, George Strait and Amarillo By Morning.
From Home to Hope
For many years, decades in fact, Kathy and I have been supporters of and volunteers for the healthcare mission of the Daughters of Charity in Austin.  My earliest experience was when Ed Small's mother, the saintly Annie Laurie Small, and a few other distinguished ladies got Kathy involved on the development board for Holy Cross Hospital, and around the same time I was a member of the Seton Forum.  I remember going over to the Seton clinic in east Austin (which would later by Seton McCarthy, named after the great Bishop John McCarthy of the Diocese of Austin) with Tim Crowley and helping build a chain link fence for the clinic's first immunization clinic.  Both of those memories are from the 1980's.  Our involvement would continue.  Bud Shivers asked me to join The Seton Fund Board of Trustees, on which I served for over 20 years.  In 1993, Kathy and I chaired the Children's Hospital Gala (before it became Dell Children's) (we had the Temptations, but that's another story), and shortly thereafter we co-founded the Children's Hospital Council with Carol and Tim Crowley.  That Council is still going strong today in support of Dell Children's Medical Center.  Kathy would go on to chair several Seton parties and galas, as well as serve as president of the Elizabeth Ann Seton Board and of the Seton Development Board.  All four children were born at Seton Medical Center.  Our love and commitment to the Daughters and Seton came full circle last year, when our daughter Mary Elizabeth went to work in the development office for Ascension Seton.  While the Daughters no longer have a physical presence in Austin, their spiritual presence, especially that of our beloved Sister Gertrude Levy, still provides inspiration and hope.
So this week's ask is for your consideration of a gift to support this fall's fundraising efforts by the Seton Development Board.
We must be there for the people of our community, the most vulnerable among us and those hit hardest by this pandemic. We must be prepared to address the long term damage caused by COVID‐19 on the heart and lungs, especially for those with serious and chronic illnesses like heart disease. With your help, we know we will be.
You can help ensure we have the highest quality healthcare, right here in Central Texas. The Seton Development Board's fall fundraising campaign, From Home to Hope, has launched to benefit cardiovascular programs and equipment at Ascension Seton Medical Center Austin. We are asking you to become an integral part of bringing the latest in groundbreaking technologies, and enhancing cardiovascular programs, to help save lives throughout our Central Texas communities.
Please join us in supporting From Hope to Hope:
https://supportseton.org/event/home-to-hope/
Thanks, and God bless.
Jim Nicar
This week's Jim Nicar feature is his history on the first gymnasium for the University.  Pretty cool, especially when you think about the Moody Center project currently underway.
https://jimnicar.com/2012/05/16/uts-first-gymnasium/
The picture below is of a proposed gymnasium building, in 1901.  Estimated to cost $25,000, it was going to be at Speedway and 24th.  But the cost was high and when weighed against academic needs, the Regents instead funded an engineering building and a new law school.  It wasn't until the 1930's when Thomas Watt Gregory (U.T. 1885) chaired a Texas Exes fundraising drive which led to the construction of Gregory Gym, Anna Hiss Gym, and the Texas Union and Hogg Auditorium.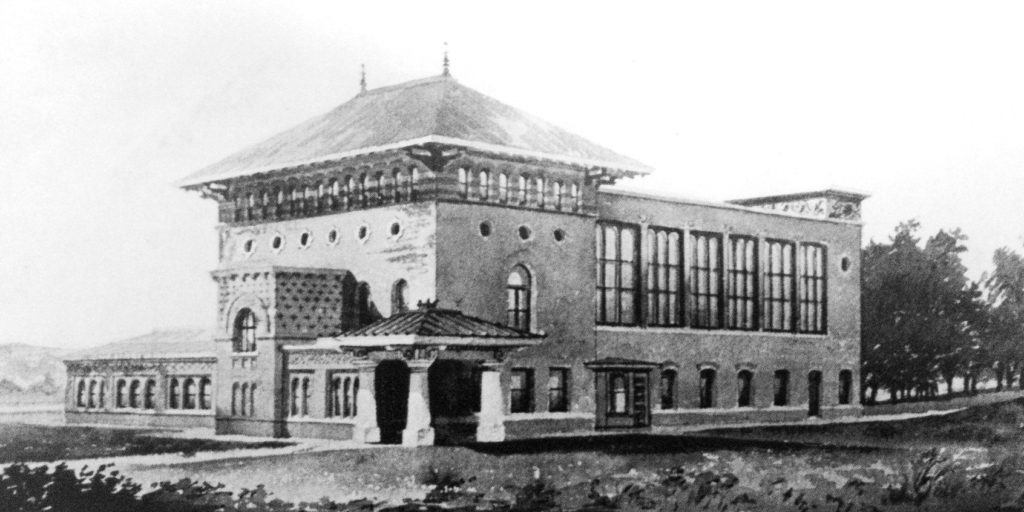 If you are wondering, last report I found on the internet was that the Moody Center is currently estimated to cost $130 million.
God Bless Texas
Tim Taylor
Tailgating before Home Football Games
The Juan Heisman Tailgate
Lot 38, East of Sid Richardson Hall.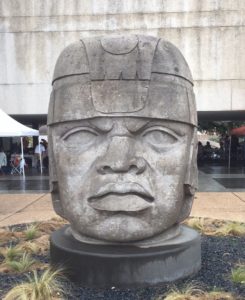 HOOK EM HORNS!!
© Timothy C. Taylor, Sr. 2020.  All Rights Reserved (as to original material).
www.jw.com/ttaylor
On Twitter:  @tctayloratx
On LinkedIn:  www.linkedin.com/in/tctatx
On Instagram:  @tctayloratx
On Facebook:  www.Facebook.com/Tim.C.Taylor
and:  www.Facebook.com/Juan.Heisman
You can contact me by mail:

Tim Taylor
P.O. Box 5371
Austin, Texas  78763-5371