Good Morning Longhorn Fans!
Texas Longhorns 48, Rice 13
The Horns went to Houston and took care of business. Texas dominated Rice the way that Texas is supposed beat the Owls – early and often. The Longhorns jumped out to a 31-0 lead in the first half, scoring touchdowns on their first four possessions, punting once, and then an awesome 57 yard field goal from Dicker the Kicker. Ehlinger returned for one more possession in the second half, directing a 91 yard touchdown drive and putting the Horns up 38 to nothing and putting the game inextricably out of reach for the Owls. After that, we got a peek at the future stars of DKR.
22 Seconds of Austin
Oklahoma State Cowboys vs. Texas Longhorns
Another great day in Austin and on the Forty Acres in store for Burnt Orange Nation this Saturday.
Kickoff is set for 6:30 p.m. at Darrell K Royal Texas Memorial Stadium. The game will be broadcast nationally by the ABC affiliate of the World Wide Leader, with the "A Team" returning to Austin just two weeks after the Louisiana State game. Chris Fowler on the play-by-play, Kirk Herbstreit with analysis and occasional humor, and Maria Taylor (no relation) on the sideline. The Horns will be on the radio with the Voice of the Longhorns, Craig Way, and Roger Wallace and my friend Quan Cosby. In Austin on the Horn 104.9, and KOKE-FM. In Tyler on KTBB 600 AM. KKSA 1260 in San Angelo. In Midland, KBAT 99.9 FM.
No Okie State email can be sent without the VY Pump Fake. It is a little known law.
https://www.espn.com/video/clip/_/id/16369844
Life is Good
Some really great stuff the last week or so. Hard to pick and choose, but here are my favorites.
The other UT, Tennessee, showed their big ole heart with the young boy in Florida who was bullied for his homemade "UT" t-shirt. If you missed it (How? Why?), the Tennesseans responded with magnanimity and grace that befits the state that sent some of their finest to help found Texas.
https://www.washingtonpost.com/lifestyle/2019/09/12/bullied-boy-who-designed-university-tennessee-t-shirt-just-got-free-tuition-college/
Proof that despite all the Florida Man stories, there are plenty of good Florida boys. Hope I live to read about the kid graduating from Rocky Top in 2036.
Meanwhile in Austin and Round Rock, Jonah Greene. Thanks CDC & team.
https://www.kvue.com/article/news/local/round-rock-isd-boy-bullied-for-medical-devices/269-433f6258-a493-4f10-8689-bff9a1dc9e5c
I don't care if you are a baseball fan or not, you need to see this. Carl Yastrzemski throws out a First Pitch at Fenway Park to his grandson, San Francisco Giant Mike Yastrzemski. In twit-speak, "I'm not crying, you're crying." Listen to how quiet Fenway gets.
I have long chronicled the blessings that friends from the special needs community are in our family's life. "The only disability in life is a bad attitude." Amen David.
And on a football note, the larger Taylor family had a perfect weekend of football last weekend, capped in baseball with a Cubs sweep of the Pirates. All detailed below, but in addition to the Texas win over Rice, W&L rolled Sewanee 42-7, Ole Miss 40-29 over Southeastern Louisiana, the Wahoos had a big win over Florida State in Charlottesville, 31-24, and Mark Dean's Fightin' Irish destroyed New Mexico 66-14. Austin High 38-14 over Lehman, and they have a big game Friday night. Good luck Maroons – Beat Westlake!
Personal Note
Our family will soon be blessed with a second grandchild. Kathryn and Mark are expecting any day now, and we are excited to be heading to Memphis soon to meet Peter's little sister or brother. So, as soon as that moment comes in the next week or so, I will be catching the next company plane, and depending on timing, it is highly unlikely that I will be writing a newsletter that week (presumably next week). Prayers for a safe delivery and healthy baby and mama most appreciated!
Hurricane Dorian Relief
In an effort to provide aid and supplies to victims of Hurricane Dorian in the Bahamas, Texas Athletics is partnering with the Austin Disaster Relief Network to host a supply drive Sept. 20-25. The initiative kicks off this Friday at Gregory Gym before the volleyball match between the Longhorns and Texas Agricultural & Mechanical.
Friday's supply drive will take place from 4:45-7:00 p.m. on the Gregory Gym Plaza. Texas student-athletes will be on site to collect supply donations.
Supplies will be accepted Sept. 23-25 from 8 a.m. to 5 p.m. each day in the first floor lobby of the North End Zone at Gate 14 of Darrell K Royal-Texas Memorial Stadium. Donated supplies will be taken to the Austin Disaster Relief Network to be shipped to the Bahamas.
Supplies needed include:
Non-perishable Foods (canned beans, canned fruit and veggies, pasta, box milk, Gatorade, crackers, pretzels, soup, canned tuna)
Baby supplies (formula, diapers, baby food, Pedialyte, bottles)
Bedding (sleeping bags, sheets, blankets)
Toiletries (toilet paper, toothbrushes, toothpaste, soap, towels)
Cleaning supplies (bleach, sanitizing wipes, cleaners, mops, brooms, garbage bags, face masks, etc.)
Current University of Texas student-athletes Lashann Higgs (Women's Basketball) and Kai Jones (Men's Basketball) hail from the Bahamas.
If you can't participate with the Longhorns by donating supplies, you can support Austin Disaster Relief Network: https://adrn.org/give/
Okie A&M vs. Texas Longhorns
This is huge and really important day for Coach Tom Herman and his Horns. Texas leads the all-time series 24-9 and we are 15-6 in Austin, but that belies a brutal stat for Horns fans: 7 of those 9 Cowboy wins have come in the last 9 games with the Pokes. Oklahoma A&M has won four straight.
Okie State has won five straight games in Austin. In the 126 years of college football in Austin, no opponent has won five straight against the Horns here. And nothing close to five straight in a decade. The only other team is Notre Dame. It took the Irish 83 years to do that, with wins in 1913, 1915, 1952, and 1996. Which means I am pretty sure Mike Gundy is the only coach to ever win four straight in Austin. Time for Texas to trim the Mullet.
Texas is a 6.5 point favorite, and the over/under is 72.5.
Oklahoma State Cowboys
The Pokes come to Austin undefeated and just outside the Top 25 in both polls. Not a big surprise that Gundy has another fine football team. Quarterbacked by Spencer Sanders (#3), a Freshman out of Denton, Texas, the 6-2, 195 pound kid is off to a good start. 622 yards with 7 touchdowns and 1 pick, he's completing 67.2% of his passes. He's also the second leading rusher on the team, with 219 yards and 1 TD (averaging 6.4 yards per rush). The freshman has great weapons with which to work. The Cowboys are led by #30 Chuba Hubbard, a redshirt freshman from Sherwood Park in Alberta, Canada. As noted below, Hubbard leads the nation in rushing. 521 yards, 7 TDs; of note: No receptions. Seems odd for a Gundy offense.
But with a typical Cowboy receiving corps, it doesn't matter. Top receiver in the country is Tylan Wallace, with 15 catches for 390 yards (that's a 26 yards per catch average), 6 TD's, a long of 90 (yes, the Cowboys are explosive again – two other receivers have longs of 59 [#35 C.J. Moore] and 69 [#8 Braydon Johnson]).
Leading the Cowboy defense is #20, Malcolm Rodriguez, Junior Safety from Wagoner, OK. 31 tackles (16 solo), and 1.5 TFL for 7 yards. Best name in college football – Amen Ogbongbemiga – is second, with 25 tackles (16 solo), that includes 6 TFL for 32 yards and 3.5 sacks for 29 yards. Amen is also part of the Canada to Stillwater pipeline; redshirt junior from Calgary. The rest of the top OSU defenders: #31 Kolby Havell-Peel, sophomore out of College Station, a 6 foot, 210 pound Safety with 18 tackles (13 solo); #3 Tre Sterling another sophomore safety from Texas (Sunnyvale), with 17 tackles (9 solo); #4 A.J. Green, senior corner from DeSoto, 15 tackles, 12 solo and a pick; and #8 Rodarius Williams, another CB (RS Junior) from Shreveport, who also has 15 tackles (12 solo).
OSU opened the game in Corvallis against the other OSU, and I remember watching parts of that game, as the Pokes beat the Beavers soundly. 52-36. Four touchdowns in the first half, 3 in the second quarter. Hubbard ran for 221 and 3 scores.
Week 2, the Cowboys played the Cowboys of McNeese State. It was a butt-whipping, as Okie State went 14-14-28, to take a 56-7 lead to the fourth quarter. I don't think Sanders even played in the second half. He had 250 yards and 3 scores, 12 for 18, plus 51 rushing. Hubbard only carried 8 times for 44. Wallace had 5 catches for 180 and 3 scores. The McNeese State Cowboys are quarterbacked by Cody Orgeron, and his daddy is named Ed. No word if there were complaints about the temperature in the visitors' locker room.
Last week, Gundy took his boys on the road again, to Tulsa. Another OSU win, 40-21, as on the first play from scrimmage Chuba broke one off for 75 yards. A 10 second, 75 yard, 1 play drive. Next possession went 59 yards, with Chuba carrying the last 30 for a score. Sanders actually only threw for 169 yards with a TD and a pick (59 rushing, 1 TD). Chuba Hubbard carried the ball 32 times for 256 yards and 3 touchdowns.
Texas has comparable if not better firepower this year, certainly at quarterback. Sam Ehlinger enters the game ranked #11 passer in the country, averaging 318.7 yards per game. 82-112, completing 73.2% of his passes, 956 yards total (#8), 11 touchdowns (tied for #3). Devin Duvernay, as noted below, is tied for first in number of catches (27), and he leads Texas with 269 yards averaging 9.96 yards per catch. Brennan Eagles is behind DD, with 203 yards, but on just 9 catches, which equates to 22.56 yards per catch average. We are all watching Jake Smith become a star, as No. 16 has 126 yards on 11 catches, averaging 11.45 ypc. DD, Eagles, and Jake each have 3 TDs. The guy we all thought would be the leading receiver Collin Johnson, sat out the Rice game with a hamstring. CJ is #4 on the Horns, with 108 yards on 7 catches. Keontay Ingram has 94 yards on 10 catches; oh my what might be different if that was 95 yards on 11 catches.
At running back, we are seeing Ingram run better, and Roschon Johnson's athleticism and speed plus Young's early return have for now assuaged our most serious concerns for this team 10 days ago, which was depth at running back.
Sterns and McCulloch are leading the D in tackles, each with 17 (12 & 11 solo, respectively). Brandon Jones has 16 (10 solo). Ossai, Chris Brown, and Ta'Quon Graham each have 2 TFL, and our 9 sacks are distributed over 10 players. Sterns has to have a big game Saturday, as does senior team captain Brandon Jones. A defensive score would particularly helpful this weekend.
The Team Statistics
Offense
| | | |
| --- | --- | --- |
| Statistic | Texas | Okie State |
| Rushing Offense | #86 – 148.3 ypg | #9 – 285.3 ypg |
| Passing Offense | #10 – 349.3 ypg | #49 – 261.7 ypg |
| Total Offense | #29 – 497.6 ypg | #12 – 547 ypg |
| Scoring Offense | #21 – 43.7 ppg | #9 – 49.3 ppg |
| First Downs | #11 – 27.3/game | #24 – 25.3/game |
| Sacks Allowed | #89 – 7, 42 yards | #12 – 2, 13 yards |
| Tackles for Loss Allowed | #73 – 18, 66 yards | #35 – 13, 40 yards |
| Third Down Conversions | #9 – 56.9% | #3 – 60.5% |
| Red Zone Offense | #79 – 82% / 82% | #1 – 100% / 73% |
| Long Run Plays | #46 – 16, 1 | #17 – 23, 12, 6, 2, 2, 1 |
| Long Pass Plays | #8 – 40, 14, 5, 3, 2 | #102 – 19, 10, 6, 5, 5, 4, 2 |
| Long Scrimmage Plays | #13 – 56, 15, 5, 3, 2 | #63 – 42, 22, 12, 7, 7, 5, 2 |
Defense
| | | |
| --- | --- | --- |
| Statistic | Texas | Okie State |
| Rushing Defense | #24 – 87.3 ypg | #81 – 162 ypg |
| Passing Defense | #125 – 330 ypg | #75 – 225.3 ypg |
| Total Defense | #96 – 417.3 ypg | #77 – 387.3 ypg |
| Scoring Defense | #62 – 24 ppg | #61 – 23.7 ppg |
| Sacks | #34 – 8, 50 yards | #71 – 6, 52 yards |
| Tackles for Loss | #75 – 16, 67 yards | #65 – 17, 76 yards |
| First Downs Allowed | #93 – 22/game | #66 – 20.3/game |
| Third Down Conversions | #88 – 41% | #117 – 47.4% |
| Red Zone Defense | #106 – 100% / 67% | #35 – 73% / 64% |
| Long Run Plays Allowed | #11 – 6, 1, 0 | #55 – 11, 1, 1, 1, 1 |
| Long Pass Plays Allowed | #129 – 43, 12, 5, 4, 1 | #82 – 26, 10, 5, 3 |
| Long Scrim. Plays Allowed | #115 – 49, 13, 5, 4, 1 | #65 – 37, 11, 6, 4, 1 |
Other
| | | |
| --- | --- | --- |
| Statistic | Texas | Okie State |
| Turnovers | #3 – 1F, 0I | #54 – 3F, 1I |
| Turnover Margin | #21 : 4:1, 1.0 | #95 : 2:4, -0.67 |
| Penalties | #65 – 18, 147 yards | #92 – 20, 164 yards |
*Based on total number of penalties.
Match-up Comparison
| | |
| --- | --- |
| Texas Offense | Okie State Defense |
| Rushing Offense – 148.3 ypg | 162 ypg – Rushing Defense |
| Passing Offense – 349.3 ypg | 225.3 ypg – Passing Defense |
| Total Offense – 497.6 ypg | 387.3 ypg – Total Defense |
| Scoring Offense – 43.7 ppg | 23.7 ppg – Scoring Defense |
| First Downs – 27.3/game | 20.3/game – First Downs Allowed |
| 3rd Down Offense – 56.9% | 47.4% – 3rd Down Defense |
| Red Zone Offense – 82/82 | 73/64 – Red Zone Defense |
| LRP – 16, 1, 0 | 11, 1, 1, 1, 1- LRP Allowed |
| LPP – 40, 14, 5, 3, 2 | 26, 10, 5, 3- LPP Allowed |
| LSP – 56, 15, 5, 3, 2 | 37, 11, 6, 4, 1 – LSP Allowed |
| | |
| --- | --- |
| Texas Defense | Okie State Offense |
| Rushing Defense – 87.3 ypg | 285.3 ypg – Rushing Offense |
| Passing Defense – 330 ypg | 261.7 ypg – Passing Offense |
| Total Defense – 417.3 ypg | 547 ypg – Total Offense |
| Scoring Defense – 24 ppg | 49.3 ppg – Scoring Offense |
| First Downs Allowed – 22/game | 25.3/game – First Downs |
| 3rd Down Defense – 41% | 60.5% – 3rd Down Offense |
| Red Zone Defense – 100/67 | 100/73 – Red Zone Offense |
| LRP Allowed – 6, 1, 0 | 23, 12, 6, 2, 2, 1- LRP |
| LPP Allowed – 43, 12, 5, 4, 1 | 19, 10, 6, 5, 5, 4, 2- LPP |
| LSP Allowed – 49, 13, 5, 4, 1 | 42, 22, 12, 7, 7, 5, 2 – LSP |
Chuba Hubbard leads nation in rushing coverage, 173.67 ypg. 66 carries for 521 yards. 7 touchdowns. Averages 7.89 yards per carry.
Devin Duvernay tied for first nationally in number of receptions at 27. 3 touchdowns and averaging 9.96 yards per catch.
OSU's Tylan Wallace is the leading receiver in the country based on yards per game – he averages 130 ypg. 15 catches for 390 yards, averaging 26 yards per catch. He has 6 touchdowns.
Texas Depth Chart
Offense
No surprises there, other than Shack being listed as starting center. Having CJ back may prove a differentiator, as we will need all the offensive firepower we can muster.
Hoping Ossai is in fact back and healthy. See link to his story below.
Overshown and Foster still out, and that hurts. We desperately need an A+ game from our defensive secondary, and after re-watching the Rice game, Messrs. Green, Cook, Jones, Sterns, Thompson, Watson, Jamison, Brown, Estell, Boyce, and Duvernay (the Younger) are going to have to play their best game of the year. And not just in pass defense – they are going to have catch Chuba when he blasts through the line and their backers, which he will undoubtedly do at least once or twice.
Ossai:
https://texassports.com/news/2019/9/13/football-longhorn-profiles-joseph-ossai.aspx?path=football
Gundy has our number. When I was looking at the season in August, I had this as a tough game on the schedule, but I didn't really have at the front of my consciousness just how important this game is in the return of Texas Longhorns Football to elite status. You can't be back if you can't beat one of the teams in your conference who is not a perennial power and conference champion. You really can't be back until you ARE the perennial power and conference champion, but we are on at least the step below, and to take that next step up, we have to beat Okie A&M. Saturday, and next year, and then more often than not. This streak must end Saturday.
Hard to judge if our defensive line really made that much week over week progress when looking at Rice. Remember, the Owls were #101 in rushing at 124 ypg. So while we held them to 87 yards, isn't that what we should do to Rice? I am not doubting that the line is getting better as are the linebackers. But none of the Owl backs are like Chuba Hubbard, and the Horns are going to have to kick it up another level. Good news is, I think they can. In fact, I think Texas will have a solid game against the Cowboys, but they are still going to rack up yards and score points. This is the Big 12 after all. My concern is not the front 7 (when in a standard package) or front 3 or 4 when in dime or Cowboy. My concern is the cornerbacks keeping up with the Cowboy receivers, especially Wallace. Last year Tylan Wallace had 222 yards on 10 catches (with 2 scores). Orlando has his work cut out for him, and this will be nice tune-up for Dallas and the Land Thieves of Norman.
Texas will win this game because of our offense. Sam Ehlinger hitting his spots, Ingram and Johnson running hard. We have Collin Johnson back, and with the continued rise of Epps and Eagles and Smith, we have 5 or 6 guys who could probably start just about anywhere in the country. For Sam to find them, he has to have time, so this game will, like most, be won or lost in the trenches, especially when Texas is on offense. Protect Sam and give him time to work through his reads (like he did at Rice, most conspicuously on the second play of the game when he checked down through 4 reads and dumped it to his right to Ingram, but it seemed Sam had great vision all night), and Texas wins this game, maybe handily.
The Horns 247 staff (Chip Brown, et al.) all have the Horns winning, which is encouraging. Stewart Mandel picks the Cowboys to upset the Horns 45-40. Scipio Tex is with me – Horns win, but keep your money in your pocket.
Official preview:
https://texassports.com/news/2019/9/16/no-12-13-football-preview-oklahoma-state.aspx
Texas Game Notes:
https://texassports.com/documents/2019/9/16//Texas_Week4_Notes.pdf?id=13429
TCT Prediction: Texas Wins
Going to be one heck of a football game folks. Sam Ehlinger will not be resting in the fourth quarter, and I won't be surprised to see Sam and the rest of the Horns playing beyond the fourth. This will be like a good basketball game, and the last team with the ball with a good chance to win the game. So, Horns Fans, let's make sure DKR is to football what OSU's legendary Gallagher-Iba is to basketball: Loud as hell and a home court advantage. Maybe Texas wins late or in OT on a long field goal from Dicker the Kicker. Or maybe that late field goal is the insurance run that seals the win.
Texas Longhorns 45, Okie A&M Cowboys 41
Previews on the Interwebs
Really well done preview of the Cowboys on BON from Wes Crochet.
https://www.burntorangenation.com/2019/9/17/20867398/oklahoma-state-cowboys-texas-longhorns-preview-tylan-wallace
Texas Pregamer. NSFW. I provide links for education and entertainment, not with endorsement unless otherwise noted.
https://www.barkingcarnival.com/2019/9/19/20875265/texas-pregamer-oklahoma-state
Interesting. Can't remember when they started adding a playlist. What a great idea to include music.
Scipio Tex on Inside Texas ($):
https://insidetexas.com/forums/threads/oklahoma-state-cowboys-football-preview.88584/
Jim Nicar
This week's Jim Nicar offering is two aerial views of the Campus, the first from 1939 and the second from 2019. Follow him on Twitter @jimnicar, and check out his excellent website, https://jimnicar.com/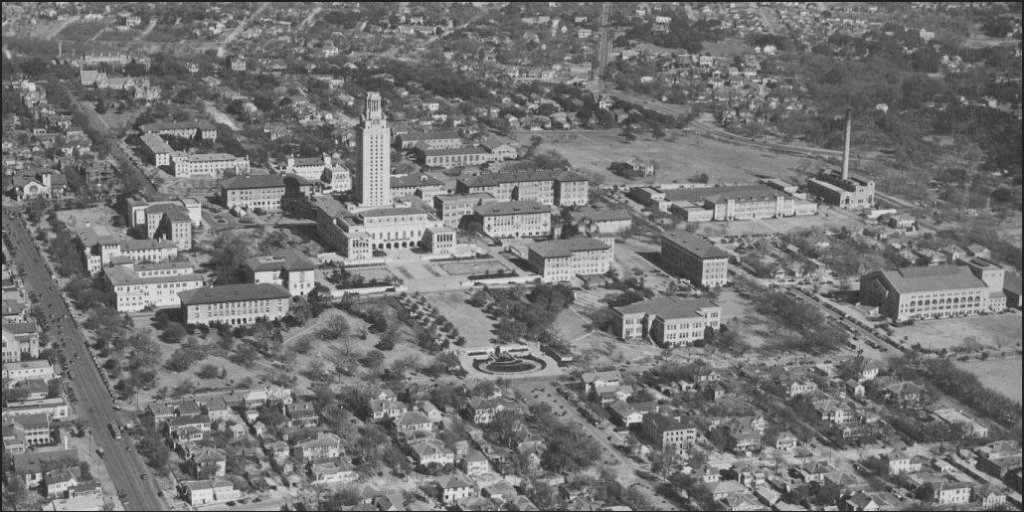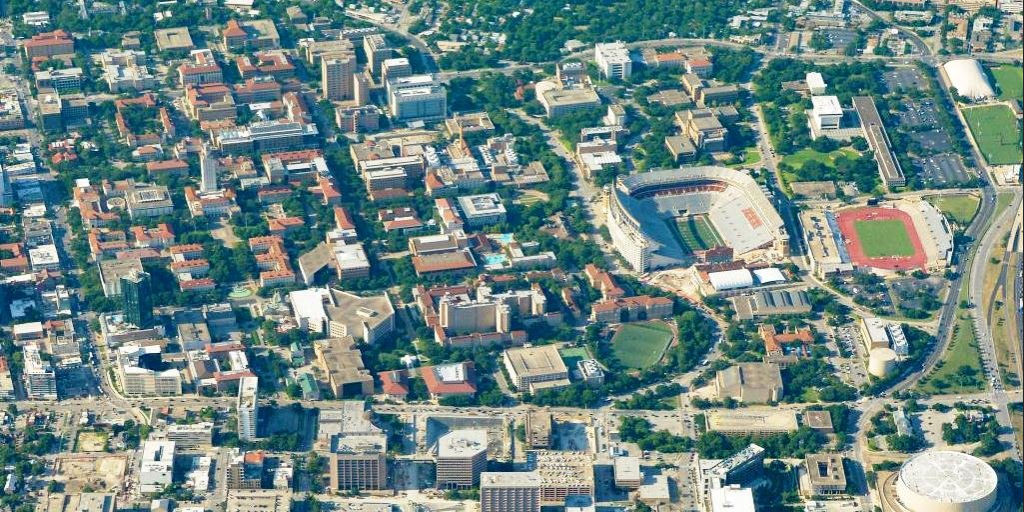 In 3 or 4 years, this will look considerably different, at least East Campus. The new arena, realignment of Red River, etc. Hopefully I will still be writing and we can do a side by side with this photo.
Thomas Boone Pickens, Jr.
Last week, Texas, Oklahoma State University, and America lost one the great ones. T. Boone Pickens was, for many good reasons, a legend. He developed a strong work ethic as a boy, delivering newspapers at age 12. A hard job rising way before dawn to get your papers, roll them, load them in a canvas shoulder bag, then ride your route on your Schwinn tossing papers. Mr. Pickens, like many of his generation and several who followed, started their successful business career as young boy with that tough job.
Mr. Pickens earned a basketball scholarship to Texas Agricultural & Mechanical, but lost his scholly when he broke his elbow. He transferred to Oklahoma A&M, graduating in 1951 with a degree in Geology. I am guessing that Texas Agricultural & Mechanical puts pulling that scholarship up there with choosing first on the PUF and turning down DeLoss on the ESPN network for Texas (the state, not the school). Why? T. Boone Pickens donated $652 million to Oklahoma State University per one source; another said over a billion dollars. With that kind of money, the aggies in College Station would not have had to lean so hard on rich alumni to underwrite Jimbo's salary. But I digress. I little football and sports, but what is really important is below. On a Texas note, Mr. Pickens also donated $50 million each to UT Southwestern Medical Center and The University of Texas M.D. Anderson Cancer Center in 2007, with the condition that before these UT institutions can spend the money, they have to 10X it – so a gift that in 25 years is supposed to be one billion dollars.
Without a doubt, Mr. Pickens is a singularly important alumnus of OSU. His philanthropy changed Cowboys athletics, especially football. His $165 million gift in 2005 was the largest the Okie Aggies had ever received at that point, but it was his earlier gift of $70 million in 2003 ($20 million for the football stadium) began the transformation of Cowboys football. Money can't buy happiness, but it sure can spur athletic success. In 2009, OSU completed the stadium renovations, and it was renamed in his honor. When Mr. Pickens passed, Coach Mullet's record was 123-59.
I have had the pleasure of reading Skip Hollandsworth in Texas Monthly for 30 years. Grateful for his writing and storytelling. He has a great article about Mr. Pickens, quite a fine storyteller in his own right.
https://www.texasmonthly.com/news/boone-pickens-was-a-helluva-storyteller-and-thats-why-we-couldnt-resist-him/
Go read it. But just in case you don't:
It was because Pickens just enjoyed the hell out of being a wheeler-dealer wildcatter. He loved making money, going broke, and getting rich again—over and over and over. And he especially loved talking about what he did and how he did it. In his plainspoken, hilariously vivid vernacular, he constantly spun tales about good times and bad. One of my favorite stories he told was about the geologist who fell off a ten-story building. When the geologist blew past the fifth floor, he thought to himself, "So far, so good." Pickens said, "That's the way to approach life. Never lose your optimism."

© Texas Monthly 2019. Used with hope and belief that forgiveness is more readily obtained than permission. Thanks Skip!
Amen.
Right before he passed, Mr. Pickens drafted this message for his 1.9 million followers on LinkedIn. He knew his time was short, and he wrote "This is my goodbye to each of you." He wrote it with the intent that it be published and shared after his death.
https://www.linkedin.com/pulse/final-message-from-boone-pickens-shared-before-his-passing-pickens/
I have read the post several times now, and it almost does an injustice to cherry-pick a few quotes, but knowing that everyone is busy and most likely won't take the time to go read this, I give you this.
First, his gratitude, as he writes about giving commencement speeches: "In those speeches, I'd always offer these future leaders a deal: I would trade them my wealth and success, my 68,000-acre ranch and private jet, in exchange for their seat in the audience. That way, I told them, I'd get the opportunity to start over, experience every opportunity America has to offer." When was the last time you thought about trading today's success for, say, a seat on the floor of the Erwin Center as you waited for Jay Hartzell to congratulate you on your graduation from the McCombs School?
Second, advice from his grandmother: "Sonny, I don't care who you are. Some day you're going to have to sit on your own bottom."
Third: A good work ethic is critical. Be humble.
And finally, he notes that he would start calls and meetings with his staff with "Whaddya got?", and he said he figured that God might soon be asking him that same question.
Here's my best answer.

I left an undying love for America, and the hope it presents for all. I left a passion for entrepreneurship, and the promise it sustains. I left the belief that future generations can and will do better than my own.

Thank you. It's time we all move on.

T. Boone Pickens
Rest in peace Mr. Pickens. Thinking of you and your grandson. Always.
Oklahoma A & M
Oklahoma Territorial Agricultural & Mechanical College was founded December 25, 1890. Oklahoma wasn't a state then, and as noted on their website, OSU was founded "just twenty months after the Land Run of 1889". Founded as a land-granted university under the Morrill Act. 1890 was the year that the Oklahoma Territorial legislature authorized the establishment of three schools: the state university in Norman, Oklahoma Agricultural & Mechanical in Stillwater, the Territorial Normal School (now the University of Central Oklahoma). I shall write about the "Land Run of 1889" in a couple of weeks. For now, I will leave Oklahoma State alone.
Longhorns 48, Owls 13
Texas won the toss and took the ball, which I like.
First drive was a little choppy, as Ingram got dropped for a loss on the first play, but then that pass to Keontay on the check-down and a nice run advanced the ball for a Texas first down. In the next set, Kerstetter called for a false start (and we can be confident it was not caused by crowd noise). At that point, it was second and 14 on the Texas 35, and the rest of the drive was solid: Ehlinger to Duvernay for 6, Ehlinger to Duvernay for 9, Ehlinger to Epps for 11. No gain by Sam when he scrambled on first and ten at the Rice 39 and then Ingram with a 2 yard loss on one of Blaze Alldredge's many good plays for the Owls. On third and 12, Ehlinger to Epps for 16, then that nice play action and pass and catch with Roschon Johnson coming out of the backfield for 25 yards and a score. 12 plays, 83 yards, 6:14. 7 points.
Rice's first possession started with Aston Walter ripping off 15 yards, but then the defense shut Rice down and the drive ended.
After the Rice punt, Texas started on their own 10. Again, the execution was imperfect, with Cosmi called for a personal foul (lineman down field), which brought back an Epps catch and run that was 49-50 yards. But Ehlinger was almost perfect (he did have an incompletion), as the 90 yard drive would include a 10 yard run from Sam as he scrambled out of the pocket, an 18 yard completion to Epps, and ended with a 53 yard touchdown pass to Jake Smith with a perfectly placed pass over Jake's left shoulder as he then outran Rice to the endzone. 7 plays, 90 yards (officially), 3:13. 14-0 Texas. 71 yards of passing in the books, but add in the 49 yard pass to Epps that was called back, and Sam actually had 120 yards passing on the series!
Defense with a 3 and out Love that.
Texas started their next drive with 1:40 to play in the first, and Johnson ripped off 13 yards to get Texas out to the UT 40. A short loss, then consecutive 9 yard completions to Duvernay had Texas back out to the 45 near midfield. It would be Ehlinger, Ingram, and Johnson the rest of the way, with the drive capped off on a nice 26 yard touchdown run by Keontay, as he stiff-armed his way into the endzone. 10 plays, 73 yards, 4:29. Texas 21-0.
Rice, 3 and out.
The next Longhorn drive started on the Texas 21. A balance of run and pass, the drive included Ehlinger running for 14, Ingram for 14, a 28 yard pass to Eagles (great catch!), and then a 12 yard touchdown pass to Jake Smith. 8 plays, 79 yards, 3:30. Texas 28, Rice 0.
Another Rice 3 and out (started with a nice sack by Coburn), and Texas had the ball back with 4:29 to play. Daniel Young made his return, and don't want to blame it on him, but as the first half was winding down, Rice stopped Texas for the first time.
A good first punt by Bujcevski put Rice back at their own 11. I liked that Texas used their timeouts while forcing yet another Rice 3 and out. As a result, Texas got the ball back with just under 2 minutes to play in good field position, at the Rice 41. Texas couldn't move the ball, and after Rice stopped the Horns offense, Coach Herman sent Dicker the Kicker in to attempt a 57 yard field goal. That ball went right down the middle, and it looked like it would have been good from 63. Anyway, Dicker tied for sixth in Texas history now on longest field goal with the great Jeff Ward and that guy who has the 5 longest but later had some issues with foreign currency. Erxleben's records are 67 yards (against Rice), then 64, 60, 59, and 58 twice.
Rice would get the ball with 1:01 and did nothing other than gain 15 yards on a Malcolm Roach penalty (he is going to have to clean it up – love the aggressive play for the most part, but the refs don't like us anyway; no need to give them excuses to throw flags).
So Texas headed to the locker room at halftime with a 31-0 lead and the game in hand.
Rice got the ball to start the second half and scratched out 24 yards on 6 plays. But they did manage to put Texas in bad starting field position.
That first Texas drive in the third quarter started at the Texas 9. Ehlinger came back out at quarterback, and the next 4:48 were solid. Complete to Duvernay for 10. Ingram runs for 4. Complete to Duvernay for 17. Ingram runs for 3. Complete to Burt for 18. Johnson runs for 8, Alldredge then gets a TFL for 1, but Johnson gets it right back with a good hard 11 yard run to the Rice 22. Alldredge with pressure and an incompletion, but a good connection to Epps for 8 yards and Texas had third and 2 on the Rice 14. Huge hole over the left side for Keontay, and he took it to the house. 91 yards. 38-0 Horns. So 7 real possessions, and the first team offense had 5 touchdowns and a field goal. Pretty good work.
Good defense continued, as Rice could only manage 37 yards on a 6 play drive before punting it away.
The Horns got the ball back with 2:52 to play in the third, and Casey Thompson came it a quarterback. The short drive would end after Alldredge sacked Thompson for an 8 yard loss. Bujcevsky's punt was 46 yards.
Rice started their first scoring drive 44 seconds into the fourth quarter. The drive was greatly aided by a facemask call on Josh Thompson, which got Rice into Texas territory. Tom Stewart finally completed back to back passes, which got the ball to the Texas 12. Aston Walter with some runs for a first down, then he got a short pass for the first Owl score. Fittingly, the Rice kicker missed the point after. 38-6 Texas.
Mostly 2s in for the next Texas drive. Two false starts on the line during the possession. Casey Thompson completed a pass to Kennedy Lewis (true freshman from Melissa, Texas). Freshman Marcus Washington from St. Louis was unable to haul it in on third and 17. Texas settled for 46 yard field goal from Dicker the Kicker. 41-6 Texas.
Rice got the ball with 3:29 to play, and they got after it. Walter with some good runs, Stewart completing a couple of passes, then connecting on a big one – 41 yards to Rozner after he got behind Duvernay the Younger, giving the Owls a first and 10 at the Texas 4. Stewart to Walter for the TD Pass, and all of a sudden with 2:22 to play, the Rice Owls had covered the line.
Not so fast! D'Shawn Jamison returned the ensuing kick-off 98 yards for a touchdown, restoring the 35 point lead. Rice was cooked. More on the bad beat below.
Rice Game Highlights
Not surprisingly, most of them are Texas.
Highlights (4:10):
Highlights (11:32)
Almost like a Condensed game – 20:29 minutes.
The Bad Beat
As I watched the last few minutes of the game, Texas had the 41-6 lead with 4:21 to play. The line was Texas by 32 (or 32.5, depending on the book), and so the 35 point lead was just right. The over/under was 57, but at that point in the game I didn't care where that hit (didn't bet anyway). But lots of people do bet, and so when Rice drove and scored a TD to cut the lead to 28 points (at 41-13), many sportsman were relieved to see the cover, and given there was only 2:22 left to play and Texas was playing subs, anyone who had the under was still comfortable. But when D'Shawn Jamison took the Owls kickoff 97 yards to the house, those 12 seconds changed the entire story of the game from a betting standpoint. Texas covered, and the total was 61. I immediately saw a Scott Van Pelt and Stanford Steve Bad Beat, and sure enough Tuesday night on Sports Center with SVP, a pretty long Bad Beats segment was concluded with Texas covering Rice on that kickoff return plus the total going over.
So, why Does Rice Play Texas?
While JFK's rhetorical question provided great fodder for discussion in all media around this game, I think there is a real answer: because college football is one of America's greatest sports, for the players, for the supporting casts at the colleges (bands, cheerleaders, other spirit groups), for attracting students and for inspiring and keeping connected to alumni, and for all the fans. Huge swaths of the population pause on Saturdays in the fall, some for just a game, some for a day of tailgating and camaraderie, some for a day of game watching with friends. Quite a few people enjoy wagering on sports, and college sports is probably a much safer place to throw away money than the pros, which might not always … well, never mind. And some nuts stay up until the wee hours of the morning writing about it. My great uncle Burns Roensch attended Rice not long after its founding (when it was free), and he had a lifelong affection for Rice. My friends the Lamy brothers played for Rice, and they are rightfully proud of that and of their school. In baseball, Wayne Graham got Rice to Omaha seven times, and brought home a national championship in 2003. So Rice plays Texas because in college sports the athletes play for love of game and pride, for their school, for their state. Lonnie Schooler has the first Ivy League report of the season below, and he notes that "real" football is starting. Well, I disagree with the implication, but I do agree that the kids who play in the Ivies, and the kids who play in Division III (like my Generals) are truly playing for love of game and the opportunity to compete. So Rice plays Texas because they can and sometimes, just maybe, they win. And Rice plays Texas so those boys can tell their children and grandchildren about being on the field with an Earl Campbell or Ricky Williams or Vince Young or Sam Ehlinger when they take their kids to watch the Owls play someday. Rice plays Texas, and Rice should. I love college football.
Dave Campbell
Thanks for the responses on Mr. Campbell. Much appreciated. A good man.
Polls
AP Top 25: Clemson, Alabama, Georgia, Louisiana State, Land Thieves, The Ohio State University™, Notre Dame, Auburn, Florida, Utah. Michigan drops to 11. Texas stays at No. 12. Texas Agricultural & Mechanical is 17. Virginia up to 31, and Texas Christian enters the Top 25 at No. 25.
Coaches Poll: Clemson, Roll Tide, UGa, Land Thieves, Louisiana State, The Ohio State University™, L'Université de Notre Dame du Lac, Go Gata, War Eagle, Michigan. Texas at No. 13, Texas Agricultural & Mechanical is 15, Virginia at No. 22, and K State at No. 25.
The Juan Heisman Tailgate
We will be back in action after needing all of the last two weeks to recover from the LSU tailgate. We will have JHT chicken on a stick, pork tenderloin, and venison sausage (courtesy this week of both El Jefe Gary Farmer and JHT stalwart and CTO, Walter Keene Linscott Ferguson, Jr.). Judd Messer has again done an admirable job of planning and organizing. Lots of beer – we will not run out! Lots of Dulce Vida Tequila. If I am not on a plane to Memphis, I plan to be there around 2:30 to watch games, then catch a little Drew Fish Band at Longhorn City Limits. Food will be out around 4:30, and plenty of time to eat before heading to DKR. Looking forward to seeing everyone!
2019 State of the University Address
From President Greg Fenves.
Week Four in College Football
Big XII
Iowa State looks to rebound from the tough loss to Iowa with Louisiana Monroe in Jack Trice Stadium. 11:00 a.m. on FOX Sports 1. Cyclones favored by 18.5, and the over/under is 56.
Battle for the Iron Skillet 2019: Southern Methodist goes to Fort Worth to play Texas Christian. 2:30 p.m. on FOX Sports 1. Both teams undefeated, but No. 25 Frogs are favored by 9.5, and the over/under is 55. Shane Buechele leads the Pony offense, as he ranks #16 in the country passing – 65-98, 66.3% completion, 871 yards, 5 TDs, 3 picks, 290.3 yards per game. The Methodists have wins over Arkie State, North Texas, and Texas State. Wins, but not much of a resume. The Disciples of Christ have a win over Arkansas Pine Bluff, but it was the road win last week over Purdue that got them ranked. Texas Christian a 9.5 point home favorite at Amon G. Carter, and the over/under is 55. I think the Frogs win and cover, didn't yet place a wager with McCune.
West Virginia (2-1) at Kansas (2-1), and the Jayhawks are only 4.5 point dogs at home. O/U is 48.5. 3:30 pm on ESPN+. I have no idea about this one, as the Mad Hatter has already upped the KU game.
Baylor plays at Rice, 6:00 p.m. on CBS Sports Network. Bears are 2-0, and Charlie Brewer is playing well. Thus, the Owls are 26.5 point underdogs, and the over/under is 58.5. Bears to win, and Rice to rally late to cover. Unless Baylor returns the kickoff …
Top 25
Friday Night
Two good games, both out west.
No. 10 Utah at the Coliseum to play Southern Cal. 8:00 p.m. on FOX Sports 1. Utes favored by 3.5. O/U is 52.5. Hoping for Art's and Stacy's sake that his Trojans rebound and get a win at home.
No. 20 Boise State hosts Air Force. The Academy had a huge win last weekend at Colorado. 8:00 p.m. on ESPN2. Boise favored by 7, and the o/u is 55.
Saturday
No. 2 Alabama has Southern Mississippi in Tuscaloosa. 11:00 a.m. on ESPN2. Tide favored by 38.5, and o/u is 61.5. Another big W for the Tide.
No. 4 Louisiana State in Nashville to play the Dores. 11:00 a.m. on $EC Network. Tigers favored by 24, and o/u is 62.5. Won't be close.
Coming off their much needed win, Tennessee heads south to the Swamp to play No. 9 Florida. 11:00 a.m. on ESPN. Gators favored by 14, and the o/u is 49. Sounds right, but I would be really tempted to take Florida.
Really big Big 10 game at Camp Randall. No. 11 Michigan and No. 13 Wisconsin. 11:00 a.m. on FOX. Wiscy favored by 3.5, and the o/u is 44.5.
The Golden Bears got ranked. No. 23 Cal in Oxford to play the Rebs in Vaught-Hemingway. 11:00 a.m. on ESPNU. Pac 12 not getting a lot of respect. Ole Miss favored by 2.5, and the o/u is 41. The line may seem odd, as Cal is ranked and Ole Miss is in sort of a rebuild. But bear in mind you have a West coast team coming east to play an 11:00 game – that's 9:00 a.m. in their body clock. Vegas looks at that, and that is probably a point or point and a half to the Rebs, then home field. So this is really a pick.
Oh Jimmy. Miami at No. 5 The Ohio State University™. Why? 2:30 p.m. on BTN. Buckeyes favored by 38.5, and o/u is 56.5. The Horror.
An important Southeast Conference game in College Station. No. 8 Auburn at No. 17 Texas Agricultural & Mechanical College. 2:30 p.m. on CBS. Aggies favored by 3.5, and o/u is 47.5. we are going to know a whole lot more about Texas Agricultural & Mechanical after this game.
Pitt Panthers host No. 15 UCF at Heinz Field. 2:30 p.m. on ABC/ESPN2. UCF favored by 11. Over/under is 61. Pulling for Pitt, but think it will be UCF.
No. 22 Washington at Brigham Young. 2:30 p.m. on ABC/ESPN2. If BYU pulls off another upset, they are likely to run the table. Only real tough game after this week is Boise State on October 19, and that is in Provo. Washington favored by 6.5, and o/u is 51.5. I am going with Brigham Young.
No. 16 Oregon on the Farm to play Stanford. 6:00 p.m. on ESPN. Ducks favored by 10.5, and the o/u is 57. Going to be a tough year for the Tree I think. And the Ducks should win this handily.
No. 21 Virginia stays in Charlottesville and has cross-state rival Old Dominion. Okay, rival might be a stretch. Anyway, ODU is in Norfolk, 166 miles to the east of Charlottesville. Wahoos favored by 28.5, and the over/under is 46.
If you thought the ticket for LSU-Texas was tough, trying getting into Sanford Stadium Saturday night. No. 7 Notre Dame at No. 3 Georgia. Both undefeated, and these teams are both national title contenders. 7:00 p.m. on CBS. Bulldogs favored by 14.5! Seems high. Georgia was only favored by 12.5 over Texas in the Sugar Bowl.
Colorado at No. 24 Arizona State, 9:00 p.m. on the Pac12 Network. ASU favored by 7.5, and the over/under is 47.5.
No. 19 Washington State back in Pullman with their 3-0 record and they get winless UC Los Angeles. 9:30 p.m. on ESPN. Cougars favored by 18.5. Over/under is 58. I know a number of you don't like Mike Leach, and I get it. He has done Texas no favors, and not so sure he cares much for the Longhorns. But dang he's funny and smart, and his offenses are just a pleasure to watch. So, enjoy this clip of the Pirate talking about Pac 12 mascots.
Other Games of Interest
Thursday night, I got to enjoy a tremendous football game as I wrote (okay, I was also watching the Cardinals and Cubs, but that ended badly). Holgo and his Cougars when to the Big Easy, and it wasn't. Tulane with a 17 point fourth quarter, including a really great last possession to upset Houston 38-31. Attawaytogo Tulane!
Michigan State at Northwestern, 11:00 a.m. on ABC. Sparty by 8.5, and the over/under is 38. Big 10 football baby! Don't waste money on this. No one knows if Michigan State has an offense.
Coach Brown has a tough out of conference match with Appalachian State. 2:30 p.m. on the ACC Network (?), in Chapel Hill. Tarheels favored by 2.5, and the over/under is 58. Good luck Coach!
Central Michigan Chippewas playing the Miami not in their conference, Miami (FL). 3:00 p.m. on ACCN. Good luck Manny. You should get to .500. Miama (FL) favored by 29.5, o/u is 48
South Carolina at Missouri, 3:00 p.m. on SECN. Tigers favored by 9.5, and the o/u is 48.5. Good luck Will.
UTSA at North Texas, 6:30 p.m. in Denton. UNT favored by 19, over/under is 58.
Nevada at UTEP. 7:00 p.m. Wolfpack favored by 14.5 over the Miners. Over/under is 51.5.
Week 4 Viewing Guide
https://www.burntorangenation.com/2019/9/19/20873917/week-4-college-football-viewing-guide-game-times-television
The Week that Will Be: Stranger Things
From HornMafia:
https://www.barkingcarnival.com/2019/9/18/20873502/the-week-that-will-be-stranger-things-texas-football
Last Week in College Football
Big XII
It was a really good weekend for the Big XII Conference.
The Mad Hatter! Kansas with a non-conference road win! 48-24 over Boston College. That was big, as the Eagles were favored by 20.5. Rock Chalk!
Another upset in Starkville, as Kansas State with a road win over SEC SEC SEC Mississippi State. 31-24.
It was a trend for the Big 12. West Virginia 44-27 over North Carolina State, despite being 6.5 point home dogs.
Oklahoma State 40-21 over Tulsa. Win & cover, as predicted.
It was a huge, and messy, day in Ames, Iowa. College Gameday, but then the game had rain delays, and then somehow the Hawkeyes beat Iowa State 18-17.
Texas Christian on the road in West Lafayette, Indiana, and the Frogs took care of business, 34-13 over Purdue.
The Land Thieves are good. UC Los Angeles not so much. 48-14 OU. Hurts was 15-20, 289 yards and 3 touchdowns; plus 150 yards on the ground and a score. Just guessing Jalen Hurts had a better offensive day that a fair percentage of the FBS teams.
Biggest disappointment for the conference was the Sand Aggies. Road favorites in Arizona, and Sumlin rallied his Cats with 15 in the final frame to defeat Texas Technical 28-14. I stayed up and watched it. Arizona put it away with a 99 yard drive in the fourth quarter that ate up 7:10. 99 yards. On the ground. Not a pass attempted.
Top 25
That game at NRG Stadium Friday night before the Horns arrived was spectacular. Mike Leach and the No. 20 Wazzu Cougars battled the local Cougars with the Pirate coming out on top 31-24. Houston covered (9.5), way under (73.5).
Georgia plays well in Athens. Line was Georgia by 33 the over/under was 58. 55-0 Bulldogs. Dang near covered the over by themselves.
I thought that the 18 point line for The Ohio State University™ was a bit low, but not 51-10 low. 61 points. Over/under was 59.5.
Good teams win, great teams cover. Pitt covered, but alas when it comes to PSU, all I care about is the Nittany Lions losing. 17-10 PSU.
Maryland confuses me. Last week: "Terps favored by 6.5, and o/u is 66.5. Stunned both are that low, given the points Maryland has put up this year." Temple 20, Maryland 17. Whiskey Tango Foxtrot.
Sacré bleu. Notre Dame 66-17 over New Mexico. The Irish covered the line and the over – by themselves (35, and the o/u was 64).
Coach Boom had a bad day. Saban and the Tide beat the Cocks handily, 47-23.
I was hoping that the line in the Stanford – Central Florida (UCF by 8.5) was off and the Cardinal would go to Orlando and tamp down this Group of 5 hype. Nope. Golden Knights routed Stanford 45-27.
Great game in Provo, unless you are a Southern Cal fan. Brigham Young with a 30-27 overtime upset of the Trojans. Over/under was 56.
Michigan State has one amazing defense. Going into last week, I believe they had the No. 1 scoring defense in the country, and they were near the top of other defensive stats. That great defense was good Saturday, and the MSU offense was equally as bad. Arizona State led 3-0 at half, both teams scratched TDs in the fourth quarter, and the Spartans lost 7-10. ASU managed 140 yards passing and 76 rushing and won.
Utah 31-0 over Idaho State.
Heck of a fight in Lexington between Florida and Kentucky. Gators lost Franks for the season. But they did beat the Wildcats 29-21.
War Eagle. Auburn 55-16 over Kent State. (Nice work – they were favored by 36, and o/u was 54.)
Well WHOOP! Texas Agricultural & Mechanical 62-3 over Lamar. The college in Beaumont, not the high school in Houston, but score would have been similar.
I thought top-ranked Clemson might get a game from Syracuse. Not so much. 41-6 Tigers.
When a team covers a 51 point line, it was a good night. But who cares in Baton Rouge. Go Tigers, push push push. Louisiana State 65, Northwestern State 14.
Oregon 35-3 over Montana.
Washington 52-20 over Hawaii.
Boise State 42, Portland State 10.
And Wahoo Wa! Virginia with a great win over the Seminoles, 31-24. A furious 21 point rally by the Cavaliers in the fourth, then a defensive stand in the red zone to win. Nice work Hoos. Parker, glad you got to go.
Other Games of Interest
Friday Night
Wake Forest looks legit. 3-0 after defeating Mack Brown's Tarheels 24-18
Saturday
Tennessee 45-0 over Chattanooga. Vols needed that!
Miami loses to Cincinnati, 13-35. Sorry Jimmy U.
Hotty Toddy! Ole Miss 40, Southeastern Louisiana 29.
Southern Methodist is 3-0! 47-17 over Texas State. Cover and over. Assuming you bet wisely McCune.
Washington & Lee
The Generals with a big win over Sewanee, 42-7. Sewanee led 7-0 at half, and there must have been an inspiring halftime speech. W&L erupted for 411 yards and 42 points in the second half. Nice win! Josh Breece with just 83 yards rushing but did have 2 scores.
We have the Guilford Quakers at Wilson Field this Saturday. 1:00 p.m. (Shenandoah Valley time) kick-off. W&L leads the series 18-14, and has won 6 of the last 9. Quakers won last year, 40-3
Preview and game notes:
https://www.generalssports.com/sports/fball/2019-20/releases/Guilford_Notes
IVY LEAGUE INAUGURAL REPORT FOR 2019 SEASON
By Lonnie Schooler
The "real" college football games begin in earnest this coming weekend, weather permitting. Anticipation is in the air as the first kickoff brings hopes and dreams for success in the FCS.
Recent reports indicate that the League placed four teams in the top 15 recruiting classes in the FCS for this year (including one recruit, Brevin White, a quarterback, who opted to attend Princeton rather than Alabama!).
Prediction for the Year:
In 2018, the Princeton Tigers were the outright champs. This year, the Yale Bulldogs are predicted to prevail, closely followed by the Big Green of Dartmouth (who came in second last year) and the Tigers of Princeton. Dartmouth and Princeton will square off on November 9 in Yankee Stadium. The Harvard Crimson are ranked 4th, followed by the Fighting Quakers of Penn, the Columbia Lions, the Big Red of Cornell, and (sadly for Mr. Babcock) the Bruins of Brown.
SCHEDULE FOR SEPTEMBER 21:
In contrast to last year's inaugural weekend, this year all Ivy teams begin their season on Saturday. The schedule for this weekend's games is as follows (all times CDT):
Harvard travels to San Diego State to confront the Aztecs for the second of a home-and-home series, with the game starting at 4:00. The Yale Bulldogs host the Holy Cross Crusaders in New Haven in their annual home-and-home series at Noon, in a game broadcast on ESPN Plus.
The Big Green of Dartmouth travel to Jacksonville to play the Jacksonville Dolphins, who finished first last year in the Pioneer League, in a game also starting at Noon. The Brown Bruins travel a short distance to Smithfield, Rhode Island (actually, no destination in Rhode Island is a long drive from any other destination in Rhode Island, since Rhode Island is about the size of Harris County) to take on the Bryant Bulldogs of the Northeastern Conference (5:00). [Editor's Note: Bryant has quite a lacrosse team, coached by my classmate from Washington & Lee, Mike Pressler. Mike was an All-American nose tackle, started all four years as a defenseman for lacrosse, and was team captain his senior year in both football and lacrosse. Mike was the lacrosse head coach at Duke for 16 years until he became the victim of lies and injustice at Duke, when some lacrosse players were falsely accused of crimes they did not commit and then convicted in the press, and Mike was fired. But I digress; he has had his Bulldogs in the NCAA tournament 4 times, including the quarterfinals in 2014. I wish him continued success, and hope to see him beat Duke for a national title in lacrosse someday.]
The Butler Bulldogs (yes, the gentlemen from the same "basketball school" who played Duke in the finals of the NCAA basketball championship in 2010, losing on a last second basket, and whose coach now coaches the Boston Celtics) travel from Indianapolis to Princeton to take on the Tigers at 4:00 P.M., in a game broadcast on ESPN Plus.
The Big Red of Cornell travel a relatively short distance to Poughkeepsie, N.Y. to take on the Marist Red Foxes at 11:00 A.M.. The Columbia Lions travel to Loretto, Pennsylvania to confront the St. Francis University Red Flash (I am not making up the name of this mascot) at 11:00 A.M.
Finally, the Fighting Quakers of Penn journey to Newark, Delaware to take on the Delaware Mud Hens at 1:30 P.M.
Enjoy your football this weekend, now that there is a hint of autumn in the air in the Northeast. Go Horns!
Music
I have known the Fish family for a long time. Several of Andy's kids have been in school alongside mine, and his son Drew has become quite an accomplished singer and songwriter. The Drew Fish Band will open the show for Longhorn City Limits this week.
Some DFB videos for you. Pay close attention if you're from Austin. You may recognize some folks.
Sounds Like A Plan (one of my personal favorites)
Baby, Just Let Go.
Small Price to Pay
Livin' for the Weekend
Better Place. This hit #1 on the TRRR this past February
HAAM
The Health Alliance for Austin Musicians provides access to healthcare for Austin's working musicians, most of whom live at or near the Federal poverty level. Live music is the soul of Austin, and keeping those musicians alive and well is HAAM's mission.
Our biggest fundraiser is HAAM Day, which also happens to be one of the most fun and coolest days in Austin every year. This year, HAAM Day is September 24. Starting about 6:00 in the morning, and continuing all day and night, you can go to places all over Austin and hear live music. Whole Foods is our Presenting Sponsor, and there will be great performances there. Downtown office buildings, restaurants, bars, and a diverse bunch of businesses will support HAAM on September 24, and you can too.
More on HAAM Day:
To sponsor, email me or just sign up now.
https://myhaam.formstack.com/forms/2019haamdaysignup
God Bless Texas
Tim Taylor
Tailgating before Home Football Games
The Juan Heisman Tailgate
Lot 38, East of Sid Richardson Hall.
HOOK EM HORNS!!
© Timothy C. Taylor, Sr. 2019. All Rights Reserved (as to original material).
On Twitter: @tctayloratx
On LinkedIn: www.linkedin.com/in/tctatx
On Instagram: @tctayloratx
On Facebook: www.Facebook.com/Tim.C.Taylor