Good Morning Longhorn Fans!
Red River Showdown No. 113
The greatest day in college football.  Texas and Oklahoma meet for the 113th time on Saturday.  It is going to be a circus at Fair Park.  ESPN's College Gameday starts at 8:00 a.m., and FOX College Football Pregame starts at 9:00 a.m.  The undefeated Land Thieves are ranked No. 7 in the Associated Press poll and No. 5 in the Coaches Poll, and 4-1 Texas is No. 19 in the AP and No. 20 in the Coaches.
The line in Vegas opened with the Land Thieves favored by 7.5, and it was sitting at 7 Thursday night.  The over/under is 60.5.
FOX's promo ad:
Saturday is my favorite day of the college football season.  Outside of watching Texas play for a National Championship in the Rose Bowl, I cannot think of a day as a Longhorn that compares to Texas and the Land Thieves in the Cotton Bowl.  We got stuck with an eleven o'clock start this year, but as I have learned, that is a prime time, if not in what we think of as primetime.  But it will still be a magnificent morning at the State Fair of Texas, and there is nothing wrong with corny dogs and waxed paper cup beers for breakfast.  A great rivalry in a mystically special game contested by two of the great programs in American college football.  A game which creates Longhorn legends and Sooner legends.  Sometimes the legends didn't even play in the game!
A cool article about 1976 and one of the most infamous games in the history of the Red River Rivalry.  I highly recommend this.  Especially if you don't know about the depth and bitterness of the rival between the saintly and immortal Darrell K Royal and that S.B, Barry Switzer.
https://www.barkingcarnival.com/2018/10/2/17927318/oct-9-1976-texas-ou-as-blood-sport
Lifetime Longhorn Kacy Clemens has a message:
Walk it like you talk it this Saturday boys! Let's GO @TexasFootball ! 🤘🔥 #OUSUCKS #legacy pic.twitter.com/7T74ZgXw6G

— Kacy Clemens (@KClemens21) October 4, 2018
Watching the Tulsa – Houston game while writing, and Jesse Palmer picked Texas to upset the Land Thieves.  I agree.
We're Texas
Walter Cronkite.  I will repeat my appeal to re-shoot this and the What Starts Here videos with the 2018 Austin skyline, and maybe run one of the drones by Dell Med.
They're Oklahoma
"Undoubtedly no sport is more uniquely Oklahoman than noodling".
Horns Win Again!  Texas 19, Kansas State 14
Another great win for the Longhorns, as Texas hung on to win a tough one in Manhattan, Kansas.  A great first half, and I will be darned if the Wizard didn't nearly pull off another miracle.
Highlights of the game from FOX.
More below.
Texas Longhorns vs. Oklahoma Sooners
The Land Thieves come to Dallas undefeated.
They beat Florida Atlantic 63-14 to open the season.  Since then the Owls have wins over Air Force and Bethune-Cookman, and losses to Central Florida and Middle Tennessee State University.
Week 2, the Land Thieves beat UCLA.  The Bruins are winless, with losses to Cincinnati, Fresno State, and Colorado (and another one coming Saturday).
Iowa State played OU tough, but the Sooners prevailed 37-27 over the Cyclones.  ISU having a tough year, with the one win over Akron, and losses to Iowa and Texas Christian in addition to the L with OU.
Army took the Land Thieves to overtime before the Sooners won 28-21.  How?  Ball control. Army had the ball 44:41.  Army's only other loss was the opener to Duke.  They have beaten Liberty, Hawaii, and Buffalo.
Last week OU had a more soonerish game, with a 66-33 beating of Baylor.  The 66 points doesn't surprise me, but BU's 33 do.
This OU team is once again an offensive juggernaut, as you will note from the stats below.
The Statistics
Offense
| | | |
| --- | --- | --- |
| Statistic | Texas | Land Thieves |
| Rushing Offense | #91 – 153.2 ypg | #35 – 206.2 ypg |
| Passing Offense | #62 – 243.4 ypg | #17 – 317.0 ypg |
| Total Offense | #78 – 396.6 ypg | #12 – 523.2 ypg |
| Scoring Offense | #73 – 28.8 ppg | #8 – 48.6 ppg |
| First Downs | #65 – 22.2/game | #36 – 23.6/game |
| Sacks Allowed | #64 – 9, 55 yards | #31 – 6, 46 yards |
| Tackles for Loss Allowed | #91 – 31,110 yards | #33 – 23, 83 yards |
| Third Down Conversions | #55 – 41.3% | #7 – 54.6% |
| Red Zone Offense | #125 – 69% / 50% | #40 – 89% / 74% |
| Long Scrimmage Plays | #69 – 67/10+; 22/20+; 10/30+; 3/40+; 0/50+ | #8 – 93/10+; 36/20+; 23/30+; 14/40+; 8/50+ |
OU tied for 4th in TD's scored, behind Alabama, Penn State, and Ohio State.  Land Thieves have 33.  Texas is 62nd, with 18.
Defense
| | | |
| --- | --- | --- |
| Statistic | Texas | Land Thieves |
| Rushing Defense | #29  – 115 ypg | #58 – 152.8 ypg |
| Passing Defense | #65 – 218.2 ypg | #97 – 252.4 ypg |
| Total Defense | #30 – 333.2 ypg | #91 – 405.2 ypg |
| Scoring Defense | #31 – 19.8 ppg | #51 – 23.2 ppg |
| Sacks | #91 – 7, 56 yards | #15 – 15, 91 yards |
| Tackles for Loss | #51 – 30.5, 111 yards | #15 – 39, 167 yards |
| First Downs Allowed | #29 – 17.4/game | #111 – 23.8/game |
| Third Down Conversions | #48 – 34.6% | #100 – 42.4% |
| Red Zone Defense | #17 – 71% / 47% | #122 – 100% / 81% |
| Long Scrim. Plays allowed | #61 – 61/10+; 18/20+; 9/30+; 6/40+; 3/50+ | #93 – 71/10+; 19/20+; 7/30+; 5/40+; 3/50+ |
Other
| | | |
| --- | --- | --- |
| Statistic | Texas | Land Thieves |
| Turnovers | #32  – 5, 3F, 2I | #6 – 3, 1F, 2I |
| Turnover Margin | #43 :  +0.40 | #43 : +0.40 |
| Penalties | #110 – 39, 342 yards | #54 – 28, 270 yards |
*Some rank based on penalty yards per game.  I am showing ranking based on total number of penalties.
Match-up Comparison
| | |
| --- | --- |
| Texas Offense | Land Thieves Defense |
| Rushing Offense – 153.2 ypg | 152.8 ypg – Rushing Defense |
| Passing Offense – 243.4 ypg | 252.4 ypg – Passing Defense |
| Total Offense – 396.6 ypg | 405.2 ypg – Total Defense |
| Scoring Offense – 28.8 ppg | 23.2 ppg – Scoring Defense |
| First Downs – 22.2/game | 23.8/game – First Downs Allowed |
| 3rd Down Offense – 41.3% | 42.4% – 3rd Down Defense |
| Red Zone Offense – 69%/50% | 100%/81% – Red Zone Defense |
| LSP – 67/10+; 22/20+; 10/30+; 3/40+; 0/50+ | 71/10+; 19/20+; 7/30+; 5/40+; 3/50+ – LSP Allowed |
| | |
| --- | --- |
| Texas Defense | Land Thieves Offense |
| Rushing Defense – 115 ypg | 206.2 ypg – Rushing Offense |
| Passing Defense – 218.2 ypg | 317.0 ypg – Passing Offense |
| Total Defense – 333.2 ypg | 523.2 ypg – Total Offense |
| Scoring Defense – 19.8 ppg | 48.6 ppg – Scoring Offense |
| First Downs Allowed – 17.4/game | 23.6/game – First Downs |
| 3rd Down Defense – 34.6% | 54.6% – 3rd Down Offense |
| Red Zone Defense – 71%/47% | 89%/74% – Red Zone Offense |
| LSP Allowed – 61/10+; 18/20+; 9/30+; 6/40+; 3/50+ | 93/10+; 36/20+; 23/30+; 14/40+; 8/50+ – LSP |
 As bad as Texas is in the penalty department, some other big names are ranked below us: Auburn at #116, Ohio State at #117, Michigan at #123.  But we aren't playing them.
 Kyler Murray (#1, 5-10 195 lbs) is really good.  Much better than I was expecting.  77 for 109, 1,460 yards, 17 TDs, 2 picks, and a 230.9 rating.  He's also the second leading rusher for the thieves, with 285 yards on 46 carries and 4 TDs (leads OU in rushing scores).  Omenihu, Nelson, and Hager are going to have to get pressure on him.  Gary Johnson is going to have continue to be the MVP of the team.
Trey Sermon (#4, 6', 224 lbs) is the leading rusher, with 294 yards on 55 carries, for a solid 5.3 average.  Kennedy Brooks (#26, 5-11, 205 out of Mansfield) has 158 yards in his freshman campaign, with 3 touchdowns.
Kyler has some guys to throw the ball to, and they are catching for big yards.
Marquise Brown (#5, 5-10, 168) has 544 yards on 24 catches, with 5 scores and a long of 75.
CeeDee Lamb (#2, 6-2, 189) has 348 yards on 19 catches, with 5 TDs and a long of 86.
Lee Morris (#84) has 172 Yards on 6 catches, 3 TDs, and a long of 65.
Land Thief defense is led by #9, Kenneth Murray, with 64 tackles, 22 solo (6 TFL/32 yards, 3 sacks, 24 yards).  Curtis Bolton, #18, is right behind him with 62, 22 solo (4 TFL/15 yards, 1.5 Sacks for 10 yards.  Mark Jackson (is it my imagination, or has OU had a player on the roster named Mark Jackson since the early 1980's?) is third, with 35 tackles, 15 solo (4.5 TFL/21 yards, 2.5 sacks for 15 yards).
The OU defense is not their strong suit. But look at the tackles for loss and sacks, and their national ranking.
Much is being made of their smallish defensive backs.  Starting corners Tre Norwood and Parnell Motley are 5-11, 170 and 6-0, 182, respectively.  Tre Brown, another cornerback, is 5-10 and 177 pounds.  Safety Brendan Radley-Hiles is 5-10, 190.  In the nickel, Justin Broiles is 5-10, 181.  Safety Kahlil Haughton is the biggest, at 6'1" and 200 pounds.  For Texas, Collin Johnson is 6-6, 200, LJH is 6-4, 225, Jerrod Heard is 6-2, 205, Devin Duvernay is 5-11, 210, and Andrew Beck is 6-3, 255.
If the offensive line will give Sam time to make his reads, set his feet, and throw the ball, we have an opportunity to make a lot of plays in the passing game.  But that won't be enough, as we know from the Army game that the way to beat the sooners is to slow them down (ironic, no?).  Which means Texas needs to run the ball and run it well.  One of the traditions of the RRS is for some freshman to make his name by stepping up on the biggest stage of the fall.  I am hoping that this year that man is Keontay Ingram.  Maybe DSJ too and possibly Caden Sterns.  The Texas offense is going to have to be balanced and turnover free.  Texas does that, and we can leave the Cotton Bowl happy.
Subject of course, to Orlando and the defense stopping Kyler Murray.  That will be a challenge, as one can see.  Among the many ways to measure a quarterback is yards per attempt.  I like it as a stick, and unfortunately for Texas Mr. Murray is No. 1 in the country on that statistical measurement, with 13.4 yards per attempt (Tagovailoa from Tuscaloosa is a close second at 13.2).  Using Rating, they flip.  Kyler is No. 2 at 230.95, while Tua has a 238.32 rating.  Will Grier the Mountaineer is #3 with a 200.75 rating.
Part of containing Kyler will be limiting explosive plays.  Look again at OU's line on Long Scrimmage plays:  93 over 10 yards, 36 over 20, 23 over 30, 14 over 40, and 8 over 50.  [I actually went back to double-check those stats, and yes, they are correct.]  Texas does a decent job defensively, but we haven't seen anything like this.  Sorting differently, the Land Thieves are No. 2 nationally on long scrimmage plays of 30+, 40+, 50+, and 60+ yards.
So, TCT's Keys to the game:
Texas has to clean it up: Less than 50 yards of penalties, and especially control emotions and don't get a stupid 15 yarder.  On every play, act like you've been there before, as Coach would say.  Also, especially don't get put us in long yardage on first down because you are twitchy.  I think the Texas offense is better than the OU defense, but not if OU has an advantage because Texas has too many long second and third down plays.
Play big on offense. Texas has a size advantage, let's use it.
Stay loose. Enjoy it.  Play to win, play for Texas.
Last year Texas fell behind 20-0. Sam rallied us, but we fell short.  We cannot do that in 2018.
Make field goals. Every point counts, and we have got to get those 3's when we have the opportunity.
Full preview:
https://texassports.com/news/2018/10/1/football-preview-no-19-20-football-vs-no-7-5-oklahoma-oct-6-2018.aspx
The full game Texas game notes:
https://texassports.com/documents/2018/10/1//2018_Texas_Football_Notes_06_Oklahoma.pdf?id=12383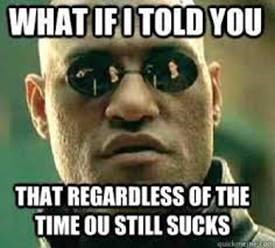 Red River Showdown – A Tradition Unlike Any Other. Beat OU. #ThisIsTexas #HookEm pic.twitter.com/czSsE4gWU7

— Texas Football (@TexasFootball) October 5, 2018
Previews on the Interwebs
Interesting stat from this post by Cody Daniel on Burnt Orange Nation: "Texas has come out on top of two of the past five meetings between the two bitter rivals, and Oklahoma's edge in its three wins was just five points on each occasion. All told, Oklahoma's scoring edge over Texas dating back to 2013 is a mere five points, 135-130, which is fairly remarkable considering the Sooners have been the only ranked representative in each of the past five Red River Showdowns."
https://www.burntorangenation.com/2018/10/3/17925030/texas-longhorns-oklahoma-sooners-red-river-showdown-goals-big-12-title-texas-is-back
The Horns Digest (247) staff is split.  Burton has OU 34-20, Chip Brown with Texas 34-31, Jeff Howe with Texas 31-30, Taylor Estes with OU 28-24.  Mike Roach 31-23 OU, and EJ Holland 45-30 OU.
https://247sports.com/college/texas/LongFormArticle/Texas-Longhorns-vs-Oklahoma-Sooners-Football-Red-River-Showdown-predictions-122870674/#122870674_10
I was pretty concerned a day or two ago, but I am feeling better.  I am going with Texas 35, Land Thieves 31.
The University of Texas at Austin
Our beloved University continues to rise in stature and gain recognition as one of the greatest schools in the world.  It is indeed a university of the first class.  The latest Times World University Rankings has Texas at No. 39.
https://news.utexas.edu/2018/09/28/ut-austin-rises-10-spots-in-latest-global-ranking
It is a fascinating list, and not surprisingly Oxford and Cambridge are ranked 1 and 2.  Very impressive that Leland Stanford Junior University is No. 3 in the world.  Followed by, in order:  MIT, California Institute of Technology, Harvard, Princeton, Yale, Imperial College of London, and University of Chicago.  California Berkeley is the highest ranked U.S. public school, at no. 15.  Rice is ranked at 86, Texas Agricultural & Mechanical is 171, and Notre Dame is 173.  Babol Noshirvani University of Technology in Iran, Free University of Bozen-Bolzano, and Kansas are in the 351-400 grouping.  Alabama, Complutense University of Madrid, the University of Oklahoma, and UiT The Arctic University in Norway are in the 401-500 grouping.
https://www.timeshighereducation.com/world-university-rankings/2019/world-ranking#!/
U.S. News & World Report.  Best Colleges 2019 rankings.
OU is at #124 (tie) in National Universities (Texas is No. 49 [tie])
OU is at  #83 (tie) in Best Colleges for Veterans (Texas is No. 23 [tie])
Texas is No. 15 in Best Public Schools
George L. Cross was president of OU from 1943 to 1968.  In 1951 or 1952, Dr. Cross was defending a budget request to the State Legislature.  For more than an hour, Dr. Cross detailed why the university needed the money.  He is famously known for stating that "We want to build a university our football team can be proud of."
Beat the Hell out of OU
Lendy Holmes, allow me to introduce you to Mr. Quan Cosby.
@TheHornATX @BuckyGodbolt @ErinHogan @BradKellner @BuckyandErin since @QCosby17 is coming on the show pic.twitter.com/no7EfOOp54

— Chris Bennett (@chrisgb00) October 3, 2018
This is my carefully curated 2018 collection of Texas-OU videos.   Enjoy.  I have indicated the video length, so you can make some time commitment decisions.
Fox Sports Southwest (2008).  7:42.  Not sure I have had this in the email before.  Really good.
Texas Sports Pre-Land Thief Video from 2015.  4:33.
Jordan Shipley kickoff return.
Red River Shootout – 10 minutes, but good.
Rites of Autumn – 5 & half minutes.  Some good commentary from the great Robert Heard.
Red River Rivalry – about 90 seconds –
Red River Rivalry – 4:30.
Okay, one different one.  The Army Black Daggers parachuting into the stadium in Norman a couple of weeks ago.
Fly with the Black Daggers!#MeetYourArmy @USArmy pic.twitter.com/I6SR0e69wj

— Oklahoma Football (@OU_Football) September 23, 2018
Finally, Cross Canadian Ragweed.  Boys from Oklahoma.  Not politically correct, NSFW, and if you are easily offended by improper language, just skip it.  As I said a couple of weeks ago, Cody Canada would be in this email, and so here he is.
Best of the Week:  Another Nobel Prize
Jim Allison grew up in Alice, which is a little town in South Texas.  His intellect and good sense led him to The University, from which he matriculated in 1969 with a B.S. in microbiology.  He earned his Ph.D. here in 1973, in biological science.  Dr. James P. Allison is the chairman of immunology at the University of Texas M.D. Anderson Cancer Center.  This week, he was awarded the Nobel Prize in Physiology or Medicine for launching an effective new way to attack cancer by treating the immune system rather than the tumor.  Dr. Allison's research resulted in the basic science discoveries on the biology of T cells, and his invention of "immune checkpoint blockade" to treat cancer.  He found a way "to block a protein on T cells that acts as a brake on their activation, freeing the T cells to attack cancer.  He developed an antibody to block the checkpoint protein CTLA-4 and demonstrated the success of the approach in experimental models.  His work led to development of the first immune checkpoint inhibitor drug.  Ipilimumab was approved for late-stage melanoma by the U.S. Food and Drug Administration in 2011."
Dr. Allison joins seven other Nobel laureates who are either UT Austin alumni or professors, including Dr. Michael Young, who won the Nobel Prize in Physiology or Medicine in 2017.  Young, B.A. 1971, Ph.D. 1975, won for the discovery of the gene that controls our biological clocks, which regulate processes like sleep and metabolism throughout the day.  [I can assure you, during football season, that gene in my body is mightily confused.]
All the following summaries courtesy of The University.
https://news.utexas.edu/2017/10/09/longhorn-laureates
Hermann Joseph Muller, a UT professor from 1920 to 1932, won the 1946 Nobel Prize in Physiology or Medicine. He was the first to show that radiation from X-rays could cause gene mutations and played a key role in early efforts to promote public awareness of the dangers of radiation.
Ilya Prigogine, a former UT professor, won the 1977 Nobel Prize in Chemistry. He showed how complex structures, such as life on Earth, could arise despite a law of physics that says all physical systems tend to become less organized over time. His research could also help explain the growth of cities and the dynamics of traffic jams.
UT professor Steven Weinberg won the 1979 Nobel Prize in Physics. He proposed a theory unifying two fundamental forces of nature that led to the development of what is known as the Standard Model of particle physics – the model that predicted the existence of the Higgs boson "God particle". Weinberg is considered by many to be the preeminent living theoretical physicist.  I always enjoy seeing Dr. Weinberg and his wife, Professor Louise Weinberg, at Headliners.
Donnall Thomas, B.A. '41, M.A. '43, won the 1990 Nobel Prize in Physiology or Medicine. Known as the father of bone marrow transplantation, he showed bone marrow could be successfully transplanted to treat illnesses such as leukemia, a discovery that paved the way for the use of organ and cell transplants as a way to treat diseases.
John Maxwell "J.M." Coetzee, Ph.D. '69, won the 2003 Nobel Prize in Literature.  One of the most award-winning English-language authors alive, he was the first to win the prestigious Booker prize twice for "The Life & Times of Michael K" in 1983 and "Disgrace" in 1989. The Swedish Academy praised the universal and humanistic character of his literary work.
I was unable to locate information on any Nobel Prize winners from OU, a university of which I am sure the football team is proud.
American Telephone & Telegraph Red River Shootout
The Land Thieves and Longhorns tee it up on Saturday for what I hope is a great football game.  It has the potential to be good and I think Texas has a good shot to win.  11:00 a.m. on FOX. Gus Johnson, Joel Klatt, and Jenny Taft will be calling the game.
I plan on having a corny dog and wax paper cup beer for breakfast.  Meet me by Big Tex around 9:30.  I will be wearing a Texas cap, burnt orange shirt, Wranglers, and boots.  You can't miss me.
The University was kind enough to provide a map if you want to catch either College Gameday or some of the FOX pregame.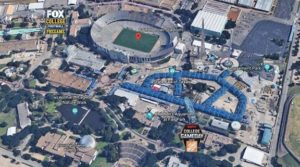 The University of Texas Longhorns vs. Kansas State Wildcats
Darrell K Royal quotes are timeless, and I am pretty sure that after the end of the K State game and that second half, Coach Royal's Ol' ugly is better than ol' nuthin' summed it up pretty well.
I had a mistake in last week's email on Coach Brown's record against Snyder.  I zoned out, forgetting that Ron Prince was the coach at KSU from 2006 to 2008.  So, Mack's record against Snyder was 3-5.
Tom Herman is now 2-0 against the great Bill Snyder and the Kansas aggies.
Video highlight from Texas Sports:
Texas jumped out to a quick lead, when D'Shawn Jamison returned K State's first punt 90 yards for the touchdown.  I have watched it again.  As good as the run was, it was the blocking by the Horns that turned that into a 90 yard score.  Blocking and no penalties, which given the rest of the game is somewhat miraculous.
The Texas defense played well, and Texas started its second drive at the Texas 11 with 3:14 to play in the first quarter.  Ehlinger executed a solid 89 yard drive for a touchdown, and Texas took a 14-0 lead.  I was downright giddy at this point, with visions of not just a Texas win, but perhaps a statement win with a beating of the Wildcats in Bill Snyder Family Stadium.  Sure enough, an incredible defensive series followed that score.  KSU's Zuber elected to bring the ball out on the kickoff, and Texas nailed him at the 9.  On the first snap, Omenihu sacked Delton for 5, and it was 2nd and 15 for the Cats from their own 4.  They got 4 yards, but on third down, it was big Charles Omenihu again with sack for a safety.  Texas up 16-0 with about 13 minutes to play in the first half, and we were getting the ball.  Sure enough, Ehlinger engineered a drive, with 6 passes completed to Moore, Johnson, Heard, Duvernay, and himself.  Although we had to settle for a field goal, I can't imagine there were many Longhorns who were watching the game and felt significant discomfort with a 19-0 lead halfway through the second quarter.  And that is where we ended the half, as K State was unable to produce (a 32 yard drive and a punt and a 35 yard drive and a punt).
Coach Bill Snyder has given a few halftime speeches in his life.  They must be pretty darn good, and I bet he can tailor them well to the situation.  No doubt Saturday's included something to the effect that his team was only down 19 points after being absolutely dominated.  The Wizard's pupils responded, in particular his new quarterback, Skylar Thompson.  The Wildcats got the ball to start the second half and expertly drove the ball 82 yards for a touchdown.  19-7 and game on.
The teams traded possessions, and on Texas second second half possession, a 57 yard drive ended with a missed 48 yard field goal.
K State got the ball on their 30 with a minute to go in the third, and they finished a 70 yard drive by lining up and running the ball.  A first and goal from the Texas 7:  Barnes for 1, Barnes for 4, Barnes for 1, and then Snyder said go and go they went, and on fourth down K State was in.  A 6 minute drive, and Texas was clinging to a 19-14 lead.
I was ridiculously nervous at this point, and the 6 play drive that sputtered in less than 3 minutes didn't help.  But kudos to Orlando in the defense, who seemed to get their legs back as they forced a 3 and out, getting Texas the ball back with a little over 6 minutes in the game in good field position (Texas 40).
Once again, the best "play" of the game might have been the final Texas offensive series.  Up 5 on the road against an opponent who "has our number", and Ehlinger and Ingram combine to drive the ball and burn clock.  Sam's 12 yard run on second and 6 was huge, and all of sudden it was first and 10 on the K State 20 with 1:32 to play.  Victory formation twice, and I can only imagine the feeling of relief on the Texas sideline.
So how did we win, and why did we nearly blow it?  I think there are two short primary answers.  We won because this Texas team is physical.  They play hard and tough, and that physicality is coming to fruition at an opportune time.  We nearly blew it because of penalties.  After cleaning things up some, Texas regressed, badly.  10 flags for 104 yards.  By contrast, K State had zero penalties in the box score (I didn't have time to research it, but apparently when there are offsetting penalties, the play is null and neither penalty is recorded).  So while Texas had 339 yards of offense to K State's 217, add the 104 and it was 339 to 321 – pretty close.  (I know not all the penalty yardage occurred when KSU was on offense, but it is a functional equivalent when you look at a lot of stats.)
Individually, Sam was solid:  29-36 for 207 yards and a touchdown, plus he rushed for 26 net on 8 carries, and had 2 receptions for 24 yards.  Keontay Ingram gained 68 on 10 carries for a very solid 6.8 yards per carry average, and a legit one – his long was 16, so the average isn't skewed by a big outlier.
Given how really good our top two receivers are, I am impressed with how well Herman and Ehlinger spread the ball.  CJ had 4 for 51, and LJH had 5 for 50.  7 other players accounted for 127 yards in receptions, and that included the ill-fated pass to DSJ that went backwards for 14.  Duvernay with 6 for 42, Ingram with 5 for 27, and, hallelujah, tight end Andrew Beck with 4 for 26.  Heard had a catch for 11, and Moore and 2 for 10.  Really good work, and we need all of them to step up again on Saturday.
Gary Johnson led the Horns with 7 tackles, 6 solo.  After that: Locke 6 (5), Jones 6(5), Omenihu 5 (all solo) + 3 TFL for 14 [2 sacks for 13 and the safety].  Boyd 4 all solo, Hager 4, 3 solo, including a sack for 8 and that incredibly critical pass break-up that really might have saved the game. Solid performance by a very good Texas defense.
I am going to try something new.  Feedback welcome.  Not sure I know exactly what is most interesting.  This is a comparison of (i) how the Texas offense performed  (with UT's average before the game) versus what K State was averaging defensively, and (ii) how the Texas defense performed (with UT's average before the game) versus what K State was averaging offensively.  I am still thinking through this.  Pretty interesting.
| | |
| --- | --- |
| Texas Offense | Kansas State Defense |
| Rushing – 111 yards (164 ypg) | 178 ypg – Rushing Defense |
| Passing – 228 yards (247 ypg) | 231 ypg – Passing Defense |
| Total Offense – 339 yards (411 ypg) | 409 ypg – Total Defense |
| Scoring – 19 points (31.3 ppg)* | 26.8 ppg – Scoring Defense |
| First Downs – 22 (22.3/game) | 20.5/game – First Downs Allowed |
| 3rd Down Offense – 57% (38%) | 47.5% – 3rd Down Defense |
| Red Zone Offense – 67% (69%) | 93%/71% – Red Zone Defense |
*Of course 9 of Texas points were the result of special teams and defense.
| | |
| --- | --- |
| Texas Defense | Kansas State Offense |
| Rushing – 107 Yards (117 ypg) | 156 ypg – Rushing Offense |
| Passing – 110 yards (245 ypg) | 191 ypg – Passing Offense |
| Total Defense – 217 yards (362 ypg) | 347 ypg – Total Offense |
| Scoring – 14 points (21.3 ppg) | 21.0 ppg – Scoring Offense |
| First Downs Allowed – 17 (17.5/game) | 17.8/game – First Downs |
| 3rd Down Defense – 40% (33.3%) | 36% – 3rd Down Offense |
| Red Zone Defense – 67% (71%) | 82%/18% – Red Zone Offense |
I will grade this as a yearlong course, with a first semester A+, and a C+ in the second, with an A- overall.  The Defense deserves an overall A, as anytime you hold a team to 217 yards of offense you have done well.  In the end, it was a win, and we did it with physical play on both sides of the ball and an excellently executed time-burning drive to kill the clock and win the football game.  We are heading to Dallas with a 4-1 record and ranked in both polls.  I am thrilled with that, and to think that loss was to effing Maryland.
So, Texas, let's move it to 5-1, and then come back to Austin and punish Baylor.
The University of Oklahoma
Founded in 1890 in Oklahoma Territory, the year that the Oklahoma Territorial legislature established three schools:  Oklahoma Agricultural & Mechanical in Stillwater, the Territorial Normal School (now the University of Central Oklahoma).  Hmm.  An agricultural school, a normal school, and OU.  Got it.
The campus has a distinctive architecture, with buildings designed in a unique "Cherokee Gothic" style.  The style has many features of the Gothic era but has also mixed the designs of local Native American tribes from Oklahoma. This term was coined by the renowned American architect Frank Lloyd Wright when he visited the campus.  [I was unable to locate any other information on his visit to Norman, but I can only imagine what a pleasant experience it was exploring the architectural grandeur of Norman.]
The etymology of Boomer Sooner:  "Boomers were those who by constant agitation tried to bring about the opening of Oklahoma to settlers before 1889, and Sooners were the settlers who slipped in to stay before the gun was fired. In 1905, Arthur M. Alden, a history and physiology student, wrote the lyrics to the university's "Boomer Sooner," borrowing the tune from Yale's "Boola-Boola" but improvising on the words. A year later an addition was made to it from North Carolina's "I'm a Tarheel Born" and the two combined form the university's battle song of today."  Yale, the University of North Carolina, and OU.  Reminds of the Sesame Street song "one of these things is not like the other things".
Speaking of Land Thievery and Cheating:
http://www.espn.com/college-football/story/_/id/24866357/the-untold-1999-texas-oklahoma-story-mike-leach-fake-play-script
And this, about the book:  BOOM TOWN: The Fantastical Saga of Oklahoma City, Its Chaotic Founding, Its Apocalyptic Weather, Its Purloined Basketball Team, and the Dream of Becoming a World-Class Metropolis.
http://nymag.com/daily/intelligencer/2018/08/how-oklahoma-city-was-born-in-a-day.html
From the article:
Consider, for instance, OKC's bizarre origin story. It reads less like an episode of actual history than a spaghetti western written by a faulty algorithm. The place was founded on a single afternoon, in an event called the Land Run, during which a formerly empty patch of prairie became a city of 10,000. The chaos that ensued was so alarming that the U.S. government never allowed anything quite like it to happen again. This formative absurdity set the tone for everything that followed: the shootouts and power grabs and even — eventually — NBA basketball.
Oklahoma City was born in an event called, with extreme dramatic understatement, the Land Run. The Land Run should be called something like "Chaos Explosion Apocalypse Town" or "Reckoning of the DoomSettlers: Clusterfµ€# on the Prairie."
So, with that, if anyone ever questions why I insist on "Land Thieves" over "Sooners", I will refer you to the October 5, 2018, TCT Longhorn Football Email.
Polls
Alabama still No. 1 in both polls.  But a lot of movement.
AP Poll:  Alabama, Georgia, Ohio State, Clemson, Louisiana State, Notre Dame, OU, Auburn, West Virginia, Washington.  Texas at 19, Oklahoma State back in at 25.
Coaches Poll:  Bama, Dawgs, Ohio Statement University, Clemson, Land Thieves, Louisiana State, L'Université de Notre Dame du Lac, West Virginny, War Eagle, and the Huskies.  Longhorns at 20, Okie A&M at 21.
Big 12 – Week 6
Not exactly a headline grabbing week for the conference, outside of the national circus in Dallas.
Kansas at No 9 West Virginia.  11:00 a.m. on ESPN2.  Mountaineers favored by 27.5, and the over under is 61.5.  That's a big line, but wouldn't be shocked to see Holgo and Grier cover it.
Kansas State is a 4 point underdog at Baylor.  2:30 p.m. on FOX Sports 1.  Over/under is 55.  I would be shocked if the Wildcats didn't cover.
Iowa State is the best 1-3 team in the conference, if not the country (it might be Northwestern).  They are 9.5 point underdogs in Stillwater.  Okie Aggies and the Cyclones kickoff at 2:30 p.m., and the game will bon ESPN2.  Over/.under is 55.
Texas Christian and Texas Technical have the week off, and they will play each other in a nationally televised Thursday night game from Amon Carter next Thursday.
This Week in College Football
No. 1 Alabama is a 5 touchdown favorite over Arkansas.  11:00 a.m. on ESPN.  Over/under is 57.  Roll Tide.
Maryland at No. 15 Michigan, 11:00 a.m. on ABC.  Wolverines favored by 17.5 in the Big House.  Over/under is 47.5.  Michigan should win, but once again, not sure about the cover.
Northwestern (1-3) at No. 20 Michigan State.  11:00 a.m. on FOX Sports 1.  Spartans favored by 10, and the over under is 43.5.
NC State is now ranked.  No. 23 Wolfpack gets 4-1 Boston College at home.  11:30 a.m. on ACC Network.  NC State favored by 5.5, and the over/under is 58.5.
2:30 p.m. Southeastern Conference game on the Columbia Broadcasting System is a good one.  No. 5 Louisiana State in the Swamp to play No. 22 Florida.  Tigers a narrow 2.5 point favorite.  Over/under is 43.5.  Going to be a good game, but not sure if Orgeron keeps LSU undefeated.
No. 4 Clemson at Wake Forest.  Tigers favored by 20, and the over/under is 61.  2:30 p.m. on ESPN.  Clemson wins easily.
Big rivalry game for Florida State, as they play at Miami (FL).  2:30 p.m. on ABC.  Hurricanes favored by 13.5.  Over/under is 48.5.  Go Noles!
Undefeated Colorado now ranked at No. 21.  They host 3-2 Arizona State in Boulder.  3:00 p.m. on PAC 12 Network.  Colorado only favored by 2.5, and the over/under is 64.5.  Bet the Buffs.
Indiana at No. 3 Ohio State.  3:00 p.m. on FOX favored by 26.  Over/under is 64.5.  Line seems high.
No. 13 Kentucky at 3-2 Texas Agricultural & Mechanical.  6:00 p.m. on ESPN, and the aggies are favored by 6.  Over/under is 50.5.  Aggy better contain Benny Snell, Jr., or the Wildcats will cover that.
No. 12 UCF is rolling over opponents.  Poor Southern Methodists.  Central Florida favored by 24, and the over/under is 75.  6:00 p.m. on ESPNU.
No. 2 Georgia at home again.  Vanderbilt is this week's sacrifice between the hedges.  6:30 p.m. on SEC Network.  Georgia favored by 27, and the over/under is 54.
No. 8 Auburn at Mississippi State.  6:30 p.m. on ESPN2.  Tigers favored by 3.5, and the over/under is 43.5.  War Eagle!
No. 10 Washington at winless UCLA.  Bruins are 21 underdogs at home, and the over/under is 52.5.  6:30 p.m. on FOX.
Also winless, Nebraska.  Really hard year for the huskers.  Big Red in Madison to play No. 16 Wisconsin.  6:30 p.m. on BTN.  Badgers favored by 17, and the over/under is 58.5.
Big game in Blacksburg.  No. 6 Notre Dame at No. 24 Virginia Tech (the AP voters are very forgiving).  7:00 p.m. on ABC.  Irish favored by 7, o/u is 55.
We get a good late PAC 12 game.  Utah on the Farm to play No. 14 Stanford.  9:30 p.m. on ESPN.  Look forward to watching some of that with my dad.  The Cardinal favored by 5.5, o/u is 45.5.
Other Games of Interest This Week
Thursday night, Major Applewhite and the Cougars rallied with 24 in the fourth quarter to beat Tulsa 41-26.
Friday night games:
Georgia Tech at Louisvile.  6:00 p.m. on ESPN.  Ramblin' Wreck favored by 4.5, o/u is 57.5.
Utah State at Brigham Young.  8:00 p.m. on ESPN2.  BYU favored by 2.5, o/u is 56.
Virginia gets a much needed bye.
Saturday
Ole Miss back in Oxford, and they have another Louisiana opponent. This week, UL Monroe.  3:00 p.m. on the SEC Network.  Rebs favored by 22, o/u is 75.5.  Hotty Toddy!
Stephen F. Austin at Sam Houston State, 1:00 p.m. at NRG Stadium in Houston.  Sam favored by 3.5, and o/u is 58.
UTSA at Rice.  6:00 p.m.  Rice favored by 1, o/u is 50.
North Texas will get back in the win column in El Paso.  6:30 p.m.   Eagles favored by 27, and the o/u is 53.
Navy at Air Force, 2:30 p.m. on CBS Sports Network, 2:30 p.m.  Middies favored by 3, o/u is 48.5.
Miami (OH) at Akron.  2:30 p.m..  Akron favored by 5, and the over/under is 49.
MIT at Maine Maritime, 11:00 a.m.  Yes, I wondered too. Maine Maritime is in Castine, Maine.  The Mariners are winless, with losses to Maritime (NY), Mass. Maritime, and Merchant Marine.
Battle of the unbeaten hyphenated Hardins.  Hardin-Simmons at Mary Hardin-Baylor.  6:00 p.m. at Crusader Stadium, 905 University Drive, Belton, Texas.
Davidson is 4-1 and gets Jacksonville at home.  1:00 p.m.
Previews on the Interwebs
HornMafia, on The Week That Will Be: Texas … back?
https://www.barkingcarnival.com/2018/10/4/17935626/the-week-that-will-be-red-river-shootout-texas-longhorns
Week 6 College Football Viewing Schedule:
https://www.sbnation.com/college-football/2018/10/4/17925426/college-football-schedule-week-6-2018-tv-streaming-best-games
Bill Connelly, for the sportsmen:
https://www.sbnation.com/college-football/2018/10/4/17933342/college-football-picks-week-6-2018-predictions-odds-spreads
Well, this is a review and preview, on the Big 12.
https://www.burntorangenation.com/2018/10/3/17915614/keeping-up-with-the-conference-week-5-texas-longhorns-oklahoma-sooners-football-big-12-conference
Big 12 – Week 5
The Land Thieves took care of business against Baylor, doubling down on the Bears 66-33.  Kyler Murray was on fire.  432 yards passing on just 17 receptions (17-21), averaging 20.6 yards per completion.  6 touchdowns.  Also ran 10 times for 45 yards and a touchdown.  OU covered by nearly 10 and almost hit the over (68.5) by themselves.  They are really good.
The Sand Aggies celebrated their No. 25 ranking with a 34-42 home loss to West Virginia.  The Mountaineers are really good.  Will Grier is really good.  Great fourth quarter, as Texas Technical cut the lead to 8 with about 8 to play.  But a potential drive to tie was snuffed with an interception returned 51 yards for a WVU score and 42-27 lead.  West Virginia covered, and they hit the over (72.5).  Good game.  Tech played pretty well against Holgo and his Mountaineers.
Iowa State continued to play well, but came up short.  Texas Christian kicked a field goal with 32 seconds left to win 17-14.  One of the frogs' two touchdowns was 47 yard fumble return.  Guess the horny toads were a bit beat up.
Okie State beat and covered the Jayhawks in Lawrence, 48-28.   Over (62).  Got that one.
Last Week in College Football
No. 1 Alabama somehow did not cover the Louisiana Ragin' Cajuns, but I am sure the Roll Tiders are happy with the 56-14 win.
Clemson seems to have at least one enigmatic game each year.  Syracuse was 4-0, but Vegas had the Tigers favored by 25.5.  I don't know if Clemson had a bad game or Syracuse is a solid team.  But Dabo was lucky to get the 27-23 win.
Michigan State 31-20 over the Central Michigan Chippewas.  CMU covered.
Georgia is No. 2 for a reason, they play well at home between the hedges, and Tennessee is not very good.  Bulldogs 38-12 over the Volunteers.  Tough year for Rocky Top Nation.
Pitt lost big to Central Florida, 14-45.  Line was UCF by 13.  Ouch, over/under is 64.5.
Auburn 24-13 over Southern Mississippi.
Michigan at Northwestern.  Line was Michigan by 14.5.  "Michigan will win, but might see if you can get some money on Northwestern to cover."  Wolverines escape Evanston 20-17.
Mississippi State on the schneid.  Florida gets off of it, with a 13-6 road win in Starkville.  Over/under was 49.  sec.  sec.  sec.
Virginia Tech rebounded against Duke.  Favored Blue Devils lost at home to the Hokies, 14-31.
Ohio State 27, Penn State 26.  I developed a rash watching them play, but it was a good game.
What a game in South Bend.  Irish with a 38-17 beating of the Cardinal.  Notre Dame can write its own ticket.  And I did keep Peter up to see kickoff.
Washington is good.  35-7 over Brigham Young.
Oregon 42-23 over Cal.  Not surprised.
Kentucky stayed perfect with 24-10 win over South Carolina.  The last time the Kentucky Wildcats were 3-0 in the SEC was 1977 I was a senior at Robert E. Lee High School in Tyler.  If they go 41 years again before getting to 3-0, then I will be 99 years old and it will be the year 2059.  And OU will still suck.
Louisiana State with a 45-16 beating of Ole Miss on a wet night in Baton Rouge.  But Fergie reports that it was still a successful roadtrip.  How does one have an unsuccessful road trip to an LSU game?  I am guessing imprisonment or hospitalization, but even that might depend on how you got to one or both.
Other Games of Interest Last Week
Stunner in the Big Easy Friday night, as Tulane rolled over Memphis 40-24.  That's a 30 point swing on the line.
UC Los Angeles is 0-4.  Colorado 38-16 over the Bruins, covering easily.
Arkansas drops to 1-4 after Texas Agricultural & Mechanical wins 24-17.  Nice work ags.
Virginia loses 21-35 at NC State.
Old Dominion covered at East Carolina, losing 35-37.
Florida State wins!  28-24 over Louisvile.
Troy 45-21 over Coastal Carolina.
Miami (OH) was a 1.5 point underdog at home with Western Michigan.  Redhawks lose by one, 39-40.
Rice 24, Wake Forest 56.  Line was Wake by 27.
Southern Methodists 63, Houston Baptists 27.  Sonny Dykes boys are in first place in the American West.  18,983 in attendance.
UTEP 21, UTSA 30.  Vegas had UTSA by 10, and the over/under at 44.  Impressive work.
Louisiana Tech stuns North Texas in Denton, 29-27.  Sure puts a shine on the big a&m victory over Arky.
Southern Cal held on to beat Arizona, 24-20.  Fight On.
MIT stays undefeated with a 31-24 win over Merchant Marine.
Mary Hardin-Baylor 77-7 over Southwestern.  MHB undefeated.
Davidson 40-35 over Valparaiso.
 This Week in Schadenfreude.  The coverage of the Penn State loss is epic.
https://www.sbnation.com/college-football/2018/10/1/17921276/penn-state-mississippi-state-college-football-week-5
And welcome back to the Bottom 10.  Kind of hurts to see UTEP, Trey's Bobcats, and Rice on there.  But the combined Arkansas – Nebraska – UCLA "Arkansaw Corn-Bruins" at 1-12 is pretty funny.
http://www.espn.com/college-football/story/_/page/bottom100218/bottom-10-introduces-arkansas-corn-bruins
Juan Heisman Tailgate
We will gather on Grand Avenue, under Big Tex's left hand, before and after the game.  Next week we will have a good tailgate, with the Baylor game set for 2:30.
Music.  Songs About Texas
Pat Green.  Songs about Texas
Pat Green and Cory Morrow, Texas on my Mind.  Written by Django Walker.
Django Walker.
Texas Longhorn
Texas On My Mind, by the writer
Jerry Jeff Walker, Leavin' Texas
Cory Morrow, Texas Time Travelin'
Ray Wylie Hubbard.  Screw You, We're from Texas
Little Texas – God Blessed Texas.
Asleep at the Wheel – Miles and Miles of Texas
Willie Nelson – Texas
George Strait – If it Wasn't for Texas
And finally, once again in honor of that flight home from Lubbock with El Jefe September 18, 2010, The King with Amarillo By Morning.  One of my favorite Texas football memories.
Fried Stuff
One of my favorite adjectives is "fried".  Thus, my love of the annual research project:  what crazy stuff are they frying at Fair Park this year?  Fortunately, the folks who run the State Fair of Texas like publicizing the Fair's fried food offerings.  I am getting hungry.
This year's winner and finalists in the Savory category are exceptional.  The overall winner for Best Taste – Savory is Fernie's Hoppin' John Cake with Jackpot Sauce.  Being from East Texas, I have a particular affection for black-eyed peas (and cream peas, purple-hull peas, and crowder peas).  And I like hoppin' john.  Winter Family Concessions has fried it.  "Creamy black-eyed peas, fluffy white rice, spicy smoked sausage, aromatic green onions, and a secret blend of spices are combined with breadcrumbs and eggbeaters to form a generous Texas-sized cake. This savory cake is breaded, deep fried, and topped with a zingy black-eyed pea relish, garnished with pickled okra, and served with a side of Jackpot Sauce."  Yes.  Jackpot.
The other finalists for Savory were Deep Fried Shepherd's Pie (pretty much what you'd expect), Texas Fried Hill Country, Texas Twang -Kie, and Deep Fried Skillet Potato Melt in a Boat.  That last one:  "Buttery skillet potatoes are griddled golden brown, combined with diced breakfast sausage patties and packed around a mini Babybel® cheese loaf. Seasoned in flour and dipped in the fryer, the skillet potato melts are then served up in the potato skins they came from and topped with melted cheddar and crispy bacon bites. A sour cream chipotle sauce is drizzled across the top and served on the side for dipping!"  That Hoppin' John Cake must be amazing.
One of the semifinalists was "Deep Fried Bodacious Bacon Bombs".  Sounds pretty good to me.
The winner for "Best Taste – Sweet" is Arroz con Leche.  "A cinnamon-spiced rice ball is formed, battered, and coated in crispy puffed rice cereal. The ball is then deep fried to golden perfection. Each rice ball is sprinkled with powdered vanilla and complimented with a Texas-sized scoop of vanilla ice cream. To serve, a drizzle of caramel sauce and powdered cinnamon crowns each tasty treat."  Also in the sweet category was the winner for most creative, a cotton-candy taco.  "A graham cracker waffle cone is freshly-pressed into a crunchy taco shell shape and coated with a marshmallow glaze, then stuffed with chocolate, toasted marshmallow, and organic cane sugar cotton candy. It's then topped off with chocolate cookie crumbles and two chocolate cream-covered biscuit sticks with marshmallows."
A good article from D Magazine on more of the excellent offerings, courtesy of Brad Hawley.
https://www.dmagazine.com/food-drink/2018/09/even-more-fried-foods-added-to-the-state-fair-of-texas-lineup/
Other new foods of interest:  Corn Dog Ale (why?), fried cup of corn "elotes", Pico Frito (deep fired pico de gallo), and Fletcher's Cheezy Pup.  The Cheezy Pup is a smaller Fletcher's corny dog, but with American cheese in the middle, instead of a hot dog.
https://bigtex.com/plan-your-visit/food/new-food/
Washington & Lee
W&L with a tough home loss to start conference play.  Generals 7, Randolph-Macon 23.  The Yellow Jackets had the ball for 23 minutes of the second half.  Hard for a ball control team like W&L that relies almost exclusively on its ground game to score without the football.
This week, W&L heads to Bridgewater.  The Eagles are also 2-1, but they won their ODAC opener last week against Guilford in Greensboro, 30-28.  This will be the 49th meeting, a series W & L leads 28-20.
Game Notes:
http://www.generalssports.com/sports/fball/2018-19/files/Bridgewater_Notes.pdf
The Generals really need a win, as the ODAC is looking tough this year.  Good luck Generals.  1:00 p.m. Shenandoah Valley time at their Wilson Field.
IVY LEAGUE REPORT
 After last week's Ivy League report, one of the legions of Ivy alums who reads this newsletter stepped up and had report for this week in my inbox by Tuesday evening.  Jeff Zlotky is one of my 2 best friends from the Law School, and a proud Princeton Tiger.  (For those wondering, my other best buddy from The Law School is David Margrave, who went to Stanford, which is like an Ivy League school, except more highly ranked.  I think they took pity on the kid from Tyler.)  Anyway, thanks to Jeff for this week's riveting Ivy League Report.  Jeff, when was the last time you wrote something this long without footnotes?
[Beat Writer's Note:  After 36 years of friendship, the least I can do is lend a hand this week so that Tim can focus on putting the finishing touches on the preceding portion of this email and on putting his game face on as the Longhorns prepare to defeat the Land Thieves.]
Through three weeks of the Ivy League season, here are three initial observations.  First, these teams can play.  Four of them have received votes in the FCS Top 25 Coaches Poll—Princeton is ranked No. 23, while Dartmouth, Yale and Harvard have also received votes.  Dartmouth and Princeton are both off to 3-0 records (and they are two of four undefeated teams in the FCS, although most other squads have played five games), while the Crimson and Bulldogs are each 2-1 but 1-0 in conference play.  Second, the Ivy League teams have taken some of their non-conference opponents to the woodshed with a number of blowout victories.  Third, with only one conference game in the books for these teams, it looks like all four of the teams that are presently undefeated in conference play will contend for the top spot.
Last week's play began on national television on Friday evening, when the Princeton Tigers visited Columbia.  After the Tigers got off to a 13-10 lead, the Tigers scored 32 unanswered points and won 45-10.  QB John Lovett three for two touchdowns and ran for two more.  The Tigers scored on eight of their first nine possessions and are averaging more than 48 points per game.
Also on Friday night, Harvard took on No. 20 ranked Rhode Island.  The Crimson's second half rally fell short and they fell to Rhode Island 23-16 for their first loss of the season.
Dartmouth made easy work of Penn, 37-14, for the 700th victory in the 137th season of the Dartmouth football program.  Of note is the fact that two different offensive linemen scored touchdowns in the game, as one lineman recovered a fumble in the end zone and another lined up as an eligible receiver and scored on a four yard touchdown pass.
Yale took on No. 16 Maine in New Haven and emerged with a 35-14 thrashing of the Black Bears.  QB Kurt Rawlings and WR Reed Klubnik connected on three touchdown passes while the defense allowed a measly 13 first downs and 264 yards of total offense.
The Brown Bears took on Georgetown (University, not the prep school that is very much in the news) and emerged with a solid 35-7 victory over the Hoyas.
Cornell took on Sacred Heart and beat them 43-24.  The Pioneers, who had only allowed 34 points through their first three games, gave up 36 points to the Big Red in the opening half and that was all she wrote.  The Big Red ran for 263 yards on 47 carries and three rushing touchdowns.
This week's schedule commences this evening, when the Ivy Game of the Week (not to be confused with the Red River Rivalry) pits the Dartmouth Big Green (3-0) against Yale Bulldogs (2-1) at Yale Stadium.  The winner will make an important step on the road to an Ivy League championship.  You can catch it on ESPNU.
In Saturday's play, Princeton (3-0) takes on the Lehigh Mountain Hawks (1-3) at Powers Field in Princeton.  This is the 90th meeting between the two teams.  While the Tigers have won 60 of those games, Lehigh has won five of the last six and 13 of the last 17.  Look for the Tigers' QB John Lovett to continue his fine play.
Harvard (2-1) visits Cornell (1-2) in Ithaca on Saturday.  Harvard leads the all-time series 47-33-2, which series dates back to the teams' first meeting in 1890.  The Big Red hopes that this game will end better than that first game, a 77-0 win for the Crimson.
The Brown Bears (1-2) will take on the Rhode Island Rams (3-1) in the Battle of Rhode Island.  Rhode Island is now moved up to No. 17 in the Coaches Poll and look for Rhody Ram to defeat the Bears and secure its position as the best college football team in the Ocean State.
Columbia (1-2) will face the Marist Red Foxes (1-3) on Saturday afternoon.  Columbia players have earned back to back Ivy League Special Teams Player of the Week honors and will look to make it a trifecta against Marist.
Penn (2-1) is the next Ivy League Team that will take on Sacred Heart Pioneers (3-1) at Sacred Heart's homecoming game on Saturday afternoon.  The big news from Penn this week has nothing to do with this year's football schedule, but rather that in March of 2019, Penn will take its team global for the first time in 142 seasons and hold spring practices in China, culminating in something called the 2019 Penn-China Global Ambassadors Bowl against the American Football League of China All-Stars.  That will be a far cry from Penn's 1917 appearance in the Rose Bowl.
Thanks Jeff!
 JDRF
 Repeating this, as there is still time to participate and give.  Let's turn Type One into Type None.
 I have been cognizant of Type 1 diabetes, what was once called "juvenile diabetes", for as long as I can remember.  It didn't start hitting home, or at least close to home, until one of my daughter's classmates at Westminster Presbyterian Day School was diagnosed (I guess that was around 20 years ago).  Then, when I got involved with HAAM, Carolyn Schwarz's son was Type 1, and I learned a bit more.  But when Mary Elizabeth started dating Parker, who will soon be her husband, it wasn't just close to home – T1D was in my home, and now in my family.  We are a pretty committed bunch as far as causes and charity, primarily driven by faith, but also by abundant love for others and by a simple sense of duty.  For me, that was sharpened and permanently instilled as a Boy Scout.  Mary Elizabeth is committed to helping JDRF find a cure for Type 1 diabetes.  We, as a family, are right there with her.  And in about 36 days (holy cow!), after the doors at the west end of the sanctuary at Westminster Presbyterian Church open, and I walk Mary Elizabeth down that aisle toward Parker Fleming, I will have a son with Type 1.
Mary Elizabeth is working for JDRF in DC, and their big fundraiser, the JDRF Hope Gala, is a month away.  If you are in the DC area, you should go.  If you are reading this and you can't go, you should give.  Thanks.
https://jdrf-capitol.ejoinme.org/MyEvents/DCHopeGala2018/tabid/982420/Default.aspx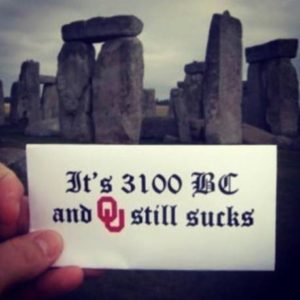 God Bless Texas.
Tim Taylor
Tailgating before Home Football Games
The Juan Heisman Tailgate 
Lot 38, East of Sid Richardson Hall.
HOOK EM HORNS!!
© Timothy C. Taylor, Sr. 2018.  All Rights Reserved (as to original material).
On Twitter:  @tctayloratx
On LinkedIn:  www.linkedin.com/in/tctatx
On Instagram:  @tctayloratx
On Facebook:  www.Facebook.com/Tim.C.Taylor and:  www.Facebook.com/Juan.Heisman