Red River Redux – Oklahoma State Cowboys 32, Longhorns 24
Déjà vu all over again.  A good start and a rough second half with a dreadful fourth quarter.  Texas jumped out to a 10-3 lead in the first quarter, and scored first in the second to go up 17-3.  Driving for another score when Thompson threw a pass that everyone in the stadium, who was watching the play, knew was going to be intercepted.  And returned for a touchdown by the Cowboys.   17-10 instead of 24-3.  Talk about a game-changing play.
The second half started okay, with a drive and a beautiful Bijan Robinson 38 yard touchdown run, but that was about the last we saw of the Sarkisian All Gas No Brakes offense.  Yes, Texas had a 24-16 lead at the end of three quarters.
In the fourth quarter, Texas gained 1 net yard.  One yard.  If my numbers are right, Oklahoma State had 170 net yards of total offense – 155 total gained on the ground (145 when you subtract the two 5 yard kneel downs at the end of the game).
Texas is now ranked nationally as follows:
Rushing Defense – No. 113, allowing 201.3 yards per game.
Passing Defense – No. 75, allowing 232 yards per game.
Passing Defense, total yards allowed – No. 96 – 1,623 yards.
Passing Defense, opponent completion percentage: No. 125 – 68.8%. Just ahead of Louisiana-Monroe, Akron, Kansas, Kansas State, and UNLV.
Total Defense – No. 105, allowing 433.3 yards per game
Scoring Defense – No. 92 – 29.6 points per game.
Xavier Worthy, coming off a record setting performance against the Land Thieves, managed 5 catches for 28 yards.
Keilan Robinson got 1 carry and gained 1 yard.  1 catch, but it was for 25 yards.
Meanwhile, Jaylen Warren, gained 193 yards on 33 carries for the Pokes.  118 of those yards in the fourth quarter.
Casey Thompson was fourth nationally in pass efficiency rating before the game (187.4).  Gundy's defense held Thompson to a 108.7 rating.
We do have a bright spot.  Bijan Robinson ran for 137 yards and 2 touchdowns, averaging 6.4 yards per carry, and he caught 3 passes for 38 yards, including a touchdown.  Bijan is No. 3 in the nation in rushing with 924 yards.  He is on pace for a great year.
Oklahoma State and Mike Gundy have won six of the last 7 games in Austin, and are 8-4 over the last 12 games.
When I walked out of the stadium, despondent and angry, I was looking at the other Texas fans passing by, and I just knew something was wrong.  It struck me – almost all the fans were laughing and joking, bantering with their buddies on their way to post-game fun at Longhorn City Limits or the next party in West Campus or a bar or whatever.  No anger, no one kicking trash cans.  "We had a fun day and enjoyed the midway and beer and live music and tailgate parties.  And oh yeah, the game.  We lost.  Hook Em!"  I am tired of losing.  I am tired of accepting losing as "okay".  It isn't okay.
The off week couldn't come at a better time for Steve Sarkisian and his coaching staff.  The trip to Waco in 8 days will not be an easy one.  Baylor is ranked No. 20 in the AP Top 25 and the AFCA Coaches Poll. They are 6-1, and will be on October 30.  They get this weekend off too.  And they are coming off a big win off Brigham Young, a team many thought had a chance at the College Football playoffs and were ranked No. 19 before going to Waco and getting their ass kicked by the Bears.  If you think Dave Aranda and his DC, Ron Roberts, aren't chomping at their bits to get on the field with Texas, you are dreaming.  They now have plenty of tape how to beat Texas, and I guarantee you they believe they can.  Game already set for 11:00 a.m.
The Baylor defense after last weekend?  No. 2 scoring defense in the Big 12 (18.7 ppg) and No. 16 nationally.  No. 3 total defense in the Big 12 (333.3 ypg) and No. 37 nationally.
Lots of work to do at Belmont Hall.  Good luck Sark.  You can do it.  Let's run the table.  You have the players and the coaches.
Texas
One of the things that probably upsets me the most about this continued state of abysmal mediocrity in the Texas football program is not just the fundamental sadness of The University of Texas not having a good football team, but watching the other teams in the Great State of Texas excel as we are wallowing in the crap.
Here is where we are this week, just in the 2 main polls:
Texas Agricultural & Mechanical, 5-2, No. 17 both polls.
Baylor, 6-1, No. 20, both polls.
Southern Methodist, 7-0. No. 21 AP, No. 19
UT San Antonio, 7-0, No. 24 AP, No. 25 Coaches.
So if you accept the polls as a third party, objective basis, then The University of Texas at Austin Longhorns are the fifth best team in Texas.
That's a lot of negativity.  As I said last week after the heartbreaking loss to the Land Thieves, writing is cathartic, especially when in the grief stage.  This week, it isn't helping much.
But, I am still bullish on this year's Longhorns and 100% behind Steve Sarkisian.  Right man.  What did help me this week was an email from my new friend Harry Hilgers.  He wrote about patience.
D.X. Bible was one of the greatest coaches in U.T. history, the man that coached the team that was on the cover of Life magazine in 1941.

It didn't happen during his first year or his second or third year and it wasn't until his 5th year that he produced a big winner.

This was the Texas record:

1937  2-6-1, 1938   1-8, 1939   5-4, 1940   8-2 , 1941  8-1-1

The fans were patient.  They never complained.  They were rewarded
Yes, it takes time.  That 1941 team finished at No. 4 in the final AP poll. Bible and his Longhorns won the SWC in 1942 & 1943 (and ranked 11 and 14).  He also went 10-1 in 1945, won the Southwest Conference, beat Missouri in the Cotton Bowl, and finished No. 10.  (Oh but for that 6-7 loss to Rice at home.)
Sark this week: "Right now, we're in a space where we get a lead, something doesn't go our way and we harbor a little bit of the negative thoughts. And ultimately, those negative thoughts creep into cautious play, uncertainty and errors."  Sarkisian is a smart coach.  He has identified the problems, and he will get them fixed.
So, we need to stay loyal.  We need to accept this for what we knew it would be, a bit of a rebuilding year under a new coach and new staff and new systems.
At least we are doing well overall in the Athletic Department and other sports.  We got that going for us.
Okie A&M Cowboys vs. Texas Longhorns
Texas was a 4 point favorite Friday night.  Not sure where it closed before kick-off, but if you were taking the Cowboys, it didn't matter.  Let's just say for any faithful fans who had Texas and the over and the Texas total, it was an expensive day.  But that's not important.
Texas did have another good start.  I have to believe that when this team and the coaches string together 4 quarters like almost all of their first quarters, we are going to win a lot of ball games.  That first drive was a solid 75 yard, 5 minute drive.  Casey was 4-5.  Bijan got the TD.
Texas forced a 3 and out, then a poor series for the Horns. Incomplete pass and a holding call.  Incomplete pass.  A 2 yard pass on second and 17 (Greg Davis?), and then Casey sacked for 7 yards and called for intentional grounding.  Texas went 12 yards backwards, and thank goodness for Dicker's good punt and a Cowboy block in the back.  Cowboys responded with a little drive that netted a field goal. 7-3 Horns.
Texas had a good drive, highlighted by a beautiful pass to Marcus Washington which resulted in a 58 yard gain to the OSU 11.  But Gundy's D clamped down, and Texas settled for a field goal.  10-3
Texas held again, and got the ball back early in the second quarter but on our own 12 yard line.  3 and out, and Dicker with another decent punt.  Okie State had the ball at their 34, but Texas forced the 3 and out (aided by an OSU penalty).
The next Texas drive was nice.  Bijan with a huge 26 yard first down run.  A PI call on the Cowboys and it was first and 10 at the OSU 25.  Bijan for 9, Roschon for 3, and then a very good play call and pass to Bijan for the touchdown. 17-3 about midway through the second quarter.
Another great play by the Texas defense, as D'Shawn Jamison intercepted Sanders in Cowboy territory, setting up Texas at the OSU 44.  But after getting down to the 18, Bijan was stuffed twice for no gain.  On third and 10, the Cowboy defense was ready, and Jason Taylor stepped in front of Josh Moore and was untouched as he took it 85 yards on the pick 6 which changed the game.  All the momentum to the Cowboys.
Texas answered terribly.  Lost a yard on a pass play, then Casey sacked again, and then incomplete pass on third and 17.
The Cowboys got the ball on their 30 with 3:47 left in the half.  Spencer Sanders was 5-6, and while Texas stopped the Cowboys (barely) on third and 12, Okie State got 3 points.  It was 17-13 at half.
So while I said the second half was bad, it didn't start so bad.  Texas forced a punt, and got the ball on the UT 20.  A quick drive that included a good 19 yard completion to Worthy, then a solid play, with Bijan swinging left and getting a great 38 yard touchdown run.  24-13.
Texas forced a 3 and out (good defense), but the Cowboys flipped the filed with a 60 yard punt that pinned the Horns back at the UT 7.  A false start on first down made it first and 13 from the 4.  Texas couldn't do anything, and Dicker punted from the back of the endzone.  Cowboys with the fair catch at the Texas 47 with 8 minutes left in the third.
As with the OU game several times, the Texas defense held the opposing offense to a field goal.  This time, another big stop inside the 10 yard line.  But the Cowboy FG made it 24-16, a one score game.
If ever Texas needed a long scoring drive (or even just a really long drive), it was right there.  But the Cowboy defense got pressure on Casey on third and 3 and forced the punt after the incompletion.  Texas managed to get another stop, despite a pass interference call on Thompson.
Texas had the ball as the fourth quarter began, but it was on fourth and 6.  Dicker boomed one but it got in the endzone.  Okie State started on their 20 yard line 2 seconds into the final frame.  80 yards later (including a big 27 yard run by Warren), OSU had their first score of the fourth.  The two point conversion failed, and Texas clung to a 2 point lead at 24-22.
Kind of needing a score, Texas responded with Bijan for zero, Bijan 2 yard loss, and Thompson sacked for 4 yards.  After the Dicker Punt, the Cowboys drove again, and again with a big run from Warren (20 yards).  Bending but not breaking again, Texas held Okie A&M to a field goal, but that gave them the 25-24 lead.
There was just over four and a half minutes left when Texas got the ball.  I really, truly believed that despite the uneven second half play, the Longhorns were going to execute a 4 minute offense and get the lead back.  Maybe run it down and kick a field goal to win.  Sure felt that way when Bijan picked up 9 yards on first down, getting the ball to the Texas 44.  But zero yards on the pass to Worthy, then Thompson dropped back to pass, but the pocket collapsed and he tried to run and was dropped for a 2 yard loss.  Fourth and 3 at the Texas 42.  Of course we went for it.  Casey got zero yards.  Ball game.
As with the other Oklahoma State possessions in the Fourth Quarter, Jaylen Warren gashed the Horns. This time with a 29 yard run to the Texas 10.  Spencer Sanders waltzed through the Texas defense for the touchdown, and it was 32-24.
While the game wasn't necessarily over then, it was 2 plays later after Thompson, trying to get the ball to Worthy, was picked off again.
Another heartbreaker.
Highlights
Here is a short one, a bit under 4 minutes from Big XII.
About 7 minutes, from Fox.
About half an hour from this guy, Matthew Loves Ball.
Well, I had the Oklahoma State score right (32), but was just 3 touchdowns too optimistic for the Longhorns.
Juan Heisman Tailgate
Sometimes I wonder if the fun, fellowship, and joy we have at the tailgates before games makes the losses harder.  What if I just showed up 30 minutes before kick-off and headed in to the stadium for a dog and cold beer, instead of enjoying a 2-3 or more hour buildup, with dozens of great friends and good food and beers and cocktails?  No, that wouldn't work.  We pretty much did that in 2020, and it was just not the same.  The fellowship of the tailgate and the brotherhood of the Juan Heisman Tailgate Crew are an indispensable part of Texas home games. I think I would be even more depressed after a loss.  Not sure where all that came from, but most of this week's writing has been very, very late at "night".
A great time Saturday morning.  Big thanks to Hunter Wilcox, who was Crew Chief for the OSU tailgate as Judd Messer was busy at the Capitol with the special session.  Teamwork makes the dream work, and Saturday's tailgate was a result of that, and the new guys stepping up.  Rye Hinkle, first year man, got the breakfast tacos from Santa Rita and picked up the kolaches and had everything there before 9:00.  Brad Laughlin, CFO and Beer Man, did his usual great job.  Great work by Marcus and Otis making sure everything ran smoothly.
We drank a lot of bloody marys and Tito's vodka.  And a bunch of beer.  We had a tremendous selection of brews from Texas Beer Company:  the excellent K9 Lager (a portion of the proceeds benefit K9's for Warriors), Local Blonde Lager, Pace Bend Pale Ale (my favorite, which I happen to be enjoying right now), Suds Hazy IPA (very good, and 7% ABV), and one of their very best seasonal beers, the Oktaylorfest, a traditional German marzen lager.  So good.  Look for it at HEB and some Central Markets (including in DFW).
You can find locations to buy and where Texas Beer is served at the map on their website: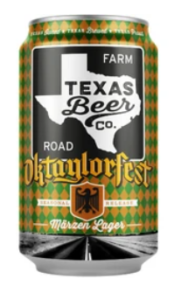 https://www.texasbeerco.com/#beers
Ask for it when you are out.  Served at Loro, Cedar Door (on tap), Scholz Garten, Shoal Creek Saloon, Little Woodrow's on Burnet, Little Longhorn Saloon, and many other great places around Austin and Texas.
Finally, the highlight of this week's tailgate was talking to the legendary Longhorn Tom Campbell.  We were enjoying a Texas Beer, and he said "Who's that kid wearing the No. 84 Jersey?  You know that's my number!"  Actually, having watched the 1969 Arkansas game so many times, I did know it was Tom's number, but hadn't thought about it.  I said that young man is Mason Dunn, son of Kelly & Rob Dunn, of the Juan Heisman Tailgate.  We were able to get a photo of them: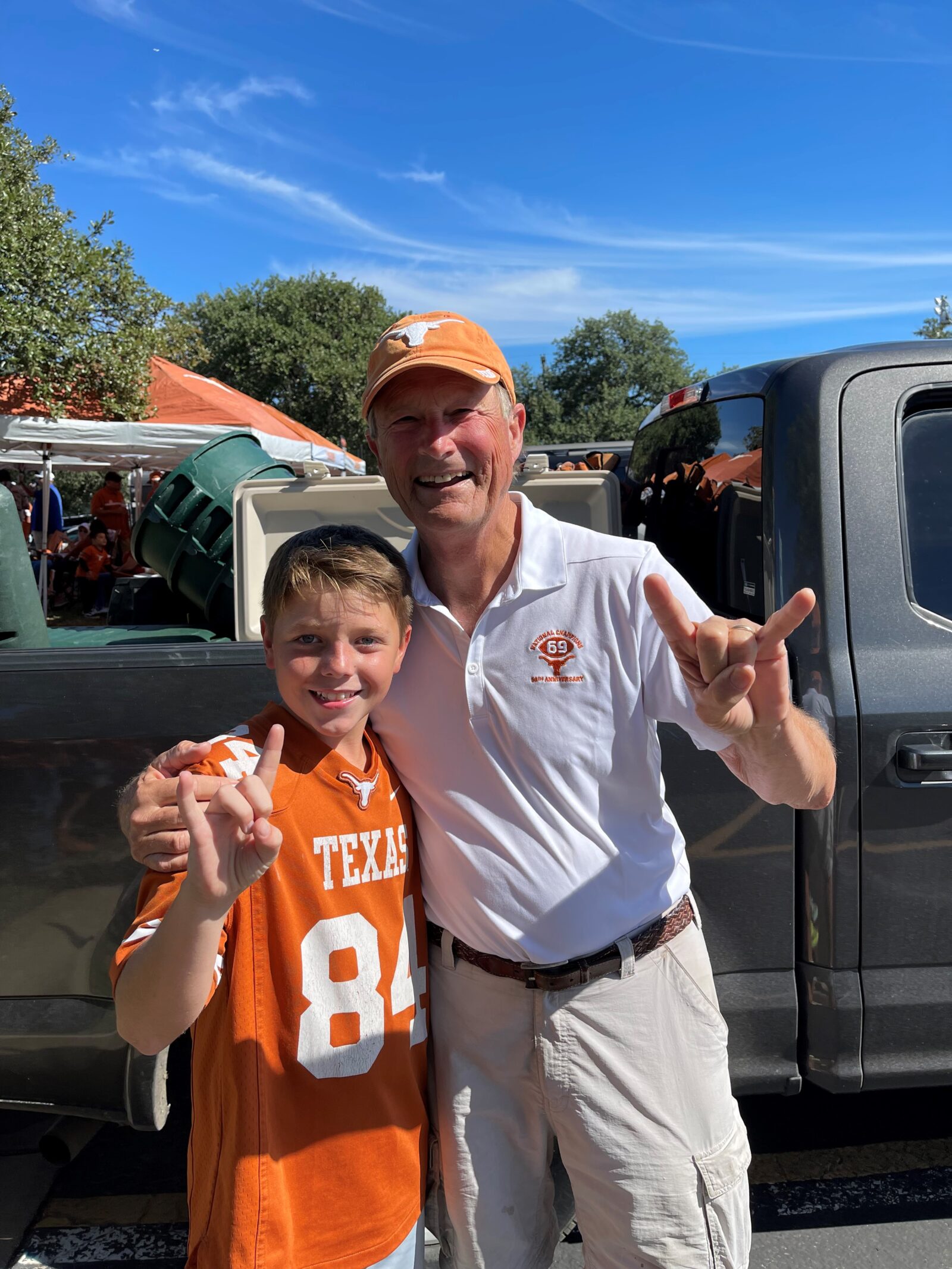 The Polls
AP Top 25:  Georgia, Cincinnati, Oklahoma, Alabama, The Ohio State University TM, Michigan, PSU, Oklahoma State, Michigan State, and Oregon.  Ole Miss at No. 12, Notre Dame to No. 13.  Texas Agricultural & Mechanical is No. 17.  Baylor is No. 20, and the Southern Methodists are at No. 21.  Congratulations to The University of Texas San Antonio Roadrunners, ranked No. 24 with a perfect 7-0 record.
Coaches Poll:  UGA, Land Thieves, Cinci, Bama, The Ohio State University TM, Michigan, Michigan State, PSU, Okie A&M, and the Ducks.  Hotty Toddy Ole Miss at No. 12.  L'Université de Notre Dame du Lac at No. 13.  Texas Agricultural & Mechanical is No. 17, Southern Methodist at 19, and Baylor at 20.  UTSA No. 25.
No. 1 Texas Volleyball
Texas beat Iowa State in Ames Thursday night. Play again Friday night.  Good luck and Hook Em!
Texas Longhorns Baseball
Fall Ball!  Texas hosts San Jacinto College this Sunday at 1:00 p.m.  On October 31, Texas hosts McLennan CC at 1:00 p.m.  Then the Fall World Series is November 4 (3:00 p.m.), 5 (6:00 p.m.) and 6 (2:00 p.m.).  Texas has another great team, and I fully expect them to contend for and probably win the Big 12 and get back to Omaha.
Texas Basketball
Still working on my basketball preview. This has been a tough week.  Texas is ranked No. 5 in the AP Top 25 preseason, and I saw one poll that had the Horns at No. 2.  So expectations are sky high.  Horns have an exhibition game with Texas Lutheran on November 1 (free – 7:30 at the Erwin Center), then open with Houston Baptist on November 9 at 8:00 p.m.  But the big game is Saturday November 13, in Spokane, Washington, as Texas will play No. 1 Gonzaga.  9:30 p.m. on ESPN2.
Week Eight
I was stunned by the Louisiana- Lafayette win over Appalachian State a couple of weeks ago.  Thought that was a gimme for the Mountaineers.  But after dropping that game, they come back to Boone and get a huge win Wednesday night over previously undefeated and No. 16 Coastal Carolina, 30-27.  Huge win for App State.  Not a fan of the Chanticleers.
Other big games:  an historic rivalry game between Louisiana State and Ole Miss, 2:30 on CBS on Saturday, and another great rivalry, Southern Cal at Notre Dame, 6:30 p.m. on NBC.
This Week's Games – The Big XII Week 8
No. 3 Land Thieves at Kansas (1-5, 0-3).  11:00 a.m. on ESPN.  Land Thieves favored by only 38.5 against the hapless Jayhawks.  Over/under is 66.5.  KU might cover if Riley rests Williams after OU goes up 28-0 in the first quarter.
K State (3-3, 0-3) at Texas Tech (5-2, 2-2).  11:00 a.m. on FS1.  Kind of surprised this is Even (Tech was favored by 1 a couple of days ago).   Over/under is 60.5.  Might have to take Raiders at home.
No. 8 Okie State (7-0) at Iowa State. (4-2, 2-1).  2:30 p.m. on Fox.  Surprising records on both sides, as I thought Iowa State would be 5-1, worst case, at this point.  Cowboys are clearly one of the best teams in college football, given the win over Texas in Austin.  Right?  Cyclones favored by 7 at Jack Trice Stadium.   Over/under is 47.
West Virginia (2-4, 0-3) at Texas Christian (3-3, 1-1).  6:30 p.m. on ESPNU.  Frogs favored by 4.5, over/under is 56.5.  Like the Texas Christians and the under.
This Week's Games – The Top 25
Thursday Night
Southern Methodist undefeated and No. 21 had 1-5 Tulane at home Gerald Ford Stadium.  Mustangs rolled to a 55-26 win.  Mordecai with 427 yards and 3 touchdowns.
Saturday
Navy is a struggling at 1-5.  They get No. 2 Cincinnati (6-0) at Navy-Marine Corps Memorial Stadium in Annapolis Saturday.  11:00 a.m. on ESPN2.  Tough year for the Middies.  Bearcats are on fire.  Cinci favored by 28, over/under is 48.5.  Go Navy!
Northwestern (3-3) at No. 6 Michigan (6-0).  11:00 a.m. on Fox.  Wolverines have surprised many, including me.  Michigan favored by 23.5, over/under is 51.  I like Michigan, and I hope this isn't a trap game.  Surely not in the Big House.  Michigan to win.
Illinois (2-5) at No. 7 PSu (5-1) .  11:00 a.m. on ABC.  Nittany Lions favored by 23, over/under is 46.5.
No . 16 Wake Forest at Army, 11:00 a.m. on CBSSN.  Here is my upset alert.  Undefeated Deacs going into a noon game at Michie.  Black Knights are 3 point underdogs, over/under is 52.5.
Wisconsin (3-3) at No. 25 Purdue, 2:00 p.m. on BTN. Badgers are 3-3, Boilermakers coming off the big Iowa upset and are 4-2.  And Wiscy favored by 3.5.  Over/under is a classic Big Ten 40.5.
No. 10 Oregon at UC Los Angeles, in the Rose Bowl in Pasadena, 28 miles from Westwood.  Ducks are 6-1, Bruins are 5-2.  UCLA favored by 1.   Over/under is 60.5.
Big game in Oxford!  Louisiana State now on the Ed Orgeron Farewell Tour, with maybe no stops more poignant than Vaught-Hemingway.  Tigers are 4-3, No. 12 Ole Miss is 5-1, and Lane Kiffin is up one yellow golf ball (see below).  2:30 p.m. on the stations of the Columbia Broadcasting System, as the featured Southeastern Conference game of the week.  Rebels favored by 9.  Over/under is 76..5  Are you Ready?  Hotty Toddy!  Ole Miss to win and over.  Hell Yeah! Damn Right!
Clemson at No. 24 Pittsburgh.  2:30 p.m. on ESPN.  Tigers 4-2, Panthers 5-1.  Pitt favored by 3.5, over/under is 48.  Didn't anticipate typing that this decade.
Tennessee at No. 4 Alabama.  6:00 p.m. on ESPN.  No love lost between Alabama and Tennessee, but curious to see how many yellow golf balls land on the Tennessee sidelines.  Tide favored by 25 over 4-3 Volunteers.  Roll Tide.
No. 22 San Diego State (6-0) at Air Force (6-1).  6:00 p.m. on CBSSN.  This will be a good football game.  Falcons favored by 3 at home, over/under is 39.  Thirty-nine.
No. 24 UTSA at LA Tech.  Undefeated Roadrunners head to beautiful Ruston, Louisiana for 6:00 game at Joe Aillet Stadium. No TV, which sucks.  Bulldogs are 2-4, and Roadrunners are favored by just 6.5.  Over/under is 59.5.
No. 5 Ohio State at Indiana, 6:30 p.m. on ABC.  Buckeyes favored by 21, over/under is 59.5.
Best game of the night is also in Indiana, with the Southern California Trojans at No. 13 Notre Dame.  Forget the USC 3-3 record.  Big rivalry game.  6:30 p.m. on NBC.  Irish favored by 7, over/under is 58.  Just found out my son-in-law Mark and his dad Rich are going.  Have a great trip and Good Luck!
South Carolina Gamecocks (4-3) at No. 17 Texas Agricultural & Mechanical (5-2).  6:30 p.m. on $ECN, from sacred Kyle Field in College Station.  Texas Agricultural & Mechanical favored by 19.5, over/under is 45.  This would be an hysterical upset, with the Cocks coming of a 1 point win over Vandy.  Will probably bet on the Cocks just for grins.
No. 18 North Carolina State at Miami (Florida).  Wolfpack is 5-1 and 2-0 in ACC.  Canes are 2-4 and 0-2 in ACC, and Manny is 0-1 in the Mack Brown hug game.  6:30 p.m. on ABC.  Good game. NC State favored by 3.5.  Go Pack. Win by 80.
Other Games of Interest This Week
Friday Night
Memphis at UCF in the Bounce House.  Please, someone in Florida be a grown-up and put a real name on that stadium.  6:00 p.m. on ESPN2.  Tigers favored by 2.
Washington (2-4) at Arizona (0-6).  9:30 p.m. on ESPN2.  Only of interest because there is nothing else on to watch, after we watch the Astros win Game 6 of the ALCS.  Huskies favored by 18.
Saturday
Rice at UAB.  2:30 p.m. on ESPN+.  Owls (2-4) are 23 point road dogs to the Blazers (5-2).
Miami at Ball State, 2:30 p.m. from Scheumann Stadium in Muncie.  3-4 Redhawks look to bounce back against 4-3 Ball State.  The kids from Oxford, Ohio, are 5 point road dogs.
Colorado (2-4) at Cal Berkeley (1-5).  2:30 p.m. on Pac12.  Conference of Champions on display.  Golden Bears favored by 8.5.
Brigham Young now 5-2.  Washington State is 4-3 and in a bit of turmoil after their head coach refused the jab and was fired (as a state employee) because of the State of Washington vaccine mandate.   Cougars favored by 4.5, over/under is 56.
Georgia Tech at Virginia, 6:30 p.m. on ACCN.  Ramblin' Wreck is 3-3, 2-2.  Cavaliers are 5-2, 3-2.  Wahoos favored by 6.5 at home in Scott Stadium in Charlottesville.  Hook Em Hoos!
Washington & Lee Generals
The Generals head into the second half of conference play at the top of the ODAC standings at 3-0.  W&L has a real shot at the ODAC title, with the tie-breaker wins over the Randolph-Macon and Hampden-Sydney.
This week, W&L hosts Bridgewater College at Wilson Field.  1:00 p.m. Shenandoah Valley time.  The Eagles are 3-4, coming off a 27-7 win over the Apprentice Builders.  They opened the season with sins over Gettysburg and Southern Virginia, then dropped four straight ODAC games (Randolph-Macon, 31-13; Emory & Henry, 38-17; Shenandoah, 24-27; and Ferrum, 14-10).  Matt Lawton, the Eagle QB, is third in the conference with 219.3 yards per game (1,316 yards and 9 TDs).  Running Back Demetreus Jalepes has 359 yards in 7 games.  Meanwhile, W&L of course leads the conference in rushing, and 4 of the top 10 rushers in the ODAC are Generals.  Bridgewater won the conference in 2019 and made the playoffs, and had a good defense.  This year not so much.
Look for Stephen Murrin, QB from Fort Worth Country Day, to have a big game.  And I think the Generals will run for well over 300 yards.  Breece and Wertz should both have over 100 yards.
W&L leads the series 29-21.  The series began in 1964, and W&L won the first 9 games. Over the last 10, W&L leads 6-4.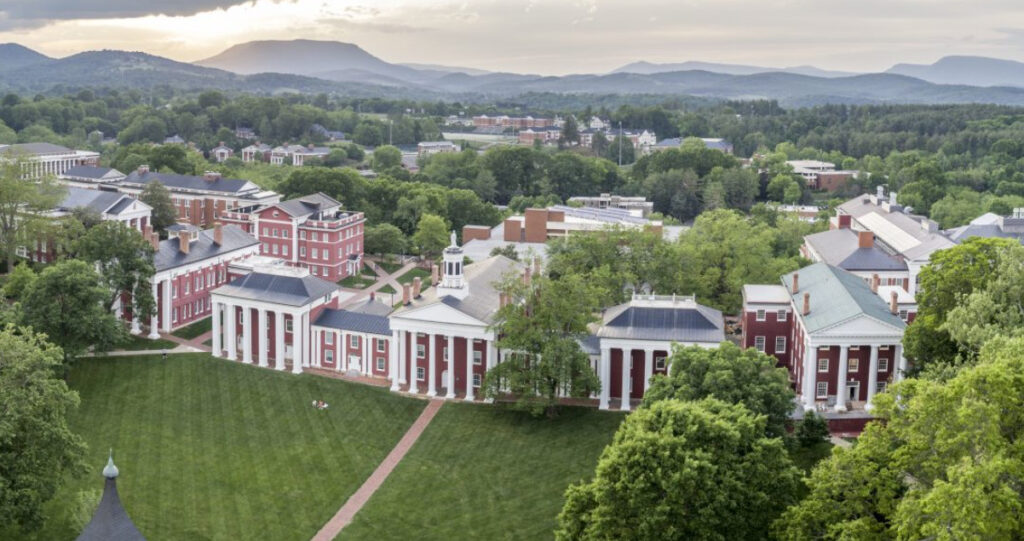 Last Week's Games – Week 7
The Purdue upset of the Hawkeyes and the Tennessee Volunteer fan meltdown were the big stories for me.
Last Week's Games – The Big XII Week 7
As noted, Baylor beat No. 19 Brigham Young.  38-24 Bears, covering.
Texas Tech won and covered Kansas, 41-14.
Texas Christian mauled by Oklahoma, 52-31.  Land Thieves covered.
Iowa State 33-20 over Kansas State.
Last Week's Games – The Top 25
Friday Night
Oregon held off California, 24-17.
San Diego State Aztecs still undefeated after a close double overtime 19-13 win over San Jose State.
Saturday
Georgia with a much closer game than I expected but still beat Kentucky 30-13.
Purdue with the big upset over Iowa, 24-7.
Cincinnati 56-21 over Central Florida.
Michigan State stays undefeated with the 20-15 win over Indiana.
Alabama all over Mississippi State, 49-9.
Auburn 38-23 over Arkansas.  Had a hunch I should've played.
Called the upset!  Louisiana State 49-42 over Florida.  Good win for the Tigers.
Texas Agricultural & Mechanical 35, Missouri 14.
Ole Miss 31-26 over Tennessee, game marred by the Volunteers showering the field with water bottles and debris, even hitting Lane Kiffin with a golf ball.  Play stopped for nearly 30 minutes.  Ugly.  But the Rebels covered.
http://www.espn.com/video/clip?id=32415003
NC State 33-7 over Boston College
Utah upsets Arizona State 35-21
Other Games of Interest Last Week
Virginia sneered at the 10.5 point line and hammered Duke 48-0.
Miami Redhawks 34-21 over Akron.
Manny Diaz and Miami (Florida) lose to Mack Brown and North Carolina, 45-42.  .  Tarheels are 3-3 and 2-3 in the ACC.  Big game for Coach Brown.  2:30 p.m. on ACCN.  UNC favored by 7.5 at Kenan Stadium.  Go Tar Heels!
Vanderbilt 20, South Carolina 21. Oh so close for the Dores.
UTSA 45-0 over Rice.  Sincere McCormick with 117 yards.
Stanford falls at Washington State 31-24.
Army loses to Wisconsin 14-20
UCLA 24-17 over Washington.
UTEP now 6-1 with the 19-3 win over UTEP.
Air Force 24-17 over Boise State.  The Academy is 6-1.
Music
Lots going on this week, so no music selections.  However, I did go to the Asleep at the Wheel 50th anniversary show at the new Moody Amphitheatre at Waterloo Park the Friday night before the game.  Was really good.  Claudia's idea, and Mary Elizabeth and Parker joined us.  Beautiful night.  Guy named George Strait showed up to play some songs with the Wheel. He's pretty good too.  A wonderful night.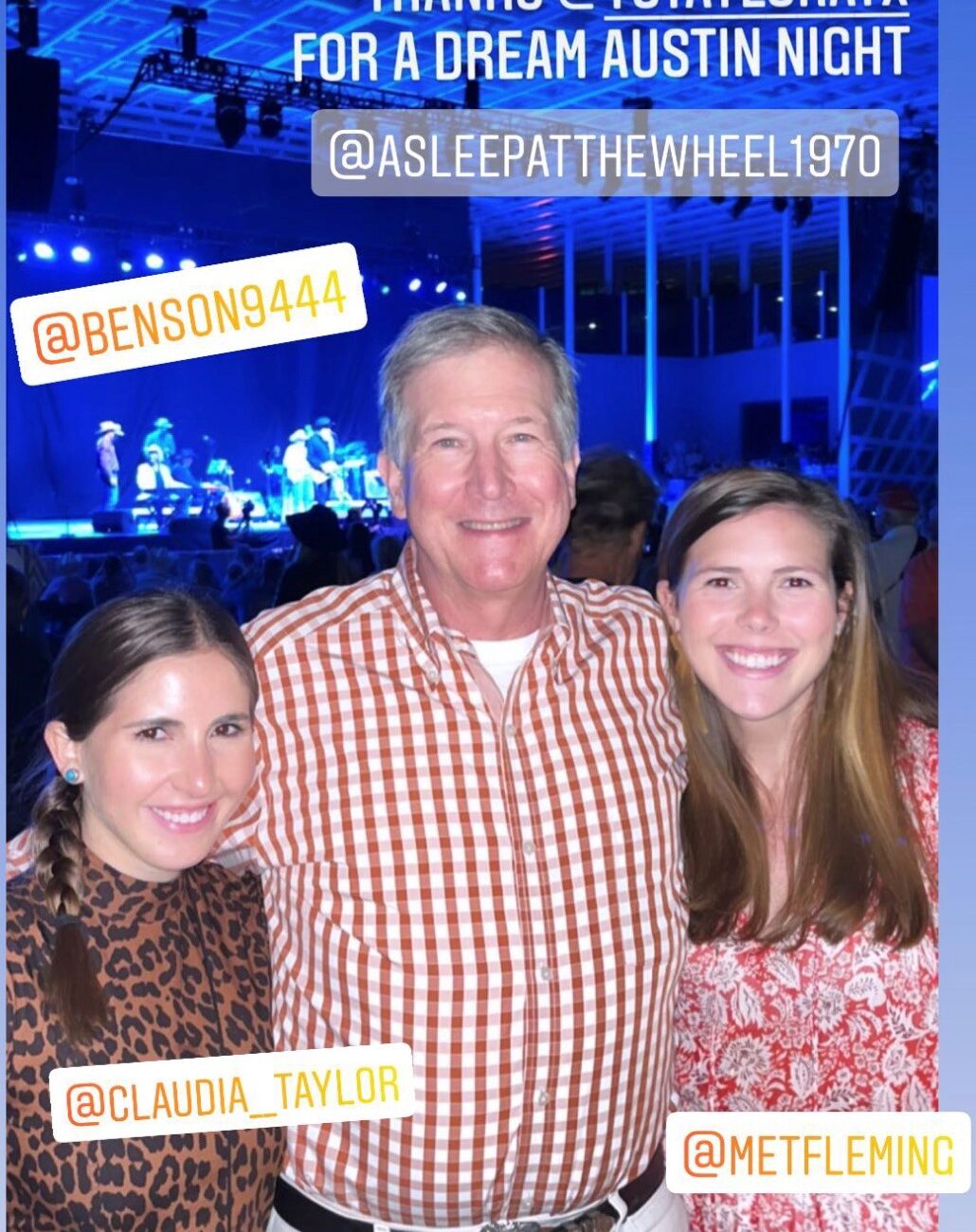 On another note, I am going to try something new.  Send me your 2 favorite songs.  I will do some reader collections in the future.
Jim Nicar
1915: The Cactus Tea Room. Before UT Austin's Texas Union opened in 1933, the Cactus Tea Room was an unofficial center for campus social life. Designed by two UT architecture professors, and with cactus leaves and gargoyle faces carved by Austin's own Peter Mansbendel, the Tea Room stood on Guadalupe Street just across from the West Mall, next door to the University Co-op. Though a private business, student banquets and dances, and faculty meetings and luncheons were common here. The Cactus Tea Room closed in 1929.
https://twitter.com/JimNicar/status/1448434568344842244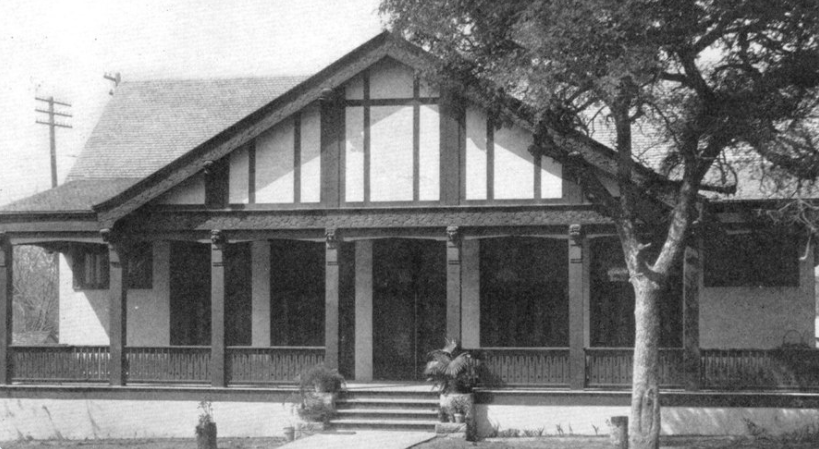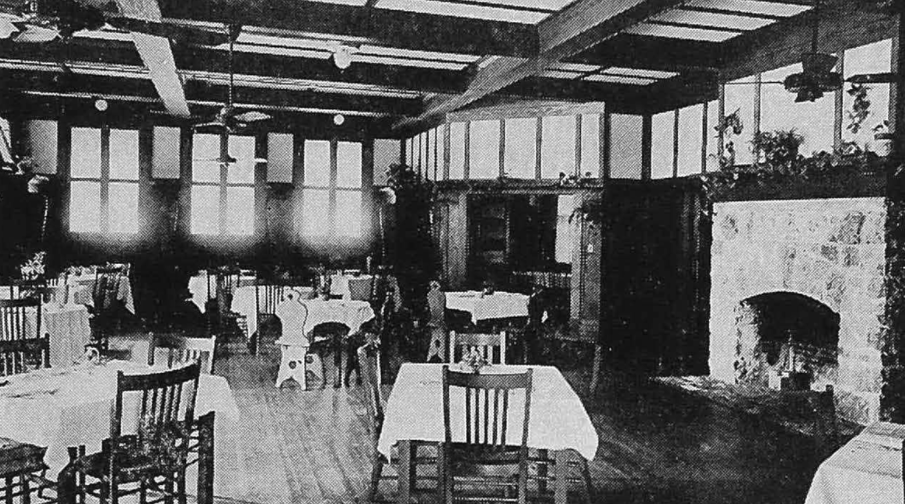 Cool Photos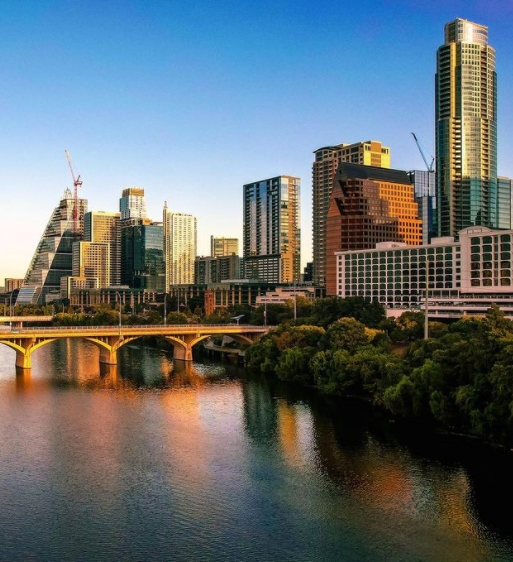 Aerial Austin on Instagram.  Check it out
https://www.instagram.com/p/CVTT65lBDQi/
(@aerialaustin_  or click here: https://www.instagram.com/aerialaustin_/)
God Bless Texas
God Bless America
Tim Taylor
Tailgating before Home Football Games
The Juan Heisman Tailgate
Lot 38, East of Sid Richardson Hall.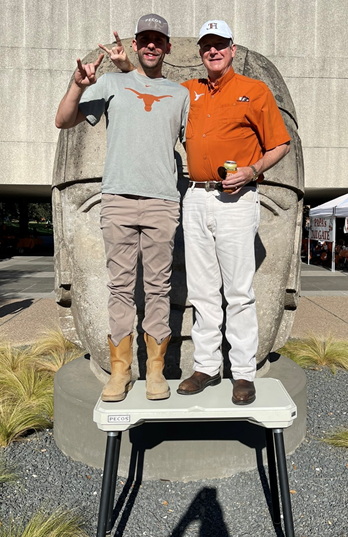 HOOK EM HORNS!!
© Timothy C. Taylor, Sr. 2021.  All Rights Reserved (as to original material).
On Twitter:  @tctayloratx
On LinkedIn:  www.linkedin.com/in/tctatx
On Instagram:  @tctayloratx
On Facebook:  www.Facebook.com/Tim.C.Taylor
and:  www.Facebook.com/Juan.Heisman
You can contact me by mail:
Tim Taylor
P.O. Box 5371
Austin, Texas  78763-5371