Happy Thanksgiving Longhorn Fans!
Longhorns 24, Cyclones 10
What an amazing night in Royal Memorial Stadium.  The crowd, the energy, and, most importantly, the defense.  So nice to see Texas have a great defensive game.
With 8 wins, Texas now has its best year since Mack Brown's last season in 2013, at 8-5.  Win at Kansas, and we match the 2012 squad with 9 wins, and an opportunity for 2 more.  You can see what this means:  Texas is Back.
Highlights from the Big 12 Conference:
The fun and highlights were not just on the field.  The "Don't Stop Believin'" singing and lights was one of the cooler things I have seen at Royal Memorial in a long time.  Especially the way the crowd kept singing after the music stopped.  Three clips for your enjoyment.
"Don't Stop Believin'!" Here is how it looked from our perspective. An incredible moment provided by the fans at DKR. #ThisIsTexas #HookEm pic.twitter.com/jy10hMQuvZ

— Texas Football (@TexasFootball) November 18, 2018
Just awesome. #HookEm🤘 pic.twitter.com/E0yLEJTAe7

— Texas Longhorns (@TexasLonghorns) November 18, 2018
More on the ISU game below.
Also, you will note I am trying to use "Royal Memorial Stadium".  Some chatter in the twittersphere leading up to the Veterans Recognition game, as well as my own penchant for honoring veterans (and especially Mr. D) as well as love of history, has persuaded me to drop the easy "DKR", and return to the use of Memorial.  It is a memorial stadium, and we need to remember that.  And be thankful.
Texas Longhorns vs. Kansas Jayhawks
Texas plays for a spot in the Big 12 Championship Game on Friday.  A win over the Jayhawks, and we get either the Land Thieves or the Mountaineers in Jerry World on December 1.  The Longhorns have to take care of business in Lawrence.
Texas is a 15 point favorite, and the over/under is 49.  I will take Texas and the over.
Kickoff is at 11:00 a.m. on FOX Sports 1.  Justin Kutcher, Demarco Murray (he loves Texas), Petros Papadakis, and Alex Curry.  Quite a crew for a Black Friday game in Lawrence, Kansas.  This will be the first Texas game played on Thanksgiving or the Friday after Thanksgiving outside of the state of Texas since 1934, when UT played at Arkansas the Friday after Thanksgiving (a 19-12 win Horns win; it was Jack Chevigny's first and best year as Texas coach [Jack succeeded Clyde Littlefield, and Jack was replaced by Dana X Bible], as the Horns finished the season 7-2-1, 4-1-1 in SWC for second place.   Wins included a 7-6 victory at Notre Dame, a 19-0 beating of the Land Thieves, and a 13-0 win over Texas Agricultural & Mechanical.  A bad mid-season stretch with losses to Centenary and Rice and a 7-7 tie with Southern Methodist.  Clint Small played for Texas those years [1934-36]).
Kansas has the one Big 12 win over Texas Christian.  They are 3-8 overall and 1-7 in conference.  Not having their best year.  I can't imagine how much they would love beating us and keeping the Horns out of the Big 12 CG.  Can't let that happen!
The Horns lead the series 14-3.  Kansas won 12-0 in Lawrence in 1901.  They beat Texas and Coach Bible 19-18 in Lawrence in 1938.  So KU held a 2-0 series lead when we began Big 12 play.  Texas has won:  38-17, 45-31, 51-16, 59-0, 27-23, 66-14, 35-7, 51-20, 43-0, 35-13, 23-0, and 59-20 in 2015.  But in 2016, Charlie Strong and the Horns lost in Lawrence 21-24.  That resulted in regime change.  Last year, Herman and his Horns handled KU relatively easily, 42-27.  None of that matters, as Texas has to get this win on Friday.
Kansas opened with a 23-26 loss to Nicholls, then got two nice wins – 31-7 over Central Michigan out of the MAC and 55-14 over Rutgers (doesn't look as good now).  After that, four straight losses:  7-26 to Baylor, 28-48 to Okie State, 22-38 to West Virginia (not too bad, as game was in Morgantown), and 16-48 to Texas Technical.  Then the huge upset of Texas Christian, 27-26, before reverting to the norm with losses of 3-27 to Iowa State, 17-21 to K State.  Last week, they stunned me and others putting up 40 points on the Land Thieves, but lost 40-55.
The big news in Lawrence is that Head Coach David Beaty will be coaching his last game (and recall his signature win was the 2016 win over the Horns), and Kansas has hired the mad hatter, Les Miles.  That's going to be interesting.
So how do the Jayhawks hang 40 on the Land Thieves?  Pooka Williams, Jr. a 5-10, 170 pound freshman from New Orleans, as he had 15 carries for 252 yards and 2 touchdowns in Norman, plus 3 catches for 18 yards.  Pooka rushed for 3,118 yards and 37 touchdowns at Hahnville High School his senior year.  They made the 5A title game, as he ran for 1,400 and 14 touchdowns in the playoffs.
Pooka has 1,545 all-purpose yards.  246 in kick returns, 277 receiving (32 catches, second most on the KU team), and 1,022 yards on the ground.  And he completed a touchdown pass against Oklahoma.  Pooka is averaging 7 yards per rush attempt and 102.2 rushing yards per game.  He's good.  He wears number 1.
Payton Bender is the main KU quarterback.  He has completed 165 of 286 for 1,735 yards and 12 touchdowns.  57.69 completion percentage, 121.1 rating.  Bender is a 6-1, 205 pound senior, and a solid quarterback.  His top target is Steven Sims, Jr. (a senior, #11, 5-10, 176 pounds, out of Houston).  Sims has 48 catches for 522 yards, averaging 10.88 per catch with 4 touchdowns.  Sims is the biggest Jayhawk offensive threat behind Pooka.  Next is Jeremiah Booker, another senior from Texas (College Station); 6-2 and 212 pounds, he is #88, and he has 29 catches for 321 yards and 5 touchdowns.  Stephon Robins, Jr. (#5, sophomore, 5-10, 170 pounds) has 25 catches for 298 yards and a score.  Kerr Johnson, Jr. (#14, 5-11, 193 lbs) has 287 yards on 27 catches and 2 scores.
Defensively, Joe Dineen, Jr. (senior linebacker and a Lawrence native, 6-2, 235 lbs, #29) is their top tackler by a wide margin.  133 tackles (fourth nationally), 97 solo (that leads the nation – next guy has 80 solo), with 10 TFL for 41 yards and 3 sacks for 27 yards.  He also has an interception and 2 fumble recoveries.  Bryce Tornedon (#1 on the D side, a junior safety also from Lawrence, 5-10 & 197 lbs) has 86 tackles, 54 solo, with 5.5 TFL for 29 yards and 2 sacks for 19 yards.  Keith Loneker Jr. (#47, a linebacker from Lawrence [they like them homegrown] is third on the team with 64 tackles (38 solo, 6 TFL and a sack).  Safety Mike Lee (#11) has 63 tackles (47 solo).  And the aptly named Hasan Defense (#13, junior cornerback, 5-11, 188) has 40 tackles (29 solo) and three interceptions.  He is very good.
The Kansas defense is 9th in the Big 12 in rush defense, 6th in pass defense, 8th overall, and 6th in scoring defense.  Not really all that bad, and ahead of Texas in pass defense (that should never happen).
The Jayhawk kicker, Gabriel Rui, is 11-16 on the season:  3-4/20-29, 3-5/30-39; 4-5/40-49; and 1-2 at 50+.  So not what you would expect from a Kansas kicker.
The game will be broadcast around the world on the Longhorn IMG Radio Network, Craig Way, Roger Wallace, and Quan Cosby.  Bob Cole's Austin Radio Network here in the Peoples' Republic, and Channel 84 on Sirius/XM.  For those who just might be enjoying South Texas Friday, KWMC, 1490 AM in Del Rio; KVNS 1700 AM in McAllen, and the mighty WOAI 1200 AM, Clear Channel out of San Antonio.  Safe hunting.
The Statistics
Offense
| | | |
| --- | --- | --- |
| Statistic | Texas | Kansas |
| Rushing Offense | #81 – 157.6 ypg | #76 – 160.6 ypg |
| Passing Offense | #32 – 267.2 ypg | #99 – 195.3 ypg |
| Total Offense | #50 – 424.8 ypg | #107 – 355.9 ypg |
| Scoring Offense | #41 – 32.4 ppg | #100 – 24.5 ppg |
| First Downs | #23 – 23.9/game | #114 – 18.3/game |
| Sacks Allowed | #52 – 21, 165 yards | #88 – 27, 207 yards |
| Tackles for Loss Allowed | #40 – 58, 247 yards | #90 – 72, 318 yards |
| Third Down Conversions | #23 – 45.6% | #85 – 37.9% |
| Red Zone Offense | #104 – 79% / 64% | #114 – 78% / 56% |
| Long Run Plays | #86 – 51, 7, 4, 0 | #61 – 59, 25, 10, 8 |
| Long Pass Plays | #27 – 112, 44, 18, 6 | #100 – 81, 33, 11, 2 |
| Long Scrimmage Plays | #46 – 163, 51, 22, 6 | #102 – 140, 58, 21, 10 |
Defense
| | | |
| --- | --- | --- |
| Statistic | Texas | Kansas |
| Rushing Defense | #37  – 136.5 ypg | #78 – 174.4 ypg |
| Passing Defense | #108 – 264.5 ypg | #101 – 255.2 ypg |
| Total Defense | #73 – 401 ypg | #92 – 429.6 ypg |
| Scoring Defense | #56 – 25.9 ppg | #84 – 30.5 ppg |
| Sacks | #52 – 25, 175 yards | #92 – 19, 142 yards |
| Tackles for Loss | #29 – 77.5, 293 yards | #77 – 61, 245 yards |
| First Downs Allowed | #64 – 20.5/game | #91 – 22.2/game |
| Third Down Conversions | #99 – 42.4% | #116 – 46.1% |
| Red Zone Defense | #11 – 73% / 56% | #25 – 78% / 62% |
| Long Run Plays Allowed | #40 – 49, 11, 2, 2 | #117 – 78, 13, 5, 3 |
| Long Pass Plays | #112 – 111, 36, 21, 13 | #114 – 113, 34, 18, 9 |
| Long Scrim. Plays allowed | #79 – 160, 47, 23, 15 | #124 – 191, 47, 23, 12 |
Other
| | | |
| --- | --- | --- |
| Statistic | Texas | Kansas |
| Turnovers | #4 – 5F, 3I, 8 | #9 – 7F, 3I, 10 |
| Turnover Margin | #14 – 16:8, +0.73 | #3 – 25:10, +1.36 |
| Penalties | #103 – 80, 671 yards | #74 – 69, 571 yards |
*Based on total number of penalties.
Match-up Comparison
| | |
| --- | --- |
| Texas Offense | Kansas Defense |
| Rushing Offense – 157.6 ypg | 174.4 ypg – Rushing Defense |
| Passing Offense – 267.2 ypg | 255.2 ypg – Passing Defense |
| Total Offense – 424.8 ypg | 429.6 ypg – Total Defense |
| Scoring Offense – 32.4 ppg | 30.5 ppg – Scoring Defense |
| First Downs – 23.9/game | 22.2/game – First Downs Allowed |
| 3rd Down Offense – 45.6% | 46.1% – 3rd Down Defense |
| Red Zone Offense – 79/64 | 78/62 – Red Zone Defense |
| LRP – 51, 7, 4, 0 | 78, 13, 5, 3- LRP Allowed |
| LPP – 112, 44, 18, 6 | 113, 34, 18, 9 – LPP Allowed |
| LSP – 163, 51, 22, 6 | 191, 47, 23, 12 – LSP Allowed |
| | |
| --- | --- |
| Texas Defense | Kansas Offense |
| Rushing Defense – 136.5 ypg | 160.6 ypg – Rushing Offense |
| Passing Defense – 264.5 ypg | 195.3 ypg – Passing Offense |
| Total Defense – 401 ypg | 355.9 ypg – Total Offense |
| Scoring Defense – 25.9 ppg | 24.5 ppg – Scoring Offense |
| First Downs Allowed – 20.5/game | 18.3/game – First Downs |
| 3rd Down Defense – 42.4% | 37.9% – 3rd Down Offense |
| Red Zone Defense – 73/56 | 78/56 – Red Zone Offense |
| LRP Allowed – 49, 11, 2, 2 | 59, 25, 10, 8 – LRP |
| LPP Allowed – 111, 36, 21, 13 | 81, 33, 11, 2 – LPP |
| LSP Allowed – 160, 47, 23, 15 | 140, 58, 21, 10 – LSP |
Of particular note:  Kansas gives up a lot of tackles for loss and sacks (note low rankings), and Texas is in the top quarter in TFL and top half of the country in sacks.  We need to get after them.  While we are not great on long running plays, we are top quartile in passing.  The Kansas defense is bottom quartile in giving up long pass plays (so is Texas, but we play in the Big 12).  And overall, Kansas is nearly at the bottom in giving up long plays, #124 – only ones worse are Ball State, New Mexico State, Rice, Oregon State, Illinois, UMass, and UConn.
I am pretty sure Sam Ehlinger is going to start, but the good news is that even if he can't play the whole game, we will have a solid man in number 7.  Buechele will likely see some snaps anyway, and if we can build a lead, maybe we might even see Cameron Rising.
My keys to the game:
Stop Pooka! The kid is good, and Orlando better have something ready to slow him down and stop him when possible.
Block Joe Dineen, Jr. Every play.
Play defense like we did last Saturday. D line needs to get after it, as they should be able to dominate the Jayhawk offensive line.  Get after the quarterback, get stops at the line of scrimmage.
Error free football. No turnovers, play another clean game like last week.  I think that can make a huge difference.  Note the high ranking Kansas has in this department.  Can't give them an edge.
Establish the running game early with Watson and Ingram, and don't get in second and long. That will be hard unless we get blocks on Dineen. Hopefully they are both healthy enough to get in there and grind some yards.
Get the ball to LJH and Collin Johnson. They have are as big or bigger than most the Kansas secondary.
It is an 11:00 a.m. start. Historically not our best time.  Get started early, let's not start slow and play from behind.  Ain't nobody got time for that.
Texas wins this 38-17.
The Official Preview:
https://texassports.com/news/2018/11/19/no-11-11-football-preview-at-kansas-nov-23-2018.aspx
Official Texas Game Notes
https://texassports.com/documents/2018/11/19//2018_Texas_Football_Notes_12_Kansas.pdf?id=12526
Preview from Cody Daniel on BON:
https://www.burntorangenation.com/football/2018/11/20/18102967/kansas-jayhawks-running-back-pooka-williams-jr-texas-longhorns-preview
The University of Kansas
Founded March 21, 1865, Kansas is a fine institution of higher learning.  The motto is Videbo visionem hanc magnam quare non comburatur rubus, which may be the longest one I've ever seen.  It is Exodus 3:3 "I will see this great sight, why the bush does not burn."
It is a basketball school.  Five National Championships.  Perennially great.  Football, not so much.  Although they did win a BCS Bowl Game (Orange) over Virginia Tech in 2008 (Mangino era).  Recall he had a good quarterback named Todd Reesing, out of Lake Travis in Austin.  I think that KU team was ranked as high as No. 2 that year, and were ranked No. 8 when they beat the Hokies, finishing with a 12-1 season.
The last football conference championship was 1968.
They chant Rock Chalk Jayhawk.
The University of Kansas has had more teams compete in the National Debate Tournament than any other university.  Kansas has won the tournament 6 times (1954, 1970, 1976, 1983, 2009, and 2018) and had 16 teams make it to the final four.
Famous alumni include James Naismith, who invented basketball, and Phog Allen, for whom the famous fieldhouse is named.  Staying with hoops, Wilt the Stilt Chamberlain is a Jayhawk, as are Danny Manning, Mario Chalmers, Paul Pierce, Adolph Rupp, Dean Smith, and Mark Turgeon.  Alums include Kirstie Alley (Cheers) Mandy Patankin (call Tim Crowley), and Don Johnson (Miami Vice).
A great basketball school with one of the richest traditions in the sport, and all the evidence suggests a basketball school that has participated on the seediest side of college sports, the shoe scandals and payments for player placement.  An opinion piece from the Kansas City Star:
https://www.kansascity.com/opinion/editorials/article220183825.html
More on the scandal and cheating:
https://thebiglead.com/2018/10/15/bill-self-kansas-adidas-scandal/
I had this a couple of weeks ago, and if you missed it, worth a read:
https://sports.yahoo.com/bill-self-poster-child-ncaa-absurdity-230011367.html
Kansas
The state of Kansas is the rectangular jurisdiction north of Oklahoma.  Kansas is named after the Kansas River, which in turn was named for one of the many Native American tribes that lived free on the Great Plains until we came and mucked things up.  "The tribe's name (natively kką:ze) is often said to mean "people of the wind" or "people of the south wind"
Of importance to Texans, Abilene, Kansas, was the terminus of the Chisholm Trail.  Other Kansas towns were the destinations of many of the great cattle drives, including Dodge City.  The railheads in Kansas provided a market for Texas beef and access to the east, resulting in a huge impact on the Texas ranching economy and its growth and of course, making the Texas Longhorn perhaps the most iconic domesticated animal of the American West.
Texas Longhorns 24, Iowa State Cyclones 10
What a game.  I am still enjoying it.  A look at the defense below, which dominated.  But first, a hat tip to both of our quarterbacks.  Sam was a stellar 12 of 15 for 137 yards and a touchdown (he also ran for one), and Shane Buechele was a perfect 10 for 10 in relief for 89 yards and a touchdown.  Texas is blessed to have a kid with character and skills that Shane brings to the team and on to the field.
Lil'Jordan Humphrey had another outstanding performance, with 7 catches for 86 yards and a score, averaging 12.3 yards per catch.  He now has 1,033 yards on the season (just the 9th Longhorn to have a 1,000+ yards receiving), and is tied with 2 other guys for 12th in the nation in receiving yards.  Good to have Collin Johnson back.  Only 3 catches, but good for 55 yards.
Clips of LJH's catch for a critical first down and scrum and of his touchdown catch.
Football is a team sport, right? #ThisIsTexas #HookEm pic.twitter.com/PrReLZdU2K

— Texas Football (@TexasFootball) November 18, 2018
CAN'T BE STOPPED @LJ_Humphrey23!!! #ThisIsTexas #HookEm pic.twitter.com/71whMtGdpr

— Texas Football (@TexasFootball) November 18, 2018
Importantly, Texas was only flagged three times for 25 yards.  One of those, and 15 of the yards, was Bujcevksi's face mask call.  That is the cleanest game we have had in a long time.  Not sure who the referee crew was, but ISU was only called 3 times for 20 yards.  Made the game so much more enjoyable.
Quick Review
First ISU series, 12 yards on 6 plays.  Good D.
First Texas series, 80 yards in 9 plays, including a 35 yard pass to Collin Johnson and a 13 yard pass to him.  Ehlinger waltzed into the endzone to put the Horns up 7-0.
Cyclones answered with a 44 yard drive ending in a 40 yard field goal.  14 of ISU's 62 rushing yards in the game came on the third play, and 26 total in the series.  So close to a third of their rushing yards on that one series.
After trading punts to end the first, Texas got the ball to start the second quarter at the UT 6.  A really beautifully executed 94 yard drive, keyed by that 20 yard LJH third down catch, run, and scrum.  First and 10 at the Texas 30, and here is what the Horns did:  Ehlinger rush for 9, Ingram rush for 9, Ingram rush for 7, Ingram rush for 20, Ehlinger to Ingram for 4, Ingram rush for 2, then Ehlinger to Ingram for a nice catch and run and 19 yard touchdown.  So, Sam and Keontay for 70 and the score.
Defense answered with a minus 6 yards three play series ending in the Chris Brown interception.  Texas drove and Dicker the kicker missed wide right.  But Texas held on the next ISU series, as they forced a 6 and out.  Texas got the ball back with 3:15 to play in the first half, and Sam executed a 3:13 drive. That ended with Sam's run for 13 to the ISU 5, when he got hit, hurt, and fumbled.  But Texas recovered and Dicker hit a 22 yard chip shot, putting the Horns up 17-3 at half.  It was a really great first half on both sides of the ball.
Texas got the ball to start the second half, and with Shane at the helm, the first drive sputtered, due largely to a big 10 yard sack right after Buechele had connected with LJH for a 14 yard first down completion to mid-field.  Great Bujcevski punt downed at the ISU 8, and while Purdy and the Cyclones had a nifty 63 yard, 6:18 drive, a 48 yard field goal doinked off the upright.
I like how Buechele and Texas responded:  a really quick 8 play 69 yard touchdown drive.  It started with an 11 yard completion to Beck, and ended with a 27 yard touchdown to LJH.
As play moved into the final frame, the teams traded several punts.  Probably the only really bad sequence for Texas came with under 4 minutes to play.  After getting the ball at our own 8, we had a three and out as Daniel Young rushed for 9 yards on 3 carries.  The Bujcevski punt wasn't terrible – but the ISU return was great.  Bujcevski had to make that tackle at the Texas 13, and even the punter is not allowed to utilize the opponent's facemask to make the tackle.  First and goal at the Texas 6 is a tough series to defend, and sure enough it took David Montgomery two tries to get the touchdown.
Now with 1:32 and a 24-10 lead, I felt okay as Texas covered the onside kick.  Until Daniel Young fumbled at midfield on the first play.  The Texas defense rose, and on third and 10 Joseph Ossai forced the fumble, Omenihu recovered, and with 1:09 left Buechele took 2 knees to run out the clock and win.
Stats
The stats comparison to season averages.  Game number first in parenthesis, season average for Texas after.  Iowa State numbers on the right are all their season averages.
| | |
| --- | --- |
| Texas Offense | Iowa State Defense |
| Rushing Offense – (179) 155.5 ypg | 109.4 ypg – Rushing Defense |
| Passing Offense – (226) 271.3 ypg | 235.0 ypg – Passing Defense |
| Total Offense – (405) 426.8 ypg | 344.4 ypg – Total Defense |
| Scoring Offense – (24) 33.2 ppg | 20.4 ppg – Scoring Defense |
| First Downs – (20) 24.3/game | 19.1/game – First Downs Allowed |
| 3rd Down Offense – (53.3%) 44.8% | 40.7% – 3rd Down Defense |
| | |
| --- | --- |
| Texas Defense | Iowa State Offense |
| Rushing Defense – (62) 143.9 ypg | 128.8 ypg – Rushing Offense |
| Passing Defense – (148) 276.2 ypg | 241.4 ypg – Passing Offense |
| Total Defense – (210) 420.1 ypg | 370.2 ypg – Total Offense |
| Scoring Defense – (10) 27.5 ppg | 27.0 ppg – Scoring Offense |
| First Downs Allowed – (12) 21.4/game | 19.8/game – First Downs |
| 3rd Down Defense – (33.3%) 43.3% | 38.3% – 3rd Down Offense |
So the Texas defense performed better in every basic metric than their season average, as well as against the Cyclone season averages.  Very impressive.
The defense also added 6 sacks for 42 yards (total of 8 TFL).  It was a team effort.  Gary Johnson led with 7 tackles (3 solo), then four guys with 5 tackles each:  Boyd, Sterns, Foster, and Wheeler; of note:  All 5 of Sterns' tackles were solo, and he led the team in that stat.
How good was our pass defense?  Recall this from last week's newsletter:  "Iowa State and Coach Matt Campbell have found a star in freshman quarterback Matt Purdy.  He has now played in 6 games, and he has a passing efficiency rating of 192.03.  If qualified for national stats purposes, he would be No. 3 in the country behind Kyler Murray (now at 202.87) and Tua Tagovailoa (207.68) and ahead of Will Grier (180.68).  That is high cotton – 3 Heisman candidates.  …  With a 68.6 completion percentage, he would displace Tagovailoa at No. 11 nationally."
Well, Purdy's QBR in Austin was 17.1, as he was 10 of 23 for 130 yards, no scores, and an interception.  His rating dropped from 192.03 to 174.5.  Still a great rating, one of the best in the nation, but the Texas D put a dent in it.
I had Texas winning 33-27.  Our defense performed better than expected, and I am really, really happy with the 24-10 victory!  Kudos to Coach Herman and all the coaching staff on good game plans and of course to the team, especially the seniors.
In addition to Buechele's passing perfection:  Watson had 93 yards on 14 attempts, averaging 6.6 per carry.  Ingram had 59 on 12 carries, averaging 4.8, plus 5 catches for 40 yards and a touchdown.  It was a solid Texas performance, marred only by the one lost fumble.
In addition to the great win, the fan energy and not stopping believing, the biggest news out of the game was Breckyn Hager's post-game interview.  You can see some of it here.  After the cutaway, he turned around, pointed at the clock, and said "Wait, Wait – it's 11:12 and what?  OU still sucks."
Legen- pic.twitter.com/5vAcqtiHlg

— Longhorn Network (@LonghornNetwork) November 18, 2018
I think the public reprimand was a bit over the top, as I am a big fan of freedom of speech.  But I guess if flags will be thrown for unsportsmanlike conduct on a horns down, then the conference should respond when one of our players says OU sucks.  Difference is conduct on the field of play and a casual post-game comment.  Anyway, the Land Thief defense may suck right now, but Kyler Murray and their offense sure doesn't.
Thanksgiving
I try to be thankful every day, as God has blessed me with a strong faith, wonderful family, amazing friends, and a great career.  I am especially grateful for my children, for Mark and Parker, and our grandson Peter Alan Dean.  I live in the best city, in the best state, in the best country in the world.  I am grateful to be a Texan.  I am grateful to all of you who read this and drop me a note every now and then.
Got to live every single day with an attitude of gratitude.
"You simply will not be the same person two months from now after consciously giving thanks each day for the abundance that exists in your life."   Attributed to Sarah Ban Breathnach.
Rankings
CFP Rankings:  Alabama, Clemson, Notre Dame, and Michigan.  Then, Georgia, OU, Louisiana State, Washington State, Central Florida, and Ohio State.  West Virginia at 13, Texas is 14, Iowa State at 25.  Northwestern at No. 19.
AP Poll:  Alabama, Clemson, Notre Dame, Michigan, Georgia, Oklahoma, Washington State, UCF and Louisiana State tied at 8, and Ohio State.  Texas at 11, West Virginia at 12, Army at 23, and Iowa State at 25.
Coaches Poll:  Roll Tide, Bama, Clemson, L'Université de Notre Dame du Lac, Wolverines, UGA, Land Thieves, Wazzu, Bayou Bengals, UCF, and Urban's Having Another Meltdown.  Texas at 11, West Virginny at 12, and Army at 24.
Big 12 Week 13
Well, no doubt that the Longhorn Nation will be watching ESPN Friday night.  The No. 6 Land Thieves travel to Morgantown to take on the No. 13 Mountaineers at Milan Puskar Stadium.  Oklahoma a narrow 2.5 point favorite, and the over/under is 84.  As we know, Texas gets the winner assuming that the Horns handle Kansas.  Going to be a heck of a quarterback match-up.  Will Grier is No. 4 in the country and No. 1 in the conference in passing, 234 on 348, 3,325 yards, 33 touchdowns, averaging 332.5 yards per game (ranking based on that).  Kyler Murray is No. 9 in the nation and No. 2 in the Big 12, with 196 for 279, 3,310 yards, 34 touchdowns, averaging 300.9 yards per game.  On Rating, Kyler is No. 2 at 205.82, and Will is No. 3 at 174.19.  Amazing years for both of these guys.  By the way, the Land Thieves are No. 7 in the Big 12 in pass defense, allowing 263.6 yards per game, and West Virginia is No. 5, allowing 244.1 yards per game.
Saturday
Baylor and Texas Tech meet at AT&T Stadium at 11:00 a.m.  The game will be broadcast on FOX Sports 1.  Sand Aggies favored by 6, and the over/under is 65.  Best I can tell, the loser of this game finishes tied for next to last in the Big 12.  Both 5-6 and 3-5.
Kansas State (5-6, 3-5) plays No. 25 Iowa State at Jack Trice Stadium.  6:00 p.m. on FOX Sports 1.  Cyclones big 13.5 point favorites, and the over/under is 40.5.  I think Iowa State wins this, and K State will be one of those tied for next to last.
Texas Christian (5-6, 3-5) hosts Okie State (6-5, 3-5) at Amon G. Carter in Fort Worth.  7:00 p.m. on FOX.  Cowboys favored by 5, and the over/under is 56.5.  Again, the loser of this will finish tied for next to last.  Will Taylor Cornelius have another big game?  For all the press Grier and Murray are getting, Cornelius is actually at No. 6 nationally, with 314.6 yards per game, ahead of Kyler.  3,461 total yards and 28 touchdowns.  Texas Christian has the top pass defense in the conference, so should be an interesting game.  I think Okie A&M gets a big road win in the Fort.
This Week in the Rest of the Top 25:  Rivalry Week
 Egg Bowl!  Thanksgiving in the Grove!  No. 21 and Ole Miss are on ESPN Thursday night at 6:30.  Been a tough year for the Rebels, as they sit at 1-6 in the SEC.  Mississippi State looks get to 4-4 in conference play, and an 8th win would probably get them a nice bowl game.  Bulldogs favored by 11, and the over/under is 59, but HOTTY TODDY!
Friday
No. 9 UCF at South Florida.  3:15 p.m. on ESPN.  Will Charlie Strong spoil Josh Heupel's perfect season?  One can only hope.   Central Florida favored by 14, and the over/under is 68.
One of the biggest Apple Cup games in a long time, as Leach and his No. 8 Washington State Cougars (10-1, 7-1) get the No. 16 Washington Huskies (8-3, 6-2) in Pullman.  7:30 p.m. on FOX, and WSU favored by 2.5.  The over/under is 49.  Cold and rainy forecast, but I think Wazzu wins the cup and plays for a Pac-12 title.
Saturday
No. 4 Michigan at No. 10 Ohio State.  11:00 a.m. on FOX.  Highest stakes for the Wolverines in years.  After 114 meetings, Michigan leads the series 58-49-6, but Ohio State has a 6 game winning streak going back to 2012.  This game is a great rivalry.  Ohio State students spend the week covering up, "X-ing" out, and whiting out the "M" on signs all over campus.  Winner of this game wins the Big 10 East and, if they then beat Northwestern, they have a shot at the College Football Playoffs – at least Michigan does for sure.  Things might have to break the right way for Ohio State to get in.  Michigan favored by 4.5, and the over/under is 56.  Go Big Blue!
Clean, Old-Fashioned Hate:  Georgia Tech heads to Athens to play No. 5 Georgia between the hedges.  11:00 a.m. on the $EC Network.  Georgia favored by 17, and an upset by the Ramblin' Wreck could help contribute to the much-wanted chaos in the CFP.  Over/under is 59.5, and I just don't see the upset here.
No. 11 Florida (8-3) plays Florida State (5-6) at Doak Campbell Stadium in Tallahassee in the Sunshine Showdown.  11:00 a.m. on ABC.  Gators a narrow 6 point favorite, and the over/under is 52.  An upset win would be great for the Seminoles, but I think the Gators win this one late.
No. 20 Syracuse at Boston College.  11:00 a.m. on ESPN.  BC actually favored by 7 in this, which is a bit of a surprise.  Over/under is 57.5.
Iron Bowl.  Auburn having a tough year, sitting 7-4 and 3-4 in SEC.  Alabama not having a tough year at all.  Matter of fact, they really haven't had a tough game, as the undefeated Crimson Tide roll toward the playoffs as a 24.5 point favorite in this huge rivalry.  2:30 p.m. on the Columbia Broadcasting System, live from Bryant-Denney Stadium in Tuscaloosa.  Over/under is 52.5.
Illinois at No. 18 Northwestern.  Heck of a year for Fitz & his cats.  7-1 in the Big 10.  2:30 p.m. on the BTN.  Northwestern favored by 17, and the over/under is 58.
No. 24 Pitt at Miami (FL), 2:30 p.m. on ESPN.  Canes favored by 5 and the over/under is 48.5.  Go Pitt.
Maryland at No. 12 Penn State.  2:30 p.m. on ABC.  PSU favored by 13.5.
The Palmetto Bowl with South Carolina (6-4) at No. 2 and undefeated Clemson.  Tigers are favored by 26.5, which is a whole bunch.  6:00 p.m. on ESPN.  Over/under is 58.5.  I think Clemson takes care of business, but look for the Cocks to cover.
No. 15 Kentucky and Louisvile play for the Governor's Cup.  6:00 p.m. on ESPN2 from Cardinal Not Papa John's Stadium.  Wildcats favored by 17, and the over/under is 51.   I think Kentucky wins and covers.
No. 7 Louisiana State (9-2, 5-2) at No. 22 Texas Agricultural & Mechanical (7-4, 4-3).  6:30 p.m. on the $EC Network.  Agriculturalists favored by 3, and the over/under is 47.5.  Geaux Tigers!
No. 3 and undefeated Notre Dame at Southern Cal (5-6).  7:00 p.m. on ABC from the Los Angeles Memorial Coliseum, as the Irish and Trojans battle for the Jeweled Shillelagh.  Notre Dame leads the series 47-37-5.  Based on one source, ND & SC have 22 national championships between them.  They do have 14 Heisman Trophies, which is incredible.  The Fightin' Irish are favored by 10.5, and the over/under is 54.  I think Notre Dame wins and wins big.
The Holy War in Salt Lake City.  Brigham Young (6-5) and No. 17 Utah (8-3) meet in Rice Eccles Stadium.  9:00 p.m. on FOX Sports 1.  Utah favored by 12, and the over/under is 44.
No. 21 Utah State and No. 23 Boise State, 9:15 p.m. on ESPN and on the Smurf Turf in Boise.  Mountain West getting some respect.  Boise State favored by 2.5, and the over/under is 67.5.
Rivalry Week
I like Rivalry Week.  But glad we play our rivalry game in Dallas during the State Fair of Texas.  I found this article, which is pretty entertaining.
https://www.sbnation.com/college-football/2017/11/22/16657572/college-football-rivalry-game-names-best-ranked
The Egg Bowl gets "Very Good Name".   Battle for the Bricks with a nice recognition, and same for Battle for the Iron Skillet.
The Top 20 of note (which means I like them):
The Holy War (Boston College-Notre Dame and Brigham Young-Utah)
The Soul Bowl (Alcorn State – Jackson State)
Clean, Old-Fashioned Hate (Georgia – Georgia Tech)
The Border War (Kansas-Missouri, and named after a real war).
Red River Shootout
The World's Largest Outdoor Cocktail Party.
The Rivalry (Lafayette-Lehigh, the only rivalry that could possibly attempt such a name, seeing as it's the sport's oldest ongoing series.)
100 Miles of Hate (Middle Tennessee – Western Kentucky)
Bedlam
Brawl of the Wild (Montana – Montana State). Tend to disagree that this is number 1, but I guess he likes the sound of it.
Other Games of Interest in Week 13
Ball State and Miami (OH) met Tuesday night in Yager Stadium in Oxford, Ohio.  The Redhawks with a solid 42-21 win to finish 6-6 and 6-2 in the MAC.
Friday Games
Nebraska at Iowa, 11:00 a.m. Friday on FOX.  Hawkeyes favored by 10, over/under 52.5.  Good luck Huskers.
Houston (8-3, 5-2) at Memphis (7-4, 4-3).  Big game for Major Applewhite.  11:00 a.m. on ABC.  Houston a 7 point road dog, and the over/under is 74.5.
Virginia at Virginia Tech.  Hoos are 7-4 and 4-3, Hokies 4-6 and 3-4.  2:30 p.m. from Lane Stadium in Blacksburg.  UVA favored by 4.5, and the over/under is 50.  Go Hoos!
Civil War in Corvallis:  Oregon and Oregon State, 3:00 p.m. on FOX Sports 1.  Ducks favored by 17.5, and the over/under is 69.
Saturday
Rice looking to get a Conference USA win, hosting Old Dominion.  12:00 noon at Rice Stadium.  ODU favored by 8.  Tough year for the Owls.
Southern Miss in El Paso to play UTEP.  2:00 p.m. from the Sun Bowl.  Miners, like Rice, with just one win.  USM favored by 13.
Stanford (6-4, 4-3) and UCLA (3-8, 3-5) meet in the Rose Bowl.  2:00 p.m. on the Pac-12 Network.  Cardinal favored by 7, and the over/under is 57.5
Southern Methodist (5-6, 4-3) at Tulsa (2-9, 1-6).  2:30 p.m. on CBS Sports Network.  Mustangs 2.5 point road favorites!  How about that McCune?
Arkansas State at Texas State (3-8, 1-6), as the Bobcats will be coached by interim head coach Chris Woods after Everett Withers was fired last week.   3:00 p.m. at Bobcat Stadium in San Marcos.  ASU favored by 12.
Tennessee (5-6, 2-5) at Vanderbilt (5-6, 2-5).  3:00 p.m. on SEC Network.  Commodores favored by 3.5.  I think the Vols win this.
North Texas at UTSA Saturday night, 6:00 p.m. in the Alamodome.  Mean Green favored by 22.5.  Ouch.
Mary Hardin Baylor won their first round game over Hardin-Simmons, 27-6.  The Cru host Berry College in Belton at 12:00 noon on Saturday.
Slippery Rock got a first round D2 win over LIU, and they play at the University of West Haven in Connecticut on Saturday.
Coach Morris and his Incarnate Word Cardinals play at Montana State in the first round of the FCS Playoffs.  Saturday at 2:00 p.m.  I guess if they win, they cancel the December 1 game with Iowa State.  Pretty ironic.  Good luck Eric.
Previews on the Interwebs
HornMafia from the BC, with the Week That Will Be: The Journey Continues
https://www.barkingcarnival.com/2018/11/21/18106111/the-week-that-will-be-the-journey-continues-texas-longhorn-football
The schedule from the WWL
http://www.espn.com/college-football/schedule
Bill Connelly with advice for those who enjoy the sporting life.
https://www.sbnation.com/college-football/2018/11/21/18105298/college-football-picks-week-13-2018-predictions-odds-spreads
Clint Eastwood
For some reason, several years ago, the Outlaw Josey Wales and Clint Eastwood became a recurring theme of the Kansas e-mail.  I think it was because I was bored and because of this quote:  "We are Jayhawkers, and proud of it."
Anyway, I haven't included it in a while, so back in for this season.  A lot of violence in these clips.  But I am huge Eastwood fan.  The great Spaghetti Western Dollars Trilogy (of note, a Fistful of Dollars was a "remake" of Yojimbe, a film directed by the great [one of the greatest, really] director Akira Kurosawa), the Dirty Harry franchise, and of course Josey Wales.
Get ready little lady. Hell is coming to breakfast.
Dyin' ain't much of a livin', boy.
The River crossing scene.
Clint Eastwood Shootouts.   This is particularly violent.  Fair warning.
Juan Heisman Tailgate
We closed out the Austin tailgating season with a truly epic party.  Bill "Scooter" Walters provided 42 racks of lamb lollipops and two methuselahs of Silver Oak.  I have never seen six liters of red wine disappear that quick.  One of the largest and best tailgates we have ever had, and certainly one of the best that wasn't that season's headliner (e.g., Notre Dame, Southern Cal).  We had so many great family and friends there.  Special thanks to UT System Chancellor J.B. Milliken for making his second visit to Juan Heisman.
Big thanks Bill Skeen, Rick Whiteley, Jack Nash, and the Young Guns (Messer, Barton, Martin, Wilcox, but not Shaw) for handling Early Crew.  Thanks to whoever drove my Suburban home!
Thanks to Ian Davis, J.D. Gins, Megan Klein, and all the folks from Texas Beer Company for last Saturday and all the other games where we have been blessed with kegs of excellent Taylor-Made craft beer.
Thanks to Matt Harris and the Butler Family for helping with the general beer supply.  We have had at least 10 to 12 cases at each game, and I don't think we have had more than a case leftover all season, in the aggregate.  Nice work from the JHT crew, family, and friends.  And thanks to my friend Chad Auler for the Dulce Vida tequila.  So good.
Finally, thanks to Marcus Crawford and Otis Edmonds.  We ate well all season, and without their hard work, the Juan Heisman Tailgate doesn't happen.  Appreciate y'all!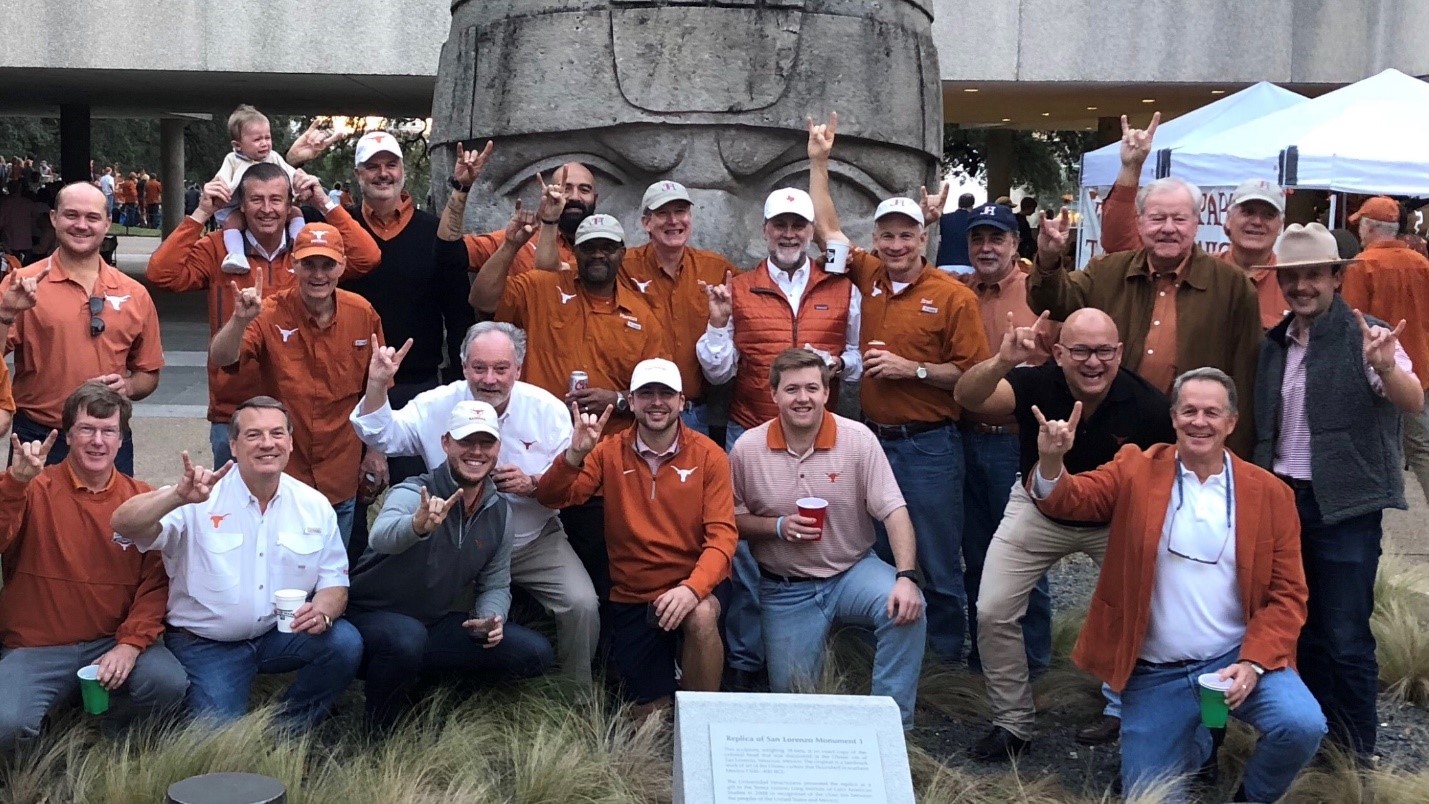 Thanks to all of our crew members.  Sort of in order, starting across the front:  Scott Ferguson, Rick Whiteley, Hunter Wilcox, Tom Terkel, Judd Messer, James "Butters" Barton, Derlis "Trey" Salinas, Henry "Tony" Dewar.  Then Collin Shaw, Tim Crowley (with grandson Covert), John Carsey, Otis Edmonds, Marcus Crawford, me (with a big Silver Oak smile!), Brad Hawley, Brad Laughlin, David "Buck" Edelman, Donnie Williams, Jack Nash, and Grant Martin.  Not shown:  Barry Barksdale, Richard Hill, Bob Buchanan, Bill Burke, Vance Duncan, Bob Dunn, Rob Dunn, Mike Dunn, Jerry Epps, Bill Skeen, Jody Ferguson, Jim Craig Hess, Ben Bennitt, Greg Johnston, Kent Lance, Bill Netherton, John Northington, Marvin Rickabaugh, David Roche, Scooter Walters, Jerry Winetroub, Jim Stone, Gary Farmer, and Bill Wilson.  What a brotherhood of 44 great friends.  So blessed.
It was a great team effort all year, and I am looking forward to next year, as the torch has been passed to the next generation.  Judd Messer takes over as CEO, and I will remain as Chairman Emeritus.  We will be back at Juan Heisman on August 31, 2019, for Louisiana Tech, and then the big one on September 7 for Louisiana State.   Laissez les bons temps rouler!
Good Stuff
Jay B. Sauceda is an entrepreneur and photographer.  Some of you may recall the great Texas Monthly edition with his photographs of Texas.  It was really cool.  Main link here, then scroll down and check out the photo essay, 3,822 Miles.
https://www.texasmonthly.com/the-edge/welcome-to-the-edge/
He has assembled a collection of those photos in a book, A Mile Above Texas.  A great gift for any Texan.
https://www.amazon.com/Mile-Above-Texas-Jay-Sauceda/dp/1477318003/
Eric Morris was named Southland Conference Coach of the Year.  The Elf is in his first year as Head Coach at the University of Incarnate Word.  Congratulations Eric!
Big 12 Week 12
Thank you Oklahoma State!  Nicest thing Gundy has done for us.  He is a man!  Pokes take down Holgo and the Mountaineers 45-41 in one heck of an exciting game.
As noted elsewhere, KU gave OU a game, as the Jayhawks posted 23 fourth quarter points (Land Thieves had 20), but the Sooners prevailed 55-40.  43 fourth quarter points.
Texas Christian 16-9 over Baylor in a thriller in Waco.
Stunned that Texas Tech lost to K State, but then again, Snyder and his men win a lot of games in Manhattan.  21-6.   Six sand aggie points.  Duffy 19-27 for 150 yards.  Leading Tech runner was Da'Leon Ward with 34 yards on 10 carries, and the team netted 31, for 1.2 yard per carry average.  Longest run was 9 yards.  Unbelievable.
Last Week in the Top 25
Short week, so not all games reviewed.
"Give The Citadel credit:  they aren't afraid of scheduling anyone."  Hell, give them credit for going to the locker room at half tied 10-10 with the Crimson Tide.  True, they got outscored 40-7 in the second half.  But The Citadel covered!
Notre Dame 36-3 over Syracuse.  Domination.
Washington State Cougars 69, Arizona 28.
LSU 42-10 over Rice.
Maryland unsuccessfully went for 2 and the win in the second overtime, falling to Ohio State 52-51.  The video montage of Urban Meyer freaking out was excellent.
Florida State beat a ranked opponent:  22-21 over BC.
Pig Sooey!  Mississippi State 52, Arkansas 6.  Hail Yeah!
Other Game of Interest Last Week
The Southern Methodists lost 18-28 to Memphis.
Navy 37-29 over the Tulsa Hurricanes.
Nebraska beat Michigan State 9-6.
Tough game for the Hoos, losing 27-30 to Georgia Tech.  Cavaliers did cover.
Marshall all over UTSA, 23-0.
UTEP goes down to Western Kentucky, 16-40.
UCLA 34-27 over Southern Cal.  Trojans looking at a losing season.
Texas Agricultural & Mechanical 41-20 over Alabama Birmingham.
Ole Miss lost to Vanderbilt 29-36.  Ouch.
The Big Game was postponed due to the fires.  Just terrible what is happening in California.
Texas Basketball
Texas put a whipping on The Citadel, 97-69.
Texas plays No. 7 North Carolina Thanksgiving night at 6:30, on FOX Sports 1.  Believe it or not, Texas leads this series 7-3.  Last meeting was in Austin in December 2015, and Texas won 84-82.  I love beating Roy Williams.
Then we will play on Friday at either 3 or 5:30 against either Michigan State or UCLA, on FOX.
Music:  The Last Waltz
Charles Taylor reminded me that one of the greatest concerts in American history was Thanksgiving Day, 1976, at the Winterland Ballroom in San Francisco.  The event was advertised as The Band's farewell concert.   Special guests included Neil Diamond, Eric Clapton, Muddy Waters, Van Morrison, The Staple Singers, Bob Dylan, and Neil Young.  Martin Scorsese filmed it and released a documentary titled The Last Waltz.  Set some time aside, as this is some of the best music ever.
One of my favorite songs, and here is The Weight.  Joined by The Staple Singers.  I pulled into Nazareth …
Caravan, with Van Morrison
Further on Up the Road, with Eric Clapton.
Up on Cripple Creek
The Night They Drove Old Dixie Down
Mannish Boy, with Muddy Waters
Don't Do It
Caritas of Austin
I have been involved with Caritas for over a quarter of a century.  The mission is to prevent and end homelessness for people in Greater Austin.
https://www.caritasofaustin.org/
God Bless Texas. 
Tim Taylor
Tailgating before Home Football Games: 
Lot 38, East of Sid Richardson Hall.
HOOK EM HORNS!!
© Timothy C. Taylor, Sr.  2018.  All Rights Reserved (as to original material).
On Twitter:  @tctayloratx
On LinkedIn:  www.linkedin.com/in/tctatx
On Instagram:  @tctayloratx
On Facebook:  www.Facebook.com/Tim.C.Taylor
and:  www.Facebook.com/Juan.Heisman