Red River Shootout
Saturday is the best day in college football.  Maybe one of the best in college sports.  There is just nothing like the convergence in Dallas of the Longhorns from across the Great State of Texas and the Land Thieves from Oklahoma.  Yes, great rivalries out there – Michigan-Ohio State; Alabama-Auburn; Notre Dame-Southern Cal; Harvard-Yale; Slippery Rock-Shippensburg.  But outside of the neutral site game between Florida and Georgia formerly gloriously known as The World's Largest Outdoor Cocktail Party, there is nothing like the Longhorns and the Land Thieves in the Cotton Bowl on the second Saturday in October in the middle of the State Fair of Texas.  (And with the expansion of beer stands in the Cotton Bowl from 1 last year to 26 [really – twenty-six] this year, we may give Georgia-Florida a run for their money!).  The magnificence of this game is one thing Longhorns and our friends from north of the Red River agree on:  The Sooner website has a page "College Football's Greatest Game".  I would link to it, but then for sure the virus scanners would block this email.
Watch this one:
This game…is different. Texas vs. Oklahoma. Saturday. 11 AM CT. #ThisIsTexas #HookEm #BeatOU pic.twitter.com/OI1VdgwmP2

— Texas Football (@TexasFootball) October 11, 2019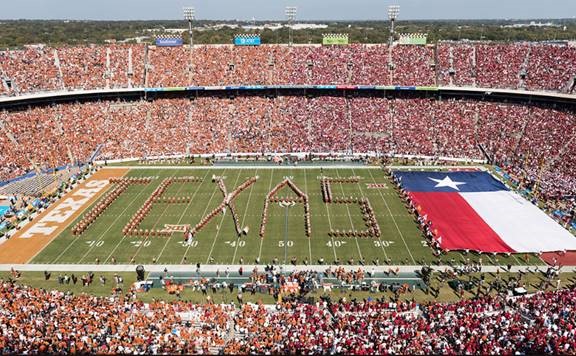 The Land Thieves enter the 115th Red River game with a No. 6 AP ranking, No. 5 in the Coaches Poll, a 5-0 record, the last two Heisman Trophy winners, an offensive genius named Riley coaching another prodigious quarterback, and a much improved defense.
Texas is 4-1 and ranked 11 in both polls.  But Texas goes to Dallas in possession of the Golden Hat, a coach who is also a genius (really), a quarterback with IT, and at this point of the season, I believe a better resume.  I can't wait to watch what promises to be one of the most physical games in the history of this great rivalry that began in 1900, with a 28-2 Texas win.   If my info is correct, Texas has won the last three times Oklahoma entered the game undefeated.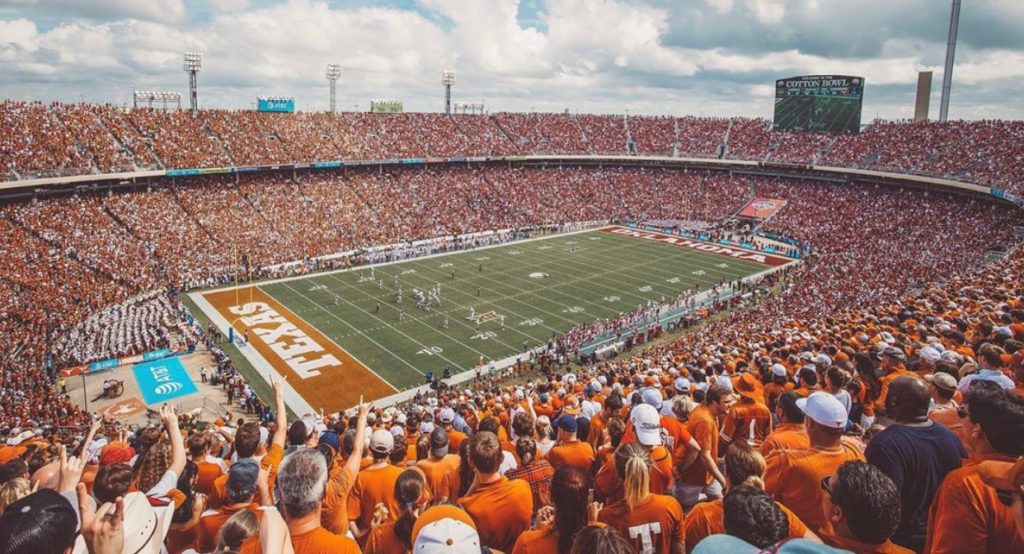 From before the game with the Land Thieves in 1914, courtesy of Jim Nicar: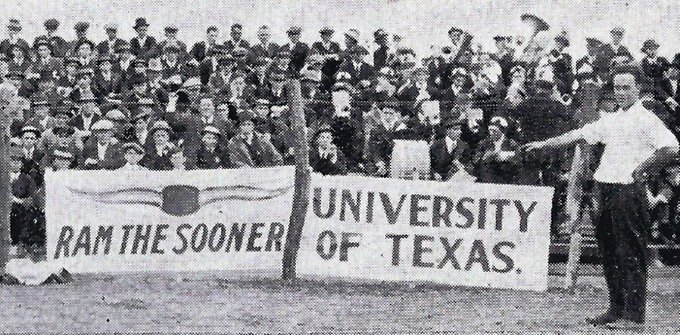 Lots more on the Game and the Land Thieves below.
Texas Longhorn.  Django Walker
Good Stuff
Be Like No. 50:
Be like number 50 pic.twitter.com/Jgyik9goig

— Dave M (@SpotTheLoon2010) September 29, 2019
Sam Cosmi's Touchdown.  So fine.
BIG MAN TOUCHDOWN 💪

(📍 @NavyFederal) pic.twitter.com/LRe9IjchPK

— ESPN College Football (@ESPNCFB) October 5, 2019
One of D'Shawn Jamison's picks – really a pick!
Devin Duvernay is a team captain!  Well deserved.
Your newest captain…Devin Duvernay! 🤘#ThisIsTexas #HookEm pic.twitter.com/tjhq0YgstE

— Texas Football (@TexasFootball) October 9, 2019
Gerritt Cole's fastball, knuckle-curve, and slider, all in one clip.  Cool
Gerrit Cole fastball, knuckle-curve, slider overlay. 🔥⚾️🤢👑

Without a doubt, one of the most incredible pitching performances I have ever watched. #Astros

33(!) swinging strikes, 15 strikeouts. Wow. #ALDSGame2 pic.twitter.com/eft2SNldIb

— Lance Brozdowski (@LanceBroz) October 6, 2019
And congratulations to the Houston Astros, who are moving on to the American League Championship Series.  Game 1 with the Evil Empire is in Houston Saturday night, 7:09 p.m. on FOX.  Go Stros!
A Land Thief: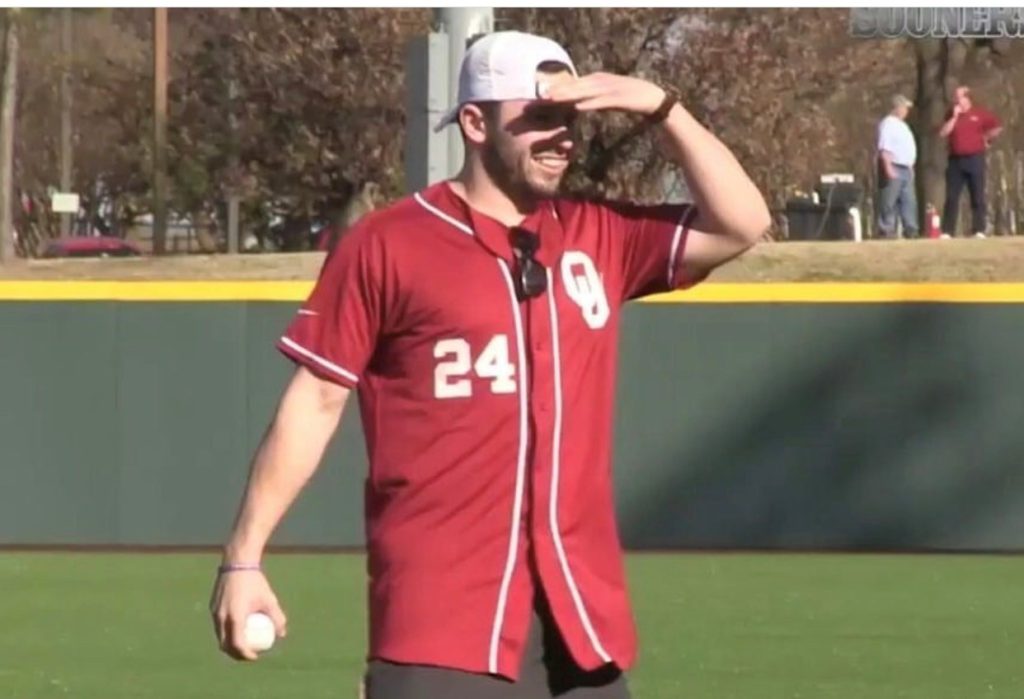 "Sun is so bright.  Sure wish I had something to shade my eyes."
Texas Longhorns vs. Oklahoma Land Thieves
 Kickoff is set for 11:00 a.m. in the Cotton Bowl, as the Big Noon Game on FOX.  Gus Johnson (PxP), Joel Klatt (analysis), and Jenny Taft (sideline).  I have really started to like Joel Klatt.  He is good, and if you don't follow him on Twitter, I recommend it. @JoelKlatt.  This is the same crew that called last year's game, and you may enjoy this call from 2018:
🗣 DICKER. THE KICKER.

Hey Gus Johnson, let's throw it back to the epic ending of last year's Red River matchup between Oklahoma and @TexasFootball 🤘🔥 pic.twitter.com/kmoeLnfSqJ

— FOX College Football (@CFBONFOX) October 10, 2019
The Texas radio broadcast with the Voice of the Longhorns, Craig Way, plus Roger Wallace with analysis and Quan Cosby on the sideline.  The Horn 104.9 and KOKE in Austin, KRLD 1080 in Dallas, and KTBB 600 in Tyler.
The Vegas line is at 10.5, and the over/under is 75.5.
Official Preview:
https://texassports.com/news/2019/10/7/preview-no-11-11-football-vs-no-6-5-oklahoma-oct-12.aspx
Game Notes:
https://texassports.com/documents/2019/10/7//Texas_Week7_Notes.pdf?id=13484
Texas Longhorns
We all know what Texas has to do on Offense to win:  protect Sam and give him time work his reads (someone will usually get open), no turnovers, and decent games from Ingram and Johnson.  I am really excited about Roschon Johnson, and I think he might have a big day Saturday.  This offense is completely capable of scoring 40 or more points against just about anyone.
Special teams, we need for Dicker the Kicker to make his kicks, and he will.  We need Bucevsky to have a good game, and most importantly, we need the punt return team to handle the ball and not put Texas in any worse field position than necessary.  And, I do think we will make the Land Thieves punt more than most are expecting.
The obvious key to this game is the Texas defense.  Just look at the Land Thief offensive statistics below.  Here are the stats for the top 20 Longhorn defenders through our first five games:
Caden still leads the team in tackles despite being injured and out.  But outside of that, most of the top players will be in the Cotton Bowl, and those that won't have a stud with the right Next Man Up Mentality ready to whip some Land Thief butt.   Get ready, because Saturday is going to be fun.
Texas Depth Chart
Important notes:  Collin Johnson should be ready to go, which is good as the Horns need all of their weapons.  Eagles listed ahead of Burt at Z this week.  Nice to see Kirk Johnson get some play time last week, and I am grateful for loyal kids like that.
We have a lot of injuries in the secondary, as all of the pundits are pounding, but that is still a lot of talent.  Think about Cornerback, where D'Shawn Jamison, who had two interceptions in Morgantown last week, is list as "or", and not a for sure starter.  If B.J. Foster can play, we will be fine.  Looking forward to watching our defensive line. I am hoping for a big game for those big men.
Oklahoma Sooners
As noted, OU is an offensive juggernaut and has been for several years.  I can't hate Lincoln Riley, because that young man is one heck of a coach.  Here is what his Sooners look like in 2019.
Like the Horns, the Land Thieves are led by an outstanding, talented quarterback. Jalen Hurts, the Alabama transfer and native Texan who hails from Houston.  He wears #1, 6-2 and 218 pounds.  He is the leading OU rusher, with 499 yards on 57 attempts, averaging 8.8 yards per attempt and just shy of 100 yards per game (99.8).  He has only lost 37 yards, which tells you a lot about how elusive he is.  7 rushing TDs (out of 18 for the team).  82 passes completed for 1,523 yards, 14 TDs, and averaging 304.6 yards per game.
Trey Sermon (#4, Junior) is second in rushing with 345 yards on 45 carries, averaging 7.7 per attempt, with 4 TDs, 69 yards per game.  Next is Rhamondre Stevenson (#29, Junior), with 319 yards on 29 carries for an 11 yard average, with 5 TDs; that includes a 75 yard run, which helps his yards per attempt average; 63.8 ypg.  #26, Brooks Kennedy has 25 carries for 206 yards, one score, and 51.5 ypg.
No surprise who the leading Land Thief receiver is – CeeDee Lamb, #2.  18 catches, 439 yards, 24.4 ypc average, 7 TDs, 87.8 ypg.  Next is #14 Charleston Rambo, with 14 catches for 383 yards, averaging 27.4 per catch, with 4 TDs, 76.6 ypg.  #11 Jadon Haselwood has 14 catches for 218 yards, 1 score, 15.6 ypc, and 43.6 ypg.  14 other Thieves have catches.
Top Thief Tackler is #9, Kenneth Murray.  The junior linebacker from Missouri City has 37 tackles, 17 solo, 4 tackles for loss for 16 yards, and 1.5 sacks for 12 yards.  Delarrin Turner-Yell, #32, sophomore safety from Hempstead, Texas, has 25 tackles (18 solo), with one TFL for 5 yards.  Pat Fields from Tulsa, #10, also a sophomore safety, has 18 tackles (11 solo), 1.5 TFL for 8 yards, and a sack for 7 yards.  #31 Jalen Redmond, from Midwest City, OK, is a big 6-3, 266 pound lineman who leads the Land Thieves with 5 TFL for 32 yards (and 2 sacks for 27).
The Statistics
Offense
| | | |
| --- | --- | --- |
| Statistic | Texas | Land Thieves |
| Rushing Offense | #52 – 175.6 ypg | #4 – 288.4 ypg |
| Passing Offense | #17 – 308.0 ypg | #5 – 355.4 ypg |
| Total Offense | #19 – 483.6 ypg | #1 – 643.8 ypg |
| Scoring Offense | #13 – 41.8 ppg | #2 – 53.4 ppg |
| First Downs | #6 – 26.8/game | #4 – 27.4/game |
| Sacks Allowed | #57 – 10, 62 yards | #5 – 4, 34 yards |
| Tackles for Loss Allowed | #44 – 26, 96 yards | #38 – 25, 101 yards |
| Third Down Conversions | #2 – 56.6% | #4 – 55.6% |
| Fourth Down Conversions* | #91 – 3/7, 43% | #1 – 3/3 100% |
| Red Zone Offense | #36 – 89% / 89% | #20 – 93% / 76% |
| Long Run Plays | #28 – 33, 3, 0 | #2 – 54, 18, 8, 2, 2, 2, 1 |
| Long Pass Plays | #25 – 59, 20, 7, 4, 3, 1, 1 | #10 – 67, 28, 17, 11, 4, 3, 2 |
| Long Scrimmage Plays | #19 – 92, 23, 7, 4, 3, 1, 1 | #1 – 120, 50, 29, 16, 7, 5, 3 |
* 8 schools tied at 100%, range from 9/9 to 2/2.  UNC has the most (10) in 12 attempts, tied with CMU (10/14)
Defense
| | | |
| --- | --- | --- |
| Statistic | Texas | Land Thieves |
| Rushing Defense | #36  – 116.8 ypg | #64 – 148.6 ypg |
| Passing Defense | #126 – 325.0 ypg | #37 – 197.8 ypg |
| Total Defense | #104 – 441.8 ypg | #46 – 346.4 ypg |
| Scoring Defense | #67 – 26.6 ppg | #25 – 19 ppg |
| Sacks | #80 – 10, 56 yards | #41 – 13, 116 yards |
| Tackles for Loss | #67 – 31, 114 yards | #48 – 34, 160 yards |
| First Downs Allowed | #109 – 23.2/game | #59 – 20/game |
| Third Down Conversions | #89 – 40.3% | #5 – 24.6% |
| Fourth Down Conversions | #53 – 42.9% | #51 – 41.7% |
| Red Zone Defense | #105 – 90% / 60% | #116 – 92% / 58% |
| Long Run Plays Allowed | #44 – 20, 2, 1 | #104 – 32, 9, 3, 2, 1 |
| Long Pass Plays Allowed | #123 – 67, 23, 11, 7, 2, 1 | #44 – 40, 16, 3 |
| Long Scrim. Plays Allowed | #113 – 87, 25, 12, 7, 2, 1 | #68 – 72, 25, 6, 2, 1 |
Of particular note:  the Land Thief defense has only allowed 3 rushing touchdowns this year.  Texas has allowed just 5.
Other
| | | |
| --- | --- | --- |
| Statistic | Texas | Land Thieves |
| Turnovers | #19  – 3F, 2I | #8 – 2F, 2I |
| Turnover Margin | #10 – 10:5  1.0 | #45 – 6:4 0.4 |
| Penalties | #69 – 34, 301 yards | #107 – 41, 452 yards |
*Based on total number of penalties.
Match-up Comparison
| | |
| --- | --- |
| Texas Offense | Land Thieves Defense |
| Rushing Offense – 175.6 ypg | 148.6 ypg – Rushing Defense |
| Passing Offense – 308.0 ypg | 197.8 ypg – Passing Defense |
| Total Offense – 483.6 ypg | 346.4 ypg – Total Defense |
| Scoring Offense – 41.8 ppg | 19 ppg – Scoring Defense |
| First Downs – 26.8/game | 20/game – First Downs Allowed |
| 3rd Down Offense – 56.6% | 24.6% – 3rd Down Defense |
| Red Zone Offense – 89/89 | 92/58 – Red Zone Defense |
| LRP – 33, 3, 0 | 32, 9, 3, 2, 1- LRP Allowed |
| LPP – 59, 20, 7, 4, 3, 1, 1 | 40, 16, 3 – LPP Allowed |
| LSP – 92, 23, 7, 4, 3, 1, 1 | 72, 25, 6, 2, 1 – LSP Allowed |
| | |
| --- | --- |
| Texas Defense | Land Thieves Offense |
| Rushing Defense – 116.8 ypg | 288.4 ypg – Rushing Offense |
| Passing Defense – 325.0 ypg | 355.4 ypg – Passing Offense |
| Total Defense – 441.8 ypg | 643.8 ypg – Total Offense |
| Scoring Defense – 26.6 ppg | 53.4 ppg – Scoring Offense |
| First Downs Allowed – 23.2/game | 27.4/game – First Downs |
| 3rd Down Defense – 40.3% | 55.6% – 3rd Down Offense |
| Red Zone Defense – 90/60 | 93/76 – Red Zone Offense |
| LRP Allowed – 20, 2, 1 | 54, 18, 8, 2, 2, 2, 1- LRP |
| LPP Allowed – 67, 23, 11, 7, 2, 1 | 67, 28, 17, 11, 4, 3, 2 – LPP |
| LSP Allowed – 87, 25, 12, 7, 2, 1 | 120, 50, 29, 16, 7, 5, 3 – LSP |
 Being somewhat of a masochist, then I went and looked at last year's Texas Defense vs. Land Thief Offense.  The Land Thieves are really good.  This year's Riley Machine is cranking out 123 more yards of offense per game and 5 more points per game.  And the Texas defense is allowing nearly 100 more yards per game in the air and a touchdown per game.
2018

Texas Defense

Land Thieves Offense

Rushing Defense – 115 ypg
206.2 ypg – Rushing Offense
Passing Defense – 218.2 ypg
317.0 ypg – Passing Offense
Total Defense – 333.2 ypg
523.2 ypg – Total Offense
Scoring Defense – 19.8 ppg
48.6 ppg – Scoring Offense
First Downs Allowed – 17.4/game
23.6/game – First Downs
3rd Down Defense – 34.6%
54.6% – 3rd Down Offense
Red Zone Defense – 71%/47%
89%/74% – Red Zone Offense
LSP Allowed – 61; 18; 9; 6; 3
93; 36; 23; 14; 8 – LSP
Jalen Hurts is #6 in YPG, with 304.6. His rating of 231.31 is #1.  Yards per attempt is #1, at 14, and his completion percentage of 75.2% is #5.  Total Offense, Hurts is #2, with 404.4 ypg.
Sam Ehlinger is #13 in YPG, with 289.6. Sam's rating is 169.79, putting him at #15.  Yards per attempt is 8.4, for a #33 ranking, and completion percentage is 69.4 (#20).  Total Offense, Ehlinger is #9, with 336.8 ypg.
Devin Duvernay is ranked #2 in the nation for receptions, with 45.
The stats are one story, but behind the season's statistics are the teams played.  And that is where there is a big difference between Texas and OU.
Texas has played five games.  Four of our opponents have winning records, with the winless Owls being the outlier.  And those other teams we have played have good records:
Louisiana Tech (4-1):  Texas handled La Tech 45-14.  Since then, the Bulldogs are 4-0, with these wins:  20-14 over Grambling, 35-7 over Bowling Green, 43-31 over FIU, and 23-20 over Rice.
Oklahoma State (3-2):  Texas beat the Okie Aggies 36-30.  The other OSU Games:  52-36 over Oregon State, 56-14 over McNeese, 40-21 over Tulsa (see SMU game below), 26-13 over K State.  Yes, they lost last week to the Sand Aggies, 35-45, in Lubbock.
West Virginia (3-2):  20-13 over James Madison (now 5-1), lost 7-38 to Missouri (4-1), 44-27 over NC State (3-2), 29-24 over Kansas (2-4).
And while Rice hasn't won a game, they have lost to a lot of good football teams:  Army (3-2), Wake Forest (5-0 and ranked 19), Baylor (undefeated and ranked 22), La Tech, and UAB (who is 4-1).
And of course our loss was to Louisiana State, who is undefeated and ranked 5 in the AP (ahead of OU) and 6 in the Coaches (behind OU).  And we lost to that great Tiger team by one score.
Here is what the Land Thieves have done:
Houston:  OU won 49-31.  Cougars are 2-3:  37-17 over Prairie View A&M (2-3), lost to Washington State (3-2) 24-31, lost to Tulane (4-1) 31-38, beat North Texas (2-3) 46-25.
South Dakota (FCS):  OU won 70-14.  The mighty Coyotes are 2-3.   Lost to Montana (5-1), 17-31; lost to Houston Baptist (4-2) 52-53; beat Northern Colorado (1-5) 14-6; beat Indiana State 38-0 (Sycamores are 2-3).
UC Los Angeles:  Land Thieves won 48-14.  UCLA has fallen on hard times.  Bruins are 1-5:  lost to Cincinnati (4-1) 14-24; lost to San Diego State (4-1) 14-23; that miraculous 67-63 win over Washington State (3-2); lost 17-20 to Arizona (4-1); and lost 31-48 to a weak Oregon State team (2-3).
Texas Tech:  Thieves won 55-16.  This is the only team that OU has beat that has a winning record at 3-2, and 2 of those 3 wins aren't exactly marquee:  45-10 over Montana State (FCS, 5-1); 38-3 over UTEP (1-4); lost 14-28 to Arizona (4-1); beat Okie State 45-35.
Kansas:  OU won 45-20.  Jayhawks are 2-4:  beat Indiana State 24-17; lost 7-12 to Coastal Carolina (3-2), won 48-24 at Boston College (who is 3-3); lost 24-29 to West Virginia (3-2); lost 14-51 to Texas Christian (3-2).
Always hard predicting this game.  Just such an intense rivalry, and like so many years in the past, so much riding on the game.  Sure, there have been some ugly blow-outs.  But lots of amazing wins on both sides, and last year's Texas win is a great example.
Sometimes, I just skip predicting win or loss or a score, and this is when I am worried the Horns are going to get beat.  I don't feel that way today.  Yes, Riley is a genius, the Land Thief offense is incredible, and they are playing a little better defense.  But my response to all of that is Talbert-esque:  I don't give a S#IT.
            Texas 44, Land Thieves 38
Scipio Tex on Barking Carnival
https://www.barkingcarnival.com/2019/10/9/20907194/how-texas-can-beat-oklahoma-on-defense-longhorns-sooners-dallas-red-river-orlando-riley
Wes Crochet's preview on BON:
https://www.burntorangenation.com/2019/10/8/20903701/oklahoma-sooners-preview-texas-longhorns-cotton-bowl
Paul Wadlington's Podcast info here:
https://www.barkingcarnival.com/2019/10/10/20908572/everyone-gets-a-trophy-podcast-we-hate-you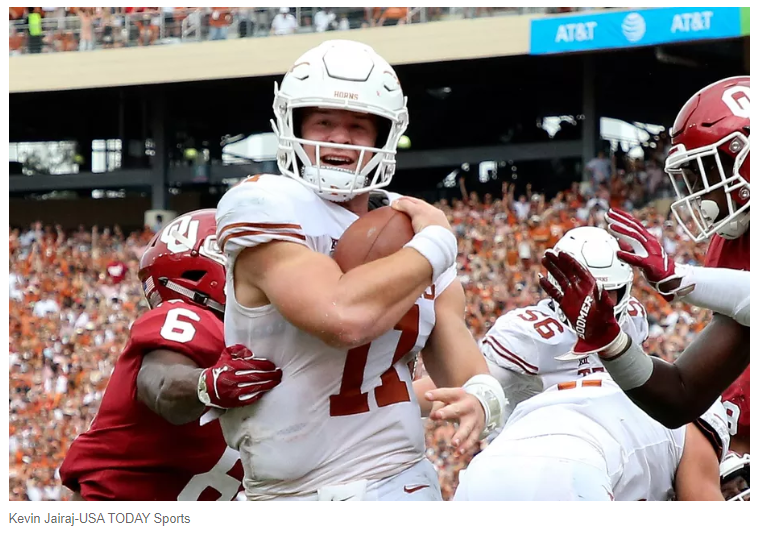 We're Texas:  What Starts Here Changes the World
Tuesday the Nobel Prize Committee announced that the 2019 Nobel Prize in Chemistry is awarded to UT Engineering Professor John Goodenough, jointly with Stanley Whittingham of the State University of New York at Binghamton and Akira Yoshino of Meijo University — "for the development of lithium-ion batteries."  Lithium-ion batteries are kind of important.  From President Fenves' letter Thursday:  "In 1979, Professor Goodenough identified and developed the materials to stabilize lithium-ion batteries and expand their potential for use. In simple terms, his invention prevented these batteries from catching fire. Today, batteries incorporating Goodenough's materials are used worldwide for mobile phones, power tools, laptops, tablets and other wireless devices, as well as electric and hybrid vehicles."  Every one of you reading this right now on a smart phone or an iPad or your laptop is doing so thanks to Dr. Goodenough.
https://news.utexas.edu/2019/10/09/nobel-prize-in-chemistry-goes-to-john-goodenough-of-the-university-of-texas-at-austin/
"Goodenough joins physicist Steven Weinberg as one of two current Nobel laureates at UT Austin. Weinberg won the prize in 1979 for contributions to the theory of the unified weak and electromagnetic interaction between elementary particles. Two other UT Austin professors, both now deceased, also won Nobel Prizes: Hermann J. Muller in medicine and physiology (1946) and Ilya Prigogine in chemistry (1977). Alumnus J.M. Coetzee won the Nobel Prize in literature (2003). Two UT Austin alumni have also won Nobel Prizes during the past two years, Michael Young and Jim Allison, who respectively won the prize for medicine or physiology in 2017 and 2018." – UT Austin News
Walter Cronkite.  I sure wish The University would re-shoot this and some of the other What Starts Here Changes the World videos with the 2019 Austin skyline, and run one of the drones by and through the UT Dell Medical School.
A University of The First Class
The University of Texas at Austin is now No. 48 in the latest undergraduate ranking of national universities from U.S. News & World Report.  Among public universities, The University is No. 14, and it is the top public university in Texas.
Texas got top 20 rankings in three new specialty categories, ranking No. 14 in the country for first-year student experience, No. 16 for undergraduate research/creative projects, and No. 12 among the country's "Most Innovative Schools".
Texas has 18 top 10 rankings business and engineering.  The McCombs School of Business rose to No. 5, with ten top 10 specialty rankings, including No. 1 in accounting again.  No other business school in America had more top 10 ranking programs:
No. 1 in accounting
No. 4 in finance
No. 4 in management
No. 4 in management information systems
No. 4 in marketing (Attawaytogo Claudia!)
No. 5 in quantitative analysis
No. 6 in real estate
No. 7 in insurance
No. 7 in entrepreneurship
No. 9 in supply chain and logistics
The Cockrell School of Engineering, in addition to boasting a new Nobel Prize Winner, is ranked No. 11 nationally, with 8 top 10 specialties, including the No. 1 program in petroleum engineering:
No. 1 in petroleum engineering
No. 4 in chemical engineering
No. 6 in civil engineering
No. 7 in aerospace engineering
No. 7 in environmental engineering
No. 8 in computer engineering
No. 10 in electrical engineering
No. 10 in mechanical engineering
In addition to the stellar rankings in U.S. News, The University ranks high world-wide rankings.
No. 31 Center for World University Rankings (World University Rankings, 2018-2019 – https://cwur.org/2018-19.php).  Oklahoma is Ranked 393.  (That is Three Hundred Ninety-Third).
No. 31 World Reputation Rankings, Times Higher Education, 2019.
On Niche, Texas is ranked No. 8 in Top Public Universities, and No. 52 overall.  Oklahoma is ranked No. 44 in Top Public Universities, No. 149 overall.
U.S. News & World Report said in May that Oklahoma would be listed as unranked in its 2019 edition because of providing false data, which stretched back to 1999.
https://www.cnn.com/2019/05/23/us/university-oklahoma-best-colleges-ranking/index.html
Apparently OU inflated its alumni giving data.  Oddly, though, OU is still ranked on the USN&WR website.   Maybe they hired Pepper Hamilton to investigate and write a report.
By the way, Washington & Lee is No. 36 overall.
They're Oklahoma
"Undoubtedly no sport is more uniquely Oklahoman than noodling".
I just can't stop using that one.
The University of Oklahoma
Founded in 1890 in Oklahoma Territory, the year that the Oklahoma Territorial legislature established three schools:  Oklahoma Agricultural & Mechanical in Stillwater, the Territorial Normal School (now the University of Central Oklahoma), and the Norman Territorial University.   An agricultural school, a normal school, and NTU.  I am adding "NTU" to my list of reference options for the Land Thieves.
The etymology of Boomer Sooner:  "Boomers were those who by constant agitation tried to bring about the opening of Oklahoma to settlers before 1889, and Sooners were the settlers who slipped in to stay before the gun was fired. In 1905, Arthur M. Alden, a history and physiology student, wrote the lyrics to the university's "Boomer Sooner", borrowing the tune from Yale's "Boola-Boola" but improvising on the words. A year later an addition was made to it from North Carolina's "I'm a Tarheel Born" and the two combined form the university's battle song of today."  Yale, the University of North Carolina, and OU.  Reminds of the Sesame Street song "one of these things is not like the other things".  But of all the strange things I have read on the Interwebs in the years of researching and writing this weekly epistle, this may take the cake:  "The tune of the song is also used for Albania's popular national song, "Shqipëri, atdhe i dashur!" ("Albania, dear fatherland!").  I look forward to verification and explanation.
Found this last year, and decided to include it again.  BOOM TOWN: The Fantastical Saga of Oklahoma City, Its Chaotic Founding, Its Apocalyptic Weather, Its Purloined Basketball Team, and the Dream of Becoming a World-Class Metropolis.
http://nymag.com/daily/intelligencer/2018/08/how-oklahoma-city-was-born-in-a-day.html
From the article:
Consider, for instance, OKC's bizarre origin story. It reads less like an episode of actual history than a spaghetti western written by a faulty algorithm. The place was founded on a single afternoon, in an event called the Land Run, during which a formerly empty patch of prairie became a city of 10,000. The chaos that ensued was so alarming that the U.S. government never allowed anything quite like it to happen again. This formative absurdity set the tone for everything that followed: the shootouts and power grabs and even – eventually – NBA basketball.

Oklahoma City was born in an event called, with extreme dramatic understatement, the Land Run. The Land Run should be called something like "Chaos Explosion Apocalypse Town" or "Reckoning of the DoomSettlers: Clusterfuck on the Prairie."
George L. Cross was president of OU from 1943 to 1968.  In 1951 or 1952, Dr. Cross was defending a budget request to the State Legislature.  For more than an hour, Dr. Cross detailed why the university needed the money.  He is famously known for stating that "We want to build a university our football team can be proud of."
Beat the Hell out of OU
Four of my favorite plays in the RRS:
Lendy Holmes meets Quan Cosby.
Rodrique Wright rumbling in, with a call by the great Keith Jackson:
Shipley's Kickoff Return:
Stonie Clark's Fourth Down Goal Line Stop (Clark was from Winona, Texas)
This is my 2019 collection of Texas-OU videos.   Enjoy.  I have indicated the video length, so you can make some time commitment decisions.
OU-Texas Tunnel story from Fox Sports Southwest.  (7:42).  Really good.
A 2019 Hype Video for the game.  This might have been an intro video of this week's edition, but for the rap music with the incessant use of the N-Word (4:32).
Highlights from Last Year's Texas Victory (8:33):
ESPN RRS History, from last year (5:15)
Red River Shootout – 10 minutes, but good.
Rites of Austin – 5 & half minutes.  Some good commentary from the great Robert Heard.
Red River Rivalry – about 90 seconds –
Red River Rivalry – 4:30.
Finally, Cross Canadian Ragweed.  Boys from Oklahoma.  Not politically correct, NSFW, and if you are easily offended by improper language, just skip it.
Texas Longhorns 42, West Virginia Mountaineers 31
The Mountaineers were so fired up to play Texas.  And like other schools, they have embraced the Horns Down.  Bless their hearts.
Saw these walking the concourse. pic.twitter.com/zLVDttw4Gj

— Brian Davis (@BDavisAAS) October 5, 2019
Texas was favored by 10.5, and the Horns covered.  The teams easily busted the over of 60.5.  The series with West Virginia is now 5-4 in favor of the Mountaineers, and I look forward to watching the Horns even it in Austin next fall.
Given how much I enjoy writing this letter for the AT&T Red River Rivalry, I have come up a bit short on time as it is getting late Thursday night, and I do have to be on Interstate 35 somewhat early in the morning.  So another week without a full game recap.  But key drives and plays:
Mountaineers came out hard and fast, and that first drive was 89 seconds, 4 plays, and 76 yards concluding with that amazing catch by Sam James for the WVU score.  That drive was significantly aided by a personal foul on B.J. Foster and then a pass interference call on D'Shawn Jamison. I was probably as concerned about 2 penalties as I was the completions.
The next Texas possession was a calm, workmanlike drive that ended with Dicker missing wide left from 42 yards.  But what could have been an opportunity for WVU to go up two scores quick was immediately snuffed as Ayodele Adeoye picked Kendall Austin's pass on the first play of the WVU possession, setting the Horns up at the Mountaineer 27 with his 13 yard return.  One Ingram run, then Ehlinger to Epps for 22 and 6 points.  (Disturbing that we got a delay of game on the PAT; Texas cannot have silly mistakes like that on Saturday.)
Horns and Mountaineers traded possession, punches, and position for the rest of the first period.
WVU's first possession in the second quarter started on their 40.  And it didn't take them long – 73 seconds – to get in the endzone, keyed by a 44 yard completion on their second play.  14-7 WVU.
One thing I love about these Horns:  They answer.  Texas got the ball on the UT 31 after the kickoff and a 16 yard return from Devin Duvernay.  4 of the first 5 plays were Roschon Johnson, including a 10 yard catch and run, with a 6 yard run to end his string with the Horns at midfield.  Then Kirk Johnson was back!  6 yard gain, and then Ehlinger to Marc Washington (okay, how many of you were expecting to see Washington?  Honestly?).  Johnson & Johnson combined for 12 more yards on the ground, then Ehlinger hit John Burt for 13 yards and the score, with Dicker the Kicker tying the game at 14.
WVU's next drive ended with a missed field goal, and Texas took over at the Horns' 20.  Roschon broke off a 17 yarder, and after a short pass to Eagles, he carried for 13 more yards into Mountaineer territory.  A great play and great pass to Cade Brewer for 25 yards had the Horns on the WVU 22, flipping the field in 4 plays.  Duvernay with a 9 yard catch, then Sam took it to the house after the Mountaineers had good pass coverage but left the middle of field wide open.  A No. 8 audible, in my mind.
The half ended as WVU's drive had only gotten to the Texas 30 with 4 seconds left, and Evan Staley was wide right this time.  We were fortunate that he missed those 2 field goals in the first half, and Texas took a 21-14 lead to the halftime locker room.
That third quarter was ugly.  First UT possession 3 and out after Darius Stills sacked Sam on third down (I said we had to block those Stills boys!).  Mediocre punt gave WVU ball at midfield, but that's when D'Shawn Jamison made that beautiful one-handed pick on their first play, immediately giving the ball back to Sam.  Disappointed that we were 3 and out again, and both teams puttered along with some inconsequential football.  Close to the end of the quarter, Ehlinger threw an interception, and the Mountaineers got the ball on the Texas 14 (a 34 yard return on the pick, plus 15 yards for unsportsmanlike conduct; we cannot do that stuff).  Amazingly, the Texas defense was tight, and the Horns forced a field goal.  21-17 Texas.  I didn't enjoy much about that third quarter.
Texas go the ball and started moving.  3 Roschon rushes for 24 yards, then Ingram knocked by back by Darius Stills for 1 yard, as the quarter ended.  Another incompletion to Eagles, and after the Bujcevski punt, WVU was backed up to their own 8.
That's when Texas won the game, because on third down of that WVU series, B.J. Foster with another pick of Austin Kendall (that was the cool tip-drill interception), and the Horns had the ball on the WVU 18.  With third and 5, a great play call putting Devin in the backfield and handing him the ball.  Touchdown.  Texas up 28-17.
You could sense the tide had turned irrevocably to Texas, and you knew it had one play later, as D'Shawn Jamison intercepted Kendall again, reading the pass and stepping right in front of the WVU receiver, and a 12 yard return had the Horns at the WVU 33.
That possession ended with the pass to Sam Cosmi who scored (technically a run, since it was a backwards pass), and the Horns had doubled up the Mountaineers, 35-17.
A couple of possessions later, West Virginia managed a quick 74 yard drive which was troublesome, as we had this solid lead and our defense and first team (or what was by then our first team) secondary gave up 5 consecutive passes for 90 second drive and 7 points.  35-24.
As I said, these guys answer.  Aided by a failed onside kick, Texas got the ball at midfield, and 3 runs from Roschon and an unsportsmanlike on WVU had the ball at the Mountaineer 23.  That next read option play by Sam was perfect, and he saw the open middle and took it to the house.  42-24 Horns.
West Virginia's last possession was a well-executed 81 yard scoring drive, but too little too late.
Sam Ehlinger had a solid if not spectacular day, throwing for 2 TDs, running for 2.  Roschon Johnson with a great day – 121 yards on 21 carries.  And of course Devin Duvernay, 6 catches for 89 yards plus that 13 yard touchdown run.
Good highlights – 10 minutes:
Short (4:33) from the Big 12:
All in all, a good road win to keep the Horns undefeated in the Big 12.
A good tune-up for the Land Thieves.
The State Fair of Texas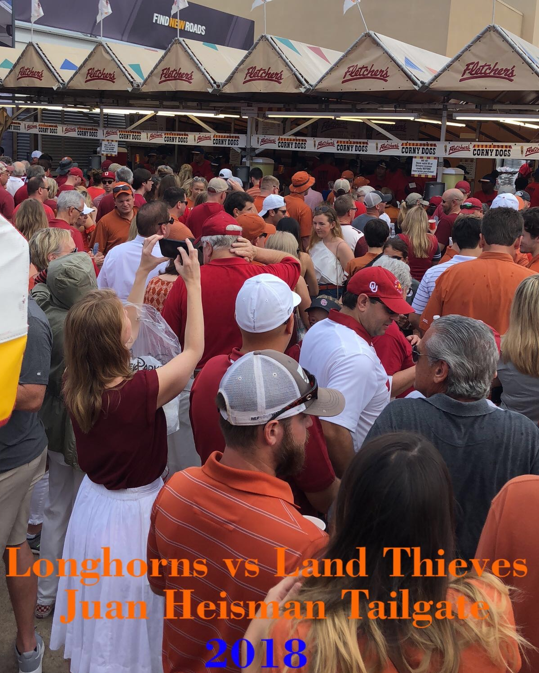 We all know that part of the fun of the game and being at the State Fair of Texas is the fried foods.  This year is no exception.
The Dallas Morning News made it extra easy.  An article on the good stuff, and a map on where to find it.  Dear Diary:  Jackpot!
https://www.dallasnews.com/arts-entertainment/state-fair/2019/09/27/state-fair-food-map-where-to-try-the-2019-big-tex-choice-award-foods/
My choices (these are the Fair's descriptions, not mine):
Fernie's Fried Burnt End Burrito:  The pinnacle of barbecue combined with everyone's favorite spicy appetizer! A large flour tortilla is filled with a jalapeno popper spread of cream cheese, savory bacon, Mexican blend cheese, mildly spicy diced jalapenos, pepper jack, and smoky nuggets of barbecue burnt ends.  Quick fried to a golden brown crispy and served with a sweet tangy, spicy barbecue sauce.
Texas Cream Corn Casserole Fritters:  Grandma's traditional Cream Corn Casserole with a Texas twist! Cream corn, kernel corn, sour cream, cheddar cheese, and cornbread mix are combined into a batter, chopped bacon, and freshly diced jalapenos. Instead of baking, the Corn Casserole is fried into crispy, lightly browned fluffy pillows of frittery goodness! Four to an order are arranged around a Cream Corn Queso Blanco for dipping and sharing!  [Don Garrett if you are at the game let me know and I will but you some of this!]
Cajun Crab Bombs:  Two iconic flavors of the Gulf: crab and shrimp, are combined with a Cajun twist to make our mouth-watering "Cajun Crab Bombs"! First, we take jumbo lump and backfin crab meat and mix in just enough egg, panko, and seasoning to form our signature "Crab Bombs"! Next, we insert a jumbo shrimp into each bomb, with the tail sticking out as "The Fuse"! The Crab Bombs are then dusted lightly with fish fry and Cajun seasoning before fried golden brown. Served with Remoulade Sauce.
See them all here:  https://bigtex.com/food/choiceawards/
And here:  https://bigtex.com/food/newfoods/
The cardiologists of Texas say THANK YOU BIG TEX!
Polls
 AP Top 25:  Alabama, Clemson, The Ohio State University™, Georgia, Louisiana State, Land Thieves, Florida, Wisconsin, Notre Dame, PSU.  Texas at No. 11.  Auburn drops to 12.  Virginia at 20.  Southern Methodist at 21 after that OT win in Tulsa.  Baylor enters the AP at No. 22. Texas Agricultural & Mechanical at 24.
Coaches Poll:  Roll Tide, Clemson, UGa, The Ohio State University™, Land Thieves, Louisiana State, Go Gata, Wiscy, PSU, and L'Université de Notre Dame du Lac.  Texas up to No. 11.  Wahoos at No. 19.  Texas Agricultural & Mechanical is 21.  Southern Methodist at No. 22, and the Brazos Baptists at No. 23.
JHT in Big D
As is our custom, a large contingent of the Juan Heisman Tailgate Crew will be in Dallas.  Friday night I will be at Javier's with the Crowley's, the Ivan Young's, and rooms full of Horns and Sooners.  It is always fun, and the perfect way to kick-off the weekend before crashing at Tony Dewar's for a few hours' sleep.
Most of meet up in our usual spot before the game, to Big Tex's left, at the entrance to Grand Place.  Fletcher's Corny Dogs and 2 or 3 Wax Paper Cup Beers (Matt Craig, one will be lifted for your dad), and then begin Pilgrimage toward the Holy Ground. Halftime in the food court for a Frito Pie (they will do it the TCT Way if you ask:  Fritos, then cheese, then chili) and a cold Shiner Bock.  After the game, re-group in front of the Old Mill Inn.  Look for me.  I will have on a Texas cap, burnt orange Columbia shirt, Wrangler jeans, and Redwing boots.  Can't miss me.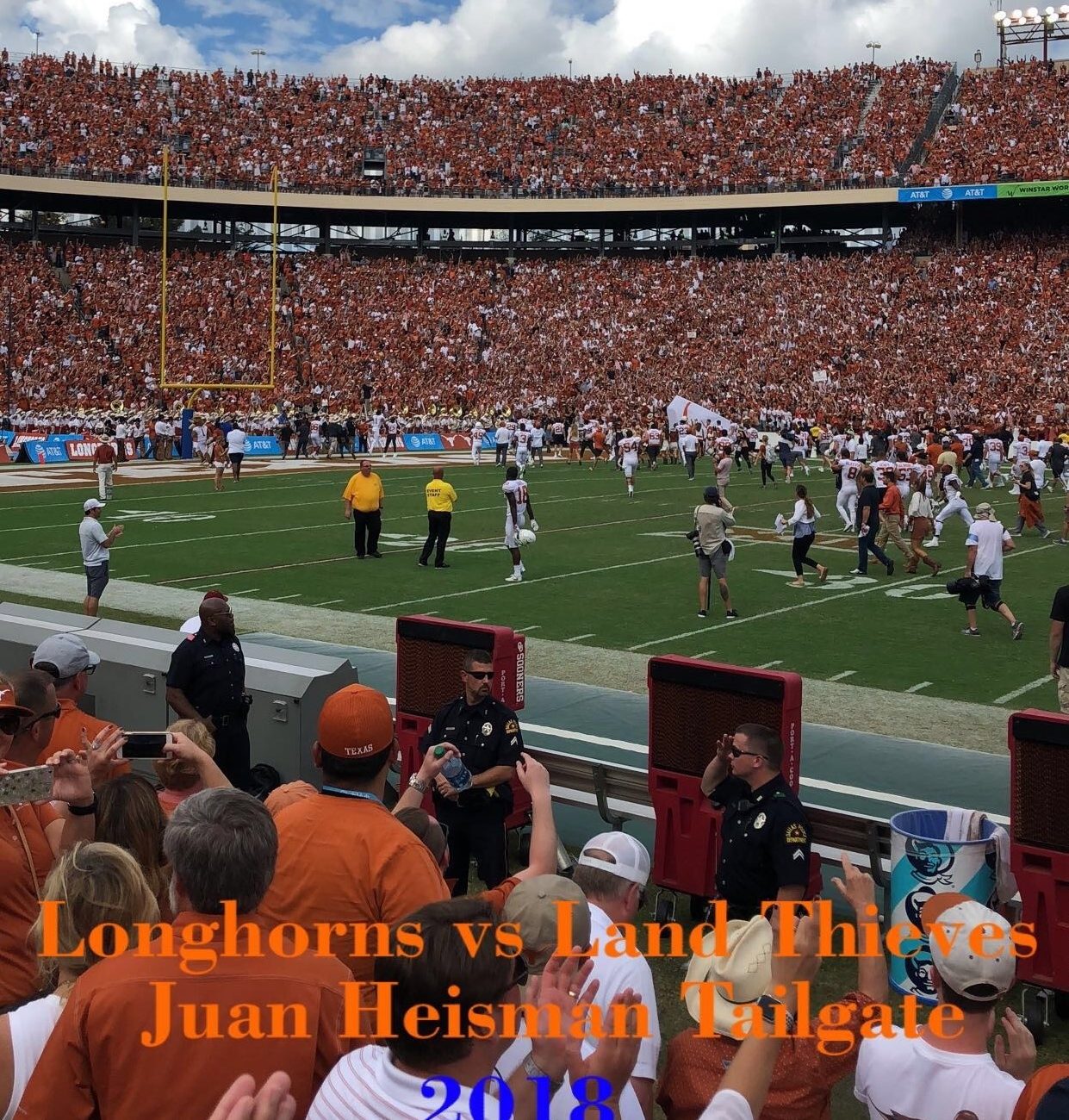 Week Seven in College Football
Big XII
Only two other games on the conference slate this weekend, with the eyes of the Nation on Dallas and the game in the Cotton Bowl.
Sand Aggies go to Waco to play undefeated No. 22 Baylor.  Hats off to Matt Rhule for turning the Bears around.  3:00 p.m. on Fox Sports 1.  Baylor favored by 11, and the over/under is 58.  Tech is 3-2, and are a bit of an enigma.  Two losses are a road loss to Arizona and 55-16 beating in Norman by the Land Thieves.  As noted below, they beat Okie State 45-35.
In related news, I am shocked – shocked – that Art Briles is already in trouble at Mt. Vernon High School.  The case is still working its way through the process, but allegedly two players were ineligible but played, and Briles may be forced to forfeit as many as 5 games.  #CAB
Iowa State gets to make the trip to Morgantown.  Also a 3:00 p.m. start, with the game on ESPN.  Cyclones favored by 10.5, and the over/under is 53.
Top 25
Friday Night
No. 20 Virginia at Miami (FL).  7:00 p.m. on ESPN.  4-1 Cavaliers actually 2 point underdogs to 2-3 Miami (FL).  Last time Manny coached against Bronco, well, it didn't go well.  See, Tarmac Firing.  [Also:  BYU school record for rushing with 550 yards, September 7, 2013.]  The Fleming, Dean, and Taylor families will be pulling for the Hoos!  I will be at Javier's, checking the score on my iPhone.
Colorado heads west to Autzen Stadium for a game with the No. 13 Ducks.  Buffs are 3-2, Oregon 4-1.  9:00 p.m. on FOX Sports 1.  Oregon favored by 21, and the over/under is 60.  Hard to stay up and watch that late game on Friday when we have to be up and rolling toward Fair Park so early.
Saturday
No. 3 Georgia (5-0) hosts Will Muschamp and the Gamecocks (2-3) between the Hedges,  11:00 a.m. on ESPN.  South Carolina 23.5 point road underdogs.  Over/under is 53.  Might get ugly for SC.
No. 16 Michigan (4-1) at Illinois, 11:00 a.m. on ABC.  The Fighting Illini (are they still called that) are 2-3.  Surprised this got the 11:00 slot as much as ABC likes the 11:00 game (noon on the East Coast) for Big 10 games.  Wolverines favored by 22, and the o/u is 49.
No. 23 Memphis (5-0) at Temple (4-1).  11:00 a.m. on ESPN2.  A good game, but a lot of competition for viewers.  Tigers favored by 5.5 over the Owls, and the o/u is 50.  Take the Owls and the points.
The 2:30 Columbia Broadcasting Southeastern Conference game is in College Station.  Probably good it is on CBS and not ABC (see link below).  No. 1 Alabama at No. 24 Texas Agricultural & Mechanical (3-2).  The Aggies are 17 point home dogs to the Tide.  The over/under is 61.  TexAgs.com should be entertaining.
Thanks @TexasTakeover05 twitter account, I was introduced to Chris Fowler's Instagram.  He and Herbstreit have conversations in the car to the hotel or airport after they call the Saturday ABC night game.  It is pretty interesting.  Here is the segment on College Station, Kyle Field, and the Fightin' Texas Aggies:
Gameday crew discussing on Instagram Live how Texas A&M never wins big games at Kyle Field, and question how intimidating the environment is.

"Why do we build it up so much?" -Kirk Herbstreit pic.twitter.com/rONV5TF8d3

— Texas Takeover (@TexasTakeover05) October 6, 2019
No. 2 Clemson at home to play Florida State (3-2).  2:30 p.m. on ABC, and the Tigers are favored by 27 over the Seminoles.  Tough year Richard.  Sorry.  Over/under is 60.5.   Clemson to win, but not sure about the points.
Michigan State at No. 8 Wisconsin, as the Badgers play their fifth consecutive game at Camp Randall.  2:30 p.m. on BTN.  Wiscy favored by 10.5, and the over/under is 40.5.  I think this will be a good game, as the MSU defense is pretty good.
Washington State (3-2) at No. 18 Arizona State (4-1), 2:30 p.m. on the Pac 12 Network.  Line is even.  Leach needs a win bad, but not sure it will make a difference in terms of a shot at a conference (or even division) title.
No. 25 Cincinnati (4-1) at Houston (2-3).  2:30 p.m. on ESPN2.  Bearcats favored by 7.5, and the over/under is 51.5.
Southern Cal (3-2) heads to Indiana to play No. 9 Notre Dame.  6:30 p.m. on NBC.  Irish favored by 11, and the over/under is 59.  Sorry Art, have to pull for the Irish and the Dean clan.
No. 10 PSU (5-0) at No. 17 Iowa (4-1).  No secret my opinion of and dislike for PSU.  Hope Carl Stuart has a good trip and the Hawkeyes knock the Penitentiary Lions from the ranks of the undefeated.  PSU favored by 3, o/u is 42.5.  6:30 p.m. on ABC.
Louisvile (3-2) at No. 19 Wake Forest (undefeated!).  6:30 p.m. on the ACC Network.  Deacons favored by 6.5, and the over/under is 66.  Good luck to Wake.
No. 5 Louisiana State hosts No. 7 Florida in Death Valley.  Gators 6-0, Tigers 5-0.  7:00 p.m. on ESPN, and I will be in Tyler with my Dad and Charles to watch this game (and the Astros) and enjoy some family time.  Louisiana State favored by 13.5 (they are that good), and the over/under is 56.  Geaux Tigers!
No. 15 Utah (4-1) at Oregon State (2-3).  7:00 p.m. on the Pac 12 Network.  Utes favored by 14.5 over the Beavers, and that is a hard one as I look at some of these other spreads.  Oregon State is not good, and Utah is.  I am taking Utah to win and cover.   Over/under is 59.5.
Late night game on the Smurf Turf in Boise.  Hawaii (4-1) at No. 14 Boise State (5-0).  9:15 p.m. on ESPN2.  BSU favored by 13.5, and the over/under is 60.5.
Other Games of Interest
Thursday night, Syracuse lost at NC State 10-16.
Louisiana Monroe was down the road in San Marcos to play the Bobcats.  Texas State came up short, 14-24.
Saturday
Miami (2-3) at Western Michigan.  11:00 a.m. on ESPNU.  Broncos favored by 13 over the Redhawks.  Over/under is 56.5.  My guess is Jimmy U has Miami and the points.
Brigham Young (2-3) at South Florida (2-3).  2:30 p.m. on CBSSN.  Cougars favored by 5.5 over the Bulls.  Over/under is 50.5.
UNLV at Vandy.  Both 1-4.  3:00 p.m. on SECN.  Of interest because the Commodores are favored by 15.
UT San Antonio hosts UAB in the Alamodome.  UTSA 12.5 point underdogs.  5:00 p.m.
Army (3-2) at Western Kentucky.  Black Knights favored by 4.5 over the Hilltoppers.
North Texas at Southern Mississippi.  USM favored by 3.
Air Force Academy hosting Fresno State.  6:00 p.m. on CBSSN.  AFA favored by 3.5, and the over/under is 50.
Ole Miss (3-3) at Missouri (4-1).  6:00 p.m. on ESPN2.  Tigers favored by 12.5.  Over/under is 56.  Hotty Toddy!  Go Rebs!
Navy (3-1) at Tulsa (2-3).  6:30 p.m. on ESPNU.  Even, and the over/under is 54.
The Week that Will Be:  Play it Again, Sam
From HornMafia:
https://www.barkingcarnival.com/2019/10/9/20907597/the-week-that-will-be-texas-longhorns-rrs
(And hat tip on this week's title.  Useful shot there Matt.  Useful.)
Last Week in College Football
Big XII Week VI
The Land Thieves were 32 point favorites against Kansas, and I thought that was low.  45-20 win for OU, but 13 of the KU points were in the fourth quarter (to 10 final period points for the Land Thieves).
I am shocked that the Sand Aggies beat up Okie A&M so bad, 45-35.  Chuba Hubbard ran for 156, but it was Tech's Jett Duffey who shined.  Duffey was 26/44 for 424 yards and 4 TDs.  OSU's Sanders had a bad game – 22/37, but just 290 yards and 3 picks (2 TDs).  Cowboys were 10 point favorites.
Iowa State showed up at home in a big way, putting a 49-25 beat-down on Texas Christian in a game where they were favored by just 3.5.  Cyclone QB Brock Purdy had a big game – 247 yards and 2 TDs in the air and 102 yards and 2 TDs on the ground.  The over/under was 43.5.  And I said "This will probably be a very close game."  Nope.
Baylor was a 1.5 point road dog against K State, and I think most folks thought the Bears undefeated season would end in the Little Apple.  Not hardly.  Bears played solid defense as expected (341 yards and 1 TD), and Brewer had a nice game.  But the Baylor rushing game was particularly good, with 158 yards net (180 without the Brewer lost yards) and 3 scores.
Top 25 Week 6
Friday Night
Cincinnati with a big 27-24 upset of Central Florida.    Glad the paint job for the Bearcat field was a joke.  Good one Cinci.
Saturday
Louisiana State beat Utah State, 42-6, and I thought the 26.5 point was maybe a bit high.  Obviously wasn't.  Tigers are really good, and I can see them in the CFP.
Wisconsin with a 48 to nothing shutout of Kent State, easily covering 35.5.  Jonathan Taylor squarely in the Heisman discussion, with 186 yards on 19 carries and 4 scores.  Maybe the Horns can help him out this weekend.
Purdue 7, PSU 35.  Line was PSU -28.5.  Vegas nailed that one.
An old fashioned Big 10 game in the Big House, as Iowa was held to one (1) yard net rushing and 3 points.  66 yards lost, as Michigan tallied 8 sacks and 13 TFL.  Damn.  Oh yeah, and the Wolverines scored 10 points and won (and covered 3.5).  Called that one.
Florida took down Auburn, 24-13, in a sloppy game in the Swamp.  Nice upset for the Gators.
Notre Dame rolled over Bowling Green, 52-0 (and covered the 45.5 line).  Called that one.
Georgia tore up Tennessee 43-14.  Bulldogs covered.
Michigan State was a 20 point underdog at Ohio State, and as I guessed, Vegas was right.  Buckeyes 34, Spartans 10.
Tulsa at Southern Methodist.  I can't remember the last time I watched any significant stretch of a Mustangs game.  But we were at a party, and as the party wound down those of us who wanted to drink a bunch more of our gracious host's very, very good red wine wanted to watch the end of the game gathered around the TV around the start of the fourth quarter, as Southern Methodist trailed 9-30.  A pretty big deficit.  But a couple of the guests were Mustangs, and one friend was there solo as her husband (who played for the Ponies) was at the game.  As Buechele and Dykes managed to score 3 touchdowns (and convert 6 fourth downs) in the fourth quarter to tie the game and force overtime.  I will confess, I started pulling for the Southern Methodists.  I got caught up in the excitement and all these other folks were cheering for the Ponies and well, why not?  Heck, I am getting soft in my late middle age.  Anyway, a great comeback and great win in triple overtime for the Mustangs.  43-37.  Congrats to Buechele.  Dick, glad you were there to watch.
Cal Berkeley loses 7-17 at Oregon.  Why did I think the 46 point over/under was low?  Bears covered.
One heck of a great game on the Farm as Stanford upset Washington 23-13.  That's a 26.5 point swing against the line, and I am happy for my Cardinal friends, especially Margrave who was there.
Boise State 38-13 over UNLV in Vegas.  Broncos cover 22.  Over/under was 57.
Other Games of Interest in Week Six
Hotty Toddy!  Ole Miss sinks Vandy, 31-6.
Tulane with a 42-33 win over Army, covering.
Air Force Academy was favored by 3.5 at Navy, but the Midshipmen prevailed 34-25 in a heck of a game in Annapolis.  Air Force rallied with 16 points in the fourth quarter to get a lead, but a late drive by Navy gave the Middies a late lead.  The Navy victory was secured with a fumble return at the end of the game.  Big upset for Navy to take the first game in the campaign for the Commander-In-Chief's Trophy.  The service academies are playing good ball.
North Carolina 38-22 over Georgia Tech.  Good win for Coach Mack!
Rice.  I really am pulling for you guys.  20-35 loss at UAB.  Owls didn't even cover.
Pitt with a big road win and upset at Duke, 33-30.
UT San Antonio with a 26-26 win and upset of UTEP.
Washington & Lee
The Generals 30-10 over Ferrum, to go to 3-0 in ODAC play and 4-1 overall.  W&L ran for 320 and passed for 170!  What is up with the forward pass?
This week, W&L has a bye.
Music
As mentioned, my friend Don Counts is a great resource on music and a generous sharer of knowledge and tunes.  He pointed out that in the last two months, two great country artists had released new albums.  Rodney Crowell released TEXAS, and Vince Gill released OKIE.
Rodney Crowell (with Lyle Lovett), What You Gonna Do Now?
Flatland Hillbillies, Rodney Crowell:
Brown & Root, Brown & Root (NSFW), by Rodney Crowell (with Steve Earle)
Texas Drought, by Rodney Crowell
I Don't Wanna Ride The Rails No More, from Vince Gill:
A World Without Haggard
The Red Words, from Gill:
God Bless Texas
Tim Taylor
Tailgating before Home Football Games
The Juan Heisman Tailgate
Lot 38, East of Sid Richardson Hall.
HOOK EM HORNS!!
© Timothy C. Taylor, Sr. 2019.  All Rights Reserved (as to original material).
On Twitter:  @tctayloratx
On LinkedIn:  www.linkedin.com/in/tctatx
On Instagram:  @tctayloratx
On Facebook:  www.Facebook.com/Tim.C.Taylor
and:  www.Facebook.com/Juan.Heisman