Good Morning Longhorn Fans!
Welcome to the 128th Season of Texas Longhorns Football!
Traditions
My standard opening for the season.  Three of my favorite UT videos.  The first is a campus fly-over set to the Eyes of Texas.  The other two are among my favorites from the "What Starts Here Changes the World" series, narrated by the legendary Texas Ex Walter Cronkite.
I have mentioned to a few folks over the last few years how cool it would to re-make a couple of the What Starts Here videos in HD, with the current Austin skyline.
There is a lot of great content being produced, especially in the athletic department.  In addition to following the main UT social media accounts (like @texaslonghorns and @texasfootball), I highly recommend @mattjlange.  Matt Lange is the Creative Director for Texas Longhorns football.
A good one from The University
The 2020 Season
I think there are three key story lines for the 2020 season, at least as we get it started.
The first and most obvious:  Sam Ehlinger.  Number 11 returns for his Senior season with the hopes and expectations of Longhorn Nation on his shoulders.  His stellar career to date has him as one of the top two quarterbacks in Longhorn history, statistically.  He's on almost everyone's preseason Heisman short list.  He's on the preseason watch lists for the Davey O'Brien Award, the John Unitas Golden Arm Award, the Manning Award, the Maxwell Award, and the Wuerffel Trophy.  Preseason All-American and Big 12 in multiple media outlets and publications.  The Game Notes (link below) are filled with pages of Sam's amazing stats.  These include:
Most completions (571), second in passing yards (6,955), and third in passing touchdowns (57) among active FBS Leaders since 2018.
In that same sample, Ehlinger is tops in total offense (8,100 yards) and total touchdowns (80).
As a Longhorn, for his career, Sam is top 3 in completions, passing yards, total offense, passing touchdowns, rushing touchdowns, and total TDs, among other statistical categories. In most, he is second (behind Colt McCoy), and joining Colt and Sam in the top 3 is almost always either Vince Young or Major Applewhite.
As for Longhorn season records – same thing. Top 3 in almost all categories, behind Colt in most, although he is first in a few (Most games with 3+ passing TDs, most games with 200+ passing yards).
For Longhorn fans, we have had the opportunity to watch an historic Texas quarterback.  I am glad we are getting the chance to see him play in 2020.
What the stats don't tell is this:  Sam Ehlinger is a leader of men, with a huge heart and a great football mind.  He's a good guy.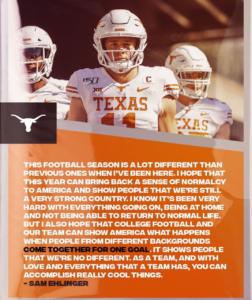 Yes we can Sam.
I have no doubt that if we (college football) make it through the season and we have a playoff, Sam Ehlinger can lead us there.  Just as I believe we would have a great shot if this were a normal season.  Good luck Sam.
The second story line is the Texas Offensive Line.  This is probably the best line we have had in long time, and if this unit lives up to expectations, then 9 or 10 wins is certainly within our reach.
Samuel Cosmi (#52, 6-7 & 309 pounds), is a redshirt junior with 26 career starts, and most likely playing his last season at Texas.  He can and will play on Sundays.  Our Left Tackle is a multiple preseason All-American and All Big-12 and on the Outland Trophy Preseason watch list.
And I will never forget this:
The center is Derek Kerstetter (#68, 6-5, 310), a senior with 28 career starts, although most of those have been at tackle.
To Derek's left will be sophomore Junior Angilau (#75, 6-6, 294, 12 career starts).
Those three have the most experience, and they are joined by right guard Denzel Okafor (Senior, #78, 6-4, 315, 5 starts), and right tackle Christian Jones (Sophomore, #70, 6-6, 305).
The third story line:  The Texas Defense.  As statistically detailed below, the 2019 defense was atrocious.  It must improve under new DC Chris Ash.  Can it?  Absolutely. Will it?  Yes.  First, as we saw in the Alamo Bowl, Joseph Ossai is a special talent.  As I understand it, we will have 3 down linemen, 2 linebackers, and Ossai as the "Jack", and then the 4 DBs (all of this changes depending on the scheme, the most recognized of which is when we go to the nickel).  Ossai will be on the line, dropped back, or wherever he needs to be to cause havoc, disrupt plays, and make opposing quarterbacks unhappy.  (He is also, like Sam, on multiple preseason watch lists, including Butkus, Bronko Nagurski, and Chuck Bednarik.)   Second, Chris Ash is (or should prove to be) the best defensive coordinator we have had on The Forty Acres in quite a long time.  He turned around a bad The Ohio State University™ Buckeye defense in a year, helping them win the national championship in 2015 with a much improved, top-20 defense.  By almost all accounts, Chris is a great teacher of solid, fundamental defense.  I would really, really like to see some solid, fundamental defense played by the Texas Longhorns.  For a whole season.  More on some of the other players below, but as Tom Herman noted in his presser this week, our front three is really good.  Just like the offensive line, the D Line has three solid experienced players:  Keondre Coburn (Sophomore, #99, 6-2, 348, 12 starts) at nose tackle; Ta'Quon Graham (Senior, #49, 6-4, 294, 14 starts) at defensive tackle, and Moro Ojomo (Sophomore, #98, 6-3, 276, 3 starts) at defensive end.  The defense is on the young side.  On the 3-deep Depth Chart, just 3 seniors.
The UTEP Miners v. The University of Texas Longhorns
 Yes, we are playing football.  I was crushed after the baseball season was cancelled (more below), and I know that like so many things in our lives now, I will be much more grateful for so many things once taken for granted.  Seeing family and having meals with friends may be at the top of the list of things I have missed the last six months, and Texas sports is up there too.  I can't wait for Saturday.
Texas begins the 2020 campaign against the Miners from The University of Texas at El Paso.
Texas leads the series with the Miners 5-0.  The closest game was in 1933, when Texas won 22-6.  The last 3 meetings have been 42-13 (2008 in El Paso; one of my favorite newsletters ever); 64-7 in 2009; and 41-7 in 2016.  Average score of 39.4 to 6.6.
The Longhorns and Miners will kick-off around 7:15 Saturday night on Campbell-Williams Field in Darrell K Royal Texas Memorial Stadium, in front of limited capacity crowd.  I am guessing most who can get tickets will be there, so about 25,000 folks.  When Memorial Stadium opened in 1924, capacity was around 27,000.
The game will be broadcast on the Longhorn Network; Lowell Galindo with the PxP, Andre Ware with analysis, and Kris Budden on the sideline (I guess).  The game can be heard around the world on the Longhorn IMG Radio Network.  The Voice of the Longhorns, The Great Craig Way with the play by play, Roger Wallace with analysis (he's very good), and my friend Quan Cosby with more commentary and analysis (Quan confirmed he will be on the sideline – thanks Q!).  KOKE-FM in Austin, KIVY 92.7 in Crockett, and KROD 600 AM in El Paso.
The Longhorns are favored by 43, and the over/under is 58.5.  I will take Texas to cover and take the over.  Hook em!
The Texas Depth Chart: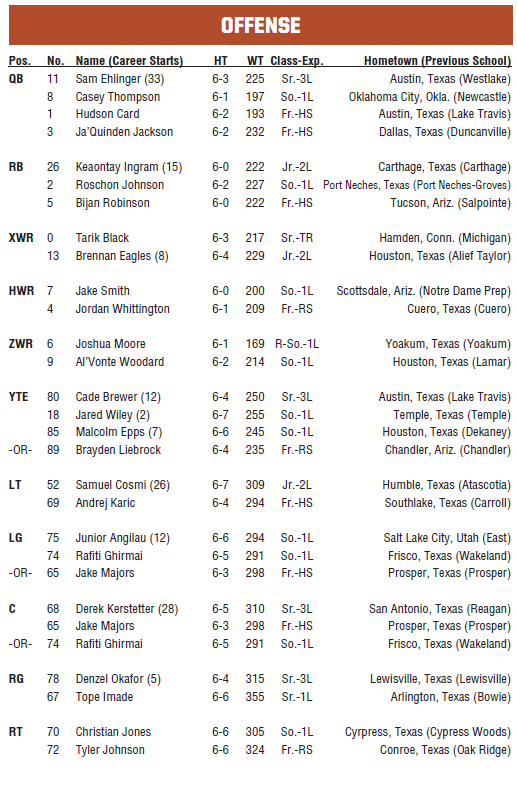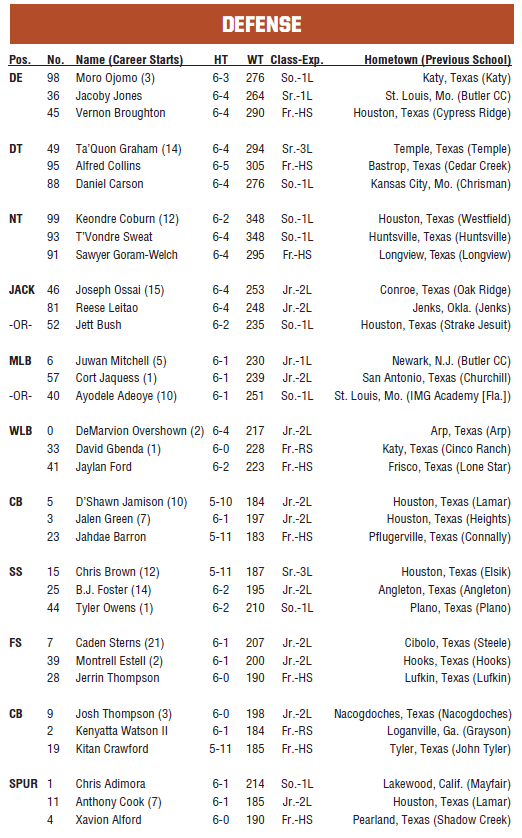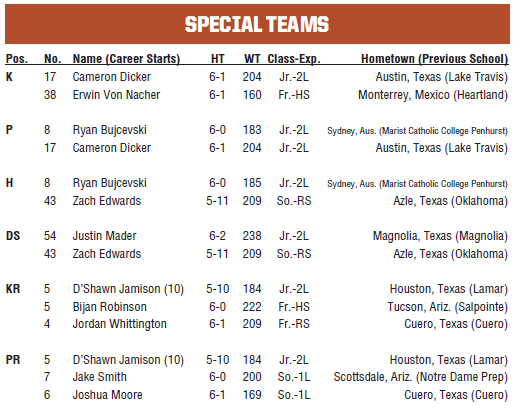 UTEP was terrible last year.  1-11.  But the Miners already have equaled that win mark, after beating Stephen F. Austin 24-14 last week to open their season.  Quarterback Davin Hardison was a pedestrian 17-28, 212 yards, 1 TD, 1 pick.  RB Deion Hawkins had 17 carries for 113 yards and 2 scores.  Receiver Jacob Cowing had 7 receptions for 116 yards (nice 16.6 ypc average).
Since it is early in the season and late at night, I am going to just take the good work of UT SID, and provide their comparison.  Maybe in a game or two I will start my typical stat comparisons.
The Texas Players
Full disclosure:  I have not done my usual homework on the players, how they have looked in practice, etc.  Just some thoughts.
I covered a few folks in the 2020 Story Lines above. Here are some other keys to Texas success in 2020.
I am dreaming big for Keontay Ingram.  Ingram finished 2019 with 853 yards on 144 carries, 7 TDs.  I think 2020 he will be on pace for what would be 1,000 yard season with a full schedule, maybe more.  As noted above, the high quality of the offensive line will benefit Keontay, and I expect our top man (6-0, 222) to have a nice junior season.  If he doesn't have that statistical production, it will most likely come from sharing the ball with other guys in the running back room.  Roschon Johnson is back at RB, and we saw RoJo's abilities last year.  And star recruit Bijan Robinson is third on the depth chart.  We are so stacked.
Wide receivers look good.  I am excited about Jake Smith, although I heard he has a hamstring injury and may not play Saturday.  That's okay.  I am also excited about Jordan Whittington (they are both at the HWR).
Not really sure what the issues are with Brennan Eagles.  He was a preseason favorite to have a break-out year and help fill the tremendous chasm left by the departures of Duvernay and Collin Johnson.  Eagles in fact was ahead of Collin last year in a number of statistical categories.  But Eagles is behind Tarik Black (#0, 6-3, 217) at XWR.  At the Z, Joshua Moore and Al'Vonte Woodward.  Scroll back up and you will note that of all 6 men on the depth chart at WR, only Eagles has any career starts (although obviously Jake had a lot of great playing time).
Will this be the year we finally see regular implementation of the tight end?  I hope so.  Brewer, Wiley, and Epps have all started games at Texas, and they are all good.
A big key on offense for me?  Mike Yurcich, our new coordinator, and his ability to call plays and manage a solid game and put Sam Ehlinger in the right places to win football games.  Going to happen. Take it to the bank.  Yurcich was a great hire, and I expect immediate dividends.
On defense, we have a lot of depth and a lot of experience.  At strong safety, all 3 men (Chris Brown, B.J. Foster, and Tyler Owens) have starts and a lot of playing time, and Brown and Foster have 26 starts between them. Our cornerbacks are really good and with similar experience and depth.  And then of course we have a guy who has so much talent and potential at free safety, Caden Sterns.  This may be the year we can rightfully re-claim the DBU title.
Official Preview:
https://texassports.com/news/2020/9/7/no-14-14-football-preview-vs-utep-sept-12-2020.aspx
Official Game Notes
https://texassports.com/documents/2020/9/7//Texas_2020_Notes_1.pdf
The University of Texas at El Paso
There is only so much one can think of to write about a school you have never visited in a town you have never seen.  Although I really want to go.  It is a fascinating city, and I really want to see it someday.  Maybe if I ever check off my "drive to California" bucket list item.
Anyway, I will admit I am recycling some of this.  But what the hell.  We are in a pandemic.
UTEP was authorized in 1913 by the Texas legislature, creating the State School of Mines and Metallurgy in El Paso.
After a fire destroyed the school of mines in 1916, then-dean Steven Worrell chose the school's current location as its new home.  Construction of the new school began in June 1917.  Worrell's wife Kathleen suggested the school's unusual style of architecture after recalling an article in National Geographic on Bhutan, "Castles in the Air."  The new buildings would resemble Bhutanese monasteries, or dzongs, with massive, gently sloping walls, high inset windows, projecting roof eaves and dark bands of brick with mosaic tiles in the shape of mandalas — the symbol of unity and wholeness.  By 1917, there was a cluster of castles along El Paso's mountains, and they continue to grow today.
Yes, I remain intrigued by the relationship between a mining school in El Paso del Norte and a Himalayan kingdom.  And thus one reason I hope to someday.
During a recent visit to El Paso, His Royal Highness Prince Jigyel Ugyen Wangchuk of Bhutan cheerfully emphasized that the style was quite harmonious with the Franklin Mountains that hover over El Paso like the Himalayas that surround his tiny kingdom. UTEP's understanding of Bhutanese architecture, design elements, and construction joinery techniques will soon be further abetted by a gift from the Kingdom of Bhutan—a hand-carved wooden lhakang (temple) that will be erected on the campus in the near future.
Can't remember sources on that.  That is from my 2009 UTEP newsletter.  But I like it.
Anyway, in 1920 they change to the College of Mines and Metallurgy, El Paso.  In 1939, enrollment goes over 1,000 (not a misprint  – one thousand).  A decade later, they change the name to Texas Western College of the University of Texas.  In 1954, the ROTC Rifle Team won the National Championship.  In 1967, they change the name to University of Texas at El Paso.  In 1991, the Nurse Midwifery Master's Degree was approved.
My favorite story from the annals of UTEP athletics history is the famous 1966 national champion basketball team.
https://www.utep.edu/glory-road/the-year/index.html
In 1966, the Bear, Coach Don Haskins took Texas Western College to the NCAA Final Four.  There, they met Utah in the National Semifinals, while the mighty Kentucky Wildcats under legendary coach Adolph Rupp faced Duke.  The Miners beat the Utes, and the Wildcats marched as expected into the National Championship Game.  Coach Rupp's team was all-white.  The Miners had 7 African-Americans.  Haskins started 5 in the final game of the season, making NCAA history.  And then they beat Kentucky 72-65, claiming an improbable championship and making Coach Haskins a living legend.
The University of Texas has a Gutenberg Bible and an iconic tower and the Littlefield Fountain and beautiful buildings and a stadium that will hold over 100,000 people – but we don't have a Bhutanese temple.  And I am not aware of any buildings on the Austin campus which follow the distinctive styles of massive Dzong architecture.
I am at peace with that.
Season Overview
2020 will be the most unusual football season in my six decades on this planet.  It is really hard to think about how odd this is going to be, but a few thoughts.
Preseason Ranking:  Texas is No. 14 in both the AP Top 25 and in the Coaches Poll.  A reasonable starting place given the circumstances.  Vegas Insider has Texas at No. 6.  The boys in the desert usually have a good handle on these things.  Vegas also has Texas winning 9 games (Land Thieves with 10, so 10/10 is a really important day).
Website:  Three years ago I launched www.AustinHornsFan.com.  If you miss a newsletter or want to go back and find some dumb prediction or exceptionally well-phrased sentence (both will be there) from the past, you can check it out.  All newsletters will be posted there (usually by noon on Friday), and sharing the link is an easy way to share this newsletter with friends.  These newsletters also look pretty cool on your phone.  Check it out sometime.
Administrative:  I have tried to use emailing programs for this newsletter, but to no avail.  So, I will continue my antiquated tradition of sending this email manually.  Usually sometime after midnight on Thursday, I start the process of emailing.  I have around 60 Outlook distribution lists, and this goes manually to each list or maybe 2.  If you want me to add a different address for you, let me know.  Yes, some of you get this more than once.  My apologies.  If you want me to add any friends or family, let me know.
I will also note that this year's newsletters may be inconsistent, and I might miss a week.  For example, I had planned to recap the Alamo Bowl, in my tradition.  Didn't happen.  Working in the pandemic has been a challenge, and everything takes longer to do.  So I have even fewer hours each day and each week than I have had in the past.
Juan Heisman Tailgate
The biggest change in my life and the lives of dozens of friends as far as Texas Longhorns football will be a season without the traditional Juan Heisman Tailgate.  A couple of weeks ago, the University was limiting the tailgating, and so we thought a few of us might just be parked near and around Juan Heisman.  But now they have made it clear – no tailgating.  And so it goes.  A tradition approaching a quarter of a century goes on hiatus thanks to SARS-CoV-19.
2020 Season
Joel Klatt's interview of Coach Herman is worth your time:
The Horns get a week off after UTEP to prepare for the Sand Aggies.  Texas travels to Lubbock for Game 2 and our conference opener with Texas Technical on September 26.  2:30 on FOX.  I don't think Tech is going to have a good year, even by Lubbock standards, so put this one down as a W.
Texas has its first conference home game on October 3 with Texas Christian.  The Horned Frogs have had our number lately, and frankly I am sick of it.  Herman has to beat Patterson this year, especially with the game in Austin.  Should be a W.
Red River Shootout with the Land Thieves.  October 10, in the Cotton Bowl.  And Fletcher's has announced they will be open.  Corny dogs and beer for breakfast with an 11:00 o'clock morning kick on FOX.  Texas wins this, and we are in the driver's seat for a Big XII regular season championship.  No prediction, as I haven't seen that new Land Thief quarterback play, and as much as I hate to admit it, Lincoln Riley is a masterful quarterback coach and offensive mind.  There. I said it.  It hurts.  Sam, please beat the Land Thieves.
Texas gets the Brazos Baptists in Austin on October 24.  Baylor is probably top 4 in the league.  Should be a good game.  Should be a W.
Scariest game on the schedule?  Halloween in Stillwater.  You know it will be a night game with Okie A&M from the Pickens Palace.  Chuba Hubbard is a Heisman hopeful, and for good reason.  Another great running back in a long line of stellar Cowboy backs.  This may be one of the best games of the years, and it is most likely one of the toughest for Texas.
West Virginia in Austin on November 7.  W.
Texas at Kansas on November 21.  Probably an 11:00 a.m. start on Fox Sports Southwest.  Definitely a W.  But I will watch.
Iowa State is, for now, a top tier Big 12 program.  They are good.  Going to be a tough, hard fought game, assuming both teams are relatively healthy.  As good as Sam was last season, Brock Purdy passed for more yards.  Looking forward to this one in Austin on the Friday after Thanksgiving.  (And for those of you who read my legal documents, that is why my contracts have the parties stipulate that the Friday after Thanksgiving Day is not a business day!)  But I think a W.
The Horns are scheduled to close the regular season in Manhattan.  K State has always played well against Texas, and last year's last second Dicker the Kicker game winner tied the series at 10 each.  But I think on December 5, Texas will take an 11-10 edge in the series.  W.
Who knows what happens after that. I am hoping that the kids stay healthy and safe, all of them, even the kids in Norman.  I hope we play a lot of games, and that by Thanksgiving, we are talking about some bowl games (hell, most of them are played before mostly empty stadiums anyway) and a college football playoff.
Texas Longhorn Football
 Texas remains one of the historically great programs in American college football.  We are truly one of the Blue Blood programs.
 All-Time Wins
| | | | |
| --- | --- | --- | --- |
| 1. | Michigan | 141 years | 962 wins |
| 2. | Ohio State | 130 years | 924 wins |
| 3. | Texas | 127 years | 916 wins |
| | Alabama | 128 years | 916 wins |
| 5. | Notre Dame | 133 years | 908 wins |
| | Oklahoma | 125 years | 908 wins |
| 7. | Nebraska | 130 years | 902 wins |
| 8. | Penn State | 133 years | 898 wins |
| 9. | Southern Cal | 132 years | 847 wins |
| 10. | Tennessee | 129 years | 846 wins |
If this looks different to you, it does to me too.  I took this from the Texas 2020 Season Guide, and there are some changes.  Not sure why, but looking into it.
By Winning Percentage
| | | |
| --- | --- | --- |
| 1. | Michigan | .729 |
| 2. | Ohio State | .729 |
| 3. | Notre Dame | .728 |
| 4. | Alabama | .727 |
| 5. | OU | .726 |
| 6. | Texas | .704 |
| 7. | Southern Cal | .698 |
| 8. | Nebraska | .690 |
| 9. | Penn State | .690 |
| 10. | Tennessee | .674 |
We are number 2 in all-time bowl appearances with 56 (tied now with Georgia), behind Alabama (71).  Horns are at number 5 in all-time bowl wins with 30.
In the State of Texas, the top 12 (per the great Kyle Umlang).  I highly recommend following Kyle on Twitter – @kyleumlang    (and while you are at it, follow me – @tctayloratx  Also my friend Dustin McComas, who writes for OrangeBloods –  @DMcComasOB).
Texas – 916
Texas Agricultural & Mechanical – 749
Texas Christian University – 655
Baylor – 607
Texas Technical – 571
North Texas – 521
Texas State – 516
Southern Methodist – 505
Henry March Rice University – 475
Houston – 445
UTEP – 397
UTSA – 45
All time winning percentage for Texas FBS schools:
Texas – .704
Texas Agricultural & Mechanical – .602
Texas Technical – .553
Houston – .543
Texas Christian University – .540
Texas State – .523
Baylor – .512
North Texas – .503
Southern Methodist – .480
Henry Marsh Rice University – .433
UTSA – .425
UTEP – .397
FBS Teams in Texas, weeks ranked at Number 1
Texas – 45
Texas Agricultural & Mechanical – 6
Texas Christian University – 2
Southern Methodist – 2
Baylor – 0
Texas Technical – 0
North Texas – 0
Texas State – 0
Henry Marsh Rice University – 0
Houston – 0
UTEP – 0
UTSA – 0
Some really great UTEP facts from Kyle Umlang:
Sam Ehlinger has more passing yards than every UTEP quarterback that has seen playing time since 2016 combined
UTEP has never beaten Texas in Austin. UTEP has never beaten Texas in El Paso. UTEP has never scored multiple Touchdowns against Texas in Austin. UTEP has never scored multiple Touchdowns against Texas in El Paso.
Texas had more wins against Conference USA teams last season than UTEP has had since 2017
Texas has more winning records over Blue Blood teams than UTEP has over P5 and G5 teams combined
Texas under Tom Herman has more bowl wins than UTEP has had in the last 65 years
Texas was ranked the same amount of weeks in September of last season as UTEP has been ranked ever
UTEP is in the FBS football record book a total of 47 times. 21 as the record holder and 26 as the team the record holder played against to set the record.
Only 4 FBS teams have a worst winning percentage than UTEP and the Miners don't have a winning record over any of them.
If UTEP somehow did beat Texas, it would rank as the 2nd biggest CFB point-spread upset in #CFB History.
This Week in the Big 12
 No. 23 Iowa State hosts Louisiana (that would be the Ragin' Cajuns from what used to be Louisiana Lafayette).  11:00 a.m. on ESPN.  Cyclones favored by 11.5, and the over/under is 56.5.   Load up on Iowa State to cover.
Eastern Kentucky at West Virginia.  11:00 a.m. on FS1.  Eastern Kentucky got pounded 59-0 by the Thundering Herd of Marshall last week.  I watched parts of that game, and it wasn't that close.  West Virginia could hang 80 on them.
Arkansas State at Kansas State. 11:00 a.m. on FOX.  Think FOX is missing the Big 10?  K State only favored by 10.5, o/u at 54.5.
Missouri State at No. 5 Oklahoma.  6:00 p.m.  Land Thieves will likely win by 8 touchdowns.
Houston Baptist at Texas Technical.  7:00 p.m. on "Big 12 ESPN+", so you can pay to watch this if you want.  Sand Aggies favored by 39.5.
Coastal Carolina at Kansas to play in David Booth Kansas Memorial Stadium, 9:00 p.m. on FS1.  Jayhawks favored by 6.5, o/u 56.  The fact there is a line on this tells you how glad Vegas is that we have college football.
Louisiana Tech at Baylor postponed, and the Battle for the Cast Iron Skillet between the Texas Christians and the Southern Methodists also postponed.  Bummer.
This Week in the Top 25
 Coach Mack Brown and his No. 18 UNC Tarheels host Syracuse at Kenan Stadium on Saturday with an 11:00 a.m. start on the ACC Network.  Heels favored by 23, and o/u is 65.  Good luck this year Coach.
No. 10 Notre Dame opens their season at home with Duke.  The Irish playing in the ACC this year, and they may win their first conference title!  1:30 p.m. on NBC.  Notre Dame favored by 20, over/under at 54.  I think the Irish win and cover.
No. 1 Clemson opens at Wake Forest.  6:30 p.m. on ABC.  Tigers only 32.5 point favorites?  Over/under is 60.
That's it in the Top 25 (besides the Big 12 games above).  Crazy.
Other Games of Interest This Week
Louisiana Monroe at Michie Stadium in West Point, New York, to play Army.  12:30 p.m. on CBSSN.  Army favored by 21.
UTSA at Texas State, 2:30 p.m. on ESPN2 from San Marcos.  Bobcats favored by 9.
Miami beat UAB 31-14 Thursday night.
2020 Longhorn Football Prospectus:  Thinking Texas Football
Paul Wadlington's preseason book is a great and informative read.  I highly recommend it (his nom de plume is Scipio Tex, which may be a more familiar to of you).   Here is the link to purchase it.  Not too late.
https://www.smashwords.com/books/view/1031212
Thanks to Ed and Ced
Two good friends, Ed Clements and Cedric Golden, did a really great online program for the Headliners Club, previewing the college football season.  They are two of the best sports journalist in Texas, and certainly two of my favorites.   I recommend you catch Ed on KLBJ, especially on Saturdays – "The Fifteenth Club with Ed Clements and Scotty Sayers" then "Sports Saturday with Ed and Ben Clements" 6:00 to 7:00.  Good shows.
Cedric Golden is, as most of you know, a great sportswriter for the Austin American Statesman.  He also hosts the On Second Thought weekly podcast with Kirk Bohls and the Longhorns Unfiltered postgame podcast.  Check them out.
The Texas 2019 Statistics
A look back at where Texas finished in the stats that I start tracking once the season gets going.  Here they are, and with the 2018 stats.
Texas Offense
| | | |
| --- | --- | --- |
| Statistic | 2018 | 2019 |
| Rushing Offense | #91 – 153.1 ypg | #48 – 176.5 ypg |
| Passing Offense | #35 – 258.5 ypg | #20 – 289.3 ypg |
| Total Offense | #58 – 411.6 ypg | #14 – 465.8 ypg |
| Scoring Offense | #45 – 31.1 ppg | #17 – 35.2 ppg |
| First Downs | #31 – 23.2/game | #7 – 25.0/game |
| Tackles for Loss Allowed | #54 – 75; 5.4/g, 313 yards | #77 – 76; 5.9/g, 288 yards |
| Third Down Conversions | #18 – 46.4% | #7 – 48.946.4% |
| Red Zone Offense | #83 – 82%/66% | #12 – 92%/78% |
| Long Scrimmage Plays | #30 – 203/10+; 66/20+; 6/30+ | #10 – 238/10+; 64/20+; 28/30+ |
| Long Rushing Plays | #76 – 64/10+; 9/20+; 5/30+ | #25 – 85/10+; 14/20+; 6/30+ |
| Long Passing Plays | #22 – 139/10+; 57/20+; 21/30+ | #16 – 153/10+; 50/20+; 22/30+ |
| Penalties | #98 –7.4/g; 63.9 ypg | #114 –7.3/g; 68.5 ypg |
Incredible improvement last year.
Texas Defense
| | | |
| --- | --- | --- |
| Statistic | 2018 | 2019 |
| Rushing Defense | #28 – 131.4 ypg | #45 – 138.9 ypg |
| Passing Defense | #110 – 261.4 ypg | #127 – 289.8 ypg |
| Total Defense | #67 – 392.8 ypg | #97 – 431.5 ypg |
| Scoring Defense | #57 – 25.9 ppg | #65 – 27.5 ppg |
| Tackles for Loss | #18 – 98.5; 7.1/g, 365 yards | #40 – 83; 6.4/g, 282 yards |
| First Downs Allowed | #67 – 20.6/game | #100 – 22.5/game |
| Third Down Conversions | #109 – 44.3% | #65 – 39.1% |
| Red Zone Defense | #17– 76%/57% | #104– 88%/57% |
| Long Scrim. Plays allowed | #101 – 196/10+; 59/20+; 28/30+; 18/40+ | #128 – 216/10+; 69/20+; 25/30+; 17/40+ |
| Long Rushing Plays allowed | #35 – 55/10+; 12/20+; 3/30+ | #53 – 62/10+; 16/20+; 4/30+ |
| Long Passing Plays allowed | #123 – 141/10+; 47/20+; 25/30+ | #130 – 154/10+; 53/20+; 21/30+ |
As I said, atrocious.  And worse than the year before, which was pretty bad.  A true testament to Sam and the Texas offense that the Longhorns won 8 games with that defense.  And the Texas Longhorns were dead last in the country in long passing plays allowed.  Chris Ash may have the biggest turnaround job of his career ahead of him.  We need him to succeed.
Sadly, last year in my preseason letter I said "I am guessing next August we will be about the same in rushing defense- ranked in the mid 20's.  But I will wager we are way better in passing defense."  Good thing I didn't wager.  Still shocking to see.
If you want to delve into some interesting stats:
https://www.espn.com/college-football/fpi/_/view/efficiencies/season/2019
Polls
 AP Top 25:  Clemson, The Ohio State University™, Alabama, Georgia, Land Thieves, Louisiana State, PSU, Florida, Oregon, Notre Dame.  Texas Agricultural & Mechanical is 13, The University of Texas is at 14, Oklahoma State is at 15, and Iowa State is 23.  Coach Mack Brown and his Tarheels are No. 18.
Coaches Poll:  Clemson, The Ohio State University™, Roll Tide, Georgia, Louisiana State, Land Thieves, PSU, Go Gator, Ducks, Florida, et L'Université de Notre Dame du Lac.  Texas Agricultural & Mechanical is 13, The University of Texas is 14, Okie A&M at 16, and Iowa State is 25.
Texas Longhorns Baseball
 As I alluded above, the covid cancellation of the college baseball season was devastating.  Texas was off to a great start, with a 14-3 record, including series sweeps of the Henry Marsh Rice University and Cal State Fullerton.  I think all of us who are Disch-Falk Loyalists fervently believed the 2020 team was bound for Omaha.  Such a brutal disappointment.  Looking forward to 2021!
Music
Great recommendation from Charles Taylor to feature Charley Crockett.  Good way to kick off the season. Enjoy.
Goin' Back to Texas.
Trinity River
Jamestown Ferry
Welcome to Hard Times
That's How I Got to Memphis
Gratitude
I am grateful to be healthy and alive.  I turned 60 in August.  I really cannot believe I am 60.  That used to seem so old, and now I feel like I am in the middle of middle-age.  And I am most grateful for faith, family, and friends.
Health Alliance for Austin Musicians
As most of you know, I have been involved with HAAM for over 15 years.  HAAM's work has been incredibly important since the virus and shutdown, starting with the cancellation of South by Southwest, a key time for Austin musicians to make money.  They are suffering.
Each year, we have HAAM Day.  For 14 years, it has been a day when Austin is filled with live music, from early in the morning (my HAAM Day always started with coffee and tunes at Whole Foods) until late at night (my HAAM day usually ended at Antone's).  This year, HAAM Day is virtual.
We have a great lineup of music streaming live all day, and I hope you will both take advantage of this great music and give some money to HAAM.  Help HAAM keep Austin music alive and well.
https://www.myhaam.org/haam-day
Donate:
Let's Do This.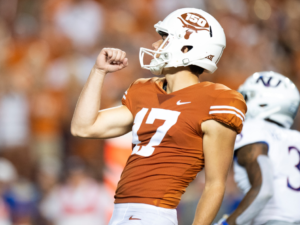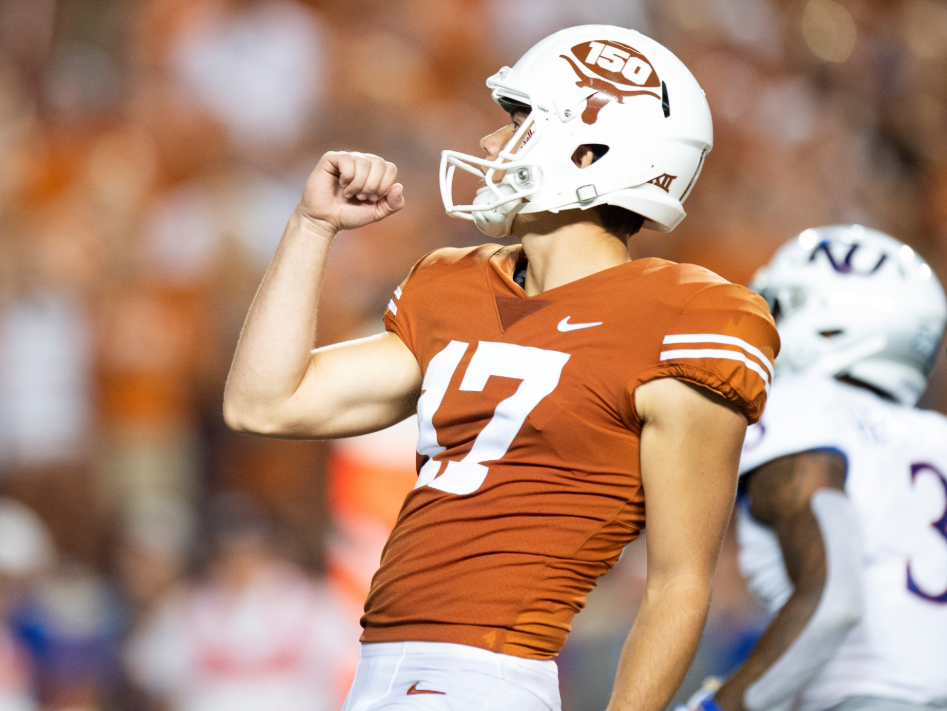 God Bless Texas
Tim Taylor
Tailgating before Home Football Games
The Juan Heisman Tailgate
Lot 38, East of Sid Richardson Hall.
HOOK EM HORNS!!
© Timothy C. Taylor, Sr. 2020.  All Rights Reserved (as to original material).
www.jw.com/ttaylor
On Twitter:  @tctayloratx
On LinkedIn:  www.linkedin.com/in/tctatx
On Instagram:  @tctayloratx
On Facebook:  www.Facebook.com/Tim.C.Taylor
and:  www.Facebook.com/Juan.Heisman