Good Morning Longhorn Fans!
Red River Rivalry:  Land Thieves 34, Longhorns 27
The Shootout never materialized, but it was a slugfest, and the Longhorns came up short.  What a disappointing game.  Yes, the second Saturday in October in Dallas and the game in the middle of the State Fair of Texas is the best day in college football, but last Saturday was not this coaching staff's best day, maybe their worst since September 1, 2018.  I concede we've had a lot of injuries, and are particularly understaffed on defense.  But that is not why Texas lost this game.  Y'all know I am at the top of just about anyone's list of Burnt Orange bleeding, Sunshine Pumping Longhorns.  I love our Longhorns no matter what, but that doesn't mean I can watch a game like that and come away with a good feeling.  Texas was dominated in every phase of the game, and the most disappointing was allowing nine  sacks.  Before Saturday, Texas had allowed 10 sacks for 62 yards in 5 games, a 12.4 yards per game average and an average of 6.2 yards per sack.  The Land Thieves sacked Sam Ehlinger 9 times for 53 yards.
Darrell Royal Teaches Tackling;
There are rays of sunshine, as always.  More below.  In the meantime, congratulations to the Oklahoma Sooners and all my Boomer Sooner friends.  Your team kicked our butts.
Administrative Note
I heard from several people this week that they did not receive last week's email.  It went out, trust me.  Lots of links in the Land Thief email, as always.  That's a trigger for many spam programs, and so your email probably got caught and/or bounced.  Remember, if you don't have this email by noon on Friday before a game, please check your spam program and junk mail folder, and make sure and add me (ttaylor@jw.com) as a safe sender.
Kansas at Texas
There is plenty of good news!  Yes, the sun came up Sunday morning, and with it dawned a new week that ends this Saturday with a Juan Heisman Tailgate Party and a Texas football game at Darrell K Royal Texas Memorial Stadium.
The Longhorns and Jayhawks tee it up Saturday night and kickoff is scheduled for 6:00 p.m.  Texas will be celebrating the 1969 team, and the uniforms for this game are really cool.  Well done Texas.
The game will be televised around world on the Longhorn Network.   Lowell Galindo with play by play, Ahmad Brooks with analysis, and Kris Budden on the sidelines.  On the radio with the Voice of the Longhorns Craig Way, Roger Wallace with insight and analysis, and my friend Quan Cosby on the sidelines.  My thanks to whoever alerted me Saturday that KTBB in Tyler was not broadcasting the OU game.  Not sure what's up with that.  Still listed in the Game Notes as the Longhorn Network affiliate in Tyler.  The other East Texas affiliates of note: KWRD 1470 in Henderson (Hook Em Sonja & Joe!), KGAS (104.3 and 1590) in Carthage, KFRO 1370 in Longview (Hook Em Kerry!), and KFYN (1420 and 104.3) in Paris (Hook Em to all the Lewis brothers – Hey Late Night I missed you in Dallas!).
Texas leads the all-time series 15-3, 8-0 in Austin.
1901 was a good year for the Jayhawks in this series.  That was both the start of their only streak against Texas (1901 and 1938), and 1901 was their largest win, as Coach S.H. Thompson's Varsity would get shut-out by KU 12-0, one of only 2 losses that season.  The other was four days earlier, when Texas was thrashed 48-0 by Kirksville.  I am not sure, but I believe this may have been a football club fielded by the Kirksville College of Osteopathic Medicine in Kirksville, Missouri, part of the A.T. Still University of Health Sciences, the first osteopathic medical school in the world (founded in 1892, a theme this week).  Not sure.  Anyway, I presume that this was an extended train trip, as UT played Missouri on Saturday November 16 (winning 11-0), then the Kirksville loss the following Tuesday, Kansas on the 23rd (Saturday), and then wrapping up in Norman on Monday, November 25 a 12-6 victory).  Varsity concluded the season with a 32 to nothing beating of Texas Agricultural & Mechanical College on November 28, finishing with an 8-2-1 record.  Of note, the tie was with "Nashville U", played in Dallas.  The Horns played Texas Agricultural & Mechanical twice that year, also beating aggy in San Antonio 17-0 on October 26.  The 1901 season included a 11-0 win over the Land Thieves in Austin (yes, we played twice), and 23-0 win in Waco.
The Longhorns are 21 point favorites, and the over/under is 62.5.  Take the Horns and the over.
Official preview:
https://texassports.com/news/2019/10/14/preview-no-15-15-football-vs-kansas.aspx
The Game Notes:
https://s3.amazonaws.com/texassports_com/documents/2019/10/14/Texas_Week8_Notes.pdf
1969 National Champions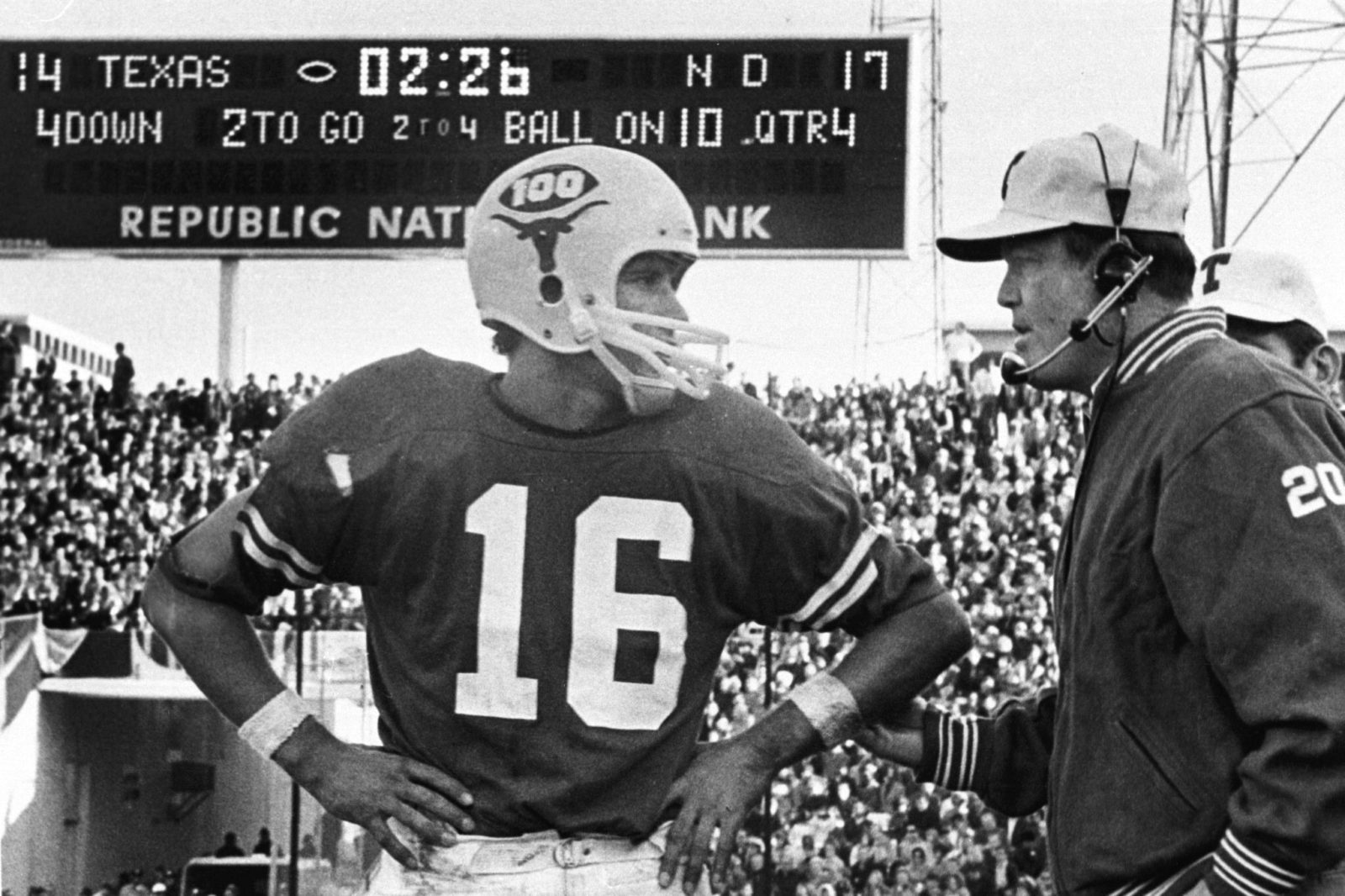 This weekend, The University pays special tribute to the great 1969 team coached by Darrell K Royal and led on the field by so many great Longhorns, including James Street, Bob McKay (consensus All-American and All-SWC), Cotton Spreyer, Bill Atessis, Steve Worster, Ted Koy, and Bob Wuensch, to name a few.
If you have not watched the Longhorn Network's documentary 1969, I highly recommend it.  Also, the movie My All-American, about Freddie Steinmark, is excellent and well-worth your time.
Last Weekend's College Football Highlights
Scores and more notes below, but highlights from last weekend.  Coach Mack Brown's former assistants, Will Muschamp and Manny Diaz, upset ranked teams (SC over No. 3 Georgia and Miami (FL) over No. 20 Virginia).  Wisconsin shutout Michigan State, and their star running back Jonathan Taylor is squarely in the Heisman Race (and should be).  Notre Dame held off Southern Cal to win that rivalry.  And previously undefeated Wake Forest got in a shootout with Louisvile, falling at home 59-62.
Good Stuff
Game Day with Chris Del Conte.  Great article about our awesome AD, CDC, from the Sports Business Journal.
https://www.sportsbusinessdaily.com/Journal/Issues/2019/09/30/Colleges/Del-Conte.aspx
The Austin High Band on stage with Mumford & Sons at ACL last weekend:
A camera on an eagle soaring through the Alps.  So cool
Jimmy Fallon is doing his first show ever from a college, and he has chosen a University of the First Class.   You have chosen wisely James.  Here in Austin November 7.  Pretty cool.
Kansas Jayhawks vs Texas Longhorns
Les Miles took over the reins in Lawrence late last year, and the hire has already paid dividends for Kansas.  Of course, if we were trading stock on football teams, the Longhorns and Sooners would be traded on the New York Stock Exchange, and the Jayhawks would be on the NASDAQ OMX PHLX.
Kansas is a basketball school (well, at least until the NCAA hands down the penalties and sanctions for its most recent transgressions).  Kansas Basketball is second all-time in wins (2,274), third in winning percentage (72.6%), has 61 conference titles, and 3 national titles.  They have the longest streak of consecutive tournament appearances, with 30 (an active streak).  The Jayhawks have spent 65 weeks ranked #1, 100 weeks ranked #2, 347 weeks ranked in the top 5, and 540 weeks ranked in the top 10.
By contrast, the Kansas football team has six conference championships: 1908, 1923, 1930, 1946, 1947, and 1968.  Since 1947, they have finished ranked in the AP Poll seven times, with the highest being No. 7 in 1968 and 2007.
Six bowl wins, and six bowl losses (Texas has 55 appearances, second all time, and is 29-24-2).  The Jayhawks won the Bluebonnet Bowl in over Rice in 1961, and two Aloha Bowls (1992 over Brigham Young and 1995 over UC Los Angeles).  Mark Mangino delivered three bowl wins:  42-13 over Houston in the 2005 Fort Worth Bowl, 24-21 over Virginia Tech in the 2007 Orange Bowl (biggest bowl win ever), 42-21 over Minnesota in the 2008 Insight Bowl.
The Statistics
Offense
| | | |
| --- | --- | --- |
| Statistic | Texas | Kansas |
| Rushing Offense | #70 – 163.0 ypg | #74 – 158.7 ypg |
| Passing Offense | #21 – 291.7 ypg | #100 – 195.8 ypg |
| Total Offense | #35 – 454.7 ypg | #103 – 354.5 ypg |
| Scoring Offense | #13 – 39.3 ppg | #102 – 22.8 ppg |
| First Downs | #5 – 26.5/game | #116 – 17.7/game |
| Sacks Allowed | #115 – 19, 115 yards | #54 – 11, 67 yards |
| Tackles for Loss Allowed | #92 – 41, 160 yards | #90 – 40, 136 yards |
| Third Down Conversions | #3 – 54.4% | #83 – 37.5% |
| Red Zone Offense | #91 – 91% / 86% | #20 – 93% / 64% |
| Long Run Plays | #34 – 36, 5, 1, 1, 1 | #57 – 31, 12, 6, 3, 1, 1, 1, 1 |
| Long Pass Plays | #19 – 71, 21, 7, 4, 3, 1, 1 | #79 – 52, 20, 6, 2, 1, 1, 1 |
| Long Scrimmage Plays | #17 – 107, 26, 8, 5, 4, 1, 1 | #83 – 83, 32, 12, 5, 2, 2, 2, 1 |
Defense
| | | |
| --- | --- | --- |
| Statistic | Texas | Kansas |
| Rushing Defense | #54  – 143.3 ypg | #122 – 220.8 ypg |
| Passing Defense | #126 – 310.0 ypg | #67 – 223.7 ypg |
| Total Defense | #112 – 453.3 ypg | #104 – 444.5 ypg |
| Scoring Defense | #75 – 27.8 ppg | #86 – 29.7 ppg |
| Sacks | #90 – 10, 56 yards | #74 – 12, 89 yards |
| Tackles for Loss | #73 – 35, 124 yards | #85 – 33, 151 yards |
| First Downs Allowed | #105 – 22.8/game | #126 – 24.8/game |
| Third Down Conversions | #75 – 38.1% | #125 – 51.1% |
| Red Zone Defense | #101 – 88% / 56% | #26 – 76% / 59% |
| Long Run Plays Allowed | #69 – 30, 7, 2, 1 | #107 – 38, 13, 4, 1, 1, 1 |
| Long Pass Plays Allowed | #124 – 76, 28, 12, 8, 3, 1 | #61 – 52, 18, 5, 4, 1 |
| Long Scrim. Plays Allowed | #121 – 106, 35, 14, 9, 3, 1 | #89 – 90, 31, 9, 5, 2, 1 |
Pass Defense: Only teams worse: Arkansas State, Arizona, UCLA, and New Mexico
Other
| | | |
| --- | --- | --- |
| Statistic | Texas | Kansas |
| Turnovers | #9  – 3F, 2I | #44 – 4F, 4I |
| Turnover Margin | #8 :  13:6, 1.17 | #116 : 3:8, -0.83 |
| Penalties | #95 – 43, 350 yards | #42 – 35, 30 yards |
*Based on total number of penalties.
Match-up Comparison
| | |
| --- | --- |
| Texas Offense | Kansas Defense |
| Rushing Offense – 163.0 ypg | 220.8 ypg – Rushing Defense |
| Passing Offense – 291.7 ypg | 223.7 ypg – Passing Defense |
| Total Offense – 454.7 ypg | 444.5 ypg – Total Defense |
| Scoring Offense – 39.3 ppg | 29.7 ppg – Scoring Defense |
| First Downs – 26.5/game | 24.8/game – First Downs Allowed |
| 3rd Down Offense – 54.4% | 51.1% – 3rd Down Defense |
| Red Zone Offense – 91/86 | 76/59 – Red Zone Defense |
| LRP – 36, 5, 1, 1, 1 | 38, 13, 4, 1, 1, 1- LRP Allowed |
| LPP – 71, 21, 7, 4, 3, 1, 1 | 52, 18, 5, 4, 1 – LPP Allowed |
| LSP – 107, 26, 8, 5, 4, 1, 1 | 90, 31, 9, 5, 2, 1 – LSP Allowed |
| | |
| --- | --- |
| Texas Defense | Kansas Offense |
| Rushing Defense – 143.3 ypg | 158.7 ypg – Rushing Offense |
| Passing Defense – 310.0 ypg | 195.8 ypg – Passing Offense |
| Total Defense – 453.3 ypg | 354.5 ypg – Total Offense |
| Scoring Defense – 27.8 ppg | 22.8 ppg – Scoring Offense |
| First Downs Allowed – 22.8/game | 17.7/game – First Downs |
| 3rd Down Defense – 38.1% | 37.5% – 3rd Down Offense |
| Red Zone Defense – 88/56 | 93/64 – Red Zone Offense |
| LRP Allowed – 30, 7, 2, 1 | 31, 12, 6, 3, 1, 1, 1, 1- LRP |
| LPP Allowed – 76, 28, 12, 8, 3, 1 | 52, 20, 6, 2, 1, 1, 1- LPP |
| LSP Allowed – 106, 35, 14, 9, 3, 1 | 83, 32, 12, 5, 2, 2, 2, 1 – LSP |
Texas is last in The Big 12 in Total Defense, right behind Kansas.  In yards per play – same, Kansas 9th, Texas 10th.  Passing Defense, Texas is last in the conference at 310 yards per game and 9th based on yards per attempt (8.3).  Rushing defense is No. 5.  Scoring defense, No. 8, right above Kansas.  Rushing Defense, Texas is No. 5 in the conference (despite last Saturday), and KU is No. 10.   Texas should be able to run the ball.
Kansas Jayhawks
Kansas is 2-4 and winless in the Big 12.  They did open the Les Miles era with a win over Indiana State, 24-17, but the next week lost at home to Coastal Carolina (the Chanticleers from Myrtle Beach), 7-12.  Seemed that Kansas was Kansas.  But a 48-24 road win over Boston College (hey, for KU a non-conference Power 5 road win is a big deal), and the Mad Hatter was 2-1.  Since opening conference play, they have reverted to their natural spot:  looking up from the bottom.  A narrow 24-29 loss in Lawrence to the Mountaineers, but then a 51-14 beating by the Texas Christians in Fort Worth.  Which surprisingly, was worse than the Land Thieves gave them in the next game, as KU only lost 20-45.
I haven't checked the Kansas injury report, so some of this may be inaccurate.  But hey, it is late, and this is Kansas.
Jayhawk QB is Carter Stanley:  1,175 yards, 102/157, 65%, 12 TDs, 4 picks.
Pooka Williams, Jr. is their good running back, but he has only 1 TD with 445 yards on 90 rushes.  Not so great.
Andrew Parchment is their best receiver on paper, with 422 yards on 32 catches and 4 TDs.
Of note is a very fine young man, fullback Hudson Hall, #49.  Already graduated with degree in communication studies, he is classified as a senior.  Hudson is from Austin, Texas, his parents are good friends Kerry and Steve Hall, who played for Texas.  He is efficient.  1 rush, 1 yard, 1 TD. Hope he gets to play some in DKR Saturday.
Texas should win this easily.  I am thinking we see a lot of downfield passing in the first half, then a bunch of Roschon Johnson and the rest of the backs in the second, as Texas cruises to a 48-17 beating of the Jayhawks.
Texas Longhorns vs. Oklahoma Land Thieves
I am always in a slightly better mood writing about a hard loss on Thursday night under the deadline pressure than if I start early in the week.  Plus, it is fun to re-watch games we win.  I usually watch a full replay, then watch the Overdrive version on LHN a couple of times.  I have not watched one minute of last Saturday's loss.  After reading Scipio Tex's post-mortems on Inside Texas, and then Dustin McComas on OrangeBloods, I decided I just didn't need the heartache.  So tonight's recap is just from sort of watching a bit of the game highlights and reviewing the book.
So here is what our defense did last week against the Land Thieves.  Column on left is the Horns season average going into the game, and the column on the right is what the Land Thieves did last Saturday against Texas (and what the Thieves were averaging coming into the game is in parentheses).  Other than being absolutely abused by the Sooner ground attack and embarrassed by CeeDee Lamb, it really wasn't all bad.
| | |
| --- | --- |
| Texas Defense | Land Thieves Offense |
| Rushing Defense – 116.8 ypg | 276 yards (288.4 ypg) – Rushing Offense |
| Passing Defense – 325.0 ypg | 235 yards (355.4 ypg) – Passing Offense |
| Total Defense – 441.8 ypg | 511 yards (643.8 ypg) – Total Offense |
| Scoring Defense – 26.6 ppg | 34 (53.4 ppg) – Scoring Offense |
| First Downs Allowed – 23.2/game | 21 (27.4/game) – First Downs |
| 3rd Down Defense – 40.3% | 25% (55.6%) – 3rd Down Offense |
 So the Horns held them nearly 20 points below season average, 133 yards below season average, 23.4% below season average on first downs, and way, way down on third down conversions.
After looking at that, I decided to see what our offense did.  Texas performance on left (with season average in parentheses), and the OU season averages coming into the game is on the right.
| | |
| --- | --- |
| Texas Offense | Land Thieves Defense |
| Rushing Offense – (175.6 ypg) 100 yards | 148.6 ypg – Rushing Defense |
| Passing Offense – (308.0 ypg) 210 yards | 197.8 ypg – Passing Defense |
| Total Offense – (483.6 ypg) 310 yards | 346.4 ypg – Total Defense |
| Scoring Offense – (41.8 ppg) 24 | 19 ppg – Scoring Defense |
| First Downs – (26.8/game) 25 | 20/game – First Downs Allowed |
| 3rd Down Offense – (56.6%) 42.3% | 24.6% – 3rd Down Defense |
I will say that despite all the criticism in the press and on the internets, and my own criticism, I have none for Sam Ehlinger.  As usual, a gutsy performance, particularly in light of the bad game plan, what appears to have been an utter failure to make any adjustments at halftime, and the physical beating he took.  Despite all of that, his passing numbers were comparable to Jalen Hurts.  Hurts was 16-28 for 235 yards with 3 TDs and a pick.  Ehlinger was 26-38 for 210 yards.  The difference was no passing scores.
What really stands out is the difference on the ground.  Sam has been a key to our rushing game.  He grossed 47 yards on 23 (official) attempts and had 2 rushing touchdowns.  But the 56 yards lost gave him a net of minus 9 yards, for what I am sure is his statistically worst game (rushing) at Texas.  Meanwhile, Hurts led the Land Thieves in rushing with 131 yards and a TD on 17 carries – no lost yardage.  Averaged 7.7 per attempt to Sam's negative 0.4.
Collin Johnson and Devin Duvernay tried:  6 for 82 and 8 for 54 respectively.  But combined they were overshadowed by CeeDee Lamb, who had 10 catches for 171 yards, three touchdowns, and at least two embarrassing abuses of Longhorn defensive players.
Some other telling stats:  OU averaged 7.7 yards per play, Texas just 4.2.  And that is in the context of Texas running 74 offensive plays to 66 by the Land Thieves.  Time of possession was actually slightly in favor of the Horns:  30:50 to 29:10 (although as we know, that isn't always indicative when there are a lot of points and up tempo offenses; but this wasn't a high-scoring game).  We had a total of 16 accepted penalties in the game:   Texas was flagged 9 times for 49 yards, and OU 7 times for 84 yards.
Well, at least I did predict we would hold OU under 40 (I said 38).  And we did.  Bright spot!
The first two possessions by each team set the tone:  OU drove the ball 66 yards on 10 plays, opening with a 23 yard run, then getting the next 43 on either Hurts runs or passes.  A solid 5 minute drive.  Texas was 2 and out after Ehlinger was sacked for a 10 yard loss on third down.
Kudos to Anthony Cook for forcing a fumble and halting the next Land Thief drive.
Credit the defense with the goal line stand on the last Sooner possession of the first half.  Hurts and the Thieves had a first and goal at the Texas 4, and we held them to a field goal.
After that Sooner FG, Texas gave me hope.  Texas moved the ball from its own 21 to the OU 31 98 seconds, setting up Dicker the Kicker Field Goal.  As that sailed through the uprights, I was flying out of the Cotton Bowl to the Food Court.  The Frito Pie was outstanding.
After a possession by both teams (the Defense actually got a three and out), Texas had wicked field position – its own 7.  But several good plays, including a 19 yard pass to Collin Johnson, got Texas out to the UT 39.  That's when Roschon Johnson broke one off for 57 yards, finally getting caught at the four yard line.  Appreciate the fact that the coaches let him get the carry and the last four yards for a score.  By golly we were tied 10-10 about halfway through the third.
Short-lived, as it took Hurts all of 3 plays to get the Thieves in the end zone, aided by Malcolm Roach's targeting penalty (and ejection) and the 51 yard Lamb touchdown reception and run  (and missed tackles).
In the category of bad football, Texas started on its own 5 after the Sooner kick-off.  That's hard to do.  It was on the Sooner end of the Bowl, and after 2 – TWO – consecutive false starts it was second and 14 from our own 1 yard line.  Nothing doing, and after a short punt, OU was at the Texas 38 to start a drive. Another good job the defense to hold them to 3, so Texas was only down 20-10, but another 3 and out negative drive (including minus 3 yards on a pass to Ingram, which says a lot about our game plan – in the third quarter!).
Texas with another good defensive series, after OU once again had tremendous field position, starting at the UT 48, getting a stop on fourth down.
Another moment of Great Hope, as Texas took advantage of some its best field position of the game (UT 39). RoJo opened with a 23 yard gain, Texas was in business at the Sooner 37, and he tacked on another 3.  12 yards to Collin Johnson, then some assistance from the thieves, including a pass interference, and Sam with what looked like a No. 8 special for the touchdown run.  20-17 Thieves as we went to the Fourth.  Texas is in it!
Good teams win, Great teams cover.  Great teams also answer.  This was a heavyweight boxing match, and just as Texas closed to within 3, the Sooners got the ball as the final frame opened, and they counter-punched with fury.  A 75 yard drive in 3 minutes:  25 yard pass, Hurts and Brooks with 4 consecutive rushes for a combined 23 yards, and OU is at the Texas 27.  Hurts hits Lamb for a 27 yard score (the last 10 yards after 2 missed tackles), and just like that it is back to a two possession game and the Thieves are up 27-17.
The next Texas drive began with just under 12 minutes to play, and it took Texas over 5 minutes to get 3 points, but at least it was points.  All pass plays except 1.
If we ever needed a 3 and out, it was right then, but Orlando did not have an answer.  Very first play of the possession was a 42 yard run by Brooks to the Texas 33.  Talk about taking the wind out of your sails.  They followed that up with a 24 yard run.  So 66 yards in 2 plays, on the ground.  A couple of plays later Hurts was in the endzone again, and it was back to a 14 point lead with under 5 to play.
The best thing about this team and that game was this:  This Texas team does not quit, and Sam Ehlinger is a tough, tough leader.  10 plays, 75 yards, in 2 and a half minutes, cut the lead to 27-34.  That's when the onside kick failed, and we kissed the Golden Hat goodbye for 2019.
We had two turnovers (the Cook forced fumble and the Jones pick) that we did not turn into points.
I am not sure I can recall a game where I felt like the opposing staff had scouted us better and prepared their team better.  The Land Thief defense dominated Texas, especially the Offensive Line.  The aforementioned 9 sacks.  15 tackles for loss for 64 yards.  Out-coached, whipped in the trenches, poor tackling, and yet somehow Texas was in the game until the end.
Incredible, really, when you consider the poor special teams play (and coaching) had Texas with terrible field position and OU with good.  I don't know the averages, but here were Texas starting positions:  UT 32, UT 7, UT 10, UT 24 (would have been the 34, but we had a holding call on the punt), UT 21, UT 13 (that was after the second half kick-off), UT 7, UT 5, UT 16 (again after a kick-off), UT 39 (we scored), UT 25 (after kick-off, I think that was when the entire UT end of the stadium cheered when we took the touchback instead of running the ball out of the endzone), UT 25 (again a touchback – someone figured out something in the fourth quarter),
Versus the Land Thieves:  OU 34, OU 44, OU 5 (the only time they started bad), OU 42, OU 45, OU 35, OU 25, UT 38, UT 48, OU 35, OU 25, UT 46 (that last one was after the failed onside kick).
Worth noting:  that was the first complete game for Jalen Hurts (and I am guessing other offensive starters), and Texas held Riley and his machine to a season-low 34 points.
If we had just had some ability to slow down their run game (in addition to the big game from Hurts, Kennedy Brooks had 104 yards on 10 carries) and if the line had given Sam some modicum of protection, Texas could've won this.  Instead, we are sitting 4-2 and tied for third in the conference with Iowa State, looking up at the Land Thieves and Baylor for crying out loud.  And we have some tough games ahead.
Highlights from the Big 12 – 5 minutes:
Highlights in 10 minutes:
Tough loss in the friendly confines of the Cotton Bowl, but the game is the main course of the great weekend, not the whole meal.  My RRS weekend started Friday in Arlington, at D.R. Horton headquarters where I enjoyed lunch with many great friends, including a couple of good Sooners, Mark Karnes and Mr. Horton.  As with so many years past, Juli and Tony Dewar opened their home with great hospitality.  Dinner at Javier's was great.  I arrived at the same time as Governor Abbott and his detail, and ran into Ellen and John Elliott on my way to our table.  The usual core group of Carol and Tim Crowley and Paige and Ivan Young, and we were joined by my goddaughter, Elizabeth Crowley and her boyfriend Connor.  Connor and my son-in-law Parker were at Virginia together.   The margaritas were great, the quail even better.  Got to see Anita and Marty English and Randy McEachern, but Jenna never made it by.  I think she was busy entertaining the Governor.
Saturday morning we rolled out of the Bubble early.  As always, the Ferguson and Dewar clan made me feel like family.  Tony, Jody, and Scott – can't thank y'all enough.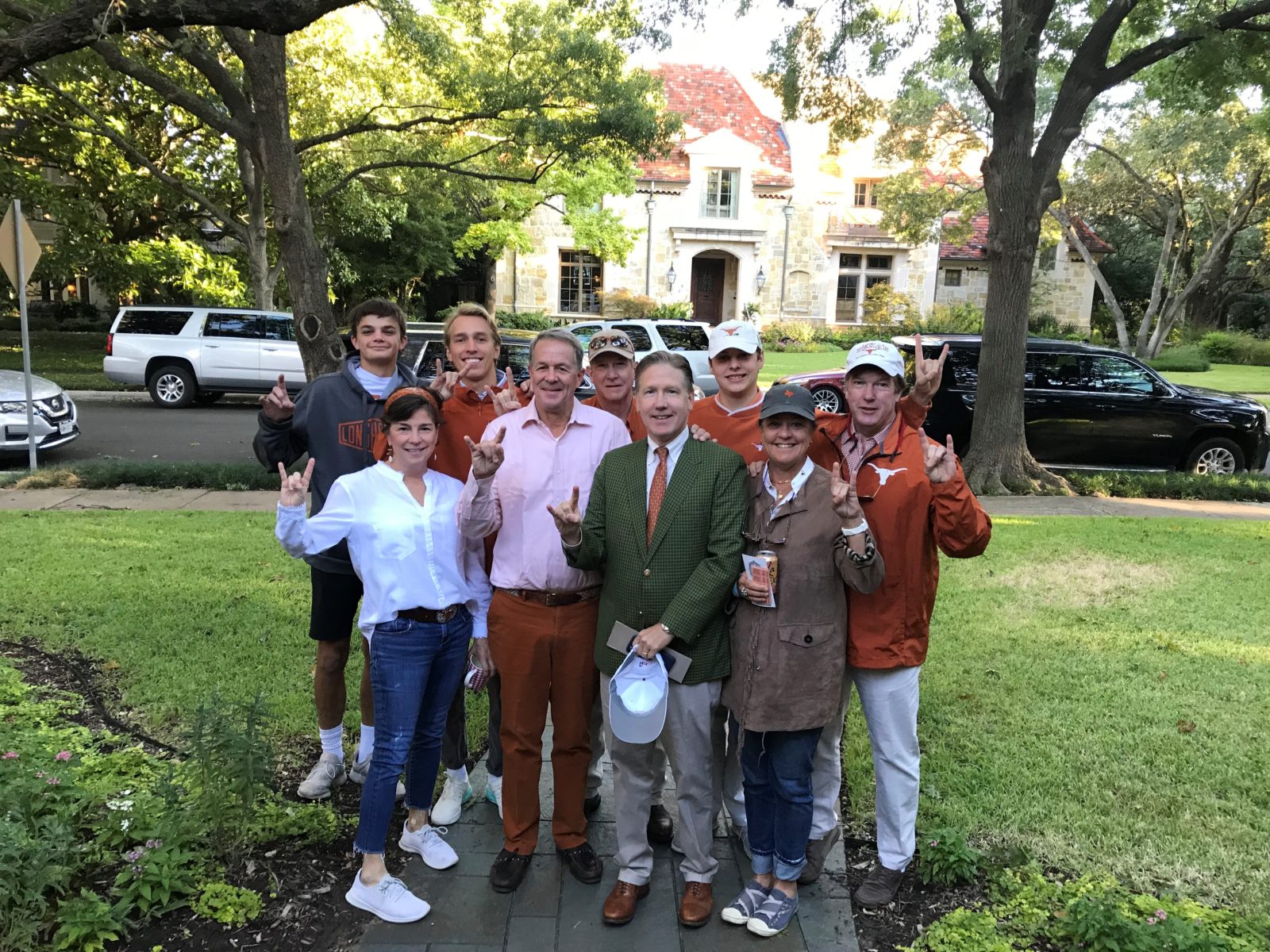 A great pre-game event with The University, as Texas leadership – Chairman Eltife, Chancellor Milliken, and President Fenves greeted and welcomed Texas Exes from around the country.
The traditional Juan Heisman Crew gathering came together by Big Tex.  The Fletcher's line was impenetrable, but we did manage to get some breakfast beers down.
Rob Dunn and his son Mason, me and my son Charles.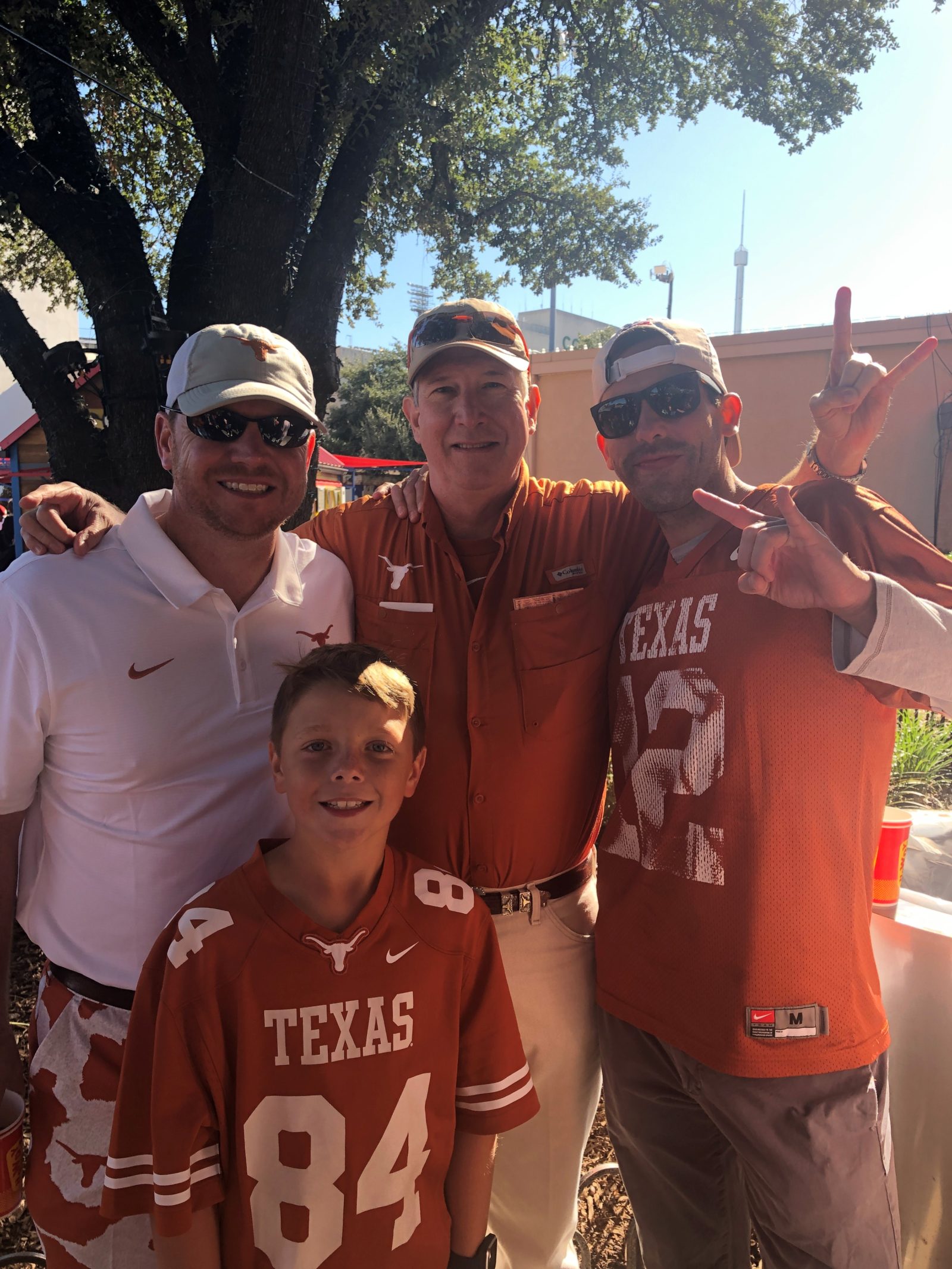 Juan Heisman Leadership Team.  Messer & Taylor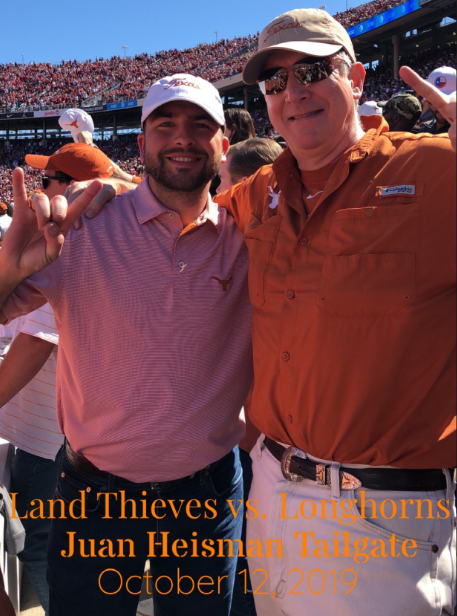 But the best was enjoying the game with two of my beloved children: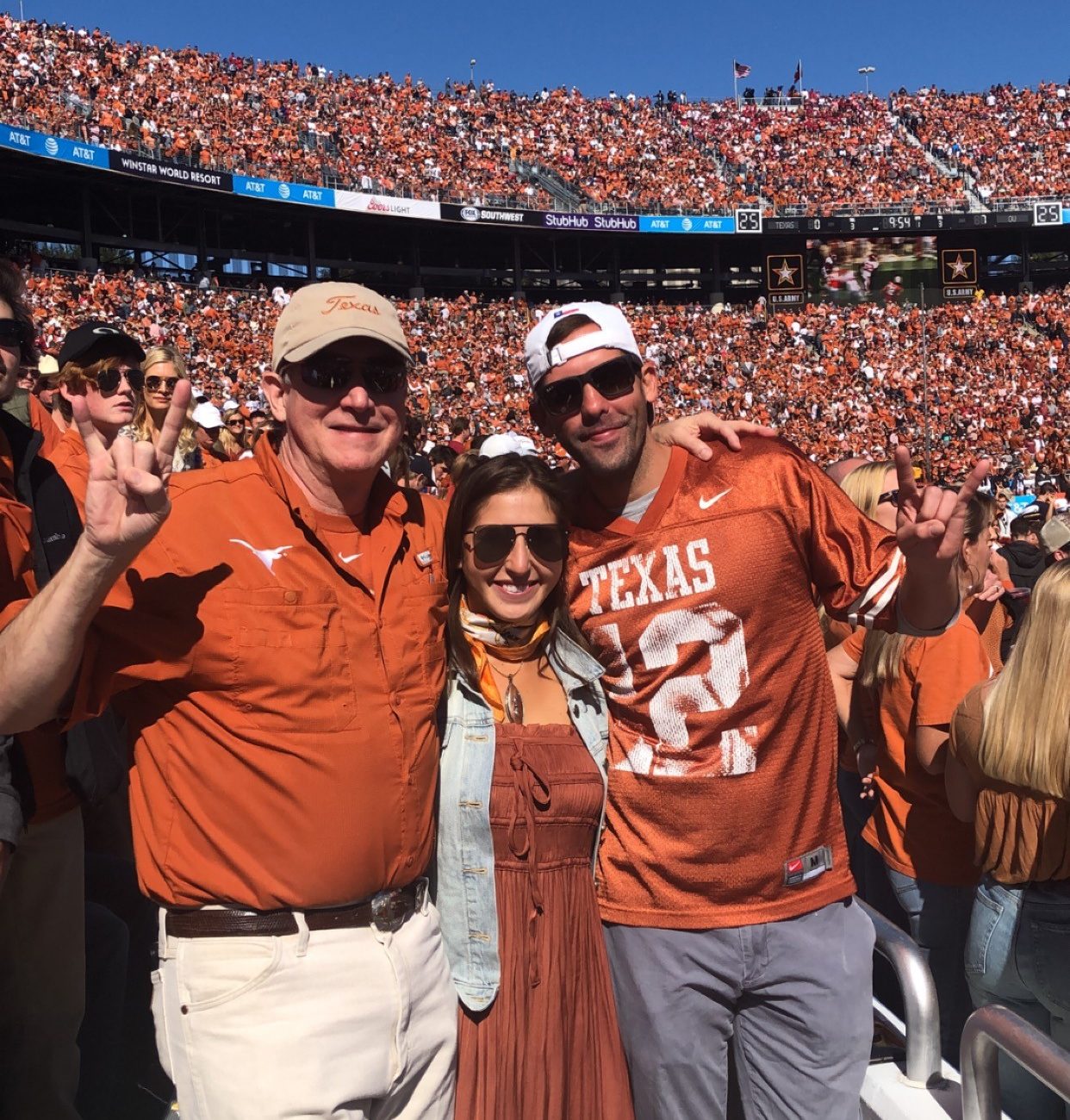 The Curious Incident of the Dog in the Night-time
I am aware of a book by this name, but I have not read it.  My history with that singular phrase dates to around 1975, when I read Sir Arthur Conan Doyle's short story, The Silver Blaze for the first time.  This great story, originally published in The Strand Magazine in December of 1892 (with the exquisite drawings of Sydney Paget), was later published in the collection The Memoirs of Sherlock Holmes.  In the story, a champion race horse, Silver Blaze, goes missing right before an important race (Wessex Cup), and the trainer (John Straker) is murdered.  The evidence indicates that the stable boy had been drugged (opium in his dinner, masked by the curry), and someone had broken in and stolen the horse.  As Holmes investigated the case, Inspector Gregory (who in the usually Sherlockian pattern was pursuing the wrong suspect) queried Holmes about the investigation.
Inspector Gregory (of Scotland Yard, speaking to Holmes):  Is there any other point to which you would wish to draw my attention?
Holmes:  To the curious incident of the dog in the night-time.
Gregory:  The dog did nothing in the night-time.
Holmes:  That was the curious incident.
As you know, I watch a lot of baseball, especially Texas baseball.  I sit quite close to home plate, and I have a fair sense of how the home plate umpire is calling a game.  I have also come to believe that an entire 9 inning, 27 out game can turn on one ball or strike call, given the right situation.  For example, let's say the Horns have men on second and third with one out, and the count is 2-1.  If the next pitch is a ball and if called correctly, and the count moves to 3-1, then the batsman has a great opportunity to get a hit or at least a sac fly and score a run.  But if that next pitch is instead called a strike, then the count goes to 2-2, and the strategy for the hitter changes, as do the odds of getting the man in from third.  Thus, an umpire can influence the outcome of a game with one call.  Now, I fully acknowledge that there many other pitches and plays and calls in the course of a game that can change the impact of that bad strike call, but nonetheless I have seen it happen, and I really do think the same thing can happen in other sports.  (A shorter example:  in hoops, your star player has 4 fouls, and gets a bogus call putting him on the bench; that impacts the game, and it is the referee making a decision that is the impact.)
So, if I don't have your interest piqued yet, I ask, did you recognize the referee for the game Saturday?  Most of my crew did immediately.  He first caught my attention on September 17, 2016, when the Horns traveled to Berkeley for a game with California.  As is custom, the visiting team's conference provided the officiating crew, and Mike Defee's Big 12 team made the trip west.  I immediately named him Big Guns, and his officiating in that game made him very recognizable to Horns fans.
He is considered by some to be a good ref, and apparently he grades well.  Soon after we got to know Mike from the Cal game, he became nationally famous when he refereed that season's National Championship game between Clemson and Alabama.  As noted in his hometown newspaper, The Beaumont Enterprise, shortly after Clemson won:
But Alabama fans needed Defee to make a call that never came. Clemson scored the game-winning touchdown in the final seconds on a controversial play in which a wide receiver sets a pick to free another. No flags were thrown, and those who favored Alabama could allow the play to cloud one of the most remarkable football games in history.

Thanks to his bulging biceps, they'll remember exactly who didn't make the call they wanted.
("Ripped referee Mike Defee surprised by social media stardom", by Brooks Kubena, January 11, 2017 [my emphasis])
I have decided that often the most influential penalties in a game are the ones that are not called.  For example, holding overlooked as a quarterback gets that extra second to work his reads to the open receiver to convert on third down.  A pick play not called (as in the Clemson-Bama game).  And for you NFL fans, in the category of calls that were made, the 2 hands-to-the-face calls on Detroit Monday night that pretty much gave Green Bay the win.
https://www.burntorangenation.com/2019/10/12/20911617/mike-defee-unsportsmanlike-conduct-penalty-texas-longhorns-oklahoma-sooners
Defee worked the OU game.
His crew went out to Arizona for Tech's game with the Wildcats earlier this year.  The play where Sand Aggie quarterback Bowman injured his non-throwing left shoulder (out for the year) was clearly roughing the passer under the new rules (thrown to the ground with full weight of the defensive player coming down on the QB), and no call.
He also worked the Louisiana State game this year.  That roughing the passer call really hurt the Horns.
Defee works for a Newtron Holdings facility in Nederland, Texas, outside of Beaumont.  The company's headquarters are in Baton Rouge, Louisiana.
Polls
 AP Top 25:  Alabama, Louisiana State, Clemson, The Ohio State University™, Land Thieves, Wisconsin, PSU, Notre Dame, Florida, Georgia.  Texas drops to No. 15.  Baylor at 18, and the Methodists are up to 19.  Texas Agricultural & Mechanical drops from the rankings, as did Virginia.
Coaches Poll:  Roll Tide, Clemson, Bayou Bengals, The Ohio State University™, Land Thieves, Wiscy, PSU, L'Université de Notre Dame du Lac, Go Gata, and UGa.  Horns drop to No. 15.  BU 18, Southern Methodist at No. 19.
Juan Heisman Tailgate
Tamales!  Rose Marie Hagman's sister makes some of the best tamales you will ever have, and we have about 30 dozen for Saturday.  Rose Marie and Randy delivered them to 1902 last Saturday, and the will be piping hot about 4:00 Saturday afternoon.   We will also have Frito Pie and lots of venison sausage.  We will have a bunch of Dulce Vida Tequila, Texas Beer Co. will be there, and we will have an expanded selection of Mexican cervezas from Capitol-Wright too compliment the tamales and Frito pie.  Swing by before the game and enjoy some comradery, and remember, we are right above Longhorn City Limits, if you want to enjoy both the Juan Heisman Tailgate and the good music on the LBJ lawn.
This week's Longhorn City Limits headliner is awesome – The Revolution. That is Prince's band.  Will probably have to wander down and try and catch a few songs.
Week Eight in College Football
Big XII
The Land Thieves are back in Norman, taking on 3-3 West Virginia.  11:00 a.m. on FOX.  Oklahoma favored by 33.5, and the over/under is 63.  After seeing the Land Thieves in person last week, I think 34 is probably pretty fair.
Sand Aggies have a home game with Iowa State.  Also 11:00 a.m., on FOX Sports 1.  Cyclones are favored by 7, and the over/under is 57.  This should be a decent game to watch.
Texas Christian at Kansas State.  Purple on purple violence.  Both teams are 3-2, while Texas Christian is 1-1 in conference and K State is 0-2.  1:30 p.m. on FSN.  Horned Frogs favored by 3.5, and the over/under is 44.5.
No. 18 and undefeated Baylor at Oklahoma State (4-2, 1-2).  3:00 p.m. on FOX.  Cowboys favored by 4, over under is 68.  After my miss on the UVA game last week, I am once again feeling very deferential to Vegas, as they have plenty of info on the teams at the halfway point in the season.  I think this will be a close game, less than a touchdown, but not sure who wins.
Top 25
Friday Night
No. 4 Ohio State at Northwestern.  7:30 p.m. on BTN.  Buckeyes favored by 27.5, and the over/under is 49.5.  This could be an ugly game, but maybe Northwestern will surprise us with a cover.
Saturday
No. 3 Clemson at Louisvile.  11:00 a.m. on ABC.  Tigers by 24, o/u is 62.5.  Go Clemson.  Hope they cover by a touchdown.
No. 6 Wisconsin finally has a road game, and it is a gimme.  At Illinois.  11:00 a.m. on BTN.  Badgers favored by 31, and the o/u is 51.
No. Florida at South Carolina, and Coach Boom and his Cocks coming off that big Georgia upset. 11:00 a.m. on ESPN.   Gators favored by just 5, and the o/u is 47.
No. 11 Auburn at Arkansas, 11:00 a.m. on the SEC Network.  Tigers favored by 19.5, and the o/u is 55.5.  War Eagle!  Hope they beat em 50.
Purdue at No. 23 Iowa.  11:00 a.m. on ESPN2.  Hawkeyes looking to rebound against the Boilermakers, and they should.  Iowa favored by 17.5, o/u is 48.5.
Geaux Tigers!  No. 2 Louisiana State in Starkvegas to play the Bulldogs.  2:30 p.m. on CBS.  Tigers favored by 17.5 of Mississippi State, and o/u is 61.5.
No. 12 Oregon at No. 25 Washington.  2:30 p.m. on ABC.  One of the better games of the day, or at least one would hope.  Ducks favored by just 3, and o/u is 49.
Temple at No. 19 Southern Methodist.  2:30 p.m. on ESPN2.  Temple is 5-1, and has some good wins (then No. 21 Maryland, Georgia Tech, and No. 23 Memphis).  Both 2-0 in the American, as of course the Mustangs are undefeated.  Big game in the Bubble.  Good luck Ponies.
No. 20 Minnesota at bad Rutgers, 2:30 p.m. on BTN.  Meh.
Tulsa at No. 21 Cinci.  2:30 p.m. on ESPNU.  Cincinnati favored by 17.5, and o/u is 47.5.  Surprised the line is that big.
UL Monroe at No. 24 Appalachian State. App State favored by 15.  2:30 p.m. on ESPN+.
No. 22 Missouri at Vanderbilt, 3:00 p.m. on SECN.  Tigers favored by 3 touchdowns and the over/under is 56.5.  Missouri will cover.
Kentucky at No. 10 Georgia, 5:00 p.m. on ESPN.  I guess Vegas knows the Bulldogs are ticked off, as they are favored by 25, and the o/u is 46.5.  Not sure about the line, but Georgia will win easily.
No. 17 Arizona State at No. 13 Utah.  5:00 p.m. on PAC 12 Network.  Utes favored by 13.5, o/u is 45.5.  I like Utah in this one.
No. 16 Michigan at No. 7 PSU.  6:30 p.m. on ABC. Huge game for the Wolverines, and I hope they can pull off the upset.  PSU favored by 9, o/u is 47.
Tennessee at No. 1 Alabama.  A rivalry.  An Alabama win.  Tennessee will drop to 2-5 and 1-3 in SEC.   8:00 p.m. on ESPN.  Bama favored by 34.5, and o/u is 61.
No. 14 Boise State at Brigham Young.  9:15 p.m. on ESPN2.  Broncos favored by 7, o/u is 45.5, and this feels like an upset.
Other Games of Interest
Thursday night, Stanford lost to UCLA on the Farm, 16-34.  Bummer.
Saturday
Miami (2-4) hosts Northern Illinois.  1:30 p.m. on ESPN+.  Salukis favored by just 2.5 over the Redhawks.  Over/under is 48.5.
South Florida at Navy, 2:30 p.m. on CBSSN.  Navy favored by 14.5, o/u is 51.5.  Like the Middies in this one.
North Carolina at Virginia Tech.  2:30 p.m. on "ACCNX".  Mack and the Heels favored by 3.5, and the o/u is 57.
Duke at Virginia!  2:30 p.m. on ACCN.  Hoos favored by 3, o/u is 45.  Good Luck Cavaliers.
Rice at UTSA, 5:00 p.m.  Owls are favored by 4.5!  Will this be the game?
Army at Georgia State.  6:00 p.m. on ESPN+ .  Army favored by 5.5.
Colorado at Washington State.  Leach and the Cougars are 0-3 in conference play.  Stunning.  But Wazzu favored by 13.  6:00 p.m. on ESPNU.
UTEP at FIU.  FIU favored by 24.  6:00 p.m. on ESPN+.
Texas Agricultural & Mechanical at Ole Miss!  6:30 p.m. on SEC Network.  Aggies favored by 6.5, and the over/under is 55.5.  Hotty Toddy!  I like Ole Miss to cover.
Arizona at Southern Cal. 8:30 p.m. on the Pac12 Network.  Trojans favored by 10.
Air Force at Hawaii, 10:00 p.m. on CBSSN.  Air Force favored by 3.
The Week that Will Be:  We'll Meet Again
From HornMafia:
https://www.barkingcarnival.com/2019/10/16/20918593/the-week-that-will-be-well-meet-again-texas-football-big12
Last Week in College Football
Big XII – Week VII
The Sand Aggies lost a tough one in Waco, 30-33 in double overtime.  Not surprisingly, Big 12 referees played a crucial role in the Baylor win.  It was a fumble.  But Tech covered the line!
Iowa State played like I thought they would at the beginning of the season, going to West Virginia and spanking the Mountaineers 38-14 and covering.  Total was 42, and the over/under was 53.  Dang
Top 25
Friday Night
Virginia was in Miami, Florida to play the Hurricanes.  I really didn't get the line in that game, with the Cavaliers 2 point underdogs to 2-3 Miami (FL).  But once again, Vegas saw something.  And more.  Hurricanes 17, Virginia 9.  Darn it.
Oregon is rolling again, destroying the Buffalos 45-3.  Line was 21.
Saturday
I ran into Michael Williams in the Cotton Bowl after the game when he delivered the stunning news that Georgia had lost to South Carolina.  Can't believe it.  20-17 in double overtime.  Congratulations to Muschamp.
Alabama destroyed Texas Agricultural & Mechanical 47-28.  Whoop!
Clemson took it to the Seminoles, 45-14.
LSU with a large victory over Florida, 42-28.
Wisconsin just obliterated Michigan State, 38-0.
Wake Up the Echoes!  Notre Dame 30-27 over Southern Cal.  Wild fourth quarter with 24 points combined.
PSU 17, Iowa 12.
Utah 52-7 over the hapless Beavers.
Boise romped over Hawaii, 52-7.
Michigan 42-25 over Illinois
Arizona State with 14 in the Fourth to rally over Washington State, 38-34.  Leach needs a defense.  But then again, so do we.
Louisvile with the wild upset of Wake Forest, 62-59.
Temple with the 30-28 upset of Memphis.
No. 25 Cinci 38, Holgo and the Cougars 38-23.  I can't find a tweet I wanted to include.  Need to find it.
Other Games of Interest
Ole Miss lost at Missouri, 27-38.
Washington & Lee
The Generals are at Emory to play Emory & Henry (3-2, 2-1).  1:00 p.m.  Generals need a big win.
Ivy League
IVY LEAGUE REPORT FOR WEEK 3 (Oct. 5, 2019)
By Lonnie Schooler
The Ivy League gets into full swing this weekend as league play begins in earnest.  Because I missed reporting last week (due to the American League playoffs [Go Astros!!]), here are results from Weeks 3 and 4.
GAMES ON OCTOBER 4-5:
In Week 3 of the season, Ivy League action kicked off on Friday night in Philadelphia, as the Fighting Quakers of Penn hosted the Big Green of Dartmouth (a pre-season pick for League champion).  The game was broadcast on ESPNU.  Dartmouth showed why it is a favorite to win the League this year by jumping out to a 28-7 lead, including a fumble recovery returned for a touchdown.  The Quakers narrowed the gap to 28-15 in the 4th quarter, but the Big Green thereafter ran out the clock.
On Saturday, the University of Rhode Island (in what essentially was a home game for it) went to the Brown campus and pre-vailed over the Brown Bruins by a score of 31-28, with the winning touchdown being scored late in the game.  The Columbia Lions traveled to Princeton to take on the undefeated Tigers and surprisingly, given Columbia's recent record, made a game of it, losing 21-10. By the way, Princeton is presently rated No. 25 in the FCS poll.
The Harvard Crimson hosted the Howard University Bison in Cambridge, and extinguished the Bison in short order, 62-17, as two of its running backs each scored three touchdowns.  The Fordham Rams traveled to New Haven to confront the Bulldogs of Yale, and the Bulldogs rang up a resounding 48-24 victory, with Yale's quarterback, Kurt Rawlings logging over 300 yards passing, leading to 2 touchdowns, and ran for two more touch-downs in a very impressive showing.  Finally, the Hoyas of Georgetown traveled to upstate New York to tangle with the Cornell Big Red, and overcame a Cornell lead late in the 4th quarter to prevail, 14-8.
GAMES ON OCTOBER 11-12:
In Week 4, the Fighting Quakers of Penn tangled with Sacred Heart and came away with a 38-24 victory, thanks in large part to the efforts of Karekin Brooks, who ran for 178 yards and scored four touchdowns.  Harvard took on the Big Red of Cornell in a League matchup, and prevailed against the lowly Redmen, 35-22.
The Holy Cross Crusaders prevailed over the Brown Bruins 47-31, in a very high scoring affair in Worcester.  Central Connecticut outscored the Columbia Lions, 24-14.  Princeton hosted the Lafayette Engineers and easily prevailed, 28-3.  Finally, in a mild surprise, the Big Green of Dartmouth hosted Yale in Han-over and thrashed the Bulldogs, 42-10.  Yale had been a pre-season co-champion pick, with Dartmouth, but the Big Green left no doubt who is the superior time.
At this point in the year, Dartmouth and Harvard stand atop the League with 2-0 records, followed by Princeton, which has won one League game.
GAMES ON OCTOBER 19:
All of this week's games are on Saturday, and three are going to be broadcast on ESPN+ (the Brown, Cornell, and Columbia home games as indicated below).  All times shown are CDT.
The League leading Big Green of Dartmouth travel to Poughkeepsie New York to take on Marist (11:00).  The Princeton Tigers travel to Providence to play the Brown Bruins (11:30).  The Harvard Crimson journey to Worcester Mass. to confront the Holy Cross Crusaders (Noon).  In a match of upstate New York foes, the Colgate Raiders go to Ithaca to play the Big Red of Cornell (12:30).  The Fighting Quakers venture forth from Philadelphia to the Upper West Side to take on the Columbia Lions (12:30).  Finally, the Yale Bulldogs go to Richmond, Virginia, to play the University of Richmond (5:00).
Enjoy your football this weekend, as things start to turn a lot cooler in the Northeast.
Astros!
Nice win over the Yankees Thursday night.  Got my fingers crossed.  Another World Series in Houston.
God Bless Texas
Tim Taylor
Tailgating before Home Football Games
The Juan Heisman Tailgate
Lot 38, East of Sid Richardson Hall.
HOOK EM HORNS!!
© Timothy C. Taylor, Sr. 2019.  All Rights Reserved (as to original material).
On Twitter:  @tctayloratx
On LinkedIn:  www.linkedin.com/in/tctatx
On Instagram:  @tctayloratx
On Facebook:  www.Facebook.com/Tim.C.Taylor
and:  www.Facebook.com/Juan.Heisman