Texas Longhorns vs. Kansas State Wildcats
 The Texas Longhorns head north to Manhattan, Kansas to play the Wildcats Saturday.  A chilly 11:00 a.m. kickoff in Bill Snyder Family Football Stadium.  The Longhorns are now 5-3 overall, 4-3 in the Big 12.  K State is 4-5 for the season, 4-4 in conference play.  A somewhat meaningful season finale for the Wildcats:  A win gets them to .500 for the season and a winning record in the Big 12, probably a shot at a bowl game if the "lesser" bowls happen, and of course the joy of beating the Longhorns – and taking an 11-10 lead in the all-time series between the schools.  A Texas win at least keeps the theoretical possibility of playing in the Big 12 Championship Game alive, if a bunch of chips fall the right way, including Baylor beating Oklahoma Saturday night in Norman.  Regardless, I hope that this team follows Sam's lead and plays for the pride of the Longhorns and The University and the State of Texas.  Anyone who says "there is nothing left to play for" is a quitter.  [That is not directed at our kids who have opted out.  Different issue.]  If you are playing a game, then you play to win. There is always – always – something to play for, and that is victory.  Sam Ehlinger gets it.  I bet Ta'Quon Graham and Derek Kerstetter and Bijan Robinson get it.
The game will be broadcast on FOX, Gus Johnson (PxP), Joel Klatt (analysis), & Jenny Taft (sideline) will have the call.  Calling the game on the Longhorn IMG Radio Network, The Voice of the Longhorns Craig Way, joined by Roger Wallace and Quan Cosby.  Also broadcast in Spanish, with Dr. Rubén Pizzaro-Silva, Jesus Mendoza.  This game will most likely determine who ends up in the Big XII Championship game.
The Longhorns are 7 point favorites against a very mediocre K State team.  Over/under is 51.5.
House Park Bar-B-Que
Earlier this week, when Joe Sullivan was at House Park getting the pit ready for the next day, a fire started.  Thankfully, Joe escaped without injury.  But the restaurant was badly damaged.  Joe's son Matt has been running House Park for years, and Matt has smoked the briskets for our Texas barbecue Juan Heisman Tailgate many times.  House Park is the birthplace of my son's amazing smoked tomatillo salsa verde – Tonto's Tomatillo Salsa.  Which is damn good.  House Park is an iconic Austin barbecue joint and restaurant, and we are heartbroken.  But Matt and his family and friends are committed to re-build and re-open and are going to give it their best shot.  I hope you will join me in lending a hand.  Oldest Pit in Austin.  Need No Teef.
https://www.gofundme.com/f/rebuild-house-park-bbq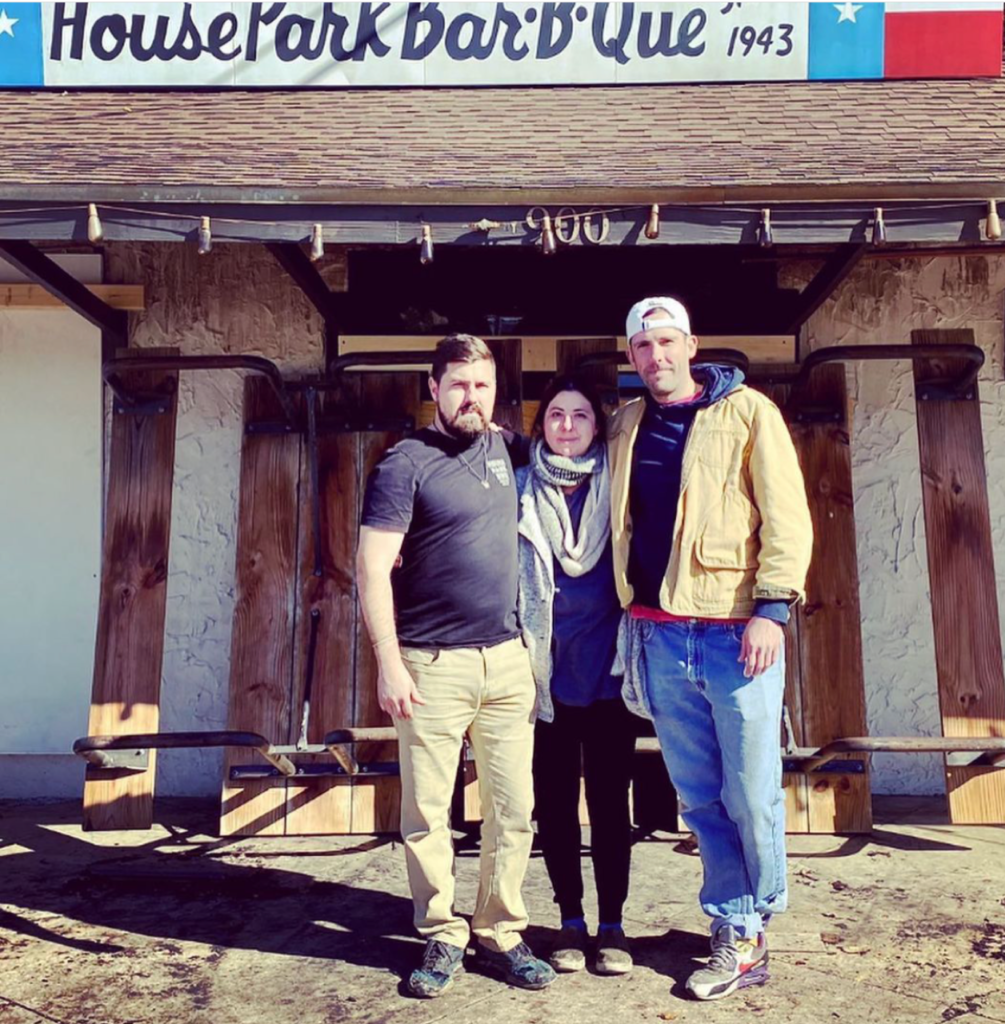 Matt, Olivia, & Charles.
Knight Commission on Intercollegiate Athletics
I am not too surprised about this proposal out of the Knight Commission on Thursday.  The only thing that really intrigued me is that it is for all of FBS.  I had thought for a long time that the reorganization of the old Division I football (FBS) would be to create four super conferences of 16 (or so) teams each, regionally grouped.  That would create a logical feeder structure for an expanded 12 or 16 team College Football Playoff, with regular season conference winners, conference championship game winners, and then "wild card" spots for highly ranked teams that didn't get in those 2 categories.  The article below has a link to the full report.  Very interesting.
Essentially, the FBS would spin out of the NCAA and create the new National College Football Association, which would then run FBS football outside of the NCAA, governance and all.  Why?  Because the College Football Playoff revenue alone will fund it – $539 million to FBS schools in 2018-19.  That's some nice seed money.
https://www.knightcommission.org/2020/12/knight-commission-recommends-a-new-governing-structure-for-the-sport-of-fbs-football/
Iowa State 23, Texas Longhorns 20
Texas lost a game that they controlled and in which they held the lead for 58 minutes and 35 seconds.  A game in which our best players played well.  A game in which our coaching staff made decisions (in my opinion) that allowed a critical victory to become a much critiqued loss.  No long review and re-cap.  Just don't have the energy or the time.  But, Thursday evening I did watch Texas Football Overdrive, the great 1 hour condensed version of the game which Longhorn Network produces (Hi Ande!  Congrats Nick!).  And watching that triggered my anger about the game, so a little more than I had planned, and thus another really late night distribution of the email.
First, I don't want to come across with too many waves of negativity.  I am no Moriarty.  So, a few things that were good.
Sam Ehlinger.  Our warrior continued his senior campaign with leadership and guts.  He had a solid 17/29, 298 yards, 1 passing TD, plus leading the team in rushing with 65 yards (77 gross) and a TD.  He averaged 4.3 per carry, better than Bijan Robinson, who is a sensational running back (Bijan had 54 yards on 16 carries, 3.4 ypc average).
Tackling.  Yes, we had a few whiff and misses, but against the best team in the Big 12, we made some great tackles, especially in the open field.  Jalen Green's plant of Breece Hall was exceptional.  And many other guys had excellent solo tackles.  Significant improvement there.
Brennan Eagles.  A spectacular day for Eagles, highlighted by that over-the-shoulder catch.  5 receptions for 142 yards – about half of our passing attack on Saturday.  Great game.
Rush Defense.  Coming into the game, the Cyclones were averaging 205.3 yards per game.  Breece Hall was averaging 146.13 yards per game, 6.49 yards per carry, and he'd rushed for at least 100 in every game.  The Texas defense held ISU to 121 yards, at 3.7 ypc, and Hall gained 91 yards (4.6 ypc).
Texas Ground Game.  Texas came in averaging 167.3 yards per game, and the Iowa State defense was allowing 104 yards per game.  Texas ran for 145.
And it was really good to see Jordan Whittington back on the field.
So what went wrong?  Notebooks and analytics.  I'm a baseball nut.  I love sabermetrics.  I think the analytics and sabermetrics work great, especially in the second half of a 162 game season, when you have 81 games in the sample.  And it is professional sports where (i) for the most part, the players are significantly older and much more mature than college football players, and (ii) the differential on talent is not as big as in college football.  There's a reason I don't even include statistical comparisons the first few newsletters of the season.
I am not suggesting that analytics and odds should not be a part of a decision making process.  Logic and what certain numbers and analyses suggest are critical in the matrix, and are useful and informative.  But there is a reason why Jim Kirk was the Captain and Spock was the First Mate.  You have to use your head and your heart and your gut.
Texas played a solid first quarter, and held a 13-7 lead after the first frame.  The only real blemish was the Tarik Black fumble.  Instead of first and 10 and the ISU 20, we were back on defense.  But the D stepped in and got a 3 and out, so at least the turnover didn't lead to points.  Heck, Texas even had decent field position after the Cyclone punt – the UT 44.  And Texas had a decent possession that got points –a Dicker field goal.
Kudos to Matt Campbell and his offense and Brock Purdy.  That 8 minute drive that started at the end of the first quarter and ate up half of the second quarter was impressive.  15 plays to go 67 yards, but Texas held them to a field goal.  ISU had another 15 play drive to end the half.  Texas ran five – 5 – plays on offense in the second quarter.  One way to play defense against Sam Ehlinger is to not let him touch the ball, and the Cyclones managed that tactic quite well.
The second half started innocuously enough.  Iowa State got the ball to start, but Texas forced a punt after just one first down.  Texas started back on their own 11, and Sam engineered an 8 play 89 yard touchdown drive that included a big 17 yard third down catch by Jake Smith and that 45 yard reception by Eagles, and then the touchdown pass to Jared Wiley (our tight end).
20-10 Texas midway through the third.
Iowa State answered with a drive that was keyed by a 31 yard pass to Charlie Kolar and a 17 yard pass to him (their tight end).  Holding them to a field goal after that shredding was a blessing.
Then.  On the ensuing kickoff, D'Shawn Jamison had a great 39 yard return to midfield.  First and 10 at the 50 with a 10 point lead and under 3 minutes to play in the game.  Run a little clock, and at worst, pin the Cyclones deep at the end of the quarter or start of the fourth.  But, on fourth and 8, our new punter, Cameron Dicker, was called on to fake the punt and throw a pass.  To his credit, it was a really good pass to Cade Brewer, who caught it.  For 5 yards.  Coach Herman said they had been working on it and he "knew" we had it.  Or words to that effect. .
That critical (and in my opinion, immensely poor) decision turned the game in favor of the Cyclones.  They are in first place in the Big 12 for a reason.  They are good, well-coached football team.  ISU took the ball from their own 43, and on the first play took a shot with great pass to Kolar, 44 yards to Texas 13.  The field was flipped 75 yards (at least) on 2 plays.  But for an ISU penalty (holding) and some stiff defense, the game would have been tied.  But Herman escaped that mistake with a field goal.  20-16 Texas.
But why not double down?
Next possession, Sam did a great job of driving the Horns down the field.  Several solid runs, 15 yards to Eagles, a 30 yard completion to Smith, and the Horns had a first down on the Iowa State 21.  A critical holding penalty on Tarik Black turn a short gain on a pass to Bijan into first and 17 from the 28.  But Sam got back 10 on a run, and then on second and 7, Robinson got 4.  Third and 3 from the 14, and Sam could only gain a yard.  Fourth and 2 on the opponent's 13 yard line.
Up 20-16 at home with about 8 minutes to play and a field goal means (to my simple mind, anyway), that worst case you give up a touchdown in the last half of the quarter and you play overtime and win.  And even that seemed like a low probability to me, as Texas had allowed just that first quarter touchdown.  After that, the Texas defense had kept Purdy and the Cyclones out of the end zone (and ISU had been at the Texas 8, the Texas 5, and the Texas 20).
Herman rolls the dice.  Tom said that the analytics said go for it.  Don't kick the field goal.  Sam was stopped for no gain.
The Texas defense bailed him out again, stopping the Cyclones. Here is how it played out.
With 4:23 left in the game, ISU had a 4th and 3 and their own 42.  They got a delay of game penalty, and at that moment, Texas had an 87.3% win probability, holding a 20-16 lead.  Texas got the ball at its own 24 with 4:09 to play.  I remember saying, now we just to execute our 4 minute offense.  Bijan for 4, incomplete to Jake Smith, incomplete to Joshua Moore, punt.  Texas ran exactly one minute (1:00.  Sixty seconds) off the clock.   Iowa State got the ball back with 3:09.  Brock Purdy executed perfectly, and Iowa State took a 23-20 lead, thanks to Breece Hall and good passes.
Texas did have a chance, getting the last possession with 1:20 to play.  Like so many games in the Tom Herman era, the game was coming down to the last possession.  This time, Sam Ehlinger couldn't get the rabbit out of the hat.  Not helped by a holding call on the first play of the drive, Sam nonetheless got Texas within makeable field goal range.  But the sack pushed Texas back just enough that Dicker's game-tying kick attempt was from 58, and it went wide left.
A brutal loss.  Especially on Senior Day.
I went back and looked at my keys to the game that I came up with last week.  I am not tooting my horn, as most of the "Keys to the Game" I come up with are obvious to our coaches and players and the professional sportswriters and bloggers (and, without doubt, the oddsmakers and most of you).  I just write my own, my way, based on what I have watched and researched.
The first was contain the run, which we did better than I thought we would, and then put pressure on Purdy and not let him get lots of positive yards rushing.  We did that.  Two QB hurries, one sack, and Purdy netted 19 yards on the ground.
We had to avoid mistakes and critically timed penalties.  Only the one fumble, no picks.  Not bad.  And while the Horns were only penalized 7 times for 56 yards, 3 of ISU's first downs were based on flags thrown on the Horns.  Not terrible, but not good.  Within my "manageable" range.
My next was protect Sam Ehlinger and keep him healthy.  Texas did that for the most part, only giving up 2 sacks, but that last one may have been the difference between a made and missed field goal.  Not blaming Sam; that was a great pass rush to close out the game for the Cyclones.  And Sam should not have been in that position.
"We need the receivers to catch everything that is thrown to them or close.  No dropped balls this week."  I didn't re-watch close enough, but I don't think there was more than one drop.  Cyclone defenders got their hands on the ball more than I normally see against Texas, but I think Sam and Yurcich and the receiver corps checked this box.
Bijan Robinson finished with 54 (I averred that he needed 80) and Johnson with 26 (I said need 40).  Sam picked up the slack, and maybe 145 yards rushing should have been enough.
"Control Breece Hall."  As noted above, the Texas defense did an A+ job there.  We checked that box.
"Special teams.  More precisely, smart special teams play.  No muffed punts, no blocked punts, and make good decisions."  I can say without hesitation that the players on special teams did great.  And D'Shawn Jamison had a good day, 94 yards in kickoff returns.
So, I don't know if I am a Mensa, but I know this:  I had an arm-chair coach/quarterback theory of what Texas had to do to beat Iowa State and more likely than not play for a Big 12 Championship.  And the Texas Longhorns who were wearing pads and helmets last Friday did it.  I am sure those obvious things were in the coaches' game plans too.  It wasn't the game plans and it wasn't the execution and it wasn't the play on the field.  All good.  Texas should have won.  It was all about decisions.  And there are some tough ones ahead.
The most painful post-game quote was from Breece Hall:  "It's five-star culture versus five-star players."
Texas Longhorns vs. Kansas State Wildcats
The history with K State is defined by the guy whose name is on their football stadium, Bill Snyder.  The Wizard had our number.  Texas and K State met as conference mates for the first time in 1998, in Manhattan.  Snyder thumped Mack and the Horns 48-7.  In 1999, 35-17 win for the Wildcats in Austin.  2002 & 2003 were wins for Brown over Snyder.  In the interregnum Prince Era, KSU beat Texas in 2006 & 2007.  After Snyder's return in 2010:  39-14 KSU, 17-13 KSU, 44-42 KSU.  Mack bested Bill 31-21 in 2013.  Mack finished 3-5 against Snyder.  Snyder got the win the next year in the Little Apple, shutting out the StrongHorns 23-0, and Charlie got even in 2015 with a 23-9 Texas win in Austin.  K State won in 2016, so Snyder finished 2-1 against Strong.
Herman is 3-0 against K State.  2-0 against Bill Snyder, and he beat the Wildcats under first year head coach Chris Klieman here in Austin last year, 27-24.  In true Hermanesque style, no win by more than 6 points.  But to Tom Herman's credit, he has beaten them every year, something no other Texas Head Coach has been able to come close to since the start of the Big 12 Conference.
For those wondering:  Texas Varsity beat K State in Austin 46-0 in 1913 under Dave Allerdice.  K State won in 1926 in Manhattan, 13-3.  Clyde Littlefield coached the Longhorns to victory in Austin in 1927, 41-7.  And in 1942, Dana X. Bible's Longhorns won 64-0 in Austin.
Official Texas Preview:
https://texassports.com/news/2020/11/30/football-preview-at-kansas-state-dec-5-2020.aspx
Texas Game Notes:
https://texassports.com/documents/2020/11/30//Texas_2020_Notes_9.pdf
Kansas State Game Notes:
https://www.kstatesports.com/documents/2020/11/30/Game_10_Texas.pdf
One of the interesting pages in the Texas Game Notes is called "Statistics. The Last Time … Texas", and it looks at a huge number of stats and then gives you the last game when we achieved that particular statistical metric.  For example, the last time Texas scored in the 50's was 7 games ago, against UTEP, and the last time in the 60's was 6 games ago, against Tech.  The one longest ago?  Last time Texas returned an opening kickoff for a touchdown was 657 games ago, when Greg Lott returned the opening kick against Texas Tech in Lubbock on September 24, 1966.  So, D'Shawn Jamison, how about adding your name to the record books again this weekend?  He had the last Texas return for a TD just 2 games ago.
The Texas depth charts, at least as they stood when the Game Notes were published earlier in the week.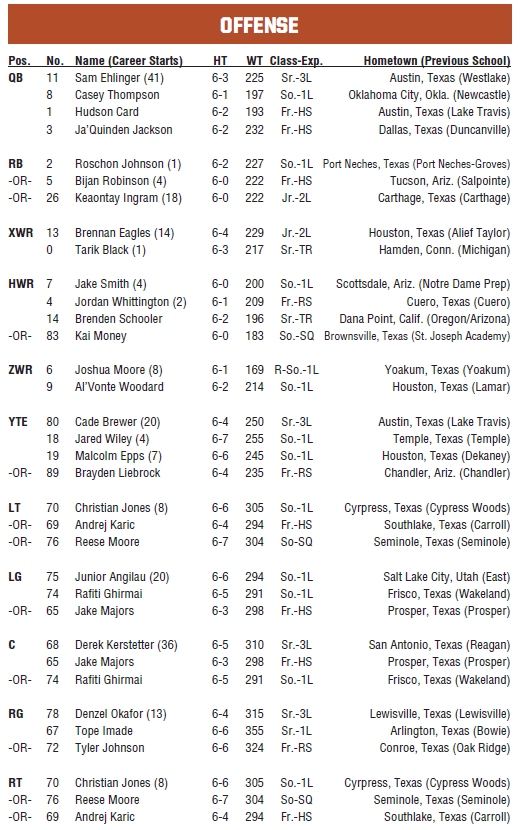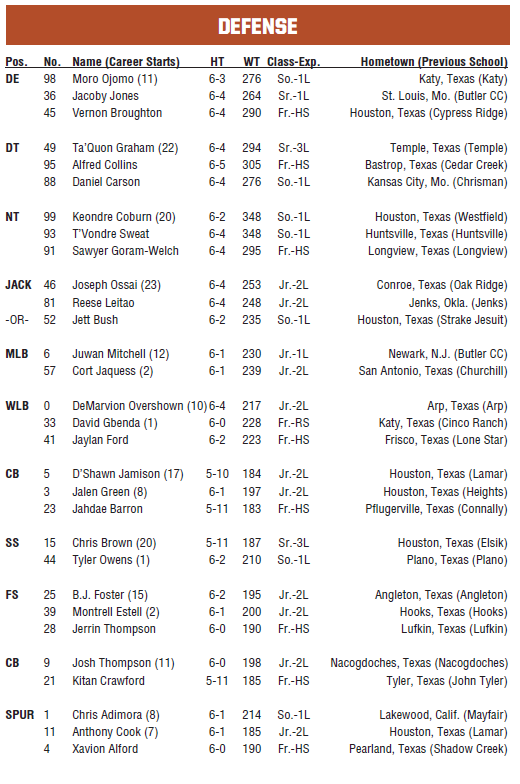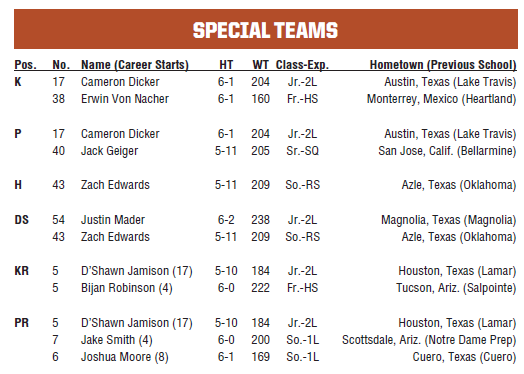 If you have never checked out winsipedia.com, it is pretty cool.  I don't include much from them, as I mainly use it to look at the history of the series.  Best tool on the web for that.  But for those of you who are interested, below is a screenshot of some of the info, and the link to our series with Kansas State.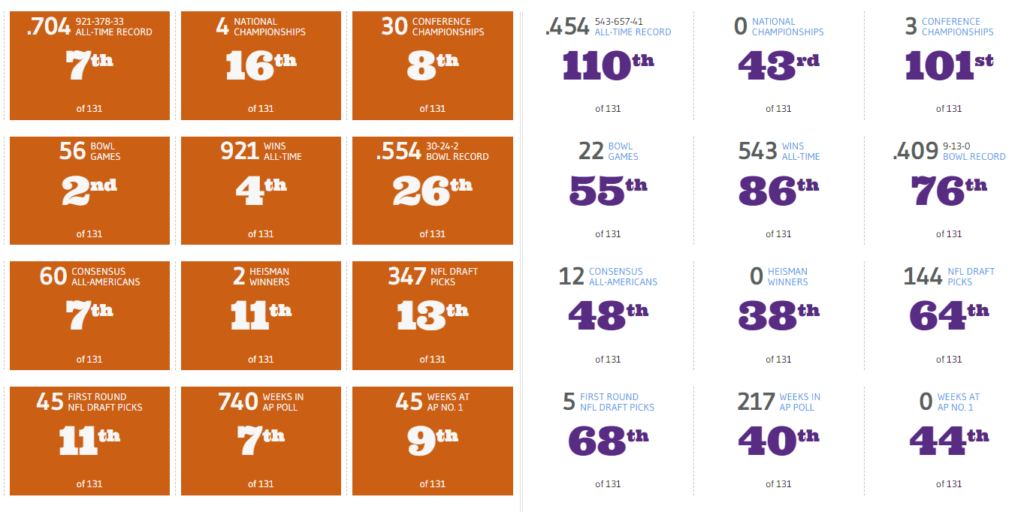 http://www.winsipedia.com/texas/vs/kansas-state
Kansas State Wildcats
An interesting and trying year for the Purple Faithful.  Kansas State started the season with the bad loss to Arkansas State at home, 31-35.  Then went to Norman and upset the Land Thieves, 38-35 (for which we are grateful Rex).  They reeled off three more wins:  31-21 over Tech, 21-14 over Texas Christian, and 55-14 over Kansas.  They were 4-1 and looked like contenders.  They haven't won a game since.  37-10 loss to West Virginia, 20-18 loss to Okie State, 45-0 to Iowa State, and last week's 32-31 to Baylor.  A win over Texas is their last hope to avoid a losing season.
Wildcat quarterback is Freshman Will Howard, (#15, 6-4, 230).  74/141, 1,004 yards, 6 TDs, 6 Interceptions, and he's taken 6 sacks.  He's got 285 yards and 3 TD's on the ground.  He has matured quickly.
Leading rusher is Deuce Vaughn (#22, 5-5, 168 freshman).  Deuce is from here – Cedar Ridge High School in Round Rock.  527 yards on 113 attempts, 5 TDs.  He got 102 yards last week versus Baylor.  He is also their leading receiver:  21 catches for 389 yards and 2 scores.
Briley Moore (#0, 6-4, 250, Senior) has 21 catches for 326 yards and 3 scores.  Chabastin Taylor (no relation, but he is from Giddings), is a 6-4, 223 junior WR who has 19 catches for 293 yards and a score.  Philip Brooks (#88, 5-7, 167, Sophomore WR) has 14 catches for 156 yards and 2 scores.
Jahron McPherson (#31, 6-1, 200, Senior DB) has 51 tackles (35 solo), 3.5 TFL for 18 yards, 1 sack for 6, 2 interceptions, 4 break-ups, a quarterback hurry, and a forced fumble.  Nice line.
Justin Hughes (#32, 6-1, 229, Senior LB) has 43 tackles (28 solo), 1 TFL for a hard.  Cody Fletcher (#55, 6-2, 004, Senior Linebacker from Henrietta, Texas) has 42 tackles (28 solo), 3.5 TFL for 10 yards, 1.5 sacks for 4 yards.  [Henrietta is the county seat of Clay County, 20 miles southeast of Wichita Falls; population of 3,141 in 2010; Hwy 287 runs through there; hometown of Frank N. Ikard, U.S. Congress 1951-1961].
Wyatt Hubert (#56, 6-3, 270 Junior defensive end from Topeka), leads K State with 7.5 sacks for 36 yards and 12 tackles for loss for 50 yards, add in 5 QBH.  He has 25 tackles total (17 solo).  We may be missing Mr. Cosmi.  Next Man Up.
Blake Lynch is their kicker.  11-15.  Perfect under 40 yards (9-9), missed all 3 between 40 & 49, and is 2 for 3 from 50+.
Special Teams note:  Speedy little Philip Brooks has 2 punt returns for TDs, has 261 yards and averages 23.7 per return.
The Statistics
Offense
| | | |
| --- | --- | --- |
| Statistic | Texas | Kansas State |
| Rushing Offense | #63 – 164.5 ypg | #89 – 138.1 ypg |
| Passing Offense | #30 – 274.0 ypg | #104 – 187 ypg |
| Total Offense | #36 – 438.5 ypg | #116 – 325.1 ypg |
| Scoring Offense | #20 – 37.9 ppg | #83 – 26.1 ppg |
| First Downs | #58 – 21.5/game | #123 – 14.6/game |
| Sacks Allowed | #89 – 19, 118 yards | #60 – 13, 94 yards |
| Tackles for Loss Allowed | #81 – 46, 171 yards | #94 – 54, 180 yards |
| Third Down Conversions | #74 – 39.1% | #113 – 32.8% |
| Fourth Down Conversions | #50 – 60% | #31 – 66.7% |
| Red Zone Offense | #45 – 86% / 67% | #18 – 93% / 62% |
| Long Run Plays | #39 – 43/10; 11/20; 4/30; 3/40 | #56 – 37/10; 14/20; 4/30; 3/40 |
| Long Pass Plays | #30 – 83/10; 31/20; 19/30; 12/40 | #84 – 45/10; 26/20; 14/30; 8/40 |
| Long Scrimmage Plays | #32 – 126/10; 42/20; 23/30; 15/40 | #75 – 82/10; 40/20; 18/30; 4/40 |
Defense
| | | |
| --- | --- | --- |
| Statistic | Texas | Kansas State |
| Rushing Defense | #26  – 118.3 ypg | #60 – 159.8 ypg |
| Passing Defense | #112 – 286.8 ypg | #99 – 266.8 ypg |
| Total Defense | #62 – 405.1 ypg | #81 – 426.6 ypg |
| Scoring Defense | #63 – 28.9 ppg | #59 – 28.1 ppg |
| Sacks | #53 – 15, 105 yards | #12 – 27, 140 yards |
| Tackles for Loss | #20 – 62, 223 yards | #16 – 63, 230 yards |
| First Downs Allowed | #104 – 24.1/game | #84 – 22.6/game |
| Third Down Conversions | #40 – 36.6% | #66 – 40.3% |
| Fourth Down Conversions | #8 – 25.0% | #54 – 52.9% |
| Red Zone Defense | #39 – 80% / 50% | #44 – 81% / 62% |
| Long Run Plays Allowed | #41 – 26/10; 8/20; 2/30; 1/40 | #95 – 46/10; 15/20; 6/30; 3/40 |
| Long Pass Plays Allowed | #112 – 94/10; 29/20; 10/30; 3/40 | #108 – 88/10; 36/20; 12/30; 4/40 |
| Long Scrim. Plays Allowed | #91 – 120/10; 37/20; 12/30; 4/40 | #103 – 134/10; 51/20; 18/30; 7/40 |
Other
| | | |
| --- | --- | --- |
| Statistic | Texas | Kansas State |
| Turnovers | #54  – 4F, 5I, 9T | #84 – 4F, 8I, 12T |
| Turnover Margin | #41 12:9, +0.38 | #61 12:12, 0 |
| Penalties | #113 – 67, 626 yards | #108 – 62, 626 yards |
*Based on total number of penalties.
Match-up Comparison
| | |
| --- | --- |
| Texas Offense | Kansas State Defense |
| Rushing Offense – 164.5 ypg | 159.8 ypg – Rushing Defense |
| Passing Offense – 274.0 ypg | 266.8 ypg – Passing Defense |
| Total Offense – 438.5 ypg | 426.6 ypg – Total Defense |
| Scoring Offense – 37.9 ppg | 28.1 ppg – Scoring Defense |
| First Downs – 21.5/game | 22.6/game – First Downs Allowed |
| 3rd Down Offense – 39.1% | 40.3% – 3rd Down Defense |
| 4th Down Offense –  60% | 52.9% – 4th Down Defense |
| Red Zone Offense – 86/67 | 81/62 – Red Zone Defense |
| LRP – 43/10; 11/20; 4/30; 3/40 | 46/10; 15/20; 6/30; 3/40 – LRP Allowed |
| LPP – 83/10; 31/20; 19/30; 12/40 | 88/10; 36/20; 12/30; 4/40 – LPP Allowed |
| LSP – 126/10; 42/20; 23/30; 15/40 |  134/10; 51/20; 18/30; 7/40 – LSP Allowed |
| | |
| --- | --- |
| Texas Defense | Kansas State Offense |
| Rushing Defense – 118.3 ypg | 138.1 ypg – Rushing Offense |
| Passing Defense – 286.8 ypg | 187 ypg – Passing Offense |
| Total Defense – 405.1 ypg | 325.1 ypg – Total Offense |
| Scoring Defense – 28.9 ppg | 26.1 ppg – Scoring Offense |
| First Downs Allowed – 24.1/game | 14.6/game – First Downs |
| 3rd Down Defense – 36.6% | 32.8% – 3rd Down Offense |
| 4th Down Defense –  25.0% | 66.7% – 4th Down Offense |
| Red Zone Defense – 80/50 | 93/62 – Red Zone Offense |
| LRP Allowed – 26/10; 8/20; 2/30; 1/40 | 37/10; 14/20; 4/30; 3/40 – LRP |
| LPP Allowed – 94/10; 29/20; 10/30; 3/40 | 45/10; 26/20; 14/30; 8/40 – LPP |
| LSP Allowed – 120/10; 37/20; 12/30; 4/40 |  82/10; 40/20; 18/30; 4/40 – LSP |
 The Texas offense is significantly better than K State's, and their defense is worse than Texas. We should be able to control and move the ball.  Texas should generate at least half a dozen explosive plays, 4-5 over 20 yards.  Texas needs to minimize the penalties, play fundamentally sound football, and take care of the ball.
So what is going to happen?  Texas is going to win.  Sam Ehlinger will lead the Texas Longhorns to a victory.  I worry that Will Howard will have a career day running the ball, as that seems to happen against the Wildcats.  And that obviously is not a jab at Herman, who as noted is 3-0 against KSU.  It is just one of those things that moderately talented quarterbacks seem to have good days against us.  Maybe not anymore.  Texas defense is much improved.  And will play that way Saturday.
I not only predict a win, but also I think Texas will cover.  34-21.
Polls Week 14
College Football Playoff Rankings:  Alabama, Notre Dame, Clemson, The Ohio State University™, Texas Agricultural & Mechanical, Florida, Cincinnati, Georgia, Iowa State, and Miami (Florida).  Land Thieves at No. 11.   Oklahoma State at No. 15.  Tulsa at No. 25.  Too much $EC.
AP Top 25:  Alabama, Notre Dame, The Ohio State University™, Clemson, Texas Agricultural & Mechanical, Florida, Cincinnati, Brigham Young, Miami (Florida), and Indiana.  Iowa State at 12, Land Thieves at 13.  Oklahoma State at 19.
Coaches Poll:  Roll Tide, L'Université de Notre Dame du Lac, Clemson, The Ohio State University™, Gators, Texas Agricultural & Mechanical, Cinci, Brigham Young, Miami (Florida), and Georgia.  Cyclones at 12, Land Thieves at 13, and Oklahoma State at 18.
Another way to look at the standings.  In addition to the CFP and AP Top Ten's listed above, here are the other teams ranked higher than Texas in those two polls:  Oklahoma, Indiana, Brigham Young, Northwestern, Oklahoma State, Wisconsin, North Carolina, Coastal Carolina (!), Iowa, Southern Cal, Marshall, Washington, Oregon, Tulsa, Louisiana (CFP), and Liberty (AP).  Makes me sick to my stomach.
Big 12 Standings
Iowa State Cyclones               7-1
Land Thieves of Norman        5-2
Oklahoma State                      5-2
Texas Longhorns                    4-3
West Virginia                          4-3
Kansas State                          4-4
Texas Christian                       4-4
Baylor                                     2-5
Texas Tech                              2-6
Kansas                                    0-7
This Week's Games
CFP rankings.
This Week in the Big 12
 No. 15 Oklahoma State at Texas Christian.  11:00 a.m. on ESPN2.  Really surprised that the Cowboys are only 2 point favorites.  Over/under is 51.5.  Okie A&M has a real shot at playing for the Big 12 Championship, and as long as the other team in that game isn't from Norman, they have a decent chance to win the title.  I think Gundy and his guys come out blazing.  OSU by 10.
Kansas at Texas Tech.  11:00 a.m. on FS2.  Red Raiders favored by 27.5, o/u is 62.5.  Will be really interesting to see what the line is for Texas and Kansas.
West Virginia at Iowa State, 2:30 p.m. on ESPN.  Cyclones favored by 6.5, over/under is 49.5.  Iowa State to win and cover.
Baylor at Oklahoma, 7:00 p.m. on FOX.  Land Thieves favored by 22, over/under is 62.5.  Upset!  Sic Em!
This Week in the Top 25
Friday
No. 25 Louisiana at Appalachian State.  7:30 p.m. on ESPN.  Sun Belt in the Prime Time!  Both teams with one conference loss, and App State favored by 2.5, over/under is 51.
Saturday
No. 4 Ohio State at Michigan State.  11:00 a.m. on ABC.  I wish I could say that I thought the Spartans could pull the upset.  Buckeyes favored by 24, over/under is 59.5.
Rice at No. 21 Marshall, 11:00 a.m. on ESPN+.  Thundering Herd favored by 23.5, over/under is 44.5.  Gold luck Owls!
Western Carolina at No. 17 North Carolina.  ACC Network at 11:00 a.m.  No Line.  ESPN's Matchup Predictor gives the Catamounts a 0.2% chance of winning.
No. 5 Texas Agricultural & Mechanical at Auburn.  11:00 a.m. on ESPN.  Texas Agricultural & Mechanical with just the one loss to the Crimson Tide.  Auburn with 3, but they are just 6.5 point underdogs.  For a reason.  Auburn and Nix are terrible on the road, and those 3 losses are to then No. 4 Georgia in Athens, at South Carolina (puzzling loss, but points to their road issues), and at No. 1 Alabama last weekend.  Auburn has wins over Kentucky, Arkansas, Ole Miss (only road win), Louisiana State, and Tennessee.  This is not one of Malzahn's stronger teams, but they are not a mediocre 3-loss team.  War Eagle.
No. 13 Brigham Young at No. 18 Coastal Carolina, 4:30 p.m. on ESPNU.  Cougars favored by 10, over/under is 61.5.  Coastal Carolina was supposed to play Liberty.  But I guess late Tuesday or Wednesday, Liberty had to withdraw due to Covid problems; Chanticleers was favored by 11 in that match.  Credit Brigham Young AD Tom Holmoe, who jumped on the chance to challenge the Chanticleers, chasing the CFP and taking the Cougars to Conway.
Syracuse at No. 2 Notre Dame.  1:30 p.m. on the stations of the National Broadcasting Corporation.  Fighting Irish favored by 34!  Over/under is 51.5.  Go Irish!
No. 8 Florida at Tennessee, 2:30 p.m. on CBS.  Gators favored by 17.5 over the Vols in Neyland.  Over/under is 62.5.  This would be a huge upset.
No. 12 Indiana at No. 16 Wisconsin.  2:30 p.m. on ABC.  Badgers, who are 2-1, are favored by 14 over the 5-1 Hoosiers.  Over/under is 45.  Not overly confident Indiana is going to win, but very confident they will cover.
No. 19 Iowa at Illinois.  Did you know that Wednesday night I cheered for the Illini for the first time in an athletic event?   Anyway, this football game is at 2:30 p.m. on FS1.  Iowa favored by 13.5, over/under is 51.
No. 24 Tulsa at Navy, 2:30 p.m. on ESPN2.  Golden Hurricane favored by 12 over the Midshipmen.  Over/under is 49.5.
Vanderbilt (0-8) at No. 8 Georgia (6-2).  3:00 p.m. on $EC Network.  Tough year for the Commodores, but kudos to Vandy for giving Sarah Fuller the opportunity to play the game.  First woman to play for a Power 5 school in football.  Bulldogs 35.5 point favorites between the hedges.  Over/under is 54.
Stanford at No. 22 Washington, 3:00 p.m. on FOX.  Huskies favored by 11.5, over/under is 50.
Some good night games this week.
No. 23 Oregon at California Berkeley.  6:00 p.m. on ESPN.  Ducks favored by 9, over/under is 59.
No. 3 Clemson at Virginia Tech.  6:30 p.m. on ABC.  Clemson favored by 22, which seems a bit high.  Over/under is 67.  Take the Hokies and the points.
No. 1 Alabama at Louisiana State.  7:00 p.m. on CBS.  Crimson Tide a whopping 29.5 point road favorite – at Tiger Stadium.  Over/under is 67.  Geaux Tigers!
No. 10 Miami (Florida) at Duke.  7:00 p.m. on the ACC Network.  Canes favored by 15, over/under is 60.  I don't always cheer for Duke, but when I do, they are playing Miami (Florida).  Go Blue Devils.
Sunday
Washington State at No. 20 Southern Cal.  6:30 p.m. on FOX Sports 1.  Trojans favored by 13, over/under is 67.5.
Other Game of Interest This Week
Thursday night, North Texas lost to LA Tech, 31-42.  Air Force Academy with a solid 35-7 win over Utah.
Saturday
Nebraska at Purdue, 11:00 a.m. on the Big Ten Network.  Boilermakers favored by 1.5.
Memphis at Tulane, 11:00 a.m. on ESPN+.  Tulane favored by 1.5.
Troy at South Alabama. Why of interest?  My sister Becky and her husband Lee live in Dothan.  This is a big game in parts of south Alabama.
Boston College at Virginia, 2:30 p.m. on ESPN3.  Cavaliers favored by 4 at Scott Stadium.  Over/under is 54.5.  Go Hoos!
Oregon State at Utah, 9:30 p.m. on ESPN.  Utes favored by 11.  Of interest because it is a watchable late game and the Utes are a surprising 0-2 while the Beavers are 2-2.
Houston at Southern Methodist.  Postponed.
Really good article on the old Southwest Conference.  An oral history, and whether you grew up with the SWC like I did, or you are too young to remember (or weren't even born, like Claudia's generation), this is a must-read.
            The Demise of the Southwest Conference, 25 years later
https://www.espn.com/college-football/story/_/id/30424417/i-wishof-well-demise-southwest-conference-25-years-later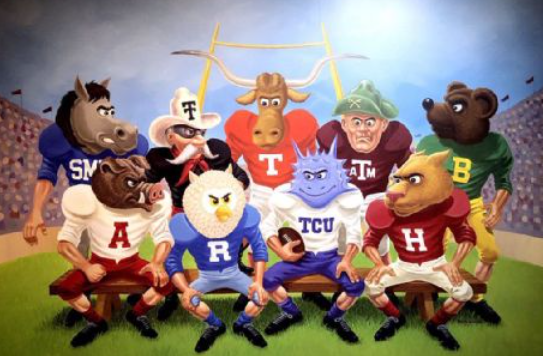 Photo from the article, and courtesy of Texas Sports Hall of Fame
Week 14 Games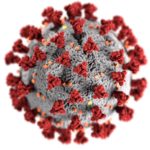 Cancelled or Postponed
14 Northwestern at Minnesota, cancelled
Southern Mississippi at UTEP, cancelled
Boise State at UNLV, cancelled
Kent State at Miami (Ohio), cancelled
Maryland at Michigan, cancelled.
Houston at Southern Methodist University, postponed.
The Week That Will Be
Carry on Wayward Son.  HornMafia (Matt Craig) on Barking Carnival.
https://www.barkingcarnival.com/2020/12/3/22149761/the-week-that-will-be-carry-on-wayward-son-texas-longhorns-football
Texas Basketball
What a great start for Shaka Smart and his Longhorns.  Wednesday afternoon, the Longhorns beat the No. 14 North Carolina Tarheels and Roy Williams 69-67 to win the Maui Invitational.  As UNC Head Coach, Roy is now 1-8 against Texas.  His worst record against any school since he's been at Chapel Hill.  Glorious.  Before that, Texas beat Indiana 66-44 and Davidson 78-76.  This team is good.  We play No. 3 Villanova Sunday at 12:00 noon at the Frank Erwin Center.  Cool Trophy.  Congrats Shaka.  And big congrats to Matt Coleman, Tournament MVP.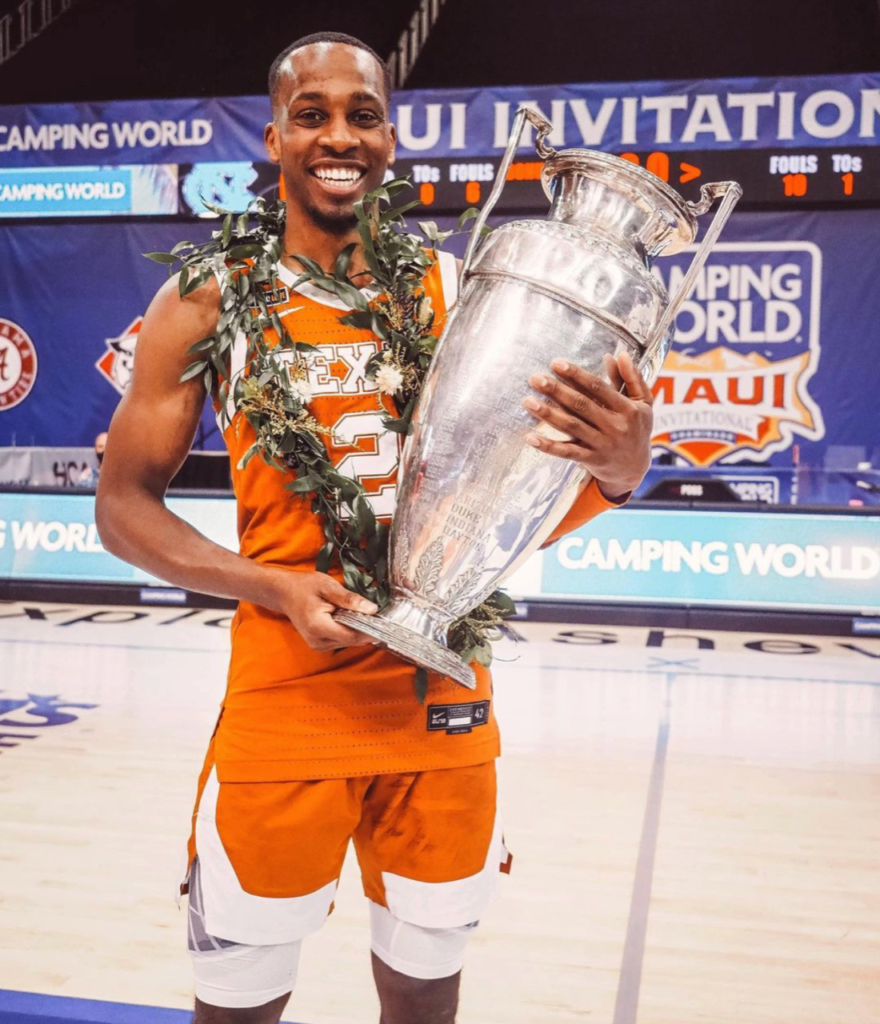 Last Week in the Big 12
 Texas Tech gave Oklahoma State all they could handle.  Another high scoring home game for the Red Raiders, falling 44-50.  Covered!
Baylor beat K State 32-31.  Charlie Brewer had a great game – 31/39, 349 yards and 2 TDs passing, 56 yards and 2 TDs rushing (23 carries).  Ebner had 3 carries for 10 yards and Lovett had 9 for 5 yards.  Pretty good rush defense from KSU.
Texas Christian 59-23 over Kansas.  Frogs covered.  Jayhawks are really bad.
Last Week in the Top 25
Notre Dame 31-17 over North Carolina.  Mack and his Tarheels had the Irish tied at 17 at the half, but Notre Dame came out and dominated the second.
Oregon got upset in Corvallis.  That game with Oregon State was crazy with the fog.  Big win for the Beavers, 41-38 (cool score, too).  That eliminated the Pac-12 from the College Football Playoffs discussion.  Thanks Oregon State!
Iowa 26, Nebraska 20.  Good effort by the Huskers.
Ohio State at Illinois was cancelled.
Kentucky 10, Florida 34.  Gators were favored by 25 and I thought they would cover.  So close.
Indiana tops Maryland 27-11.  Indiana is a football school now.
Coastal Carolina 49-14 over Texas State.
I picked Auburn to cover in the Iron Bowl.  Bad call.  No. 1 Alabama crushed their in-state rivals, 42-13.  Wow.
Clemson 52-17 over Pitt.  Last week I wrote "Should be a moderately interesting game for a quarter. Maybe."  Well, it was interesting that the Tigers scored 31 points in the first quarter.  What a beating.
Michigan State with a big upset of Northwestern 29-20.  Whiffed on that.
Louisiana State 7, Texas Agricultural & Mechanical 20.  Tigers covered!  And speaking of covering, the Aggies have a new fail-safe mask to protect against Covid-19.  Brilliant!  Whoop!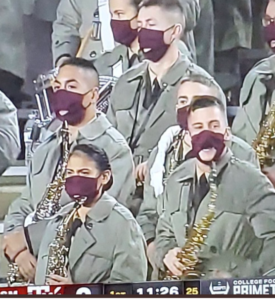 Georgia cruised to a 45-16 over South Carolina, easily covering.
Other Game of Interest Last Week
Thanksgiving Day
Colorado State and Air Force cancelled
Leland Stanford Junior University 24-23 over University of California at Berkeley.
Central Michigan Chippewas 31-23 over Eastern Michigan
Saturday
PSU 27-17 over Michigan.
Southern Methodist hammered at East Carolina, 52-38. Ponies were favored by 12.
UTEP at William Marsh Rice University got cancelled.
Miami 38-7 over Akron.  Miami covers.  Nice.
Louisiana 70-20 over UL Monroe.
UT San Antonio is good.  7-4, 5-2 now.  49-17 over North Texas.
Hotty Toddy!  Egg Bowl Champs!  Ole Miss 31-24 over State.
Memphis 10, Navy 7.
Virginia at Florida State postponed.
Arizona 10, UC Los Angeles 27.
Music
Our friend Josh Taylor from Oxford, Mississippi introduced me to The Next Waltz.  Know the folks behind a lot of this, but wasn't aware of The Next Waltz.  Great story.  Next time.
Whiskey in Your Water. Evan Felker.
Public Domain.  Mike Harmeier (of Mike and the Moonpies)
On The Other Hand.  Jason Eady, Courtney Patton, & Jamie Lin Wilson.
Old Friend.  Jonathan Tyler and Nikki Lane
Jim Nicar
1910: When UT men's basketball was played outside on a packed dirt court at one end of the original Clark Field, about where the Gates/Dell Complex is today. Up on the hill to the left is the present Gebauer Building.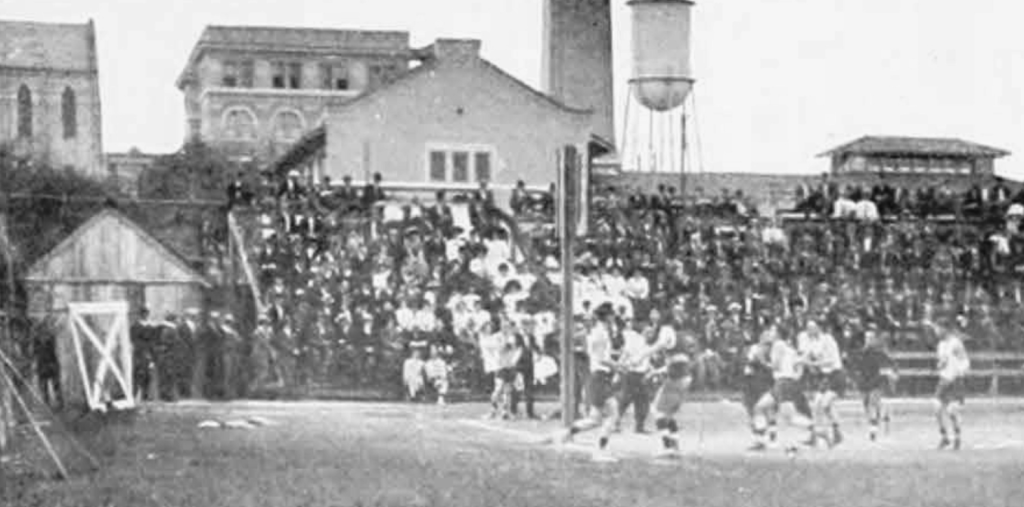 Gratitude
This week, I am grateful that I am going to get to see Kathryn and Mark and our grandsons over the holidays.
God Bless Texas
God Bless America
Tim Taylor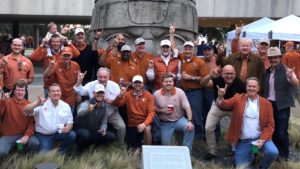 Tailgating before Home Football Games
The Juan Heisman Tailgate
Lot 38, East of Sid Richardson Hall.
HOOK EM HORNS!!
© Timothy C. Taylor, Sr. 2020.  All Rights Reserved (as to original material).
On Twitter:  @tctayloratx
On LinkedIn:  www.linkedin.com/in/tctatx
On Instagram:  @tctayloratx
On Facebook:  www.Facebook.com/Tim.C.Taylor
and:  www.Facebook.com/Juan.Heisman
You can contact me by mail:
Tim Taylor
P.O. Box 5371
Austin, Texas  78763-5371