Happy Thanksgiving Longhorn Fans!
I confess I still get nostalgic for the old days when Thanksgiving Day meant The University of Texas versus Texas Agricultural & Mechanical, a Dallas Cowboys game, and lots of family and lots of turkey.  And the Detroit Lions, but I can't say I watched a lot of Detroit games over the years.  By the way, if you were wondering, the Cowboys are 31-21-1 on Thanksgiving Day.
This year, we still have the Egg Bowl, as Ole Miss and Mississippi State meet in Starkville for the 118th game in the series, 6:30 p.m. on ESPN.
And we have all the other great rivalry games this weekend, including Ohio State-Michigan, Bedlam, and Clean Old-Fashioned Hate.
Big XII
Speaking of hate, here is the video of the take-down of Hudson Card late in the game.  I am not going to say he was intentionally trying to injure Card, but I am willing to say that the Big 12 referee who is staring at the play and the other one watching are either imbeciles or intentionally ignoring a flagrant foul.  Big 12 officiating has been abysmal for a long time, and it is pretty well documented.  But the 2021 season is particularly atrocious.
No flag for roughing in the Big 12, in the NFL that's like a $50 million fine pic.twitter.com/femBRIhpvs

— Jeff Asher (@Crimealytics) November 20, 2021
Not really a surprise this shirt is liked by so many Longhorns.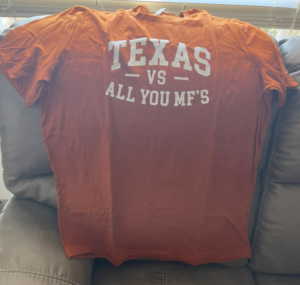 Order yours here:  https://www.natalianichole.com/shop
Texas Longhorns Senior Day
Texas has announced that we will recognize the following seniors:  kicker Cameron Dicker, tight end Cade Brewer, offensive lineman Tope Imade*, linebacker Ayodele Adeoye, cornerback Josh Thompson, nose tackle Keondre Coburn, edge Jacoby Jones*, offensive tackle Derek Kerstetter*, offensive guard Denzel Okafor*, wide receiver Al'Vonte Woodard, and running back Daniel Young.  Also:  Kartik Akkihal, Skyler Bonneau, Ryan Bujcevski, Ben Davis*, Darion Dunn*, B.J. Foster, Rafiti Ghirmai, Chandler Kelehan, Justin Mader, Kai Money, Tremayne Prudhomme, Brenden Schooler*, Carlton Smith, Jarrett Smith, Turner Symonds, Ray Thornton*, Gabe Watson*, and Travis West.  The * designates guys who are super seniors.
Thanks to all these men.
Those not listed are of the most interest, as they include Casey Thompson, D'Shawn Jamison, DeMarvion Overshown, Anthony Cook, Moro Ojomo, and Junior Angilau.  All from the 2018 Class and all eligible for a fifth year at The University.  Would be nice to see those guys back.
Coach Sarkisian Press Conference, November 22, 2021
Coach Sarkisian's press conference is worth your time.  You will have a lot better attitude and hope for next season.
Kansas State Wildcats vs. Texas Longhorns
Senior Day for Texas as the Longhorns host K State for the last regular season game of the 2021 campaign.  11:00 a.m. on FOX, with Aaron Goldsmith and Mark Helfrich on the call.  Texas is a 3 point favorite.  As they should be.
K State is 7-4 overall and 4-4 in conference.  Their season reviewed below.
This will be the 22nd football game between the Longhorns and Wildcats.  Texas holds an 11-10 lead, thanks to having won the last 4 games.  Last year Texas won 69-31.
The Depth Chart and good analysis from Wescott Eberts on Burnt Orange Nation here:
https://www.burntorangenation.com/2021/11/23/22799183/texas-longhorns-depth-chart-kansas-state-wildcats-jahdae-barron
I will add that I understand both Charles Wright and Ben Ballard have been taking snaps in practice.  Recall Charles Wright is the freshman from Austin High, son of my friends Suzie and Eric Wright.  Ben Ballard, who is listed third on the depth chart, is a Redshirt Sophomore and also a good West Austin kid who went to Hyde Park Baptist, son of friends Julie and Buddie Ballard.
As an aside, worth noting that Iowa State announced that fans could bring their own food into the stadium for the Cyclones game on Friday.  Why?  ISU (or their concessionaires) can't get enough people to come work.  So kudos to Chris Del Conte and the entire team over there for successfully managing all the games this year.  I know it has not been easy.
The Statistics
Offense
| | | |
| --- | --- | --- |
| Statistic | Texas | Kansas State |
| Rushing Offense | #29 – 198.4 ypg | #74 – 154.6 ypg |
| Passing Offense | #70 – 230.3 ypg | #94 – 206.4 ypg |
| Total Offense | #45 – 428.7 ypg | #98 – 361 ypg |
| Scoring Offense | #16 – 36.5 ppg | #73 – 27.2 ppg |
| First Downs | #77 – 20.5/game | #108 – 18.1/game |
| Sacks Allowed | #80 – 26, 161 yards | #49 – 21, 157 yards |
| Tackles for Loss Allowed* | #28 – 54, 210 yards | #69 – 65, 264 yards |
| Third Down Conversions | #42 – 43.4% | #35 – 44.4% |
| Fourth Down Conversions | #92 – 45% | #4 – 81.3% |
| Red Zone Offense | #9 – 93% / 77% | #47 – 86% / 65% |
| Long Run Plays | #67 – 54/10, 19/20, 10/30, 6/40 | #57 – 58/10, 13/20, 8/30, 4/40 |
| Long Pass Plays | #69 – 96/10, 35/20, 17/30, 8/40 | #99 – 84/10, 33/20, 16/30, 11/40 |
| Long Scrimmage Plays | #77 – 150/10, 54/20, 27/30, 14/40 | #94 – 142/10, 46/20, 24/30, 15/40 |
* Texas is the best in Big 12
Defense
| | | |
| --- | --- | --- |
| Statistic | Texas | Kansas State |
| Rushing Defense | #112  – 199.2 ypg | #21 – 118.8 ypg |
| Passing Defense | #86 – 238.5 ypg | #65 – 226.2 ypg |
| Total Defense | #107 – 437.7 ypg | #37 – 345.0 ypg |
| Scoring Defense | #105 – 32.4 ppg | #27 – 21 ppg |
| Sacks | #98 – 19, 121 yards | #35 – 29, 171 yards |
| Tackles for Loss | #60 – 67, 209 yards | #25 – 78, 295 yards |
| First Downs Allowed | #101 – 22.5/game | #24 – 18/game |
| Third Down Conversions | #108 – 44.1% | #78 – 39.7% |
| Fourth Down Conversions | #109 – 64.7% | #90 – 60.0% |
| Red Zone Defense | #98 – 88% / 57% | #120 – 91% / 63% |
| Long Run Plays Allowed | #100 – 63/10, 24/20, 11/30, 4/40 | #17 – 35/10, 13/20, 6/30, 4/40 |
| Long Pass Plays Allowed | #87 – 104/10, 36/20, 10/30, 8/40 | #64 – 96/10, 30/20, 11/30, 7/40 |
| Long Scrim. Plays Allowed | #95 – 167/10, 60/20, 21/30, 12/40 | #28 – 131/10, 43/20, 17/30, 11/40 |
Other
| | | |
| --- | --- | --- |
| Statistic | Texas | Kansas State |
| Turnovers | #68  – 7F; 9I, 16 | #49 – 7F; 7I, -14 |
| Turnover Margin | #80 – 14:16, -0.18/game | #65 – 14:14, 0.0/game |
| Penalties* | #63 – 67, 564 yards | #47 – 62, 500 yards |
*Based on total number of penalties.
Match-up Comparison
| | |
| --- | --- |
| Texas Offense | Kansas State Defense |
| Rushing Offense – 198.4 ypg | 118.8 ypg – Rushing Defense |
| Passing Offense – 230.3 ypg | 226.2 ypg – Passing Defense |
| Total Offense – 428.7 ypg | 345.0 ypg – Total Defense |
| Scoring Offense – 36.5 ppg | 21 ppg – Scoring Defense |
| First Downs – 20.5/game | 18/game – First Downs Allowed |
| 3rd Down Offense – 43.4% | 39.7% – 3rd Down Defense |
| 4th Down Offense –  45% | 60.0% – 4th Down Defense |
| Red Zone Offense – 93% / 77% | 91% / 63% – Red Zone Defense |
| LRP – 54/10, 19/20, 10/30, 6/40 | 35/10, 13/20, 6/30, 4/40 – LRP Allowed |
| LPP – 96/10, 35/20, 17/30, 8/40 | 96/10, 30/20, 11/30, 7/40 – LPP Allowed |
| LSP – 150/10, 54/20, 27/30, 14/40 | 131/10, 43/20, 17/30, 11/40 – LSP Allowed |
| | |
| --- | --- |
| Texas Defense | Kansas State Offense |
| Rushing Defense – 199.2 ypg | 154.6 ypg – Rushing Offense |
| Passing Defense – 238.5 ypg | 206.4 ypg – Passing Offense |
| Total Defense – 437.7 ypg | 361 ypg – Total Offense |
| Scoring Defense – 32.4 ppg | 27.2 ppg – Scoring Offense |
| First Downs Allowed – 22.5/game | 18.1/game – First Downs |
| 3rd Down Defense – 44.1% | 44.4% – 3rd Down Offense |
| 4th Down Defense –  64.7% | 81.3% – 4th Down Offense |
| Red Zone Defense – 88% / 57% | 86% / 65% – Red Zone Offense |
| LRP Allowed – 63/10, 24/20, 11/30, 4/40 | 58/10, 13/20, 8/30, 4/40 – LRP |
| LPP Allowed – 104/10, 36/20, 10/30, 8/40 | 84/10, 33/20, 16/30, 11/40 – LPP |
| LSP Allowed – 167/10, 60/20, 21/30, 12/40 | 142/10, 46/20, 24/30, 15/40 – LSP |
Xavier Worthy leads the Big 12 in receiving yards with 916, yards per game with 83.3, and touchdowns with 12.  Fourth nationally in receiving touchdowns.  He may be the key to a Texas win.  With all the injuries, it is going to take a Herculean effort from the Horns who get on the field.
As bad as the Texas defense is, I still think they can make plays, and the K State offense is just not that good, especially if Thompson doesn't play.  On the other hand, the Texas offense can still move the ball (despite the rough start last weekend in West Virginia), and if Sark can get the ball to the right guys at the right time, I think they can still put up at least 30 points in this ball game.
Official Preview:
https://texassports.com/news/2021/11/22/football-preview-kansas-state.aspx
Texas Game Notes:
https://texassports.com/documents/2021/11/22/12_Kansas_State.pdf
Kansas State Wildcats
I didn't expect a lot from Kansas State this year, but they have actually played pretty well.  Their four losses are to the four best teams in the Big 12:
The 20-31 loss at Oklahoma State, while double-digits, doesn't look as bad now. We know Oklahoma State is the best team in the Big 12.
A narrow 31-37 home loss to the Land Thieves.
20-33 loss to Iowa Stat.
Baylor beat the Wildcats 20-10.
The Kansas State wins this season:
24-7 over Stanford to open
31-23 over Southern Illinois. K State gave up 23 points in the second quarter after a fumble and pick 6 and trailed 23-21 at half.
38-17 over Nevada (following which KSU lost 3 in a row)
31-12 over Texas Christian
35-10 over Kansas
34-17 over West Virginia
The Kansas State offense has revolved around two guys – sixth year senior quarterback and team leader Skylar Thompson and running back Deuce Vaughn  The big news is that Thompson got hurt against Baylor (ankle) and may not be able to play.  If Thompson (6-2, 220) can't go, it will be Will Howard (6-4, 235), who is a sophomore K State Coach Chris Klieman was hoping to redshirt (Howard has played in 4 games this season).  Jaren Lewis (6-1, 205) is the other back-up.
Thompson has had another great season for the Wildcats.  Third in the conference in yards per game (206), third in completion percentage (68.8), and fifth in rating (155.34).  As to the latter, (Casey Thompson's rating is 155.94 and  Spencer Rattler's is 155.54, so those three are pretty much the same.)  Skylar Thompson has only played in 9 games, in which he has thrown 9 touchdowns and 4 interceptions.  He has 43 rushing attempts and gained 131 yards but has lost 137, so he's actually negative on the season.  He has run for 4 touchdowns.  Will Howard has thrown 42 passes and completed 21 for 267 yards and a score.  Howard played against Texas last season when Thompson was out, 16/27 for 174 yards with 2 touchdowns and 2 interceptions.  Jaren Lewis has 12 completions on 23 attempts for 154 yards with 2 interceptions and 1 touchdown this year.
Deuce Vaughn from Cedar Ridge HS up in Round Rock (No. 22, 5-6, 173) is having another good season.  Seven 100 yard games, including 128 against Baylor, he has 1,115 yards on the season and 14 touchdowns, averaging 5.9 yards per carry.  He is also the top receiver on the team with 45 catches for 464 yards and 3 scores, averaging 10.31 yards per catch.  Last year against Texas he gained 125 yards, ran for 2 touchdowns, and caught 4 passes for 45 yards.  Vaughn is fourth in the Big 12 with 101.36 yards per game.  Second with the 14 rushing scores.  And fourth in total yardage.  His 45 catches puts him at No. 9 in the Big 12 in receptions.
Leading receiver is Philip Brooks, 36 catches for 465 yards and 2 scores. Malik Knowles has 25 catches for 389 yards and 2 scores.  And Daniel Imatorbhebhe has 10 catches for 279 yards and 2 scores.
Not a great field goal kicking team.  Chris Tennant 4-7 and Taiten Winkel 7-9.
No surprise they have good linebackers.  Daniel Green leads the Cats with 72 tackles (55 solo), and he has 12.5 TFL for 50 yards and 3 sacks for 15.  Fellow LB Code Fletcher from Henrietta, Texas has 64 tackles (38 solo), 6 TFL for 15 yards, and 1 sack for 7.  (You know Henrietta, Texas, the county seat of Clay County; also the 1995 movie, The Stars Fell on Henrietta, with Robert Duvall, Brian Dennehy and Billy Bob Thornton [produced by Clint Eastwood]).,
Defensive End Felix Anudike-Uzomah has 46 tackles (32 solo) and 14.5 TFL for 61 yards and 11 sacks for 55 yards; Felix is second in the conference in TFL and first in sacks.  Keeping Anudike-Uzomah in check may be one of the most important keys for the Horns.
The other key will be containing Deuce Vaughn.  Got to do that.
I am not giving up on this team.  I think we see Keilan Robinson and Roschon Johnson have solid if not great days, and we need to get the ball in Worthy's hands.  My hope is that with all the opportunities some kids are going to have on Friday, a few of them take this opportunity and shine for Texas.  I don't know who it will be, but I feel something good coming on.  And it's not just my really good turkey accompanied by my blessed mother's wonderful southwestern dressing and the Staglin Family Salus cabernet sauvignon and the Darioush.  I feel a Texas win.
     Texas 34, K State 27
The Week That Will Be:  Thanksgiving Version
https://www.barkingcarnival.com/2021/11/24/22800733/the-week-that-will-be-thanksgivings-version-texas-longhorns-football
Top 25
Texas Athletics excellence continues.  This week's rankings:
1: Men's Swimming & Diving
2: Volleyball
2: Women's Swimming & Diving
8: Men's Basketball
9: Men's Golf
11: Women's Golf
14: Men's Cross Country
14: Women's Basketball
21: Soccer
Texas Longhorns 23, West Virginia Mountaineers 31
I really did think Texas was going to win that game.  I thought it when I finished my email, and I thought so during the game.  When Worthy made that great catch to make it 21-17, I thought we were going to win.  I was sure we were when Roschon Johnson scored early in the fourth quarter, closing the gap to 5 points – even when the two point conversion failed.  I believed it before the game because I believe in these kids and in Sark and the coaches.  I believed it during the game because they didn't quit.
It is now Thanksgiving as I write, and I am singularly focused on gratitude.  No point in dwelling on the season record and the string of losses.  I am going to remember Saturday's game not because of the score, but because I got to watch most of it with my grandsons, Peter and Micah.  And much of the rest of my family for different chunks of the game.  Kathryn was here all week with the boys, and it was wonderful and happy long visit.  I won't remember the score of the game in 4 or 5 years, but I will remember that I got to have some great family time and that I watched football with my grandsons.
It is funny, because last week when I was writing about the Horns going to Morgantown, I was thinking back to this same weekend four years ago, when Parker Fleming flew to Austin to meet with Kathy and me and ask for Mary Elizabeth's hand in marriage.  I am pretty sure Texas won that game, but I sure don't remember the score.  I remember enjoying the game with Parker and visiting, then retreating to the library for the big ask.  Then popping a cold beer and toasting the future.  Sure, I remember some tough and ugly losses, but often I remember a great tailgate before or some other event that day or that week which is the mile marker at that point in life, not the score in a football game.  And I am grateful. Grateful for those memories, grateful for the intertwining of Texas football in those stories and memories.  Thankful to be a Texas Longhorn, win or lose.
A few thoughts on the game.  Jarret Doege had a good game, as we suspected he might.  Hard not to get some yards when you throw the ball 43 times in a game.  Completed passes to 9 different Mountaineers, 290 yards and 3 touchdowns.  Leddie Brown had a really good game, as I feared he might.  West Virginia's ability to run the ball and control the game resulted in a 38:36 time of possession to just 21:24 for the Longhorns.  Mountaineers ran 87 offensive plays; Texas ran 58.
On the Texas side, Casey had a tough game, re-injuring that thumb.  In hindsight, our season turned on that thumb injury and Whittington's injury.  Card has some solid play, especially that long strike to Worthy.  Big kudos to Keilan.  Robinson had 111 yards on 9 carries, averaging 12.3 yards per rush.  RoJo ran hard, getting 77 yards and a score on 15 carries.
There were highlights in this game.
From ESPN College Football, 10 minutes:
From the Big XII.  Under 4 minutes, and oddly they don't show the injurious tackle of Hudson Card.
Texas Longhorns Men's Basketball
The No. 8 Texas Longhorns are 4-1 after taking down the San Jose State Spartans on Saturday, 79-45.  Timmy Allen again led the Horns with 14 points.  Tre Mitchell had another good game with 14 points and 8 rebounds.  Andrew Jones had 13 points in 23 minutes coming off the bench, and Brock Cunningham was 5-5 tallying 10 points in 14 minutes. One of Brock's best offensive games in awhile.  Eleven Longhorns got on the court in another strong defensive effort, limiting the Spartans to 31.9% shooting and forcing 27 turnovers with 16 steals.
Texas played against Wednesday night, defeating California Baptist 68-44.  This team is really fun to watch.  Timmy Allen moves so well without the ball, and with three really good guards – Ramey and Jones plus new guy Marcus Carr, they find him.  Allen again led Texas with 15 points.  Add 8 rebounds and 3 assists.  Andrew Jones matched Allen with 15 points, and had AJ1 had 5 assists.  Courtney Ramey and Christian Bishop each had 12 in the win.  The Texas defense was great again too, although certainly more in the first half when the held CBU to 30.43% shooting and just 1 of 9 from 3.  Second half was better for CBU who finished with 40.5% for the game (not so much 3 – 2-16 for 12.5%).  Horns shot 45.1% and 31.3% from beyond the arc.
Monday night, Texas will play its first game at Gregory Gym since the 1970s, a students-only night as the Horns take on Sam Houston State.  If you are a U.T. student, you should go.  This should be fun.
Thanksgiving
So many things to give thanks for this year.  But as always, I am most thankful for God's grace and love.  From Him all blessings flow.  I am grateful for my family and friends, and especially the blessing of children and grandchildren.  I am grateful for the memories of my parents and all they did for me.  I am grateful for my colleagues at Jackson Walker, my clients, and for the many fine attorneys with whom I work in Austin and around Texas.  I am grateful for The University of Texas.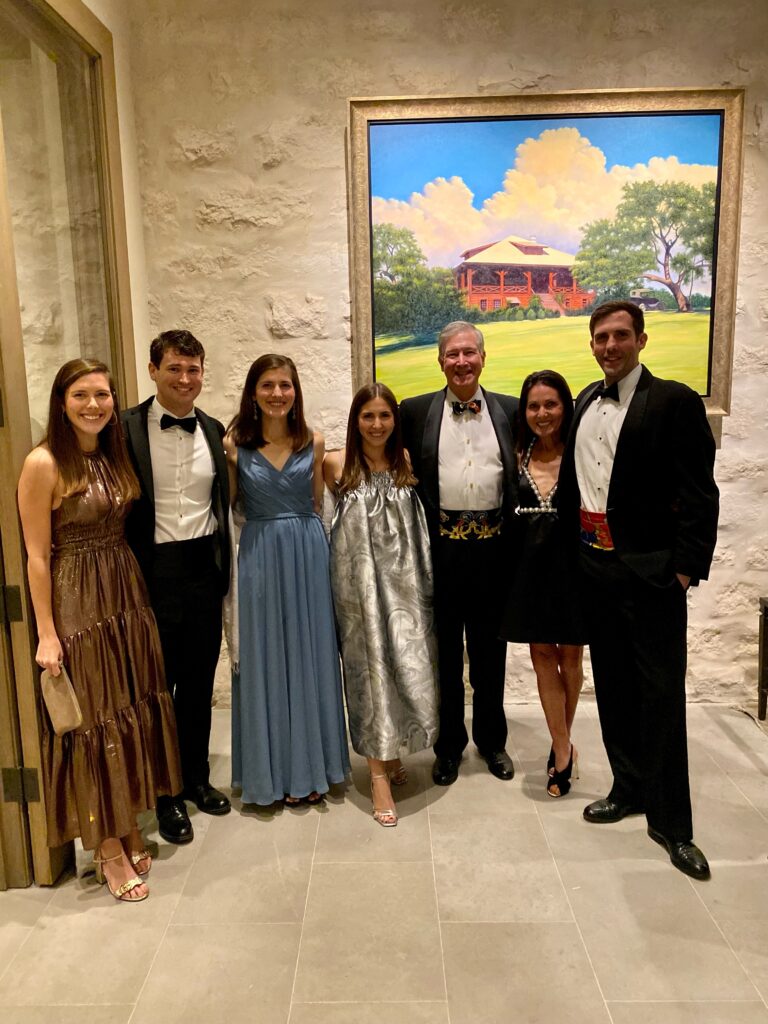 All the family at Elizabeth Crowley's wedding except Parker, who was a groomsman in the wedding
"Cultivate the habit of being grateful for every good thing that comes to you, and to give thanks continuously. And because all things have contributed to your advancement, you should include all things in your gratitude."   – Ralph Waldo Emerson
"Gratitude and attitude are not challenges; they are choices." — Joe "Ivan" Young
"Let gratitude be the pillow upon which you kneel to say your nightly prayer. And let faith be the bridge you build to overcome evil and welcome good." ― Maya Angelou, Celebrations: Rituals of Peace and Pray
"You simply will not be the same person two months from now after consciously giving thanks each day for the abundance that exists in your life."   Attributed to Sarah Ban Breathnach.
I am grateful Bijan Robinson said "I'm a really loyal guy.  When I say I am going to do something I'm going to stick with it.  I just believe that's the right thing to do."  And Bijan said he's going to be back next season.
Juan Heisman Tailgate
We will gather at Juan Heisman for some pre-game beverages.  Come by for a bloody mary – plenty of Tito's vodka  – and lots beers.
Washington & Lee Generals
The Generals fell to Mount Union 52-0.  Not a huge surprise, but still tough to see such a great season come to an end.  Happy for all the kids, especially Harrison Donovan who got to start and play on a championship team as a freshman.
Meanwhile, in the Division III national soccer tournament, No. 1 W&L defeated No. 8 Messiah in the Quarterfinals, 3-1.  The Generals are 18-1-2 on the season. W&L will face No. 6 Connecticut College in the National Semifinals on December 3 at UNC-Greensboro Soccer Stadium in North Carolina.  Good luck Gennies.
Texas Volleyball
The No. 2 Longhorn volleyball team is rolling, now 22-1 on the season.  12-0 in their last 4 matches, sweeping the Land Thieves and the Kansas State Wildcats.  Horns close the season in Lubbock this weekend.  Good Luck!  Hook Em!
The Polls
CFP:  Georgia, Ohio State, Alabama, and Cincinnati.  It has finally happened.  Win out, and the Bearcats will be in the College Football Playoffs.  The rest of the CFP:  Michigan, Notre Dame, Oklahoma State, Baylor, Ole Miss, and Oklahoma round out the top 10.  Brigham Young at No. 13, Texas Agricultural & Mechanical at No. 15, and UTSA at No. 22.
AP Top 25:  Georgia, The Ohio State University TM., Alabama, and Cincinnati,  Notre Dame, Michigan, Oklahoma State, Ole Miss, Baylor, and the Land Thieves.  Michigan State drops to 12.  Brigham Young at 13 and Texas Agricultural & Mechanical is 14. UTSA still at 15.
Coaches Poll:  UGA, Roll Tide, The Ohio State University TM, Cinci, L'Université de Notre Dame du Lac, Big Blue, Okie A&M, Hotty Toddy, Land Thieves, and Brazos Baptists.  Texas Agricultural & Mechanical at No. 14, Brigham Young at 15, and UTSA at 20.
Week 13
Big 12
The conference regular season champion will be decided Saturday night in Oklahoma in the Bedlam Game.  No. 13 Oklahoma Sooners at No. 9 Oklahoma State Cowboys, 6:30 p.m. on ABC from Boone Pickens Stadium in Stillwater.  Both teams 10-1 overall and 7-1 in the Big 12.  Gundy and the Pokes favored by 4, and the over/under is 49.5.  A few other notes since this is the biggest game of the year for the Big 12.
Cowboys have the No. 1 defense in the Big 12, allowing 266.9 yards, Land Thieves are No. 6 allowing 384.5. Same rankings in scoring defense, with Okie State only giving up 14.9 points per game to OU's 24.2.  OSU's scoring defense is ranked No. 2 nationally.  They are good.
Offensively, the Land Thieves are No. 3 with 440.5 yards per game, OSU No. 6 with 412.6 ypg. Land Thieves No. 1 in scoring at 38.9 ppg (Texas still No. 2 with 36.5), while OSU is No. 5 with 31.4 ppg.
Spencer Sanders is No. 2 in total offense in conference with 240.6 yards per game.
Friday afternoon, Texas Christian and Iowa State play in Jack Trice Stadium, 3:30 p.m. on FS1.  Horned Frogs at 5-6 looking for a win to get bowl eligible.  Brock Purdy and Breece Hall looking to get above .500 in conference play in what has to be a disappointing season for Campbell and the Cyclones.  Iowa State favored by 15, over/under 59.  Think I like Iowa State to win and cover.
Texas Tech in Waco to play No. 8 Baylor, 11:00 a.m. on FS1.  Baylor has had one heck of a good year.  Favored by 14 over the Red Raiders, and the over/under is 52.
West Virginia at Kansas, 6:00 p.m. on FS1.  Mountaineers favored by 15.5, over/under is 55.5.
Top 25
Thanksgiving
No. 9 Ole Miss and Mississippi State meet Thursday night.  Rebels lead the series 63-45-6 (2 forfeited games, 3 vacated games, if you are trying to add to 117).  The teams first played in 1901, when Mississippi State was still Mississippi A&M and the Bulldogs were Aggies.  The teams have vied for the Golden Egg Trophy since 1927.  A classic state flagship university versus the state land-grant school.  The trophy is actually a golden football, but 100 years ago the American football looked more like a rugby ball, and some wit dubbed it the Golden Egg.  Bulldogs favored by 2, over/under is 64.  I am on Ole Miss.  Hotty Toddy.
Friday
Boise State vs. No. 21 San Diego State, 11;00 a.m. on CBS.  Boise favored by 2.5, over/under is 44.5.
No. 16 Iowa at Nebraska, 12:30 p.m. on BTN.  Normally, this is a game I wouldn't have much interest in, but after Nebraska covered last week against Wisconsin I am a bit peeved.  Iowa favored by just 1, and that has me curious.  Over/under is 41.
No. 4 Cincinnati at East Carolina, 2:30 p.m. on ABC.  Those Pirates can be tough at Dowdy-Ficklen Stadium (which doesn't exactly roll off the tongue like "DKR Texas Memorial" or "Jordan-Hare" or "Houchens Industries–L. T. Smith Stadium at Jimmy Feix Field" [Home to the Western Kentucky Hilltoppers]).  Bearcats are 14 point road favorites, and the over/under is 57.
Missouri at No. 25 Arkansas, 2:30 p.m. from War Memorial Stadium in Little Rock.  These guys have played 12 times and somehow it is a rivalry game, the "Battle Line Rivalry".  Tigers lead 9-3, which is nice.  Pigs favored by 14.5 on Saturday, over/under is 62.5.  Go Tigers.
Colorado at No. 19 Utah, 3:00 p.m. on FOX.  Utes one of the hottest teams in the country, coming off the downing of the Ducks.  Utah favored by 23.5 at home in Rice-Eccles.  Over/under is 52.
North Carolina at No. 20 NC State.  6:00 p.m. on ESPN.  Wolfpack favored by 6, over/under is 62.5.  Tarheels lead the overall series, which dates to 1894, 68-36-6.  Good luck Mack!  Light that Tower Blue.
So that is 6 top 25 games on Friday.  There are 10 more college games on Friday.  This is why the Friday after Thanksgiving Day is not a Business Day.
Saturday
No. 4 Ohio State at No. 6   ichigan.  The Game.  11:00 a.m. on FOX.  For a good part of my adult life, this game decided who played in the Rose Bowl (and we watched the Rose Bowl every New Year's Day).  But it wasn't until I started writing this little letter that I came to appreciate this rivalry.  Bloody good one.  Michigan leads the series 58-51-6, which includes the "Ten Year War", the decade when Woody Hayes coached the Buckeyes and his former assistant Bo Schembechler coached Michigan.  Hayes didn't like Michigan (or Clemson players, but that is a different story).  Hayes would say "that team up north" or "that state up north", refusing to utter the word "Michigan".  Buckeyes favored by 8, and the over/under is 64.5.   I know how bad Jim Harbaugh needs to win this and I lean Michigan, but my goodness Ohio State is playing good football right now.
No. 1 Georgia at Georgia Tech, 11:00 a.m. on ABC.  The Ramblin' Wreck really is.  3-8 and not very good.  But this is still my favorite rivalry game name:  Clean, Old-Fashioned Hate.  Georgia leads the Hate 68-41-5.  Interestingly, Georgia Tech claims four national championships: 1917, 1928, 1952, and 1990. Georgia has two: 1942 and 1980.  Georgia favored by just 35, over/under is 54.5.  Notre Dame beat Georgia Tech 55-0.  Think about it.  I am on Georgia.  Go Dawgs.
No. 18 Wake Forest at Boston College.  11:00 a.m. on ESPN2.  Wake favored by 5.
No. 24 Houston at UConn.  10-1 vs. 1-10.  Cougars favored by 32.5.  11:00 a.m. on CBSSN.
No. 22 UTSA at North Texas, 1:00 p.m. on ESPN+.  Roadrunners about to have an undefeated regular season and it's on pay per view.  UTSA favored by 10.5, over/under is 59.5.  Birds Up. Good luck.  Still amazed at that ending last Saturday.  Fumbled snap, tipped ball, and still a game winning catch as time expired.
A moment, San Antonio.#BirdsUp 🤙 pic.twitter.com/gRDnZPEldL

— UTSA Football 🏈 (@UTSAFTBL) November 21, 2021
Iron Bowl.  No. 2 Alabama at Auburn, 2:30 p.m. on CBS.  Always a great game, and I look forward to watching some of this one with my Roll Tide brother-in-law.  Crimson Tide favored by 19.5, over/under is 55.5.  One of the most bitter rivalries, fueled by some exceptionally stupid fans over the years, including Bama fan Harvey Updyke's poisoning of the trees at Toomer's Corner in 2010.  The Iron Bowl also features one of the greatest endings of any college game ever, in 2013.  Enjoy Auburn fans:
Long version, with Verne Lundquist.  An answered prayer.
Short version, with the Auburn radio announcers:
Here's your cool trivia of the week. The winner of the Iron Bowl gets the James E. Foy, V-ODK Sportsmanship Trophy.  Omicron Delta Kappa is national leadership honor society, and it has circles (chapters) at both Alabama and Auburn, and in 1948 they established the ODK Trophy for the winner of the Iron Bowl.  James E. Foy, V was a dean at both schools.  ΟΔΚ was founded at Washington & Lee University on December 3, 1914.
Oregon State vs. No. 11 Oregon, 2:30 p.m. on ESPN.  The rivalry formerly known as The Civil War is in Autzen Stadium this year.  Oregon leads the series 66-48-10.  Ducks favored by 7, over/under is 60.5.
Penn State vs. No. 12 Michigan State for the Land Grant Trophy.  2:30 pm. On ABC from East Lansing.  The series is tied at 17-17-1.  And the line is now PSU by 1.5 after being even earlier in the week.  Sure leaning toward a small wager on the Spartans.  The Land Grant Trophy is supposed to represent both school's unique places in history as the two pioneer land-grant institutions in the United States, both founded in 1855, and prototypes after which the land-grant system was patterned.  (Morrill Act – see last week's email).  The trophy is a bit unique too.
No. 14 Wisconsin at Minnesota, 3:00 p.m. on FOX.  The Badgers and Gophers play for Paul Bunyan's Axe, which is a heck of a cool trophy, unlike the re-imagined hallway telephone stand above.  Although even cooler, at one time the winner got the Slab of Bacon Trophy.   Series is led by Wisconsin 62-60-8.  Badgers are favored by 7, over/under is 39.
Going to be an emotional night in Baton Rouge.  Ed Orgeron's last game, playing No. 15 Texas Agricultural & Mechanical, and three days into a 4 day weekend (if you know what I mean).  Texas Agricultural & Mechanical favored by 6.5, over/under is 46.  Geaux Tigers!
http://www.espn.com/video/clip?id=32693665
No. 17 Pittsburgh at Syracuse, 6:30 p.m. on ACCN.  Another rivalry, played since 1916.  Pitt leads 41-31-3.  As long-time readers know, have always had a soft spot in my heart for the Pitt Panthers because of my uncle Bill Cieply.  Pitt favored by 13 in the Carrier Dome.  Over/under is 58.
No. 8 Notre Dame at Stanford.  7:00 p.m. on FOX.  The Rivalry began in 1925, when Coach Pop Warner and the Stanford Cardinal met Coach Knute Rockne and the Four Horsemen of Notre Dame in the Rose Bowl.  The Irish won 27-10, and it was Notre Dame's first national championship.  The rivalry really began in 1988, when the teams started playing regularly.  Notre Dame leads the all-time series 20-13.  Irish favored by 19 on The Farm.  Over/under is 52.5.  The Irish and the Cardinal play for The Legends Trophy.  Pretty cool one.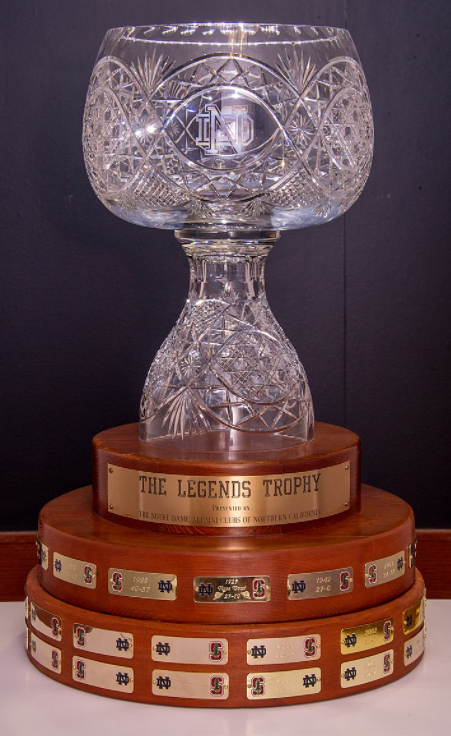 No. 23 Clemson (yes, ranked) vs. South Carolina in Columbia at Williams-Brice Stadium for the Palmetto Bowl.  Started in 1896 and part of a bitter intrastate rivalry, the game was the longest uninterrupted series in the South until Covid (111 games, 1909 to 2019).  Clemson leads the series 71-42-4.  Tigers favored by 11.5 over the Gamecocks.
No. 13 Brigham Young and Southern Cal meet in the Coliseum Saturday night, 9:30 p.m.  Not a rivalry, in fact, only their fourth meeting.  Interestingly, the 9-2 Cougars are favored by just 7 over the Trojans.  Over/under is 64.
Other Games of Interest this Week
Lots of other great rivalry games this weekend.  Most not of much interest to this audience, but big games in the MAC, including Eastern Michigan vs. Central Michigan (Chippewas favored by 8.5) and Ohio vs. Bowling Green.
Also on Thanksgiving, Fresno State at San Jose State, 2:30 p.m. on FS1.  The Valley favored by 7.5.
Friday
UNLV vs. Air Force, 2:30 p.m. on CBSSN.  Falcons favored by 18.  Over/under is 50.
Washington State vs. Washington in the Apple Cup.  7:00 p.m. on FS1.  Huskies lead the series, which began in 1900, 74-32-6.  Wazzu favored by 1 in Seattle.  Over/under is 43.5.  This should be a pretty good game.
Saturday
Florida State vs. Florida.  11:00 a.m. on ESPN.  Remember when this was a huge game?  Yeah, me too.  The "Sunshine Showdown".  Gators favored by 2 at home in the Swamp.  Over/under is 59.
Army at Liberty, 11:00 a.m. on ESPN+ from Lynchburg.  Flames favored by 3.5, over/under is 54.5.  Go Army!
Navy at Temple from the Linc.  Down year for both (2-8 vs 3-8).  Middies favored by 12.5.  Would be nice for the Academy to get a win before the Army game.
Miami vs. Kent State.  Huge game. Both teams 6-5 and 5-2.  The winner will win the East Division and play for the MAC Championship at Ford Field on December 4.  Redhawks are 1 point road favorites, and I am on it.  Over/under is 65.
Rice hosts Louisiana Tech in Houston to end the season, 12:00 noon on ESPN+.  Owls 3.5 underdogs at home.  Over/under is 53.
Virginia Tech vs. Virginia, 2:45 p.m. on ACC from Charlottesville for the Commonwealth Cup.  A series that began in 1895, the Hokies lead it 59-38-5.  Wahoos are favored by 7, over/under is 62.5.  Go Hoos!
Tulsa at Southern Methodist, 3:00 p.m. on ESPN2.  Ponies favored by 6.5, over/under is 62.
California – Berkeley  vs. UC Los Angeles, 9:30 p.m. on FS1.  Bruins favored by 6.5, over/under is 58.
The Brave New World
The University announced that student athletes will now be eligible for payments up to the maximum of $5,980 per year, starting with $2,990 for the 2022 spring term.
Also, CDC and the team have created a website where you or your company can go online and find athletes with whom to partner for name, image, and likeness deals.
https://texassports.com/sports/2021/8/10/name-image-and-likeness-nil-directory.aspx?
So much to write about on this and NIL.  Got to get that going.  Soon.
Last Week's Games
Big 12 Week 12
Iowa State fell short losing to the Land Thieves 21-28, but they did cover.  Weird game.  Williams was 8/18 for 87 yards and Rattler threw 1 pass for 9 yards.  Wonder when the last time Lincoln Riley's quarterbacks threw for under 100 yards.
Kansas 28, Texas Christian 31.  As I forecast, Kansas covered.  Frogs had to kick a field goal with 6 seconds left to beat the Jayhawks.
Baylor 20-10 over K State.
Oklahoma State shutout the Red Raiders, 23-0.  Good win and cover.
Top 25
A few games to note.
Ohio State boat-raced Michigan State 56-7.  I thought the 19 point line was high.  This Buckeye team is good.
Michigan crushed the Terrapins 59-18 in their tune-up for this week.
Notre Dame with a huge 55-0 win over Georgia Tech.
Ole Miss struggled but beat Vandy 31-17.  Rebels did not cover.
Pitt 48-38 over Virginia.  Tough loss.
UTSA?  Yes, they are still undefeated. 11-0.  Crazy and exciting ending.  34-31 win over UAB.
Roadrunners need to beat North Texas on Saturday to complete the perfect regular season.  Regardless, they won the C-USA West and will play in the conference championship, which just happens to be in their home stadium, the Alamodome – December 3 at 6 p.m.  Hmmm.
Other Games of Interest Last Week
Air Force and Nevada played three overtimes before the Falcons won 41-39.  Heck of a game.
Army 33-17 over woeful UMass.  Really though the Black Knights would cover.
Mack Brown and Tarheels got bowl eligible with a 34-14 win over now 1-10 Wofford.
Navy battled but came up short, 35-38, to the Pirates.
UCLA 62, Southern Cal 33.  Sorry Art.
Cal 41-11 over Stanford in the Big Game.
Music
I am really thankful to live in Austin.
 Better Man, by Fort Worth native Leon Bridges, live at Austin City Limits.
Texas Sun, by Leon Bridges with Texas-based Khruangbin
Coming Home, Leon Bridges
Castanets, by San Antonio native and Austin musician Alejandro Escovedo live at Austin City Limits
Know You Better, Black Pumas, Austin Texas.
Black Moon Rising, Black Pumas
East Texas Rust, Shinyribs live at Austin City Limits.  Love Kevin Russell.  And how many bands do you listen to are described as "American country-soul swamp-funk band"?
Song of Lime Juice and Despair, Shinyribs live at Austin City Limits
Take Me Lake Charles, Shinyribs.
Charity
The thought of kids (or anyone) going hungry is sad any time of year, but especially around the holidays.  So this season, support your local food bank.  For those of you in Austin, the Central Texas Food Bank.  As of Wednesday, they had a triple match going on.  Good time to give.
https://www.centraltexasfoodbank.org/
Austin Photo
View from my office.  I love Austin and our sunsets.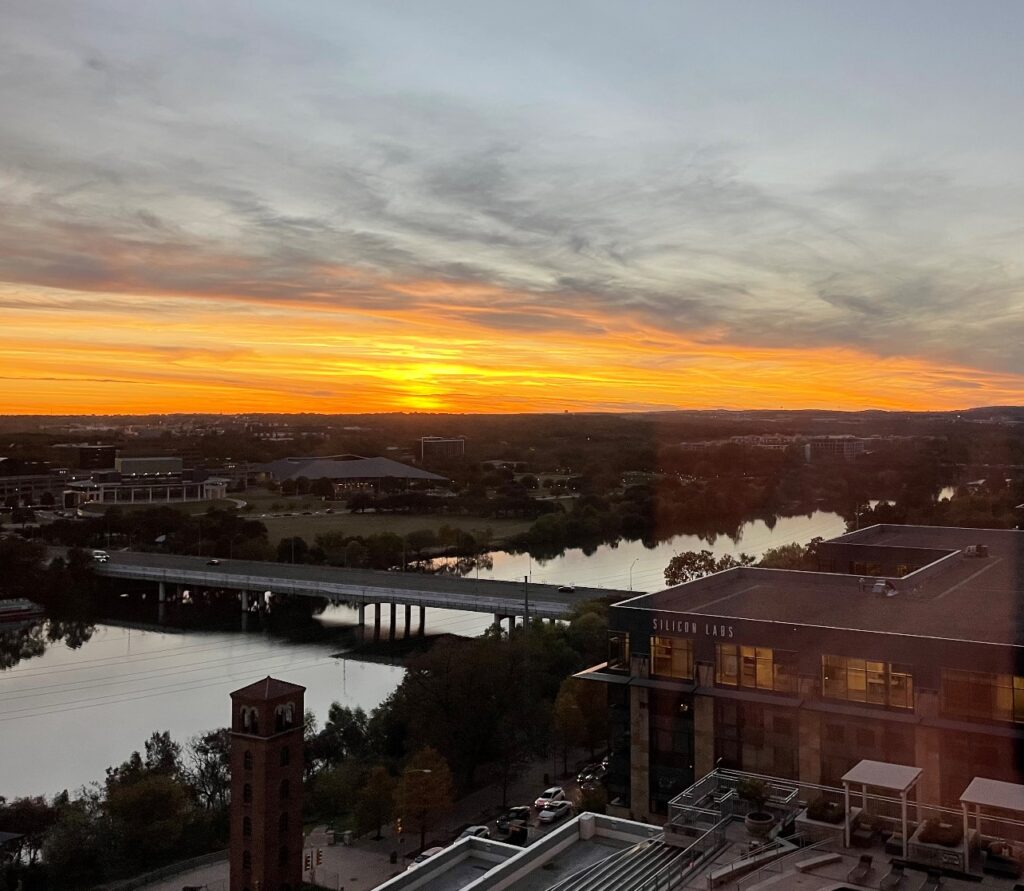 God Bless Texas
God Bless America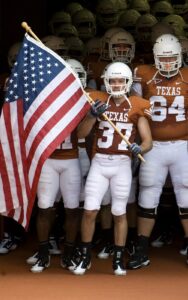 Tim Taylor

Tailgating before Home Football Games
The Juan Heisman Tailgate
Lot 38, East of Sid Richardson Hall.
HOOK EM HORNS!!
© Timothy C. Taylor, Sr. 2021.  All Rights Reserved (as to original material).
On Twitter:  @tctayloratx
On LinkedIn:  www.linkedin.com/in/tctatx
On Instagram:  @tctayloratx
On Facebook:  www.Facebook.com/Tim.C.Taylor
and:  www.Facebook.com/Juan.Heisman
You can contact me by mail:
Tim Taylor
P.O. Box 5371
Austin, Texas  78763-5371