Welcome to the 127th Season of Texas Longhorns Football!
2019 is also the 150th year of college football, and we celebrate and honor the 1969 National Champion Texas Longhorns.
Tradition
My standard opening for the season. Three of my favorite UT videos. The first is a campus fly-over set to the Eyes of Texas. The other two are among my favorites from the "What Starts Here Changes the World" series, narrated by the legendary Texas Ex Walter Cronkite.
I know some of you really like to watch film and get pumped up. Here is a pretty well done 21 minute 2018 season highlights:
Watching Dicker the Kicker drill the field goal in the Cotton Bowl with 10 seconds left to beat the Land Thieves makes the hair on the back of my neck stand up.
A 2019 Hype Video:
An interesting video titled The Rebirth of Texas Football. Some good highlights.
Overview
Preseason Ranking: Texas is No. 10 in the Coaches Poll, but I don't put much stock in pre-season polls. I do pay attention to the guys in the desert. They have the over/under on wins for Texas at either 8.5 or 9.5 (at the books I reviewed). I will take the over either way, and a 10 win season in the Big 12 means a really, really good year. VegasInsider.com has the Horns ranked at 9, Louisiana State at 4, and the Land Thieves at 5.
Magazine Covers: Young Mr. Ehlinger's eyes are upon us. Dave Campbell's Texas Football. Sports Illustrated's regional edition. A whole lot of attention on Sam. Good article on SI.com this week: https://www.si.com/college-football/2019/08/14/texas-longhorns-sam-ehlinger-big-12
Juan Heisman Tailgate: We are ready. Interestingly, I have been getting emails for several months about a possible tailgate party on September 7. Well, of course. We tailgate every game, rain or shine. And in a sort of related note, one of my favorite Twitter accounts is Jim Nicar, and he posts great historical photos of The University. This one is from 1906, and this is pretty much the view we would have from Mount Juan Heisman 113 years ago.
You can also check out his website: https://jimnicar.com/
Request: If you have an extra Navy Blue parking pass for any games, please let me know. The Juan Heisman Tailgate would be happy to purchase any extras you have. Our logistics are challenging, and getting everything we need in and out of Lot 38 is the chokepoint.
RIP Cedric Benson
We all woke up to the devastating new this Sunday morning that Cedric Benson was killed in a motorcycle accident Saturday night. I had gone out to dinner, and when we got home I turned on the Cowboys game (because there was nothing else on – preseason NFL football is not something I normally watch). The game ended around midnight, and KEYE's evening news came on with a breaking story of a fatal motorcycle-automobile accident on 2222 near Mount Bonnell. The driver of the motorcycle and his passenger were killed and pronounced dead at the scene. No names given.
My phone was lighting up this morning to the news that the man killed was Cedric. It is always so sad when someone dies young. Cedric was 36. Prayers for his family and the family of the woman who died.
Cedric is No. 2 on the all-time Texas rushing list, behind Ricky and ahead of Earl. His 1,112 career rushing attempts are a Longhorn record, and he compiled 5,540 yards and 64 rushing touchdowns. Cedric's senior season (2004), he ran for 1,834 and averaged 152.8 yards per game. He's tied for third with Ricky on 100 yard games in a season, with 10 (Earl and D'Onta Foreman in first, with 11). Cedric is second for most career 100 yard games, with 25 (Ricky #1, with 28). Cedric holds the freshman and sophomore rushing records at UT, with 1,053 yards and 1,293 yards respectively. Second behind Ricky for senior season, with 1,834 to Ricky's 2,124.
Cedric Benson was Big 12 Freshman of the Year and all Big-12 twice. In 2004, he was a consensus All-American and won the Doak Walker Award.
Requiescat in pace Cedric.
Texas Longhorn Football
Texas remains one of the historically great programs in American college football.
| | | | |
| --- | --- | --- | --- |
| 1. | Michigan | 139 years | 953 wins |
| 2. | Ohio State | 129 years | 911 wins |
| 3. | Texas | 126 years | 908 wins |
| 4. | Alabama | 125 years | 905 wins |
| 5. | Notre Dame | 130 years | 897 wins |
| 6. | Nebraska | 129 years | 897 wins |
| 7. | Oklahoma | 124 years | 896 wins |
| 8. | Penn State | 132 years | 887 wins |
| 9. | Southern Cal | 125 years | 839 wins |
| 10. | Tennessee | 122 years | 838 wins |
By Winning Percentage
| | | |
| --- | --- | --- |
| 1. | Michigan | .730 |
| 2. | Boise State | .727 |
| 3. | Ohio State | .727 |
| 4. | Notre Dame | .727 |
| 5. | Alabama | .726 |
| 6. | OU | .724 |
| 7. | Texas | .705 |
| 8. | Southern Cal | .699 |
| 9. | Nebraska | .692 |
| 10. | Penn State | .688 |
Ohio State had 12 victories vacated by the NCAA during the 2010 season. Notre Dame had 21 victories vacated by the NCAA between the 2012-2013 seasons. Alabama had 8 victories and 1 tie forfeited by the NCAA during the 1993 season and 21 victories vacated by the NCAA between the 2005-2007 seasons. USC had 14 victories vacated by the NCAA during the 2004 & 2005 seasons. It helps to run a clean program.
We are number 2 in all-time bowl appearances with 55, behind Alabama (66). Horns are at number 5 in all-time bowl wins with 29 (interestingly, in a tie with the Land Thieves, who have 29 wins in 52 appearances).
In the State of Texas, the top 12 (per Kyle Umlang):
1. Texas – 908
2. Texas Agricultural & Mechanical – 741
3. Texas Christian University – 650
4. Baylor – 596
5. Texas Technical – 567
6. North Texas – 516
7. Texas State – 513
8. Southern Methodist – 494
9. Rice – 472
10. Houston – 441
11. UTEP – 395
12. UTSA – 41


Kind of a drop-off from UTEP to UTSA.
Also from Umlang:
All time winning percentage for Texas FBS schools: Texas at .705, Texas Agricultural & Mechanical at .602, Texas Technical at .556, Houston at .546, Texas Christian at .541, Texas State at .527, Baylor at .509, UNT at .505, Southern Methodist at .476, UTSA at .436, Rice at .435, and UTEP at .401.
FBS Teams in Texas ranked at Number 1: Texas 45 Weeks. Texas Agricultural & Mechanical 6 weeks. Southern Methodist and Texas Christian each with 2 weeks. As Mike Levy would say "Zero, Nada, Zip" for the rest of the Texas schools.
One other Texas Agricultural & Mechanical stat that made the rounds on Twitter last week: The aggies' last national championship was closer in time to the shelling of Fort Sumter and the start of the Civil War than to today.
2019 Longhorn Football Season
Here is my most important comment on the Texas season schedule at this moment: Let's win the opening game.
I don't recall having this much pre-season hype for the Horns in years. Most of the hype, at least in Austin, is centered not on the start of the season, but on the second game of the season. Last week the evening news and radio shows and social media have been filled with stories of the ticket demand (most in-demand game ticket on StubHub, and so on; I don't have any extras and I don't know anyone who does). And no doubt Austin is going to be rocking that weekend. The Cajuns know how to party, and having the Tigers come to Austin is like having a fun-loving cousin you really like but haven't seen in a long time come to town.
Lots more on the Louisiana State game around September 6, but for the next two weeks the focus needs to be on beating Louisiana Tech.
I predict a 10-win season, but I can't tell you which two games are the losses. I think our four hardest games are: Louisiana State, Land Thieves, Iowa State, and Texas Christian. Texas can and should win the other 8 games, and I think we get at least split in these 4, and maybe win 3 of them. That doesn't mean the rest of the season is a cakewalk. To the contrary, I think Texas will be nicely challenged by Oklahoma State who tends to play us well, we play at West Virginia (who should be down with Holgo in Houston), and Baylor continues to improve. K State's new coach, Chris Klieman, won seven (7!) FCS National Championships at North Dakota State. And while I don't expect the Kansas Jayhawks to threaten Texas again for a long time, hiring Les Miles does suggest a commitment to improve on their 2018 average home attendance of 19,424 per game (they had 116,544 for the season – Michigan averaged 110,737 per game). And speaking of attendance, last season 175,414 fans witnessed the two Red River Shootouts. 55 FBS-level schools did not draw 175,000 at home the entire season (credit Danny Davis at the Statesman – @aasdanny).
More good news: Texas will play for the Big XII Championship again. This year the game is on December 7, and we will be back at JerryWorld.
For those of you thinking extra positive, and why not: the College Football Playoff Semifinals are Saturday December 28, at the Fiesta Bowl and the Peach Bowl. And the National Championship Game will be played on January 13 in the Mercedes-Benz Superdome in New Orleans.
2019 Longhorn Football Prospectus: Thinking Texas Football
Paul Wadlington's preseason book is one of the best sources for preseason analysis. I start getting ready to write every summer by reading his book. I highly recommend it (his nom de plume is Scipio Tex, which may be a more familiar name for many of you). Here is the link to purchase it.
https://www.smashwords.com/books/view/947268
This great treatise is also available in print too now, on Amazon.
The 2019 Longhorns
Here are some thoughts on key players. I have had to revise this a few times in the last week or so, as several men who are slated to start have been injured (Ingram, Sterns, Shackelford, Eagles among them).
We lost a lot of guys from last year's team. Interesting stuff on the Webs about that, if you get bored. Below are some stats and info that will help paint the picture, but it isn't pretty at a couple of positions (from an experience standpoint). On the other hand, things are great at most positions. Starting with the obvious.
No quarterback controversy in Austin this year. Sam Ehlinger is the undisputed leader of the team and will be our starter. While I don't follow recruiting, I follow the off-season pretty closely. An interesting quote from Sam a few weeks ago when asked about Collin Johnson went something like this: Collin is the first one there in the mornings and the last one to leave. A couple of us were talking, and we figured this: Sam knows Collin is the "first" one there and "last" to leave, because Sam is there too. Sam finished 2018 ranked 40th in the nation in passing with 235.4 per game. On total yardage, he was #20. Completion percentage at #25, and QB rating at #31 (146.9). He was No. 29 in total offense (269.9 ypg), and #12 on total yards (3,778). An interesting one: in number of plays, he was #7 in the country, with 589. In Big 12 play: #4 passing on ypg and passing yards, and #20 rushing with 34.43 ypg. By all reports, Sam is back stronger and faster, and a big season is riding on Sam's shoulders. Ehlinger is in the Heisman talk (trophy, not just tailgate). Hopefully more news on Casey Thompson in a couple of weeks, but from what I hear, he is doing really well in summer camp.
The Receiving Corps is solid. Collin Johnson's return is huge. CJ caught 68 passes last year for 985 yards. Great reports out of summer camp. Yes, we will miss Lil'Jordan (who had 1,176 on 86 catches) and especially his yards after catch, but we have talent. Devin Duvernay is back, and he caught 41 balls for 546 yards last year. He is fast, and odds are he will be in the slot. Brennan Eagles is doing well, and if you had to list out receivers top to bottom, he would probably be #2. He's hurt right now, but hopefully will be back soon. He is good. Also looking forward to seeing Malcolm Epps (from Paul Wadlington: "he creates openings simply by virtue of standing 6-6, having an 82 inch wingspan and flypaper hands), and Jordan Pouncey. John Burt – how about a good senior season? Likely starter at the Z if Eagles isn't well by game time.
Running back will be fun. Keontay Ingram will be really good if we can keep him healthy. He returns after 708 yards rushing and 170 receiving last season. Spelling Keontay will be freshman all-everything Jordan Whittington. Want to waste some time on YouTube? Go watch video from his high school career, especially the Cuero state championship game. First thing you will notice: He was a wide receiver and free safety. Now he may be shaping up to be the Next Great Texas Running Back. A good one: https://youtu.be/y64pZA429Cw
One thing we need: more touchdowns from RB's and less pounding Sam into the line. Ehlinger had 16 rushing touchdowns last year – the RB's just 8.
Tight End: Cade Brewer is back, and if he stays healthy, he will have a good season. Back-ups are not as promising. Really need Brewer for 14 games (15? One can hope!)
Offensive line: I am pretty excited. Senior Zach Shackelford at center, as soon as he is back from injury. Samuel Cosmi at left tackle. Derek Kerstetter probably at right tackle, but for now will be snapping while Shack is hurt. Junior Angilau will likely be at tackle. Denzel Okafor at one of the guard spots. I hear different things about Parker Braun (grad transfer from Georgia Tech), but my guess is he's a starter (and probably would if we played today, given the Shack injury), although that and the rest of the lineup will be determined by health as much as anything, the way this summer seems to be going.
The 2019 Texas Defense will be fascinating. Most of the preseason previews and now the blog posts since practice started are pretty consistent: Texas is really deep at safety and that group also has our best players. So expect interesting lineups on the field. Wadlington calls it the Best Eleven paradigm. Nahlin and Wells posted on InsideTexas.com last week that we might see a 3-8 look. Here's how we get there, starting up front.
On the interior, two guys have any decent experience: Gerald Wilbon, who had 8 tackles last year, and Keondre Coburn, who had 2. D'Andre Christmas has never arrived, and I don't know what the other guys can deliver (Senior Jamari Chisholm and Freshman T'Vondre Sweat). Wilbon and Coburn are big and good, so the middle should be solid.
On the outside of the line, we have a lot of guys in the defensive ends room (in the 90 to 100 degree September games, we got to have lot of those big guys). With a little more experience. Malcolm Roach is primed for a big senior season. 24 tackles last year. Ta'Quon Graham with 12 tackles last year, and he will play a lot. Other names, and hopefully more news and insight in the next couple of weeks: Moro Ojomo, Marqez Bimage, Jacoby Jones, Daniel Carson, and Rob Cummins. Good news is that Oscar Giles is a heck of a coach who bleeds burnt orange.
Linebacker. Jeffrey McCulloch and Joseph Ossai. McCulloch had a good 2018 with 33 tackles (4.5 TFL + 1 sack and 1 pick), and he has the most experience. I don't think Ossai had a regular season start, but he had one hell of a finish. The Sugar Bowl was a particularly physical game, and Ossai was our leading tackler, with 8. Not sure who else will play a lot. Most likely Adeoye and Johnson.
Cornerback – Anthony Cook had 18 tackles last year and brings the most experience. Jalen Green had 2 tackles. Both are sophomores. As are the next two guys on the list, Kobe Boyce and D'Shawn Jamison. Although maybe our other Duvernay, Donovan, will step up. Going to be really interesting to watch this position.
Safety – we are so stacked. I was really excited when Nacogdoches native Brandon Jones announced he was coming back for his senior season. Great decision (right Julie?!!). 70 tackles last year (5.5 TFL) and 2 picks. The Wolf of DKR, Caden Sterns had a great freshman year. 62 tackles and 4 interceptions (2 TFL). BJ Foster can hit, and he tallied 46 tackles (9.5 TFL + 2.5 sacks) and one interception. Chris Brown – 12 tackles. Add in Demarvion Overshown (having a good summer camp), Josh Thompson (22 tackles last year), and Montrell Estell (name reminds me of a Stevie Wonder song) – Naivar and Orlando have a wealth of talent with which to work.
Dicker the Kicker may be the second most famous guy on the team. He is very talented, and I hope he has a good year. I hope we put him in the game when, say, it is 4th down and 3 from the 5 yard line. Bujcevski is back to punt, and I bet we don't need him as much as we did last year.
One of the most important things this team has to do offensively, in my mind, is to do at least as well this year as they did exceptionally well last year: don't turn the ball over. In 2018 Texas finished tied at No. 4 in the country (with Arizona State, Wyoming, and Kansas) in turnovers lost: Just 5 fumbles and 7 interceptions. We were #19 in turnover margin, with 0.62 per game. I am betting we are even better this year. If we are, it will be one of the reasons we have double-digit wins.
The University of Texas at Austin
There was a lot of good news and good stories coming out The University the last few months that had nothing to do with football. One of my favorite stories was my daughter Claudia's graduation from The University and McCombs School of Business. That wrapped up a decade of daughters at The Forty Acres!
On a much broader note, here are some stories I want to share. I commend all of these to your reading. There may be a bit of a Tyler theme.
First, I believe one of the most important recent developments in UT's rich history was announced in July: Students from families with incomes $65,000 or less will have their tuition covered, greatly enhancing the ability of young men and women from around the state to attend UT. The Board of Regents committed $160 million to the cause.
https://www.dallasnews.com/news/higher-education/2019/07/09/ut-austin-promises-free-tuition-students-family-income-less-65000-2020
https://www.texastribune.org/2019/07/09/ut-system-spends-160-million-financial-aid-ut-austin-students/
Kevin Eltife is doing a fantastic job as Chairman of the UT System Board of Regents. Great article on a great guy.
A great story on Earl Campbell and his recruitment by Coach Ken Dabbs and Coach Royal
A great article on the 75th anniversary of the D-Day Invasion and the many ties to Texas, including my late friend and mentor, Frank Denius.
I have written in the past about Dell Medical School and the positive impact it is having on Austin and the greater community and generational impact I believe it will have on health for all Texans (and the rest of the world, because what starts here …). The transformation of healthcare is happening just south of DKR, and Dell Med is growing quickly. Great article on how the partnership with Central Health is growing and UT is leading the way in Austin's Medical Innovation District:
A Look Back to Last Season
My preseason prediction in August 2018:
"2017 was a better year, no doubt . . . I believe it was the start of the New Run."
"Being somewhat of burnt orange kool-aid mixing, sunshine pumping, perennially optimistic Longhorn: the Big 12 Championship game is December 1 at AT&T Stadium in beautiful Arlington, Texas."
"My season prediction: 8 or 9 wins, and then we win a good bowl game."
Well, it was more than a win in a good bowl game. It was a landmark win in a great bowl game against a really good Georgia Bulldog team. Which brings me to:
The Sugar Bowl
I was so pumped up after the Sugar Bowl win that I wrote most of what follows in this section the week after the game. I was going to get it out in early January, with a look at last year's Texas Longhorns basketball team and a preview of the 2019 Texas Longhorns Baseball team. Obviously didn't happen, as the lack of a deadline and all the other usual excuses available to me as a professional, lifelong procrastinator led to this being saved for August. So you get it now.
The Sugar Bowl: Texas 28, Georgia 21
What a game!
The Movie:
I almost don't know where to start.
But you have to start somewhere, and I will start with the number 11.
The first number 11 is Sam Ehlinger. Sam was most deservedly the MVP of the Sugar Bowl, and I am sure most of y'all, like me, were not surprised. I have his quantitative statistics below, but it was Sam's qualitative stats that contributed so much to Texas jumping out to a double-digit lead and going to the locker room at half up 20-7. I have my usual review below, and when you read it, think about what he did in that game.
My second number 11 is the eleven men wearing the icy whites and who were on the field playing defense on any given play. A really incredible defensive performance.
My third number 11 is P.J. Locke. Locke's interception early in the third quarter after the failed onside kick to open the second half was huge.
Social Media Star of the Game
Bevo, of course. Even before kickoff, millions of people had seen the video of Bevo introducing himself to Uga. I will have to say that the Silver Spurs did an admirable job of getting the situation under control quickly.
First of all, bulldogs were not bred to be friendly with bulls (or steers). The old English bulldogs were bred for the old blood sport of bull-baiting, where a bull would be tied and staked, and the dog (or dogs) would attack the bull, attempting to get ahold of the bull by the snout. Parliament outlawed it in 1835 because of its brutality.
So, you get a bulldog dressed in red and parade him in front of a steer. And we all saw what happened. Lots of chatter all over the place (including PETA) about the incident, but here's my take: The Spurs did a great job, especially Andrew Miller who grabbed Bevo's left horn and turned him around, ending the fracas. Patrick Dowell and the rest of the men did a nice job quickly deescalating the situation.
The upside was, it set the tone for the game. The Texas Longhorns would come out of the locker room about an hour later, and they charged down the field on that first drive, punching the Bulldogs right in the mouth, scoring seven points, and letting everyone in America know that maybe, just maybe, all the pundits and predictors, and even Las Vegas, might not be right about the game between Texas and Georgia.
The Game
The opening possession of the game made a lot people sit up and think "dang, this might be a better game than I thought". In one of the best drives of the season, Texas took the ball 75 yards in 10 plays. Opening with a 7 yard toss and nice run by Tre Watson (it looked like a screen, but officially a lateral so a running play), a great call on second and 3 to get a big gainer with the 19 yard completion to LJH. Two snaps, and Texas was in Georgia territory. After another Watson run and catch, it was third and 3. A great call and conversion, as Sam completed the pass to Ingram who picked up 16. First and 10 Texas at the Georgia 27. So in 2 minutes, we've gone from our 25 to their 27, and Dogs were on their heels. A great play that resulted in a 14 yard completion to Duvernay. First and 10 on the Georgia 13. Keaontay rushed for 2, then Sam for 1 on the first time we saw what I assume was Play No. 8 on Sam's wrist card (see photos below; one of the highlights of post-game social media). That set up a tough third and 7. Sam got great protection, and he threaded one into LJH, getting the first down. Texas first and goal from the UGA 2. The next play was for a sure a No. 8 special, as Sam ran it off Cosmi's outside shoulder and inside the nice block by Beck. Dicker the Kicker with the PAT, and 7 to nothing Horns. Sam was perfect on the drive, 5 for 5, plus the touchdown run.
Georgia's first drive also said something about setting tone, but not the way folks were expecting. No, it wasn't the quick answer of the lauded Georgia rushing game and Fromm's fine passing (led the SEC in passing) behind the vaunted Georgia line. Rather, it was the Texas Defense letting everyone know that they came to play too. First run by Holyfield went backwards as he was met at the line, officially no gain. Then a 4 yard completion to Holyfield, and Fromm did make a nice pass to convert on the next play. But a swarming tackle for loss on first down, and Fromm was forced out of the pocket before he could secure a receiver and was tripped up for a short gain. Third and 9, and Omenihu with a great rush on Fromm, and then BJ Foster with the pressure to force Fromm to throw it away. Fourth down, and Georgia was punting. What looked like a good Georgia punt inside the Texas 5, and as ESPN cut away to commercial, my phone lit up with "his knee was down". Sure enough, when we were back live from the Superdome, the play had been reviewed, and Texas had the ball at the Georgia 27.
That huge break was one of those moments where you just kinda knew something was up (I knew something was going to be up, but that is another story).
Great defense by Georgia holding Texas. Incompletion, a short run by Tre, then Sam picked up 4 on third and 8 as he scrambled out. Dicker with an important field goal, which he nailed. 10-0 Texas, with 6:05 to play in the first quarter.
Texas had another great defense series on the next Bulldog possession, as Georgia was 3 and out with a net of 4 yards. The final play was cool, as Omenihu made a great read on the screen pass, and Georgia lost Camarda the punter must have been rattled, as he shanked the punt for all of 11 yards.
Texas got the ball on the 50 yard line, and the Horns had a huge opportunity. Ehlinger with a great completion to Duvernay for 8, and then LJH with a quick catch to pick up the first down to the Georgia 36. An option play left to Ingram that got 4 yards. The Horns got their first penalty, as Beck moved early, making it second and 11. That was exacerbated on the next snap, as Ehlinger and Ingram seemed to miscommunicate and the ball hit the turf. Luckily, Sam jumped on it. But third and 12 against Georgia is not what you want. A high throw to Collin Johnson (off his fingertips, you may recall; lucky it wasn't picked). Texas took a delay of game penalty for the punt.
Bujcevsky with a good punt and Georgia fair catch at the 10, with 65 seconds left in the first quarter. Ridley dropped Fromm's pass on first down which would have been a first and a nice gain. On second and 10, Georgia's stud, D'Andre Swift appeared to have a big run. But Ta'Quon Graham with a great strip, and Wilbon with the fumble recovery at the Georgia 12.
Great call as we ran the cool play where Sam hands it to Watson on what looks like a sweep, who tosses it to LJH, as Sam swings out. Humphrey with a nice pass, Ehlinger a nice catch, Texas on the Georgia 4 yard line. The Georgia defense blitzed and swarmed Sam on the next play, and we had third and 7 as the period ended. Texas opened Quarter No. 2 with Sam looking magical, as he ducked out of a collapsing pocket in what we must assume was a well-disguised quarterback running play, and he ran it in for the touchdown. Dicker converted.
Okay, I am pretty much giddy right now watching the game. Horns up seventeen to zero.
To Jake's and Georgia's credit, they put together a heck of a drive, the star of which was Brian Herrien. He converted a big third down, ran over Brandon Jones on the next play (I found it somewhat humorous that Brandon was credited with the tackle; I guess technically he was responsible). The 17 yard touchdown pass to Herrien was really nice.
So, 9 minutes to go in the first half, and the Dawgs are only down 10. Everyone knew it could have been worse for Georgia at this point. Easily 21-7, and conceivably 28-7. The next possession would be critical for Texas. A quick 3 and out, and all of sudden Texas might be looking at just a 3 point lead, with plenty of time to go in the half.
Fortunately, Texas responded with another solid drive. A first down (dangerous) pass to Heard, and two quick runs by Watson got a Texas first down. On the next play, Sam was nearly sacked for a big loss, but as if there was an invisible hand tapping Sam on the shoulder and whispering spin, Sam was out of the pocket and down the field for a 17 yard gain into Georgia territory. Watson with a hard run, and then a first down pass to LJH to move the chains. First and 10 at the Georgia 35. Tre Watson broke a tackle at the LOS, and turned it up field for 20. Incomplete pass, a loss on the option play to Ingram to the wide side of the field. Third and 12 at the 17. The pass to Ingram only got 4, and so Texas turned to Dicker again. Nice kick, 20-7 Texas with 4:37 to play in the half. The Texas defense had a nice series, as Georgia burned up 3:36 and only went 35 yards in 11 plays. Georgia did avoid disaster as Swift fumbled again deep in Dawg territory, which would have set up the Horns for another score. The Wheeler blitz for the sack was awesome.
After a good Camarda punt, Texas started at its own 9. Not surprisingly, Texas played it safe, handing the ball to Watson. I was a bit concerned about the fact that we were punting from our own 15 as time expired, but thankfully Ryan had a really good punt, 52 yards all the way to the Georgia 33. A Bulldog got an unsportsmanlike penalty for unnecessary roughness which we didn't see initially.
At the half, the Georgia Bulldogs, No. 12 Rushing Offense in the nation, had 29 yards. If you assume the average can be allocated by halves, then the Dawgs were 97 yards below their average. Jake Fromm, the SEC's best quarterback, had 89 yards. The Dawg defense was allowing 18.5 points per game. Texas had 20. Georgia's offense was averaging 39.2 points per game. They had 7. That was not just one of the best halves of football Texas played this season, it was one of the best played in a long, long time.
Texas was kicking off from the 50 yard line thanks to that penalty. A chance to pin Georgia deep, and we tried and failed at an onside kick. Bulldogs start at their own 41, and on the first play Holyfield busted a nice 11 yard run. Great defensive play again on first down, as Texas sold out and got Holyfield for a 3 yard loss. Herrien for 2, then one of the biggest plays of the game, as P.J. Locke with a huge interception on about the Texas 17, and returns it to the 39 yard line. All of a sudden, that failed onside kick didn't matter.
Georgia's defense answered, forcing a 3 and out. Bujcevsky's punt put Georgia at their 15. Solid defense by the Horns, and the Dawg drive stalled at the Texas 47. Camarda with a good punt, and Texas got the ball at its own 6 halfway through the third quarter. A little dicey there, as Texas really needed to move the ball. Obviously, points would be nice, but for sure we had to get enough yards to not give the ball back to Georgia with good field position. I was feeling good, but I refer you to my pre-Sugar Bowl email about the Horns and the fourth quarter. My heart said we were still going to win, but my brain was in worry mode; we needed to take at least a 2 score lead into the final period.
Fortunately, Ehlinger did manage a nice drive. We should've scored, and we should've gotten a PI call on Georgia. But we didn't. Texas didn't score, but Texas turned the field over. Georgia had punted from our 47, and 11 plays later, Texas got to the Georgia 47. Texas punted, and Georgia got the ball at their own 11 with under 4 minutes to play.
Foster's great play on the ball prevented a big first down, and after that Georgia got a short gain and didn't convert the third and 7. As big of a 3 and out as we have had in a long time. Huge field position swing, as Texas got the ball at the UT 30 after the punt.
On second and 10, Watson with a big run to get a first down. Then a great pass to Collin Johnson and even better catch by CJ for his first completion. A Watson run, a short throw to CJ, and Georgia called timeout with 18 seconds to avoid a penalty. Texas – well Sam – would get 2 more plays. A quick run to the Georgia 16, and facing Fourth and 1, Herman and the Horns didn't hesitate. Sam got the snap and ran a No. 8 for the Texas first down as the third quarter ended. I was nervous as hell.
I guess Andrew Beck was too, as he jumped on first down, putting Texas in a first and 15 situation at the Georgia 16. After an incomplete pass to Collin Johnson, Texas had a second and 15, and Coach Herman put the ball in Sam's hands and the game on his shoulders. A short run, third and 10. No one was open, and Sam scrambled to his left and then ran downfield, getting hit a few yards short of the first down marker – but he churned and his teammates joined the scrum. First down Texas at the Georgia 1. Sam ran to the right and was ruled down at about the one foot line. Reviewed and upheld, but I disagree. Didn't matter. Second down, Sam again with a No. 8, and again stopped short. Third down, Sam with a No. 8 special short of the Promised Land. Pushed back and the ball loose, but forward progress still right up against the goal line. Fourth down. Hell Yeah. Sam carries for the touchdown. So close, but it was 6. 26-7 Texas. Credit Tom Herman for going for the 2-point conversion. Great play call, as Sam completed the pass to CJ. 28-7 Texas.
11:49 to play in the game, and a 21 point lead. Against what many people were still saying before the game was the third best team in the nation. Texas held an edge of 308-174 in offensive yards.
Those last 11 minutes and 49 seconds were pretty interesting. The Bulldogs took the kickoff and moved the ball in the air – quickly. The Georgia touchdown came at the 10:25 mark, 67 yards in 6 plays in a little over a minute.
The next Texas possession was solid. Tre Watson had a strong first down run that got the clock under 10 minutes. But Texas couldn't convert on the next set of downs. Bujcevsky with a decent 48 yard punt had Georgia on their 15 yard line with 9:00 minutes to play. A lot of time. Fromm sacked on first down, blasted by BJ Foster on a safety blitz on second, and incomplete on third. Fourth and 14 with 6:51 to play, and the Bulldogs punted from their endzone. Orlando's defensive calls on that series were outstanding.
Texas started their next drive on the Horn 35 with 6:43 to go. First set had Sam to LJH for the first down conversion on third. Second set also saw a huge third down catch and run for LJH, and Texas had first and ten on the Georgia 33 with under 4 minutes to play. Herman and Texas ran clock, but the Horns were unable to convert another first down, and Dicker was wide right. Georgia got the ball on their own 28 with 1:10.
That last defensive series was really ugly (How ugly? Think progeny of first cousins, one from Arkansas, the other from Oklahoma). First pass completion and Davis was called for targeting and disqualified. Next play a Fromm scramble, and Anthony Cook smacked Fromm in his slide, called for targeting. Gary Johnson got an unsportsmanlike foul for throwing a punch after the play. Every official threw his flag. But Georgia was called for holding. The officials had trouble figuring it out, but in the end, the Bulldogs had the ball on the Texas 34 with 54 seconds to play. I was definitely not feeling comfortable. A few plays later, and Georgia was in the in the endzone with 14 seconds on the clock. The Georgia on-side kick was recovered by Collin Johnson, and the game ended with Texas in the Victory formation, and Sam Ehlinger executing the kneel-down to perfection. What a freakin' game. Bulldogs rushed for a net 72 yards. Stats below.
That 1:10 of game time lasted at least 15 minutes with all the reviews and figuring out how to assess penalties.
The comparison of the game statistics to season averages. Season average for Texas first in parentheses, the stat for the Sugar Bowl after. Georgia numbers on the right are all their season averages. For example, on defense, Texas allowed just 72 yards rushing; Georgia was averaging 251.6 ypg, and Texas yielding 135.9 ypg.
| | |
| --- | --- |
| Texas Offense | Georgia Defense |
| Rushing Offense – (151.2 ypg) – 178 | 130.6 ypg – Rushing Defense |
| Passing Offense – (264.8 ypg) – 177 | 180.5 ypg – Passing Defense |
| Total Offense – (416 ypg) – 355 | 311.1 ypg – Total Defense |
| Scoring Offense – (31.3 ppg) – 28 | 18.5 ppg – Scoring Defense |
| First Downs – (23.5/game) – 20 | 16.9/game – First Downs Allowed |
| 3rd Down Offense – (46.3%)–47.4% | 32.6% – 3rd Down Defense |
| | |
| --- | --- |
| Texas Defense | Georgia Offense |
| Rushing Defense – (135.9 ypg) – 72 | 251.6 ypg – Rushing Offense |
| Passing Defense – (265.2 ypg) – 224 | 227.2 ypg – Passing Offense |
| Total Defense – (401.1 ypg) – 296 | 478.8 ypg – Total Offense |
| Scoring Defense – (26.2 ppg) – 21 | 39.2 ppg – Scoring Offense |
| First Downs Allowed – (20.7/game) – 20 | 23.9/game – First Downs |
| 3rd Down Defense – (44.2%) – 46.2 | 47.7% – 3rd Down Offense |
Texas had 110 yards of offense in the first quarter to Georgia's 8.
Other
| | | |
| --- | --- | --- |
| Statistic | Texas | Georgia |
| Turnovers | 1F/0, 0I | 2F/1, 1I |
| Penalties | 6 – 60 yards | 3 – 47 yards |
*One of the penalties was the intentional delay of game in the first quarter. In the last 70 seconds of the game, Texas was flagged twice for 30 yards.
Quarterbacks
| | | |
| --- | --- | --- |
| | Ehlinger | Fromm |
| Rating | 69.2 | 46.6 |
| Completions | 19 | 20 |
| Attempts | 27 | 34 |
| Picks | 0 | 1 |
| % | 70.4% | 58.8% |
| Yards (P/R) | 169/64 | 212/ -5 |
| Average | 6.3/3.0 | 6.2/ -1 |
| TDs | 0/3 | 3/0 |
Some fun stuff from New Orleans and the Sugar Bowl:
VIDEO: Anthony Wheeler said a few Georgia players were talking trash in the 1st quarter when Texas took an early lead "we didn't think y'all would come that hard". That was plenty of motivation…
"Just hearing that was telling me they ain't ready for us." #HookEm
No. 8 Special
Hope the Land Thieves get a lot of No. 8 in October and December.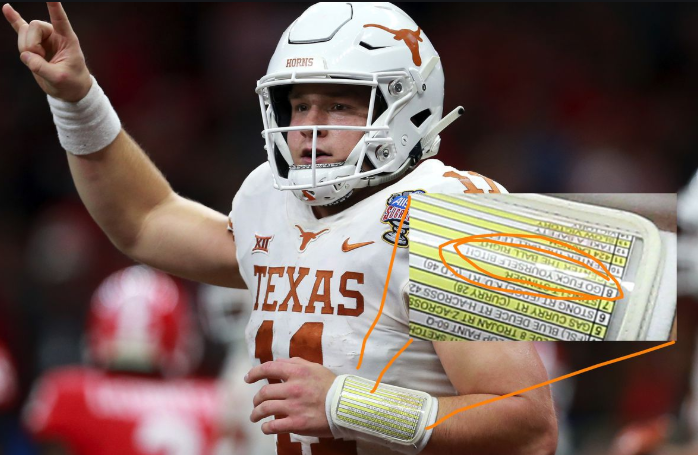 How much information are on the Interwebs? How about an entire article on Sam's wristband.
https://www.sbnation.com/college-football/2019/1/2/18166266/texas-play-call-sam-ehlinger-sugar-bowl
What to Read and Who to Follow
My recommendations for reading and keeping up with Horns.
First of course, all of the official UT sources. The Athletic Department produces great content of all types, and if you are not following the Horns and key staff members on Twitter (and Instagram), you are missing out. Too many to list, but most important is Chris Del Conte, who is always on Twitter and super responsive (@_delconte). Also highly recommend Matt Lange (@mattjlange), Creative Director and Social Media Director for Texas Football. Good stuff.
For the preseason – as mentioned, Paul Wadlington's 2019 Texas Football Prospectus should be mandatory reading for Horns Fans.
Also on the syllabus – Dave Campbell's Texas Football.
Next, the Austin American Statesman has good (and usually the timeliest) content www.HookEm.com. The Statesman is still a go-to source for news and articles. Ced Golden, Kirk Bohls, Brian Davis, and Danny Davis deliver. And if you are old-fashioned like me, it is the best place (outside of www.TexasSports.com) for photos.
Here are the other sites I am on every week. Free sites first. Also, if I have a writer's name listed, I suggest you find him and follow him on Twitter.
Scipio Tex was one of the original Barkers and still writes a lot of great content here. I have a bias toward Paul because of his excellent writing. Also on the BC, Sailor Rippy and Bitterwhiteguy, plus nobis60, HornMafia, and my friend W.W. McClyde (and others). BC is usually my starting place each week and my first stop after a game.
Wescott Eberts and Cody Daniel post a lot of great content on BON, founded by my friend and former colleague Peter Bean (also a contributor). Anthony Rizzo is another writer on this site whose work I enjoy reading. Always good game previews and reviews.
A pay site for most content, this is in my top 3 to which I subscribe. Lots of great articles and insight from Ian Boyd, Eric Nahlin, Justin Wells, Paul Wadlington, and Joe Cook. Fridays in the Humidor is always a good read.
The OrangeBloods site, and probably one of the biggest and most visited. Great forums, especially Inside the 40 Acres. Lots of fan interaction. Great reporters and writers, including Anwar Richardson and Dustin McComas, plus the Orangebloods OG's, Jason Suchomel and Geoff Ketchum. The War Room feature is a don't miss.
https://247sports.com/college/texas/
My other top 3 pay site, this is the old Horns Digest. Former Dallas Morning News sportswriter, Chip Brown leads the way. Jeff Howe posts good stuff.
Another great source is The Athletic. As we have watched media transform over the last decade, a host of great sportswriters are now publishing on The Athletic, and it covers all sports and does it well. It requires a subscription to access the website. But, if you subscribe, you can also create preferences and sign up for newsletters on your teams. The Athletic has an app that works well too. A new beat writer for the Longhorns this summer, Kaelen Jones. He's doing a good job. You can follow him on Twitter @kaelenjones. He posted a good article on Sam Ehlinger this morning.
Thanks to the Internet, you can listen to Austin radio stations from just about anywhere, and the official Flagship Station is 104.9 the Horn. They have a useful app, and I recommend it. On Saturday mornings, tune in to the Big Ugly Tailgate show – my friends Ashley Kamrath, Jonny Rogers, and Longhorn legend Kasey Studdard.
Make an effort to catch my friend Ed Clements when you can on KLBJ. His Fifteenth Club show on Saturdays from 5 to 6 with Scotty Sayers is excellent, especially for you golfers. KLBJ-590-AM and 99.7 FM, and at https://www.thefifteenthclub.com/. Ed follows that show with The End Zone Club from 6-7 with his son Ben. Good radio!
On Twitter, I noted above the various writers to follow, and most of the sites have dedicated accounts you can follow (@BON_SBNation, @OBWire, etc.). Also, one of new favorite accounts is @KyleUmlang, who is a data and stats guru. Always good stuff.
1969 National Champions
This year is the Fiftieth Anniversary of the 1969 National Champion Texas Longhorns. We will spend some time this year looking back on that great season and team, and I hope to have some memories straight from some of the men who played for Coach Royal on that team.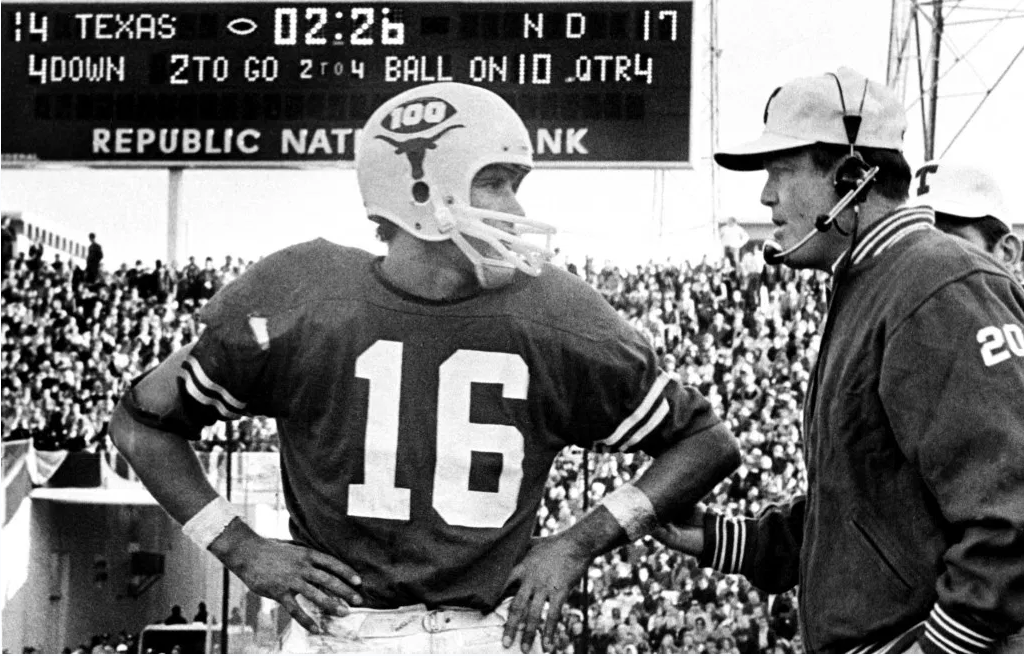 "Luck is what happens when preparation meets opportunity."
One of the most iconic pictures of the 1969 Champions – and in Texas Football History. Coach Royal and James Street. 78 seconds later, Billy Dale punched the ball in from a yard out, to put the Horns up 20-17, and Happy Feller completed the PAT, to seal the 21-17 victory and the perfect season for the National Champions.
Speaking of Billy Dale, he has led the efforts to create a non-profit "with the specific mission of offering temporary financial assistance to qualifying former longhorn student athletes, trainers, managers, coaches, and their immediate families." The Texas Legacy Support Network. In conjunction with TLSN, he has built a great website that has photos, stories, and more. I highly recommend it.
The Texas 2018 Statistics
A look back at where Texas finished in the stats that I start tracking once the season gets going. Here they are, and with the 2017 stats. It will be interesting to take a look at these again next August.
Texas Offense
| | | |
| --- | --- | --- |
| Statistic | 2017 | 2018 |
| Rushing Offense | #96 – 139.6 ypg | #91 – 153.1 ypg |
| Passing Offense | #41 – 258.8 ypg | #35 – 258.5 ypg |
| Total Offense | #65 – 398.5 ypg | #58 – 411.6 ypg |
| Scoring Offense | #52 – 29.5 ppg | #45 – 31.1 ppg |
| First Downs | #70 – 20.5/game | #31 – 23.2/game |
| Tackles for Loss Allowed | #113 – 90; 6.9/g, 360 yards | #54 – 75; 5.4/g, 313 yards |
| Third Down Conversions | #84 – 38.1% | #18 -46.4% |
| Red Zone Offense | #101 – 79%/62% | #83 – 82%/66% |
| Long Scrimmage Plays | #51 – 186/10+; 60/20+; 19/30+ | #30 – 203/10+; 66/20+; 6/30+ |
| Long Rushing Plays | #97 – 52/10+; 12/20+; 4/30+ | #76 – 64/10+; 9/20+; 5/30+ |
| Long Passing Plays | #28 – 134/10+; 48/20+; 15/30+ | #22 – 139/10+; 57/20+; 21/30+ |
| Penalties | #112 – 7.1/g; 66.8 ypg | #98 –7.4/g; 63.9 ypg |
Minimal improvement in yards of offense, but what jumps out is the improvements in first downs per game and third down conversions.
The Land Thieves were #2 in Long Scrimmage Plays (behind Alabama), 293/10+, 101/20+, 47/30+, 32/40+, and 20/50+. Texas had 6 over 40 yards plays, all 6 passing plays (and none over 50 yards).
Texas Defense
| | | |
| --- | --- | --- |
| Statistic | 2017 | 2018 |
| Rushing Defense | #8 – 106.9 ypg | #28 – 131.4 ypg |
| Passing Defense | #109 – 258.8 ypg | #110 – 261.4 ypg |
| Total Defense | #41 – 365.7 | #67 – 392.8 ypg |
| Scoring Defense | #29 – 21.2 ppg | #57 – 25.9 ppg |
| Tackles for Loss | #47 – 82; 6.3/g, 355 yards | #18 – 98.5; 7.1/g, 365 yards |
| First Downs Allowed | #27 – 17.6/game | #67 – 20.6/game |
| Third Down Conversions | #3 – 27.1% | #109 – 44.3% |
| Red Zone Defense | #54 – 81%/49% | #17– 76%/57% |
| Long Scrim. Plays allowed | #60 – 172/10+; 65/20+; 26/30+ | #101 – 196/10+; 59/20+; 28/30+; 18/40+ |
| Long Rushing Plays allowed | #26 – 52/10+; 10/20+; 3/30+ | #35 – 55/10+; 12/20+; 3/30+ |
| Long Passing plays allowed | #97 – 120/10+; 55/20+; 23/10+ | #123 – 141/10+; 47/20+; 25/30+ |
I didn't recall the precipitous drops in First Downs Allowed and Opponent Third Down Conversions. Not sure how to explain that.
I am guessing next August we will be about the same in rushing defense- ranked in the mid 20's. But I will wager we are way better in passing defense.
By the way, Oklahoma was worst in long passing plays allowed in 2018 – ranked #130, with 168/10+, 60/20+, and 27/30+
If you want to delve into some interesting stats:
http://www.espn.com/college-football/statistics/teamratings/_/year/2018/tab/efficiency
The Juan Heisman Tailgate
The Juan Heisman Tailgate Crew is ready for a great 2019 tailgating season. We will still have a lot of great Dulce Vida Tequila courtesy of my friend good Chad Auler. Most games we will have Texas Beer Company there with cold draught beers and ales, and lots of other great beers from our friends at Capital-Wright (thanks Matt Harriss!).
We hope to be in our usual spot by Juan Heisman.
We have over 40 guys who are official partners and your hosts, and we pitch in to pay for most of the costs of the tailgate. But we also rely on donations from our guests each week to offset our costs. Not required, but sure appreciated. JHT is a non-profit operation. A fair guideline is that if you are eating and drinking alcohol, throw in $15 or $20 a person. Our food is usually not too fancy, but it is Always Good, and we pay Marcus and Otis for their excellent hard work every gameday. Also, we have a fair amount of capital expenditures each year (tents, chairs, tables, coolers). We love having a good time, and we hope you will be there to have one with us. So don't be shy about sharing some shekels.
Judd Messer has assumed operations of the tailgate, and I look forward to a little more relaxing season of Longhorn Football, a paloma or 5, and a venison sausage wrap!
Preseason Poll
Coaches Poll: Clemson, Roll Tide, , Georgia, Land Thieves, The Ohio State University, Louisiana State, Michigan, Florida, Notre Dame, and Texas. Texas Agricultural & Mechanical is 11, and Iowa State is 24.
Texas Longhorns Baseball
Well, the 2019 baseball season was certainly not what we expected. After a promising start to the season, with series wins over Louisiana, Purdue, Louisiana State (#2 at the time, and Texas swept them), things went south when Texas went west. The Horns dropped 3 of 4 at Stanford, and then scraped out a series win at home against the Sand Aggies. A sweep of Xavier to end March (crazy series – Texas won each game 6-5: Horns had to score 3 in the bottom of the 12th of Game 1 to rally for a win; gave up 3 in the top of the 9th in Game 2 but survived, barely; rallied from 1 down in the 9th in Game 3 with 2 runs in the bottom of that frame to win). Then a trip to Baylor where we split 2 games (Sunday cancelled). The Horns would not win another series, and finished last in the Big 12. For those who aren't baseball fans, here is how bad that hurt: Iowa State doesn't field a team, and so only 9 teams in conference. Only 8 get to go to the Big 12 tournament, and the team that finishes DFL stays home. A trip to Omaha in 2018, and a wicked, painful season in 2019. Baseball is a cruel sport.
But lots of good news on the Baseball program and its future!
First, in July, Texas announced that Troy Tulowitzki was joining the staff. A 13-year veteran in the major leagues, Tulo spent 10 seasons with the Rockies, then was in Toronto 2015-17, before retiring as a Yankee last month. From the official announcement: "In addition to his five All-Star selections, Tulowitzki is a two-time Gold Glove Award winner and a two-time Silver Slugger Award winner. A career .290 hitter, Tulowitzki finished his MLB career with 1,391 hits, 264 doubles, 225 home runs and 780 RBI. His 225 homers are the 12th-most ever by an MLB shortstop. Tulowitzki is one of just four shortstops in MLB history to compile a .984 career fielding percentage or better." Texas could definitely use some help when it comes to batting. The 2019 team finished at #236 in NCAA Division I, with a .250 average.
Another huge announcement this past Thursday, as Huston Street and Texas Baseball made it official: He's coming back, as a student assistant. I was fortunate to talk to Huston, and I know how excited he is. And I know I am. What a staff! Also, before this big announcement, Huston was inducted to the Omaha College Baseball Hall of Fame in June.
Here is the official story on Huston Street's return:
https://texassports.com/news/2019/8/15/baseball-hires-huston-street-as-student-assistant.aspx
Minister of Culture
Matthew McConaughey on SportsCenter with Scott Van Pelt (last January):
South Endzone
Watch the project live:
https://texassports.com/sports/2019/6/11/darrell-k-royal-texas-memorial-stadium-south-endzone-webcam.aspx
Washington & Lee
The Generals finished a hard 2018 campaign with a 5-4 record, going 3-4 in the ODAC as they dropped their last three games. Tough year.
W&L opens on September 7 with Dickinson College and then host Sewanee on September 14, with a third home game against Guilford to open conference play. First road game is a big one – at Hampden-Sydney on September 28. More to come as the season gets going.
Music
This year may be more eclectic than most, given the inspiration for this week's musical selection. Nearly 30 years ago, I spent a lot of time enjoying whiskey and cigars with my good friend Bob Ehrlich. We were young, kids were babies, and we seemed to have a lot more time on our hands to get into trouble than we do today. Anyway, one evening over single malts and what was no doubt a very large cigar (we had a preference for Macanudo, Partagas, and Arturo Fuente), Bob got me listening to Antonio Carlos (Tom) Jobim. I had always loved American jazz, and had listened to some Brazilian music, but Jobim opened a new world for me.
Over the years, I have really grown to love bossa nova and Brazilian jazz, and two of my favorite albums are the two from Stan Getz and João Gilberto. João Gilberto passed away on July 6 of this year, and when I saw his obituary, I knew what music would be in this newsletter. João Gilberto and Tom Jobim arranged the song "Chega de Saudade" ("No More Blues"), written by Vinicius de Moraes, and sung by Elizeth Cardoso on her album Canção do Amor Demais. That album is considered the first bossa nova album, and Chega de Saudade the first bossa nova song.
In 1961, Tony Bennett was in Brazil with Don Payne, who was friends with Stan Getz, a brilliant American jazz saxophonist. Payne introduced Getz to Bossa Nova. Getz put out two albums in 1962, Jazz Samba and Big Band Bossa Nova (Quincy Jones later recorded a "Big Band Bossa Nova" album too).
America was formally introduced to Bossa Nova at a famous concert on November 21, 1962, at Carnegie Hall. It featured João Gilberto, Jobim, Sergio Mendes, and others. That concert was the impetus for Getz/Gilberto, who were soon introduced to each other.
The first Getz/Gilberto album was recorded in New York City in 1963, at Phil Ramone's A&R Recording Studio. Tom Jobim plays piano on the album. Among the many great songs on that album is one most of y'all know, The Girl from Ipanema, sung by Gilberto's wife, Astrud. It is my favorite version of that great song. She also sings "Corcovado (Quiet Nights of Quiet Stars)". Released in 1964, the album won the 1965 Grammy Awards for Best Album of the Year, Best Jazz Instrumental Album, Individual or Group, and Best Engineered Recording – Non-Classical. The Girl from Ipanema also won the award for Record of the Year in 1965. It was the first time a jazz album received Album of the Year, and it was the only jazz album to win the award until Herbie Hancock's River: The Joni Letters won that Grammy 43 years later, in 2008.
Getz/Gilbert 2 was recorded live a Carnegie Hall in 1964 and released in 1966. Worth your time and money too.
First two from the award winning album:
Getz & Gilberto, Desafinado
Getz & Gilberto, featuring Jobim, with Girl From Ipanema
The Girl From Ipanema, with Astrud Gilberto, live in 1964
Astrud Gilberto singing Corcovado:
Chega de Saudade, by João Gilberto
Featured Photo
My thanks to Christopher V. Sherman for the use of this beautiful photo of the Tower.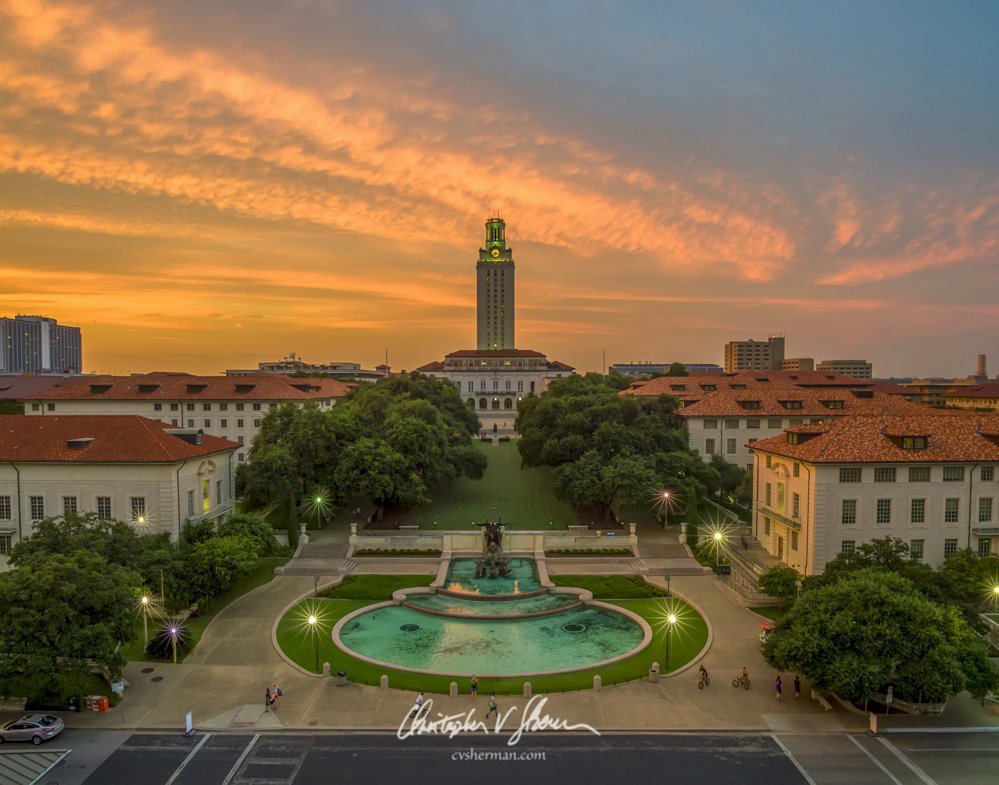 He does great work, and you can see more at https://overaustin.com/ and www.cvsherman.com
God Bless Texas
HOOK EM HORNS!!
© Timothy C. Taylor, Sr. 2019. All Rights Reserved (as to original material).
www.jw.com/ttaylor
On Twitter: @tctayloratx
On LinkedIn: www.linkedin.com/in/tctatx
On Instagram: @tctayloratx
On Facebook: www.Facebook.com/Tim.C.Taylor
and: www.Facebook.com/Juan.Heisman