No. 12 Oklahoma Sooners vs. No. 3 Texas Longhorns
One of the greatest rivalries in American sports tees it up for the 119th time this Saturday in the Cotton Bowl.  Two of college football's bluebloods will continue their rivalry, meeting as undefeated teams for the first time since 2011.  Both teams have excellent offenses and outstanding defenses, accomplished quarterbacks, and fanbases who will pack the State Fair of Texas for what will be a great morning with College Gameday, wax paper cup beers, and corny dogs before heading into a standing room only stadium.
Texas needs to go Full Quan on the Land Thieves.
Game time is 11:00 a.m.  Sark says he loves eleven o'clock in the morning kicks.  Fine. Let's roll.  As you know, ESPN's College Gameday will be at Fair Park, which means we get the A-Team:  Chris Fowler, Kirk Herbstreit, and Holly Rowe.  Broadcast on ABC.  As always, the Voice of the Longhorns Craig Way with the play by play for the Longhorn Radio Network, joined by Roger Wallace in the booth and Lifetime Longhorn Will Matthews on the sideline.  For my friends out on the road, and on the Oregon Trail, SiriusXM 135 or 199.
Do y'all know why we say y'all instead of you?  Because that way we leave out the 2 worst letters in the English alphabet – OU.
We're Texas:     
Going to be a big day.  Come find me pre-game by Big Tex and let's have a beer.  You can't miss me – burnt orange shirt, jeans, and Ray Bans.
Jimmy Fallon and The Tonight Show at The University
This was pretty funny. From a couple of years ago.  Worth watching.
We're kind of a big deal.
No. 3 Texas Longhorns 40, No. 24 Kansas Jayhawks 14
Texas Longhorns 661 yards, Kansas Jayhawks 260 yards
First, some good videos to get you in the right place mentally.
The Texas Football KU highlights:
https://x.com/TexasFootball/status/1708858740898701681?s=20
Y en Español: 
https://x.com/TexasFootball/status/1709342223538516331?s=20
Quinn in slow motion, set to NFL Films music.
https://x.com/TexasFootball/status/1708673379840966766?s=20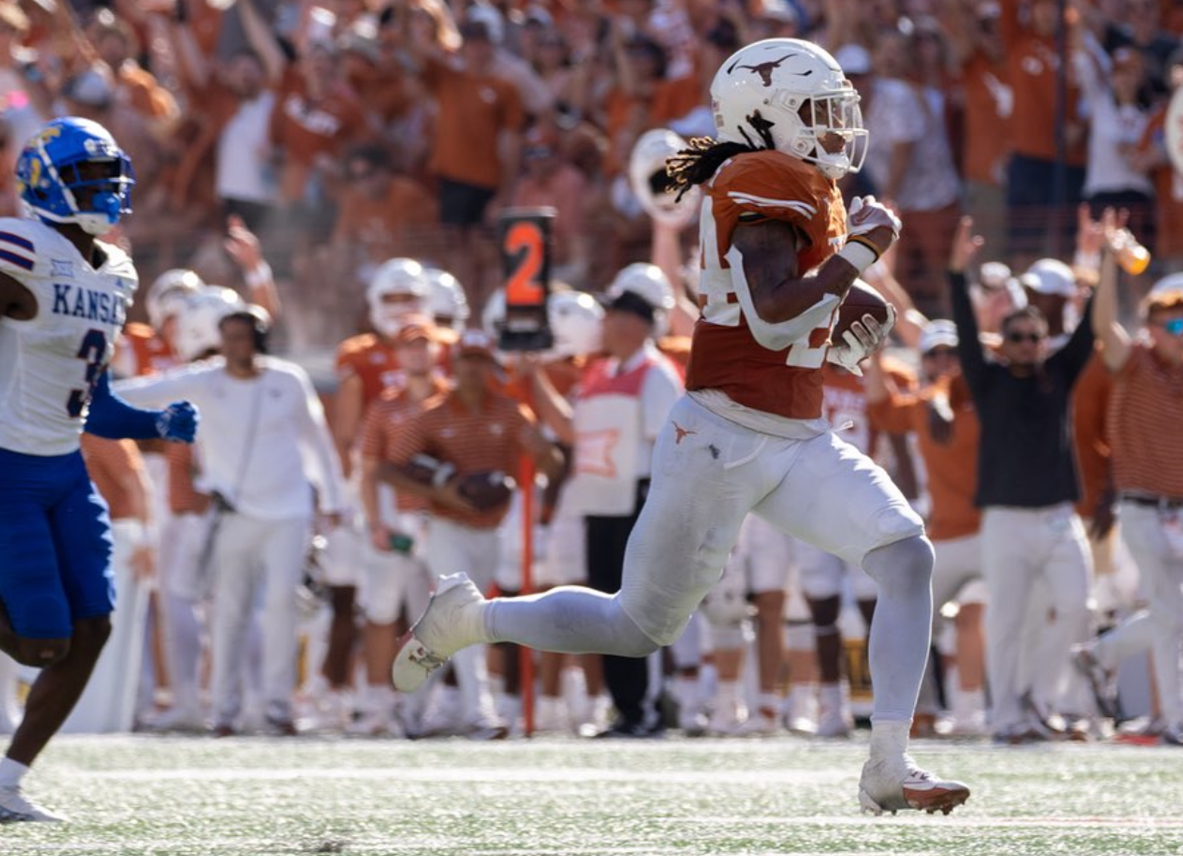 Photo by Will Gallagher, from his Instagram account @gallagherstudios
The Sarkisian Offense put on a clinic Saturday afternoon at Darrell K Royal – Texas Memorial Stadium as Jonathan Brooks ran for 218 yards, including a 54 yard touchdown and 67 yard scamper to the Kansas 8 to set up a field goal and caught a pass for a 23 yard gain.  Quinn Ewers passed for 325 and a score and tacked on 40 and two touchdowns on the ground, including the 30 yard scoring run on third and nine.  Eight Longhorns caught throws from Quinn, with Adonai Mitchell leading the way with 10 catches for 141 yards and a score, followed by Xavier Worthy with 7 catches for 93.  Worthy had a 39 yard reception, Mitchell, Cook, and Brooks all had catches over 20 yards, and Whittington, Baxter, and Sanders had catches of 10 or longer.  It was also the best attended game in the Power 5 last week, with 102,986.  Pretty impressive, and I know that makes The University of Texas at Austin Vice President and Lois and Richard Folger Athletics Director Chris Del Conte happy. 
https://x.com/TexasFootball/status/1709227707131699479?s=20
One important note.  Sarkisian was asked what his formula for success was:  "Starve your distractions. Feed your focus. That's the formula for us to be successful."  This team has done that all year.  If they can keep their focus again this week, Horns are going to put on the Golden Hat.
Full recap below.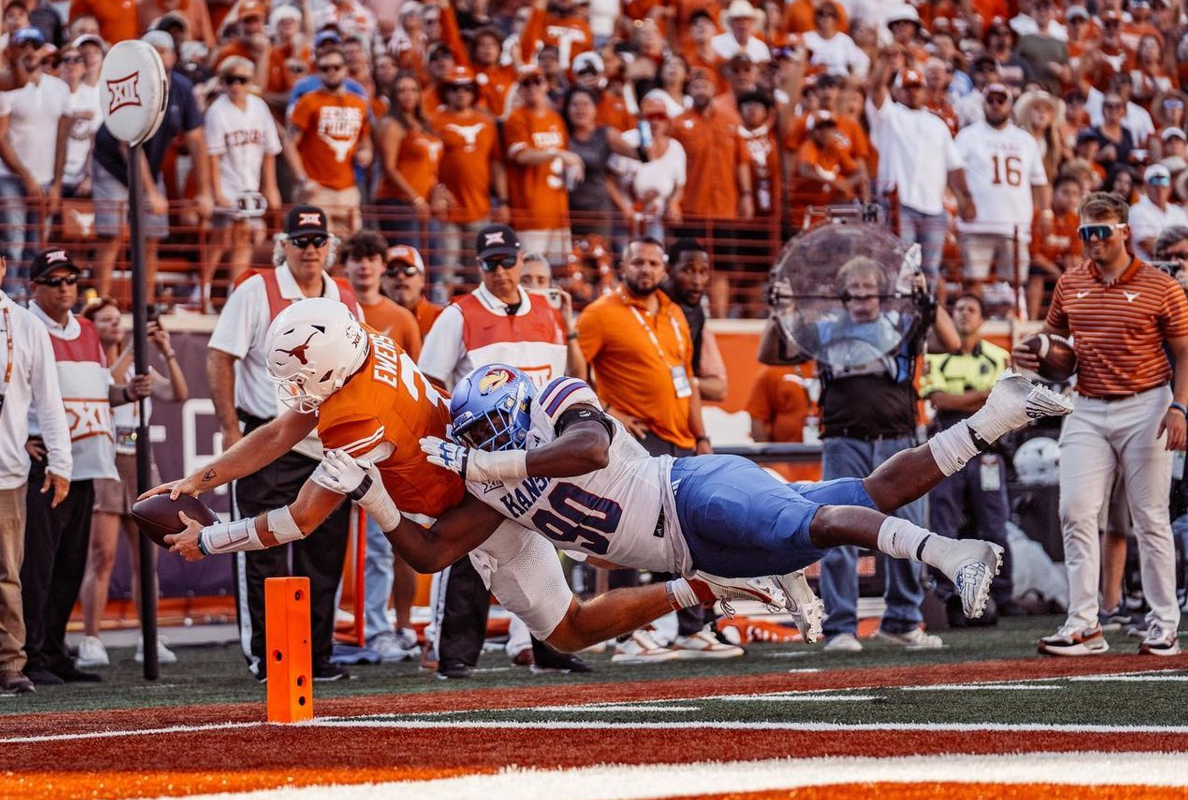 Some Good Stuff
Jaylan Ford on this Saturday:
https://x.com/TylerFeldmanTV/status/1708928838627893488?s=20
2023 Oklahoma Land Thieves
Head Coach Brent Venables is in his second year in Norman.  Oklahoma had a down year in 2022, including a 49-0 beating by the Longhorns in last year's 118th edition of the RRS.   The Land Thieves were 6-7, a season ended with a 35-32 loss to the Florida State Seminoles in the Cheez-It Bowl. 
Venables is a good coach, and he has the Sooner Schooner righted in 2023.  The Land Thieves are 5-0 coming into the Cotton Bowl.  He has a great quarterback in Dillon Gabriel and a drastically improved defense.  Their games:
73-0 over Arkansas State. Gabriel threw for 308 (19/22, 2 TDs, plus a rushing score).  The Red Wolves are 3-1 since their loss in Norman, with wins over Stony Brook, Southern Miss, and Massachusetts, and a loss to Memphis.
28-11 over Southern Methodist. Gabriel threw for just 176, but 4 touchdowns on a 19 for 27 day.  Southern Methodist is 3-2, with wins over Louisiana Tech, Prairie View, and Charlotte, and a loss to Texas Christian.
Tulsa took a 66-17 pounding by the Land Thieves. Gabriel went off against the Hurricanes, throwing for 421 yards and 5 touchdowns (and his first pick), but an amazing 28 of 31 (90.3%).  Tulsa is 3-2, with wins over Arkansas-Pine Bluff, Northern Illinois, and Temple, and a 43-10 loss at Washington.  Worth noting many sportswriters think Washington is one of the best teams in the country with one of the best quarterbacks, and the final score in that game was 43-10, much closer than their OU game.
20-6 over Cincinnati.   Gabriel was 26 for 38, 322 yards, and 1 passing TD and a rushing TD against the Bearcats.  Cincinnati is 2-3, with wins over Eastern Kentucky and Pitt to start the season, and then a loss to Miami 31-24 (the original, of Ohio), then OU, then a 35-27 loss to Brigham Young.  (If you are thinking the win over Pitt by Cinci is indicative, think again:  Pitt has one win, 45-7 over Wofford, and has lost 4 in a row since.)
50-20 over Iowa State. Some people are making sure to point out that the Land Thieves only scored 10 points in the second half.  I think when you are up 40-20 at halftime one shouldn't judge a 10-0 second half to harshly.  Anyway, against the Cyclones, Gabriel was 26 of 39 for 366 yards and 3 touchdowns with one pick.  He also ran for two touchdowns.  Iowa State has wins over Northern Iowa (damn you Jesperson) and Oklahoma State and losses to Iowa and Ohio (just Ohio, not an Ohio State).
The overall record of the opponents that the Land Thieves have beaten:  13-12.  Not exactly earth-shattering, and it is reflected in some of the advanced metrics below.
Offensively, as you have deduced, the Land Thief attack is centered around Dillon Gabriel (No. 8, 5-11, 204, redshirt senior).  Last year was Gabriel's first season in Norman, having transferred from Central Florida.  He passed for 3,168 yards (230/367), 25 touchdowns, with 6 picks. He also rushed for 317 yards and 6 touchdowns.  This season, he is 118/157 (75.2%), 1.593 yards, 15 touchdowns, with 2 interceptions.  He has rushed for 95 yards with 4 ground scores.  He is a dual threat quarterback, but his arm and passing skills are the biggest threat.  He is very good.
No surprise the Land Thieves have a great receiving corps.  They are led by Drake Stoops, who has 83% catch rate on targets.  Yes, that's Visor Bob's son.  He has developed into a very solid receiver and moves the chains.  25 catches for 203 yards and 4 scores.  Andrel Anthony is very good.  27 targets, 22 catches.  387 yards, a long of 55, and 1 touchdown, with 4 catches over 20 yards.  17.6 ypc.  Jalil Farooq has 15 catches for 285 and 2 scores.  A long of 49 and 19 ypc.  Nick Anderson is a big guy and a deep threat. Not a lot of catches for the redshirt freshman, but he is dangerous, averaging 27.9 yards per catch, with a long of 52 and 5 touchdowns.  Several more guys in the wide receiver room all capable of hurting us.
The Sooner rushing attack is not great.  The stats below tell the tape.  Marcus Major.  Only 3.8 yards per carry, with 199 yards on 51 carries.  Brooks had more than that against Kansas.  Tawee  Walker (5-9, 215 pounds), is a bulldozer, and has 5.1 yards per rush, 193 yards on 38 carries.  Javontae Barnes has 28 carries for 122 yards.  Barnes may be hurt.  Gavin Sawchuk is one of the future stars, maybe.  He is slowed by a hamstring injury   But if there is one thing that is part of the history and mystique of the Texas-OU game, it is some young player for one of the teams, most often a running back, who has a break-out game, announcing his presence as a great player on the great stage that this game offers.  So I am not sleeping on any of these guys.  Prior results are not necessarily predictive of future performance, and who knows which one of these guys (or maybe one of the good guys in Burnt Orange), burst on the national scene with a career game. 
Defensively, Venables has turned around the poor defensive play quickly.  Good defensive line, excellent linebackers, and a decent secondary.  Their strength is probably the linebackers, but that's where you want to be best (in my opinion).  Danny Stutsman is their tackle leader with 49 (21 solo), 2 sacks, and a pick 6.  The next guy is linebacker Jaren Kanak with 22 tackles (7 solo).  Then linebacker Kip Lewis with 20 tackles (11 solo).  All told, they have 10 interceptions on the year, leading the nation. 
Their line isn't great, and I think the Texas offensive line will control the line of scrimmage.
Their defensive bcks are adequate for Tulsa and Arkansas State.
Oklahoma Land Thieves vs. Texas Longhorns
Texas and Oklahoma first met in 1900, just 11 years after what the Oklahomans call the "Land Run" or "Land Rush" of 1889 and which was in fact one of the great land larcenies in American history.  Thus, the Land Thieves.   The first game was, in fact, played when OU was Norman Territorial University and 7 years before Oklahoma gained admission to the United States, and this area of the North American continent was both Indian Territory and Oklahoma Territory.
This is going to be a really great college football game. Maybe one of the best games this season.  Or, Texas will blow out OU again.  And it will still be a really great college football game.
Land Thieves are 5-0 with strength of schedule (in one system) of 52, while Texas is No. 13 on that list.  On ESPN's College Football Power Index (full rankings below), Oklahoma is No. 2 (FPI 25.8) and Texas No. 4 (FPI 24.2).  On the FPI "Resume" ranking, Texas is No. 1, Land Thieves No. 4.  This ranking incorporates different metrics, but of note ESPN ranks the Longhorns' strength of schedule 16, and the Land Thieves 82.  On FPI "Efficiencies", Land Thieves are No. 4, Texas is No. 9.  Efficiency is an ESPN metric which judges net efficiency on a 0 to 100 scale; incorporating  offense, defense, special teams efficiencies into a single schedule – adjusted measure of per play efficiency.  If you want to explore:
2023 College Football Power Index – ESPN
Part of the dive into that, as well as my standard stats below, is that while I think Texas is going to win (and we will), what I really expect is an exceptionally great college football game between two undefeated teams with excellent offenses and great defenses. 
The Statistics
Offense
| | | |
| --- | --- | --- |
| Statistic | Texas | Land Thieves |
| Rushing Offense | #35 – 191.8 ypg | #66 – 157.6 ypg |
| Passing Offense | #25 – 286.6 ypg | #7 – 352.4 ypg |
| Total Offense | #17 – 478.4 ypg | #9 – 510.0 ypg |
| Scoring Offense | #30 – 36 ppg | #3 – 47.4 ppg |
| First Downs | #30 – 23.4/game | #3 – 27.2/game |
| Sacks Allowed | #62 – 9, 50 yards | #13 – 4, 29 yards |
| Tackles for Loss Allowed | #54 – 25, 99 yards | #36 – 22, 73 yards |
| Third Down Conversions | #57 – 42.0% | #6 – 55.2% |
| Fourth Down Conversions | #24 – 70% (7/10) | #6 – 87.5% (7/8) |
| Red Zone Attempts | #33 – 21 | #6 – 27 |
| Red Zone Offense | #30 – 90% / 52% | #44 – 89% / 70% |
| Long Run Plays | #54     25/10, 8/20, 6/30, 4/40 | #66     23/10, 1/20, 1/30 |
| Long Pass Plays | #21   59/10, 22/20, 13/30, 6/40, 2/50 | #4     65/10, 28/20, 15/30, 9/40, 4/50 |
Defense
| | | |
| --- | --- | --- |
| Statistic | Texas | Land Thieves |
| Rushing Defense | #18  – 94.6 ypg | #29 – 105.2 ypg |
| Passing Defense | #37 – 196.2 ypg | #52 – 212.8 ypg |
| Total Defense | #17 – 290.8 ypg | #30 – 318 ypg |
| Scoring Defense | #12 – 12.8 ppg | #4 – 10.8 ppg |
| First Downs Allowed | #10 – 14.6/game | #35 – 17.2/game |
| Sacks | #35 – 13, 84 yards | #89 – 9, 49 yards |
| Tackles for Loss | #55 – 30, 130 yards | #7 – 42, 119 yards |
| Third Down Conversions | #9 – 26.9% | #11 – 27.6% |
| Fourth Down Conversions | #29 – 36%  (4/11) | #41 – 42%  (5/12) |
| Red Zone Attempts | #13 – 10 | #5 – 8 |
| Red Zone Defense | #2 – 50% / 10%* | #32 – 75% / 38% |
| Long Run Plays Allowed | #19 – 14/10, 4/20, 1/30, 1/40 | #29 – 16/10, 4/20, 1/30 |
| Long Pass Plays Allowed | #28 – 35/10, 12/20, 7/30, 3/40 | #68 – 43/10, 15/10, 6/30, 3/40 |
*Texas is #1 in the country in only allowing 10% of opponents redzone attempts to result in touchdowns.  And that isn't a fluky stat.  Opponents are 1 of 5.
Other
| | | |
| --- | --- | --- |
| Statistic | Texas | Land Thieves |
| Turnovers | #18 – 4 (3F, 1I)* | #18 – 4  (2f, 2I) |
| Turnover Margin | #19 – 8:4  +4 | #6 – 8:4  +8 |
| Penalties | #19 – 21, 174 yards | #95 – 35, 131 yards |
            *Based on total number of penalties. 
Match-up Comparison
| | |
| --- | --- |
| Texas Offense | Land Thieves Defense |
| Rushing Offense – 191.8 ypg | 105.2 ypg – Rushing Defense |
| Passing Offense – 286.6 ypg | 212.8 ypg – Passing Defense |
| Total Offense – 478.4 ypg | 318.0 ypg – Total Defense |
| Scoring Offense – 36 ppg | 10.8 ppg – Scoring Defense |
| First Downs – 23.4/game | 17.2/game – First Downs Allowed |
| 3rd Down Offense – 42% | 27.6% – 3rd Down Defense |
| 4th Down Offense – 70% | 42% – 4th Down Defense |
| Red Zone Offense – 90%/52% | 75%/38% – Red Zone Defense |
| LRP – 25/10, 8/20, 6/30, 4/40 | 16/10, 4/20, 1/30 – LRP Allowed |
| LPP – 59/10, 22/20, 13/30, 6/40, 2/50 | 43/10, 15/10, 6/30, 3/40 – LPP Allowed |
| | |
| --- | --- |
| Texas Defense | Land Thieves Offense |
| Rushing Defense – 94.6 ypg | 157.6 ypg – Rushing Offense |
| Passing Defense – 196.0 ypg | 352.4 ypg – Passing Offense |
| Total Defense – 290.8 ypg | 510.0 ypg – Total Offense |
| Scoring Defense – 12.8 ppg | 47.4 ppg – Scoring Offense |
| First Downs Allowed – 14.6/game | 27.2/game – First Downs |
| 3rd Down Defense – 26.9% | 55.2% – 3rd Down Offense |
| 4th Down Defense – 36% | 87.5% – 4th Down Offense |
| Red Zone Defense – 50%/10% | 89%/70% – Red Zone Offense |
| LRP Allowed – 14/10, 4/20, 1/30, 1/40 | 23/10, 1/20, 1/30 – LRP |
| LPP Allowed – 35/10, 12/20, 7/30, 3/40 |  3/10, 15/10, 6/30, 3/40 – LPP |
Other Stats
Available Yards Percentage.  Net available yards percentage (NAY) is the difference between offensive available yards percentage (OAY) and opponent offensive available yards percentage (DAY) on non-garbage, regulation possessions in FBS vs. FBS games. Available yards percentage is calculated by dividing drive yards (measured from starting field position to ending field position) by available yards (measured from starting field position to end zone).
| | | | |
| --- | --- | --- | --- |
|   | NAY | OAY | DAY |
| Texas | No. 3:  0.366 | No. 10:  0.658 | No. 5:  0.291 |
| Land Thieves | No. 11:  0.294 | No. 5:  0.686 | No. 28:  0.393 |
BCF Toys – 2023 Available Yards Percentage
Net points per drive (NPD).  NPD is the difference between points scored per offensive drive (OPD) and points allowed per opponent offensive drive (DPD). 
| | | | |
| --- | --- | --- | --- |
|   | NPD | OPD | DPD |
| Texas | No. 10: 2.44 | No. 10:  3.53 | No. 11:  1.10 |
| Land Thieves | No. 4: 2.85 | No. 7:  3.91 | No. 9: 1.06 |
BCF Toys – 2023 Points Per Drive
Net Yards Per Play (NPP).  Net yards per play (NPP) are the difference between drive yards per offensive play (OPP) and drive yards allowed per opponent offensive play (DPP) on non-garbage, regulation possessions in FBS vs. FBS games. Drive yards are calculated as the difference between starting field position and ending field position on offensive drives.
| | | | |
| --- | --- | --- | --- |
|   | NPP | OPP | DPP |
| Texas | No. 7:  2.80 | No. 11:  7.27 | No. 16:  4.48 |
| Land Thieves | No. 16:  2.06 | No. 16:  7.08 | No. 26: 5.02 |
BCF Toys – 2023 Yards Per Play
BCF's Game Projection.  "Game Projections are calculated from current FEI ratings and include the projected win likelihood (PW), projected margin of victory (PM), projected points scored (PF) and allowed (PA), and projected total points scored (PT) for each FBS game." 
| | | | | | | |
| --- | --- | --- | --- | --- | --- | --- |
| Projected Winner | Projected Loser | PW | PM | PF | PA | PT |
| Land Thieves | Texas | .529 | 1.0 | 32.8 | 31.8 | 64.6 |
ESPN's Matchup Predictor also leans north of the Red River, giving the Land Thieves a 54.4% probability of winning.  I think not.
 CFBGraphs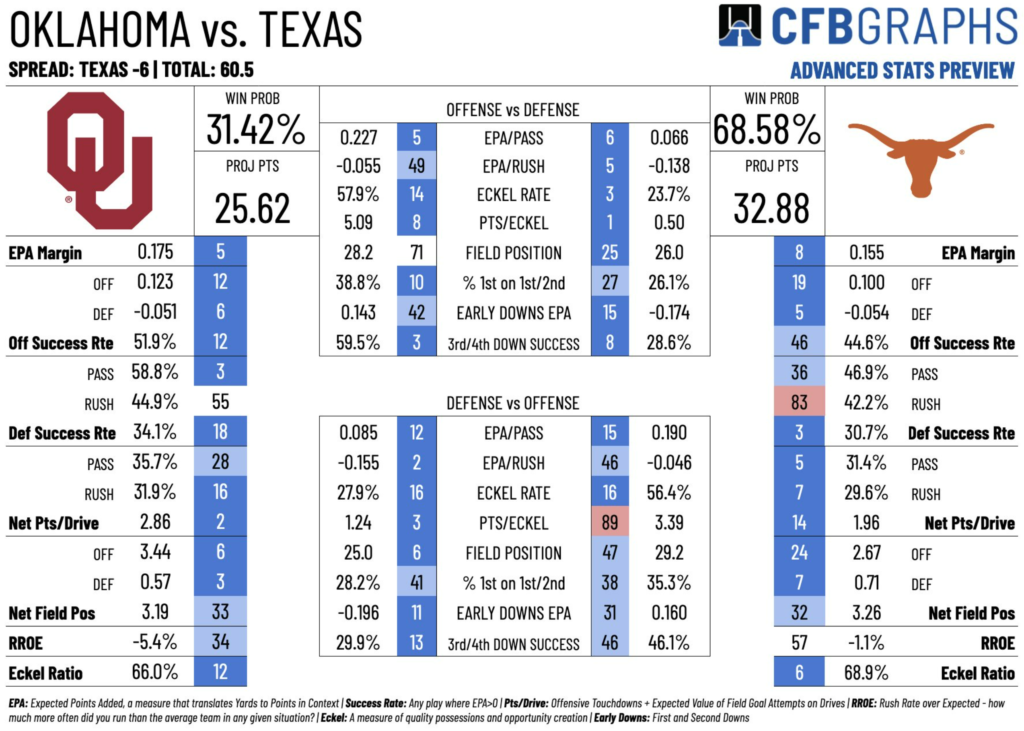 Ironically, his name is Parker Fleming, but he is @statsowar on X.  Interesting that his projected winner is Texas, and that he is about the same in his projected points for the Longhorns, he has the Land Thieves scoring more than 7 points less than the BCF Toys projection.
TCT Thoughts
Y'all know I am picking Texas to win.  But here is how I got there.
Gabriel is going to be problem.  His stats don't lie:  he finds open receivers and he gets the ball to them.  He is a dual threat quarterback in a well-designed offense with a lot of RPO that Gabriel executes well.  Coach Kwiatowski and the Texas defense are going to have to find a way to disrupt his execution while not allowing Gabriel to translate those efforts into big gains instead of short losses, as Gabriel can do that.  We have so many talented athletes on defense that I think we will figure out how to contain and stop Gabriel and the Sooner Air Attack.  It may take until the second half, but we will stop them, and stop them in time to win the ballgame.
As outlined above, the Land Thieves have a deep and talented wide receiver corps.  They have tall guys, big guys, fast guys, good guys on short routes, good guys mid-range, and good guys on long routes. And multiple combinations of the foregoing.  I take some quantum of solace in knowing that we are watching the best Texas defense the Longhorns have fielded in at least 13 years, maybe 15.  But we have some guys with occasional cerebral flatulence, and we have seen receivers get behind our men and get open.  And score touchdowns.  I think that is the biggest threat Texas faces and must counter.  If PK and his generals have some different schemes to slow the Sooner air game, we can and will win the game.  I think our athletes can do it, but we have to do better against the big pass play.  We are vulnerable at the safety position, and those guys are going to have to play their best games of the season.  Venables and his staff aren't stupid; they know where the chinks in our armor are, and they will attack them.
Counter to that is the less than stellar 2023 Land Thief run game.  Not great, haven't really been the source of positive results for the Sooners.  But I am confident that even if one of these less than shining star sooners decides to try and bust it out in Dallas, the Texas defense is going to shut that down.
This Texas defense is like nothing Gabriel and the rest of the Land Thieves have seen this year.  In the close game with Cinci (2-3), OU got 103 yards rushing and one score, with Major leading the way with 63 yards.  Gabriel did pass for 322, but still.  Earlier in the season, against Southern Methodist (3-2), Tawee Walker did rush for 117 yards, but SMU is averaging allowing 134 rushing yards, against somewhat weaker competition. 
The scary part of this Land Thief team is their defense.  They are good, the best we have seen out of Norman in a long time. They are aggressive, and they will get after Texas.  Look at the tackles for loss stat – 7th in the nation with 42 for 119 yards. Their linebackers are good against the run and the pass.  And here is one stat I don't include in my weekly chart but is noteworthy here:  The Land Thieves are tied for first in the nation with 10 interceptions, 2 of which they have returned for touchdowns (2nd in the nation on that), and their 2 picks per game is 2nd best in FBS.  Quinn gave up his first interception last week.  He needs to not give up a second one this week.  If Quinn is careful
So, what the hell is going to happen this weekend?  Well, first, Friday night, I am going to be at Javier's with the Crowley's and Young's and my daughter Claudia.  Some queso, then the quail.  Lots of folks to see there.  Hopefully the McEachern's and the English's.  Chad Auler usually has a good crew.  And I might have a few margaritas.  Tony Dewar and his patient wife Juli are hosting me again.  Tony will have us up and rolling to Fair Park early.  Stop by the Texas party.  Shake a few hands.  Then meet the Juan Heisman Tailgate Crew by Big Tex.  Beers and Fletchers with Hawley, Laughlin, Dunn, and other friends.  Then into the Cotton Bowl, up the big steps to Gate B.  To the finest college football game of the year.
But I digress.  What's going to happen at the game?
I think we might struggle a little in the first half.  Venables and the Land Thief brain trust, such as it is, will throw some new wrinkles.  I am sure the OU running game will decide to find its groove Saturday morning, but that will be a speed bump, not a detour on the road to a Longhorn win.  I am guessing that before I head to the food court for a Shiner Bock beer and a Frito Pie (The TCT Way: Fritos, then the cheese, then the chili), it will be about 14-14, or within 3 points of that on either side. 
The difference is going to be in the second half.  This is the best second half team we have had in decades, and the bottom line (don't you love the bottom line) is that while this a good Oklahoma team, and a much better defense than any time since at least before Lincoln Riley served his sentence in Norman, the Sooners just really haven't played a top quartile football team.  Texas isn't just top quartile.  We are a top 10% team, across the board.  All those stats and metrics don't lie.  And the halftime adjustments Sarkisian and the coaches will make will roll the momentum to Texas quickly. 
There is another piece to that, of critical importance:  Sark & Co. are making adjustments and tweaks, and our players are executing.  Executing well. 
We may get a long touchdown pass in the first half, probably on one of the first three drives.  But in the second half, I bet we get at least 1 more.  So I see Quinn Ewers with a solid, 280 to 300 yard day.  3 touchdown passes (he will get a short one to Sanders from inside the 10 at a big moment), and I won't be surprised to see Ewers get another one on the ground.  Mitchell and Worthy should both be over 85 yards receiving, J Whit will add 50, and then Sanders, if he is in fact 100%, will have 118 yards and a score.  If he is not 100%, he will still be a factor and score a touchdown.
As I have pondered and pounded the keyboard this week, I keep coming back to this:  our running backs are going to have a big day.  Brooks again, but Baxter too.  Jonathan will get his 20 carries and 100+ yards, probably bust a long one.  But this game in the Cotton Bowl has, as I noted, long been a stage for a player to have his first big game, and I just have a hunch Saturday is Baxter's day.  We are going to see two 100 yard rushers for the Longhorns:  Brooks with 132, Baxter with 118.  Book it Dan-O.
I predict:    Texas 41, Oklahoma 27
Official Preview from The University:
https://texassports.com/news/2023/10/2/no-3-4-texas-football-preview-no-12-12-oklahoma.aspx
Game Notes:
https://texassports.com/documents/2023/10/2/TexasFB23GameNotes_06Oklahoma.pdf
Previews from Burnt Orange Nation
https://www.burntorangenation.com/2023/10/5/23905494/texas-longhorns-oklahoma-sooners-advanced-stats-preview
https://www.burntorangenation.com/2023/10/4/23903518/texas-longhorns-oklahoma-sooners-opponent-preview-brent-venables-dillon-gabriel
Inside Texas "On Texas Football" – Tale of the Tape, with Bobby Burton and Paul Wadlington.
Texas Homer's Preview.  23 minutes
Colin Cowherd had Colt McCoy on his show.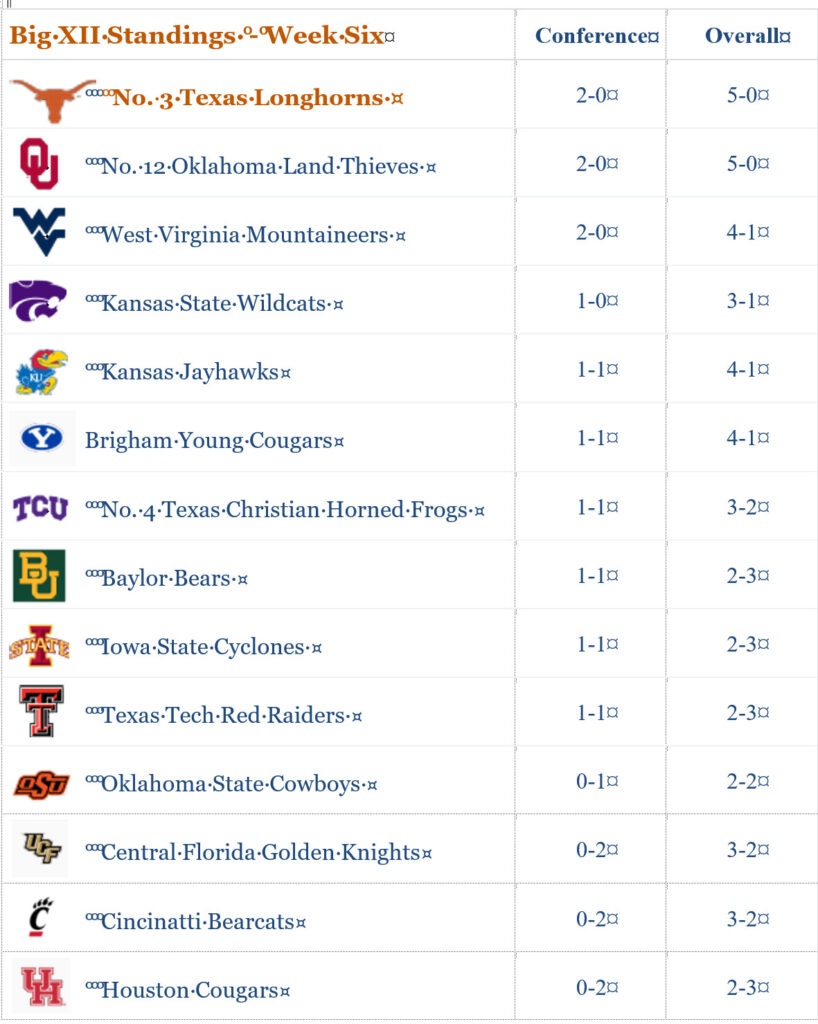 Texas Longhorns 40, Kansas Jayhawks 14
 As I said, a clinic.  Both sides of the ball.  I am going to start with a quick look at some of the stats, as compared to the Jayhawks' season averages coming into the game.  Some of these are remarkable, probably the no third down conversions being the biggest.  I know, they didn't have Jalon Daniels.  But Bean is an experienced FBS college quarterback who has started games.  Definitely a factor, but not determinative.  Texas kicked their butts. 
| | | |
| --- | --- | --- |
| Statistic | Texas Defense | Kansas Offense |
| Rushing Offense | 124 yards | #13 – 217.8 ypg |
| Passing Offense | 136 yards | #59 – 245.3 ypg |
| Total Offense | 260 yards | #25 – 463.1 ypg |
| Scoring Offense | 20 points | #26 – 37.8 ppg |
| First Downs | 11 | #16 – 25.3/game |
| Third Down Conversions | 0.0% 0 of 8.  | #1 – 60.5% |
| Fourth Down Conversions | 0.0%.  0 for 2 | #121 – 25.0% |
| Red Zone Attempts | Zero. | #20 – 20 |
| Red Zone Offense | 0.0% / 0.0% | #11 – 95% / 75% |
Mr. Blutarski.  Zero point zero.
| | | |
| --- | --- | --- |
| Statistic | Texas Offense | Kansas Defense |
| Rushing Defense | 336 yards | #26 – 93.0 ypg |
| Passing Defense | 325 yards | #49 – 203.8 ypg |
| Total Defense | 661 yards | #22 – 296.8 ypg |
| Scoring Defense | 40 points | #61 – 22.8 ppg |
| First Downs Allowed | 33 | #28 – 16.5/game |
| Third Down Conversions | 60.0% – 9 of 15 | #60 – 37.5% |
| Fourth Down Conversions | 100% – 2 for 2 | #66 – 50.0% |
| Red Zone Attempts | #22 – 10 | #64 – 14 |
| Red Zone Defense | 100%/100% | #122 – 100% / 71% |
The individual Longhorn performances were truly remarkable, none bigger than our Hallettsville Hammer, Jonathon Brooks. 
Brooks: 21 rushes for 218 yards and no negative yards.  2 touchdowns.  Runs of 67 yards  and 54 yards (a touchdown).  4 yards per carry.  Also caught a pass for 23 yards.
Quinn Ewers: 325 yards on 25 of 35 passing, a score.  He was sacked twice and gave up his first interception of the season, but he rushed for 40 yards and 2 touchdowns.  Defenses will now have to account for Ewers and not assume that he is not going to tuck and run. 
Adonai Mitchell, with 10 catches for 141 yards and a touchdown. Dude can ball.  I am really impressed with how skillful a receiver he is.  Great work with his hands.
Xavier Worthy with 7 catches for 93 yards
Jaylan Ford with 7 tackles including a tackle for loss.
Here's a crazy stat for the Texas defense:  After Ford, no other defensive player registered more than 3 tackles. 6 players had 3 tackles (Barron, Gbenda, Sorrell, Murphy, Burke, and Catalon).  Catolon also had a forced fumble, recovered by Barron.
On special teams, once again Ryan Sanborn… Oh wait, Texas didn't punt.  Except for the drive that ended with Quinn's pick, the Longhorns scored or attempted to score on every possession.  Auburn missed field goals from the Kansas 32 and Kansas 29, which means that Texas was in the Red Zone, or endzone, on all but 2 possessions, and the Longhorns were on plus territory every single time they got the ball.
With the score 13-7 half, the Longhorn victory was still highly probable, but not secured.  Sark and his staff and their players once again showed their second half skills.  Texas outscored the Jayhawks 27-7 in that second half, with 328 total yards offense.  The defense held Kansas to 140 total yards in the second half, and 41% of that – 58 yards – came on the great pass from Bean to Trevor Wilson.  The next 3 Jayhawk possessions ended on the KU 32, KU 29, and KU 22.  They didn't get across the 50 again until their last possession, which yielded a 60 yard drive against a lot of Texas players who don't get a lot of playing time, and ended at the Texas 4 yard line as Texas held on fourth down.  So 58 yards on one pass play, 60 yards on their last drive.  118 yards of 140 second half yards right there.  Great defense.
One more photo, of one of my very favorite Longhorns, Mr. Whittington. Our Air Jordan.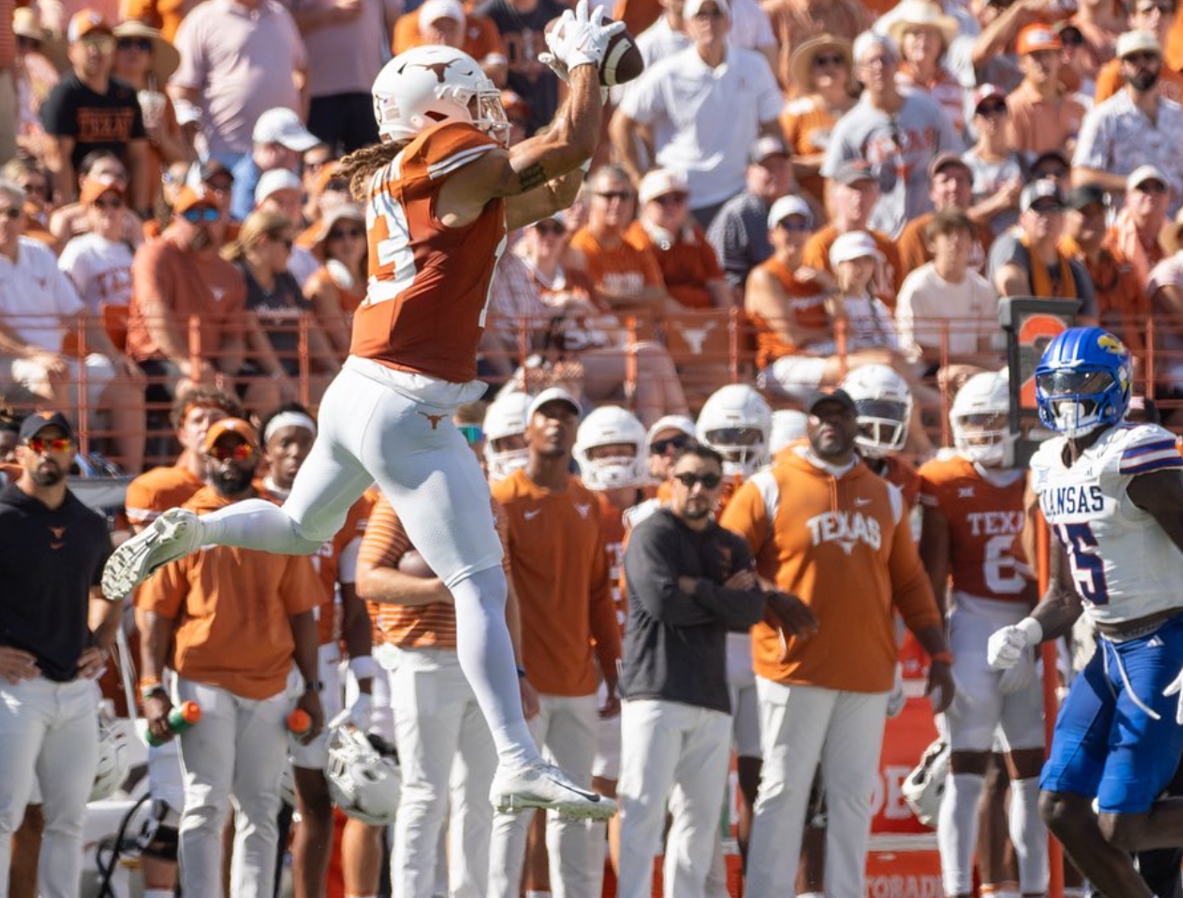 Massey Ratings
Texas is No. 1, and Oklahoma is No. 6
Nate Manzo (@cfbNate):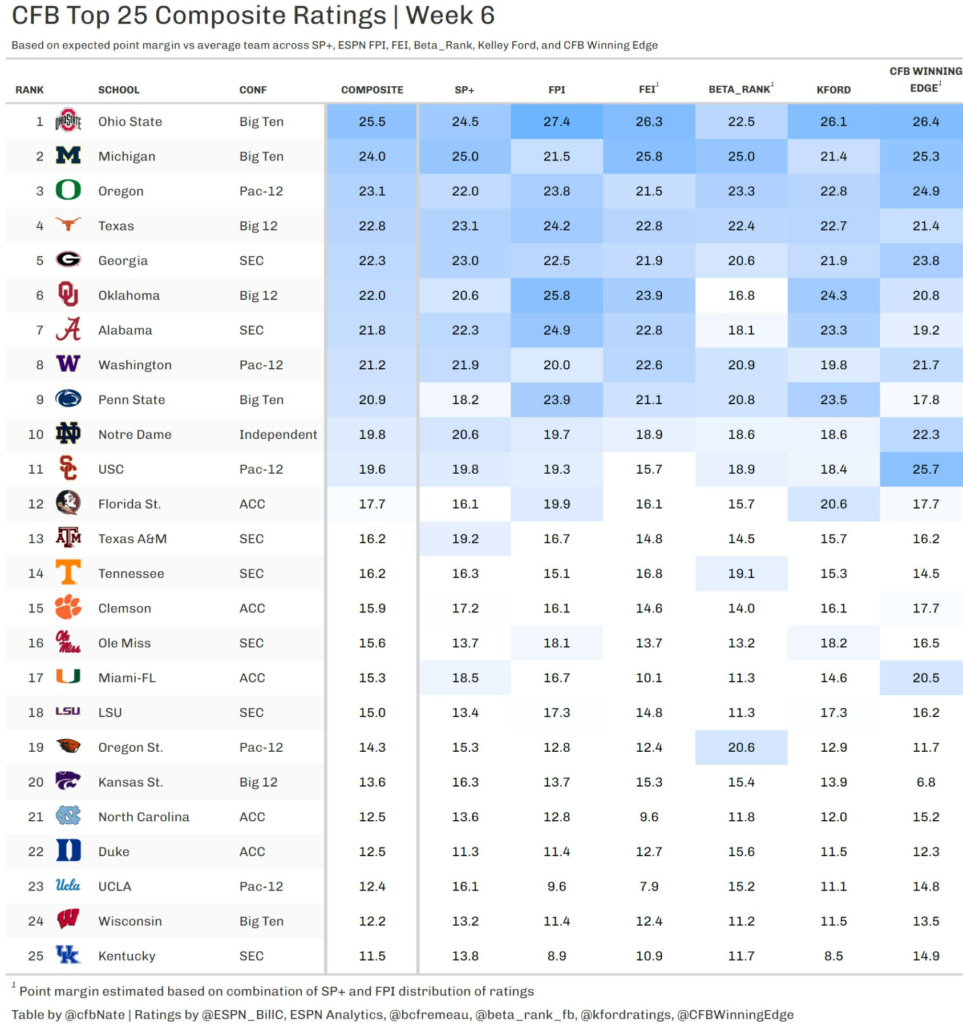 ESPN College Football Power Index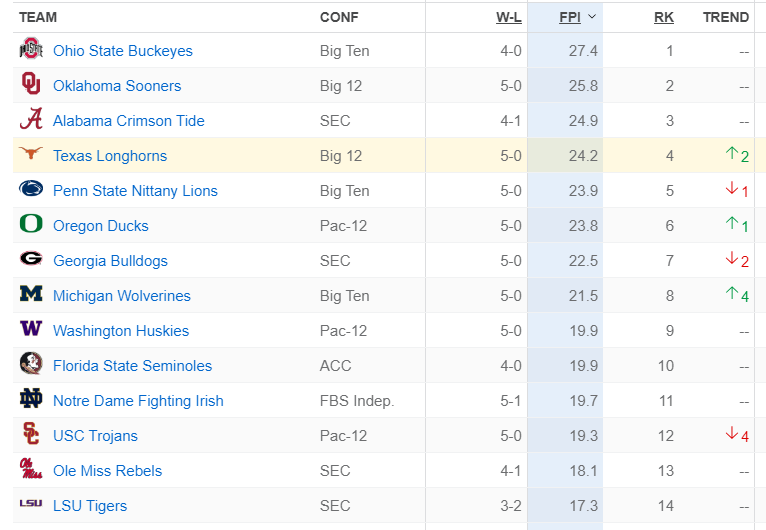 ESPN SP+ Rankings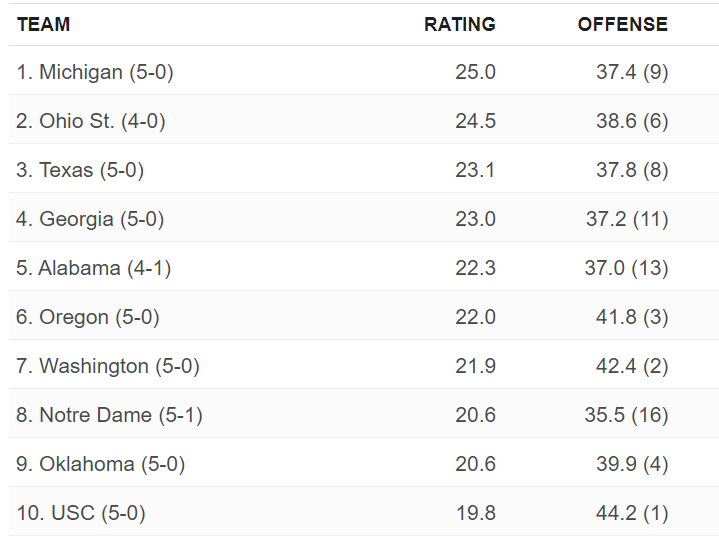 University of Oklahoma
Academic Rankings

National

 

Texas

Oklahoma

Forbes

31

125

THE | WSJ

60

244

U.S. News & World Report

32

127

ARWU

24

115-133

Washington Monthly

87

177

Global

ARWU

37

501-600

QS

58

701-750

THE

50

501-600

U.S. News & World Report

43

425
The etymology of Boomer Sooner:  "Boomers were those who by constant agitation tried to bring about the opening of Oklahoma to settlers before 1889, and Sooners were the settlers who slipped in to stay before the gun was fired. In 1905, Arthur M. Alden, a history and physiology student, wrote the lyrics to the university's "Boomer Sooner", borrowing the tune from Yale's "Boola-Boola" but improvising on the words. A year later an addition was made to it from North Carolina's "I'm a Tarheel Born" and the two combined form the university's battle song of today."  Yale, the University of North Carolina, and OU.  Reminds of Sesame Street: "One of these things is not like the other things".   And worth noting that basically the entire fight song  is "borrowed" from others.  Borrowed. Thieves.  Whatever.
My favorite Land Thieves football quote is from OU president George Lynn Cross (a very bright guy – Ph.D. in Botany from the University of Chicago).  Cross, who was in a budget meeting with Oklahoma legislators (I am guessing around the Wilkerson Era), was asked why OU need more money.  Cross replied: "I would like to build a University of which the football team could be proud."  Well, based on the above, they are still waiting.
A little more history.  I am re-running this, because it is just classic.
The book:  BOOM TOWN: The Fantastical Saga of Oklahoma City, Its Chaotic Founding, Its Apocalyptic Weather, Its Purloined Basketball Team, and the Dream of Becoming a World-Class Metropolis. 
http://nymag.com/daily/intelligencer/2018/08/how-oklahoma-city-was-born-in-a-day.html
From the article:
Consider, for instance, OKC's bizarre origin story. It reads less like an episode of actual history than a spaghetti western written by a faulty algorithm. The place was founded on a single afternoon, in an event called the Land Run, during which a formerly empty patch of prairie became a city of 10,000. The chaos that ensued was so alarming that the U.S. government never allowed anything quite like it to happen again. This formative absurdity set the tone for everything that followed: the shootouts and power grabs and even – eventually – NBA basketball.

Oklahoma City was born in an event called, with extreme dramatic understatement, the Land Run. The Land Run should be called something like "Chaos Explosion Apocalypse Town" or "Reckoning of the DoomSettlers: Clusterfµ€k on the Prairie."

The bugle notes had yet to fade when, like some kind of ancient creation myth, the empty landscape sprouted people. It was an ambush of settlers. …  These were, in the lingo of the times, Sooners, or Moonlighters. We would call them cheaters. …  At the sound of the bugle, all of the cheaters came running. The land was free, they knew, only for those who got there first.
Sometimes you just look at the card you played.  Smile.  And move along.
Red River Shootout Legends and Highlights
There have been many Longhorn legends launched or elevated in the Cotton Bowl, and plays which indelibly engraved a Longhorn's name in Texas Football History.  In more "recent" years, like the last 25, I have a lot of favorites.  Ricky Williams in 1998 (139 yards and 2 touchdowns), Texas won 34-3.   Vince Young in 2005, Game No. 100 in the RRS, breaking an ugly losing streak with a 45-12 win, throwing for 241 yards and 3 touchdowns (including a 64 yard TD bomb to Billy Pittman), and aided by 116 yards on 9 carries from Jamaal Charles (an 80 yard touchdown run helped).  Highlights from the game, with the Great One, Keith Jackson.
The 2008 game, when Texas beat No. 1 Oklahoma:  Texas trailed 14-3 in the second quarter when Jordan Shipley returned the OU kickoff 96 yards for a touchdown. Shipley and Quan Cosby would have 112 yards and 122 yards receiving, respectively, as Colt threw for 277 yards.  Chris Ogbonnaya ran for 127 yards, including the 62 yarder below.  One of my favorite stat lines from the game: Cody Johnson, 3 carries, 4 yards, 3 touchdowns. Efficient.  I had forgotten this:  Our field goal kicker was Hunter Lawrence, and he was 3 for 3; meanwhile, a guy named Justin Tucker did a great job on kickoffs – 8 for 525 yards. 
Brian Orakpo put on the Golden Hat three times – starting with the 2005 win on our way to the National Championship.  Orakpo played big in the RRS.
https://twitter.com/rak98/status/1047636579479687168?s=20&t=P0ys2IGnn0HQJP8E1h3QEQ
Staying on defense, Big Man Touchdown.  In 2005 after Bomar gets clocked (I am not sure exactly what time it was, but OU sucked), Rodrique Wright rumbles for the score.
And another 300 pound touchdown – Chris Whaley
https://twitter.com/ChrisWhaley20/status/1047512761213833218?s=20&t=slPJGurbC5uel851NpqybA
Chris Ogbannaya in 2008.
https://twitter.com/ChrisOgbonnaya/status/1047865841793024002?s=20&t=Tl8Y3L2-D9pweB8-dQKbCw
Stonie Clark staying home on the reverse by James Allen in 1994 and stopping the Land Thieves on the goal line on fourth down to preserve the upset.  The first video is under 40 seconds.  The second is of all four downs of the goal line stand – a bit longer.
As for great games by great players, one cannot forget the only Longhorn quarterback with four wins over the Land Thieves (and the only starting quarterback on either team with 4 wins in the rivalry): Peter Gardere beat the Sooners in 1989 (28-24, Land Thieves were ranked No. 15); 1990 (14-13, Land Thieves were ranked No. 4); 1991 (10-7, Land Thieves were ranked No. 6), and 1992 (34-24, Land Thieves were ranked No. 16). 
But one of the great stories in the annals of the rivalry is my friend Randy McEachern, coming off the bench in 1977, after injuries to Mark McBath and John Aune.  Thursday was Randy's birthday by the way, so if wish him happy birthday if you see him in Dallas over the weekend.  I hope to see him at Javier's, and I think a shot of Don Julio 1942 may be in our future.  But back to Randy.  A nice story on that historic day here:
The Historical: Texas' McEachern Miracle and Cornell's Fifth Down – Football Study Hall
Juan Heisman Tailgate
We had an outstanding Juan Heisman Tailgate Party.  CEO Judd Messer, CFO & CBO Brad Laughlin, and Early Crew Chief Hunter Wilcox and his squad, plus our men Griffin and Luke provided us all with a fantastic start for a great Texas Longhorn football day.  It was a very special one for me, as my grandson's Peter and Micah Dean attending their first JHT and first Texas football game, and my granddaughter Lottie Fleming was there with Mary Elizabeth and Parker for her first visit to Juan Heisman.  It was the biggest family day we have had since the Notre Dame game in 2016.  A few photos here, and some more in the online version of the Austin Horns Fan Dispatch.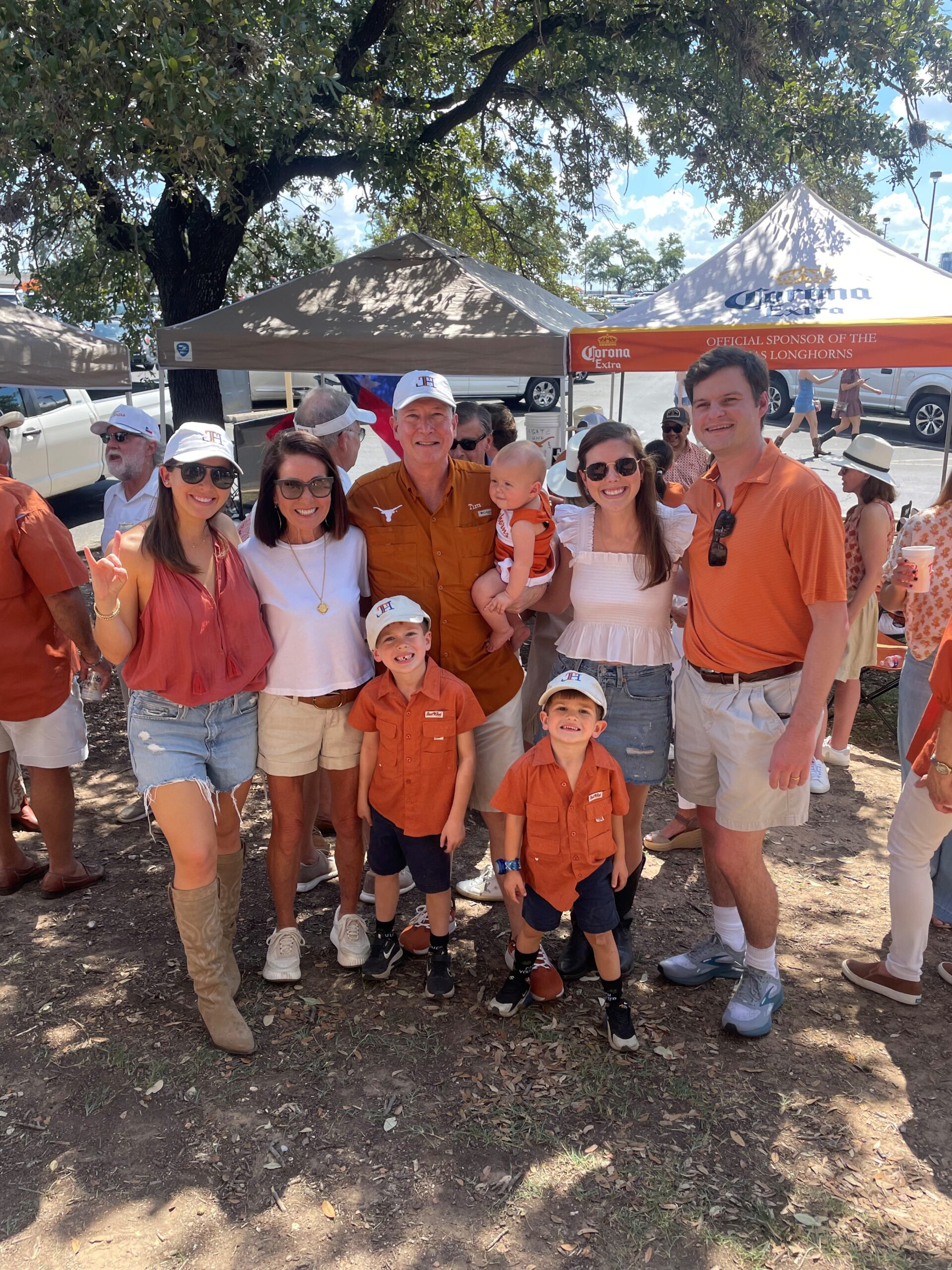 Claudia, Kathy, Peter Dean, TCT with Lottie Fleming, Micah Dean, Mary Elizabeth Fleming, and Parker Fleming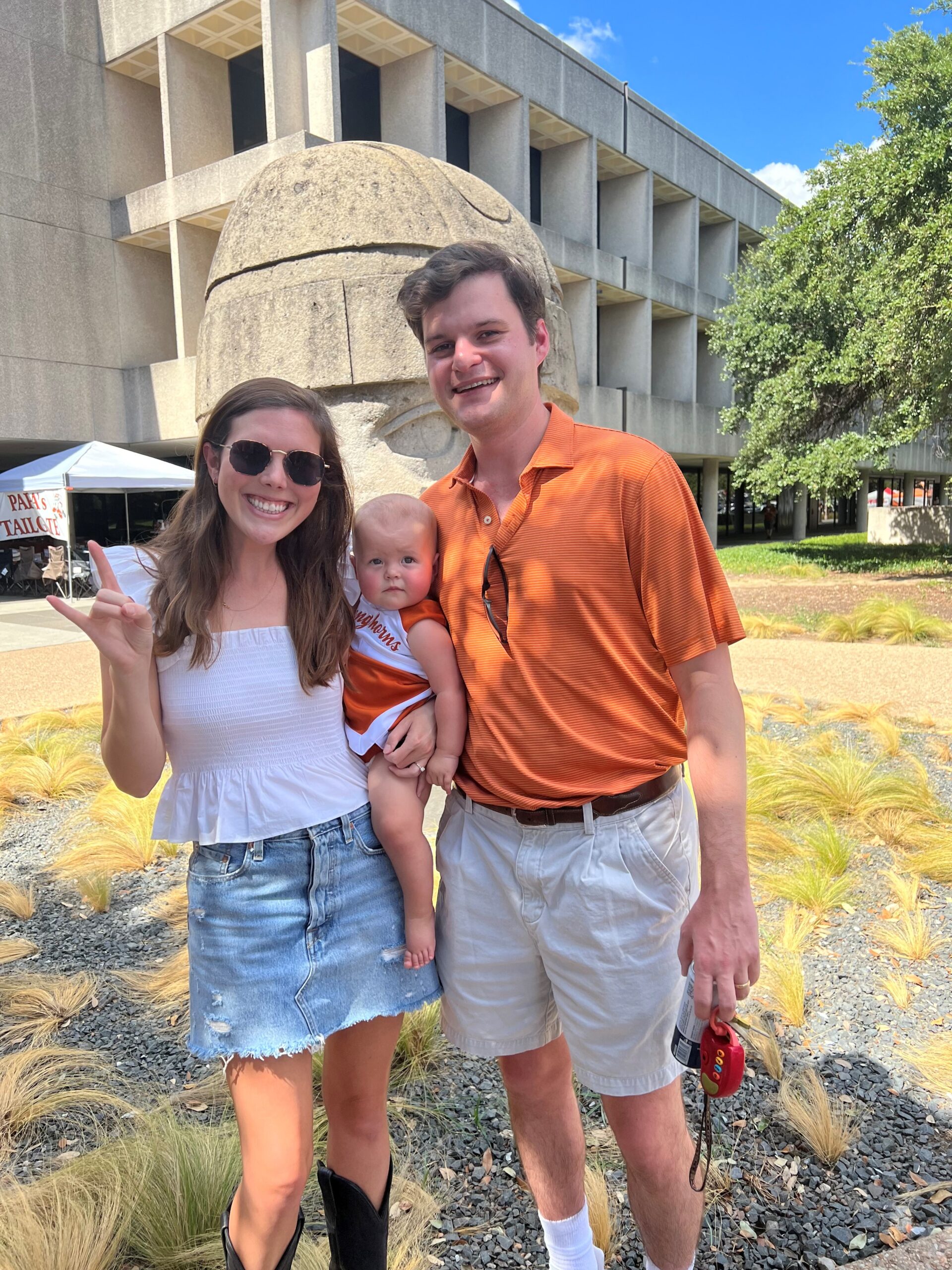 The Fleming family and Juan Heisman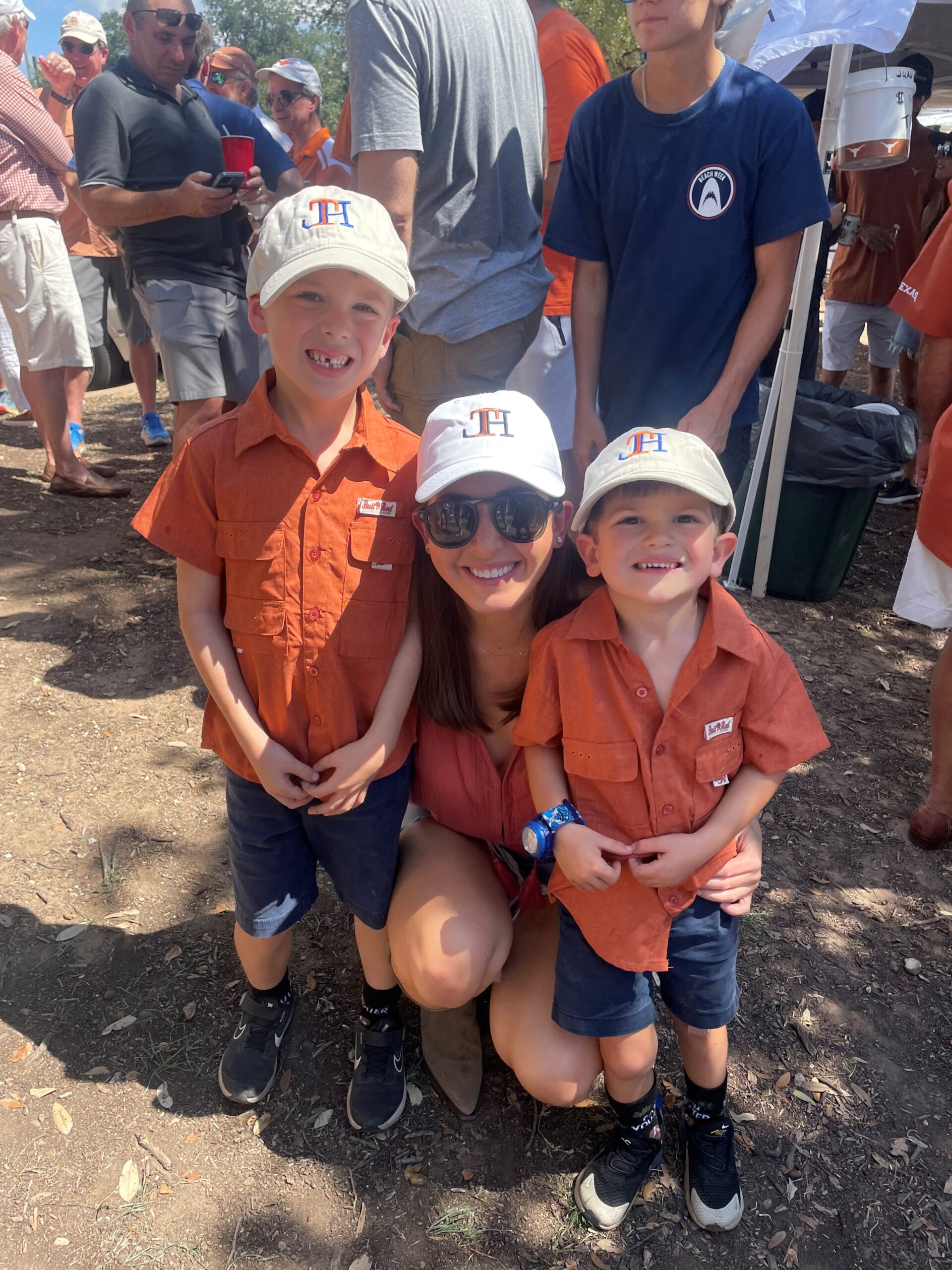 Aunt Bunny with Peter and Micah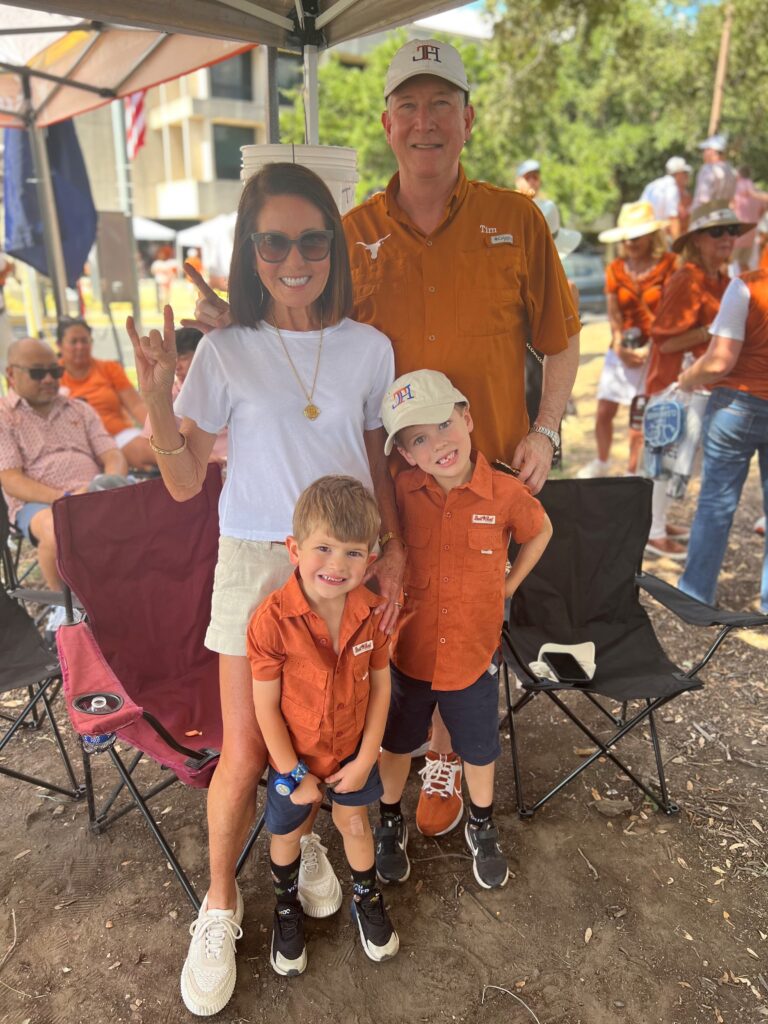 Kathy (Cita), Micah, Peter, & TCT (Papa)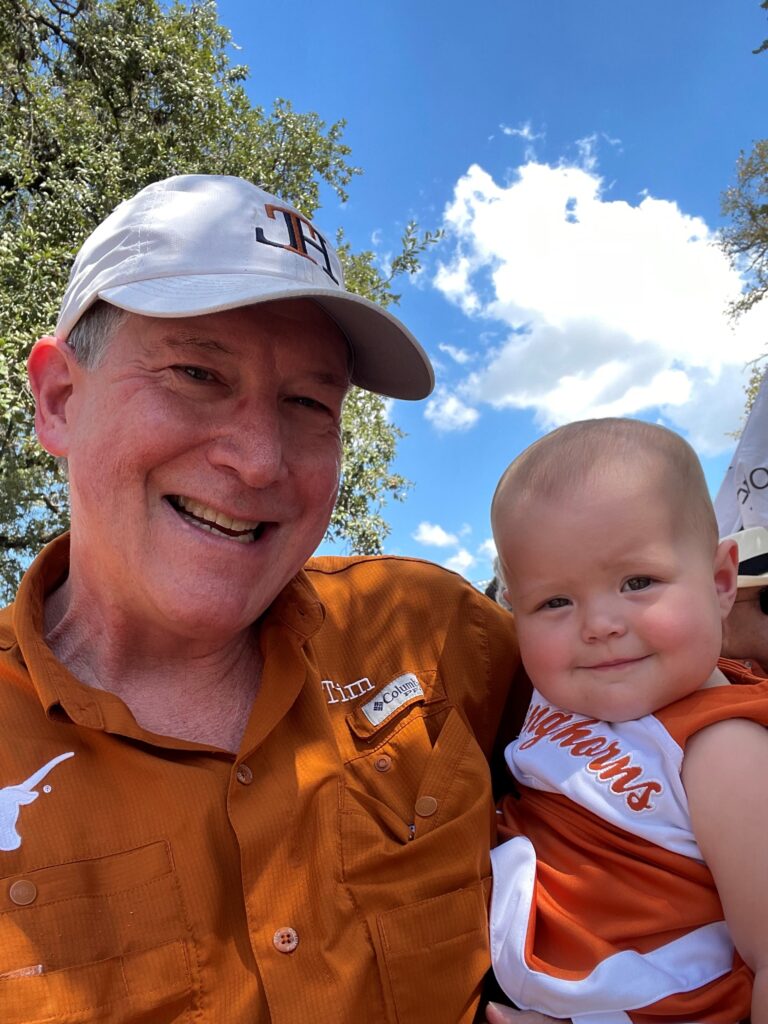 Papa & Lottie at her first Juan Heisman Tailgate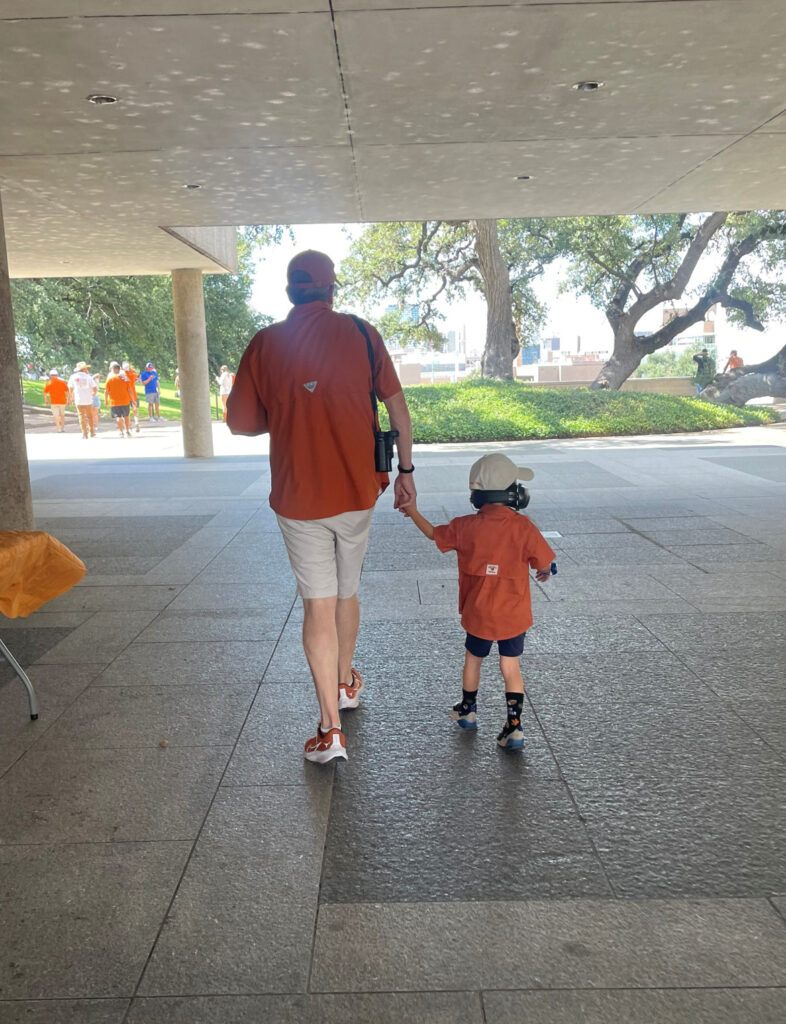 Papa & Micah head to DKR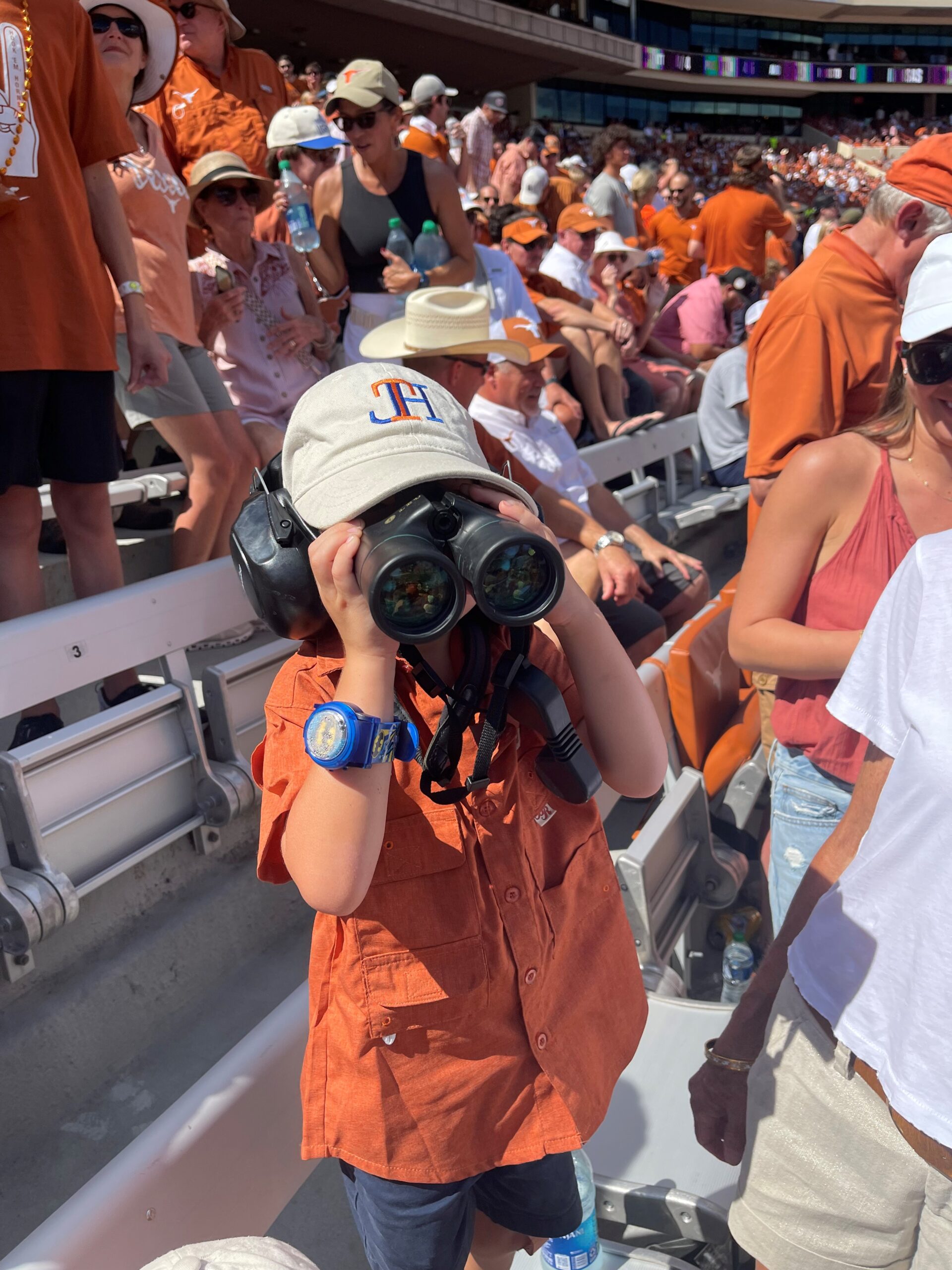 Micah watching the Horns beat the Jayhawks.  Wes Poole with the cameo in the background.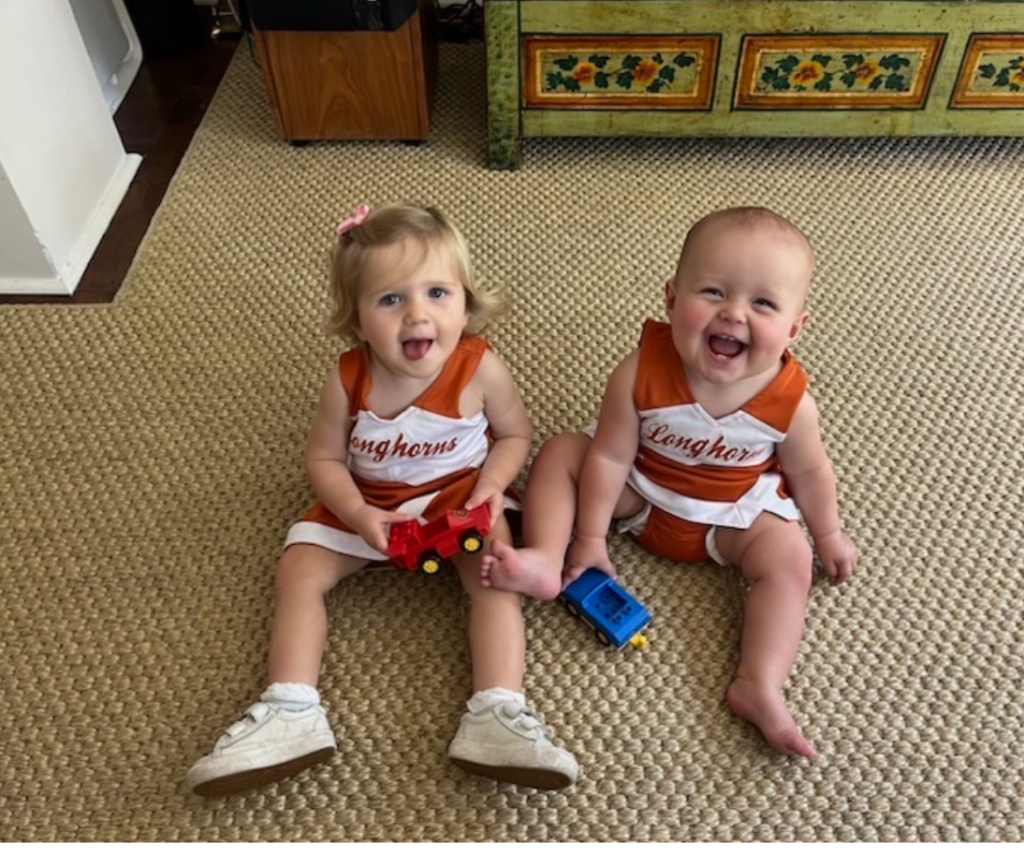 Helen Kate and Lottie after JHT.
Playoff and Bowl Projections
Way to early, but what the heck. I am shotgunning the Kool-Aid at this point. 
The Rose Bowl and Sugar Bowl are the semifinal games, with the national championship in Houston on January 8.  A Sugar Bowl rematch with the Georgia is fine, but to be honest in a perfect world, my druthers would be either Michigan or Southern Cal in the Rose Bowl for New Year's (a Monday, by the way), then the other one for the title.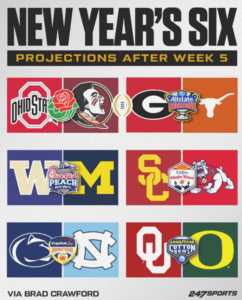 Crawford also has the Horns No. 2 in the first CFP rankings.  I like his kool-aid.
Big XII – Week Six
Conference action gets going Friday night, with Kansas State (3-1, 1-0) at Oklahoma State (2-2, 0-1).  6:30 p.m. on ESPN.  Wildcats favored by 12, over/under is 54. 
Saturday
Central Florida (3-2, 0-2) at Kansas (4-1, 1-1), 3:00 p.m. on FOX.  Jayhawks narrow 1.5 point home favorites, over/under is 65.
Texas Technical (2-3, 1-1) at Baylor (2-3, 1-1), 7:00 p.m. on ESPN2.  I hope I can watch some of this in the bar at Javier's.  Just kidding.  South Plains Aggies favored by 1.5. Over/under is 60.5.  I actually do think this will be a good football game, and I think Vegas has it about right.  Guns up.
Texas Christian (3-2, 1-1) at Iowa State (2-3, 1-1), 7:00 p.m. on FS2 from Jack Trice Stadium in Ames.  Horned Frogs favored by 6, over/under is 52.5.  Frogs to cover.
Week Six:  Service Academies
Army back in action, hosting Boston College at Michie Stadium on the banks of the Hudson.  11:00 a.m. on CBSSN.  Black Knights favored by 3. 
North Texas (2-2) at Navy (1-3), 2:30 p.m. on CBSSN.  Midshipmen look to right the ship against the Mean Green.  Navy favored by 6.
Air Force with the weekend off.
Top 25 – Week Six
Maryland (5-0) at No. 4 Ohio State (4-0), 11:00 a.m. on FOX.  Did you know Maryland was undefeated?  Me neither.  Do you care?  Me neither.  Apparently Vegas doesn't either. Buckeyes favored by 20.
No. 23 Louisiana State (3-2) at No. 21 Missouri (5-0).  11:00 a.m. on ESPN.  I did know that Missouri was undefeated.  Heck of year for those Tigers.  Not as good of a year for the Bayou Tigers.  But, Louisiana State favored by 5.5,  Geaux Tigers!
No. 13 Washington State (4-0) at UC Los Angeles (3-1), 2:00 p.m. on PAC12 from the Rose Bowl.  Bruins favored by 3.5.
No. 11 Alabama (4-1) at Texas Agricultural & Mechanical (4-1), 2:30 p.m. on the Columbia Broadcasting System.  Enormous game in College Station for those Fightin' Texas Aggies.  Vegas has the Tide favored by 1.5.  ESPN's Matchup Predictor is Bama with 66.3% win probability.  Parker Fleming @statsowar thinks differently.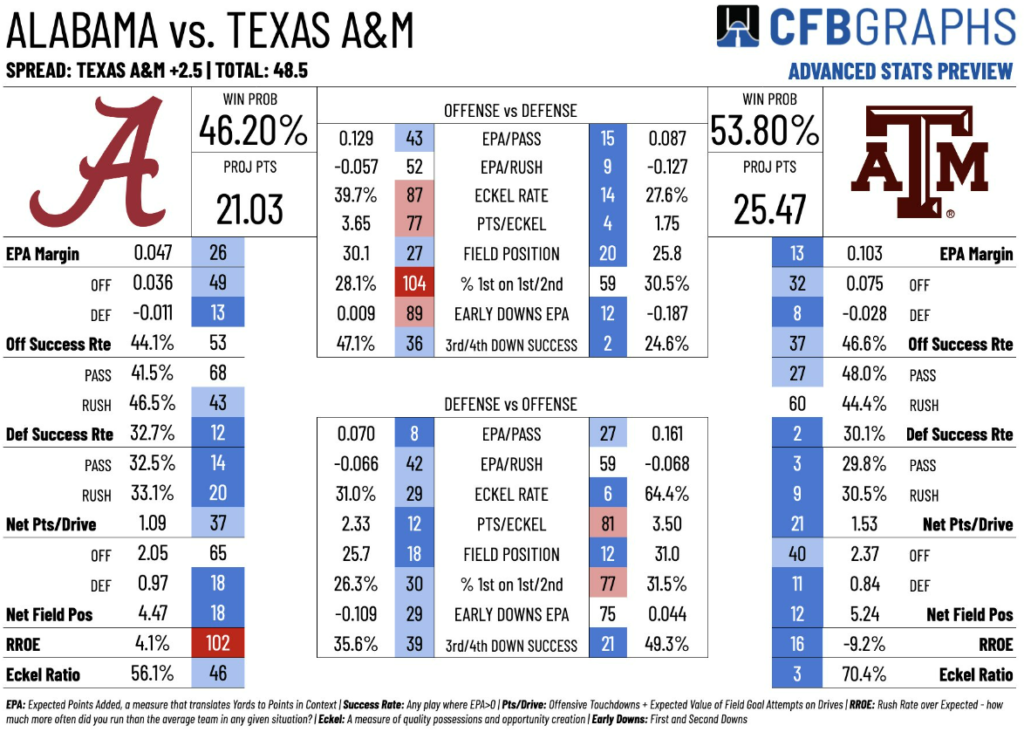 BCF's Game Projection:
| | | | | | | |
| --- | --- | --- | --- | --- | --- | --- |
| Projected Winner | Projected Loser | PW | PM | PF | PA | PT |
| Roll Tide | Aggies | .651 | 5.6 | 23.6 | 18.0 | 41.5 |
Syracuse (4-1) at No. 14 North Carolina (4-1), 2:30 p.m. on ESPN.  Keep it rolling Mack!  I will enjoy listening to the second half of this one on my way back to Austin. I plan to celebrate the Texas win with Bob Armstrong Dip and too many Matt's Skinny Frozens at El Ranch Saturday night.  Tar Heels favored by 8.
No. 20 Kentucky at No. Georgia.  6:00 p.m. on ESPN.  Two undefeated teams playing Between the Hedges on a fall evening.  Bet it is a great night in Athens.  The Dawgs 15 point home favorites.
No. 2 Michigan (5-0) at Minnesota (3-2) 6:30 p.m. on NBC/Peacock.  Hey, the Twins won their first playoff game since 2004 breaking an 18 game losing streak!  And beat the Bluejays to advance to the ALDS – against the Astros.  Well, at least the Minnesotans can be happy about breaking the curse in baseball.  Michigan is going roll the Gophers, and I will take the Stros in 4.  Oh yeah, Big Blue favored by 19 in Minneapolis.
No. 10 Notre Dame (5-1) at No. 25 Louisvile (5-0).  6:30 p.m. on ABC.  Another challenging road game for the Irish, coming off that thriller over Duke.  Notre Dame favored by 6.5.  Go Irish.
Arkansas (2-3) at No. 16 Ole Miss (4-1), 6:30 p.m. on SEC Network. Let's see.  I despise Arkansas more than any team in America in any sport.  I think.  I love Ole Miss. Hotty Toddy!  Rebs favored by 11.5, over/under is 63.5.  I will take Ole Miss to cover and the over.
BCF's Game Projection:
| | | | | | | |
| --- | --- | --- | --- | --- | --- | --- |
| Projected Winner | Projected Loser | PW | PM | PF | PA | PT |
| Ole Miss | Pigs | .786 | 11.7 | 33.46 | 21.7 | 55.7 |
Georgia Tech (2-3) at No. 17 Miami (Florida), 7:00 p.m. on ACCN.  Canes favored by 21.
No. 24 Fresno State (5-0) at Wyoming (4-1), 7:00 p.m. on FOX from Jonah Field at War Memorial Stadium in Wyoming.  Did you know that you could fit the entire population of Wyoming in 6 of college's biggest stadiums?  Yep; 8 seat over 100,000.  About 580,000 people live in Wyoming.  Big game for Texas:  A Cowboys win would really boost their resume and in turn help Texas.  Plus, Wyoming or California?  Fresno favored by 6.
No. 15 Oregon State (4-1) at California Berkeley (3-2), 9:00 p.m. on PAC12 network.  Beavers favored by 9.5.
Arizona (3-2) at No. 9 Southern Cal (5-0).  9:30 p.m. on ESPN.  Perfect post-Matt's game to watch with a nightcap.  Trojans favored by 21.5.  @statsowar has Southern Cal with a 93.8% win probability and a projected score of 45.1 to 22.03.  I agree. Southern Cal to win and cover.
Fight on.
https://x.com/statsowar/status/1709219470852653510?s=20
SEC – Week Six
Vandy at Florida, 3:00 p.m. on SECN.  Gators badly in need of a win, and the Commodores drop anchor in Gainesville just in time.  Florida favored by 18.5.
Other Games of Interest – Week Six
There were two games Wednesday night, neither of particular interest.  But what is of interest is that today marked the first day of 48 day stretch where there is football on television every single day.  No games on November 21, then we crank it back up for Thanksgiving.  But since you asked, Middle Tennessee had a 23-7 lead at half and lost to Jacksonville State 45-30.
Sam Houston was in Lynchburg to play Liberty Thursday night.  Bearkats without a win,  Flames undefeated. It stayed that way.  Sam goes down 21-16.
William & Mary at Virginia, 11:00 a.m. on ACCN.  Thank goodness. Surely the Wahoos can win this one.  No line.
Bowling Green at Miami, to play the Redhawks in Yager Stadium in beautiful Oxford, Ohio.  2:30 p.m. on ESPN+.  Miami favored by 10.  Jimmy U says take the Indians to cover.  Indians?  Redhawks?  Miami? Here you go:
The story of Miami and the Miami Tribe is one of passion for education and revitalization – Miami University (miamioh.edu)
UConn (0-5) at Rice (3-2), 4:00 p.m. on ESPN+.  Watch out.  The Owls may be bowl eligible before November.  Rice favored by 9.5.
 Washington & Lee University
The Generals opened ODAC play with a 25-20 road win in Danville over the Averett Cougars.  The Generals ground game churned out 222 yards and 3 touchdowns, and that is all the Blue & White needed to get a nice road win.
W&L hosts the Guilford College Quakers in Lexington this weekend.  4:00 p.m. at Wilson Field in the shadow of House Mountain.  Guilford is 2-2 with wins over Greensboro (in the "Gate City Soup Bowl") and Methodist, and a loss at Huntingdon and then a butt-kicking last weekend from the No. 11 Randolph-Macon Yellow Jackets, 70-14.  The Jackets rushed for 269 and passed for 212.  I expect about 350 yards on the ground from W&L in a 21 point win.  Parents & Family Weekend, and a beautiful sunny day in the Shenandoah Valley, with an expected high of 64, and a low in the mid 40's that night.  My goodness I miss autumn in the Blue Ridge Mountains.  W&L parent friends –send photos.  Go Gennies!
Big XII – Week Five
Okay, I just ran out of time.  Just a few short recaps. Links for those who don't recall last weekend's fun.
College Football Scores – Week 5, Big 12 Conference 2023 Regular Season – ESPN
Week Five:  Service Academies
Navy lost at home to South Florida 30-44.  Really tough season so far for the Midshipmen.
Air Force is undefeated.  They are really good.  Falcons beat San Diego State 49-10.
Top 25 – Week Five
College Football Scores Week 5, 2023 Regular Season – ESPN
Georgia struggle at Jordan-Hare but escaped the Plains with a 27-20 win.
Everyone is watching Colorado.  I can't imagine the ratings if Taylor Swift was dating a Buffalo instead of Travis Kelce.  Deion brought the Buffs back with 27 second half points, but Southern Cal held on to win 48-41. 
Best game I watched on television was Notre Dame and Duke.  Wow.  Irish with a last minute touchdown to win 21-14.  Go Irish. Sam Hartman is good.
Ole Miss 55, Louisiana State 49.  What a game.  Rebs with 3 fourth quarter touchdowns to win a huge game.  Ole Miss fans went nuts.  Go use the google.
Oh Florida.  Kentucky 33, Gators 14.
SEC – Week Five
Texas Agricultural & Mechanical 34, Arkansas 22.
Other Games of Interest – Week Five
Oh Virginia.  Hoos lose at Boston College 24-27.
Miami Redhawks 23, Kent State 3.  A win and Miami covered the spread.  As JNU says, good teams win, great teams cover.
Southern Methodist 34-16 over Charlotte.
Rice 24-17 over East Carolina.  Win and cover.
Health Alliance for Austin Musicians
Thanks to everyone who donated to HAAM.  $275 from my $5,000 goal. Let's finish this.  Last time I am asking.
HAAM Day 2023 – Tim Taylor (onecause.com)
Jim Nicar
Game programs used to be a big deal.  And cover art was, well, an art.
1969: The Texas vs Oklahoma football game program during the centennial year of college football.  Texas won 27-17.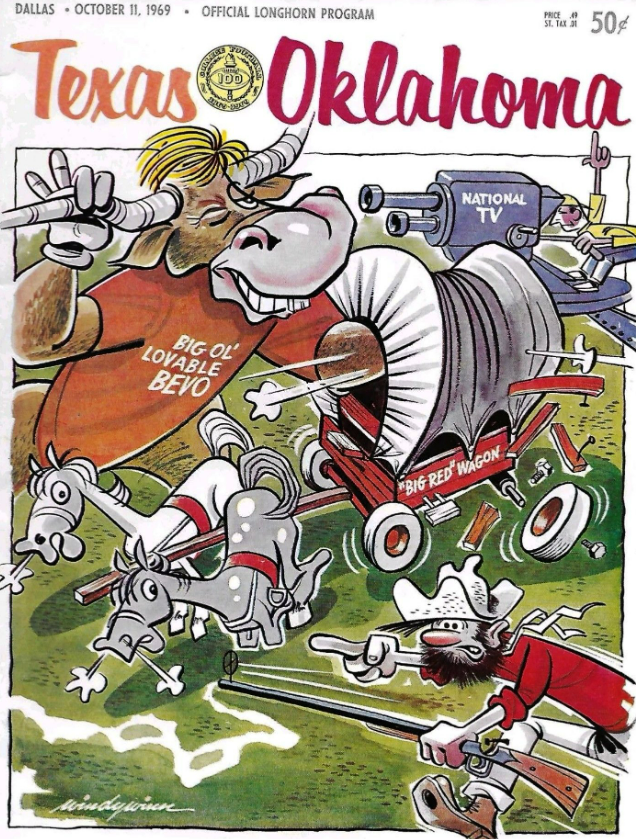 https://x.com/JimNicar/status/1710094351722783156?s=20
Music
George Strait, If it wasn't for Texas
Django Walker, Texas Longhorn
Jerry Jeff Walker, Leavin' Texas.  One of my favorites.
Pat Green and Cory Morrow, Texas on my Mind
AustinHornsFan.com Featured Image
The "Featured Image" on AustinHornsFan.com is from Will Gallagher's Instagram account (@gallagherstudios).  He is an Austin-based commercial photographer.  This photo.  Would love to see it again this year!
Picture of the Week
Usually, this is spot in the Dispatch is for a great Austin photo.  But this week, it is for what has probably become my favorite photo from the Texas-OU rivalry.  Love this.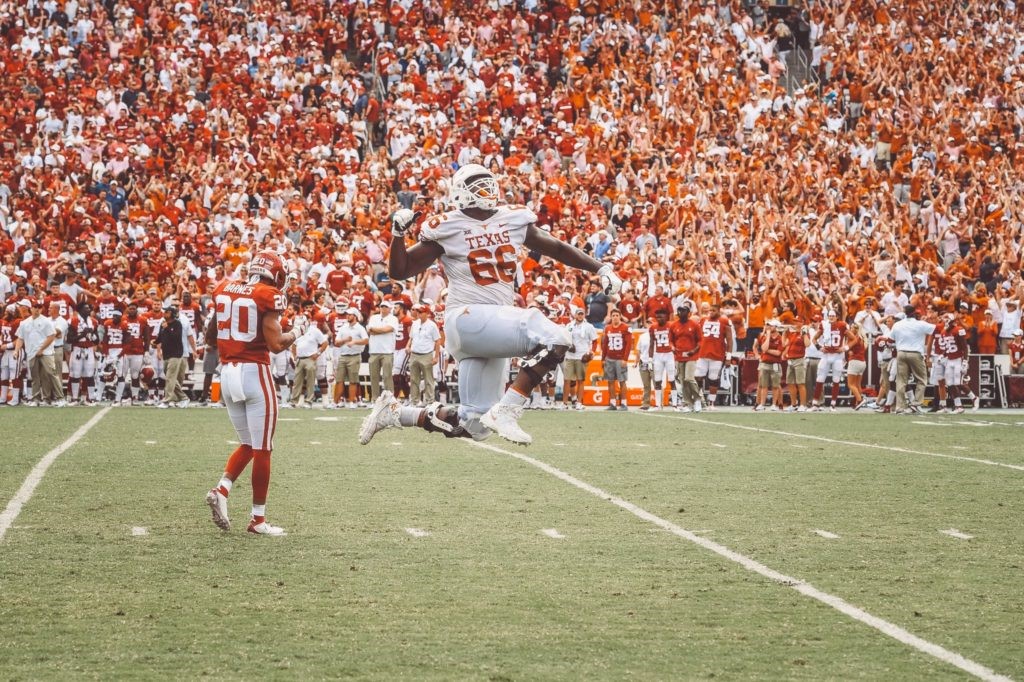 God Bless Texas
God Bless America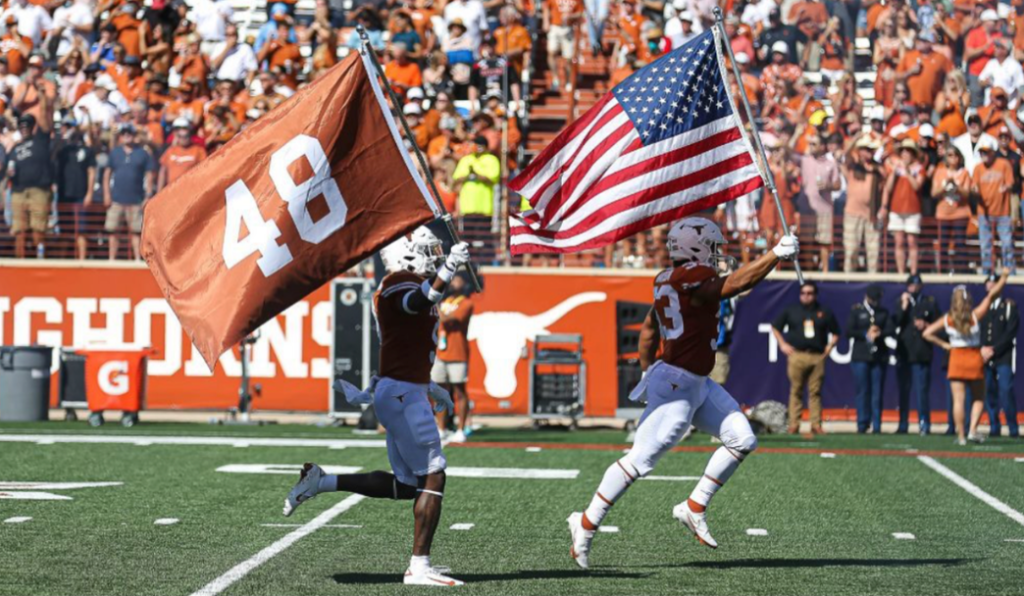 Tim Taylor
 Tailgating before Home Football Games
The Juan Heisman Tailgate
Lot 38, East of Sid Richardson Hall. 
HOOK EM HORNS!!
The Austin Horns Fan Dispatch
© Timothy C. Taylor, Sr. 2023.  All Rights Reserved (as to original material).
On Twitter:  @tctayloratx
On LinkedIn:  www.linkedin.com/in/tctatx
On Instagram:  @tctayloratx
On Facebook:  www.Facebook.com/Tim.C.Taylor
     and:  www.Facebook.com/Juan.Heisman
You can contact me by mail:
Tim Taylor
P.O. Box 5371
Austin, Texas  78763-5371