Land Thieves 34, Longhorns 30
It was a shootout.  Unfortunately, Oklahoma got the best last shot and took down the Longhorns in yet another epic game in one of college football's greatest rivalries.  A rollercoaster of a game filled with all the huge momentum swings, none greater than the last 80 or so seconds.  The Horns fans hit as great of an emotional high as one can have in a football game when Bert Auburn's 47 yard field goal split the uprights in the north endzone, giving Texas a 30-27 lead.  Only to be crashed to the lowest of football fan lows 62 seconds later when Dillon Gabriel found Nic Anderson alone in the corner of the Crimson endzone, completing the only touchdown pass the Land Thieves would have on Saturday, and the only one they needed.
The Positives
Quinn Ewers.  After the first quarter, No. 3 completed 6 of 6 passes for 108 yards in the second quarter, completed 8 of 8 passes for 81 yards in the third quarter, and completed 12 of 14 passes for 144 yards in the fourth quarter.  92.86% completion percentage.
Quinn's only incompletion after the first three possessions and in the final three quarters, not counting the 44 yard hail mary that was batted down in the endzone:
https://x.com/HornSports/status/1711374229424246927?s=20
Overall, Quinn Ewers was 31 out of 37 for a completion percentage of 83.78%.  346 yards.  Yes, the first interception was just really bad.  It just seemed like he was a little tight.  A really unfortunate quarter of football, where Ewers was 5 of 9 for 13 yards with 2 interceptions.  And he was sacked twice.  [Gabriel was also 5 for 9 in the first, by the way.]  Heck, Savion Red was 1 for 1 for 25 yards in that first frame.
Quinn Ewers didn't quit.  Quinn didn't just stay in the game, Quinn was almost perfect.  If the defensive pass interference gets called, he is 25 of 26, with the lone incompletion the last play of the football game.  No, Texas didn't lose this game because of Quinn Ewers.  Texas came within seconds of winning this game because of Quinn Ewers.
"Just didn't start out how I wanted to. It's always tough whenever you throw interceptions on the first two drives," Ewers said. "I liked the way we bounced back."
Me too.  And after Texas runs the table, Quinn Ewers and the Longhorns will win the Big XII Championship on December 2.  Whether our opponent is the Land Thieves or not.
Jonathan Brooks.  Our Man carried the ball 22 times for 129 yards and a touchdown, averaging 5.9 yards per carry.  And like Ewers, most of his production came after the first quarter.  He rushed 4 times for 10 yards in the first 15 minutes.  So in the remaining 3 quarters, he was 18 for 123 yards, 6.83 yards per carry.  He was targeted 6 times and caught 5 passes for 34 yards, with 39 yards coming after the catch.  163 yards of total offense.  Brooks leads the Big 12 with 726 yards, 121 yards per game, and is tied with several others with 6 touchdowns.  He is second in the country and first in the Power 5 conferences in total yards and yards per game.  Mr. Brooks is having a special year.
And he is really fast.  19.3 mph on this touchdown run.
https://x.com/RAanalytics/status/1711746489171554473?s=20
From Hook'em Headlines on X
Jonathon Brooks' numbers heading into the bye week are crazy.

108 carries, 722 rushing yards (leads P5)
6 rushing TDs (7 total TDs)
847 total yards (leads Big 12)
37 missed tackles forced (leads P5)
460 yards after initial contact (2nd in P5)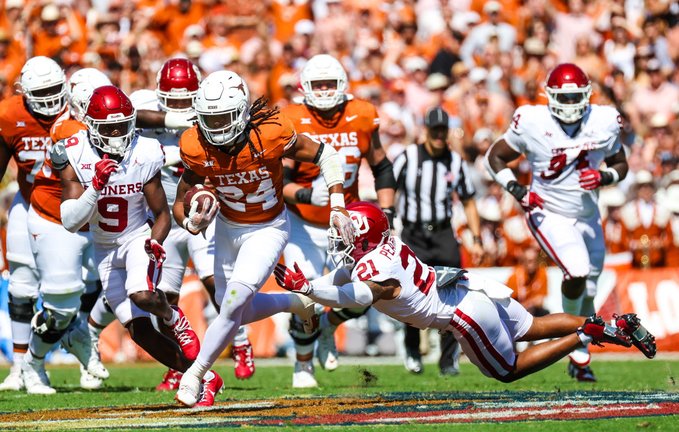 Jordan Whittington.  As long-time readers know (Mr. Whittington has been on campus a long time), I have been and remain a big, big fan.  Jordan was targeted ten times, caught all ten for 115 yards, and 71 yards came after the catch.  Remarkable.  Whittington also had two rushes for 16 yards.  131 all-purpose yards.  A great day for J Whitt.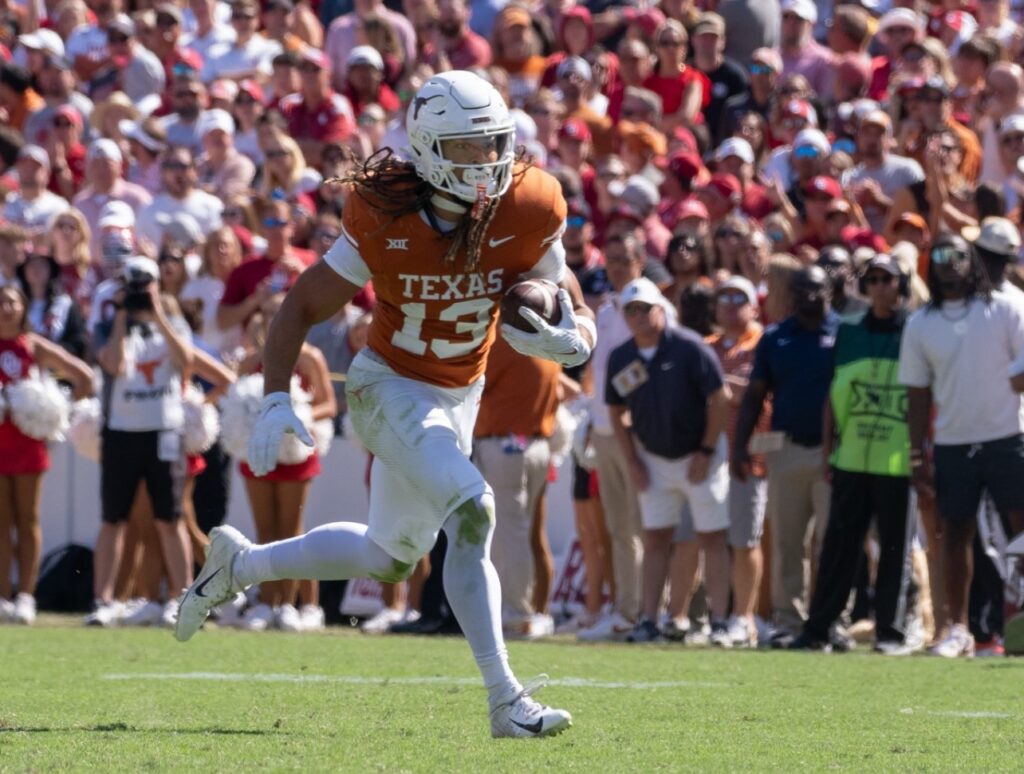 Xavier Worthy.  8 catches on 10 targets for 108 yards.  Some great plays.
Special Teams.  The blocked punt by Kitan Crawford after the second pick and the recovery in the endzone by Malik Muhammad to tie the game in the third quarter was huge.  Got us some Mo back.   Bert Auburn, one of my pre-game worries, was 3 for 3, with field goals of 25, 45, and 47.  Will Stone kicked off 7 times, averaged 64.6 yards per kick, and had 4 touchbacks.  Keilan Robinson had 3 kickoff returns for 62 yards.  Ryan Sanborn only punted once, but he nailed it inside the 20.
The Negatives
Can't sugarcoat some of this.  The first interception was about as bad as a pick can be, lead to a huge score and momentum boost for the Land Thieves.  Not sure how or why the focus wasn't there, but if we are going to win Championships, it has to be 100% from when they come out of the tunnel until we all sing the Eyes of Texas.  I trust Sark, and I believe in Quinn Ewers.
I didn't get to re-watch the game, but it sure felt like watching it in person we lost the line of scrimmage.  Texas was No. 18 in the country allowing just 94.6 yards per game.  Gabriel had 113 yards, and the Horns gave up 201 total.  With that, 29.82% of the rushing yards surrendered over 6 games this season came in the Cotton Bowl on Saturday.  When an amateur like me knows "Gabriel is going to be problem.  His stats don't lie:  he finds open receivers and he gets the ball to them.  He is a dual threat quarterback in a well-designed offense …  Coach Kwiatowski and the Texas defense are going to have to find a way to disrupt his execution while not allowing Gabriel to translate those efforts into big gains instead of short losses, as Gabriel can do that."  Texas dropped to 30th in the nation in Rushing D.  And don't forget the Land Thieves were averaging 157 yards per game, barely in the top half in the country, and that was against Arkansas State, SMU, Tulsa, Cincinnati, and Iowa State.  Whatever was wrong needs to be diagnosed and treated.  And cured.  But, they did play their butts off. Some T'Vondre Sweat highlights from Nash Talks Texas on X:
https://x.com/NashTalksTexas/status/1711843085666189607?s=20
As for the offensive line of scrimmage, seems like some issues.  Three QBH's, 5 sacks for 28 yards, and 10 TFL for 42 yards.  And the worst (although some question the decision to run basically the same play three times in a row) was the failure to get any points early in the fourth quarter after another great Ewers to Whittington completion for 28 yards gave the Longhorns first and goal at the Land Thief one yard line.  No surprise that big Byron Murphy came in, but a bit surprised that J Brooks got 0, 0, and minus 1.  Like a lot folks, I thought the fourth down pass play to Worthy was a great call.  Just might have been better on second or third down.
Penalties and turnovers.  Before Saturday, Texas had been flagged 21 times for 174 yards.  Saturday, 9 times for 70 yards, and some were very costly.  Either for the offense or defense.  Before Saturday, Texas had 4 turnovers in 5 games, and just that one Ewers interception. Saturday, we almost doubled the season total with 3.
The most puzzling stat line for me may be this one:  the Land Thieves were 6 for 6 in red zone conversions, 4 of those for touchdowns.  Before last Saturday, Texas had the second best red zone defense in the country. Allowing scores just 50% of the time, and only 10% of the time for touchdowns – 1 out of 5 on the season.  Somehow, Oklahoma converted 4 of 6 for touchdowns.  We dropped from No. 2 to No. 12, and our stat line is now 69% / 31%.
Dillon Gabriel beat us.  We knew he was good and would have to be accounted for with laser focus on every down, and yet he produced 398 yards of offense.  The 285 passing yards are not terribly surprising.  OU was averaging 352 yards and Texas was giving up 196.  But his 113 yards rushing changed the game, and his individual effort and leadership earned Oklahoma the win.  Our defense seemed out of sorts far too often, especially on their final game ending play.
It all came down to that defensive collapse.  The Sooners had 77 seconds to go 75 yards.  It only took them 62.  And without a timeout.  In that last drive, Gabriel passed for 58 yards – 11 to Stoops, 16 to Farooq, 28 to Stoops, and the final 3 yard touchdown pass to beat Texas.  We committed an unnecessary pass interference call which gave the Sooners a first down on the Texas 6.
Back to my optimism:  the fact that the Longhorns overcame all of those setbacks and mistakes and never quit and almost won the game is a testament to how good this team really is.  No question about it – Oklahoma is good, and they have earned their high rankings, both in the votes and the metrics.
One last salute:  Gunnar Helm.  Helm has stepped up, and he caught 4 passes for 67 yards and our only passing touchdown.  He had a long catch of 25 to move the chains on fourth and 1 in the first quarter, and the 22 yard touchdown catch in the second quarter.
Finally, this.  You can reach your own conclusion.  Thanks to Scott Ingraham for sending this picture to me.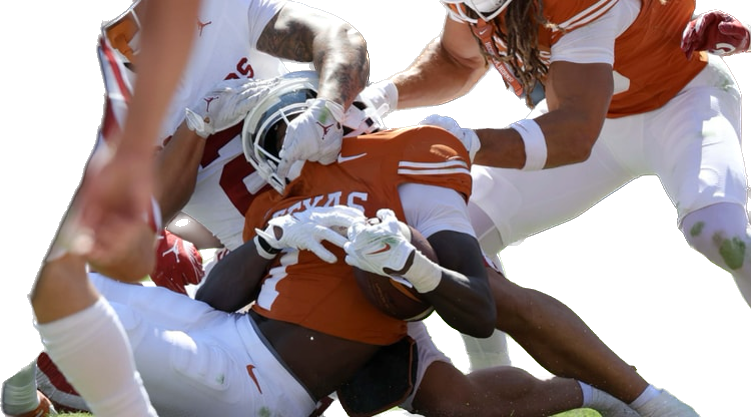 A picture is worth a thousand words.
And 6 points.
Remarkable how close the BCF stats were:
| | | | | | | |
| --- | --- | --- | --- | --- | --- | --- |
| Projected Winner | Projected Loser | PW | PM | PF | PA | PT |
| Land Thieves | Texas | .529 | 1.0 | 32.8 | 31.8 | 64.6 |
Conclusion
Texas lost a close one to a very good Oklahoma football team in a hotly contested rivalry game.  But I am still 100% in on this Texas Longhorn team, and I am convinced they will run the table and play for a championship in Arlington in December. 
Highlights
There were definitely some highlights, but I always have trouble watching a lot of highlight reels, much less a re-watch of the whole game, when the Horns suffer such a soul-crushing loss.  And that's how I felt.  I know it was harder on the players.
ESPN College Football (~ 6 minutes)
Matthew Loves Ball (32+ minutes)
Wheels (about 15 minutes)
The Best Day in College Football
The day in Dallas was amazing.  The nicest weather I can recall in over a decade.  A packed Fair Park.  And the Nation was watching.
College GameDay:
3 million average viewers
1 million final hour viewers
Most-watched show of the season
2nd-best pre-November episode since 2010
The Game:
1 million viewers on ABC & ESPN2 (that includes the Pat McAfee thing-a-ma-jig)
2nd most-watched Texas-OU game in a full national window on record (2009 was top)
Peak: 11.1 million viewers
For comparison:
Oklahoma vs. Texas (7.87M)
Texas Agricultural & Mechanical vs. Alabama (7.23M)
Louisville vs. Notre Dame (5.12M)
Ohio State vs. Maryland (4.51M)
Georgia vs. Kentucky (3.19M)
Minnesota vs. Michigan (3.06M)
Florida State vs. Virginia Tech (3.02M)
Southern Cal vs. Arizona (2.55M)
Missouri vs. LSU (2.34M)
Okie State vs Kansas State (2.27M)
Have to say I am impressed the Cowboys & Wildcats made the top 10.
Great day with friends before the game.  Got a Fletcher's corny dog and was pleased they were serving draft Modelo.  An excellent breakfast beer.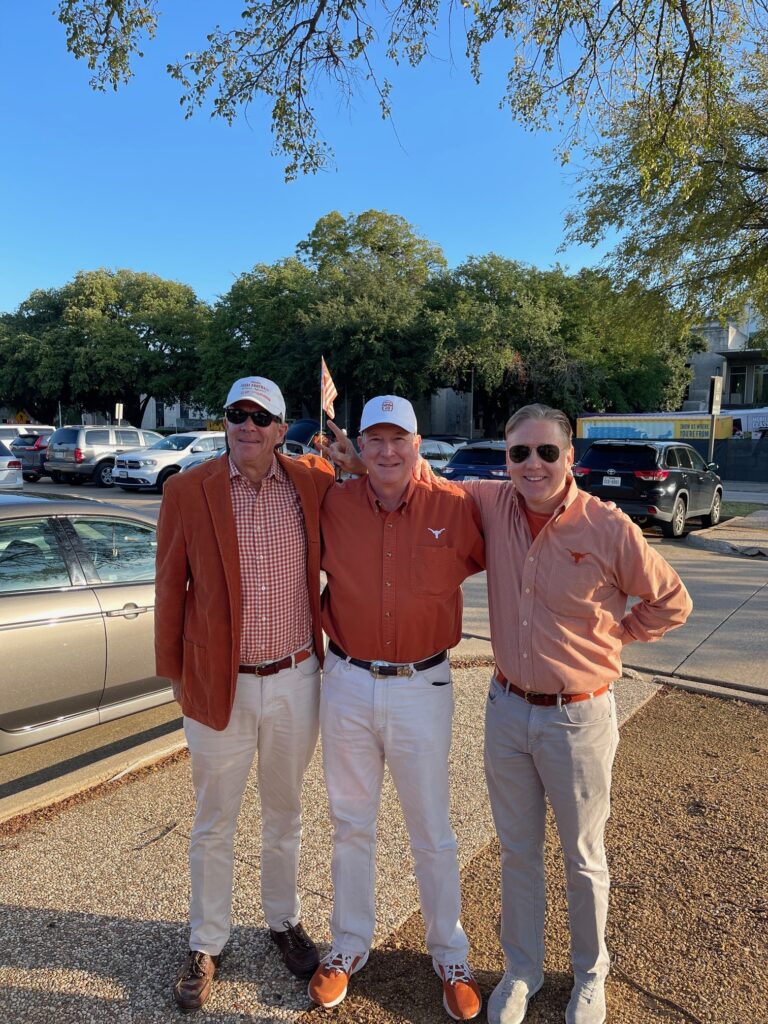 Tony Dewar, TCT, Jody Ferguson.  Brothers from different mothers. Love these guys.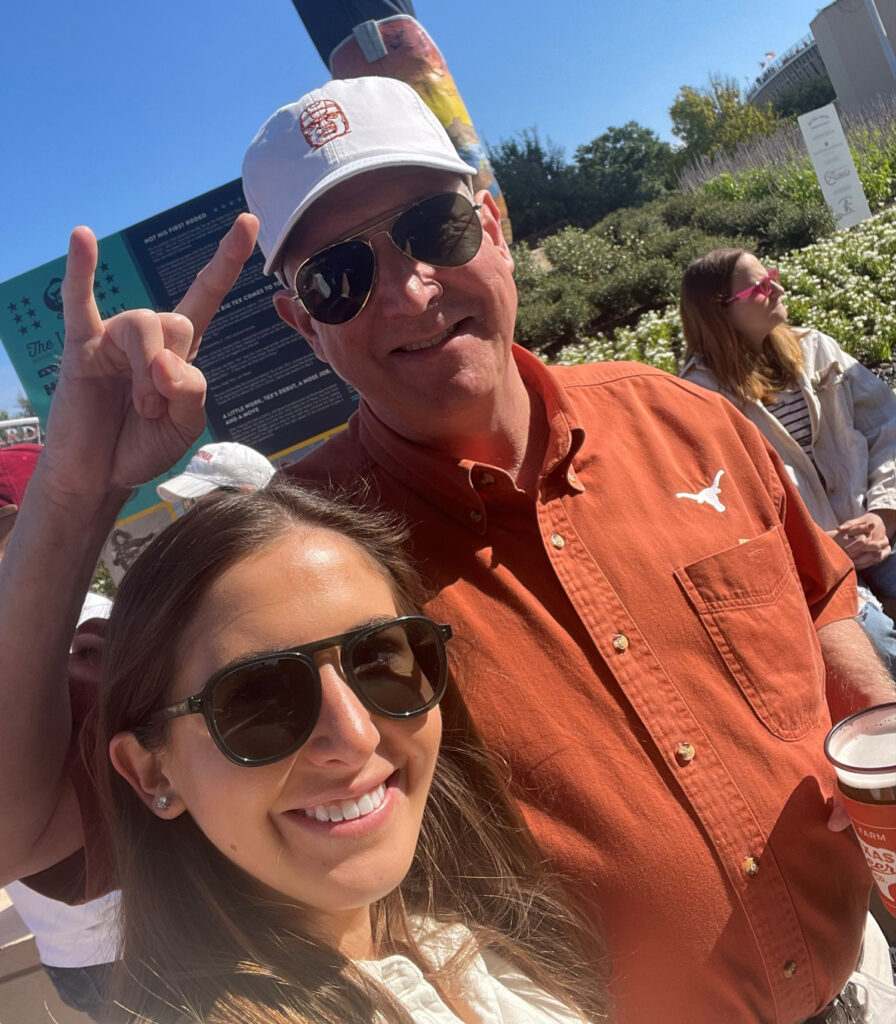 Claudia Taylor, burnt orange genes.
One negative was getting into the stadium.  By far the worst I have ever experienced in a lifetime of going to Texas-OU.  Need to fix that.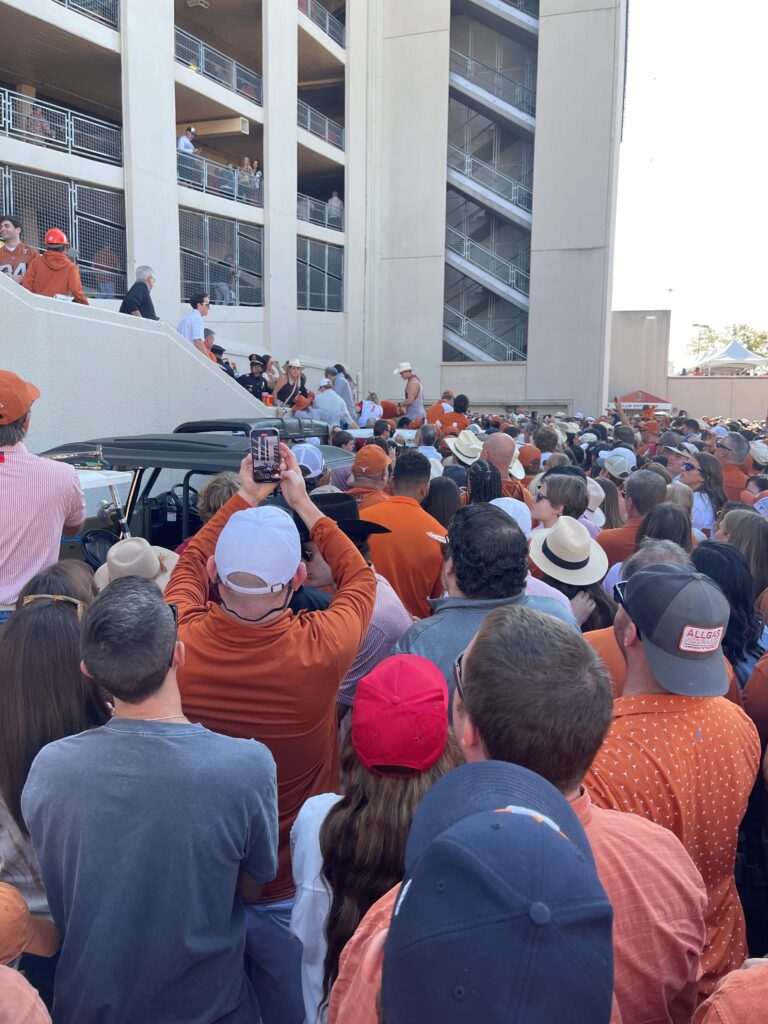 And nothing compares to having a Frito Pie and cold beer at halftime with Claudia.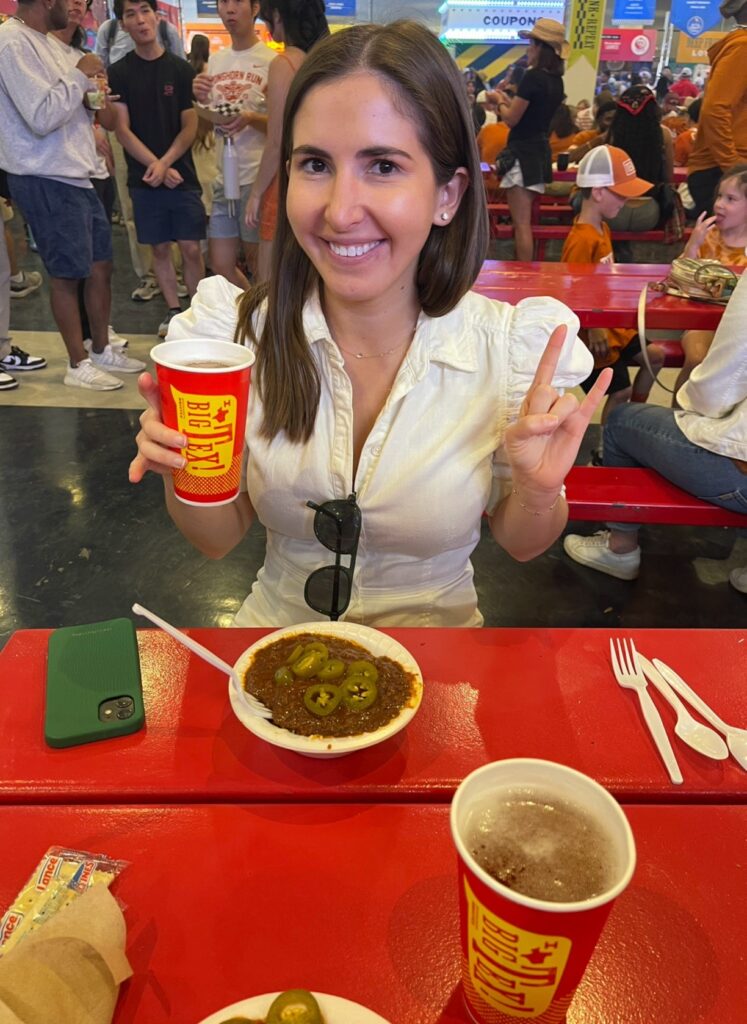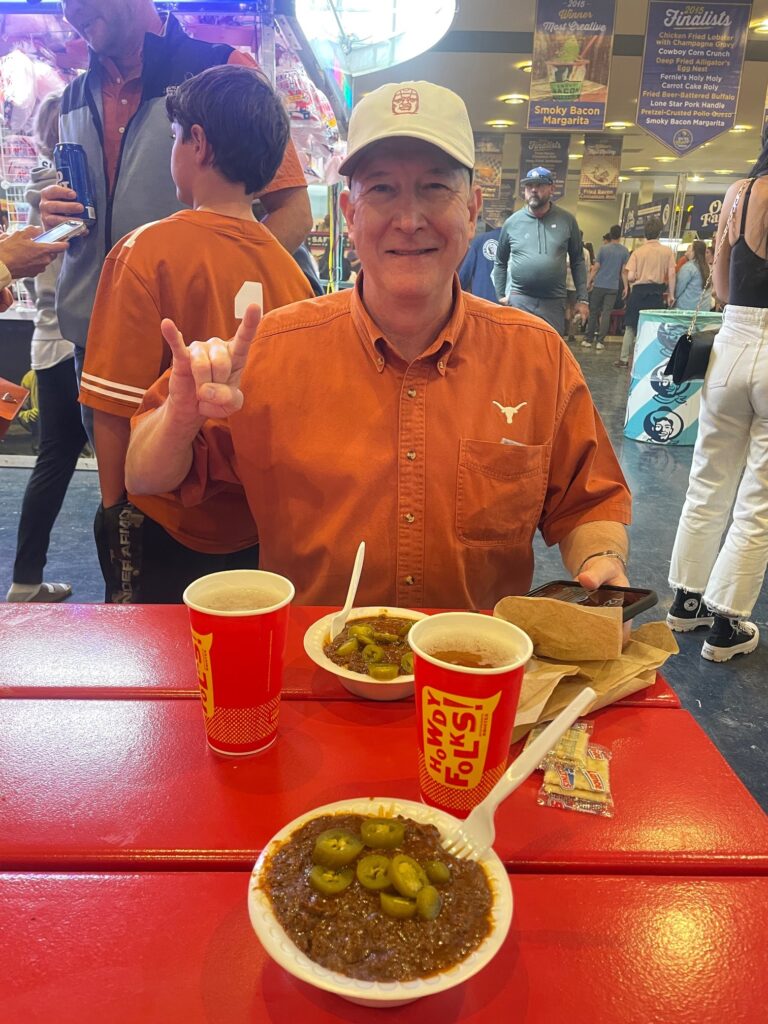 Great to be seated next to Lauren Rothwell.  Love you Loro!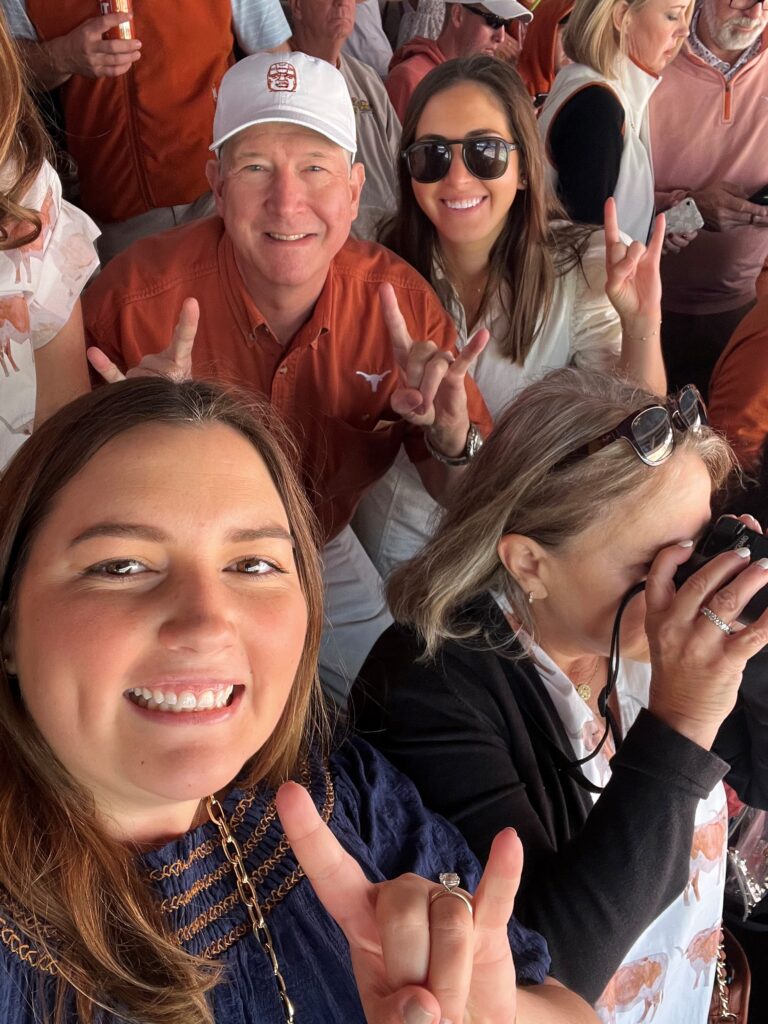 Friday Night
 Keeping with many, many great years of tradition, I was the guest of Carol & Tim Crowley at Javier's (thank you!), along with my goddaughter Elizabeth and her husband Connor Davis, Page & Ivan Young, my daughter Claudia, and Peyton Werra and her boyfriend Austin.  Great queso flameado, then the grilled quail.  A few margaritas, and the traditional post-dinner shot of Cuarenta y Tres.  And this year, someone thought it would be a good idea that we finish the evening off with Don Julio 1942 shots.  Maybe it was me.  Saw so many great folks.  Ivan already has next year's reservation.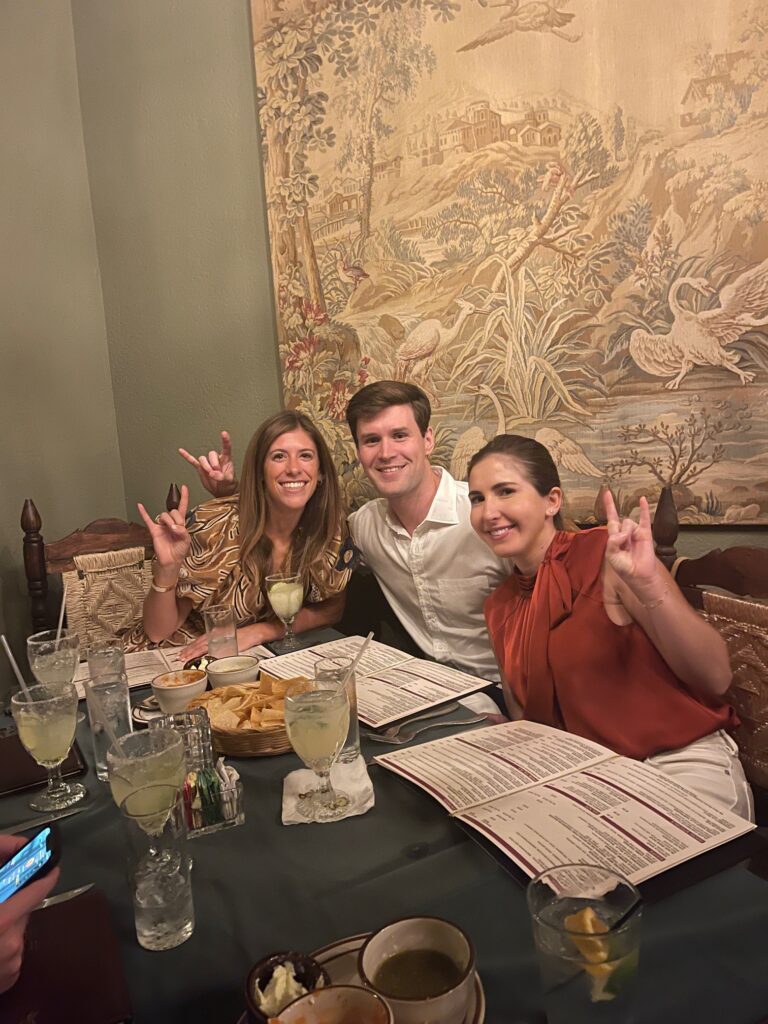 Elizabeth Crowley Davis, Connor Davis, Claudia Taylor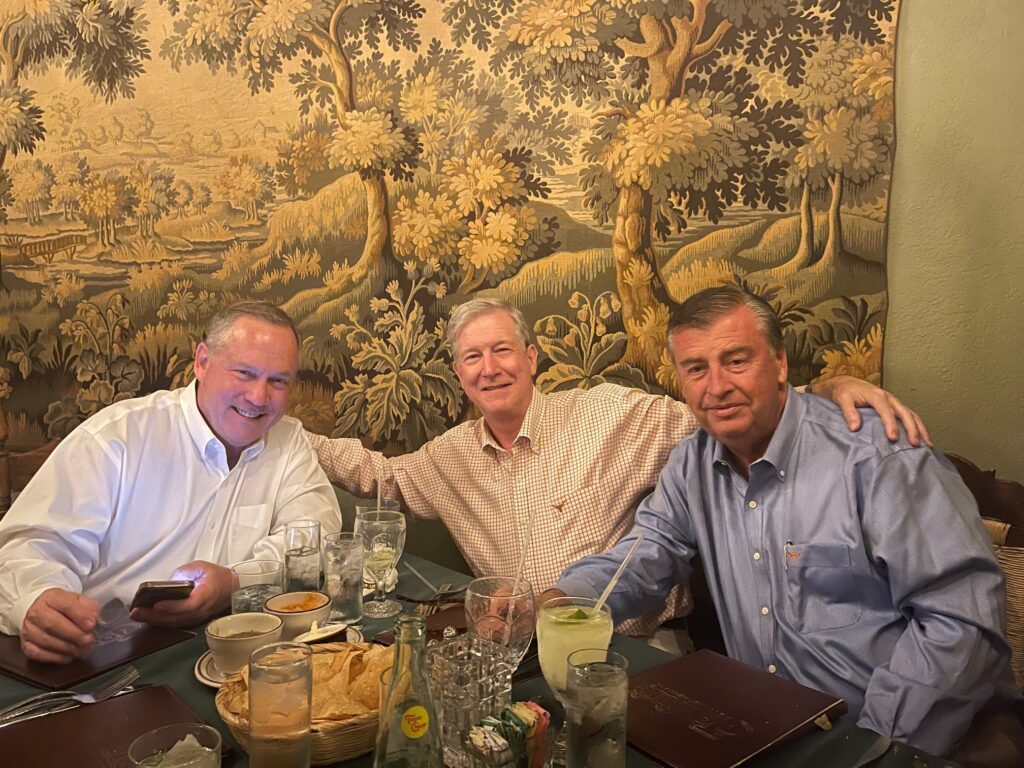 Joe "Ivan" Young, TCT, and Tim Crowley
Many thanks for the annual hospitality extended by Juli Dewar and her husband.  Always appreciate the nice accommodations and the ride to the State Fair on Saturday morning.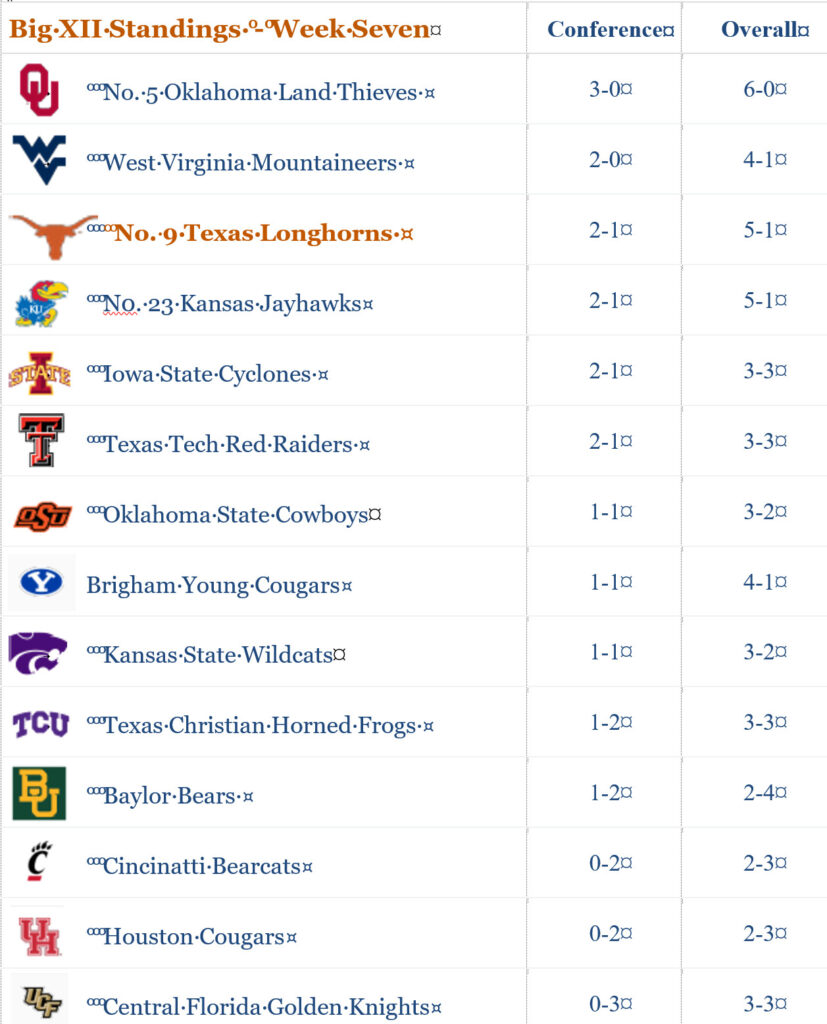 The Polls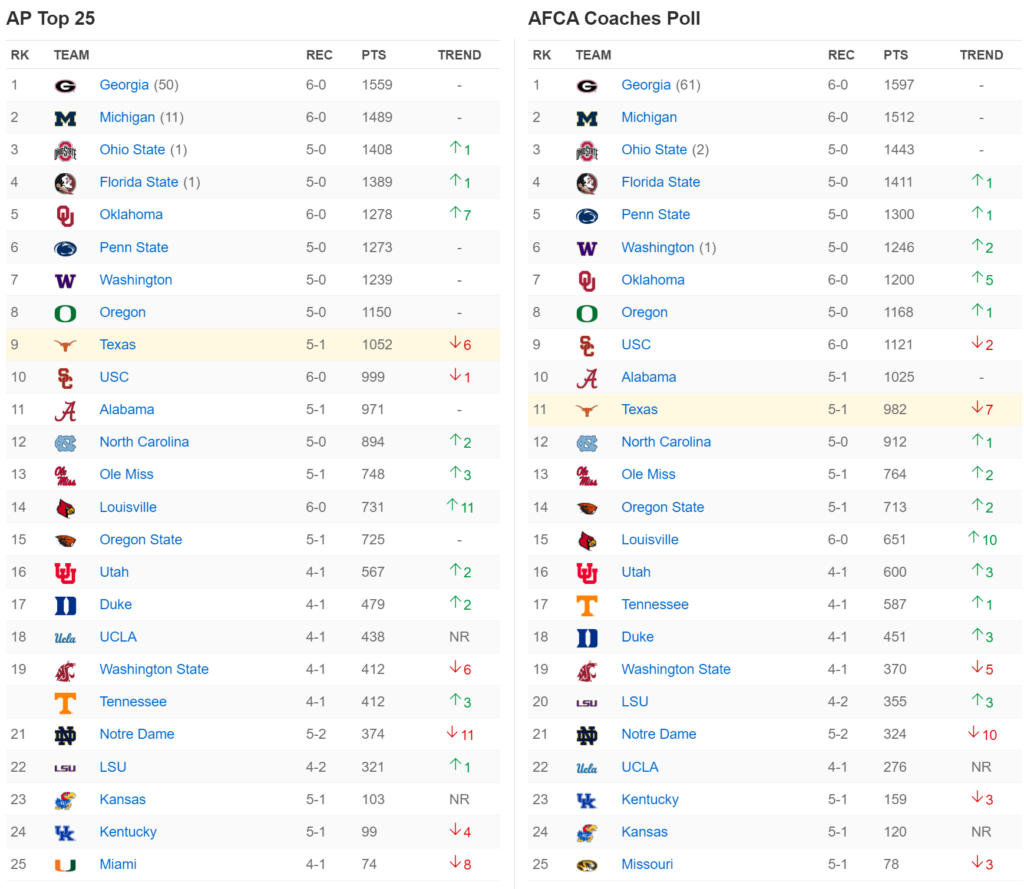 Massey Ratings
Texas dropped to No. 5.  Ohio State, Michigan, Land Thieves, PSU, Texas, and Georgia at 6.
Chris Vannini – The Athletic:  Ranking All 133
Vannini ranks all 133 FBS teams each week.  Very good work, and definitely worth a read if you subscribe.  Last week, he moved us to Number 1.  This week, Texas drops to 5.  Still in the hunt.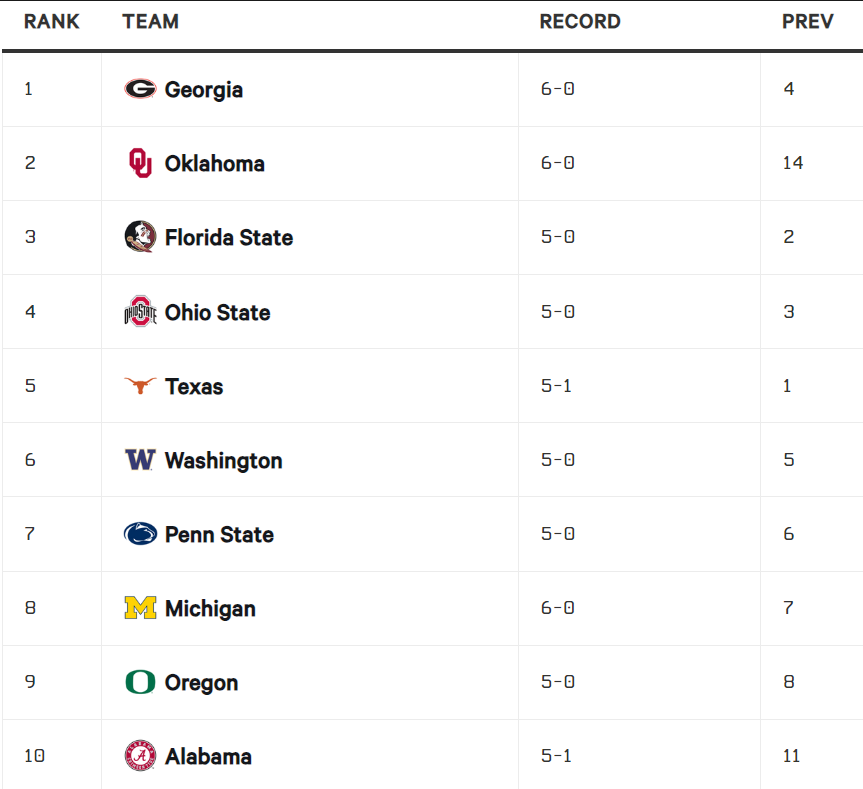 Also in The Athletic, Nicole Auerbach moved the Land Thieves to No. 1 and dropped the Longhorns to 8.
ESPN College Football Power Index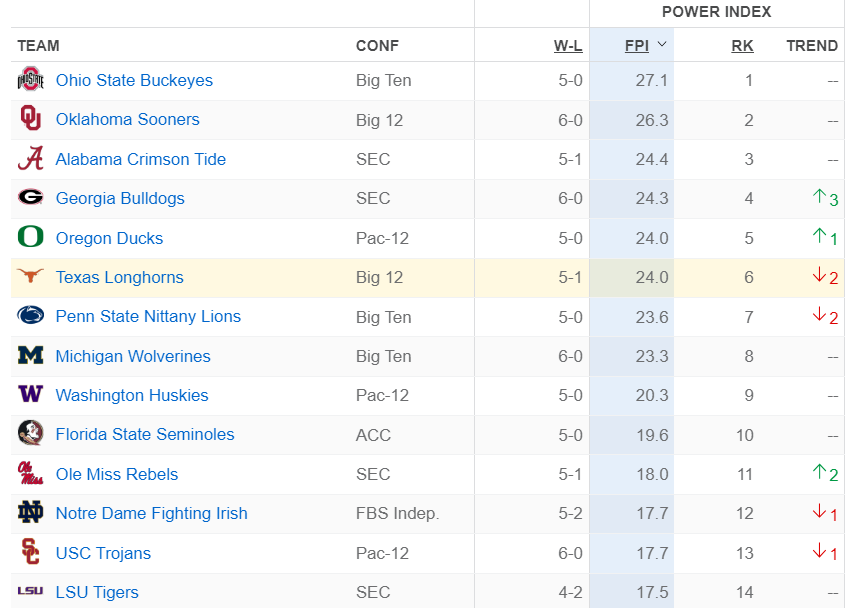 Big XII – Week Seven
Conference action gets going Thursday night, with West Virginia (4-1, 2-0) at Houston (2-3, 0-2).  6:00 p.m. on FS1.  Mountaineers favored by only 3. Over/under is 52.5.
Saturday
Iowa State at Cincinnati, 11:00 a.m. on FS1.  Cyclones are doing better than I thought they would.  Bearcats 5 point home favorites.  Over/under is 47.
No. 23 Kansas (5-1) at Oklahoma State (3-2), 2:30 p.m. on FS1. Okie A&M with a season-saving win last week against Kansas State.  Surprised the Jayhawks are only favored by 3.5.  Over/under is 56.5.
Brigham Young at Texas Christian, 2:30 p.m. on ESPN.  Horned Frogs favored by 5, over/under is 52.5.
Kansas State at Texas Technical, 6:00 p.m. on FS1.  Big game for both teams.  Should be a good close game.  Vegas agrees.  South Plains Aggies favored by 1.5.  Over/under is 56.5.
Week Seven:  Service Academies
Navy (2-3) at Charlotte (1-4), 1:00 p.m. on ESPN+.  Middies favored by 3.  They need a win to get to .500 (overall and in the American).  Go Navy.
Army (2-3) hosts Troy (4-2), 2:30 p.m. on CBSSN.  Black Knights 3 point underdogs.
The Best Game this weekend between unranked teams is Wyoming (5-1) at Air Force (5-0), 6:00 p.m. on CBSSN.  Big game for both schools, important Mountain West game.  Selfishly, I want the Cowboys to win, as that continues to help the Horns.  But man I love it when the service academies are good and winning games.
Top 25 – Week Seven
No. 1 Georgia (6-0) at Vanderbilt (2-5), 11:00 a.m. on CBS.  Bulldogs favored by 31.5.
Indiana (2-3) at No. 2 Michigan (6-0), 11:00 a.m. on Fox.  Wolverines favored by 33.5.
No. 3 Ohio State (5-0) at Purdue (2-4).  11:00 a.m. on Peacock. Boilermakers are 19.5 underdogs.
Syracuse (4-2) at No. 4 Florida State (5-0), 11:00 a.m. on ABC.  Noles favored by 17.5.
So 4 undefeated teams playing at 11:00 a.m.  And who does ESPN put on for their 11 o'clock Central, 12 o'clock noon kick?
Arkansas (2-1) at No. 11 Alabama (5-1), 11:00 a.m. on ESPN.  Crimson Tide favored by 19.5.
The combined spread for the big favorites in the 11:00 a.m. slot is 121.5 points.  Crazy.  [All my lines were from Monday night, so they may have moved a lot.]
California Berkeley (3-3) at No. 16 Utah (4-1), 2:00 p.m. on PAC12.   Utes favored by 13.5.
Massachusetts (1-6) at No. 6 PSU, 2:30 p.m. on BTN. Shocked there is a line on this.  Nittany Lions favored by 43.
No. 8 Oregon (5-0) at No. 7 Washington (5-0).  2;30 p.m. on ABC.  Big game for the Ducks and Huskies, with conference title and College Football Playoff implications.  Washington favored by 2.5.
Texas Agricultural & Mechanical (4-2) at No. 19 Tennessee (4-1), 2:30 p.m. on CBS.  Aggies get the spotlight 2 weeks in a row.  Should be a good game.  Vols favored by 3.5.
No. 14 Louisville (6-0) at Pittsburgh (1-4), 5:30 p.m. on the CW Network. Interesting that undefeated Louisville is only favored by 8 against the one win Panthers.
Arizona (3-3) at No. 19 Washington State (4-1), 6:00 p.m. on PAC12 Network.  Cougars have to win to stay in the hunt for the conference title.  Wazzu favored by 8.
Auburn (3-2) at No. 22 Louisiana State (4-2), 6:00 p.m. on ESPN.  Auburn looking for an SEC win, LSU working to stay in contention in the West.  Bayou Bengals favored by 11.
No. 10 Southern Cal (6-0) at No. 21 Notre Dame (5-2), 6:30 p.m. on NBC/Peacock.  Best game of the weekend.  Rivalry, Irish badly in need of a win after last weekend's tough loss to Louisville, Trojans out to prove they deserve to be ranked higher as we inch toward the first CFP standings.  Notre Dame actually favored by 3.
No. 25 Miami (4-1) at No. 12 North Carolina (5-0).  6:30 p.m. on ABC.  The Canes really should be undefeated.  See notes on their game with Georgia Tech below.  Unbelievable.  Tarheels favored by 3.5.  Good luck Mack!
Missouri (5-1) at No. 24 Kentucky (5-1), 6:30 p.m. on SEC Network.  Wildcats favored by 2.5.
No. 18 UCLA (4-1) at No. 15 Oregon State (5-1), 7:00 p.m. on Fox.  This will be a good football game.  Corvallis is a tough place to play, especially at night.  Beavers favored by 4.
North Carolina State (4-2) at No. 17 Duke (4-1).  7:00 p.m. on ACCN.  Blue Devils favored by 3.5.
Other Games of Interest – Week Seven
Wednesday Night
UTEP was a 2 point road dog at FIU and got a nice 27-14 road win.
Sam Houston State having a tough year.  Winless, after losing 13-27 at New Mexico State.
Thursday Night
Southern Methodist (3-2) at East Carolina, 6:30 p.m. on ESPN.  Mustangs favored by 12.
Friday Night
Stanford (1-4) at Colorado (4-2), 9:00 p.m. on ESPN.  Coach Prime and the Buffs are getting eyes on screens.  Bet the World Wide Leader is excited to see how this game does.  Colorado favored by 12.
Saturday
Miami Redhawks at Western Michigan, 2:30 p.m. on ESPN+, from Waldo Stadium in Kalamazoo.  Miami is 5-1 and 2-0 in the MAC, favored by 8.  Over/under is 48.5.
UAB (2-4) at UTSA (2-3), 7:00 p.m. on ESPNU.  Have not gotten to see the Roadrunners this year, and I am not sure what has happened, but I thought they would be a whole lot better with Frank Harris back.  UTSA favored by 9.
 Washington & Lee University
The Generals got a big win at home against Guilford, defeating the Quakers 48-25 with a bruising ground attack.  W&L pounded out 410 rushing yards and scored all 7 touchdowns on the ground.  Jacob Romero led the way with 18 carries for 133 yards and a score.  Anthony Crawford had 2 touchdowns and 87 yards on 13 carries.  And Stephen F. Austin High Maroon Josh Garcia rushed for 35 on 5 carries and scored his first collegiate touchdown.  Stephen Murrin, the quarterback, was only 2 for 5 for 31 yards, but he added 5 rushes for 55 yards.  67 rushing attempts in the game for W&L.  27 first downs.  7 for 7 in the red-zone.  A little concerning that they gave up 352 passing yards and 3 touchdowns, including a 75 yard bomb to JuJu Rice.  Good photo of Crawford finding the hole opened by the Generals front line.  Looks like No. 79, Tyler Halliday (6-3, 330 pound Senior) on the left is taking out two Quakers.  He was feeling his oats.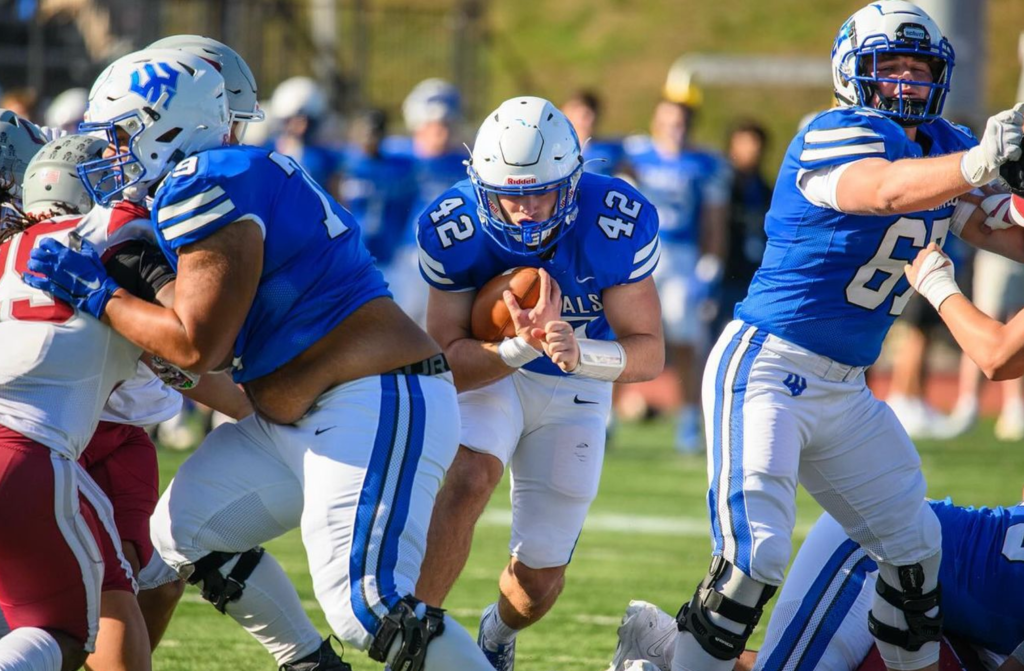 Good photo below of Murrin and Harrison Donovan, Austin High Maroon, who got back on the field.  Thanks be to God!  Thanks for sending Jacy!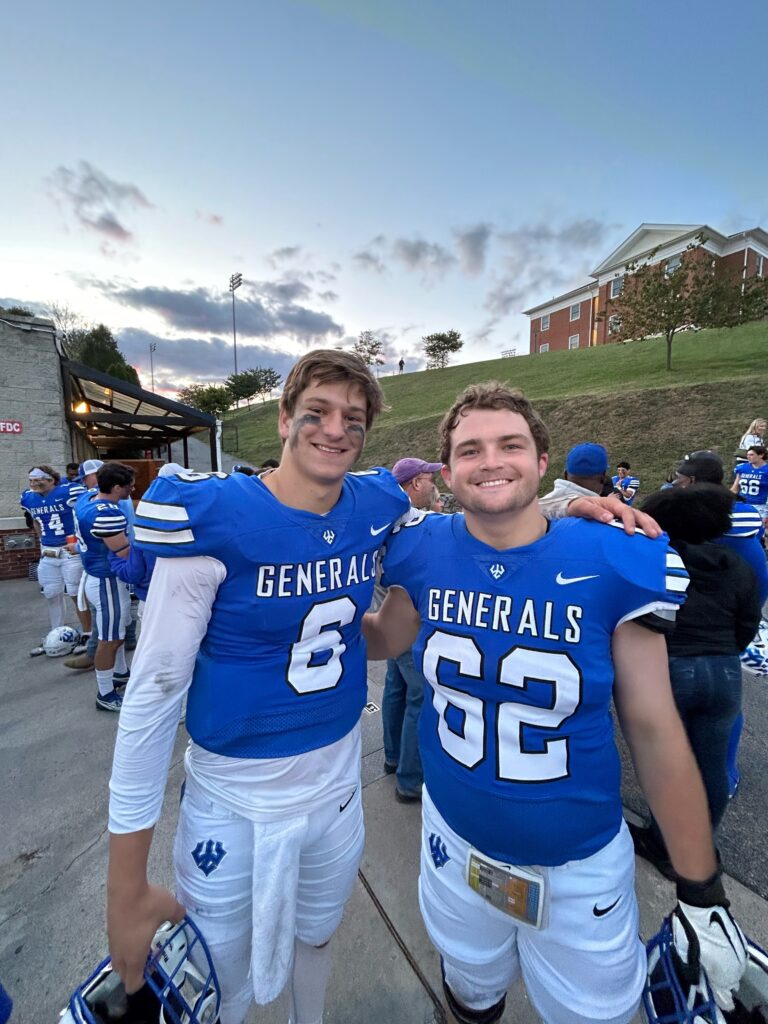 W&L hosts the Ferrum College Panthers at Wilson Field in Lexington this weekend.  2:00 p.m. kickoff in the shadow of House Mountain.  Ferrum is in Ferrum, Franklin County Virginia.  Southwestern Virginia, in the Blue Ridge foothills.  Started as "Ferrum Training School" – a private Methodist primary and secondary school.  Became a junior college in the 1940s, then a four year school in the 1970s.  760 undergraduates, and they field 25 intercollegiate varsity teams.  Division III is different.  And special.
The Panthers are 2-3 and 0-2 in ODAC play.  Lost to Muskingum (New Concord, Ohio) to start the season, then wins over NC Wesleyan and LaGrange.  Lost their first ODAC match with Shenandoah, 3-38.   Hamden-Sydney beat them last week 48-10.  Panthers average 102 rushing yards and 248 passing yards a game
One other cool note:  This weekend is W&L Athletics Hall of Fame weekend.  The 1974 Men's Lacrosse Team is being inducted, a team that includes my friend Chip Flanagan from San Antonio, who had I the good fortune of running into at the Cotton Bowl on Saturday.  W&L played in Division I in lacrosse up through my years there.  The 1974 team went undefeated in the regular season, 13-0, including wins over Navy (13-10, at Annapolis), Princeton (12-7, at Princeton), Duke (16-7, in Durham), North Carolina (18-9), and Virginia (13-11, in Charlottesville).  It was the second straight undefeated regular season for the Generals under legendary coach Jack Emmer, and it was W&L's second NCAA tournament.  Back then, only 8 teams made the field.  W&L defeated Navy in the quarterfinals 11-9.  That earned the Generals the right to play the mighty Johns Hopkins Blue Jays in the Final Four (W&L also made the Final Four in 1973).  W&L played tough and led 10-7 after three quarters.  But Hopkins stormed back with 4 goals to win 11-10.  The next week, Hopkins defeated Maryland 17-12.  It was the Blue Jays' first national championship in the NCAA tournament.  (They had over 30 other titles at that point, and have won several since).
College Football
Great post from Jim Weber on X.  Sent by Jody Ferguson.  The text here:
In the last 5 years alone, we've seen college football teams lose games because:
A player threw a shoe
A player pretended to pee on the field
A QB spiked the ball on 4th down
A team refused to take a knee
Imagine thinking there was a better sport.
https://x.com/JimMWeber/status/1711364757813338393?s=20
Big XII – Week Six
We have been wondering what is going on in Stillwater.  I guess Gundy figured something out.  12 point underdogs and won 29-21 over Kansas State.  Good win for Okie A&M.
Kansas was favored by 1.5 over Central Florida.  51-22 woodshedding of the Golden Knights.  399 yards rushing, as Neal had 154,  Hishaw 134, and McDuffie 91.  Devin Neal averaged a whopping 12.8 yards per attempt.
Texas Tech 39-14 over Baylor.  Thought it would be closer.
Texas Christian 14, Iowa State 27.  Didn't watch it, but pretty amazed the Cyclones won by 13 as 6 point underdogs.
Week Six:  Service Academies
Army lost a heartbreaker to Boston College, as the Eagles punched in a touchdown with 25 seconds left in the game.  Tough loss for the Black Knights.  27-24
Navy got a much needed win over North Texas, 27-24.
Top 25 – Week Six
No. 1 Georgia finally looked number one-ish, with a 51-13 beatdown of previously undefeated Kentucky.  34-7 at half time.  Georgia had 435 yards in the air.
Michigan too, as they went to Minnesota and whacked the Gophers 52-10.
Ohio State ended Maryland's undefeated season with a 37-17 win in the Horseshoe, with a 17-0 fourth quarter.  Buckeyes were favored by 20.
Florida State 39-17 over the Hokies.
Second best game of the day was in the Coliseum, as Arizona took the Trojans to triple overtime, before Southern Cal finally got a stop and won 43-41.  As sort of predicted, a "Perfect post-Matt's game to watch with a nightcap."  Well,  the 3 hour and 44 minute game made it a little more than "a nightcap".  On a day when the first cold beer was popped about 8:55 that morning.  Trojans were favored by 21.5 and @statsowar had Southern Cal with a 93.8% win probability.
Brutal loss for Notre Dame. No luck in Louisville.  20-33 loss, as Sam Hartman had a good day with 254 yards and 2 touchdowns but also 3 interceptions.  I feel their pain.
Quite a game at Kyle Field.  Aggies had a 17-10 halftime lead, but the Crimson Tide put the hammer down in the third quarter, 14-0, and went on to win 26-20.  Crazy Alabama wins a road SEC game with 23 (twenty-three) net rushing yards (Milroe lost 31 on 6 sacks).  Milroe did pass for 321 and 3 scores.  Aggies only rushed for 67.  BCF's Game Projection was pretty accurate:
| | | | | | | |
| --- | --- | --- | --- | --- | --- | --- |
| Projected Winner | Projected Loser | PW | PM | PF | PA | PT |
| Roll Tide | Aggies | .651 | 5.6 | 23.6 | 18.0 | 41.5 |
Mack Brown's Tarheels with a dominating 40-7 win over Syracuse.  5-0. Congrats Coach!
UCLA gave Washington State its first loss with a 25-17 win in the Rose Bowl.  Got the Bruins ranked.
Hotty Toddy! Ole Miss 27, Arkansas 20.  Pigs are 0-3 in SEC play.  Tis a pity.
Lots of points in Berkeley, but the Beavers got the 52-40 road win over Cal.
Louisiana State scored 22 points in the fourth quarter against Missouri, the last TD being a pick 6 with under a minute to play.  Bayou Bengals 49-39 over Mizzou.
Wyoming got out to a 24-7 first half lead on Fresno State and held on to win 24-19.
And last, the hardest loss of the day (and maybe the year) goes to Miami (Florida).  Miami led 21-17 and had the ball to run out the clock.  With 33 seconds and a third and 10 at the Georgia Tech 30, Mario Cristobal decides to run a play.  Clearly, didn't have a crystal ball to see what was coming. Chaney fumbles at the Ramblin' Wreck 26.  Twenty-five seconds to play, and Haynes King (that name sure is familiar) completes a 33 yard pass to the Canes 44 and then connects on a beauty to Christian Leary for the game-winning touchdown.
SEC – Week Six
Florida 38, Vanderbilt 14.
Other Games of Interest – Week Six
Wahoo Wa!  Virginia gets a win with a 27-13 victory over William & Mary.
Miami rolled over Bowling Green, as the Redhawks shutout the Falcons 27-0.  Win.  Cover.
UTSA got a good road win 49-34 at Temple to open their conference play.
Not sure how Rice loss to 0-5 Connecticut.   38-31.  Darn.
Health Alliance for Austin Musicians
Thanks to everyone who donated to HAAM.  $5,275 raised!
Jim Nicar
1945: A bird's-eye view of the UT Austin  campus looking east. On the left, the Biological Labs, Physics (now Painter Hall) and Chemistry (Welch Hall) made up "science row", while at lower right, the Music Building – today's Rainey Hall – was the only building on the South Mall.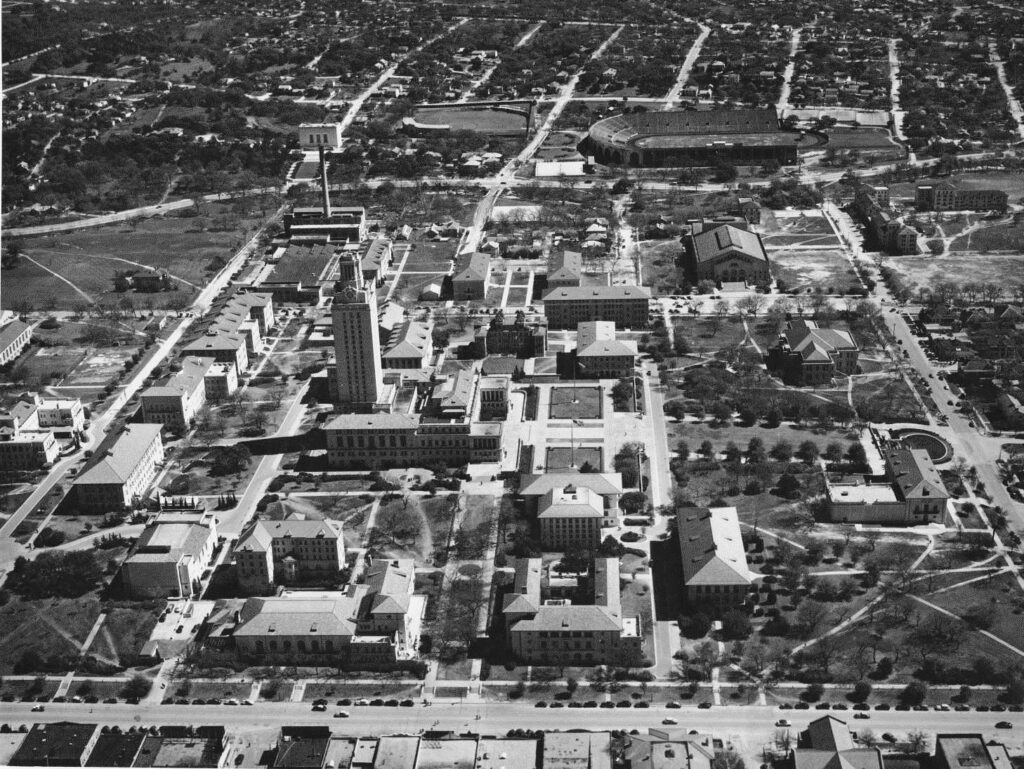 Follow Jim on X
https://x.com/JimNicar/status/1709369918565625894?s=20
Picture of the Week
If you saw the sunset Monday night, it was truly spectacular.  JHT Crew Man and Lifetime Longhorn sent me this photo he snapped.  Yes, Butters, I agree.  We will prevail.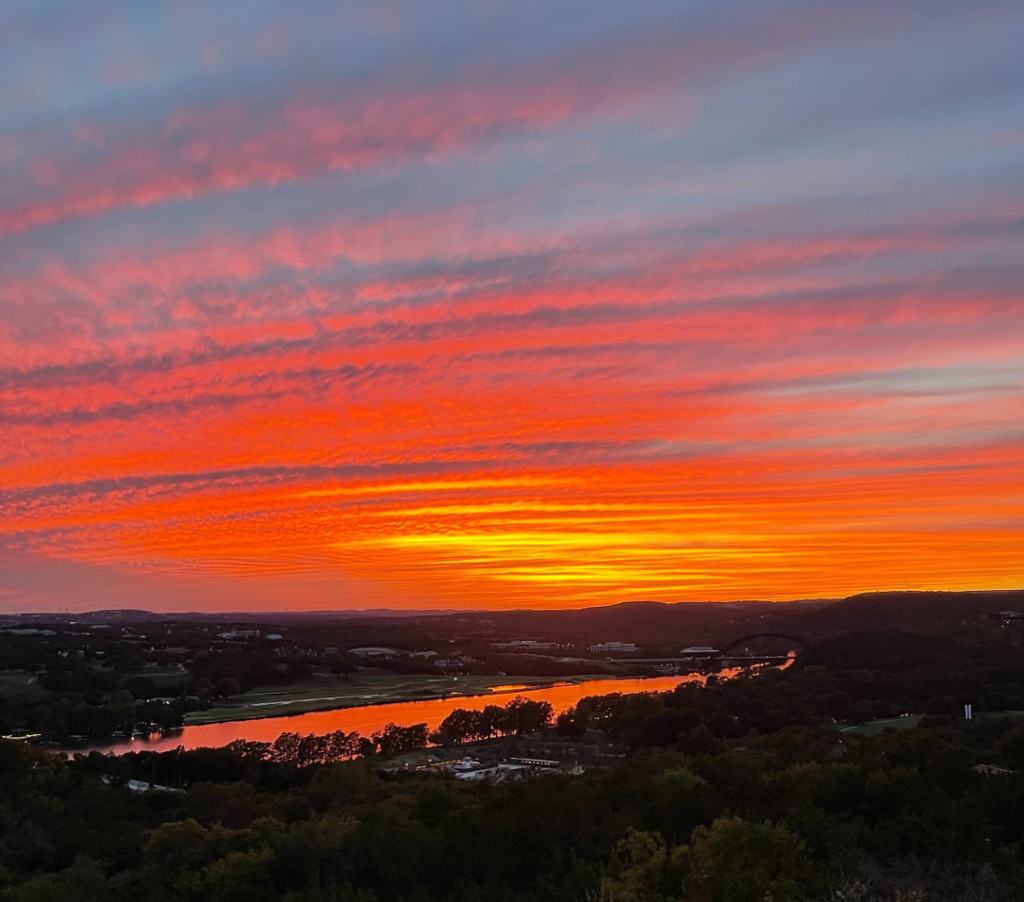 And yes, I did drive back to Austin after the game, and I did take Kathy to Matt's, and I did drink frozen skinny margaritas and ate a bowl of Bob Armstrong Dip.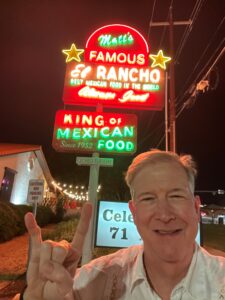 God Bless Texas
God Bless America
Tim Taylor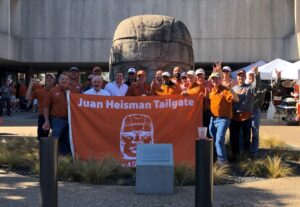 Tailgating before Home Football Games
The Juan Heisman Tailgate
Lot 38, East of Sid Richardson Hall.
HOOK EM HORNS!!
The Austin Horns Fan Dispatch
© Timothy C. Taylor, Sr. 2023.  All Rights Reserved (as to original material).
On Twitter:  @tctayloratx
On LinkedIn:  www.linkedin.com/in/tctatx
On Instagram:  @tctayloratx
On Facebook:  www.Facebook.com/Tim.C.Taylor
and:  www.Facebook.com/Juan.Heisman
You can contact me by mail:
Tim Taylor
P.O. Box 5371
Austin, Texas  78763-5371