Good Morning Longhorn Fans!
Texas Longhorns 38, Baylor Bears 6
The Longhorns made sure their last conference game in Waco would be a memorable one with a dominating win over Baylor.  Texas sent a message on Baylor's first offensive possession to open the game, as the suffocating Texas defense sacked Sawyer Robertson twice to force a quick three and out.  The Horns would get 3 more sacks in the game and total 8 tackles for loss, limiting Baylor to 60 yards on the ground. The Bears would get in the redzone just six times, and two of those were after muffed punts.  Out of those six trips, Baylor would get just six points.  One point per redzone attempt is not too good if you on offense. If your defense does that to the opponent, that defense is very, very good. Two field goals in the first half.  The Bears were shutout in the second half despite getting into the redzone 4 times.  Stifling.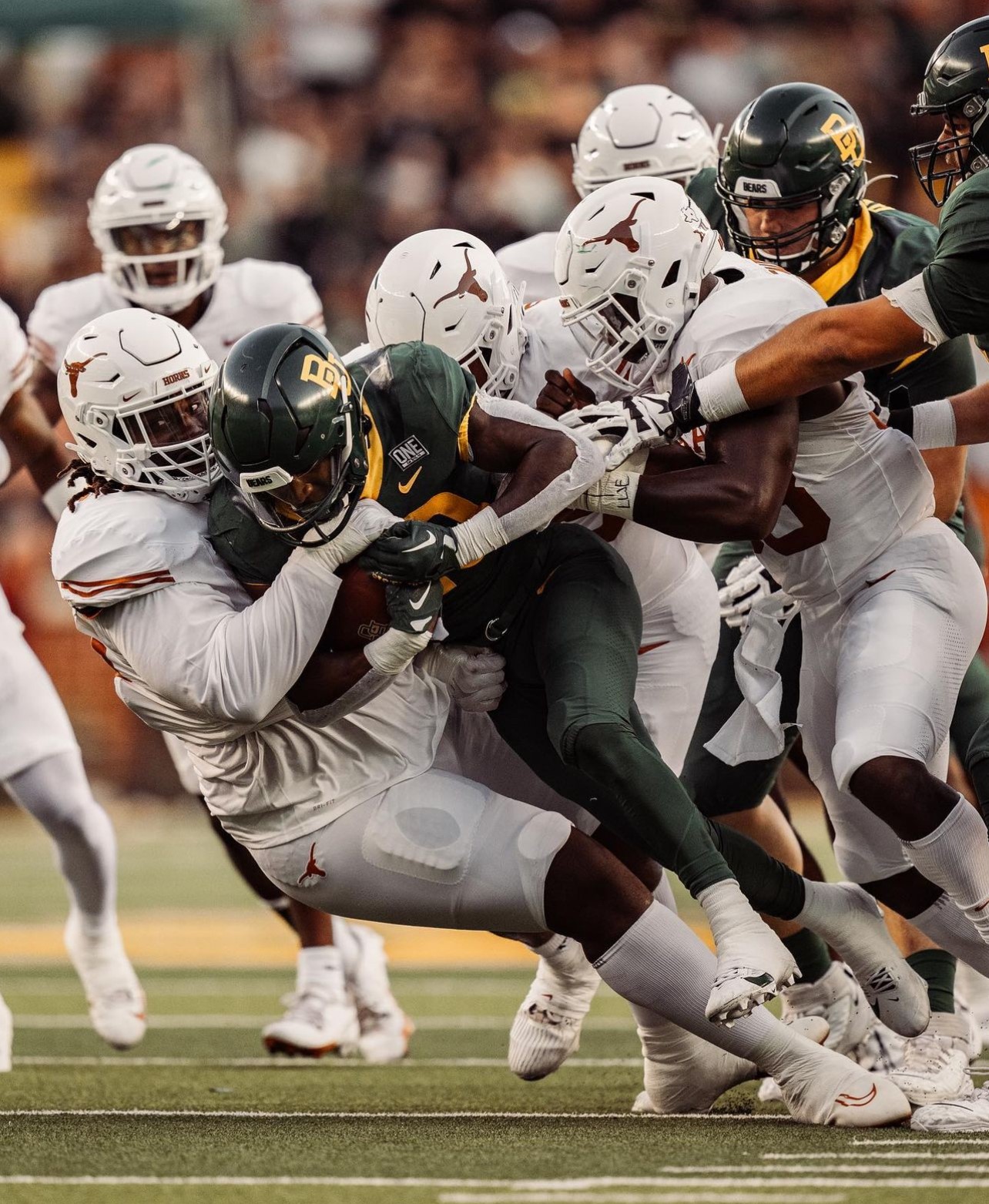 Photo from TexasSports.com
The great work of the Texas defense was complimented by a great night offensively, with production across the board, including these noteworthy stats:  Xavier Worthy passed for more yards (35) than he had receiving (31), Texas averaged 17.3 yards per completion (13.1 per attempt), Jonathon Brooks rushed for 106 yards, and Ja'Tavion Sanders had 110 yards receiving.  And some nice hurdling technique.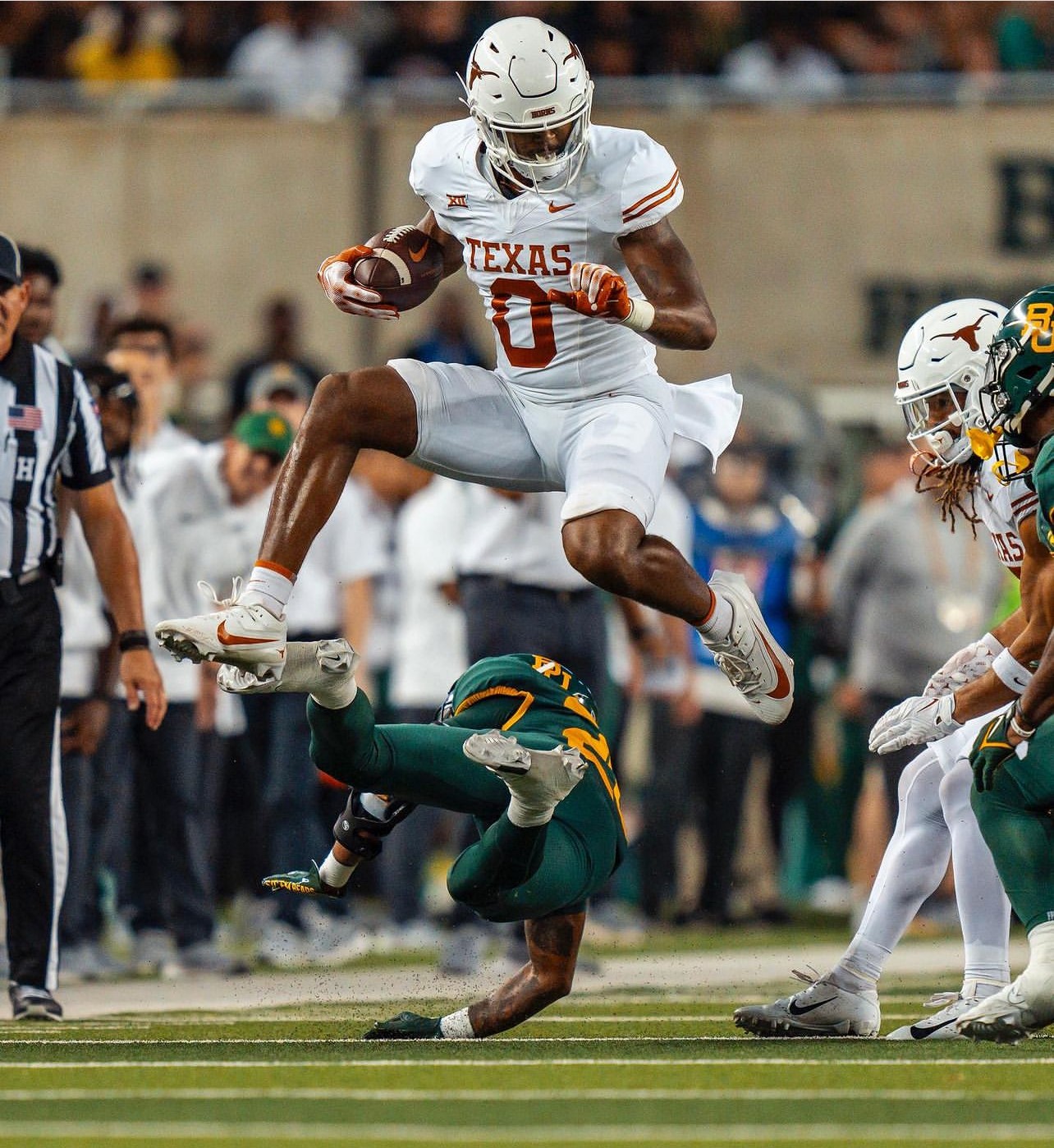 Photo from TexasSports.com
The Texas offensive and defensive lines dominated the game.  An all-around butt-kicking, and Baylor was on the wrong end of the boot.  The whole night.  By the fourth quarter, social media was filled with photos, posts, and videos of the McLane Stadium takeover, as the green clad Baylor fans crossed the Brazos early, and by all reports it was like the old days – a Texas Longhorn home game on the road.
So the Longhorns open their TEXIT tour ("TEXIT" coined by my dear friend Craig Douglas [WW McClyde for those on the interwebs], a brilliant lawyer and sportswriter and even better guy).
Two short highlight videos.  Several more below.  I just loving watching Texas dominate.  And love listening to in English and Spanish.
https://x.com/TexasFootball/status/1706293919665758537?s=20
https://x.com/TexasFootball/status/1706835238888808903?s=20
Say hello to my little friend.
https://x.com/TexasFootball/status/1706399580122751475?s=20
No. 24 Kansas Jayhawks vs. No. 3 Texas Longhorns
The Longhorns welcome the Jayhawks to Austin this weekend, and for the first time ever Texas will play a ranked Kansas team.  In football.  We have played and beaten a ranked Jayhawk basketball team.  Unfortunately this season, we will only get to do that in Lawrence, as KU is not playing a game at Moody.  But back to Football.
The game kicks off at 2:30 p.m., on what looks to be a very warm last day of September.  Broadcast by the American Broadcasting Company under the visage of the Entertainment and Sports Programming Network and the auspices of Mickey Mouse.  Sean McDonough with the play-by-pay, Greg McElroy with the commentary and analysis, and Molly McGrath on the sidelines (a good crew, especially McDonough, for those who will be watching on the television or whatever).  As always, on the Longhorn Radio Network with the Voice of the Longhorns Craig Way and Roger Wallace with Lifetime Longhorn Will Matthews on the sidelines.  Dr. Rubén Pizarro-Silva and Arturo Mata with the Spanish call on the Longhorn Radio Network.  Tune into Craig, Roger, and Will on KBST 1490 AM in Big Spring, KKSA 1260 AM in San Angelo, and KFST 560 in Fort Stockton.  SiriusXM 111 or 200.
Texas is favored by 16.5, and the over/under is 61.  Texas will cover.  I am predicting a total of 65.  We shall see.
Kansas Jayhawks vs. Texas Longhorns
Texas leads the all-time series with Kansas 17-4.  Two of those Kansas wins have come in the last 6 years.  The 24-21 loss in Lawrence in 2016, which cost Charlie Strong his job, and the stunning 57-56 overtime loss in Austin in 2021.  The Jayhawks other 2 wins were in 1901 (12-0) and a 19-18 loss in 1938 (both in Kansas).  Just not a lot of history here, but I will miss playing Kansas in basketball.
2023 Kansas Jayhawks
Kansas comes to Austin as a ranked team for the first time.  For good reason, they are off to a 4-0 start, have a great starting quarterback in Jalon Daniels, and coach Lance Leipold has a .500 record against the Horns (1-1).  The team is led by a bunch of upperclassmen. They have size and speed which is much better than other past teams from Lawrence.
The Jayhawks wins this season:
48-17 over Missouri State (the Bears are 1-2, with a loss to UT Martin and a win over Utah Tech).
34-23 over Illinois (the Fighting Illini are 2-2, with a narrow win over Toledo [30-28], a 30-13 loss to PSU [moderately respectable], and a 23-17 win over the Florida Atlantic Owls).
31-24 over Nevada (the Wolf Pack are 0-4, with a 66-14 loss to Southern Cal, a 33-6 loss to the Idaho Vandals, and a 35-24 loss to the Texas State Bobcats)
38-27 over Brigham Young (the Cougars are 3-1, with wins over Sam Houston [14-0], Southern Utah [41-16], and Arkansas [38-31])
The win over Brigham Young is a good one.  The others, sort of middlin'.
The Jayhawks are led by their preseason Big 12 offensive POY Jalon Daniels (No. 6, 6 foot, 220).  Daniels is 8th in the Big 12 right now in yards per game (235), 10th in yards (705), second in completion percentage (78%), 3rd in yards per attempt (9.4), and 9th in touchdowns (5).  By comparison, Quinn Ewers is 4th in yards per game (258.3), 4th in yards (1,033), 7th in completion percentage (64.3), 4th in yards per attempt (9.2), and 2nd in touchdowns (9).
KU has two guys carrying the ball.  Devin Neal (No. 4, 5-11, 215) has 57 rushes for 394 yards and 5 scores, with a long of 48.  He is a skilled running back and quick.  Neal is also an excellent receiver, with 11 catches for 145 yards (good for 4th on the team) and a score.  Daniel Hishaw, Jr. (No. 20, 5-10, 220) has 33 rushes for 235 yards and 3 TDs, with a long of 28.
The Kansas wide receiver room is pretty talented.  Lawrence Arnold (No. 2, 6-3, 200) has 18 catches for 578 yards (on 19 targets, which is pretty incredible).  Luke Grimm (No. 11, 6 foot, 190) has 13 receptions for 175 yards and 3 scores.  Quentin Skinner (No. 0, 6-5, 195) has 12 catches for 173 yards, and his size could result in some match-up issues.
They are supported by several good tight ends.  Mason Fairchild (No. 6-4, 260) who has 8 catches for 11 yards, Trevor Kardell (No. 45, 6-5, 255) who has 3 for 37 and a score, and our old friend Jared Casey (No. 47, 6 foot, 255), 3 catches for 32 and a score.
Defensively, senior safety Kenny Logan, Jr. (No. 1, 6 foot, 205 lbs) leads the Jayhawks with 23 tackles (13 solo), and he has an interception and a forced fumble.  Rich Miller (No. 30, 6-1, 230, senior linebacker) has 19 tackles (13 solo).  Fellow linebacker JB Brown (No. 28, 6-2, 230, Junior) has 16 tackles (9 solo), 2 sacks, and a forced fumble.  The two starting cornerbacks are decent and have great names.  Cobee Bryant (No. 2, 6 foot, 170 junior) and Kwinton Lassiter (No. 8, 5-11, 190, Senior) each have two interceptions.
The Jayhawk kicker, Seth Keller, is 6-6 with a long of 44.
No. 24 Kansas Jayhawks vs. No. 3 Texas Longhorns
The Statistics
Offense
| | | |
| --- | --- | --- |
| Statistic | Texas | Kansas |
| Rushing Offense | #69 – 155.8 ypg | #13 – 217.8 ypg |
| Passing Offense | #36 – 277.0 ypg | #59 – 245.3 ypg |
| Total Offense | #43 – 432.8 ypg | #25 – 463.1 ypg |
| Scoring Offense | #37 – 35.0 ppg | #26 – 37.8 ppg |
| First Downs | #56 – 21.0/game | #16 – 25.3/game |
| Sacks Allowed | #55 – 7, 45 yards | #30 – 5, 41 yards |
| Tackles for Loss Allowed | #47 – 19, 82 yards | #25 – 16, 72 yards |
| Third Down Conversions | #94 – 37.0% | #1 – 60.5% |
| Fourth Down Conversions | #38 – 62.5% | #121 – 25.0% |
| Red Zone Attempts | #54 – 16 | #20 – 20 |
| Red Zone Offense | #46 – 88% / 50% | #11 – 95% / 75% |
| Long Run Plays | #101    15-10, 5-20, 3-30, 2-40 | #5    31-10, 6-20, 2-30, 2-40 |
| Long Pass Plays | #34    43-10, 16-20, 12-30, 6-40 | #64    38-10, 13-20, 4-30, 4-40 |
Defense
| | | |
| --- | --- | --- |
| Statistic | Texas | Kansas |
| Rushing Defense | #19 – 87.3 ypg | #26 – 93.0 ypg |
| Passing Defense | #57 – 211.3 ypg | #49 – 203.8 ypg |
| Total Defense | #25 – 298.6 ypg | #22 – 296.8 ypg |
| Scoring Defense | #13 – 12.5 ppg | #61 – 22.8 ppg |
| First Downs Allowed | #15 – 15.5/game | #28 – 16.5/game |
| Sacks | #19 – 13, 84 yards | #35 – 11, 60 yards |
| Tackles for Loss | #33 – 27, 119 yards | #8 – 35, 138 yards |
| Third Down Conversions | #19 – 30.5% | #60 – 37.5% |
| Fourth Down Conversions | #58 – 44.4% | #66 – 50.0% |
| Red Zone Attempts | #22 – 10 | #64 – 14 |
| Red Zone Defense | #2 – 50% / 10% | #122 – 100% / 71% |
| Long Run Plays Allowed | #11    9-10, 2-20, 1-30, 1-40 | #13    10-10, 4-20, 2-30, 1-40 |
| Long Pass Plays Allowed | #37    30-10, 11-20, 6-30, 2-40 | #49    33-10, 10-20, 3-30, 2-40 |
Other
| | | |
| --- | --- | --- |
| Statistic | Texas | Kansas |
| Turnovers | #14 – 3 (3F, 0I) | #31 – 4 (3F, 1I) |
| Turnover Margin | #17 – 7:3  +4 | #23 – 7:4  +3 |
| Penalties | #21 – 17, 140 yards | #43 – 21, 192 yards |
*Based on total number of penalties.
Match-up Comparison
| | |
| --- | --- |
| Texas Offense | Kansas Defense |
| Rushing Offense – 155.8 ypg | 93.0 ypg – Rushing Defense |
| Passing Offense – 277.0 ypg | 203.8 ypg – Passing Defense |
| Total Offense – 432.8 ypg | 296.8 ypg – Total Defense |
| Scoring Offense – 35.0 ppg | 22.8 ppg – Scoring Defense |
| First Downs – 21.0/game | 16.5/game – First Downs Allowed |
| 3rd Down Offense – 37% | 37.5% – 3rd Down Defense |
| 4th Down Offense – 62.5 | 50.0% – 4th Down Defense |
| Red Zone Offense – 88%/50% | 100%/71% – Red Zone Defense |
| LRP – 15-10, 5-20, 3-30, 2-40 | 10-10, 4-20, 2-30, 1-40 – LRP Allowed |
| LPP – 43-10, 16-20, 12-30, 6-40 | 33-10, 10-20, 3-30, 2-40 – LPP Allowed |
| | |
| --- | --- |
| Texas Defense | Kansas Offense |
| Rushing Defense – 87.3 ypg | 217.8 ypg – Rushing Offense |
| Passing Defense – 211.3 ypg | 245.3 ypg – Passing Offense |
| Total Defense – 298.6 ypg | 463.1 ypg – Total Offense |
| Scoring Defense – 12.5 ppg | 37.8 ppg – Scoring Offense |
| First Downs Allowed – 15.5/game | 25.3/game – First Downs |
| 3rd Down Defense – 30.5% | 60.5% – 3rd Down Offense |
| 4th Down Defense – 44.4% | 25.0% – 4th Down Offense |
| Red Zone Defense – 50%/10% | 95%/75% – Red Zone Offense |
| LRP Allowed – 9-10, 2-20, 1-30, 1-40 | 31-10, 6-20, 2-30, 2-40 – LRP |
| LPP Allowed – 30-10, 11-20, 6-30, 2-40 | 38-10, 13-20, 4-30, 4-40 – LPP |
Other Stats
Available Yards Percentage.  Net available yards percentage (NAY) is the difference between offensive available yards percentage (OAY) and opponent offensive available yards percentage (DAY) on non-garbage, regulation possessions in FBS vs. FBS games. Available yards percentage is calculated by dividing drive yards (measured from starting field position to ending field position) by available yards (measured from starting field position to end zone).
| | | | |
| --- | --- | --- | --- |
|   | NAY | OAY | DAY |
| Texas | No. 7:  0.325 | No. 21:  0.613 | No. 3:  0.288 |
| Kansas | No. 25:  0.185 | No. 10:  0.658 | No. 69:  0.473 |
BCF Toys – 2023 Available Yards Percentage
Net points per drive (NPD).  NPD is the difference between points scored per offensive drive (OPD) and points allowed per opponent offensive drive (DPD).
| | | | |
| --- | --- | --- | --- |
|   | NPD | OPD | DPD |
| Texas | No. 8: 2.50 | No. 13:  3.50 | No. 9:  1.00 |
| Kansas | No. 36: 0.83 | No. 19:  3.30 | No. 85: 2.47 |
BCF Toys – 2023 Points Per Drive
Net Yards Per Play (NPP).  Net yards per play (NPP) are the difference between drive yards per offensive play (OPP) and drive yards allowed per opponent offensive play (DPP) on non-garbage, regulation possessions in FBS vs. FBS games. Drive yards are calculated as the difference between starting field position and ending field position on offensive drives.
| | | | |
| --- | --- | --- | --- |
|   | NPP | OPP | DPP |
| Texas | No. 6:  2.82 | No. 17:  7.07 | No. 10:  4.25 |
| Kansas | No. 26:  1.55 | No. 18:  7.000 | No. 54: 5.45 |
BCF Toys – 2023 Yards Per Play
BCF's Game Projection.  "Game Projections are calculated from current FEI ratings and include the projected win likelihood (PW), projected margin of victory (PM), projected points scored (PF) and allowed (PA), and projected total points scored (PT) for each FBS game."
| | | | | | | |
| --- | --- | --- | --- | --- | --- | --- |
| Projected Winner | Projected Loser | PW | PM | PF | PA | PT |
| Texas | Kansas | .941 | 21.4 | 43.4 | 21.9 | 65.3 |
CFBGraphs
Ironically, his name is Parker Fleming, but he is @statsowar on X.  Like the BCF Toys analytics and projections, Texas is a heavy favorite.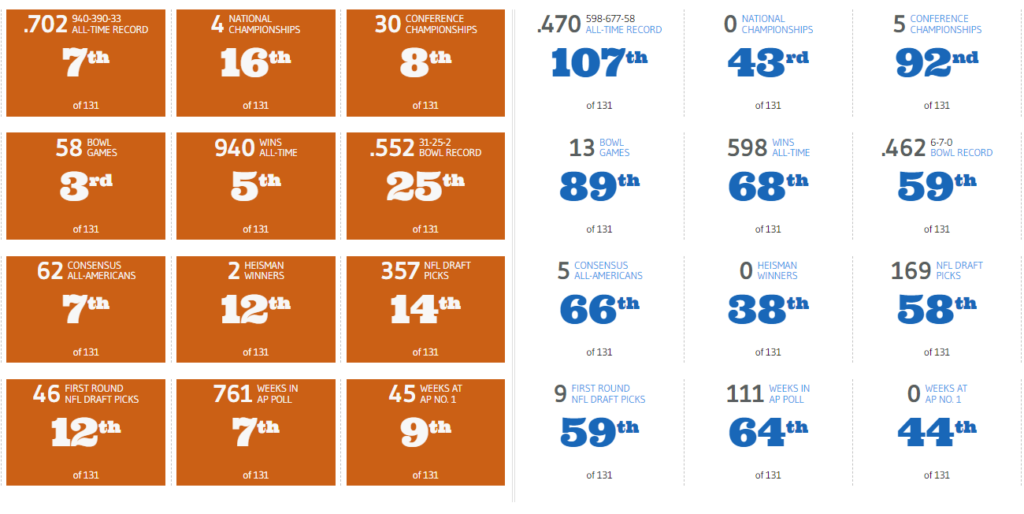 TCT Thoughts
When I first did my statistics summary (the raw stats), I was scratching my head and thinking that Texas might be in a dog fight.  All the advanced stats and analysis suggest otherwise, but I am not taking any conference game lightly this year, with all the other factors at play.
Head Coach Lance Leipold and his offensive coordinator Andy Kotelnicki have a balanced attack and a variety of good plays from many different sets which they call and execute well.  Not a lot of third and longs.  Fast and aggressive, and our defense is going to have be ready and laser focused every snap.  One lapse and Kansas will rip off big yards.  Daniels is mostly short and mid-range, and I think Texas will match-up well.  Yes, Daniels can run, but PK and his linebackers, especially Hill, have shown us that we can defend that.  I think the bigger challenge is how big their receivers are.  That, plus a really good rushing attack, probably the best we have seen in 2023.  Those raw stats don't lie.  I am confident after Sark's comments on Monday that the team and coaches are focused on the Kansas Jayhawks and that PK will have the defense ready.
The defense better be ready and focused, as Daniels wasn't conference preseason offensive player of the year just for grins.  He is a very good college quarterback, and this Kansas team, and especially the Jayhawk offense, are legitimate.  You don't get to Week 5 undefeated on pure luck and weak opponents.  Although KU's schedule is a bit light.  But, Daniels is good, excellent in RPO, and they run so many schemes and run them well.  I am sure that Kwiatowski, Terry Joseph, Blake Gideon, and Jeff Choate have watched a lot of film, and if Brigham Young can hold Daniels to 130 yards passing, the new DBU can too.
Looking at the statistical match-up, a big factor will be stopping Kansas on third down.  Number 1 in the country at 60.5% is really incredible.  Due to both good success on first and second down and really good third down play calling and execution.  An excellent combination for an offense.  The other big key will be stopping the big runs.  31 rushes over 10 yards in just 4 games is impressive.  The good news is that Texas has been effective in doing that, allowing just 9 carries over 10 yards.
Last year's Kansas defense was not good.  And that is being kind.  This year, much improvement.  They have played better, the secondary has been playing together for a few years now, and their cornerbacks, Bryant and Lassiter each have two interceptions and a forced fumble.  But improved from putrid is not a ringing endorsement.
Our running attack is still developing, and this weekend would be a really good one to take a big step forward.  Yes, Brooks got 106 yards last weekend, but that includes the 40 yard touchdown run.  His other 17 attempts were for 66 yards, or 3.9 ypc.  He has room for (and I believe the ability for) improvement.  CJ Baxter is waiting to explode, but my gut tells me he is going to do that in 8 days in the Cotton Bowl against the Land Thieves.  But I can see him getting 50 or 60 yards on Saturday.  I think we really need Brooks and Baxter to get about 150 between them, and then another 20 from Blue.  And now we know – Ewers can tuck and run if he needs to.  The added speed from the shedded weight showed.  But it will not be easy. Brigham Young gained 48 yards and netted 9 – in the whole game against Kansas.
I am all for Sark's run first offense, but as we have seen, Worthy can draw 2 defenders on a regular basis, and that means someone – Sanders, Mitchell, Whittington, Cook – should have a good one-on-one match-up, and I am guessing Brooks releasing from the backfield as a check down for Quinn could be really effective.  We haven't seen much of Keilan Robinson, and we know he can catch a good ball out of the backfield or when split out in the slot.  As good at the KU defense was against BYU in the run, they struggled against Kedon Slovis and the Cougar passing game, giving up 357 yards and 2 scores (but got two picks).  I hope he keeps going to Sanders and Helm.  Especially Ja'Tavion, who I now believe is the second best weapon on offense behind Xavier Worthy.  Ewers is going to have to make his reads and get the ball to the open man. And he will have one, if the line gives him time.  The other key for success in the passing game will be one we haven't talked about a lot, but now it is time:  blocking by the receivers; schemes where the ball goes, for example, to Mitchell, and Sanders' route has him placed in position to block for Mitchell.  That will help us get big yards.
Texas needs to make sure and continue good redzone execution.  The Kansas redzone defense is really not good, and that is good place for Texas take advantage of a Longhorn strength and a Jayhawk weakness.
I am going with 328 yards and 3 touchdowns through the air, and 162 yards and 3 touchdowns on the ground.
The other keys to a Texas win are the keys that stay on the keychain:  don't turn the ball over, don't make stupid penalties (late hit, unnecessary DPI, false starts), and get good yardage on first and second down.  Force Kansas to make the mistakes.  Make sure Jalon Daniels does not enjoy his visit to Austin.
I predict:    Texas 45, Kansas 20
My hope is that Sark goes all-out Josey Wales on the Jayhawks.  This is a different kind of All Gas, No Brakes.
Official Preview:
https://texassports.com/news/2023/9/25/no-3-5-texas-football-preview-no-24-24-kansas.aspx
Game Notes:
https://texassports.com/documents/2023/9/25/TexasFB23GameNotes_05Kansas.pdf
Preview from Burnt Orange Nation, by Billy Shank
No. 3 Texas vs. No. 24 Kansas: QB Jalon Daniels leads explosive Jayhawks offense – Burnt Orange Nation
Inside Texas "On Texas Football", with Bobby Burton and Paul Wadlington.
Texas Homer's Preview.  20 minutes
Inside Texas Roundtable ($):
Inside Texas Roundtable: Kansas game predictions, players to watch, storylines, and more – On3
The Polls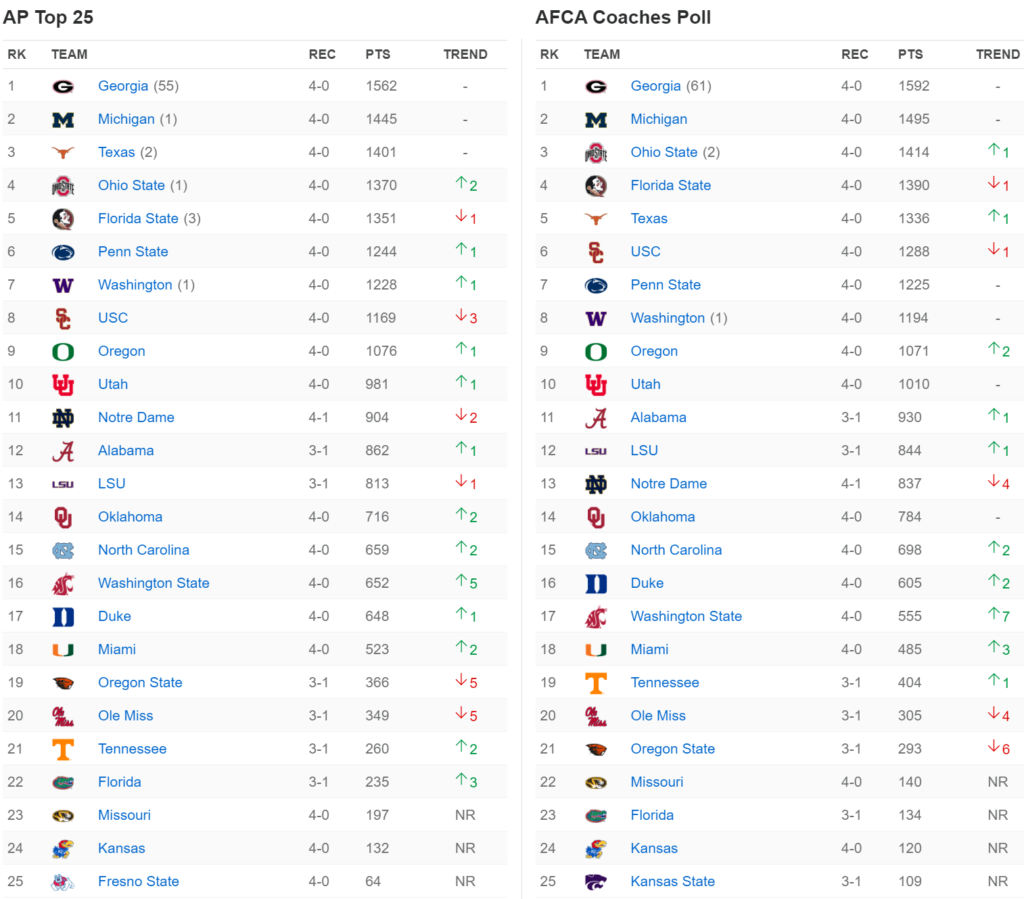 Nate Manzo (@cfbNate):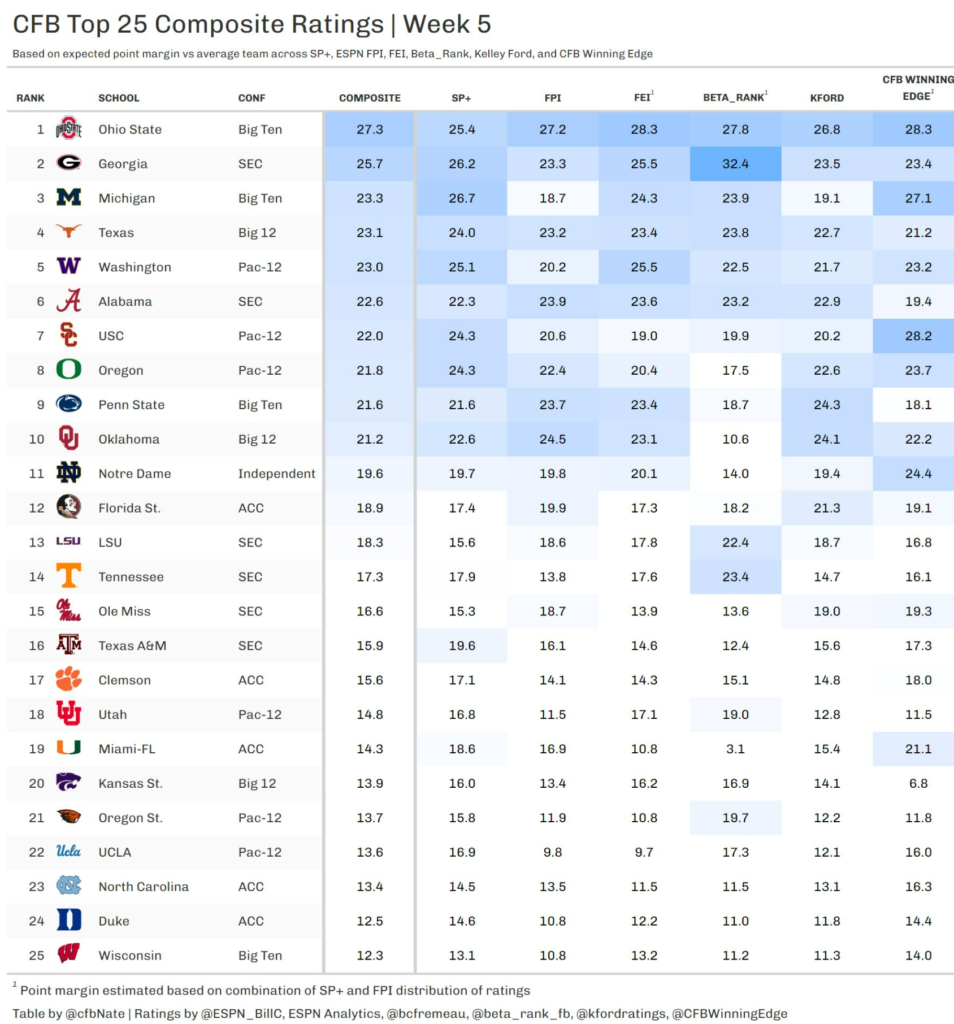 Massey Ratings.  Texas No. 3.  Kansas is No. 32.
College Football Power Index – ESPN: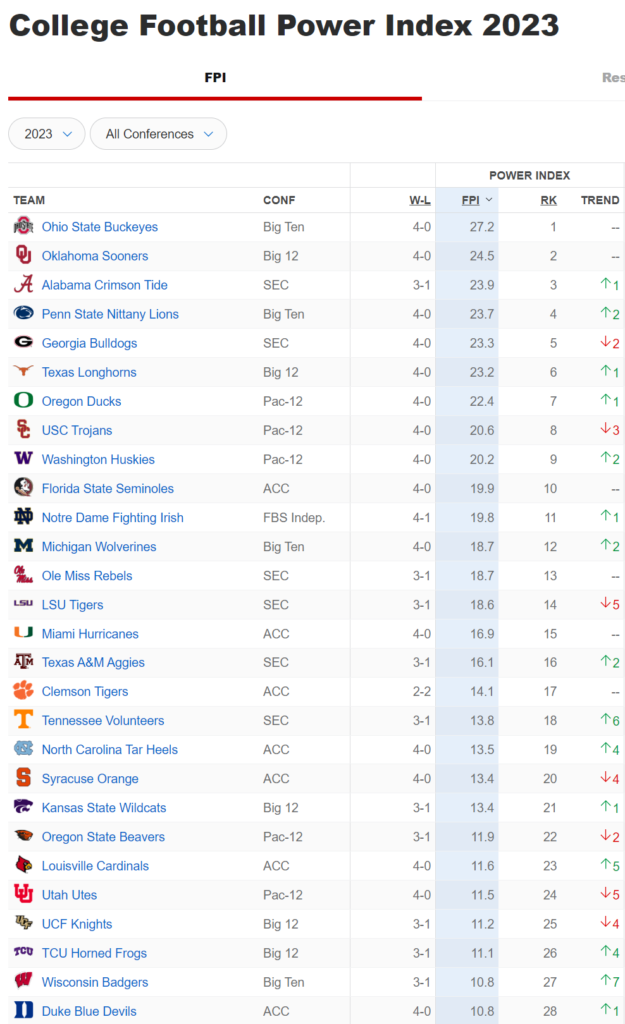 Post-Week 4 SP+ Rankings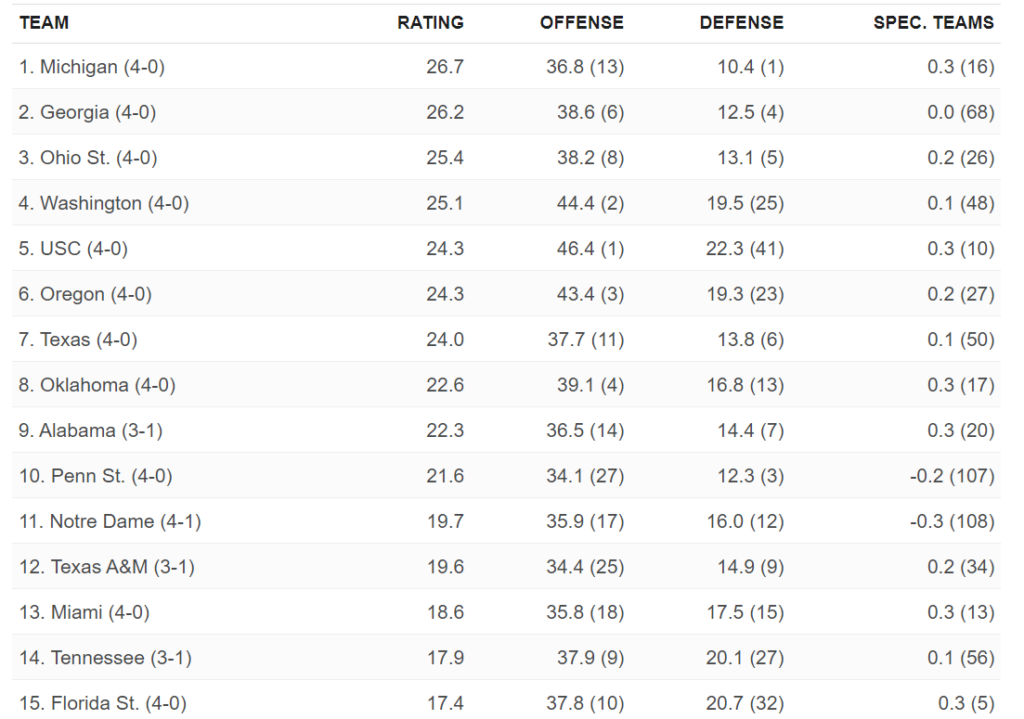 Kansas is No. 40.
Juan Heisman Tailgate:  Kansas
The Juan Heisman Tailgate party for the Wyoming game was big fun.  Lots of Tito's and Texas Beer Company beer, the sliders, sausage, and hot dogs were dang good.  But the best was seeing so many of the friends who have become regulars at JHT over the last quarter century.  Grateful for the friendships that we have forged and the brothers in our Crew.
This week will be plenty of cold beer and Tito's Handmade Vodka.  Sausage and hotdogs for lunch.
Longhorns 38, Bears 6
It was a HUGE W.  Could not have asked for a better way to start Big 12 play than a dominating road win against an old rival.
The first Texas scoring drive came on the second possession, with good field position at the Texas 45 after Baylor had managed to get a first down but then Texas pushed them back, resulting in a 6 play drive that netted 5 yards.  The short punt (30 yards) gave Ewers a short field, and he and Sark took advantage quickly.  A 15 yard pass to a wide open Worthy, and then that beautiful Jonathan Brooks 40 yard touchdown run, as he bounced it outside and outran the Bears to the endzone.
https://x.com/TexasFootball/status/1705980131238396154?s=20
Baylor's next possession showed some hope for the Bears, as they managed a 70 yard drive to the Texas 5, aided by a big pass (39 yards to Ketron Johnson) and a pass interference call on Taafe.  But the Longhorns kept the Bears out of the endzone to force a field goal, thanks in part to a hard hit by Taafe on Robertson.  At 7-3 close to the end of the first quarter, it seemed that perhaps Baylor might give Texas a game.  They even forced a 3 and out.  But after a good pass on the next Bear possession (23 yards), Baylor went in reverse again, and punted after losing 8 yards (TFL & false start).
Ewers and the offense went back to work at the Texas 45 after a 10 yard Worthy punt return.  Well, didn't go to work right away, as Ewers got sacked for seven on the first play.  But then the Longhorns shredded the Baylor D with a really well executed drive (and good play calling from Sark).  17 yards to Adonai Mitchell, 14 to Whittington, and 11 to Sanders, and Texas was at the Baylor 40.  A couple of Brooks runs, then a third and 10.  A rare play:  Quinn Ewers scrambles out of the pocket with pressure coming and takes it 29 yards for a rushing touchdown.  14-3 Longhorns.
PK's D forces a 3 and out, and Worthy returned the Bear punt 40 yards to the Baylor 42.  Again, Texas with a quick strike:  Xavier Worthy to a wide-open Ja'Tavion Sanders who was finally pulled down at the Baylor 7, then a great play that allowed CJ Baxter to pretty much stroll into the endzone.  Boom.  21-3 halfway through the second quarter, and I think most of sensed that the flogging would continue for the rest of the game.
Baylor managed a couple of first downs, but after Aranda elected to go for it on fourth and 2 from the BU 46, T'Vondre Sweat politely said "no" and made a great play to stuff Pendergrass for no gain.
A short field for Quinn and Texas offense was about the last thing that Dave Aranda's Bears needed down 21-3.  Sark called a great play with a quick pass over the middle to tight end Gunnar Helm.  A really cool misdirection play for what I would call a reverse screen to Brooks, who had blockers and got the ball to the Baylor 8.  After a DPI call on the BU defender on Worthy, Sark brought Byron Murphy in again for a goal line play.  This time the big man was lead blocker for Jonathan Brooks, and he opened the hole for JB to score.  28-3 Horns.
The Texas defense forced another 3 and out, but on the ensuing punt XW muffed it allowing Baylor to cover on the UT 23.  The Bears gained 2 yards on 3 plays and settled for a field goal with 44 seconds left in the half.
Texas got the ball to start the second half, and the Horns picked up where they left off.  The scoring drive was mostly the great 49 yard one-hand catch and run by Ja'Tavion Sanders.  Baylor finally stopped Texas, and the Horns settled for a 37 yard Auburn field goal to move the score to 31-6. If I had any doubt about the outcome at halftime, it was gone after that score. For two reasons. First, I knew that this defense was not going to give up 4 touchdowns to this Baylor offense over the course of the next 27 minutes.  Second, I was well into the second half of a large pitcher of very good frozen margaritas, made with some very fine Ocho Tequila Reposado which Mr. Hawley gave me a couple of years ago.  Red Bull gives you wings, tequila gives you confidence.
To my surprise, Baylor got the ball and Sawyer Robertson managed to connect on a 55 yard pass to get Baylor down to the Texas 4.  It should have been a fumble into the endzone recovered by Texas, but whatever.   Didn't matter.  We have Jaylan Ford.  He doesn't like getting scored upon.  So he picked off Robertson in the endzone, ending the Bear scoring threat.
Side note:  how good was Ford last weekend? This good:
Texas LB Jaylan Ford in Week 4:

🤘 85.7 PFF Grade
🤘 8 Tackles
🤘 5 Defensive Stops
🤘 1 Interception
🤘 81.8 Coverage Grade pic.twitter.com/8sfF9XZMEF

— PFF College (@PFF_College) September 25, 2023
Up 31-6, we got to see even more Texas weaponry.  Baylor must have felt like they had some momentum, as they managed to sack Ewers and get Texas in a third and 15.  Sark calmly called for a pass to Johntay Cook II who got behind the Bears and caught a sweet Ewers pass and it was first and ten Texas on the Baylor 33.  Brooks broke off a 12 yard run, then Ewers over the middle to Worthy for a 21 yard touchdown.  It was actually our first score on a pass.
We somehow managed another muffed punt.  I think that got it out of our system. The Texas defense sacked Sawyer a couple of times.  Auburn doinked a short field goal off the uprights.  The game ended on an incomplete touchdown pass.  Pretty much how Baylor's night went.  Such a pity.
So many outstanding performances in the game on both sides of the ball.
Jonathon Brooks getting 106 yards and 2 scores, averaging 5.9 yards per carry, and adding in an 18 yard reception.  Quinn Ewers with 293 yards on 18/23 (78.3%) passing with a touchdown pass plus a 29 yard touchdown scramble.  But y'all know how much I believe in implementation and usage of the tight ends, and Ja'Tavion Sanders (5 for 110) and Gunnar Helm (2 for 37) combined for 50.2% of the Texas receiving yards.  Worthy didn't appear to be one bit concerned about just 3 catches out of 18, I believe showing his buy-in to Sark's program and the team-first mentality.
On defense, our linebackers continue to sparkle.  Ford 8 tackles (4 solo) and Hill 6 (5 solo) to lead the team.  Ford also had a TFL and the pick.  A team effort:  Sweat, Murphy, Gbenda, Holmes, Watts, and Muhammad each had 4 tackles.  Murphy 3 TFL and 2 sacks. Sweat with a TFL.  Bush, Finkley, and Broughton all added sacks.  I am more impressed with T'Vondre Sweat and Byron Murphy every week, and I think they may very well be the key to a good win over Kansas tomorrow.
Good observation from @EricNahlin about Gbenda's closing speed:
https://twitter.com/EricNahlin/status/1705850287808790822
Sanborn's punting continues to impress me.  I love good field position football.
All in all, a terrific night for the Texas team and Sark and his coaching staff.  Not going to worry or whine about a few miscues.  My apologies for Kwiatowski and his guys for predicting Baylor would score 17 points.  I had Texas with 41.  Thanks for doinking the field goal Bert.
Highlights from ESPN (8 minutes):
Highlights from Matthew Loves Ball (29+ minutes):
Highlights from Wheels (9:30):
University of Kansas
Kansas was founded March 21, 1865.  It's motto is a good one:  Videbo visionem hanc magnam quare non comburatur rubus.  From Exodus 3:3, quoting Moses – "I will see this great vision in which the bush does not burn."
Academic Rankings

National

Texas

Kansas

Forbes
43
165
THE | WSJ
60
219
U.S. News & World Report
32
124
ARWU
24
63-89
Washington Monthly
40
154

Global

ARWU
37
301-400
QS
58
387
THE
50
401-500
U.S. News & World Report
43
280
 The University of Kansas has had more teams (70) compete in the National Debate Tournament than any other university. Kansas has won the tournament 6 times (1954, 1970, 1976, 1983, 2009, and 2018) and has had 15 teams make it to the debating final four.  Kansas trails only Northwestern (15) and Harvard (7) for most tournaments won and is tied with Dartmouth at 6.
Notable Kansas alumni:  Bob Dole, Vernon L. Smith (2002 Nobel Prize in Economics), David Booth (Austinite whose name is on the KU football field and as co-founder of Dimensional Fund Advisors, also knows a thing or two about economics), and one of my very favorites, Merlin Tuttle, founder of Bat Conservation International (more on Merlin & BCI in a future edition of The Austin Horns Fan Dispatch).  The list of basketball alumni is ridiculous, and includes Phog Allen, Dean Smith, Adolph Rupp, Wilt Chamberlain, Mario Chalmers, Paul Pierce, and Danny Manning.  In football, Gale Sayers and Jack Del Rio.
Big XII – Week Five
Friday night, conference newcomers Cincinnati and Brigham Young meet in Provo, both looking for their first Big 12 win.  9:15 p.m. on ESPN.  Cinci favored by 1.
Saturday
Houston at Texas Tech, 2:30 p.m. on FS2.  South Plains Aggies favored by 8.5, and they desperately need a win.
Baylor at Central Florida, 2:30 p.m. on FS1 from FBC Mortgage Stadium in Orlando.  Golden Knights are favored by 12.5.
Iowa State at No. 14 Oklahoma.  6:00 p.m. on FS1. Land Thieves favored by 20, over under is 48.5.  Bet they cover and beat the total on their own.
West Virginia at Texas Christian, 7:00 p.m. on ESPN2.  Frogs favored by 14.0 at home in Amon G. Carter.
Week Five:  Service Academies
Navy hosts South Florida Navy-Marine Corps Memorial Stadium in Annapolis.  2:30 p.m. on CBSSN. Midshipmen need a win.  Favored by 3 over the Bulls.
San Diego State at Air Force, 7:00 p.m. on CBSSN.  Undefeated Falcons favored by 10.5.
Army has the weekend off. Smoke 'em if you got 'em.
Top 25 – Week Five
Good game Friday night to get the weekend going, with No. 10 Utah (4-0) at No. 19 Oregon State. 9:00 p.m. on FS1.   Corvallis at tough place to play at night.  Huge game for the Pac-#.  Beavers favored by 4.5.
FOX continues to puzzle me.  No. 8 Southern Cal and Colorado kick-off in Boulder at 10:00 a.m. Mountain time.  Having spent a lot of time in the Rockies at one stretch of my life, I understand that "happy hour" can start mighty early (like when the lifts open), but ten o'clock in the morning just seems ridiculously early for a football game. Fight On.  Trojans favored by 21.5.
No. 11 Florida at Kentucky, 11:00 a.m. on ESPN.  Gators one point road dogs.
Northwestern hosts No. 6 PSU, 11:00 a.m. on BTN.
The SEC Game of the Week on CBS features No. 1 Georgia on the Plains against the Auburn Tigers, 2:30 p.m.  Bulldogs favored by 14.5 at Jordan-Hare.  Over/under is 45.
No. 2 Michigan at Nebraska, 2:30 p.m. on FOX.  This is one of those match-ups that should be 2 or 3 point spread every year, just for the good of college football.  Big Red still searching, Big Blue favored by 17 in Lincoln.
No. 23 Missouri (4-0) at Vanderbilt, 3:00 p.m. on SECN.  Tigers favored by 13.5.
No. 13 Louisiana State at No. 20 Ole Miss. 5:00 p.m. on ESPN.  Both 3-1, and the loser probably eliminated from a shot at winning the SEC West.  What a respectable time for game.  Should be a beautiful, if warm, day in the Grove.  Tigers favored by 2.5, over/under is 67.  Rebs to win.  Hotty Toddy!
No. 9 Oregon at Stanford, 5:30 p.m. on the PAC12 "network". Ducks favored by 27. Dang.
College Gameday in Durham, North Carolina.  For football.  Football.  No. 11 Notre Dame at No. 17 Duke.  6:30 p.m. on ABC.  Should be home from the Texas win by then and will watch with my grandsons, who will have on their Fighting Irish t-shirts. Notre Dame favored by 5.5, over/under is 52.  Go Irish.
South Carolina at No. 21 Tennessee, 6:30 p.m. on SECN.  Rocky Top favored by 12.
No. 12 Alabama at Mississippi State, 8:00 p.m. on ESPN.  I think Saban's Crimson Tide are going to be in the mood to send a message, and I think the maroon bulldogs are going to be on the wrong end of that.  Bama favored by 14.5.
No. 7 Washington at Arizona, 9:00 p.m. on PAC12.  Wish I could see some of this.  Many poll voters and sportswriters think the Huskies are the best team in FBS.  Favored by 19.
Late night Mountain West fun, with winless Nevada at No. 25 Fresno State.  9:30 p.m. on FS1.  I remember when Fresno was the late game about every other weekend.  I watched a lot of Valley football.  Bulldogs favored by 24.5.
SEC – Week Five
Texas Agricultural & Mechanical plays Arkansas in JerryWorld, 11:00 a.m. on SECN.  The Fighting Texas Aggies favored by 6.  Gig em!
Other Games of Interest – Week Five
Friday Night
UTEP looks to get on track at home against Louisiana Tech, 8:00 p.m. from the Sun Bowl. Miners 1-4.  Line is even.
Saturday
Virginia at Boston College, 1:00 p.m. on the "CW Network".  Hoos 3.5 point road dogs.  C'mon Cavs, good time to get off the schnide.
Miami Redhawks at Kent State, 1:30 p.m. on ESPN+, for a big MAC and Ohio match-up.  Miami off to a great start at 3-1 and favored by 14.5 on the road.
Charlotte at Southern Methodist, 6:30 p.m. on ESPNU.  Ponies favored by 23.5.
Rice hosts East Carolina, 6:00 p.m. on ESPN+ from Houston.  Owls favored by 3.5.
Health Alliance for Austin Musicians
Thanks to everyone who donated to HAAM.  $575 from my $5,000 goal. Let's do it.
HAAM Day 2023 – Tim Taylor (onecause.com)
Washington & Lee University
The Generals got another win on Sunday (as the game was moved because of the weather), beating the Newport News Apprentice School Builders 28-9.  A bit of a different game for W&L, as they only rushed for 184 yards (led by Jacob Romero with 76), and Stephen Murrin passed for 159 yards and a touchdown.  Meanwhile the Generals defense held the Builders to 129 yards passing 82 net yards rushing (150 gained, but Apprentice QB Mason Tatum racked up 64 negative yards).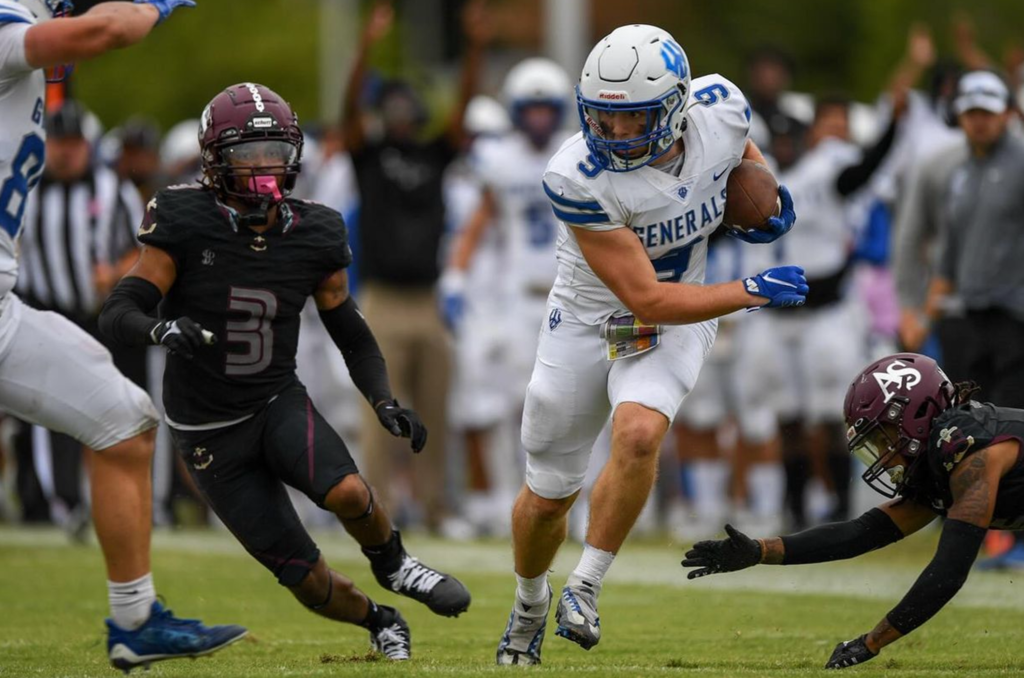 This weekend, the Generals open ODAC play on the road in Danville, Virginia, against Averett University.  The Cougars are undefeated, with wins over Apprentice School, Greensboro College, and Brevard College.  Kick at 5:00 p.m. Saturday evening.
Big XII – Week Four
In my observation and to my surprise, the Land Thieves struggled at bit with Cincinnati, winning 20-6 in the Queen City.  But the boys in the desert knew, with a 14.5 point line.  How do they do that?
Texas Christian doubled up Southern Methodist 34-17 to win the Iron Skillet.  Rif Ram Bah Zoo.  Going to be so sad to leave that behind.
Kansas not only beat Brigham Young, they covered with the 38-27 final.  Jalon Daniels was 14/19 for only 130 yards, but 3 touchdowns.  54 yards on the ground.  PK and Texas have this.
Poor Texas Technical.  The South Plains Aggies probably thought they could pencil in a W with the West Virginia game.  If they did, hope they did in fact use a pencil.  Mountaineers 20-16, and Joey and the boys are 1-3.
Outside of how good the Longhorns are looking, the next biggest topic of conversation is what the hell is going on with Gundy in Stillwater.  Oklahoma State loses 27-34 at Iowa State.
Cougars 38-7 over the Bearkats.
K State favored by 4 and put up 44 to welcome the UCF Golden Knights to the conference with a 44-31 loss. Thanks Kansas State.
Week Four:  Service Academies
Air Force with a dominating 45-20 win over San Jose State, covering.  Falcons are 4-0 and look legit.
Army with a tough trip upstate to Syracuse, losing to the Orangemen 29-16.  Line was 13.5.  How do they know?
Top 25 – Week Four
What a heartbreaker in South Bend.  Oh my goodness.  No. 6 Ohio State at No. 9 Notre Dame was the Game of the Day.  An Ohio State University managed to cross the goal line at the end of the game to beat the Irish 17-14.  Inexplicably, Notre Dame only had 10 defenders on the field for the last 2 plays.
Washington is really good. 55-32 trampling of the Cal Berkeley Bears.
Mack Brown's Tarheels with a solid 41-24 win at Pittsburgh.  Big win, big cover.  Undefeated.
No. 2 Michigan with a 31-7 win over the Scarlet Knights from the State University of New Jersey at Rutgers.  Line was 24.  Amazing.
No. 4 Florida State at Clemson was an excellent game, as the Noles and Tigers ended up in overtime, with FSU getting the 31-24 win.  Clemson 0-2 and eliminated from national championship consideration.
Well well well. No. 19 Colorado at No. 10 Oregon was so big.  Not so much.  Ducks were up 35 to nothing at half.  Wasn't even a close game.  Despite my protestation of worn out or miss used phrases above, the Buffs brought knives to a gun fight.  42-6 final, as Colorado was shutout until the finally crossed the goal line with less than 3 minutes to play.  Down 42-6, Deion went for 2.
Well UC Los Angeles' stay in the polls was short-lived, as their 7-14 loss at No. 11 Utah exposed the Bruins.  Utes cover.  UCLA back to the middle of the Pac-# Pack.
A lot of us (me) thought Ole Miss would have a chance Alabama.  But the statistics and predictors didn't, and they were right.  Tide with an 18 point rally in the second half to beat Lane Kiffin and the Rebels 24-10.  Good for Texas.
No. 18 Duke crushed now 0-4 UConn 41-7, setting up the big game with the Irish.
No. 20 Miami (Florida) 41-7 over Temple.
UT San Antonio drops to 1-3 with a 14-45 loss at Tennessee.
Arkansas loses.  That is good.  34-31 at Louisiana State.
No. 14 Oregon State fought back hard with 21 points in the fourth quarter but fell short, losing 35-38 at No. 21 Washington State. Good game.
Charlotte scored a touchdown in the Swamp.  So did Florida.  1.  But the gators managed 5 field goals to survive mighty University of North Carolina Charlotte with a 22-7 win.
No. 1 Georgia 49-21 over Alabama Birmingham. UAB covered.
Southern Cal dominated the Sun Devils 42-28 for a nice road win at Arizona State.  Happy for my SC friends.
SEC – Week Four
Texas Agricultural & Mechanical beat Auburn 27-10 to open SEC play.
Kentucky 45-28 over Vanderbilt.
Other Games of Interest – Week Four
Friday Night
Oh Virginia.  Heartbreaker loss at home 21-24.  But the Hoos covered!
Saturday
Big Red gets a win in Lincoln, 28-14 over Louisiana Tech.
Miami guts Delaware State 62-10.  Redhawks are 3-1.
Rice loses at South Florida 29-42.
Wyoming moves to 3-1 with a 22-19 comeback win over Appalachian State in Laramie.   Line was 4.
UNLV 45-28 over UTEP.
 Jim Nicar
2016: An orange UT Tower reflected in the still waters of the LBJ Library Fountain. The Tower was lit to mark the 100th anniversary of Bevo, who was first presented at halftime of the Texas vs. Texas Agricultural & Mechanical College game on November 30, 1916.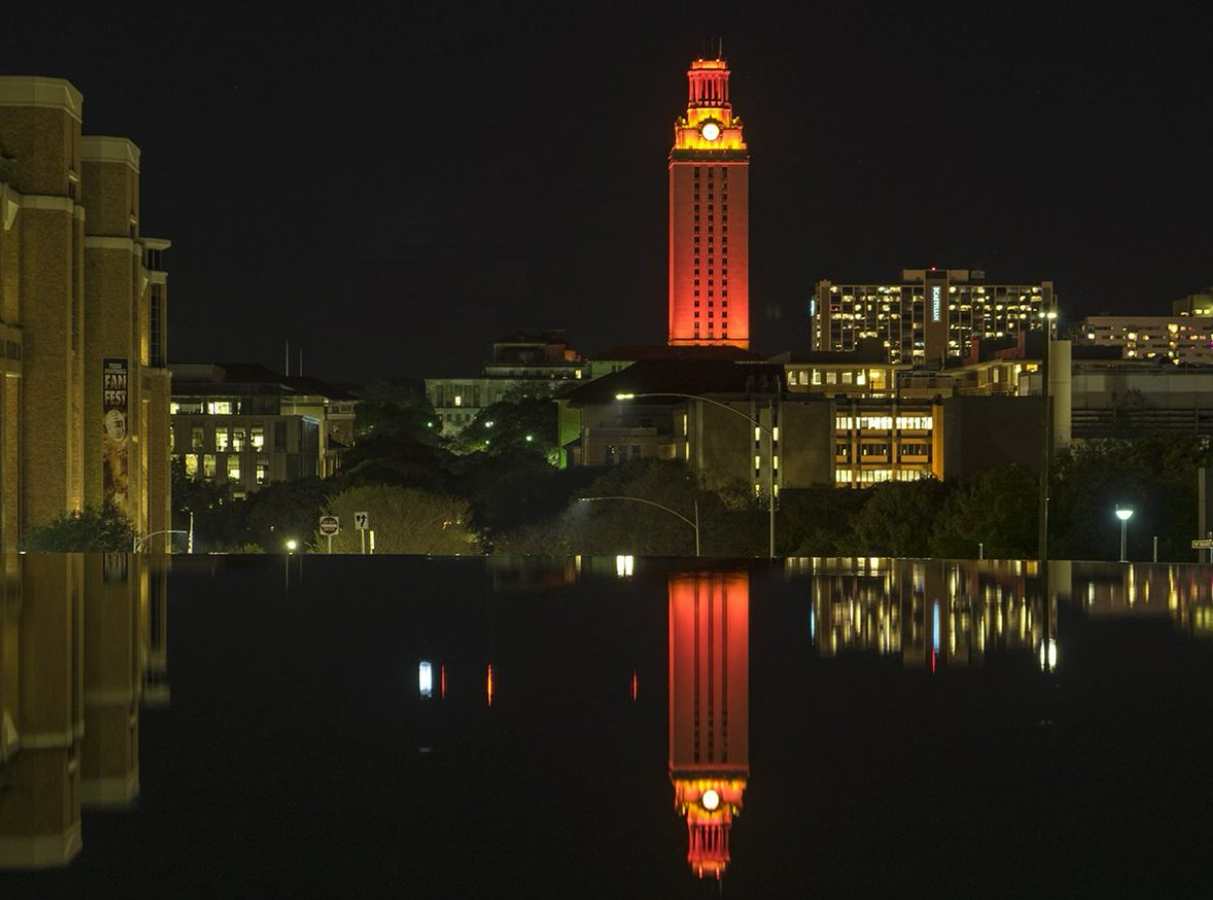 https://twitter.com/JimNicar/status/1684968784233209864
Music
In the mood for some jazz this week.  The true American music form, and so many outstanding works and amazing artists.  A few of my favorite.
Louis Armstrong & Duke Ellington – In a Mellow Tone (Ed Sullivan Show)
Dizzy Gillespie – Manteca
John Coltrane – My Favorite Things Live in Comblain-La-Tour 1965
Dave Brubeck – Take Five.  One of the canonical songs of American Jazz.
Miles Davis – So What
Wynton Marsalis – Hotter than That
AustinHornsFan.com Featured Image
The "Featured Image" on AustinHornsFan.com is from Will Gallagher's Instagram account (@gallagherstudios).  He is an Austin-based commercial photographer.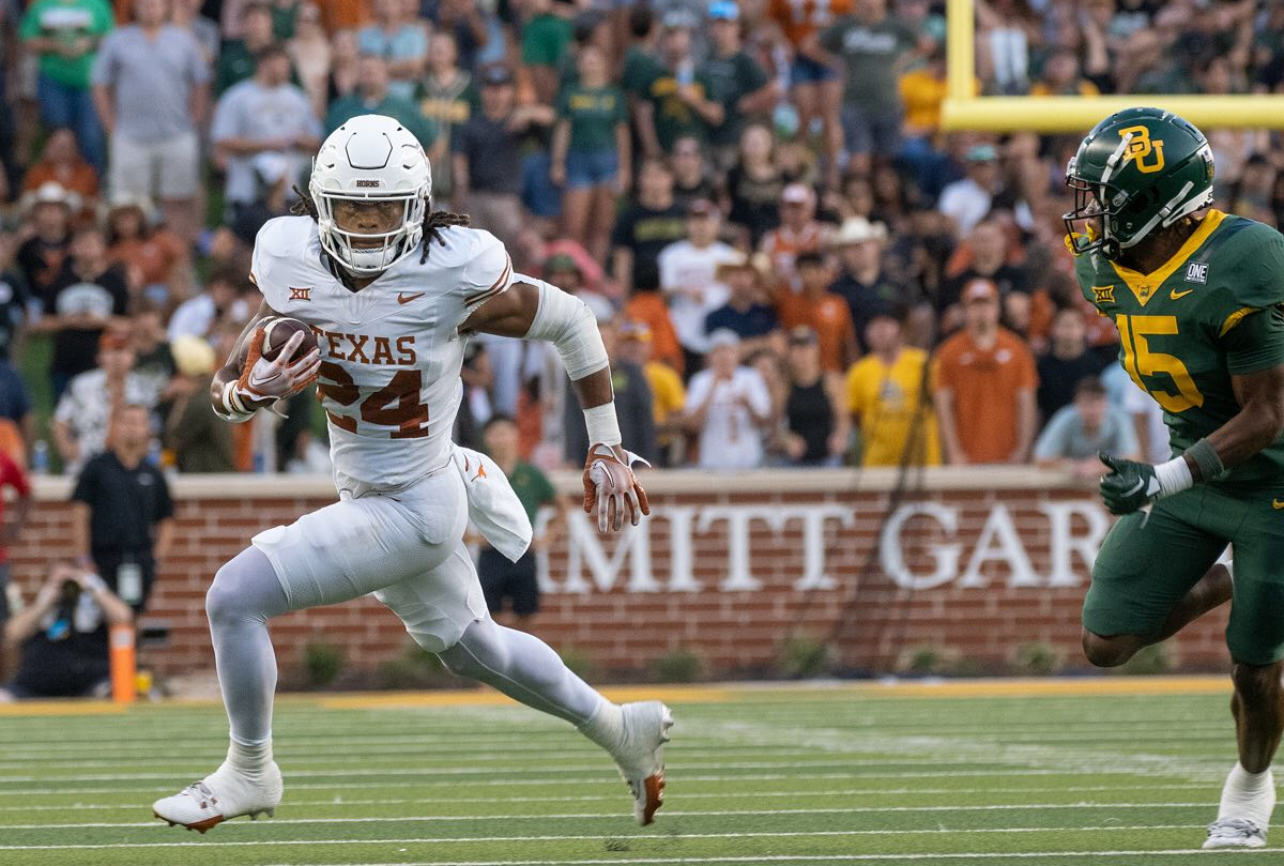 Picture of the Week
A fantastic photo from Erin Newman-Mitchell, posted on Instagram September 26, 2023.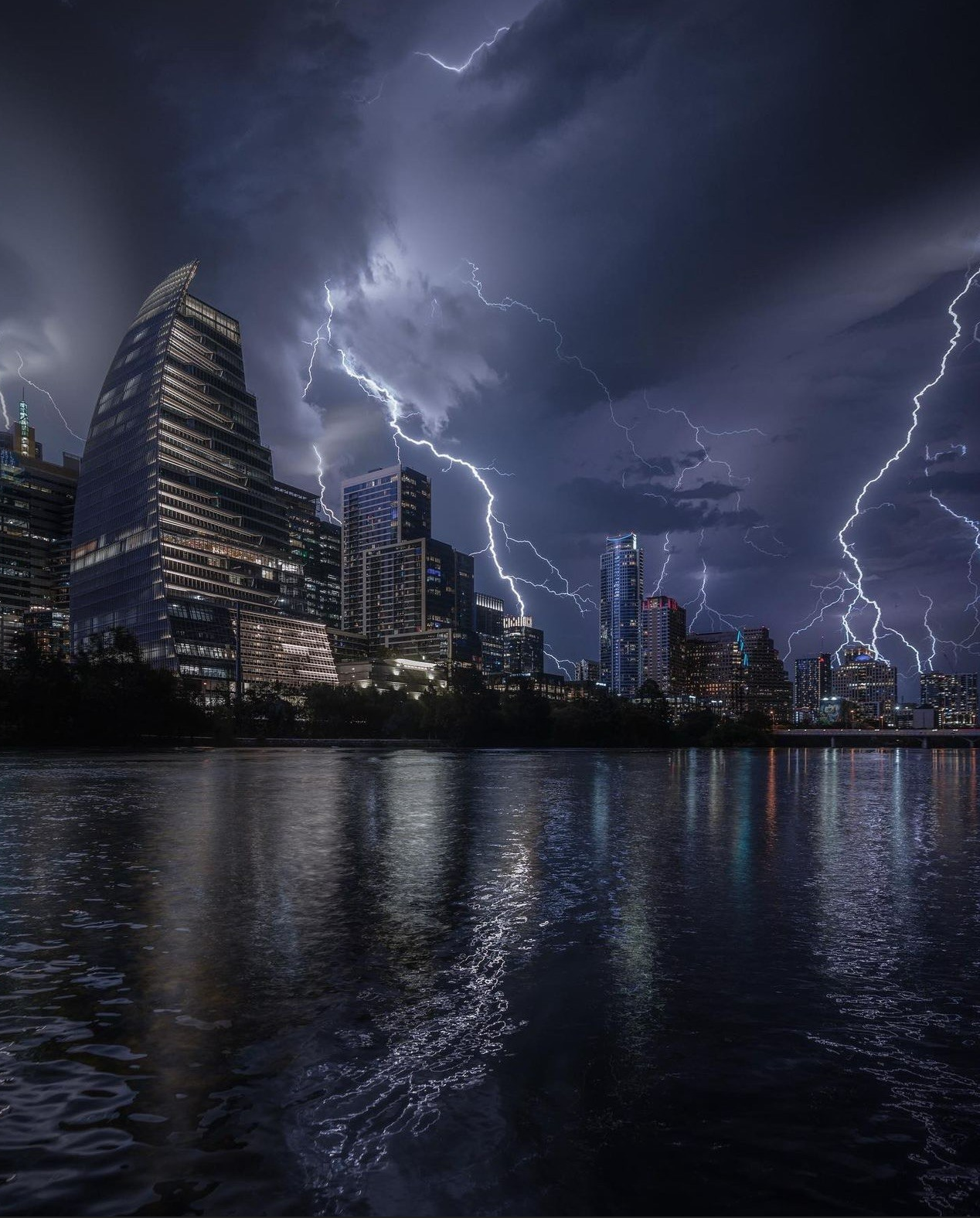 https://www.instagram.com/p/CxnYvniuIVO/
God Bless Texas
God Bless America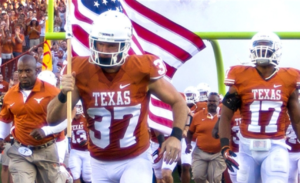 Tim Taylor
Tailgating before Home Football Games
The Juan Heisman Tailgate
Lot 38, East of Sid Richardson Hall.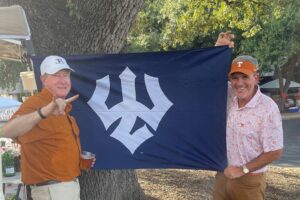 HOOK EM HORNS!!
The Austin Horns Fan Dispatch
© Timothy C. Taylor, Sr. 2023.  All Rights Reserved (as to original material).
On Twitter:  @tctayloratx
On LinkedIn:  www.linkedin.com/in/tctatx
On Instagram:  @tctayloratx
On Facebook:  www.Facebook.com/Tim.C.Taylor
and:  www.Facebook.com/Juan.Heisman
You can contact me by mail:
Tim Taylor
P.O. Box 5371
Austin, Texas  78763-5371