Longhorns 45, Land Thieves 53
 A brutal loss in a game that Texas sure needed to win, and which Texas was sure capable of winning.  Just another mile marker on the Highway of Mediocrity on which the Longhorn football team seems to be mired.  A surreal day at Fair Park.  The shuttered midway, the masked Big Tex.  A Cotton Bowl with 75% of its seats empty.  A team that dug itself an early hole, then was pushed and pulled by Sam Ehlinger to a great rally to tie the game, to force overtime, only to lose in a Red River Rivalry record fourth overtime.
One thing that wasn't different about this 116th edition of the Red River Rivalry was the utter lack of class of the Oklahomans.  Just despicable.
As OU fans chant, "Sam sucks d**k" as he walks back into the Locker room, he holds his head and horns high. Nothing but respect for #Texas QB, Sam Ehlinger pic.twitter.com/j0lMzbohjL

— Emmanuel Acho (@EmmanuelAcho) October 10, 2020
Baylor vs. Texas
Assuming the Bears can get healthy and Longhorns can stay healthy, Baylor and Texas will play October 24 in Austin, with game time announced for 2:30 p.m. (ESPN).  Nice!
Bacon is Good for Me!
Hormel has come out with a face mask that gives you a dose of bacon smells every time you breathe.  Why hasn't anyone thought of that before?  Breathablebacon.com.  Is this a great country or what?
Texas Longhorns 45, Oklahoma Sooners 53
As with everything in 2020, my Texas-OU weekend was weird and different.  No Javier's on Friday night with the Crowley's and the Young's.  No ride to Fair Park early Saturday morning with Tony Dewar and friends.  No pre-game parties.
Brad Laughlin picked me up a little after 6:00 Saturday morning, and he and Brad Hawley and I headed north.  As you might have guessed, a pretty easy drive this year.  We were at Fair Park before 9:30, in time for a parking lot breakfast beer or 2.  Made some new friends, who had most excellent t-shirts.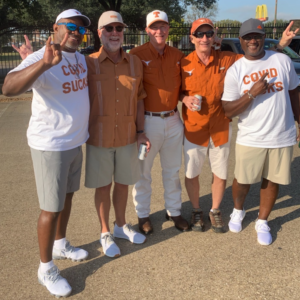 Walking into Fair Park on Grand Avenue toward our usual meeting spot was depressing.  They did have concessions open, but it was all over in front of the Cotton Bowl.  The beer line wasn't bad, the Fletcher's line was interminable.  Rob Dunn and his family (Kelly, and daughter Riley & son Mason) arrived, and we shared some non-Fletcher's corny dogs with them, which gave the pre-game a bit of a Juan Heisman feel.  Good to be with friends.
So, the game.  OU won the toss and took the ball, and Texas forced a 3 and out, as the Land Thieves committed two false starts on their first possession.  On the punt, the Land Thieves committed further malfeasance, "interfering" with Jamison who called fair catch.  96 seconds in and Texas has played good D and gotten a break, first and 10 from the UT 43.  A quick pass to Whittington, immediately raising hopes, then Ingram fumbled on the next play, just as quickly dashing them.
Despite T.J. Pledger ripping off a 26 yard run, the Horns held the Thieves to a field goal.  But the immediate momentum shift was obvious.
Texas got a break on the first play of their next possession, as the Land Thieves were called for cheating again (defensive holding).  But that was all, as Texas couldn't get a first down.  A really crappy punt gave Oklahoma the ball on its own 40.  21 yard run, 10 yard pass, and the second play later a 30 yard touchdown pass.  10-0 Sooners, less than 10 minutes into the game.  The sooners had, by my calculation, 62 yards rushing – a team that was averaging 122.7 per game.  My phone started buzzing, as it would the rest of the afternoon.  And it wasn't a bunch of texts from people thinking the game was going well.  If you were playing Family Feud, "Dumpster Fire" would be the right answer.
The rest of the first quarter was a bit more balanced.  Bujcevski was able to place a punt inside the OU 5 (after Texas couldn't convert from the OU 35).  Overshown picked off Rattler on the next series, setting up Texas on the OU 11 as the quarter ended.  Hope and signs of life.
So here we were, having taking a punch right in the mouth and a couple of hard hits in the ribs, but ready to close the gap to 3 and get back on the right foot after a bad opening quarter.  But this next series was pretty much the way most of the day went.  Incomplete pass, then Sam sacked.  On third and 16 from the 17, Sam tucks and runs for close to the first down, inside the 2.  But wait.  Kerstetter with a late hit, and we get fourth and 15, settling for a field goal. 3-10, as Dicker the Kicker is good.
A great defensive play on the next Thieves possession, as Sweat forced a fumble and Mitchell recovered at the OU 19.  Thanks to another OU foul (pass interference), Texas had first and goal at the 6, and Sam took it in. 10-10!  Horns looking much better, and we are feeling much better.
Texas stayed strong, and on the next Thieves possession, Ossai forced a fumble, and Texas got the ball back at the UT 18.  2 incomplete passes, Sam's scramble is short, and another poor special teams play as Bujcevski fiddle-farts around and gets his punt blocked.  Sooners get the ball on the UT 5.  Riley with a chess move to replace Rattler with Tanner Mordecai.  An unsportsmanlike by the Thieves (when are they not), but despite getting backed up to the 20 and benching their starter, the Sooners execute and quickly re-take the lead 17-10.  Not a good one.
Texas answered with their best drive of the first half, as Sam hit his targets, and we overcame an offensive pass interference.  Sam ran it in from the 2 to tie the game at 17.  8 plays, 75 yards, 2:44.
Punt, Punt, and halftime.
Normally, and by normally I mean I can't remember the last time I didn't do this, halftime means hitting the food court for Frito pie and a couple of Shiner Bocks.  No food court, but there was cold beer out in front of Gate A.  We ran into Chancellor James B. Milliken and Nana Smith and had a nice visit.  I was optimistic as we headed back into the stands with a tie game.  Surely, with so much at stake in what is always a huge game but even bigger on this day and in this year, Texas would come out of halftime and kick some butt.
As Lee Corso says, not so fast my friend.
Texas got the ball, went backwards (illegal block on Eagles), and after a sack, Texas punted on fourth and 22 from the UT 13.  A 36 yard return set up the Sooners at the UT 30, but Bujcevski got an unsportsmanlike penalty (I rarely call out players, but that was B.S.  I would bench him if we had anyone else), and Rattler comes back in with a 16 yard field.  82 seconds later, 24-17 OU.  Texas goes 3 and out.  In contrast, Riley and Rattler engineer an 8+ minute, 87 yard drive, putting the Land Thieves up 31-17.  But hey, Texas didn't get a penalty on that drive!
Down 14 with just over a minute to play in the third, and one would think we would really get it going here.  Nope, another 3 and out.  Then 3 unproductive series, as it went OU punt, Texas punt, OU punt.  With 7:02 play, Texas puts together a drive.  Mostly Sam, Bijan, and Whittington, and Texas has a first down on the OU 23.  Texas can cut it to one score.  Interception.  Ouch.
OU got the ball back with a 14 point lead and 5 minutes to play.  With anyone else at quarterback, this game would have been over.  I have no idea what the win probability was at this point for the Land Thieves, but I am assuming north of 85%.  But God Bless this Texas team.  They may make mistake after mistake after mistake, but they don't quit.  Texas forced a punt and got the ball at midfield.  Ingram for 5, Sam for 20, and first down on the OU 25.  Two more penalties on OU, and first and goal at the OU 9, and Sam hit Joshua Moore for the score.  24-31, 3:28 to play.
The onside kick didn't work this time, but the defense was solid, forcing a 3 and out.
Texas got the ball back on the UT 26 with 1:52 to play.  Sam runs for 17.  Sam to Eagles for 17.  Incompletion, then Sam runs for 10.  Sam to Moore to get a first down and the ball in the redzone, but another penalty (holding), and Texas has first and 20 at the OU 40. Sam to Moore for 19, Ingram for 4, then OU gets flagged for PI, and Texas has first and goal at the 2.  Ingram with a 2-yard touchdown catch, Dicker the Kicker ties it, and we have overtime.
OT 1:  Texas first, and Sam gives Texas its first lead of the game, completing the OT drive with runs of 11 and 3.  Rattler and the Thieves answer.
OT 2:  Stogner with a 22 yard catch, and OU scored quickly.  Texas answered, as Sam rumbled for 25 on second down.  45-45.
OT 3:  Dicker's 33 yard field goal is blocked.  OU misses its field goal.
OT 4:  Rattler to Stoops for 25 yards and 6, OU converts the 2 point conversion.  The Texas possession and the game ends with an interception.  53-45 final.
An unbelievable game, in many respects.  Other than OU's 67 yard rushing edge, the offenses were pretty even statistically.  Both teams committed 3 turnovers, although the Texas miscues were terribly costly.  Lots of penalties on both sides:  Texas 10 for 86 yards, Oklahoma 11 for 121.  But as seems to be the case so often this year, the UT penalties are at crucial times, killing gains and drives and scoring opportunities.  We will not win games with that kind of play.  Just unbearably bad.
Sam Ehlinger carried the team.  287 yards in the air and 2 touchdowns.  112 yards on the ground and 4 touchdowns.  Robinson rushed for 17, Ingram for 15, and RoJo was minus 3.  Our receivers did pretty well.  Moore 9 for 83 and a core. Whittington 10 catches for 65.  Eagles 3 for 41.  Wiley 2 for 14.  I expected more tight end play.
OU's offensive was predictively explosive.  Pledger, Rattler, and Major had rushes of 26, 23, and 21, respectively.  Stogner hurt us, as I feared.  6 catches for 56 with a long of 22.  Mims had a 30 yard catch, and Stoops with the 25 yard TD catch in OT.
Our offenive line hurt us.  The Land Thieves had 6 sacks and 10 TFL.  I didn't count how many of our 10 penalties were on an offensive lineman, but it was too many.
From Herman's Monday presser, Bob Ballou (CBS Austin) tweeted this:
   Herman on what needs to get fixed:
Red zone defense

Rushing defense

Rushing offense

Find creative ways to get receivers open against man coverage

Punt team protection and coverage.
No kidding Tom?
One reply to Bob's tweet was "Where's the rest of the list", to which Ballou replied "only had 280 characters".  Which is sadly somewhat true.
Here is what doesn't need fixing on the 2020 Texas Longhorns:  Sam Ehlinger.
Here is what does need fixing:  Just about everything else.  And what is really, really frustrating, maybe beyond frustrating, is that a lot of this is not on the players.  There is a reason why Twitter and the boards were full of questions and talk about what a buyout would look like.
So, to put a cap on this part of my review:  Texas fought hard and dang near won the game, despite way too many mistakes, playing from behind the whole game, and being completely incapable of generating a running game, despite knowing going in that rush defense was the Sooner strength, and we had to plan and scheme to offset that strength.  Riley and the Thieves were, as they always are, among the most explosive offenses in the country.  After last Saturday, they are No. 1 in the country in long scrimmage plays, No. 1 in long passing plays.
Texas has a lot of work to do before October 24.  2-2 and tied for 6th place in the Conference (with the Land Thieves and Texas Christian – think about that; our 2 losses are to teams with losing records in the conference), the goal of a Big 12 Championship seems all but out of reach.  A year that should have been is already probably just that – a year that should have been, could have been.
We have too many great athletes and great young men to be in this spot.  Sam Ehlinger remains among the best quarterbacks – best players – in the country.  The road ahead, as of the early morning of October 16, is not what I expected.  No gimmes on the schedule, with the exception of Kansas.  A really hard game in Stillwater on Halloween.  West Virginia always gives us a good game.  Iowa State is still one of the best teams in the Big 12.  And we finish in Manhattan.  Need to step it up.
Texas – OU Stories and Streaks
My apologies to Ferris Clements, son of great friend Ed.  Ferris and Ben sat in front of us at the game, and at some point in the second quarter, I remembered Ferris had also provided his story, and I had omitted it.  Last Saturday was the 19th in a row for Ferris, a streak that began at age 10.  Ferris, I look forward to seeing you and Ben and hopefully your dad back in the Cotton Bowl next year, and I hope for your 20th Texas-OU game, the Horns deliver a Land Thief butt-whipping.
Sam and The Eyes
The most indelible image of the game, and maybe our season.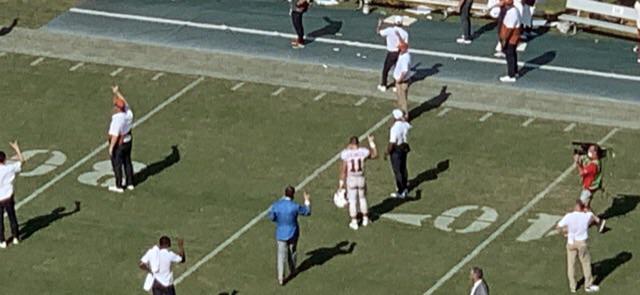 I do not discount the depth of emotion and sincerely held beliefs and opinions on both sides of this issue.  And since I started writing this week, the reports are that Chris Del Conte has met with his coaches, and with the football team, and has shared that it is important that the teams stand together after games and during the playing of the school's alma mater.  No mandate that everyone on the team has to sing, but a request that everyone on the team stand as a team.
The overwhelming majority of folks with whom I have spoken are unequivocal in their support and admiration for Sam Ehlinger.  Count me among them.
I wish the committee which President Hartzell has appointed to look into this issue the best of luck in reaching a decision and compromise which allows us to reconcile, respect, and reunite as one Burnt Orange Nation.
Polls Week 7
AP Top 25:  Clemson, Alabama, Georgia, Florida, Notre Dame, North Carolina, The Ohio State University™, Oklahoma State, Cincinnati, PSU, and Florida.  Texas Agricultural & Mechanical at 11, Southern Methodists at 17.  Iowa State at No. 20.  Texas near the bottom of "others receiving votes".
Coaches Poll:  Clemson, Roll Tide, Dawgs, L'Université de Notre Dame du Lac, The Ohio State University™, Mack Brown & the Tarheels!, Okie A&M, PSU, Florida, Cinci.  Texas Agricultural & Mechanical 11, Southern Methodist at 18, and Iowa State 20.  Same with this poll for the Horns – near the bottom of "others receiving votes".
This Week in the Big 12
 A bit of a slow week for the conference.  Hopefully the referees are getting some continuing education.
Kansas at West Virginia.  11:00 a.m. on FOX.  Mountaineers favored by 22.5, over/under in the game is 51.5, and over/under on burned couches is 78.
No. 7 Oklahoma State and Baylor postponed.  Baylor has now had 3 games postponed, and they are 1-1 in the two games they've played.  Sure hope they get well so we can play on October 24.
This Week in the Top 25
First Wednesday night game of the year, as undefeated Coastal Carolina and No. 21 and undefeated Louisiana met on Cajun Field in Lafayette.  The Chanticleers with the upset 30-27, to take command of the mighty Sun Belt Conference.
Friday night
No. 17 Southern Methodist (4-0) is in the Big Easy to play Tulane.  I mess New Orleans.  5:00 p.m. on ESPN.  Ponies favored by 6.5, and the over/under is 64.
No. 14 Brigham Young (4-0) plays at Houston (1-0), 8:30 p.m. on ESPN.  Lots of cougars.  Brigham Young favored by 5, over/under is 62.5.  After UTSA tested BYU last week, not so sure they won't lose a game or two this season. This might be one of them, given the lethal nature of Bill Yeoman's veer offense.  Oh wait. Wrong century.
Saturday
Saturday morning starts with No. 1 Clemson in Hotlanta to play Georgia Tech (2-2).  11:00 a.m. on ABC.  Tigers favored by 27 over the Ramblin' Wreck.  Over/under is 64.  Clemson should be on cruise control early.  However … in the over 100 years of this rivalry, Clemson has never won 3 in a row in Atlanta.  Clemson won 2016 and 2018.
No. 8 Cincinnati at Tulsa.  Postponed,
Pittsburgh at No. 13 Miami (Ohio).  11:00 a.m. on ACC Network.  Miami (Florida) favored by 13.5, over/under at 48.  Let's go Pitt!
No. 15 Auburn (2-1) at South Carolina (1-2).  11:00 a.m. on ESPN.  War Eagle a thin 3.5 point favorite.  Over/under is 51.5.  Muschamp really needs a win.  This will be a good football game.
The Whiskey War, Kentucky Bourbon vs. Tennessee Whiskey.  Wildcats (1-2) in Knoxville to take on the Volunteers in famed Neyland Stadium.  11:00 a.m. on $EC Network.  Tennessee 6 point home favorites.  Over/under is 46.
No. 4 Notre Dame hosting Louisville (1-3).  1:30 p.m. on NBC.  Irish favored by 17, and the over/under is 61.5.  I think the Irish keep rolling.
Louisiana State (1-2) at No. 10 Florida.  Postponed.
No. 11 Texas Agricultural & Mechanical (2-1) in Starkvegas to play Mississippi State (1-2).  Maroon on maroon.  Jimbo vs. the Pirate.  Texas Agricultural & Mechanical favored by 5, over/under is 54.  I don't know what is going on with State.  I think Texas Agricultural & Mechanical wins and moves into the top 10.
Holy Mack! No. 5 North Carolina at Florida State.  6:30 p.m. on ABC.  The undefeated Tarheels are 13.5 point favorites over 1-3 Florida State.  Over/under is 64.  I think the Heels win.  But watch FSU to cover.
Best game of the day, if not the season.  No. 3 Georgia at No. 2 Alabama.  7:00 p.m. on the Columbia Broadcasting System.  Saban has the covid, and Sarkesian will have HC duties on the sideline.  Tide just favored by 4.5 at home.  Over/under is 57.  Going to be a great game.
Boston College in Blacksburg to play No. 23 Virginia Polytechnic.  Hokies are 12 favorites.  7:00 p.m. on ACC Network.  Over/under is 62
Other Games of Interest
Navy at East Carolina, 11:00 a.m. on ESPN+.  Tuesday was the Navy's 245th birthday.  That's pretty cool.  Navy 2-2, Pirates 1-2.  The Midshipmen favored by 2.5, and the over/under is 60.  Navy to win and cover.
Texas State at South Alabama, 11:00 a.m. on ESPNU.  Bobcats 3 point road dogs.
Army (4-1) in San Antonio to play UTSA (3-2).  12:30 p.m. on CBSSN.  Cool game for West Point, with all of San Antonio's military tradition and history.  And a Texas recruiting trip for Army.  Black Knights favored by 7.5, over/under is 49.  Should be an interesting game.
Ole Miss at Arkansas, 2:30 p.m. on $EC Network.  Both teams 1-2, and Arkansas better than they have been in a while.  Rebels are 2 point favorites, but I hope Kiffin hangs 100 on them.  Go Rebs!  Hotty Toddy!
Virginia at Wake Forest, 3:00 p.m. on ACC Network.  Both 1-2.  Wahoos favored by 2.5, over/under is 62.5.  Hook em Hoos!
The Week That Will Be
Deja Vu.  HornMafia (Matt Craig) on Barking Carnival.
https://www.barkingcarnival.com/2020/10/15/21517157/the-week-that-will-be-deja-vu-texas-longhorns-football-big12
Last Week in the Big 12 – Week 6
Iowa State blew away Texas Technical, 31-15.
Kansas State with a road win over Texas Christian, 21-14.
Last Week in the Top 25 – Week 6
No 1. Clemson rolled Miami (Florida) 42-17.  Tigers easily cover the 14 point line, but they don't hit the over (62.5).
Wow.  Nick Saban is now 4,829-0 against former assistants.  Or something like that.  But Lane Kiffin and the Rebs gave the Tide one helluva fight in Vaught-Hemingway Stadium, falling 48-63.  Along the way 796 yards passing and 574 rushing, for 1,370 yards of offense.  This isn't your big sister's $EC.  Oh, and Ole Miss covered.  Like Jimmy U says, good teams win, great teams cover.  Hotty Toddy!
Mack Brown and the UNC Tarheels are 3-0!  Carolina 56, Virginia Tech 45.  Congratulations Coach.  We wish you continued success.
Auburn struggled to beat Arkansas, 30-28.  Just glad they did.  Pigs covered.
How about UT San Antonio?  Brigham Young favored by 34.5, and the Roadrunners hang with the Cougars, falling 20-27.
Notre Dame with a good 42-26 win over Florida State.  But it wasn't that good.  Notre Dame was favored by 21.
The Florida Gators ran out of time against Texas Agricultural & Mechanical, losing 38-41 at Kyle Field.
My mistake on the Missouri – Louisiana State game.  It was played, but in Missouri.  Fortunately the Bayou Bengals still won, 45-41.  But a good fight by Mizzou, covering.
Georgia – Tennessee in Athens.  Good football game.  Georgia is a good football team.  44-21 over the Vols, easily covering the 12.5 line and the over/under (43) by themselves.
Other Games of Interest – Week 6
Tough day for the Wahoos, losing at home to NC State 38-21, despite being favored by 8.  Over/under was 59.5.
Duke 38-24 over Syracuse.
The Citadel hung with Army, but prevail the Army did, 14-9.
Texas State hammered at Troy, 37-17.  Troy covered.
Pitt goes down at Boston College 30-31.
Navy gets even on the season and 2-0 in conference with 31-29 win over Temple.
Mississippi State, after that opening game offensive explosion, scored 2 points at Kentucky.  Crazy.  Kentucky scored 24.
UTEP 17, La Tech 21.  Hey, the Miners covered!
Music
Back to W&L Juke #1.  Side B.
One of my favorite songs, Tighten Up, by Archie Bell & the Drells. Archie Bell, the founder was born in Henderson, Texas, in 1944.  Philly sounds, as one of the best of Philadelphia International Records.
Tighten Up.  The bass intro, then the drums coming in, is one of the signature openings of any song in my playbook.
Mack the Knife, by Bobby Darin.
Aside:  Lotte Lenya, was an actress and singer.  She was married to Kurt Weill, who wrote Mack the Knife, for the 1928 music drama, The Threepenny Opera (and by some accounts for Lotte).
Most of my generation will remember her as Rosa Klebb in From Russia with Love:
She won a Tony in 1956 for playing Jenny in The Threepenny Opera.
When Louis Armstrong recorded Mack the Knife in 1956 (https://youtu.be/S-lHrDPjGfQ), he added the reference to Lotte Lenya, and he also recorded a duet of the song with her.
Mack the Knife, Louis Armstrong and Lotte Lenya:
Mack the Knife, by Lotte Lenya:
Back to W&L Juke 1.
Treat Her Like a Lady, Cornelius Brothers & Sister Rose.
Young Hearts, Run Free, by Candi Staton.  What a great song.  Love her voice.
Dangling on a String, Chairmen of the Board.
From Home to Hope
Wrote about it last week, and renewing my request for support.  HEB gave a $50,000 matching grant.
We must be there for the people of our community, the most vulnerable among us and those hit hardest by this pandemic. We must be prepared to address the long term damage caused by COVID‐19 on the heart and lungs, especially for those with serious and chronic illnesses like heart disease. With your help, we know we will be.
You can help ensure we have the highest quality healthcare, right here in Central Texas. The Seton Development Board's fall fundraising campaign, From Home to Hope, has launched to benefit cardiovascular programs and equipment at Ascension Seton Medical Center Austin. We are asking you to become an integral part of bringing the latest in groundbreaking technologies, and enhancing cardiovascular programs, to help save lives throughout our Central Texas communities.
Please join us in supporting From Hope to Hope:
https://supportseton.org/event/home-to-hope/
Thanks, and God bless.
The Weight
Reprising The Weight, from Playing for Change.  Featuring Robbie Robertson and Ringo Starr.  Needed it this week.
Stay healthy folks, and let's hope the Horns do too!
God Bless Texas
Tim Taylor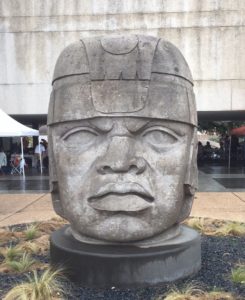 Tailgating before Home Football Games
The Juan Heisman Tailgate
Lot 38, East of Sid Richardson Hall.
HOOK EM HORNS!!
© Timothy C. Taylor, Sr. 2020.  All Rights Reserved (as to original material).
www.jw.com/ttaylor
On Twitter:  @tctayloratx
On LinkedIn:  www.linkedin.com/in/tctatx
On Instagram:  @tctayloratx
On Facebook:  www.Facebook.com/Tim.C.Taylor
and:  www.Facebook.com/Juan.Heisman
You can contact me by mail:

Tim Taylor
P.O. Box 5371
Austin, Texas  78763-5371