Good Morning Longhorn Fans!
Horns Win!  Texas 31, Texas Christian 16
What a win!  The Longhorns snap a four game losing streak to the Horned Frogs with a solid, team victory over TCU on what turned out to be a really splendid day in Austin, Texas.  With the win, Texas jumped into the national rankings, number 18 in the AP poll and 22 in the coaches poll.
Caden Sterns has the potential to join the upper echelon of legendary Longhorn defensive backs.  All the talent is there.  How good?  How about Thorpe Award Player of the Week.  His two interceptions were huge.  Collin Johnson laying out for the touchdown catch was beautiful.  The Lil'Jordan Humphrey catch and run for 7 to seal the win was great.  But the best part of the day for the Longhorns can't be captured in a single highlight, because it was a drive.  The fourth quarter drive that began with 9:16 on the clock, and ended nearly six minutes later with that great 38 yard touchdown from Ehlinger to LJH.  It was a one possession game before that, as Texas had 24-16 lead.  A 3 and out or even 5-6 and out on that possession, and TCU has a chance to tie with time on the clock.  But Sam managed a great drive, and Texas won.  More below.
Highlights of the game from FOX.  Very nice high def.
Highlights from another YouTuber (YouTubist?).
A short video from Longhorn Network on the Gram
Going to miss that belly rub.
Found a new YouTube channel that is posting game highlights.  This is a bit longer, over 9 minutes, in case you are in a rush.
Great video tour of the football facilities and equipment room.
Highlights from the day on the Forty Acres
Yesterday was one to remember. 🤘

Only 3️⃣ more Saturdays at home, continue to make DKR electric for @TexasFootball! https://t.co/3xN7omRhtk pic.twitter.com/0N5qVfJGwP

— Texas Longhorns (@TexasLonghorns) September 23, 2018
Best of the Week
For those of my generation, one of the great TV commercials was the Mean Joe Greene Coke commercial.  If you've never seen it or don't recall, here it is:
The University of North Texas, with a 2018 tribute to that great commercial.  Pretty cool.  Nice work.
He's the 🐐 and the only Mean Green Football player to wear the No. 75 in the last 50 years. Until this week. For one day only, the iconic Joe Greene jersey is coming out of retirement. #GMG #UniSwag pic.twitter.com/jeaqesZ5n2

— Eagles (@MeanGreenFB) September 26, 2018
Requiescat in pace Julius Whittier
The Longhorn Nation lost a great one on Tuesday.  Julius Whittier was the first African-American to earn a letter in football at Texas.  Great piece from Texas Sports. This is definitely worth a few minutes of your time.
https://texassports.com/news/2018/9/27/football-texas-athletics-remembers-julius-whittier.aspx
Red River Shootout
The Land Thieves and Longhorns tee it up Saturday, October 6, for the 113th meeting with Oklahoma. Kickoff has been set at 11:00 a.m.  Meet me by Big Tex.
The University of Texas vs. Kansas State Wildcats
Okay, the Horns stopped a streak on Saturday, one we badly needed to stop.  Now, another one.  Last time Texas won in Manhattan?  Chris Sims was the quarterback, in 2002.  And it wasn't like we went in and kicked their butts.  To the contrary, it took this:
2002 the last time #Texas beat #kstate in manhattan! pic.twitter.com/2jTBJoSSql

— Chris Bennett (@chrisgb00) September 24, 2018
This will be our 19th meeting with Kansas State.  That game we won in 2002?  Only time Texas has won in the Little Apple.
Before 1943, Texas held a 3-1 series lead against the Wildcats, the only Longhorn loss being the tough road loss in 1926 (a K State team that finished 2-2 in the Missouri Valley Conference, in 6th place).  It has gotten worse since then.  After the 64-0 whipping the Longhorns gave K State in 1942, we didn't meet again until the Big 12 began.  The first year in the new conference, the upstart Wildcats beat the Horns 48-7.  Texas lost again to K State in 1999, salvaged wins in 2002 and 2003, but 2006 and 2007 were rough.  In 2006, Texas went into the game ranked #4 and lost to the unranked Wildcats 45-42.  The next year, unranked Kansas State beat #7 Texas 41-21.  2010, a 39-14 Wildcat win, 2011 K State won 17-13, and 2012 was a 42-24 K State win (K State was ranked #7 at the time).  Texas got a 31-21 win in 2013.  2014 loss, 2015 win (Austin), 2016 loss.
The good news is that Tom Herman as a Longhorn Head Coach is 1-0 against Bill Snyder, after last year's 40-34 double overtime win in Austin.  If he can get win number 2, then he will have a better record than his predecessor, who went 1-2.  The Great Mack Brown was 3-7.
I think 2007 was a good example of the K State jinx (?).  Texas was 4-0 and ranked #7 in both polls.  K State came to Austin and whipped us 41-21.  Way worse than the 28-21 loss to the Land Thieves the following week.  In that 2007 game, we outgained KSU 113-95, we had 217 yards passing to their 177.  But Texas had 3 interceptions, one returned for a touchdown, a kick return for a touchdown, and a punt return for a touchdown (Jordy Nelson).  The Wildcat offense scored 2 offensive touchdowns, and Texas lost by 20 at home.  Quan Cosby had 2 catches for 33 yards and a TD.  Think about that.  Colt McCoy is our quarterback, Jamaal Charles the featured running back, and the receiving corps includes Jordan Shipley, Jermichael Finley, Nate Jones, Quan Cosby, Limas Sweed, Billy Pittman, and Chris Ogbonnaya.  And Bill Snyder beats us.  That is why he is The Wizard.
Texas and the purple cats kick-off Saturday afternoon in Bill Snyder Family Football Stadium at 2:30 p.m.  The game will be broadcast on FOX Sports 1, with a good FOX team. Tim Brando play-by-play, Spencer Tillman with analysis, and Holly Sonders on the sideline.
Here in the greater Jollyville-Austin-Mustang Ridge Metroplex, listen to Craig Way, Roger Wallace, and Quan Cosby on Bob Cole's Austin Radio Network – 104.9 The Horn, but also on legendary KOKE FM, 98.5.  Sirius 134, XM 199.
If you are in Crockett, KIVY, 92.7 104.3 FM.  In Liberty, KSHN, 99.9 FM.  Full listings.
https://texassports.com/sports/2013/7/27/sponsor_0727135359.aspx#football
The Wildcats come in with a 2-2 record, 1-1 in the Big 12.  Both losses are to ranked teams.  A 31-10 loss to Mississippi State in Manhattan, with the Bulldogs outgaining the Wildcats 538 yards to 213 yards.  K State QB Skylar Thompson got the majority of the snaps in that game, with Delton getting a few.  Last week, they lost 35-6 to West Virginia, in Morgantown.  Thompson was 11 for 17, 145 yards (18 yards rushing on 12 carries, and Delton was 7 for 12, 82 yards (28 yards rushing on 8 carries).  The two wins are uninspiring.  Squeaked by South Dakota 27-24 to open the season (hey, first games are hard), a game in which Thompson and Delton had about even stats, throwing and rushing.  K State did whip UTSA pretty good a couple of weeks ago, with Skylar Thompson 13-18 for 213 yards and 2 scores, with 66 yards rushing and a score, Delton had 1 pass – a 72 yard touchdown.
So why the attention to the K State quarterbacks?  Well, if you don't recall, then I respect your desire to repress the memories of 2 star, often JUCO transfer quarterbacks having career days against Texas.
Sounds like Alex Delton is the starter for K State on Saturday.  I hope so.  My faith in Todd Orlando, which was a bit fragile after Maryland and Tulsa, has been fully restored.
Delton (#5, 6' and 205 lbs.), is 15 of 31 with 2 picks and one touchdown.  He has a QB rating of 116.31.  For comparison, the national leader is Alabama's Tua Tagovailoa, with a 230.47 rating, and Will Grier the Mountaineer is second with 215.82.  Sam Ehlinger has a 140.1 rating.
The leading rusher for K State is #34, Alex Barnes.  277 yards on 63 attempts for a 4.4 average with 1 touchdown.  The next two on the Wildcats stats are QB #10 Skylar Thompson, who has 176 yards on 49 carries and QB Delton, 116 yards on 30 attempts.  2 of their 3 leading rushers are quarterbacks.
At this point, I am not real impressed with the KSU offense.  However, the receivers interest me.  Leading the Wildcats is #7 Isaiah Zuber, with 24 receptions for 356 yards and a 14.83 per catch average.  Next is #83 Dalton Schoen, with 9 catches for 194 yards, a 21.56 average.  Then #15 Zach Reuter with 7 for 86 and a 12.29 yards per catch average, and RB Alex Barnes, who has 7 for 65 and a 9.29 yards per catch average.  That foursome averages 14.9 yards per catch.
For comparison, LJH is averaging 16.76 ypc, Collin Johnson 14.95 ypc, Duvernay 12 ypc, and Beck 11 ypc.  14.78 yards per catch for our leading quartet.  If you are wonder, the K State guys have a total of 701 yards among them, and our four have 813 yards.  The difference is we have a few other guys with a lot of catches, which as you will note below, makes a big difference.  Texas averages 247 yards passing per game, K State 191.
Defensively, no surprise that a Bill Snyder defense is led by a linebacker.  In this case, a good kid from right here in the Austin area, Da'Quan Patton (#5, 6-1, 221), out of Vista Ridge HS in Cedar Park.  Patton has 22 tackles, 19 solo.  DB Eli Walker (playing Safety, I believe, and wearing #7, 6-2, 202) has 18 tackles, 16 solo, and 1 TFL.  Duke Shelley (CB, #8, 5-9, 180) has 17 tackles, 16 solo, and 1 TFL.  Two more defensive backs round out the top 5 tacklers:  #12 AJ Parker, 5-11 and 178, has 16, 15 solo, and 1 TFL, and #21 Kendall Adams has 16, 14 solo.
The Statistics
Offense
| | | |
| --- | --- | --- |
| Statistic | Texas | Kansas State |
| Rushing Offense | #83 – 164 ypg | #93 – 156 ypg |
| Passing Offense | #55 – 247 ypg | #99 – 191 ypg |
| Total Offense | #70 – 411 ypg | #109 – 347 ypg |
| Scoring Offense | #65 – 31.3 ppg | #114 – 21.0 ppg |
| First Downs | #55 – 22.3/game | #110 – 17.8/game |
| Sacks Allowed | #60 – 7, 45 yards | #121 – 14, 75 yards |
| Tackles for Loss Allowed | #89 – 25, 82 yards | #125 – 35, 123 yards |
| Third Down Conversions | #82 – 38% | #96 – 36% |
| Red Zone Offense | #122 – 69% / 54% | #89 – 82% / 18% |
| Long Scrimmage Plays | #76 – 53/10+; 19/20+; 10/30+ | #82 – 52/10+; 18/20+; 8/30+ |
14 teams still tied at #1 for Red Zone.  But it includes PSU, with 22 scores, including 21 TD's, and UCLA and Akron, each with just 5 scores (and Akron has 1 TD). So ponder this
Defense
| | | |
| --- | --- | --- |
| Statistic | Texas | Kansas State |
| Rushing Defense | #29  – 117 ypg | #87 – 178 ypg |
| Passing Defense | #91 – 245 ypg | #81 – 231 ypg |
| Total Defense | #61 – 362 ypg | #93 – 409 ypg |
| Scoring Defense | #43 – 21.3 ppg | #76 – 26.8 ppg |
| Sacks | #112 – 4, 35 yards | #121 – 3, 23 yards |
| Tackles for Loss | #53 – 25.5, 87 yards | #129 – 9, 42 yards |
| First Downs Allowed | #37 – 17.5/game | #79 – 20.5/game |
| Third Down Conversions | #42 – 33.3% | #120 – 47.5% |
| Red Zone Defense | #24 – 71% / 43% | #111 – 93% / 71% |
| Long Scrim. Plays allowed | #75 – 52/10+; 18/20+; 9/30+ | #87 – 55/10+; 16/20+; 8/30+ |
Other
| | | |
| --- | --- | --- |
| Statistic | Texas | Kansas State |
| Turnovers (Lost) | #52  – 5 (3 F, 2 I) | #102 – 8 (5 F, 3 I) |
| Turnover Margin | #39 :  +0.5 | #95 : -0.5 |
| Penalties* | #94 – 29, 238 yards | #81 – 27, 254 yards |
| Time of Possession | #24 – 32:36 | #29 – 32:03 |
*Some rank based on penalty yards per game.  I am showing ranking based on total number of penalties.
Match-up Comparison
| | |
| --- | --- |
| Texas Offense | Kansas State Defense |
| Rushing Offense – 164 ypg | 178 ypg – Rushing Defense |
| Passing Offense – 247 ypg | 231 ypg – Passing Defense |
| Total Offense – 411 ypg | 409 ypg – Total Defense |
| Scoring Offense – 31.3 ppg | 26.8 ppg – Scoring Defense |
| First Downs – 22.3/game | 20.5/game – First Downs Allowed |
| 3rd Down Offense – 38% | 47.5% – 3rd Down Defense |
| Red Zone Offense – 69%/54% | 93%/71% – Red Zone Defense |
| LSP – 53/10+; 19/20+; 10/30+ | 55/10+; 16/20+; 8/30+ – LSP Allowed |
| | |
| --- | --- |
| Texas Defense | Kansas State Offense |
| Rushing Defense – 117 ypg | 156 ypg – Rushing Offense |
| Passing Defense – 245 ypg | 191 ypg – Passing Offense |
| Total Defense – 362 ypg | 347 ypg – Total Offense |
| Scoring Defense – 21.3 ppg | 21.0 ppg – Scoring Offense |
| First Downs Allowed – 17.5/game | 17.8/game – First Downs |
| 3rd Down Defense – 33.3% | 36% – 3rd Down Offense |
| Red Zone Defense – 71%/43% | 82%/18% – Red Zone Offense |
| LSP Allowed – 52/10+; 18/20+; 9/30+ | 52/10+; 18/20+; 8/30+ – LSP |
 This is a good match-up, maybe one of the better ones we've had with K State in a long time.  I know he is the Wizard, but I think we have our own el mago working here in Austin.
Full preview:
https://texassports.com/news/2018/9/24/football-preview-no-18-22-texas-at-kansas-state-sept-29-2018.aspx
The full game Texas game notes:
https://s3.amazonaws.com/texassports_com/documents/2018/9/24/2018_Texas_Football_Notes_05_Kansas_State.pdf
For all the hand-wringing that went on the first couple of weeks of September, this Texas team is in a good place.  What we saw in DKR last Saturday is the Texas Longhorn team that Tom Herman said he was going to put on the field.  A physical, tough, hard-hitting bunch, on both sides of the ball.  Gary Patterson is known for fielding teams that play tough, and Herman's Horns went toe-to-toe with the Frogs and beat the toad snot out of them.
Our defense is good.  Kris Boyd is tied with 7 other guys nationally at #5 with 8 passes defended, and also ranks with several at #6 nationally with 7 passes broken up.  Our freshman soon to be All-American Caden Sterns is on that list (tied with a bunch at #63) with 4 defended.  And he is tied with 7 other players at #2 nationally with 3 interceptions.  Gary Johnson is tied among 16 that are ranked #24 nationally in tackles for loss, with 6.  The one thing I am a bit worried about is injuries, which now include B.J. Foster, who is out with a concussion.  That's alright.  Orlando's got this.
The other factor is Number 11.  Bruce Feldman posted a great article on The Athletic (link below, but it is a pay site).   "Inside the minds of the Texas Longhorns".  It followed the win over Texas Christian, but his good research started before that.  Feldman reports that after Tulsa, Ehlinger created a goal chart with 10 categories.  It hangs in the Texas locker room.  "Tops on that list: score on the first possession. Other things on there: no three-and-outs; no turnovers, score at least 80 percent in the red zone."  Feldman quotes Sam as saying "We need to be more intrinsically focused."
https://theathletic.com/542477/2018/09/23/texas-longhorns-football-tom-herman-todd-orlando-tcu/
You can't discount Bill Snyder, and definitely not at home.  Texas heads to Manhattan as an 8.5 point favorite on the road.  The over/under is 49.
Texas wins and covers, 35-24.  Hook em.
Previews on the Interwebs
Texas Pregamer, on the BC
https://www.barkingcarnival.com/2018/9/27/17909120/texas-pregamer-ksu
The Horns Digest (247) staff is all in on the Horns, but most think it will be a close game.
https://247sports.com/college/texas/LongFormArticle/Texas-Longhorns-Football-Prediction-Tom-Herman-UT-game-against-Kansas-State-Wildcats-122550275/#122550275_1
Kansas State University
Kansas State began as Bluemont Central College in 1858.  Five years later K-State became the first college in America to be officially designated a land-grant school under the Morrill Act, and the school was renamed Kansas State Agricultural College.  The very first aggies.
In 1931 the school was changed to Kansas State College of Agriculture and Applied Science.  In 1959, the Kansas legislature, obviously bored, changed the name again to Kansas State University of Agriculture and Applied Science.  They usually leave off the "Agriculture and Applied Science", but I don't know why they don't do something aggie-ish and be KSUA&AS.  Guess it doesn't really roll of the tongue like "a and m".
The campus dairy bar, Call Hall Dairy Bar, is located at the intersection of Mid Campus Dr. and Claflin Ave.  It offers breakfast and lunch, and most importantly, more than 30 flavors of student-made ice cream, including espresso ecstasy, chocolate brownie delight, and a campus staple — purple pride.  I counted 40 flavors.  I love mint flavored ice creams, and they have a bunch  After Dinner Mint, Chocolate Chip Mint, Mint Fudge Swirl, and Peppermint.
http://www.asi.k-state.edu/services-and-sales/call-hall-dairy-bar.html
But wait, there's more.  One can also purchase butter, fluid milk (I don't want to know.  Really.), and cheeses – Cheddar, Colby, Monterey Jack, Pepper Jack, and Processed cheese (plain, bacon, & jalapeno).
Products sold in the Dairy Sales counter are half gallon ice cream, 3 gallon ice cream rounds, gallon and half gallon milk, cheese, butter, eggs. All products are produced from the KSU farm units.  Bet those 3 gallon ice cream rounds are popular at the fraternity parties.
You can buy meat too, and it is reasonably priced.  The WildKat Brand.
Suggestion:  They have a lot of smoked sausage.  If anyone goes, load up on some of this and bring it back to me for the Juan Heisman KSU Tailgate 2019.  I think some Braunschweiger, New England Loaf, and Wildkat salami would be awesome.
But I can't pick which pork I might want.
http://www.asi.k-state.edu/about/services-and-sales/ksu-meat-lab-sales/pork.html
Very rarely do I include a link to a video that I do not recommend.  Actually, not sure I ever have.  But who can resist a one hour and 12 minute video of a bus tour of Manhattan, Kansas?
Yes, these are aggies.  In fact, part of downtown Manhattan is "Aggieville".  Motto sounds familiar:  "Come Early, Stay Late".  I wonder what "late" is in Manhattan Kansas.  For those of you making the trip, check this out – you won't want to miss any of the sites and attractions of Aggieville.
Texas Christian Horned Frogs vs. The University of Texas Longhorns
Very nice to see a team improve each week.  The TCU game was the best all-around team performance of the year.  Consider a few of the individual efforts that combined for the team's victory:
Ehlinger was 22 for 32 for 255 yards with 2 touchdowns and no picks, and he rushed for a net of 11 and a touchdown.
Collin Johnson had a great game – 7 catches for 124 yards and a score, and LJH had 4 for 77 with a touchdown. Andrew Beck, the TIGHT END, caught two passes.  Duvernay and Moore also had catches.
The running backs were solid. Tre Watson pounded the ball, 15 attempts for 58 yards, with a touchdown, and he also had 4 catches for 13 yards.  Ingram was back, and gained 38 on 8 carries, averaging nearly 5 yards per rush.
Texas only drew 4 penalty flags, for 25 yards. Big improvement.
No fumbles.
Bujcevski averaged nearly 40 yards a punt
Defensively, Caden Sterns had 2 interceptions and 5 tackles (2 solo), and Brandon Jones had 10 tackles (7 solo) and an interception.
Gary Johnson led the team with 11 tackles, 6 solo, and 1 TFL.
Almost straight A's!  Dicker was 1 for 3, which needs to improve, but both misses were from over 40 yards. Sam got sacked 3 times.  I hate to Monday morning quarterback or armchair coach, but I am still scratching my head on that call to go for it on fourth and 1 from our own 47.  Defense was playing well, we had a lead, and there were about 5 minutes left in the half I think.  But, Texas won, and it was all in all a great Saturday turned in by the players and coaches.
Texas led 7-6 after the first quarter, and trailed 13-10 at half.  Technically no 3 and outs by the offense, but there was that fourth and 1 Texas did not convert.  So a 4 and out.
I was a bit concerned at the start of the second half.  Texas received, and went sack (-8), incomplete, Ehlinger for 5, and punt.  Minus 3 yards on 3 plays in 96 seconds.  That could have easily resulted in big momentum for Texas Christian if they had driven for a score.  But on the first play, Brandon Jones intercepted Robinson.  Inexplicably, Texas went 3 and out again, also minus 3 yards. This time, the Frogs made us pay, getting a field goal and the 16-10 lead.
Texas responded with a nice drive, led by Ingram rushing and Ehlinger throwing, but we stalled, and Dicker missed a 43 yarder.
Once again, the Texas Defense stepped up.  Marqez Bimage (sophomore, #42, a solid 6-2 and 255 pounds) forced a TCU fumble, setting Texas up at the frog 45.  This time, Texas executed.  Several inconsequential plays, then that great pass to and great catch by Colin Johnson for 31 yards and the Longhorn touchdown.  17-16 Horns, and we never looked back.
Next series was one of Caden's picks, on the first play of the drive, which he returned to the 2.  Sam executed perfectly and ran untouched into the endzone.  24-16, and DKR was rocking.
TCU drove the ball on their next possession, but Song was wide right.  Texas moved the ball with Watson's legs and Sam's arm.  Third and 7 at the TCU 38, and Lil'Jordan Humphrey showed why he is going to play on Sundays.  Texas 31, Texas Christian 16.
I love singing the Eyes of Texas after a Longhorn victory.  So do the Longhorns.  Love this tweet with a video from right down on the field in front of the players.
The Eyes of Texas! #ThisIsTexas #HookEm pic.twitter.com/uk2H4MjSpo

— Texas Football (@TexasFootball) September 23, 2018
The team enjoyed the win.  Great video from the locker room.
What a day 🤘🏽 #ThisIsTexas pic.twitter.com/czYbek7qhb

— Derek Ochoa (@DerekOchoa25) September 23, 2018
Good post on Burnt Orange Nation, 5 plays that changed the game.  Nice video too.
https://www.burntorangenation.com/football/2018/9/23/17892828/texas-longhorns-tcu-horned-frogs-five-plays-caden-sterns-collin-johnson
Polls
Alabama still No. 1 in both polls.
AP Poll:  Alabama, Georgia, Clemson, Ohio State, Louisiana State, OU, Stanford, Notre Dame, PSU.  West Virginia at 12, Texas at 18, Duke at 22, and Texas Tech at 25.  Oklahoma State, Texas Christian, and Texas Agricultural & Mechanical all drop out.
Coaches Poll:  Bama, Clemson, Dawgs, Ohio Statement University, Land Thieves, Louisiana State, The Leland Stanford Junior University, L'Université de Notre Dame du Lac, PSU, and War Eagle.  West Virginny at 12, Okie A&M at 21, Texas at 22.  Texas Christians and Texas Agricultural & Mechanical drop out.
Big 12 – Week 5
With the Sand Aggies ranked, one of the best early games will be broadcast from the South Plains, as No. 25 Texas Tech hosts No. 12 West Virginia.  11:00 a.m. on ESPN2.  Still amazed that Tech held OSU to 17 points at Boone Pickens.  Mountaineers favored by 3.5, and the over/under is 72.5.  Should be a great game, and I look forward to watching it.
Well, if Army can give the Land Thieves a scare in Norman, then maybe Baylor can too.  Stop laughing.  2:30 p.m. on ABC.  Land Thieves favored by just 23.5, and the o/u is 68.5.
Okie State in Lawrence to play the Jayhawks.  11:00 a.m.  TV?  Cowboys favored by 17.5, and the over/under is 62.  I'm taking the Okie Aggies to win and cover.
Texas Christian looks to get even in Big 12 play back at Amon G. Carter Stadium.  Iowa State is a 10.5 point underdog.  6:00 p.m. on ESPNU.  Over/under is 46.5.
This Week in College Football
Thursday Night Football!
The University of North Carolina traveled south to play No. 16. Miami (FL).  Miami (FL) was favored by 18.  The Tarheels lost 10-47.
Saturday
No. 1 Alabama kicks off early with a home game against the Louisiana Ragin' Cajuns.  11:00 a.m. on the $EC Network.  Bama favored by only 48.5, and the over/under is 68.  Probably correct assessment by the oddsmakers that the Crimson Tide will win this football game.
Syracuse is 4-0.  Yes, really.  They play at No. 3 Clemson, 11:00 a.m. on ABC.  Not often you see a team favored by 25.5 in a game between two undefeated teams (unless that favored team is from a state that begins with an "A" and ends with an "a").  Over/under is 65.5.  Hard to bet against Dabo at home these days, and I won't.
No. 21 Michigan State gets the Chippewas in East Lansing.  Central Michigan is 1-3.  11:00 a.m. on FOX Sports 1.   Sparty favored by 28.5, and the over/under is 47.5.
Tennessee at No. 2 Georgia, 2:30 p.m. between the hedges.  The game will be broadcast on the Columbia Broadcasting System.  The Vols are not very good. Georgia is.  Bulldogs favored by 31, and the over/under is 52.5.
Pitt at No. 13 UCF.  2:30 p.m. on ESPNU.  Central Florida favored by 13, over/under is 64.5.
Southern Mississippi at No. 10 Auburn.  3:00 p.m. on the $EC Network.  Tigers favored by 26.5, and the over/under is 53.  War Eagle.
No. 14 Michigan heads to Chicagoland to play Northwestern.  3:30 p.m. at Ryan Field in lovely Evanston.  FOX with the broadcast.  Michigan favored by 14.5, o/u is 46.5.  Michigan will win, but might see if you can get some money on Northwestern to cover.
No. 23 Mississippi State still smarting from the spanking Kentucky gave them.  They get Florida in Starkville. 5:00 p.m. on ESPN.  Mississippi State favored by 7, and the over/under is 49.
No one is smarting more than Virginia Tech.  Golly gee.  The 2-1 Hokies are in Durham to play undefeated and No. 22 Duke.  Duke.  And the Blue Devils are 4.5 favorites.  Over/under is 49.5.
Despite my level of dislike for certain teams and programs, there is usually at least one game each year where, no matter how much I dislike (or even despise) the team, I will cheer for them over their opponent.  The game Saturday night in University Park, Pennsylvania is not one of those games.  No. 4 Ohio State at No. 9 PSU.  6:30 p.m. on ABC.  OSU favored by 3, and the over/under is 7.  If you made me pick, I guess I would say go Buckeyes.
Best game of the day might be in South Bend (technically Notre Dame, Indiana).  No. 7 Stanford and No. 8 Notre Dame.  Both undefeated, a rivalry game, and arguably the last really hard game on Notre Dame's schedule (sorry Arthur – I know they play your Trojans to close the season on November 24, but as of this week, that is not looking like a major roadblock to the College Football Playoffs).  Irish favored by 5.5, and O/U is 52.5 (dropped 8 points during the week).  6:30 p.m. on NBC.  Mark, don't tell Kathryn, but I am going to keep Peter up to watch some of the game.
No. 20 BYU at No. 11 Washington.  6:30 p.m. on FOX.  Both 3-1.  Huskies playing good ball, and they are favored by 17.  Over/under is 45.5.
Gamecocks at No. 17 Kentucky.  Wildcats at 4-0 and 2-0 in SEC play and have exceed a lot of expectations. Favored by just 1, this may be the week reality sets in.  6:30 p.m. on the $EC Network.  Over/under is 51.5.
Hotty Toddy!  Ole Miss at No. 5 Louisiana State.  I don't think people outside of the Delta understand this rivalry.  Going to be heck of a game for Coach O against his old team.   8:00 p.m. on ESPN, and the Tigers are favored by 10.5.  Over/under is 60.5.  Not familiar with Ed Orgeron?  Here is a great one, but if you are up late tonight drinking bourbon by yourself (Wait!  Who does that??), then google Coach O and have a laugh or two.  He's about as fine as they come.
No one gives a pep talk like Coach O. #SECInside pic.twitter.com/WcovKUooGO

— SEC Network (@SECNetwork) November 17, 2016
No. 19 Oregon at No. 24 Cal.  9:30 p.m. on FOX Sports 1.  Ducks favored by 1.5, and the over/under is 58.
Other Games of Interest This Week
Friday night games:
Memphis in the Big Easy to play Tulane.  7:00 p.m. on ESPN2.  Tigers favored by 14, o/u is 66.5.  I swear it was at 50.5 on Monday.
UC Los Angeles is 0-3.  The Cincinnati loss to open was a bit puzzling, but then again, a lot of good teams can stub their toe in an opener.  The 49-21 whipping OU put on them was no surprise at all, as the Land Thieves are really good.  But a 38-14 beating by Fresno State?  Didn't know they were back.  None of this portends well for the Bruins, as they go to Boulder to play 3-0 Colorado.  Buffs favored by 9, and the over/under is 58.  8:00 p.m. on FOX Sports 1.
Oh Jerry, what a great game you are hosting this weekend.  1-3 Arkansas and Texas Agricultural & Mechanical.  Don't worry piggies, you do have that win over Eastern Illinois.  I bet the aggies are in a foul humor (foul? Get it?).  11:00 a.m. on the Entertainment & Sports Programming Network from beautiful Arlington.  Texas Agricultural & Mechanical favored by 21, and the o/u is 59.5.  [See my comments above about the Ohio State game.]  Good luck Aggies!  Whoop!  I mean it!
Virginia at NC State.  11:20 a.m. on the ACC Network.  Hoos are 6 point road dogs, and the o/u is 53.5.  Good luck Wahoos!
Old Dominion at East Carolina, Dowdy-Ficklen Stadium.  Guess we will have to see what ODU does for a couple of weeks.  2:30 p.m.  on ESPN3.  Pirates favored by 7, o/u is 60.5.
Florida State at Louisvile, 2:30 p.m. on ESPN2. Seminoles favored by 6.5, and the over/under is 46.  Richard, don't take anything by my placement of the FSU game between ODU-East Carolina and Coastal Carolina versus Troy.  I am not that clever.
Coastal Carolina at Troy.  My sister and brother-in-law live in Dothan, not too far from Troy.  2:30 p.m. on ESPN3.  Troy favored by 14, over/under is 54.5.
Miami (OH) at home with Western Michigan, with the Redhawks looking to move to 2-0 in the MAC.  2:30 p.m. on ESPN+.  Miami a 1.5 point home underdog, and the over/under is 55.5.
Rice at Wake Forest, 2:30 p.m. on ACC Network.  Owls are 1-3, and the Demon Deacons coming of the beating administered by the Catholics from South Bend.  Wake favored by 27, and the over/under is 65.5.  Might be a long season for the Owls.
Houston Baptist at Southern Methodist.  6:00 p.m.  No TV, and no line, which I am sure will be a huge hindrance to betting among the Baptists and Methodists.  At least it is Saturday night, and SMU is not having to compete with the Highland Park Scots for attendance.
UTEP at UTSA!  Miners still looking for a win, Roadrunners got one last week over Bobcats.  UTSA favored by 10, over/under is 44.  6:00 p.m. in the Alamodome.
Louisiana Tech in Denton to play North Texas.  6:30 p.m. at Apogee Stadium   UNT still undefeated and favored by 7.  Over/under is 64.
Southern Cal at Arizona, 9:30 p.m. on ESPN2.  Trojans favored by 3.5, over/under is 59.5.
Merchant Marine at MIT.  Both undefeated (MIT beat the Catholic Cardinals last week, 34-24).  #44 for the Engineers is Cole Baker, running back out of St. Andrew's Episcopal School, in Austin.  Also plays some defense.
Davidson plays Valparaiso in Valparaiso, 2:00 p.m. Valpo looking for its first win.  The Crusaders have losses to Duquesne, Youngstown State, and Truman State.
Previews on the Interwebs
HornMafia, on The Week That Will Be:  Texas Two Step
https://www.barkingcarnival.com/2018/9/27/17908808/the-week-that-will-be-texas-two-step
Week 5 College Football Viewing Schedule:
https://www.burntorangenation.com/2018/9/27/17912020/college-football-viewing-schedule-week-five-game-time-television
Bill Connelly, for the sportsmen:
https://www.sbnation.com/college-football/2018/9/27/17905006/college-football-picks-week-5-2018-predictions-odds-spreads
Big 12 – Week 4
Best game of the day in the conference was in Norman.  Army took OU to overtime, falling 28-21.  Kyler Murray was only 11-15 for 165 yards passing (3 TDs), but it wasn't because he was smothered by the Army defense.  It is because the Black Knights had the ball for 44 minutes and 41 seconds, and the Land Thief offense had it for 15:19.  That is ball control!  Hope we can find some game film.  Congratulations to Army.  They are one heck of a football team, and last year was not a fluke.  They are competitive.  Under in this game.
Baylor beat Kansas 26-7, covering.  Under in this game.
Iowa State managed to beat Akron 26-13.  Akron covered, and under again.
West Virginia with a solid 35-6 win over K State.  Mountaineers covered, but another miss on the over.
Holy Sand Storms!  The Sand Aggies did upset Oklahoma A&M!  In a big way, 41-17.  But, again, missed the over.
The over/under in the Texas game was 47.5.  TCU & UT combined for 47.  So, a complete reversal from Week 3, as the Big 12 was under in every single game.  What the heck?
Last Week in College Football
Friday night, 18 UCF beat Florida Atlantic 56-36, easily covering.
Saturday
The Alabama Crimson Tide defeated Texas Agricultural & Mechanical 45-23.  The aggies covered the line.  Tua Tagovailoa passed for 387 yards and four touchdowns and ran for one.  He is good.  The aggies on the field were the only ones who had a rough trip to Tuscaloosa.
Today feels like an open hand slap from a bama fan! #happymonday #ROLLTIDE pic.twitter.com/t4hKx4Hke5

— Tatum Nelson (@TatumN4) September 24, 2018
PSU 63, Illinois 24.
Georgia with a big road win over Missouri 43-29.  The line was Georgia by 14.5.  Boy those guys in the desert are good.
Michigan was playing Nebraska in the Big House, but it was really a woodshed.  39 to nothing at half.  Nebraska had 17 yards of offense at halftime.  Big Red managed a field goal in the third and a touchdown in the fourth, losing 56-10.  Michigan covered the line and the over.
Speaking of 56 points, Notre Dame's line was a very symmetrical 7-21-21-7 as they destroyed Wake Forest 56-27, covering easily.
Clemson 49, Georgia Tech 21.  Dabo covers.
Florida International University, 17, Miami (FL) 31.
Upset of the day, year, and maybe decade.  Winless Old Dominion scored 28 points in the fourth quarter and upset then No. 13 Virginia Tech 49-35.  I still can't figure that one out.  But then again, good football teams can lose inexplicable games.  Especially in that part of the country.
Tulane 7, Ohio Statement 49.
Brigham Young 30-3 over McNeese.
Mississippi State at Kentucky.  The Wildcats are for real.  So is Benny Snell Jr., who ran for 165 on 25 carries and scored four touchdowns.  He's good.  28-7 Kentucky.
Louisiana State beat Louisiana Tech 38-21.  Coach O is 4-0.
Arkansas kicked a field goal in the third quarter.  Auburn scored at least a touchdown in every quarter.  As a result, the Arkansas Razorbacks lose 34-3, fall to 1-3, and will probably get destroyed by aggy on Saturday.  Tis such a pity.
Michigan State 35-21 over Indiana.  Spartans covered.
Best game of the day was in fact played in Autzen Stadium.  Stanford and Oregon in a wild game, but not in the way I expected.  At one point in the game, up 24-7, ESPN's statistical analytics gave the Ducks a 99% chance of winning.  Oregon had 1st and goal on the Stanford 1.  Stanford defense with a herculean effort, and they get a fumble and return it 80 yards for a touchdown. 24-14 instead of 31-7.  A big swing.  Stanford scored on 2 of their next 3 possessions, while Oregon went 3 and out twice and then still with ability to put the game away, ran a play that resulted in another fumbler, and that was what gave Stanford the ball to score their final touchdown and tie the game.  Stanford covered.
Wisconsin 28-17 over Iowa.  Missed that one.
The Arizona State Sun Devils gave Washington a scare, but the Huskies survived 27-20.
Other Games of Interest Last Week
The game in LA Friday night was entertaining, as the Southern Cal Trojans got a much needed win 39-36 at the expense of Mike Leach and his Washington State Cougars.
Ole Miss 38-17 over Kent State.  Hotty Toddy!
Maryland rebounded for a 42-13 win over Minnesota.  Line was Maryland by 1.
I cannot believe Southern Methodist got the win over Navy.  Took overtime, but congrats to the Mustangs on a 31-30 victory and getting that first W.
Wahoos!  Virginia 27-3 over Louisvile, easily covering the line.
Miami (Ohio) wins!  And covers!  38-23 over Bowling Green.  JNU happy.
South Carolina sinks Vanderbilt 37-14.  Gamecocks covered the 5.5 line.
In the continuing storyline of Texas-Maryland, Temple beat Tulsa 31-17.  I think the last chapter of this story will be good.
Rice 22, Southern Miss 40.  Rice couldn't cover.
UT San Antonio gets its first win, 25-21 over Texas State.  4 points, and the line was Roadrunners by 5.5.
I guess Major Applewhite is in a better mood, after his Cougars put up 70 on Texas Southern.  SU scored 14.
North Texas stays undefeated with the 47-7 road win over Liberty.
New Mexico defeats UTEP 27-20.  Miners are in a hole.
Davidson lost 42-21 at Dayton.  At least they covered.
This Week in Schadenfreude.  Been missing this.
https://www.sbnation.com/college-football/2018/9/24/17893626/college-football-reaction-tennessee-virginia-tech
Juan Heisman Tailgate
Hard to believe we are not halfway through the tailgating season.  Another great day at Juan Heisman.
Another outstanding job by Early Crew.  Skeen and Nash in line early, EC Crew Chief Rick Whiteley there too, and all the Young Guns.  Shaw with the Suburban and Messer, Martin, Barton, and Wilcox.  The crew got things set up in a monsoon.
We had a much bigger crowd than I was expecting.  Probably close to 175 or maybe 200.  Judging by consumption, it might be closer to 200.  Thanks to all who contributed.  For those who were there, sorry we ran out of food, beer, and booze.  That was large.  Thanks to Fairweather Cider for being there.  Got lots of good feedback on the cider.
Great seeing so many friends.  Thought I would include a few photos.  Why these?  Good question.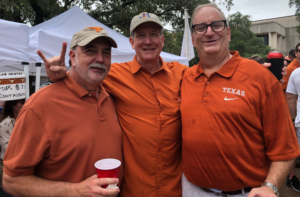 David Edelman, TCT, and Morris Gottesman.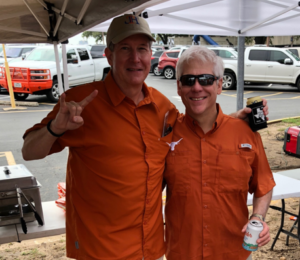 Ken Glass and me.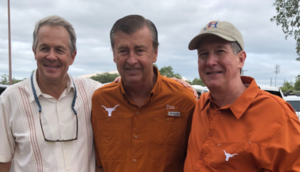 Henry H. "Tony" Dewar, Tim Crowley, and TCT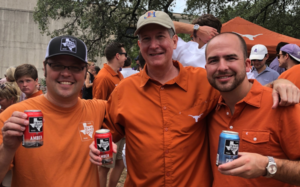 Ian Davis, me, and Judd Messer.  Ian had just heard from JD Gins, who was in Denver with a truckload of Texas Beer for the Great American Beer Festival.  The Pecos Amber, which Ian and I are drinking, had just won a Gold Medal.  It is a big deal.
So, the Rest of The Story.  These few pictures span over 58 years of friendships.  Yes, I know I am only 58.  Ken Glass's mother, Joanne Miller Glass, and my mom were best friends.  We were hanging out before we were born.
David Edelman grew up with Ken and me in Tyler.  I have known Buck my whole life.  He lives in Austin now, and Buck and his family are part of the Juan Heisman Family.
Morris Gottesman and I first met at Camp Longhorn in, I think, 1972.  We reconnected in Austin in the 1980's.  His son Wesley is one of the best of the bestest friends to my son Charles, and Wesley is like a son to me.  His son Garrett and my daughter Mary Elizabeth are best buds.
Tim Crowley is as close a friend as I have, and his daughter Elizabeth is my goddaughter; Tim is godfather to Kathryn.  Tony Dewar is a pledge brother of Tim's, as well as Scott Ferguson (JHT), and many other of our friends.  With the tailgate as the initial connection, Tony has become one of my best friends.
Finally, Ian Davis and Judd Messer.  My friendship with Ian goes back to the early 2000's, when I formed CRCL PAC (Citizens for Responsible Community Leadership) to fight the recall petition launched against my friend Will Wynn.  Ian was the young go-getter who Mark Nathan hired for us to execute our ground game, a game we won.  They never even submitted the petition, much less get to an election.  Ian is one of the co-founders of Texas Beer Company.
Judd Messer first became known to me as he ran out of the Texas dugout to retrieve foul balls that landed in front of Seat 8, Row 1, Section 8, Disch-Falk Field.  His dad sat nearby, and over the years we got to know each other, and when Judd graduated, he joined us there on the third base line.  That connection led to the Young Guns – Judd, Collin Shaw, Grant Martin, and Butters Barton – joining the Tailgate Crew.
1960 to 2018.  Can't wait to see what I write 10 or 15 years from now.
The tailgate isn't just about partying before a football game.  It is about friendships that span decades and families and generations.  Friends from across the state who come for every game, or maybe friends who there for one game because Texas is playing their team.  Sure, we have a good time, but we are also making memories, connecting friends from all parts and times of our lives, and enjoying the blessings of friendship and fellowship.  I give thanks to God for those blessings, and for my family and friends, and for their families.  We are so very fortunate.
We will back for the game with Brazos Bears from Waco on October 13.
Music
The Longhorn City Limits gave me a good reason to feature the music of the artists who would be setting up shop and performing on the Juan Heisman Backyard Stage.  But this week, there isn't a lot of music about Kansas I care to listen to.  I can't recall if I have shared the Delvon Lamarr Organ Trio with you, but I absolutely love this sound.  Thanks to my son Charles for introducing me.
Delvon plays a Hammond B-3, with that sweet American sound that is in so much music I love.  Jimmy James on guitar, and David McGraw on drums.
Close But No Cigar (the link takes you midway to the video, where the music starts)
These are all pretty long videos, so just take a listen to some of it.
Live on KEXP
Close But No Cigar – the whole album.
Daytrotter Session
History of the Hammond B-3 Organ.  If you like music and don't know a little about it, then you should.
http://theatreorgans.com/grounds/docs/history.html
Cool Stuff
While not an Austin only phenomena, food trucks and trailers are a big part of the Austin food scene.  They are part of the hot new CDC Gameday on the Forty Acres.  I ran across a cool article about "night lunch wagons", which were popular in the late 1800's.
https://www.atlasobscura.com/articles/original-food-trucks
Speaking of CDC and cool, I suspect most of y'all have seen this, but just in case, Andy Staples on SI.com.
https://www.si.com/college-football/2018/09/24/texas-longhorns-tcu-tom-herman-stadium-experience
Del Conte is not the only guy making big things happen on the eastern side of our great campus.  Dean Clay Johnston and the team he has assembled are doing transformative work.  Not just in medical education and healthcare.  This article tells one part of the story – the burgeoning health tech hub that is being accelerated by Dell Med and the already strong tech community here in the Silicon Hills.
https://www.512tech.com/technology/austin-track-become-health-tech-hub/GQWJa3T1NnxJY92Jbgp0KJ/
If you love cool photography and Austin, you need to follow @jaredten on Instagram, and you can see his work on his website.  https://www.jtpics.com/
Washington & Lee
W&L finally plays football again Saturday, as the Generals open ODAC play with a home game against Randolph-Macon.  W&L comes in 2-0, with wins over Dickinson and Sewanee.  The Yellow Jackets are 2-1.  A big loss to Johns Hopkins, 63-31, to open the season.  Week 2, they beat the Averett Cougars 24-14, then September 12 they spanked the Catholic Cardinals, 41-6, rolling up 456 yards of offense, with 381 on the ground.
This will be the 67th meeting between the schools, with W&L holding a narrow 32-31-3 lead.
http://www.generalssports.com/sports/fball/2018-19/releases/Macon_Notes
The Yellow Jackets are good, and this will be an important game for Washington & Lee to win.  1:00 p.m. Shenandoah Valley time, on Saturday, at Wilson Field.
Also, it is Parents' Weekend, so lots of fun activities.  W&L plays Virginia in polo, 2:30 p.m. at the Virginia Horse Complex, East Complex (close to campus).
IVY LEAGUE
 I am a poor substitute for Lonnie, and it is late.  You can actually find odds for these games, but if I put the links in, no way this gets through most company's spam filters.
Princeton at Columbia, both undefeated.  I will go with the Tigers, out of loyalty to my law school friend Jeff Zlotky.  You just can't discount 36 years of friendship.  Both undefeated.
Rhode Island at Harvard.  I will go with Harvard.  Boone Almanza's daughter is playing volleyball there.
Georgetown at Brown.  Babcock, I would never go against you!  Go Bears.
 Maine at Yale.  Good luck Yale!
Sacred Heart at Cornell.  How doth one cheer against a Sacred Heart?
Penn at Dartmouth, both undefeated.  ASV, I will choose Dartmouth.
 JDRF
 I have been cognizant of Type 1 diabetes, what was once called "juvenile diabetes", for as long as I can remember.  It didn't start hitting home, or at least close to home, until one of my daughter's classmates at Westminster Presbyterian Day School was diagnosed (I guess that was around 20 years ago).  Then, when I got involved with HAAM, Carolyn Schwarz's son was Type 1, and I learned a bit more.  But when Mary Elizabeth started dating Parker, who will soon be her husband, it wasn't just close to home – T1D was in my home, and now in my family.  We are a pretty committed bunch as far as causes and charity, primarily driven by faith, but also by abundant love for others and by a simple sense of duty.  For me, that was sharpened and permanently instilled as a Boy Scout.  Mary Elizabeth is committed to helping JDRF find a cure for Type 1 diabetes.  We, as a family, are right there with her.  And in about 43 days, after the doors at the west end of the sanctuary at Westminster Presbyterian Church open, and I walk Mary Elizabeth down that aisle toward Parker Fleming, I will have a son with Type 1.
Mary Elizabeth is working for JDRF in DC, and their big fundraiser, the JDRF Hope Gala, is a month away.  If you are in the DC area, you should go.  If you are reading this and you can't go, you should give.  Thanks.
https://jdrf-capitol.ejoinme.org/MyEvents/DCHopeGala2018/tabid/982420/Default.aspx
God Bless Texas.
Tim Taylor
Tailgating before Home Football Games
The Juan Heisman Tailgate
Lot 38, East of Sid Richardson Hall.
HOOK EM HORNS!!
© Timothy C. Taylor, Sr. 2018.  All Rights Reserved (as to original material).
On Twitter:  @tctayloratx
On LinkedIn:  www.linkedin.com/in/tctatx
On Instagram:  @tctayloratx
On Facebook:  www.Facebook.com/Tim.C.Taylor
and:  www.Facebook.com/Juan.Heisman