Texas Longhorns 22, Kansas State Wildcats 17
The Longhorns got a much needed victory last Friday, defeating K State behind the leadership and will of Roschon Johnson.  He ran for 179 yards and a touchdown, threw a pass, and caught a pass.  The man who best exemplifies commitment to team and to the University, at least to me, put the Longhorns on his back and carried Texas to victory.  Yes, lots of other guys made important contributions, including the amazing Xavier Worthy, but I am still in awe of Roschon Johnson.    And very grateful for him, as Texas ended the season with a win and with hope for 2022.
Quick highlights from UT with Craig Way, which is Always Good.
🎥: Texas vs. Kansas State pic.twitter.com/1lBvKrov9x

— Texas Football (@TexasFootball) November 30, 2021
Texas rushed for 209 yards against the K State defense that was ranked #21 nationally, allowing 118.8 yards per game.  Not a big surprise that Deuce Vaughn got his yards; still wonder how a kid from a few miles away in Round Rock whose dad coached at Texas ended up in Manhattan, Kansas.  He may be just 5 feet and 6 inches tall, but that kid knows how to run the football.  He finished third in the Big 12 with 1,258 yards on the season and was second with 15 rushing touchdowns.
If Worthy stays on this pace, he will likely end up being the greatest receiver in Texas history.  Per John Bianco, Zay set UT freshman records:  he passed Roy Williams in TD Receptions (12 to Roy's 8) and receiving yards (981 to Roy's 809) and the reception record of 47 held by Mike Davis.  Worthy had 62.  Oh, and let's see:  Big 12 Offensive Freshman of the Year, first team ll Big-12 (the only freshman among the first or second teams),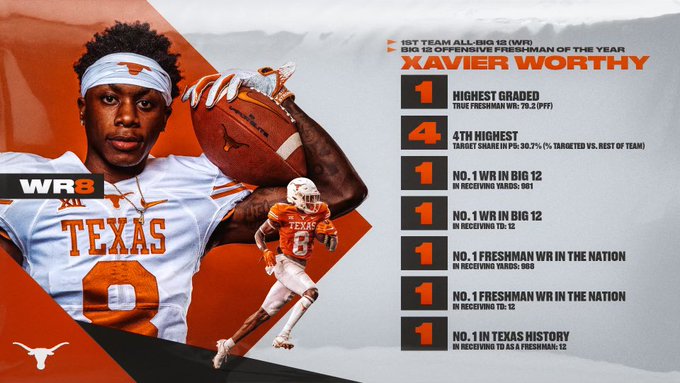 Game Review
The first series set the tone for the day.  Every play of a 10 play, 75 yard drive, involved Roschon Johnson or Worthy, and in fact 7 of the plays were RoJo.  Lots of Wildcat formation.  44 rushing yards, including the 9 yard run for the first score.
The ensuing kickoff was a bit disconcerting, as Dicker had to make the tackle on Malik Knowles who advanced the return to the KSU 39.  But Texas forced a three and out, and then on the first play of the next series Casey underthrew an ill-advised deep pass to Worthy that was intercepted by the Wildcats.  I like the idea of the quick air strike after a drive that was almost all on the ground, but K State must have smelled it.  The momentum swung right back to K State, and the Wildcats and Deuce Vaughn capitalized.  Deuce had 47 yards of the 68 yard scoring drive, including a 19 yard burst and an untouched scamper for the touchdown.  7-7.
Texas responded with a 73 yard drive which included, in addition to a lot more RoJo, Cade Brewer's first rushing attempt of his long career on The Forty Acres, a cool play where he came in motion then stopped and took the snap under center, pushing forward for 2 yards on third and 1.  Fittingly, the drive concluded with a ten yard touchdown pass to Brewer who made a great catch in the end zone for the score.  Dicker's PAT was messed up, but Texas had the 13-7 lead.
After the kickoff, K State back-up quarterback Will Howard managed to run 71 yards on the first play of the possession for a Wildcat touchdown.  Yes, it was ugly.  But at least it precipitated some change.  And it didn't happen again (at least Howard; Deuce Vaughn continued to get big gains).
The teams traded punches, and then K State got good field position after a poor Texas series, starting at the KSU 42.  Texas kept them out of the endzone, but the Wildcats got a field goal  to go up 17-13.  I can't say that I felt all that secure at the point in time, with under 2 minutes left in the half.  But Texas executed a pretty good offensive series, with passes to Worthy, runs by Roschon, and then an interesting play where Worthy tried to throw to Marcus Washington.  The K State pass interference got the Horns to the thirteen yard line but with little time on the clock.  Thompson couldn't connect with Worthy, and Texas settled for 3.  17-16 at half.
Here's the good news:  That K State field goal with 1:56 left in the first half was the last points the Wildcats would put up.  The much maligned Texas defense stepped up and shut-out K State in the second half.
That second half started a little scary, as Malik Knowles again had a great kickoff return, this one of 41 yards, and Dicker, just as he did on his first kickoff of the game, had to make the tackle.  K State pushed the ball down field with Deuce Vaughn, but on second and 4 at the Texas 27, Jacoby Jones (so good to see him back for the game) made a huge play and tackled Brooks for a 10 yard loss.  Gbenda sacked Howard on the next play, and K State punted.
The nice defensive stop didn't translate to offence, and starting at their own 6 yard line, the offense sputter to a 3 and out.
K State again had great field position and, recall, a 1 point lead.  5 minutes into the third quarter at their own 42.  I am still puzzled at the play-calling on this one.  Deuce Vaughn, who had been ripping off good gains – I am guessing he was averaging about 6 to 7 yards per carry – never touched the ball.  A three and out.
Texas got the ball on its 18, and a good series for the Horns.  A 10 yard pass from Casey to RoJo got the drive going, and over the next 7 minutes, Texas ground out a solid drive.  Lots of RoJo in the Wildcat, completions to Dixon for 7 and Jared Wiley for 19 and 5, and then a Dicker field goal to put Texas up 19-17.
After a K State 3 and out to end the third quarter, Texas got the ball to midfield and stalled.  Kansas State went back to Deuce, but then Coburn stuffed him on third and 1.  Another interesting coaching decision, as down 2 with 10 minutes to play, K State when for it on fourth and 1 at their own 30.  Amazingly, Texas stopped Deuce again, forcing the turnover on downs.
Texas capitalized, at least with another field goal.   Roschon broke a nice 21 yard run down to the K State 9.  But Casey was unable to connect with Worthy, and RoJo couldn't ram it in, so Dicker took care of business giving the Horns a narrow 22-17 lead with 7:28 to play.
It looked grim at the start of the next K State drive which began at their own 40 after a short kickoff (which I still don't understand) and a return.  Texas allowed a 14 yard pass and then Deuce ripped another 20 yarder, and if was first down K state at the Texas 26.  A couple of runs and it was third and 1 at the 17.  Replicating the prior stop, Texas stopped Deuce on third and 1 for no gain, and then big Snacks Coburn stepped up again, stopping Howard for no gain on fourth and 1.
4:03 to play, and I turned to Charles and said "time for Texas to execute the 4 minute offense".  I wasn't fully confident that we would, given that it had not come into play for Texas in at least a couple of months.  But execute we did, thanks to Roschon Johnson.  4 yards, 17 yards, 24 yards, and it was first and 10 at the K State 38.  We stalled there, but when Dicker punted there were only 40 seconds left.  The Wildcats had 33 seconds to go 80 yards, and they only got 21.
It wasn't the most exciting football game, but it was really, really great to see Texas win.
Casey's numbers weren't spectacular, with the interception, but he was 17 of 23 with a touchdown.  He played hard, made some great passes, and avoided sacks.  8 Longhorns caught passes.
The offensive line played well, opening holes for RoJo (and pushing him in scrums for yards!) and protecting Casey.   Texas only allowed one sack to K State, who was averaging 2.5 per game.
Highlights
From CFB on FOX, 6  minutes.  Good highlights, but the RoJo run at 3:50 is great.
From the Big XII.  3 minutes:
From Victors Valiant, 10 minutes
Good Stuff – Tope Imade
If you want to know why I am optimistic about the future for Texas football, go read Tope Imade's farewell and thank you letter.  I wish he had another year or two.
Thank you all for the amazing journey here at UT! #Longhorn4Life pic.twitter.com/BYq0onJIEE

— Tope Imade (@TopeImade) November 27, 2021
He is a cool guy, and if this doesn't tug on your heart strings, I don't know what will.  Check out both videos.
Texas OL Tope Imade runs out of the tunnel with a framed photo of his late mother, Betty, on Senior Day. #HookEm pic.twitter.com/gULCYPQMkc

— Danny Davis (@aasdanny) November 26, 2021
Big kudos to Bijan Robinson for his good work off the field.  Per Brian Davis from the Statesman:  Texas RB Bijan Robinson told me today he's out of the elbow brace and has full range of motion again. As for UT's future, "I've been looking at that portal, who's in there. I've been doing everything I can (to help recruiting)."
2022 Schedule
You probably saw the schedule for next fall.  Going to be fun.  Seven home games – the most I can recall in a long time.  Texas plays Alabama in Austin in 310 days.
(Home games in bold caps; neutral-site contests in italics; all times TBA)
Sept. 3 – LOUISIANA-MONROE
Sept. 10 – ALABAMA
Sept. 17 – UTSA
Sept. 24 – at Texas Tech*
Oct. 1 – WEST VIRGINIA*
Oct. 8 – vs. Oklahoma* (Cotton Bowl – Dallas)
Oct. 15 – IOWA STATE*
Oct. 22 – at Oklahoma State*
Nov. 5 – at Kansas State*
Nov. 12 – TCU*
Nov. 19 – at Kansas*
Nov. 26 – BAYLOR*
The season finale with Baylor in Austin is on the Saturday after Thanksgiving, which will be really nice.
The Big 12 Championship Game is December 3.
Big XII Honors
 Texas placed four players on the first teams.  Bijan Robinson, Worthy, and Derek Kerstetter were first team offense, and Dicker the Kicker with a first team punter.
Honorable Mentions: Cade Brewer (TE), Luke Brockermeyer (LB), Keondre Coburn (DL), Anthony Cook (DB), Cameron Dicker (PK, STPoY), B.J. Foster (DB),Byron Murphy II (DFoY), Ovie Oghoufo (DNoY), Moro Ojomo (DL), DeMarvion Overshown (LB), Bijan Robinson (OPoY), Keilan Robinson (ONoY).
Texas Longhorns Men's Basketball
Texas played a game in Gregory Gym for the first time since a Southwest Conference tournament game with Baylor in 1977.  The Horns hosted Sam Houston State in front of a students-only crowd.  It was quite the afternoon and night.  Chris Beard is motivating student involvement and doing it well.  This video is worth 2 minutes of your time.
The Gregory Gym Game: Cinematic Recap#HookEm pic.twitter.com/69xUhnGYK3

— #7 Texas Men's Basketball (@TexasMBB) December 2, 2021
Oh, and Texas won 73-57.  Marcus Carr led the Longhorns with 19 points.  Andrew Jones and Courtney Ramey each had 14, and Timmy Allen had 12.  AJ is coming off the bench and playing most of the game.  He had 31 minutes Monday night.
This was entertaining this week.  You have to look at both posts.
WANTED: Hawaiian shirt kid

Twitter do your thing and help us find this guy 🤘 pic.twitter.com/gyrBZ3fxuH

— #7 Texas Men's Basketball (@TexasMBB) December 1, 2021
Hawaiian Shirt Guy film session 😂🤘 pic.twitter.com/yS9LkO4Iih

— #7 Texas Men's Basketball (@TexasMBB) December 1, 2021
The Longhorns play UT Rio Grande Valley tonight at 6:00 p.m. at the Drum.  See y'all there.
Texas Volleyball
The Texas volleyball team won its 13th Big 12 championship over the Thanksgiving weekend, taking both matches in Lubbock.  Thirteenth conference title since 2007.  Also since 2007, the Texas volleyball team has lost 15 Big 12 matches.  Fifteen.  241-15 over the last 15 years in the Big 12.
Texas won its opening round match at Gregory Gym Thursday night, sweeping Sacred Heart.  The Longhorns will play the Rice Owls Friday night at 8:00 p.m. at Greg.  The game will be on the Longhorn Network, immediately following the basketball game with UTRGV.
Good Luck!  Hook Em!
NIL and The Future
The future is here, at least when it comes to the dramatic revolution in college sports with NIL and the above-the-table, authorized and institutionalized payment of student athletes.
https://www.on3.com/news/university-of-texas-supporters-nil-program-other-schools-likely-will-copy/
I really will have a newsletter on all of the fascinating and game-changing aspects of NIL and the other ramifications of the unanimous U.S. Supreme Court decision last summer in the Alston case.
Coaching
Well, just a few things happening in the last week in college football.  None bigger than Lincoln Riley giving up the good life in Norman Oklahoma to go live in Los Angeles and coach the Southern Cal Trojans.  The information in the tweet that started the rumors on his compensation is, to my knowledge, still unverified.  But $110 million, a house in LA, use of the private jet (a nice one), and taking care of his (very nice) home in Norman sounded good.  However, USC is a private school, and they don't have to take their coach's contract to a Board of Regents for approval with public notice.  But here is my guess:  Lincoln is getting more than that.
Next on the list is Brian Kelly to Louisiana State.  Pretty surprised on that one.  But Geaux Tigers.
Sonny Cumbie going to Ruston to replace Skip Holtz at La Tech.
Sonny Dykes going to Fort Worth and taking over the Horned Frogs program.  Southern Methodist hired Rhett Lashlee to replace Dykes.  Yeah, me neither.  Lashlee was the OC at Miami (Florida).
Billy Napier's good work in Lafayette got him the Florida job.  Congrats Billy.
Joey McGuire replacing Matt Wells in Lubbock.  He was the LB coach for Baylor
Big shock:  Bronco Mendenhall resigned from Virginia Thursday.  He will coach the Cavaliers' bowl game.
The Polls
CFP:  Georgia, Michigan, Alabama, and Cincinnati.  The rest of the CFP:  Oklahoma State, Notre Dame, Ohio State, Ole Miss, Baylor, and Oregon round out the top 10.  Michigan State at No. 11, Brigham Young at No. 12, Land Thieves at No. 14, Houston at No. 21, Texas Agricultural & Mechanical at No. 25.
AP Top 25:  Georgia, Michigan, Cincinnati, Alabama, Oklahoma State, Notre Dame, The Ohio State University TM., Ole Miss, Baylor, and Oregon.  Michigan State at No. 11, Brigham Young at 12, Land Thieves at 13, Houston at 16, and Texas Agricultural & Mechanical is NO. 24.
Coaches Poll:  UGA, Roll Tide, Big Blue, Cinci, Oklahoma A&M, L'Université de Notre Dame du Lac, Hotty Toddy, Brazos Baptists, and Ducks.  Land Thieves at 11, Michigan State at 13, Brigham Yong at 14, Houston at 16, and Texas Agricultural & Mechanical at No. 23.
Championship Weekend
No. 5 Oklahoma State and No. 9 Baylor, 11:00 a.m. Saturday morning on ABC. The first time since 1998 that the Big 12 CG will not include the Land Thieves or the Longhorns.  Cowboys favored by 5.5, over/under is 46.5.  If this game is half as good as the Bedlam game last Saturday night, it will be a great game.
The Pac-12 Championship Game is Friday night, 7:00 p.m. on ABC.  No. 10 Oregon and No. 17 Utah from Las Vegas.  Utes favored by 2.5, over/under is 58.
The rest of the games are Saturday.
SEC:  No. 1 Georgia vs. No. 3 Alabama at 3:00 p.m. on CBS from Atlanta.  Georgia favored by 6.5, over/under is 49.5.
No. 2 Michigan vs. No. 13 Iowa for the Big 10 championship, 7:00 p.m. on FOX.  Wolverines favored by 11, over/under is 43.5.
No. 15 Pitt vs. No. 16 Wake Forest for the ACC title, 7:00 p.m. on ABC.  Pitt favored by 3, over/under is 71.
No. 4 Cincinnati trying to stay undefeated will play No. 21 Houston for the American Athletic Conference Championship, 3:00 p.m. on ABC from Nippert Stadium in the Queen City.  Cats favored by 10.5 over the Cougs, over/under is 52.5.  I hope Houston wins this, for you Joe Willoughby!
Appalachian State vs. No. 24 Louisiana-Lafayette.  ULL is 11-1 and went 8-0 in the Sun Belt.  Remember that one loss?  Yes, to Texas to open the season.  38-18 Horns.  I am not so sure our hope was false.  I think the injuries and just bad luck bit us.  Anyway, App State favored by 3 at Cajun Field.  Over/under is 53.  I wouldn't bet against the Cajuns at home.  Laissez les bon temps rouler.
Utah State and No. 19 San Diego State will battle for the Mountain West title.  2:00 p.m. on FOX.  Aztecs favored by 6, over/under is 50.
Last Week – 13
Big 12
Iowa State throttled the Patterson-les Frogs, 48-14.
Baylor survived against Tech, 27-24.
West Virginia held off that strong Kansas Jayhawk squad, 34-28.
And in one of the best games of the weekend, Oklahoma State rallied with 13 points in the fourth quarter to beat the Land Thieves in Bedlam, 37-33.  Congrats Coach Gundy.  And the school gave him a five year extension in perpetuity.  He earned it.
The Rest of Interest
Ole Miss won the Egg Bowl, 31-21 over Mississippi State.  Thanks Rebs!  Hotty Toddy.
Mack's Tarheels battled but fell short to the Wolf Pack, 30-34.
Iowa had to score 19 points in the fourth quarter to beat Nebraska 28-21.  Another brutal season for the Cornhuskers.
Michigan putting a whipping on Ohio State, 42-27.  Great football game.
The Iron Bowl went to 4 overtimes in a heartbreaker for Auburn as the Crimson Tide pulled out a 24-22 win on the Plains.
No. 1 Georgia 45-0 over Georgia Tech. Thanks Dawgs!
Notre Dame 45-14 over Stanford.  Who knew that would be Brian Kelly's last game coaching the Irish.
Michigan State 30-27 over PSU.
Southern Cal nearly got the upset over Brigham Young, but Troy fell 31-35.
Minnesota got Paul Bunyan's Axe with the 23-13 upset of Wisconsin.
Sadly, UTSA fell to the Mean Green of North Texas, 23-45.  I thought the undefeated Roadrunners might trip at some point, but a 22 point loss in Denton was not on my bingo card.
Washington State got the Apple Cup with a 40-13 spanking of the Huskies.
Air Force 48-14 over UN Las Vegas.
Army 31-16 over Liberty.
Navy 38-14 over Temple.
Good weekend for the academies!
Tough overtime loss for Miami to Kent State, 47-48.  Ouch.
Miami (Florida) beat Duke 47-10 and finished 7-5 on the season.
Charity
Let's keep this one going.  Support your local food bank.  In Austin and Central Texas:
https://www.centraltexasfoodbank.org/
Austin Photo
Carli Todd is Director of Player Development for Texas Longhorns Baseball, and she's an accomplished photographer.  She took this photo on December 1, I am guessing from the top of the East Campus Parking Garage by the Disch.  Love it.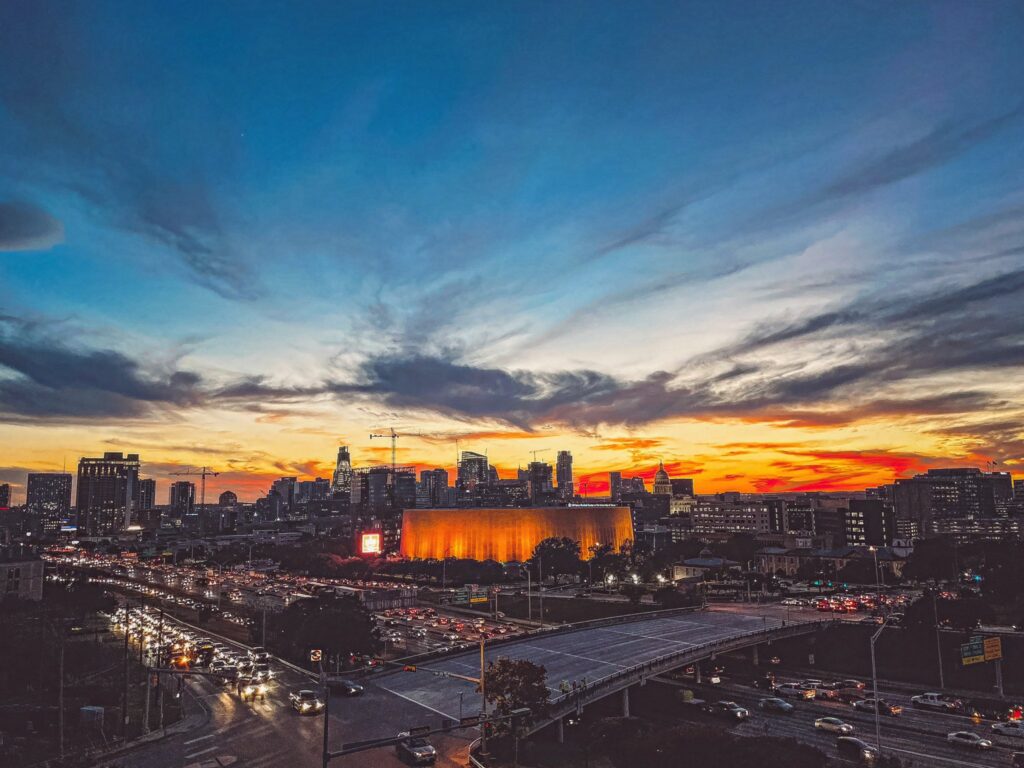 God Bless Texas
 God Bless America
Tim Taylor

Tailgating before Home Football Games
The Juan Heisman Tailgate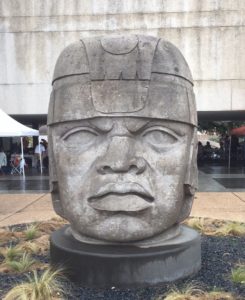 Lot 38, East of Sid Richardson Hall.
HOOK EM HORNS!!
© Timothy C. Taylor, Sr. 2021.  All Rights Reserved (as to original material).
On Twitter:  @tctayloratx
On LinkedIn:  www.linkedin.com/in/tctatx
On Instagram:  @tctayloratx
On Facebook:  www.Facebook.com/Tim.C.Taylor
and:  www.Facebook.com/Juan.Heisman
You can contact me by mail:
Tim Taylor
P.O. Box 5371
Austin, Texas  78763-5371