Good Morning Longhorn Fans!
Longhorns vs. Red Raiders
Texas and Tech kick-off their Big XII season at 2:30 p.m. in Jones AT&T Stadium on Saturday.  The game will be broadcast nationally on FOX with Tim Brando and Spencer Tillman on the call.  On the Radio with the Voice of the Longhorns, Craig Way, and supported by Roger Wallace and Quan Cosby (the best college radio team in the country).  The Longhorns head to Lubbock ranked No. 8 in the AP Top 25 poll and No. 9 in the Coaches Poll.  Tech received 5 votes in the AP poll, which means there are 5 people in America who have Houston Baptist confused with either the University of Houston or the Houston Texans.
Texas 59, UTEP 3
The Longhorns crushed the cousins from El Paso to open the 2020 season.   More below, but suffice to say that if that game was any indication, the Yurcich and Ash hires are going to be spectacularly successful.  Yurcich opened up the offense, we scored a touchdown on the first play from scrimmage, and Sam Ehlinger had one of the best halves of football in Longhorn history.  The defense tackled.  Really well.  And this, from the UTEP pregame email:  "The Longhorns are favored by 43, and the over/under is 58.5.  I will take Texas to cover and take the over."  Good start to the season for us all.
The University of Texas Longhorns vs. Texas Tech Red Raiders
 Ah, a trip to Lubbock in the early autumn.  What a delight.  Actually, I have made two trips to Lubbock (in my life).  The first one started great and ended tragically (Crabtree), the second was just one of those amazing days I will never forget.  Also below is the biennial tradition of Casey Dobson's Lubbock Travel Alert.
The Longhorns lead the all-time series with the Red Raiders 52-17.  The Horns' record in the Hub City is 21-10.  Which means that if Tech wins every game in Lubbock starting Saturday (which they won't), they will tie the series record for their home games with the Horns in 2042.  I will be 82 years old.  Makes me chuckle.
The last decade has been a good one against Tech.  The Horns are 8-2, with, oddly, both losses in Austin (45-48 in 2015 and 23-27 in 2017).
The Official Preview:
https://texassports.com/news/2020/9/21/no-8-9-football-preview-at-texas-tech-sept-26-2020.aspx
The Official Texas Game Notes:
https://texassports.com/documents/2020/9/21//Texas_2020_Notes_2.pdf
The Statistics
Normally, I don't do the stats comparison this early in the season.  Not a lot to glean from one game.  However, it has been a long, long time (best I can recollect) since I have been able to put a Number 1 or 2 national ranking for Texas in any meaningful category.  And as you may recall last year, Texas was DFL or PDC to DFL in one or two defensive categories.  We have top rankings on both sides of the ball as we start conference play.  So, enjoy it.
Offense
| | | |
| --- | --- | --- |
| Statistic | Texas | Texas Technical |
| Rushing Offense | #19 – 208 ypg | #22 – 194 ypg |
| Passing Offense | #2 – 481 ypg | #3 – 430 ypg |
| Total Offense | #1 – 689 ypg | #4 – 624 ypg |
| Scoring Offense | #1 – 59 ppg | #21 – 35 ppg |
| First Downs | #8 – 28/game | #1 – 35/game |
| Sacks Allowed | #1 – 0 | #1 – 0 |
| Tackles for Loss Allowed | #1 – 2, 4 yards | #3 – 3, 6 yards |
| Third Down Conversions | #16 – 50% | #3 – 66.7% |
| Fourth Down Conversions | #42 – 0% (0/1) | #42 – 0% (0/1) |
| Red Zone Offense | #26 – 86% / 71% | #30 – 83% / 83% |
| Long Run Plays | #49 – 4/10; 2/20; 1/30; 1/40 | #32 – 7/10 |
| Long Pass Plays | #19 – 18/10; 10/20; 5/30; 3/40; 1/50; 1/60 | #15 – 20/10; 4/20; 1/30 |
| Long Scrimmage Plays | #28 – 22/10; 12/20; 6/30; 4/40 | #20 – 27/10; 4/20; 1/30 |
Defense
| | | |
| --- | --- | --- |
| Statistic | Texas | Texas Technical |
| Rushing Defense | #3  – 43 ypg | #2 – 28 ypg |
| Passing Defense | #22 – 190 ypg | #52 – 572 ypg |
| Total Defense | #7 – 233 ypg | #51 – 600 ypg |
| Scoring Defense | #2 – 3 ppg | #38 – 33 ppg |
| Sacks | #33 – 2, 16 yards | #23 – 3, 14 yards |
| Tackles for Loss | #33 – 8, 26 yards | #40 – 6, 24 yards |
| First Downs Allowed | #7 – 14/game | #49 – 28/game |
| Third Down Conversions | #5 – 19% | #37 – 47% |
| Fourth Down Conversions | #9 – 33% | #19 – 50% |
| Red Zone Defense | #1 – 0% / 0% | #4 – 33% / 33% |
| Long Run Plays Allowed | #2 – 1/10 | #1 – 0 |
| Long Pass Plays Allowed | #10 – 7/10; 1/20; 1/30 | #39 – 21/10; 8/20; 5/30; 4/40 |
| Long Scrim. Plays Allowed | #4 – 8/10; 1/20; 1/30 | #26 – 21/10; 8/20; 5/30; 4/40 |
Note: Being Number 52 means you are dead last right now.  Last year, there were 130 teams at the FBS level
Other
| | | |
| --- | --- | --- |
| Statistic | Texas | Texas Technical |
| Turnover Margin | #9   1:0; +1.0 | #27   1:1; 0.0 |
| Penalties* | #10 – 6, 55 yards | #41 – 13, 104 yards |
*Based on total number of penalties.
Match-up Comparison
| | |
| --- | --- |
| Texas Offense | Tech Defense |
| Rushing Offense – 208 ypg | 28 ypg – Rushing Defense |
| Passing Offense – 481 ypg | 572 ypg – Passing Defense |
| Total Offense – 689 ypg | 600 ypg – Total Defense |
| Scoring Offense – 59 ppg | 33 ppg – Scoring Defense |
| First Downs – 28/game | 28/game – First Downs Allowed |
| 3rd Down Offense – 50% | 47% – 3rd Down Defense |
| 4th Down Offense –  0% | 50% – 4th Down Defense |
| Red Zone Offense – 86/71 | 33/33 – Red Zone Defense |
| LRP – 4/10, 2/20, 1/30, 1/40 | 0 – LRP Allowed |
| LPP – 18/10, 10/20, 5/30, 3/40, 1/50, 1/60 | 21/10, 8/20, 5/30, 4/40 – LPP Allowed |
| LSP – 22/10, 12/20, 6/30, 4/40 |  21/10, 8/20, 5/30, 4/40 – LSP Allowed |
| | |
| --- | --- |
| Texas Defense | Tech Offense |
| Rushing Defense – 43 ypg | 194 ypg – Rushing Offense |
| Passing Defense – 190 ypg | 430 ypg – Passing Offense |
| Total Defense – 233 ypg | 624 ypg – Total Offense |
| Scoring Defense – 3 ppg | 35 ppg – Scoring Offense |
| First Downs Allowed – 14/game | 35/game – First Downs |
| 3rd Down Defense – 19% | 66.7% – 3rd Down Offense |
| 4th Down Defense –  33% | 0% – 4th Down Offense |
| Red Zone Defense – 0/0 | 83/83 – Red Zone Offense |
| LRP Allowed – 1/10 | 7/10 – LRP |
| LPP Allowed – 7/10, 1/20, 1/30 | 20/10, 4/20, 1/30 – LPP |
| LSP Allowed – 8/10, 1/20, 1/30 | 27/10, 4/20, 1/30 – LSP |
 Depth Charts
Jake Smith is out with an injury.
I am really bummed about Jordan Whittington.  Thought this would be a breakout year. Get well!
The Red Raiders
I am not sure anyone knows what Texas Tech has this year.  Pretty sure the counterparty to my preseason wager did not know.  But I am guessing most Tech fans thought it was more than what they saw against Houston Baptist.
Alan Bowman (#10, 6-3, 215 pound sophomore) is back at quarterback, and he had a fairly typical Tech QB game vs HBU.  38-52, 430 yards, 2 TDs, and a pick.  SaRoderick Thompson (#4, RS Sophomore, 6-0, 210) is the real deal at running back.  22 carries against HBU for 118 and 3 TDs.  Tahj Brooks had 9 carries, and Chadarius Townsend 6.  I expect to see a lot of SaRoderick.  Our defensive line and linebackers are going to have to play well.  Tech always seems to have a good and nasty offensive line that hates Texas and plays well against us.
Lots of good receivers.  KeSean Carter (#82, WR, 5-11 & 190 Junior) had 86 yards and a TD (6 catches) against HBU.  T.J. Vasher (yes, Nathan is his uncle) is a big target.  No. 9 is 6-6 and 215, and he will get some catches.
The Tech D was led versus HBU by linebacker Krishon Merriweather.  6-0, 240 junior, #1.  Arrived in Lubbock this year from Garden City C.C.  Had 12 tackles (7 solo, and 0.5 TFL).  Riko Jeffers (LB, #6, 6-2, 235 Senior) had 9 tackles (3 solo, 1.5 TFL, and in on a sack).  Watch Jaylon Hutchings (#95, 6-0, 300 Sophomore); 1.5 TFL and a sack vs. HBU.
TCT Prediction
Tech is not a bad team, but I think the 2020 Longhorns may be a great team.  We have a big edge at quarterback, 3 great running backs, and an offensive line going against a Tech defense that was pretty terrible against Houston Baptist.  Tech is certainly a better opponent than UTEP (no offense Miners [literally]), and we will know a lot more about this Texas team around 6:00 Saturday night, as I get the steak out of the refrigerator to start bringing it to room temp.  I think what we are going to know is this:  Texas can score 45 to 50 points a game in the Big 12.  Sam Ehlinger is indeed a Heisman Candidate.  We have a real defense again, and yes, we may actually have a colorable claim in 2020 to DBU.  The Vegas line opened at 19 and was at 17.5 early Friday morning.  Over/under is 71.  I have Texas to cover, and take the over.  Texas 48, Tech 24.  Hook Em!
Previews on the Interwebs
Cameron Parker on BurntOrangeNation.com
https://www.burntorangenation.com/2020/9/23/21449957/week-2-opponent-preview-texas-tech-texas-longhorns-football-ehlinger-bowman-herman-wells-big-12
Jason Suchomel on OrangeBloods
https://texas.forums.rivals.com/threads/texas-vs-texas-tech-match-ups-one-clear-area-the-longhorns-can-exploit.488519/
The Texas Tech Preview:
https://texastech.com/news/2020/9/21/football-game-preview-texas.aspx
The Chancellor's Spurs
How many of you know that the game with Texas Tech is a rivalry where we play for the "Chancellor's Spurs"?  In 1996, when the Texas Tech University System was established and John Montford was named the first chancellor, Montford started this trophy tradition.  The UT System of course had been around a long time, with The University of Texas as the Flagship.  Texas Tech became the flagship (top 18 Wheeler?) of the Tech System.  The Tech System has Texas Tech in Lubbock and one other undergrad – Angelo State, and two health science centers, Lubbock and El Paso.  [As an aside, it would be appropriate to give some recognition to Paul Foster, former chairman of the UT Board of Regents.  The med school for Tech in El Paso is the Paul L. Foster School of Medicine.  Mr. Foster is a Baylor alum, a great supporter of higher education, and a great Texas philanthropist.]  The University of Texas System has 14 institutions, led by The University of Texas at Austin.  Add UT Arlington, UT Dallas, UTEP, UT Permian Basin, UTRGV, UTSA, and UT Tyler.  And our health institutions-  the original, UTMB in Galveston, and the great, world-renowned UT MD Anderson Cancer Center, plus UT Southwestern, UT HSC Houston, UT HSC San Antonio, and UT HSC Tyler.  We also have two medical schools in the institutions, UT Dell Medical School in Austin and UT Health RGV and its School of Medicine.  Plus, under Chairman Eltife's leadership, we have announced a med school in Tyler.  JB, please bring the spurs back from Lubbock.
Longhorns 59, Miners 3
A bit busy for my usual recap, even with 2 weeks in between games.  But some notes and thoughts and a look at some of the stats.
Texas won the toss and elected to receive.  On the very first play, you knew the 2020 Horns were going to be different.  Ehlinger connected with Joshua Moore on a quick pass play with Moore in stride, and he took it 78 yards for the score.  A 1 play, 19 second drive.
Second Texas series was a more sustained drive, 67 yards in 3:24, with good mix of run and pass, but then two completions to Cade Brewer to complete it.  15 yards to the UTEP 20 then a 20 yard scoring reception.
Texas would go on to score a touchdown its next 3 possessions, settling for a Dicker the Kicker 35 yarder on sixth UT possession.
UTEP would get on the board with a 47 yard FG with under 2 minutes in the half to make it 38-3, but Texas answered with an excellent up tempo drive that had passes to Whittington (5
Yards) and then 2 to Kai Money (17 yards and 6 yard TD).  It was 45-3 at half, and Longhorn Nation had witnessed an historic first half from Sam Ehlinger:  24/32, 429 yards, 13.4 yard average, and 5 touchdowns.
The starters would see a series in the third, but after that, it was a lot of great opportunities to get playing time for guys we may very well need as this covid season wears on.  46 Longhorns got on the field.
As many expected, it was running back by committee.  Ingram finished with 44, RoJo with 38, Bijan Robinson with 38 (and a long of 29).  Malcolm Epps was actually our second leading rusher with 40.  A great play call.
The Texas receiving corps racked up 29 catches, 7 TDs, and 481 yards, paced by Joshua Moore with 127.  Tarik Black was impressive with his 5 for 80 and a TD. And how about Schooler?  65 yards on 2 catches and a score.  The tight ends were involved too, which I really liked.
The line blocked really well.  No sacks, 3 tackles for loss for 2 yards.
All in all, and impressive debut for new OC Mike Yurcich.  A different (and better) feel to the offense.  More open, more flexible.
The defense was equally impressive.  Chris Ash may very well help deliver another Championship to Austin.  Better on fundamentals, including (especially) tackling.  8 tackles for loss is a nice start.  No surprise the Joseph Ossai lead the Horns win tackles, with 9 (2 solo, including a TFL).  Chris Adimora had a solid game with 6 (3.3), and D'Shawn Jamison and Cort Jaquess each had 5.  Alfred Collins sack was outstanding.  Seemed to stand out.
Lost comment on UTEP game:  kudos to Chris Del Conte and the entire Athletic Department and everyone else at The University who worked so hard for that game and to have fans there.  It was really well done.
Juan Heisman Tailgate
Brad Laughlin and I went over about 5:15 Saturday of the UTEP game.  The Navy lots were almost empty.  Kelly and Rob Dunn and son Mason were there.  That was it.  So glad to be with a couple of JHT folks, but otherwise depressing.  Someone put a mask on Juan. Which was a waste, as we all know that the Olmec's had a peculiar resistance to Chinese coronaviruses.  Had an issue with volcanoes, however.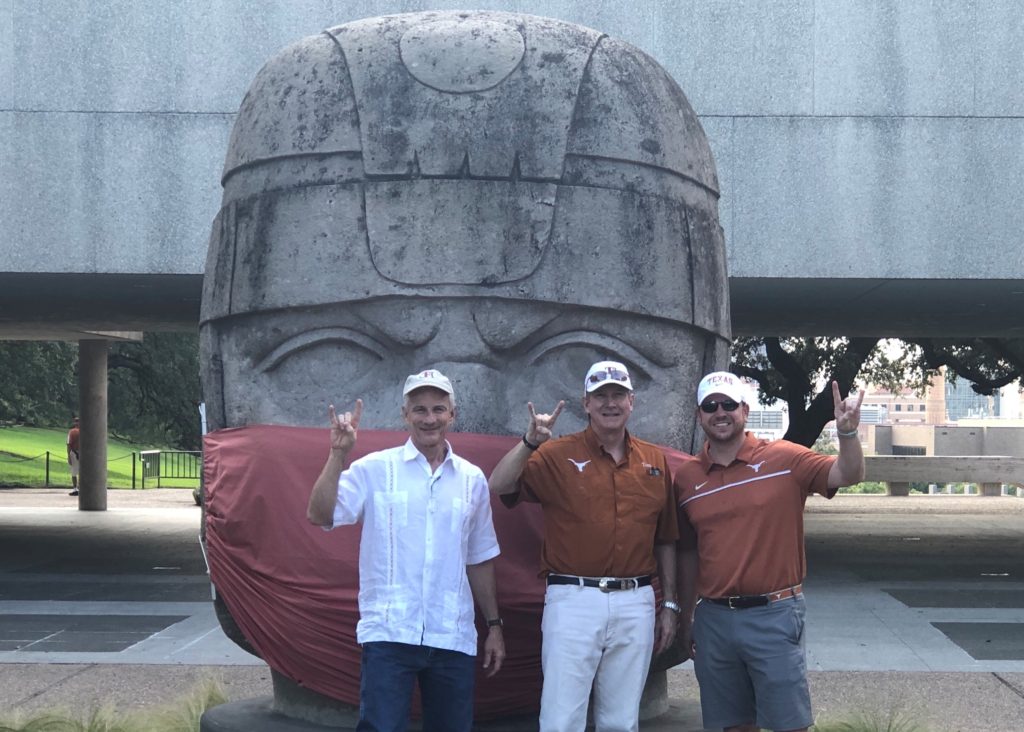 Polls
For those who haven't heard, the Pac-12 voted Thursday to play football this fall, starting November 6.  Several weeks and always 2 hours behind.  But glad for those kids.
AP Top 25:  Clemson, Alabama, Land Thieves, Georgia, Florida, Louisiana State, Notre Dame, Auburn and The University of Texas (tied at 9), and Texas Agricultural & Mechanical.  Coach Mack Brown and his Tarheels are No. 11.  Okie State at 15 (shocking, isn't it?).  Louisiana at 19.  Let that sink in.  Army at 22!  Love when the service academies are doing well and ranked.  [And for my Texas Agricultural & Mechanical friends, you are still ranked 10; just because Texas and Auburn are tied at 8 doesn't mean you are ranked No. 9.]
Coaches Poll:  Clemson, Roll Tide, Land Thieves, Dawgs, Bayou Bengals, Gators, L'Université de Notre Dame du Lac, War Damn Eagle, The University of Texas Longhorns, and The Ohio State University™.  Texas Agricultural & Mechanical is 11, Tarheels at 12, Okie A&M at 18.
This Week in the Big 12
 No. 3 Land Thieves host Kansas State in Norman.  11:00 a.m. on FOX.  Land Thieves favored by 27.5, and the over/under is 60.5.   As bad as the Wildcats looked, I would suggest a meaningful wager on OU to win and cover.
Iowa State at Texas Christian.  12:30 p.m. on FS1.  That's a nice start time.  Cyclones favored by 2.5 over the frogs, which is frankly shocking.  Over/under is 44.5.
West Virginia at No. 15 Okie State.  2:30 p.m. on ABC.  Cowboys favored by 7.0.  Who the hell knows; the line has been dropping.  Over/under is 51.5.
Kansas at Baylor.  6:30 p.m. on ESPNU.  Bears favored by 17.5.  Over/under is 62.
This Week in the Top 25
 The day kicks off with a grand game in Oxford, Mississippi, as the Rebs host Florida.  Breakfast in the Grove on a crisp fall morning.  Should be sunny and in the mid 60's for a bloody mary around 9:30 Saturday morning.  As always, Ole Miss wins the party.  Might be tougher for Ole Miss in Vaught-Hemingway.  Gators favored by 13.5, over/under is 57.  Hotty Toddy!
No. 7 Notre Dame at Wake Forest.  Postponed.  Bad luck for the Irish.  Not a good one.
No. 23 Kentucky at No. 8 Auburn.  First game for both, of course.  11:00 a.m. on the $EC Network.  Tigers favored by 7.5 over the Cats, over/under is at 49.5.  War Eagle.
No. 23 UCF at East Carolina.  11:00 a.m. on ABC.  I just can't get excited about the Florida directional schools.  I know they are big public universities, but I'd rather watch the MAC.  Or even Ivy League.  Okay, maybe not Ivy. Golden Knights (that's Central Florida) favored by 27, and over/under is 77.
No. 23 Louisville and No. 21 Pittsburgh.  11:00 a.m. on the ACC Network.  My uncle Bill, about whom I think I have written in the past, passed away earlier this year.  Old age, not the virus.  He was a great man and a beloved uncle.  Greatest Generation.  Fought for General George S. Patton in Europe, including the Battle of the Bulge.  Bill was also a proud Pitt Panther, having returned to western Pennsylvania after the War, enrolling at Pitt.  He was captain of the Pitt Panther basketball team his senior year, and in 1989 Pitt Athletics honored Bill with the "Varsity Letter of Distinction".  I have always had a soft spot in my heart for Pitt because of Uncle Bill, and I am pulling for them this year.  Panthers favored by 3, and o/u is 55.  Go Pitt!
No. 19 Louisiana at home in Lafayette, hosting Georgia Southern at Cajun Field.  11:00 a.m. on ESPN 2.  Ragin' Cajuns favored by 11.5, and the over/under is 51.
56 miles to the east on I-10, another Louisiana school, Louisiana State, will open $EC play with Mississippi State.  The Tigers are ranked No. 6, and the new head coach of the Bulldogs is a guy named Mike Leach.  Can you imagine a joint post-game presser with Leach and Orgeron?  I would pay to watch.   2:30 p.m. on the Columbia Broadcasting System.  Will be flipping over during commercials.  I did check, and officially there is no tailgating on the Louisiana State campus.  The horror.  Tigers favored by 16.5, and the over/under is 57.  Don't know about the line bet, but take that over.
No. 22 Army at No. 14 Cincinnati.  2:30 p.m. on ESPN. Okay, here's the deal:  I don't like Ohio.  Don't have a good reason.  Some good music out of there (e.g., Ohio Players, Bobby Womack, Dazz Band, Devo, Doris Day, John Legend, Michael Feinstein, Nine Inch Nails, Chrissy Hynde, The Black Keys, and 3 of my all-time favorites, the O'Jays, the Isley Brothers, and Dean Martin;  Heck, I could do a season's worth of music selections from Ohio.  But I digress.)  Like lots of folks from there.  Had a pledge brother from Hamilton.  Good guy.  Clint Greenleaf – great guy and great friend.  Just don't care for Ohio.  Go Army.  Cinci favored by 13.5, o/u is 45.  Go Army.
No. 4 Georgia at Arkansas.  3:00 p.m. on the $EC Network.  Georgia favored 27.5, and I hope it isn't that close. O/U is 53.
No. 2 Alabama at Missouri.  6:00 p.m. on ESPN.  Tide favored by 27.5, and the over/under is 56.  Tigers might cover.
No. 16 Tennessee at South Carolina, 6:30 p.m. on SEC Network.  Big game for Will.  Vols favored by 3.5, and over/under is 43.5.
Florida State at No. 12 Miami (Florida).  6:30 p.m. on ABC.  Florida State lost to Georgia Tech, who lost to UCF.  The Noles are 11 point underdogs at Hard Rock Stadium.  If they lose, they are, at best, the fourth best college team in Florida.  Let that sink in a minute.  Sorry Richard.  Over/under is 54.
Vanderbilt goes to College Station to take on No. 10 Texas Agricultural & Mechanical. 6:30 p.m. on the SEC Alternate.  Texas Agricultural & Mechanical favored by 31, and the over/under is 46.5.  Anchor Down!
NC State at No. 20 Virginia Tech.  7:00 p.m. on ACC Network.  Hokies favored by 7, and o/u is 56.5.
Troy at No. 18 Brigham Young.  9:15 p.m. on ESPN.  Cougars favored by just 14, and over/under is 61.  A good late night game for an after-dinner cigar and perhaps a second bottle of vino tinto.
Other Games of Interest This Week
 How 'bout those Roadrunners!  UTSA 2-0 and hosting Middle Tennessee in the Alamodome.  I sure had a good time there last New Year's Eve.  Really good.  UTSA kicks off Friday night at 7:00 p.m. on CBSSN.  UTSA favored by 7, and the over/under is 60.
UTEP in beautiful Monroe, Louisiana on Saturday for a 2:30 kick with ULM.  On ESPNU.  ULM favored by 9.5 over a team that just lost by 56.  Perhaps a hint on a good bet.  O/U is 50.
Duke at Virginia!  Big game for people who went to Duke or Virginia.  3:00 p.m. on ACC Network from Scott Stadium.  Cavaliers favored by 5, and the over/under is 46.  Go Hoos!
Texas State at Boston College.  Talk about culture shock.  5:00 p.m. on ESPN3.  BC favored by 17.5, o/u is 57.
Stephen F. Austin at Southern Methodist.  6:00 p.m. on ESPN+.  Bet that's a money-maker for the Entertainment & Sports Programming Network.  No line.  McCune, I will take the Jacks and 31.  LMK.
Good Stuff
The Week that Will Be:  That'll Be the Day, from HornMafia.
https://www.barkingcarnival.com/2020/9/24/21453792/the-week-that-will-be-thatll-be-the-day-texas-longhorns
Texas Pregamer
https://www.barkingcarnival.com/2020/9/24/21455098/texas-pregamer-texas-tech2020
 Last 2 Weeks in the Big 12
The preconference schedule has not been good for the conference.  Not at all.
Week 2
Arkansas State beat Kansas State in Manhattan, 35-31.  That was bad.  K State was 10.5 point favorite.
Worse, No. 23 Iowa State lost in Ames to ULaLa, now known just as "Louisiana", 31-14.  Not close.  Terrible loss for the Cyclones and the Big 12.
The Land Thieves did what a good team is supposed to do, shutting out Missouri State 48-0.  I guessed the Land Thieves would win by 8 touchdowns; they were up 41-0 at half, and like Texas, allowed a bunch of second half participation.
Texas Technical held off Houston Baptist, who scored 23 in the second half, for 35-33 win.  Tech was favored by 39.5.  Wow.
West Virginia 56-10 over Eastern Kentucky.
The Chanticleers of Coastal Carolina hammered Kansas 38-23.  I guess by that point in the evening (it was well after midnight, and yes, I was up watching it), I shouldn't have been surprised.  Hammered being an operative word.
Week 3
Fortunately for the Big 12, only one game got played last weekend (Baylor had another game cancelled; BU was supposed to play Houston).  Even more fortunately for the conference, and especially for Mike Gundy, the Okie Aggies rallied with a touchdown and 2 field goals in the fourth quarter to get past the Tulsa Golden Hurricanes, 16-7.  Their starting QB, Spencer Sanders got hurt, and his back-up was not good.  But the third stringer Shane Illingworth rallied the Pokes for a win.
Last Week in the Top 25
No. 1 Clemson took down The Citadel, 49-0.  Wasn't that close.  49-0 at half.  The Citadel coach declined the running clock, saying his team came to play 4 quarters of football.  I guess they got their money's worth.  So did Clemson.  Best I can tell, 73 players saw the field, including 8 different guys wearing the 1 jersey.
No. 7 Notre Dame 52-0 over South Florida.  Solid win.
No. 17 Miami (Florida) 47-34 over No. 18 Louisville.
No. 13 Cincinnati 55-20 over Austin Peay.
No. 14 UCF with a big win over Georgia Tech, 49-21.  Bit of a surprise to me.
Louisiana got ranked (19) after their win over the Cyclones, and they managed to win 34-31 over Georgia State in overtime.
Marshall with the 17-7 upset of No. 23 Appalachian State.
No. 25 Pittsburgh 21-10 over Syracuse.  Syracuse is, I am guessing, the only team in FBS already 0-2 in conference.  Tough start.
Charlotte and UNC was cancelled, and what would have been a really interesting game, No. 21 Brigham Young at No. 22 Army was postponed.
President Jay Hartzell
 On Wednesday, the Board of Regents of The University of Texas System voted unanimously to name Jay Hartzell as the 30th President of The University of Texas at Austin.  President Hartzell will be a great president and leader of our beloved University.  A couple of videos for you.
Board of Regents Chairman Kevin Eltife introducing Jay.  Pretty cool.
An excellent interview from this year's Texas Tribune Festival:
And yes, they lit the Tower orange for President Hartzell!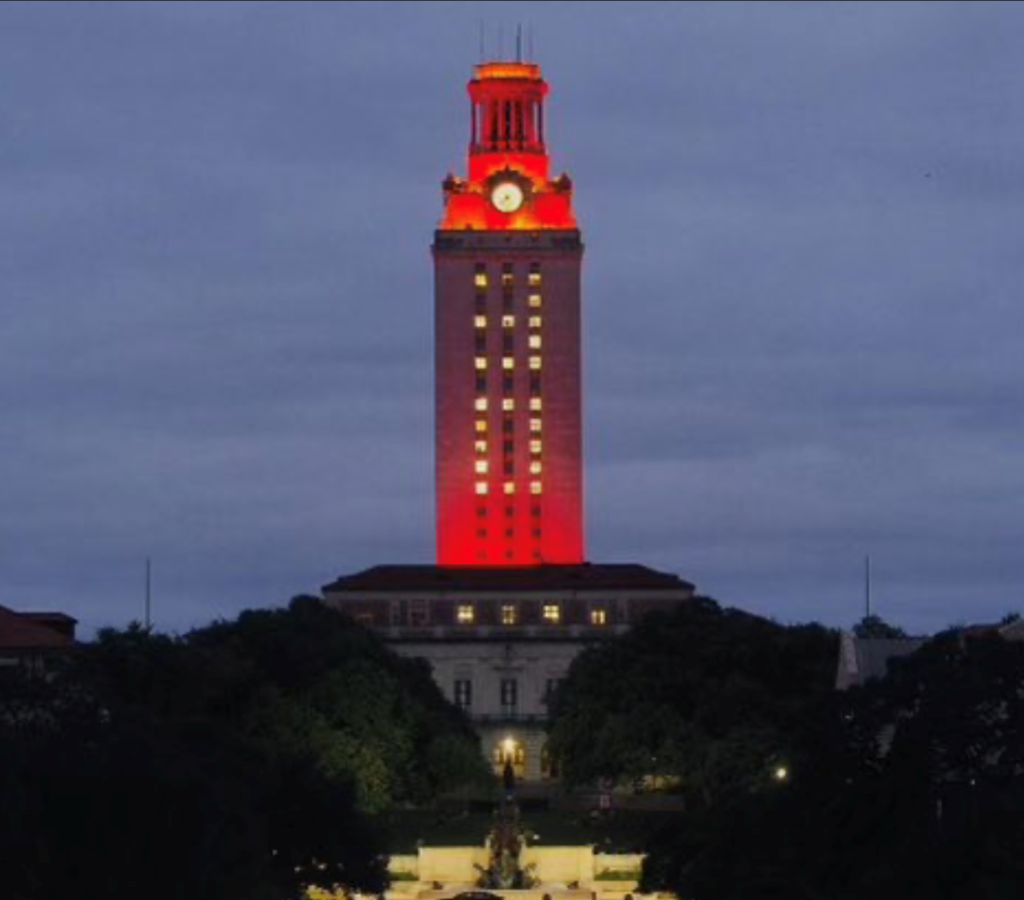 UT Tower Lit for Jay Hartzell, 30th President of The University of Texas
Chicago Cubs Baseball             
 I had so much to cover in the first email of the season, I didn't get to MLB and the Cubs.  I did note the psychological devastation of the cancellation of the college baseball season.  The emotional toll of that was far worse than the major league delay.  But man did I miss major league baseball.  When all of a sudden I know the standings in Australian Football League (Footie, as the Aussies call it), and I am following the Brisbane Lions and St. Kilda FC (@stkildafc – #TogetherWeRise), the Brisbane Cats, and the Geelong Cats (@GeelongCats #WeAreGeelong) on Twitter.  I have been infected by the virus, just not in the traditional sense of actually being sick.  Well, kind of.  (For those of you wondering, as of Thursday night, the top 8 in the Ladder were Port Adelaide, the Brisbane Lions, Richmond, Geelong Cats, West Coast Eagles, St. Kilda, Western Bulldogs, and Collingwood).  Go St. Kilda!
So, Major League Baseball had "Summer Camp" in mid-July, and the teams returned to the ballparks for a 60 game season starting Thursday July 23.  And the 2020 season opened with a Yankees vs. Nationals game featuring two of the best pitchers in the Show, Gerritt Cole and Max Scherzer.  The Yankees won 4-1. The San Francisco Giants lost the second game of the evening to the LA Dodgers.  Yes, I watched some of both.  More of the latter, because of Lifetime Longhorn Brandon Belt being a Giant.  He's having a good season.
Anyway, the Cubs started the season in the Friendly Confines with the Professor, Kyle Hendricks on the bump, facing the Milwaukee Brewers.  Cubs won 3-0.  Chicago would go on to win 12 of their first 15 games, which sets a team up pretty well in a 60 game season.  Just dropped 3 of 4 to Pitt (what the hell?).  As of Thursday night, the Cubs are in first place in the National League Central, with a 33-25 record.  The St. Louis Cardinals are 2.5 back, the Cincinnati Reds are 3 back, and the Brewers are 4.5 back.  Cubs have clinched a playoff berth, but it sure would be nice to win the Division.
The post-season is going to be weird.  The Wild Card games will all be played at the home park of the higher seed.  But after that, the Division Series, the League Championship Series, and the World Series will all go to neutral sites.  The NLD Series will be in Arlington and Houston, with the NL Championship Series in Arlington, Texas.  The ALD Series will be in San Diego and Los Angeles (Dodger Stadium), and the AL Championship Series will be in San Diego.  The World Series will be at the new Globe Life Park in Arlington.  How do we know that will be a neutral site?  Because the Texas Rangers did not have a good 2020 season, sitting dead last in the AL West right now.  Sorry Craig.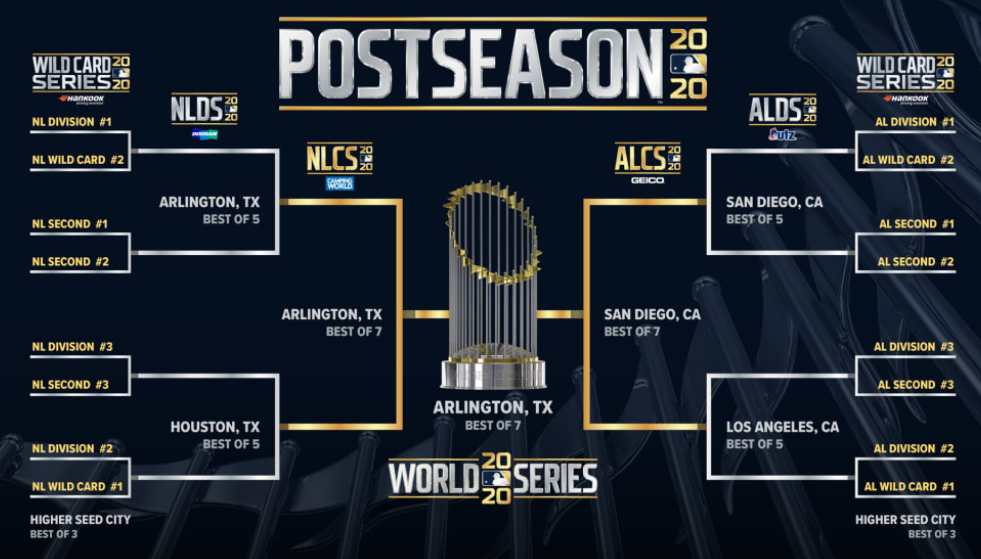 Texas Legacy Support Network
Lifetime Longhorn and 1969 National Champion Billy Dale established the Texas Legacy Support Network.  "The TLSN website is a Longhorn Sports archival, educational website building bridges from the past to support the present and inspire the future for all Longhorn fans. TLSN is 501 (c) (3) with educational and charitable intent.  TLSN is an independent organization celebrating Longhorn Sports History and assisting qualifying Horns who need temporary financial assistance."
You can go to www.TexasLSN.org to sign up for Billy's newsletter, donate, and enjoy some great history.  The newsletter is really good.
TLSN article on the 1969 championship season:
https://www.texaslsn.org/the-1969-season
Billy Dale knows a little about that season.  He scored the final touchdown in the Cotton Bowl against Notre Dame for the 21-17 Texas win.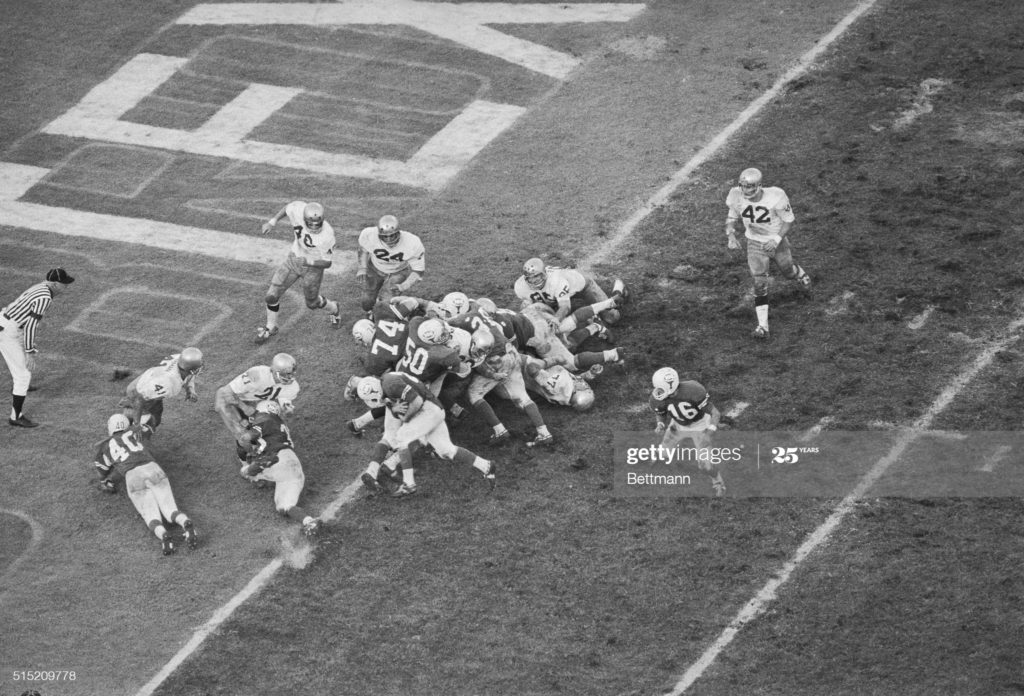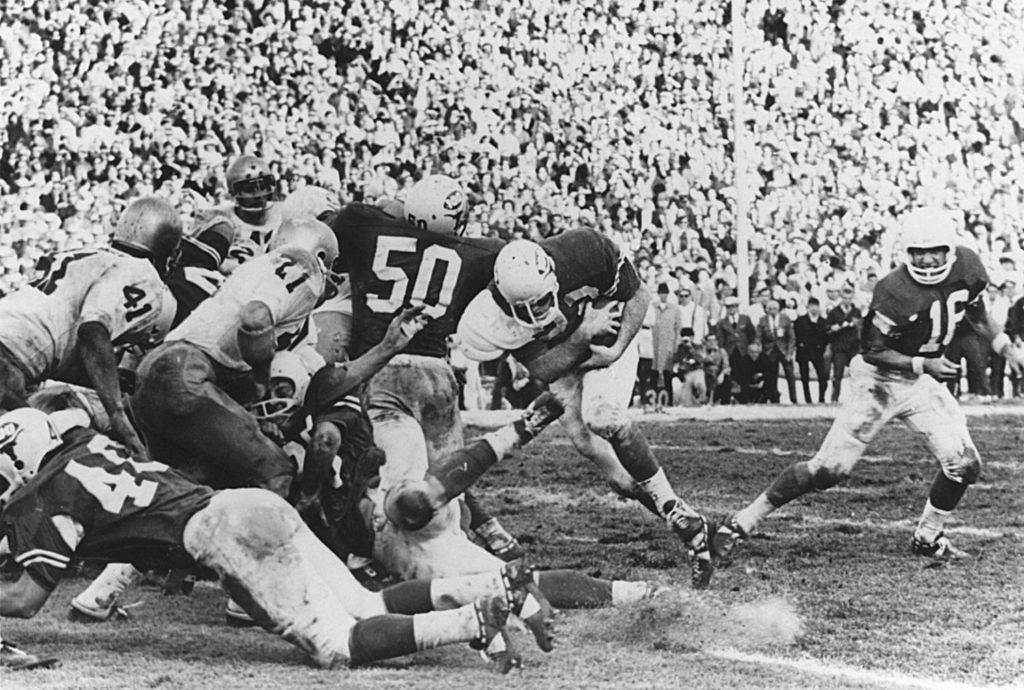 Music
I am a bit of a packrat (not a hoarder, just a collector), and a few months ago I found my spiral notebook from college days in which I kept the index of all my tapes.  I am going to share some of those this season.  Here are the first six songs off of W&L Juke 1, Side A.
Grazing in the Grass, Friends of Distinction
Build Me Up Buttercup, the Foundations
Both Ends Against the Middle, Jackie Moore.
I Just Can't Get You Out of My Mind, The Four Tops
Too Late to Turn Back Now, Cornelius Brothers and Sister Rose
The Love I Lost, Harold Melvin and the Bluenotes
Lubbock Trips
As I noted, I have made two trips to Lubbock.  The first was November 1, 2008, as a guest of my good friend Kent Lance.  It was going to be a great game.  Undefeated and No. 1 Texas vs. the No. 6 Texas Tech.  The Tech campus was packed.  We went to some great tailgate parties.  And we had a great trip until the last few seconds of the game, when Crabtree made the catch.  A heartbreaking loss that still stings, as Texas would end up playing (and beating) Ohio State in the Fiesta Bowl, 24-21 instead of playing for a national championship (which was after a 49-9 whipping of Texas Agricultural & Mechanical).   A few photos from the 2008 trip.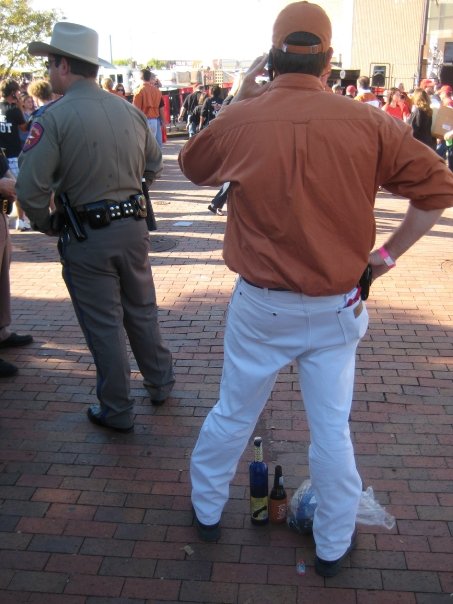 If you look closely at the back of the State Trooper standing in front of me, you will notice spots on his back.  That was from my beer which I dropped, splattering one of Texas' Finest.  But he was cool.  We had a friendly chat.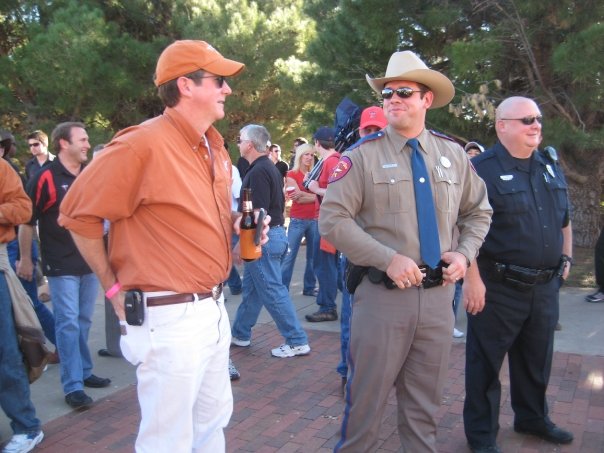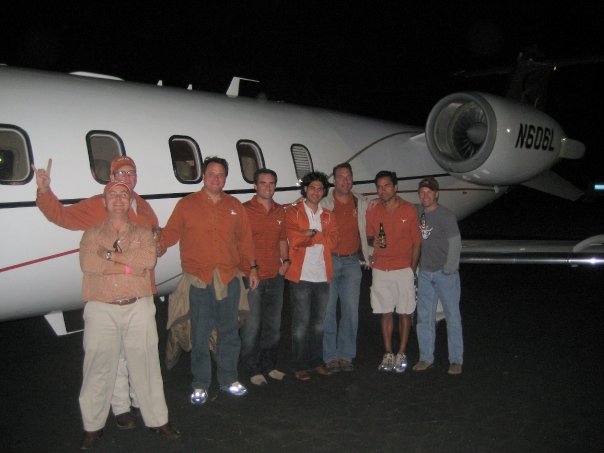 Despite the loss, we had a fun and good trip back to Austin, with a detour to Love Field to pick up Campisi's pizza for our late night dinner, which Kent had delivered to the FBO.  DKL knows how to live.  Large.  Volney, looking good.
In 2010 I had the good fortune to be invited by my great and dear friend, Gary Farmer.  Gary had made arrangements to travel to Lubbock via a King Air, and we had a really tremendous trip.  Texas was ranked No. 6, and as you may recall this season didn't turn out great (it was the year after the loss in the Rose Bowl to Alabama).  But, that trip to Lubbock on September 18 was a ton of fun.  We had a good crew, enjoyed the hospitality of Lance Morris at his great Red Raider tailgate, and watched the Horns win 24-14.  The day was capped with a flight back to Austin under a moonlit sky, with all in good spirits, some great country music and cocktails, and a Texas win that had the Horns 3-0.  It was a truly a great and memorable day.
Casey Dobson's Lubbock Travel Alert
Dangerous things happen biennially in Texas.  In odd years, the legislature convenes in Austin.  In even years, the Texas Longhorn football team travels to Lubbock.  For the last few even years, I have enjoyed the tradition of including Casey Dobson's classic piece on Lubbock and Texas Technical.  Just like reading The Night Before Christmas on December 24, we enjoy this timeless classic in even years.  Judge Smails at his finest.
Because business, both personal and legal, sometimes requires travel to Lubbock, I am issuing this personal Lubbock travel alert. Last night, as I was leaving the charming confines of Jones Stadium as the Red Raiders ruined our chances for a good bowl trip, the Tech partisans were savoring the win with their usual class and good sportsmanship. I could keep the ice being thrown at me from hitting my head by using my hands as a shield, but there was no escaping the Techsters' subtle, ironic wit: "F*** you, you f***ing Texas [DELETE]!" Wow. With all due respect to Duke basketball fans, these Tech kids have got to be the most clever college fans in the country.

As I rounded the last corner before exiting, one particularly erudite young denizen of the South Plains screamed at me to "Get the f*** out of Lubbock!" Shocked by his lack of hospitality, I'm afraid my response may have included a mild epithet.

However, as I walked toward my rent car, parked in the 20-square block slum that is immediately adjacent to what Sports Illustrated called the ugliest college campus in America, and then began to drive out of the vast expanse of brown urban blight that is the Hub City, it occurred to me that the young man at the game was trying to help me. While I was cursing the darkness, he was lighting a candle. I AM the f*** out of Lubbock, and I intend to stay the f*** out of Lubbock.

Accordingly, this is my notice that I will never again travel to Lubbock. For any reason. Ever. I have learned my lesson. Lubbock has whipped me, and I am man enough to admit it. I ain't going there again. Not if I'm offered front row seats at Lubbock Municipal Auditorium for a concert where Willie and ZZ Top are opening for Jesus Christ, and they're going to euthanize Reveille and the Masked Rider between acts. Not if the Victoria Secret models offer to take me there in a luxurious motor home, stocked with Cohibas, condoms, Tanqueray, and Silver Oak, and bearing a bumper sticker "If this van's a rockin…."   Not if the corps of cadets offers to stand in the hot sun along Hwy 87 as an honor guard, wearing nothing but their shiny boots and t-shirts that say "I love Bevo!" on the front and "Hillary Clinton for President" on the back.

Nope. I ain't goin'.
All of those asterisks are really effective, aren't they?
Thanks Casey.  I still laugh when I read it.
Health Alliance for Austin Musicians
The amazing HAAM staff and many, many volunteers pulled off a cool virtual HAAM Day.  Not too late to donate and help HAAM keep Austin music alive and well:
Requiescat in pace John W. Fainter
On August 29, we lost a great Texan and Longhorn, and many of us lost a dear and beloved friend.  John W. Fainter was a Loyal Austin High Maroon, and graduated from The University in 1962, where he was an SAE.  He got his law degree here the next year.  JWF had a lifelong career of serving the State of Texas and The University of Texas.  Chairman of Board of Visitors of UT Law School, Member of UT Development Board, Member of UT College of Business Administration Foundation Advisory Council, Member of UT College of Education Foundation Advisory Council, Member of UT Athletics' Council for Men's Intercollegiate Athletics, Member of UT President's Associates, and Member of Executive Council of Texas Exes.  John received the Distinguished Alumnus Award in 2000.  Many of you knew John, and those of you who didn't may know who he was.  Like several of us, he was at almost every single Texas Baseball home game.  John was on the first row, behind home plate to the left, and he was in the frame of ever TV shot from behind the pitcher. Which meant all the time.  White button down, Texas baseball cap (the traditional white one with the orange T). And he sat there stoically, observing and enjoying the great game of baseball.  Many games began with me walking over before the National Anthem or between innings to say hello, but even if we didn't speak, one of us would catch the other's eye (I am smiling as I realize it was often after a Texas fielding error, which neither of us tolerate), and you could see that almost imperceptible nod of John's head, saying hi.  We served on a few boards and committees together, and there was no one, absolutely no one, with wiser counsel for us than John Fainter.  And no one who could dispense such wisdom so succinctly.  His dry humor made me laugh for years, and I will miss him terribly.  Godspeed JWF.  Hook Em.
Wyman Meinzer
Wyman Meinzer is the official Texas state photographer.  West Texas always seems like a good way to end this email.  Great stuff.
 God Bless Texas
Tim Taylor
Tailgating before Home Football Games
The Juan Heisman Tailgate
Lot 38, East of Sid Richardson Hall.

HOOK EM HORNS!!
© Timothy C. Taylor, Sr. 2020.  All Rights Reserved (as to original material).
www.jw.com/ttaylor
On Twitter:  @tctayloratx
On LinkedIn:  www.linkedin.com/in/tctatx
On Instagram:  @tctayloratx
On Facebook:  www.Facebook.com/Tim.C.Taylor
and:  www.Facebook.com/Juan.Heisman
You can contact me by mail:
Tim Taylor
P.O. Box 5371
Austin, Texas  78763-5371