Good Morning Longhorn Fans!
Longhorns 41, Sand Aggies 34!
What a great win for Texas in Lubbock.  My review of the game below, but no doubt I have to lead this week's missive with Lil'Jordan Humphrey mossing & crabtreeing the sand aggies in Crabtree Corner.
MOSSED for the win! 🔥 #SCtop10 pic.twitter.com/8Ggc2Z9MLx

— SportsCenter (@SportsCenter) November 11, 2018
Texas hit Texas Tech with the Crabtree! pic.twitter.com/XwXJLJxHjr

— CBS Sports (@CBSSports) November 11, 2018
Photos courtesy of Texas Athletics: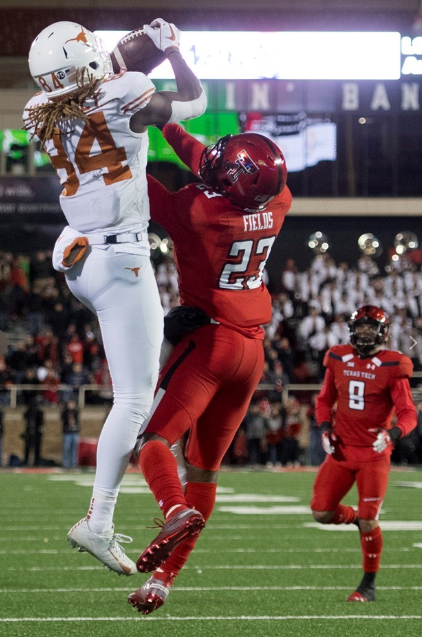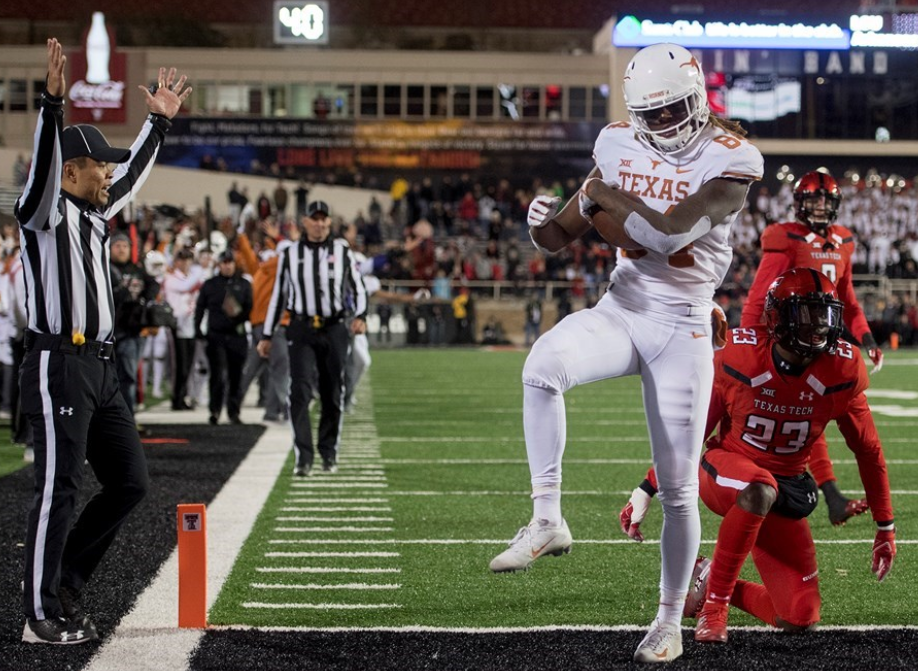 Mary Elizabeth and Parker were married Saturday night.  It was glorious wedding ceremony, including a great rendition of Come Thou Fount.  This is a nice version as well.
I didn't want or get a score until almost halftime when we were on our way from the church to the reception, and I was pretty darn happy that Texas was up 10-7 when I checked.  Once we got to the Four Seasons, I would occasionally check the score or someone would update me, but I didn't listen to or watch the game.  When the Horns were up 34-17, I was feeling pretty good, and I sat down with Hawley and Laughlin to enjoy a plate of really good food (the Four Seasons crushed it Saturday night).  So we are sitting there visiting, and I am enjoying a very well made margarita with Dulce Vida añejo and Naranja.  We have the scoreboard pulled up, and all of a sudden it is 34-27.  No bueno.  So I go from scoreboard to gamecast.  And just like that, the game was tied. Well, confession:  I turned on the live stream.  We watched the rest of the game, and it was pretty awesome and so fun to hear the cheers that went up around the ballroom when Lil'Jordan lunged into the endzone.  While there were many other highlights of the evening that far exceed a Texas football win, it was still really cool when I got to announce the final score and the dance floor was filled with Horns Fans singing Texas Fight.
Highlights from FOX Sports:
Highlights from the Big 12 Conference:
Now, there were plenty of lowlights in this game, including another really bad fourth quarter for the defense.  Also, we are not tackling real well.  So, once again, I share "Darrell Royal Teaches Tackling"
More on the Tech game below.
Iowa State Cyclones vs. Texas Longhorns
Final home game of the season kicks off in Darrell K Royal Texas Memorial Stadium Saturday night a little after 7:00 p.m.  This is an historic night, as the Longhorns will be playing their 500th game in Royal Memorial.  Great article here:
https://texassports.com/news/2018/11/10/football-celebrating-500-games-at-memorial-stadium.aspx
The game will be broadcast nationally on the Longhorn Network.  Lowell Galindo, Ahmad Brooks, and Kris Budden.  Important for those of you out of state.  Here is info on how to find and watch:
https://texassports.com/sports/2013/7/28/GEN_0728134519.aspx
For those of you who don't click, here is the simplest way:  Get the WatchESPN app.  Link to your applicable cable, internet, or telecom provider.
The game will be broadcast around the world on the Longhorn IMG Radio Network, Craig Way, Roger Wallace, and Quan Cosby.  Bob Cole's Austin Radio Network here in the River City, and Channel 84 on Sirius/XM.
Texas is favored by 2.5, and the over/under is 47.
Seniors being recognized and honored include Breckyn Hager, Andrew Beck, Charles Omenihu, Patrick Vahe, Anthony Wheeler, P.J. Locke III, Kris Boyd, Elijah Rodriguez, and Davante Davis.  We also say thanks to Calvin Anderson and Tre Watson.
Iowa State comes into the game with 6-3 overall record, 5-2 in the Big 12.  They opened with a 3-13 loss to Iowa, then opened Big 12 play with a 27-37 loss to Oklahoma and a 14-17 loss to Texas Christian (in between, they beat the Akron Zips 26-13).  But they have won five straight:  48-42 at Okie State, 30-14 over West Virginia, 40-31 over Tech, 27-3 over Kansas, and 28-14 over Baylor.  They close conference play next week with K State.  What is odd is that they have Incarnate Word on their schedule for December 1, at 1:00 p.m. in Ames.  Let's make sure they keep that date.
The big news for the Cyclones is that star running back David Montgomery won't be playing in the first half.  He was ejected after those fine young men from Baylor instigated a brawl in Ames last week.  Montgomery is second in the conference in rushing, with 765 yards, averaging 95.63 yards per game.  Anyway, I think this is going to be a close game, and Montgomery's first half suspension may be the edge Texas needs.
The Statistics
Offense
| | | |
| --- | --- | --- |
| Statistic | Texas | Iowa State |
| Rushing Offense | #83 – 155.5 ypg | #110 – 128.8 ypg |
| Passing Offense | #31 – 271.3 ypg | #57 – 241.4 ypg |
| Total Offense | #50 – 426.8 ypg | #95 – 370.2 ypg |
| Scoring Offense | #38 – 33.2 ppg | #83 – 27.0 ppg |
| First Downs | #21 – 24.3/game | #91 – 19.8/game |
| Sacks Allowed | #43 – 18, 137 yards | #50 – 19, 131 yards |
| Tackles for Loss Allowed | #35 – 52, 213 yards | #29 – 50, 193 yards |
| Third Down Conversions | #26 – 44.8% | #78 – 38.3% |
| Red Zone Offense | #98 – 80% / 66% | #20 – 90% / 50% |
| Long Run Plays | #88 – 47, 5, 3, 0 | #91 – 45, 10, 1, 0 |
| Long Pass Plays | #30 – 103, 41, 17, 6 | #88 – 79, 32, 16, 10 |
| Long Scrimmage Plays | #42 – 150, 46, 20, 6 | #106 – 124, 42, 17, 10 |
Defense
| | | |
| --- | --- | --- |
| Statistic | Texas | Iowa State |
| Rushing Defense | #46  – 143.9 ypg | #17 – 109.4 ypg |
| Passing Defense | #118 – 276.2 ypg | #77 – 235.0 ypg |
| Total Defense | #85 – 420.1 ypg | #32 – 344.4 ypg |
| Scoring Defense | #69 – 27.5 ppg | #23 – 20.4 ppg |
| Sacks | #79 – 19, 133 yards | #46 – 24, 189 yards |
| Tackles for Loss | #34 – 68, 246 yards | #42 – 66, 279 yards |
| First Downs Allowed | #79 – 21.4/game | #41 – 19.1/game |
| Third Down Conversions | #107 – 43.3% | #82 – 40.7% |
| Red Zone Defense | #10 – 73% / 55% | #4 – 64% / 43% |
| Long Run Plays Allowed | #48 – 47, 10, 2, 2 | #22 – 37, 6, 1, 1 |
| Long Pass Plays | #114 – 105, 33, 20, 13 | #56 – 85, 29, 11, 5 |
| Long Scrim. Plays allowed | #92 – 152, 43, 22, 15 | #29 – 122, 35, 12, 6 |
Other
| | | |
| --- | --- | --- |
| Statistic | Texas | Iowa State |
| Turnovers | #3  – 7: 4F, 3I | #9 – 9: 6F, 3I |
| Turnover Margin | #14 :  +0.70 | #39 : +0.33 |
| Penalties | #110 – 77, 646 yards | #7 – 42, 363 yards |
*Based on total number of penalties.
Match-up Comparison
| | |
| --- | --- |
| Texas Offense | Iowa State Defense |
| Rushing Offense – 155.5 ypg | 109.4 ypg – Rushing Defense |
| Passing Offense – 271.3 ypg | 235.0 ypg – Passing Defense |
| Total Offense – 426.8 ypg | 344.4 ypg – Total Defense |
| Scoring Offense – 33.2 ppg | 20.4 ppg – Scoring Defense |
| First Downs – 24.3/game | 19.1/game – First Downs Allowed |
| 3rd Down Offense – 44.8% | 40.7% – 3rd Down Defense |
| Red Zone Offense – 80%/66% | 64%/43% – Red Zone Defense |
| LRP – 47, 5, 3, 0 | 37, 6, 1, 1- LRP Allowed |
| LPP – 103, 41, 17, 6 | 85, 29, 11, 5 – LPP Allowed |
| LSP – 150, 46, 20, 6 | 122, 35, 12, 6 – LSP Allowed |
| | |
| --- | --- |
| Texas Defense | Iowa State Offense |
| Rushing Defense – 143.9 ypg | 128.8 ypg – Rushing Offense |
| Passing Defense – 276.2 ypg | 241.4 ypg – Passing Offense |
| Total Defense – 420.1 ypg | 370.2 ypg – Total Offense |
| Scoring Defense – 27.5 ppg | 27.0 ppg – Scoring Offense |
| First Downs Allowed – 21.4/game | 19.8/game – First Downs |
| 3rd Down Defense – 43.3% | 38.3% – 3rd Down Offense |
| Red Zone Defense – 73%/55% | 90%/50% – Red Zone Offense |
| LRP Allowed – 47, 10, 2, 2 | 45, 10, 1, 0 – LRP |
| LPP Allowed – 105, 33, 20, 13 | 79, 32, 16, 10 – LPP |
| LSP Allowed – 152, 43, 22, 15 | 124, 42, 17, 10 – LSP |
A few notes on Big 12 conference rankings:
Iowa State is ranked first in the Big 12 in Scoring Defense.
Texas is ranked ninth in the conference in pass defense.
So, they have the best defense we will face this year, statistically.  The Texas offense is going to have to hit on all eight cylinders, and I think they will.
Iowa State and Coach Matt Campbell have found a star in freshman quarterback Brock Purdy.  He has now played in 6 games, and he has a passing efficiency rating of 192.03.  If qualified for national stats purposes, he would be No. 3 in the country behind Kyler Murray (now at 202.87) and Tua Tagovailoa (207.68) and ahead of Will Grier (180.68).  That is high cotton – 3 Heisman candidates.  Purdy has 83 completions on 121 attempts, 2 picks, 13 touchdowns, for 1,315 yards.  With a 68.6 completion percentage, he would displace Tagovailoa at No. 11 nationally.  Here is what Paul Wadlington (aka Scipio Tex) had to say in his preview on InsideTexas, and as usual, he is spot-on:  "Where ISU thrives is in the play action passing game. That's what the Texas coaches really need to focus on and address. Eye discipline and lazy steps will get punished. With Purdy at the helm, they're averaging nearly 11 yards per pass attempt and have 13 passing touchdowns in 5 games to only 7 touchdowns on the ground. This aspect of their offense is built around high efficiency – Purdy has thrown 27, 25, 25, 25, 24 pass attempts (I detect a pattern) in his starts and an inordinate number of his throws are one read deep routes to 6-6 wide-out Hakeem Butler. If it's not there, he'll buy time with his feet and improvise (he's not panicky – he only has 2 INTs) or take off running."
Why so much on a freshman quarterback from Iowa State?  Because we not playing very good pass defense, and unless that changes on Saturday, we are very much at risk of losing to Iowa State for the third time ever, and it would be the second time in Austin (they beat us in 2010, a game that started a 4 game losing streak in that awful year).
Paul talked about Hakeem Butler.  That big receiver has 36 catches for 816 yards, averaging 22.67 yards per catch.  That is number 1 in the country in ypc.
The Iowa State defense is led by DB Greg Eisworth (#12), who has 68 tackles, 42 solo, a sack and 4 TFL, plus one interception and a forced fumble.  Another defensive back, No. 33 Braxton Lewis, is second with 55 tackles (34 solo, 4 TFL, 1 sack, 3 picks).  Linebacker Willie Harvey (no. 2) has 54 tackles (32 solo, 4.5 TFL, 1 sack).  Marcel Spears (No. 42) has 49 tackles (30 solo, 4.5 TFL, 2 sacks, 2 picks).  Defensive end JaQuan Bailey (No. 3) has 11 TFL for 63 yards and 5.5 sacks for 45 yards.  Linebacker Mike Rose has 7 TFL for 20 yards and 1.5 sacks for 11 yards.  Defensive end Eyioma Uwazurike (No. 50) has 5 TFL for 12 yards a sack.
The line is going to have block really, really well.
I think Texas wins 33-27.
The folks on Horns247 are split, but all of them have it close.  Chip Brown gives the edge to the Cyclones, 31-30, which is disappointing.  Chip is pretty good.
The Official Preview:
https://texassports.com/news/2018/11/12/no-13-14-football-preview-vs-no-18-18-iowa-state-nov-17-2018.aspx
Official Texas Game Notes
https://texassports.com/documents/2018/11/12//2018_Texas_Football_Notes_11_Iowa_State.pdf?id=12500
I like this digital preview that the AAS puts together.
https://spark.adobe.com/page/wMFJDVB20lh9h/
The Texas Pregamer from Barking Carnival.
https://www.barkingcarnival.com/2018/11/15/18090876/texas-pregamer-iowa-state
Memorial Stadium
That article I linked to has stories about 10 games, at least as of Thursday night.  Pretty cool that the second game profiled was the 7-0 win over Texas Agricultural & Mechanical in 1940, when Noble Doss made the "impossible catch" – and I was fortunate to have met Mr. Doss.  The third game was the famous win over Arkansas in 1962, when Texas was #1 and the Hogs were #7, and Johnny Treadwell and Pat Culpepper met Hog Danny Brabham at the Texas three yard line, and Culpepper knocked the ball out.  The Arkansas drive ended as Texas recovered the fumble.  Treadwell was our vet for years, and Pat Culpepper used to tailgate with Rebel right next to us, and I have had the privilege of getting to know him.  What's also really cool is that I was in attendance at the last 5:  42-24 over No. 3 Houston in 1990.  17-16 over Virginia in 1995 (Dawson's last second 50 yard field goal into the wind).  26-24 over No. 6 Texas Agricultural & Mechanical in 1998, as Ricky ran for the record.  24-20 over No. 3 Nebraska in 1999.  Texas 44-14 over North Carolina at the Cole Pittman Dedication Game, which had that incredible moment when Texas scored to get to 44.  The PAT team was heading out for the 1 point conversion.  But Mack Brown sent Major Applewhite on the field instead, and Major took a knee, leaving the final score at 44 – Cole's number.  Amazing.  Also kind of amazing that those last 3 games were all Major Applewhite victories.  I always liked him.
Texas Longhorns 41, Texas Tech Red Raiders 34
While I didn't watch the game live, I have watched the replay, at least most of it.  Here were my takeaways:
Sam Ehlinger is a great quarterback. 22-34 for 312 yards and 4 touchdowns.  The pass to Duvernay on fourth and goal was really good.  If we can keep him healthy for the rest of this season and the next two years, Texas is going to win a lot of football games.
Lil'Jordan Humphrey should be an All-American. 8 catches for 159 yards and 2 scores, averaging just shy of 20 yards per catch!
Great to see Devin Duvernay playing so well.
Riko Jeffers is a dirty player. He wears number 6.
Our defense is not very good, and our secondary is bad.
Our fourth quarter defense is particularly bad. 91 points given up in the fourth quarter of games, with 21 to OU and 24 to Texas Tech.
I thought Jett Duffey was their running quarterback, but that was obviously a grand misconception.  On the very first series, he completed 7 of 8 passes as Tech took a quick 7-0 lead. On the next possession, he was 5 for 5 and had a first and goal, about to put the Sand Aggies up 14-0 before what was either a bad decision or really poor execution of an otherwise good decision to get rid of the ball, as he flung it to the corner and Davante Davis picked him off.  That changed the game.
Texas turned the turnover into points, as they drove the field and Dicker made a great 52 yard field goal, I think into the wind.
Defense picked it up after that.  A 3 and out got the ball back in Ehlinger's hands, and a remarkably long (8:10) drive for 60 yards finished with a touchdown pass to LJH, despite Sam being roughed by Riko Jeffers.  Horns up 10-7.
On the next Sand Aggie possession, Kingsbury went for it on fourth and 1 at their own 34.  That bad decision led to a quick 34 yard drive ending with a 2 yard Keaontay Ingram touchdown run.  17-7 Horns with 1:16 to play in the half.
Duffey engineered a nice quick drive, and on first down with 7 seconds left, Tech kicked the field goal to close it to 17-10.  Still not sure why they didn't try to throw it in the endzone at least once, but glad about it.
Texas got the ball to start the second half, and Ehlinger passes combined with Tre Watson runs to get the Longhorns to a first and goal on the Tech 2.  After 3 tries, it was fourth and goal from the 1, and Herman with a great call and Sam with a great pass and Duvernay with a great catch to put the Horns up 24-10.
Next series the sand aggies drove the ball into Texas territory, but on a Jett Duffey run Davante Davis forced a fumble and Texas took over on the UT 19.  Another drive, another field goal, and with less than 2 minutes in the third Texas has a 3 score lead at 27-10.  I remember seeing that score and feeling mighty content.  Heck, the next series ended in another forced Duffey fumble, this time by Kris Boyd.  So Texas had the ball and a 27-10 lead entering the fourth quarter.  Well, that changed quickly.
Texas had to punt, and 3 plays later Duffey hit Wesley for a 57 yard touchdown, as our DB got beat.  27-17 Texas.
All seemed good though, as after having to start at our own 8, Texas drove the ball 92 yards on just 5 plays, which included a 23 yard Ingram run extended by a sand aggie personal foul and a 39 yard touchdown pass to Duvernay, who hauled in the ball despite being interfered.  34-17!  What could go wrong?
Tech drove the ball on the next possession, and had first and goal on the Texas 8.  But we got some good pressure on Duffey, and he was sacked twice.  Tech kicked a field goal. 34-20.  6:23 to play.
Tech executed the onside kick, as the ball ricocheted off of P.J. Locke's hands back to a sand aggie, and they were in business at their own 39.  After three incomplete passes, Klif rolled the dice again, and this time he got lucky.  On fourth and 10 and a chance to get the ball and put the game away, Texas gets called for pass interference.  Tech with a first and 10 at the Texas 46, and they didn't waste the gift.  3 passes and 2 runs later, it was a one score game at 34-27.
What does Texas do?  3 and out.  A good punt had Tech back at their own 23 with 3:09 to play.  But once again, Duffey finds Wesley, 47 yards on first down, and the Sand Aggies are on the Texas 30.  Three plays and two passes later, we are tied.
Fortunately, Sam Ehlinger was in charge.  He ran for 3 and 18, getting us to midfield.  He completed an 11 yard pass to Jerrod Heard, and we got the ball to the Tech 41.  Sam had a nice run to get us down to the 29, with 28 seconds to play.  Then – the Catch.  Lil'Jordan Humphrey with a catch we will not soon forget!
The defense was able to hold that 7 point lead for 21 seconds, which gave the Texas Longhorns a much needed road win over the Sand Aggies, setting us up for this weekend's showdown with Iowa State.
A few more notes on individual performances:
Jerrod Heard had 6 catches for 54 yards.  As we thank the seniors on Saturday night, I hope Jerrod Heard gets the standing ovation he deserves.  He played in all 12 games his RS Freshman year, with 10 starts.   He completed 92 of his 159 passes (57.9%) for 1,214 yards (No. 5 on the UT freshman passing list), he was the team's second-leading rusher with 556 yards and three TDs on 139 carries.  His rushing yards ranked 12th on the UT freshman single-season list (second among quarterbacks) and eighth on the overall single-season quarterback list.  He set the Texas single-game total offense record against Cal with 527 yards (364 passing and 163 rushing).  He became the second player in school history to throw for 300 yards and rush for 100 yards in a game, joining Colt McCoy.  He played in 11 games his sophomore year and 12 games last year.  This year, he has been second or third on the depth chart.  But here he was in Lubbock, helping his team win a tough game in a tough place.  Thank you Jerrod Heard.
Davante Davis had 5 tackles, 2 of which were tackles for loss.  He forced and recovered a fumble and he had a pick.  Heck of a game.
Both of Dicker the Kicker's field goals were long – 52 and 46.  Thank goodness we had those 6 points.
The stats comparison to season averages.  Game number first in parenthesis, season average for Texas after.  Texas Tech numbers on the right are all their season averages. 
| | |
| --- | --- |
| Texas Offense | Sand Aggie Defense |
| Rushing Offense –  (157) 155.3 ypg | 160.7 ypg – Rushing Defense |
| Passing Offense – (312) 266.8 ypg | 291.9 ypg – Passing Defense |
| Total Offense – (469) 422.1 ypg | 452.6 ypg – Total Defense |
| Scoring Offense – (41) 32.2 ppg | 30.7 ppg – Scoring Defense |
| First Downs – (28) 23.9/game | 22.1/game – First Downs Allowed |
| 3rd Down Offense – (53.3%) 43.9% | 33.8% – 3rd Down Defense |
| | |
| --- | --- |
| Texas Defense | Sand Aggie Offense |
| Rushing Defense –  (141) 144.2 ypg | 146.5 ypg – Rushing Offense |
| Passing Defense – (454) 256.4 ypg | 375.6 ypg – Passing Offense |
| Total Defense – (595) 400.6 ypg | 522.1 ypg – Total Offense |
| Scoring Defense – (34) 26.8 ppg | 42.7 ppg – Scoring Offense |
| First Downs Allowed – (32) 20.2/game | 28.4/game – First Downs |
| 3rd Down Defense – (67%) 40.7% | 45.3% – 3rd Down Offense |
The rush defense was okay – at least we held them below their average and our average.  But 454 yards passing?  Come on Texas.
More on the Catch:
https://sports.yahoo.com/texas-liljordan-humphrey-pulls-michael-crabtree-eerily-similar-game-winning-td-catch-10-years-later-053923262.html
I had predicted a Texas win at 45-41.  41-34 was not far off!  Hook Em.
Wescott Eberts on BON
https://www.burntorangenation.com/2018/11/11/18083898/texas-longhorns-41-texas-tech-red-raiders-34-sam-ehlinger-lil-jordan-humphrey-michael-crabtree
Rankings
CFP Rankings:  Alabama, Clemson, Notre Dame, and Michigan.  Then, Georgia, OU, Louisiana State, Washington State, West Virginia, and Ohio State.  Good for the conference to have 2 in the Top 10.  Texas is 15, Iowa State at 16.  Northwestern breaks into the rankings at No. 22.
AP Poll:  Alabama, Clemson, Notre Dame, Michigan, Georgia, Oklahoma, West Virginia, Washington State, Ohio State, Louisiana State.  Texas at 13, Iowa State at 18.
Coaches Poll:  Bama, Clemson, L'Université de Notre Dame du Lac, Wolverines, UGA, Land Thieves, West Virginny, Ohio State, WAZZU, and the Bayou Bengals.  Texas at 14, Iowa State at 18.
Folks, I have been telling anyone who will listen (and even those who won't) that Texas and the Big 12 have a problem.  A viewership problem.  Stephen Ross on Barking Carnival with a good piece on this:
https://www.barkingcarnival.com/2018/11/14/18095134/tv-ratings-the-canary-in-the-big-12-coal-mine
Several years ago, when there was allegedly a move afoot to go to the Big 10 or the Pac-12, I spent a lot of time thinking and a little time writing about pros and cons and looking a possible travel schedules, things like that.  I will admit I was leaning west, but wasn't entirely sure what would be best.  Then we had the baseball regional out in Long Beach, and I am pretty sure that was the game that started about 10:30 our time, or something like that, and it was a school night.  That's when I realized that as cool as it would be to play in Bill Walton's Conference of Champions, the travel and time zone made it a bad fit.  Now, I am sure some of you think it would be great to be in the $EC.  True, that's where the money is.  But the fact is, had we gotten Notre Dame in the Big 12 (and it was, I have heard, a done deal), then we wouldn't be having this conversation.  I think about the future a bunch, and I just don't see our future being with most of our current conference mates.  Nor do I see us going to the SEC, just because I don't think that is a great fit either.  If it was just us and Oklahoma, that might work.  But let's face it:  being in a reconfigured SEC West with 8 or 9 teams that include Alabama, Auburn, LSU, Ole Miss, and us and OU would be the toughest division in the toughest conference in the country.  True, we would be reunited with Texas Agricultural & Mechanical, but is that what we want?
No, I think if we have to make a move, we look north.  The Big 10 has great schools and great athletic traditions, although it would suck for baseball.  Unless, of course, all the Big 10 baseball teams said "hey, it is still snowing up here.  How about we come to Austin for February and March and first part of April, and y'all only have to make 2 or 3 conference road trips a season, when the weather is better?"  Much more to come on this.  The good news is, we have a masterful athletic director again, and if he can fix the Big 12 as quickly as he has made things better on the Forty Acres, we will be fine.
Big 12 Week 12
Texas version of the Holy War, but they call this The Rivivalry.  So clever.  Baylor and Texas Christian meet for the 114th time in Saturday at 11:00 a.m. in Waco.  Texas Christian leads the series 54-52-7.  Frogs are 4-6 and Bears are 5–5.    Baylor favored by 2, and the over/under is 52.5.  FOX Sports 1.
No. 9 West Virginia (8-1) in Stillwater to play Oklahoma State (5-5).  2:30 p.m. on ABC.  Mountaineers favored by only 4.5, and the over/under is 7.3.  Cowboys might hang with Holgorsen and Grier for a bit, but I think WVU keeps rolling.
The Sand Aggies look to get bowl eligible in Manhattan.  K State is 4-6 and 6 point home underdogs.  2:30 p.m. on ESPNU.  Over/under is 57.  I think Klif and Texas Technical get this one.
Oklahoma is 9-1 and No. 6 in the CFP.  Just think, they would be top 3 if Texas had not beat them.  Sorry Land Thieves.  3-7 Kansas goes to Norman.  6:30 p.m. on FOX.  Land Thieves favored by 35.5, and the over/under is 68.5.   I suspect that Oklahoma will win this game.
This Week in the Top 25
Friday night action in New Mexico, as No. 25 Boise State will be in Albuquerque to face the Lobos.  Broncos coming off the big win over Fresno State last week, and they are 19.5 point favorites.  Over/under is 63. 8:00 p.m. on CBS Sports Network.
Give The Citadel credit:  they aren't afraid of scheduling anyone.  Friday night in Austin, The Citadel and Texas Longhorns meet in basketball.  Saturday, The Citadel is in Tuscaloosa to play Alabama.  The only question I have is who will score more points against The Citadel:  The Longhorn basketball team or the Alabama Football team?   The line in the basketball game is Texas by 22 points (over/under is 160).  The line in the football game is Alabama by 51 (over/under is 61.5).  11:00 a.m. on the SEC Network.
A bunch of other 11:00 a.m. starts.
No. 13 Florida has 4-6 Idaho in the Swamp.  11:00 a.m. on ESPNU.  Gators favored by 39.5, and the over/under is 60.
No. 10 Ohio State at Maryland, 11:00 a.m. on ABC.  Ohio State favored by 14.5, and the over/under is 58.5.  Go Terps.
Middle Tennessee looking to follow Tennessee with a beating of No. 17 Kentucky.  11:00 a.m., also purportedly on the SEC Network.  Wildcats favored by 16, and the over/under is 46.5.
Arkansas plays No. 21 Mississippi State in Starkvegas.  11:00 a.m.   State favored by 21.5, and the over/under is 46.5.  11:00 a.m. on ESPN.  Hail State!
No. 22 Northwestern at Minnesota, 11:00 a.m. on the Big 10 Network.  Wildcats narrow 2 point road favorites.  Over/under is 47.5.
No. 19 Utah at Colorado.  Buffalos are 5-5.  12:30 p.m. on the PAC-12 network.  Utes favored by 7, and the over/under is 48.
No. 23 Utah State (9-1) at Colorado State (2-7).  1:00 p.m.  Mormon Aggies favored by 28.5.  Over/under is 68.
Big game in Yankee Stadium in the Bronx.  No. 3 Notre Dame hosts No. 12 Syracuse (8-2).  1:30 p.m. on NBC.  A Shamrock Series game.   Irish favored by 10, and the over/under is 65.  Kind of odd that this has become one of the biggest, if not the biggest, games on Notre Dame's schedule this year.  Go Irish!
No. 20 Boston College (7-3) heads south to Tallahassee to play 4-6 Florida State.  The mediocre Seminoles are only 1.5 point underdogs.  Over/under is 49.  2:30 p.m. on ESPN2.
Indiana (5-5) at No. 4 Michigan (9-1).  3:00 p.m. on FOX Sports 1.  Wolverines are favored by 28.5, and the over/under is 53.5.
Another slaughter in the SEC scheduled, as No. 5 Georgia (9-1) welcomes 4-7 U Mass to Athens.  3:00 p.m. on the $EC Network.  Bulldogs are only favored by 41.  Over/under is 65.5.
Oregon State (2-8) at No. 18 Washington (7-3).  3:30 p.m. on Pac-12 Network.  Beavers are not good.  Huskies favored by 33.5, and the over/under is 58.
Duke having a solid season at 7-3 and 3-3 in the ACC.  They have the privilege of playing undefeated and No. 2 Clemson.  6:00 p.m. on ESPN.  Tigers favored by 28, and the over/under is 57.5.  Good news for Duke:  It is basketball season.  This loss will not hurt so bad.
No. 7 Louisiana State will likely move to 9-2 on Saturday.  Tigers have Rice on the menu.  6:30 p.m. on ESPNU.  LSU favored by 42, and the over/under is 52.5.  Rice with just one win today.  Rice with just one win come Sunday.
No. 24 Cincinnati is a surprising 9-1.  Hoping they go to 10-1.  They are in Orlando to play No. 11 and undefeated Central Florida.  7:00 p.m. on ABC.  College Gameday will be there.  UCF favored by 7, and the over/under is 61.
No. 8 Washington State is 9-1.  Leach and his Cougars get 5-5 Arizona in Pullman.  9:30 p.m. on ESPN.  WSU favored by 10.5, and the over/under is 62.5.
Other Game of Interest This Week
Miami (OH) were 6.5 point underdogs Wednesday night in their match with Northern Illinois.  But not only did the Redhawks cover, they upset NIU 13-7.
Last night, Tulane at Houston.  Major Applewhite and his Cougars with the 48-17 win over the Green Wave.
Also last night, Matt Curtis's North Texas Mean Green got back in the W column with a 41-38 win over Florida Atlantic.
Friday night at 7:30 p.m. in Highland Park, the undefeated Scots will kickoff the first playoff game of the season against Frisco Independence in Highlander Stadium. 2.3 miles to the east and 30 minutes later, 5-5 Southern Methodist will kickoff against Memphis.  Guess which one will have a larger crowd.  The Southern Methodists and 6-4 Tigers will be broadcast on ESPN2.  Memphis favored by 7.5, and the over/under is 73.5.
Saturday
Michigan State at Nebraska, 11:00 a.m. on FOX.  Spartans favored by 1.5.  I think this is going to be a really good game.
UT San Antonio (3-7) at Marshall (6-3).  1:30 p.m.  Thundering Herd favored by 26.
Tulsa and Navy are each 2-8.  They play in Annapolis on Saturday.  2:30 p.m. on CBS Sports Network.  Navy favored by 6.
Virginia is in Atlanta to play Georgia Tech.  Cavaliers are 7-3, GT is 6-4.  2:30 p.m. on ACC Network.  Ramblin' Wreck favored by 5, and the over/under is 53.5.  Go Hoos!
One of my favorite games to watch is Southern Cal and UCLA.  Both teams wear their home uniforms.  Trojans are 5-5, and the Bruins are 2-8.  2:30 p.m. on FOX.  We will have this on at Juan Heisman.  Southern Cal favored by 3.5.  Over/under is 54.5
Liberty at Auburn.  3:00 p.m. on SEC Network.  Tigers favored by 28.5, and the over/under is 62.   War Eagle.
Texas Agricultural & Mechanical hosts Alabama Birmingham.  Blazers are 9-1, and the agriculturalists are 6-4.  6:00 p.m. on ESPN2.  Texas Agricultural & Mechanical favored by 16.5, and the over/under is 45.5.  Whoop!
Ole Miss (5-5) at Vandy (4-6).  6:30 p.m. on SEC Network.  Commodores are favored by 2.5, and the over/under is 67.5.  Hotty Toddy!
The Big Game.  Stanford is 6-4, Cal is 6-4.  Stanford leads this series 63-46-11, which began in 1892.  Winner gets the Stanford Axe.  6:30 p.m. on PAC-12 Network.  Cardinal favored by 2, and the over/under is 45.5.  I think Stanford gets this one.
UTEP and Western Kentucky in the DFL Bowl.  Both teams 1-9.  I guess one will be tied with Rice.  6:30 p.m.  Hilltoppers favored by 7.
Slippery Rock (9-2) in Brookville, New York to play LIU Post on Saturday.  Lost last week 10-33 to West Chester University.
MIT is 9-1.  They play in the first round of the Division III tournament on Saturday with a game at No. 14 Johns Hopkins.  Won last week 22-7 over Springfield.
Davidson hosts Butler on Saturday.  Lost last week 56-52 to San Diego after losing to Stetson 53-56 in the prior game.  Hard to imagine scoring 105 points in 2 games and losing both of them.
A belated shout out to Coach Eric Morris and the Incarnate Word Cardinals.  In his first season as a head coach, he and IWU have secured at least a share of the Southland Conference championship after beating Central Arkansas last week 40-27.  As noted above, their schedule says they close the regular season at Iowa State on December 1.
Thanks for sharing this Lance.
http://sports2nite.com/uiw-a-success-beyond-the-wins/
Previews on the Interwebs
HornMafia from the BC, with the Week That Will Be: One Last Time
https://www.barkingcarnival.com/2018/11/14/18096341/the-week-that-will-be-one-last-time-texas-longhorns-football
Viewing Guide from Burnt Orange Nation:
https://www.burntorangenation.com/2018/11/15/18097231/college-football-viewing-schedule-week-12-game-time-television
Bill Connelly with advice for those who enjoy the sporting life.
https://www.sbnation.com/college-football/2018/11/15/18096498/college-football-picks-week-12-2018-predictions-odds-spreads
Juan Heisman Tailgate
We return to Lot 38 and Mount Juan Heisman for the final tailgate of the 2018 season.  This week we are reprising last year's great lamb and red wine extravaganza.  Scooter Walters is donating the racks of lamb lollipops and some great red wine.  If have a particular red wine you enjoy, this would be a good week to bring it.  We will also have a lot of venison sausage, Texas Beer Company will be back, and we will have our usual selection of great beers from the Butler Family and Matt Harriss at Capitol-Wright.  And, of course, Dulce Vida tequila!
This is what the lamb looked like last year:
https://www.instagram.com/p/BbXigaQHpY8MSZU7uFkFX_ftQ1xTXe_yTCFWho0/
Thanks in advance to Bill Skeen, Rick Whiteley, Jack Nash, and the Young Guns (Messer, Barton, Martin, Wilcox, Shaw) for handling Early Crew on what will be a chilly morning.
We will be set up and going all afternoon, but I think things will really crank up around 3:30 or 4:00.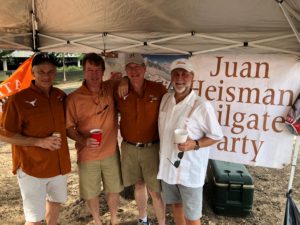 Big 12 – – Week 11
West Virginia continued to roll, with a big 47-10 win over Texas Christian.  Mountaineers destroyed the 11.5 point line, and close but over the 55.5.  Nailed this won:  WVU won, covered, and scored in the 40's.
K State beat Kansas in the Sunflower Showdown 21-17.  Jayhawks covered.
Baylor played a solid game against Iowa State, only losing by two touchdowns, 28-14.  I was right that Baylor might cover – and it was close.  Aforementioned fight certainly benefited Texas.
Bedlam!  That was a game.  Gundy goes for 2 and the road win, Holgo, style, and they fail.  Land thieves win 48-47.
Last Week in the Top 25
Thursday night, NC State was favored at home by 19.5 over 4-5 Wake Forest.  Mark Dean and I were watching this, and we both agreed that Wake Forest was one of the best 4-5 teams in the country.  Now they are one of the best 5-5 teams.  NC State had a three point lead, and in the last minute or so of the game, the Deacs drove the ball and scored to upset the Wolfpack, 27-23.  Quite a game.
Syracuse destroyed Louisvile, 54-23, and as predicted, Petrino was fired.
Boise State upset Fresno State 24-17.
Alabama with another shutout over a ranked team, with the 24-0 whipping of Mississippi State.  Line was 24.
Boston College gave Clemson a game in the first quarter before falling 7-27 to the Tigers.
No Book?  No problem.  Wimbush passed for 130 and 2 touchdowns and ran for 68 yards as the Irish beat Florida State 42-13.
Michigan cruised to a 42-7 win over Rutgers.  No surprise there. Rutgers did cover.
Georgia with a solid 27-10 win over Auburn.
Louisiana State 24-17 over Arkansas, as the Pigs cover but remain winless in the SEC.  Tis a pity.
Washington State with a surprisingly easy 31-7 win over Colorado in Boulder.  Line was 6.
Hard to win a football game with just two field goals.  Ohio State 26, Michigan State 6.
Tennessee with the 24-7 upset of Kentucky.  I had such a strong feeling on that one, and I was right.  Should have placed a wager.
The fact that now 2-8 Navy can score 24 on Central Florida suggests to me that the Knights are going to trip soon.  As it stands, their 35-24 win keeps them undefeated.
South Carolina nearly pulled off the upset in the Swamp before falling to Florida 31-35.  Gators with 14 in the fourth to get the win.  Gamecocks did cover.
Wisconsin 10, PSU 22.
Northwestern with a nice 14-10 road upset win over Iowa.  Pat Fitzgerald is really a good coach.
Other Games of Interest Last Week
Ole Miss lost to Texas Agricultural & Mechanical, 24-38.
Southern Methodists galloped to a 62-50 win over UConn.
Nebraska with a big 54-35 win over Illinois.
Virginia with a 45-24 win over Liberty.
UTEP goes down to Middle Tennessee 32-48.
North Texas loses again, 31-34 to ODU.  Mean Green now 3-3 in C-USA.
Rice loses again too, 13-28 to LA Tech.
UTSA crushed by Florida International 45-7.
Temple is now 5-1 in the American after upsetting Houston 59-49.
Oregon State fell to Stanford 17-48.  The Cardinal covered.
Southern Cal.  What the hell?  Cal beats the Trojans 15-14.
Good Stuff
The dancing West Virginia fans are now famous.
Texas Basketball
Texas beat Arkansas last Friday night at Fort Bliss in El Paso in overtime.  Kerwin Snoop Roach III with the game tying 3 at the buzzer.
Monday night, I made to the Erwin Center to see the Horns in person.  I was impressed.  Roach played well, and we have some new faces on the court that have me pumped.  Six foot 11 freshman Jaxson Hayes looks great, and he could develop into something special.  Elijah Mitrou-Long is a transfer.  He is a hustling, high-energy guard, and I think we will see a lot of him.  And freshman guard Courtney Ramey.
A good review on Barking Carnival
https://www.barkingcarnival.com/2018/11/12/18089688/clanging-from-the-corner-texas-65-ulm-55
Texas plays The Citadel Friday night in the Frank, 7:00 p.m.  The game will be on LHN.
Also, since if I get a newsletter out next week it will be a short one, don't forget about the Horns tournament in Las Vegas.  Texas plays North Carolina Thanksgiving night at 6:30, on FOX Sports 1.  Then we will play on Friday at either 3 or 5:30 against either Michigan State or UCLA, on FOX.
Washington & Lee University
Tough end to a disappointing season for the Generals, as they let Shenandoah score 15 in the fourth quarter (sounds familiar) and tie the game.  W&L lost in overtime, 24-27.  W&L had 307 yards rushing and zero passing, while Shenandoah had 335 in the air and 89 on the ground.  Generals got 3 turnovers, but it still wasn't enough.  W&L finishes 5-4 overall and 3-4 in the ODAC.  We ran the ball well – best in the conference.  The Generals were last in scoring offense and first and scoring defense.
Sophomore Josh Breece finished the season with 1,119 yards on 205 carries.
Music
Charles Taylor introduced me to some great new tunes.  Vulfpeck.  Great music.  Great story too.  All of the core members attend the University of Michigan's music school. Worth your time to research.
Cory Wong
Lonely Town
It Gets Funkier IV
1612
This week at Longhorn City Limits is Ghostland Observatory
IVY LEAGUE REPORT FOR NOVEMBER 17, 2018
By Lonnie Schooler
And now the denouement!  [Ed. Note:  Gesundheit!]
The final weekend of the season is upon us and the prospect looms for there to be only one champion this year.  More on this below.
Results of Games on the weekend of November 10:
Brown hosted the Columbia Lions in Providence.  Alas, the Bruins were no match for the Lions, falling 42-20.  The Columbia Lions set a record for their program in the process, recording 10 quarterback sacks!  Meanwhile, wide receiver Kyle Castner accounted for a school record five touchdowns.  Columbia actually trailed in this game, 14-0, before building up a head of steam and overwhelming Brown.  In the process, Brown scored on a 99-yard run and a 75-yard pass.
The league leading Princeton Tigers traveled to New Haven to do battle with the Bulldogs of Yale.  Last year, Yale defeated Princeton at Princeton, securing its status as the league front runner (and eventual champion).
Unfortunately, the result was different this year, despite the attendance of devoted Yale alumnus Kurt Nondorf.  Princeton prevailed 59-46, as the Princeton running back, Collin Eaddy, rushed for 266 yards and 3 touchdowns.  In the process, Princeton clinched first place as the only undefeated team in this year's conference play.  [Ed. Note:  Loyal and devoted Princeton alumnus Jeff Zlotky was in Austin at Mary Elizabeth's wedding.]
The number 2 team in the League, Dartmouth, prevailed over lowly Cornell in Ithaca, 35-24.  With one loss, Dartmouth is assured of no worse than sole possession of second place.
Finally, the Fighting Quakers of Penn hosted the Crimson of Harvard at Franklin Field.  Yours truly was, regrettably, in attendance as this event marked Penn's homecoming celebration.  The temperature was about 45 degrees with the wind blowing at over 20 miles per hour throughout the game.  On top of which, the home team's seats were on the "shady" side of the field, magnifying the cold conditions.
The shivering only added insult to the misery of watching the Quakers trying to keep up with the Crimson.  It was so bad that Penn actually failed to score after having first and goal at the one yard line!  Anyway, when I left, Harvard was leading 16-0 (and the game was not as close as that score would indicate!).  The final result was 29-7, Harvard.
SCHEDULE FOR WEEKEND OF NOVEMBER 18:
The schedule for this final weekend's games is as follows (all times CDT):
Brown travels to the White Mountains of New Hampshire to take on Dartmouth at 12:30.  Cornell journeys to New York City to play the Columbia Lions at Noon.  Penn concludes its season at Princeton against the Tigers (a change from prior years when Penn's last game was traditionally against Cornell).  Kickoff in that game is at Noon.  Based upon what I saw last weekend, Princeton should have no trouble vanquishing Penn to secure the lone spot atop the League.
And the premier game of the day, as it usually is, will be played in Cambridge, where the Yale Bulldogs will travel to play the Harvard Crimson in their annual season-ending rivalry in a game starting at 11:00.  Third place in the League is at stake, as both teams have 3-3 records thus far.
THE MOST FAMOUS HARVARD – YALE GAME.
By the way, as I have mentioned in past years, all true football fans will enjoy visiting (or re-visiting, as the case may be) the splendid documentary about the most storied game of this rivalry, the 1968 clash at Cambridge that resulted in a 29-29 tie, with Harvard scoring two touchdowns and two 2-point conversions in the last 1:45 of the game to achieve the tie.
The name of the documentary is "Harvard Beats Yale 29-29" and is worth a viewing.  The game featured Calvin Hill, Yale's All-America running back (later of Dallas Cowboy fame and, later still, of recognition as the father of Grant Hill) and Tommy Lee Jones, among others.  You will want to find that part of the documentary that discusses the girlfriend of one of the Yale players.  I think you will recognize this girl (just saying).
Enjoy your football this weekend, and thanks again to Tim Taylor for allowing me to append this important weekly update to his wonderful columns about UT football.
Good Tech Fans
I appreciate all of my Red Raider fans, especially Lance Morris, who shared this picture from Lubbock.  13 fans in the photo, and only one being a jerk.  Hope he was in the Crabtree Corner to see LJH score the game winner up close.  Anyway, given where I was, I was happy to miss this game.  But thanks, and see y'all in Austin next year.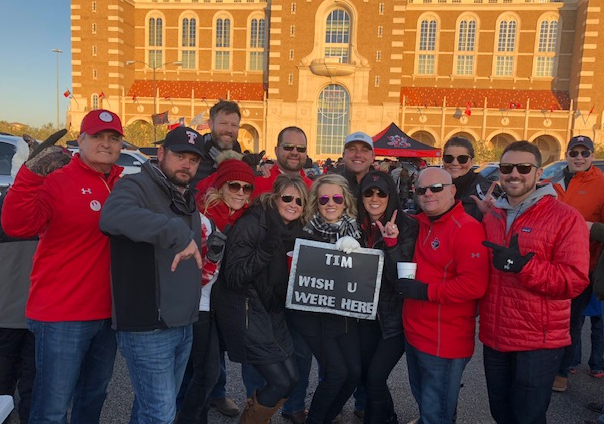 Boy Scouts
We had a grand evening Wednesday honoring Tim Crowley as the Capitol Area Council's Distinguished Citizen Award recipient for 2018.  I chaired the event, past recipients include 4 other men associated with the Juan Heisman Tailgate, and there were 5 Juan Heisman Tailgate Crew members who served as vice chairs.  If I counted correctly, 12 of the tables in the Hilton ballroom had a direct affiliation with Juan Heisman.  I am proud of what we have built, but I am prouder of the strength of our friendships and the way we support each other.  Thanks guys.
Mobile Loaves & Fishes
As we enter Thanksgiving week, one of the organizations in Austin for which I am most thankful is Alan Graham's Mobile Loaves & Fishes.  I strongly encourage you to learn about MLF and Community First! Village, if you don't already know about.  And make a donation.
God Bless Texas. 
Tim Taylor
Tailgating before Home Football Games: 
Lot 38, East of Sid Richardson Hall.
HOOK EM HORNS!!
© Timothy C. Taylor, Sr.  2018.  All Rights Reserved (as to original material).
On Twitter:  @tctayloratx
On LinkedIn:  www.linkedin.com/in/tctatx
On Instagram:  @tctayloratx
On Facebook:  www.Facebook.com/Tim.C.Taylor
and:  www.Facebook.com/Juan.Heisman