Good Morning Longhorn Fans!
Texas Longhorns 34, Alabama Crimson Tide 24
What an amazing victory for Coach Steve Sarkisian and the Texas Longhorns football team.  A great performance on both sides of the ball.  Quinn Ewers showing why he was the top ranked recruit coming out of Southlake Carroll with his stellar performance under the brightest of lights and on as big a regular season stage as one can dream of.  His performance made possible thanks to great performances by all of the offense, but especially Ja'Tavion Sanders, Adonai Mitchell, Xavier Worth, and Jordan Whittington.  And an offensive line that did what we knew was a prerequisite for success in this game:  block, execute, don't make mistakes.  No sacks (just 3 QB hurries in the 38 passing plays), no false starts, and outstanding pass blocking.  And the defense.  Holy cow.   Absolute played flat-out great football.
I asked this question in last week's Dispatch:  Will Saturday night in Tuscaloosa be a similar seminal moment in Texas football history? (referring to the 2005 road against Ohio State).  It probably was, but for it to be a real marker on the road back to elite program status and dominance, Texas must build on the win and keep winning games.  I am convinced that this team has the talent to go all the way.  Sark and the coaching staff showed they can go up against the best in the business and beat them.
The array of facts, historical notes, and awards coming out of this one win are by far more than any I can remember from any game.  Let's start with the jump to Number 4 in the AP Top 25 Poll.  I know a lot folks don't put much stock in early season polls, but Texas not only moved to No. 4, but also got two first place votes.  That's how important and how big Associated Press voters saw this win.
Wyoming Cowboys vs. No. 4 Texas Longhorns
Texas hosts the Cowboys Saturday night, kickoff at 7:00 p.m., broadcast on the Longhorn Network.  This will be our 6th meeting with Wyoming, and Texas is 5-0.
Cowboy Coach Craig Bohl on Monday said:  "I've had the chance to look at or coach against Texas for 35 years. This is the best Texas football team I've seen."
I heard before the Rice game that very few recruits were going to be there.  Someone asked Sark why, and when were his big targets coming to visit?  Sark said for Wyoming, after we beat Alabama.  The list for Saturday includes:
5-Star EDGE Colin Simmons (UT commit)
5-Star WR Ryan Wingo
5-Star CB Kobe Black
4-Star EDGE Solomon Williams
5-Star '25 OT Michael Fasusi
5-Star '25 WR Andrew Marsh
Top 50 '25 WR Marcus Harris
Eighty-Four Seconds
There was one small stretch in the game that is of significant importance.  After halftime, the Tide drove for a field goal to cut the lead to 13-9.  Texas had a 3 and out, and the teams traded several possessions.  Then Alabama took a 16-13 lead with 14 seconds left in the third quarter, and one sensed a major momentum shift to the Tide.
In years past, that might have very well been the end of the game for Texas (and for most teams in this situation, frankly).  But after losing a lead in the fourth quarter on the road in one of the most hostile environments, against one of the best football teams of this century and the bluest of blue bloods, coached by very arguably the greatest college football coach, a cool Texas coaching staff and a team of players who exuded confidence responded with ferocity.  Ewers drove the ball 75 yards in 69 seconds, primed by the outstanding 50 yard catch and run by Ja'Tavion Sanders, followed immediately by the strike to Adonai Mitchell to regain the lead 20-16.  After the kickoff, Jerrin Thompson immediately picked off Milroe at the Alabama 37 and returned it to the Tide 5.  One play later, Brooks is in the endzone.  A 5 yard 4 second drive. From the moment Texas got the ball back down 3 points to the moment Texas had a 27-16 lead, 84 seconds elapsed.  In Bryant-Denny Stadium.  And the actual time from score to score:  fifteen seconds on the game clock.
Alabama answered, but it was not enough.  That Texas win ended a 73-game winning streak for the Crimson Tide when leading at home in the fourth quarter.
I think that those 84 seconds may be the moment, that tiny little stretch of game time, that comes to define the Sarkisian Era.  Veni, Vidi, Vici.
Best Three Videos
I am sure you have seen them, but these are good to re-watch and get all wound up again.
Texas vs. Alabama, The Mini-Movie.
Texas vs. Alabama

The Mini-Movie 🎬🤘 pic.twitter.com/yq7pVn2Far

— Texas Football (@TexasFootball) September 13, 2023
The great plays from the game, in Spanish from the incomparable Dr. Rubén Pizarro-Silva on the Longhorn Radio Network.
A singularly cool moment, when former Alabama running back and now Longhorn Keilan Robinson shares words of wisdom and advice with all the Alabama recruits who were at the game. "All y'all come to Texas."
Honors and Awards
The Horns hauled in the weekly hardware.  Never have I ever seen a week like this, at least not that I can remember.  This is a partial list.
Quinn Ewers, Maxwell Player of the Week
Quinn Ewers, Davey O'Brien National Quarterback of the Week
Quinn Ewers was in church in Austin at 9:00 Sunday morning, September 10.
Quinn Ewers, Earl Campbell Tyler Rose Award Player of the Week
Quinn Ewers, Big XII Offensive Player of the Week
Ewers jumped to No. 2 on Heisman Odds in Vegas.
Ja'Tavion Sanders, John Mackey Tight End of the Week.
Adonai Mitchell, Big XII Newcomer of the Week
Here are some of my favorite facts:
Sarkisian is Saban's first former assistant to beat Saban in Tuscaloosa, and just the third to ever beat him period.
Just the third road win for Texas against a top 3 team. Last one was The Great Shootout in 1969. It was our first ever non-conference top-3 road win.
Alabama had won 57 straight non-conference home games.
The game was the most watched ESPN Saturday game since 2017, with 8.8 million viewers, and a peak of 10.7 million. Astonishingly, 799,000 people tuned into Field Pass with Pat McAfee over on ESPN2
I am still drinking it!  LFG!
Headlines from the Second Weekend
The Owls from William Marsh Rice University defeated the University of Houston Cougars 43-41 in double overtime to win the Bayou Bucket.  Wow. I bet Holgo's head exploded.  JT Daniels passed for 401 yards and 3 touchdowns, and Luke McCaffrey caught 7 passes for 99 yards and two scores.  Congrats to all my Rice friends (especially Jay and Kirk).
The Pac-12 has 8 teams in the Top 25.  Most ever for that conference.  And given the direction it is going, it will never do it again.
As you know, the Southern Methodists got a late bid to join the ACC frat.  How?  They agreed to forgo their media distribution from the conference for nine (9) years.  Nothing like Daddy's Money.  Reported (and I emphasize reported, but seems incredibly credible) that David B. Miller, chairman of the SMU Board of Trustees, raised a couple of hundred million dollars from inside the Bubble and beyond to put money in the bank to survive the 9 year media money hiatus.  Guess it is not the first time the Mustangs have gone without football TV money.  Which led me to go find my favorite Tweet (all-time Top 10) from the Southern Methodists last year.  Whoop!
(2) SMU Football on X: "Watch our smoke. Game 1 tomorrow • @ UNT • 6:30pm @EricDickerson | #SamePonyNewExpress https://t.co/13248Jr8Yz" / X (twitter.com)
Longhorns Defeat Alabama
 I really had trouble trying to figure out how to write about this game.  So many outstanding individual performances, so many great play calls, so many stand-out moments.  So after some struggles, I decided to start with last week's Dispatch and see what I wrote, then include my thoughts on the game and key plays, then my usual aggregation of links to highlights.  As for that starting point, it is not because my pre-game thoughts were unique or prophetic.  To the contrary, if you read, as I did, a few dozen articles and posts last week, you too would have made most if not all of those observations and had similar thoughts about the game and what Texas had to do to win.
"ESPN's Matchup Predictor gives Bama an 80.9% chance of winning.  The TCT Game Prognosticator says Texas has a 63% chance of winning, with the likely final score Texas by 8 points."  As most of y'all probably know, ESPN Analytics has a Win Probability calculation that tracks during the game.  Alabama was the predicted winner until 10:30 in the second quarter.  Even when Texas went up 10-3.  But over the next few plays, the Win Probability shifted in favor of Texas, and it hit 64.4% with 6 minutes in the second quarter, when Texas had third and 3 at the Alabama 16.  Texas would get a field goal to go up 13-3.  At the start of the second half, Texas was favored by 54.9%, with the Longhorns holding a 13-6 lead.  But that's when Saban and his Tide started punching back, and throughout the third quarter, the pendulum swung back and forth.  Then when Alabama took the 16-13 lead with 14 seconds to play in the third, and as we started the fourth quarter, Alabama was given a 70.2% win probability. That didn't last long, as Texas responded with the two quick touchdowns to take a 27-16 lead, and Texas hit 91.6%.  When Bama scored, it dropped to 54.5%, but then went up strong, and halfway through the final quarter and for the remainder of the game, Texas had a win probability of over 65%.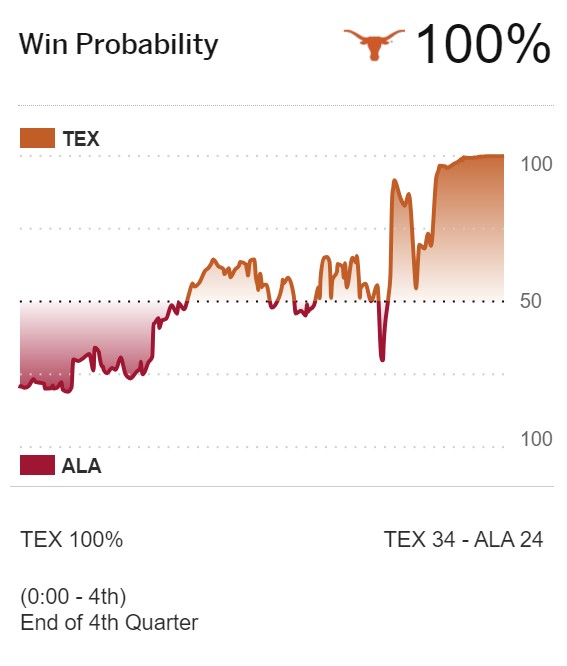 Next, my hope "that Sarkisian, Flood, Banks, Milwee, Jackson, & Choice have just had their best week ever as coaches, and that the offensive unit has listened and learned.  Especially the offensive line.  If Rice can sack Ewers three times in 30 attempts, young Quinn could have a long night."  Not only did Sark and his coaches have a great week last week, as the Texas Longhorns were completely prepared – physically, mentally, and spiritually, individually, as units, and as a team – to play and beat Alabama, Sark & Co. had one of, if not their best, games ever at Texas.  Hard to think of a better one, but I love "49-0".  And of course Quinn Ewers has his amazing performance, the offensive line gave extraordinary protection, allowing NO sacks and only 3 quarterback hurries in 38 passing plays.  You almost wonder if the Rice game was a bit of a poker bluff.  And, Quinn deservedly (and thankfully) got to stay in the full game, including the glory of taking three snaps in the Victory Formation in Alabama territory in Bryant-Denny Stadium, and all Nicholas Lou Saban, Jr. could do was watch.  On AL.com, author Michael Casagrande published an article "Texas saved Alabama's greatest indignity for last".  He wrote:
The 10th and final penalty of the Crimson Tide's ugly night ensured the ultimate insult. The offside flag on a fourth-down with 2:09 left meant Texas could drive the stake deep.

For Nick Saban, kneeling out the final snaps of a game is a statement — an emphatic punctuation that signifies not just winning a game but truly beating the opposition. So, the fact Texas quarterback Quinn Ewers was able to end the night with three straight kneel-downs wasn't insignificant.
Casagrande: Texas saved Alabama's greatest indignity for last – al.com
"Second, we cannot, under any circumstances, live in third and long."  Texas third downs, the whole game, by possession (and of course this doesn't take into account the number of times Texas moved the chains on first or second down, which is below):
Third and 4, third and 4, third and 8; punted
Third and 2, (fourth and 2), third and 4, (fourth and 4), Field Goal.
Third and 7, Touchdown (after a first down on first down, the exquisite 44 yard pass and catch with Worthy)
Third and 5, third and 4, third and 3, third and 10, Field Goal
Third and 9, Punt
Third and 11, Punt (our first possession of the third quarter)
Third and 6, missed Field Goal.
Third and 1, fourth and 1, third and 2, fourth and 2, turnover on downs. Our only drive without a third and long that didn't result in points
In the key Texas drive that carried over from third to fourth quarter, the Longhorns didn't have a third down, and scored on the 7 yard pass to Adonai Mitchell, retaking the lead at 20-16.  The next Texas drive started on the Alabama 5 yard line after the Jerrin Thompson interception and 32 yard return.  Brooks 5 yard touchdown run.  27-16 Texas.  In our final scoring drive, which began with 11:08 to play in the game, Texas, again, never was in third down, much less third and long.  And the 39 yard pass to AD Mitchell was just nails.
https://x.com/HookemHeadlines/status/1700695653632848111?s=20
So not counting the possession that ended with Quinn Ewers taking a knee, Texas had 11 offensive possessions.  Texas scored on 6, missed a field goal on 1.  The other four drives, Texas had at least one third and long.
The recipe for Sark Success is not just staying out of third and long, but punching so hard and fast that Texas doesn't even have third downs.  If this offense can do it against Alabama in Tuscaloosa, then they are capable of doing it anywhere, against any team.
"So I think Texas needs to remember that JT Sanders is a huge weapon, and we need to use him early and often"  Check that box.  JT was our leading receiver with 114 yards.  Sark kept Alabama guessing, as Sanders and Worthy caught 5 passes each, and 13 other receptions by 6 receivers.  Four by CJ Baxter.
Triple B Attack:  Baxter, Blue, & Brooks.  Our Killer Bees.  We did see a reasonably good Texas ground attack, as the Longhorns gained 120 yards on the ground (gross, 111 net, but minus another 6 for the kneel downs).  Brooks with 14 carries for 57 and a score, averaging 4.1 ypc, and CJ Baxter with 11 tough runs for 36 yards plus 5 catches for 21 yards.  Blue had one carry and one catch.
Quinn Ewers did have is his best game in a Texas uniform, Texas stayed out of third and long, we scored touchdowns and field goals, and Texas had sustained drives and better, quick strike drives.  No turnovers.  The offense played close to perfection.
The Defense.  Holy Cow.  Anthony Hill, Jr., the young Freshman from Denton Ryan, had the assignment on Jalen Milroe most of the night.  And he contained him fairly well.  Hill finished with 6 tackles (3 solo), and a team-high 2 sacks.  He also had 4 pressures, and the only time he was targeted in pass defense, incomplete.  According to @HookEmHeadlines, Hill is the only freshman (data going back to the 2016 season) to have multiple solo sacks in a game against Alabama. He is also the only player to have multiple sacks on 10 or fewer pass rush snaps.
Milroe did gain 78 yards, but he lost 34 with the sacks, and netted just 44 yards.  One of our weaknesses for the last few years is letting athletic quarterbacks beat us with their legs.  Milroe didn't come close.  Great defensive schemes and coaching, and great execution and aggressive play.
It is really hard to single out other guys on defense for praise, but hat tip to Jalen Catalon who led the team with 7 tackles (6 solo) and had a TFL.  David Gbenda was even with Hill with 6 tackles, and his sack was just outstanding football play and hustle.  Jaylan Ford shone again, with 5 tackles including a TFL.
Barron's and Thompson's interceptions were huge, and the great returns made them huger, especially Thompson's 32 yards to the Bama 5 yard line.  The secondary played a great game, tough in coverage, solid in run support.
Ethan Burke had another great game, with a sack and another TFL.  T'Vondre Sweat and Byron Murphy had monster games in the middle.  Alabama rushed for just 3.1 yards per carry; last season, Alabama led the nation at 5.57 yards per carry.  And, last year, averaged 195.7 yards per game; they got 107 yards last Saturday.
Overall, what made this defensive performance so impressive, and so much fun to watch, is how aggressive the defense played.  They attacked.  Nine tackles for loss (for comparison, Bama had 2).
And Special Teams!  In the late hours last week as I wrote, I didn't even get to our special teams.  Sanborn only punted three times, but they were beauties.  The only return attempted was by Kool-Aid McKinstry, and he lost 6 yards.   Will Stone had 7 kickoffs, 5 were touchbacks; one Bama return for 18 yards.  And 2 out of 3 from Carrot Top Auburn is a bit of B-, with the missed FG being 42 yards.  Really need him to be 100% inside of 50.  But not going to quibble this week.
Finally, one of the things I say and other observers say, especially in games that are going to be very competitive, Texas has to play a clean game.  Well, you can't get much cleaner than only getting 4 penalties, one of which was an intentional delay of game for punting purposes.
Some other statistical notes:
Texas had 23 first downs to Alabama's 18.
Texas posted 454 yards of offense; Bama 362.
Texas TOP was 32:31, and Alabama was 27:29. But remember scoring drives of 89 seconds, 69 seconds, and 4 seconds.
Highlights from ESPN (16 minutes):
Highlights from CBS Sports (12 minutes):
Highlights from Matthew Loves Ball (26 minutes):
CJ Vogel, with this great take on Sark's play calling and personnel and the use of Johntay Cook
Good example of Sarkisian using his personnel to guarantee a favorable matchup/opportunity on the Worthy TD.

Johntay Cook played just 2 snaps against Alabama. But putting him in this formation forces Alabama to be aware of two deep threats on the field at the same time.

As a… pic.twitter.com/GqILgCWjG6

— CJ Vogel (@CJVogel_TFB) September 11, 2023
If you took the time to watch the Inside Texas interview with Chairman Kevin Eltife a couple of weeks ago, you may recall his comments about the horns down. Let 'em do it.  Just keep on reminding the world of the Hook Em Horns.  Anyway, the Bama fans know how to do it too. Bless their hearts.
It just means more (passion) | Instagram
I have included Chris Fowler's "Nightcap Recap" Instagram posts in the past.  I really enjoy them. I think he is the heir to the great college football voices of my time:  Keith Jackson (alone at the top), Verne Lundquist, and Ron Franklin.  I think Chris and Herbstreit are the best broadcast team in America. Here is the reel; a bit long, but worth it.
The Tuscaloosa Experience
Regrettably, I had to cancel my trip to Tuscaloosa at the last minute.  Very disappointing.  Jamil Alam had arranged a JSX charter for an over and back, and he had a great crew going.  Great work brokering that Jamil!  But, I did get a lot of reports.
It was interesting. Almost everything I heard at first was so positive.  Alabama fans were friendly and welcoming.  Posts from friends saying how much fun they had and were looking forward to going back.  Great experience in Bryant-Denny Stadium, despite the abysmal location of the visitors' seat in the upper deck end zone.  Even Alabama fans congratulating Texas fans.  A few "thanks for coming" and "see you next time".  Sadly, that was not universally true, as reports from the players' parents were disturbing.  Drunk kids throwing beer cans and cursing, racial epithets directed at our players.  I know it happens, and it will continue to happen.  But that doesn't excuse it, and the racist shit just has to end.  I hope I never hear about Texas fans doing that.  I guess it wasn't shocking in the 1960s when college football in the South and Texas was integrating, but it was wrong then, and it is wrong now.  It was bad enough for Alabama President Stuart Bell to make an apology call to President Hartzell.
https://x.com/JCHartzell/status/1702389370018246858?s=20
Anyway, I think that it is very much the consensus was that it was a great road game trip. Tons of fun, good times and good fans.  Much like our trip to Ole Miss several years ago.  Validation that the Southeastern Conference was the right move.
Finally, this great photo sent to me by Rye Hinkle, a great Longhorn and one of the young guys in the Juan Heisman Tailgate Crew. He took this at a friend's ranch out near Menard, around halftime Saturday night.  He said when he saw that burnt orange sunset, he knew Texas was going to win.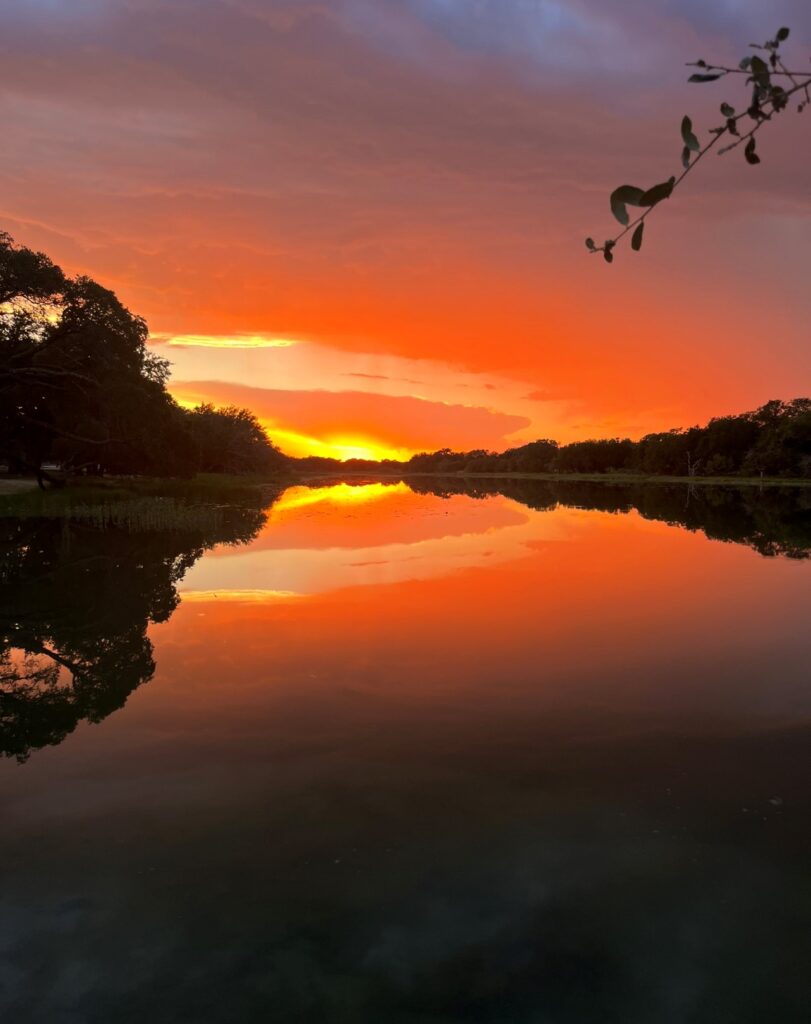 Health Alliance for Austin Musicians
I have been on cloud 9 since Saturday night (when work allowed).  But I will admit to being pretty bummed Tuesday evening, when I logged into my fundraising page for HAAM.  And not one person had made a donation.  Not one.  A couple of my law partners have contributed, from a different solicitation, but not one recorded donation otherwise.  So we will try again.
I have been fortunate to be involved with HAAM since 2007.  That was the second year that we had HAAM Day.  HAAM Day is a city-wide celebration of music and Austin's musicians, with live music all over town.  You can support HAAM and HAAM Day by clicking below and making a donation.  Let's keep Austin Music Alive and Well!
 HAAM Day 2023 – Tim Taylor (onecause.com)
 HAAM Day is coming up next Tuesday, September 19.  Get out your calendar, and check out the amazing line-up of performances and showcases all over Austin.  More here:
https://www.myhaam.org/haam-day
Paul Finebaum
For those of you are follow college football closely, you know who Paul is.  For those who don't, he is probably the preeminent broadcast journalist covering the SEC.  He worked as a reporter and hosted a sports talk radio show in Birmingham for years.  ESPN hired him in 2013 to join the SEC Network, and he has his own TV show there.  He is opinionated, sometimes controversial, sometimes (okay, maybe a lot) an SEC homer, very informed, and very good.  He joined the On Texas Football (Inside Texas YouTube broadcast).  Paul said:
I have never been more excited about anything in the SEC. It was simply the biggest moment that I've ever experienced the next week when the commissioner finally announced it. I'm excited about Oklahoma too, but there's just nothing like the University of Texas.
Here is the whole interview, 15 minutes.  It is really good, because he starts with when he first heard the rumor that Texas and Oklahoma were going to the Southeast Conference.  If you want to feel good about Texas and how we are perceived by the right people in the SEC, watch the interview.
Paul Finebaum on Texas in the SEC: "I have never been more excited about anything in the SEC" – On3
Wyoming Cowboys vs. No. 4 Texas Longhorns
The biggest challenge for the Texas team coming into this week was not the team who would be suiting up in the visitors' locker room, but rather the men in the Longhorn locker room.  Why?  Because most of the players on this team just experienced their biggest win in college. For some, the biggest win in their athletic careers.  One of the first things Sark said was that this win was not going to define the season.  But these are young men, most teenagers or only a year removed, and one can't blame them for walking with their feet off the ground after that.  Their joy was earned, and they deserve to enjoy the victory.  So refocusing for the Cowboys was an important task.  We have not always handled success.  Texas has not started a season 3-0 since 2012.
The good news is that Sark was not alone in recognizing that issue.  It was, in fact, Quinn Ewers, now the undisputed leader of the Longhorns, who took the reins.  Monday, he texted Sark and asked that Tuesday start with a  players only meeting.  Coach Sarkisian obliged, and the players met.  I suspect the team hit the practice field with Alabama behind them and focused on the goal ahead.
The Cowboys are coached by one of the better college football coaches you have probably never heard of.  Before going to Laramie in December of 2013, he spent a decade at North Dakota State. In his last three years in Fargo, the Bison won three national championships.  Unlike Pete Carroll's Southern Cal team, Bohl and the Bison did three-peat.  Bohl has not yet found similar success with Wyoming, with a 54-56 record, but he has had 5 winning seasons, and he has taken the Cowboys to 5 bowl games, winning 3 (Famous Idaho Potato Bowl twice, Arizona Bowl once).  One shared regular season conference title (2016).
Wyoming comes to Austin sporting a 2-0 record, so this is not a gimme.  And they bring back to the Lone Star State a roster that includes over 20 Texans, 6-7 who start.  For those with short memories, Wyoming opened the season with a thrilling double overtime win over the Texas Tech South Plains Aggies, 35-33.  Tech led that game 17-0 after the first quarter, and the Cowboys fought back behind quarterback Andrew Peasley, who showed some true grit.  Peasley threw for just 149 yards, but 2 of his 18 completions were touchdowns.  He was the leading Cowboy rusher, with 68 yards and a score.  But where Wyoming won that game was in their hearts, as they rallied to beat what I think was a better football team.  This team will not be intimidated, and they won't quit.
The Cowboys rushed for 171 yards against Tech, averaging 3.9 yards per carry.  The second leading rusher was Sam Scott (6-2, 230, former linebacker) who picked up 44 yards on 7 carries (6.3 ypc), followed by D.Q. James with 35 yards on 9 carries.
The Wyoming offense had passing plays of 25, 19, and 18 yards and runs of 17, 16, and 15.  Those are some good old fashioned Mack Brown explosive plays.
On the other side of the ball, the Wyoming defense surrendered 338 yards and 3 scores to Tyler Shough and the Red Raider offense, although they only got 93 yards on the ground.
Last week, the Portland State Vikings went to Laramie.  Wyoming with a pretty easy 31-17 win against a bad team.  Peasley passed for 201 yards and 3 touchdowns with one pick (11/16), and he ran for another 43.  Sam Scott had 70 yards, D.Q. James had 33.
Defensively, the Cowboys top tackler is Shae Suiaunoa (6-3, 231, linebacker), with 16 tackles (11 solo) and a sack.  Next are linebacker Easton Gibbs (6-2, 230) with 14 tackles (10 solo) and safety Wyett Ekeler with 14 tackles (9 solo).
This is a team Texas should dominate.  Yes, Peasely is a gamer, but look at his numbers.  They are not nearly good enough to come close to putting up enough points against Texas to cover the points the porous defense is going to give up.  And Paul Wadlington's observation is that Peasely holds the ball way too long.  We should get at least 4 sacks and on interception.  RB's Scott and James began summer camp as back-ups as the anticipated starters both got hurt.  So they are adequate, and can maybe help Wyoming to a winning record in the Mountain West, but not to a win in Austin on Saturday. They run to the right over their big tackle (6-7, 320) most of the time.  So they are going to get some yards, but not enough overcome the speed and the size of this Texas defense.
The Cowboys have a good defense.  Lots of experienced guys, several who are 6th year super seniors.
As for the Longhorns, the main question is the status of CJ Baxter. Honestly, if he is still hurting, he should take another week to get well.  We have plenty of legs with Robinson, Brooks, and Blue, and why not some Savion Red?  I just can't imagine Texas is going to need Baxter to beat the Cowboys.  But then again, the Texas running game is still a work in progress.  Sark has a ways to go there.
I think we will see another solid game from Quinn Ewers – 300+ yards, 3-4 scores, and Worthy, Mitchell, Sanders, and Whittington all getting good yards and scores.
The Longhorns are favored by 30, and the over/under is 48.5.  I think the 30 point line is fair, and I hope Texas covers.  They should. The 48.5 total seems low to me.  The advanced statistics support the line and the over/under. Maybe low because of the Tuscaloosa hangover?  If that is what the oddsmakers are thinking, I think they are wrong.  We there is a slight chance we might get off to a slow start, but I think the thrill of winning and concentrating on the season's goals will prevail, and the Longhorns will go on to win big.
I predict:    Texas 48, Wyoming 17
Official Preview:
https://texassports.com/news/2023/9/11/no-4-6-football-preview-wyoming.aspx
Game Notes:
https://texassports.com/documents/2023/9/11/TexasFB23GameNotes_03Wyoming.pdf
Preview from Burnt Orange Nation:
No. 4 Texas vs. Wyoming: Horns look to stay hot against experienced Cowboys – Burnt Orange Nation
Another good one from Burnt Orange Nation, which also has some nice review of the Alabama game.
No. 4 Texas vs. Wyoming advanced stats preview and Alabama recap – Burnt Orange Nation
On Texas Football, with Bobby Burton and Paul Wadlington.  This is the one to watch if you have the time, about 28 minutes.
Texas Homer's Preview.  17:46 minutes
Statistics
Truthful admission:  I have been so wrapped up in reading and writing about the Alabama game, I forgot to do my usual statistics breakdown.  So, I am including the stat comparison from the Texas Game Notes, and an abbreviated version of the statistical comparison between Wyoming and Texas.  My highlights.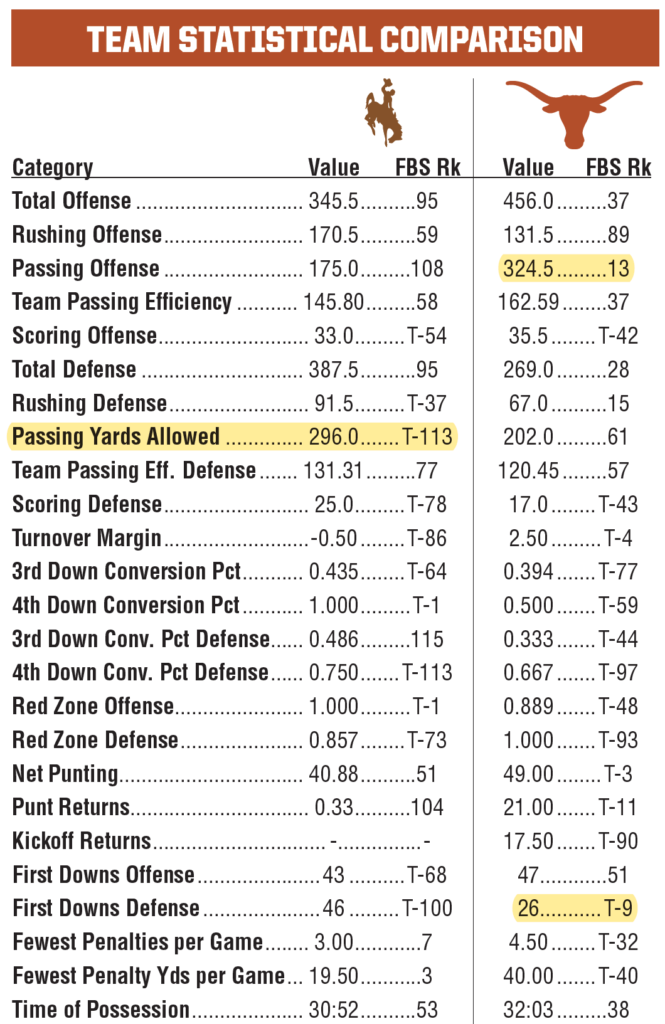 Match-up Comparison
| | |
| --- | --- |
| Texas Offense | Wyoming Defense |
| Rushing Offense – 131.5 ypg | 91.5 ypg – Rushing Defense |
| Passing Offense – 324.5 ypg | 296 ypg – Passing Defense |
| Total Offense – 456 ypg | 387.5 ypg – Total Defense |
| Scoring Offense – 35.5 ppg | 25 ppg – Scoring Defense |
| First Downs – 23.5/game | 23/game – First Downs Allowed |
| 3rd Down Offense – 39.39% | 48.7% – 3rd Down Defense |
| 4th Down Offense – 50% (3 pf 6) | 75% (3 of 4) – 4th Down Defense |
| Red Zone Offense – 89%/44% | 86%/71% – Red Zone Defense |
| LRP – 8 10+, 1 20+, 1 30+ |  2 for 10 yards – LRP Allowed |
| LPP – 23, 10, 8, 3, 1 | 30, 6, 2, 1 – LPP Allowed |
| | |
| --- | --- |
| Texas Defense | Wyoming Offense |
| Rushing Defense – 67 ypg | 170.5 ypg – Rushing Offense |
| Passing Defense – 202 ypg | 175 ypg – Passing Offense |
| Total Defense – 269 ypg | 345.5 ypg – Total Offense |
| Scoring Defense – 17 ppg | 33 ppg – Scoring Offense |
| First Downs Allowed – 13/game* | 21.5/game – First Downs |
| 3rd Down Defense – 33.3% | 43.48% – 3rd Down Offense |
| 4th Down Defense – 66.7% (2 of 3) | 100% (2 for 2) – 4th Down Offense |
| Red Zone Defense – 100%/50%** | 100%/71% – Red Zone Offense |
| LRP Allowed – 5 10+, 1 20+ | 12 10+, 1 20+- LRP |
| LPP Allowed – 14, 6, 4, 1 | 12, 3, 1, 1, 1 – LPP |
*9th in the country.
**Opponents have been in the Red Zone against Texas twice and scored one touchdown.
Other Stats
Time to go back to the crazy fun stuff.
"Available Yards Percentage".  Net available yards percentage (NAY) is the difference between offensive available yards percentage (OAY) and opponent offensive available yards percentage (DAY) on non-garbage, regulation possessions in FBS vs. FBS games. Available yards percentage is calculated by dividing drive yards (measured from starting field position to ending field position) by available yards (measured from starting field position to end zone).
| | | | |
| --- | --- | --- | --- |
|   | NAY | OAY | DAY |
| Texas | No. 9:  0.349 | No. 17:  0.629 | No. 13:  0.279 |
| Wyoming | No. 87:  -0.084 | No. 99:  0.373 | No. 68:  0.458 |
BCF Toys – 2023 Available Yards Percentage
Net points per drive (NPD).  NPD is the difference between points scored per offensive drive (OPD) and points allowed per opponent offensive drive (DPD).
| | | | |
| --- | --- | --- | --- |
|   | NPD | OPD | DPD |
| Texas | No. 17: 2.10 | No. 17:  3.38 | No. 32:  1.29 |
| Wyoming | No. 62: 0.15 | No. 80:  1.82 | No. 44: 1.67 |
BCF Toys – 2023 Points Per Drive
Net Yards Per Play (NPP).  Net yards per play (NPP) are the difference between drive yards per offensive play (OPP) and drive yards allowed per opponent offensive play (DPP) on non-garbage, regulation possessions in FBS vs. FBS games. Drive yards are calculated as the difference between starting field position and ending field position on offensive drives.
| | | | |
| --- | --- | --- | --- |
|   | NPP | OPP | DPP |
| Texas | No. 19: 2.24 | No. 24:  6.72 | No. 27:  4.48 |
| Wyoming | No. 81:  -0.53 | No. 98:  4.77 | No. 52: 5.30 |
BCF Toys – 2023 Yards Per Play
BCF's Game Projection.  "Game Projections are calculated from current FEI ratings and include the projected win likelihood (PW), projected margin of victory (PM), projected points scored (PF) and allowed (PA), and projected total points scored (PT) for each FBS game."
| | | | | | | |
| --- | --- | --- | --- | --- | --- | --- |
| Projected Winner | Projected Loser | PW | PM | PF | PA | PT |
| Texas | Wyoming | .986 | 26.0 | 33.8 | 7.8 | 41.7 |
The Polls
AP Top 25:  Georgia, Michigan, Florida State, Texas Longhorns, Southern Cal, The Ohio State University TM, PSU, Washington, Notre Dame, and Alabama.  Louisiana State at 13, K State 15, Ole Miss at 17, Colorado at 18, Land Thieves at 19, and North Carolina at 20.  Texas Agricultural & Mechanical dropped out of the top 25 and did not receive votes.
AFCA Coaches Poll:  Georgia, Michigan, Florida State, Buckeyes, Men of Troy, Texas Longhorns, PSU, U-Dub, Rocky Top, and Roll Tide. L'Université de Notre Dame du Lac at No. 11.  Bayou Bengals at 14, K State 15, Land Thieves at 16, Mack & the Heels at 1, Hotty Toddy at 19.  Texas Agricultural & Mechanical dropped out of the rankings but did get votes.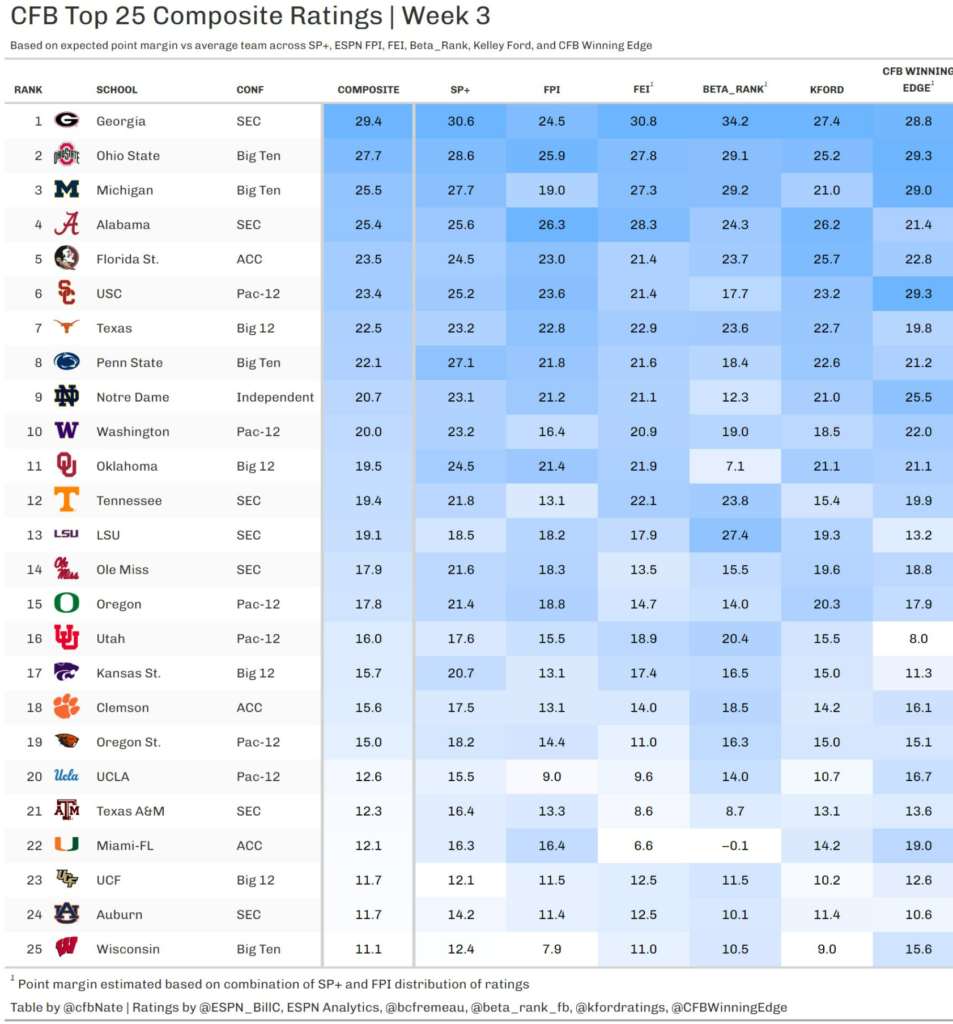 Massey Ratings.  Texas No. 7.  Wyoming is No. 73.
https://masseyratings.com/cf/compare.htm
Juan Heisman Tailgate:  Wyoming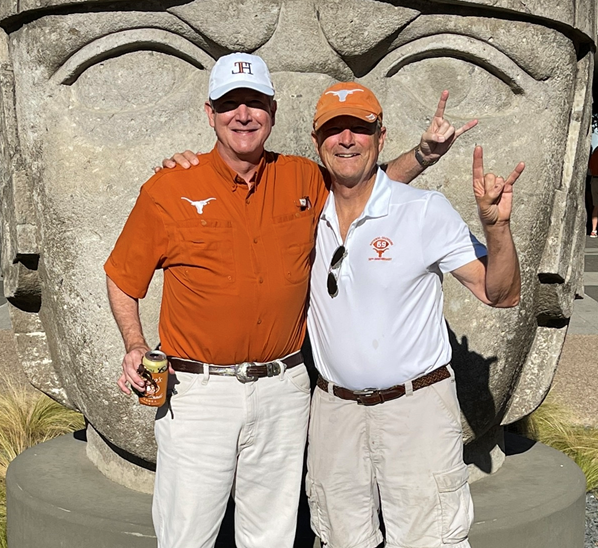 We are going to have a great tailgate.  Sliders, hot dogs, and venison sausage, a pretty traditional and classic JHT tailgate menu.  We will have plenty of beverages.  Thanks to Tito's Handmade Vodka for their donation and support.  Texas Beer Company will be back with some great craft beer.  And with the help from Twin Liquors, plenty of choices for other beverages.
Making this request again:  I am going to assemble a photo album of the Juan Heisman Tailgate over the years.  I will have a special post on AustinHornsFan.com, filled with pictures and, if you have them, stories.  So please send me your pictures.  You can email them to me (best) or text them to me (512.431.6622).  Thanks!
The University of Wyoming
The University of Wyoming was established in 1886, as a Morrill Act land grant school.  It is a small school for a state's flagship, 11,100 students, about 8,500 undergrad.
Academic Rankings

National

Texas

Wyoming

Forbes
43
347
THE | WSJ
60
245
U.S. News & World Report
38
196
Washington Monthly
40
81

Global

ARWU
37
501-600
QS
58
801-1000
THE
50
601-800
U.S. News & World Report
43
726
 Notable Wyoming alumni:
Curt Gowdy
Josh Allen, Buffalo Bills
Dick Cheney
Jay Novacek
My favorite:  Hayden Dalton (born 1996) – basketball player for Hapoel Holon of the Israeli Basketball Premier League
Big XII – Week Three
No. 15 Kansas State at Missouri, both 2-0, 11:00 a.m. on SECN.  Gosh I bet a lot of folks watch this.  Wildcats favored by 4.
Long Island University at Baylor, both 0-2, 11:00 a.m., on BIG12|ESPN+.  No line.
Iowa State at Ohio, 11:00 a.m. on ESPNU.  Cyclones 3 point favorites.
No. 19 Oklahoma at Tulsa, 2:30 p.m. on ESPN2.  Land Thieves favored by 28.5, over/under is 59.5.
Villanova at Central Florida, 5:30 p.m. on BIG12|ESPN+.  No line.
Miami Redhawks vs. Cincinnati, 6:00 p.m. on BIG12|ESPN+.  Cinci favored by 14, over/under is 48.5.
South Alabama at Oklahoma State, 6:00 p.m. on BIG12|ESPN+.  A surprising low line, with Okie A&M favored by just 7 over 1-1 SA Jaguars.
Tarleton State vs. Texas Technical, 6:00 p.m. on BIG12|ESPN+.  No line, but if you can find a place to bet, load up on the Red Raiders.  Coach McGuire is going to have the South Plains Aggies breathing fire.
Brigham Young at Arkansas, 6;30 p.m. on ESPN2. Finally, a good game.  Both teams 2-0.  Pigs favored by 8.  Go Cougars.
Pittsburgh at West Virginia, 6:30 p.m. on ABC.  Another good game.  The Backyard Brawl.  Both teams 1-1 but a long rivalry.  Mountaineers favored by 2.5.
Texas Christian at Houston, 7:00 p.m. on FOX.  So now FOX schedules an evening game in Texas.  Dicks.  Both 1-1, but a chance to get an early conference with.  Texas Christian favored by 7.5.
Kansas at Nevada, 9:30 p.m. on CBSSN.  Kansas 4 touchdown favorites.
Week Three:  Service Academies
Thursday night, Navy and Memphis met in Liberty Stadium.  Tigers were favored by 14.5.  Navy fought hard but fell to Memphis 24-28.
Friday night, Army plays UT San Antonio in the Alamodome.  6:00 p.m. on ESPN.  This will be a fun game.  Roadrunners favored by 8.5.
Friday night, Air Force hosts Utah State at Falcon Stadium.  7:00 p.m. on CBSSN.  AFA favored by 9.
Top 25 – Week Three
Miami (Florida) hammered Bethune-Cookman 48-7 Thursday night.  It was 34-0 at half.
No. 3 Florida State at Boston College, 11:00 a.m. on ABC.  Seminoles favored by 26 points. Eagles are down this year.
No. 7 PS at Illinois, 11:00 a.m. on FOX.  Nittany Lions favored by just 14.5.
No. 14 Louisiana State at Mississippi State, 11:00 a.m. on ESPN.  One of the better games of the weekend.  Tigers favored by 9.5 over the Cowbells.  I like LSU to win and cover.
Weber State at No. 12 Utah, 1:00 p.m. on Pac 12 Network.  No line.
Central Michigan at No. 9 Notre Dame, 1:30 p.m. on Peacock.  Irish favored by 34.5.  Seems high.  Notre Dame will win, but wouldn't surprise me to see the Chippewas cover.
South Carolina at No. 1 Georgia, 2:30 p.m. on the Columbia Broadcasting System.  Bulldogs favored by 27.5, and that may be low.
No. 10 Alabama at South Florida, 2:30 p.m.  This could get ugly.  Tide favored by 33.
San Diego State at No. 16 Oregon State.  2:30 p.m. on FS1.  Beavers favored by 24.5 and they should win handily.
Minnesota at No. 20 North Carolina, 2:30 p.m. on ESPN.  Heck of an early schedule for Mack.  Tarheels favored by 7.5.
Northwestern at No. 21 Duke, 2:30 p.m. on ACCN.  Blue Devils favored by 18.5.
Western Michigan at No. 25 Iowa, 2:30 p.m. on BTN.  Iowa 28.5 point favorites.
Western Kentucky at No. 6 Ohio State, 3:00 p.m. on FOX. Buckeyes favored by 29.5.
No. 8 Washington at Michigan State, 4:00 p.m. on Peacock.  That's a mess in East Lansing.  Huskies favored by 16.5, and they should cover.
Northern Colorado at No. 23 Washington State  4:00 p.m. on PAC12. No line.
North Carolina Central at No. 24 UCLA, 4:00 p.m. on PAC12.  No line.
No. 11 Tennessee at Florida.  6:00 p.m. on ESPN.  Florida not very good, and not sure about Tennessee.  This should be a somewhat marquee game, but it isn't.  Vols favored by 6.
Bowling Green at No. 2 Michigan, 6:30 p.m. on BTN. Big Blue favored by 40.5 in the Big House.
Georgia Tech at No. 17 Ole Miss, 6:30 p.m. on SEC Network.  Should be a great day in the Grove and a great game Saturday night.  Rebels favored by 17.5.  Hotty Toddy!
Hawaii at No. 13 Oregon, 7:00 p.m. on PAC12. Ducks favored by 38.
Colorado State at No. 18 Colorado, 9:00 p.m. on ESPN.  A rivalry game that should be a little entertaining. Deion has the Buffs playing well.  Colorado favored by 24.
Other Games of Interest – Week Three
Virginia at Maryland, Friday Night at 6:00 p.m. on FS1.  Terps favored by 14.5.  Cavaliers need a win. Go Hoos.
Louisiana Monroe at Texas Agricultural & Mechanical, 3:00 p.m. on SECN.  Aggies got to win this win one.  Favored by 36.5.
Prairie View A&M at Southern Methodist, 6:00 p.m. on ESPN+. No line
Texas Southern at Rice, 6:00 p.m. on ESPN+. No line.
SEC – Week Three
Here you go for the rest
https://www.espn.com/college-football/scoreboard/_/group/8
 Washington & Lee University
The Generals welcome the Methodist University Monarchs to Wilson Field this Saturday.  This will be our fourth game with Methodist, and W&L is 3-0.  Hoping this week gets the Generals in the win column.  Kick-off is 1:00 p.m., Shenandoah Valley time.
A photo from Scott Holstead, whose son Tommy (No. 66), plays on the offensive line.  Kinkaid in Houston.   No. 62 is Austin High Maroon Harrison Donovan (O Line, son of neighbors Jacy & John), and No. 92 is defensive end Hasmit Singh from Fort Worth All Saints.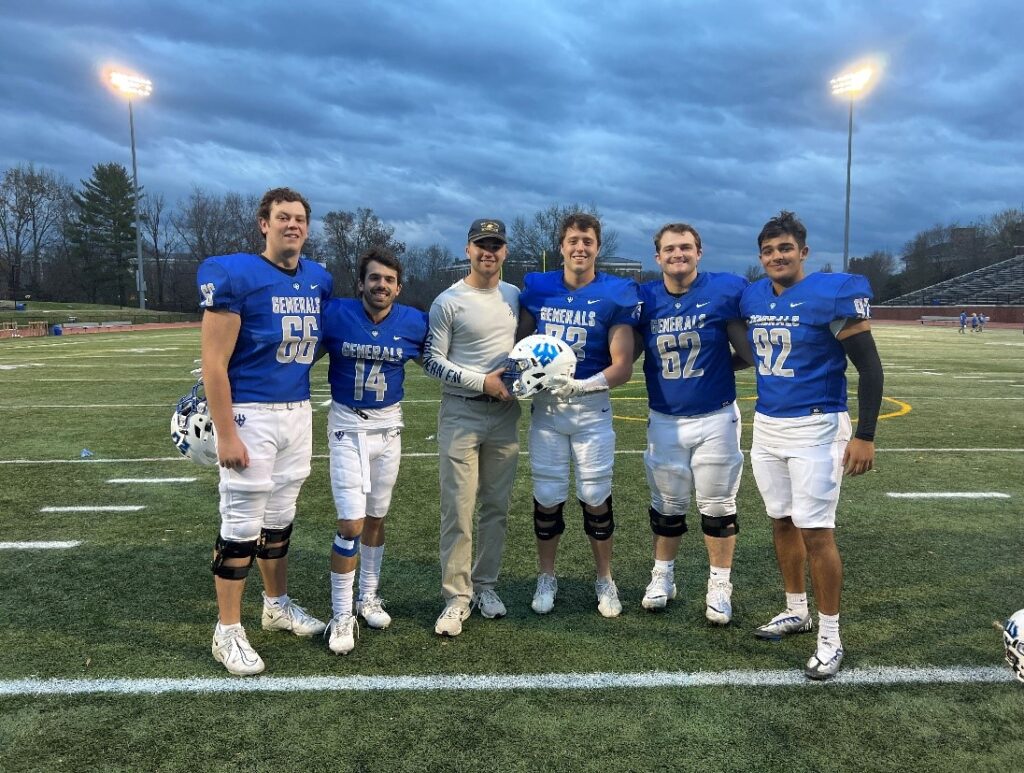 Big XII – Week Two
Baylor fought hard but fell to No. 12 Utah 13-20.  Felt like that was a game the Bears can win. I still think they are going to get better and have a good season.
Tech is another team I think is good, but they didn't get that big win they needed with No. 13 Oregon in Lubbock.  South Plains Aggies had 27-18 lead after three quarters, and the Ducks exploded or 20 in the 4th to get out with a 38-30 win.
Southern Methodist gave the Land Thieves a game. No. 18 Oklahoma won 28-11.
Texas Christian rebounded will with a 41-6 beating of Nicholls.
Oklahoma State 2-0 after a 27-15 win over Arizona State.  Gundy is a good coach. Can't sleep on the Cowboys.
Rice 43, Houston 41, as noted above.
Top 25 – Week Two
It was a boring slate of games, much like this week.  Everyone who was supposed to win did, except of course of Alabama.
And Wisconsin, who lost to Washington State 22-31.
And except for Texas Agricultural and Mechanical, who lost to Miami 33-48.  And I was pulling for those Fightin' Texas Aggies.
A few other games of note.
Ole Miss and Tulane battled in the Big Easy.  The Rebels scored 20 in the fourth quarter to get the 37-20 win.
North Carolina took two overtimes to be Appalachian State 40-34.  As anticipated, a hard fought game, but Mack got that win.
Tennessee managed to beat Austin Peay 30-13.  I bet some Vols fans are nervous.
Southern Cal 56-10 over Stanford.  Trojans are the real deal.
Duke is 2-0 after beating Lafayette 42-7.
Colorado 36-14 over Nebraska.  Deion has those kids balling.
SEC – Week Two
College Football Scores – Week 2, Southeastern Conference 2023 Regular Season – ESPN
Week Two:  Other Games of Interest
UTSA beat a feisty Texas State Bobcat team (who Beat Baylor the week before) 20-13.
Miami beat Massachusetts 41-28. Redhawks cover!
Jim Nicar
The original concept plan for our stadium.  Love how the track oval extends out the end of the horseshoe.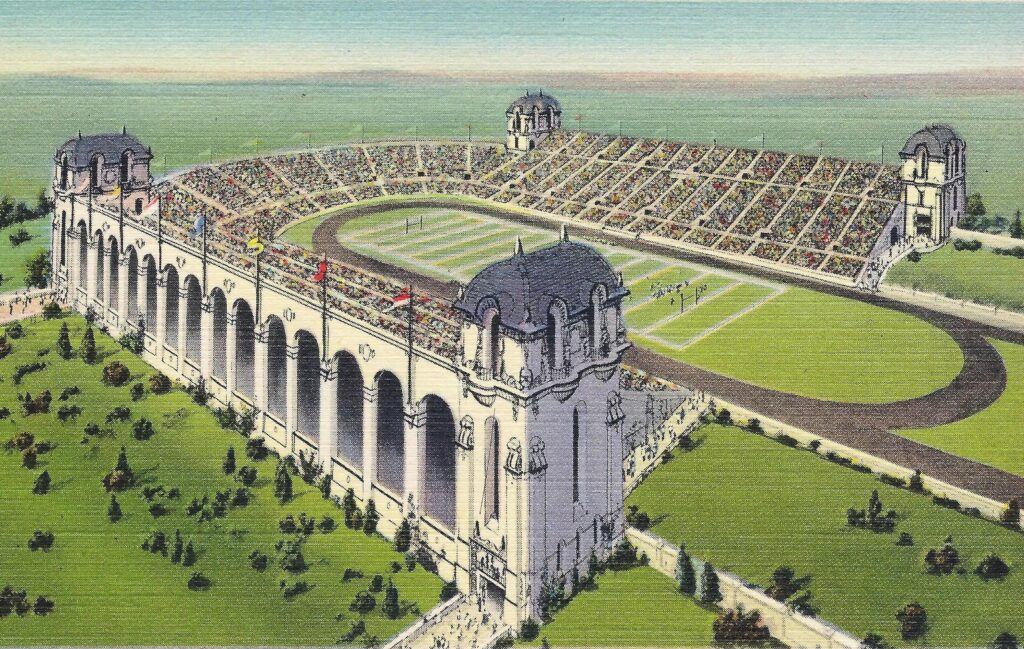 https://twitter.com/JimNicar/status/1699592752940384546
Music
I will admit I don't listen to Big Boi.  I am sure he is excellent.  LCL will be lit.
But I do listen to the great Charlie Robison, who died way to young last Sunday at age 59.  The Bad Boy of Country Music, Charlie grew up in Bandera with his brother Bruce.  Sixth generation Texan. Played football at Texas State.  By all accounts just a really good guy.  RIP cowboy.
My Hometown.  One of my favorite songs, not just Charlie Robison songs.
Barlight
I Want you Bad
El Cerrito Place
New Year's Day
Sunset Blvd
Picture of the Week
A great photo from JType.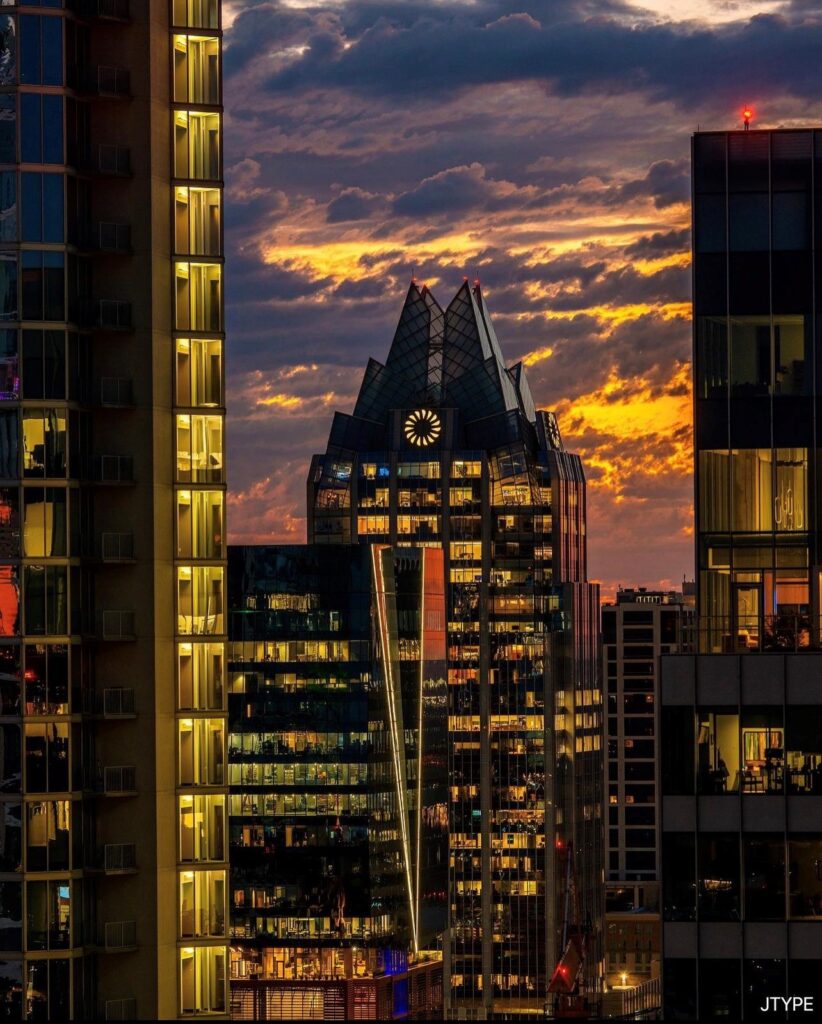 https://www.instagram.com/p/Cw796wRuVjb/?img_index=6
Photo © JType
God Bless Texas
God Bless America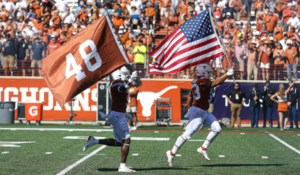 Tim Taylor
Tailgating before Home Football Games
The Juan Heisman Tailgate
Lot 38, East of Sid Richardson Hall.

HOOK EM HORNS!!
The Austin Horns Fan Dispatch
© Timothy C. Taylor, Sr. 2023.  All Rights Reserved (as to original material).
On Twitter:  @tctayloratx
On LinkedIn:  www.linkedin.com/in/tctatx
On Instagram:  @tctayloratx
On Facebook:  www.Facebook.com/Tim.C.Taylor
and:  www.Facebook.com/Juan.Heisman
You can contact me by mail:
Tim Taylor
P.O. Box 5371
Austin, Texas  78763-5371