Good Morning Longhorn Fans!
Texas Longhorns vs Alabama Crimson Tide
I am certain this is the biggest non-conference, true road game since the trip to Ohio State in 2005.  I looked back over the last 25 years, and I didn't see another game that was bigger.  Southern Cal in 2017 was the closest (Trojans were ranked 4), and Texas fell 24-27 in double overtime despite Sam Ehlinger's heroic efforts.  One could make an argument about that game in the Coliseum, but as with a lot of history, the context of the event should often be viewed through the events that preceded and those that followed.  Interestingly, that game in Columbus was on September 10 against a Buckeye team ranked 4th in the AP and 7th in the Coaches.  As we know, after the thrilling 25-22 win over The Ohio State University, the Longhorns and Vince Young ran the table all the way to the Rose Bowl, "he's going for the corner", and a National Championship.
Will Saturday night in Tuscaloosa be a similar seminal moment in Texas football history?  It can be. Texas goes in as underdogs to a perennial powerhouse ranked No. 4 in the AP and No. 3 in the Coaches. A win propels Texas into the top 5.  Despite a less than impressive offensive performance against the Rice Owls last Saturday, I am still all-in on this Texas team.  As I have often heard coaches say (I think Mack Brown, in particular), the most improvement for a team should be between Game 1 and Game 2.
One of my favorite preview moments came last Sunday night, when Coach Sarkisian was interviewed at halftime of the Louisiana State – Florida State game.  The ESPN guys brought up what you have probably seen two dozen times this week: Nick Saban is 28-2 against his former assistant coaches.  Sark's response was so good:  "What's the record of all guys who aren't former assistants?"  Well played Sark.  And as for Nick?  Only two have beaten him, both in 2021:  Kirby Smart and Jimbo Fisher.   At Alabama, Saban is 195-27.  And at home in Bryant-Denny Stadium, Nick Saban is 104-8.  Which means he loses a game in Tuscaloosa on average every other year.  Stat from Joel Klatt:  Alabama has won 52 of its 53 last games in Tuscaloosa, the sole loss being to Joe Burrough and the Tigers.
The game will be broadcast on ESPN, 6:00 p.m. kick, with the World Wide Leader's A team – Chris Fowler, Kirk Herbstreit, and Holly Rowe.  I know many of you are impacted by the little spat between Spectrum and Disney/ESPN.  I hope for everyone's sake it gets resolved.
The game will also be on the Longhorn Radio Network with the Voice of the Longhorns, Craig Way, joined by Roger Wallace in the booth and Will Matthews on the sidelines.  KVET in Austin, KRLD 1080 in Dallas, KBME 790 in Houston, and WOAI clear channel 1200 in San Antonio.  Also SiriusXM 121 or 191.
Texas is 7-2-1 against the Crimson Tide.  We all know the two losses.  The BCS Rose Bowl loss was one of the most soul-crushing ever as a Longhorn.  Time to end the Tide's two game winning streak.
The team comparison from Winsipedia: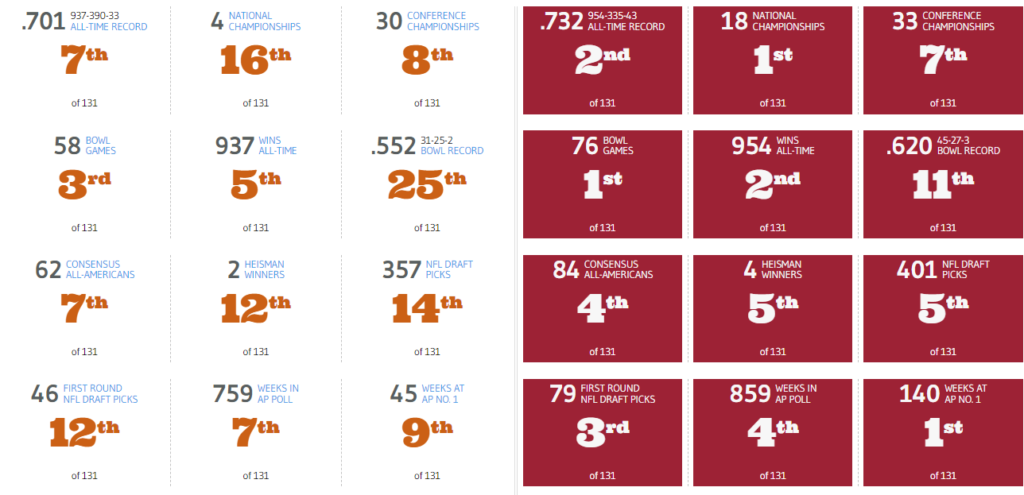 Rice Owls 10, Texas Longhorns 37
The Longhorns notched win number 75 in their 97th game with the Owls with solid 37-10 victory.  As expected, it was in a blistering heat, miserable or unpleasant for most of the fans, depending on your seats.  I honestly don't know how the players do it; I have the utmost respect for every kid on both sidelines for their conditioning and mental toughness.  I am just glad none of them ended up in the hospital.  Kudos to the training staffs on both squads.  Highlights from our excellent media team.
Game one: won ✅ pic.twitter.com/MIHqFnX8b5

— Texas Football (@TexasFootball) September 5, 2023
Always good to win, especially that first game.  A brief review of the Rice game further down in this edition of the Dispatch.
Headlines from the First Weekend
What a first weekend of college football.  The excitement and the upsets and all the emotions of our favorite sport played out over the long Labor Day weekend.
My favorite headline (other than Texas winning, or course) was our beloved former coach Mack Brown winning his 100th game at North Carolina, becoming the first college coach to win 100 games at different schools.  And Mack Daddy danced.  Congrats Coach.
We win, coach dances 🕺#CarolinaFootball 🏈 #UNCommon pic.twitter.com/uIR0WV9f30

— Carolina Football (@UNCFootball) September 3, 2023
Baylor, Texas Christian, and Texas Technical all lost.  The national headline was Deion Sanders and his Colorado Buffalos going into Amon G. Carter as 20.5 point underdogs and taking down the Frogs 45-42 in about as exciting a football game as one can watch.  Shadeur Sanders, Prime Time's son and Buff QB, went off for 510 yards and 4 touchdowns, completing 38 of his 47 pass attempts against last season's national runner-up.  Four different Buffalo receivers had over 100 yards.  Unbelievable.  Baylor lost at home to Texas State 42-31, a game the Bears only led for less than 3 minutes in the first quarter (3-0, until the Bobcats went up 7-3, a lead they would not relinquish).  Then in a late night double overtime thriller, Tech lost to Wyoming.  Tyler Slough, the Tech quarterback, threw for 338 yards and three scores.  The Cowboy quarterback, Andrew Peasely, willed his team to the win, throwing for 149 yards and 2 touchdowns and running for 68 and a score.
The weekend concluded Monday night, as Dabo Swinney and the Clemson Tigers rolled into Durham for presumably an easy W over Duke. Did not happen.  The Blue Devils behind quarterback Riley Leonard managed to take advantage of nearly every Clemson mistake (of which there were many) and send the Tigers back to South Carolina with a 28-7 loss. It was all around a bad weekend for the State of South Carolina, as just about every team from The Palmetto State got beat.
The other big storyline was the soon to be either defunct or re-constituted Pac 12 conference going 13-0 on opening weekend.  That's the first time their conference schools won all of their opening weekend games since 1932.
Longhorns vs Crimson Tide
 The most important game of Steve Sarkisian's tenure at Texas?  They are all important, but if Texas wins, it will be his most important win at Texas.
Alabama is favored by 7, and the over/under is 53.5.  The line has stayed around a touchdown.  The moneyline has moved around, but Thursday night it was Alabama -275 and Texas +220.  Bear in mind last year Alabama was favored by 20, and Texas led by 2 points with 89 seconds left in the game.  But thanks to some stunningly inexplicable bad calls, our Burnt Orange dreams were dashed.  Don't recall?  I assure you T'Vondre Sweat remembers, when his sack of Bryce Young for a safety instead was instead roughing the passer Overshown.  Here you go:
Fans livid at referee Scott Campbell, Big 12 officials for missed calls in Texas loss to Alabama | Sporting News
ESPN's Matchup Predictor gives Bama an 80.9% chance of winning.  The TCT Game Prognosticator says Texas has a 63% chance of winning, with the likely final score Texas by 8 points.
Last year's Crimson Tide had two losses, both to top 10 teams:  the thriller in Knoxville, when the Vols beat Bama 49-52, despite Bryce Young's 455 yards passing, and then the 31-32 overtime loss in Red Stick to the Louisiana State Tigers.  They wrapped up last season with a dominating 45-20 win over Big 12 champ K State, as Bryce Young threw for 321 yards and 5 touchdowns in the Sugar Bowl.
Alabama's opener was a 56-7 domination of the Middle Tennessee Blue Raiders.  Tide quarterback Jalen Milroe threw for 194 yards and 3 touchdowns (13 of 18), and he ran for 64 yards (lost 16, so netted 48) and two scores.  Worth noting he was sacked twice.  So there is some a glimmer of a possible weakness there.
I didn't really get to research this game and the Alabama team as much as I had hoped.  Multiple factors interfered, and so this is a bit of a last minute mish-mash of thoughts and interesting observations.
First, I hope Sarkisian, Flood, Banks, Milwee, Jackson, & Choice have just had their best week ever as coaches, and that the offensive unit has listened and learned.  Especially the offensive line.  If Rice can sack Ewers three times in 30 attempts, young Quinn could have a long night.  And it every well may dictate a switch to a bigger, stronger, quicker player; maybe one named Maalik.  And knowing that Saban has always played aggressive defense, you can bet Bama will be blitzing.
Second, we cannot, under any circumstances, live in third and long.  Goes to what I heard someone say, second down has become the new third down.  If you don't pick up decent yardage on first and second down and then have third and long, every defense in America, from Rice to Rutgers, Stetson to Stanford, and Miami to Miami, and everyone in between, knows you are 75% or more likely passing on third down.  And while some of those defenses might be susceptible to the long third down conversions, the good ones will not.  So I think Texas needs to remember that JT Sanders is a huge weapon, and we need to use him early and often.  Texas has to be keep the offense on the field, and if that means short and medium passes to our other great offensive players, like Jordan Whittington, as well as Keilan Robinson who has proven himself as a solid receiver out of the backfield, let's do that and move the chains in increments.  Home runs are always nice, but run producing station to station baseball can win a lot of games.  And, don't forget just how good Xavier Worthy can be in the short game, especially if we set him up on well executed screens with other guys out there to block for him as soon as he gets the ball and quick slants and crossing patterns were he can use his speed to create separation and/or get in between the layers of the defense.  Sounds good.  Guess who else knows all of this?
It is very good news that CJ Baxter is back, and if he is back 100% healthy, then we may see (as I prematurely predicted last week), the breakout game for a new Texas star running back. The rest of the RB Corps looked good last week, especially Jonathon Brooks and Jayson Blue.  Texas has what I am officially dubbing the Triple B Attack:  Baxter, Blue, & Brooks.  Our Killer Bees.  I have a feeling we are going to see a surprisingly good Texas ground attack.
I think for Texas to beat a very, very good Saban Tide defense, Quinn Ewers is going to have to have his best game in a Texas uniform, Texas must stay out of third and long, we have to score touchdowns not field goals, and we must have sustained drives.  Alabama has another great defense, and the best name of a season with many great names – Kool-Aid McKinstry.  Texas must play smart and good football.  It is hard to win if you make stupid penalties, especially penalties that kill drives, and if you turn the ball over.  It is impossible to beat a team like Alabama if you make mistakes.  If Sark can engineer an offense that executes close to perfection and plays clean football, then he may be Saban assistant No. 3 to beat his former boss.  I will willingly concede this:  We didn't see many of Steve Sarkisian's cards on offense last week.  I recall just one play that made me say "wow".  And I think I heard Sark say in one of his media availabilities or interviews that he has been preparing for this game for a long time.  Probably since January.  So let's see Sark push all the money on the table and show not just Texas, but the nation, that he is indeed the Right Man to lead Texas into the SEC as more than just a moderately competitive program, but one that can and does compete for titles.
I left DKR last Saturday very pleased with the Texas defense.  Five tackles for loss with 2 sacks, and two interceptions.  The one-hander by Jaylan Ford was outstanding.  I am completely comfortable with the Texas defense I saw last week playing and helping Texas beat Bama this week.  But, that is going to require the defense to have someone on Milroe every play.  He is a true dual-threat quarterback, and if the pass isn't there, he can use his legs to make the play.  He is a helluva runner.  That fits with Saban's focus this year:  back to a grinding, pounding, dominating run game.  Having a quarterback with Milroe's running skills just makes that dominant run game all the more likely.  And guess what?  Alabama is stacked at running back.  Seniors Jase McClellan and Roydell Williams, and freshmen Justice Haynes, Jamarion Miller, and Ty Simpson.  My guess is each one of those 5 guys could start somewhere with and FBS program.  So it is a very good thing that our defense indicated marked improvement last week; Texas is going to need that and more.
I am counting on huge games from Sweat, Ford, Sorrell, Burke, and Muhammad (one of last week's most pleasant surprises, with 4 tackles).  Barron, Gbenda, Bush, and Crawford are going to need to play really well.  We need stops and we need turnovers.  I know this:  Texas will not lose to Alabama because of bad defense.  These guys are good.
What worries me the most?  This from Rod Babers, after the Rice game:  "Last season vs Texas, Bryce Young completed 90% of his passes out of empty formation. Last week JT Daniels completed 85% of his passes out of empty vs the Longhorns. Texas better be ready to defend empty & deploy several spies to neutralize Jalen Milroe vs Bama."  I promise you, the Saban Bama Brain Trust knows this, and they have game planned for it.
Official Preview:
No. 11/12 Football preview: at No. 4/3 Alabama – University of Texas Athletics (texassports.com)
Game Notes:
https://texassports.com/documents/2023/9/4/TexasFB23GameNotes_02Alabama.pdf
Article from The Daily Texan.
Sarkisian's return to Tuscaloosa nears as Texas prepares for top five road matchup – The Daily Texan
Good preview from Burnt Orange Nation:
No. 11 Texas vs. No. 3 Alabama: Longhorns look for signature win over the Crimson Tide – Burnt Orange Nation
Texas Homer's Preview.  This a great investment of 30 minutes.
Joel Klatt (who I really like).  Notes Quinn was 0-6 on 20+ yard throws against Rice.  Joel thinks the game will be won or lost on Quinn Ewers' performance.
The On3 preview:
Preview from the Matt Barrie Show (ESPN):
Want to learn more about the illustrious history of Alabama Crimson Tide football?  You can download the 364 page 2023 Record Book here:
2023 Alabama Football Record Book (PDF) – University of Alabama Athletics (rolltide.com)
Health Alliance for Austin Musicians
I have been fortunate to be involved with HAAM since 2007.  That was the second year that we had HAAM Day.  HAAM Day is a city-wide celebration of music and Austin's musicians, with live music all over town.  You can support HAAM and HAAM Day by clicking below and making a donation.  Let's keep Austin Music Alive and Well!
 HAAM Day 2023 – Tim Taylor (onecause.com)
 Why HAAM today?  Because HAAM Day is coming up on September 19.  Get out your calendar, and check out the amazing line-up of performances and showcases all over Austin.
More here:
https://www.myhaam.org/haam-day
Next week, I will have my suggestions.  I bet a few of you can guess what some of them will be!
The Bet
Mayor Kirk Watson is a heck of a good supporter of The University of Texas.  Kirk and Tuscaloosa Mayor Walt Maddox have placed a wager.  If Texas wins, Mayor Maddox is sending Dreamland barbecue to Austin.  If Alabama wins, Mayor Watson is sending Micklethwait Craft Meat cue to Tuscaloosa.  I wondered about Mayor Watson's choice.  Don't get me wrong, I think Micklethwait is outstanding BBQ.  But with world famous Franklin's, Stiles Switch (one of my favorites), Valentina's Tex-Mex (one of Guy & Triple D's favorites), Terry Black's, and of course the immortal Sam's BBQ on East 12th (a favorite of mine & Jeff Zlotky's in law school), how did Kirk decide on Micklethwait?  I pondered this for hours.  Then it hit me: Kirk picked the one the Roll-Damn-Tide fans can't spell and probably can't pronounce.
This week is one of the biggest Alabama games ever, as the @TexasLonghorns come to Tuscaloosa for a rematch with @AlabamaFTBL in Bryant-Denny.

Austin Mayor @KirkPWatson and I have placed a friendly wager on the outcome of the game. Watch this video to learn more. #RollTide pic.twitter.com/Ia5JMUJOwM

— Walt Maddox (@WaltMaddox) September 6, 2023
Hey, Mayor @WaltMaddox, game on.🤘

I'm sorry you won't be able to enjoy some award-winning Micklethwait @CraftMeats, but I sure do look forward to trying some Dreamland BBQ after @TexasFootball beats Bama Saturday night.

A fun game between two great teams!#HookEm @UTAustin https://t.co/bWqUsVx98u pic.twitter.com/iPxbW47VIB

— Mayor Kirk Watson (@KirkPWatson) September 7, 2023
And Dreamland Bar•B•Que?  Well it is a small chain (albeit founded in Tuscaloosa in 1958), which serves ribs, chicken, and sausage, as well as a chopped pork sandwich, wings, and good sides.  Looks like they have a good Brunswick Stew too, but made with pork and chicken instead of rabbit or squirrel.  The boneless rib tips (which are on several menu offerings) look intriguing, and the banana pudding does look impressive.  Great history:  John "Big Daddy" Bishop had a dream, and God visited John in that dream and told him to open a restaurant.  Thus, Dreamland.  Now, I am a Texas barbecue loyalist, but not a snob.  I loved getting a good pulled pork sandwich or ribs when I was in Memphis visiting Kathryn and Mark.  In college, I learned to appreciate and like Carolina barbecue, mostly pork, vinegary sauce.  So I look forward to trying some of Big Daddy's cue sometime in Tuscaloosa.  Actually, maybe I will get an invite to try some at Austin City Hall next week.
Nicholas Lou Saban, Jr.
I have grudgingly admitted that Saban is one of the greatest college football coaches of all time.  7 National Championships, 10 SEC Championships, and 11 SEC Western Division titles, and don't forget his MAC Championship as head coach of Toledo Rockets in 1990.  Toledo went 9-2 and was 7 points away from an undefeated season (lost by one Central Michigan and by 4 to the United States Naval Academy).  15 national coach of the year awards and SEC Coach of the Year five times.  Since taking over in Tuscaloosa in 2007, he is 190-27 overall and 109-18.  He has gotten Alabama in 9 national championship games since 2009, winning all three BCS games and winning half of the CFP title games.  He has coached all four of Alabama's Heisman winners:  Mark Ingram, Derrick Henry, DeVonta Smith, and Bryce Young.  I have never said "The Best", because I think that is a really hard title to bestow on an active coach.  However, I concede that the case can be made for Nick as the GOAT.  Interestingly, Lane Kiffin laid it out pretty well:
One of Lane's comments is important, and goes to one of the oft pointed to possible weaknesses in this year's Tide team:  Staff turnover.  Bama has new coordinators on both sides of the ball.  But that's what is amazing:  Nick Saban just keeps winning, despite the constant departure of coaches and arrival of new ones.  He just wins.
And that famous Saban coaching tree?  Alive and well.  Just a few:  Steve Sarkisian, Kirby Smart, Mark Dantonio, Jimbo Fisher, Will Muschamp, Mel Tucker, Billy Napier, and Mario Cristobal.  That's just a short list. Check it out if you are interested:
https://ftw.usatoday.com/lists/nick-saban-coaching-tree-list-jimbo-fisher-kirby-smart-sarkisian-kiffin-tucker
We will save the Saban to Texas story for another time.  Perhaps before our first SEC game with him.
Derrick Johnson
I made mention of Derrick Johnson's positive presence on The Forty Acres, but I failed to include a link to the story by my friend Cedric Golden.  Good piece.  "Unpaid but not undervalued Derrick Johnson mentoring Texas defensive players":
https://www.statesman.com/story/sports/columns/2023/08/26/former-texas-longhorns-football-star-derrick-johnson-mentoring-linebackers/70608389007/
The Polls
AP Top 25:  Georgia, Michigan, Alabama, Florida State, The Ohio State University TM, Southern Cal, PSU, Washington, Tennessee, Notre Dame, and Texas at No. K State at 15, North Carolina at 17, Land Thieves at 18, Ole Miss at 20, Duke at 21, Colorado at 22, and Texas Agricultural & Mechanical at 23.
AFCA Coaches Poll:  Georgia, Michigan, Bama, Buckeyes, Noles, Men of Troy, PSU, U-Dub, Rocky Top, and Texas L'Université de Notre Dame du Lac at No. 11.  K State 15, Mack & the Heels at 16, Land Thieves 17, Hotty Toddy at 20, and Texas Agricultural & Mechanical at 23.
2023 Longhorn Football Prospectus:  Thinking Texas Football
I had a nice exchange with the great Paul Wadlington after last week's newsletter.  He wanted me to share with you that you can also get his on Apple and Amazon, including a print edition.  Again, I highly recommend it.
2023 Longhorn Football Prospectus: Thinking Texas Football (smashwords.com)
https://sites.google.com/view/the-2023-burnt-orange-bible/home
Owls 10, Longhorns 37
As you know, I am a kool-aid mixing and chugging optimist, so this isn't mean to be a criticism, just an observation.  The one word that was thematic in every post-game text and email last Saturday night and Sunday was "underwhelming".  Channeling my best William Safire:  The game was too many moments of mediocrity interrupted by impressive play by the Horns and punctuated by points of perfect execution and promising game calling.  The Texas offense did not dominate Rice.  As noted above, 3 sacks, and Ewers had 20 negative yards (15 on the sacks).  Didn't convert our first 6 third downs.  Our top three backs combined for 145 yards.  Keilan added 3, and Savion Red rushed 3 times for minus 2 yards.  Against the Owls.  If I remember right, Ewers missed on almost every long ball, even when Worthy had beaten the defender.  Okay, enough with the negative waves Moriarty.
The Texas defense was awesome.  Rice had 8 first downs (to 24 for Texas), and managed just 176 yards of offense, with only 51 yards gained (gross, net was 27).  Very impressive start to the season.
With my time limitations this week, that's it on my review.  Here are some videos that I recommend:
Highlights from CFB on FOX (7:31):
Highlights from ESPN (2:53):
Highlights from Matthew Loves Ball (17:22):
Nash Talks Texas, on Quinn Ewers
Juan Heisman Tailgate:  Rice
We had a great if steamy tailgate.  Thanks to Tito's Handmade Vodka, Texas Beer Company, and Twin Liquors, there was plenty to drink.  New man Griffin Shavor and his buddy Luke did a bang-up job.  Great to have Baker Montgomery stop by!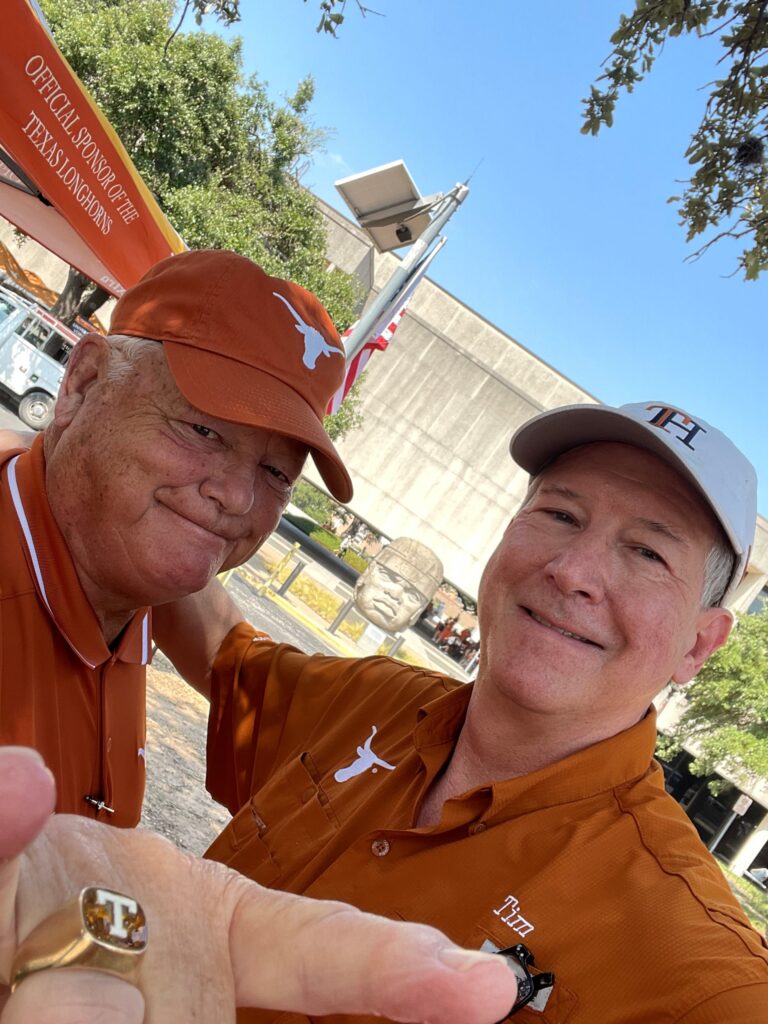 We will be back for Wyoming!
One request:  I am going to assemble a photo album of the Juan Heisman Tailgate over the years.  I will have a special post on AustinHornsFan.com, filled with pictures and, if you have them, stories.  So please send me your pictures.  Thanks!
The University of Alabama
The University of Alabama was established in 1820 and opened to students in 1831.  The oldest and largest public university in Alabama, it is nicknamed "The Capstone", based on a speech given by George Denny (then UA president) who called it the "capstone of the public school system in the state" of Alabama.  Thus its motto, "The Capstone of Higher Education".
Academic Rankings

National

Texas

Alabama

Forbes
43
277
THE | WSJ
60
401-500
U.S. News & World Report
38
148
Washington Monthly
40
342

Global

ARWU
37
501-600
QS
58
1001-1200
THE
50
601-800
U.S. News & World Report
43
470
 Want more good news on UT?
1965 Orange Bowl
I had this in last year's Bama email, but worth including this year.  The most famous Texas win over the Tide was the 1965 Orange Bowl, when Coach Darrell K Royal and his men beat Bear Bryant's Bama team, who were already the 1964 National Champions (10-0).  It was a night, prime time televised game, the first.  Record crowd.  The Alabama star, Joe Namath, was hurt.  Steve Sloan was the starting Tide quarterback.  That game began great for the Longhorns, when Ernie Koy broke off a 79 yard touchdown run.  Jim Hudson would complete a 69 yard pass to George Sauer to put the Horns up 14-0 in the second quarter.  Namath came in to rally the Tide in the second quarter.  He engineered an 87 yard drive, finished with a 7 yard touchdown pass.  But Texas would score again before half on another Koy run, and the Longhorns led 21-7 before the break.  In the third, Namath connected with Ray Perkins for a 20 yard touchdown to close the gap to 7.  The Crimson Tide got a field goal to get it to 21-17, as Alabama had held Texas scoreless in the second half.  Late in the game, the Tide got to the Texas 6, but the defense held.  Alabama had the ball fourth and goal.  With the game on the line, Namath tried to sneak it in.  But the great Tommy Nobis stopped Broadway Joe short of the end zone, sealing a great Texas victory.  At least that's what the scoreboard showed.  It was a huge Texas upset of No. 1 National Champion Alabama, quarterbacked by one of the best of his time.  Some good videos:
Texas vs. Alabama, 1902
Vance Duncan shared this on Facebook. His grandfather, I.V. Duncan, was team captain for Varsity in the first game between Alabama and Texas, in 1902.  Texas would win 10-0.  His grandfather is holding the football.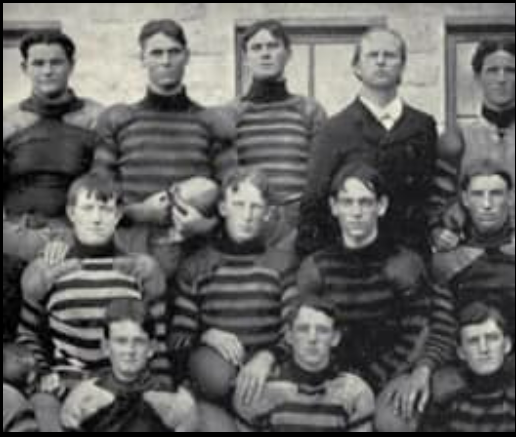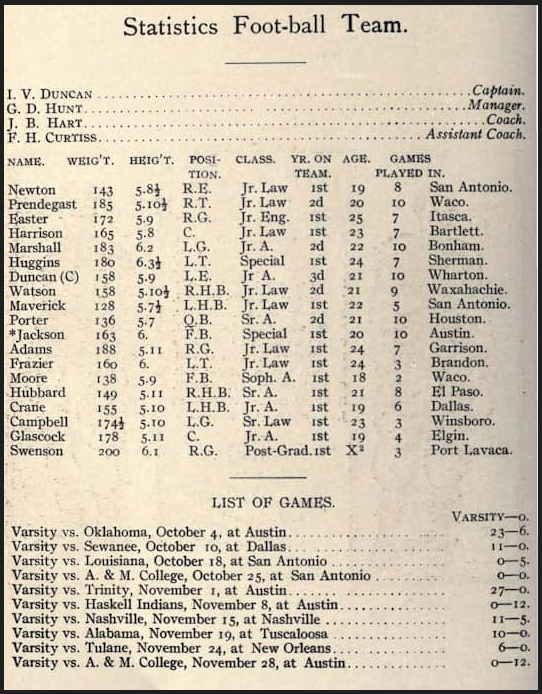 Washington & Lee University
Tough start to the 2023 campaign for the Generals.  W&L dropped the season opener to Salisbury, 7-28. Hard to win with 3 redzone fumbles.  The Generals did rush for 270 yards, including 115 from Jacob Romero.  W&L has this week off, resuming play on September 16 against Methodist.
Big XII – Week Two
Two football powerhouses start the weekend with Illinois at Kansas, 6:30 pm. On ESPN2.  Kansas favored by 3.
Saturday
No. 12 Utah at Baylor, 11:00 a.m. on ESPN.  I think a good game, but will be interesting.  Utah only favored by 8, despite Baylor losing to Texas State last weekend.
Troy at No. 15 Kansas State, 11:00 a.m. on FS1.  Wildcats favored by 16.5.  KSU should win and cover, by at least one if not two scores.
Southern Utah at Brigham Young, 2:00 p.m., on BIG12|ESPN+.  No line.
Iowa at Iowa State, 2:30 p.m. on FOX, from Jack Trice Stadium in Ames.  The battle for the CyHawk Trophy.  Almost always an interesting game.  Iowa favored by 3.5.
Southern Methodist at No. 18 Land Thieves.  5:00 p.m. on ESPN+.  It is a shame this is not on a broadcast channel.  The Mustangs are 15.5 point road dogs.  Pony Up!
Duquesne at West Virginia, 5:00 p.m. on BIG12|ESPN+.  No line.
Cincinnati at Pittsburgh, 5:30 p.m. on the CW Network.  Panthers favored by 7.5. Either didn't know or forgot that the CW carried college football.
No. 13 Oregon at Texas Technical, 6:00 p.m. on FOX.  Big prime time game for the South Plains Aggies.  They want to be one of the big boys as college football evolves, stay on the big stage.  They need to flex in this game and beat the Ducks to take a step in that direction.  Oregon favored by 6.5.
UCF at Boise State, 6:00 p.m. on FS1.  This gets a prime time sort of mainstream broadcast and Southern Methodist and Oklahoma are streamed?  Not right.  UCF favored by 3.5.  Go Broncos.
Houston at Rice, 6:00 p.m. on the NFL Network.  They will play in historic Rice Stadium.  Cougars favored by 9.5.
Nicholls at Texas Christian, 7:00 p.m. on BIG12|ESPN+.  No line.  Bet Amon G. Carter is packed.
Oklahoma State at Arizona State, 9:30 p.m.  I can't believe this game isn't available somewhere, but ESPN shows nothing.  Night games in the desert with the Sun Devils often turn out to be interesting.  Oh well.  Okie A&M favored by 3.
Top 25 – Week Two
Ball State at No. 1 Georgia, 11:00 a.m. on SEC Network.  Dawgs favored by 42, and they might cover that.
Youngstown State at No. 6 Ohio State, 11:00 a.m. on BTN.  No line.
Delaware at No. 7 PSU.  11:00 a.m. on The Peacock.  No line.
No. 10 Notre Dame at North Carolina State, 11:00 a.m. on ABC.  This should be a good football game.  Notre Dame favored by 7.5.  Go Irish.
Nebraska at No. 22 Colorado.  11:00 a.m. on FOX.  Buffs favored by 3.  Let's see if last week's upset of Texas Christian was real, or a primetime anomaly.
Charleston Southern at No. 25 Clemson, 1:15 p.m. on ACCN.  Well, at least one team from South Carolina will get a win this weekend.
UNLV at No. 2 Michigan, 2:30 p.m. on CBS.  Big Blue by 37.5.  Should cover.
No. 20 Ole Miss at No. 24 Tulane.  2:30 p.m. on ESPN2.  I bet the French Quarter is absolutely nuts this weekend.  Rebs favored by 7.5.  Hotty Toddy!
No. 23 Texas Agricultural & Mechanical at Miami (Florida), 2:30 p.m. on ABC.  Fightin' Texas Aggies favored by 4. I hate the Canes. Gig Em!
Tulsa at No. 8 Washington, 4:00 p.m. on PAC12.  Huskies favored by 34.
Austin Peay at No. 9 Tennessee, 4:00 p.m. on ESPN+/SECN+.  No line.
Appalachian State at No. 17 North Carolina, 4:15 p.m. on ACCN.  Heels favored by 19.  But have to watch out for App State; they are known for going into games like this and shocking the home team.  Right?  Good luck Mack!
Lafayette at No. 21 Duke.  ESPN+/ACCNX.
Grambling at No. 14 Louisiana State.  ESPN+/SECN+.  No line.
No. 19 Wisconsin at Washington State, 6:30 p.m. on ABC.  Badgers favored by 6.  Like the Cougars in this one.
Southern Miss at No. 4 Florida State, 7:30 pm. On ACCN.  Seminoles favored by 31.  Wow.
UC Davis at No. 16 Oregon State, 8:00 p.m. on PAC12.  Might this be a conference match-up in the future?  No line.  Beavers by a bunch.
Stanford at No. 6 Southern Cal.  9:30 p.m. on FOX.  Going to be nice to flip over and watch this after the Horns win.  Trojans favored by 29.5.
Week Two:  Service Academies
Delaware State at Army, 11:00 a.m. on CBSSN, from Michie Stadium.  No line.  Go Army.
Wagner at Navy, 2:30 p.m. on CBSSN.  No line.
Air Force at Sam Houston State, 7:00 p.m. on CBSSN.  Game is being played at NRG Stadium in Houston.  Falcons favored by 13.5.
SEC – Week Two
Here you go:
https://www.espn.com/college-football/scoreboard/_/group/8
Week Two:  Other Games of Interest
UTEP at Northwestern, 2:30 p.m. on BTN.  Miners favored by a point in Evanston.
Texas State at UT San Antonio, 2:30 p.m. on ESPN+.  Might have to tune in to some of this one.  Bobcats coming of the huge win in Waco, Roadrunners a close loss in Houston.  UTSA favored by 13.5.
Miami at Massachusetts, 2:30 p.m. on ESPN+.  Redhawks favored by 7.
Big XII – Week One
I mentioned the three big upsets.   Other results of note:
Little Sam Houston only lost 14-0 at Brigham Young.
UT San Antonio 14, Houston 17. Close game, tough loss for the Roadrunners.
Central Arkansas 13, Oklahoma State 27.  There wasn't even a line.
Top 25 – Week One
Pretty much all the favorites won, and most smashed their well-paid opponents.
In addition to the Colorado win at Texas Christian, here are some other notable results:
Southern Cal going Route 66 on Nevada with a 66-14 win.
Boise State 19, Washington 56.  Huskies were favored by 14.5.
Notre Dame 56-3 over Tennessee State.
North Carolina 31, South Carolina 17.
Ole Miss 73-7 over Mercer.  Lane Kiffin showing a little mercy after leading 66-7 after 3.
Florida State 45, Louisiana State 24.
Jim Nicar
Cool photo of the Tower and Space Shuttle Endeavor.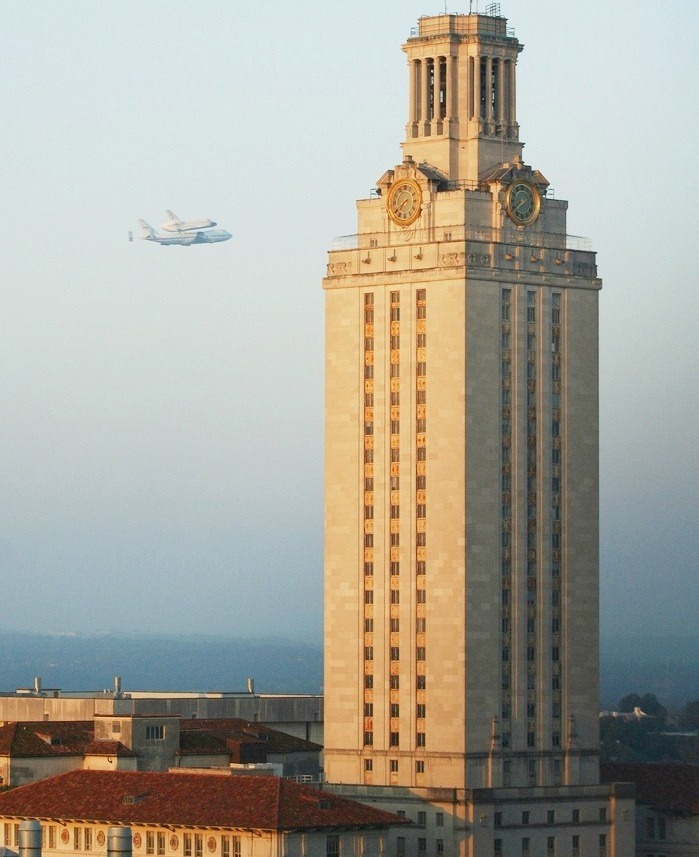 September 2012: Riding on top of a jumbo jet, the newly-retired space shuttle Endeavor was seen over the @UTAustin Tower on its way from Houston to Los Angeles. It's now on display in the California Science Center. pic.twitter.com/HN9bxQQbBs

— Jim Nicar 🇺🇸 🇺🇦 (@JimNicar) September 4, 2023
Music
Who else?  Rest in Peace Jimmy.
As has now been told over and over, Jimmy and Jerry Jeff wrote Margaritaville right here in Austin after having 2 or 3 frozens.  A live version from 1978.
And a live version from February of this year.
Come Monday, with an intro from the man himself.  Probably my favorite, at least top 3.
Changes in Latitude, Changes in Attitude.  Austin City Limits.
https://youtu.be/i02lFo0vslw?si=N9CeTW-gwyui-e2m
Son of a Son of a Sailor, also ACL
https://youtu.be/gN0wL2Nn9Gc?si=5LykJe3gqqklaI_i
Picture of the Week
A photo from Aerial Austin.  Good photos and good Instagram account to follow.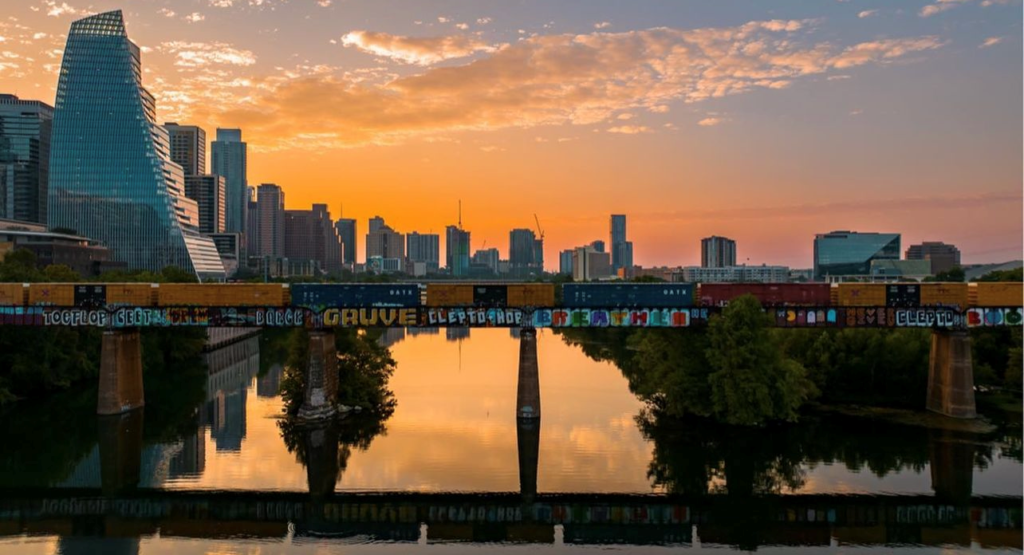 https://www.instagram.com/p/Cw0EMPCuOAX/?
God Bless Texas
God Bless America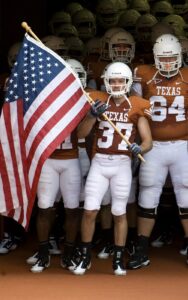 Tim Taylor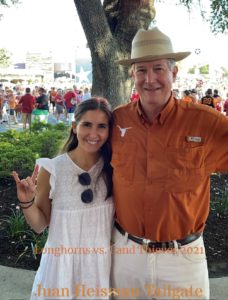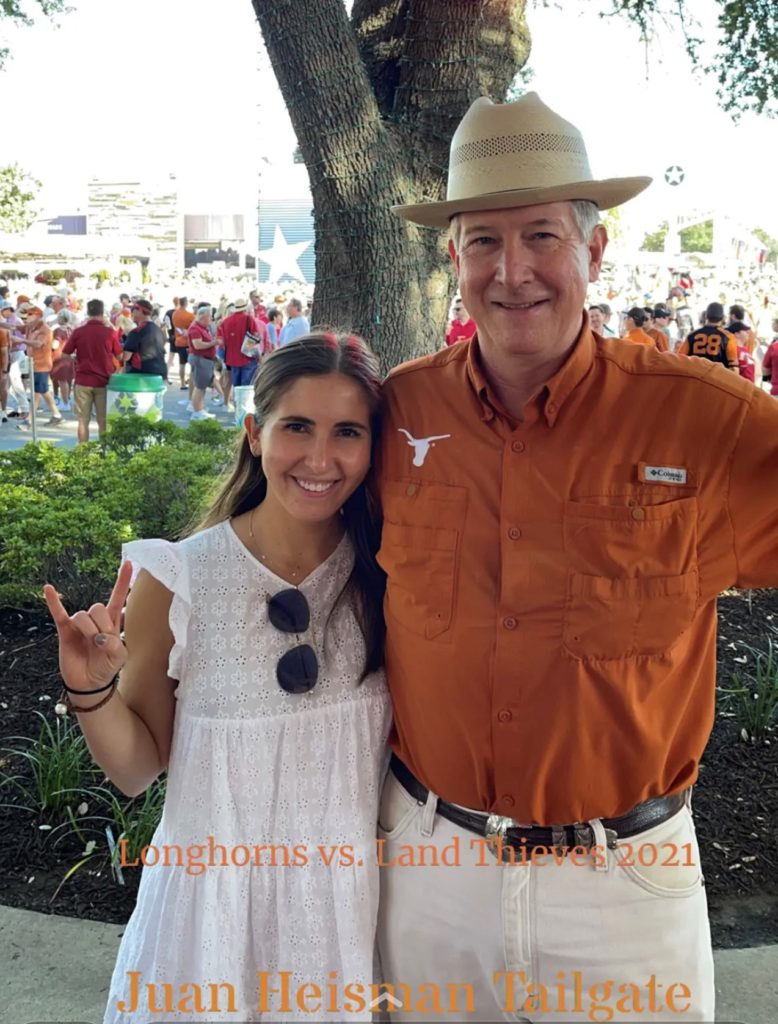 Tailgating before Home Football Games
The Juan Heisman Tailgate
Lot 38, East of Sid Richardson Hall.
HOOK EM HORNS!!
The Austin Horns Fan Dispatch
© Timothy C. Taylor, Sr. 2023.  All Rights Reserved (as to original material).
On Twitter:  @tctayloratx
On LinkedIn:  www.linkedin.com/in/tctatx
On Instagram:  @tctayloratx
On Facebook:  www.Facebook.com/Tim.C.Taylor
and:  www.Facebook.com/Juan.Heisman
You can contact me by mail:
Tim Taylor
P.O. Box 5371
Austin, Texas 78763-5371