Good Morning Longhorn Fans!
Longhorns 48, Land Thieves 45
The Texas Longhorns defeated the Oklahoma Sooners in one of the most exciting games the series has seen in a long, long time.  The game had everything, especially that roller coaster ride of emotional highs and lows which helps make college football one of the best spectator sports in the world.  Sam Ehlinger led Texas to a win that few predicted, but for which many were hoping.  Texas took down the Land Thieves for the 62nd time, moving the overall series record to 62-46-5.  The win vaulted Texas into the top ten in the Associated Press poll at No. 9, while the voting coaches moved Texas to No. 14 with the Land Thieves who lost ranked at No. 11.  Go figure.
The game was the most highly rated college football game this season.  "FOX Sports announced on Tuesday afternoon that Saturday's AT&T Red River Showdown, which saw the Longhorns defeat No. 7 Oklahoma 48-45 in thrilling fashion, was the most-watched college football game of the season and the most-watched Red River Showdown since 2011."  And "On FOX Sports streaming sources, the game pulled in an average minute audience of 86,765, ranking as FOX Sports' most-streamed game of the 2018 college football season and the best-performing Big 12 game ever on FOX Sports streaming platforms. It also ranks as the third best-performing regular-season college football game in FOX Sports streaming history behind last year's deliveries for Penn State at Ohio State (107,983) and Ohio State-Michigan (100,427)."
As much as I complain about 11:00 starts, they are money!
More on the game below, but how about 3 true freshmen executing the field goal for the win?
Justin Mader snapped to Ryan Bujcevski, who held for Cameron Dicker, who as one pundit put it, broke the internet.  Dicker the Kicker is a thing.
Highlights of the game from FOX.  4:15, and the quality is remarkable.
Highlights from Beast Mode Highlights (15:19)
The whole game in 40 minutes:
There are so many other highlights and videos out there I wish I could share.  But impossible.  I have a few of my favorites, but if you have a couple of hours to kill, you can go check out the good work on Texas Football's social media accounts.  Matt Lange, the Director of Creative Media for Football, and all the good folks on John Bianco's staff do incredible work.
https://www.instagram.com/texaslonghorns/
https://twitter.com/TexasFootball
Here is a really good one:
Make a statement. Texas 48 – Oklahoma 45. #ThisIsTexas #HookEm pic.twitter.com/PWMo0yhXnc

— Texas Football (@TexasFootball) October 8, 2018
There were a few fans there who weren't in the Cotton Bowl.  Love this.
.@TexasFootball fans wakin up this morning like: pic.twitter.com/kQj1I45MNC

— FOX College Football (@CFBONFOX) October 7, 2018
Django Walker is opening Longhorn City Limits on Saturday.  Come by Juan Heisman about 11:30 and get an adult beverage, then wander down to the Juan Heisman Backyard Stage and enjoy it.  If you have never heard Texas Longhorn, take a couple of minutes.
Texas Longhorn
Texas Beats the Thieves
Somehow, I found time this week to watch most of the game again.  Twice.  Okay, one time was tonight, which was one reason this is extra late.  I am glad I did, because for many years now, Hawley and have had tickets together on very low rows at the Cotton Bowl.  This year we were right behind the OU bench, and I spent a lot of time looking past Lincoln Riley's visor-crowned head and bald spot.  He really needs to ditch the visor and switch to a cap.  That spot got really red.
Appropriate that we were at the State Fair given the high speed, roller coaster game.  It generally felt like the old wooden Comet rather than a modern day, smooth running coaster.
Coming into the game, Texas knew that stopping, or at least slowing down, Kyler Murray and limiting long, explosive plays would be critical if we were going to beat the Sooners.  The first series didn't exactly give me a warm fuzzy feeling, as Kyler guided the Land Thieves 65 yards in 6 plays for a quick score.  He ran for 9, then completed passes of 16, 24, and 4 yards.  Trey Sermon had a 12 yard rush.  So in the first six plays of the game, OU had 2 for 10+ and 1 for 20+.  The drive was all Kyler, and I will give him credit for being a very good college quarterback and quite an athlete.
Fortunately, if the defense wasn't ready, Sam and the offense was.  Texas answered with a sweet 5 play, 75 yard drive.  Of course, we managed to get a delay a game before we ever snapped the ball, but after spotting now former Oklahoma Sooner Defensive Coordinator Mike Stoops and his defense 5 yards, Sam went to work.  6 yard run, 29 yards to LJH (what a run after the catch), 36 yards to Collin Johnson (gorgeous over the shoulder catch).  We piddled around from the OU 9, adding another penalty (illegal formation), but Parnell Motley (6', 182) interfered with Collin Johnson (6-6, 200), and Texas had first and goal from the LT 2.  Cool play call, LJH with the jump pass to Collin, and we were tied.
The next series was fun.  Kyler completed a long pass to CeeDee Lamb (in watching replays, I quick became weary of hearing his name), and the Land Thieves were in Texas territory.  But a holding call on the next play pushed them back, and 2 plays later, Brandon Jones, of Nacogdoches, intercepted Kyler and brought the ball back to set Texas up with good field position at the LT 44.  But a personal foul call pushed Texas forward to the 29. I didn't see this live, but watching the replay, Kyler Murray is a dirty player.  We are lucky Gary Johnson was not seriously injured on that play.  Hoping we have a friend on one of the Land Thieves' future opponents to return the favor to Kyler.  Anyway, Texas managed 2 yards in 3 plays, and Herman sent in Dicker the Kicker.  44 yards down the middle, 10-7 Texas.
The Land Thieves started at their 25, and methodically drove the ball down the field. The drive included a Kyler run 11, pass to Lamb for 10, and pass to Morris for 15. OU stalled and settled for a 32 yard field goal to tie.
On the next Texas series, Sam Ehlinger showed why he was the best quarterback in the Cotton Bowl on Saturday, if not the fastest.  Texas moved the ball quickly from the 25, including a first down run by Sam and a 13 yard completion to Devin Duvernay that got the Horns to mid field.  A couple of LJH catches, and Texas had it first and 10 on the LT 39.  But Shackleford with a holding call (Sam had run for about 9), and we were back to midfield with a first and 20.  In seconds it was third and 20, and I did not want to see the ball back in Kyler's hands that quick.  Great work by Ehlinger to get the ball to Andrew Beck for 18 yards, setting up a fourth and 2 at the OU 31.  Texas lined up to go for it immediately and snapped the ball.  Looked like Sam had converted the first down, but OU had called timeout.  Didn't help, as OU went to 0 for 7 on stopping fourth down conversions.  Sam completed a very nice pass to Tre Watson, who was in motion, for 3 yards and a first down at the LT 28.  Then a really, really good play call.  After going to Watson to get the first down on fourth and short, they sent Watson down the sideline.  He got behind his defender, and Sam laid it in perfectly for the score.  17-10 Texas.
The next Thief series was all Kyler Murray.  Ha ha.  And not a good one.  Kyler sacked for 10 yards by Omenihu.  Kyler dould not escape Omenihu in a scramble and he got Kyler for a 1 yard TFL.  Third and 21, and the Texas defense held.  Kyler couldn't find a receiver, and a seven yard run gave the Thieves a minus four yard series and the Texas Defense a much needed three and out!
Great punt put Texas on its own 25.  What looked like a designed run for Sam resulted in a quick 14 yard gain.  Keaontay Ingram then took over, with runs for 4, 7, and 14, to get Texas to the LT 36.  I don't know how many of those yards came after contact, but Ingram was a bull.  The 19 yard completion to Collin was also physical, as at least 12 yards came after contact, and like Ingram before him, Collin was still upright when the zebras blew the whistle.  First and 10 at the LT 17.  Everything is clicking, Texas is imposing its will physically on OU, they are on their heels, and we only need to grind it for 17 yards to take a 2 touchdown lead.  So what do you call?  Trick play of course.  Handoff to Ingram in motion to the left, flip to LJH coming in motion as if it is a reverse to the right, but Ehlinger was sprinting to his right and LJH floats in nicely for an 8 yard gain.  Quarterback run for Sam, and a great block from Ingram sent Ehlinger into the south endzone, and Texas up 24-10.  Man I was happy.
I remember looking at the scoreboard and noticing the time.  5:12.   I knew we were going to take the Golden Hat back to the 512.

Despite my confidence, Lincoln Riley and Kyler Murray showed us why Oklahoma was ranked in the top 10.  Starting at their own 18, the Land Thieves moved the ball, mostly with Kyler's legs and arms.  The 11 play scoring drive included an 18 yard pass completion, a 19 yard Brooks run, and 12 yard completion to Lamb.  49 of the 82 yards on 3 plays.
Texas 24, Land Thieves 17 at halftime.
I still felt great.  It had been a great day already.  A brisk (by Austin standards) morning in North Texas, a houseful of Horns at the Dewar home, and an uneventful trip into Fair Park.  A fun morning of beer and corny dogs (okay, the 25 minute wait for my corny dog wasn't fun; but I wasn't thirsty, if you know what I mean).  Met up with most of the crew, including Rob Dunn.  Great to see Rob and Kelly.  The usual zoo getting into the Cotton Bowl, but fun.  Hawley and I had our low row seats together again, so both Brads and Epps were in front of me, with Hawley's Sooner friend.  Uncle Buck Edelman joined Claudia, Clipp, and me, and Ed Brownwood Clements and his sons Ben and Farris were the row behind.  So a very fun contingent of friends plus a Land Thief made for a fun game.  And, the traditional Frito Chili Pie 2 beer halftime, which included a good visit with Late Night Lewis, had me in a perfect condition for the second half.  As we would learn later, halftime in the Sooner locker room was not nearly as fun.
Texas got the ball to start the third, and Ehlinger went to work.  Well, so did Ingram.  A 5 yard run, then a quick 4 yard completion to Johnson.  Third and 1 at the Texas 34.  A handoff to Ingram that looked to be an off tackle or maybe even B gap call, but Keaontay broke it outside to his right, and accelerated for a 31 yard gain.  Kid is good.  OU responded defensively, and after a big sack it was third and 21 from midfield.  No biggie.  A 1 yard pass to LJH which he turns into a first down, then a scrum moved the ball and Lil'Jordan, I swear, at least 8 more yards to the LT 27.  Fourth and 2.  OU is Zero for 7 on stopping fourth down conversions.  Decision time.  Hahahaha.  Just kidding.  OU took the timeout to try and stop us.  Glad they did, as Sam caught his breath and ran it right up the middle for 7 and a first down.  Three plays later another great pass to LJH for a first down at the OU 5.  Sam ran it in again.  31-17 Texas.
OU with a 3 play touchdown drive.  77 yard pass completion to Marquise "Hollywood" Brown.  Ouch.  31-24.  Harbinger.
Texas 3 and out, but then Kyler fumbled under good pressure, and Hager recovered, setting up Texas at the LT 23.  Quick work for the touchdown, including a 10 yard Collin Johnson completion to set up first and goal, and 2 plays later Sam ran it into the north endzone again.  38-24.
Another 3 and out for OU, and I smelt crimson blood.
Sure enough, a 4 minute, 9 play Texas scoring drive that included some good runs by Ingram, a 10 yard pass to CJ, a 9 yard pass to John Burt (!), a 29 yard pass to LJH, and then a 15 yard touchdown pass to LJH.  45-24.  21 point lead with 15 minutes and 56 seconds to play.  The south half of the stadium was starting to thin, like Lincoln Riley's hair.
Texas held OU on their carryover possession into the fourth quarter, and with 13:39 to play, Texas had the ball.  You can do the math and pretty much figure that if Texas can just execute two 4 minute drills and avoid a turnover, then get one stop on defense in the next two sooner possessions, it is going to be a W.  I was running scenarios.  What I didn't plan on was two consecutive holding penalties to put Texas at first and 23 from our own 4.  Bad series when Texas really needed a good one. Punt.
Sooners got the ball on the LT 46.  The next "8" minutes were miserable.  The first Thief scoring drive was a solid 2 minute 54 yards in 6 plays to cut it to 42-31.  Texas could only convert one third down, OU got pressure on Sam, and this time, OU held on a fourth down.  When we most needed a good, pin 'em deep punt, Bujcevski kicked 22 yards and out of bounds, giving OU the ball on their own 33 with 5 and a half to play.  Kyler, as we know so well now, hates losing.  67 yards to the house on a 1 play 11 second drive, and I was wishing I had some Tums.  Again, a horrid series, as we started with yet another holding call, backing the Horns to the UT 15.  Good defense by the Sooners, and it was déjà vu all over again, as OU forced a punt and got the ball at their own 43.  Kyler to Sermon for 35, Sermon runs for 15, Sermon runs for 7 yards and 6 points, and we are tied after the PAT.
Two minutes and 38 seconds to play.  I will say now what none of us wanted to say out loud then:  we do not want to play Kyler and the Land Thieves in overtime.  We had just seen OU gain 178 yards in 10 plays spanning 3:16 of possession time.
The Red River Showdown is a stage for great players and high drama.  Texas had 2:38 to get a score and avoid overtime.  You think Tom Herman trusts Sam Ehlinger:  Sam pass, pass, pass, pass, pass, rush, pass, rush.  Three incomplete passes in the mix, but the OU pass interference call negated one, and Sam got Texas to the Land Thief 24 yard line.  With 14 seconds on the clock, freshman Justin Mader snapped the ball to freshman Ryan Bujcevski, who held for it for freshman Cameron Dicker, who drilled it right between the uprights, into the legendary south tunnel, and right into the hearts of Sooners.
After the game, it was, of course, glorious.  For Texas.  Kyler didn't take it well, as Sam tried to say hello and, as it is reported, Kyler refused a hand shake.  Sam politely encouraged Kyler to be a better human, with an "Own the loss" comment or something of that nature.  And as the Land Thieves drug their sorry butts through the south tunnel so they could head back north across the Red River, the Burnt Orange Nation celebrated with tears and Texas Fight and hugs and high fives and the Eyes.
Here is that great song from my seats:
The stats comparison.  The first number is what Texas or OU did in the game.  The number in parenthesis is what the average was coming into the game.
Statistics From the RRS
| | |
| --- | --- |
| Texas Offense | Land Thieves Defense |
| Rushing Offense – 177 (153.2 ypg) | 152.8 ypg – Rushing Defense |
| Passing Offense – 324 (243.4 ypg) | 252.4 ypg – Passing Defense |
| Total Offense – 501 (396.6 ypg) | 405.2 ypg – Total Defense |
| Scoring Offense – 48 (28.8 ppg) | 23.2 ppg – Scoring Defense |
| First Downs – 27 (22.2/game) | 23.8/game – First Downs Allowed |
| 3rd Down Offense – 42.9 (41.3%) | 42.4% – 3rd Down Defense |
| Red Zone Offense – 100% (69%) | 100% – Red Zone Defense |
| | |
| --- | --- |
| Texas Defense | Land Thieves Offense |
| Rushing Defense – 115 ypg | 222 (206.2 ypg) – Rushing Offense |
| Passing Defense – 218.2 ypg | 310 (317 ypg) – Passing Offense |
| Total Defense – 333.2 ypg | 532 (523.2 ypg) – Total Offense |
| Scoring Defense – 19.8 ppg | 45 (48.6 ppg) – Scoring Offense |
| First Downs Allowed – 17.4/game | 21 (23.6/game) – First Downs |
| 3rd Down Defense – 34.6% | 37.5 (54.6%) – 3rd Down Offense |
| Red Zone Defense – 71% | 100% (89%) – Red Zone Offense |
The key statistic was turnovers: Texas none, Land Thieves with 2 – the Jones interception and the Hager fumble recovery, both courtesy of Kyler Murray.
Texas won the penalty battle – 6 for 43 yards versus OU's 7 for 73 yards.  But oh man 2 of ours nearly cost us the game.
I was pretty pleased with my pregame analysis.  The offense was balanced and turnover free.  The line played better, but 3 holding calls in the fourth quarter all but cost us a win.  Not to mention the psychological trauma for the team and fans if we blew a 21 point lead to the hated sooners.
We did a 50-50 job stopping Kyler.  He ended up with good numbers, and overall the Thieves were above their average in all 3 yardage categories.  We did not limit explosive plays.  Dang.
But, we won.
So, TCT's Keys to the game, and how it worked out:
Texas has to clean it up:  Less than 50 yards of penalties, and especially control emotions and don't get a stupid 15 yarder.  On every play, act like you've been there before, as Coach would say.  Also, especially don't get put us in long yardage on first down because you are twitchy.  I think the Texas offense is better than the OU defense, but not if OU has an advantage because Texas has too many long second and third down plays.

6 penalties for 43 yards.

Play big on offense.  Texas has a size advantage, let's use it.

LJH 9 for 133 and a touchdown catch and a touchdown pass.  Collin Johnson 6 for 81 and touchdown.  And Big Andrew Beck 3 for 29.

Stay loose.  Enjoy it.  Play to win, play for Texas.

We did, until we got tight and conservative and let the Land Thieves back in the game.  Then Sam got us in position and Dicker was loose and hit the game winner.

Last year Texas fell behind 20-0.  Sam rallied us, but we fell short.  We cannot do that in 2018.

We started fast, matching OU, and took a 24-17 lead into halftime.

Make field goals.  Every point counts, and we have got to get those 3's when we have the opportunity.

Not much else to say on that one!
I also mentioned freshmen stepping up.  How about Keaontay Ingram 13 for 86 yards, averaging 6.6?  And a true freshman long snapper, snapping to a true freshman holder, holding for a true freshman kicker, who drilled a 40 yarder on the biggest stage in college football outside of the postseason?  I went with Texas 35, Land Thieves 31.  Missed by a couple of scores a piece, but had the Texas win and the spread about right.
I would be remiss if I didn't give a big shout out to the defense.  Hager, you did well wearing Number 60.  And your postgame interview was priceless.  The Pride of Nacogdoches, Brandon Jones, led in tackles with 9, 5 solo, and had the big interception.  Freshman Caden Sterns was second with 7.  Six Tackles for loss and 6 sacks as a team, Foster and Omenihu each with 2/1.  Davis and Boyd with one each, then Hager and Gary Johnson split the big one.  Yes, a lot of yards conceded, but: scoreboard.
All of the fun retrospection and analysis aside, there is one big reason we won that game.  Sam Ehlinger.  Sam passed for 314 and 2 touchdowns, only got sacked once, and ran for a net of 72 and three touchdowns.  77% of the Longhorn offense, 5 of our 6 touchdowns.  Of course, one must credit the receivers with the way they grabbed balls, played big, and ran bigger.  But after that performance, Our Man Sam:
Walter Camp Offensive Player of the Week
Bit 12 Player of the Week
Manning Award Star of the Week
Tyler Rose Player of the Week
Davey O'Brien Award Quarterback of the Week.
Maxwell Ward Player of the Week.
Well done Sam.  No question Ross was watching and is so proud of you.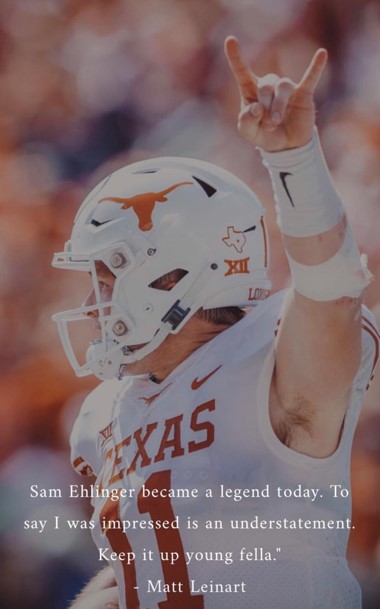 So, I didn't get around to my annual report on Texas-OU streaks and stories.  It may have been a subconscious intentional oversight, given that the longest, that of Frank Denius (started 1946) had ended.  I will try and remember that next year.  I feel bad, because I believe this year was Brad Laughlin's Golden Jubilee, celebrating a 50 year streak with one of the best Texas wins ever.  Glad Brother Laughlin was right in front of me!  Forgot to call Fainter and confirm he was in attendance.  I think this was Number 60 for John.  If my numbers are right, next year will include some big ones, like No. 57 for Judge Lee Yeakel.  Since he is a Judge, maybe he can put a note on the Western District's docket calendar to remind me next year to get with him on this OU attendance topic.
Baylor Bears vs. Texas Longhorns
Kickoff at Darrell K Royal Texas Memorial Stadium is at 2:30 p.m., and the game will be broadcast on the Entertainment and Sports Programming Network's primary channel, ESPN.  Adam Amin, Rod Gilmore, and Quint Kessenich get the call.  Good crew.  You can of course listen to Craig Way call the play-by-play and enjoy excellent commentary from Roger Wallace and Quan Cosby on the Longhorn IMG Network.
Texas leads the all-time series 77-26-4.  Texas, of course comes in on a huge emotional high, winners of 5 straight and a top 10 ranking.
For all the talk about Texas being back, Baylor may be too.  Texas cannot overlook the Bears.  BU is 4-2, Matt Rhule is a very good coach, and as you will note from the statistics below, this is a good football team.  Nothing would restore some of the luster to the Baylor football program more than an upset of Texas in Austin.
Baylor opened the season with a 55-27 drubbing of Abilene Christian, then won easily over UT San Antonio in the Alamodome, 37-20.  A home loss to Duke, 27-40 to finish pre-conference play.  Baylor is 2-1 in the Big 12, with a home win over Kansas (26-7, and Kansas is a much better team this year), a curb-stomping by Oklahoma in Norman (66-33), and then a good home win over K State last week (37-34).
Charlie Brewer is playing well at quarterback, 1,558 yards on a 132-206 line, 2 picks, and 9 TD's passing.  He has also run for 215 gross (116 net) and 4 scores.  Jalen McClendon didn't play last week, but he has played well this season.  Might see some of him.
JaMycal Hasty has 285 yards on 48 carries and 3 scores, averaging 5.9 yards per rush, and John Lovett has 233 yards on 44 carries and 3 scores, averaging 5.3 yards per rush.
Jalen Hurd has 550 yards on 42 catches, averaging 13.1, Denzel Mims has 449 yards on 32 catches, averaging 14 ypc, and Chris Platt has 231 yards on 17 catches, averaging 13.6 ypc.  Hurd and Mims are a great pair, comparable to Johnson and Humphrey.
The Statistics
Offense
| | | |
| --- | --- | --- |
| Statistic | Texas | Baylor |
| Rushing Offense | #85 – 157.2 ypg | #71 – 174.0 ypg |
| Passing Offense | #46 – 256.8 ypg | #10 – 325.5 ypg |
| Total Offense | #64 – 414.0 ypg | #15 – 499.5 ypg |
| Scoring Offense | #54 – 32.0 ppg | #37 – 35.8 ppg |
| First Downs | #44 – 23.0/game | #5 – 27.7/game |
| Sacks Allowed | #51 – 10, 67 yards | #115 – 18, 112 yards |
| Tackles for Loss Allowed | #75 – 34, 124 yards | #107 – 40, 152.4 yards |
| Third Down Conversions | #56 – 41.6% | #19 – 48.3% |
| Red Zone Offense | #118 – 76% / 62% | #10 – 96% / 67% |
| Long Scrimmage Plays | #53 – 83/10+; 27/20+; 12/30+ | #5 – 116/10+; 34/20+; 15/30+ |
Defense
| | | |
| --- | --- | --- |
| Statistic | Texas | Baylor |
| Rushing Defense | #46  – 132.8 ypg | #98 – 193.2 ypg |
| Passing Defense | #81 – 233.5 ypg | #51 – 217.8 ypg |
| Total Defense | #57 – 366.3 ypg | #91 – 411.0 ypg |
| Scoring Defense | #45 – 24 ppg | #96 – 32.3 ppg |
| Sacks | #83 – 9, 74 yards | #42 – 14, 107 yards |
| Tackles for Loss | #46 – 37.5, 136 yards | #59 – 34, 161 yards |
| First Downs Allowed | #39 – 18/game | #44 – 18.5/game |
| Third Down Conversions | #37 – 34.9% | #97 – 42.3% |
| Red Zone Defense | #37 – 77% / 55% | #70 – 85% / 54% |
| Long Scrim. Plays allowed | #77 – 79/10+; 23/20+; 12/30+; 8/40+; 5/50+ | #74 – 77/10+; 36/20+; 20/30+; 14/40+; 9/50+ |
Other
| | | |
| --- | --- | --- |
| Statistic | Texas | Baylor |
| Turnovers | #15  – 3F, 2I, 5T | #44 – 3F, 4I, 7T |
| Turnover Margin | #18 :  +0.83 | #89 : -0.33 |
| Penalties* | #108 – 45, 385 yards | #96 – 41, 393 yards |
*Some rank based on penalty yards per game.  I am showing ranking based on total number of penalties.
Match-up Comparison
| | |
| --- | --- |
| Texas Offense | Baylor Defense |
| Rushing Offense – 157.2 ypg | 193.2 ypg – Rushing Defense |
| Passing Offense – 256.8 ypg | 217.8 ypg – Passing Defense |
| Total Offense – 414.0 ypg | 411.0 ypg – Total Defense |
| Scoring Offense – 32.0 ppg | 32.3 ppg – Scoring Defense |
| First Downs – 23.0/game | 18.5/game – First Downs Allowed |
| 3rd Down Offense – 41.6% | 42.3% – 3rd Down Defense |
| Red Zone Offense – 76%/62% | 85%/54% – Red Zone Defense |
| LSP – 83/10+; 27/20+; 12/30+ | 77/10+; 36/20+; 20/30+ – LSP Allowed |
| | |
| --- | --- |
| Texas Defense | Baylor Offense |
| Rushing Defense – 132.8 ypg | 174.0 ypg – Rushing Offense |
| Passing Defense – 233.5 ypg | 325.5 ypg – Passing Offense |
| Total Defense – 366.3 ypg | 499.5 ypg – Total Offense |
| Scoring Defense – 24.0 ppg | 35.8 ppg – Scoring Offense |
| First Downs Allowed – 18/game | 27.7/game – First Downs |
| 3rd Down Defense – 34.9% | 48.3% – 3rd Down Offense |
| Red Zone Defense – 77%/55% | 96%/67% – Red Zone Offense |
| LSP Allowed – 74/10+; 23/20+; 12/30+ | 116/10+; 34/20+; 15/30+ – LSP |
 You just cannot ignore the big play capability.  Ranked number 5 nationally, the teams ahead of Baylor are their downstream neighbors, Texas Agricultural & Mechanical, then Ohio State, Oklahoma State, and Alabama.  That is good company.  Texas is No. 77 against the LSP.  So not a good match-up in this department.  Unless Orlando has something really good schemed, Texas will have to score 35 points or more to win tomorrow.
Now, all that aside, I think Tom Herman and his staff have this team in a very good place mentally and physically.  I think they know they can play with anyone.  But there are no gimme's in the Big 12, and Texas will have to execute to beat Baylor.
Keys to the game:
Play smart on offense. Fewer penalties, and again, don't put the offense in long yardage early.
Keep up the turnover free play, and keep forcing a few. Turn Brewer over in the first quarter and get in his head.
Play hard with extreme physicality, but clean. No stupid penalties. I am confident that Texas has the better overall team athletically.  Use it.
Run the ball hard with Keaontay Ingram, and set up the passing game to LJH and Collin.
Use LJH more in the pistol or whatever we call it these days. Remember how effective Tyrone Swoopes was running out of that formation?  Lil'Jordan can do that too.
P.J. Locke needs to not get beat on the long ball, and Sterns and Jones are going to have to have stellar games.  Kris Boyd is going to have be at his best, and Omenihu, Nelson, and Hager need to get lots of pressure on Brewer.  I am confident the linebackers will play a big role this week.
Most important:  You are playing at home.  Make the best of a true home field advantage.  Get up early, and keep your foot on their throats and the crowd in the game.  Texas only had one-half of the 92,300 of the Cotton Bowl, but I promise, we were a loud 46,150.  Let's double that on Saturday.  If you are not going to the game, find a Longhorn fan and give your tickets to her or him.
Texas wins this, 41-27. 
Full preview:
https://texassports.com/news/2018/10/8/football-preview-no-9-14-football-vs-baylor-oct-13-2018.aspx
The full game Texas game notes:
https://texassports.com/documents/2018/10/8//2018_Texas_Football_Notes_07_Baylor.pdf?id=12395
Here is the published Depth Chart.
https://texassports.com/documents/2018/9/4/2018_Depth_Chart.pdf
Previews on the Interwebs
Paul Wadlington, on Inside Texas.  Behind a paywall.  You should subscribe.
http://www.insidetexas.com/forums/threads/texas-baylor-football-preview.83584/
Horns247 Predictions.  Chip Brown says 38-20 Texas.  All have Texas winning, all in the 30-40 point range.
https://247sports.com/college/texas/Article/Texas-Longhorns-Football-Predicting-Tom-Herman-UT-game-against-Baylor-Bears-123164634/
Scipio Tex's midseason report card on the Texas offense.
https://www.barkingcarnival.com/2018/10/11/17964508/midseason-report-card-texas-longhorn-offense
Polls
Alabama still No. 1 in both polls.
AP Poll:  Alabama, Georgia, Ohio State, Clemson, Notre Dame, West Virginia, Washington, PSU, Texas, and Central Florida.  Land Thieves at 11, and that is it for the Big 12.  Texas Agricultural & Mechanical climbed back into the AP at No. 22.
Coaches Poll:  Bama, Dawgs, Ohio Statement University, Clemson, L'Université de Notre Dame du Lac, West Virginny, Washington, UCF Knights, Wiscy.  Land Thieves at 11, Louisiana State at 12, Michigan at 13, and Texas at 14.  Texas Agricultural & Mechanical at No. 22.
Big 12 ‑ Week 7
The Sand Aggies and Texas Christians got things going last night in Fort Worth.  The Horned Frogs were 7 point favorites, and the over/under was 61.5.  I thought that seemed low.  Boy was I wrong.  Tech pulled off the road upset, surprising the toads 17-14.  Tech passed for only 202 yards.  It was an ugly one.  Turnovers and penalties.  Sand Aggies flagged 12 times for 89 yards, and the Texas Christians 8 times for 63 yards.
Hard to believe Okie State is tied for next to last in the conference with a 1-2 record.  Even harder to believe that tied for DFL is Kansas State.  For one of them, the season is going to be basically over (other than playing spoiler) after Saturday.  Cowboys and Wildcats kick off in Bill Snyder Family Stadium at 11:00 a.m.   Game on ESPNU.  Okie A&M favored by 7, and the over/under is 62.  Hard to decide who I like in this game, but (sorry Rex) I am going with the Pokes to win.  K State may cover.
Iowa State hosts undefeated No. 6 West Virginia at Jack Trice Stadium in Ames.  6:00 p.m. on FOX Sports 1.  Mountaineers a narrow 6.5 point favorite.  Cyclones getting some respect.  Over/under is 56.  I can't see Holgo and Grier losing this one, but I'm a Cyclone fan Saturday night.
This Week in College Football
The undefeated and No. 23 South Florida Bulls, coached by Charlie Strong, play Tulsa in Tulsa Friday night.  6:00 p.m. on ESPN.  USF favored by 7, and the over/under is 61.5.
Saturday
Lots of early action, but not the greatest of games.
Minnesota at No. 3 Ohio State.  Gophers are 0-2 in the Big Ten and are 29.5 point underdogs.  The over/under is 59.5.  11:00 a.m. on FOX Sports 1.
No. 14 Florida at Vanderbilt.  11:00 a.m. on ESPN.  Gators favored by 7, and the over/under is 50.5.  Florida to win and cover.
Tennessee at No. 21 Auburn.  Hard to believe these two teams have one conference win between them.  After Saturday, there will be 2, and War Eagle will have both of them.  11:00 a.m. on the $EC Network from Jordan-Hare Stadium.  Auburn favored by 15.5, and the over/under is 46.5.  I doubt this is the weekend the Volunteers find their groove.
Saturday afternoon is loaded with great games.  May even have to turn the VCR on for a couple of these.
Notre Dame is No. 5, undefeated, and hosting 3-3 Pitt.  1:30 p.m. on NBC.  Irish favored by 21, and the over/under is 54.  Just can't see Pitt covering, much less winning.  Notre Dame is back with a vengeance.
The Southeastern Conference game of the week is No. 2 Georgia at No. 13 Louisiana State.  2:30 p.m. on the Columbia Broadcasting System.  Huge game.  Georgia a solid 7 point road favorite, and the over/under is 50.5.  Hard to bet against the Tigers at home, but dang the Dawgs are good.
No. 7 Washington at No. 17 Oregon.  The winner of this game will be in the driver's seat for the PAC 12 North, and, if they win out, a possible playoff berth (slightly possible).  2:30 p.m. on ABC/ESPN2.  Autzen Stadium should be packed.  Huskies favored by 3.5, and the over/under is 57.5.  I would bet on Washington in this one.
The viewing map, in case any of you are trying to figure out what channel this game is on.  If you are, then please explain yourself.
https://espnmediazone.com/us/programming/college-football-maps/
Why the map?  Because undefeated No. 10 Central Florida is at Memphis, 2:30 p.m. on ABC/ESPN2.  UCF favored by 4.5, and the over/under is 81.
Michigan State at No. 8 Penn State.  2:30 p.m. on the Big Ten Network.  PSU favored by 13.5, and the over/under is 53.
Also at 2:30, No. 22 Texas Agricultural & Mechanical at South Carolina.  Broadcast on the $EC Network.  Texas Agricultural & Mechanical favored by 2.5 over the Gamecocks, and the over/under is 52. Texas Agricultural & Mechanical 4-2 overall and 2-1 in conference, while the Cocks are 3-2 and 2-2 in conference.
Missouri at No. 1 Alabama.  Tigers winless in the SEC, and, well, Alabama is not.  6:00 p.m. on ESPN from Bryant-Denney.  The Crimson Tide are favored by 28, and the over/under is 74.  Wow.  Vegas expecting for Saban to administer an ass-whipping in this one.  Me too.
Go Wahoos!  No. 16 Miami (FL) in Charlottesville to play the Cavaliers.  6:00 p.m. on ESPN2.  Virginia a 6.5 point home dog, and the over/under is 47.5.  Going to be a tough game, but I am going with the Hoos!
Big game in the Big House.  No. 15 Wisconsin at No. 12 Michigan. Both with one loss, but undefeated in conference.  Michigan will have to win to have a chance to win the East when they play Ohio State.  Wisconsin can afford a loss, and will still likely win the West.  A lot on the line for the Maize and Blue.  Wolverines are 9.5 point home favorites, and the over/under is 49.  Michigan to win, Wiscy to cover.
No. 19 and undefeated Colorado with a night game in the Coliseum with the Trojans.  9:30 p.m. on FOX Sports 1.  Southern Cal favored by 7, and the over/under is 57.  I don't get it.  I realize the Buffs wins are against marginal (or just bad) teams – Colorado State, Nebraska, New Hampshire, UCLA, and Arizona State.  But Southern Cal's only convincing win was their season opener of 43-21 over UNLV.  They didn't score a touchdown against Stanford, Texas beat them soundly, and they eked out a 3 point win at home against Leach(eater) and Wazzu and a 4 point win at Arizona (they nearly gave that one away).  And now they're a 7 point favorite over undefeated Colorado?  Okay, guess which way I am going on this one.
Other Games of Interest This Week
Ole Miss plays Arkansas at War Memorial Stadium in Little Rock.  Both teams looking for their first SEC win, but at least the Rebs have some other wins.  Oh, the Piggies do too – that big win over the Eastern Illinois Panthers, 55-20 to open the season.  Since then, the Panthers and the Pigs have evened out – both are 1-5.  EIU has a win over Tennessee Tech (hey, I know those guys), and losses to a bunch of States – Illinois State, Indiana State, Tennessee State, and Murray State.  Ole Miss has lost to the No. 1 Alabama Crimson Tide, and then No. 5 LSU.  But I will concede their only good win was over Texas Tech, 47-27, to start the season.  Southern Illinois, Kent State, and UL Monroe aren't exactly resume builders.  Ole Miss is a 7 point road favorite, and the over/under is 67.5.  HOTTY TODDY!
Rice hosts UAB.  The Blazers are 4-1.  UAB a 16.5 point favorite, and the over/under is 52.5.  Noon at Rice Stadium.
Southern Mississippi at North Texas.  1:00 p.m. at Apogee Stadium.  Mean Green favored by 9.5, and the over/under is 55.
UT San Antonio is undefeated in Conference USA play.  They host Louisiana Tech in the Alamodome, 6:00 p.m.  Vegas unimpressed with the Roadrunners.  LT favored by 11, and the over/under is 44.5.
Major Applewhite, and the rest of the Houston Cougars, head to Greenville, North Carolina.  6:00 p.m. kickoff in Dowdy-Ficklen Stadium with East Carolina Pirates, and the game will be broadcast on CBS Sports Network.  Heck of a comeback by UH last week. This week, they are favored by 16, and the over/under is 69.5
Rutgers at Maryland.  11:00 a.m. on the Big 10 Network.  Terrapins favored by 24.5, and the over/under is 52.
Army at San Jose State, 2:00 p.m. on ESPNU.
Navy hosts Temple, 2:30 p.m. on the CBS Sports Network.  Owls favored by 7, and the over/under is 49.5,
Air Force at San Diego State, 8:00 p.m. on the CBS Sports Network.  Aztecs favored by 11, and the over/under is 43.5.
Miami (OH) hosts Kent State at Yager Stadium.  Redhawks solid 11 point favorites, and the over/under is 59.5.
Mary Hardin-Baylor won the battle of the Hyphenated Hardins last week.  This week they are on the road at Howard Payne.  1:00 p.m. in Good Wood Stadium in beautiful Brownwood, Texas, where parking is free and tailgating is encouraged.  HP is 1-4.  MHB remains undefeated.
MIT hosts the U.S. Coast Guard Academy.  USCGA is 2-1 in NEWMAC play, and 4-2 overall.  MIT is undefeated.
Slippery Rock is 5-1 and undefeated in the Pennsylvania State Athletic Conference.  The Rock hosts Edinboro.
Davidson moved to 5-1 with the win over Jacksonville.  Saturday, the Wildcats host Morehead State.
Previews on the Interwebs
HornMafia:  The Week That Will Be:  The Hunted
https://www.barkingcarnival.com/2018/10/11/17963080/the-week-that-will-be-the-hunted-texas-longhorn-football
Week 7 College Football Viewing Schedule:
https://www.burntorangenation.com/2018/10/11/17965552/college-football-viewing-schedule-week-eight-game-times-television
Bill Connelly, for the sportsmen:
https://www.sbnation.com/college-football/2018/10/11/17963246/college-football-picks-week-7-2018-predictions-odds-spreads
Big 12 – Week 6
Kansas lost 22-38 to West Virginia, but the Jayhawks covered.  Game was under, as the over/under was 61.5.
Kansas State 34, Baylor 37.  Way over (55), and the Wildcats covered.
Iowa State is no longer the best 1-3 team.  They are the best 2-3 team.  Going into Stillwater as 9.5 point underdogs and beating the Okie Aggies 48-42 was a bigtime win for the Cyclones.  Way over (it was 55).
I really enjoy this weekly conference post from Burnt Orange Nation.
https://www.burntorangenation.com/2018/10/11/17951582/keeping-up-with-the-conference-week-7-edition-texas-longhorns-big-12-football
Last Week in College Football
Alabama was a 35 point favorite over Arkansas and won by 34.  65-31 Bama.  Way over -heck Alabama was over – it was 57.  Roll Damn Tide.
Michigan beat Maryland 42-21 and covered.  Over/under was 47.5.
Northwestern 29, Michigan State 19.  Wildcats doubled down in covering the 10 point spread, and Sparty remains an enigma.
NC State 28-23 over Boston College.  Line was 5.5, and the over/under was 58.5.  Dang their good.
Heck of a game in Gainesville, but Florida prevailed 27-19 over Louisiana State.  Gators covered, and as I suspected, won.
Clemson destroyed the Demon Deacons.  The over/under for the game with Wake Forest was 61, and Clemson scored 63.  Wake managed a field goal.
Florida State, you break my heart!  You know how I feel about Miami (FL).  Canes 28, Noles 27.
Colorado 28-21 over 2 Arizona State in Boulder.  Colorado covered (yep, Bet the Buffs).  Game was under (64.5).
Indiana covered at Ohio State, 26-49.  Game was over (64.5).  I was right about the line seeming high.
Texas Agricultural & Mechanical was favored by 6.  They held Benny Snell, Jr. to just 60 yards.  Game went to overtime, and the Wildcats got the ball first.  They didn't score, so when aggy did, they didn't kick the PAT.  20-14 Texas Agricultural & Mechanical, and that's a bad beat.
UCF 48-20 over the Southern Methodists.  Central Florida covered, but at least the Mustangs prevented the Over (75).
Georgia was favored by 27 over Vanderbilt, and the over/under was 54.  UGA 41, Vandy 13.  It must be fun to be that good at something.
Auburn was ranked No. 8 and are now 1-2 in the $EC with the 9-23 road loss at Mississippi State.  Hail State!
UC Los Angeles still 0 for 2018, as Washington wins 31-24.  But the Bruins covered! (Over/under was 52.5.)
Nebraska still winless.  Wisconsin 41-24 over the Huskers (line was 17!), and the over/under was 58.5.
The Irish won, covered the spread (7), and almost covered the over by themselves (55), defeating Virginia Tech 45-23.  Saturday, November 24:  Notre Dame at Southern Cal.  Huge.
I watched a lot of the Utah – Stanford game.  I swear I heard them say Utah was undefeated at Stanford Stadium.  They still are.  Harsh beating of the Cardinal, 40-21 (and over; it was 45.5).
Other Games of Interest Last Week
Ole Miss hammered UL Monroe 70-21, easily covering the 22 line and o/u (75.5).  Hotty Toddy!
Sam Houston State looked at the 3.5 point line and smirked.  Sam cuts down the Lumberjacks 54-21.
UTSA 20-3 over favored Rice.  Owls in for a long season.  Decade.  Century.
North Texas 27-24 over UTEP.  So close for the Miners, who are worse than Rice.
Navy gets bombed at Air Force, 35-7.  Middies were favored in that game.
Miami (OH) whips Akron 41-17!  Redhawks cover, and JNU is happy.
MIT 35-0 over Maine Maritime.
Cru 35-0 over Hardin-Simmons.
This Week in Schadenfreude, it was a horrific weekend to be a Stoops (or as I would call it, Schadenfreude – Visor Edition)
https://www.sbnation.com/2018/10/8/17945510/mike-stoops-fired-oklahoma-reaction
Juan Heisman Tailgate
The Juan Heisman Tailgate is back in full force Saturday.  Going to be beautiful day in Austin Texas on Saturday.  High of 83, might get a sprinkle or two, so let's keep praying whatever prayers we've been using all season.  We will have JHT Chicken on a Stick, Chicago Dogs (it is MLB's Final Four this weekend), venison sausage, and TCT's Wisconsin Beer Brats.  Tony Dewar is picking up some Kuby's pimento cheese, which is some of the best I've ever had.  We will have lots of adult beverages. Dulce Vida Tequila, Texas Beer Co. beers, and a great assortment from Capitol-Wright.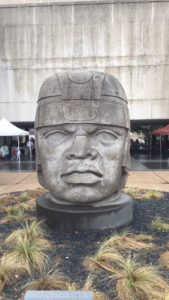 Music
Longhorn City Limits is back.  Playing the Juan Heisman Backyard Stage this week will be Loyal Austin Maroon, Django Walker, and the Old 97's.  I had some of Django's tunes in last week's email.  Some different ones below.  Django kicks off at 11:15, and the Old 97's around 12:45.
Django Walker
His big hit, College Life.  I still laugh when I listen to this.
Black Top Texas Highway.  One of my all time favorites.
South Texas Rain
I know I had two links to it last week, but this is a truly great song.
Texas on my Mind.
Old 97's
Timebomb
Let's Get Drunk and Get it On
Doreen
Washington & Lee
The Generals got a big road win at Bridgewater, 30-20.  W&L only need 276 yards on the ground after a 23 point second quarter that gave them a 30-6 halftime lead.  After Bridgewater kicked a field goal early in the second to narrow the lead to 7-6, W&L ripped off 21 points: a 67 yard run by Collin Sherman, a rare touchdown pass from Drew Richardson to Reid Ostrom for 33 yards (that was most of our total – 3-6 for 58 yards in the game), and then a 37 yard fumble recovery for a touchdown by Patrick Ryan.  Josh Breece remains a workhorse:  35 carries for 150 yards.
Big game in LexVegas Saturday, with Emory & Henry.  The Wasps lead the series with W&L 30-17, although the Generals have 11 of the last 16 and 6 of the last 8.
Game notes:
http://www.generalssports.com/sports/fball/2018-19/releases/Emory_Notes
1:00 p.m. Shenandoah Valley time, at Wilson Field.
Good Stuff
Things like this make me full good about America.
Justin Gallegos, a runner at Oregon with cerebral palsy, thought he was just finishing another cross country race. Little did he know, Nike was waiting at the finish line to offer him a pro contract (via @kabdullah360 / Elevation 0m) pic.twitter.com/FIXFoHQYI3

— Sports Illustrated (@SInow) October 10, 2018
If you are on Instagram, follow the account for the Arlington National Cemetery.  Great stuff, especially the daily remembrances.
And, on a lighter note:
Party Rock Anthem and Margaritaville?  This is funny.
Margaritaville and Party Rock Anthem have the same BPM.
So I made this: pic.twitter.com/YGPwC2BYal

— Dylan Whitehead (@Dylanin3D) September 18, 2018
Texas Longhorn Basketball
Shaka Smart and the Horns tip off the 2018-19 season in less than a month, with a home game against Eastern Illinois on November 6.  But before that, we have the Texas Tip-Off classic for both the women and men at Gregory Gym next Wednesday.
More to come on the team, but in the meantime, here is the schedule.
https://texassports.com/schedule.aspx?path=mbball
Texas Longhorn Baseball
Fall ball has started at the Disch.  Sunday, a 14 inning game with McLennan Community College starting at noon.  Sunday October 28, an 18 inning match with San Jacinto College starting at noon.
The annual Orange and White Fall World Series will be November 1 (6:00 p.m), 2, and 4 (1:30 p.m.).  Longhorn Network will broadcast games 1 and 3.
And, big things are happening at the Disch.  Texas broke ground for the new J. Dan Brown Family Player Development Center a couple of weeks ago.  Thanks to Dan Brown and all the folks who contributed generously to make this happen for the baseball program and Coach Pierce.  Many of y'all reading this.  Thank you!
ICYMI: last week, we broke ground on the J. Dan Brown Family Player Development Center, a state-of-the-art indoor training facility for your Horns. #HookEm 🤘 pic.twitter.com/P9Ylxx05gK

— Texas Baseball (@TexasBaseball) September 26, 2018
IVY LEAGUE REPORT
 Last week:
http://www.espn.com/college-football/scoreboard/_/group/22/year/2018/seasontype/2/week/6
 This week:
http://www.espn.com/college-football/scoreboard/_/group/22/year/2018/seasontype/2/week/7
 Scouting
Each year, the Capitol Area Council of the Boy Scouts of America recognizes a member of the Austin community as its Distinguished Citizen Award Dinner.  The Distinguished Citizen Award is presented annually to individuals who share Scouting's belief in leadership, determination, and values, and have contributed significantly to the growth and vitality of Central Texas.  Funds raised by the event support the delivery of youth leadership training and character development programs to more than 22,000 youth across 15 Central Texas counties, including nearly 7,000 "at-risk" boys and girls.  Past recipients include the late Frank Denius, DeLoss Dodds, Bill Powers, Gary Farmer (JHT Crew Man and official venison sausage supplier of the Juan Heisman Tailgate), Juan Heisman Tailgate friends and supporters Joe Holt and David Roche (in the early days, we used Roche's pit), and Admiral William H. McRaven, former Chancellor of The University of Texas System.
This year's Distinguished Citizen is our own Tim Crowley, part of the tailgate crew before it was a crew, and a longtime regular on the JHT Early Crew.  Most of us will be at the Hilton Austin on November 14 to salute and honor Tim, a great Longhorn, community leader, and friend.  You can too, but if you can't attend, please consider a donation:
JDRF
Reminder for friends in Virginia and the DC area:  the JDRF Hope Gala, is less than a month away.
https://jdrf-capitol.ejoinme.org/MyEvents/DCHopeGala2018/tabid/982420/Default.aspx
God Bless Texas.
Tim Taylor
Tailgating before Home Football Games
The Juan Heisman Tailgate 
Lot 38, East of Sid Richardson Hall.
HOOK EM HORNS!!
© Timothy C. Taylor, Sr. 2018.  All Rights Reserved (as to original material).
On Twitter:  @tctayloratx
On LinkedIn:  www.linkedin.com/in/tctatx
On Instagram:  @tctayloratx
On Facebook:  www.Facebook.com/Tim.C.Taylor
and:  www.Facebook.com/Juan.Heisman