Hello Horns Fans!
Texas Longhorns 23, Baylor 17
The Texas Longhorns overcame the loss of Sam Ehlinger to injury in the first quarter and a frustrating second half to beat Baylor 23-17.
The Texas win and the West Virginia loss in Ames put Texas at the top of the Big 12, and the Horns moved up to No. 7 in the AP poll and No. 8 in the Coaches Poll.
Highlights from Texas Sports:
Highlights from WatchStadium.com
A short review of the game below.  Obviously, Sam's injury was the main story of the game, both during and after.  Sam suffered a Grade 1 shoulder sprain, but he should be ready go in Stillwater.  For those who want more specificity, there are 6 degrees of sprains for the AC joint, and with a Grade 1: "The acromioclavicular ligament is partially torn but its companion ligament, the coracoclavicular, is uninjured, so the acromioclavicular joint remains tightly joined."
The great news is that even if he isn't, we have another quality young man with a good arm and great attitude ready to go.  Thankfully, Shane Buechele was pretty much ready last Saturday when duty called.  Yes, a little rusty.  Goes back to the ongoing debate about playing time.  The debate in which some of the Texas fan base have been engaged since a January night in the Rose Bowl, when a Texas quarterback suffered a shoulder injury and the next man up had not seen a lot of playing time over the course of the season.
Back to Buechele:  He played, he played well, and Texas won, and we should be grateful he is here.  I am.
The scene in the locker room after Texas's win over Baylor may just warm your heart up on this cold day.

New All Access tonight at 8:30P/CT on LHN. pic.twitter.com/w3KK4OBwpx

— Longhorn Network (@LonghornNetwork) October 17, 2018
Have to say I am a bit disappointed in the crowd.  I know it was a letdown weekend after the thrilling victory over a real rival in Dallas, and we were competing with ACL, but it has been a long time since Texas played in DKR as a top 10 ranked team.  Lots of people have said to me so many times over the last few years – "winning will take care of attendance" or "I will be there when there is a better product on the field",  Well, Texas is winning, and while Saturday wasn't exactly this team's best performance, there was no way to know that before kick-off.  So, I will again plead with everyone:
If you have tickets for a game and you cannot attend, find a Longhorn fan to sell them to or give them to.  Don't let your tickets go to waste.  We need Longhorns in the stands supporting the Longhorns on the field.
With the win and second week in the Top 10, I officially announce that Texas is back.  I am not alone.
https://www.texasmonthly.com/the-culture/are-the-longhorns-back/
I love Texas Monthly.
2019 Longhorn Football Schedule
You can now plan your 2019 autumn weekends.  The Texas schedule is out.  Bye weeks September 28 and November 2.  All Saturday games, except for the Sand Aggies in Austin on the Friday after Thanksgiving.  Crazy – three home games before October again.  At least the menu planning will be easy for the first two.  I love Cajun food.  And of course the game "at Rice" will effectively be a Texas home game.
Saturday, August 31 – Louisiana Tech
Saturday, September 7 – Louisiana State
Saturday, September 14 – Rice, at NRG Stadium.
Saturday, September 21 – Oklahoma State
October 5 – at West Virginia
October 12 – Land Thieves, in the Cotton Bowl
October 19 – Kansas
October 26 – at Texas Christian
November 9 – Kansas State
November 16 – at Iowa State
November 23 – at Baylor
November 29 – Texas Tech.
Texas Beats the Brazos Baptists
That was one odd game.  We had a lighter than expected crowd at Juan Heisman, and I was stunned by the empty seats in DKR.  I was sure after the big win over the Sooners, Horns fans would turn out in droves and fill up the stadium.  Plus, it turned out to be a nice (by Texas standards) day.  Yes, it was hot and humid, but we are used to that.
Sam took 9 snaps.  In those 9 plays, he moved Texas from the UT 29 to the Baylor 27, which included 16 yard and 8 yard pass completions to LJH.  After a good hard 3 yard run by Tre Watson on fourth and 2, Buechele came in for the injured Ehlinger.  Texas promptly got a delay of game penalty, and then 2 plays later Cosmi jumped.  Second and 18 from the Bear 18.  Texas settled for 3.
Baylor answered with a touchdown.  Charlie Brewer was 6 for 6.  Two pass plays over 10 yards (17 and 19), and the worst was the Brewer quarterback sneak on third and 1 for 14 yards to get Baylor in the redzone.  7-3.
The next Texas possession started with four runs by Tre, and then the Horns had a call go their way when Baylor was called for pass interference, setting up a first down at the Baylor 43.  Buechele took advantage with a nice throw to Collin Johnson for 18, and after another Watson run and a catch, Texas had fourth and 3 at the Baylor 18 as the first quarter ended.  Was a little surprised Herman didn't go for it, as he is apt to do, but the decision to kick was rewarded as Dicker the Kicker nailed it to close the gap to 6-7.
Texas got a 3 and out on the next possession (3 incompletions – good defense), and I really thought that might be the spark we needed.  But after picking up a first down, Shane couldn't connect and he too registered 3 incompletions.  The good defense (and/or ugly offense) continued, as both teams had 3 and outs (Texas' coming after a 12 yard sack of Buechele).
Brewer got Baylor back on track with a good drive that included a 26 yard completion, a 16 yard completion, and a 15 yard completion.  Texas held, and Baylor kicked a field goal to push the lead to 10-6.
The next possession was textbook.  Ingram for 3 and then Ingram for 13, plus 15 as Baylor continued its cheatin' ways, this time with just a face mask.  First down at the BU 44.  One thing I love about Herman is his strike hard attitude.   Shane with a pretty pass, and Collin Johnson with a beautiful catch, and Texas jumped ahead 13-10 with just over 4 minutes to play in the first half.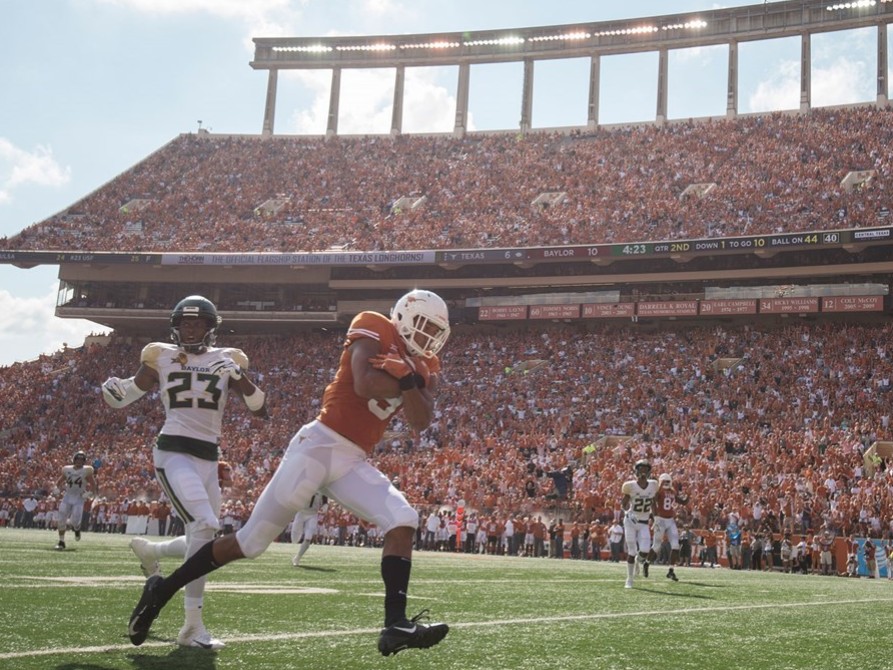 The Texas defense with yet another 3 and out, and Texas started on its 30.  Ingram for 5, then again a 14 yard pass extended 15 yards by a Baylor penalty, and in few seconds Texas at the Baylor 36.  Ingram provided a 10 yard run and an 18 yard run in route to first and goal at the BU 5.  Ingram for 2, then LJH at QB and he punched it in.  20-10 Texas.
Baylor got the ball back with 1:12 to play, and the Texas defense answered yet again.  This time, the Wolf of DKR, Caden Sterns, intercepted Brewer's pass, and Texas had 44 seconds to work from midfield.  Buechele with another delay of game, but after a couple of plays he did complete a screen pass to Jamison which went for 17 yards to the Baylor 34, and after a short pass LJH, Dicker kicked a 47 yarder as the half expired to put the Horns up 23-10.
I was very optimistic at halftime.  Not just a bunch of Texas Beer Co. Pecos Amber Lager optimistic, although I did enjoy several of those at Juan Heisman before the game.  Real optimism.  The Texas defense had played well, limiting a good Baylor offense to 10 points.  JaMycal Hasty had 5 yards in the first quarter and minus 2 yards in the second quarter.  Brewer had gashed us on a few plays, but it was bend don't break defense.
Baylor got the ball to start the second half, and the Bears featured Jalen Hurd running the ball.  After picking up a couple of first downs to midfield, Nelson put pressure on Brewer and the pass was incomplete, Foster stopped Hasty for no gain, then Gary Johnson sacked Brewer.  Really good three downs of defense there.  But a good punt had Texas starting on its own 8 yard line, and a holding call on second and 8 put us where we really don't do well.  Kudos to the Buechele and the offense, who responded, including a 12 yard completion to Collin Johnson to get Texas out to the 20 yard line.  But the engine sputtered, and Texas punted.
The Texas defense with another good 3 and out series that concluded with a 3 yard TFL of Brewer by Johnson and then an Omenihu sack for 5.  Zero net yards on 3 plays.  Unfortunately, Buechele was intercepted on the first play after the BU punt, and Baylor got the ball at their own 44.
Good teams turn turnovers into points.  Baylor is a good team again, and they did just that.  Our defense can play so well, and we have some great players, but our DB's get beat a lot.  And most of the 56 yard Baylor touchdown drive came on a 45 yard Brewer pass to Denzel Mims, which set up Baylor at the Longhorn 5 yard line.
Texas lead cut to 6.
Keaontay Ingram gave us a spark, as he opened the Texas drive with runs of 3 and 30, getting Texas to the Baylor 32 quickly.  Shane and Keaontay combined for another 10 on the ground, and we had a first and 10 on the Baylor 22 with a 6 point lead, and I was feeling better.  But Texas was not able to get another first down, and then Dicker missed wide left.
Baylor took over, and this time the Bear running back was John Lovett.  4 carries and a D'Shawn Jamison facemask later, and Baylor was at the UT 46 as the third quarter ended.  The Longhorn defense stiffened, and they closed out the BU series with tackle for loss, an incomplete pass, and another Omenihu sack.  Whew!
Texas moved the ball well on the next series, with Watson carrying the ball and Buechele completing passes to Johnson, Duvernay, and LJH.  But again we couldn't finish, and again Dicker missed a long (51 yard) field goal wide left.
The Big Texas D forced another 3 and out, and Texas got the ball back with 4:46 to play.
More than once this year, Ehlinger and the Texas offense ran out the clock in this situation, protecting a lead and getting the win.  I was hoping Shane could do the same.  Sure enough, Texas started moving the ball, as Buechele completed passes to LJH and Johnson.  But on third and 5 at the Texas 42, LJH lined up at QB.  I will admit I thought this was a good call, but Baylor had it defensed well, and LJH was stopped at the line.  Texas needed a great punt from Bujcevski, and the Horns got one, as Brandon Jones downed it at the Baylor 3.
Baylor had to go 97 yards in 103 seconds to beat Texas.  And they darn near pulled it off.  20 yard pass completion to start (wide open over the middle), and Baylor moved the ball down field at will.  Good passes, hard runs.  Third and 1 with 15 seconds to go. At the Texas 19.  Brewer snuck it for the first.  11 seconds.  Next pass, Brandon Jones dropped an interception in the end zone.  Six seconds to play.  Huge pressure from Texas, and Brewer's pass sailed through the end zone.  But somehow there was 1 second on the clock.  Great pressure again, and Brewer let it fly as he was hit, and thankfully that pass too fell incomplete.  Credit Orlando and the defense again – they made it a little too exciting, but the pressure they put on Charlie those last three plays was key.  You can watch it again:
We were fortunate to win the game.  Several chances to ice it in the second half, but the failure to convert for first downs in Baylor territory and the missed field goals were nearly fatal.  Let's hope Dicker has it out of his system, and that there were some good teaching moments for the Horns.
Stats Review
The first number is what Texas or BU did in the game.  The number in parenthesis is what the average was coming into the game.  In both Baylor columns, that is what they were averaging coming into the game. 
| | |
| --- | --- |
| Texas Offense | Baylor Defense |
| Rushing Offense – 170 (157.2 ypg) | 193.2 ypg – Rushing Defense |
| Passing Offense – 219 (256.8 ypg) | 217.8 ypg – Passing Defense |
| Total Offense – 389 (414.0 ypg) | 411.0 ypg – Total Defense |
| Scoring Offense – 23 (32.0 ppg) | 32.3 ppg – Scoring Defense |
| First Downs – 25 (23.0/game) | 18.5/game – First Downs Allowed |
| 3rd Down Offense – 50% (41.6%) | 42.3% – 3rd Down Defense |
| Red Zone Offense –67% ( 76%/62%) | 85%/54% – Red Zone Defense |
| | |
| --- | --- |
| Texas Defense | Baylor Offense |
| Rushing Defense – 88 (132.8 ypg) | 174.0 ypg – Rushing Offense |
| Passing Defense – 240 (233.5 ypg) | 325.5 ypg – Passing Offense |
| Total Defense – 328 (366.3 ypg) | 499.5 ypg – Total Offense |
| Scoring Defense – 17 (24.0 ppg) | 35.8 ppg – Scoring Offense |
| First Downs Allowed – 19 (18/game) | 27.7/game – First Downs |
| 3rd Down Defense – 47% (34.9%) | 48.3% – 3rd Down Offense |
| Red Zone Defense –67% (77%) | 96%/67% – Red Zone Offense |
 Of note:  The Texas Defense held Baylor to less than 50% of their scoring average and 50% of their rushing average.   Very strong.
Keys to the game:
Play smart on offense. Fewer penalties, and again, don't put the offense in long yardage early.

Texas did better – only 8 penalties for 52 yards
We had a couple of series where an early penalty hurt us, but none were decisive.

Keep up the turnover free play, and keep forcing a few. Turn Brewer over in the first quarter and get in his head.

Each team had an interception. We did not get in his head.

Play hard with extreme physicality, but clean. No stupid penalties. I am confident that Texas has the better overall team athletically.  Use it.

Pretty much did this. I was particularly impressed with how tough Texas played given the heat.

Run the ball hard with Keaontay Ingram, and set up the passing game to LJH and Collin.

Ingram got 110 yards on 19 carries, averaging 5.8.
Collin Johnson had 11 catches for 132 yards and a touchdown.
LJH had 7 catches for 41 years.

Use LJH more in the pistol or whatever we call it these days. Remember how effective Tyrone Swoopes was running out of that formation?  Lil'Jordan can do that too.

Only 2 carries, but one was for a touchdown. The one play we really needed this to work failed, so maybe I was wrong.
Ingram was focused.  Great day for him.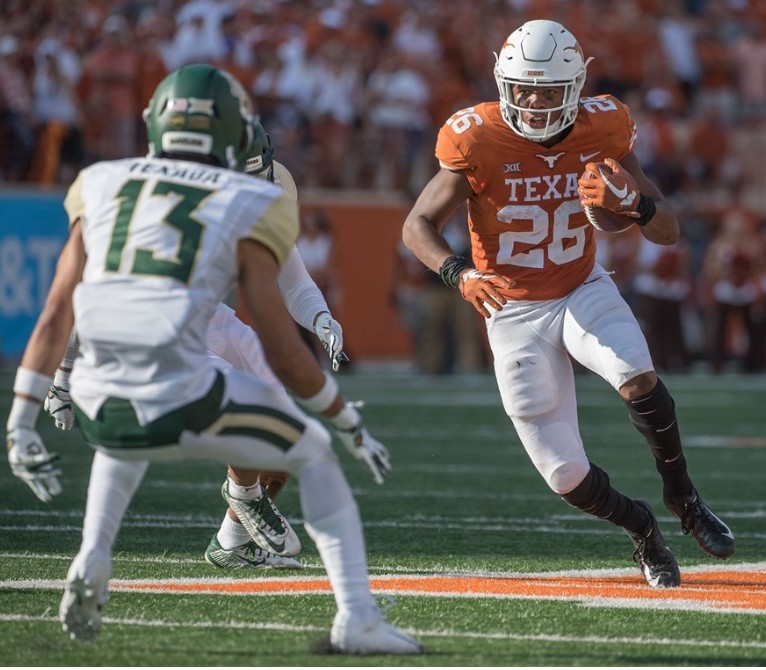 Defense played well.  10 tackles for loss, and 3 sacks.  Two of those sacks by Omenihu, who also had 4 quarterback hurries.  The defense attacked, and it paid off.  Baylor ran 74 offensive plays and lost yardage on 10 of them.  That's pretty darn good.  I thought the defensive line played particularly well.
Congratulations to Shane Buechele, and thanks for being ready!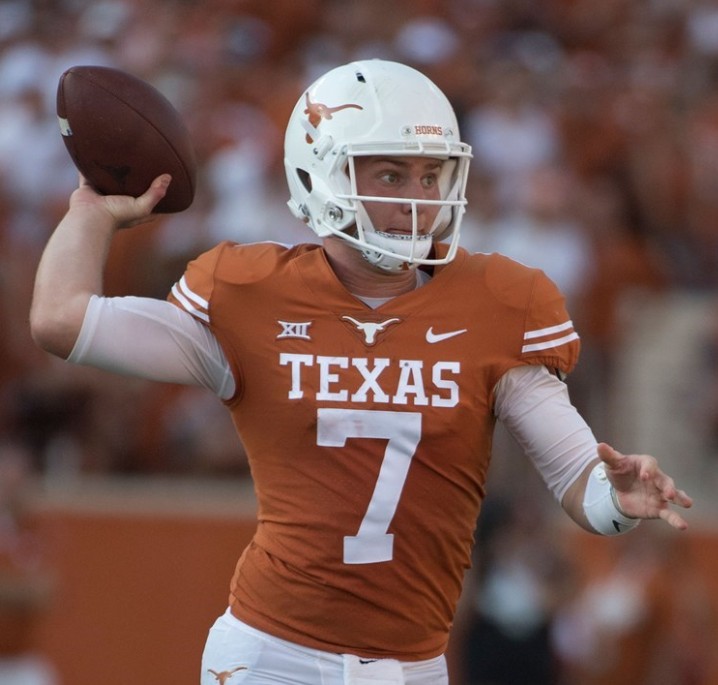 Missed bad on the score prediction (Texas 41-27).
Good review from Wescott Eberts:
https://www.burntorangenation.com/2018/10/13/17974028/shane-buechele-texas-longhorns-baylor-bears-sam-ehlinger-injury-tom-herman
Inside the Numbers:
https://www.burntorangenation.com/football/2018/10/14/17974394/keaontay-ingram-texas-longhorns-inside-the-numbers
Polls
Alabama still No. 1 in both polls.
AP Poll:  Alabama, Ohio State, Clemson, Notre Dame, Louisiana State, Michigan, Texas, Georgia, Oklahoma, and Central Florida.  West Virginia at 13, Texas Agricultural & Mechanical at No. 17.
Coaches Poll:  Bama, Ohio Statement University, Clemson, L'Université de Notre Dame du Lac, Bayou Bengals, UGA, Wolverines, Longhorns, UCF Knights, and the Land Thieves.  West Virginny at 13, Texas Agricultural & Mechanical at No. 18.
For those of you not paying attention to lots of other teams and conferences, Alabama, Ohio State, and Notre Dame are all undefeated.  Clemson and NC State are undefeated, but play each other Saturday.  Also undefeated are Central Florida, South Florida, and Cincinnati, all from the East division of the American Athletic Conference.  Will take a look at those who are still undefeated after this weekend and what lies ahead.
Big 12 ‑ Week 8
Land Thieves and Texas Christians have an 11:00 a.m. kick at Amon G. Carter Stadium Saturday morning.  ABC.  Land Thieves favored by 8, and the over/under is 62.  OU is good, but I want to believe that the Horned Frogs are due.  Can't always get what you want.  I fear that Kyler Murray gets it going Saturday.
Kansas at Texas Tech.  2:30 p.m. on FOX Sports 1.  Sand Aggies favored by 18, and the over/under is 59.  If the weather is favorable, I will take Texas Technical and the over.  Either way, Coach Skinny Pants gets another conference win.
That's it in the conference.  Everyone else takes a break.
This Week in College Football
Big game for Coach Harbaugh in East Lansing.  His No. 6 Wolverines are favored by 7 over No. 24 Michigan State.  11:00 a.m. on FOX.  The over/under is 41.
The most heartbreaking or spirit lifting end of game ever, depending on if you were a Wolverine or Spartan fan.
A Sparty hype video:
Maryland at No. 19 Iowa, 11:00 a.m. on ESPN2.  Iowa favored by 9.5 and the over/under is 44.5.
No. 20 Cincinnati plays Temple at the Linc.  11:00 a.m. on ESPNU.  Should be an interesting game.  Temple favored by 3.5, and the over/under is 48.5.
Illinois at No. 23 Wisconsin.  11:00 a.m. on FOX Sports 1.  Wiscy favored by 25, and the over/under is 57.
The Columbia Broadcasting System Southeastern Conference game of the week is No. 1 Alabama at Tennessee.  2:30 p.m. Crimson Tide favored by 28.5, which is huge for a road team in a bit of rivalry game, even Alabama.  The over/under is 57.  Upset?  Never say never, but this is highly unlikely.
Great game between two undefeated teams, No. 16 North Carolina State at No. 3 Clemson.  2:30 p.m. on ESPN.  Tigers are favored by 17.5, and the over/under is 56.
No. 15 Washington hosts Colorado.  The Huskies were discussed for the first month of the season as likely to win the Pac 12 and have a shot at the playoffs if they won out (after the early Auburn loss).  Well, that Auburn loss looks a lot worse, and the loss last Saturday at Oregon has Washington needing to win some games to get a good bowl bid. 2:30 p.m. on FOX.  Washington favored by 17.5, and the over/under is 50.
No. 18 PSU at Indiana, 2:30 p.m. on ABC.  Hoosiers 14.5 point home dogs, and o/u is 61.5.
Another huge game for Coach O and his Tigers.  No. 5 Louisiana State hosts No. 22 Mississippi State.  6:00 p.m. on ESPN.  Baton Rouge should be lit.  Tigers favored by 6.5, and the over/under is 45.  I think this will be a close one, but LSU gets the win.
Great side story on this game.  The Tigers are wearing new uniforms, which are getting news because the helmets are iridescent and will change purple to gold under the lights.  But what is cool is that they are honoring the 1918 team that didn't play football that fall, as they had gone to fight in World War One.  "The uniforms will feature an oak pattern throughout. This in reference to the 30 oak trees planted on LSU's campus to commemorate soldiers from the LSU community who did not return from the war, including one for the "unknown soldier" missing in action."
https://www.sbnation.com/college-football/2018/10/18/17996410/lsu-purple-helmets-gold-1918-wwi
No. 10 UCF plays ECU in Dowdy-Ficklen Stadium.  6:00 p.m. on ESPN 2.  Central Florida favored by 21.5, and the over/under is 64.5.
No. 21 USF plays at home with UConn.  6:00 p.m. on the CBS Sports Network.  Bulls favored by 34, and the over/under is 69.
No. 2 Ohio State at Purdue.  6:30 p.m. on ABC.  Buckeyes favored by 12.5, and the over/under is 68.5.   Boilermakers will likely get their butts whipped.
One of the biggest games of the day will be preceded by ESPN's College Gameday.  No. 12 Oregon at No. 25 Washington State.  6:30 p.m. on FOX.  The Pirate's Cougars are favored by 3, and the over/under is 68.  Wazzu and Pullman are a bit wound up about College Gameday.
http://www.spokesman.com/stories/2018/oct/17/city-of-pullman-issues-emergency-declaration-to-de/
Vanderbilt at No. 14 Kentucky.  6:30 p.m. on $EC Network.  Wildcats favored by 11.5, and the over/under is 46.5.
Other Games of Interest This Week
Stanford escaped the desert Thursday night with a 20-13 win over Arizona State.
Two Friday night games.  Colorado State at Boise State, 8 p.m. on ESPN2.  Air Force at UNLV, 9:00 p.m. on CBS Sports Network.
Saturday
Ole Miss hosts Auburn.  Before Labor Day, I never would have guessed these teams would each have just one SEC win.  11:00 a.m. on ESPN.  Breakfast in the Grove.  Should be fun.  Auburn favored by 3.5, and the over/under is 63.  I will take Ole Miss to win!  Hotty Toddy!
Virginia at Duke.  11:30 a.m. on ACC Network.  Blue Devils favored by 7, and the over/under is 44.5.  Should be a good game.  Go Hoos!
I only include this because of how funny it would be if Tulsa wins.  Arkansas (1-6) hosts the Hurricane (1-5).  11:00 a.m. on SEC Network.  Pigs favored by 7, and the over/under is 55.5.
Miami (OH) at Michie Stadium to play Army.  11:00 a.m. on CBS Sports Network.  The Black Knights favored by 7.5, and the over/under is 47.5.  I have not given much coverage to the MAC this year.  No mid-week games, which I used to watch, and the conference is lopsided.  Bowling Green, Central Michigan, Akron, and Kent State are all winless in conference, and 3 teams have just 1 win.  Just not a lot of excitement.
The Citadel at Virginia Military Institute.  1:30 p.m. Shenandoah Valley time.  Keydets are 6 point home underdogs, and the over/under is 71.5.
Southern Methodist at Tulane.  2:30 p.m. on ESPNU.  Both teams 2-4 and 1-1.  Tulane favored by 7, and the over/under is 58.5.
Houston at Navy, 2:30 p.m. on CBS Sports Network.  Major Applewhite and his Cougars favored by 11.4, and the over/under is 60.5.  Kinda figure Major has this one.
UTEP at Louisiana Tech.  Miners still looking for a win, and neither Vegas nor I think it is happening this weekend.  LT favored by 24, and the over/under is 48.
UT San Antonio at Southern Mississippi.  6:00 p.m.  USM favored by 17.5, and the over/under is 44.
Rice at Florida International.  6:30 p.m. from FIU Stadium in Miami.  FIU favored by 23.5, and the over/under is 53.5.
Matt Curtis's Mean Green at UAB.  Yes, North Texas is 6-1, but UAB is 5-1 and undefeated in C-USA.  And the Blazers are narrow 1.5 point favorites, and the over/under is 54.5.  6:30 p.m.
Texas State at Louisiana Monroe.  Bobcats 10.5 point underdogs, and o/u is 60.5.  6:00 p.m., and no, of course it is not on TV.
Southern Cal at Utah, 7:00 p.m. on PAC 12 Network.  Utes favored by a touchdown, and the over/under is 48.  Fight On!
The late Pacific game is Arizona at UCLA, 9:30 p.m. on ESPN2.  Bruins favored by 9.5, and the over/under is 57/
Mary Hardin-Baylor on the road to Jackson, Mississippi to take on the Belhaven University Blazers.  Noon.  The Cru remains undefeated.
MIT hosts the U.S. Coast Guard Academy.  USCGA is 2-1 in NEWMAC play, and 4-2 overall.  MIT is undefeated.
Slippery Rock is 6-1.  The Rock at Clarion.
Davidson at Marist, in Poughkeepsie, New York.  Marist favored by 14.5, and the over/under is 61.
Previews on the Interwebs
HornMafia:  The Week That Will Be:  Calm Before the Storm.
https://www.barkingcarnival.com/2018/10/18/17993356/the-week-that-will-be-calm-before-the-storm-texas-longhorns-football
Week 8 College Football Viewing Schedule:
https://www.sbnation.com/college-football/2018/10/18/17992594/ncaa-cfb-tv-schedule-best-games-week-8-2018
Bill Connelly, for the sportsmen:
https://www.sbnation.com/college-football/2018/10/18/17993614/college-football-picks-week-8-2018-predictions-odds-spreads
Big 12 ‑ Week 7
Not sure what is going on with Okie State, but K State put a butt-whipping on them.  Wildcats 31, Cowboys 12, and that is one crazy result.  Rex, I acknowledge the error of my ways.
But, as crazy as the game in Manhattan was, the result in Ames, Iowa was more stunning.  It would have been stunning if Iowa State beat West Virginia by a field goal or a touchdown.  But they didn't just win by a score, they shut down the Mountaineers, 30-14.  Former Heisman candidate Will Grier was held to 100 yards on 11-15 passing, one TD, on interception.  Third string redshirt freshman Brock Purdy was 18-25, 254 yards, and 3 touchdowns for the Cyclones.  ISU's David Montgomery ran for 189 yards and a score.  Dana Holgorsen said it was the worst offensive performance he had ever seen.  Well, own the loss Holgo.  I guess Vegas knew something, because West Virginia was only favored by 6.5 going in.
Erin Kirschner's Keeping Up With the Conference on BON.  Check out the Iowa State band tweet he has in there.
https://www.burntorangenation.com/2018/10/17/17978332/big-12-conference-football-texas-longhorns-west-virginia-mountaineers-keeping-up-with-the-conference
Last Week in College Football
Charlie Strong's South Florida Bulls rallied for a 25-24 win over Tulsa.
Ohio State beat Minnesota 30-14.  Not a resounding victory, the Gophers covered, and they were way under the 59.5 total.  But it was indicative of most of the day.
Vanderbilt led Florida 21-13 at half, before the Gators rallied to win 37-27.  Florida scored 17 in the fourth quarter.  Perine 23 carries for 121 yards, and Scarlett 16 carries for 113 yards.
Sure was wrong about Tennessee and Auburn.  Ugly loss for the Tigers, as a bad Tennessee team came into Jordan-Hare as 15.5 point underdogs and beat Auburn 30-24.
Continuing a trend for ranked teams, Notre Dame struggled to beat Pittsburgh, 19-14.  Pitt covered easily.
Geaux Tigers!  What a win for Louisiana State, as they take down Georgia 36-16.
Really amazing game in Autzen Stadium, as Oregon forced overtime and then beat Washington, 30-27.
Central Florida edged Memphis 31-30, and the Tigers covered.
Michigan State upset Penn State, 21-17.  Attawaytogo Sparty!
Texas Agricultural & Mechanical 26, South Carolina 23.  Aggies were favored by 2.5, and the over/under was 52.
Missouri 10, Alabama 39.  The Crimson Tide was favored by 28.
Go Wahoos!  Virginia 16, Miami (FL) 13.  Great win for the Hoos!
Michigan with a bigtime win over Wisconsin, 38-13.  Impressive.  Michigan covered, and over.
Vegas had it right.  Colorado loses to the Trojans 20-31, as Southern Cal covered.
Other Games of Interest Last Week
Ole Miss rallied to beat the Pigs 37-33.  Rebel Quarterback Jordan Ta'amu passed for 387 yards and ran for 141, scoring 2 through the air and one on the ground.  The rest of the Ole Miss offense was 86 yards on 18 carries by Scottie Phillips.  Heck of a performance.  Hotty Toddy.
Rice was a 16.5 home dog to UAB.  Blazers scored 42, Owls scored none.
North Texas continued their great season with a 30-7 win over Southern Mississippi.
UT San Antonio got destroyed at home by Louisiana Tech, 31-3.
Houston 42-20 over East Carolina Pirates.  Nice win and cover by the Cougs.
Army destroyed San Jose State, 52-3.  In the second half, San Jose State fumbled on four consecutive possessions.  The first resulted in an Army field goal, the next two in Army touchdowns, and the forth was run 52 yards for a touchdown.
Navy lost to Temple, 17-24.  Push.
Air Force goes down at San Diego State, 17-21.  AF did cover.
Miami (OH) with a nice beating of Kent State 31-6, winning and covering.
Mary Hardin-Baylor inflicted some on Howard Payne.  55-0 Cru over the Yellow Jackets.
My bad last week.  MIT had a bye.  This week MIT hosts the U.S. Coast Guard Academy.
Slippery Rock crushes 59-28.  The Rock is 6-1.
Davidson lost to Morehead State, 28-35.
This Week in Schadenfreude,
https://www.sbnation.com/college-football/2018/10/15/17975356/week-7-reaction-georgia-penn-state

Juan Heisman Tailgate
The Juan Heisman Tailgate remains undefeated.  Great day at the Tailgate.  Outstanding job by Early Crew.  Skeen was in line by 5:00.  Jack had the Pit there early.  EC Chief Whiteley and the Young Guns all there on time (despite a late night at ACL and Sir Paul).  Thanks to everyone who pitched in for another successful tailgate.
One of our simpler menus, and I have to say it was just about perfect.  The JHT Chicken on a Stick was on point, the Chicago Dogs tasty, and the Beer Brats were good, although not heart healthy.  The Kuby's pimento cheese was a big hit.  Going to have to make that a JHT standard.  Great to see everyone.
Next up is West Virginia and the tamale tailgate, with homemade tamales from Rose Marie Hagman's sister.  Hoping for an afternoon or evening game, so we can pair those good tamales with Frito pie!
An online publication ranked the top 25 tailgating experiences in college football.  It was interesting.
They ranked the Red River Rivalry as No. 18, noting "Unlike the typical tailgate atmosphere, fans roam the fairgrounds in crimson and cream or burnt orange gorging themselves on delicious fried food, which includes outrageous delicacies like fried corn dogs, fried funnel cakes, fried pickles, fried Oreos, fried sticks of butter, fried beer and fried soda."  "With two of the most passionate fan bases from two of the most tradition-rich football programs in America coming together, the atmosphere is electric as the stadium gets split 50/50 for the game."
No. 17 was the World's Largest Outdoor Cocktail Party, which I need to put on the Bucket List.
Texas was ranked No. 6, which is impressive. Not that we don't have some great tailgates, but the decentralized tailgating areas make for a very different experience than most of what this survey (and I and most aficionados) tend toward in judging great pregame:  partying a big area with a huge concentration of tailgating.   Texas Agricultural & Mechanical was ranked No. 5 (it must have improved dramatically since last time I went over to College Station).  Notre Dame was No. 4, and based on my one experience there, I can't argue that.  Cal Berkeley No. 3?
No. 2 was LSU, and No. 1 was, of course, Ole Miss.  We will get to experience Baton Rouge in a couple of years.  And I suspect quite a few of you have been to the Grove.  It is the best.
https://www.stadiumtalk.com/s/best-college-football-tailgate-experiences-ac1eca55476946a9
Good Stuff
A very fascinating article about how America uses its land.  Thanks Clint Greenleaf.
https://www.bloomberg.com/graphics/2018-us-land-use/
Been meaning to share this all year.  I recommend signing up for the daily news update from the Daily Texan.  The student journalists at The University do a great job.
https://utexas.us5.list-manage.com/subscribe?u=6f1ce5deb46f0a82cbfe46510&id=eb7b6eb02f
Speaking of The University, the IFC is restricting hard liquor at all fraternity events.
http://www.dailytexanonline.com/2018/10/18/ut-frats-restrict-hard-liquor
The Athletic's midseason All Americans
https://theathletic.com/591537/2018/10/16/midseason-college-football-all-america-teams/
Music
When we were getting things set up for the tailgate, Marcus put on some tunes.  One of the first songs was a Johnny Guitar Watson song.  I was introduced to the great Mr. Watson in college.
A Real Mother for Ya.
Ain't that a Bitch
Gangster of Love
Gangster of Live (Live)
Booty Ooty (Live)
Superman Lover
And if you really want to listen for a while, here is an hour of JGW Live.
Washington & Lee
The Generals with another big ODAC win, 40-29 over Emory & Henry.  W&L went crazy, throwing 10 forward passes, and completing 5 of them for 74 yards.  That was complemented with 373 yards on the ground.  Josh Breece with another big game, 23 carries for 163 yards and a score.  QB Drew Richardson ran 11 times for 70, and as a team the Generals averaged 6 yards per rush.  9 total penalties in the game, each team being flagged for 37 yards.  Good clean football.
Saturday, the play at Ferrum.  Ferrum is a little bitty school south of Roanoke which joined the ODAC this year.  The Panthers are 3-2, with losses to Emory & Henry (in the Third Annual Crooked Road Classic) and last week at Guilford.  4:00 p.m. Blue Ridge Mountain time.
Game Notes:
http://www.generalssports.com/sports/fball/2018-19/releases/Ferrum_Notes
Texas Longhorn Baseball
Last Sunday, Texas won a 14 inning game with McLennan Community College, 10-9.
David Hamilton is good.
It may only be October, but @D_Ham27 is already up to his usual wizardry.

He does this sort of thing. 😱 #HookEm pic.twitter.com/0xHVSuZ9Tt

— Texas Baseball (@TexasBaseball) October 15, 2018
Sunday October 28, an 18 inning match with San Jacinto College starting at noon.
The annual Orange and White Fall World Series will be November 1 (6:00 p.m.), 2, and 4 (1:30 p.m.).  Longhorn Network will broadcast games 1 and 3.
IVY LEAGUE REPORT FOR WEEK 6 (OCT. 19-20, 2018)
By Lonnie Schooler
The League continued play last weekend, with general overall success.  There are some interesting matchups for this coming weekend.
RESULTS OF OCTOBER 12-13 GAMES:
League teams concluded their out of conference schedule this weekend.  The Yale Bulldogs prevailed over Mercer, 35-28, as QB Kurt Rawlings compiled 344 yards and four touchdowns passing.  The unbeaten Big Green of Dartmouth rolled over Sacred Heard, 42-0.  Dartmouth has already defeated Yale and Penn in conference games this year, easily winning both contests.  In other non-conference play, the Big Red of Cornell took on its upstate New York rival Colgate, and came out on the short end of a 31-0 score.  The Harvard Crimson traveled to Worcester to play long-time rival Holy Cross.  Harvard prevailed 33-31 on a last-second field goal.
Meanwhile, in League action, the Princeton Tigers had an easy time against the Brown Bruins, 48-10, as QB Kevin Davidson threw for four touchdowns.  Like Dartmouth, Princeton is thus far undefeated this year.  As things now stand, the matchup between Dartmouth and Princeton is shaping up to be the ultimate showdown for League supremacy.
Finally, at Franklin Field in Philadelphia, Penn QB Ryan Glover dove in from four yards out with 7:00 left to lift Penn to a 13-10 victory over the Columbia Lions.  The game was close until the final gun, however, as Columbia overcame a 4th and 20 situation with a 55 yard pass from its own goal line with about 30 seconds left in the game.  Its last second drive to paydirt was stymied, however, when Penn intercepted a pass at the 25 yard line and ran out the clock.  Valiant effort by both sides.
SCHEDULE FOR OCTOBER 19-20:
League play continues in earnest this weekend, with all games being conference matchups from now until the end of the season.
The weekend kicks off with tonight's game between the Yale Bulldogs and the Fighting Quakers of Penn at Franklin Field in Philadelphia at 6:00 P.M. (all times are CDT), in a game to be televised on ESPNU.  The Quakers and the Bulldogs are among a group of four teams who are tied for third with one win and one loss.
On Saturday, the conference co-leading Princeton Tigers travel to Cambridge to take on the Harvard Crimson at 11:00 A.M.  Harvard was a pre-season favorite (along with Princeton) to prevail in the Ivy League this year, so this contest should provide the Tigers with their stiffest test yet.
The Big Red of Cornell travel to Providence to tangle with the Brown Bruins (12:00 P.M.).  The other conference co-leader, Dartmouth, journeys to upper Manhattan to meet the Columbia Lions, at 1:30.
Enjoy your football this weekend, now that there is a hint of autumn in the air in the Northeast.
Scouting
Each year, the Capitol Area Council of the Boy Scouts of America recognizes a member of the Austin community as its Distinguished Citizen Award Dinner.  The Distinguished Citizen Award is presented annually to individuals who share Scouting's belief in leadership, determination, and values, and have contributed significantly to the growth and vitality of Central Texas.  Funds raised by the event support the delivery of youth leadership training and character development programs to more than 22,000 youth across 15 Central Texas counties, including nearly 7,000 "at-risk" boys and girls.  Past recipients include the late Frank Denius, DeLoss Dodds, Bill Powers, Gary Farmer (JHT Crew Man and official venison sausage supplier of the Juan Heisman Tailgate), Juan Heisman Tailgate friends and supporters Joe Holt and David Roche (in the early days, we used Roche's pit), and Admiral William H. McRaven, former Chancellor of The University of Texas System.
This year's Distinguished Citizen is our own Tim Crowley, part of the tailgate crew before it was a crew, and a longtime regular on the JHT Early Crew.  Most of us will be at the Hilton Austin on November 14 to salute and honor Tim, a great Longhorn, community leader, and friend.  You can too, but if you can't attend, please consider a donation:
JDRF
Reminder for friends in Virginia and the DC area:  the JDRF Hope Gala, is October 27!
https://jdrf-capitol.ejoinme.org/MyEvents/DCHopeGala2018/tabid/982420/Default.aspx
God Bless Texas.
Tim Taylor
Tailgating before Home Football Games
The Juan Heisman Tailgate 
Lot 38, East of Sid Richardson Hall.
HOOK EM HORNS!!
© Timothy C. Taylor, Sr. 2018.  All Rights Reserved (as to original material).
On Twitter:  @tctayloratx
On LinkedIn:  www.linkedin.com/in/tctatx
On Instagram:  @tctayloratx
On Facebook:  www.Facebook.com/Tim.C.Taylor
and:  www.Facebook.com/Juan.Heisman