Texas Longhorns
Well friends, quite a bit has happened since December 29, 2020.  Much more than I anticipated when I hit send on my Alamo Bowl newsletter, starting of course with the dismissal of Tom Herman early on Saturday, January 2, 2021.
This newsletter is about a whole lot more than Herman's firing and Sark's hiring.  Some on that below, and a look back at that 55-23 dismantling of the Buffaloes.  But first, a look at my other two favorite sports – basketball and baseball.
Texas Longhorns Basketball:  Big XII Conference Champions
Coach Shaka Smart and his Longhorns had a great season, in spite of Covid-19 and all the havoc it wreaked on the Horns' season and that of so many teams.  Texas finished the regular season with a record of 17-7, 12-6 in the Big XII.  The Horns had everything fall their way in the Big XII Tournament, as they overcame Texas Tech in the quarterfinals, got a pass in the semifinals as the Jayhawks were forced out with the virus, and then got to play Oklahoma State and Cade Cunningham for a third time, coming out on top 91-86 and claiming U.T.'s first ever Big XII Conference Championship.  Let that sink in – first ever.
The Horns are a 3-seed in the NCAA Tournament, and the first game is 8:50 p.m. C.D.T. Saturday night on Tru TV.  Before looking at March Madness, let's look at the four plus months of madness that preceded March.
It was one of the oddest years in college basketball in my memory – probably my lifetime.  As I noted in one of the football emails in early December (I think), there had already been over 400 NCAA games cancelled or postponed – and that was before anyone had started conference play.  As we watched the season progress, traditional powerhouses were sidelined, Gonzaga went wire to wire at Number 1 in the polls, Baylor stayed at the very top of the polls too, and the Big XII proved it was the best dang basketball conference in the country.  We will see how that plays out, as the final test for "best" is which conference gets the most teams deepest into the tournament and who is in the Final Four and who wins it all.  Suffice to say on that point, there are many pundits who have Baylor and Texas in the Final Four, and many with 3-4 Big XII teams in the Sweet 16.  Truthfully, as among the conferences, this is a contest between the two Bigs – the Big 10 and the Big XII.  Head and shoulders above everyone else this season, including the vaunted Atlantic Coast Conference.  The SEC showed strength, and they could get a couple of teams deep. It will be no surprise to anyone if the finals features Gonzaga and Baylor.
As for this Texas season, it was full of twists and turns, highs and lows.  That great pre-season which included winning the Maui Tournament with 69-67 victory over North Carolina.  A close loss at home to then No. 3 Villanova.
Our first Big 12 game with Baylor was postponed, and we opened with Oklahoma State at home, winning 77-74 (and getting to see Cade Cunningham, who scored 25 and dang near beat us).  Texas welcomed 2021 with a tremendous win over the No. 3 Kansas Jayhawks in Phog Allen Fieldhouse, 84-59, one of the worst beatings of KU ever, and I think the worst in the Bill Self era.  Texas followed that with 78-72 win over Iowa State, and then on January 9 a big 72-70 road win over West Virginia in Morgantown.  A really, really tough loss at home to No. 15 Texas Technical, 77-79.  The Horns rebounded at home with a 82-67 beatdown of K State, before that long pause due to Covid-19.  Games with Iowa State and Texas Christian postponed, Coach Smart in quarantine.  A tough 10 days, and Texas had to play the Land Thieves with almost no team practices (my recollection), losing 79-80.  Kentucky cancelled on us, as the Wildcats and most of the college bluebloods were suffering one of the worst years in history (at one point there was a tweet or quote that it had been since 1960 that a particular group of teams was out of the top 25, which included Kentucky, North Carolina, Duke, and Michigan State [and maybe UCLA – couldn't find it]).
The loss to the Thieves was followed with consecutive losses to No. 2 Baylor (by far the best team in the Big 12) 69-83, then that really tough loss in Stillwater to Oklahoma State, 67-75.  Wins over K State and Texas Christian seemed to right the ship.  Texas would lose to West Virginia in Austin 84-82, one of the hardest losses in a long time, as Texas blew a 19 point second half lead.  Texas would get a second season win over Kansas at the Erwin Center on February 23, 75-72 in overtime, sweeping the Jayhawks for the first time.  Chris Beard still had Shaka's number, and No. 18 Tech beat the Horns 68-59 in Lubbock on February 27, in what should have been the last game of the regular season.  But thanks to the virus, Texas had three games rescheduled, and the Horns went on the road:  81-67 over Iowa State in Ames, 69-65 over OU, and 76-64 over Texas Christian.
Four days later the Longhorns played Texas Tech in Kansas City, and this time we edged the Red Raiders 67-66 thanks to Matt Coleman (19 points) and Jericho Sims (10/11 double double).  The Championship Game win over Oklahoma State was special, as Texas prevailed 91-86, and overcame Cade Cunningham's 29 points with Matt Coleman's 30 points.  Jericho Sims had a career night, 21 points and 14 rebounds, and each of the Jones men dropped in 13 points.
So, Texas headed to Indiana to join all of the teams in the tournament.  Here is what I understand:  They went straight to Indianapolis from Kansas City.  Like all or most teams, the Longhorns have an entire floor of a hotel.  Each player has his own room.  All meals delivered.  A lot of lonely and isolated time this week. For all the players and coaches.  These kids – all of them – are enduring some tough times to play a game they love and have a shot at one shining moment.
So what do I think the Horns are going to do in the tournament?  Well, I am into entering bracket pools, and every single one I filled out this year has "TEXAS" as National Champions.  We have as good of a shot as anyone.  We could also get knocked out early. There is a lot of parity and there are a lot of variables and unknowns.  But I like our chances.  I believe when a wager was placed in Las Vegas on my behalf yesterday, Texas' odds of winning it all were 20-1.  Not bad.  We might make a run.  They are certainly a tough and mature team, led by a driven senior point guard (Coleman), and we have just won 5 in a row.  Win 5 more in a row, and we are playing on April 5 for a title.  I do think there are 7 or 8 teams (Texas included) who have a great shot at the finals:   Gonzaga, Baylor, Houston, Michigan, Illinois, Ohio State, Iowa, and maybe Alabama.
If all three guards can play well each game, and if we can get decent production from Sims and Kai Jones and if our glue guy, Brock Cunningham, plays well, we can beat anyone.  Anyone.  And it would sure be nice to cut down the nets for AJ1.
Texas finished ranked No. 9 in the final AP Top 25 Poll.
Texas Longhorn Baseball
The Texas baseball team is really playing well.  We started off the season with a disappointing trip to Arlington and the little tourney at Globe Life Field, dropping games to No. 7 Mississippi State, No. 8 Arkansas, and No. 6 Ole Miss.  Rough, but understandable.  The week before that road trip was the disastrous winter storm in Austin, and I don't think the team was able to practice.  And like most of us, they probably had trying week emotionally and mentally.  So write-off that weekend.
Texas came home and won 3 out of 4 over Brigham Young, including a 12-6 win and an 11-1 win.  Mid-week wins over Texas A&M Corpus Christi (12-1) and Texas State (10-3).
Texas took 2 out of 3 from the Cougars in Houston, a series win highlighted by Ty Madden's complete game shut out Friday night that featured 14 strikeouts.  Madden earned multiple conference and national awards for that performance.  Since the 11 inning 2-3 loss to Houston on March 6, Texas has won 6 in a row, including sweeping No. 12 South Carolina last weekend in Austin.
Now ranked No. 10, Texas heads up I-35 to Waco to play the Baylor Bears this weekend.  Baylor is good again, with a 12-4 record to match the Horns 12-5 record.
Official Preview:
https://texassports.com/news/2021/3/18/no-10-baseball-preview-at-baylor.aspx
Game Notes:
https://texassports.com/documents/2021/3/18/2021_3_19_BAYLOR.pdf
No. 32 Ty Madden will of course toe the rubber for Game 1.  Our Friday night starter is one of the best pitchers in the country, with a 2-1 record and a 1.33 ERA.  Our Saturday starter, No. 35 Tristan Stevens, is pitching well (1-1, 3.63 ERA).  No. 27 Kolby Kubichek gets the ball on Sunday, and he is likewise solid at 2-1 with a 2.50 ERA.
Our bullpen is good.  I really like No. 46 Palmer Wenzel, who has a 2-0 record with 6 appearances and 12 innings pitched, 0.00 ERA, 0.92 WHIP, and batting average against is .171.  No. 11 Tanner Witt has 7 appearances, 14.1 innings pitched, a 1-0 record, 1.88 ERA, and .214 B/AVG.  Lots more arms in there.
The really pleasant surprise is the hitting.  I am sure many have contributed to this turnaround and the better bats, but I have to believe one of the secrets is Troy Tulowitzki.

The team has .274 batting average, .803 OPS, 112 runs scored (that is good for 17 games), a .415 slugging percentage, and a .388 on base percentage.  An interesting stat:  Texas is 28-35 in stolen bases.  Our opponents are 9-14.
I am fortunate to be among those with tickets, and I am hopeful that with things getting better, there will be more tickets available.  If this team continues to improve, the ceiling is pretty darn high.  We will know a lot more after conference play gets going in earnest, as the Big XII is really good again.  In the Baseball America poll, Tech is No. 8, Texas No. 10, Texas Christian No. 24, and Oklahoma State No. 25.  (That Southeastern Conference is pretty good as usual, with Arkansas, Mississippi State, Vanderbilt, and Ole Miss taking the top 4 spots in the poll, Florida at 6, South Carolina at 12, Tennessee at 18, and Alabama at 22; that's absurd).
The Alamo Bowl: Texas 55, Colorado 23
"I feel good about this game, and I feel very confident Texas will win.  Longhorns 41, Buffaloes 24.  That may be conservative.  It is my nature.  Hook em."
That really was a fun game to watch.  So happy Sam Ehlinger got to finish with a W, and while I am sad he got hurt, it was great to see Casey Thompson and the great arm he has.  We have a good future.  The star of the game was, not surprisingly, Bijan Robinson, who ran for 183 yards, 1 score, and caught 2 passes, both for touchdowns.
Some highlights:
ESPN (10:04):
From Wheels (14:14):
Speaking of Sam Ehlinger, I can't say "Thank you Sam" enough.  You were a real rock and anchor for many of us through some turbulent years.  Your steadfast commitment to The University of Texas, to your teammates, and to the pursuit of excellence is why you are and will go down in history as one of the greatest quarterbacks to play at Texas, joining (in my lifetime) James Street, Vince Young, and Colt McCoy.  You represented The University well, and you represented your family well.
A cool thread from Kyle Umlang on Sam's stats:
11 Sam Ehlinger stats for #11#ThisIsTexas #HookEm#QB1 #HAMEhlinger #11for11 🤘🏽 pic.twitter.com/22hSOtYqm2

— Kyle Umlang (@kyleumlang) January 4, 2021
Also, do y'all know cool our media team is?  Follow Matt Lange and Derek Ochoa and those folks.  Check this out:
Behind the music: sound design breakdown of Joseph Ossai's 2020 All-American video 🔊🔊🔊@joseph_ossai @TexasFootball pic.twitter.com/TwsxnUtj1E

— Derek Ochoa (@DerekOchoa25) January 9, 2021
Final 2020 Rankings
AP Top 25:  Alabama, The Ohio State University™, Clemson, Texas Agricultural & Mechanical, Notre Dame, OU, Georgia, Cincinnati, Iowa State, Northwestern.  North Carolina at No. 18, Texas at No. 19, Oklahoma State at No. 20.
Coaches Poll:  Roll Tide, The Ohio State University™, Clemson, Texas Agricultural & Mechanical, L'Université de Notre Dame du Lac, Land Thieves, UGA, Cinci, Cyclones, and Northwestern.  Tarheels at No. 17, Okie A&M at 19, and the Texas Longhorns at No. 20.
If you are curious where the rest finished, including such teams as Louisiana and Liberty:
https://www.espn.com/college-football/rankings
Texas Longhorns Head Football Coach Steve Sarkisian
 ALL GAS, NO BRAKES
Many have asked my thoughts on the hiring of Stephen Ambrose Sarkisian.  Easy answer: I am really, really pleased.  Lots of reasons.
He has coached under the best college football coach ever, Nick Saban.  He is a really good football coach.  He has made some great hires.  He knows what it is like to coach at a "blue blood" program.
The main reason:  He is a humble man.
Sarkisian comes to Texas with a solid resume as a football coach and a proven success as an offensive guru.  His offenses at Alabama for Saban were prolific.  His road to one of the best coaching jobs in America was not smooth and straight.  The curves and bumps along the way are well-documented.  It has not been easy for Steve Sarkisian.  But on this rough road, I sense that Steve Sarkisian learned a lot about coaching football.  But more importantly, I sense he learned a whole lot more about himself.
He was a quarterback at Brigham Young, where he played for the legend LaVell Edwards and the offensive coordinator was a guy named Norm Chow.  During the 1996 season, Sarkisian passed for more than 4,000 yards, led the nation in passing efficiency (173.6, the fourth-best mark in NCAA history at the time), and threw 33 touchdowns.  He led Brigham Young to a 14-1 record (still the most wins in school history), the WAC championship, and a win in the 1997 Cotton Bowl (19-15 over Kansas State; Sark was co-MVP with Kevin Lockett from KSU and Shay Muirbrook from BYU). He was the WAC Offensive Player of the Year in 1996 and earned second team All-America honors.
His full official bio is worth your time.
https://texassports.com/sports/football/roster/coaches/steve-sarkisian/2919
A quote from Coach Sarkisian:  "We have to develop trust in our relationships, and trust takes time and it takes consistency. I'm not expecting immediate buy-in. If we get it, that's great. If not, we will get there. We are a relationship-based operation, and it starts with me."
I found a great article on Coach Sark in the Deseret News (December 18, 2020), linked below. This quote really resonated with me:
He has achieved his dream, squandered it, and realized that life goes on. He has learned that setback is not the same as defeat. Fundamentally, he understands how lucky he is that his good fortune does not depend on which way the ball bounces on Saturday.
https://www.deseret.com/indepth/2020/12/18/21578930/steve-sarkisian-byu-cougars-lavell-edwards-alabama-crimson-tide-nick-saban-college-football
His staff hiring has been amazing.
From Brian Davis of the Austin American Statesman:
Sark on stealing so many guys away from Alabama: "To come to the University of Texas at this time, at the forefront of something like this, was very enticing to some of these guys to come and want to be a part of."
Personally, I think there was some sort of siren call to a bunch of guys who want to be in on the ground floor of something special.  A chance to be part of the coaching team that takes the Texas Longhorns football team back to the Promised Land.
A few notes on the staff.  I will start with our Defensive Coordinator, Pete Kwiatkowski.  He is known as Coach PK, and I can assure you next fall when I am writing at 2:30 in the morning I am not going to try and type out Kwiatkowski.  Pete was an All-American Defensive Lineman for the Boise State Broncos (1987), and he would be back there as a coach and Defensive Coordinator for several years, building a great defense.  He went from Boise to Washington, where his defenses were among the best in the country.  He also coaches up talent that gets drafted.  Important.  This may be the best hire of them all.  He is also Outside Linebackers Coach.
Kyle Flood is the Offensive Coordinator and Offensive Line coach.  He spent two years at Alabama with Saban and Sark, and has head coaching experience (Rutgers).  Coaching the offensive line at Alabama alongside Sarkisian, his 2020 squad won the Joe Moore Award as the nation's top unit.  If you have watched the Crimson Tide offense the last couple of years, you know we have hired a great OC.  College player?  Yep:  "A standout offensive lineman, he earned First Team All-Liberty Conference Honors as a junior and was named team captain as a senior." [From his bio in the Iona Hall of Fame.]
So, notice something about our two coordinators?  Both played on the line, both have coached the line, and I am betting big time that we are going to see some really, really good football in Austin again.
The rest of our staff:
Co-Defensive Coordinator & Inside Linebackers:  Jeff Choate.  Played linebacker at Montana Western.  Coached at Boise State, coming to Austin from Montana State, where he has been Head Coach for four seasons.
Defensive Passing Game Coordinator and Secondary:  Terry Joseph.  Coming to Austin from South Bend, Indiana.  Joseph was DB coach at Notre Dame last 3 years, DPGC for last 2.  Joseph earned his bachelor's degree in marketing/business administration from Northwestern State in 1996. He was a baseball standout at the school, and is one of only 12 players in Southland Conference history to earn first-team all-conference honors three straight seasons.  He was drafted in the 13th round of the MLB draft by the Chicago Cubs, and spent four seasons in the minors with the Cubs and Padres.
Defensive Line:  Bo Davis.  Coach Davis returns to Austin, where he coached defensive tackles under Mack Brown from 2011-2013.  He left Austin for Alabama, where he spent a couple of seasons, before a year with the Jackson Jaguars, a year with the UTSA Roadrunners, and three years with the Detroit Lions.  Davis played nose guard for Louisiana State, earning All-SEC honors in 1992.
Safeties:  Blake Gideon.  Yes, our Blake Gideon.  "Ours" both in terms of Longhorns, where he started all 52 games during his career at safety with Texas, which represents the second-most consecutive starts on school record, and "ours" as from here – Leander.  Blake has ascended quickly as a respected football coach, and he comes to Austin from Oxford, Mississippi, where he was Ole Miss special teams coordinator.  Happy to have the kid back.  Good tweet from Gideon here:
The ORIGINAL original…. pic.twitter.com/kORp5uyTGg

— Blake Gideon (@Coach_Gideon) January 30, 2021
Assistant Head Coach/Special Teams Coordinator/Tight Ends:  Jeff Banks.  Banks comes to Texas after completing three seasons on Nick Saban's staff at Alabama working alongside Steve Sarkisian as the special teams coordinator and tight ends coach during which time the Crimson Tide posted a 38-3 record, playing for two National Championships and winning one in 2020.  Before working for Saban in Tuscaloosa, Banks spent five years in College Station, coaching tight ends and special teams.  He was at UTEP from 2004-2012.  Good, good Texas roots.  As a player, Banks was a two-time all-conference punter for Washington State, posting a 42.8-yard average as a junior and 43.4-yard average as a senior. In his final season, he led the Pac-10 and was No. 15 nationally while helping the Cougars go 10-2 and earn an invitation to the Rose Bowl. Banks was also selected to participate in the Senior Bowl.
Offensive Run Game Coordinator/Running Backs:  Stan Drayton.  This was a really good "keep" by Sarkisian:  Drayton is a damn good football coach and a good man who is very well-liked by the players.  Y'all know what he's done the last 5 years here, including D'Onta Foreman, Keaontay Ingram, the incredibly successful transition of Roschon Johnson from quarterback to running back, and of course Bijan Robinson.  A three-time first-team All-America selection as a running back at Allegheny, Drayton is second in the school's record book for rushing (3,272 yards), rushing touchdowns (54) and scoring (336 points) and was a part of the 1990 Division III national championship team. He was also a two-time All-American in track, competing in the 100 and 200 meter dashes. A 1993 graduate with a bachelor's degree in English, Drayton was inducted into the Allegheny College Athletic Hall of Fame in 2005.
Quarterbacks:  AJ Milwee.  This is intriguing.  Milwee has been an analyst at Alabama for 2 years.  Before that, seven seasons at Akron, six as Offensive Coordinator for the Zips.  AJ played for North Alabama.  As quarterback for the Lions, he led them to 33-5 record during the 2006-08 seasons.  He set all-time school records for career passing yards (8,436), pass completions (677), passing attempts (1,030), touchdown passes (73), and total offense yards (9,401). He earned honorable mention All-America honors as a senior. At UNA, he was a two-time finalist for the Harlon Hill Trophy, awarded annually to the nation's top player at the NCAA Division-II level.
Wide Receivers:  Andre Coleman.  Another good keep.  We have had some really good guys catching the ball for Sam Ehlinger.  A good and deep squad, thanks to Coleman.  Coleman was a star at Kansas State.   All-America and All-Big Eight in 1993.  In his career with the Wildcats (1990-93):  3,443 all-purpose yards, including 1,556 receiving yards and 12 touchdowns on 95 receptions, and 1,458 kickoff-return yards on 60 returns.  He is still in Kansas State's top 10 in 12 offensive or return categories, including ranking first in both single-game all-purpose yards per play (27.0 vs. Missouri in 1993) and career all-purpose yards per play (18.2), third in career kickoff return attempts and a fourth in kickoff return yards.
If you want to read more, the official bios for all the coaches:
https://texassports.com/sports/2013/7/26/FB_0726131126.aspx
Want to follow the coaches on Twitter?
College Football Playoffs
I think in the final analysis, it is hard to argue that the best team in 2020 won the National Championship.  Saban and the Tide are a machine.  They cruised over the Irish 31-14 on New Year's Day, then dominated the Buckeyes 52-24 to win it all.  And that Ohio State team had spanked Dabo and Clemson 49-28.  I thought Clemson was easily the second best team in the country.  So, one might ask, "Why do we need to change anything?  The best team won."  Well, maybe.  But not all the best teams got a chance to play for that trophy.
As we open March Madness (the play-in games today were capped by a UCLA & Michigan State overtime thriller, as the Bruins won 86-80), we are about to witness the biggest and best tournament in college sports.  In theory, No. 15 seed Grand Canyon could meet No. 1 seed Baylor for a chance to play in the finals.  In theory, we could end up with a Final Four comprised of Southern Cal, Arkansas, Tennessee, and Texas.  Or with Oklahoma, Baylor, West Virginia, and Texas.  Or UC Santa Barbara, Colgate, Loyola Chicago, and St. Bonaventure.  Do I think any of those are possible?  Actually, the all Big XII Final Four isn't crazy, but it won't happen.  But it could.  And a myriad of other intriguing games can and will be played between today and April 5.  There is no such drama to the College Football Postseason in the FBS.
So, I reiterate my call for at least an 8 team playoff, as a starting place for a bigger and better college football post-season.
All Power 5 conference champions are in, Group of 5 schools have a shot at playing, and what better reward for a great regular season and being one of the Top 4 seeds than to host a home game in December at your house?  Play the quarterfinals two weeks after the conference championship games and then you still have a couple of weeks before the national semifinals.  This year the first round games would have been in:  Tuscaloosa (Alabama vs. Cincinnati), Clemson (Clemson vs. Florida), Columbus (Buckeyes vs. Land Thieves), and South Bend (Notre Dame vs. Texas Agricultural & Mechanical).  That would have been four amazing college football games.
Including this again, for those who might not have had time to take a look at it over the holidays.  These are recommendations of the Knight Commission on Intercollegiate Athletics.  Hope for an expanded playoff under the auspices of the National College Football Association.
https://www.knightcommission.org/2020/12/knight-commission-recommends-a-new-governing-structure-for-the-sport-of-fbs-football/
Geography
Texas has more teams in the NCAA Basketball Tournament than any other state:  Texas, Baylor, Texas Tech, Houston, North Texas, Abilene Christian, and Texas Southern (who won their play-in game and will face Michigan).  We are a basketball state!
Music: The Eyes of Texas
President Jay Hartzell appointed a stellar committee to examine The Eyes of Texas.
This is the link to the introduction to the report, which includes several videos worth your time.
https://eyesoftexas.utexas.edu/
You can download the full report here:
https://utexas.app.box.com/s/5o2a1klri1htyhq3mziyxdjgxvegprjj
I think this report is worth reading not only of its importance in understanding the Eyes of Texas and its history, but also because it is an extraordinary history of The University.  I commend Committee Chair Richard Reddick and all of that committee for their excellent work.
The report includes this gem of a rendition of the Eyes, from the 2000 Graduation, led by one of the Precursors, Barbara Smith Conrad, who is also one of the greatest alumna of The University.
Music: The Weight
I have included this before and will again.
I think we have all had some weight taken off in the last few weeks.  If you have received your vaccine, I think you know what I am talking about.
Jim Nicar
1892: At The University of Texas, baseball was first played in the northwest corner of the Forty Acres, where the Texas Union is today. In the background on the left, the house is where the University Methodist Church now stands, while the fence encircled the campus to keep out the town cows.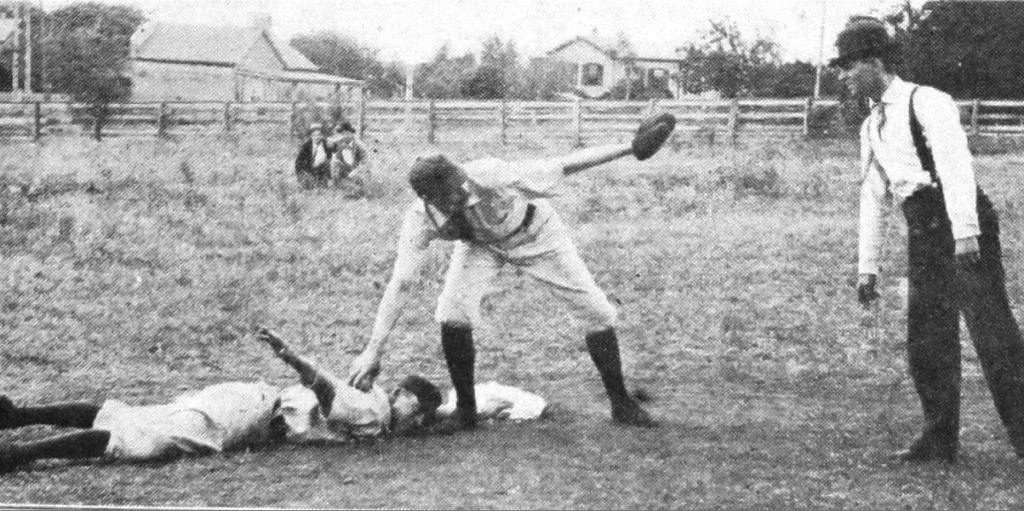 1911:  The University of Texas:  What the campus that might have been. Architect Cass Gilbert – Battle and Sutton Halls – also proposed a master plan for the Forty Acres. Look close. The "new" Main Building looks very similar to the U.S. Supreme Court Building – which Gilbert designed in the 1930s.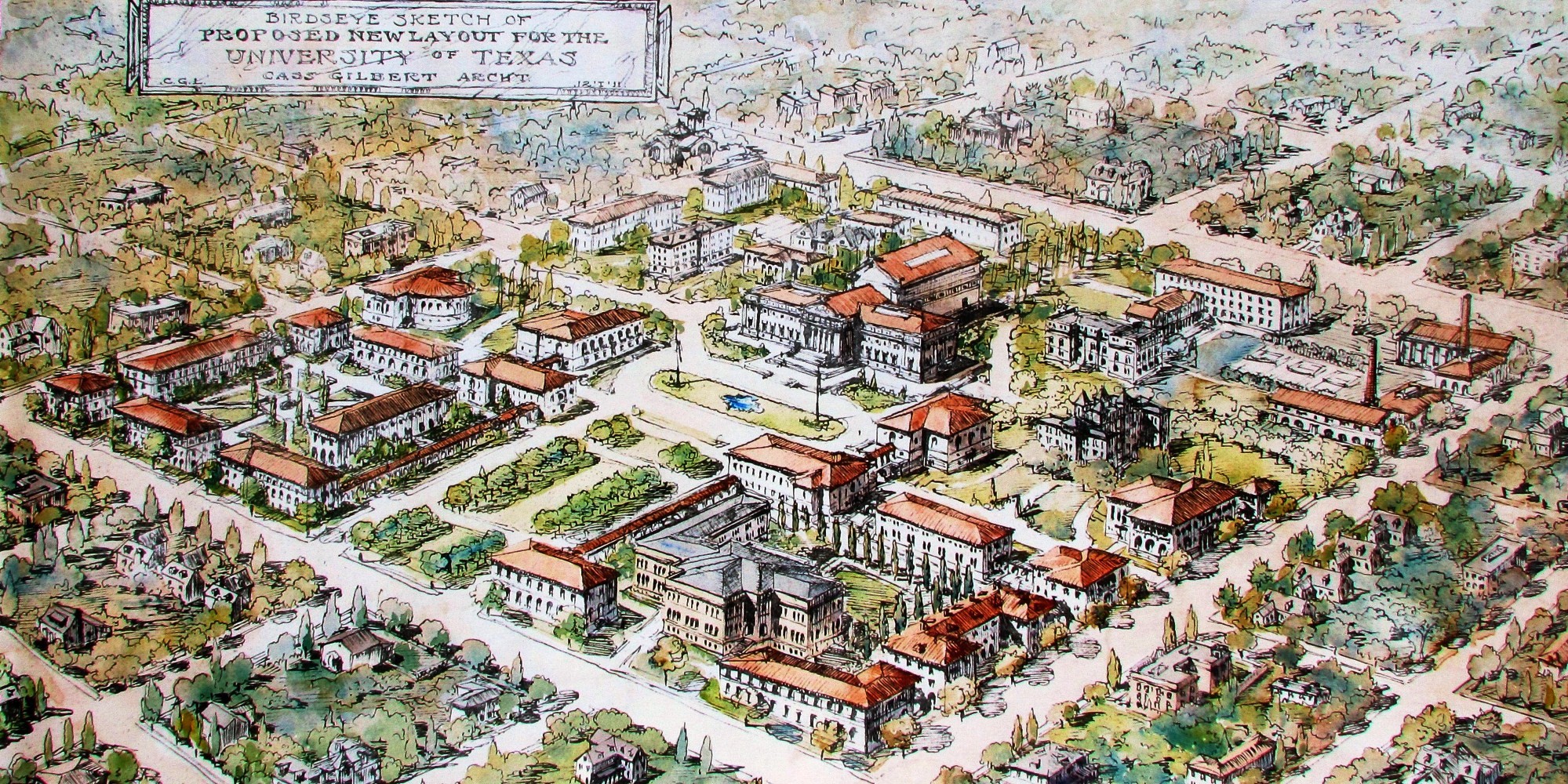 1936: Part of The University of Texas campus seen from above. That's the Texas Memorial Stadium at top, with the Brackenridge-Roberts-Prather residence halls and Gregory Gym at upper right. UT Baseball's Clark Field no. 2, with its infamous "Billy Goat Hill" in the outfield at bottom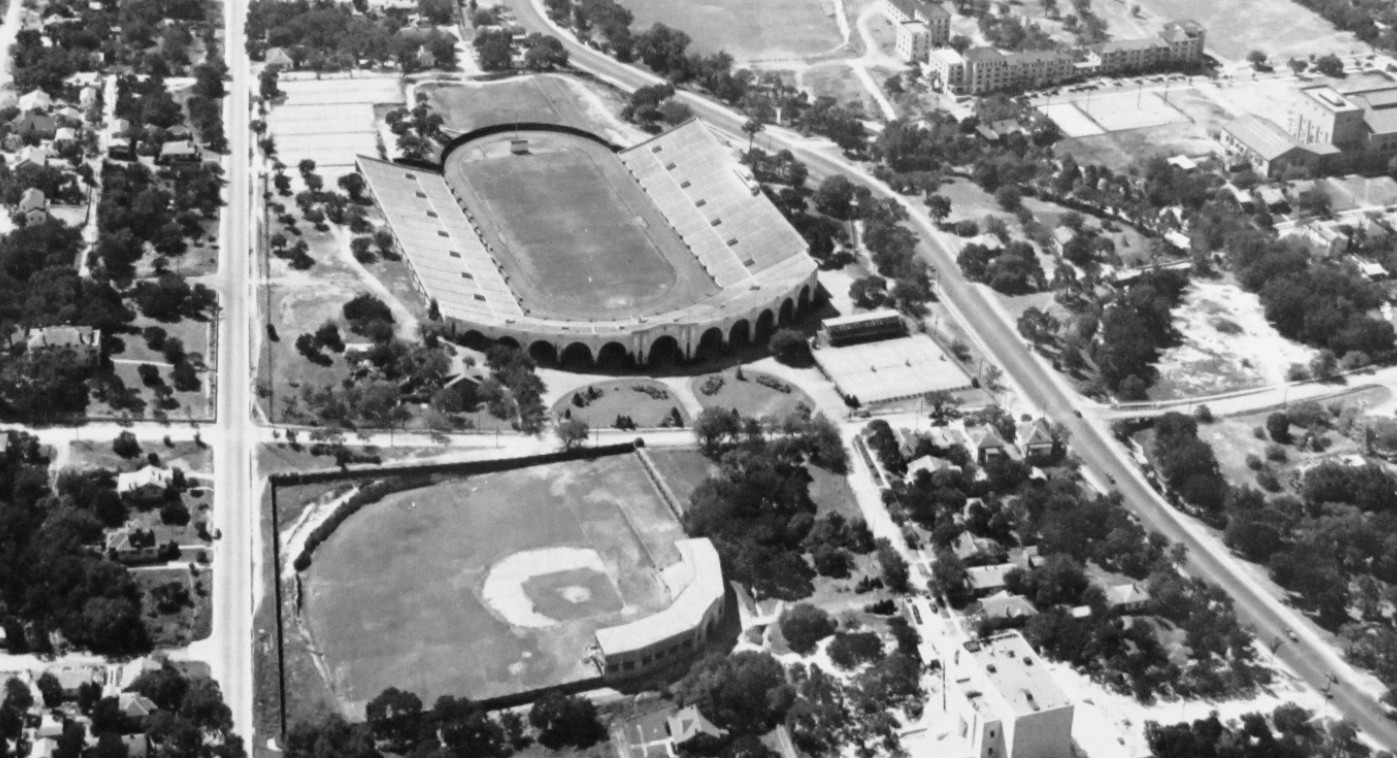 1972: An afternoon at The University as the Longhorns play baseball at Clark Field no. 2, where the Bass Concert Hall stands today. Look close – that is the newly-opened LBJ Library at upper left and the stadium off to the right. The baseball team would move to Disch-Falk Field in 1975.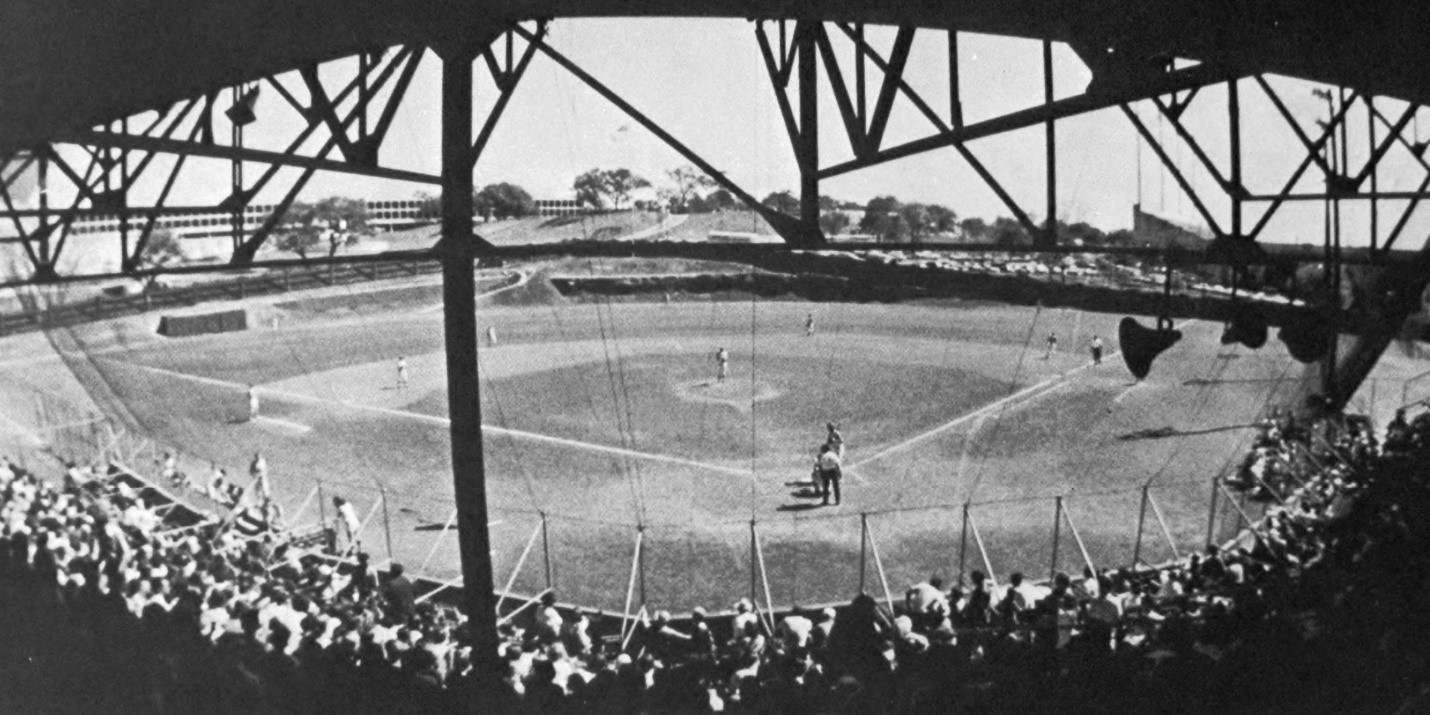 Thanks Jim.  More at: https://jimnicar.com/
Check this tweet out, with all of the home courts for Texas Basketball:
Home courts for @UTAustin basketball: outdoors at the original Clark Field (1906 – 1916), a temporary pinewood gym at 24th and Speedway (1917 – 1930), Gregory Gym (1930 – 1977), Frank Erwin Center (1977 – present), and the Moody Arena (starting 2022). pic.twitter.com/o7mevt51zg

— Jim Nicar (@JimNicar) February 24, 2021
Gratitude
I have written often about gratitude.  On Friday March 12, around 10:00 that morning, I walked into Gregory Gym.  Not to see a Texas team play a sport, but to get a shot in my left arm.  As the quick and efficient process began, I was impressed by the incredible organization of the undertaking, the hundreds of folks from all parts of The University there – led by Dell Med, but students and professors and staff from many other schools, including Nursing and Pharmacy.  By 10:25 or so I was sitting down and rolling up my sleeve (a burnt orange Texas shirt, of course – it was a Friday).  Less than 10 seconds later it was painlessly over, and I took my card and sat down for the prescribed 15 minutes.  10 seconds in a way, but a year in another.  As I sat in that gym with about 150 other Texans, I was overwhelmed.  The weight of one year – exactly one year – was lifted from my shoulders.  One year ago, Friday March 13, was the last day our office was officially open.  Like thousands of others, we closed and deployed remotely.  My routine of getting up and going to my law office in downtown Austin, a routine in place since September of 1985, was disrupted.  That day marked the beginning of year we will never forget.  Hundreds of thousands of lives lost, millions of jobs lost and lives disrupted, no telling how many people with long term health issues (physical and mental), and I can't even fathom the impact on so many children and teens.
We all know what the year was like.  I was far more fortunate than most.  No one in my immediate family got sick, to our knowledge.  Tragically, my uncle Bob Boldt was taken by the virus. He was a good man and one of the most loyal Fighting Texas Aggies I have ever known.  But given the suffering so many families suffered, ours was minor.  In truth, my family has been blessed in so many ways.
But that moment in Gregory Gym, a tidal wave of relief was followed with a flood of hope and gratitude.
When I was checking in they gave me my appointment for my second shot.  I didn't pay much attention, as I was excited to be getting that first shot.  He handed me the card with "April 2, 2021" on it.
As I sat there, I looked harder at that date.  Good Friday.
A photo from Shane Ware.  Follow him on Twitter – @shanew21 and Instagram @shanewarephoto.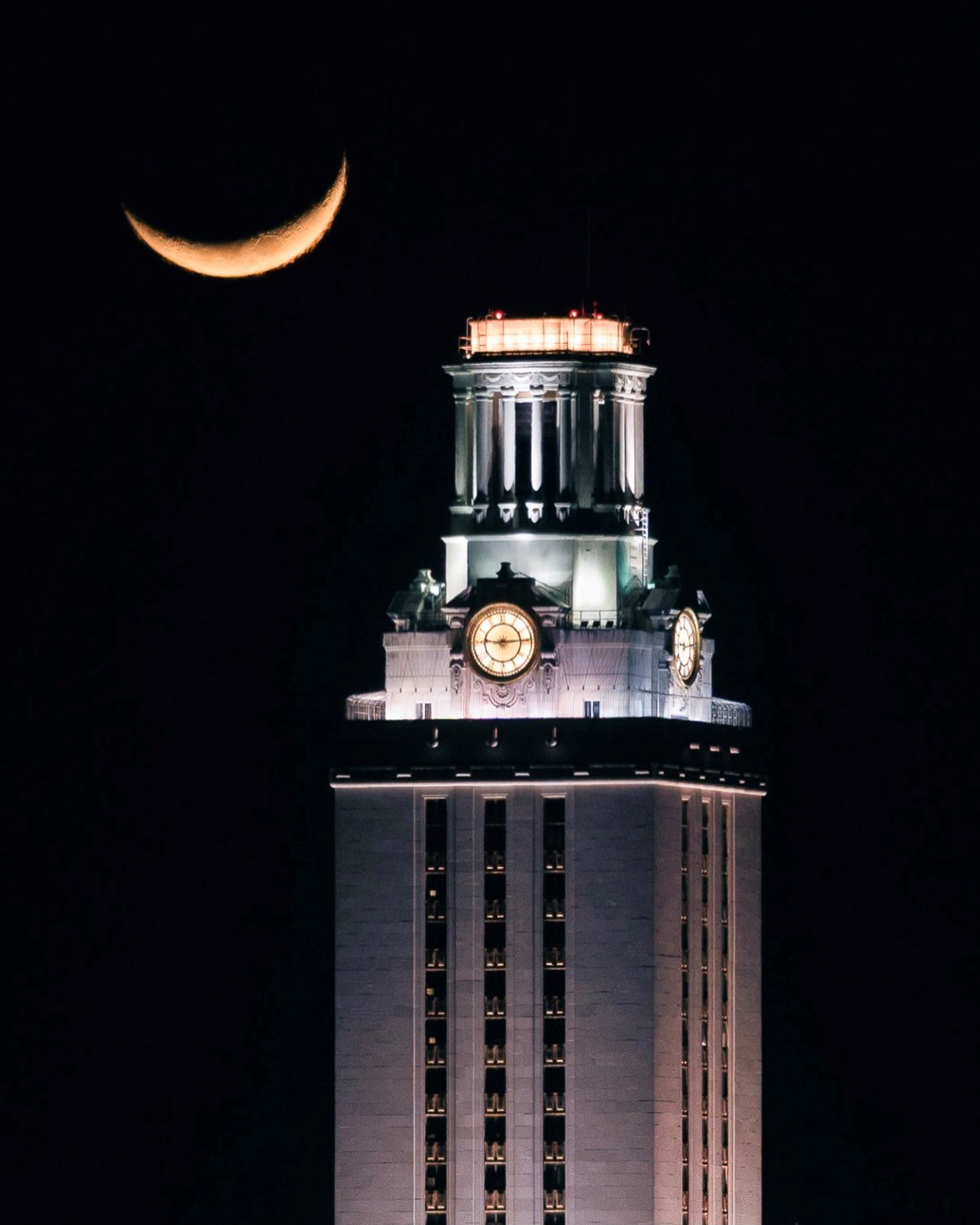 God Bless Texas
God Bless America
Tim Taylor
Tailgating before Home Football Games
The Juan Heisman Tailgate
Lot 38, East of Sid Richardson Hall.
HOOK EM HORNS!!
© Timothy C. Taylor, Sr. 2021.  All Rights Reserved (as to original material).
This week's featured photo was taken in Downtown Austin on March 14, 2021, after the Longhorns had won the Big XII Basketball Championship and swept South Carolina in baseball.
On Twitter:  @tctayloratx
On LinkedIn:  www.linkedin.com/in/tctatx
On Instagram:  @tctayloratx
On Facebook:  www.Facebook.com/Tim.C.Taylor
and:  www.Facebook.com/Juan.Heisman
You can contact me by mail:

Tim Taylor
P.O. Box 5371
Austin, Texas  78763-5371