Welcome to the 129th Season of Texas Longhorns Football!
Traditions
My standard opening for the season.  Three of my favorite UT videos.  These are pretty old, but I spend time each summer looking at various videos, and I can't find any that I love more than these.  The first is a campus fly-over set to the Eyes of Texas.  The other two are among my favorites from the "What Starts Here Changes the World" series, narrated by the legendary Texas Ex Walter Cronkite.
Would be great to see some of these What Starts Here videos remade in HD with the new Austin skyline.  A lot has changed.
Another good one and highly recommended:
Special shout out to one of my favorite Texas Longhorns, Michael Shaw, who makes an appearance at the 1:07 mark.
https://news.utexas.edu/2019/02/06/directing-positivity-michael-shaw-connects-the-campus/
This one may get you ready too:
And last night's gem from the creative media geniuses at The University.
All Gas. No Brakes. Horns Up. 🤘#TrailerThursday pic.twitter.com/WUsJXIBQ7F

— Texas Football (@TexasFootball) September 3, 2021
Ragin' Cajuns vs. Longhorns
Texas kicks off the 2021 season at 3:30 p.m. this Saturday at Darrell K Royal – Texas Memorial Stadium, welcoming the Ragin' Cajuns from the University of Louisiana at Lafayette to Austin.  Yes, they like to be called University of Louisiana, but it is ULaLa.  Texas is ranked No. 21 in the AP Top 25 and No. 19 in the Coaches Poll.  UL comes in ranked No. 23 in both the AP and the Coaches.  The game will be broadcast nationally on FOX with Tim Brando and Spencer Tillman.  And the game can be heard around the world on the Longhorn IMG Radio Network, with Craig Way handling the play by play and analysis and commentary from Roger Wallace.  Craig and Roger are joined by Will Matthews, who is taking over the sideline duties from my friend Quan Cosby.  For the younger readers, Will played fullback for Texas from 2001-2004.  The Longhorn IMG Radio Network also broadcasts all Longhorns games in Spanish, with Dr. Rubén Pizarro-Silva and Jesus Mendoza.
Texas has played the Ragin' Cajuns twice before, in 2000, after they changed from University of Southwestern Louisiana to ULaLa, defeating the Cajuns in Austin 52-10.  Coincidentally and ironically, in 2005, right after Hurricane Katrina, the Cajuns were our guests, and Texas opened its national championship run with a 60-3 win over ULaLa.
Speaking of 2005, if you haven't watched the documentary on Longhorn Network – 05 – I highly recommend it.  Produced by Nick Hetherington, it is a great and fresh look at that amazing season.  Well done Nick.
A couple of months ago, Texas was a 16.5 point favorite.  Late Thursday night, Texas was favored by 9.  The over/under is 58.  This will be one Texas' toughest openers in decades, although some will point to the 2016 game with then No. 10 Notre Dame that ended with a double overtime 50-47 win.  Yes, that was on paper a tough match-up, but Notre Dame would go 4-8 that season.  I don't think the Ragin' Cajuns are not paper tigers.
Don't forget, the Ragin' Cajuns are the team that went to Ames, Iowa last September to open the 2020 season and punched the Cyclones in the mouth, 31-14.  More on the Ragin' Cajuns and the game below.
TEXit & OUt:  Texas and Oklahoma to Join the Southeastern Conference
The biggest off-season news in college football was the announcement that Texas and Oklahoma are leaving the Big 12 to join the SEC.  The Longhorns and the Land Thieves are two of the most powerful brands in college football.  Texas is fourth in all-time wins (923) and Oklahoma is sixth (917, tied with Yale, who will not be joining the SEC).  Alabama is third with 929 wins.  Ohio State is second, 931 wins.  Michigan leads with 964.  Tennessee is 10th with 849 wins.  And worth nothing that Georgia is 11th with 839, Louisiana State is 12th with 817, and Auburn is 13th with 782.  More on the $EC and our future below.
Texas Longhorns Basketball
Before football, something to make you feel good about Texas.  Coach Chris Beard took the Texas basketball team by to meet and see Coach Leon Black and his family.  Coach Black was at Texas from 1967 to 1976.  He has been dealing with some tough health issues, and this just makes me so happy.  I know it meant so much to Coach Black and his wife and his son Jason.
Honored to have our team be in the presence of Coach Black and his family this weekend 🤘#UniteTheFamily pic.twitter.com/8CvwaaJqdt

— Texas Men's Basketball (@TexasMBB) August 29, 2021
September
One of the greatest R&B songs ever performed or recorded, from one of the greatest R&B bands, Earth, Wind & Fire.  Looking forward to listening to the Elements at the tailgate.
Administrative Notes
I continue to use my antiquated tradition of sending this email manually.  Usually sometime after midnight on Friday morning, I start the process of emailing.  I make mistakes sometimes, so if you don't get the email one week, ping me.  If you want me to add a different address for you, let me know.  Yes, some of you get this more than once.  Sorry.  If you want me to add any friends or family, let me know.
Second, and importantly, the views expressed in my emails are mine alone, and not that of my employer, Jackson Walker LLP, any of my law partners, or of any other organization with which I am affiliated.  If you want to unsubscribe, email me, and I will do my best to find you in the morass of email distribution lists and delete you.  No promises.
Finally, a request for feedback.  Do you read and care about my previews of this week's games and recap of last week's scores?  I enjoy doing both, but it takes a lot of time.  I am thinking of dropping last week's scores, except maybe conference games.  Let me know what you think.
Louisiana Ragin' Cajuns vs. Texas Longhorns
So much excitement and anticipation surround a new coach's first game.  I am filled with both, but I add to that hope – hope that Texas wins, of course, but also hope that this is the "last first game" for a long time.  I hope this starts at least a 10-12 year run of sustained success and stability.  From when I was born until I was out of law school, we had two coaches: Coach Royal and the late Fred Akers.  In the next decade, two coaches, McWilliams and Mackovic.  Mack Brown brought us back and was here 15 years.  Charlie Strong came in 2014, so this is our third "first game" in 8 years.  Too much.  But back to the match-up.
Official Preview:
https://texassports.com/news/2021/8/30/no-21-19-football-preview-no-23-23-louisiana.aspx
Game Notes:
https://texassports.com/documents/2021/8/31/01_Louisiana.pdf
 Texas Depth Chart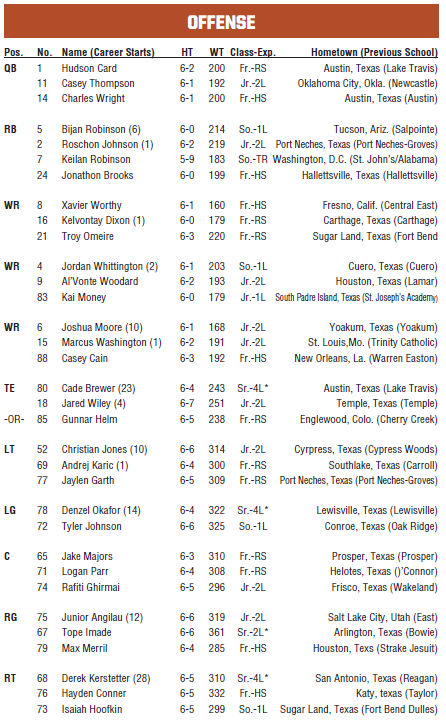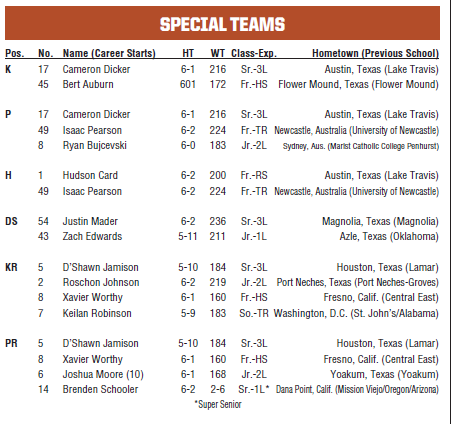 Lots to unpack on the depth charts, more than I have time for.  And I ran out of time to do a deep dive at the positions and this year's team.  So I will just run down some thoughts based on the depth charts.  Note that one little asterisk – * Super Senior.  These are guys who get a second senior season because of covid.
Offensive line.  We are 3 deep at 4 out of 5 positions, 2 deep at left guard, and that's without anyone getting listed twice (e.g., Kerstetter backing up at center).  Also note that we have 3 super seniors, including Tope Imade who is listed behind Angilau at right guard.  This may be one of the better OL squads we have had in a while, and I am betting Kyle Flood has his men ready.
Quarterback.  Taking the reins from a legend and beloved leader like Sam Ehlinger is not easy.  But we have the guys who can do it.  Yes, Hudson Card is starting this week, but it was very clear he is announced as this week's starter, and Casey Thompson will be on call and can compete next week to start at Arkansas.  Shout out to Austin High Maroon Charles Wright landing at QB3.  Attwayatogo.
Wide Receiver.  Xavier Worthy is a true freshman.  He is listed at 6-1 and 160.  He is probably 6-1 in long cleats and 160 in pads.  But he is so good he's starting Saturday.  He's ahead of Dixon who started one game last year and played.  Can't wait.  Joshua Moore is the experienced best guy back I think, and I expect big plays and touchdowns.  I pray Jordan Whittington stays healthy for a season.  If he does, he can make magic happen.  Not as deep or big as we have been in the past – no one jumps out on September 1 like stars of the past – Jordan Shipley, Quan Cosby, Herkie Walls, Collin Johnson, Devin Duvernay, Johnny Lam Jones, Lovell Pinkney, Roy Williams, Limas Sweed, Kwame Cavil.  But I bet next August we will be talking about some 2022 Longhorn receivers in the same breath.
Tight End.  I have made no secret about my appreciation of great tight ends and my opinion of the important and positive impact they can have on offense when used well.  Been awhile.  When Pat Fitzgerald and David Thomas and Jermichael Finley come to mind first, then you get it.  I think Finley's last year was 2007, Thomas was on the 2005 National Championship team, and my friend Pat Fitzgerald played in the mid 1990's.  But we have some horses this year. Cade Brewer is back as a Super Senior and 4-year letterman.  Jared Wiley is 6-7 and 251 and fast.  Cedric Golden was effusive when speaking of Wiley's talent and skills.  Gunnar Helm is "or" with Wiley, and Ja'Tavion Sanders, freshman from Denton Ryan, isn't even on the 3 deep.  Golden thinks Sanders will end up at edge because he is an athletic freak and beast.  I just want to see him on the field.
Running Back.  Best for last. Bijan Robinson.  If he stays healthy, he will graduate from the University of Texas (or maybe just matriculate to the NFL) with some serious hardware, maybe the Heisman, and will be a one name Longhorn.  Earl.  Ricky.  Bijan.  Over 700 yards last year, and he only started 6 games.  Roschon Johnson may be one of my favorite players on the Texas team, more for his commitment to team than his obvious skills and athleticism.  In these portal days, a lot of kids put in his position a couple of years ago would have punched the button and left.  Johnson accepted the request to move to running back because his team needed him.  Now, he is one of the keys to our success.  He won't get as many carries as he might have if Herman was back, because Sark is going to feed the big dog.  Bijan will get 20-25 carries a game, which means a lot fewer for RoJo.  But he's a Longhorn.  Keilan Robinson is the transfer from Alabama, small (5-9, 183) and good.  Jonathon Brooks is a true freshman – he gained  3,849 yards from scrimmage and scored 65 offensive TD's (70 total) as a senior; helped Hallettsville to a 13-3 record and a Texas 3A D-I state runner-up finish.  He also has the potential to be a next Great Texas Running Back.
Defense – look at last year's stats below, and you will immediately note that one category that jumps out and screams for immediate improvement is pass defense.  Texas has not been good for a while.  So I am praying Coach PK and his guys have us on the up-tick.  Our defensive line is so stacked, probably the best unit heading into the start of the season.
My favorite guy on defense is Keondre Coburn.  How can a kid nicknamed "Snacks" not be my favorite?  Number 99 is 6-2 and 346 pounds at nose tackle.  22 starts at Texas, which is tied for third with Angilau behind Kerstetter at 28 and Brewer with 23.  He is backed up by T'Vondre Sweat, also a junior, who is very good.   The middle should be very solid.
Moro Ojomo at defensive tackle has 13 starts and is very good.  End/Jack and End/Buck will be interesting to watch.  Note at End/Buck Ray Thornton is a senior transfer from LSU and Ovie Oghoufo is a junior transfer from Notre Dame, who will be starting at SLB.  On the other end, I think Jacoby Jones and Alfred Collins are both going to have nice seasons.
Linebackers.  The star of the LB squad is DeMarvion Overshown. I think Agent 0 would tell you that himself if you asked. He is good and fast and big.  And from Arp.  Gbenda and Adeoyo back him up at WLB, and they are both good ball players.  Luke Brockermeyer starting at middle – nice to see that name.  This unit should be better in 2021.
All of the men listed as starters are seniors.  So great experience.  That's the good news. The flipside is Texas pass defense has been woeful for far too long.  So let's hope all these guys turn that around in 2021 and bring some burnish back to DBU.
Cornerbacks.  D'Shawn Jamison (19 starts) is one of my favorite returning players.  He is an electric ball player, and if he defends the pass as well as he returns punts and kick-offs, he could be an All-American.  Don't know much about the kids behind him.  On the other side of the field, Josh Thompson from Nacogdoches has good experience and talent.
Safeties.  BJ Foster and Chris Adimora have lots of experience and have shown flashes.  Need them both.  I think Brenden Schooler and Jerrin Thompson both have good seasons.  Anthony Cook was one of the heralded recruits out of Lamar a few years back.  Time to shine as a senior Anthony.
Lots of talk about the Special Teams Depth Chart as Cameron Dicker is listed first both kicking and punting.  We know Cameron Dicker has a golden leg (he knows it too) and we may need him to win a game or two for us, so a lot of pundits questioning using him to punt as well.  I trust Sark and his staff.
So there you have it.  The 2021 Texas Longhorns.  LFG.
University of Louisiana at Lafayette Ragin' Cajuns
ULaLa had a heck of 2020 season.  10-1, their second 10-win season ever.  And it followed their first 10 win season in 2019.
UL is coached by Billy Napier.  He went to Lafayette in December 2017, coming from Arizona State where he was OC & QB coach for year.  Before that:  4 years at Alabama (WR), a year at Colorado State coaching QB's a year at Alabama as "offensive analyst", 5 years at Clemson, a year at South Carolina State, and 2 years at Clemson as a graduate assistant.  He played at Furman.  He has been building the Ragin' Cajuns into a solid program, and last year UL entered the national rankings for the first time in the modern era following its Week 1 upset of then No. 23 Iowa State.  Louisiana finished 2020 ranked No. 15 in the AP Top 25, No. 16 in the Coaches Poll, and No. 19 in the College Football Playoff, the Cajuns' highest rankings in all three polls.
In 2020:  UL beat Iowa State 31-14.  Two Sun Belt Conference wins – 34-31 in OT over Georgia State then 20-18 over Georgia Southern.  A close loss to Coastal Carolina, 27-30, then the Cajuns ran the table:  24-20 over UAB, 44-34 over Texas State, 27-20 over Arkansas State, 38-10 over South Alabama, 70-20 over University of Louisiana Monroe, and then 24-21 over App State in Boone.  The Sun Belt conference championship game with Coastal Carolina was canceled.  UL beat UTSA 31-24 in the ServPro First Responder Bowl in Dallas.
10-1.  The Sun Belt got a lot of coverage last year, simply because there were fewer games to broadcast.  I know I saw more Sun Belt football in 2020 than any prior year.  But more TV doesn't mean better football.  I tip my hat to any team that wins 10 games, but I can't say that those are a bunch of impressive wins over quality opponents – other than the win in Ames.
I am not being disrespectful, just objectively observant of the facts.  The Sun Belt has in most years, by my estimation, 2 or 3 teams that can play well against Power 5 schools.  For many years it was Appalachian State.  No question Coastal Carolina is there now.  I think UL is on the cusp with some ability to flash and get an upset.  I just don't think that upset will be in Austin on Saturday.  But if it is, it will be because this is an experienced football team.
Quarterback Levi Lewis, No. 1, is a senior out of Baton Rouge.  He appeared in all 14 games his sophomore season, and started all 14 as a junior.  And all of last year's games I believe.  This name may ring a bell:  He and Jake Delhomme are the only UL quarterbacks in program history to throw for more than 6,000 yards and 50 touchdowns in their careers (Lewis – third in UL history with 6,286 passing yards and second in UL history with 54 career passing touchdowns).  He is 22-6 as a starter.
The offensive line is big and experienced.  Four of the projected starters have at least 24 starts over the last 2 seasons. As you will note in the stats below, they finished 7th nationally in sacks allowed and 5th in tackles for loss allowed.  That is great regardless of your competition.  They protect their skill players.
Starting at running back is No. 21 Chris Smith, who was their third leading rusher last year with 335 yards on 55 carries. So we don't know a lot about him.
At wide receiver, look for No. 18 Jalen Williams, who had 20 catches for 360 yards and 4 TDs last season, and Peter LeBlanc (No. 29) who had 334 yards on 23 catches and one score.
Defensive lineman Zi'Yon Hill (No. 4) was third in tackles for UL last year with 49 (4 sacks, 5 TFL).  Also watch defensive linemen Tayland Humphrey (No. 99, 6-4 & 349), Andre Jones (No. 10).
I know some of you are nerds like me.  The UL Ragin' Cajuns Game Notes:
https://ragincajuns.com/documents/2021/8/30//Game_Notes_Texas.pdf?id=6101
Louisiana Ragin' Cajuns vs. Texas Longhorns
I was a bit nervous a week ago after starting to look at this game and listening to some folks.  I still think this will be a hard game.  New coach, new system, freshman quarterback, lots of little things that could go wrong, and we are playing a very experienced team coached by a guy who has 3 seasons in Lafayette under his belt.  But I am much more confident that Texas is going to win than I was before diving into the research and writing.
The Statistics
I normally don't include stats at the start of the season.  However, given that UL has returned 20 out of 22 starters from last year and has the same coaching, one can reasonably infer that their 2021 statistics will bear some resemblance to 2020.  UL played 11 games, Texas 10.  So at least similar sample sizes.  I do not think Texas will be all that similar to last year (two caveats), given all the change, but I include the base statistics for your perusal and consideration.
My caveats:  First, I think the rushing game will be just as strong or stronger. As noted above, a solid offensive line and a really, really good offensive line coach.  Second, I think (maybe just fervently hope) that our pass defense will finally be better.  I swear it feels like we have had mediocre to poor pass defense since the Massacre in Provo and the dismissal of Tarmac Manny. Coach Pete K is the real deal, and I just have to believe these guys are going to be better in 2021.  The ingredients are there.  Despite last year's woeful Passing Defense ranking, Texas was actually ranked 5th in passes broken up and 7th in passes defended (ULL was 25 and 10, respectively).
Offense
| | | |
| --- | --- | --- |
| Statistic | Texas | Louisiana |
| Rushing Offense | #31 – 195.3 ypg | #21 – 213.0 ypg |
| Passing Offense | #27 – 280.1 ypg | #83 – 208.5 ypg |
| Total Offense | #19 – 475.4 ypg | #43– 421.5 ypg |
| Scoring Offense | #7 – 42.7 ppg | #29 – 33.6 ppg |
| First Downs | #35 – 22.4/game | #64 – 21/game |
| Sacks Allowed1 | #71 – 23, 143 yards, 2.3/g | #7 – 9, 69 yards, 0.82/g |
| Tackles for Loss Allowed1 | #51 – 57, 210 yards, 5.7/g | #5 – 40, 127 yards, 3.64/g |
| Third Down Conversions | #89 – 37.3% | #47 – 42.8% |
| Fourth Down Conversions | #77 – 50% | #103 – 44% |
| Red Zone Offense2 | #43 – 86% / 66% | #77 – 81% / 63% |
| Long Run Plays3 | #22 – 64/10; 24/20; 9/30; 7/40 | #14 – 74/10; 23/20; 11/30; 9/40 |
| Long Pass Plays | #23 – 108/10; 42/20; 26/30; 13/40 | #42 – 93/10; 34/20; 13/30; 6/40 |
| Long Scrimmage Plays | #22 – 172/10; 66/20; 35/30; 20/40 | #27 – 167/10; 57/20; 24/30; 15/40 |
Defense
| | | |
| --- | --- | --- |
| Statistic | Texas | Louisiana |
| Rushing Defense | #38  – 140.2 ypg | #88 – 184.7 ypg |
| Passing Defense | #108 – 266.4 ypg | #6 – 170.6 ypg |
| Total Defense | #64 – 406.6 ypg | #33 – 355.4 ypg |
| Scoring Defense | #61 – 28.5 ppg | #31 – 22 ppg |
| Sacks1 | #93 – 17, 123 yards, 1.7/g | #90 – 19, 126 yards, 1.73/g |
| Tackles for Loss1 | #20 – 74, 288 yards. 7.4/g | #116 – 47, 180 yards, 4.27/g |
| First Downs Allowed | #110 – 23.7/game | #63 – 21.3/game |
| Third Down Conversions | #24 – 35.1% | #92 – 43.5% |
| Fourth Down Conversions | #9 – 33.3% | #67 – 55.6% |
| Red Zone Defense2 | #52 – 82% / 53% | #66 – 84% / 63% |
| Long Run Plays Allowed | #50 – 40/10; 12/20; 4/30; 2/40 | #100 – 60/10; 9/20; 3/30; 1/40 |
| Long Pass Plays Allowed | #108 – 111/10; 36/20; 10/30; 3/40 | #57 – 73/10; 23/20; 9/30; 6/40 |
| Long Scrim. Plays Allowed | #87 – 151/10; 48/20; 14/30; 5/40 | #67 – 133/10; 32/20; 12/30; 7/40 |
Other
| | | |
| --- | --- | --- |
| Statistic | Texas | Louisiana |
| Turnovers Lost | #24  – 4F, 5I, 9T | #65 – 6F, 7I, 13T |
| Turnover Margin4 | #14 18:9, +0.90 | #12 23:13, +0.91 |
| Penalties5 | #122 – 81, 770 yards | #96 – 68, 676 yards |
 1 Sacks & TFL stats are based on per game for now.  I usually use totals, but that doesn't work for 2020 stats.
2 To refresh your memory, on red zone offense & defense, the first number is the percentage of times there is a score (TD or FG), and the second number is the percentage of times a touchdown is scored or allowed.  So, for example, the Longhorns got in the red zone 56 times in 2020 and scored 48 times.  Of the 56 trips, 37 were touchdowns (66.07%), and 11 were field goals (19.64%).  The caveats, of course are these:  on offense, some teams score TD's from outside the redzone often, some teams have poor field goal kickers and go for the TD more, some teams have defenses that are great in the redzone but nonetheless give up big plays, etc.  But, I still think it is a useful statistic.
3 On all the "long" stats, I sort based on 10+ yards plays for the national rankings.  The rankings shuffle when you sort based on 20+ yards plays, etc.
4 On turnover margin the "X:Y" is total turnovers lost (X) to total turnovers gained (Y). The margin is per game
5 Penalties ranking is on yards per game.  Clearly, an area where much improvement is needed by Texas.
This game will come down to how well our offensive line blocks for the quarterbacks and the Texas offensive executing the Sarkisian System.  I am assuming that the UL pass defense will be good again this year.  They were tied for third nationally in interceptions with 16 total, 1.45 per game (Texas was 29, with 10 and 1/g).  So Card (and Thompson) are going to have to be careful, make good throws, and don't risk it.  Eat it before you give it away.  If Texas turns the ball over too much, Texas may lose.  With our running game, we need to play for field position.  We don't need to put the weight of playing from behind on Card's shoulders in his first start in Darrell K Royal – Texas Memorial Stadium.  On Campbell-Williams Field.  No, we need to put the weight of winning on the shoulders of Bijan Robinson primarily, and also Roschon Johnson and Keilan Robinson and Brooks if need be.  Pound the ball.
Texas will throw the ball.  Let's not forget Sarkisian is a quarterback and a quarterback coach.  If you had the opportunity to watch 05, the great documentary on the 2005 team which debuted on Longhorn Network this week, you were perhaps reminded who was coaching Matt Leinart.  So I expect whoever gets the snap to play well and play smart.
I think we see a solid game at quarterback from Card – say 24 for 36 and 220 yards and 2 scores (at least 1 will be to a tight end).  Bijan should rush for 160+ and 2 scores, and Roschon will have at least one touchdown and 50-70.  If I am overestimating on touchdowns, then just trade a 7 for 3, as Dicker the Kicker will have some points.
The defensive line will be impressive, Overshown will shine, and the defensive backs will have a B+ game.  The Ragin' Cajuns will score, but not more than Texas.
One last Texas score:  D'Shawn Jamison will take one to the house.  A kickoff, a punt, or a pick.  And it will ignite the Longhorns.
Texas wins 38-27. 
Have I mentioned the 1996 Pigskin Classic between Brigham Young and Texas Agricultural & Mechanical?  The Cougars were coached by Lavell Edwards and the OC was Norm Chow.  This was mid-90's R.C. Slocum Wrecking Crew Aggies.  Good teams.  That day in Provo, BYU quarterback Steve Sarkisian torched aggy, going 33 of 44, for 536 yards and six touchdowns.  Brigham Young won 41-37.  Of note, three weeks after getting beat by Sarkisian and the Cougars, Texas Agricultural & Mechanical was upset by Southwestern Louisiana, 29-22.  In Lafayette.  The Ragin' Cajuns.  Synchronicity.
The 2021 Season
As y'all know, I tend to be quite optimistic each year as we head into the season.  I guess it is really just my burning desire for that 10 or 11 season, a Texas post-season that for once includes the once includes the words "College Football Playoffs".  An undying love for our Texas Longhorns that shades my judgment and leads me to predict an undefeated regular season, a spot in the Big XII championship game, and a place in the playoffs.  I have thought, that at age 61 (how did I get so old?), I should be more realistic and manage my expectations.  And then I thought, no, I am a burnt orange bleeding homer.  We might lose a game, maybe.
One stat I have included this year is the number of starters each opponent is returning.  My thanks to Paul Wadlington, who included that information in his great annual Thinking Texas Football (info on the book below).
Louisiana Ragin' Cajuns at Texas, September 4.  Well, that is covered in this week's edition.  But for continuity, 10-1 last year with 20 returning starters.  This will be a hard fought, close football game.  But I am going to predict a W
Texas Longhorns at Arkansas Razorbacks, September 11, 6:00 p.m. in FayetteNam.  A rekindling of one of the greatest rivalries in Texas football history – and maybe college football history. Can't wait.  ESPN national broadcast.  Bet we hear about 1969.  I know you will from me.  Arkansas fans (and I am generalizing, I am sure some are fine people) hate Texas. Hate us.  This might be the biggest game on their schedule in 2021.  The Pigs have been terrible of late (11-35 the last 3 seasons), and a win over Texas would bring mighty joy to the Ozarks.  Arkie went 3-7 last year, and has 17 starters returning (8 offense, 9 defense).  While I don't really know how good Texas is, I believe in Sark, and I am going to mark this down as a win.  W
Rice Owls at Texas, 7:00 p.m., Longhorn Network.  Rice had a rough 2020, with most their games cancelled, as they went 2-3.  15 starters back, 7 on offense, 8 on defense.  Perhaps they will be invited to the new Big 12 by then.  W
 Texas Technical Red Raiders at Texas, September 25.  I suspect the kids from Lubbock shall be so pleased to be making their last trip to Austin.  Tech's good years ended when Mike Leach left.  They have been a mediocre team (very mediocre) for a decade.  4-6 last year, Coach Matt Wells is on the hot seat (5-13 in Big 12 play).  Sonny Cumbie is back as OC, and they got a kid named Tyler Shough who transferred from Oregon to play quarterback.  16 starters returned, 8 on each side of the ball.  They may be better, but not better than us.  W
Texas Longhorns at Texas Christian, October 2.  Speaking of last trips, this one might be less than pleasant.  Gary Patterson seems to know how to beat Texas.  3-7 the last 10 games.  It irritates the shit out of me.  And the Horned Frogs have not been that stellar of late.  23-22 in the Big 12 the last 5 years, 6-4 last year.  But dang they find a way to beat us.  17 Frogs back, 9 on offense and 8 on defense.  Hoping for a Texas win, and curious about the reception Mr. Del Conte receives in his return to the Fort after helping engineer Texit & OUt.
Longhorns and Land Thieves, October 9, in the Cotton Bowl.  Oklahoma is not just the best team in the conference, but one of the 2 or 3 best in the country.  Nothing would be more amazing than to upset the Land Thieves in what is supposed to be a championship run year.  After last year' agonizing overtime loss, perhaps we shall have karma on our side.  14 starters back from a team that went 9-2 (7 O, 7 D).
Oklahoma State at Texas, October 16.  This will be a good football game.  The Cowboys had a good 2020 (8-3, bowl win over the University of Miami (Florida), finished ranked 20).  Better defense. Spencer Sanders is back, and he is good. Chuba Hubbard is not back, and that is good for us.  13 back total, 5 offense & 8 defense.  W
Texas at Baylor, October 30.  Ah the nostalgia.  A great historical rivalry.  Such a pity to see it end.  Baylor managed 2 wins last year and dropped 7, and 14 starters are back (2 O, 10 D). W
Texas at Iowa State, November 6.  Toughest road game on the schedule.  There is not a close second.  The Cyclones are good, really good, and are coming off an 8-1 Big 12 record last year (9-3 overall) and a 34-17 win over Oregon in the Fiesta Bowl, regular season wins over Texas and Oklahoma.  And 19 starters from that team are returning, 10 on offense and 9 on defense.  Of the 10 starters back on offense, two of them make up one of the best QB/RB duos in the nation, with Brock Purdy and Breece Hall (Hall rushed for 1,572 yards last year, 21 TDs).  Worth noting they opened the 2020 season with a loss, at home, to the Louisiana Ragin' Cajuns, 14-31.
Kansas at Texas, November 13.  I will miss the basketball games with the Jayhawks. Kansas was 0-9 last year, and only return 9 players from that woeful team (5/4). W
Texas at West Virginia, November 20.  I have respect for West Virginia.  They are actually, in my opinion, in the upper quartile of college football programs.  I hope they land somewhere that is a good fit, and I wish them well.  Neal Brown is rebuilding a good program.  They had a winning record last year, at 6-4.  14 Mountaineers are back, 8 on offense.  But, W
Kansas State at Texas, Friday November 26 at 11:00 a.m.  If there is one thing I am praying for with the move to the $EC, it is fewer 11 o'clock games.  I detest them.  College football is not a morning sport.  It is best at night, and it is tolerable in the mid-afternoon when the weather is right.  But outside of Texas-OU, which we have been forced to play far too often at 11:00 a.m., I cannot off the top of my head recall an 11:00 game that is memorable.  The students drag in late, attendance is poor, and it isn't ideal for tailgating.  Anyway, Skylar Thompson is back at QB as sixth year senior, with 30 starts.  Experience pays dividends.  Overall, 14 back from a 4-6 team (9 offense).  Maybe the Wildcats will have a better season.  I think Texas wins this though.  W
 A Look Back
While this may not be our last season in the Big XII, I think it is a possibility.  So a quick look back at our record against our conference rivals and other opponents in 2021. 
| | | | | |
| --- | --- | --- | --- | --- |
| Opponent | First Game | Wins | Losses | Ties |
| Louisiana | 2000 | 2 | 0 | 0 |
| Arkansas | 1894 | 56 | 22 | 0 |
| Rice | 1914 | 73 | 21 | 1 |
| Texas Tech | 1928 | 53 | 17 | 0 |
| Texas Christian | 1897 | 63 | 27 | 1 |
| Oklahoma | 1900 | 62 | 49 | 5 |
| Oklahoma State | 1916 | 26 | 9 | 0 |
| Baylor | 1901 | 79 | 27 | 4 |
| Iowa State | 1979 | 14 | 4 | 0 |
| Kansas | 1901 | 16 | 3 | 0 |
| West Virginia | 1956 | 5 | 5 | 0 |
| Kansas State | 1913 | 11 | 10 | 0 |
| Totals | | 460 | 194 | 11 |
Kind of interesting that on that list, the Land Thieves account for 25% of the Longhorns' losses.
The Polls
AP Top 25:  Alabama, Oklahoma, Clemson, The Ohio State UniversityTM, Georgia, Texas Agricultural & Mechanical, Iowa State, Cincinnati, Notre Dame, North Carolina.  Southern Cal at 15, Texas at 21.
Coaches Poll: Roll Tide, Clemson, Land Thieves, Buckeyes, UGA, Texas Agricultural & Mechanical, L'Université de Notre Dame du Lac, Iowa State University of Science and Technology, Tar Heels (Go Mack!), and Cinci.  Men of Troy at 14, Texas at 19, and Ole Miss at No. 25.  Hotty Toddy! Still wondering if Kiffen took that guy's advice and got himself a burner.
Texas Longhorns Football
 Historically great, and time to get back in the upper echelon on an annual basis.  We are counting on you Sark.
 All-Time Wins
| | | | |
| --- | --- | --- | --- |
| 1. | Michigan | 142 years | 964 wins |
| 2. | Ohio State | 131 years | 931 wins |
| 3. | Alabama | 129 years | 929 wins |
| 4. | Texas | 128 years | 923 wins |
| 5. | Notre Dame | 134 years | 918 wins |
| | Oklahoma | 126 years | 917 wins |
| 7. | Nebraska | 131 years | 905 wins |
| 8. | Penn State | 134 years | 902 wins |
| 9. | Tennessee | 130 years | 857 wins |
| 10. | Southern Cal | 133 years | 852 wins |
This is harder to track than one might think, as the win totals do not include vacated games and seasons.  For example, Ohio State had to give up 12 wins from 2010 season, Notre Dame had 21 wins from 2011-2012 vacated.
By Winning Percentage
This has changed a lot over the past few years
| | | |
| --- | --- | --- |
| 1. | Ohio State | .730 |
| 2. | Alabama | .729 |
| 3. | Notre Dame | .729 |
| 4. | Michigan | .727 |
| 5. | Oklahoma | .726 |
| 6. | Texas | .704 |
| 7. | Southern Cal | .699 |
| 8. | Nebraska | .688 |
| | Penn State | .688 |
| 10. | Tennessee | .669 |
2021 Longhorn Football Prospectus:  Thinking Texas Football
 Paul Wadlington's preseason book on the Longhorns is a must read.  His nom de plume is (or was) Scipio Tex, which may be a more familiar name to some of you).   Here is the link to purchase it.  Not too late.
https://www.smashwords.com/books/view/1092947
Cedric Golden and Ed Clements
One of my favorite new traditions is the College Football Preview with my good friends, Ed Clements and Cedric Golden, at The Headliners Club.  We had a great crowd last week to hear two really good and smart sports journalists who are also really, really funny.  A quick recap of their reports and observations.
Both picked Georgia to win the national championship.  After looking at the Bulldogs schedule, they might if they can get past the opening game this weekend with Clemson.  Ed & Ced said this year's Clemson team is down a bit.  We will see.
Sarkisian had not announced that Hudson Card was going to start the UL game, but I think that was everyone's sense.  Ed & Ced's thoughts (with a little TCT editing):  the QB in Sark's offense doesn't have to be the playmaker and scoring machine, he has to be a good manager and not make mistakes.  I liked Cedric's comments that a 3 and out was better than a forced pass on third down that gets picked.  That works when you have good running backs, and Texas, in fact, has that this year.  Bijan will get 20 to 25 carries a game and could rush for over 1,500 yards.  RoJo is a great second RB who can carry a lot and get us 400-500 yards this season.  And Sark's offenses use the tight ends (thank you, thank you!!), and we are stacked at tight end.  Cade Brewer is good, but Cedric was singing Jared Wiley's praises.  We lost a lot at wide receiver, but Josh Moore and Whittington and Worthy will contribute well.  Both see a 9-3 or 8-4 season, including a bowl win.
Coach Steve Sarkisian
For those of you who may have missed my newsletter last March, here is the link where it is on my blog.  Good stuff on Sark and Texas Baseball.  Whiffed on basketball.
https://austinhornsfan.com/march-madness-longhorn-baseball-all-gas-no-brakes/
Texas and the Southeastern Conference
The Southeastern Conference is the most powerful conference brand in college football.  The words "football in the South" have real and deep meaning.  It is different here.  And that great love of football in the South includes the Big XII, most of the ACC, and chunks of some of the Group of 5 conferences.  This move by the Land Thieves and Longhorns solidifies the SEC's place atop the college football world (and baseball too).  When the television contracts come up for renewal, Greg Sankey (current commissioner, who will presumably still be at the helm, and who, of note, started his college career at LeTourneau College in Longview) will be the conference commissioner at the negotiating table with the most power and influence.
I like looking at this through the view of what Texas and OU are bringing to the table and how, in my opinion, notwithstanding the SEC's strength and traditions, the addition of our traditions make the Southeastern Conference the single most powerful, standalone force in college athletics.
There are lots of sources on viewership, ratings, and other media measures of a college football programs rank and worth.  I spent more time than I intended on this, but that happens to me quite often.
A sports journalist named Zach Miller posted on Medium a couple of weeks ago.
https://medium.com/run-it-back-with-zach/which-college-football-programs-bring-in-the-most-tv-viewers-efc03c689e50
It seems to be a well-researched article, and I was impressed with some of his observations and caveats, including noting the data is hard to find and it often fails to include streaming numbers, which is pretty important in this third decade of the twenty-first century.  Here is one of his notes, which I think is worth considering:  "The data can be skewed by outliers. For example, more than 7 million people watched Ohio State beat TCU in 2018. That's TCU's most-viewed game of the last five years, by far. But how much of that really had to do with TCU? The Horned Frogs get the benefit of that number, but the game probably would have been viewed by just as many people if you swapped in Baylor or Texas Tech."
Mr. Miller "logged 1,516 regular-season games with available viewership data from the five-year span of 2015-19 (I left out 2020 for obvious reasons). That includes every televised game involving Notre Dame, BYU, Army or a team from the Big Ten, SEC, ACC, Big 12, Pac-12, AAC or Mountain West."  His ranking, which does not include conference championship games and bowl games, and games that were not nationally televised got a zero unless he found streaming data.  Texas seems a bit low, but this is what he came up with.
Ohio State (5.19M)
Alabama (5.09M)
Michigan (4.18M)
Notre Dame (3.61M)
LSU (3.22M)
Auburn (3.12M)
Georgia (2.91M)
Oklahoma (2.90M)
Clemson (2.67M)
Penn State (2.55M)
Florida (2.46M)
Wisconsin (2.27M)
Texas (2.269M)
Florida State (2.23M)
Michigan State (2.20M)
Southern Cal (1.98M)
Texas A&M (1.851M)
Tennessee (1.849M)
Oklahoma State (1.64M)
Mississippi (1.61M)
Here were the top 10 most-watched games in 2020
Nov. 7: Clemson vs. Notre Dame (NBC): 10.1 million
Dec. 19: Notre Dame vs. Clemson (ABC): 9.9 million
Oct. 17: Georgia vs. Alabama (CBS): 9.6 million
Dec. 19: Alabama vs. Florida (CBS): 8.9 million
Dec. 19: Ohio State vs. Northwestern (FOX): 8.0 million
Nov. 28: Alabama vs. Auburn (CBS): 6.7 million
Oct. 31: Ohio State vs. Penn State (ABC): 6.5 million
Nov. 7: Florida vs. Georgia (CBS): 6.3 million
Oct. 24: Nebraska vs. Ohio State (FOX): 6.2 million
Nov. 21: Indiana vs. Ohio State (FOX): 6.1 million
Notice what's missing in the list above?  I will give you a hint:  the conference run by Bob Bowlsby.  However, the Big 12 did have 3 in the top 10 in 2019:
Nov. 9: LSU vs. Alabama (CBS): 16.6 million
Dec. 7: LSU vs. Georgia (CBS): 13.7 million
Dec. 7: Ohio State vs. Wisconsin (FOX): 13.6 million
Nov. 30: Ohio State vs. Michigan (FOX): 12.4 million
Nov. 30: Alabama vs. Auburn (CBS): 11.4 million
Nov. 23: Penn State vs. Ohio State (FOX): 9.4 million
Sept. 21: Notre Dame vs. Georgia (CBS): 9.3 million
Dec. 7: Oklahoma vs. Baylor (ESPN): 8.7 million
Sept. 9: LSU vs. Texas (ABC): 8.6 million
 Oct. 12: Oklahoma vs. Texas (FOX): 7.3 million
It doesn't take a lot of deep analytics to think about what the ratings and viewership numbers are going to be for games like Oklahoma vs. Georgia, Texas vs. Auburn, etc.
While not related to all of that, I did run across this article from last spring, musing about the creation of a college football super league.  It of course included Texas and Oklahoma.
https://apnews.com/article/sports-football-college-football-085b362c6f58d2bd50b886c07413b0df
So beyond viewership rankings, there is the concept of brand value.  Texas consistently ranks number 1 (e.g., https://graphics.wsj.com/table/NCAA_2019), and OU is regularly top 10.
One of the most recent articles on the value of programs was published in "Buckeyes Wire" on USAToday.com, but uses 2018 revenue numbers.
https://buckeyeswire.usatoday.com/lists/college-football-most-valuable-programs-ohio-state-buckeyes-texas-longhorns/
In order from the top: Texas, Ohio State, Alabama, Michigan, Notre Dame, Georgia, Oklahoma, Auburn, Louisiana State, Tennessee are the top 10.  So on those numbers, 70% of the top 10 are the New $EC.  Florida was at 11, followed by Texas Agricultural & Mechanical, and Arkansas was at 16, with South Carolina at 17.
Zack Miller had an article on the valuations too.  He averaged out home attendance, market size/share, valuation, and social media following.  His top 20:
Ohio State
Michigan
Alabama
Texas
Penn State
Notre Dame
LSU
Georgia
Auburn
Texas A&M
Florida
Oklahoma
Tennessee
Clemson
Wisconsin
Nebraska
South Carolina
Iowa
Michigan State
Arkansas
Zack's article:
https://medium.com/run-it-back-with-zach/which-college-football-programs-are-the-most-valuable-in-conference-realignment-b8e840f42189
The Nate Silver article from 2011 in The New York Times on market share and size is interesting.  And it was done before Texas Agricultural & Mechanical left the Big 12.
https://thequad.blogs.nytimes.com/2011/09/19/the-geography-of-college-football-fans-and-realignment-chaos/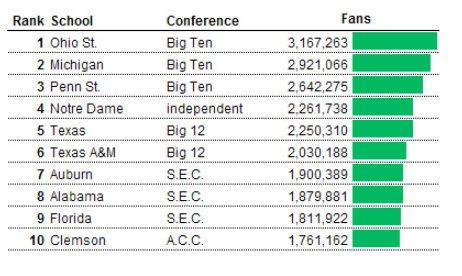 If these numbers are still close 10 years later, then you can see the importance to the SEC of Texas joining Texas Agricultural & Mechanical in the conference.  And remember this, when it comes to national impact and viewership, Longhorns + Aggies does not equal 2.  There is a multiplier in there, and together we are stronger.  Same with Texas and the Land Thieves.
As those of you have read my meandering musings over the years may recall, I am an avid fan of Sherlock Holmes. One of my very favorite quotes is from the Adventure of Silver Blaze, in which a champion thoroughbred, Silver Blaze, goes missing and his trainer is murdered.  As Holmes is working out his solution, there is this famous dialogue between Scotland Yard detective Gregory and The Master:
Gregory:  Is there any other point to which you would wish to draw my attention?

Holmes: To the curious incident of the dog in the night-time.

Gregory: The dog did nothing in the night-time.

Holmes: That was the curious incident.
I use this often in many contexts, including legal drafting, to point out that when trying to analyze a problem or a set of issues, or drafting a document, what perhaps what one most focus on is not what you read or hear or see, but what you did not read or hear or see.  With respect to all of these lists and rankings, I draw your attention to who is not in the top 10:  Anyone or any game west of Texas.  No Southern Cal, no Oregon, no Brigham Young, no one.  Despite the Trojans being the bluest of bluebloods and one of the truly great programs.  [I should note that if you go read the articles, SC and other west coast teams are in the next 10 or 15 in a lot of these rankings.]  Be that as it may, this will change. First of all, with Name Image Likeness and the money that will now pour into college football (and other sports), I predict in 10 years the top 10 lists will change.  Watch out for the Ducks, the home team for Nike.  Southern Cal will bubble back up, with its wealth and tradition and name.  And if the Pac 12 is smart, the will come to Texas (we all know we have plenty of Californians here anyway) and grab Tech and maybe Texas Christian, perhaps Okie State, and solidify that conference as the biggest and best all west of the Mississippi.  Demographics will help them in the long run.
Two other topics for now.
First, how will the SEC schedule football games and organize the conference?  Lots of rumors, but the one I like best is the four pods of 4 teams each.  You play the other teams in your pod every year, then rotate through the other 3 pods, so everyone gets to play each other on a regular basis.  Maybe I am just wishing, but a western pod of Texas, OU, Arkansas, and Texas Agricultural & Mechanical would be awesome.
Second, baseball.  Texas baseball is back, and I expect that quality seasons will continue for a while.  If you follow college baseball, you know how amazing the SEC is.  When the regional tournaments concluded, of 32 teams that were in the super regionals, the list included Arkansas, Texas, Mississippi State, Ole Miss, Louisiana State, Tennessee, and Vanderbilt.  In Omaha, we had Vanderbilt, Tennessee, Texas, and Mississippi State.  And of course the Bulldogs won it all.
In this century, the baseball national champions have included (starting in 2000):  LSU, Texas, Texas, LSU, South Carolina, South Carolina, Vanderbilt, Florida, Vanderbilt, and Mississippi State.  With Texas included, the future SEC will have about half the national titles so far in this century.
Texas is joining a great college baseball conference, and I can't wait.  The Disch is going to be lit!
What is left is this: when do we go, and how much will it cost?  I am guessing that in football, we will be there in 2023 if not next year.  I assume all of the other sports will follow from that, but don't know.  The upfront cost might be high, but the long term payout will be huge.
Kudos to Chairman Eltife, President Hartzell, and CDC.  Well done.
This Week's Games
I really can't remember an opening weekend with this many really good games.  Multiple games with ranked teams, the Big Ten with several big conference games, and the "kick-off" games are excellent.  There are some downsides to the control TV has (like 3:30 games in Austin over Labor Day Weekend), but the upside is we have some good football to enjoy.
 This Week's Games – The Big XII
South Dakota at Kansas, 7:00 p.m., on ESPN+, Friday night.  Well, I have ESPN+ now.  Got it during college baseball season. But doubt I will tune in to watch the Coyotes maul the Jayhawks.  KU favored by 13, over/under is 55.5.
Saturday
The No. 2 Land Thieves invited the Green Wave to Norman, which is very gracious, but one must ask:  New Orleans in the Labor Day Weekend heat and humidity without power (and thus no air conditioning) or Norman?  11:00 a.m. on ABC.  Land Thieves favored by 31.5, and over/under is 69.  Oklahoma is going to win, cover, and beat the over.
Also at 11:00 a.m., Stanford and Kansas State, from Jerry World in Arlington.  On FS1.  Wildcats are actually 3.5 point favorites. Over/under is 53.
West Virginia at Maryland, 2:30 p.m. on ESPN.  Man, I hope the Mountaineers are ready.  Maryland is killer in opening games.  West Virginia favored by 2.5, and over/under is 57.
Northern Iowa at No. 7 Iowa State, 3:30 p.m. on ESPN+ from Jack Trice Stadium.  If the Cyclones can contain Jesperson, they will win.  No line.
Texas Tech at Houston. 6:00 p.m. on ESPN.  This might be a conference game for the Red Raiders and Cougars soon.  Tech favored by just 1, and the over/under is 64.5.  Both coaches on the hot seat, and I am guessing Holgo's is the hottest.  Guns up.  Wreck em.
Missouri State at Oklahoma State, 6:00 p.m. on ESPN+ from T. Boone Pickens in Stillwater.  No line.
Baylor at Texas State, 6:00 p.m., on ESPN+ from Bobcat Stadium in beautiful San Marcos, Texas.  Bears favored by 13.5, and the over/under is 53.
Duquesne at Texas Christian, 7:00 p.m. on ESPN+ from Amon G. Carter Stadium.  The Dukes are not known as a football school.  Nice to see the Disciples of Christ and Roman Catholics getting together.  No line.
This Week's Games – The Top 25
A bunch of games Thursday Night.
A big Big Ten game in Minneapolis, as No. 4 The Ohio State University TM took care of business, 45-31, but the Gophers gave them a game.
No. 22 Coastal Carolina and The Citadel met in Conway, and the Chanticleers were dominant, 52-14.  It was 45-7 at end of third.
Weber State and No. 24 Utah played at Rice-Eccles in Salt Lake City.  Utes with an easy 40-17 win.
No. 25 Arizona State beat Southern Utah 41 to 14.
Friday Night
No. 10 North Carolina at Virginia Tech, 5:00 p.m. on ESPN.  Huge game for Mack and the Tarheels as Coach Brown has a great team and looks to make national noise.  But a night game in Lane Stadium is tough, and the Hokies should be out in force.   UNC favored by 5.5, over/under is 64.  Good luck Mack!  We are pulling for you.
Saturday
No. 19 Penn State at No. 12 Wisconsin, 11:00 a.m. on FOX.  What a game for opening weekend!  Hat tip to the Big Ten for scheduling some great games.  Wiscy favored by 5.5, over/under is 50.
Fresno State at No. 11 Oregon.  1:00 p.m. on the PAC12 Network.  Ducks are favored by 20.5, and the over/under is 64.
No. 1 Alabama and No. 14 Miami (Florida), from Mercedes-Benz Stadium, in the first Chick-fil-A Kickoff Game.  2:30 p.m. on ABC.  Bama favored by 19.5, over/under is 61.  I am not saying this because Texas is going to the $EC.  I am saying this because I can't stand Miami (Florida):  Roll Tide.
Miami (the real, the original Miami, from Ohio) at No. 8 Cincinnati.  2:30 p.m. on ESPN+.  The Redhawks are 22.5 underdogs, and the over/under is 50.5.  I consulted with Jimmy U, famous Miami alum and not related to but just as smart as (and much better looking than) Jimmy the Greek, and JNU said take the over.  As for the spread, he reluctantly said take the Bearcats and the points.  Of note, from JNU, this rivalry dates to 1888.
No. 17 Indiana at No. 18 Iowa.  2:30 p.m. on BTN.  Iowa favored by 3 over/under is 46.
San Jose State at No. 15 Southern Cal.  4:00 p.m. on PAC12.  Sparta versus Troy.  War is hell.  Trojans favored by just 14, over/under is 60.  Take Southern Cal.
No. 5 Georgia at No. 3 Clemson, 6:30 p.m. on ABC from Charlotte, in the Duke's Mayo Classic.  A huge match-up.  Tigers are 3 point favorites, over/under is 50.5.  As noted below, a lot of smart people think Georgia is going to win it all this year.  One thing I know:  the Bulldogs got to win Saturday.  We won't be back from DKR for kickoff, so I am setting the BetaMax.
Florida Atlantic at No. 13 Florida, 6:30 p.m. on SEC Network.  Gators favored by 23.5, over/under is 52.
Kent State at Texas Agricultural & Mechanical, 7:00 p.m. on ESPNU.  Texas Agricultural & Mechanical favored by 29, over/under is 67.  You know what I wrote.  I deleted it.
Montana at No. 20 Washington, 7:00 p.m. on PAC12 Network.  No line.
No. 16 Louisiana State at UC Los Angeles, 7:30 p.m. from the Rose Bowl.  Tigers just a 2.5 point favorite, over/under is 65.  Go Tigahs!  I think a steak and cabernet at halftime will be in order.
Sunday
No. 9 Notre Dame at Florida State, 6:30 p.m. on ABC.  Huge game for the Irish, who are favored by 7 and the over/under is 55.5.  Doak Campbell will be lit. Go Irish.
Other Games of Interest This Week
Friday
Michigan State at Northwestern, 8:00 p.m. on ESPN.  Good Big 10 match-up, and Northwestern favored by 3, over/under is 46.
Northern Colorado at Colorado, 8:00 p.m. on PAC12, Buffs favored by 38.
Saturday
Western Michigan at Michigan.  11:00 a.m. on ESPN.  Wolverines are favored by 17, but I think the Broncos might cover.  Over/under is 67.
Army at Georgia State, 11:00 a.m. on ESPNU.  Army are 2 point underdogs.
Lafayette at Air Force, 1:00 p.m.  No line, no TV.
Marshall at Navy, 2:30 p.m. on CBSSN.  Thundering Herd favored by 2.5.
Abilene Christian at Southern Methodist.  6:00 p.m. on ESPN+.  No line.  Mustangs better be careful.  Dang Abilene Christian can sneak up on you!
UTSA at Illinois, 6:30 p.m. on BTN.  Illinois favored by just 5.  This would be a cool upset.  Go Roadrunners.
William & Mary at Virginia, 6:30 p.m. on ESPN3. Go Hoos!
Monday
Louisville and Ole Miss, Mercedes-Benz Stadium in Atlanta, in Chick-fil-A Kickoff Game #2.  7:00 p.m. on ESPN.  Rebs favored by 10, over/under is 75.5.  Hotty Toddy!!
Washington & Lee Generals
The first officially recognized football game in the South was played in 1873 between Washington & Lee and our neighbor, Virginia Military Academy.  The first official season of W&L football was 1890, just a year after Texas.  W&L begins its 128th season Saturday.
When the Generals take the field Saturday evening at Christopher Newport University in Newport News, Virginia, it will be their first game in 659 days, going back to a 34-31 win over Shenandoah in 2019.
While I always enjoy keeping up with the Generals, I have a particular personal interest this year.  Harrison Donovan, Austin High Class of 2020, is on the offensive line.  Number 62 will be starting Saturday.
The guy I can't wait to follow and watch is Josh Breece.  If you have read my W&L notes over the years, that will ring a bell.  Josh is the best running back in W&L history.  He already holds the career rushing record with 3,710 yards.
Senior quarterback Jack Pollard is also back after garnering Third Team All-ODAC honors in 2019.  He was second on the team in rushing with 490 yards and five touchdowns on 81 carries.  He also completed 37-of-71 passes for 874 yards and eight touchdowns with just two interceptions.  Seniors Coby Kirkland and Alex Wertz are also back in the offensive backfield.  Kirkland rushed 60 times for 481 yards and five touchdowns, and caught nine passes for 166 yards and one more score.  Wertz was a Third Team All-ODAC selection as an all-purpose back.  He rushed 85 times for 462 yards and six touchdowns.  Up front, senior guard Jared Cordova is back after posting Third Team All-ODAC honors in 2019.
W&L runs the ball.  National Ranking recently:
2019: 5th – 315.7 ypg
2018: 5th – 296.0 ypg
2017: 2nd – 403.2 ypg
2016: 1st – 390.3 ypg
2015: 1st – 433.9 ypg
2014: 6th – 300.4 ypg
2013: 2nd – 346.7 ypg
2012: 1st – 363.7 ypg
The Generals have named seven captains this year: Alex Andros, Josh Breece, Dean Johnson, Coby Kirkland, Josh McDonald, Jack Pollard, and Owen Roberts.
Founded in 1960 as Christopher Newport College, a two-year branch of the College of William & Mary, located in Newport News. Christopher Newport gained independence in 1977 and became a university in 1992.  Christopher Newport is named for the 17th-century mariner who helped establish the Jamestown colony, the first permanent English-speaking settlement in the New World, just a few miles from campus. They aren't a football powerhouse.
Texas Longhorn Baseball
The Texas baseball team had one of its best seasons in many years, and but for a young man named Will Bednar who pitched for Mississippi State, we might have played in the College World Series finals.  I went to Omaha for the first time, and I am grateful for the experience and especially happy to have seen the Horns take the field in the CWS.  The Texas Longhorns are back in baseball, and we should be good for the foreseeable future.  The move the $EC only enhances that future, as we are going to the best baseball conference in America.  We are going to have some amazing weekend series at the Disch, and I can't wait.  Hook em!
Name, Image, and Likeness
Competing for top spot in off-season college football news was the U.S. Supreme Court's decision on name, image, and likeness.  I am planning on a deep dive on Name, Image, & Likeness (NIL) soon.  It is fascinating.  In the meantime, this article from Shea Morenz is worth a read.
https://austonia.com/former-ut-athlete-on-nil
 College Football Playoffs
Sounds like we may finally get a real playoff in college football.  If it turns out to be 12 teams, then I will be very happy.  I have written several times about the structure of the college football playoffs, advocating for an 8 team playoff at a minimum, and making the case for a 12 team field, while dreaming of a full 16 team grid to compete for a national title.  I think I covered this, but here is what last season's playoff would have looked like in my 12 team playoff.
The top 4 teams, Alabama, Clemson, Ohio State, and Notre Dame would have had first round byes.
First round, played at higher seed's home stadium, the week or second week after conference championships:
Coastal Carolina at Texas Agricultural & Mechanical
Indiana at Oklahoma
Iowa State at Florida
Georgia at Cincinnati (that was the Peach Bowl game, Georgia won 24-21)
Can you imagine Aggieland and Kyle Field with the Aggies playing for a chance to meet Notre Dame in a New Year's Day Bowl game with a shot at the Football Final Four?
I am going to make an educated guess, and here would have been the second round, played either at home stadiums (my preference, honestly) or New Year's Day bowl games (my suggestions):
Georgia at Alabama (Sugar)
Iowa State at Clemson (Cotton or Peach)
Oklahoma at Ohio State (Rose)
Texas Agricultural & Mechanical at Notre Dame (Orange or Fiesta)
Then the winners of these 4 games would playoff like we have it now.  The two NY6 Bowls that didn't host the Elite Eight would get the semifinal games the next weekend.
Juan Heisman Tailgate
We are back.  If all goes as planned and no jumps our spot, we will be across the driveway from Juan Heisman, with lots of cold beer, good friends, and good times.
Music
An eclectic collection to start the season.  Some stuff I have saved over last 6 months or so.
65 years ago, Louis Armstrong performed "St. Louis Blues" in front of 20,000 people at Lewisohn Stadium with his band and members of the NY Philharmonic conducted by Leonard Bernstein. In the audience was composer W. C. Handy, 82 and blind. Here's an incredible clip of the last few choruses, opening with Handy dabbing some tears from his eyes. This clip, originally in "Satchmo the Great", was taken from the CBS tribute to Mr. Armstrong that aired the night of his funeral.
I have watched the movie Blues Brothers dozens of times. One of my all-time favorites.  I think I took Matt "Guitar" Murphy for granted for far too long.  I saw this Instagram story and did some digging. What a talent.  Matt Murphy was born December 29, 1929, and he passed June 15, 2018.
If you don't watch any other video this week, watch this one.
Murphy was born in Sunflower, Mississippi, and was educated in Memphis, Tennessee, where his father worked at the Peabody Hotel.
Charley Crockett, "I Need Your Love"
Asleep at the Wheel.  This is the Wheel's 50th anniversary.  Congrats to Ray and his band on half a century of great music.  Will have a full newsletter on Ray and AATW this season.  He's the best.
"Better Times"
Jim Nicar
The west stands of Texas Memorial Stadium in 1956.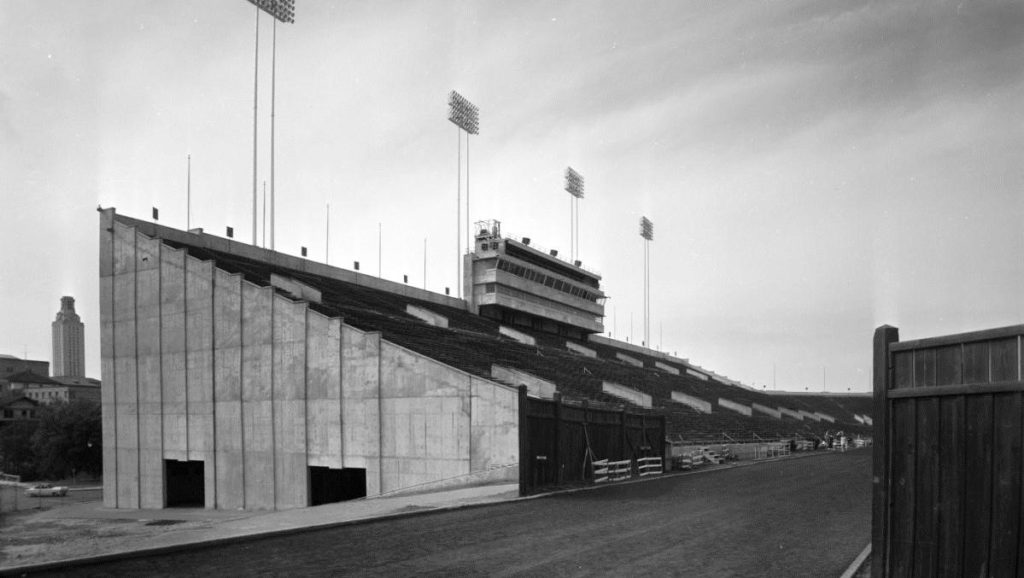 1956: The west stands of @UTAustin's Texas Memorial Stadium on a cloudy afternoon. Lights had been installed the previous year, and the Longhorns' first night game was September 17, 1955 against Texas Tech. (Tech won 20-14.) pic.twitter.com/fcQMg8OGWp

— Jim Nicar (@JimNicar) August 30, 2021
Texas scoreboard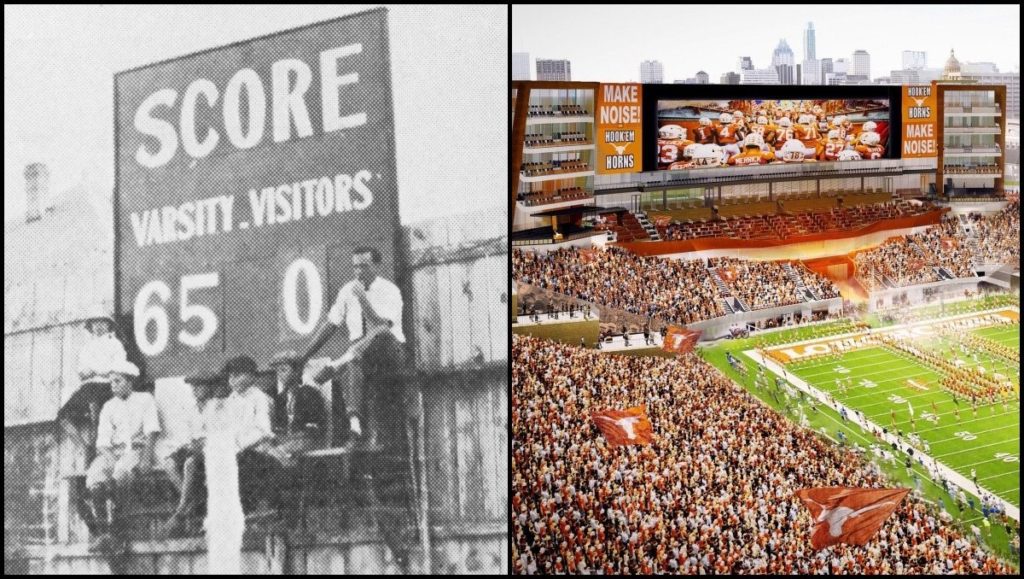 How it started – old Clark Field, 1915                How it's going – DKR-TMS 2021
In just over a century, @UTAustin's scoreboard technology has improved a little. 🤘

How it started (1915, old Clark Field). How it's going. pic.twitter.com/5EIWnJP2OP

— Jim Nicar (@JimNicar) August 14, 2021
Health Alliance for Austin Musicians
I have been involved with HAAM for over 15 years.  Each year, we have HAAM Day.  For 14 years, it was a day when Austin was filled with live music, from early in the morning (my HAAM Day always started with coffee and tunes at Whole Foods) until late at night (my HAAM day usually ended at Antone's).  Last year, due to the pandemic, HAAM Day went virtual.  And it was still great.  Not as much fun as being at venues around Austin and seeing our beloved musicians, but it worked out.
We have a great lineup of music streaming all day, and I hope you will both take advantage of this great music and give some money to HAAM.  Help HAAM keep Austin music alive and well.
https://www.myhaam.org/haam-day
Donate:
Bevo
Including this photo again, as it is one of my favorites.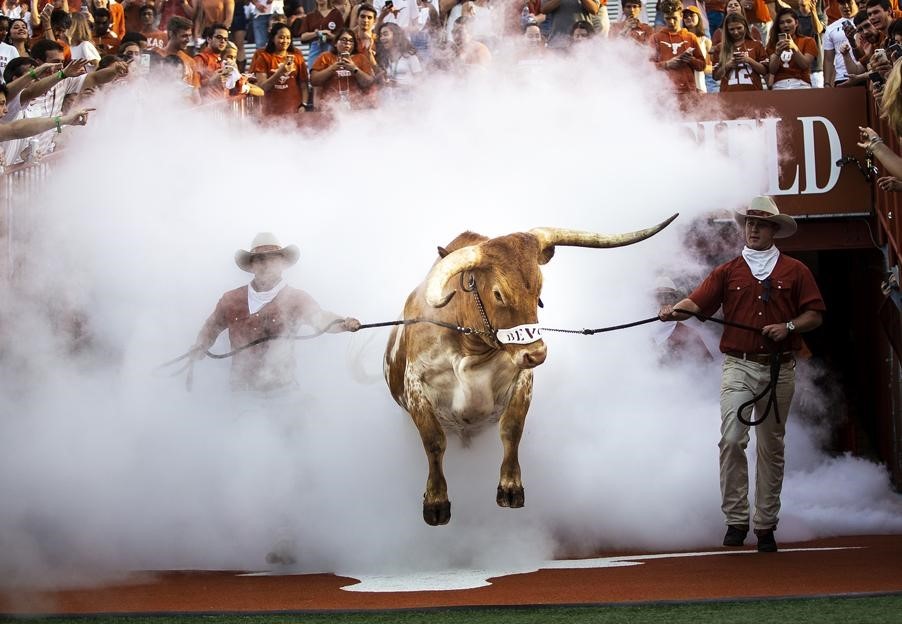 God Bless Texas
God Bless America
Tim Taylor
Tailgating before Home Football Games
The Juan Heisman Tailgate
Lot 38, East of Sid Richardson Hall.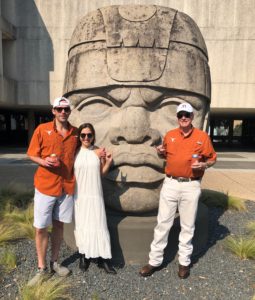 HOOK EM HORNS!!
© Timothy C. Taylor, Sr. 2021.  All Rights Reserved (as to original material).
On Twitter:  @tctayloratx
On LinkedIn:  www.linkedin.com/in/tctatx
On Instagram:  @tctayloratx
On Facebook:  www.Facebook.com/Tim.C.Taylor
and:  www.Facebook.com/Juan.Heisman
You can contact me by mail:

Tim Taylor

P.O. Box 5371

Austin, Texas  78763-5371