Red River Shootout – Land Thieves 55, Longhorns 48
It really was a shootout.  A game which Texas seemed to have in its control for the first half and really into the fourth quarter and about 50+ minutes then disintegrated under the ferocious Sooner rally, aided by some questionable decisions by Longhorns.  The euphoria of the first quarter was generated by the All Gas and No Brakes Texas onslaught, which had the Horns out to 28-7 lead and the north half of the Cotton Bowl in a frenzy.  The first play of the second quarter will be one that Texas fans will look back on and shake their heads in disbelief or misery or both.  Facing a fourth and 1 from their own 34, Lincoln Riley put in freshman quarterback Caleb Williams, who answered the call with a 66 yard touchdown run.  Texas responded, and continued to score, with a 38-20 lead at halftime.  Bijan was running well, Casey had connected on big passes to Worthy, Whittington, and Moore.  Texas had the momentum, including the 38 yard field goal as the clock hit zeroes and the second quarter ended.  Rest of the review below.  But oh what a start.
to the house @xavierworthy2 🤘#HookEm pic.twitter.com/e3wBAg4nVP

— Texas Football (@TexasFootball) October 9, 2021
Highest scoring game in a series with 116 prior games.  Let that sink in.
I thought I wrote this last week, but maybe I just talked about it.  So often the Texas-OU game is a stage upon which some unforeseen player becomes the hero or has a remarkable (maybe historical) performance.  One of my favorites is Randy McEachern, who came into the game after Mark McBath broke his ankle and Jon Aune tore up his knee.  No. 5 Texas was down 3-0 to No. 2 Oklahoma when Randy took the field.  Randy, with a bit of an assist by Earl Campbell, led the Longhorns to a 16-3 win over the Land Thieves.  Texas would run the table with Randy at QB, including beating No. 12 Texas Agricultural & Mechanical 57-28.  The national championship bid came up short when Texas met Joe Montana and Notre Dame in the Cotton Bowl, who beat the Horns 38-10.
1997, DeMond Parker ran for 291 yards and 3 Land Thief touchdowns, while Ricky Williams pounded out 223 yards and 2 scores.  Texas won 27-24, but 2 remarkable individual rushing days.
Hodges Mitchell in 1999, carried 30 times for 204 yards and a touchdown.
Another good example would be Land Thief RB Quentin Griffin, who in 2000 ran for 6 touchdowns (tying the NCAA record) as OU beat Texas 63-14 (the score at halftime was 28-7).  In 2002 Griffin would rush for 248 yards in the RRS, so he made a habit out of having career days in the Cotton Bowl against the Horns.
Jordan Shipley with 11 catches for 112 yards and a TD and 113 return yards, and Chris Ogbonnaya, 127 yards in 2008, in that great 45-35 win.
This year, that surprising, somewhat unforeseen hero was OU's Caleb Williams.  I guess it wasn't unforeseen for the Land Thieves, as they had been booing Spence Rattler and clamoring for Williams.  But I, and I think most people thought, that the most likely break-out game would be Spencer Rattler or Casey Thompson.  Given Bijan Robinson's prior performances this year, an over-powering game would fit the hero-of-the-game narrative, but it would not have been a surprise.  And Casey did have a great game.  But unfortunately, the surprise hero was a freshman wearing No. 13 for Oklahoma.
As we stood staring after singing the Eyes of Texas, Tony Dewar kept a positive attitude – it was a great college football game.  Yes it was Tony. It was a classic college game in many ways.  It reflected life with the amazing emotional highs for Texas fans in the first half and the devastating pain of defeat in the fourth quarter, whereas the Sooner faithful experienced the same emotions, but in the opposite direction.  It really was an amazing game.  And despite the pain – and yes anger – over the loss, I remain optimistic about the future.
The first half of the game was a vision of what I think Texas Longhorn football is going to look like for many years to come.  The frustrations and mistakes of the second half are where we have been and to some degree still are.  But those are all fixable.
An apropos quote from the legendary John Wooden, courtesy of Joe "Ivan" Young:
Losing is only temporary and not all encompassing. You must simply study it, learn from it, and try hard not to lose the same way again. Then you must have the self-control to forget about it.
Time to move on and beat the Cowboys.
Oklahoma State Cowboys vs. Texas Longhorns
The other team from Oklahoma comes to Austin ranked No. 12 in both polls and undefeated.  The game is at 11:00 a.m. at Darrell K Royal – Texas Memorial Stadium and will be broadcast on FOX.  Gus Johnson with the play-by-play, Joel Klatt with analysis, and Jenny Taft reporting on the sideline.  Broadcast around the world on the Longhorn IMG Radio Network with the Voice of the Longhorns, Craig Way, joined by Roger Wallace with analysis and Will Matthews on the sidelines.  KBST 1490 AM in Big Spring.  In Longview, KFRO 1370 AM.  And Satellite radio on Sirius channel 83, XM Channel 83. and SXM App channel 83.
This is Game 36 in the Okie State series, 22nd meeting in Austin.  Texas leads 26-9 (15-6 here in Austin).
And this is the most important game of the 2021 season for Steve Sarkisian and the Texas Longhorns.
One of the most iconic Vince Young plays, and perhaps Longhorn football plays, is the VY Pump Fake.
Our games with the Cowboys have been some of the most entertaining and exciting of any of our Big 12 opponents.  Some great highlights here:
Cool Stuff
Bijan Robinson.
Human Highlight Reel 🤘@Bijan5Robinson pic.twitter.com/clq0eBjaZY

— Texas Football (@TexasFootball) October 12, 2021
More Bijan, this being the sequence above as photographed by the great Matt Lange, Creative Director and Social Media Director for Texas Longhorns Football.
Bijan Robinson stiff arm in 4 photos. pic.twitter.com/TlbdsMKMyl

— Matt Lange (@mattjlange) October 12, 2021
A young man named Jack Myer is taking photos for The Daily Texan.  He is quite good, and worth following on social media, should you engage in such activities (@jackmyerphoto on Instagram).   Great shot here from Saturday.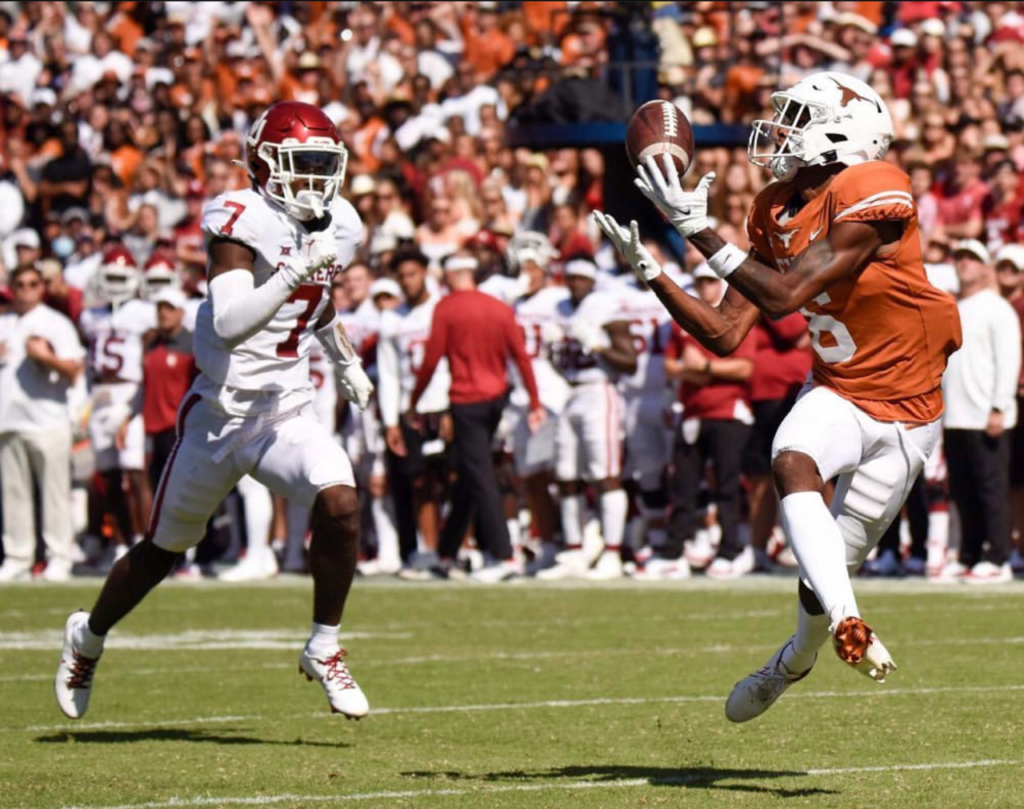 Thursday night, Susie and Kenny Jastrow received the Santa Rita Award, the highest honor bestowed by the Board of Regents of The University of Texas System.  Well-deserved.  Chairman Kevin Eltife:
They step up to the call of duty whenever they are asked – and even before they're asked – to further and deepen the impact of their beloved alma mater.  Together, Kenny and Susie Jastrow have made the state of Texas a better place for the next generation of students. Their commitment to higher education has truly been their life's work.
Read about Jared Folks, an eighth year (yes, 8) at East Tennessee State.  "Some of his youngest teammates at ETSU were in the fifth grade when he first started playing college football at Temple in 2014."  Oh, and ETSU is 6-0, their best start since 1969.
https://www.espn.com/college-football/story/_/id/32382280/the-incredible-story-college-football-first-only-eighth-year-senior
One more Bijan, this is his interview with Joel Klatt, who has become one of my favorite sportscasters.
Had a great chat with one of the most dynamic players in the country this week…Bijan Robinson is fun to watch and I can't wait to see him in person this week @Bijan5Robinson pic.twitter.com/0yyEZXy9QU

— Joel Klatt (@joelklatt) October 14, 2021
Okie A&M Cowboys vs. Texas Longhorns
Texas was a 5 point favorite Sunday night, and early Friday morning as I finish this week's missive, the line is down to 4.  The over/under is 60.
Official Preview:
https://texassports.com/news/2021/10/11/no-25-rv-football-preview-no-12-12-oklahoma-state.aspx
Texas Game Notes:
https://texassports.com/documents/2021/10/11/07_Oklahoma_State_1.pdf
Texas Depth Chart
Biggest change is Tope Imade getting the start instead of Andrej Karic.  Good decision, and I am a fan of Imade.  It may have something to do with this in a tweet from CJ Vogel:  "For those who put stock into PFF grading, they gave a Texas OL a single digit grade in pass protection against OU. I've never seen a grade that low before."  Go win Tope.
(Depth Chart courtesy this week of BurntOrangeNation.com, not sure why it wasn't posted on TexasSports.com)
Position

Name

No.

Name

No.

Name

No.

Name

No.

QB
Casey Thompson
11
Hudson Card
1
Charles Wright
14
RB
Bijan Robinson
5
Roschon Johnson
2
Keilan Robinson
7
Jonathon Brooks
24
WR
Joshua Moore
6
Casey Cain
88
WR
Marcus Washington
15
Al'Vonte Woodard
9
Kai Money
83
WR
Xavier Worthy
8
Kelvontay Dixon
16
TE
Cade Brewer
80
Jared Wiley –or–
18
Gunnar Helm
85
LT
Christian Jones
70
Andrej Karic
69
LG
Junior Angilau
75
Hayden Conner
76
C
Jake Majors
65
Logan Parr
71
Rafiti Ghirmai
74
RG
Tope Imade
67
Hayden Conner
76
RT
Derek Kerstetter
68
Isaiah Hookfin
72
Defense
BUCK END
Ray Thornton
46
Ovie Oghoufo
18
DJ Harris Jr.
40
NT
Keondre Coburn
99
T'Vondre Sweat
93
Byron Murphy II
90
Myron Warren
92
DT
Moro Ojomo
98
Vernon Broughton
45
Sawyer Goram-Welch
91
JACK END
Alfred Collins
95
Jeff Bush
43
SLB
Ovie Oghoufo
18
Ben Davis
6
Terrence Cooks II
35
MIKE
Luke Brockermeyer
47
Jaylan Ford
41
Devin Richardson
30
Jaden Hullaby
29
WILL
DeMarvion Overshown
0
David Gbenda
33
Ayodele Adeoye
40
Marcus Tillman Jr.
13
CB
D'Shawn Jamison
5
Jahdae Barron
23
Jamier Johnson
31
SS
BJ Foster
25
Chris Adimora
1
Tyler Owens
44
FS
Jerrin Thompson –or–
28
Brenden Schooler
14
JD Coffey II
27
CB
Josh Thompson
9
Darion Dunn –or–
4
Kitan Crawford
21
STAR
Anthony Cook
11
Jerrin Thompson
28
Chris Adimora
1
Special Teams
PK
Cameron Dicker
17
Bert Auburn
45
P
Cameron Dicker
17
Isaach Pearson
49
Ryan Bucjevski
8
H
Zach Edwards
43
Hudson Card
1
Issac Pearson
49
DS
Justin Mader
54
Zach Edwards
43
KR
D'Shawn Jamison
5
Roschon Johnson
2
Xavier Worthy
8
Keilan Robinson
7
PR
D'Shawn Jamison
5
Xavier Worthy
8
Joshua Moore
6
Brenden Schooler
14
Oklahoma State Cowboys
 Mike Gundy has another really good football team.  And there is a really simple reason for that – Mike Gundy is a good football coach.  Coach Sarkisian said "They've reinvented themselves, and their identity, and that's a sign of a really good coach."  Gundy has been a head coach for 16 years, all of them in Stillwater.  He is 142-67.
Gundy became head coach in 2005.  At that point in history, OSU football had won 49.1% of their games.  Below .500 football.  The Cowboys had gone to 16 bowl games in 104 years.  Since Gundy took over, 67.2% win percentage and now 15 consecutive bowl games.
Oklahoma State's numbers since 2010 are very impressive, especially when you consider they are competing against the Land Thieves for in-state recruits and against Texas, OU, Texas Agricultural & Mechanical, and the rest of the nation for Texas recruits.
44 Cowboys are Oklahoma natives.  That includes running back Dominic Richardson, wide receiver Brennan Presley (Tulsa), wide receiver Jaden Bray (Norman), linebacker Malcolm Rodriguez,
I counted 44 young men on their roster from Texas, including quarterback Spencer Sanders (Denton Ryan), running back LD Brown (DeSoto), wide receiver Roshod Owens (San Antonio Roosevelt), wide receiver Bryson Green (Allen), safety Kolby Harvell-Peel (A&M Consolidated), safety Tanner McCalister (Rockwall-Heath), defense end Tyler Lacy (Sachse), and defensive tackle Jayden Jernigan (Allen).
17 starters from last year's team that went 8-3 and 6-3 in the Big XII, finishing third and ranked No. 20 in the AP Top 25, five on offense, nine on defense.  Plus 50 Letter winners.
Why pick 2010?  Well, as we know that was the year things starting going poorly for Texas football.  And it matches the ascendancy of Oklahoma State.  While our overall series record of 26-9 is decidedly in favor of Texas, since 2010, the Cowboys have dominated with 7 wins to 4 for Texas, although we have won the last two.
Some impressive information from okstate.com:
Since 2010, OSU has 6 seasons with at least 10 wins, one outright Big XII title (2011) and a share of the Big XII South title (2010).
Oklahoma State has been ranked in the top 15 of the Associated Press poll in 11 of the past 13 seasons and has posted 10-win seasons six of the past 11 years
2 wins per year since 2010, 12th in the FBS during that span
Gundy has led the Cowboys to a 64-33 record against Big 12 opposition since 2010, a mark that is good for second-best in the conference during that span. His 83 career wins in Big 12 games ranks fourth in the history of the conference, trailing only Bob Stoops, Mack Brown, and Bill Snyder all-time.
Cowboys ground game is spread among QB Spencer Sanders and two running backs.  Jaylen Warren (No. 7, RS senior RB, 5-8, 215 pounds) has 512 yards on 115 attempts, for a 4.5 average, with 6 touchdowns and a long of 75.   Dominic Richardson (#20, sophomore RB, 6-0, 210) has 19 rushes for 61 yards.
Leading receiver is Tay Martin (No. 1, senior WR from Houma, LA, 6-3, 186 pounds), with 21 catches for 317 yards and 2 TDs, and he has only played 4 games.  Brennan Presley (No. 80, sophomore WR from Tulsa, 5-8 and 175) has 12 catches for 188 yards and 1 score.  Rashod Owens (No. 10, RS freshman) has 9 catches for 164 yards and a score. Jaden Bray (No. 85, freshman WR, 6-2, 187) has 6 catches for 136 yards and a TD, and Bryson Green (No. 19, freshman WR, 6-1, 205) has 5 catches for 57 yards and a TD.
Defensively, the Pokes are led by senior linebacker Malcolm Rodriguez (No. 20, 5-11, 225), who has 54 tackles (31 solo, 5 TFL for 7 yards, 7 quarterback hurries, and 2 forced fumbles.  He leads the Big XII in tackles, 3 ahead of DeMarvion Overshown.
Redshirt senior linebacker Devin Harper (No. 16, 6-0, 235) is second with 29 tackles (15 solo), 2.5 TFL for 16 yards and 1.5 sacks for 15 yards, plus 7 quarterback hurries.
Kolby Harvell-Peel (No. 31, senior safety, 6 foot, 207) has 27 tackles (14 solo), 2.5 TFL for 3 yards, and 2 interceptions (tied for first with 5 other guys, including B.J. Foster).
Senior cornerback Jarrick Bernard-Converse (No. 24, 6-1, 200) has 21 tackles (18 solo) and leads OSU with 5 pass break-ups.
Colin Oliver (No. 30, freshman DE, 6-2 & 225) and Brock Martin (No. 9, RS senior DE, 6-3 & 250) lead the Cowboys with 2.5 sacks each (12 yards and 19 yards respectively).
Gundy brings his Cowboys to Austin undefeated.
23-16 over Missouri State (Bears are 3-2, FCS team in the MVFC).
28-23 over Tulsa. Tulsa is 2-4, with wins over Arkansas State and Memphis, and losses to the UC Davis Aggies, Ohio State, and Houston.
21-20 over Boise State. Broncos are 3-3, with their other losses to UCF and Nevada, and wins over UTEP, Utah State, and Brigham Young.  I was very unimpressed with Boise State this season, and I am still stunned they beat BYU in Provo last week.
31-20 over Kansas State. K State is 3-2, with non-conference wins over Stanford, Southern Illinois, and Nevada, and with the close 31-37 loss to the Land Thieves.
24-14 over Baylor. By far their most impressive win, especially if Baylor is as good as I think they are.  That is Baylor's only loss, and the Bears have wins over Texas State, Texas Southern, Kansas, Iowa State (31-29), and West Virginia (45-20).
A very good start for Gundy and Oklahoma A&M.
The Statistics
Offense
| | | |
| --- | --- | --- |
| Statistic | Texas | Okie State |
| Rushing Offense | #9 – 245.2 ypg | #76 – 158.4 ypg |
| Passing Offense | #63 – 234.8 ypg | #83 – 217.6 ypg |
| Total Offense | #17 – 480.0 ypg | #85 – 376.0 ypg |
| Scoring Offense | #5 – 44.5 ppg | #89 – 25.4 ppg |
| First Downs | #47 – 22.2/game | #87 – 19.8/game |
| Sacks Allowed | #70 – 12, 83 yards | #20 – 7, 37 yards |
| Tackles for Loss Allowed | #43 – 28, 105 yards | #91 – 38, 115 yards |
| Third Down Conversions | #9 – 51.9% | #41 – 44.2% |
| Fourth Down Conversions | #56 – 58.3%   (7/12) | #14 – 75%   (3/4) |
| Red Zone Offense | #18 – 93% / 77% | #43 – 89% / 72% |
| Long Run Plays | #25 – 37/10, 14/20, 8/30, 5/40 | #88 – 24/10, 5/20, 2/30, 1/40 |
| Long Pass Plays | #56 – 53/10, 22/20, 13/30, 5/40 | #68 – 50/10, 21/20, 5/30, 1/40 |
| Long Scrimmage Plays | #43 – 90/10, 36/20, 21/30, 10/40 | #83 – 74/10, 26/20, 7/30, 2/40 |
Defense
| | | |
| --- | --- | --- |
| Statistic | Texas | Okie State |
| Rushing Defense | #110 – 198.2 ypg | #12 – 91.0 ypg |
| Passing Defense | #85 – 240.8 ypg | #50 – 214.2 ypg |
| Total Defense | #106 – 439.0 ypg | #19 – 305.2 ypg |
| Scoring Defense | #94 – 29.2 ppg | #24 – 18.6 ppg |
| Sacks | #65 – 12, 86 yards | #25 – 16, 113 yards |
| Tackles for Loss | #67 – 33, 123 yards | #37 – 39, 158 yards |
| First Downs Allowed | #83 – 21.2/game | #17 – 16.2/game |
| Third Down Conversions | #87 – 41.5% | #10 – 28.4% |
| Fourth Down Conversions | #124 – 81.8% | #31 – 37.5% |
| Red Zone Defense | #48 – 80% / 44% | #70 – 83% / 42% |
| Long Run Plays Allowed | #107 – 35/10, 14/20, 7/30, 2/40 | #4 – 10/10, 5/20, 3/30, 1/40 |
| Long Pass Plays Allowed | #76 – 51/10, 19/20, 8/30, 7/40 | #18 – 38/10, 16/20, 6/30, 4/40 |
| Long Scrim. Plays Allowed | #93 – 86/10, 33/20, 15/30, 9/40 | #5 – 48/10, 21/20, 9/30, 5/40 |
Other
| | | |
| --- | --- | --- |
| Statistic | Texas | Okie State |
| Turnovers | #15 – 2F, 3I | #72 – 3F, 5I |
| Turnover Margin | #15 –  10 :5  +0.83 | #98  6:8  -0.40 |
| Penalties | #47 – 33, 252 yards | #68 – 36, 307 yards |
*Based on total number of penalties.
Match-up Comparison
| | |
| --- | --- |
| Texas Offense | Okie State Defense |
| Rushing Offense – 245.2 ypg | 91.0 ypg – Rushing Defense |
| Passing Offense – 234.8 ypg | 214.2 ypg – Passing Defense |
| Total Offense – 480.0 ypg | 305.2 ypg – Total Defense |
| Scoring Offense – 44.5 ppg | 18.6 ppg – Scoring Defense |
| First Downs – 22.2/game | 16.2/game – First Downs Allowed |
| 3rd Down Offense – 51.9% | 28.4% – 3rd Down Defense |
| 4th Down Offense – 58.3 | 37.5% – 4th Down Defense |
| Red Zone Offense – 93/777 | 83/42 – Red Zone Defense |
| LRP – 35/10, 14/20, 7/30, 2/40 | 10/10, 5/20, 3/30, 1/40 – LRP Allowed |
| LPP – 53/10, 22/20, 13/30, 5/40 | 38/10, 16/20, 6/30, 4/40 – LPP Allowed |
| LSP – 90/10, 36/20, 21/30, 10/40 | 48/10, 21/20, 9/30, 5/40 – LSP Allowed |
| | |
| --- | --- |
| Texas Defense | Okie State Offense |
| Rushing Defense – 198.2 ypg | 158.4 ypg – Rushing Offense |
| Passing Defense – 240.8 ypg | 217.6 ypg – Passing Offense |
| Total Defense – 439.0 ypg | 376.0 ypg – Total Offense |
| Scoring Defense – 29.2 ppg | 25.4 ppg – Scoring Offense |
| First Downs Allowed – 21.2/game | 19.8/game – First Downs |
| 3rd Down Defense – 41.5% | 44.2% – 3rd Down Offense |
| 4th Down Defense – 81.8% | 75% – 4th Down Offense |
| Red Zone Defense – 80/44 | 89/72 – Red Zone Offense |
| LRP Allowed – 35/10, 14/20, 7/30, 2/40 | 24/10, 5/20, 2/30, 1/40 – LRP |
| LPP Allowed – 51/10, 19/20, 8/30, 7/40 | 50/10, 21/20, 5/30, 1/40 – LPP |
| LSP Allowed – 86/10, 33/20, 15/30, 9/40 | 74/10, 26/20, 7/30, 2/40 – LSP |
 A quick look at some of the amazing individual stats for Longhorns.
I have to start with Bijan Robinson, who is first in the Big 12 in yards (789), attempts (125), and yards per game (131.5).  Bijan is tied with Breece Hall for first with 8 rushing touchdowns.  Bijan is third in scoring.
Xavier Worthy is first in the Big 12 in total receiving yards (514), first in touchdowns (6), second in the Big 12 with 85.7 yards per game.  And his 261 yards against OU are the most by any WR this season in one game.
DeMarvion Overshown is second in the Big 12 with 52 tackles and 8.67 tackles per game.
Comparing the teams statistically, what jumps out most is not any comparison, but the putrid rankings of the Texas defense.  I think I read somewhere that this is one of the worst defenses in Texas history, and I know it is down there with some of the really bad defensive units from the last decade.  I don't get it.  In the conference, Texas is ranked:  8 in rush defense, 5 in pass defense, 9 in total defense, 8 in scoring defense, 9 in opponent first downs, 9 in opponent long rushing plays, 8 in opponent long passing plays, and 9 in opponent long scrimmage plays.  On long plays over 20 yards, Texas is at the bottom  – 10th – with 33 given up.  Tied for last place with 40+ and 50+, and alone in last for 60+.
Flip to the offense in the Big 12.  Texas is first in scoring, first in rushing, fifth in passing, and first in total offense.  Second in long rushing plays (Baylor is first), fifth in long passing plays, and third in long scrimmage plays.
What to do with this mess?
First, the great Texas offense – both coaching and players – offsets a lot of defensive woes.  And giving up 662 yards to the Land Thieves, including 357 on the ground, didn't do our defensive statistical standings any favors.
The Cowboy run defense is good, but so was OU (very good), and Bijan got 137 yards in Dallas.  So I think despite the numbers on the season, Texas is going to find a way to run the ball on Saturday.  Enough to win.
Casey Thompson is really good.  388 yards and 5 touchdowns against OU is really, really good.  Getting sacked 4 times is not.  Casey has to have time to make his throws.  He has so many great receiving targets, if he can just get a couple of seconds to work, he will complete a lot of passes on Saturday.  And hit some big ones.
We are going to miss Jordan Whittington.  Tough break.
If Texas can give Casey some protection and just open some little cracks for Bijan, Texas will win.
Defensively, Texas obviously must have a better game.  Gundy and his squad may not have the firepower of the Land Thieves, but they are pretty good.  That's why they are undefeated.  So I expect them to get some points.  However, as Kyle Umlang observed, Casey Thompson has accounted for more touchdowns this season that the entire OSU football team.
Finally, this interesting stat from Alex Loeb:  Texas scoring by quarter this year:
1st Quarter:     +51
2nd Quarter:    +37
3rd Quarter:    +12
4th Quarter:     -8
Why such a differential? Because OU scored 25 in the fourth quarter Saturday.  But Texas needs more gas and less brakes in the second half.
I went ahead and made a big batch of Kool-Aid.
            Texas wins, 45-32
Matt Craig (HornMafia on Barking Carnival) "The Week That Will Be": Red River Nightmare
https://www.barkingcarnival.com/2021/10/14/22725712/the-week-that-will-be-red-river-nightmare-texas-longhorns-football
Juan Heisman Tailgate
Hard to believe the tailgating season is already half over.  We begin the second half with an 11:00 a.m. kickoff.  You know how I feel about that.  It is what it is.  We will make the best of it.
We will have a great morning at Juan Heisman.  Breakfast tacos, bloody marys, cold beer, ranch waters, and seltzers.
Vodka for the bloodys is courtesy of our friends at Tito's Handmade Vodka.  Our thanks to Bryan, Tito, and all their folks for their support of the tailgate and so many great events and causes in Austin.  Good people.
Beers courtesy of Capitol Wright Distributing and Texas Beer Company.  Texas Beer Company is in Taylor, Texas, and our friends Ian and J.D. and the team at TBC are brewing great craft Texas beers.  Come try some!
Speaking of breakfast tacos.
Oklahoma Land Thieves 55, Texas Longhorns 48
So, we were all pretty unhappy Saturday afternoon.  I couldn't help but think about the great Augie Garrido.  This is NSFW- or safe for anyone remotely offended by bad language.
The emotions on text threads and email chains were raw and visceral Saturday and Sunday.  "Worst loss I have ever seen", "biggest choke in the history of the Texas-OU rivalry", "worst meltdown by Texas ever", and, "hurt more than 65-13 in 2003".
But Monday, the sun came up again [channeling Bill Little here], Sark held a press conference and was all Sark, and Texas started getting ready to play OSU on Saturday.  And, moods among fans and friends were more sanguine, more thoughtful, and more Texas.  Folks started talking about the great plays and performances, discussed below.  So I was Augie-slamming-the-door mad and disappointed Saturday afternoon, but as the week has gone on and all the other things in life have continued to require attention, I am appreciative of a great morning in Fair Park.  Seeing lots of friends at pre-game parties, having a corny dog and cold beer (okay, beers) with the Dunn's, Tony Dewar, my daughter Claudia, Brad Laughlin, Jerry Epps, and my Oklahoma brother, Charlie Randolph.  Of an amazing first quarter and indeed first half of football.
When you give up 662 yards of offense to the opposing team, 339 on the ground, you shouldn't expect to win. I wrote last week "Texas is going to have make sure that a bend but don't break defense does just that – bend only."  Well, Texas broke.
There are some positives from the game.  Casey Thompson was sharp and tied a RRR record with 5 touchdown passes.  Xavier Worthy had 9 catches for 261 yards and 2 TDs
So I tried forcing myself to re-watch the whole game, but I couldn't do the second half.  And I tried to get motivated to do my usual linear re-cap, but just too damn hard.
It is generally believed that the term "fan", as in Texas fans or OU fans, came from a shortening of "fanatic".  Fanatic comes from the Latin fanaticus – "mad, enthusiastic, inspired by a god".  In the 16th century it sometimes meant "insane person", and in the 17th century, a zealous person.  The quote "A fanatic is someone who can't change his mind and won't change the subject" is attributed to Sir Winston Churchill.
Cram over 92,100 zealous, mad, fanatics into a large concrete bowl, evenly divided between Longhorns and Land Thieves, and the emotional energy at 11:00 a.m. Saturday morning was unreal.  You could feel it.  Then, onto that fire, pour an opening play 75 yard catch and run touchdown from Casey Thompson to Xavier Worthy, then add an OU 3 and out which ended with Rattler being sacked for 9 yards and the Sooner punt being blocked and recovered at the Thief 2 yard line, and then our star Bijan Robinson punching it in for a 2 touchdown lead 113 seconds into the game, and you have a euphoric inferno in the north end of the Cotton Bowl.  That has to be the most insanely happy I had been at a Texas-OU game that early in the contest in my life.  Maybe any Texas game.
But you know what?  Those zealots in crimson and cream were insane too, because they kept screaming and yelling and cheering on their guys.  Sooners answered quickly to make it 14-7, and the teams traded possessions.
B.J. Foster's interception at midfield yielded another quick score, 27 yards to Worthy, Bijan for 14, then a 10 yard touchdown completion to Joshua Moore, 21-7.
Texas defense was inspired again, forcing a three and out, again ended with a big Rattler sack. Some good gains after the OU punt and just across mid-field.  Thompson strikes again, a 48 yard touchdown pass to Joshua Moore.  28-7.
That was one quarter of play.  And as the frame ended, OU had just rushed for 8 yards on a third and 9, and it was fourth and 1 on the OU 34.
As play resumed after the long commercial break, the Land Thieves lined up to go for it.  Texas wisely called a timeout, seeing a kid wearing No. 13 about to get the ball.   Would love to know what Coach PK and his guys told the Texas defense.  I hope they remember not to tell them that again.  Williams enters the game and Red River Rivalry lore with a 66 yard touchdown run on fourth and 1.  It's a ballgame again.
OU forced a 3 and out, and Rattler came back in for the Thieves.  He immediately had Oklahoma in scoring position with a 48 yard completion to the Texas 26.  Texas held, but Brkic made the 40 yard field goal to make it 28-17.
A few possessions later, after another big Texas defensive play forcing a Rattler fumble, Texas got the ball at the UT 45.  Bijan broke a 50 yard run, getting pushed out of bounds at the OU 2.  Casey hit Wiley for the score, and Texas back up big, 35-17.
The next OU possession was one that would change the game, because Caleb Williams came in to play.  He completed one big pass to Hall for 24 yards, but he didn't get the Land Thieves in the end zone, and they settled for another Brkic field goal.  35-20.
Texas got the ball with 3 minutes left in the half, and I was impressed with the drive.  Another series with a big play – this one a 39 yard pass to Worthy.  Dicker hit the field goal as time expired and I watched from the steps, on my way to Frito Pie and Shiner Bock beer.
OU got the ball to start the second half, but Texas held them after an initial big 17 yard run by Caleb Williams.
The Texas possession began on the 8 yard line, after Jamison called for the fair catch (questionable decision #1).  But it was a 3 and out for the Horns, with a false start (Kerstetter) on third down not helping.  Dicker punted from the endzone, and OU got the ball in Texas territory.
Williams took advantage of the short field, and he and Kennedy Brooks got the ball in the redzone before Texas stiffened, holding OU to another field goal.  But each 3 points chipped away at the Texas lead.  38-23.
Next possession, the Texas miscue (holding) was overcome with a Bijan 33 yard run, but this time it was OU's turn to keep the offense out of the end zone.  Dicker for 3, and 41-23 Texas.  Less than 3 minutes left in the third quarter and an 18 point lead.  I will admit, I was confident.
Kennedy Brooks wiped that smug smile off my face with a 65 yard run (so close), and a couple of plays later Williams connected with Mims for a Thief touchdown.  41-30.
Texas' next possession had another false start, and we began the fourth quarter facing third and 13 from our own 22.  Casey couldn't connect with Moore, and Dicker boomed a big one (78 yards) which unfortunately rolled into the endzone for a touchback.
Williams led a methodical drive to Texas 9, before somehow we got a stop.    But the Brkic field goal cut the lead to 8.  41-33.  Ensuing kickoff is brought out of the endzone by Roschon Johnson (questionable decision no. 2), and the OU special teams are on top of him.  Texas starts at its own 18.  7 yards sacrificed.
Oklahoma was smelling blood, and their defense responded, sacking Casey again.  Second and 18 from our own 10 was soon fourth and 18, and Dicker's punt from the endzone at least got over midfield.  It didn't matter.  Caleb Williams ran and passed at will, completing a quick 60 yard scoring drive with a 52 yard touchdown pass to Mims.  Then OU converted the 2 point try with a completion to Drake Stoops, son of Bob Stoops.  Of course they did.
So, tie game.  A little over 7 minutes to play.  Other than a getting a couple of minutes during timeouts, the crowd had been standing and screaming in the heat for 2 and half hours.  All the momentum with OU.
OU kicks off, and for whatever reason, Worthy decides to bring the ball out (not questionable – it was a bad decision), and at the Texas 18 he fumbles.  OU gets the ball, and in a recurring nightmare, it takes OU 1 play to score (Kennedy Brooks).   48-41 Land Thieves with their first lead, 7:10 to play.
The next Texas possession was glimmer of hope, not just in the game, but in the vision of the future.  Despite the momentum, despite what the players had to know was an epic collapse, no quit.  Casey brought his offense out and on the second play again completed to Worthy, this time for 48 yards to the OU 23.  Texas was in scoring position.  But incomplete on third and 11.  Texas called timeout.  I, being the amateur, assumed we would kick the field goal given there was 4:44 to play.  All Texas had to do was muster a stop.  In hindsight, we all knew how gassed the Texas defense was. Sark knew.  A touchdown and tie game here, then we had a better shot at overtime.  So he went for it. Nope.
Texas forced a three and out, aided by a false start by OU, and Jamison returned the punt to the Texas 40.  Texas fans were again on the upside.  We had the ball with just under 3 minutes to play, and we were going to tie and then win in overtime.  Casey did indeed lead a great drive, with completions to Worthy (6 yards), Brewer (11), Worthy (14).  Then a great 31 yard touchdown to Worthy.  Oh my goodness, we were tied.  And only 1:23 to play.
Riley had the right calls.  He had them all of the second half. It was really amazing.  Williams completed 3 passes, with a 12 yard Brooks run mixed in, to get to first and 10 at the Texas 33 with 10 seconds left.  Ten seconds and 33 yards.  A hold, and we would win in overtime.  Riley took a timeout, and I guess you don't have to be one of the best offensive minds in the country to roll the dice with a direct snap to Kennedy Brooks.  Brooks had 184 yard rushing at that point, and one TD.  A few seconds later, he completed the historic Oklahoma comeback and closed the books on his day:  217 yards and two touchdowns.
The second half is just hard to fathom.  After his great first half with nearly a 100 yards, Robinson – and all of Texas – was unable to run the ball in the second.  Lots of armchair quarterbacking (why wasn't Keilan Robinson given the ball?).  And actually, 214 of the Texas yards came in the first quarter (516 for the game).
Soul crushing.  Absolutely one of the worst losses I have ever suffered. It was completely different pain than the 50-7 loss to Baylor, the 66-3 loss to UCLA, or those aforementioned Stoops blow-outs over Mack.  No, in most of those games, Texas was losing ugly early, and we stayed around to watch the train wreck.  We didn't fall from a manic high to deep chasm of disbelief and depression in those games.  But we did Saturday.  The frothy and fervent joy of the first quarter was buried in the frustration and bitter sadness of the fourth quarter and final play.
Someone asked me Wednesday if writing helped get over these kind of games.  For some who have read my ramblings for long enough know (think 2010), the catharsis of re-living and re-watching and working through the losses does help.
I am not bitter about the loss, at least not now.  I am grateful for a great Friday night at Javier's with Carol & Tim and Paige & Ivan, and my goddaughter Elizabeth and her fiancée Connor.  I am grateful for my daughter Claudia, driving up from Austin Saturday morning to join me for another Texas-OU game.  So glad to see so many friends at Fair Park before the game.  I am thankful that Tony Dewar and Charlie Randolph, two great friends, were with Claudia and me at the game.  Grateful for those moments of joy and celebration during the game, and to see Texas players like Bijan Robinson and Casey Thompson and Xavier Worthy have amazing games.  So fortunate to have dinner in Tyler that night with my dad and my sister Diana and her husband Scott.  Gratitude washes away pain.  It is a salve that heals emotional wounds, when you focus on what you have to be thankful for instead of regretting what you lack or didn't get.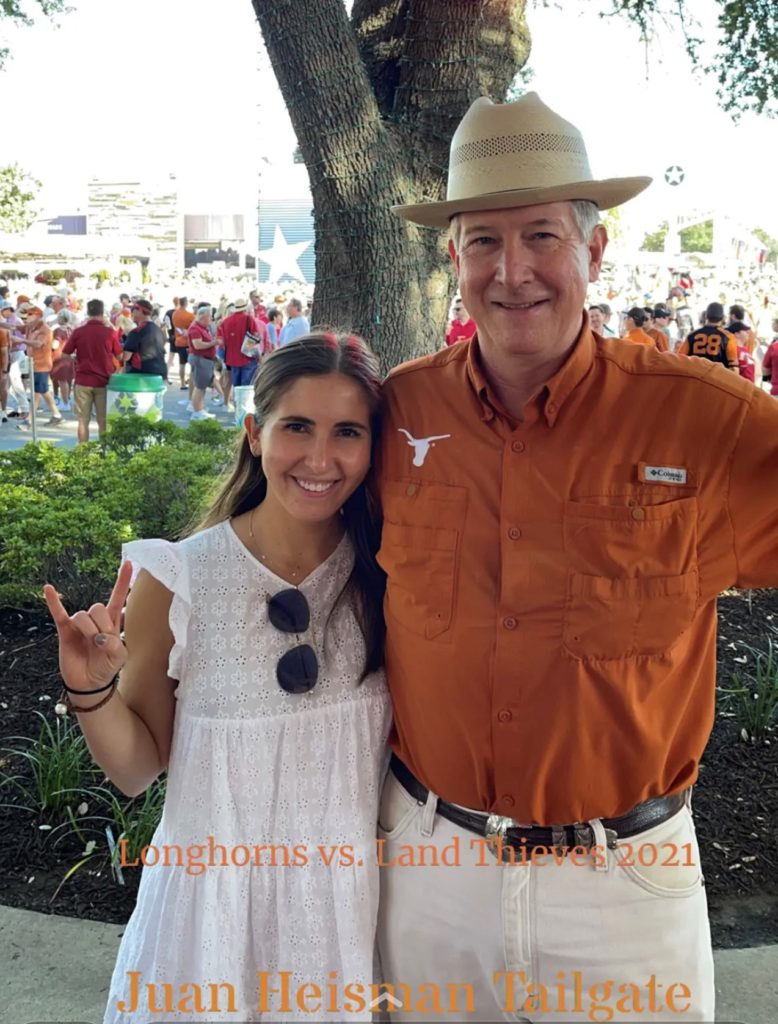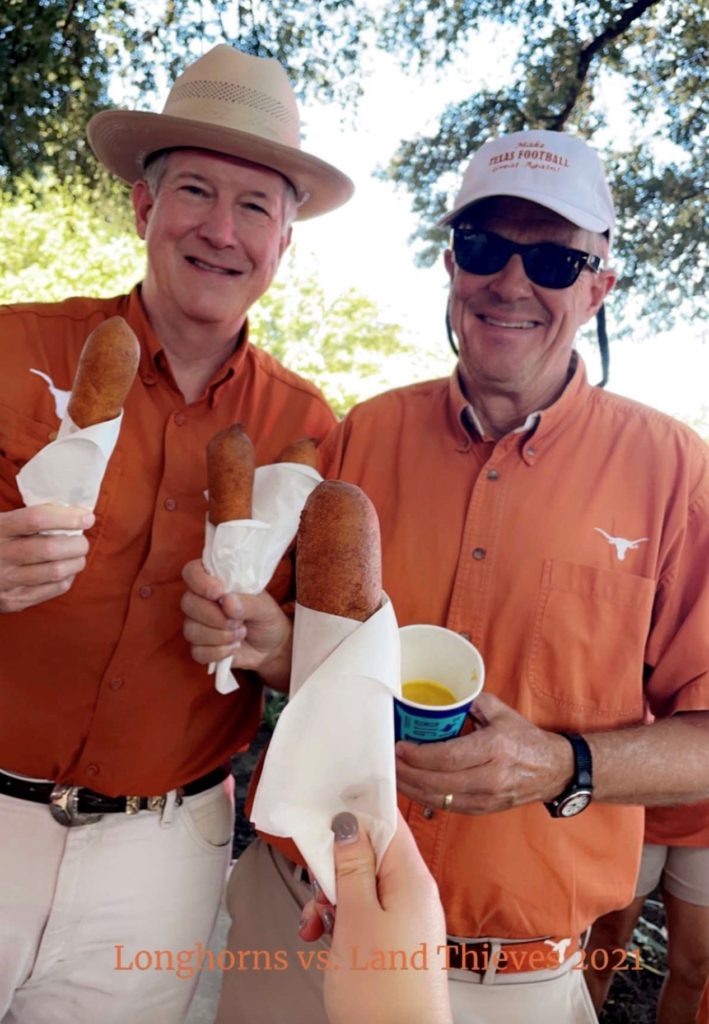 TCT & Tony D with Fletcher's Corny Dogs for breakfast, photo credit to Claudia Taylor.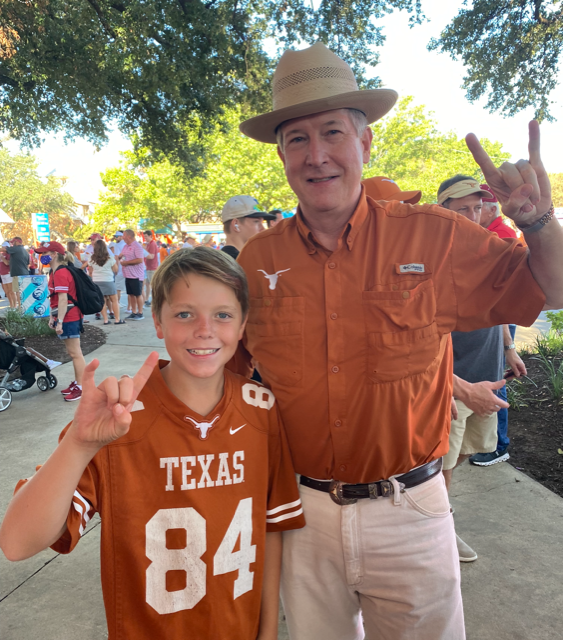 Mason Dunn, a next generation Juan Heisman Tailgate Crew Man.
Big Picture of The Game
It was a battle between two athletic, fast teams.  Not trench warfare like World War I, but more like Rommel and Patton going at each other with good air support.  The most points ever scored in 117 games.
So many explosive plays, so many momentum swings, and so much emotion.  I was wrong about Texas winning, but I was right about this:  "I think they are going to come out of the tunnel Saturday morning ready to play.  All Gas, No Brakes."
Their defensive line whipped our offensive line, particularly in the second half, and the penalties on offense in the second half really hurt (nearly one on every possession I think).  Texas lost to a team that many projected to be in the College Football Playoffs, and a whole lot of them saying preseason the Land Thieves would be in the finals and might win it all.  With Caleb Williams, they might.  Texas has to move on, and based on all the player quotes this week, they will.  Reports are that the practices have been good.  I trust Sark to have the team re-focused, and I trust that he will use the loss as a motivation for the Longhorns to get the re-match in December.  I think if Texas can get there, we have decent chance of beating the Thieves in Arlington.  Time to move on.
Highlights
So despite the bitter loss, there were some amazing highlights.  And some plays of which the Texas Longhorns should be very proud.
Here is a short one, a bit over 5 minutes from Big XII.
Just over 10 minutes, from ESPN.
About half an hour from this guy, Matthew Loves Ball.
The Polls
No shock that Georgia is number one – and an impressive unanimous #1 in the AP Top 25
AP Top 25:  Georgia, Iowa, Cincinnati, Oklahoma, Alabama, The Ohio State University TM, PSU, Michigan, Oregon, and Michigan State.  Oklahoma State stays at 12, Ole Miss jumps to No. 13, Notre Dame still at No. 14.  Texas Agricultural & Mechanical leaps back in at No. 21.  Southern Methodist at No. 24.  Texas hanging on at No. 25.
Coaches Poll: UGA, Hawkeyes, Land Thieves, Cinci, Bama, The Ohio State University TM, Michigan, PSU, Michigan State, and Ducks. Okie A&M at No. 12, L'Université de Notre Dame du Lac at No. 13, Ole Miss 14.  Ponies at 24.  The Horns dropped out of the Coaches Poll.
Worth noting that in the AP, Baylor was 28th in the voting, and UTSA was next.  In the Coaches Poll, Baylor was 27th and UTSA was at 30.
No. 1 Texas Volleyball
Texas is 13-0 after sweeping both matches with Kansas in Lawrence.  It wasn't easy.  On Saturday, Texas was down 2 sets to none and rallied to win a 5 set thriller against the Jayhawks.
Texas is hosting Texas Christian this week at Gregory Gym.  The Longhorns swept the Frogs Thursday night 25-21, 25-20, and 25-19.  They play Friday night at 7:00 p.m., game on Longhorn Network.
Texas Athletics Hall of Honor
Friday night, a bunch of great Longhorns will be inducted into Texas Athletics Hall of Honor – the 2020 class and the 2021 class.  The 2020 class includes Jamaal Charles (who was on the sidelines at the Cotton Bowl on Saturday, supporting the Horns), Jordan Shipley, and David Thomas from football and P.J. Tucker and D.J. Augustin from basketball.  The 2021 class includes Peter "The Great" Gardere and Mike Adams from football and J.P. Howell from baseball.
https://texassports.com/news/2020/8/26/t-association-texas-athletics-announces-next-hall-of-honor-class.aspx
https://texassports.com/news/2021/9/20/t-association-texas-athletics-announces-next-hall-of-honor-class.aspx
Texas Basketball
I will have a basketball preview sometime soon I hope.  The excitement around Coach Chris Beard and the team he has assembled (and the coaching staff) have everyone really pumped.  In the meantime, one of my all-time favorite Longhorns, Andrew Jones, is on the cover of Dave Campbell's Texas Basketball.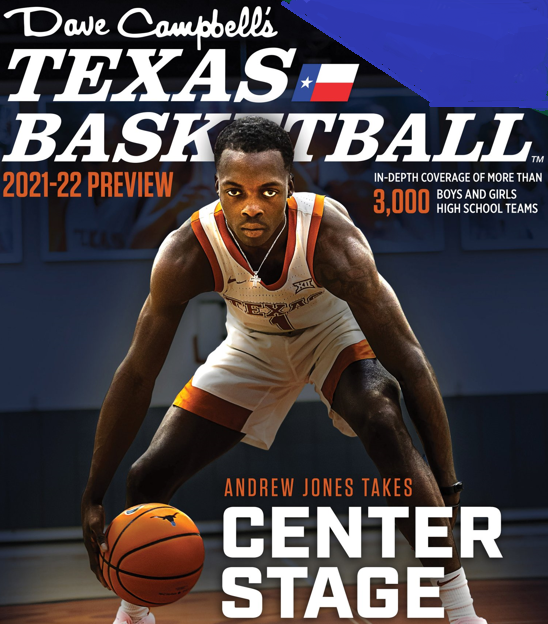 Week Seven
Only two games featuring ranked opponents – Texas and the Cowboys, and Kentucky at Georgia.  But looking at the schedule, I think there are some good games that will shake-up next week's polls.
This Week's Games – The Big XII Week 7
No. 19 Brigham Young at Baylor, 2:30 p.m. on ESPN.  Both teams are 5-1, and the Cougars are coming off a shocking home loss to Boise State.  Baylor is playing good football and favored by 6.  Over/under is 50.5.  I think there is a good chance the Bears win.
Texas Tech (4-2, 1-2) at Kansas (1-4, 0-2), 3:00 p.m. on Big 12 – ESPN+.  Red Raiders are favored by 17.5, and the over/under is 68.  Tech to win and cover.
Texas Christian (3-2, 1-1) at No. 4 Oklahoma (6-0), 6:30 p.m. on ABC.  This would have been the timeslot for Texas and OSU, if.  Land Thieves favored by 13.5, over/under is 64.  Sooners to win and cover.
Iowa State (3-2, 1-1) at Kansas State (3-2, 0-2).  6:30 p.m. on ESPN2.  Cyclones are favored by 6.5, and the over/under is 50.5.  I think Iowa State gets a big road win.
This Week's Games – The Top 25
Friday Night
California (1-4) at No. 9 Oregon (4-1), 9:30 p.m. on ESPN.  Ducks are tough at home, and favored by 13.5, over/under is 54.  Got to like Oregon there.
No. 24 and undefeated San Diego State Aztecs at San Jose State (3-3).  9:30 p.m. on CBSSN.  SDSU favored by just 9.5, over/under is 41.
Saturday
No. 3 Cincinnati (5-0) hosts Central Florida at Nippert Stadium, 11:00 a.m. on ABC.  Bearcats favored by 21.5 over 3-2 Golden Knights.  Over/under is 56.5.  Pretty comfortable that Cinci wins this one.
No. 10 Michigan State is also undefeated, and they head to Bloomington to play the Hoosiers.  Indiana is 2-3 and 0-2 in the Big 10, and the Spartans are favored by just 4.5.  Seems low.  Over/under is 48.5.  State running back Kenneth Walker III continues to lead the nation in rushing with 152.17 yards per game and 913 total yards.
Auburn (4-2) at No. 17 Arkansas, 11:00 a.m. on CBS.  Razorbacks favored by 4.5 in Fayetteville.  Over/under is 54.
No. 20 Florida at Louisiana State, 11:00 a.m. on ESPN.  I was thinking that the Tiger fan base probably hates the morning kick-offs as much or more than most of us.  Then it occurred to me that knowing how well so many natives of the Pelican State can party, maybe not.  Gators (4-2) favored by 11.5 over the Tigers (3-3).  Over/under is 59.5.  Orgeron needs a win pretty badly, so wouldn't be surprised to see LSU get the upset.
No. 21 Texas Agricultural & Mechanical (4-2, 1-2) at Missouri (3-3, 0-2).  11:00 a.m. on SECN.  I was surprised to see the line at just -8.5 for the Aggies Monday night.  Friday morning, still 8.5.  Over/under is 59.5.
No. 11 Kentucky at No. 1 Georgia. 2:30 p.m. on CBS, both teams undefeated.  Georgia is really, really good.  And the Dawgs are favored by 21.5 at home Between the Hedges.  Over/under is just 44.5.
Purdue (3-2) at No. 2 Iowa (6-0), 2:30 p.m. on ABC.  Hawkeyes favored by 11.5, over/under is 43.
No. 5 Alabama at Mississippi State.  6:00 p.m. on ESPN.  Crimson Tide favored by 17, over/under is 58.  Should be interesting.
No. 13 Ole Miss (4-1, 1-1) at Tennessee (4-2, 2-1).  6:30 p.m. on SECN.  Rebels 2.5 point road favorites, and while I think they can win, I suspect a very close game with the Volunteers.  Over/under is 83.  Hotty Toddy!
No. 22 NC State at Boston College, 6:30 p.m. on ACCN.  Both teams 4-1, but the Wolfpack 1-0 in ACC play, BC is 0-1.  NC State favored by 3, over/under is 52.
No. 18 Arizona State at Utah, 9:00 p.m. on ESPN.  This will be good late night game to watch.  Sun Devils were favored by 1 on Sunday, it was even Thursday night.  Over/under is 51.
Other Games of Interest This Week
Sun Belt action Tuesday night, as Appalachian State got hammered by Louisiana-Lafayette 41-13.
Thursday Night
Navy at Memphis in the Liberty Bowl, and Tigers were favored by 10.5.  Knew I should have paid attention.  Memphis 35, Navy 17
Saturday
Nebraska looks to get to .500 in Minneapolis.  11:00 a.m. game with the Gophers on ESPN2.  Cornhuskers favored by 4.
Duke (3-3, 0-2) at Virginia (4-2, 2-2), 11:30 a.m. on ESPN3.  Wahoos favored by 10.5, over/under is 69.  Go Hoos.  Cavaliers to win and cover.
Akron in Oxford, Ohio to play Miami.  1:30 p.m. on ESPN+.  Both teams 2-4 and 1-1.  Redhawks favored by 20.  They broke my heart last week with a 1 point loss.
Miami (Florida) at North Carolina.  Tarheels are 3-3 and 2-3 in the ACC.  Big game for Coach Brown.  2:30 p.m. on ACCN.  UNC favored by 7.5 at Kenan Stadium.  Go Tar Heels!
Vanderbilt at South Carolina, both teams winless in $EC play.  3:00 p.m. on SECN.  Gamecocks are 18 point home favorites, over/under is 51.
Rice at UTSA, 5:00 p.m. on ESPN+ from the Alamodome.  Roadrunners are undefeated.  And favored by 17.5.  That seems high, but indicative of some well-earned respect. Over/under is 54.
Stanford (3-3) at Washington State (3-3), 6:30 p.m. on ESPNU.  Cardinal favored by 1.5, over/under is 52.5.  Sure wish this was a late game.  Night games from Pullman are always fun to watch.
Army (4-1) at Wisconsin (2-3), 7:00 p.m. on BTN.  Badgers favored by 14.
UCLA at Washington, 7:30 p.m. on FOX. Huskies favored by 1.5.  Watchable game.
LA Tech at UTEP.  Miners a surprising 5-1.  LT favored by 6.5.  8:00 p.m. on ESPN+ from the Sun Bowl.
Air Force at Boise State, 8:00 p.m. on FS1.  Broncos favored by 3.5 at home on the Smurf Turf.
Washington & Lee Generals
The Generals took care of business against the Builders of Newport News Apprentice School, a solid 42-13 beating with the defense and special teams contributing to the scoring this week.  Offensively, W&L had 323 total yards, including 293 on the ground.  Jacob Romero led the way with 81 yards and a touchdown on just five carries, while Josh Breece had 70 yards and a score on 15 attempts.  Alex Wertz, another running back, had 66 yards and a touchdown on nine carries.  Wertz returned the opening kick 96 yards for a touchdown to give the Generals a lead 14 seconds into the game.  Quarterback Stephen Murrin of Fort Worth Country Day had 47 yards on 10 carries and also completed 4 out of 7 passes for 30 yards and a touchdown.  Luke Alison, son of my Kappa Alpha Order, Alpha Chapter, brother Bill Alison added four catches for 30 yards.  W&L also had a fumble scooped and returned for a touchdown.  Great win.
Generals are off this week. Big game with Bridgewater in LexVegas on October 23.  That is Young Alumni weekend. I am so old, when I was a young alumni, we didn't have young alumni weekend.
W&L is alone in first place in the Old Dominion Athletic Conference, at 3-0.  And of course No. 1 rush offense, by nearly 100 yards per game. And 600 more total yards than Randolph-Macon.  3 of the top 10 rushers in the ODAC are Generals:  Breece (3), Wertz (5), and Murrin (8).
W&L is fifth in the nation in rushing offense.  6 games in, the Generals are averaging 327.5 yards per game, 1,965 total yards (that's second best), and 24 rushing touchdowns (third best).  6.36 yards per rush, which is sixth in the nation.
Last Week's Games
The Big XII Week 6
I said last week about the Baylor-West Virginia, "Baylor may be good, maybe not.  We will know Saturday."  They whipped the Mountaineers 45-20.  And Vegas (Bears were 2.5 point favorites (10x) and the over/under is 44 (by themselves).  Guess who didn't wager on Baylor?
Texas Christian also 10x'd the line (2), with a 52-31 beat-down of Texas Technical in Lubbock.  As long as Gary Patterson is coaching the Frogs, they are going to be a good football team.
Last Week's Games – The Top 25
As I suspected, Temple fared poorly in Cincinnati, tumbling 3-52 (over/under was 54).
ASU Sun Devils 28-10 over Stanford, covering.  I didn't get home from Javier's early enough to watch this.  I don't think.
Saturday
Pretty big game in College Station.  Apologies to my Aggy friends; I was wrong.  Congratulations on a good win.  Texas Agricultural & Mechanical 41, Alabama 38.  Nice score too.
Georgia 34-10 over Auburn.  Dawgs win, but don't cover.
Great game in Iowa City, as Iowa holds off Penn State to win 23-20.  And covering. Thank you Hawkeyes!
Well, after some struggles, Ohio State seems to have found the right gear.  Buckeyes were favored by 21, and I thought Maryland would cover.  Nope.  66-17.  Stroud threw for 406 yards and 5 touchdowns.
Michigan had to battle hard at Nebraska, but they got the win 32-29.  Wolverines were favored by 3 on some books, but I had 2.5.  All good!
Huge upset in Provo.  Boise State was 2-3, but undefeated Brigham Young was only favored by 6.  I was all over that. I did not choose wisely.  BYU took a 10-0 lead, but not good after that.  The Cougars turned the ball over 4 times – 3 fumbles and an interception to end the game.  26-17 Broncos.
Michigan State stayed undefeated (for those paying attention, the Big 10 east is the only Power 5 conference or division with 3 teams undefeated in conference play; the American has Houston, Southern Methodist, and Cinci there).  Anyway Chris Whitt's Spartans are 6-0 after a big 31-13 win over the State University of New Jersey at Rutgers.  State did win and cover.
What a game in Oxford between Arkansas and the Harvard of the South.  Lane Kiffin and his Rebels stopped the time-expired 2 point conversion to win 52-51.
http://www.espn.com/video/clip?id=32367381
"They are setting off fireworks.  Keep partying Oxford.  Ole Miss wins it."  Hotty Toddy!
Notre Dame was in a dogfight with Virginia Tech, as I predicted.  Great game in Blacksburg, and the Irish come out on top 32-29.  Had em at pick.  Lucky.
The Demon Deacons of Wake Forest are undefeated.  Going in to the third week in October.  40-37 over Syracuse.
Louisiana State gets doubled up by Kentucky, 42-21.  Wildcats are good.
I declined the Gators by 39 line, but dang if Florida didn't cover.  42-0 over the Commodores.
Southern Methodist did NOT cover, but did beat Navy 31-24 to stay undefeated.  Tanner Mordecai threw for 324 yards and 2 TDs, but the ponies only ran for 80.  Navy passed for 64 yards, ran for 177.
San Diego State Aztecs 31-7 over New Mexico, covering.
Music
This week, Longhorn City Limits has the Greyhounds opening for the North Mississippi Allstars.  The Allstars are from Hernando, Mississippi.  Hernando is in DeSoto County, the northern boundary of which is also the state line with Tennessee. And of course that means Memphis.  Hernando was a home of the blues.  And one of my bucket list dives is Hernando's Hideaway in Memphis, which is on the Hernando Highway.
The North Mississippi Allstars blend blues, bluegrass, and southern rock.  Pretty good tunes.
Meet me in the City
Need to Be Free
This is from a show at Knuckleheads Garage (Kansas City, I think), and long.  But skim through.  Pretty nice music.
The Greyhounds are a great Austin band.
You're Gone
Cuz I'm Here
From a concert in 2014 at Uncle Billy's Brewery and Smokehouse in Austin
Charity
I have several friends who support the Special Forces Charitable Trust in different ways.  Each year, DK Reynolds participates in the Big Shoot, and she has raised tens of thousands of dollars for this great organization.  Drew Fish hosted a fundraiser recently.
Their mission provides a wide range of support to the Special Forces Community through three program areas: Warrior Family, Warrior Community and Warrior Heritage.
SFCT's signature program, "Mettle & Moxie Resilience Agility Weekend, provides critical tools for each SF Family unit to identify, recognize and handle stressors and challenges placed upon them while enduring back-to-back combat deployments, now and later. These techniques and tools strengthen and even save SF Families. Words with Warriors program offers a Peer-to-Peer environment where organic conversations among Warriors can take place, releasing the weight of details on a mission they do not wish to share with most."
You can learn more and donate here:
https://www.specialforcescharitabletrust.org/
IVY LEAGUE FOR THE FIFTH WEEKEND OF THE 2021 SEASON
By Lonnie Schooler
Coming into the fifth weekend of the Ivy football season, the entire League is finally ready for already some teams are separating themselves from the pack.  The Ivy's guaranteed television exposure is proving very popular among alumni and football fans everywhere.
Results of Games Played on October 1 and 2: 
In the fourth weekend of the Ivy season, there were two conference games.
In the first, the Big Red of Cornell tangled with the Harvard Crimson in Cambridge.  The Big Red surprised the Crimson during the first half, maintaining a 7-3 lead at halftime.  However, the Crimson's defense then stiffened, holding Cornell to 3 points in the second half, while countering with three touchdowns, such that the highly ranked Crimson prevailed, 24-10.
In the second, the Yale Bulldogs squared off with the likewise highly ranked Big Green of Dartmouth in Hanover, New Hampshire.  Alas for Mr. Nondorf, the Big Green triumphant by a score of 24-17 in overtime, after Yale pulled ahead in the 4th quarter, and Dartmouth had to rally with a field goal to send the game to overtime.
The Colgate Raiders traveled to Providence to play the Brown Bruins, and were subjected to a 31-10 drubbing as the Bruins dominated throughout, with their quarterback, E.J. Perry amassing 351 passing yards.
The Princeton Tigers journeyed down the road to West Long Branch, New Jersey, to play the Monmouth Hawks of the Big South Conference.  The league-leading Tigers were trailing after 3 quarters by a score of 21-14, but awakened just in the nick of time in the 4th quarter to prevail by the score of 31-28.
The Columbia Lions played the Blue Devils of Central Connecticut State in New Britain, Connecticut, and managed to eke out a 22-20 victory, thanks to a 3rd quarter safety, and some stout defense in the 4th quarter.
Finally, the Fighting Quakers of Penn hosted the Lehigh Engineers at Franklin Field in Philadelphia.  The game was very competitive, with the Quakers clinging to a 3-0 lead after 3 quarters.  Happily for Penn, the Quakers kicked it into gear in the last quarter, scoring 17 unanswered points to prevail 20-0.  The game featured the display of talents of two new stars, running backs Isaiah Malcome and Trey Flowers.  Mr. Malcome gained 201 yards (!) on 21 carries, a 9.6 yard per carry average; and Mr. Flowers gained 115 yards on 22 carries.
Schedule for October 15-16:
This weekend, there are two games involving conference matchups, with the remaining four Ivy members playing non-conference games.  The schedule for this weekend's games is as follows (all times CDT, and all games available on ESPN+, except the Friday night game which will be on ESPNU):
The Friday night game features the Big Red of Cornell hosting the Colgate Raiders at 6:00 P.M.
The Saturday games begin with Yale traveling to Storrs Connecticut to play the Connecticut Huskies at 11:00 A.M.  The Princeton Tigers journey to Providence to take on Mr. Babcock's Brown Bruins at 11:30 A.M.  The Big Green of Dartmouth travel to Durham, New Hampshire to play the Wildcats of the University of New Hampshire at a game starting at Noon.
The Lafayette Leopards make their way to Cambridge to battle the Crimson of Harvard at Noon.  Finally, the other conference game features the Fighting Quakers of Penn traveling to Upper Manhattan to play the Columbia Lions, at a game starting at 12:30.
Go Quakers.
Enjoy your football this weekend, now that the fall foliage is in full bloom.  Go Horns!  Go Astros!
Jim Nicar
1940: The way it was. Part of the @UTAustin campus, with the football stadium and Clark Field no. 2 – with its "Billy Goat Hill" in center field – just north, where the Bass Concert Hall is today. At lower left is Gregory Gym. Much of the future East Mall is still a neighborhood. pic.twitter.com/d0a7M92XMe

— Jim Nicar (@JimNicar) October 11, 2021
Cool Photos
So one Austin, one just cool.
Downtown Austin, from Aerial Austin
(@aerialaustin_  or click here: https://www.instagram.com/aerialaustin_/)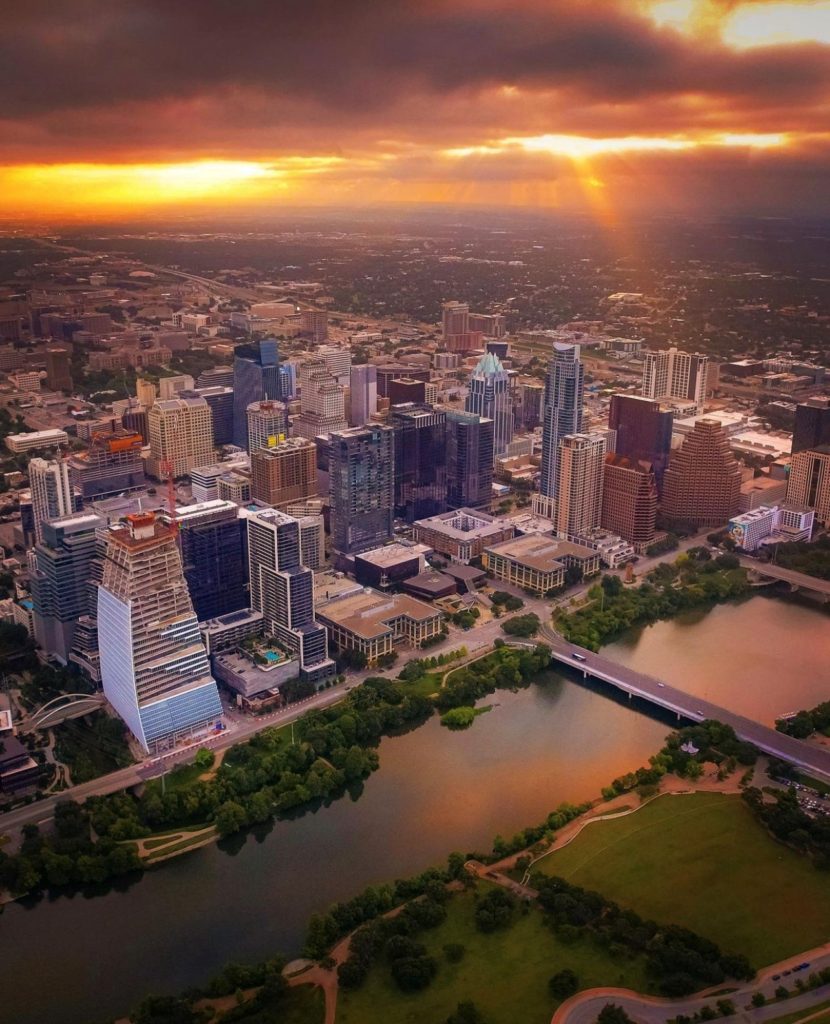 Joel Sartore is a renowned wildlife photographer. If you like wildlife pictures, he is worth following.  He spoke at a Texas Nature Conservancy lunch here in Austin a couple of years ago.  Pretty amazing guy.  As is this photo of a bear about to enjoy a salmon, in Alaska.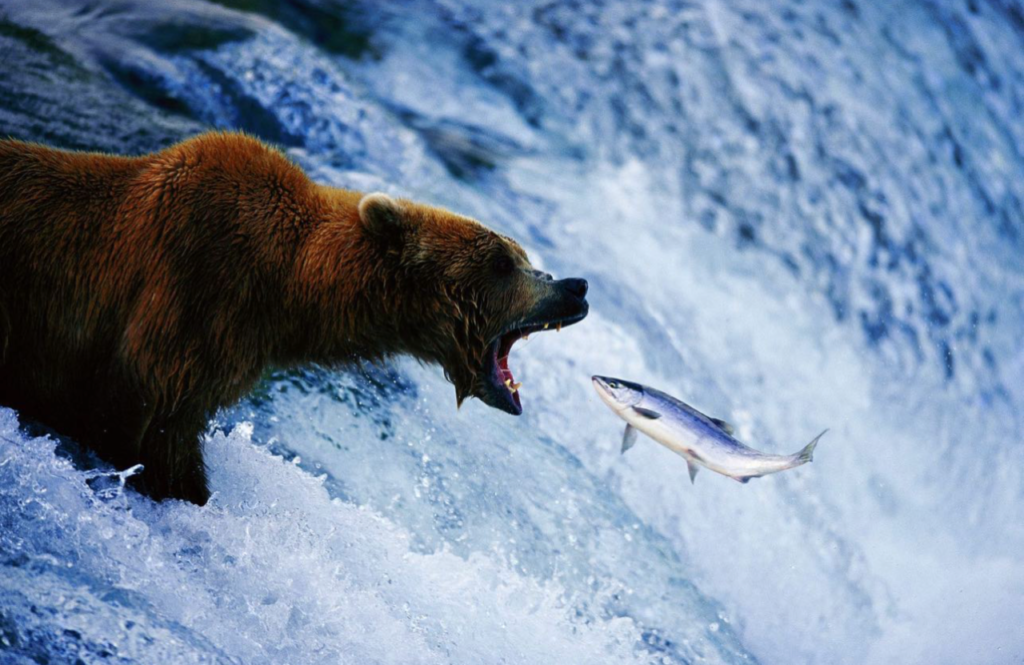 God Bless Texas
God Bless America
Tim Taylor
Tailgating before Home Football Games
The Juan Heisman Tailgate
Lot 38, East of Sid Richardson Hall.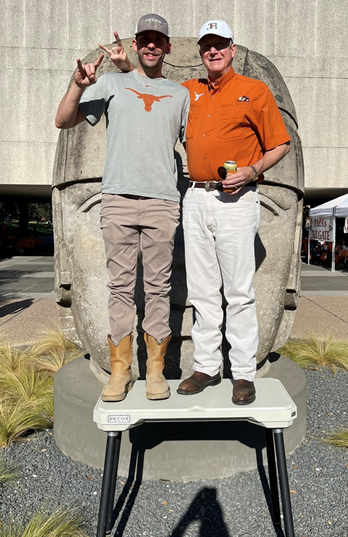 HOOK EM HORNS!!
© Timothy C. Taylor, Sr. 2021.  All Rights Reserved (as to original material).
On Twitter:  @tctayloratx
On LinkedIn:  www.linkedin.com/in/tctatx
On Instagram:  @tctayloratx
On Facebook:  www.Facebook.com/Tim.C.Taylor
and:  www.Facebook.com/Juan.Heisman
You can contact me by mail:
Tim Taylor
P.O. Box 5371
Austin, Texas  78763-5371