Red River Shootout 2021:  Longhorns vs. Land Thieves
Texas and Oklahoma meet for the 117th time on Saturday, continuing a series that began in 1900.  The game kicks off at 11:00 a.m. in the Cotton Bowl, broadcast on ABC.  College GameDay will be at Fair Park, the seventh time for the great Red River Rivalry between the Longhorns and Land Thieves.
Texas leads the series 62-49-5, which includes the Texas loss to the Land Thieves in the 2018 Big XII Championship Game.  More history of one the greatest rivalries in college football below.
Do y'all know why we say y'all instead of you?  Because that way we leave out the 2 worst letters – OU.
We're Texas:
Saturday is my favorite day of the college football season.  With two specific exceptions, in over half a century of watching college football and the Texas Longhorns, there is not a game in a venue that excites me more than watching Texas and the Land Thieves in the Cotton Bowl.  The main exception of course being the National Championship game in the Rose Bowl against Southern Cal, and then the Rose Bowl with Michigan the year before.  But those were once in a lifetime game experiences.  We get to do this every year.
There are so many great highlights from games with the Land Thieves.  To be fair, they have a lot they like and can trot out to make us mad.  But that's what a great rivalry is all about.  This is one of my favorite.  My friend Quan Cosby saying hello to Lendy Holmes.  Epic.
For so many years, we have been saddled with an eleven o'clock in the morning start, as we are this year.  But that only cuts short the amount of time we have to enjoy the State Fair before one of the great spectacles in college football; it hasn't cut short the fun.  With College GameDay there, Fair Park will be jamming early Saturday morning.  We will enjoy corny dogs and wax paper cup beers for breakfast.  Longhorns in the classic Burnt Orange, Sooners wearing Land Thief Crimson.  Fans and friends from across the country come to Dallas for this game.  It is the biggest day on the Longhorn Sports Calendar. Can't wait.  Look for me before the game by Big Tex – I will have on a Burnt Orange shirt, wheat jeans, boots, and Ray Bans.  You can't miss me.
Longhorns 32, Horned Frogs 27
Texas won in Fort Worth, finally.  A critically important win for Coach Steve Sarkisian, for this Texas team, and for the 2021 season.  And a magnificent game for Bijan Robinson, who is justifiably in the Heisman discussion after running for 216 yards and 2 touchdowns.  Texas overcame early adversity after the opening kickoff to the Frogs was returned to the Texas 13, giving Texas Christian a quick scoring opportunity which they converted to take a 7-0 lead less than a minute into the game.  The rest of the game was a bit of a slugfest, as both teams battled each other and the (unsurprisingly) terrible Big 12 referees.  Full review of the Texas win below.
Cool Stuff
Bijan Robinson highlights from Amon G. Carter Stadium
🍿🎥🤘 Bijan Robinson had himself a day against TCU. pic.twitter.com/paRJYx8esm

— Texas Football (@TexasFootball) October 4, 2021
The Texas media short movie of the day in Fort Worth.  Such nice work.
🎥: Texas vs. TCU pic.twitter.com/dTeKgx1hpk

— Texas Football (@TexasFootball) October 6, 2021
Chris Fowler often posts his post-game conversation with Kirk Herbstreit on social media.  Usually in a limo on their way out of the stadium, with Chris "Bear" Fallica, and often with a brown water in hand.  Fowler used to put it on his Instagram – the Nightcap Recap.  They are pretty entertaining.  Good kibitzing.  Anyway, this is one from the other day.  Gig Em.
🤣🤪😂 pic.twitter.com/HcLpLuGngR

— Big Jon 🤘🏻 (@BigJonHookEm) October 3, 2021
The Texas media team generates great content for the Texas fan base, and Longhorns respond.  Will have more on this soon with some articles about NIL, but for now the important background info is that SkullSparks is a company that partners with college athletics programs on digital branding, strategy, promotion, etc.  They also measure digital and social media impact and interactions.  In September, The University of Texas generated the most interactions across the main social media accounts (Instagram, Twitter, and Facebook) – over 1,000,000.  Notre Dame was next with 890,000.  Some nerdy stuff, but be thinking about how impressions, interactions, and engagement lead to monetization.  This chart shows it all and is pretty interesting.  Amazing how dominant Instagram is in most of the fan bases.
https://twitter.com/SkullSparks/status/1445418616741109769/photo/1
Good Stuff – Arthur Johnson
Arthur Johnson has been at The University for the last decade, working his tail off in the athletics department.  He has had a full portfolio of work, including facilities, and at the same time he has been out there with fans, attending games, and shaking hands.  Of note, he has been in charge of game day at DKR Texas Memorial Stadium, and that is quite a big job.  I think he has spent more than a few Friday nights at the stadium getting ready for Saturday.  And by "spent the night", I am not suggesting he slept.  He is a good guy.  And he was named Athletic Director at Temple University on Thursday.  Congratulations Arthur.  Thanks for all you have done for the Longhorns.  Good Luck!
Bijan Robinson & The Texas Ground Attack
Bijan earned awards again this week.  Big XII Offensive Player of the Week.  The Earl Campbell Tyler Rose Player of the Week.
Robinson is second in the nation in rushing, with 652 yards and averaging 130.4 yards per game.  (First is Kenneth Walker III of Michigan State, 680 yards, 136 ypg).  In the Big 12, Robinson is first in yards and yards per game.  Zach Evans, the excellent Texas Christian back who gained 113 against Texas last week, is second in yards per game, with 110.75 (443 total).  Breece Hall, the great Iowa State back, is third with 551 yards and 110.2 yards per game.
How good is Bijan playing?  Alex Loeb tweeted that Bijan has more rushing yards than LSU and Mississippi State combined (353 + 281 = 634).  Admittedly, they are at the bottom of the pack in the $EC, but that is still cool.
Roschon Johnson is ranked 14 in the Big 12, with 45.6 yards per game.  Keilan Robinson is at 17, with 35 yards per game.
Texas, of course, ranks first in the Big 12 in rushing offense, with 268.6 yards per game (Land Thieves at 155 ypg).  First in total yards (1,343 to OU's 775).  First in rushing touchdowns with 17.
All well and good, and God willing it will be as good on Saturday.
Oklahoma Land Thieves vs Texas Longhorns
Game 117 in the storied series between two of the greatest football programs in America.  The game will be broadcast on ABC.  The upside of this 11:00 a.m. game is that those watching from home get to enjoy some of the very best in the business – Chris Fowler, Kirk Herbstreit, and Holly Rowe.  You can listen to the game around the world on the Longhorn IMG Radio Network, with the Voice of the Longhorns, the Great Craig Way with the play by play, Roger Wallace with analysis and commentary, and Will Matthews reporting from the sideline.  Listen in Henderson on KWRD 1470 AM, in Malakoff on KVLQ 1410 AM, and on Satellite radio on Sirius channel 121, XM Channel 199, and SXM App channel 953.
The Land Thieves are favored by 3, and the over/under is 63.5.
Official Preview:
https://texassports.com/news/2021/10/4/no-21-23-football-preview-vs-no-6-5-oklahoma.aspx
Texas Game Notes:
https://texassports.com/documents/2021/10/4/06_Oklahoma_1.pdf
 Texas Depth Chart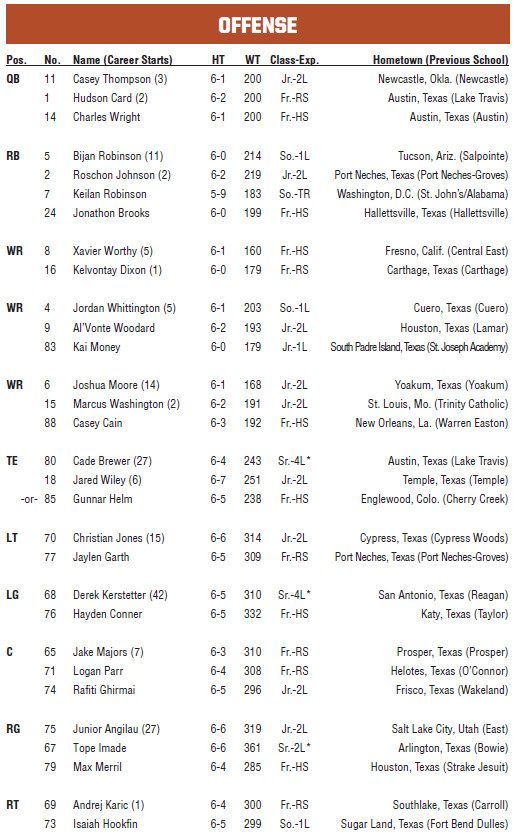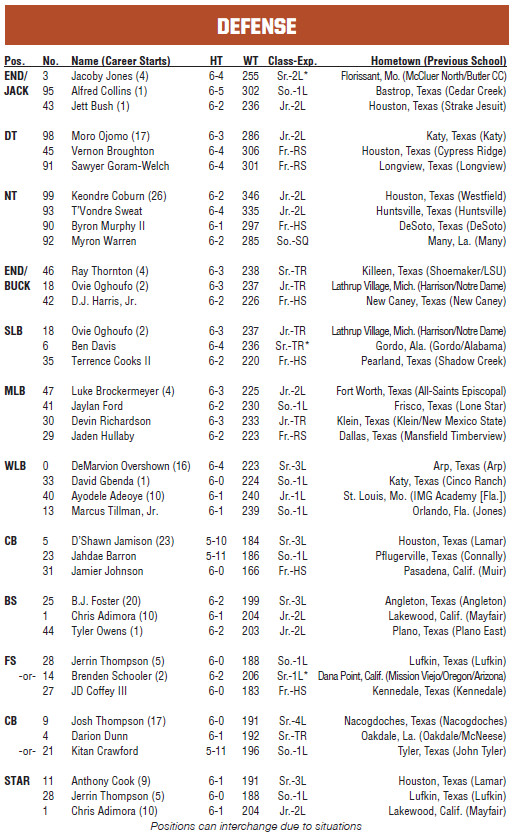 Special Teams have a change, with Zach Edwards, a junior from Azle, Texas who transferred from Oklahoma, holding for Dicker the Kicker (in place of Hudson Card).
The Statistics
 Offense
| | | |
| --- | --- | --- |
| Statistic | Texas | Land Thieves |
| Rushing Offense | #5 – 268.6 ypg | #76 – 155.0 ypg |
| Passing Offense | #90 – 204.2 ypg | #30 – 278.4 ypg |
| Total Offense | #21 – 472.8 ypg | #43 – 433.4 ypg |
| Scoring Offense | #6 – 43.8 ppg | #15 – 38.4 ppg |
| First Downs | #40 – 22.8/game | #33 – 23.2/game |
| Sacks Allowed | #55 – 9, 56 yards | #55 – 9, 40 yards |
| Tackles for Loss Allowed | #37 – 23, 75 yards | #55 – 26, 88 yards |
| Third Down Conversions | #2 – 55.2% | #23 – 48.1% |
| Fourth Down Conversions | #45 – 63.6% | #32 – 66.7% |
| Red Zone Offense | #31 – 92% / 77% | #10 – 96% / 75% |
| Long Run Plays | #19 – 34/10, 12/20, 6/30, 4/40 | #62 – 25/10, 7/20, 3/30, 1/40 |
| Long Pass Plays | #78 – 41/10, 16/20, 8/30, 2/40 | #12 – 61/10, 15/20, 5/30, 3/40 |
| Long Scrimmage Plays | #44 – 75/10, 28/20, 14/30, 6/40 | #16 – 86/10, 22/20, 8/30, 4/40 |
Defense
| | | |
| --- | --- | --- |
| Statistic | Texas | Land Thieves |
| Rushing Defense | #92  – 170.0 ypg | #7 – 83.4 ypg |
| Passing Defense | #68 – 224.4 ypg | #83 – 241.4 ypg |
| Total Defense | #81 – 394.4 ypg | #43 – 324.8 ypg |
| Scoring Defense | #65 – 24 ppg | #31 – 19 ppg |
| Sacks | #70 – 10, 70 yards | #19 – 15, 83 yards |
| Tackles for Loss | #76 – 27, 97 yards | #9 – 40, 143 yards |
| First Downs Allowed | #78 – 20.2/game | #52 – 18.6/game |
| Third Down Conversions | #81 – 39.7% | #46 – 34.7% |
| Fourth Down Conversions | #120 – 80% | #100 – 63.2% |
| Red Zone Defense | #32 – 74% / 42% | #40 – 78% / 56% |
| Long Run Plays Allowed | #93 – 26/10, 11/30, 4/40, 0-0 | #14 – 14/10, 1/20, 0-0-0-0 |
| Long Pass Plays Allowed | #57 – 39/10, 14/20, 5/30, 4/40 | #89 – 47/10, 17/20, 7/30, 3/40 |
| Long Scrim. Plays Allowed | #70 – 65/10, 25/20, 9/30, 4/40 | #60 – 61/10, 18/20, 7/30, 3/40 |
Other
| | | |
| --- | --- | --- |
| Statistic | Texas | Land Thieves |
| Turnovers | #32  – 2F, 3I | #21 – 0F, 4I |
| Turnover Margin | #35 – 8:5; +0.6 | #12 – 9:4; +1.0 |
| Penalties | #38 – 27, 224 yards | #84 – 34, 301 yards |
*Based on total number of penalties.
Match-up Comparison
| | |
| --- | --- |
| Texas Offense | Land Thieves Defense |
| Rushing Offense – 268.6 ypg | 83.4 ypg – Rushing Defense |
| Passing Offense – 204.2 ypg | 241.4 ypg – Passing Defense |
| Total Offense – 472.8 ypg | 324.8 ypg – Total Defense |
| Scoring Offense – 43.8 ppg | 19 ppg – Scoring Defense |
| First Downs – 22.8/game | 18.6/game – First Downs Allowed |
| 3rd Down Offense – 55.2% | 34.7% – 3rd Down Defense |
| 4th Down Offense – 63.6% | 63.2% – 4th Down Defense |
| Red Zone Offense – 92%/77% | 78%/56% – Red Zone Defense |
| LRP – 34/10, 12/20, 6/30, 4/40 | 14/10, 1/20, 0-0-0-0 LRP Allowed |
| LPP – 41/10, 16/20, 8/30, 2/40 | 47/10, 17/20, 7/30, 3/40 – LPP Allowed |
| LSP – 75/10, 28/20, 14/30, 6/40 | 61/10, 18/20, 7/30, 3/40 – LSP Allowed |
| | |
| --- | --- |
| Texas Defense | Land Thieves Offense |
| Rushing Defense – 170.0 ypg | 155.0 ypg – Rushing Offense |
| Passing Defense – 224.4 ypg | 278.4 ypg – Passing Offense |
| Total Defense – 394.4 ypg | 433.4 ypg – Total Offense |
| Scoring Defense – 24 ppg | 38.4 ppg – Scoring Offense |
| First Downs Allowed – 20.2/game | 23.2/game – First Downs |
| 3rd Down Defense – 39.7% | 48.1% – 3rd Down Offense |
| 4th Down Defense – 80% | 66.7% – 4th Down Offense |
| Red Zone Defense – 74%/42% | 96%/75% – Red Zone Offense |
| LRP Allowed – 26/10, 11/30, 4/40, 0-0 | 25/10, 7/20, 3/30, 1/40 – LRP |
| LPP Allowed – 39/10, 14/30, 5/40, 4/40 | 61/10, 15/20, 5/30, 3/40- LPP |
| LSP Allowed – 65/10, 25/20, 9/30, 4/40 | 86/10, 22/20, 8/30, 4/40  – LSP |
 Matt Craig (HornMafia on Barking Carnival) "The Week That Will Be": Red River Dreams.
https://www.barkingcarnival.com/2021/10/7/22713893/the-week-that-will-be-red-river-dreams
Oklahoma Land Thieves
 The Sooners come to Texas ranked No. 6 in the AP, No. 5 in the Coaches, and first in visors.  Undefeated, OU has an interesting record thus far in 2021.
The opening game against Tulane was to have been played in New Orleans, by Ida came and Tulane had to go to Norman.  I will give the folks in Oklahoma credit – they painted Tulane stuff on the field and made them feel at home.  Even to the point of nearly giving the Green Wave the victory.  OU took a commanding lead of 37-14 to the locker room at halftime, after a big 23 point second quarter.  But Tulane scored 8 in the third (to OU's 3) and 13 in the fourth (missed 2 point conversion).  OU was scoreless in the fourth, which began for the Land Thieves with Rattler throwing an interception (which lead to a Tulane TD).  Sooners won 40-35.  Tulane is now 1-5, with big losses to Ole Miss (61-21) and East Carolina (52-29) and losses to UAB and Houston.  (Tulane beat the Morgan State Bears 69-20).
The next weekend, the Land Thieves mercilessly pummeled the Western Carolina Catamounts, 76-0.  WCU is 0-5, and they have not played many good FCS teams.
The much heralded return of the rivalry with Nebraska was a closer game than most expected, as the Land Thieves got a 23-16 win in Norman.  Nebraska is 3-3, with wins over Fordham, Buffalo, and Northwestern and with losses to Illinois, the Land Thieves, and Michigan State.
Oklahoma struggled at home against West Virginia.  The game was tied at 13 when the Land Thieves forced a Mountaineer punt, getting the ball at the OU 8 with 3:31 to play.  Riley and Rattler needed all of that, as the Land Thieves got that ball to the WVU 12, and Riley took a timeout with 2 seconds left.  Brkic (the Land Thief kicker, not a typo, not the sound an A-10 Warthog makes [that is brrrrrrt]) made the kick to win 16-13.
Last week the Land Thieves played their first road game, in Manhattan, Kansas. Another close game, but OU escaped with a 37-31 win. Skylar Thompson, Wildcat QB, threw for 320 yards and 3 touchdowns.  K State also returned a kickoff for a touchdown with under 2 minutes to play.
Pre-season Heisman hyped Spencer Rattler is 122/160 for 1,260 yards, 10 TDs, and 4 interceptions, and he has been sacked 8 times.  He has run or scrambled 35 times for 95 yards and a couple of scores.
Riley always does a good job utilizing a lot of receivers, and this year is consistent with that solid body of work.  Marvin Mims leads with 264 yards on 14 catches (an 18.9 yard per catch average, which is really good).  Three more wide receivers follow him:  Michael Woods II, 20 catches, 187 yards 2 TDs; Mario Williams, 20 catches, 178 yards, 2 TDs; and Jadon Haselwood, 18 catches, 166 yards, 2 TDs.  Tight End Brayden Willis (6-4, 235, No. 9) has 8 catches for 102 yards.  Tight End Austin Stogner has 7 catches for 74 yards and a score, and Tight End Jeremiah Hall has 12 catches for 70 yards and a score.
Land Thief running backs are Kennedy Brooks (No. 26, 5-11, 215 pounds from Mansfield, Texas) and Eric Gray (5-9, 206 pounds from Memphis).  Neither have a 100 yard game, but given the history of the Red River Rivalry, I bet that changes.  Brooks has 318 yards on 54 attempts and 4 touchdowns.  Gray has 245 yards on 49 carries.  Rattler (numbers above) is third on the team.
It occurred to me that many of you have probably not watched much Oklahoma football this year.  Why would you?  So here are the Big 12 highlights from their game last week with Kansas State.
We also have to remember the pride that the Sooner faithful have in this program.  It pains me to admit it, but they are right.  Here are three remarkable stats from the OU Game Notes:
Oklahoma has won 14 Big 12 titles in the first 25 years of the league, with no other program winning more than three. All 14 of OU's Big 12 titles have come in the last 21 years, with no other program winning more than two during the span. Texas ranks second with three Big 12 titles (last one in 2009; OU has won eight since then).
The Sooners have as many Big 12 titles the last six seasons (six) as they have lost games against Big 12 opponents (54-6 record; includes four Big 12 Championship games).
Come Saturday, Oklahoma will have been Big 12 champion for 2,143 consecutive days.
2021 would be a good year to change that narrative.
This Land Thieves team has perhaps underperformed this season, and thus everyone thinks they are very beatable.  Agree with the first part, but their performance thus far in 2021 is not an indication, in my opinion, of how they will play on Saturday.  They love this game and rivalry as much as we do, and they will be up for the Red River Shootout.  The good news is, so will Texas.
The Game
This is going to be a battle.  I was pretty confident after Saturday's win in Fort Worth, but as the week has worn on and I researched and wrote, that confidence has diminished.
I am concerned about our ability to run the ball as well as I think we will need to in order to beat Oklahoma.  Their rush defense is really good.  Not just that impressive No. 7 ranking, allowing only 83.4 yards per game, which is real. That is, not a big outlier skewing the yards per game.  K State, traditionally a pretty decent running team, got just 100 yards (Deuce Vaughn had 51 yards on 15 carries).  West Virginia rushed for just 68 yards (Leddie Brown, 15 carries for 56 yards).  Nebraska gained 95 yards, Western Carolina 55, and Tulane had 100.  They are limiting yards per carry, and look at that long running plays allowed stat:  just 14 for at least 10 yards, only one run over 20.  None over 30 yards.  Think about all the long runs Texas backs have broken this season.  It is a key part of our offense.  So if Alex Grinch (the OU DC) and his staff have the Land Thief defense playing close to their season norm, it is going to be rough sledding.  Add to that Okafor's injury.  On the other side of the coin, the Sooners have to be a bit concerned about facing the fifth best rushing attack in the country.  I am going to be optimistic and say Texas will find a way to run the ball, and Bijan and/or Roschon, maybe even Keilan, will break a few good runs.  And I bet we see some more 2 back set to get an extra blocker in there, or the tight end in motion to block.
The Sooner pass defense is good, but Skylar Thompson (K State) last weekend threw for 320 yards and 3 touchdowns.  I think most of that was short stuff, so with our wide receivers, tight ends (please?), and as good as Bijan and Roschon are at catching and running, that may be the answer to a tough match up in the run game.  However, note that the Sooner safeties are seniors and darn good – Pat Fields (No. 10, 6-0, 204, Tulsa) leads the Thieves in tackling, with 31 (20 solo), and Delarrin Turner-Yell (No. 32, 5-11, 200, Hempstead, Texas) has an interception and is fourth on the Land Thief D in tackles with 25 (17 solo).
Brian Asamoah (No. 24, RS Junior linebacker, 6-1, 228) has 28 tackles (15 solo), and DaShaun White (No. 23, Senior linebacker, 6-0, 225, North Richland Hills) has 27 tackles (11 solo), and 2 TFL for 5 yards.  Nick Bonitto (No. 11, outside LB, 6-3, 240) has 5.5 TFL for 16 yards and 2.5 sacks for 7 yards.  He is very good and we are going to have to find a way to block him and keep him off of Casey.  Isaiah Thomas (No. 95, RS Senor D lineman, 6-5, 266 from Tulsa) has 13 tackles – and 4.5 of those are tackles for loss and 27 yards (3.5 sacks for 25 yards).  Another senior on the defensive line, Perrion Winfrey (No. 8, 6-4, 292) has 11 tackles – 4 TFL for 20 yards and 3.5 sacks for 19.  That is a disruptive, good defensive line.  Our offensive line has a big task ahead.
I think the teams match up pretty well other than that rush offense/defense differential.  Texas is going to have make sure that a bend but don't break defense does just that – bend only.  Problem is, this is such an intense, emotional game, the risk of breaking is higher.  And a couple of our guys are going to have play better pass defense.
Which brings me to the quarterbacks.  Spencer Rattler was getting a lot of hype before the season. For good reason – he is a very good quarterback, maybe a first rounder, and Lincoln Riley is one of the best quarterback coaches we have ever seen.  He coaches and teaches winners – winners of games and winners of trophies.  The difference this year is the head coach on the Texas sidelines.  Steve Sarkisian is an equally accomplished quarterback coach and offensive genius.  He has the brains and the experience to go toe to toe with Riley – and beat him.  Casey Thompson is a winner, and he wants to beat OU bad.  I think Casey has a big day.  Sark said the Horns had the best practice of the season on Tuesday and are focused.  The Land Thieves are the higher ranked team, they have held the upper hand in this series for most of the last two decades, and there is thus good reason for Vegas to have OU as a three point favorite.  But I like this Texas team, and I think they are going to come out of the tunnel Saturday morning ready to play.  All Gas, No Brakes.
Texas wins 38-34.
            Hook em!
The Series
Texas leads the series with the Land Thieves 62-49-5, which includes the Texas loss in the 2018 Big XII CG.  While the Longhorns lead overall, OU has won 14 of the RRS games since 2000, to just 7 for the Longhorns.  Both teams enter the game ranked for the 30 time in the last 50 years.  Since 1936, the first year of the Associated Press poll, at least one of the teams has been ranked in 70 of the games.  From The University:  "The higher-ranked team in the AP Top 25 has won 18 of the last 29 matchups (18-10-1) when at least one of the programs are ranked in the AP Top 25. Texas is responsible for eight of the 10 victories when the lower-ranked team pulls off the Red River upset."
Since back to back blowouts by the Land Thieves in 2011 and 2012, and then the Texas 36-20 upset in 2013, the series has been one of very close games.  The point differential, starting in 2014:  5, 7, 5, 5, 3, 12, 7, and 8.  Texas has won 2 of those.
I have listened to all of these plays as called by Craig Way, some of them many, many times.  Sounds pretty awesome in Spanish too.
The University of Oklahoma
Founded in 1890 in Oklahoma Territory, the year that the Oklahoma Territorial legislature established three schools:  Oklahoma Agricultural & Mechanical in Stillwater, the Territorial Normal School (now the University of Central Oklahoma), and the state university in Norman.  An agricultural school, a normal school, and OU.  Got it.
The campus has a distinctive architecture, with buildings designed in a unique "Cherokee Gothic" style.  The style has many features of the Gothic era but has also mixed the designs of local Native American tribes from Oklahoma. This term was coined by Frank Lloyd Wright when he visited the campus.  [I was unable to locate any other information on his visit to Norman, but I can only imagine what a pleasant experience it was exploring the architectural grandeur of Norman.]
The etymology of Boomer Sooner:  "Boomers were those who by constant agitation tried to bring about the opening of Oklahoma to settlers before 1889, and Sooners were the settlers who slipped in to stay before the gun was fired. In 1905, Arthur M. Alden, a history and physiology student, wrote the lyrics to the university's "Boomer Sooner," borrowing the tune from Yale's "Boola-Boola" but improvising on the words. A year later an addition was made to it from North Carolina's "I'm a Tarheel Born" and the two combined form the university's battle song of today."  Yale, the University of North Carolina, and OU.  Reminds of the Sesame Street song "one of these things is not like the other things".
Speaking of Land Thievery and Cheating:
http://www.espn.com/college-football/story/_/id/24866357/the-untold-1999-texas-oklahoma-story-mike-leach-fake-play-script
The book:  BOOM TOWN: The Fantastical Saga of Oklahoma City, Its Chaotic Founding, Its Apocalyptic Weather, Its Purloined Basketball Team, and the Dream of Becoming a World-Class Metropolis.  [Re-running this, because it is so dang good.]
http://nymag.com/daily/intelligencer/2018/08/how-oklahoma-city-was-born-in-a-day.html
From the article:
Consider, for instance, OKC's bizarre origin story. It reads less like an episode of actual history than a spaghetti western written by a faulty algorithm. The place was founded on a single afternoon, in an event called the Land Run, during which a formerly empty patch of prairie became a city of 10,000. The chaos that ensued was so alarming that the U.S. government never allowed anything quite like it to happen again. This formative absurdity set the tone for everything that followed: the shootouts and power grabs and even — eventually — NBA basketball.

Oklahoma City was born in an event called, with extreme dramatic understatement, the Land Run. The Land Run should be called something like "Chaos Explosion Apocalypse Town" or "Reckoning of the DoomSettlers: Clusterfµ€k on the Prairie."

The bugle notes had yet to fade when, like some kind of ancient creation myth, the empty landscape sprouted people. It was an ambush of settlers. …  These were, in the lingo of the times, Sooners, or Moonlighters. We would call them cheaters. …  At the sound of the bugle, all of the cheaters came running. The land was free, they knew, only for those who got there first.
Texas, or Oklahoma?
Texas:
"No sport is more uniquely Oklahoman than noodling".
Jimmy Fallon at The University
This was pretty funny. Watch until at least 1:50.
The Rivalry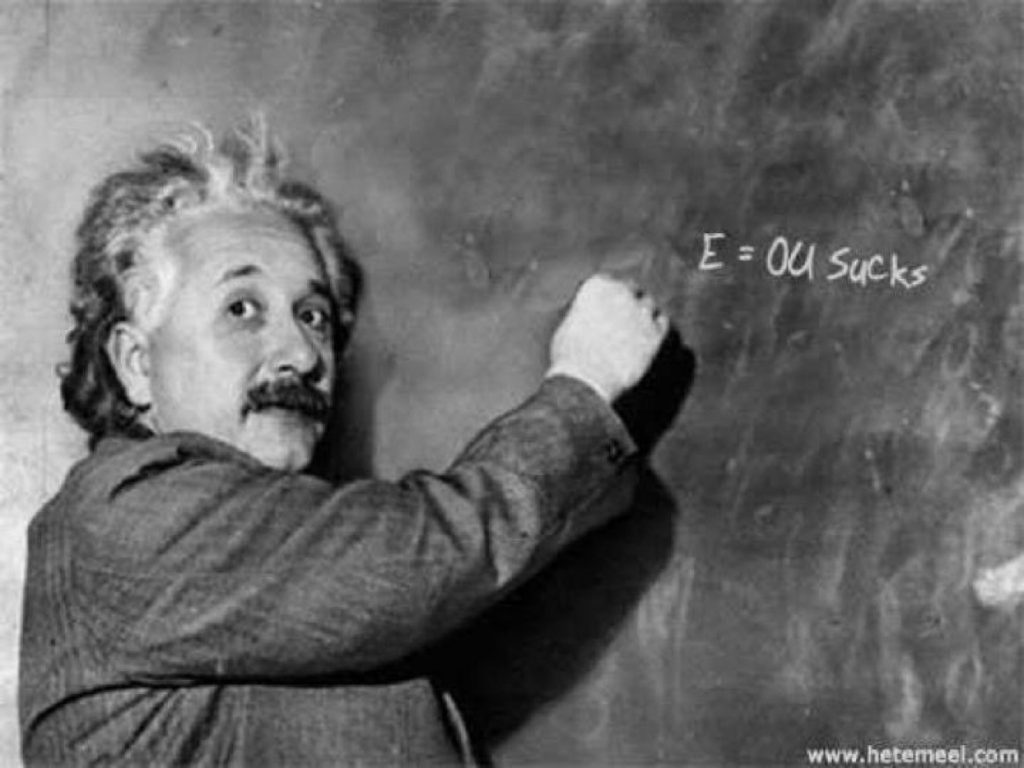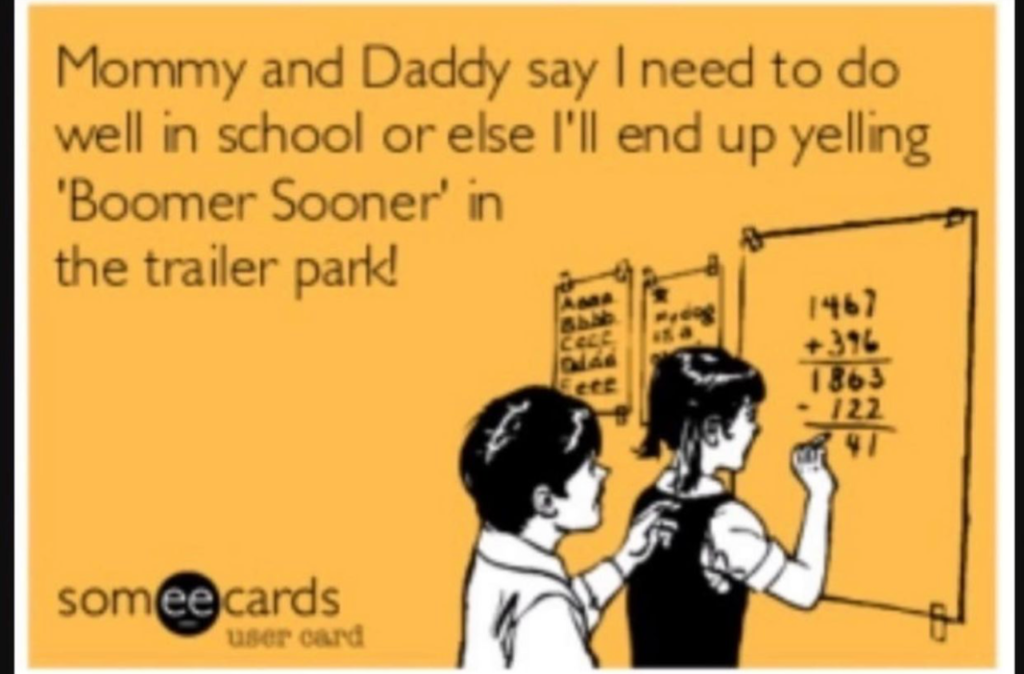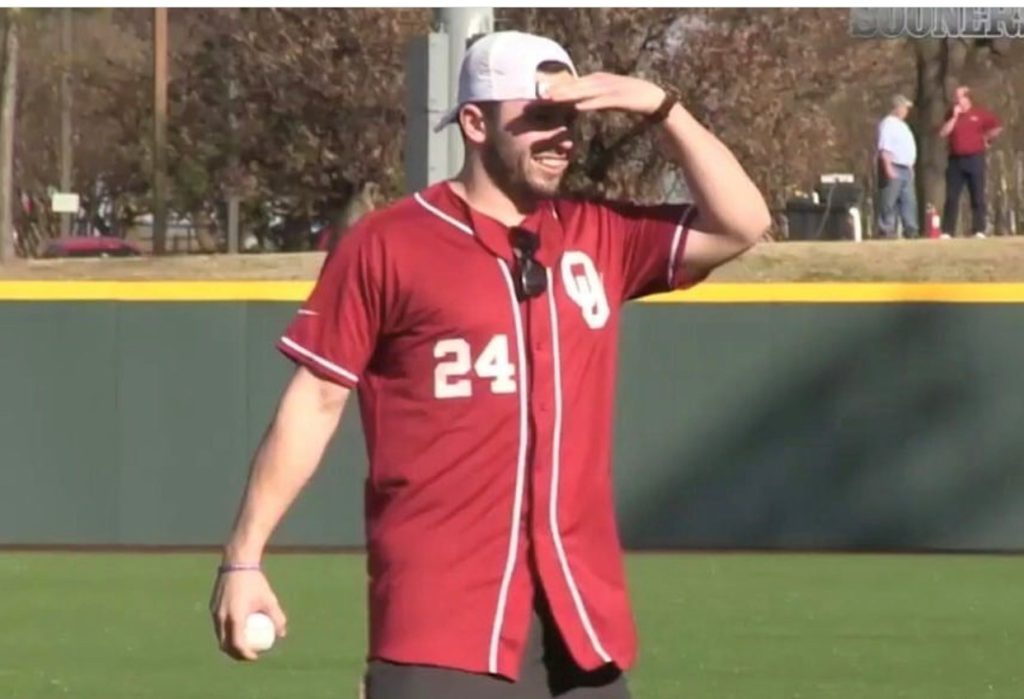 Too bad he didn't have any way to shade his eyes.  Boomer!
Texas Longhorns 32, Texas Christian Horned Frogs 27
A great and much needed Texas win in Fort Worth.  As noted, Texas started in a hole after the TCU kickoff return and quick score.  Texas answered, and probably would have scored a touchdown but for Jared Wiley's false start with third and 1 at the Frog 5.  A Dicker field goal made it 3-7.
The Texas defense with a good next series, holding TCU to 12 yards, 7 of which came on a pass interference call (yes, penalties were a theme in Amon G. Carter).  Nice punt by Texas Christian pinned Texas back at the 1.
Texas with a solid and impressive 99 yard drive.  The Horns were definitely helped by the targeting call on third and 4, which would have been an incomplete pass to Whittington.  The very next play, Casey decided to tuck and run, dodging a frog, and picking up 41 yards. A few plays later, and after converting a fourth and 1 at the Frog 28, Bijan ran it in from 27 (up the middle, breaking tackles), and Texas was up 10-7.
Texas forced a Frog fumble on the next series, and Jamison scooped it and ran it to the TCU 23.  Not our best series, and Texas only got 3 points off the turnover.  Next TCU possession Duggan had a nice drive with some good passes, but it was kick-started by the personal foul call on Bush that resulted in a 22 yard pass play being a 42 yard play and TCU at the Texas 38.  A few plays later 14-13 Frogs.
Texas with a slow series in its next possession, but again a golden opportunity after the Frog muffed the punt and Overshown recovered at the TCU 9.  When Texas only came away with 3 points again, I knew we were in for a long and close game.
TCU got a field goal on its next possession (17-16 frogs), and Texas got the ball back midway through the second quarter.  A good drive, with a lot of Bijan and Roschon, as Texas drove 55 yards for a touchdown and 23-17 lead.  The teams would take turns getting penalties and throwing punches for the rest of the half.
Texas got the ball to start the second half, and I was a bit disappointed with the results. A short run by Bijan, another incompletion to Worthy, and then Casey sacked for 11 yards.  So Texas punted from its own 15, and TCU had good field position at their 44.  The Texas defense responded both well and poorly.  TCU was driving, but Cook blitzed and sacked Duggan, forcing a fumble, but some very unnecessary celebrating resulted in unsportsmanlike penalties.  Texas started at its own 34 instead of midfield.
A nice drive, which featured a great catch and run by Whittington to the TCU 19.  Texas settled for a field goal again and a 26-17 lead.  TCU got a field goal on its next possession, 26-20.
Texas was driving as we began the fourth quarter, Thompson connected with Whittington again, this time for a 33 yard touchdown to put the Horns up 32-20 with 13:46 to play.  Sark decided to go for 2, and Texas didn't convert, keeping the score uncomfortably close against Gary Patterson.
Texas forced a huge 3 and out, getting ball back with just under 13 to play at the Texas 42.  It was Bijan time, and he rushed for 17 yards, 14 yards, and 17 yards, getting the Horns to the Texas Christian 10.  RoJo came in and got us to the 4, but a false start on second and goal moved us back.  Worthy caught a pass, so third and 2.  Bijan ground out a yard, and it was fourth and 1, Texas up 12 with under 10 to play.  Now, I trust Sark, but I still don't understand not kicking the field goal here.
What made that decision more maddening and painful was the ensuing 99 yard Texas Christian touchdown drive.  Duggan picked us apart.  The bad news was that it was now 32-27.  The good news was that Texas was getting the ball back with under 4 and a half minutes.
And Texas did what great teams must do:  Run the four minute offense.  Seems like a long time since we did that well, but with Bijan Robinson, we did it.  Six consecutive handoffs to Bijan Robinson, who carried the ball from the Texas 30 to the TCU 35 and carried his team to victory.  And from there, Texas took 3 knees and won the football game.  Glorious.
I was off on my score prediction again, but not wrong on the outcome.  A great Texas road win.
Highlights
Here is a short one, less than 3 minutes from Big XII.
Just over 10 minutes, from ESPN.
About half an hour from this guy.
Full Game:
And the Highlights, en Español.
Texas vs. TCU as heard on Longhorns En Español. pic.twitter.com/xHiQycVlea

— Texas Football (@TexasFootball) October 6, 2021
The Polls
A big shake up in the bottom half of the polls, as Texas and 4 other teams entered the AP Top 25.  No surprise about the top 2 – Alabama and Georgia appear to be in a class by themselves.  I knew they were good, but their wins Saturday showed some serious separation.
AP Top 25:  Alabama, Georgia, Iowa, PSU, Cincinnati, Oklahoma, The Ohio State University TM, Oregon, Michigan, and Brigham Young.  Oklahoma State at 12, Notre Dame drops to 14, Ole Miss down to 17.  Texas enters at No. 21.  Southern Methodist at NO. 24.
Coaches Poll: Roll Tide, UGA, Hawkeyes, PSU, Land Thieves, Cinci, The Ohio State University TM, Michigan, Ducks, and Brigham Young.  L'Université de Notre Dame du Lac at No. 13, Ole Miss 17, Texas 23, and the Ponies at 24.
No. 1 Texas Volleyball
Texas is 11-0 after sweeping both matches with West Virginia.  Texas travels to Kansas for matches this Saturday and Sunday.  The Sunday match will be on ESPNU at 3:00 p.m.
The State Fair of Texas and Food
There is one must have at this year's fair, and that is Gourmet Royale's Deep Fried Seafood Gumbo Balls.  Winner of Best Taste – Savory and Winner of Most Creative.
Using a family recipe that has been handed down four generations, the base is a dark, rich, and savory roux that represents the true essence of New Orleans. The balls are then loaded with Gulf Coast shrimp, stewed chicken, blue crab meat, and andouille sausage. The balls are then rolled in our saltine cracker and breadcrumb batter, then fried, creating an explosion of flavor. Served with a side of dark gumbo roux sauce, chicken fried okra spears, saltine crackers, and a small bottle of hot sauce
https://bigtex.com/plan-your-visit/food/big-tex-choice-awards/
Last year's virtual winner was Texas Fried Fritos Pie.  Will find that too.
For those of you who are Fletcher's Corny Dog purists, I respect you.  However, if you have never tried the Jalapeño and Cheese Dog, I suggest you give it a chance.  Very good with a cold beer, even for breakfast.
Week Six
Some huge games this weekend, with The Red River Rivalry being at the top of the list, right there with Penn State at Iowa.  Arkansas is at Ole Miss, and Georgia heads to Auburn.
This Week's Games – The Big XII Week 6
West Virginia (2-3, 0-2) at Baylor (4-1, 2-1), 11:00 a.m. on FS1.  Baylor favored by 2.5 over the Mountaineers, and the over/under is 44.  Baylor may be good, maybe not.  We will know Saturday.
Texas Christian (2-2, 0-1) at Texas Tech (4-1-1-1).  6:00 p.m. on ESPN.  I will watch this one from Tyler with my dad.  Frogs favored by 2, over/under is 60.5.
That's it – an off week for the rest of the Big 12.
This Week's Games – The Top 25
Thursday Night
No. 15 Coastal Carolina went to Jonesboro, Arkansas, and they spanked the Red Wolves 52-20.  The Chanticleers remain undefeated with just Sun Belt games ahead, although they have to play at Appalachian State next week.
Friday Night
Temple at No. 5 Cincinnati, 6:00 p.m. on ESPN.  Bearcats still undefeated, Temple is 3-2.  Tough first game for new Temple A.D. Arthur Johnson.  Cinci favored by 29, and the over/under is 54.
Stanford (3-2, 2-1) at No. 22 Arizona State (4-1, 2-0), 9:30 p.m. on ESPN.  Will watch a bit of this with Tony Dewar after dinner at Javier's with the Crowley's and Ivan Young's (really missed Javier's last year).  Sun Devils favored by 13, over/under is 51.5.  Line seems high, but ASU is tough at home.
Saturday
Maryland (4-1, 1-1) at No. 7 Ohio State (4-1, 2-0).  11:00 a.m. on Fox.  Surprised to see the Buckeyes favored by 21.  Terps may not win, but bet they cover that.  Over/under is 71.
No. 11 Michigan State (5-0) at Rutgers (3-2, 0-2).  11:00 a.m. on BTN.  Spartans are 5.5 point favorites in Piscataway.  Over/under is 51.  State to win and cover.
No. 13 Arkansas (3-1, 1-1) at No. 17 Ole Miss (3-1, 0-1).  11:00 a.m. on ESPN.  Huge game for Lane Kiffin and the Rebels.  Breakfast in the Grove will be nice, and I think the Mississippi faithful will see a good football game. Rebs are favored by 5.5, over/under is 66.5.  Hotty Toddy!
Vanderbilt (2-3, 0-1) at No. 20 Florida (3.2, 1.2), 11:00 a.m. on SEC.  Now, some of us thought that 35 point line in favor of Georgia was really too high a couple of weeks ago in Nashville, and some of us may have lost money on that.  The line this week is Gators by 39.  So tempting.  Over/under is 59.5.
No. 2 Georgia (5-0) at No. 18 Auburn, 2:30 p.m. on the Columbia Broadcasting System.  Georgia favored by 15.5 at Jordan-Hare, and that seems about right.  Over/under is 47, which seems low.  Georgia to win and cover.
Boise State (2-3) at No. 10 Brigham Young (5-0).  2:30 p.m. on ABC.  Boise at 2-3 is surprising, and I am little disappointed that this game got the afternoon slot instead of Texas and the Land Thieves.  Cougars are favored by just 6 at home, and I am taking BYU.  Over/under is 57.
No. 19 Wake Forest (5-0) at Syracuse (3-2, 0-1).  2:30 p.m. on ESPN2.  Deacs favored by 6, over/under is 58.5.
No. 24 Southern Methodist (5-0) at Navy (1-3, 1-1).  2:30 p.m. on CBSSN.  Ponies have the No. 5 offense in the country, 532.4 yards per game, and No. 7 in scoring with 42.6 ppg.  Navy is the No. 110 scoring defense, allowing 32.5 ppg.  Mustangs are favored by 13.5.  This one is on the list for the weekend.  Over/under is 55.5.
No. 4 Penn State at No. 3 Iowa. Both undefeated.  Their fan bases when nuts on social media when ESPN decided to take College Gameday to Dallas instead of Iowa City.  I get it, from their perspective.  But let's compare one of the combatants in that game (Iowa) to Texas.  Iowa has a population of about 3.2 million.  The DFW Metroplex is over 7.5 million, and Texas is over 29 million.  Texas and Oklahoma have played 116 times, and it is not just one of the top rivalries in college football (in a class with Michigan- Ohio State, Notre Dame-USC, a few others), it is one of the top rivalries in American Sports (Yankees-Red Sox, Duke-UNC, Cubs-Cardinals, Giants-Dodgers, Packers-Bears).  Iowa and PSU have played 30 times since 1930.  Iowa City's population was 74,828 in 2020.  There will likely be 125,000 or 150,000 in Fair Park Saturday morning.  Hawkeyes are favored by 1.5, and I hope they win by 3 touchdowns.  Or 4.  Go Iowa.  Over/under is 41.
No. 9 Michigan (5-0!) at Nebraska (3-3, 1-2).  6:30 p.m. on ABC.  Another game I will watch Saturday night.  Wolverines favored by just 3, over/under is 50.5.  Feeling like Big Blue can cover that.
No. 14 Notre Dame (4-1) at Virginia Tech (3-1), 6:30 p.m. on ACCN.  Tough road game for the Irish, especially coming off the loss last weekend.  Lane Stadium a tough place to play, especially at night.  Which is why the line is even, after Notre Dame was a 1 point favorite.  Over/under is 47.
Louisiana State (3-2, -1-1) at No. 16 Kentucky (5-0).  6:30 p.m. on SECN.  Wildcats are favored by 3, and after last week, I am a believer.  Tough game for LSU, but Geaux Tigers!
No. 1 Alabama (5-0, 2-0) at Texas Agricultural & Mechanical (3-2, 0-2).  7:00 p.m. on CBS.  You know it is a reasonably big game when CBS schedules a night SEC game after their 2:30 premier game.  Alabama is favored by 18, over/under is 51.  I am sure Kyle Field will be swaying and those Fightin' Texas Aggies are going to be loud and squeezing their nuts and all that other stuff, but Jimbo is going to be 0-3 in the SEC and still in last place after Saturday night. Since we may eat dinner with my sister and her husband who went to school in College Station, we will watch quite a bit of this.
New Mexico at No. 25 San Diego State.  Aztecs are undefeated and in the rankings with wins over Arizona and Utah.  They will crush New Mexico. Line is Azetecs 19.5, and that may be a decent bet.  Over/under is 42.5.
Other Games of Interest This Week
Thursday
Houston and Tulane met in the Big Easy, and Holgo and the Cougars made it look easy, taking down the Green Wave 40-22.
Saturday
Virginia at Louisvile, 2:00 p.m. on ACCN.  Both teams 3-2.  Cardinals favored by 2.5 and over/under is 69.5.  Hoping the Cavaliers get a win in Kentucky.  Hook Em Hoos!
Florida State at North Carolina.  2:30 p.m. on ESPN.  Good opportunity for Mack and the Heels to get a win, and they need it.  Tarheels favored by 17.5, over/under is 64.5.  Good luck Coach!
Miami at Eastern Michigan, 2;30 p.m. on ESPN+.  The Redhawks from Ohio favored by 1, and the over/under is 59.5.  I am on Miami.
UTEP at Southern Miss, 6:00 p.m. on ESPN3.  Miners are 4-1, and Southern Miss is 1-4.  UTEP favored by 2 in Hattiesburg.
UTSA (5-0) at Western Kentucky (1-3).  Roadrunners are 3.5 point road dogs, which I don't get.  I lost money on UTSA last week, and I might this week.  Bird up.
South Alabama at Texas State, 6:00 p.m. on ESPN+ from Bobcat Stadium.  Texas State 3.5 underdogs at home.  Over/under is 52.5.
Wyoming (4-0) at Air Force (4-1).  Big game for the Mountain West.  6:00 p.m. on CBSSN.  Falcons favored by 5, over/under is 46.5.
Utah at Southern Cal.  7:00 p.m. on Fox.  Trojans favored by 3, over/under is 52.5.  I might not bet on the Trojans, but I will be pulling for them.
Memphis (3-2) at Tulsa (1-4).  8:00 p.m. on ESPN2.  Surprising records for both.  Tulsa favored by 3.5 at home.
UCLA at Arizona.  9:30 p.m. on ESPN.  This is the one good late game, and I will be watching.  Wildcats are 0-4.  This century, their coaches:  John Mackovic, Mike Stoops, Rich Rodriguez, Kevin Sumlin, and Jedd Fisch.  Quite the line-up.  Bruins favored by 16, and I am on that.
Washington & Lee Generals
The Generals defeated Hampden-Sydney last weekend 32-30.  Amazing win.  And they won after only rushing for 262 yards.  Hampden-Sydney passed for 395 yards and ran for 41.  And the best part is, even though Carl Mica and I didn't make a formal bet, I know he owes me lunch!
Great photo of Austin High Maroon Harrison Donovan (#62) celebrating with his quarterback Stephen Murrin (Fort Worth Country Day) after a score against Hampden-Sydney.  Loyal Forever.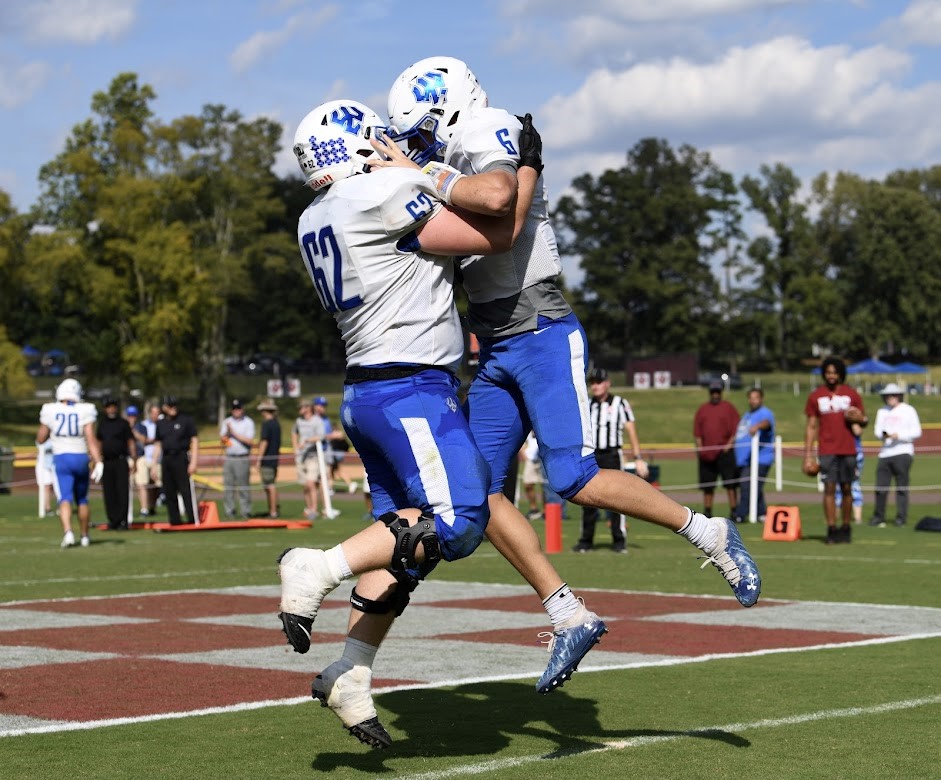 This weekend the Generals are back home and hosting Newport News Apprentice School.  We played these guys in 2015, winning 56-21.  The Apprentice School (also known as Newport News Apprentice School) is a 3 to 5 year apprenticeship vocational school founded and operated by Newport News Shipbuilding & Dry Dock Company in Newport News.  It is not a traditional college in that it does not grant degrees — students can get an associate degree through Thomas Nelson Community College.  But they play Division III football.  Game is at Wilson Field, 1:00 p.m. Blue Ridge Mountains time.  Go Gennies.  Good luck Harrison.
Last Week's Games
The Big XII Week 5
Oklahoma escaped Manhattan with a 37-31 win over the Wildcats.  K State covered.
Texas Tech upset West Virginia 23-20.  So many couches burned.
Oklahoma State won and covered, 24-14 over Baylor.  Cowboys are good.
Kansas is not good.  Iowa State 59, Jayhawks 7.
Last Week's Games – The Top 25
Friday Night
Iowa was favored by just 3.5 at Maryland, and they spanked the Terps 51-14.  Big win.
Brigham Young 34-20 over Utah State
Saturday
Georgia is the real deal.  37-0 over Arkansas, doubling the line.
I thought Wiscy as a 2 point favorite over Michigan was wrong.  Just wish I had wagered more.  Wolverines went to Camp Randall and won 38-17.
Really tough home loss for Notre Dame, as Cincinnati looks like a really good football team with the 24-13 win.
I sure thought Ole Miss had a chance in Tuscaloosa.  I sure was wrong.  The Crimson Tide shut down the Lane Train and took a 28-0 lead at half.  Alabama 42, Ole Miss 21.  Bama covered.
Stanford with a huge upset of No. 3 Oregon 31-24.
Kentucky upset then No. 10 Florida 20-13.
Mississippi State went to College Station as 7 point underdogs and went back to Starkville with a 26-22 win over Texas Agricultural and Mechanical, who is now 0-2 in the SEC.  Over/under was 46.
Auburn with the 24-19 win at Louisiana State.
Arizona State was a 3 point underdog to UCLA, and the Sun Devils lit up the Bruins, leaving Rose Bowl with a 42-23 win.
And Hawaii upset Fresno State 27-24, scoring 17 in the fourth quarter.
Other Games of Interest Last Week
A very quick late night look:  UNC beat Duke 38-7.  Temple upset Memphis 34-31, really hurting my weekend book.  Southern Cal 37-14 over Colorado.  Keontay Ingram ran for 124 yards. Miami 28-17 over Central Michigan.
Navy with a huge 34-30 win over UCF, who was favored by 16.5.  Go Navy!  Army upset by Ball State, 16-28.  Air Force 38-10 over New Mexico.
Southern Methodist remains undefeated with the 41-17 win over South Florida.
Roadrunners are also undefeated with the 24-17 win over UNLV.  Good for them, bad for me (UTSA was favored by 21).
Rice wins!  Rice wins!  24-19 over Southern Miss.
UTEP is 4-1 after beating Old Dominion 28-21
Music.  Songs About Texas
If it Wasn't for Texas, by George Strait
Luckenbach, Texas.  Willie Nelson and a pretty good crew.
Good Hearted Woman.  Waylon Jennings
Songs about Texas.  Pat Green.
Texas On My Mind, by Django Walker
Leavin' Texas.  Jerry Jeff Walker
Texas Longhorn, by Django Walker.
Feelin' Good Again, Robert Earl Keen
Screw You, We're from Texas.  Ray Wylie Hubbard.
Pancho and Lefty, Willie and Merle.
And finally, once again in honor of that flight home from Lubbock with Gary Farmer, on September 18, 2010, The King of Country Music with Amarillo By Morning.  Texas beat the Red Raiders that night, and it was just all around a great day and great fun with one of the best, El Jefe.  One of my favorite Texas football memories.
While on the topic of Willie Nelson, this might be of interest to some of you.  Willie's nickname Booger Red.
"Mama and Daddy Nelson were big on proper speech. In addition to giving us music lessons, they taught us elocution. And though Bobbie and I were essentially shy country kids, they encouraged us to perform before the public, especially when the appearance was part of a religious event.

"The seminal event happened when I was four or five. My grandparents had given me a poem to read in front of a gala outdoor tabernacle meeting in Brooking, Texas. The day was part revival, part picnic. You'd eat, you'd pray, you'd hear some preaching, you'd do some singing. This went on all afternoon. Mama Nelson had dressed me up in an all-white sailor suit. The outfit brought me pride, but the idea of reciting a poem in front of this huge audience gave me jitters. Just before I was set to go on, I started picking my nose. I was nervous and didn't realize how deeply I had dug into my skin. When I hit the stage, red blood was pouring all over my white suit. Right then and there, I ditched the poem and improvised a new one on the spot.

What are you looking at me for?

I got nothing to say

If you don't like the looks of me

You can look another way

"That's how I got the nickname Booger Red."
From Willie's book, It's a Long Story [© 2015]
2021 Dan Jenkins Medal for Excellence in Sportswriting Award Ceremony
This includes good friend Cedric Golden interviewing fellow Tylerite Earl Campbell.  Really good.
Charity
Join me in supporting Dell Children's Hospital in Austin.  They are doing great things.
https://supportdellchildrens.org/
IVY LEAGUE FOR THE FOURTH WEEKEND OF THE 2021 SEASON
By Lonnie Schooler
Now into the fourth weekend of the Ivy football season, already some teams are separating themselves from the pack.  The Ivy's guaranteed television exposure is proving very popular among alumni and football fans everywhere.
Results of Games Played on October 1 and 2:
In the third weekend of the Ivy season, the marquee matchup of the weekend, and the only one featuring a conference game, saw my alma mater, the Penn Quakers, host the Big Green of Dartmouth at Franklin Field in Philadelphia, in a game being nationally televised on ESPNU.  Unfortunately, after an early trading of touchdowns by the two combatants, the Big Green proceeded to kick butts and take names, prevailing over the Quakers 31-7 and, in the process, demonstrated why the Big Green has enjoyed a high ranking in pre-season predictions for Ivy supremacy.
In games played on Saturday, the Yale Bulldogs traveled to play the Lehigh Engineers in the Poconos Mountains, and convincingly prevailed, 34-0 (congrats to Mr. Nondorf).  Pat Sharkey's Columbia Lions traveled down the New Jersey Turnpike to take on the Tigers of Princeton and, sadly, were not up to the task of upsetting the top-rated Tigers, losing by the count of 24-7.
The Harvard Crimson traveled to Worcester, Mass. to play the Holy Cross Crusaders, and won 38-13, showing why they, like Princeton, enjoyed a high pre-season ranking.  The Big Red of Cornell also journeyed to eastern Pennsylvania to take on the Bucknell Bisons, and came up short 21-10.  Finally, Chip Babcock's Brown Bruins traveled to neighboring Smithfield, R.I., to play the Bryant Bulldogs and after falling behind 33-0, came roaring back in the 4th quarter with 29 unanswered points, still falling by the score of 36-29.
Schedule for October 8-9:
This weekend, there are two games involving conference matchups, with the remaining four Ivy members playing non-conference games.  The schedule for this weekend's games is as follows (all times CDT, and all games available on ESPN+).  All games this weekend will be played on Saturday:
The action commences with Colgate traveling to Providence to play the Brown Bruins at 11:30 A.M.  At Noon, the Princeton Tigers travel to play the Monmouth Hawks of the Big South Conference in West Long Branch, New Jersey.  Also at Noon, the Big Red of Cornell travel to Cambridge to take on the Harvard Crimson.
In another Noon matchup, the Columbia Lions travel to central Connecticut to play the Blue Devils of Central Connecticut State in New Britain, Connecticut.
At 12:30, the Yale Bulldogs square off with the Big Green of Dartmouth in Hanover, New Hampshire.
Finally, the Fighting Quakers of Penn host the Lehigh Engineers in a game starting at Noon.
Go Quakers.
Enjoy your football this weekend, now that the fall foliage is upon us.  Oh, and how about them Horns?!?  Put up a big victory against the Horned Frogs in Ft. Worth!  Go Horns; vanquish the "Land Thieves".
Cool Photo
This week's photo is by Austin photographer, Chris Lammert, brother of my friend Connor Lammert, the great Longhorn basketball player, and son of my long, longtime friend Dean Lammert.  Chris is also a pilot and takes some great pictures.  Follow him on Instagram – @chrislammert
God Bless Texas
God Bless America
Tim Taylor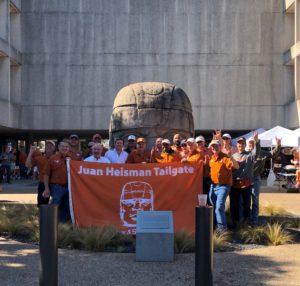 Tailgating before Home Football Games
The Juan Heisman Tailgate
Lot 38, East of Sid Richardson Hall.
HOOK EM HORNS!!
© Timothy C. Taylor, Sr. 2021.  All Rights Reserved (as to original material).
On Twitter:  @tctayloratx
On LinkedIn:  www.linkedin.com/in/tctatx
On Instagram:  @tctayloratx
On Facebook:  www.Facebook.com/Tim.C.Taylor
and:  www.Facebook.com/Juan.Heisman
You can contact me by mail:
Tim Taylor

P.O. Box 5371

Austin, Texas  78763-5371