Texas Christian Horned Frogs vs. Texas Longhorns
Immensely consequential game in Austin this Saturday night with Texas Christian University.  The Horned Frogs come to Austin ranked No. 4 in the CFP poll, the Longhorns are ranked No. 18, College Gameday is coming back to The Forty Acres, and we will have a primetime game under the lights at Darrell K Royal – Texas Memorial Stadium.  6:30 p.m. on ABC.  A game with determinative ramifications for TCU at the national level and for The University of Texas at the conference level.  Full preview of the game below and a look at the importance of the game for both teams.
Texas Longhorns 34, Kansas State Wildcats 27
The Longhorns and Steve Sarkisian got a desperately needed road win in Manhattan Saturday night.  I said last week it was the most important game of the season, and it was.  An exceptional game from Bijan Robinson who ran for 209 and a score and averaged 7 yards per carry.  An acceptable day from Quinn Ewers.  Another team leading day on defense from Jaylan Ford plus two critical fumble recoveries.  And thank you Snacks!  That swat by Keondre Coburn with 34 seconds to go was the play of the game, ending the Martinez-led Wildcat comeback in the nick of time.  Full recap below
Veterans Day
Today is Veterans Day, the day where we honor America's veterans and celebrate their service to and sacrifices for our great country.  Originally Armistice Day, established by Woodrow Wilson in 1919 to commemorate the signing of the Armistice with Germany that ended The Great War and which went into effect at the 11th hour of the 11th day of the 11th month of 1918.  To all who may be reading this who served, thank you.  Looking forward to all the ways that The University honors our veterans.  I will pause in the Frank Denius Veterans Memorial Plaza on my way in to the stadium and remember Frank and give thanks for him all who have served the United States of America.
Roschon Johnson and the Paul Hornung Award
Great work from Longhorn nation and thanks to those of you who took the time to vote.  Roschon won the fan vote.  Final tally:  Roschon Johnson 49.45% (18,968), Jack Coletto 45.37% (17,406).  Third place was Will Shipley from Clemson with 335 votes.
Austin Horns Fan Dispatch, November 11, 2022
 A couple of notes.  First, I have a piece on the World Champion Houston Astros below.  Second, I am really pleased with what started as a customary Jim Nicar historical UT photo and transitioned into the start of a pretty cool research project.  And finally, please take time to scroll to the end for the Charity & NIL section.  More on the big NIL news that was announced Thursday.
Texas Christian University Horned Frogs 2022
 The story of the 2022 Horned Frogs begins on November 30, 2021.  That is the day Texas Christian announced they had hired Sonny Dykes from the other side of the Metroplex, giving the man who had revived Southern Methodist another shot as a head coach at a Power 5 school.  Following in his legendary father's footsteps after graduating from Texas Tech in 1993 (he was on the baseball team), Sonny started coaching:  high school baseball in Monahans, football at JJ Pearce in Richardson, and then his first college opportunity, Navarro College in beautiful Corsicana, home of Collin Street Bakery and the famous fruitcakes.  He would spend 1997 through 2009 as an assistant coach, including stints with two offensive geniuses, the great Hal Mumme (inventor of the Air Raid offense) at Kentucky and then with Hal's protégé, Mike Leach at Texas Tech.  Y'all remember those offenses.  Painfully.  Then 3 years in Arizona, where the Wildcats offense posted big numbers.  In 2010, Dykes got his first head coaching job, Louisiana Tech in lovely Ruston.  22-15 in 3 years, and then Sonny Dykes went to Berkeley, California.  Now, I do not know Coach Dykes personally, but I am pretty sure he's a good ole West Texas boy.  An odd fit at Berkeley, and not a ton of success, but he did beat No. 11 Texas in his fourth and final year.  In 2018, Dykes got hired in Dallas.  A 5-7 first year, then 10 wins in 2019, 7-3 in 2020, and 8-4 in 2021.
I normally don't spend this much time on the opposing coach, but I don't think you can understand and appreciate TCU's success thus far in 2022 without knowing Dykes' background, especially his position in the Hal Mumme-Mike Leach coaching tree and his tutelage at the feet of the Masters of the Air Raid.  As you will see from what follows, Dykes has led the Texas Christians close to the Promised Land with 3 games to go in 2022.  Whether or not he gets the Frogs to the banks of the Jordan River will be determined Saturday night.
Texas Christian opened the 2022 season with a 38-13 win over what we now know is a terrible Colorado team, then spanked Tarleton State 59-17 (worth noting that Hal Mumme played football at Tarleton State, where he was also a member of Kappa Alpha Order).  Against Colorado, Max Duggan got in the game because of injury to Chandler Morris, having been passed over as the starter in favor of Morris.  Against Tarleton, he was 23-29 for 390 with 5 TDs.  Negligible rushing.
Then the Iron Skillet game with Southern Methodist, with the Frogs winning a bit of a close game 42-34.  Duggan 22-29 for 278 and 3 scores.  Minus 11 yards rushing.
Next the No. 18 Land Thieves, and Max Duggan went off.  23/32 for 302 yards and 3 TDs and ran for 166 yards on 5 carries with 2 scores. The Frogs ran for 361 and 5 TDs on the Thieves.
The next week, TCU was ranked No. 17 and headed to Lawrence to play one of the big stories of the first month of the college football season, the undefeated and No. 19 Kansas Jayhawks.  A weird game that was 10-3 Frogs at half, then 31-24 after 3, with Texas Christian finishing on top 38-31.  Duggan was 23/33 for 308 yards with 3 TDs and 1 pick, and he ran for 55 yards and a score.
The Horned Frogs leapt to No. 7 in the AP and headed to Morgantown.  A 41-31 win over the Mountaineers, with Duggan outdueling JT Daniels.  Max was 16/28 for 341 with 3 TDs and 1 pick, but only ran for 2 yards net, hobbled by a calf injury.
Last weekend, TCU got Tech in Fort Worth, and while the Frogs got the win, Duggan had a bit of an off game, although he did throw 2 TD passes in the fourth quarter, as the Frogs got 21 points in the final frame to pull ahead and win 34-24.  Duggan was 12-23 with 2 scores through the air, but the calf limited him to 6 yards on 12 official attempts.
The 2022 Toads
Max Duggan.  I really think that a big part of whether or not Texas wins on Saturday may depend on Duggan's health.  If he can't run, where he is great at seeing opportunity and great at exploiting defensive gaps, then advantage Texas.  If he can, then the game is a toss-up; he is fast and a great runner.  Duggan (No. 15, 6-2. 210 pound senior from Council Bluffs, Iowa) is 161 for 244 with 24 touchdowns and only 2 interceptions.  He's averaging 267.44 yards per game and has a 179.67 rating.  Second in the conference in yards per game, but first in yards, yards per attempt, touchdowns, and rating.  He's also the third leading Toad rusher, with 282 yards net (424 gross, so he has been dropped for 142 yards worth of losses).  4 rushing touchdowns.  Second in total offense behind Spencer Sanders with 298.8 yards per game, and first in total offense (2,689 yards).  Max was not the starting Frog quarterback out of summer camp.  That was Chandler Morris of Highland Park, son of Coach Chad Morris.  Suspect we will see him next year.
Kendre Miller (No. 33, 6 foot, 220 junior running back out of Mount Enterprise) is the leading Frog rusher this season with 1,009 yards, averaging 112.11 yards per game.  He is now second in the Big 12 behind Bijan (1,129 yards, 125.44 ypg).  Both Kendre and Bijan have 12 rushing touchdowns, second in the conference behind Baylor's Richard Reese.  Miller has 10 catches for 79 yards.  Emari Demercado (No. 3, 5-11, 210 pounds senior) has 342 yards and 4 scores on the ground and 7 catches for 57 yards.
Texas Christian is loaded at wide receiver.  Quentin Johnston (No. 1, 6-4, 215 lbs junior WR-X) leads the toads with 42 catches for 650 yards and 4 scores, with a long of 55.  Taye Barber (No. 4, 5-10, 190 lbs senior WR-H) has 23 receptions for 450 yards and 3 scores with a long of 73.  Derius Davis (No. 11, 5-9, 162 senior WR-H) has 28 catches for 385 yards and 5 touchdowns, long of 80 yards.  Savion Williams (6-5, 215 lbs, junior WR-Z), 18 receptions, 279 yards, 3 TDs, and a long of 57 yards.  Gunnar Henderson (No. 27, 5-9, 180 lbs, senior WR-H) has 7 catches for 169 yards and 1 score with a long of 62.  Geor'Quarius Spivey (No. 12, 6-5, 245 lbs senior WR-Y) has 5 catches for 72 yards.
Jared Wiley is the leading tight end for TCU.  Wiley (No. 19, 6-7, 255 senior) is of course familiar to Horns Fans.  We know he's good.  12 catches for 136 yards, and 4 touchdowns.
The offensive line is large and good.  A big reason why Duggan and the Frog offense are so productive.
The Texas Christian defense is led by two solid linebackers.  Johnny Hodges (No. 57, 6-2, 240 pound junior WLB) has 55 tackles (26 solo) with 4.5 TFL for 22 yards and 1.5 sacks for 11 yards.  Jamoi Hodges (No. 6, 6-2, 245 pound junior MLB) has 53 tackles (28 solo) with 7 TFL for 26 yards and 3.5 sacks for 19 yards and an interception.  Mark Perry (No. 3, 6 foot 215 pound strong safety) has 52 tackles (36 solo) with 3 TFL for 5 yards.  Dee Winters (No. 13, 6-1, 230 pound senior SLB) has 43 tackles (23 solo) with 9.5 TFL for 35 yards, 6.5 sacks for 28 yards, and 6 quarterback hurries.  I think he is sitting the first half for targeting.  Starting cornerbacks are Josh Newton (No. 24, 6 foot, 195 junior) who has 27 tackles, 2 interceptions, and 7 pass break-ups and Tre'Vius Hodges-Tomlinson (No. 1, 5-9, 180 lbs Senior) who has 30 tackles, 2 interceptions, a forced fumble, and 5 pass break-ups.  One of those guys will be all over Xavier Worthy.  On the line, starters are Dylan Horton (No. 98, 6-4, 275 lbs senior DE), Damonic Williams (No. 52, 6-2, 320 freshman NT), and Terrell Cooper (No. 95, 6-2, 280 lbs senior DE). They look pretty deep on the defensive line.
Griffin Kell (No. 39) is their place kicker.  He is 10 for 10 on the season.  He has not attempted a field goal shorter than 30 yards.
Texas Christian University vs. The University of Texas
The World Wide Leader will focus the eyes of American sports fans and college football fans from around the globe on Austin Saturday.  College Gameday will be on the LBJ lawn, below Juan Heisman.  Texas fans turned out big for Alabama; I hope enough can be that enthusiastic for the Fort Worth Frogs.  Saturday night, the game will be broadcast on ABC, featuring the top team for ABC/ESPN:  Chris Fowler, Kirk Herbstreit, and Holly Rowe.  The game will be broadcast around the world on the Longhorn Radio Network with Craig Way, Roger Wallace, and Will Matthews.
I mentioned above the importance of this game.  For Texas, the Longhorns must win to keep alive their hopes of making it to Arlington to play in the Big 12 Championship Game.  Win Saturday and win out, and Texas is there.  Most likely to play these same TCU frogs.  A loss, and Texas will then just be looking forward to a bowl game, with the quality of that opportunity resting on the last 2 games.
For Texas Christian, a victory almost assures them of an undefeated regular season, with just Baylor and Iowa State left, and I think clinches the Frogs a spot in Arlington in December.  A win keeps them in the hunt for a spot in the College Football Playoffs.  A loss, and they are done.  Yes, a conference title maybe and if then a New Year's Six Bowl, but the big prize is out of reach.  A lot on the line.  A lot of pressure.  I hope they feel it.
This will be the 93rd meeting between Texas and Texas Christian, a series that the began in 1897 and which the Longhorns lead 64-27-1.  That first game was actually in Waco.  What was Add-Ran Christian College in 1895 moved from Thorp Springs to Waco, having left Fort Worth in 1873, shortly after the school's founding (Fort Worth had a bit of a rough edge to it back then; will revisit that next year).  Texas won the first game 18-10, and between 1895 and 1928 would win every match (12 total games).
TCU joined the Southwest Conference in 1923.  The 1930's were the Golden Years of Texas Christian football, with Sammy Baugh and other Frog legends and legendary coach Dutch Meyer, and TCU wins over Texas in 1932 and 1933, then 1936-1938.
Texas would dominate from 1943 through the end of the SWC in 1995, although Texas Christian delivered its share of big upsets, the 1961 upset of No. 1 Texas (6-0) being one of the biggest, but the 1965 and 1967 Frog wins also large in Texas history.  Cockroaches.
From 1968 through 1991, Texas won every game, most by large margins.  In 1992, TCU got its last win against Texas in the Southwest Conference.
Texas Christian joined the Big 12 in 2012, thanks to its wily Athletic Director Chris del Conte and, as he will tell you, DeLoss Dodds.  The Frogs came in with a vengeance in football under Coach Gary Patterson and have won 7 of the last 10.
Of course, CDC and Patterson are both in Austin now, and the new regime in Fort Worth has TCU at the top of the Big 12.
The Statistics
Several that really stand out.  Especially for the Frog offense.
Offense
| | | |
| --- | --- | --- |
| Statistic | Texas | Texas Christian |
| Rushing Offense | #35, #6 – 192.4 ypg | #13, #2 – 219.7 ypg |
| Passing Offense | #49, #5 – 254.7 ypg | #22, #3 – 289.0 ypg |
| Total Offense | #30, #5 – 447.1 ypg | #4, #1 – 508.7 ypg |
| Scoring Offense | #24, #5 – 36.1 ppg | #3, #1 – 43.1 ppg |
| First Downs | #27, #6 – 23.9/game | #31, #7 – 23.3/game |
| Sacks Allowed | #20, #2 – 10, 72 yards | #55, #7 – 17, 132 yards |
| Tackles for Loss Allowed | #28, #4 – 41, 150 yards | #52, #6 – 47, 214 yards |
| Third Down Conversions | #51, #7 – 41.2% | #37, #5 – 44.1% |
| Fourth Down Conversions | #60, #6 – 54.6%, 6/11 | #93, #9 – 44.4%, 8/18 |
| Red Zone Attempts | #35, #3 – 40 | #37, #4 – 39 |
| Red Zone Offense | #24, #4 – 90% / 63% | #82, #9 – 82% / 67% |
| Long Run Plays | #54, #7 – 46/10, 15/20, 10/30, 6/40 | #13, #2 – 62/10, 23/20, 15/30, 7/40 |
| Long Pass Plays | #31, #3 – 98/10, 38/20, 15/30, 6/40 | #31, #3 – 98/10, 41/20, 20/30, 12/40* |
*TCU also has 10 pass plays 50 yards are longer and 5 over 50.  Texas has none over 50.
Defense
| | | |
| --- | --- | --- |
| Statistic | Texas | Texas Christian |
| Rushing Defense | #32, #2  – 123.6 ypg | #70, #5 – 146.6 ypg |
| Passing Defense | #101, #7 – 258.1 ypg | #94, #6 – 250.3 ypg |
| Total Defense | #74, #5 – 381.7 ypg | #86, #6 – 396.9 ypg |
| Scoring Defense | #38, #3 – 21.8 ppg | #73, #5 – 26.9 ppg |
| First Downs Allowed | #93, #7 – 22.0/game | #67, #5 – 20.3/game |
| Sacks | #72, #4 – 19, 117 yards | #72, #4 – 19, 97 yards |
| Tackles for Loss | #24, #3 – 61, 211 yards | #92, #6 – 47, 167 yards |
| Third Down Conversions | #51, #7 – 41.2% | #64, #5 – 38% |
| Fourth Down Conversions | #84, #7 – 56%, 14/25 | #69, #5 – 52%, 13/25 |
| Red Zone Attempts | #45, #4 – 31 | #53, #5 – 32 |
| Red Zone Defense | #26, #2 – 77% / 52% | #96, #7 – 88% / 62% |
| Long Run Plays Allowed | #29, #3 – 32/10, 6/20, 2/30, 2/40 | #63, #7 – 41/10, 13/20, 5/30, 2/40 |
| Long Pass Plays Allowed | #102, #7 – 93/10, 33/20, 9/30, 5/40 | #80, #5 – 85/10, 40/20, 18/30, 7/40 |
Other
| | | |
| --- | --- | --- |
| Statistic | Texas | Texas Christian |
| Turnovers | #17, #3 – 3F, 6I, 9 | #4, #1 – 4F, 2I, 6 |
| Turnover Margin | #61, #5  10:9  plus 1 | #17, #3  13:6  plus 7 |
| Penalties | #74, #10 – 58, 457 yards | #16, #2 – 42, 423 yards |
*Based on total number of penalties.
Match-up Comparison
| | |
| --- | --- |
| Texas Offense | Texas Christian Defense |
| Rushing Offense – 192.4 ypg | 146.6 ypg – Rushing Defense |
| Passing Offense – 254.7 ypg | 250.3 ypg – Passing Defense |
| Total Offense – 447.1 ypg | 396.9 ypg – Total Defense |
| Scoring Offense – 36.1 ppg | 26.9 ppg – Scoring Defense |
| First Downs – 23.9/game | 20.3/game – First Downs Allowed |
| 3rd Down Offense – 41.2% | 38% – 3rd Down Defense |
| 4th Down Offense – 54.6% | 52% – 4th Down Defense |
| Red Zone Offense – 90%/63% | 88%/62% – Red Zone Defense |
| LRP – #54, #7 – 46/10, 15/20, 10/30, 6/40 | #63, #7 – 41/10, 13/20, 5/30, 2/40 – LRP Allowed |
| LPP – #31, #3 – 98/10, 38/20, 15/30, 6/40 | #80, #5 – 85/10, 40/20, 18/30, 7/40 – LPP Allowed |
| | |
| --- | --- |
| Texas Defense | Texas Christian Offense |
| Rushing Defense – 123.6 ypg | 219.7 ypg – Rushing Offense |
| Passing Defense – 258.1 ypg | 289.0 ypg – Passing Offense |
| Total Defense – 381.7 ypg | 508.7 ypg – Total Offense |
| Scoring Defense – 21.8 ppg | 43.1 ppg – Scoring Offense |
| First Downs Allowed – 22.0/game | 23.3/game – First Downs |
| 3rd Down Defense – 41.2% | 44.1% – 3rd Down Offense |
| 4th Down Defense – 56% | 44.4% – 4th Down Offense |
| Red Zone Defense – 77%/52% | 82%/67% – Red Zone Offense |
| LRP Allowed – #29, #3 – 32/10, 6/20, 2/30, 2/40 | #13, #2 – 62/10, 23/20, 15/30, 7/40 – LRP |
| LPP Allowed – #102, #7 – 93/10, 33/20, 9/30, 5/40 | #31, #3 – 98/10, 41/20, 20/30, 12/40, 10/50 – LPP |
Other Stats
"Available Yards Percentage".
| | | | |
| --- | --- | --- | --- |
|   | NAY | OAY | DAY |
| Texas | No. 24:  0.119 | No. 24:  0.572 | No. 52:  0.453 |
| Texas Christian | No. 17:  0.129 | No. 14:  0.592 | No. 55:  0.462 |
BCF Toys – 2022 Available Yards Percentage
Net points per drive (NPD).  NPD is the difference between points scored per offensive drive (OPD) and points allowed per opponent offensive drive (DPD).
| | | | |
| --- | --- | --- | --- |
|   | NPD | OPD | DPD |
| Texas | No. 11: 1.19 | No. 17:  3.02 | No. 32:  1.83 |
| Texas Christian | No. 13: 1.10 | No. 10:  3.35 | No. 60: 2.19 |
BCF Toys – 2022 Points Per Drive
Net Yards Per Play (NPP).
| | | | |
| --- | --- | --- | --- |
|   | NPP | OPP | DPP |
| Texas | No. 9: 1.72 | No. 10:  7.00 | No. 34:  5.27 |
| Texas Christian | No. 7:  1.86 | No. 3:  7.45 | No. 53: 5.59 |
BCF Toys – 2022 Yards Per Play
BCF's Game Projection.  "Game Projections are calculated from current FEI ratings and include the projected win likelihood (PW), projected margin of victory (PM), projected points scored (PF) and allowed (PA), and projected total points scored (PT) for each FBS game."
| | | | | | | |
| --- | --- | --- | --- | --- | --- | --- |
| Projected Winner | Projected Loser | PW | PM | PF | PA | PT |
| Texas | Texas Christian | .629 | 4.8 | 36.4 | 31.6 | 68 |
I looked back at last week's projection, below.
| | | | | | | |
| --- | --- | --- | --- | --- | --- | --- |
| Projected Winner | Projected Loser | PW | PM | PF | PA | PT |
| Texas | Kansas State | .604 | 3.8 | 30.2 | 26.4 | 56.6 |
| TEXAS! |   | | 7 | 34 | 27 | 61 |
Monday night, the ESPN Matchup Predictor gave Texas a 73% chance of winning and line was Texas minus 7.  The line opened at -6 and moved as high as -7.5.  Early Friday morning, ESPN's computer still gave Texas a 73% probability of victory, and the line had moved to Texas minus 7.5.  (I note that the Predictor gives Texas a better chance against TCU than it did against K State – 61.9%).
Money line:  Texas +222, TCU -278.  Over/under at 65.  Take the over.
TCT Preview
I have stared at the stats and records for hours and hours.  My instincts tell me that Las Vegas and the sportsbooks are right – Texas is going to win.  Some of the stats suggest Longhorns win, others Frogs.
I have decided it comes down to the Texas defense and whether or not the rush defense can continue to solid and, most importantly, stop the big gains.  TCU is No. 12 in long running plays, and Texas is No. 29 in defending against long runs.  We can't let Miller and the other Frogs run free and get to the second level with speed.
Maybe more importantly can the Texas pass defense step it up a notch and not let Duggan pick them apart?  Our pass defense is No. 101 out of 131 teams, and the Frog pass attack is No. 22.  There is one play in the K State game where the Wildcat caught the ball in the middle of the field and there were 3 Texas defenders in the vicinity, but not a one closer than 3 yards to the receiver by my estimation.  I am worried that if Texas plays that kind of soft coverage and a bunch of zone or primarily zone, Max Duggan will throw for over 350 yards.  He is good against zone.  The other scary part is the skill and size of the TCU receivers.  Take a look above again.  Big men.  Especially Quentin Johnston.  He may not be 100%, but he's probably all-conference at 80%.
I think the biggest advantage we may have is Gary Patterson, who knows the players and has gone head to head with Dykes.
I like the Texas offense match up against the TCU defense.  I think Quinn Ewers has settle down and will have a big day.  I am just hoping the line gives him time to make his reads and that he in fact does it.  Seems like we have a lot of guys getting home; Quinn needs to find them.  Texas must utilize all of those receiver weapons; add in Bijan, Roschon, and Keilan, and we should be throwing, or at least are capable of throwing for, 350 yards a game.  Maybe this Saturday we see that open up.
The good news is Texas still have the best backfield in the country.  Bijan is the best running back, and Roschon Johnson is probably the best No. 2 back.  And don't forget Jordan Whittington in the run game.  He is so talented.  The key may be Keilan Robinson.  Pound the ball with Bijan and Roschon, then use Keilan to get some speed in space.
I am counting on our offensive line to have a great game.  That is a must.  And we have to have some sustained drives.  It would be great if they all are productive, but it may be more important that we avoid 2 and out 90 second drives so the defense isn't on the field a bunch. Given our proclivity for second half scoring droughts, the defense needs to be able to be ready to also pitch a shutout in the second half.
For some reason, despite the stats, I think the offensive vs. defensive match-ups are about even.  I feel like both teams can score 4 to 5 touchdowns.
So, for me, the difference is going to come down to special teams.  The punting game is going to be critical for field position.  We need to make sure Texas Christian doesn't get a lot of short fields.  I also think the field goal kickers may decide this game.  I feel like both teams will line up for 3 or 4 attempts.  Bert needs to make all of his; we need to block one or two of theirs.
Finally, the fundamentals:  no turnovers, limit penalties.  Texas can play clean football.  They have showed that in many games, although mostly in just one half.  We need 60 minutes.  From the players and the coaches.  We have to play a good second half on offense.
After much deliberation:
Texas 41, TCU 34. 
Official Texas Preview:
No. 24 Football Preview: No. 7 TCU – University of Texas Athletics (texassports.com)
Official Texas Game Notes:
10 TexasGameNotes TCU (PDF) – University of Texas Athletics (texassports.com)
Official Texas Christian Game Notes:
TCU Football Media Notes – Texas Game (PDF) – TCU Athletics (gofrogs.com)
Preview from Wescott Eberts on Burnt Orange Nation.
https://www.burntorangenation.com/2022/11/10/23452130/texas-longhorns-tcu-horned-frogs-preview-max-duggan-quentin-johnston
Texas Homer
Longhorns 34, Wildcats 27
I called the win and was close on the score.  But I didn't think that 31 of Texas' points would be in the first half and that K State would keep the Longhorn offense out of the endzone for an entire half.
Bijan Robinson had another big day with 209 yards on 30 carries.  Most of that in the first half, but we won.  I was guessing Texas would be able to run the ball, somewhere between 225 and 255.  Roschon added 62 for a team total of 269 yards.  Some excellent running.  I was hoping and expecting Ja'Tavion Sanders to be more involved, and he was, with a team leading 5 catches for 54 yards. Worthy only had 4 receptions, but 2 were touchdowns.  He is a really special receiver.  Quinn did what he need to do:  play clean football.  A bit pedestrian at 18/31 for 167 yards with the 2 touchdowns to Worthy, but I will take it.  Especially for a freshman.
No surprise Jaylan Ford led the team in tackles.  10 tackles and of course the 2 fumble recoveries.  Great run defense, especially holding Deuce Vaughn to 73 yards rushing.  He scored, but that was on a pass. He did have 7 catches (led K State) for 59 yards.  24 of his rushing yards, 28 of his receiving yards, and the score were all on the first KSU drive.  So someone, it would seem, made a good and early in-game adjustment for the Texas defense.
Texas did have the two fumbles.  Still having nightmares about RoJo's fumble.  Texas was humming right along, and a score on that drive would have been huge.  But, in the end, Texas was even with K State in the turnover battle, which was good (recall K State was #3 in FBS with only 5 turnovers, and #6 in turnover margin, at plus 9 with 11 picks).
Kudos to this ever-improving offensive line.  Remarkable we are doing this with 2 freshman and 2 sophomores.
Texas played a really clean first half, but then got flagged 6 times in the second half.
The big concern coming out of Manhattan is one that has been on the table for a good while:  where is our offense in the second half?  Last Saturday, Texas had 352 yards and scored 31 points in the first half.  114 yards and 3 points in the second half.  That is not sustainable for a team that wants to contend for a conference championship and, in the future, for the college football playoffs and a national title.
No detailed review this week, as I was at the Moody Center watching Texas Men's Basketball both Monday and Thursday night.  That wiped out a lot of writing time.
My Plays of the Game:
Bijan Robinson's 36 yard touchdown run on our first possession.
On Texas' third scoring drive, Ewers completed passes to JT Sanders for 18 yards, Jordan Whittington for 18 yards, and finished it with the 13 yard TD strike to Worthy.  Over 25% of his passing on that one possession (Also had a 9 yard pass to Savion Red).
Bijan Robinson's 68 yard run to the K State 9 yard line late in the second quarter.  Three chances from the 9, and the plays went to Billingsley, Keilan Robinson, and Savion Red.  Nothing against those guys, but why not put the ball in the hands of our stars?
Jaylan Ford's interception after that field goal, which gave Texas the ball at the K State 27 with 67 seconds in the half.  At least we got 3 more points, but between those two possessions coming up with just 6 points, and that Roschon fumble right before the first of those drives, it could easily have been at least 38-10 at half if not 42-10.  Texas may need a margin like that this week.
Not a lot of second half highlights on offense for the Horns.  Six penalties in the third quarter alone:  Defensive offsides, false start, false start, personal foul, false start, false start.  Doing that after halftime feels like a shot-clock violation after you have called time-out to set up a play.
The Play of the Game:  Snacks Coburn with the forced fumble, knocking the ball out of Martinez's hand, recovered by Jaylan Ford.  I am not at all confident that had Texas not forced the turnover, Texas would have been able to keep K State out of the endzone, and then Texas would have been in overtime on the road.
Congrats to Coach Sarkisian and the team.  A win is always a win, and a conference road win against a ranked opponent is a really good win, regardless of how you got the W.
Highlights
From Victors Valiant, 14:31
From FOX College Football, 8:01
Bijan Robinson's Excellent Day.  8 and a half minutes, from Nash Talks Texas
Texas Christian University
Academic Rankings
National
Texas
Texas Christian
Forbes
43
188
THE | WSJ
60
205
U.S. News & World Report
38
80
Washington Monthly
40
252
Juan Heisman Tailgate
Going to be a great day at the Juan Heisman Tailgate.  TamaleGate 2022.  Thanks to the great handmade tamales from Rose Marie Hagman's sister in Del Rio and Rose's homemade queso and salsa.  Add in Frito Pies and venison sausage.  One of the best JHT parties every year.  Kudos to Judd Messer and Hunter Wilcox and the rest of the leadership who have been working hard this week to make sure Saturday is fun for all of us.  We will have lots of good cold beer, plenty of Tito's Handmade Vodka, and other adult beverages.  Bring your own wine – we have everything else.  Looks like the weather will be perfect, with a high of 59 and a nice cool evening before legitimate football weather at kickoff.  Can't wait.
Texas Men's Basketball
What a start for the Longhorns.  Texas opened Moody with a 72-57 win over a solid UTEP squad.  Tyrese Hunter led the Horns with 18 points, also pulling down 5 rebounds.  Second was our other bit transfer, Sir'Jabari Rice with 14 points and 6 rebounds.  Carr with 12, and Disu added 10.
Thursday night I was going to watch at home and write, but Lauren Rothwell (one of Mary Elizabeth's best friends and a truly fine Texas lady) offered 4 of Benchmark Bank's great seats.  First row off of the court.  Amazing.  Thanks to Rusty Edgar too.  The Germania Club is darn nice.  Claudia got her buddies Morgan Baker Dowell and Tori Villarreal to join us, and we had a big time.  The main reason this edition of the Dispatch is arriving in your inbox at this ridiculous hour.  Houston Christian (f/k/a. Houston Baptist) was completely outmanned, as the Longhorns rolled to an 82-31 victory.
Biggest pre-conference game of the year, and one of the biggest overall, is next Wednesday night, as Texas hosts No. 2 Gonzaga.  8:30 p.m. on ESPN2.
Last week I had a quick preview of the season and team.  Somehow, I left Dillon Mitchell out in most of the posts that went out.  Shout out to Casey Ford who noticed!
Dillon Mitchell (No. 23, 6-8, 205), freshman forward,  is our other star recruit and also a McDonald's All-American.  Dillon was ranked as the No. 4 prospect nationally by ESPN and Rivals and No. 5 by 247 Sports in the 2022 recruiting class.  Jordan Brand All-American and MVP for Team Air in the Jordan Brand Classic.  He is a going to be something to watch, and I hope we get to watch him for more than one year.
World Series Champion Houston Astros
Congratulations to the Houston Astros.  A great World Series.  Happy for the Astros and all my family and friends who are Astros fans.  While I am a Cubs fan first, I have always liked the Astros.  And I am a fan of any Texas pro team in the playoffs and especially when playing for a championship.
I am also a huge fan of Dusty Baker.   Never was a hater when he was on his last legs with the Cubs and was a big fan when he was in San Francisco.  That stint included one of the more memorable plays in my MLB memory, when Dusty's 3 year old son Darren was a bat boy for the Giants in 2002.  The Giants made the World Series, playing the Anaheim Angels.  In Game 5, the Giants had runners on second and third.  J.T. Snow was on third base when Kenny Lofton hit a liner off the wall in right center field.  Snow came home, and as he crossed the plate little Darren Baker was running out to get Lofton's bat.  At the same time David Bell was burning it home from second base.  Snow turned and saw Bell barreling toward home plate to beat the throw, and little Darren was about to be run over by a very big man.  But Snow alertly turned back and grabbed Darren, pulling him to safety.  The Giants would go on to win that game 16-4 and take a 3-2 lead, but would drop the next 2 in Anaheim to give Angels the Championship   Anyway, the clip of that famous play is included in this good article on MLB.com.
Darren Baker celebrates dad Dusty's World Series victory (mlb.com)
Watching Game 6 Saturday night while mainly watching the Longhorns was a bit of a challenge, but got to see more than I expected, including the bottom of the sixth inning.  Yordan Alvarez delivered all the offense Houston would need.  Really says something about the team when you see that Altuve, second all-time in post-season home runs (behind Manny Ramirez and ahead of guys like Derek Jeter, Albert Pujols, Reggie Jackson, and Mickey Mantle), hit .190 in the WS with a .483 OPS no dingers.
Really happy for Jeremy Pena. What a great story.
Very glad Verlander got a WS win and got that monkey off his back.
Framber Valdez 3-0 in the post-season, 33 strikeouts in 25 innings parched, with a 1.44 ERA and 0.88 WHIP.
And that bullpen.  Holy Cow!  In MLB history, for bullpens that logged at least 35 innings in the postseason, the 2022 Houston Astros:  lowest ERA at 0.83, lowest opponents' BA at .126, lowest opponents' on base percentage at .215, lowest opponent's slugging percentage at .208, and lowest WHIP at 0.75.  Also the first bullpen to throw at least 40 innings and post an ERA below 1.0.
Pretty sure just about all y'all know who Jim "Mattress Mack" McIngvale is.  He bet $10 million on the Astros, spread across several different books.  Total winnings of $75 million is supposed to be the largest aggregate win in legal sports betting in U.S. history.  Caesars alone is paying $30 million, so much that Mack's winning bet, were he to win, was part of Caesars' November 1 earnings call – as a warning if the Astros won.  What you may not know is that Mattress Mack attended the University of Texas and was on Darrell K Royal's square in 1969 (freshman, so not on the varsity roster) and 1970.  A 6-1, 196 pound linebacker out of Bishop Lynch in Dallas.  I assume that center George McIngvale was his brother.  George was huge for that time – 6-3, 226.  George lettered in 1970.
One more Dusty story for those who are as happy as I am for a good baseball man, a great man.
Dusty Baker wins first World Series title as manager (mlb.com)
Wednesday, the Astros announced Dusty is coming back for 2023.  Attwaytogo!
Finally, a great video of Ryan Pressly's entrance.  Lots of great closers have had some famous entrance songs and effects, most prominently Mariano Rivera and Enter Sandman (and if you love baseball, go to YouTube and search "Exit Sandman").  This year, it was Edwin Diaz of the New York Metropolitans with the trumpet song.  But this is pretty darn cool and Minute Maid was lit.  And I will submit that Johnny Cash is way finer than an Australian named Timmy Trumpet.  Thanks to my son-in-law Parker Fleming for sharing this.
— Ryan Palomo (@RyanisinTexas) November 7, 2022
Level Up!  Do it Again Houston!
The Polls – Week 11
A pretty good shake-up in the CFP and polls.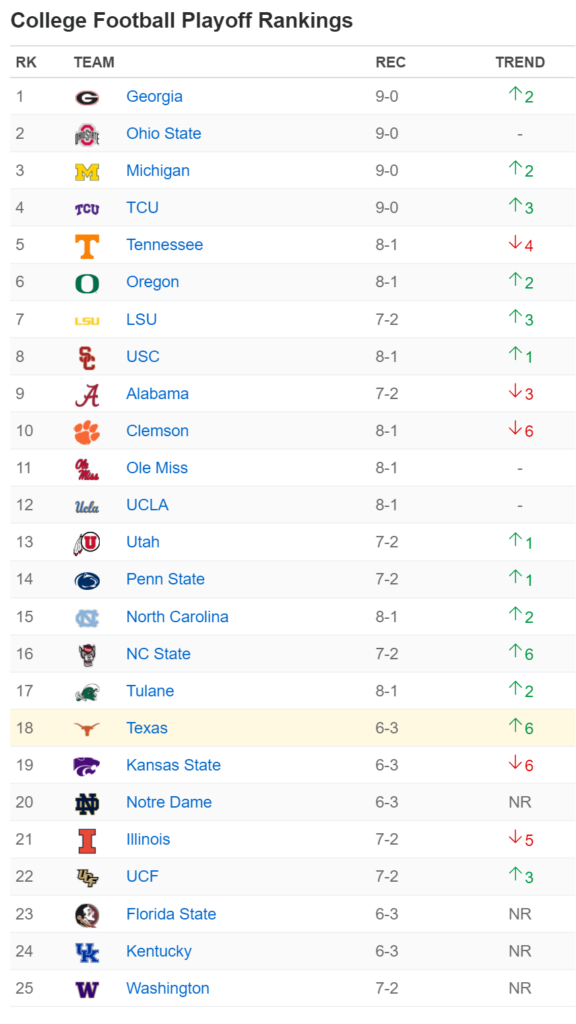 Gets me excited for the expanded playoff.  This week would look like this (assuming the current conference leaders are in fact their respective conference's champions):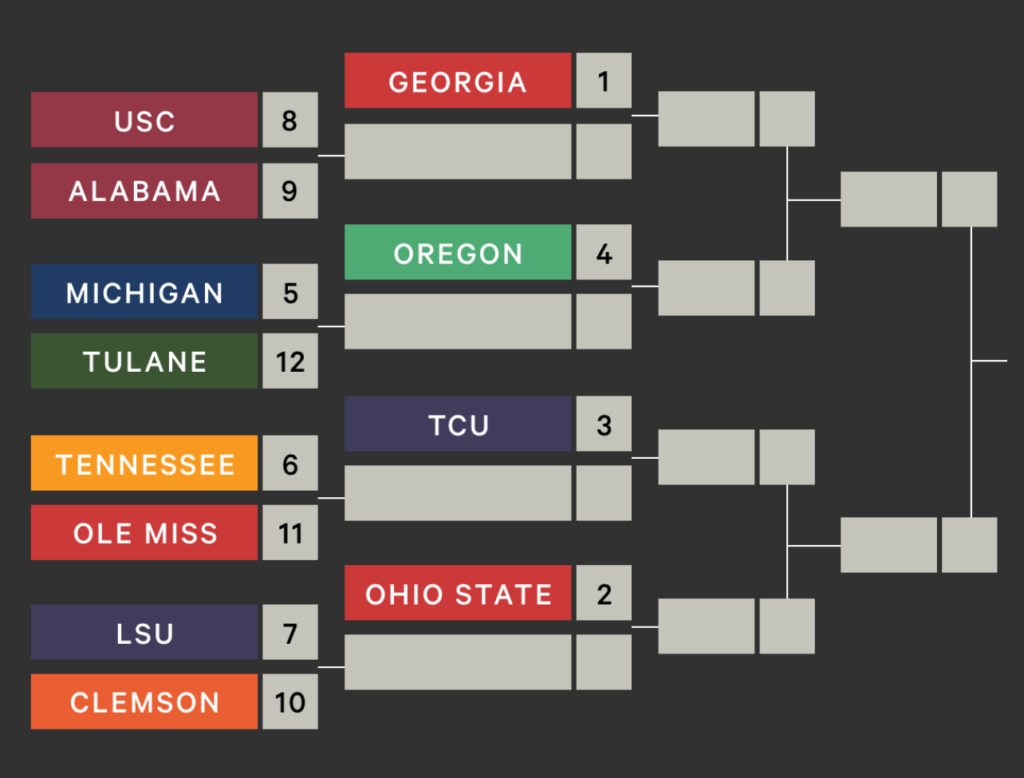 College Football Playoff Board of Managers Votes to Expand Playoff to 12 Teams – College Football Playoff
AP Top 25:  Georgia, The Ohio State University™, Michigan, Texas Christian, Tennessee, Oregon, Louisiana State, Southern Cal, UC Los Angeles, and Alabama.   Ole Miss at No. 11, North Carolina at No. 15, Texas at No. 18, and Notre Dame at No. 20.
AFCA Coaches Poll:  UGA, Buckeyes, Big Blue, Horny Toads, Vols, Ducks, Southern Cal, Bayou Bengals, Hotty Toddy, and the Bruins of Westwood.  Bam at No. 11, Heels at No. 14, Longhorns at No. 18, Fighting Irish at No. 25.
Statistical Rankings
Texas is still No. 6 in Nate Manzo's composite rankings.  Texas Christian No. 12.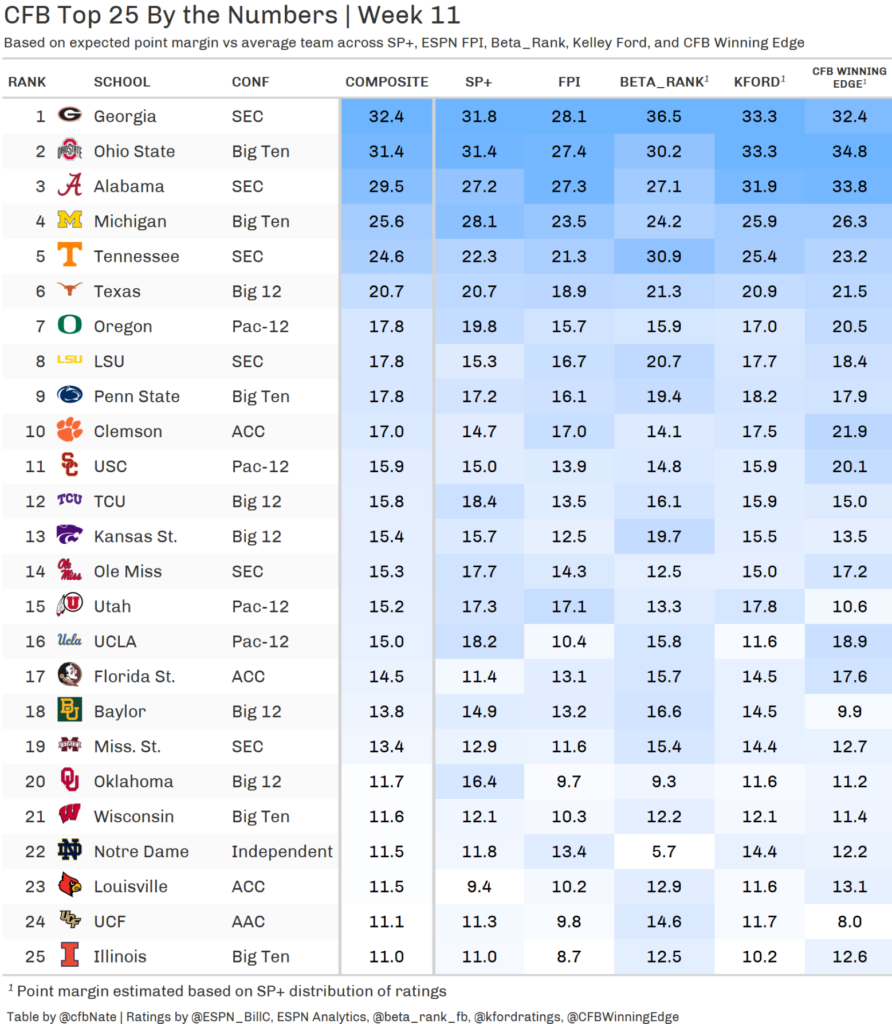 Massey Ratings.  Texas at No. 15, Texas Christian at No.5.
https://masseyratings.com/cf/compare.htm
ESPN's Football Power Index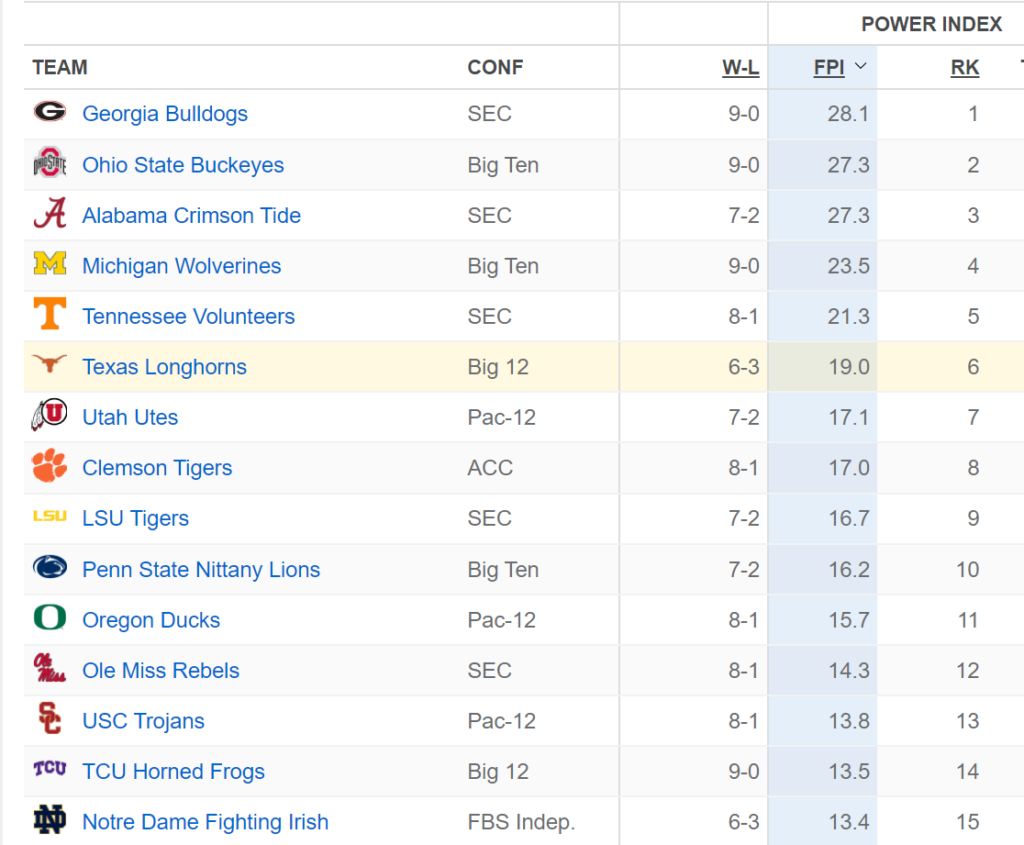 Big XII Standings – Week Eleven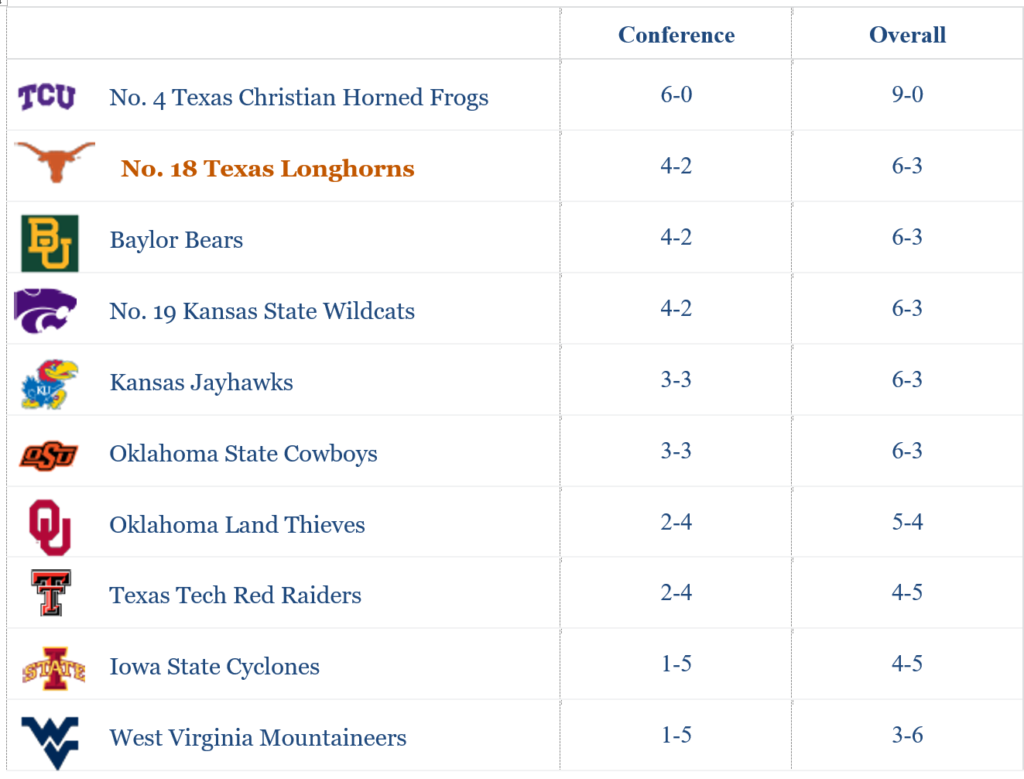 Big XII – Week Eleven Games
Oklahoma plays West Virginia Saturday in Milan Puskar Stadium.  11:00 a.m. on FS1.  Land Thieves favored by 8, over/under is 68.
Iowa State at Oklahoma State, 2:30 p.m. on ESPNU.  I have no idea what has happened to Gundy and his Pokes.  All the more reason why Texas should have won that game.  And Tech.  Dang it.  Cyclones favored by 1, over/under is 48.5.
No. 19 Kansas State at Baylor.  6:00 p.m. on FS1.  Brazos Baptists favored by 2.5, over/under is 51.5.   Huge game for both teams and the Big 12 Championship Game.
Kansas at Texas Technological, 6:00 p.m. on BIG12 | ESPN+.  Red Raiders favored by 3.5, over/under is 64.
Top 25 – Week Eleven
Friday night, No. 8 Southern Cal (8-1, 6-1) hosts Colorado (1-8, 1-5).  8:30 p.m. on FS1 from the Coliseum.  Trojans favored by 34.5, over/under is 65.5.
Saturday
No. 20 Notre Dame (6-3) at Navy (3-6), 11:00 a.m. on ABC.  The game is being played at M&T Bank Stadium in Baltimore.  Irish favored by 15.5, over/under is 39.5.
No. 7 Louisiana State (7-2, 5-1) at Arkansas (5-4, 2-3), 11:00 a.m. on ESPN.  The Tigers coming off that huge win over Alabama, and Arkansas stinging from a home loss to Liberty.  The bookmakers expecting a close game.  Louisiana State favored by 3.5, over/under is 62.
Missouri (4-5, 2-4) at No. 5 Tennessee (8-1, 4-1), 11:00 a.m. on CBS.  Volunteers look to rebound at home in Neyland after the Georgia spanking.  Tennessee favored by 20.5, over/under is 56.5.
Indiana at No. 2 Ohio State, 11:00 a.m. on FOX.  Buckeyes favored by 40, over/under is 59.
Purdue at No. 21 Illinois, 11:00 a.m. on ESPN2.  Illini favored by 6.5, over/under is 44.5.
Vanderbilt at No. 24 Kentucky, 11:00 a.m. on SEC Network.  Wildcats favored by 18, over/under is 47.5.
The best game of the day not being played in Austin, Texas will be Saturday afternoon in Oxford, Mississippi.  No. 9 Alabama (7-2, 4-2) at No. 11 Ole Miss (8-1, 4-1).  Saban hasn't had a 3 loss regular season since 2010, I believe.  Rebels are good, but the "Nick Saban Former Assistant Curse", while it has been broken, is still out here.  Crimson Tide favored by 12, over/under is 64.5.  As much as you might think Lane Kiffin's team would be a big-time passing offense, they are actually No. 3 in rushing in the FBS, with 267.22 yards per game, ahead of Michigan.  I think Ole Miss wins by 4. Hotty Toddy!
Nebraska at No. 3 Michigan. 2:30 p.m. on ABC.  Michigan is steamrolling everyone.  No. 5 scoring offense, No. 4 rushing offense, No. 1 rushing defense, No. 9 pass defense, No. 2 total defense, No. 3 scoring defense.  Nebraska is not very good.  The Wolverines favored by 31, over/under is 48.5.  I bet they cover.
Louisville at No. 10 Clemson.  Tigers still undefeated in the ACC, but that loss to Notre Dame has knocked them out of playoff contention I suspect.  Clemson favored by just 7, over/under is 52.  Cardinals have won 4 in a row, including a 48-21 over then No. 10 Wake Forest.
Boston College at No. 16 North Carolina State, 2:30 p.m. on ACCN.  Wolfpack favored by 19, over/under is 41.
No. 22 UCF (7-2, 4-1) at No. 17 Tulane (8-1, 5-0), 2:30 p.m. on ESPN2.  Amazing what Willie Fritz is doing in New Orleans.  He's a good coach and been doing it a long time, back nearly 30 years.  He was at Blinn College from 1993-96, and he won two NJCAA National Championships.  This is the first time since 1949 that a ranked Tulane team has hosted a ranked opponent in the Big Easy.  November 26, 1949, No. 10 Tulane hosted Southeastern Conference rival Louisiana State in the old Tulane Stadium, home of the Sugar Bowl and 3 of the first 9 Super Bowls.  LSU shut out Tulane, 21-0.  The Green Wave favored by 1.5, over/under is 54.5.
No. 1 Georgia at Mississippi State, 6:00 p.m. on ESPN.  Big night in StarkVegas!  Bulldogs favored by 16, over/under is 53.5.
No. 25 Washington at No. 6 Oregon, 6:00 p.m. on FOX.  Really big game for both schools, and a must win for the Ducks if they are going to keep their playoff hopes alive.  Oregon favored by 13, over/under is 72.5.
No. 15 North Carolina at Wake Forest.  6:30 p.m. on ESPN2.  Not that a 1-loss ACC team that isn't named Clemson is likely to make the College Football Playoffs, but a 1-loss ACC team coached by the legendary Mack Brown?  Maybe.  Got to keep winning Mack!  Wake favored by 4, over/under is 77.
No. 23 Florida State (I bet that sounds good to my Seminole friends) at Syracuse.  7:00 pm. On ACCN.  FS University favored by 7, over/under is 51.
Leland Stanford Junior University (1-6 in Pac-12) at No. 13 Utah.  Not a good year for the Cardinal.  Utes favored by 24, over/under is 54.
Arizona at No. 12 University of California, Los Angeles (8-1), in the Rose Bowl.  9:30 p.m. on FOX.  Might get home to catch the fourth quarter, depending on traffic.  Bruins favored by 20, over/under is 77.
Week Eleven:  Service Academies
Army (3-5) at Troy (7-2), 2:30 p.m. on the NFL Network.  Troy favored by 9, over/under is 45.5.
New Mexico (2-7, 0-5) at Air Force.  2:30 p.m. on CBSSN.  The Falcons favored by 21.5, over/under is 37.5
Week Eleven:  Other Games of Interest
Thursday night, the Memphis Tigers got a big 26-10 win over Tulsa.  One win away from bowl eligibility.
Saturday
Pitt at Virginia, 11:00 a.m. on ACCN.  Panthers favored by 4.5, over/under is 40.  Go Hoos!
Southern Methodist at South Florida, 11:00 a.m. on ESPNU.  Mustangs looking for that 6th win, Bulls looking for their second.  No line?
Rice also trying to get bowl eligible.  Owls are at Western Kentucky.  1:00 p.m. on ESPN+.  Hilltoppers favored by 13, over/under is 60.5.
Temple at Houston (also 5-4), 2:00 p.m. on ESPN+.  Cougars favored by 20, over/under is 56.5.
Appalachian State at Marshall, 2:30 p.m. on ESPN+.  Mountaineers favored by 1, over/under is 47.5.
Arizona State at Washington State, 2:30 p.m. on PAC12 network.  Cougars favored at home in Pullman by 8, over/under is 59.5.
Texas Agricultural & Mechanical at Auburn, 6:30 p.m. on SEC Network.  Both teams 3-6 and 1-5 in the Southeastern Conference.  Jordan-Hare is a tough place to play, especially at night.  Doesn't bode well for those Fightin' Texas Aggies, but maybe Jimbo can out-coach Auburn interim head coach Carnell Williams.  Vegas doesn't think so.  War Eagle favored by 1.5, over/under is 48.5.
Washington & Lee Generals
The Generals dropped their third game in a row, 6-13 to Bridgewater.  Tough one.
Washington & Lee back at home on Wilson Field this Saturday, hosting Shenandoah to close out the season. Finish strong Generals!
Texas Volleyball
The Texas Volleyball team is back at No. 1.  They won over Texas Christian by forfeit last week, then this past Wednesday night avenged their only loss of the season by sweeping Iowa State at Gregory Gym.  They are heading to Norman for a Saturday might match with the Land Thievettes.
Big XII – Week Ten Games
Texas Tech gave Texas Christian a game, leading 17-13 going to the fourth quarter.  The Frog 21 point fourth quarter gave Texas Christian the 34-24 win, covering.
Baylor 38-35 over the Land Thieves in Norman.
No. 18 Oklahoma State would leave their ranking in Lawrence, as the Jayhawks, 1 point favorites, hammered Okie A&M 37-16.
Iowa State got a conference win!  31-14 over West Virginia.
Top 25 – Week Ten
Friday night, Washington beat No. 23 Oregon State 24-21.
No. 6 Alabama at No. 10 Louisiana State.  What a game.  Bama was favored by 13.5, and the Tigers went toe to toe with the Tide for all four quarters.  Bama scored first in the overtime, and then LSU scored.  No hesitation from Brian Kelly, who went for 2 and the win.  Got it.  32-31 LSU.  Dang.
Tremendous win for Notre Dame, beating No. 4 and previously undefeated Clemson 35-14.
No. 3 Georgia beat No. 1 Tennessee 27-13.  Bulldogs are good.
No. 2 Ohio State at Northwestern.  Buckeyes were favored by 38, over/under is 55.5.  "Should be a blowout.  But once or twice a season, Northwestern also seems to have an unexpected great game.  Even with that, best case is the Wildcats cover."  Sometimes I should trust my gut.  Ohio State 21, Northwestern 7.  Wind helped the Wildcats too.
No. 17 North Carolina 31-28 over Virginia.  Sorry Parker.  And Wesley. But how 'bout it Mack?  Congrats.  Wahoos did cover.
No. 5 Michigan 52-17 over Rutgers.
No. 8 Oregon 49-10 over Colorado.  Edibles.
No. 9 Southern Cal 41-35 over California Berkeley.
No. 12 UC Los Angeles 50-36 over Arizona State.
No. 14 Utah 45-20 over Arizona.
Indiana lost to No. 15 PSU 14-45.
No. 16 Illinois falls the Spartans, 15-23.
No. 19 Tulane 27-13 over Tulsa.
Pitt beats No. 20 Syracuse 19-9.
No. 22 North Carolina State 30-21 over No. 21 Wake Forest.
No. 25 UCF 35-28 over Memphis.
Week Ten:  Service Academies
Force 13-7 over Army.
Navy falls at Cincinnati, 10-24.
Week Ten:  Other Games of Interest
Thursday night, UTEP played at Rice.  That's 750 miles; the Rose Bowl in Pasadena is 800 miles from El Paso.  I love Texas.  Anyway, the Owls with a big win, 37-30, get to 5-4.  Rice may go bowling!
A huge game in the Sun Belt Thursday Night, App State at Coastal Carolina .  You may recall App State beat Texas Agricultural and Mechanical 17-14 in College Station the second week of the season.  App State lost to the Chanticleers 28-35, and the Mountaineers are now 5-4 and 2-3 in the Sun Belt.
Saturday
Poor Texas Agricultural and Mechanical.  A big home game with Florida, and the team is wracked with a flu epidemic.  Gators roll to a 41-24 win, leaving Texas Agricultural and Mechanical at 3-6 with one conference win.  Going to be a long winter in College Station.
Houston played at Southern Methodist, a game where the Mustangs were favored by 3 and the over/under was 66.  It was 56-35 SMU at halftime, and the Ponies held on to win 77-63, in what I believe was the highest scoring game in FBS history.  Crazy.
Liberty for real, beating Arkansas 21-19 in FayetteNam.
Minnesota 20-13 over Nebraska
Washington State 52-14 over Stanford.  Cougars were favored by 4.5.
UTSA 44-38 over UAB.  Nice win.  Roadrunners undefeated in Conference USA.
Brigham Young at Boise State, 6:00 p.m. on FS2.  Boise favored by 8, over/under is 54.5
Auburn goes down at Mississippi State 33-39.  Tigers with one SEC win.
Solace for the Aggies and Mississippi State:  They aren't in last place.  South Carolina beat Vanderbilt 38-27.  I guessed wrong.
Florida State 45-3 over Miami of Florida.  Nice win.  Of course, anytime Miami of Florida loses, it is a good loss.
Jim Nicar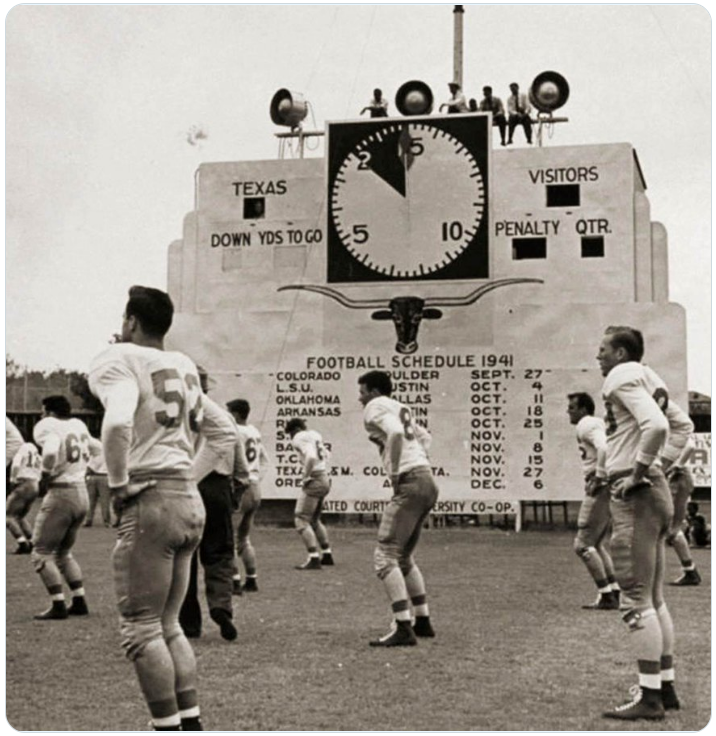 The south endzone looked a bit different in 1941.  Not sure when this was taken, but presumable sometime that fall.
https://twitter.com/JimNicar/status/1562243199518867456
I looked at the photo, and I wondered how many of the boys on the field that day would have their lives changed a few months later on December 7.
As you may recall, this was the first Texas Longhorns team to be ranked No. 1 in the AP Poll, coached by the great Dana X Bible. 14 of the Longhorns would be on the cover of LIFE magazine after that.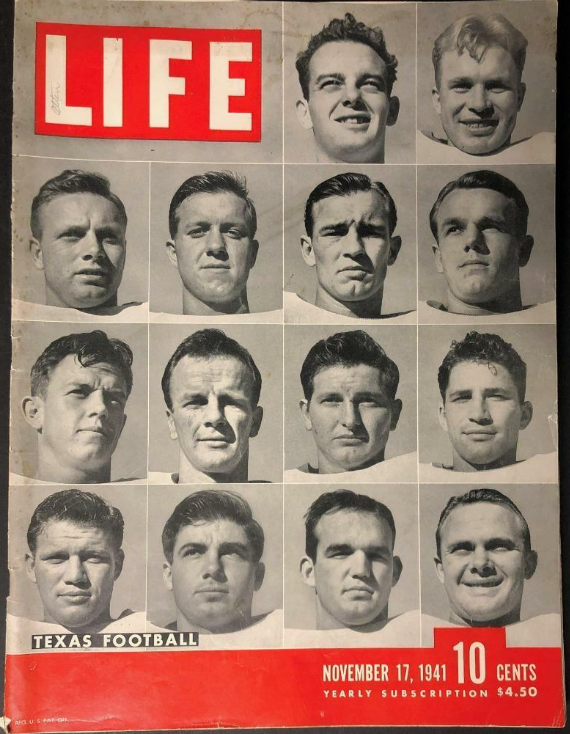 Texas went to Waco ranked No. 1, and Baylor tied the Horns 7-7.  The No. 1 ranking was short-lived, and the next week Texas Christian upset No. 2 Texas in Austin 14-7.  Texas would beat No. 2 Texas Agricultural & Mechanical at Kyle Field on Thanksgiving, 23-0.  The Longhorns would close out the season on Saturday December 6 with a game against Oregon, beating the Ducks 71-7.  The next day, America, and the world, changed.
Wally Scott, born in Tyler, Texas, joined the Navy after graduating, serving in the Pacific Theater.  Mr. Scott would go on to be one of the founders of what is now the Longhorn Foundation.  His sons and their families are great friends.
Noble Doss served.  He too joined the Navy and was in the Pacific.  Mr. Doss is best remembered in Texas history for the "Impossible Catch", the touchdown reception to beat Texas Agricultural & Mechanical College, knocking the Aggies out of contention for the Rose Bowl and ending the farmers' hopes of a second national championship.  They are still waiting …
I did a little research.
The 1941 Texas Longhorns Roster:
1941 Football Roster – University of Texas Athletics (texassports.com)
Max Minor, the "Terror of Tahoka", was probably out there.  He played for the Longhorns from 1940-43, and he scored the first touchdown in the 1943 Cotton Bowl 14-7 win over Georgia Tech. He transferred to West Point during the War, helped Army win the 1944 Army national title.  A 29 year career in in the military:  Strategic Air Command (SAC) squadron commander from 1947 until 1957, flying B-36s, B-47s. He flew and fought in the Korean Conflict.  He fought in Vietnam, arriving in 1968 shortly before the Tet Offensive in Vietnam. He commanded a reconnaissance squadron, flying 475 missions as an RB-57 pilot.
https://www.legacy.com/us/obituaries/houstonchronicle/name/john-minor-obituary?id=26237665
I enlisted my associate Spence Howden to help, who dove into the 1941 team.  An extraordinary collection of Americans and Texans, almost all of whom would go to war against the Nazis and Fascists and Imperial Japan.  Most of them came home, and many played in the NFL and a few in Major League Baseball.  Spence did a great job, and I may have the basis for my first book in the works.  Too many great stories for this week, but here are a couple of examples.
George Hall "Hoot" Watkins.  Born in San Saba County in 1921.  Lettered on the 1941 team.  Was on the Life cover and in the story.  According to his obituary, the week after Pearl Harbor, Hoot joined the United States Marine Corps, and 39 other Longhorns also enlisted.  Hoot fought in the Pacific, including Iwo Jima.
Jack Crain.  Jackrabbit Crain was born in Nocona in 1920.  In the 1939 Arkansas game, he scored a 67 yard touchdown on a flip pass, then kicked the extra point to give Texas the 14-13 win.  Crain was U.S. Navy officer in the war, and would come home and serve three terms in the Texas House of Representatives.
More to come.
NIL & Charity
The University announced Thursday the big news that several of the collectives which had been formed to support Longhorns athletics, including Clark Field Collective, Occupy Left Field Foundation, and 40Pack, had come together and merged into one entity – Texas One Fund.  Don't have all the details yet, but Nick Shuley (Clark Field Collective), Britt Peterson (OLFF), and Patrick Wheels Smith (40 Pack) have helped put The University of Texas at the lead when it comes to NIL.  How well NIL works at schools is already an important part of recruitment and retention, and it will only get bigger.  We have a platform upon which to achieve success.  From CDC:
Texas One Fund is a 501(c)(3) charitable organization that will provide our student-athletes with viable and compliant NIL opportunities for them to maximize their intercollegiate experience while gaining a first-class education and competing for The University of Texas. This one stop shop will allow fans to give with confidence and integrity because you control where your contribution is directed.
I am in.  How about you?  More here, including great explanation of how NIL works, how you can participate, and how to donate.
Texas One Fund | Name, Image, & Likeness (NIL)
Music
For Veterans Day.
Battle Hymn of the Republic, The United States Army Field Band
America the Beautiful, Ray Charles
Photo of the Week
Another stunning post from JType.  Mammatus clouds always amaze me.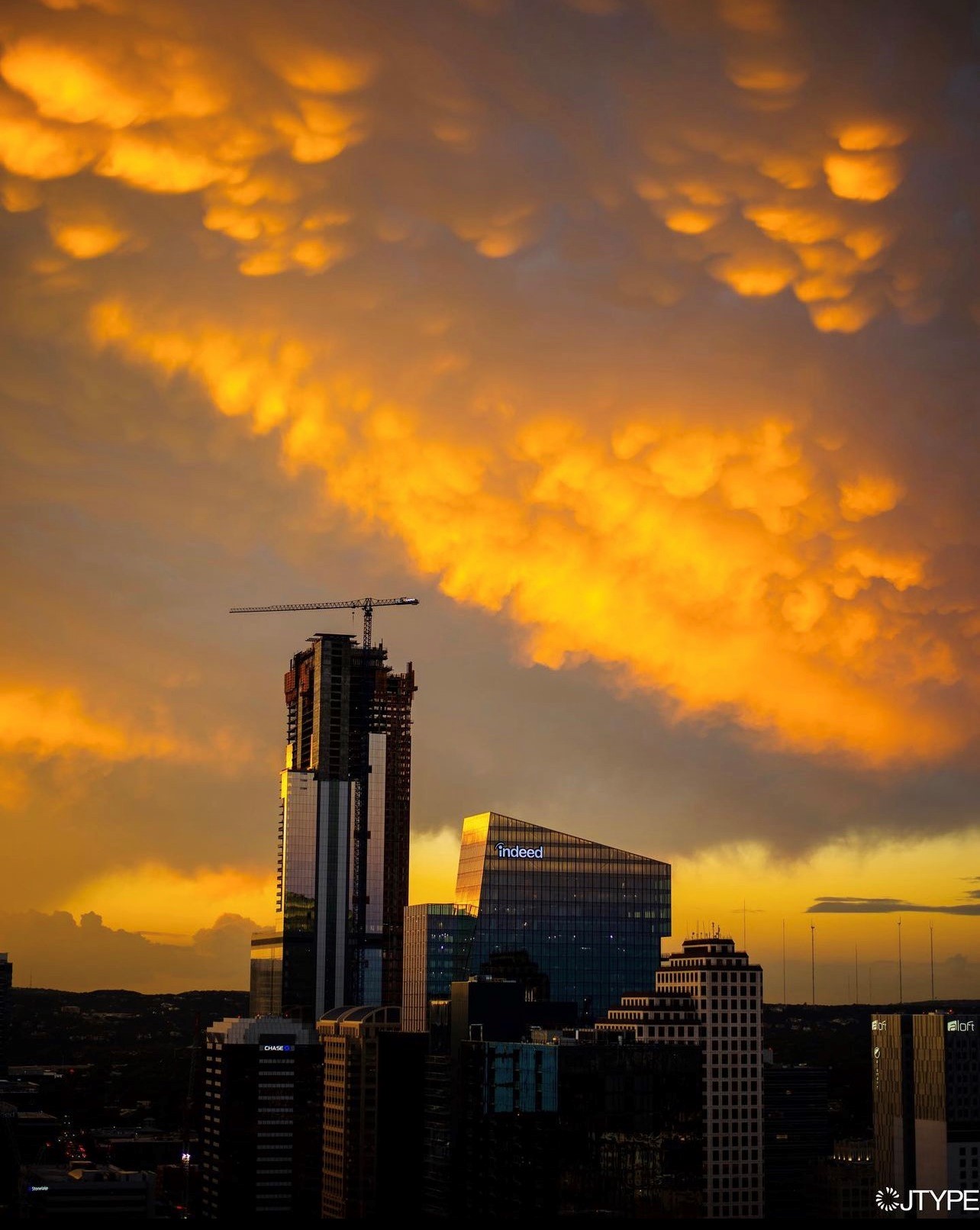 Photo by JType, posted on Instagram November, 2022.  @JType.
Full Post:
God Bless Texas
God Bless America
Tim Taylor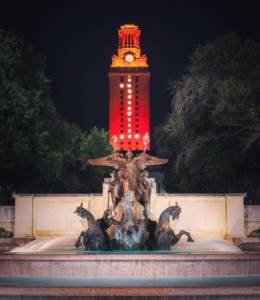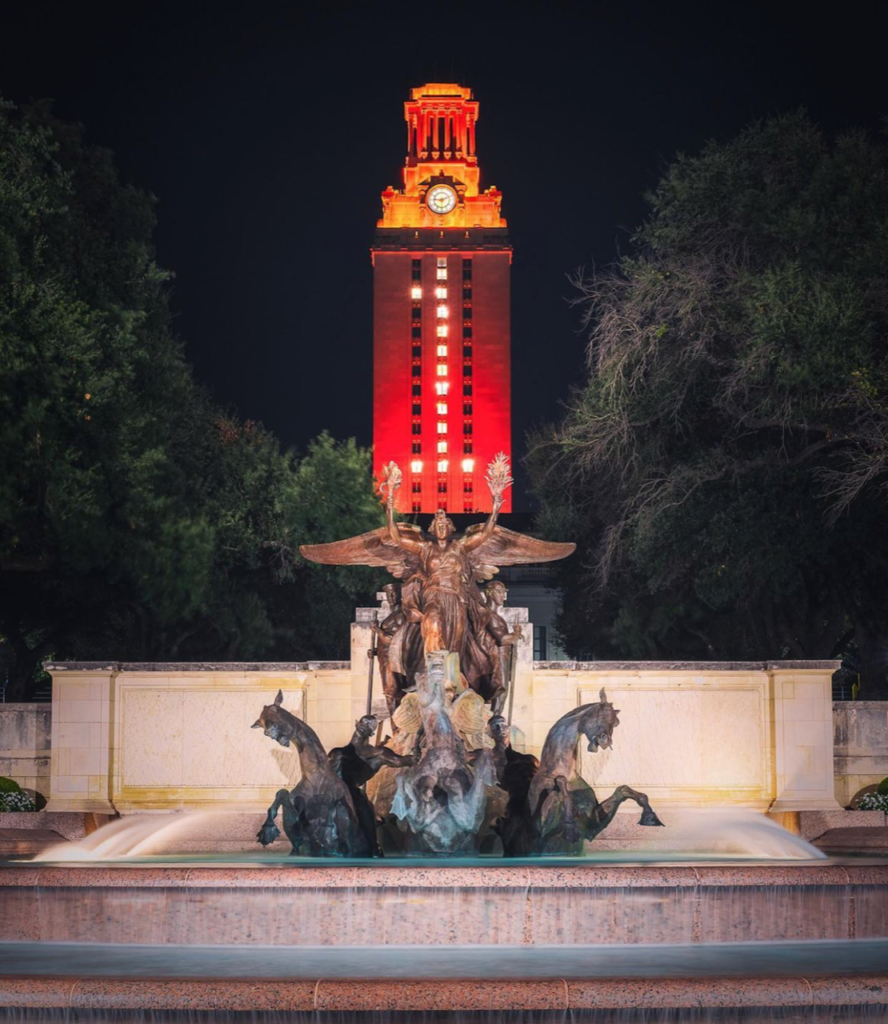 Tailgating before Home Football Games
The Juan Heisman Tailgate
Lot 38, East of Sid Richardson Hall.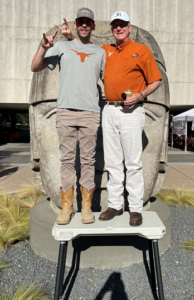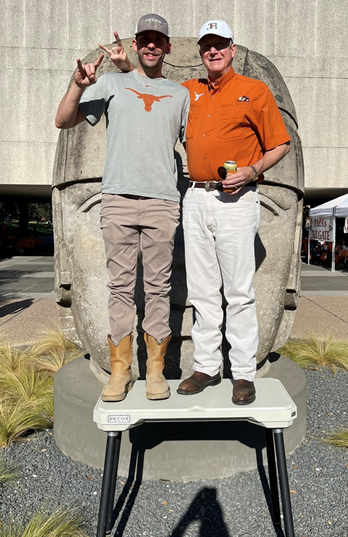 HOOK EM HORNS!!
The Austin Horns Fan Dispatch
© Timothy C. Taylor, Sr. 2022.  All Rights Reserved (as to original material).
On Twitter:  @tctayloratx
On LinkedIn:  www.linkedin.com/in/tctatx
On Instagram:  @tctayloratx
On Facebook:  www.Facebook.com/Tim.C.Taylor
and:  www.Facebook.com/Juan.Heisman
You can contact me by mail:
Tim Taylor
P.O. Box 5371
Austin, Texas  78763-5371