The Austin Horns Fan Dispatch
Texas Longhorns vs. Kansas State Wildcats
The Texas Longhorns play the Kansas State Wildcats in Manhattan Saturday night.  The game will be broadcast on FS1, with kickoff a little after 6:00 p.m.  In the first College Playoff Rankings which came out Tuesday, Kansas State is ranked No. 13 and Texas is ranked No. 24.  The line opened at Texas minus 1.  Tuesday night, Texas was minus 2.5, and that held all week to press time.  Jason Benetti and Brock Huard have the call for FOX Sports, a bearable pair.  Enjoy the call on the Longhorn Radio Network with the Voice of the Longhorns, Craig Way, joined by Roger Wallace in the booth and Will Matthews on the sideline.  KFST 860 AM in Fort Stockton, KVNS 1700 AM in McAllen, and KFRO 1370 in Longview.  Sirius XM 158 or 200, 954 on the SXM App.
Texas leads the series 12-10, but Kansas State has the 7-3 edge in Manhattan.  However, Wildcats Coach Chris Klieman is 0-3 against the Horns, and Sark got the win last year.
I have debated saying this (for this game and the last couple), but I think this is the most important game of the season.  K State is second in the conference at 4-1.  Texas is tied with Okie State and Baylor for third at 3-2.  Texas wins, and we are tied for second with K State (and maybe Baylor) and hold the tie-breaker with the Wildcats.  Horns will still need some help and have to win out, but this Texas team can do that.  Texas loses on Saturday, and I really don't see a path to Arlington.  After this game, K State has Baylor, West Virginia, and Kansas.  Texas will have Texas Christian, Kansas, and Baylor.  The Horns might be able to do it with a lot of help and a 3-0 finish, but a steep hill and almost out of our control.
Texas is favored by 2.5.  The money line is Texas -140, K State +118.  Over/under is just 54.5.
Detailed review of Kansas State and preview of the Texas win below.
Roschon Johnson and the Paul Hornung Award
Roschon Johnson fell behind Jack Colletto from Oregon State earlier this week, but Longhorn fans have stepped up to give RoJo the lead back Thursday night, but only by 118 votes. Late Thursday night, Roschon had 44.98% of the vote (13,895), and Colletto had 46.58% (13,777).  Keep voting.  Every day through November 6.  It only takes a minute.
https://www.louisvillesports.org/paul-hornung/award-poll/
Kansas State Wildcats 2022
Kansas State is 6-2 overall and 4-1 in the Big 12.  They are 4-1 at home.  Chris Klieman is in his fourth year in Manhattan and doing a fine job.  Prior to K State, Klieman was North Dakota State where he coached the Bison to four national championships (and they won 3 others while he was there as an assistant).  The Wildcat quarterback is Nebraska transfer Adrian Martinez.  Deuce Vaughn is back at running back.  They have a very solid defense.  K State's games this year:
A season opening win over FCS South Dakota, 34-0.  Adrian Martinez was 11/15 for 53 yards passing and ran for 39 and 1 TD.  Deuce Vaughn rushed for 126 and a score.  Wildcats ran for 297 total.
K State beat Missouri 40-12.  Martinez was 9/20 for 101 yards and ran 52 and a score.  Deuce ran for 145 and for 2 TDs.
Week Three, Tulane was visiting Manhattan and beat the Wildcats 17-10.  At the time, we didn't realize that Tulane had a pretty good ball club.  Martinez was 21/31 for 150 yards and 1 TD, and he ran for 59.  Deuce Vaughn picked up 81 yards on 20 carries.
Then the game with the Land Thieves in Norman, and something must have clicked for Martinez.  K State would win 41-34, and Martinez led the way with 21/34 for 234 yards passing and a score and ran for 148 yards and 4 touchdowns.  Vaughn tacked on 123 yards, as the Wildcats pounded OU for 284 yards on the ground.
The next game Kansas State hosted Texas Technological, and the Wildcats scored 17 fourth quarter points to get a 37-28 win.  Martinez threw for 116 yards and a TD (12/19) and ran for 171 yards and 3 touchdowns.  Deuce Vaughn added 170 yards rushing, and the total for KSU was 343 yards.  For reference, Texas ran for 151 against the South Plains Aggies.  Also, Tech's Donovan Smith threw for 359 yards and 2 TDs against K-State but with 2 picks.  Against Texas, he was 331 yards and 2 scores.  Comparable.
After two games with big offense, the Wildcats struggled to get a 10-9 win over Iowa State in Ames.  Martinez had another good game:  12/19 for 246 yards and 1 TD and ran for 77 yards (97 gross) on 19 attempts.  But the Cyclones held Vaughn to 23 yards on 10 carries.
A trip to Fort Worth resulted in Kansas State's second loss, 38-28 to Sonny and the Frogs.  Martinez was injured in the first quarter after 2 passes and 1 run.  In came Will Howard, who passed for 225 yards (13/20) and 2 TDs with one pick; Howard added 31 yards and a score on 9 rushing attempts.  Vaughn was held to 83 yards and 1 score.
In last week's 48-0 shellacking of the Cowboys, Martinez didn't even play.  Will Howard stepped up with 296 yards and 4 touchdowns passing (21/37), only 3 yards running.  But Deuce Vaughn did that voodoo that Deuce do so well, running for 158 and a score including busting one for 62 yards.
Here is how Oklahoma State did against Texas and how they did against the Wildcats.
Oklahoma State's offense:
| | | |
| --- | --- | --- |
| Statistic | OSU vs. Texas | OSU vs. K State |
| Rushing Offense | 142 yards | 54 yards |
| Passing Offense | 393 yards | 163 yards |
| Total Offense | 535 yards | 217 yards |
| Scoring Offense | 41 points | 0 points |
Oklahoma State's defense:
| | | |
| --- | --- | --- |
| Statistic | Texas vs OSU | K State vs. OSU |
| Rushing Defense | 204 yards | 199 yards |
| Passing Defense | 319 yards | 296 yards |
| Total Defense | 523 yards | 495 yards |
| Scoring Defense | 34 points | 48 points |
K State only averages 185.1 yards passing per game – and that includes the numbers above.
Whether Martinez will play Saturday is unknown.  But what is known is that Will Howard is a pretty darn good quarterback, and Texas will have their hands full with whoever is taking snaps and with Deuce Vaughn and the rest of the Wildcats.
The Wildcats
I am guessing if Adrian Martinez is healthy, he will start.  Martinez is a grad transfer in his last year of eligibility, so my guess he wants to play if he can and Klieman will go with him if Adrian is cleared.  Martinez (No. 9, 6-3, 225 lbs) is a real deal Division I (FBS) starting quarterback.  Great pedigree (despite his win-loss record at Nebraska), good experience, and this year:  87/140 with 4 TDs and no interceptions, 907 yards, and 636 yards gained rushing (71 loss, for a 565 net,  but still averaging 6.1 yards per attempt) with a long of 69 yards and 9 touchdowns on the ground.
If Martinez can't go, then we get Will Howard (No. 18, 6-5. 235 pound Junior from Downington, Pennsylvania, who looks like he will be a governor or senator some day).  In 2 games, Howard is 34/57 for 521 yards and 6 TDs with 1 pick.  Only 34 yards rushing.  Last year he was 9/13 for 65 yards against Texas, but he did have a 71 yard touchdown run.
So, pick your poison.  Martinez is a serious dual threat, the kind of quarterback that seems to give Texas fits.  But Howard looks to be a better passer, and our pass defense is not our strong suit.  My preference is Howard.
The great Deuce Vaughn (No. 22, 5-6, 176, Junior from Cedar Ridge HS  in Round Rock) leads Kansas State with 902 yards and 5 scores on 154 attempts.  He is averaging 112.75 yards per game.  He is No. 2 in the Big 12 behind conference leader Bijan Robinson in total yards, attempts, and yards per game.  He is a great runner and fun to watch, unless your team is on defense.  He also has 23 catches for 130 yards and a score.  Cedar Ridge High School is 18.2 miles from Darrell K Royal – Texas Memorial Stadium.  22 minutes without traffic.  His dad? Chris Vaughn, Defensive Backs coach at The University of Texas at Austin, 2014-15.  Duece is No. 22's nickname, full name is Christopher Matthew Vaughn II.
DJ Giddens (No. 21, 6-1, 212, RS freshman) is the third leading rushing (Martinez is second) with 228 yards on 38 attempts with 3 scores.
Catching the ball for K State starts with Malik Knowles (No. 4, 6-3, 200 pound Senior wide receiver out of Mansfield, Texas).  32 catches for 447 yards and one score.  Philip Brooks (No. 8, 5-7, 169 senior) has 24 catches for 365 yards (including one that went for 81 yards) and 3 scores.  Kade Warner (No. 85, 6-1, 205, Senior) has 21 receptions for 270 yards and 3 scores.
Leading the Wildcat defense is linebacker Austin Moore (No. 41, 6-1, 217 junior).  Moore has 55 tackles (37 solo), 7 TFL for 16 yards, 1.5 sacks, an interception, 2 forced fumbles, and 3 quarterback hurries.   Good in coverage.  He's a problem.  Kobe Savage (No. 2, 5-11, 206 pound junior safety from Paris, Texas) has 47 tackles (38 solo), 2 TFL for 6 yards, 2 interceptions, and a forced fumble.  Josh Hayes (No. 1, 6 foot 189 lbs, Senior safety) has 41 tackles (27 solo) with 5.5 TFL for 21 yards.  Good defender with 4 break-ups.  Safety Drake Cheatum and cornerback Julius Brent have 31 tackles each.  One of the best on the KSU defense is Felix Anudike-Uzomah (No. 91, 6-4, 235 pound defensive end).  Felix has 7.5 sacks for 41 yards (9 TFL for 46), and he leads the Big 12.  Texas also has to watch out for Cincere Mason, a safety with 2 interceptions, and Daniel Green, a linebacker who also has two picks.
The Statistics
Offense
| | | |
| --- | --- | --- |
| Statistic | Texas | Kansas State |
| Rushing Offense | #43, #6 – 182.9 ypg | #11, #1 – 228.0 ypg |
| Passing Offense | #47, #6 – 261.9 ypg | #112, #10 – 185.1 ypg |
| Total Offense | #31, #5 – 444.8 ypg | #59, #9 – 413.1 ypg |
| Scoring Offense | #22, #5 – 36.4 ppg | #57, #9 – 31.0 ppg |
| First Downs | #28, #5 – 24.1/game | #103, #10 – 18.4/game |
| Sacks Allowed | #25, #2 – 10, 72 yards | #25, #2 – 10, 39 yards |
| Tackles for Loss Allowed | #35, #5 – 38, 142 yards | #25, #2 – 35, 118 yards |
| Third Down Conversions | #67, #7 – 39.4% | #113, #8 – 32.1% |
| Fourth Down Conversions | #38, #6 – 60%, 6/10 | #28, #4 – 62.5%, 10/16 |
| Red Zone Attempts | #41, #5 – 35 | #68, #8 – 30 |
| Red Zone Offense | #37, #5 – 89% / 63% | #24, #3 – 90% / 53% |
| Long Run Plays | #50, #6 – 42/10, 12/20, 7/30, 5/40 | #22, #2 – 53/10, 14/20, 8/30, 6/40 |
| Long Pass Plays | #33, #4 – 89/10, 36/20, 15/30, 6/40 | #114, #10 – 54/10, 24/20, 6/30, 3/40 |
Defense
| | | |
| --- | --- | --- |
| Statistic | Texas | Kansas State |
| Rushing Defense | #34, #3 – 121.6 ypg | #55, #5 – 133.3 ypg |
| Passing Defense | #92, #6 – 249.3 ypg | #56, #3 – 221.6 ypg |
| Total Defense | #63, #5 – 370.9 ypg | #44, #3 – 354.9 ypg |
| Scoring Defense | #27, #3 – 21.1 ppg | #11, #2 – 17.3 ppg |
| First Downs Allowed | #88, #7 – 21.6/game | #40, #3 – 18.8/game |
| Sacks | #66, #4 – 17, 105 yards | #21, #1 – 23, 138 yards |
| Tackles for Loss | #19, #3 – 56, 194 yards | #31, #4 – 53, 223 yards |
| Third Down Conversions | #96, #7 – 41.8% | #28, #2 – 33.3% |
| Fourth Down Conversions | #87, #8 – 56.5%, 13/23 | #16, #1 – 35%, 7/20 |
| Red Zone Attempts | #44, #4 – 27 | #7, #1 – 16 |
| Red Zone Defense | #28, #1 – 78% / 56% | #100, #7 – 88% / 69% |
| Long Run Plays Allowed | #26, #3 – 27/10, 6/20, 2/30, 2/40 | #35, #4 – 29/10, 10/20, 1/30, 1/40 |
| Long Pass Plays Allowed | #91, #5 – 81/10, 27/20, 8/30, 4/40 | #5, #2 – 69/10, 23/20, 10/30, 5/40 |
Other
| | | |
| --- | --- | --- |
| Statistic | Texas | Kansas State |
| Turnovers | #12, #3  – 1F, 6I, 7 | #3, #1 – 3F, 2I, 5 |
| Turnover Margin | #60, #5  8:7  +1 | #6, #1  14:5  +9 |
| Penalties* | #62, #8 – 51, 408 yards | #30, #5 – 42, 329 yards |
*Based on total number of penalties.
Match-up Comparison
| | |
| --- | --- |
| Texas Offense | Kansas State Defense |
| Rushing Offense – 182.9 ypg | 133.3 ypg – Rushing Defense |
| Passing Offense – 261.9 ypg | 221.6 ypg – Passing Defense |
| Total Offense – 444.8 ypg | 354.9 ypg – Total Defense |
| Scoring Offense – 36.4 ppg | 17.3 ppg – Scoring Defense |
| First Downs – 24.1/game | 18.8/game – First Downs Allowed |
| 3rd Down Offense – 39.4% | 33.3% – 3rd Down Defense |
| 4th Down Offense – 60% | 35% – 4th Down Defense |
| Red Zone Offense – 89%/63% | 88%/69% – Red Zone Defense |
| LRP – 42/10, 12/20, 7/30, 5/40 | 29/10, 10/20, 1/30, 1/40 – LRP Allowed |
| LPP – 89/10, 36/20, 15/30, 6/40 | 69/10, 23/20, 10/30, 5/40 – LPP Allowed |
| | |
| --- | --- |
| Texas Defense | Kansas State Offense |
| Rushing Defense – 121.6 ypg | 228.0 ypg – Rushing Offense |
| Passing Defense – 249.3 ypg | 185.1 ypg – Passing Offense |
| Total Defense – 370.9 ypg | 413.1 ypg – Total Offense |
| Scoring Defense – 21.1 ppg | 31.0 ppg – Scoring Offense |
| First Downs Allowed – 21.6/game | 18.4/game – First Downs |
| 3rd Down Defense – 41.8% | 32.1% – 3rd Down Offense |
| 4th Down Defense – 56.5% | 62.5% – 4th Down Offense |
| Red Zone Defense – 78%/56% | 90%/53% – Red Zone Offense |
| LRP Allowed – 27/10, 6/20, 2/30, 2/40 | 53/10, 14/20, 8/30, 6/40 – LRP |
| LPP Allowed – 81/10, 27/20, 8/30, 4/40 | 54/10, 24/20, 6/30, 3/40 – LPP |
 Other Stats
"Available Yards Percentage".
Texas dropped to No. 26 on (NAY 14 before Okie State).
| | | | |
| --- | --- | --- | --- |
|   | NAY | OAY | DAY |
| Texas | No. 26:  0.124 | No. 25:  0.564 | No. 43:  0.440 |
| Kansas State | No. 34:  0.039 | No. 50:  0.498 | No. 29:  0.408 |
BCF Toys – 2022 Available Yards Percentage
Net points per drive (NPD).  NPD is the difference between points scored per offensive drive (OPD) and points allowed per opponent offensive drive (DPD).
| | | | |
| --- | --- | --- | --- |
|   | NPD | OPD | DPD |
| Texas | No. 10: 1.26 | No. 17:  3.01 | No. 28:  1.75 |
| Kansas State | No. 27: 0.68 | No. 53:  2.45 | No. 20: 1.63 |
BCF Toys – 2022 Points Per Drive
Net Yards Per Play (NPP).
| | | | |
| --- | --- | --- | --- |
|   | NPP | OPP | DPP |
| Texas | No. 7: 1.87 | No. 10:  6.99 | No. 25:  5.12 |
| Kansas State | No. 23:  0.99 | No. 32:  6.39 | No. 41: 5.40 |
BCF Toys – 2022 Yards Per Play
BCF's Game Projection.  "Game Projections are calculated from current FEI ratings and include the projected win likelihood (PW), projected margin of victory (PM), projected points scored (PF) and allowed (PA), and projected total points scored (PT) for each FBS game."
| | | | | | | |
| --- | --- | --- | --- | --- | --- | --- |
| Projected Winner | Projected Loser | PW | PM | PF | PA | PT |
| Texas | Kansas State | .604 | 3.8 | 30.2 | 26.4 | 56.6 |
Trying to review and understand these stats is fun, but looking back at the OSU game, none of these accurately predicted that result.  Still useful, and they help one understand why Vegas has Texas as a favorite.
TCT Preview
This is a tough one.  Vegas thinks Texas should win.  ESPN's Matchup Predictor gives Texas a 61.9% chance to win.  Advanced metrics suggest Texas should win.
Tim Taylor believes Texas will win.  But how and why?
First, I think the Texas offense matches up relatively well with the K State defense and will put up some points.  I am assigning KSU's shutout of Okie State to the anomaly bin and looking at some other games.  Texas Christian ran for 215 yards.  Bijan Robinson is a better running back than Kendre Miller, and add in Roschon Johnson and Keilan Robinson, and my belief is that Texas can run for at least 225 if not 255 or so on Saturday.  Two years ago in Manhattan, Bijan ran for 172 and RoJo had 139 yards, three touchdowns each.  We have a really good offense.  Texas Tech passed for 359 and ran for 114 in a losing effort and had 26 first downs to KSU's 15.  Tech got beat because they let the Wildcats run for 343 yards.  The Land Thieves had 550 yards of offense against the Wildcats – 330 passing and 220 rushing.  What K State does really well is not allow red zone penetrations (top 10), but if you do get in the red zone, good chance you will score.  Texas is going to need some quick hits (like in the first half in Stillwater) and some solid sustained scoring drives.
Second, I think the Longhorns defense will play a solid game, and our strength – run defense – matches up with their strength in the run game.  That might be a bit different if Howard plays instead of Martinez, as I think we will see K State throw the ball a bit more.  But right now, they are #112 in the FBS in passing offense, #103 in first downs, and #114 in long pass plays.  Not a great offense.
What are the threats?  First and foremost, turnovers.  Look at where K State is:  #3 in FBS with only 5 turnovers, and #6 in turnover margin, at plus 9.  If Quinn isn't accurate, we are going to have a problem.  Kansas State is No. 11 in FBS with 11 interceptions.  This is a shared responsibility:  Quinn has to be accurate, but the receivers have to run and stay on their routes and also be ready to make adjustments to the ball and get to the ball and fight for it.  And all of that starts with the offensive line, which needs to really be at the top of their game, going against a good pass rush defense led by the Big 12's sack leader.
The other big factor will be clean play and limiting penalties.  Texas just can't have a bunch of false starts and defensive jumps.  Cannot allow free yards and importantly free first downs or a bunch of third and short.  That cluster in Stillwater better be cleaned up, or Texas will be very, very lucky to leave Manhattan with a win.
I believe Bijan Robinson is going to have a good day, as will Quinn Ewers.  Not sure I have a feel for who is going to stand out at receiver; maybe that is because I am hoping for better good decisions and the ball going to a lot of different guys.  My bias says more balls to JT Sanders and Whittington.  On defense, big day for the D line and for Ford and Overshown.  Honestly, they must, because if the middle of the field is open, we are going to allow some big plays.  Ford and/or Overshown need to be on Deuce Vaughn every play where there is a chance he's touching the ball.
What is important is that those "good days" and "big days" are spread over both halves.  Really important that Texas get a lead, hold the lead, and win on the road.  Time for this team to again play 60 minutes of football that matches their metrics and visible talent.
My score prediction, which has a non-offensive touchdown.  I am thinking a pick 6, but it may be a punt return.
Texas 38, K State 30.
Official Texas Preview:
Football preview: No. 13/14 Kansas State – University of Texas Athletics (texassports.com)
Official Texas Game Notes:
09 TexasGameNotes KansasState (PDF) – University of Texas Athletics (texassports.com)
Preview from Wescott Eberts on Burnt Orange Nation.  Great story about Sark and Bill Snyder.
Texas vs. No. 13 Kansas State opponent preview: Wildcats try to end five-game losing streak against the Longhorns – Burnt Orange Nation
Kansas State University
Kansas State got its start in 1858, when Bluemont Central College was founded and 53 students enrolled.  Five years later K-State became one of the first colleges in America to be officially designated a land-grant school under the Morrill Act.  Kansas State Agricultural College.  K State lays claim to being the first operational land-grant university.  I do like how Kansas State takes pride in their status and responsibility as a land grant institution.
Academic Rankings

National

Texas

Kansas State

Forbes
43
366
THE | WSJ
60
401-500
U.S. News & World Report
38
170
Washington Monthly
40
207
Global
ARWU
37
401-500
QS
72
801-1000
THE
47
801-1000
U.S. News & World Report
43
414
Good Kansas State Stuff
The campus has its own dairy bar, the Call Hall Dairy Bar.  Because they have their own dairy, because this is a real ag school.  Good place to get ice cream.  I count 35 flavors right now, including chocolate chip mint, cookies and mint, mint fudge swirl, peppermint, and Swiss Chocolate Mint.  Guess what flavors of ice cream I like best?
The Call Hall Dairy Bar also serves breakfast and lunch. And sells cheese made right there on campus.
Also available, are eggs from the KSU Poultry unit (free range access with hormone and antibiotic free diets), and select quality cuts of lamb, beef, pork and poultry from the KSU quality meat labs. As available seasonally, are items such as smoked hams and turkeys, as well as processed meat products.

All of the Dairy Products offered at our Call Hall locations, follow a "farm to spoon" principle. From the genetics and breeding programs of our herd, to the nutrition and development, and finally the production and processing of raw milk, all aspects from start to finish, happen within a 2 mile radius of our retail locations. Not only is this program a gem in our crown, but happens on a scale rarely heard of when considering a "farm to fork" concept.
The meat products are impressive, and all fresh.  Really fresh.  They have their own brand – WildKat Brand.
KSU Meat Lab Sales (k-state.edu)
Wildkat loaf.  "Wildkat" is the Kansas State of sausage, and the Wildkat loaf is a snack sausage with pepperoni seasoning.  That and a pound of cheese curds would be good for the soul; the cholesterol count not so much.
Part of downtown Manhattan is "Aggieville".  For those of you making the trip, check this out – you won't want to miss any of the sites and attractions of Aggieville.  The have free Wi-Fi!
Famous alumni abound. Kirstie Alley from Cheers; Warren Staley, retired Chairman and CEO of Cargill, Inc; Jerry Wexler, Atlantic Records, Rock & Roll Hall of Fame; Joe Straub, Austin real estate developer; and Rex Gore, Austin entrepreneur.
One my favorite things I learned about Kansas State during our years of competition is there respect for the military and their reverence for those who gave the ultimate sacrifice.  On their website, on the same page as all of the main important info (About, Mission, Administration, etc.), they have "War Memorials".  A link to see all of the memorials at K State.  Well done.
http://www.k-state.edu/about/memorials/
Texas Basketball
The season officially opens Monday night at The Moody Center with a game against UTEP at 8:00 p.m.  But we got a preview of the Longhorns and a look at Moody last Saturday. Both were outstanding.  As for the arena, what fantastic facility.  Kudos to all who made this happen.
So the game last Saturday was an exhibition game with Arkansas.  What No. 12 Texas exhibited was a deep team with a ton of talent and a wire to wire whipping of the Pigs.  A 10 point halftime lead ended with a 30 point victory, 90-60.  Freshman Arterio Morris, McDonald's All-American out of Kimball in Dallas, led the Horns with 19 points.  He's going to be fun to watch.  Dylan Disu and Dillon Mitchell each pulled down 5 rebounds.  Timmy Allen had 12 points and 5 assists, Sir'Jabari Rice had 11 points, and Mitchell and Tyrese Hunter each had 10.
This is going to be a good team.  This is a cool team.  Fourteen players.  Seven guys who played in Austin last season, seven new guys.  This review reflects my own bias, so take it for what it's worth.  Returners first, new guys after that.
Timmy Allen wears No. 0 and is, at least right now, one of my two favorite players.  A 6-6, 210 pound senior forward who came to Austin from Utah and is just a really solid basketball player.  He is a good shooter, rebounds well, and defends well.
Marcus Carr (No. 5, 6-2, 175) is a super senior guard who transferred to Texas after graduating from Minnesota in 2021 (attended Pitt before that).  He is pursuing a second degree in Communication & Leadership.  The Toronto native ran point a lot last year, and will still handle the ball some.  When Marcus is on, he is really good.  Last season he led Texas in assists (3.4 per game) and minutes (30.8) and was second in scoring (11.4 ppg).
Dylan Disu (No. 1, 6-9, 225) is a senior from Hendrickson in Pflugerville who came to Austin after a detour to Nashville.  Did well at Vanderbilt, including leading the SEC in rebounding his sophomore season with 9.2 per game.  Last year at Texas he had a slow start because of injury, but as he got healthier we saw his ups.  Beard and the staff are high on Disu. For good reason.  This kid is good.
Brock Cunningham (No. 30, 6-6, 210) is back for a fifth season, after graduating last spring with a degree in advertising.  Working on his master now.  Westlake Chaparral and gritty, hard worker.  My other favorite on the team.  He works his butt off, hustles even harder.  His dad is Ed Cunningham who played for Texas in the late 1980s and was an All-American in 1989.  Brock is listed as a forward in the program, but basically a utility infielder who just plays hard.
Christian Bishop (No. 32, 6-7, 220) is another super senior who transferred to Texas from Creighton before last season.  One of our two big men (over 6-6), he plays big under the basket.  Led the Longhorns in blocked shots last year.  We need a big season from Bishop.
Gavin Perryman (No. 13, 6-1, 186) is a redshirt freshman, Jesuit in Dallas.  Son of the great Brandy Perryman, I hope to see him coming off the bench and hitting big 3s.
Cole Bott (No. 12, 6-6, 195) is another redshirt freshman.  Probably won't see a lot of Bott.
The New Men
Two transfers headline the new guys on The Forty Acres, and I am not sure which one I am more excited about.  Probably Tyrese.
Tyrese Hunter (No. 4, 6 foot 175) is a sophomore who transferred to Texas from Iowa State.  A legit point guard, he will take a lot of pressure off Carr.  He was Big 12 Freshman of the Year last year.  ESPN and CBS both had him ranked as the No. 3 transfer prospect in the nation after last season, so a good "get".
Sir'Jabari Rice (No. 10, 6-4, 180) is a graduate super senior who came to Texas have 5 years at New Mexico State.  111 games, 1,106 points (10.0 ppg), 479 rebounds (4.3 rpg), and 221 assists (2.0 apg).  42.4% from the floor (355-838) and 78.0% from the free throw line (248-318).  That is a lot of experience.
Arterio Morris (No. 2, 6-3, 190) is possible one and done.  The McDonald's All-American point guard was a top national prospect (top 20, top 1 or 2 at PG) and huge recruit for Beard.  He is good.  You don't light up Arkansas for 19 points in your first college game if you are mediocre.
Dillon Mitchell (No. 23, 6-8, 205), freshman forward, is our other star recruit and also a McDonald's All-American.  Dillon was ranked as the No. 4 prospect nationally by ESPN and Rivals and No. 5 by 247 Sports in the 2022 recruiting class.  Jordan Brand All-American and MVP for Team Air in the Jordan Brand Classic.  He is a going to be something to watch, and I hope we get to watch him for more than one year.
The other guys are all freshmen:  Alex Anamekwe (McKinney, a 6-5 forward) and Preston Clark (another Westlake kid, 6-6 forward).
Coach Beard has a good team and a good staff, especially Rodney Terry.  The Longhorns are going to be fun to watch.
This April will be the 20th anniversary of the TJ Ford Final Four in New Orleans.  The Final Four is on the Gulf Coast this season.  April 1 and 3 in Houston.
See y'all there.
Juan Heisman
The statue that has become our tailgate party's symbol is an exact replica of an Olmec colossal head of ancient Mesoamerica, the San Lorenzo Monument 1, also known as El Rey, which was discovered at the Olmec site of San Lorenzo, Veracruz, Mexico.  The original head is at the Museo de Antropología de Xalapa (Veracruz, Mexico).  Our replica weighs 18 tons and is approximately 10 feet tall, and it was sculpted from stone by artist Ignacio Perez Solano.  It was placed in its current location outside of the Teresa Lozana Long Institute for Latin American Studies (LLILAS), one of the premier programs of its kind in the world.
The Olmec civilization is considered to be the first to develop in Mesoamerica, and the Olmec heartland, which is along the Gulf of Mexico in the states of Tabasco and Veracruz, is considered one of the six cradles of civilization in the world.  San Lorenzo was the first center of the Olmec civilization.  The Olmecs left behind many of these giant heads, which date from at least 900 B.C.  They were sculpted from basalt boulders mined in the Sierra de los Tuxtlas mountains, many miles from where they were eventually placed.
I have read a number of articles on these amazing sculptures and the Olmec culture.  Part of their culture is believed to have centered on the Mesoamerican ballgame, and in fact their name Olmec derives from two words meaning rubber and people – their game was played with a rubber ball.  There is a modern version of the game still played in certain parts of Mexico with indigenous peoples, called ulama, which is believed to be descended from the Aztec version of the Mesoamerican ballgame.  According to some sources, the ballgame became part of the religious rituals of the Mesoamerican cultures, which may have included human sacrifice.
The general consensus is that many of these colossal heads were likely sculptures of rulers, and most were adorned with a headdress that is believed to be a type of helmet worn for the Mesoamerican ballgame.  If you look at the San Lorenzo replica on the University campus, you will perhaps, like me, be drawn to the similarity of El Rey's helmet and the leather helmet worn by American football players in mid-20th century.  Like the one on the Heisman Trophy.
Thus, Juan Heisman.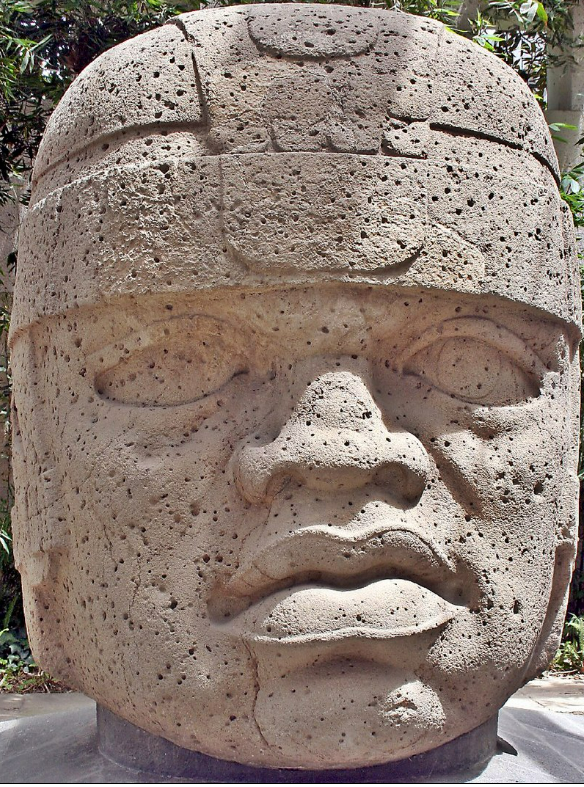 The original San Lorenzo Colossal Head 1
There is an extensive article on the Olmec colossal heads on Wikipedia, from which some of my history and descriptions are drawn.
Olmec colossal heads – Wikipedia
I have had friends send photos of original and replica Olmec colossal heads from around the country and Mexico, and off the top of my head there is one outside of the Smithsonian Museum of Natural History, one in the Field Museum in Chicago, and one in a hotel in Las Vegas.
Juan Heisman Tailgate
The Texas Christian game is announced for 6:30 p.m., so we will have a big pachanga for this one.  This will be the 2022 Tamale Tailgate, thanks to the great handmade tamales from Rose Marie Hagman's sister in Del Rio.  Cold beer, lots of Tito's Handmade Vodka, and hopefully some great Austin November weather.
The Polls – Week 10
With the CFP rankings out, I am going to include that graphic, and revert to the old TCT way for the AP and Coaches.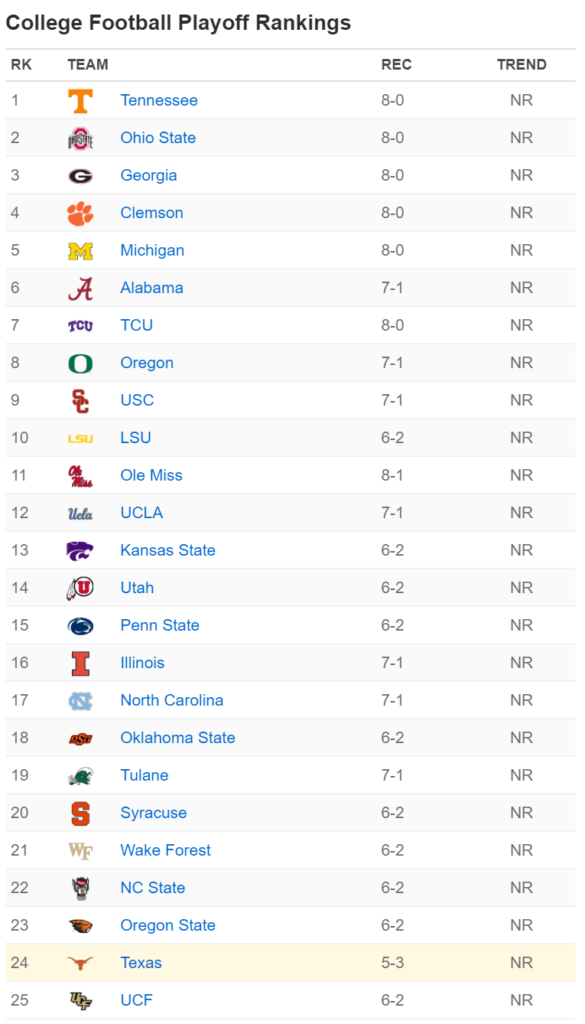 AP Top 25:  Georgia, Tennessee, The Ohio State University™, Michigan, Clemson, Alabama, Texas Christian, Oregon, Southern Cal, and UCLA.  Ole Miss at No. 11, K State at No. 13, North Carolina at No. 17, and Oklahoma State at No. 18.
AFCA Coaches Poll:  UGA, Buckeyes, Volunteers, Big Blue, Clemson, Bama, Texas Christian, Ducks, Southern Cal, and Ole Miss.  Kanas State at 14, UNC at 15, and Okie A&M at 18.
Statistical Rankings
Texas is still No. 6 in Nate Manzo's composite rankings.  We need to figure out how to get that little old win/loss statistic to align better with what most everyone seems to think and calculate our talent level to be.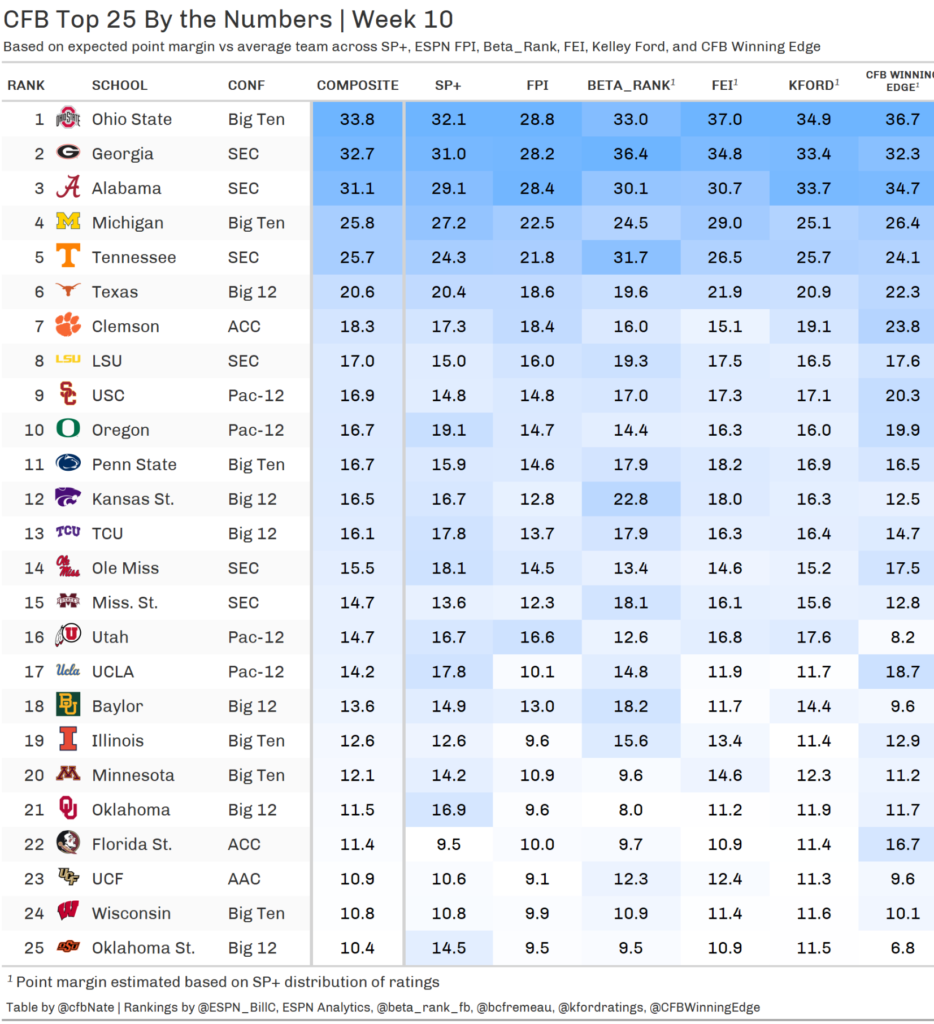 Massey Ratings.  This composite has Texas down to No. 18.  Kansas State is No. 9.
https://masseyratings.com/cf/compare.htm
ESPN's Football Power Index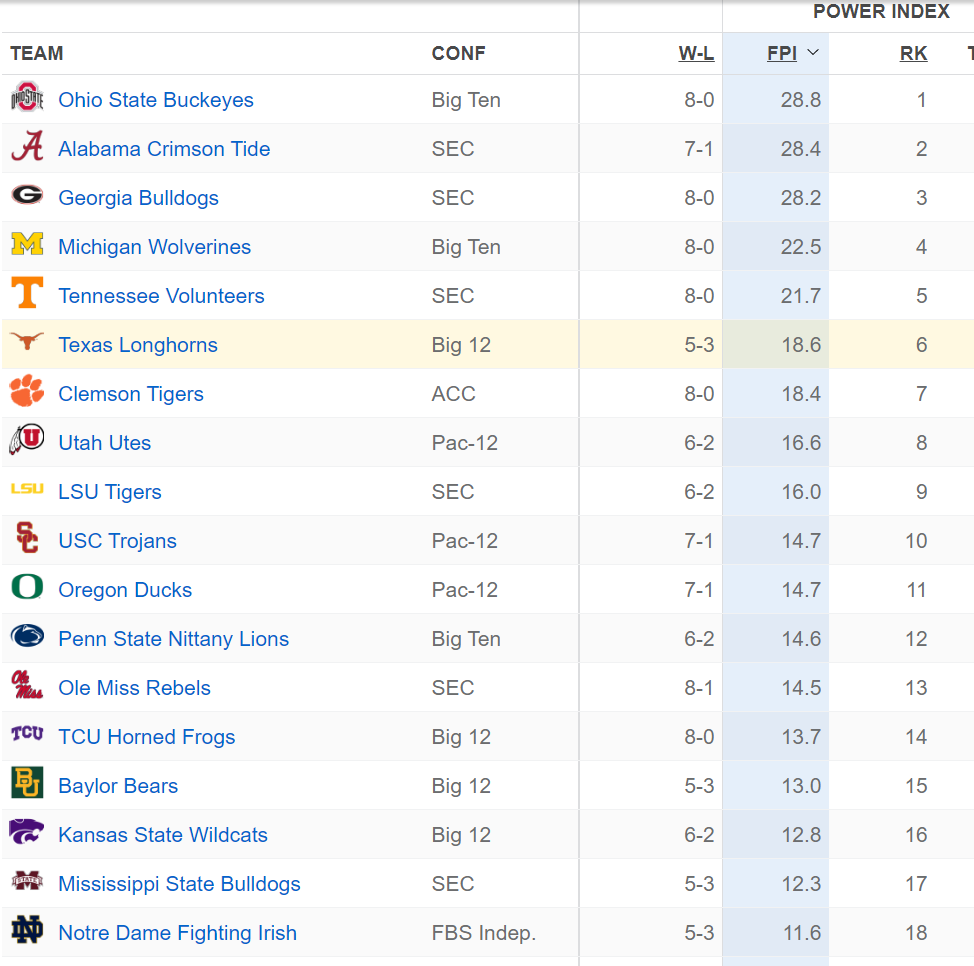 Big XII Standings – Week Ten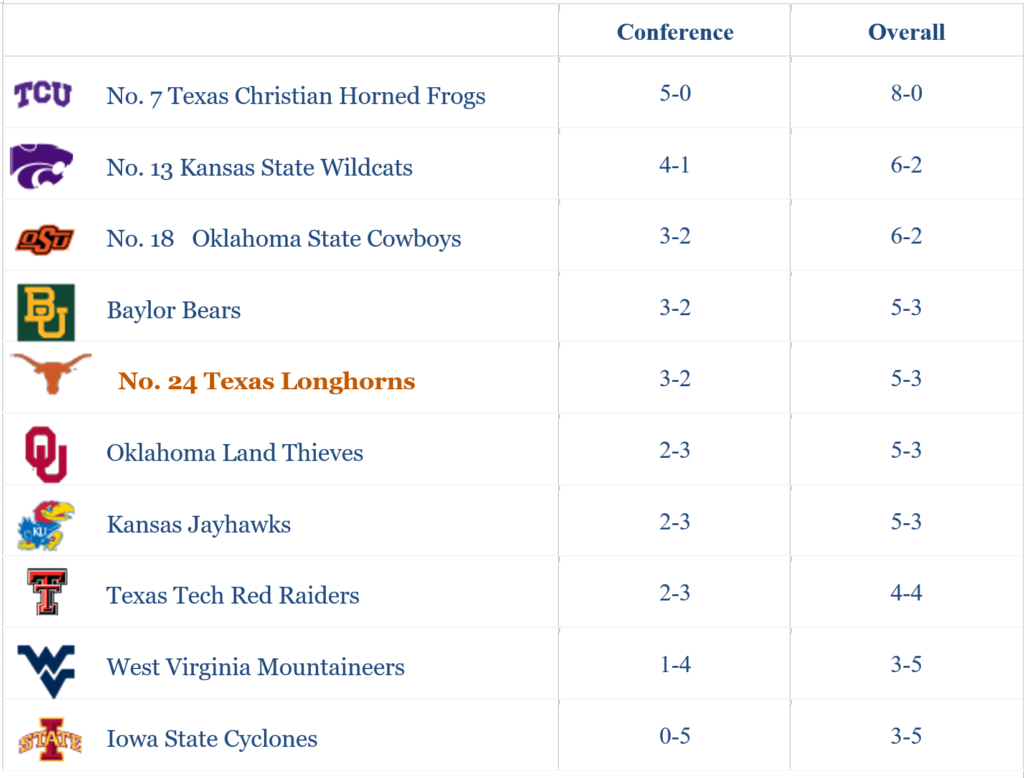 Big XII – Week Ten Games
Texas Tech plays No. 7 Texas Christian in Amon G. Carter Stadium.  11:00 a.m. on FOX.  Texas Christian favored by 8.5, over/under is 69.  Looks like Sonny Dykes will have a 10 win season his first year in Fort Worth.  After Tech, the Frogs are in Austin, then at Baylor, and close with Iowa State at home.
Baylor travels to Norman to play the Land Thieves.  2:00 p.m. on ESPN+.  Can't believe this isn't on national television.  Land Thieves favored by 3.5, over/under is 61.5.
No. 18 Oklahoma State at Kansas.  2:30 p.m. on FS1.  Cowboys were early favorites, but early Friday morning Kansas was favored by 1.  Over/under is 63.
West Virginia at Iowa State, 2:30 p.m. on BIG12 | ESPN+.  Matt Campbell and his boys badly need a win, just for morale sake.  Iowa State favored by 7, over/under is 50.  Good luck ISU.
Top 25 – Week Ten
Not exactly a marquee weekend of great games in the Top 25 this week outside of the Southeastern Conference Game of the Week between Tennessee and Georgia and Bama in Baton Rouge.
Friday night, No. 23 Oregon State (6-2, 3-2) at Washington (6-2, 3-2), 9:30 p.m. on ESPN2.  I don't think that at the start of the season many people thought that the ranked team in this game was going to be the Beavers.  Huskies favored by 4.5, over/under is 54.5.
Saturday
No. 2 Ohio State at Northwestern (1-7, 1-4).  11:00 a.m. on ABC from Evanston.  Buckeyes favored by 38, over/under is 55.5.  Should be a blowout.  But once or twice a season, Northwestern also seems to have an unexpected great game.  Even with that, best case is the Wildcats cover.
No. 17 North Carolina (7-1, 4-0) at Virginia (3-5, 1-4).  11:00 a.m. on the ACC Network.  I have been pulling for Coach Mack Brown, but family first. Go Hoos!  Tarheels favored by 7, over/under is 60.5.
No. 19 Tulane (7-1, 4-0) at Tulsa (3-5, 1-3), 11:00 a.m. on ESPNU in The Meteorological Bowl.  The Green Wave against the Golden Hurricane.  Tulane favored by 7.5, over/under is 57.
No. 1 Tennessee at No. 3 Georgia, 2:30 p.m. on CBS.  A huge game in Athens between the hedges.  The 52nd game in the series, which Georgia leads 26-23-2.  Not many games for a rivalry that was first played in 1899 for teams in the same conference.  But as Texas fans are learning, the SEC is a bit weird.  Not Austin weird, just different weird.  Because of the structure of the conference, before the 1989 expansion to 12 members and split into the East and West Divisions, a lot of teams did not play each other annually.  Tennessee and Georgia played 21 times in the first 90 years of the series.  Since 1992, they have been in the Eastern Division and met annually.  Bulldogs have won the last 5 game by a combined score of 207 to 64.  Closest game was 2020, when UGA won 44-21.  Georgia in 8 point home favorite, and the over/under is 63.
No. 8 Oregon at Colorado, 2:30 p.m. on ESPN.  Ducks have one loss, Buffalos have one win.  Oregon favored by 31.5, over/under is 63.
No. 15 PSU at Indiana, 2:30 p.m. on ABC.  PSU favored by 14, over/under is 49.5.  Go Hoosiers.
Michigan State at No. 16 Illinois, 2:30 p.m. on BTN.  I have a lot of Spartan friends, but after the Tunnel Assault, I am hoping Michigan State loses every game the rest of the season.  Fighting Illini favored by 17, over/under is 40.5.
No. 20 Syracuse at Pittsburgh, 2:30 p.m. on ACCN from Acrisure Stadium.  A pretty good football game I bet.  Panthers favored by 4, over/under is 48.  Good luck Pitt.
No. 25 UCF at Memphis, 2:30 p.m. on ESPN2 from the Liberty Bowl.  UCF favored by 3.5, over/under is 58.5.  Go Tigers.
No. 6 Alabama (7-1, 4-1) at No. 10 Louisiana State (6-2, 4-1), 6:00 p.m. on ESPN from Tiger Stadium.  First Saturday in November.  Bama, Ole Miss, and Louisiana State all sit at the top of the SEC West, so a huge game on the road to Atlanta.  Crimson Tide favored by 13.5, over/under is 56.5.  Should be a heck of game, as all rivalry games played at night in Baton Rouge are.  The 87th meeting in a series that was began in 1895.  Bama leads 55-26-5 and has won 10 of the last 11.  Since 2002, there has not been a game with neither team ranked, and in 16 of those games both teams have been ranked.  In that stretch, the No. 1 team has been on the field in 8 games.
No. 4 Clemson (8-0) at Notre Dame (5-3).  6:30 p.m. on NBC/Peacock.  The Irish are, in my opinion, still trying to find themselves.  They lost to Marshall, then gave UNC its only loss (in Chapel Hill), lost at home to a weak Stanford squad, then went to Syracuse and beat the No. 16 Orangemen.  Clemson favored by just 3.5, and I think Notre Dame just might cover that. Over/under is 44.  Go Irish!
No. 5 Michigan at Rutgers, 6:30 p.m. on BTN from Piscataway, New Jersey.  Scarlet Knights not very good.  Big Blue is.  Wolverines favored by 26, over/under is 45.
Arizona at No. 14 Utah, 6:30 p.m. on the PAC 12 Network.  Utes favored by 17.5, over/under is 67.5.
No. 21 Wake Forest at No. 22 North Carolina State, 7:00 p.m. on ACCN.  Both 6-2, 2-2.  Demon Deacons favored by 4, over/under is 54.  Not that I am going to watch it (or virtually anyone else who reads this email), but it should be a decent game.
No. 12 University of California Los Angeles at Arizona State, 8:30 p.m. on FS1.  This game, on the other hand might get some attention.  Not as good a match-up on paper as Wake and NC State, but a huge game for the Bruins, and the Sun Devils have a long history of serving up upsets in the desert.  UCLA favored by 11, over/under is 66.
University of California at Berkeley versus No. 9 Southern Cal.  9:30 p.m. on ESPN.  Elite brains against elite money.  After Texas wins, I will flip over and watch this one.  Trojans favored by 21.5, over/under is 60.5.  Fight on.
Week Ten:  Service Academies
Army and Air Force meet in the Commanders' Classic at 10:30 a.m. on CBS.  The game will be played at Globe Life Field in Arlington.  Falcons are 5-3 and Black Knights are 3-4.  Air Force favored by 7, over/under is 40.5.
Navy at Cincinnati, 3:00 p.m. on ESPNU.  Bearcats favored by 18, over/under is 44.   Go Navy.
Week Ten:  Other Games of Interest
Thursday night, UTEP played at Rice.  That's 750 miles; the Rose Bowl in Pasadena is 800 miles from El Paso.  I love Texas.  Anyway, the Owls with a big win, 37-30, get to 5-4.  Rice may go bowling!
A huge game in the Sun Belt Thursday Night, App State at Coastal Carolina .  You may recall App State beat Texas Agricultural and Mechanical 17-14 in College Station the second week of the season.  App State lost to the Chanticleers 28-35, and the Mountaineers are now 5-4 and 2-3 in the Sun Belt.
Saturday
Florida at Texas Agricultural and Mechanical, 11:00 a.m. on ESPN.  Both teams 1-4 in the SEC.  Will be interesting to see how Connor Weigman plays.  Aggies favored by 3, over/under is 55.5.
Minnesota at Nebraska, 11:00 a.m. on ESPN2.  Gophers favored by 16, over/under is 45.
Washington State at Stanford, 2:30 p.m. on Pac 12 Network.  Both teams with one conference win.  Cougars favored by 4.5 on The Farm, over/under is 49.5.
UTSA at UAB, 2:30 p.m.  No TV.  Roadrunners deserve better.  Line is even.  Over/under is 52
Liberty (7-1) at Arkansas (5-3), 3:00 p.m. on SECN.  Pigs favored by 14.5, over/under is 61.
Houston (5-3, 3-1) at Southern Methodist (4-4, 2-2), 6:00 p.m. on the NFL Network.  Mustangs favored by 3, over/under is 66.
Brigham Young at Boise State, 6:00 p.m. on FS2.  Boise favored by 8, over/under is 54.5
Auburn at Mississippi State, 6:30 p.m. on ESPN2.  Tigers have one SEC win, Bulldogs have 2.  State favored by 12.5, over/under is 51.
South Carolina at Vanderbilt, 6:30 p.m. on the SEC Network.  This is my "Vandy gets an SEC Win" game of the season.  Cocks favored by 7, over/under is 48.5, but I got the Dores in this one.
Florida State (5-3, 3-3) at Miami of Florida (4-4, 2-2).  6:30 p.m. on ABC.  I remember when this was usually a big, big game.  I think the Seminoles will get back in the hunt someday; I hope the Hurricanes never do.  FSU favored by 7.5, over/under is 53.  Go Noles!
Washington & Lee Generals
W&L fell to Randolph-Macon 21-35.  Remarkably, the Generals attempted 20 passes, completing 14.  That's one-third of Stephen Murrin's season totals.  The Yellow Jackets actually out-rushed W&L 210-176.
Washington & Lee on the road to Bridgewater for a game with the Eagles, 2:00 p.m.  Good luck Gennies!
Texas Volleyball
The team is now 17-1 and 10-1 in the Big 12.  Next game is Wednesday November 9 against Iowa State in Gregory Gym.
World Series
What a World Series.  My goodness.  After the split in Houston, McCullers gets shelled in Philadelphia, giving up more dingers in 4.1 innings than he did in 47.2 innings in the regular season, as the Phillies tie a WS home-run record.  The Astros turn it around Wednesday night with a no-hitter to blank the Phillies 5-0.  A no-hitter in the World Series.  My parents weren't married when Don Larsen threw the only other one, the Perfect Game for the New York Yankees- against the Philadelphia Phillies.  Heck, I don't think my parents were even dating then.  Only the third no-hitter in post season history.
I just watched Ryan Pressly get Nick Castellanos to hit into a 6-3 groundout on Pressly's 26th pitch to earn the 5 out save.  Houston goes back to the Juice Box with a 3-2 lead.  Game 6 is Saturday night at 7:03.  Guess I will need to set up a second big screen.  Level Up!  Let's Go Stros!
Big XII – Week Nine Games
No. 22 Kansas State 48, No. 9 Oklahoma State 0. Zero. Nil.  Cannot believe the Wildcats shutout Gundy and that offense. I was surprised K State was a 1.5 point favorite.
Texas Christian prevailed in West Virginia, 41-31, as the Mountaineers tried to give the Frogs a game.  But Texas Christian got the win and covered.
Oklahoma Land Thieves 27, Iowa State Cyclones 13.
The Brazos Baptists got back in their groove with a 45-17 dunking of Texas Technological.
Top 25 – Week Nine
No. 2 Ohio State finally hit the gas in the fourth quarter to pull away from No. 13 Penn State and get the win 44-31.  Wish I had seen that fourth quarter.  Buckeyes scored 28 and PSU scored 17.
What a win for Notre Dame!  41-24 over No. 16 Syracuse.
As expected, Georgia won the football game played in the middle of The World's Largest Outdoor Cocktail Party.  42-20 over Florida.  Georgia was favored by 22.5.  "Georgia to win, Florida to cover the line."
No. 4 Michigan 29-7 over Michigan State.  The contest was marred by post-game violence in the players' tunnel, as several Spartans beat up a couple of Michigan players.  Criminal charges are expected to be filed.  Shouldn't happen anywhere, much less leaving the field of play.
No. 18 Ole Miss 31-28 over Texas Agricultural and Mechanical.  If there is a bright side for the Aggies, the freshman quarterback Conner Weigman looked good.  But the Wrecking Crew gave up 390 yards rushing.  Texas Agricultural and Mechanical ranks No. 121 in the country in run defense.
No. 3 Tennessee rolled over No. 19 Kentucky 44-6.  Line was Vols by 12.
No. 8 Oregon 42-24 over California Berkeley.  Bo Nix threw for 412 yards and 3 touchdowns and ran for 59 yards and 3 touchdowns.  Maybe he does deserves an invite to New York City.
Favored No. 10 Wake Forest got upended in Louisville, 48-21.
Mack and the Tarheels were just 3 point favorites, but the No. 21 North Carolina scored 21 fourth quarter points to put away the Pitt Panthers, 42-24.  Over/under was 65.5.
No. 17 Illinois 26-9 over Nebraska.  Been a tough time to be a Cornhusker.
UCF beat No. 20 Cincinnati 25-21.
No. 25 South Carolina's stay in the ranking was short-lived, as Missouri upset the Gamecocks 23-10.
No. 12 University of California, Los Angeles 38-13 over Leland Stanford Junior University.  Bruins are for real.  I am looking forward to November 19.
Week Nine:  Service Academies
Navy over Temple 27-20.  Midshipmen get even in the American Conference at 3-3.
Week Nine:  Other Games of Interest
Friday night, East Carolina beat Brigham Young in Provo, 27-24.  Cougars now 4-5.  They were ranked No. 12 Week Three.  Some of my friends are right about the early season polls – almost meaningless.
Saturday
Miami Redhawks 27-9 over the Akron Zips, winning and covering.
Florida State 41-16 over Georgia Tech.
Tough season for the Cavaliers, as even a bad Miami (Florida) beats them.  14-12 in four (4) overtimes.  It was 6-6 at the end of regulation, in a game that featured 14 punts.
Conference USA is a bit odd.  Charlotte was 1-7 and 16.5 point home underdogs to Rice (4-3).  Charlotte won 56-23.
Southern Methodist with a good win over Tulsa, 45-31.
Middle Tennessee upsets UTEP 24-13.
North Texas 40-13 over Western Kentucky.
Music
This week's music was inspired by a Jeep I see walking the neighborhood.  Has four stickers on the back:  Beatles, Rolling Stones, Eagles, and Led Zeppelin.
The Beatles are my favorite of the four groups, probably because I knew them first, seeing them on The Ed Sullivan Show as child, saw the movie Yellow Submarine at the Tyler Theatre on Broadway –  the list is long.   Listening to their music on 45's, with that little yellow thing-a-ma-jig in the middle (if you know, you know).  Really hard to pick a favorite or two.  Some that aren't in my top 3 but that I love:  Yesterday, Can't Buy Me Love, Help, All My Loving, Nowhere Man, Got to Get You Into My Life, Back in the USSR, Love Me Do, I'll Follow the Sun, Eleanor Rigby, With a Little Help from My Friends, Ticket to Ride, Hey Jude, and A Hard Day's Night.
Get Back, 1969
I Want to Hold Your Hand.  Released 1963.  Performed Live on the Ed Sullivan Show, February 9, 1964.
Come Together.  1969
100 Greatest Beatles Songs – Rolling Stone
The Rolling Stones are in my opinion the most remarkable music group of my lifetime.  Their longevity, their success, and their music.  Favorite songs below.  Also Get Off of My Cloud, Paint it Black, Beast of Burden, She's a Rainbow, Ruby Tuesday, It's Only Rock n Roll (But I Like It).
You Can't Always Get What You Want.  1969
(I Can't Get No) Satisfaction.  1965.
Start Me Up, 1981.  The Stones song of my college days.
100 Greatest Rolling Stones Songs – Rolling Stone
Led Zeppelin.  I listened to a bit of their music, as anyone growing up in the Sixties and Seventies did.  Usually on AM radio.  They were not my favorite, but I appreciate their contribution to Rock & Roll.  My personal connection was, like a lot of my music connections, because of HAAM.  Several years ago, Robert Plant was dating the great Austin singer and songwriter Patti Griffin.  Not long after he was living here and before anyone really knew about their relationship, we had a special night to raise money for HAAM at the iconic Continental Club, "Patti Griffin & Her Driver".  It was a truly memorable night.
Two songs.  "Whole Lotta Love", which was rated LZ's number one song by Rolling Stone, and "Dazed and Confused".
40 Greatest Led Zeppelin Songs of All Time – Rolling Stone
Whole Lotta Love.  184 million views on YouTube
Dazed and Confused
The Eagles. Of all of these bands, the Eagles are by far the one with the most songs on my high school soundtrack.  So oddly enough, their greatest hit and considered by many their best song is not one of my favorites, or even one I listen to.  Just don't like Hotel California.  Don't @ me.  I like Lyin' Eyes, Peaceful Easy Feeling, Best of my Love, Tequila Sunrise, and the Greeks Don't Want No Freaks.  And a bunch of others.
My favorite Eagles song, and one my all-time favorites overall, is Take It Easy.  In college, a couple of my older fraternity brothers, Will Hodges and Jimmy Abeloff, played tapes.  If you were having a party and didn't have a band, you had someone who played tapes.  Will brought the equipment, Jimmy brought the cool.  My recollection is that Take It Easy was Jimmy's favorite song, and it was always played.  Jimmy had a blood disease, and he died right before my first exam my first year of law school.
Take It Easy. 
Photo of the Week
I am hoping the JType photo brings some good luck.  This week's pic pick is a splendid shot of downtown, I think from the Rainey Street District.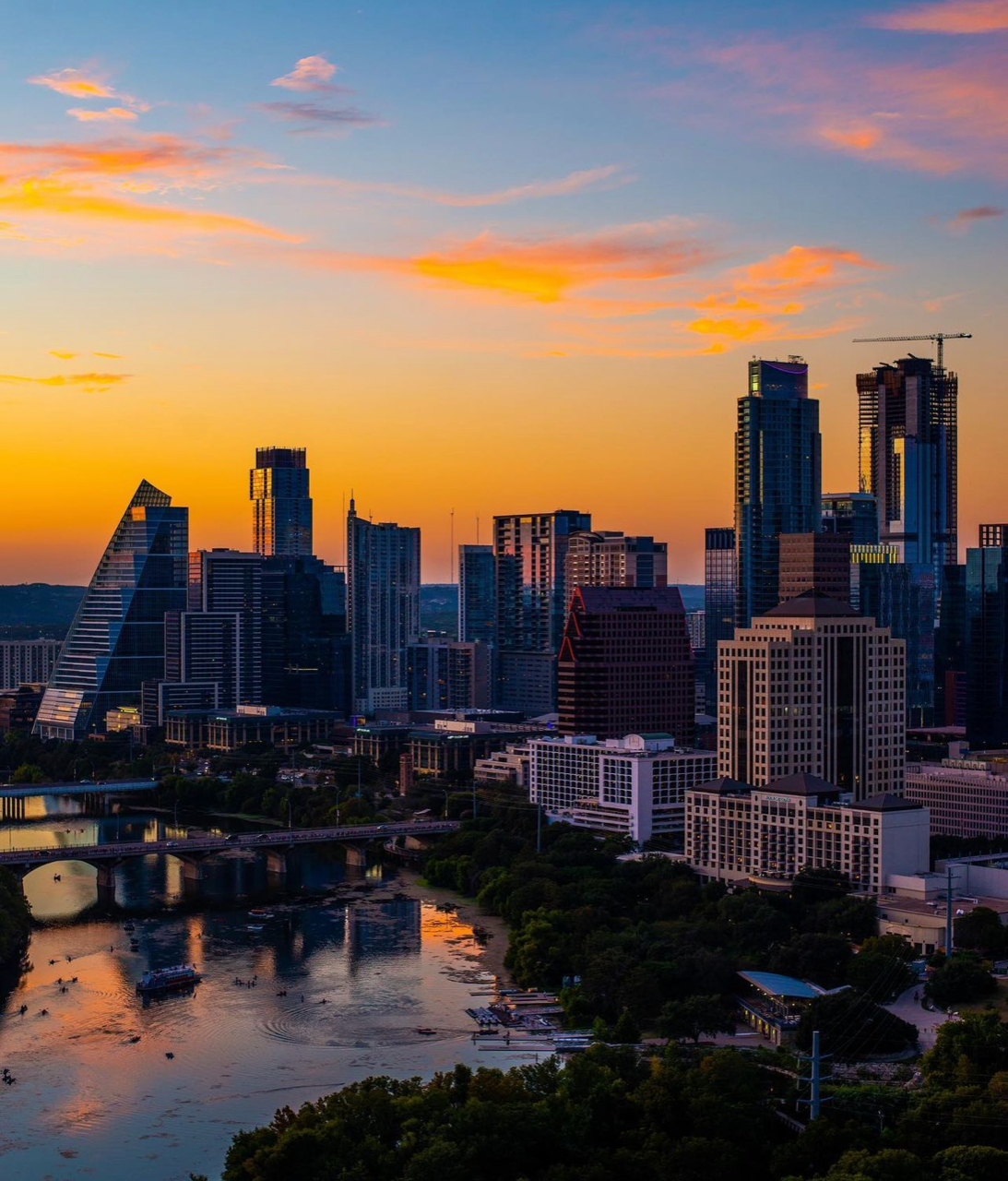 Photo by JType, posted on Instagram November 3, 2022.  @JType.
Full Post:
God Bless Texas
God Bless America
Tim Taylor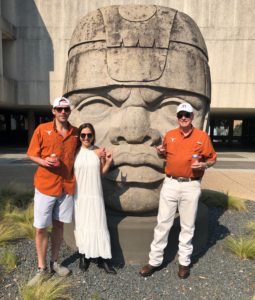 Tailgating before Home Football Games
The Juan Heisman Tailgate
Lot 38, East of Sid Richardson Hall.
HOOK EM HORNS!!
The Austin Horns Fan Dispatch
© Timothy C. Taylor, Sr. 2022.  All Rights Reserved (as to original material).
On Twitter:  @tctayloratx
On LinkedIn:  www.linkedin.com/in/tctatx
On Instagram:  @tctayloratx
On Facebook:  www.Facebook.com/Tim.C.Taylor
and:  www.Facebook.com/Juan.Heisman