Good Morning Longhorn Fans!
Texas Longhorns 31, Wyoming 10
Texas survived a sluggish start and had another good fourth quarter to put away the Cowboys and move to 3-0 on the season.  Longhorns up to No. 3 in the AP Top 25 poll and 6 in the Coaches Poll.  One of the signs of a good team is how they perform in the second half.  Texas has now outscored their opponents 63-27 in the second half.  7 of those 27 were Rice's score with 3 minutes left in the game (garbage time, as some like to say), 14 points were Alabama's third quarter rally to take the lead (which lasted 69 seconds).  Jonathan Brooks had a whale of game, 164 yards.  Jerrin Thompson had a pick 6 which sealed the win, and we had a Big Man touchdown.  One of the highlights of any game.  The wonderful Texas media team put it in slow motion and set it to Mozart's Requiem Lacrimosa.
https://x.com/TexasFootball/status/1703418341237408151?s=20
I know many of you will be asking for the Mozart link, so here you go.
Jody, this is the Croatian Chamber Orchestra and the Oratorio Choir from St. Mark's in Zagreb.  Vrlo dobro.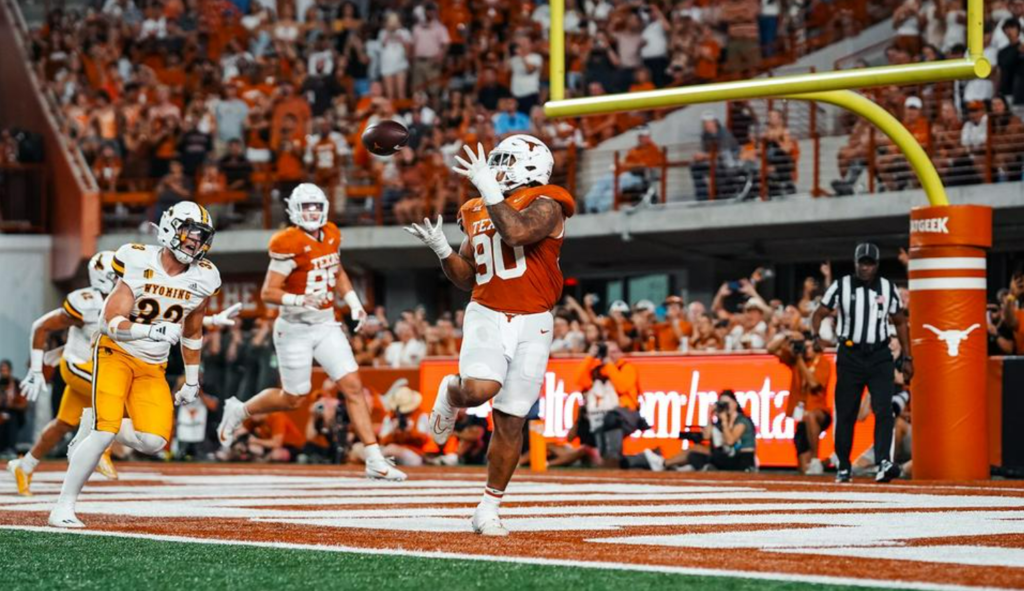 What Starts Here Changes the World
The University is now the No. 9 national public university in the USA and keeps the No. 1 spot in Texas in the latest USN&WR rankings.  No. 32 nationally among public and private.  McCombs is up to No. 5 nationally, and 12 schools are in the top 10.  Accounting is still No. 1.  Cockrell School of Engineering is No. 11.  Full story here:
UT Continues Upward Climb in Latest U.S. News Undergraduate Rankings – UT News (utexas.edu)
Happy Birthday to The University
I really whiffed last week in the Dispatch, as I failed to note that last Friday was our beloved University's 140th birthday.  Fortunately, Jim Nicar's birthday email Friday morning reminded me and informed me that we were celebrating the "quadridecacentennial".  The Tower was beautiful Friday night.  Jim wrote an excellent post on the Quadridecacentennial on his website, The UT History Corner.  Highly recommend it.
Alabama
One clean-up item.  Somehow last week, I included the same video twice (the Mini-Movie).  Here is the great montage of highlights with the Spanish language call by Dr. Rubén Pizarro-Silva.  Dr. Pizarro has been calling Texas games since 1995.  He really is quite good.
https://x.com/TexasFootball/status/1702076529461674201?s=20
No. 3 Texas Longhorns vs. Baylor Bears
The Longhorns head 100 miles up I-35 to play their last Big 12 game with Baylor.  Dave Aranda will have his Bears ready to play.  Might even eat a worm.  In Aranda's press conference on Monday, he said "I can't tell you how many times this offseason I heard 'Dave, just win this one game (the Texas game)'. That has been brought up to me multiple times."
Texas leads the all-time series 80-28-4.  I have a lot more on our 122 year history with Baylor below.  After Texas wins, we will close the books (at least for a while, I suspect) with an 81-28-4 record, for a 71.7 win percentage.
The game kicks off at 6:30 and will be on ABC.  Dave Pasch with the play-by-pay, Dusty (OU Land Thief) Dvoracek with the commentary and analysis, and Tom Luginbill on the sidelines (probably the best of the three; I think he's pretty well-informed and insightful).  As always, on the Longhorn Radio Network with the Voice of the Longhorns Craig Way and Roger Wallace with Lifetime Longhorn Will Matthews on the sideline.  And the aforementioned Dr. Rubén Pizarro-Silva and Arturo Mata with the Spanish call on the Longhorn Radio Network.  Tune into Craig, Roger, and Will on KGAS 104.3 FM in Carthage, KWMC 1490 AM in Del Rio, and KTBB 600 AM & 92.1 FM in Tyler. If you are at the game, KWTX 1230 AM in Waco.
Baylor sold the game out.  This game is the most student tickets ever sold at McLane Stadium.  To keep that in perspective, McLane Stadium capacity is 45,140.  But it will be a loud, hate-filled crowd.
Texas is favored by 14.5, and the over/under is 49.5.  Texas will cover that, and I think that total is low.
Big Games this Weekend
I have my usual full preview of games at the end, but finally a few really big ones this weekend (besides the Longhorns, which is always the biggest game on the schedule).
4 Florida State at Clemson, 11:00 a.m. on ABC.
19 Colorado at No. 10 Oregon, 2:30 p.m. on ABC. Deion & the Ducks.
15 Ole Miss at No. 13 (!) Alabama, 2:30 p.m. on CBS. Hotty Toddy!
6 Ohio State at No. 9 Notre Dame, 6:30 p.m. on NBC.
Headlines from the Second Weekend
Miami (the original, in Ohio, of the MAC) defeated Cincinnati 31-24 in overtime, ending a 16 game losing streak to the Bearcats.  The Redhawks beat what I thought was a decent Cinci team.  With the win, Miami evens the rivalry at 60-60-7.
Last weekend was the last of the "come get paid to lose" football rounds, with most teams heading into a full slate of conference play (with maybe one more creampuff game, like most of the SEC.  The Top 25 combined to go 22-2 (K State's loss at Missouri and Tennessee's loss at Florida) and outscored their opponents 912 to 355 (or around there).
The light show and drone show at Darrell K Royal – Texas Memorial Stadium was remarkable.  Big kudos to Vice President and Lois and Richard Folger Athletics Director, The University of Texas at Austin, Chris Del Conte.  That was one hell of an impressive production.
Hard to find a complete video that really shows how amazing this was, but here is a good one.  If you have a good one (or have a link to a good one), please send it to me.
September
One of my favorite songs.  The Elements.  684 million views.  I represent quite a few of those.
Texas vs. Baylor
The first game with Baylor was played in 1901 in Waco, with Varsity from UT prevailing 23-0. As reported in the San Antonio Express on October 30, 1901:

"The State University football team defeated Baylor today, 23 to 0.  Baylor played plucky ball, but was outclassed by the Varsity boys in weight and science."
Well, that set the tone for most of the next 72 years, as Texas would win 48 games (including the Baylor forfeit in 1910) to 11 Baylor wins, with 4 ties.  From 1958 through 1973, Texas won 16 straight under Darrell K Royal.
Then the Miracle on the Brazos.  Texas had a 24-7 lead at half, and Baylor rallied to beat the Horns 34-24.  Grant Teaff's Bears would go on to win the Southwest Conference, their first title in 50 years.
Coach Teaff and three different Texas coaches would trade blows over the next 18 years, splitting the series 9-9.  Baylor's wins would include one of the most very miserable losses I ever sat through at Texas Memorial Stadium, the 50-7 butt whipping in 1989.  Teaff finished his career with 4 out of 5 wins of Texas.
That changed in 1993 after Teaff's retirement.  Texas would go 4-1 over the next 5 years.
Then Mack Brown.  Coach Brown and his Longhorn family would win 12 straight over Baylor, with some big ones:  62-0 in 1999, 56-0 in 2003, and 62-0 in 2005.
Art Briles brought his football coaching skills and a few other things to Waco in 2008, and by 2010, the Bears were winning a lot of football games. In fact, Briles would beat Brown 3 of Mack's last 4 years, and then Charlie Strong's first year.  But since 2015, Texas has lonely lost to Baylor twice (24-10 in 2019 in Waco under Herman and 31-24 in Waco in 2021, Sark's first year).  Worth noting Texas is 3-3 in Waco since 2011.
If counted right, Texas has shut-out Baylor 20 times, Baylor has held Texas scoreless 3 times.  (Not counting the ties.)
The Winsipedia.com team comparison: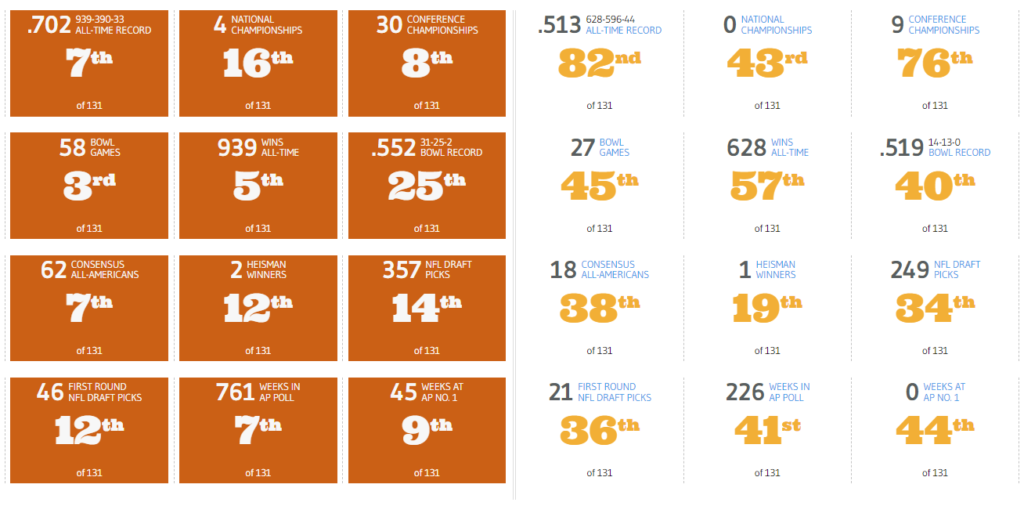 Kyle Umlang is the king of statistics. Also known as the art of torturing the numbers until they tell you what you want.  But always fun.  Here is a good one:  "Texas has beaten Baylor more times since 1981 than Baylor has beaten Texas since 1901."  @kyleumlang 9.20.23 on X
 Baylor Bears 2023
Dave Aranda is in his 4th season at Baylor.  2-7 in 2020, 12-2 in 2021 (conference title, Sugar Bowl win), 6-7 last year.
Baylor started the season with a loss at home to Texas State 31-42.  In 2022, the Bobcats went 4-8 overall, 2-6 in the Sun Belt Conference, and did not have a road win.  The Bobcats lost to UTSA the next week in the Alamodome, 13-20, but rebounded last weekend with a 77-34 beatdown of Jackson State.  So who knows how good Texas State really is (Army beat UTSA last weekend 37-29, and Army lost to UL Monroe – so you can play that game all you want, but it is early in the season).  What I do know is that a lot of pundits said that was Texas State's biggest win since the second Southwest Texas State national championship in 1982 under Jim Wacker.
Baylor played a solid game against No. 12 Utah at McLane Stadium, but the Utes won 20-13.
Baylor got their first win of the season last weekend by handing the Long Island Sharks their third loss, as the Bears beat LIU 30-7.
The Baylor offense is being led by back-up quarterback Sawyer Robertson.  He is a big guy (6-4, 220, Lubbock Coronado, transferred from Mississippi State), but not very good yet.   But, Blake Shapen might be back Saturday.
Baylor has had a good running game in the past.  But they haven't put it together yet this season.  Richard Reese (No. 29, 5-9, 182), Freshman All-American.  Last year he was an explosive back with good acceleration and speed.  Has not gotten in gear yet in 2023.  Dominic Richardson (No. 21, 6-1, 206) transferred from Okie State is a good running – but he missed the LIU game with an ankle sprain.  He may or may not play Saturday.  If Richardson is out, then it will be RB by committee.  Lots of young guys.
Their receivers are decent and probably the most talented room for BU offensive coordinator Jeff Grimes.  Ketron Jackson Jr. (No. 11, 6-3, 208) went through the portal from Fayetteville to Waco.  He is a good.  16.4 yards per catch. Hal Pressley (No. 16, 6-2, 196) is a good possession receiver.  Watch for Jonah Burton (No. 17, 5-10, 195).  The Bear tight end Drake Dabney is big – 6-5, 248 pounds – and an experienced Senior. He can make some plays.
And unfortunately for whoever is playing quarterback and whichever back is trying to run the ball, the Baylor O line isn't great this year.
Texas needs to pressure the quarterback – a bunch.
Run defense isn't great. As you will see below, they are 106th in the nation in yards allowed and 102nd in yards per attempt at 4.43 and 102nd in total yards allowed at 510.  Utah ran up the middle and found great success.    Byron Vaughns (transfer from UT State, was here in Austin 2019-2020; 6-4, 238) is on the edge and their best guy against run and pass.  Two good linebackers:  Mike Smith Jr.(40, 6-1, 240) at Will LB, and Matt Jones (No. 2, 6-3, 246) at Mack LB.
Aranda's defense does have a good blitzing defense.  He is a good schemer, and 4 or 5 different guys will come after Quinn Ewers ever snap.
No. 3 Texas Longhorns vs. Baylor Bears
With a three game sample size, I am back into the numbers in a big way.
The Statistics
Offense
| | | |
| --- | --- | --- |
| Statistic | Texas | Baylor |
| Rushing Offense | #76 – 149.3 | #62 – 166.3 ypg |
| Passing Offense | #49 – 260.0 ypg | #56 – 251.7 ypg |
| Total Offense | #55 – 409.3 ypg | #52 – 418.0 ypg |
| Scoring Offense | #47 – 34 ppg | #93 – 24.7 ppg |
| First Downs | #79 – 20.0/game | #71 – 20.7/game |
| Sacks Allowed | #40 – 4, 30 yards | #19 – 3, 21 yards |
| Tackles for Loss Allowed | #18 – 12, 58 yards | #69 – 17, 56 yards |
| Third Down Conversions | #90 – 37.8% | #81 – 39.5% |
| Fourth Down Conversions | #49 – 62.5% (5/8) | #19 – 80% (8/10) |
| Red Zone Attempts | #54 – 12 | #54 – 12 |
| Red Zone Offense | #31 – 92% / 50% | #31 – 92% / 58% |
| Long Run Plays | #101:   11-10, 3-20, 2-30, 1-40 | #53:   16-10, 3-20, 3-30 |
| Long Pass Plays | #65:   28-10, 11-20, 9-30, 4-40 | #59:   29-10, 13-20, 9-30, 4-40 |
Defense
| | | |
| --- | --- | --- |
| Statistic | Texas | Baylor |
| Rushing Defense | #33 – 96.3 ypg | #106 – 170.0 ypg |
| Passing Defense | #34 – 180.0 ypg | #19 – 163.7 ypg |
| Total Defense | #23 – 276.3 ypg | #60 – 333.7 ypg |
| Scoring Defense | #27 – 14.7 ppg | #72 – 23 ppg |
| First Downs Allowed | #14 – 14.3/game | #42 – 16.7/game |
| Sacks | #40 – 8, 55 yards | #58 – 7, 34 yards |
| Tackles for Loss | #50 – 19, 81 yards | #66 – 18, 78 yards |
| Third Down Conversions | #31 – 31.7% | #57 – 35.9% |
| Fourth Down Conversions | #115 – 75% (3/4) | #100 – 62.5% (5/8) |
| Red Zone Attempts | #4 – 4 | #25 – 7 |
| Red Zone Defense | #38 – 75% / 25% | #109 – 100% / 86% |
| Long Run Plays Allowed | #16:   7-10, 2-20, 1-30, 1-40 | #89:   15-10, 5-20, 3-30, 3-40 |
| Long Pass Plays Allowed | #22:   19-10, 7-20, 4-30, 1-40 | #50:    23-10, 9-20, 3-30, 0-40 |
Other
| | | |
| --- | --- | --- |
| Statistic | Texas | Baylor |
| Turnovers | #3 – 1 (1F) | #80 – 5 (2F, 3I) |
| Turnover Margin | #9  6:1  +5 | #77  4:15  -1 |
| Penalties | #37 – 15, 120 yards | #47 – 16, 95 yards |
*Based on total number of penalties.
Match-up Comparison
| | |
| --- | --- |
| Texas Offense | Baylor Defense |
| Rushing Offense – 149.3 ypg | 170 ypg – Rushing Defense |
| Passing Offense – 260.0 ypg | 163.7 ypg – Passing Defense |
| Total Offense – 409.3 ypg | 333.7 ypg – Total Defense |
| Scoring Offense – 34 ppg | 23 ppg – Scoring Defense |
| First Downs – 20/game | 16.7/game – First Downs Allowed |
| 3rd Down Offense – 37.8% | 35.9% – 3rd Down Defense |
| 4th Down Offense – 62.5% | 62.5% – 4th Down Defense |
| Red Zone Offense – 92%/50% | 100%/56% – Red Zone Defense |
| LRP – 11-10, 3-20, 2-30, 1-40 | 15-10, 5-20, 3-30, 3-40 – LRP Allowed |
| LPP – 28-10, 11-20, 9-30, 4-40 | 23-10, 9-20, 3-30, 0-40 – LPP Allowed |
| | |
| --- | --- |
| Texas Defense | Baylor Offense |
| Rushing Defense – 96.3 ypg | 166.3 ypg – Rushing Offense |
| Passing Defense – 180.0 ypg | 251.7 ypg – Passing Offense |
| Total Defense – 276.3 ypg | 418.0 ypg – Total Offense |
| Scoring Defense – 14.7 ppg | 24.7 ppg – Scoring Offense |
| First Downs Allowed – 14.3/game | 20.7/game – First Downs |
| 3rd Down Defense – 31.7% | 39.5% – 3rd Down Offense |
| 4th Down Defense – 75% | 80% – 4th Down Offense |
| Red Zone Defense – 75%/25% | 92%/58% – Red Zone Offense |
| LRP Allowed – 7-10, 2-20, 1-30, 1-40 | 16-10, 3-20, 3-30 – LRP |
| LPP Allowed – 19-10, 7-20, 4-30, 1-40 | 23-10, 9-20, 3-30, 0-40 – LPP |
Team and Individual Statistics
A new feature:  I have pulled the primary team and individual season statistics for both teams (from the game notes) and put them in a post.  You can click and see all the stats in one place.  Let me know what you think.
https://austinhornsfan.com/texas-at-baylor-statistics/
Other Stats
Available Yards Percentage.  Net available yards percentage (NAY) is the difference between offensive available yards percentage (OAY) and opponent offensive available yards percentage (DAY) on non-garbage, regulation possessions in FBS vs. FBS games. Available yards percentage is calculated by dividing drive yards (measured from starting field position to ending field position) by available yards (measured from starting field position to end zone).
| | | | |
| --- | --- | --- | --- |
|   | NAY | OAY | DAY |
| Texas | No. 9:  0.300 | No. 26:  0.593 | No. 11:  0.292 |
| Baylor | No. 67:  -0.001 | No. 47:  0.506 | No. 84:  0.507 |
BCF Toys – 2023 Available Yards Percentage
Net points per drive (NPD).  NPD is the difference between points scored per offensive drive (OPD) and points allowed per opponent offensive drive (DPD).
| | | | |
| --- | --- | --- | --- |
|   | NPD | OPD | DPD |
| Texas | No. 16: 2.08 | No. 16:  3.28 | No. 25:  1.19 |
| Baylor | No. 92: -0.91 | No. 85:  1.68 | No. 102: 2.82 |
BCF Toys – 2023 Points Per Drive
Net Yards Per Play (NPP).  Net yards per play (NPP) are the difference between drive yards per offensive play (OPP) and drive yards allowed per opponent offensive play (DPP) on non-garbage, regulation possessions in FBS vs. FBS games. Drive yards are calculated as the difference between starting field position and ending field position on offensive drives.
| | | | |
| --- | --- | --- | --- |
|   | NPP | OPP | DPP |
| Texas | No. 17: 2.03 | No. 30:  6.50 | No. 19:  4.47 |
| Baylor | No. 53:  0.51 | No. 44:  6.11 | No. 67: 5.60 |
BCF Toys – 2023 Yards Per Play
BCF's Game Projection.  "Game Projections are calculated from current FEI ratings and include the projected win likelihood (PW), projected margin of victory (PM), projected points scored (PF) and allowed (PA), and projected total points scored (PT) for each FBS game."
| | | | | | | |
| --- | --- | --- | --- | --- | --- | --- |
| Projected Winner | Projected Loser | PW | PM | PF | PA | PT |
| Texas | Baylor | .818 | 13.4 | 34.0 | 20.5 | 54.5 |
Based on these advanced analytics, Texas is still projected to win, but all of our margins last week in these stats were bigger than this week against Baylor.  One reason I am considering the possibility of a close game.
CFBGraphs
I have been following this guy (@statsowar on X) for quite a while and included him occasionally.  Probably need to at least include the main graphic each week.  Here is the Texas-Baylor summary chart.  Blue is good, and red (or is that crimson?) is bad.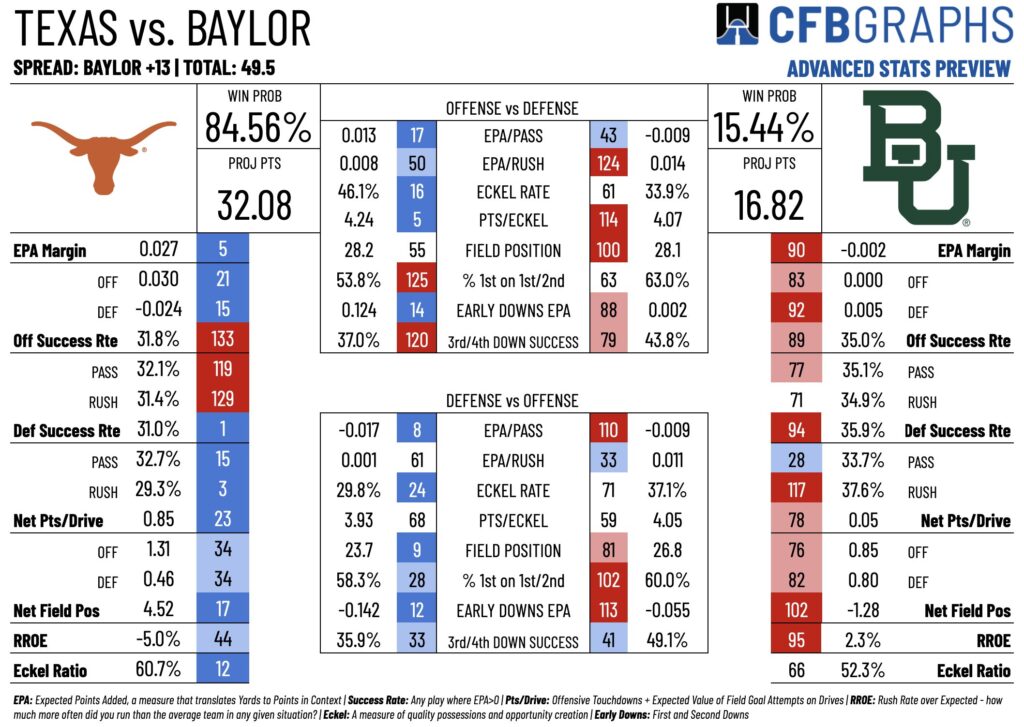 So what caught everyone's eye:  Texas 133 (DFL) in Offensive Success Rate, while Number 1 in Defensive Success Rate.  The antitheses of complimentary football?  Fortunately, Joe Cook on Inside Texas broke it down. Since that is a pay site, and I try to respect that, I am pulling a few key paragraphs.  "The success rate measure uses a metric CFB-Graphs calls EPA, or expected points added.":
Expected points added translates yards to points in context. A three-yard gain on 1st-and-10 is bad; a three-yard gain on 3rd-and-2 is good. How can we compare? EPA takes into account the down, distance, yard line, and game state of each play to calculate the added point value of every play. EPA is an explosiveness weighted measure of success: how often did you provide positive value, and on average, how much positive value did you add? It is analogous, roughly, to wOBA in baseball. A higher EPA on offense is good, and a lower EPA on defense is good.

Success rate uses EPA to create a binary measure of efficiency: How frequently did you improve your situation? A success play is any play where EPA is greater than or equal to zero, and a failure is any play with EPA less than zero.
Here is what Joe explains: "Texas is No. 125 in percentages of first downs gained on first or second down, and No. 120 in third or fourth down success."
So, this confirms statistically what simpler minds, like mine, have been saying for years:  get good yards on first and second down, stay out of third and long.  And the very best way to stay out of third and long is stay out of the third down entirely.  According to Cook, "Oregon State is first in percentage of first downs gained on first and second down at 85.2 percent, and Oklahoma is best in the nation at third- or fourth-down success at 85.2 percent."
TCT Thoughts
One of the reasons I go through the laborious effort of creating my own statistical comparison is that it loads those basic numbers in to my brain.  Then as I read and watch and listen, that information helps me distill my thoughts.  Distillation is an important process in my life.
I usually look at the Match-up Comparison and see what jumps out – that is, where are the most evident mismatches.
Also, keep in mind while this is just three games in, one of Baylor's three games was against the FCS Long Island U Sharks.
First, Texas offense versus the Baylor defense.  The Longhorns are led by a great passing quarterback in Quinn Ewers, have one of the best wide receiver rooms in the country, and have a very good tight end in Ja'Tavion Sanders.  Quinn has shown the ability to have a great game, make incredible passes, and exhibit excellent basic skills.  He needs to show all of that consistently all of the time.  Worthy and Mitchell have made spectacular catches, Whittington is just as solid as they come, and Sanders can make key catches.  But right now, the passing game is not our strength.  According to @HookEm Headlines on X, Texas is second among Power 5 teams with the highest dropped pass percentage this season, at 13.4%.  Add the drops with Ewers' occasional errant throw, then note that Baylor appears to have a reasonably good pass defense (No. 19, only allowing 163.7 ypg), and the answer is we need to run the ball.  And we need to run the ball successfully on first and second down.
Can that be the key to a good win in Waco?  Yes, Baylor's rush defense is 106th in the country, allowing 170 yards per game.
Texas State, No. 36, ran for 143 yards in Waco, 3.7 yards per attempt
Utah, No. 40, ran for 224 yards in Waco, 4.8 yards per attempt.
LIU, No. 67 in the FCS, ran for 143 yards in Waco, 4.9 yards per attempt.
This isn't an unusually skewed stat.  Texas should be able to rush for well over 200 yards on Saturday.  I think they might be able to put up about 250, and if Baxter is in fact healthy, then the Burnt Orange Killer B's should be able to keep fresh legs churning and yards burning.  I do hope Brooks gets a chance to start and get at least 20 carries.  I think he is that kind of back:  big dog needs to eat.  Brooks possesses a great trait that next level running backs must have:  forcing missed tackles.  Per PFF College on X, Brooks led all Power 5 running backs with 10 missed tackles forced last week.
Establish the ground game early, as Sark says he wants to do.  Don't waste downs or possessions taking deep shots – this Texas offense is enough better than the Baylor defense to play station to station baseball and still put up a big score.  Sure, I want to see a 55 yard touchdown pass to Worthy or a short pass to Mitchell or Sanders that turns into 38 yard gain.  But what I want to see more is a great Texas running game, where we finish the game with 275 yards rushing and average at least 4.7 yards per attempt.  The offensive line needs to step up.
On the defensive side of the ball, Texas holds an even more dominant edge.  The 2023 PK defense could be the best one in Austin in many years, if they keep playing this well.  Baylor's sort of good rushing game should be not so good Saturday.  Our front 7 just need to make sure they keep the backs in front of them and defend well sideline to sideline.  If they don't, Baylor will get some yardage. If they do, Baylor will have to throw the ball more.  If Shapen plays, that's okay. If he doesn't, that's really good.  I don't think Shapen can beat us, and I very confident that Robertson can't.
The other two usual keys:  Texas can and should win the turnover battle.  If we continue to take care of the ball like this and force turnovers, a +1.8 or better per game turnover margin will lead to points scored and points prevented.  The other is penalties.  We absolutely cannot give away yards.  The false start in our first offensive play at home against Wyoming really hurt Texas.  That directly lead to a 3 and out after we had let Wyoming score in their opening possession.  The Longhorns must play a very clean game in Waco. And not just for the usual reason, but also because we are going to have some calls going against in conference play, especially on the road.  If it is marginal whether to call Texas for holding, the flag will come out.  If it is marginal on calling Baylor for a hold, there will not be a penalty.  The only way to level the playing field will be to play near perfect football.  Will be interesting to see how that goes.
Finally, Texas needs to get it in the endzone when we get in the red zone.  A 50% TD rate is not going to cut it.  I love Bert Auburn, but I want to see him kick point afters, not field goals.
My predictions are 3-4 reasonably long sustained scoring drives, hopefully with touchdowns to finish (but will be reasonably satisfied with a 75% rate, which would be an improvement).  I think Brooks or Baxter will bust a couple of long runs, one for a score.  And we will see a long touchdown from Ewers to Worthy, because that is in the notebook under a big burnt orange tab.  So I have 4 offensive touchdowns and two field goals.
Defensively, I hope Anthony Hill is fully released from the doghouse and plays the whole game.  If either Shapen or Robertson have to spend the evening running away from him, I will be happy.  The rest of this defense should play fine against this Baylor running game.  I think Baylor will be fairly frustrated by the end of the first half.  I think Jaylan Ford is going to lead in tackles, Burke and Sweat are going to get two sacks a piece.  And we will see at least two sacks from linebackers and defensive backs.  The secondary should have a big day.  Jahdae Barron continues to improve, getting graded highest for coverage in Week 3.
The defense will score a touchdown.  Either another Pick 6 or a strip, scoop, & score.
One key for the defense will be defending the medium and long pass.  Per CJ Vogel:
Baylor QB Sawyer Robertson has the longest average distance of target of any QB in the Big 12 (12.3 yards).

Baylor throws the ball beyond 20 yards the most of any Big 12 team and throws the fewest screens/quick passes behind the LOS in the conference.
Baylor QB Sawyer Robertson has the longest average distance of target of any QB in the Big 12 (12.3 yards).

Baylor throws the ball beyond 20 yards the most of any Big 12 team and throws the fewest screens/quick passes behind the LOS in the conference.

[D]… pic.twitter.com/gFle49Jnin

— CJ Vogel (@CJVogel_TFB) September 20, 2023
The third string quarterback is RJ Martinez, who had a pretty good career at Northern Arizona.  Went to Westwood HS here in Austin.  Would not be surprised if he gets in the game.  For a couple of possible reasons.
The special teams will be big.  I think Sanborn's punting will be as good or better the rest of the season, and if I am right, that is going to play a major role in (i) giving the Bears and future opponents really poor field position, and (ii) digging the Horns out of a hole or two when we decide to throw the ball 3 times and have a 3 and out.
I predict:    Texas 41, Baylor 17
Official Preview:
https://texassports.com/news/2023/9/18/no-3-6-football-preview-baylor.aspx
Game Notes:
https://texassports.com/documents/2023/9/18/TexasFB23GameNotes_04Baylor.pdf
Preview from Burnt Orange Nation, by Wescott Eberts
Hostile environment at Baylor will open the 'Embrace the Hate' tour for No. 3 Texas – Burnt Orange Nation
Another preview from Burnt Orange Nation, a look at some advanced statistics.
No. 3 Texas vs. Baylor advanced stats preview – Burnt Orange Nation
Inside Texas Roundtable ($)
Inside Texas Roundtable: Keys to the game, historical insight, and predictions ahead of Texas vs. Baylor – On3
Texas Homer's Preview.  21 minutes
Had to laugh when I looked at the Baylor Game notes. The very first story line:
Baylor and Texas will be facing off in a final matchup as Big 12 Conference foes on Saturday. The series dates back to 1901 and has spanned the Big 12 and South West Conference. The teams first met as league foes in 1916 in the SWC.
I guess since they don't have many Southwest Conference banners.
Football: Texas 27, Baylor 7
Baseball (regular season): Texas 64, Baylor 2
Baseball (tournament): Texas 11, Baylor 3 (started in 1992)
Basketball (men's, regular season): Texas 22, Baylor 5
Basketball (women's regular season): Texas 10, Baylor none.
Golf: Texas 39, Baylor 2
Men's Swimming & Diving: Texas 38, Baylor none
Women's Swimming & Diving: Texas 14, Baylor none (Texas won all 14 that were ever contested, 1983-1996)
Men's Tennis: Texas 14, Baylor none
Women's tennis: Texas 12, Baylor none
Men's Outdoor Track & Field: Texas 45, Baylor 3
Women's Outdoor Track & Field: Texas 11, Baylor none
Volleyball: Texas 13, Baylor none.
I will look at the Big 12 another day.  To be fair, Baylor has fared much better in the Big 12 conference.
The Polls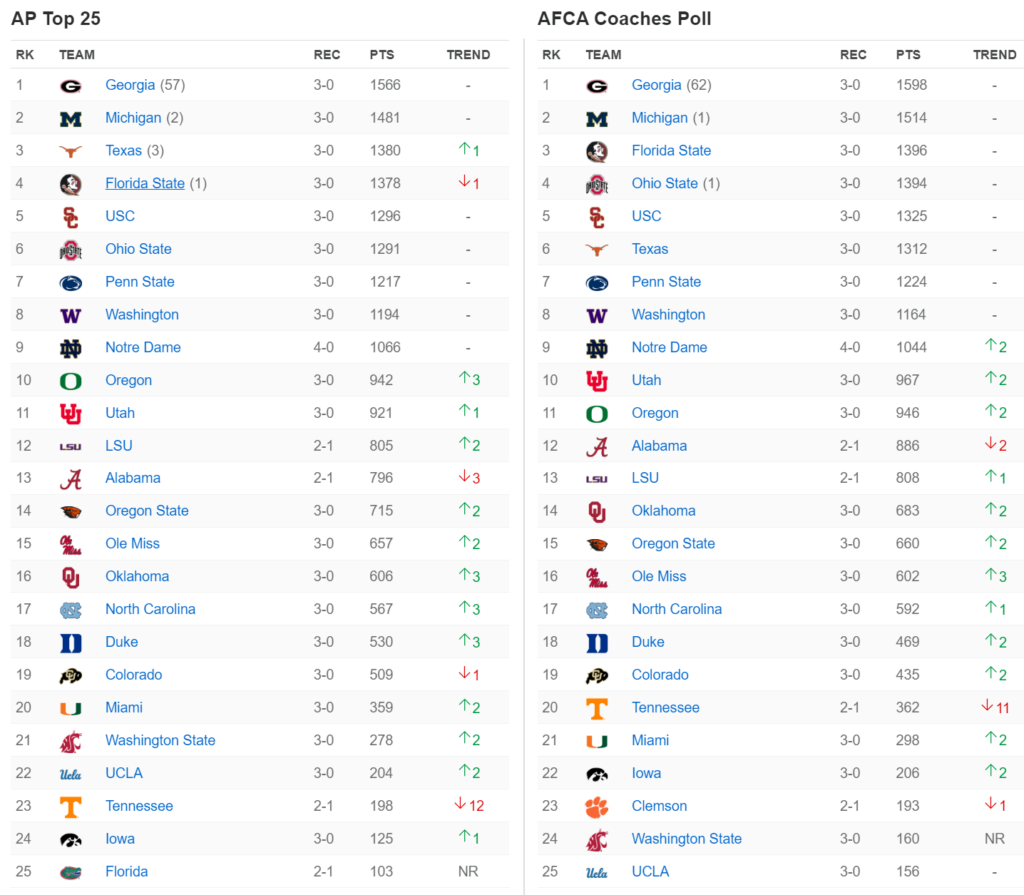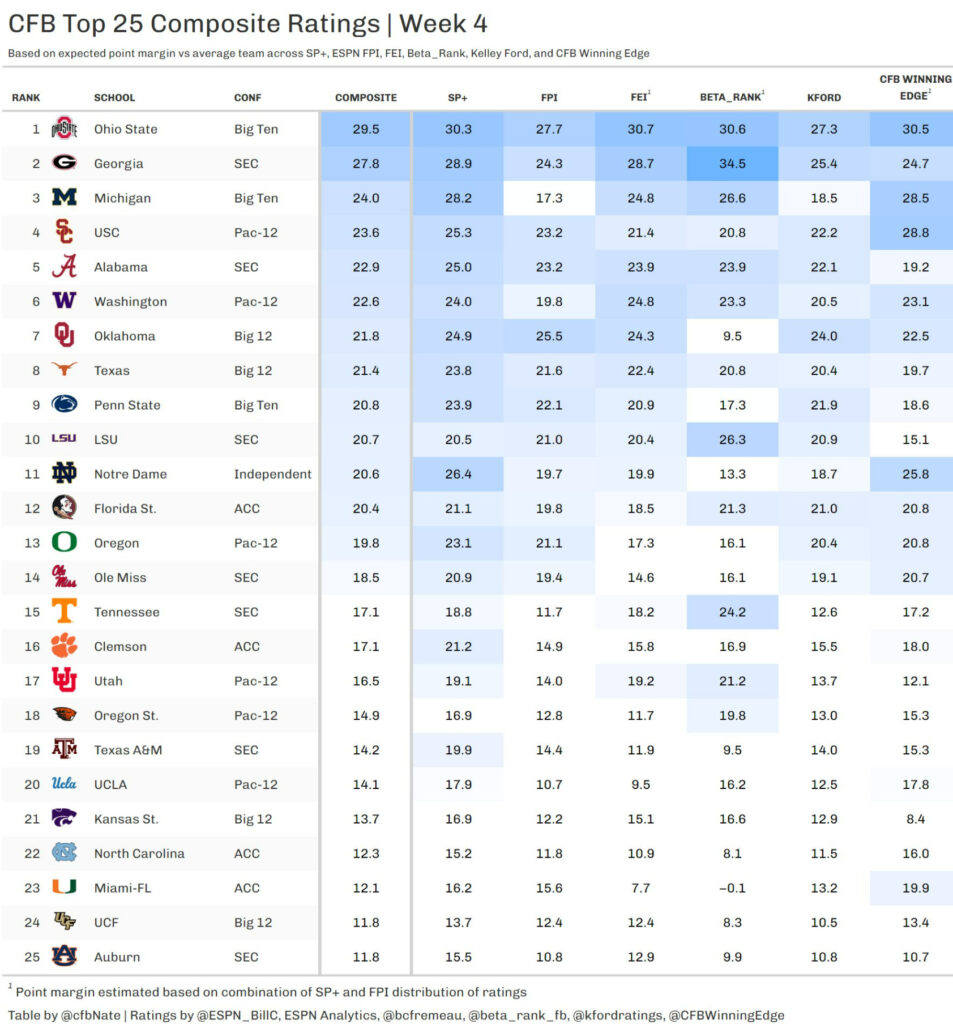 Massey Ratings.  Texas No. 6.  Baylor is No. 71.   If you have not ever looked at this, and you have time, you should.  Fascinating to see some of the variables.
Juan Heisman Tailgate:  Wyoming
What a great day at the Juan Heisman Tailgate.  So many great friends.  We survived a monsoon earlier in the day.  The sliders, hot dogs, and venison sausage were great, and Judd Messer's pheasant poppers were really exceptional.  I don't know how long it took Caroline and Judd to make that many skewers of bacon wrapped pheasant with the jalapeno and cream cheese, but I am sure grateful.  Thanks to Tito's Handmade Vodka for the mainstay of the JHT bar.  Texas Beer Company was there; big thanks to JD and Megan, who had worked the Texas Mamma Jamma Ride earlier that day, then battled that rough thunderstorm, and still had Wild Kolsch and Pecos Amber pouring by 4:30 at Juan Heisman.  Thanks again to David Jabour and Twin Liquors for their support.
Always good to have one of my KA Alpha Chapter Brothers at JHT.  Samuel Poage Dalton.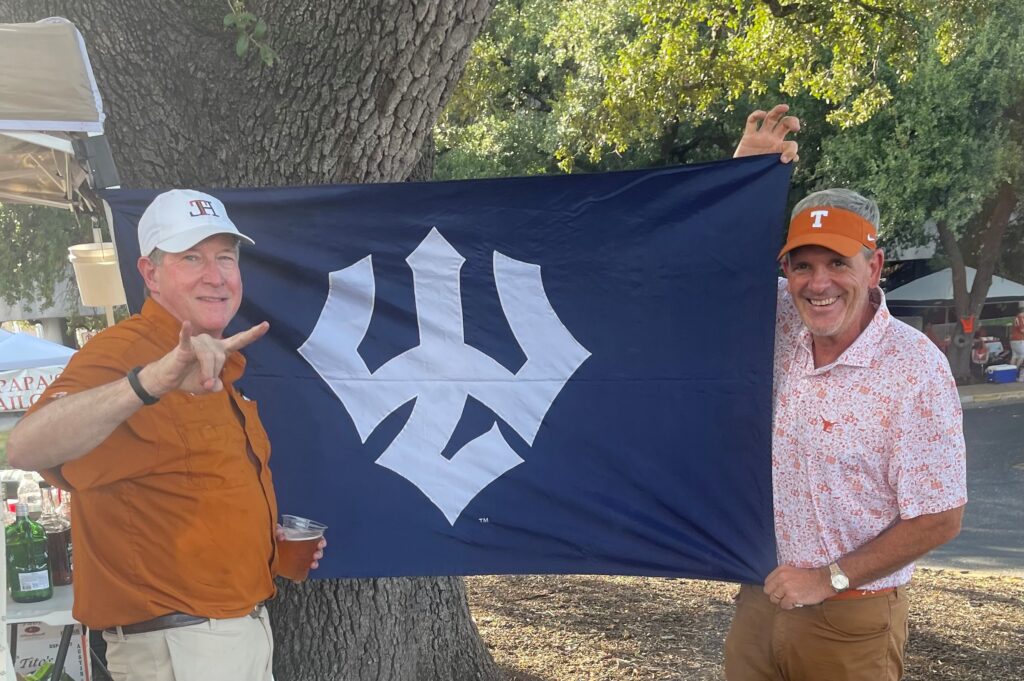 With Kansas set for 2:30, we will be able to have another great tailgate. See y'all on September 30!
Making this request again:  I am going to assemble a photo album of the Juan Heisman Tailgate over the years.  I will have a special post on AustinHornsFan.com, filled with pictures and, if you have them, stories.  So please send mE your pictures.  You can email them to me (best) or text them to me (512.431.6622).  Thanks!
Longhorns 31, Wyoming 10
The good news, for me anyway, was that after the thunderstorm blew through around noon, the skies cleared, and the Juan Heisman Tailgate site dried out fine.  We had a spectacular afternoon. That was followed by a very nice evening in the Frost Bank suite, courtesy of Tim Crowley.  A great crew, including Carol of course, plus my friend of 60 years David Buck Edelman, and the Dobson's, Northington's, Parks, Hubenak's, McConnico's, and Stuart's.  [The combined hourly rate is mind-boggling.]  Watching a game with Casey "Judge Smails" Dobson is something we could probably auction for charity.
As for the game.  What a disappointing start.  Good highlights links below.
We were sitting in the north endzone, so I had a great view to watch Harrison Waylee run 62 yards up the middle and right through the Texas defense for a Wyoming touchdown 135 seconds into the game.  Not a good one.  Was proud of Sark and PK for putting Hill in Time Out.  Was surprised he had to stay in Time Out until the fourth quarter, but hopefully the lesson is learned.  We really need the great Anthony Hill, Jr. we saw in Tuscaloosa.  The fact that Texas responded to that with a 3 and out caused in part by a false start by an offensive lineman (at home) and then 3 incomplete passes induced a quicker trip to the bar than anticipated.  I was off my preset pacing program less than 4 minutes into the game.
Kudos to Worthy for the good return that allowed Texas to start at the Wyoming 38.  Only getting 3, with another red zone field goal, was a head shaker.
The Texas drive that began in the first quarter and ended well into the second with a touchdown was very encouraging.  Texas ran the ball well, Ewers went 6 for 6, survived another OL false start, then sealed it with Byron Murphy II Big Man Touchdown.  Long drive:  8:03.  Maybe one of our longest of the young year.  So Texas took the 10-7 lead.  But the next 25+ minutes were not exactly titillating.
Texas got the ball to start the third.  A very disappointing series, as it ended with Ewers taking a sack on third and 9 to push Texas out of field goal ranged.  Great punt and special teams play pinned Wyoming back at their own 4.  But.
But, Wyoming then went on an over 10 minute drive, and got to the Texas 10.  It looked like the Cowboys might take the lead, but Barryn Sorrell came up with a huge sack, and the visitors settled for a field goal. 1010 with 13 seconds left in the third.
Great last play of the third quarter, as Brooks went 20 yards to get the Horns near mid field as  the final frame began.  2 more Brooks runs, and then a really good pass to Worthy for a 44 yard touchdown.  48 seconds into the fourth, Texas led 17-10.
The defense forced a quick 3 and out.
Texas ran the ball 6 times from their own 25.  One of those runs was Jonathan Brooks for 61 yards.  It was beautiful.  The Horns capped with a 5 yard Ewers run for 6.  24-10 Texas.
Wyoming got the ball back with 9 minutes to play, but the Texas D and Jerrin Thompson would immediately extinguish any flickering flame of hope for the Cowboys.  On second down, JT picked off Svoboda and took it to the house.  31-10 Texas.  Ball game.
The slow and sloppy start still kind of bugs me.  But I am encouraged by the outstanding fourth quarter rally to quickly put away Wyoming.  Brooks showed me that he can be the big back.  Texas ended up with 185 yards rushing.  Still not great on third down – 4 of 12.  Defense only got 1 sack, but did have 5 TFL.  Auburn, Sanborn, and the special teams played well.
It was a W
Highlights from ESPN (9 minutes):
Highlights from Matthew Loves Ball (22+ minutes):
Highlights en Español
https://x.com/TexasFootball/status/1704290401983643841?s=20
Baylor University
Baylor was chartered in 1845 by the last Congress of the Republic of Texas.  It is the oldest continuously operating university in the state.
Academic Rankings

National

Texas

Baylor
Forbes
43
164
THE | WSJ
60
170
U.S. News & World Report
32
75
ARWU
24
153-168
Washington Monthly
40
336

Global

ARWU
37
601-700
QS
58
1001-1200
THE
50
801-1000
U.S. News & World Report
43
376
 Notable Baylor alumni:  Austin Mayor Kirk P. Watson, Trey Wingo, Gary Keller, Amber Carden, Ann Richards, Paul Foster, Drayton McLane, Chief Justice Tom Phillips, Judge Don Willett, Judge William Steger, Robert Heard (yes, our Robert Heard; Inside Texas Robert Heard – he saw the light), Bob Bullock, Governor Price Daniel, Price Daniel, Jr., Leon Jaworski, Ambassador Lyndon Olson, Jr., Max Sherman, William S. Sessions, Robert Griffin III, and Mike Singletary.
Thought about what to write for a long time.  Decided to just leave it with this.
Res ipsa loquitur
Texas Tribune, February 24, 2017:
After rape scandal, powerful Baylor boosters fight over school's future | The Texas Tribune
ESPN, September 18, 2023:
Baylor settles 2016 sexual assault lawsuit with 15 survivors – ESPN
Big XII – Week Four
No. 16 Land Thieves (3-0) at Cincinnati.  11:00 a.m. on FOX.  From Nippert Stadium in the Queen City.  I made a decision late Wednesday night, and I may or may not have been drinking, but I am for OU the rest of the regular season, except for October 7, where 49-0 would be fun again.  Anyway, the Big 12 "Adios MOFO" tour is for both of us.  And I don't care much for Ohio, although am grateful for all my dear friends from there.  Land Thieves favored by 14.5.  Over/under is 57.5.  Boomer Sooner.  Charlie Randolph, John McClure, David Rex, and Elijah Plowden & the rest of the OU fans on here – this is temporary.
Southern Methodist at Texas Christian, 11:00 a.m. on FS1.  Both 2-1.  Game 102 for the Iron Skillet.  The Methodists versus the Disciples of Christ.  Texas Christian won the first game in 1915 43-0.  Since then, the record is 52-42-7 in favor of the Horned Frogs.  Ponies are better this year I think.  Texas Christian favored by 6.5, and the over/under is a whopping 63.5.  Pony Up!
Brigham Young at Kansas, 2:30 p.m. on ESPN.  Bet not many thought this would be a match between 2 undefeated teams.  I didn't.  Even crazier, Jayhawks favored by 8.5.  Jalon Daniels, the KU QB, is the real deal.  Kansas wins this one, and Kansas at Texas next weekend (after we kick Baylor's butt this weekend) is going to be a dadgum big game.  Over/under is 54.5.
Texas Technical at West Virginia, 2:30 p.m. streaming live on BIG12 | ESPN+.  Probably safe to say that most of the future for the Big 12 will be on your phone.  South Plains Aggies favored by 6, over/under is 55.
Oklahoma State at Iowa State, 3:00 p.m. on FS1 from Jack Trice Stadium in Ames.  Iowa State still reeling from the gambling scandal, but nonetheless favored by 3.5.  Some of my regular sounding board friends and I have been wondering what is going in Stillwater with Gundy.  The Spencer Sanders transfer being high on the list of questions.  Cowboys are 2-1 playing a somewhat diminished 1-2 Cyclone team and still underdogs.
Sam Houston at Houston.  6:00 p.m. on BIG12 | ESPN+.  I always have to check if they are the Bearcats or the Bearkats.  Took me over 40 years to remember what months had 30 days and which ones had 31 (always had February down), but still have to check myself on bearcats and bearkats.  I guess when Sam Houston joins the next iteration of the Big 20 in a few years, we will remember.  Or not care.  Cougars favored by 12 at home.  Go Bearkats!
Central Florida vs. Kansas State. 7:00 p.m. on FS1.  Golden Knights 3-0, Wildcats 2-1.  K State favored by 4.  Hope K State crushes them.
Week Four:  Service Academies
Friday night, Air Force at San Jose State.  9:30 p.m. on FS1.  Air Force undefeated and 5 point favorites.  Look forward to watching the second half of this one after Kathy and I get home from Matt's.
Army plays at Syracuse, 11:00 a.m. on ACCN.  Black Knights coming off the big win in San Antone.  Orangemen undefeated and favored by 13.5.
The Midshipmen have shore leave again this weekend.
Top 25 – Week Four
All the Top 25 action is on Saturday this weekend, which I like.
Rutgers at No. 2 Michigan, 11:00 a.m. on BTN.  Scarlet Knights from the State University of New Jersey at Rutgers a surprising 3-0, with wins over Northwestern, Temple, and Virginia Tech.  Wolverines favored by 24, over/under is 44.  Go Big Blue.
No. 4 Florida State at Clemson, 11:00 a.m. on the American Broadcasting Company.  A really big game for both schools, as the Seminoles, Tigers, and Tarheels look to be the top of the ACC this year.  Dabo's boys have struggled.  Mike Norvell has FSU undefeated and in the Top 5.  FSU favored by 2.5, over/under is 55.
No. 19 Colorado at No. 10 Oregon, 2:30 p.m. on ABC.  After the game in Boulder last Saturday, the Buffs and Ducks is an unanticipated huge football game.  Of course the World Wide Leader is hyping the game like crazy after last week's CSU-CU ratings, as they should.  Deion Sanders and his team are "must watch TV".  Oregon favored by 21.  The over/under is 70.5.  Autzen Stadium will be nuts.  Shadeur Sanders is No. 2 in the nation in passing, 78.7%, 1251 yards, 10 TDs, one pick, 417 ypg.  Bo Nix for Oregon is No. 12, 77.6%, 893 yards, 8 TDs, no interceptions, and 297.7 yards per game.  Passing defense?  Ducks are No. 16, allowing 158.7 ypg, Colorado is No. 109, allowing 265 ypg.  I am taking Oregon.
No. 22 UC Los Angeles at No. 11 Utah, 2:30 p.m. on FOX.  Both 3-0.  Interesting that Utes are only favored by 3.
No. 15 Ole Miss at No. 13 Alabama, 2:30 p.m. on the stations of the Columbia Broadcasting System.  Quite a game.  Will Lane Kiffin become the second former assistant to get a win over Nick Saban in Tuscaloosa?  The ESPN Matchup Predictor gives the Tide at 65.8% chance of winning.  I will be watching, as I haven't seen the Rebels play yet this year.  Saban has re-installed Milroe as the starting quarterback for the Tide after last weekend's near debacle in Tampa.  QB Jaxson Dart leads Ole Miss in rushing with 213 yards and 2 scores, averaging 6.7 a carry (as a quarterback) and 71 yards per game.  He has completed 66.2% of his passes, 852 yards, 7 touchdowns, and averaging 284 yards per game.  Dart is No. 5 in total offense in the nation.  Hotty Toddy!  Are you ready?
No. 18 Duke at Connecticut.  2:30 p.m. on CBSSN.  Blue Devils undefeated, Huskies winless.  Duke favored by 21.5.
No. 20 Miami (Florida) at Temple, 2:30 p.m. on ESPN2 from the Linc.  Man I would love to see the Owls upset the Canes.  Miami (Florida) favored by 23.5.
UTSA (related to the Real UT) vs. No. 23 Tennessee (the other UT), 3:00 p.m. on SECN.  Well, might be a tough road trip for the Roadrunners.  Surprised they are 1-2.  Vols favored by 21.
Arkansas at No. 12 Louisiana State, 6:00 p.m. on ESPN.  Just a shame this is at the same time as Texas, because I would enjoy watching the Tigers kick their butt.  LSU favored by 17.5.
No. 14 Oregon State at No. 21 Washington State, 6:00 p.m. on FOX.  Both undefeated, both will be the standard bearers of whatever the future Pac-# might be.  Beavers favored by 3.
Charlotte at No. 25 Florida, 6:00 p.m. on ESPN+ / SECN+.  I wonder why BIG12 | ESPN+ has the vertical line and ESPN+ / SECN+ has the slash.  It is a wonder I can sleep at night.  Go Gata favored by 4 touchdowns.
Alabama Birmingham at No. 1 Georgia, 6:30 p.m. on ESPN2.  I bet the Bulldogs are looking to get some style points this weekend.  So does Vegas.  UGA -42.
No. 6 Ohio State at No. 9 Notre Dame, 6:30 p.m. on NBC.  I think the Irish are the only 4-0 team in FBS.  I sure hope they are 5-0 by Sunday.  We will see.  Notre Dame 3 point underdogs at home.  Go Irish!
No. 24 Iowa at No. 7 Penn State, 6:30 p.m. on CBS.  PSU favored by 15.
No. 17 North Carolina at Pittsburgh, 7:00 p.m. on ACCN.  Mack and his undefeated Tarheels against 1-2 Panthers, who lost to West Virginia last weekend.  UNC favored by 7.5.  Good luck Coach!
No. 5 Southern Cal at Arizona State, 9:30 p.m. on FOX.  Trojans favored by 35.  Fight On!  (That's for you Art)
California Berkeley at No. 8 Washington, 9:30 p.m. on ESPN.  Huskies favored by 20.5.
SEC – Week Four
A few games of interest:
Auburn (3-0) at Texas Agricultural & Mechanical (2-1), 11:00 a.m. on ESPN.  Texas Agricultural & Mechanical favored by 8.
Kentucky at Vanderbilt, 11:00 a.m. on SECN.  The Wildcats are 3-0 and favored by 13.5 in Nashville.
Other Games of Interest – Week Four
Friday Night
North Carolina State at Virginia, 6:30 p.m. on ESPN.  Wahoos looking for their first win of the season.  Hope they get it.  Wolfpack favored by 9.5. Go Hoos.
Saturday
Louisiana Tech at Nebraska, 2:30 p.m. on BTN.  The Cornhuskers are 1-2 and badly in need of s win. Favored by 21 in Lincoln.
Delaware State at Miami, 2:30 p.m. on ESPN+ from Yager Stadium in Oxford, Ohio.
Rice at South Florida, 3:00 p.m. on ESPNU.  Owls 2.5 point road favorites against the Bulls, who played Alabama pretty well last weekend.  Go Owls.
Appalachian State at Wyoming, 6:00 p.m. on CBSSN.  Wyoming favored by 4.
UNLV at UTEP, 8:00 p.m. on ESPN+.  Miners 2.5 point home underdogs.
Health Alliance for Austin Musicians
Thanks to everyone who donated to HAAM after last week's email. 27 friends stepped up, and Team TCT has raised $3,975 for HAAM as of Thursday.  Not too late, if you want to help.  I am $1,025 away from my goal.
HAAM Day 2023 – Tim Taylor (onecause.com)
Washington & Lee University
The Generals whipped and overwhelmed the Methodist Monarchs 54-14 with the running game, rushing for 406 yards on 59 attempts, averaging 6.9 yards per carry, and scoring 7 touchdowns.  What's remarkable is that W&L didn't have a 100 yard rusher.  Jacob Romero led the team with 99 yards and a score, with a long of 36 and a score.  Marcus Payne had just 3 carries but made the most of it, with 86 yards and 2 scores, including a 58 yard touchdown run.  Burke Cigelske carried 6 times for 51 yards and a score, 4 more players were in double digits, including QB Stephen Murrin who gained 12 yards.  Murrin also was 5 for 5 for 113 yards and a touchdown.
The Generals defense held Methodist to 33 net yards, with 5 sacks and 9 tackles for loss, knocking 25 yards off their gross of 58 yards. Methodist did complete 28 passes (40 attempts) for 245 yards and one score.
The Generals ship east next weekend to play Newport News Apprentice School.  This will be our third match with the Builders, and W&L looks to go to 3-0 in the series.
The Apprentice School is a 3 to 5 year apprenticeship vocational school founded and operated by Newport News Shipbuilding & Dry Dock Company in Newport News.  It is not a traditional college in that it does not grant degrees.  It is a high caliber trade school.
The Apprentice School at Newport News Shipbuilding was founded in 1919 and is the preeminent apprenticeship program in the nation. The school offers four-, five-, and eight-year apprenticeships in nineteen shipbuilding disciplines and eight advanced programs of study.

The Apprentice School is accredited by the Commission of the Council on Occupational Education and registered with the Virginia Apprenticeship Council and offers apprentices the opportunity to earn college credit, receive competitive pay and benefits, and learn a trade.

The school is committed to fostering apprentices' development of craftsmanship, scholarship and leadership.
Honestly, I think this is pretty cool.  And our country could probably use a few more schools like this.
The apprentices beginning earning a wage their first semester – $21.26 per hour at the beginning of his or her first semester.
The Apprentice School fields teams in football, men's and women's basketball, baseball, golf, and wrestling.
The Builders are 1-2, with losses to Averett (14-34) and Moravian (28-29 heartbreaker on a last minute Greyhound touchdown) and a 37-23 win on the road at Buffalo State.
Big XII – Week Three
Miami Redhawks 31-24 over Cincinnati in overtime!  What a win.  Miami was a 14 point dog.
Missouri rallied with 13 in the 4th to beat Kansas State 30-27.  Not a good showing by the Wildcats.  Thought they would win that one.
Oklahoma destroyed Tulsa 66-17.  Dillon Gabriel threw for 421 yards (28 of 31, over 90%) and 5 touchdowns.  Nationally, Land Thieves are: No. 3 in scoring offense (55.7 ppg), No. 7 in passing offense (358 ypg), and No. 8 in total offense (534 ypg).
Iowa State lost at Ohio, 7-10.  Tough year ahead for the Cyclones.
I mentioned earlier the bemusing about Okie A&M and Gundy.  They lost at home to South Alabama, bad, 7-33.  And paid $300,000 for that.  There is a word for that, but I think it would end up with this email in everyone's spam folder.
Texas Tech wins!  41-3 over Tarleton State.  Still counts.
Brigham Young made their new conference proud and made me happy with the 38-31 win in Fayetteville.
West Virginia beat Pitt 17-6 in the Backyard Brawl.  I had no idea that they had their own version of Sweet Caroline.  N S F W.
The backyard brawl is the best (via @loverboydame) | Instagram
Texas Christian beat Houston 36-13, covering easily.
Kansas 31-24 over Nevada.  Kansas was favored by 28.  How does that happen in Nevada?
Week Three:  Service Academies
Thursday night, Navy and Memphis met in Liberty Stadium.  Tigers were favored by 14.5.  Navy fought hard but fell to Memphis 24-28.
The Black Knights with a surprising and impressive win 37-29 over UT San Antonio.
Air Force used the ground game to pound Utah State 39-24.  Falcons with 344 yards rushing, 2 men over 100.
Top 25 – Week Three
The game of the weekend was in Boulder, as No. 18 Colorado came back in the fourth quarter to tie the game and then win in double overtime, 43-35.  Words can't do this game justice.  I got home from DKR and made a large pitcher of frozen margaritas.  I needed a bigger pitcher.  I don't know how many games Deion Sanders and his Buffs are going to end up winning this year, but I am willing to wager that in 2024 and years thereafter they win a few Big 12 conference titles.
No. 20 North Carolina beat Minnesota 31-13 to remain undefeated. Congrats Mack!
Georgia trailed the Gamecocks 14-3 at the half between the hedges.  Rallied with a 21-0 second have to win 24-14.
No. 3 Florida State was favored by 26 points at BC, and the Eagles fought hard, including a 13 point 4th quarter rally.  Seminoles escaped with a 31-29 win.
Notre Dame 41-17 over the Chippewas.  The line was 34.5.  I predicted the Chips would cover.
You know, you always want the teams you beat to win, unless they are from Waco, Lubbock, CS, Fayetteville, or Norman.  Maybe a couple of others.  Alabama struggled at South Florida but pulled out the win 17-3.
No. 11 Tennessee went into the Swamp favored by 6.  Gators with a 20 point second quarter to quash the Vols and go on to win 29-16.
No. 13 Oregon 55-10 over Hawai'i.
No. 24 UC Los Angeles 59-7 over North Carolina Central (it is a 4-year school).
The rest:
College Football Scores – Regular Season Week 3, 2023 – ESPN
Other Games of Interest – Week Three
Oh Virginia.  42-14 drubbing at Maryland.
Texas Agricultural & Mechanical 47-3 over Louisiana Monroe.  Aggies win and cover!
Southern Methodist 69-0 over Prairie View A&M.
Rice 59-7 over Texas Southern.  Owls rule Houston now.
Jim Nicar
Jim posted it, photo by Brian Pitman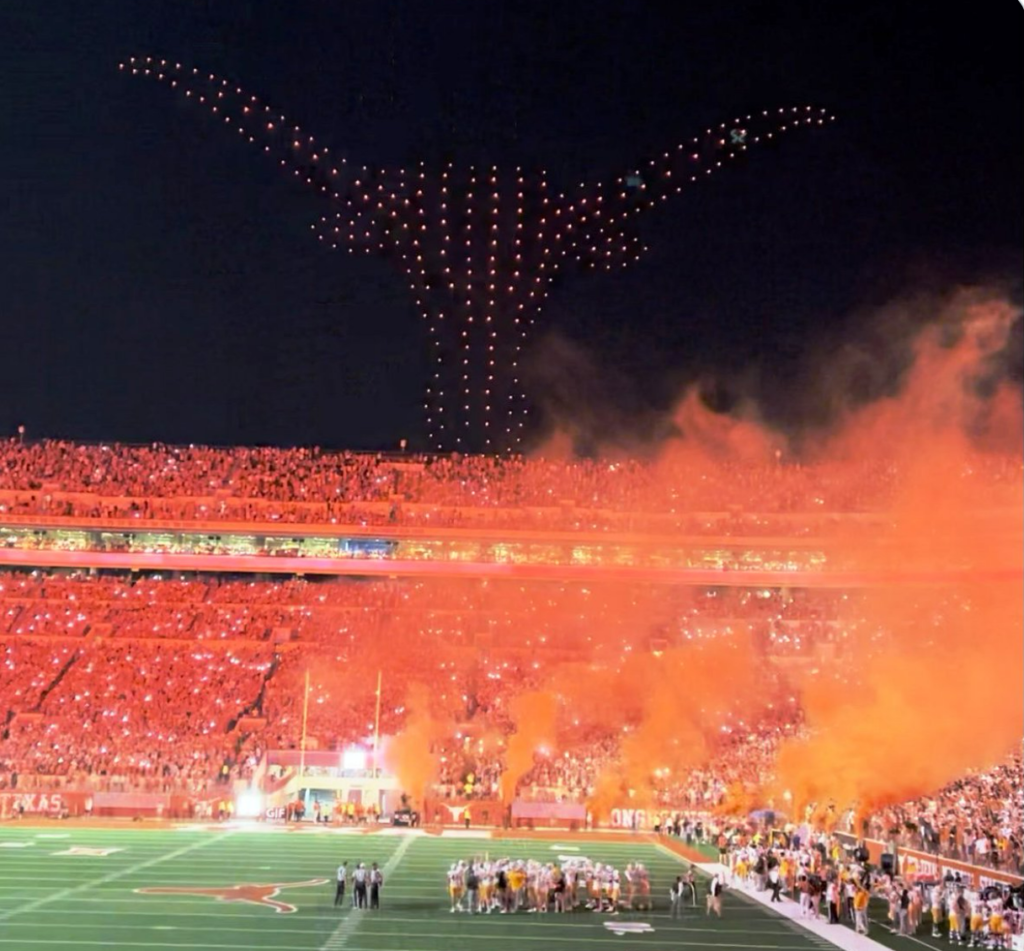 https://x.com/JimNicar/status/1703446462468637099?s=20
Music
Going to stick with Earth, Wind & Fire.  Got to love the elements.
Let's Groove
Shining Star
King of Groove
Picture of the Week
A great photo from JType.  Pretty awesome, isn't it Terry?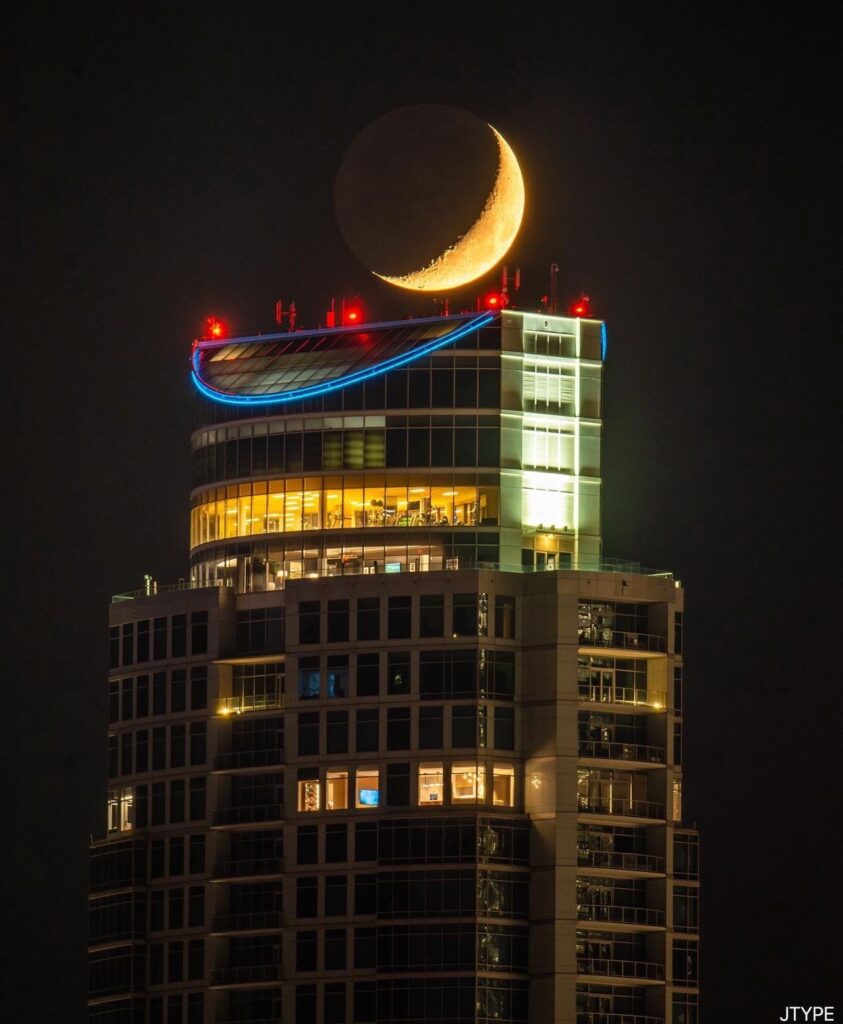 Photo © JType
https://www.instagram.com/p/CxeZ5jmRdkU/
God Bless Texas
God Bless America
Tim Taylor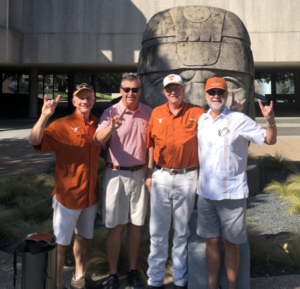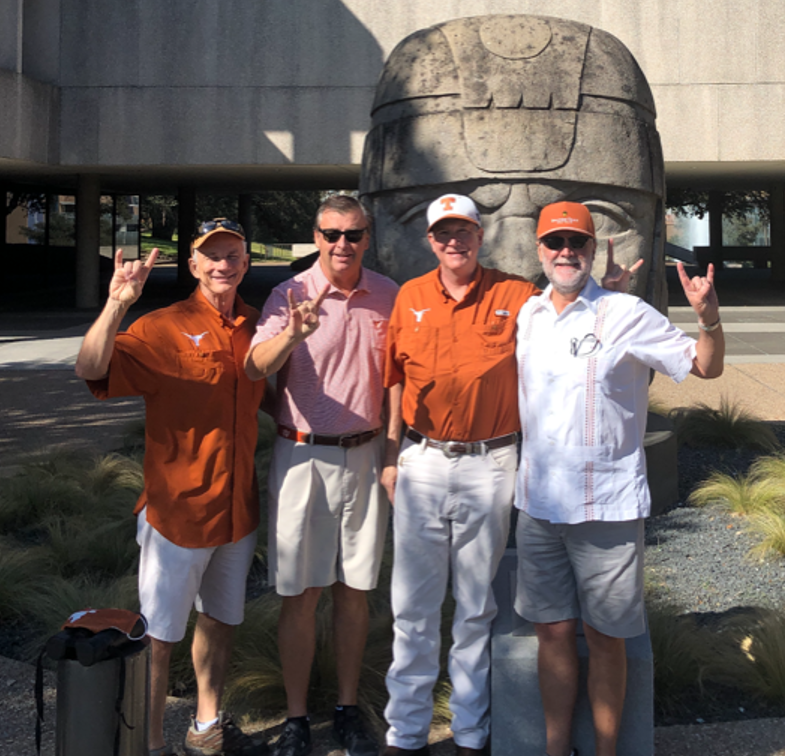 Tailgating before Home Football Games
The Juan Heisman Tailgate
Lot 38, East of Sid Richardson Hall.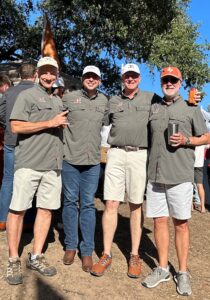 HOOK EM HORNS!!
The Austin Horns Fan Dispatch
© Timothy C. Taylor, Sr. 2023.  All Rights Reserved (as to original material).
On Twitter:  @tctayloratx
On LinkedIn:  www.linkedin.com/in/tctatx
On Instagram:  @tctayloratx
On Facebook:  www.Facebook.com/Tim.C.Taylor
and:  www.Facebook.com/Juan.Heisman
You can contact me by mail:
Tim Taylor
P.O. Box 5371
Austin, Texas  78763-5371