Texas Longhorns 38, Baylor Bears 27
Bijan Robinson put the Longhorns on his back in the second half and carried them to victory, running for 35 yards in the third quarter and 115 yards in the fourth quarter, finishing with 179 yards for the game.  Roschon Johnson added 77 yards (50 in the second half) and scored twice in the second half.  The Longhorns overcame miscues and the Big XII referees and a very good Baylor football team to get a big W and finish the regular season at 8-4.  An excellent improvement over last year, and oh so close to 9-3, if not better.
What a season for Bijan Robinson.  A deep dive on his tremendous performance below.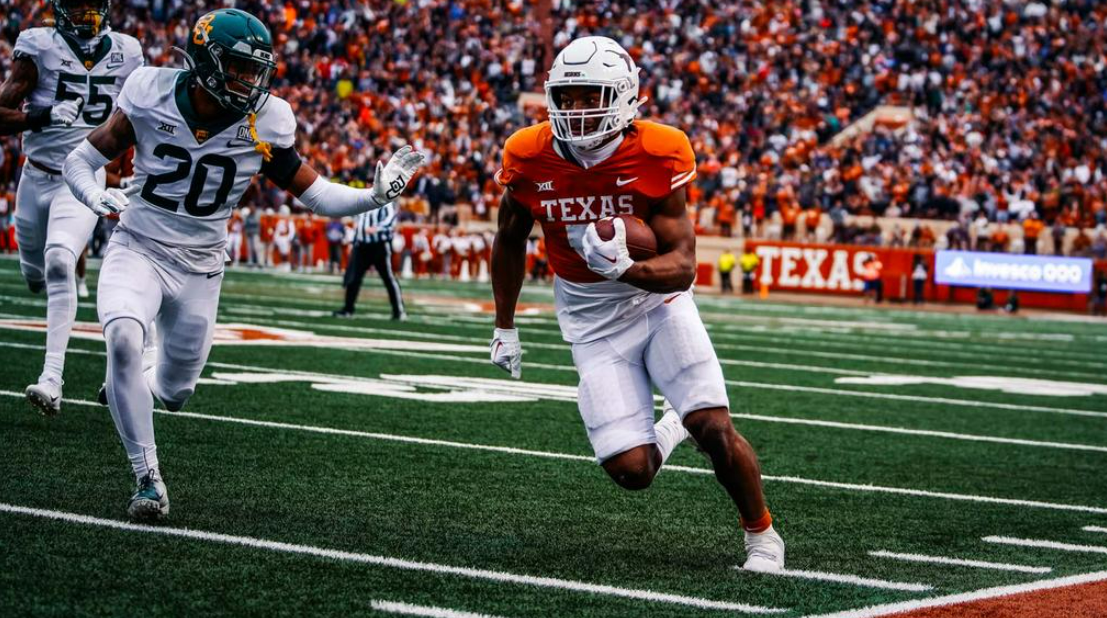 Photo from TexasSports.com
Review of the Baylor game below.
No. 2 Texas Longhorns Basketball

Saturday, the Longhorns played the UTRGV Vaqueros in historic Gregory Gym.  A solid 91-54 win for Texas, and a really cool experience.  An excellent job by Coach Beard and the program recognizing the great Coach Leon Black and his legacy.
Thursday night, Texas hosted No. 7 Creighton.  Another sold out Moody Center, and the full house watched the Longhorns beat a very good Bluejays team 72-67.  That was Coach Beard's team's second top 10 win this season.  Last time we beat a top 10 team at home was 2009, when the Longhorns (Dexter Pittman, Gary Johnson, Jai Lucas, J'Covan Brown, Avery Bradley, Dogus Balbay, to name a few) beat No. 9 Michigan State 79-68.
Marcus Carr led with 19 points, Tyrese Hunter with 15, Timmy Allen with 11 (and 7 rebounds), and freshman phenom Dillon Mitchell with 10.  Brock Cunningham only had 2, but they were the most important 2 of the game, as he hit both free throws with 4 seconds left to secure the Texas victory.  Brock was +9 in his 17 minutes of action.  He's the guy.
Texas plays in Madison Square Garden against No. 16 Illinois on Tuesday. ESPN at 6:00 p.m.
After the Horns get back to Austin, we have 4 home games in December.  The students will be gone, so we need some fans to show up and help fill up Moody:
Arkansas –Pine Bluff, 12:00 noon on Saturday December 10
Rice, 7:00 p.m. on Monday December 12
Louisiana Lafayette, 7:00 p.m. on Wednesday December 21
Texas A&M Commerce, 7:00 p.m. Tuesday December 27
Coach Beard and his staff and this team have something special happening.  Don't miss it.
Longhorns 38, Bears 27
The Longhorns had a very good season.  The great game against Alabama, the 49-0 woodshedding of the Land Thieves, and a big win in Manhattan over a very good Kansas State squad lead the look back.  But I think the win over Baylor was the most important win of the season.  Trailing at halftime by 2, holding Baylor scoreless in the third quarter, and then a relentless offensive fourth quarter that overcame a huge turnover for a Baylor score and gave the Bears a 27-24 lead 90 seconds into the final frame.
After gifting Baylor that 3 point lead, Texas would not attempt another pass.  Instead, in what I think was a seminal moment for the Sarkisian Era, the decision was made to trust only our very best.  Twenty-two consecutive running plays.  In the first series after Baylor took the lead, Bijan Robinson ran 4 times for 32 yards, then Roschon Johnson twice for 6 yards, then Bijan 3 times for 32 yards, and Roschon for 2 yards.  Then Bijan capped the drive and the Bears with a 1 yard touchdown to put the Longhorns back in front 31-27.
In the next series for Baylor, after moving the ball close to midfield, Jaylan Ford picked off Blake Shapen and returned the ball 18 yards to the Bear 42, setting up the Horns in plus territory with 6:28 to play.
Again, the ball and the game and the season were entrusted to Bijan and Roschon, and that trust was rewarded:  Bijan for 4 and 13.  Roschon for 6, 6, and 2 to get Texas to the Baylor 11 yard line with 3:54 to play.  And from there, our leader, Roschon Johnson, ran the ball in to give Texas the 38 to 27 lead with 160 seconds left in the regular season.
The Texas defense forced a turnover on downs – a Baylor drive that lost 4 yards in 50 seconds.  And with just under 3 minutes to play, from the Baylor 21, it was only fitting that the ball was given to Bijan Robinson 5 times to end the game.  A bit of sportsmanship at the end, as Texas had time for one last play from the 2-yard line (which would have ended the game at either 44-27 or 45-27).
Looking back at the game and the stats and the highlights, that is what the victory over Baylor was all about:  Give the ball to our best player and our team leader, trust our good defense, and physically impose our will by pounding the ball.  It was beautiful.
That said, a look at the game from the start and at some other great plays and performances from last Friday.  And not so much about the bad plays or mistakes.  It is December.
Texas stopped Baylor on the Bears' first possession, but they did get to midfield and a good punt pinned the Horns at the 8.  A false start for the first play on offense, and Texas was in a hole which got deeper, as Quinn's first pass was intentional grounding in the endzone.  Not a good one.  Then Baylor ripped off 62 yards in 5 plays to go up 9-0.
Texas was able to stop the bleeding on the next possession.  Ewers 18 yard pass to Worthy followed by the 37 yard pass to Ja'Tavion Sanders to open the possession after being down 9 to nothing.  Those two plays got Texas in the red zone and Bijan, Worthy, and Ewers combined from there to get Texas a score.
The defense forcing a 3 and out after the U.T. touchdown was big.  Baylor lost a yard (Ford and Barron combined for a tackle for loss, and on second down Ford got pressure on Shapen [credited with a QBH] and then Barron broke up the pass), and then the awful shank punt by the Bears gave Texas the ball at the Baylor 29, which turned into a Texas touchdown 3 plays later, after a sweet pass to Keilan Robinson and 2 Bijan runs.  [I will note that it would be fascinating to see how many times Keilan was targeted in the season, and what the result of each such pass was; I suspect they were almost all big gains and critical to the success of the drive in which the pass was completed.]  14-9 Texas.
Baylor put together an excruciating 8 minute, 41 second drive.  The Bears got to the Texas 7, but on third and 6 DeMarvion Overshown came up big with a 5 yard tackle for loss on Reese, forcing Aranda to settle for 3, and preserving the Texas lead at 14-12.
Continuing the complimentary football, Texas opened the next possession with a 21 yard  Roschon run and a 28 yard pass to JT Sanders, but the drive stalled at the Baylor 20.  Auburn was good from 38 yards to give Texas a 5 point lead at 17-12 with just under 6 minutes to play in the half.
The Longhorns held Baylor after a couple of first downs and got the Ball back at the Texas 20 with 2 minutes to play.  In a series that could have been catastrophic (but for the Texas fourth quarter), instead of running a 2 minute offense and either getting points or going to the locker room with the 5 point lead, Texas tried a pass that resulted in a 10 yard sack, then an 8 yard Bijan run, but on third and 12 Ewers was sacked again for 9 yards after a great blitz.  Backwards 11 yards and Baylor got the ball back with 72 seconds.  They didn't waste it.  After a 36 yard punt, Baylor was able to start at the Texas 45, and Shapen shredded the secondary, completing passes of 12, 12, 7, and 14 for the score.  45 yards in 32 seconds, and Baylor took a 19-17 lead.
Texas got the ball to start the second half, and it didn't start well.  22 yards on the first drive.  Defense got a 3 and out, but then Texas with 2 consecutive false starts and a first and 20.  A great pass to Whittington who was moving the ball down field, but he got stripped and Baylor got the ball back at its own 44.  I will admit to being deeply concerned.
Credit the Texas defense for bending but not breaking.  Baylor moved the ball to the Texas 26, and even converted a fourth and 1.  But with a first down at the Texas 23, Texas put on the brakes.  The 40 yard field goal attempt was missed.
Turning defense to offense, Ewers and Texas had a great 78 yard touchdown drive to retake the lead.  2 completions to Worthy (7 and 4), 3 great runs by Bijan (13, 12, and 6), 2 runs by Roschon (6 and 5), then a good pass to Whittington how got the ball down to the Baylor 6 on a 19 yard play.  2 plays later, Roschon got the Texas touchdown.
Baylor had the ball going into the fourth quarter, but Texas forced the punt.  Texas got the ball at the U.T. 16, and after a couple of Bijan runs (7 and 9) with a 1 yard completion to Worthy in between, Texas had first and 10 from its own 33.  That was when it happened. Ewers showed his lack of maturity and/or experience, and Baylor knocked the ball out his hand and scooped and scored and took the 27-24 lead.
And then. Then Texas ran the ball.  Twenty-two times.
Texas finished the game with 208 yards rushing and 5 touchdowns on the ground.  Bijan and Roschon actually combined for 258 yards, but Ewers was minus 48.
Baylor, which had the No. 21 rushing attack in the country and was averaging over 202 yards per game, got half that:  101 yards on 39 attempts.  The Bear passing game was averaging 240.2 yards per game; Texas allowed just 179.
DeMarvion Overshown finished his career at Texas with a great game, leading Texas with 14 tackles (7 solo), a sack and another tackle for loss.  Jaylan Ford was right behind him with 13 tackles, plus 2 tackles for loss and that huge interception.
It was a great way to end the regular season.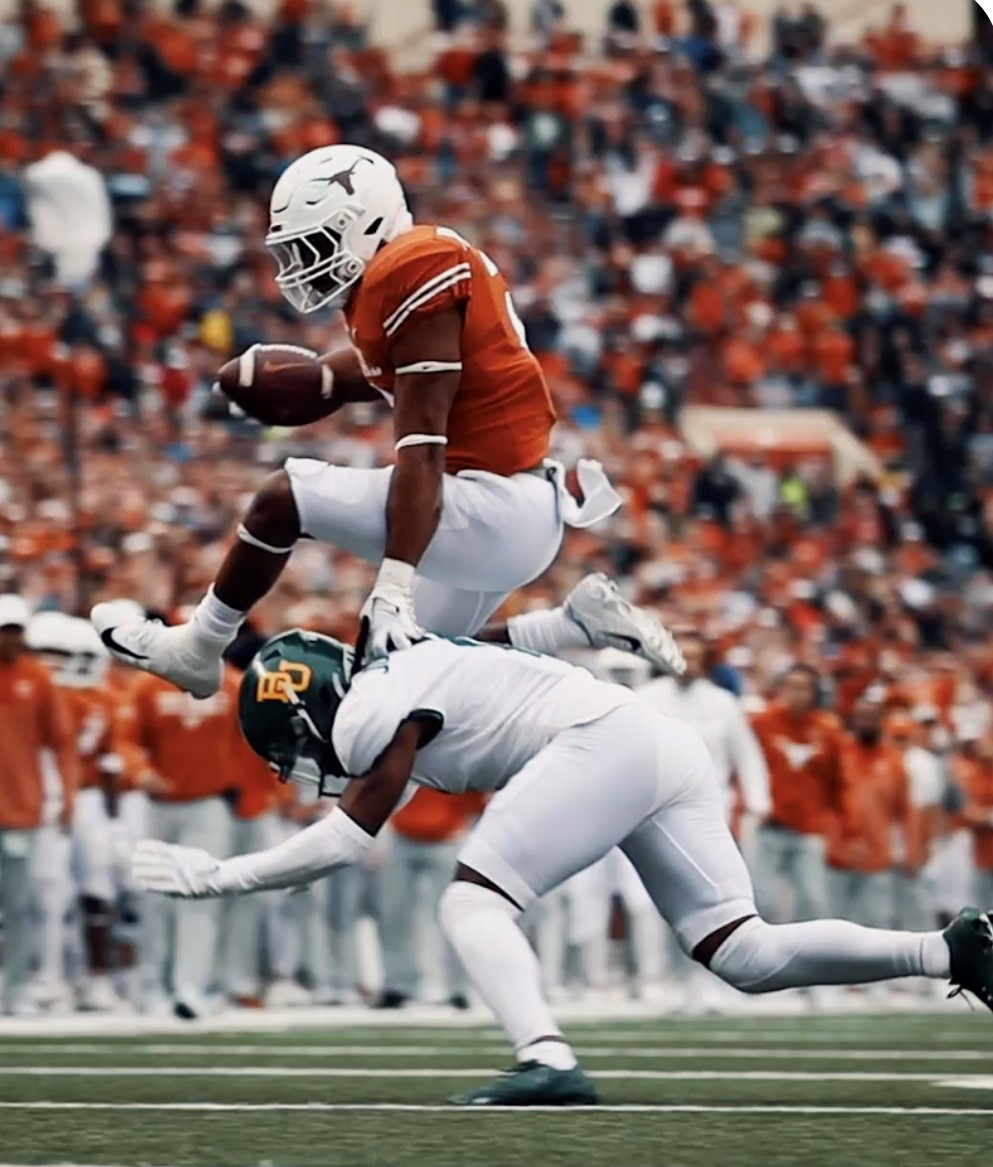 Roschon.
Photo from TexasSports.com
Game Highlights
From ESPN College Football, just under 10 minutes.
From Matthew Loves Ball (23:45)
From Victors Valiant (just over 12 minutes)
The Big 12 Officials
Are an abomination.  For the second time this season, Kevin Mar and his crew officiated a Texas game.  The first was in Stillwater, a game in which Texas was flagged fourteen (14) times, resulting in 119 penalty yards.  Oklahoma State, had zero penalties in the box score – they were flagged once for holding but Texas also got a flag, so the penalties were offsetting.   98 offensive plays.  58 pass plays.  One holding call, which didn't count.  No effing way.
In the Baylor game, Mar and his crew were much kinder to Texas, with the Horns only ending up with 5 penalties for 19 yards.  And I think Texas deserved all 5. Baylor?  1 penalty for 2 yards.
So, over the course of 2 games:
Against OSU, 98 plays offensive plays for the Cowboys, 81 on offense for Texas, and out of 179 total plays, Texas gets 14 penalties and Okie A&M zero. I never truly appreciated  what an incredible coach Mike Gundy really is and how disciplined his teams are.
Against Baylor, 75 offensive plays for the Bears, 64 for Texas, and out of 139 plays, Texas gets 5 flags and Baylor 1
The 0 penalties for Okie State was the fewest in 15 years.  The last time Baylor only got flagged once was against Texas.
Per Kyle Umlang, Big 12 officials have called 46.3% more penalties per game on Texas than the Longhorns' conference opponents in 2022.
Big 12 Honors
I don't want to take away from the accolades that Longhorns did receive, but it was a bit of Silver Blaze feel, especially for the defensive player of the year.
On offense, first team All-Big12:
Bijan Robinson
Ja'Tavion Sanders
On defense, first team All-Big 12:
Jaylan Ford
DeMarvion Overshown
On offense, second team All-Big12:
Xavier Worthy
Kelvin Banks, Jr.
On defense, second team All-Big12:
Max Duggan was the offensive player of the year.  Now, when you see Bijan Robinson' stats below, you will probably agree that Bijan was deserving of that honor. But I will begrudgingly accept the recognition of Duggan, who had one heck of a season and has the Frogs on the cusp of the College Football Playoffs.
However
The Big 12 decided Felix Anudike-Uzomah from Kansas State was the Defensive Player of the Year.  Kyle Umlang summarized this miscarriage well.  Jaylan Ford had:
57 solo tackles, 31 more than Felix
52 assist tackles, 39 more than Felix
109 total tackles, 70 more than Felix
4 interceptions. Felix had none. Zero. Nada.
3 forced fumbles, 1 more than Felix
2 fumble recovers, 2 more than Felix.
I am guessing Kevin Mar was in charge of the DPoY selection.
Texas players getting Honorable Mention recognition:
Bert Auburn (PK), Kelvin Banks Jr. (OFoY, OLoY), Jahdae Barron (DB), Keondre Coburn (DLoY), Anthony Cook (DB), Quinn Ewers (ONoY), Jaylan Ford (DPoY), Roschon Johnson (RB), Christian Jones (OL), Moro Ojomo (DL), Bijan Robinson (OPoY), Keilan Robinson (KR/PR, STPoY), Barryn Sorrell (DL), Jerrin Thompson (DB), T'Vondre Sweat (DL), Ryan Watts (DB, DNoY), Jordan Whittington (WR).
Texas Longhorns 2022 Regular Season
The Longhorns finish 8-4 and No. 20 in the CFP rankings.  A huge improvement over Steve Sarkisian's first season, which is important and worth celebrating.  I went back and looked at my first Dispatch of the 2022 season, and I had Texas at 9-3.  My anticipated losses were Alabama, Oklahoma State, and Baylor.
All four games which the Longhorns lost were by 1 score or less, an aggregate of 18 points in a season in which Texas outscored its opponents 428 to 254.
Texas lost to Alabama on a field goal kicked with 10 seconds left in the game.
Texas lost in overtime to the South Plains Aggies.
Texas had a 34-27 lead in Stillwater at the end of 3 quarters.  In the fourth quarter, we missed a field goal and Ewers threw 2 interceptions.  Texas was penalized 14 times for 119 yards by Kevin Mar's crew.  In the box score, zero penalties on Oklahoma State.
In the Texas Christian loss, Bijan Robinson got 12 carries.  If he had gotten 30, I am pretty sure Texas would've won.  Pretty sure Spike Dykes thought that too.
I am not disappointed in 8-4 and a top 20 finish.  I am bummed about the loss in Lubbock, offended by the officials in the Stillwater game, and disappointed that Bijan and Roschon didn't get the ball more in the loss to the frogs (RoJo had 5 carries).  I don't think Bijan was even targeted on a pass.  Roschon not sure, but he didn't have a reception.
I am frustrated that while our composite stats (the advanced below) would suggest that Texas played very complimentary football, we didn't do that consistently.  At least consistently enough.  I submit the Texas Christian game:  we played great defense, held the team that finished the season 3rd in the country in scoring (41.3 ppg) to 17 points and 16th in the country in total offense (479.3 ypg) to 283 yards.  I guess frustrated might not be the right word, because the emotion also applies to where we finished with our record versus where the stats say we should be.  You can look and decide.
The wins and losses aside, and the stats detailed below, here is what I am probably most happy about (okay, besides beating the Land Thieves 49-0):  This Texas team never quit.  Never even remotely looked like they weren't fighting until the last seconds ticked off the clock.  These Longhorns competed and battled and left it out on the field, every single game.  We can want to win more.  We can't ask more from these young men.  I am content.  For now.  Let's win the bowl game.
A look at where Texas finished the 2022 season in traditional statistical categories and the advanced metrics I have been using.
The Final 2022 Regular Season Statistics
When looking at the national stats:  there are 131 FBS teams.  So if you are ranked in the top 33, you are about top quarter.  34-66, top half.  67 to 99, third quartile. 100 or worse, bottom quartile.
Offense
| | | | |
| --- | --- | --- | --- |
| Statistic | National | Big 12 | Texas |
| Rushing Offense | No. 25 | No. 3 | 199.58 yards per game |
| Passing Offense | No. 62 | No. 7 | 230.8 yards per game |
| Total Offense | No. 36 | No. 4 | 430.4 yards per game |
| Scoring Offense | No. 21 | No. 2 | 35.7 points per game |
| First Downs | No. 27 | No. 4 | 23.3 per game |
| Sacks Allowed | No. 31 | No. 3 | 17 sacks for 136 yards |
| Tackles for Loss Allowed | No. 31 | No. 2 | 55 TFL for 230 yards |
| Third Down Conversions | No. 76 | No. 8 | 38.67% |
| Fourth Down Conversions | No. 61 | No. 6 | 10/19 – 52.6% |
| Red Zone Attempts | No. 25 | No. 2 | 55 attempts (35 TDs) |
| Red Zone Offense | No. 26 | No. 4 | 89.1% / 63.6% |
| Long Run Plays | No. 44 | No. 6 | 65/10, 22/20, 13/30, 7/40 |
| Long Pass Plays | No. 43 | No. 5 | 118/10, 46/20, 16/30, 6/40 |
Defense
| | | | |
| --- | --- | --- | --- |
| Statistic | National | Big 12 | Texas |
| Rushing Defense | No. 28 | No. 2 | 123 yards per game |
| Passing Defense | No. 88 | No. 5 | 239 yards per game |
| Total Defense | No. 51 | No. 3 | 362 yards per game |
| Scoring Defense | No. 29 | No. 3 | 21.2 points per game |
| First Downs Allowed | No. 80 | No. 5 | 20.9 per game |
| Sacks | No. 54 | No. 2 | 27 sacks for 173 yards |
| Tackles for Loss | No. 12 | No. 2 | 87 TFL for 312 yards |
| Third Down Conversions | No. 79 | No. 6 | 39.9% |
| Fourth Down Conversions | No. 84 | No. 6 | 18/32 – 56.3% |
| Red Zone Attempts | No. 35 | No. 3 | 38 (19 TDs) |
| Red Zone Defense | No. 16 | No. 2 | 76.3% / 50% |
| Long Run Plays Allowed | No. 19 | No. 2 | 41/10, 7/20, 3/30, 3/40 |
| Long Pass Plays Allowed | No. 96 | No. 5 | 116/10, 39/20, 14/30, 8/40 |
Other
| | | | |
| --- | --- | --- | --- |
| Statistic | National | Big 12 | Texas |
| Turnovers | No. 18 | No. 3 | 5F  7I  -12 |
| Turnover Margin | No. 63 | No. 6 | 13:12  +1 |
| Penalties | No. 68 | No. 9 | 73 for 570 yards |
*Based on total number of penalties.
Explosive Plays
Explosive plays are generally defined as running plays over 12 yards and pass plays over 20 yards.  I have seen a number of variations, including, for example, defining an explosive running play as one that goes over 20 yards.  I have also seen it as run plays over 20 yards and pass plays over 30 yards.  Then, add in a team's margin in a game on explosive plays for further color.  It gets complicated.  But, for simplicity in looking at the 2022 regular season, I am going with any play over 20 yards.  Using that as the metric, here is where Texas ranked:
Explosive Plays on Offense
| | | | |
| --- | --- | --- | --- |
| Statistic | National | Big 12 | Texas |
| Rushing | No. 21 | No. 4 | 22 rushes 20+ |
| Passing | No. 39 | No. 4 | 46 passes 20+ |
| Total | No. 29 | No. 3 | 68 plays 20+ |
Explosive Plays Allowed by Defense
| | | | |
| --- | --- | --- | --- |
| Statistic | National | Big 12 | Texas |
| Rush Defense | No. 9 | No. 1 | 7 rushes 20+ |
| Pass Defense | No. 70 | No. 4 | 39 passes 20+ |
| Total | No. 36 | No. 2 | 46 plays 20+ |
On this stat, take a look at the Yards Per Play stats below.
Running the Ball
In the 8 games Texas won, Texas was 2nd in the Big 12 with 241.63 yards per game, averaging 5.77 yards per carry, and scoring 23 rushing touchdowns.
In the 4 games Texas lost, Texas was 8th in the Big 12 with 115.5 yards per game, averaging 3.95 yards per carry, and scoring just 5 touchdowns.
Bijan Robinson
Here is a look at where Bijan Robinson finished the regular season:
| | | | |
| --- | --- | --- | --- |
| Statistic | National | Big 12 | Bijan Robinson |
| Rushing – Yards | No. 5 | No. 1 | 1,580 yards |
| Rushing – Yards per Game | No. 6 | No. 1 | 131.67 yards per game |
| Rushing – Attempts | No. 7 | No. 1 | 258 attempts |
| Rushing – Attempts per game | No. 9 | No. 1 | 21.5 per game |
| Rushing – yards per carry | No. 50 | No. 5 | 6.12 yards per attempt |
| Rushing touchdowns | No. 4 | No. 1 | 18 |
| Total Yards from Scrimmage | No. 1 | No. 1 | 1,894 |
| Total Scrimmage yards/game | No. 2 | No. 1 | 157.8 |
| Touchdowns from Scrimmage | No. 2 | No. 1 | 20 |
| Scoring – Points per game | No. 7 | No. 1 | 10.0 |
| Scoring – Points | No. 5 | No. 1 | 120 |
We were witnesses.  A truly great running back and athlete.  And person.
Bijan Robinson should get an invitation to New York City.
I wish the BMD's would find a way to NIL No. 5 back for his senior season.
Advanced Metrics
Available Yards Percentage.
| | | | |
| --- | --- | --- | --- |
|   | NAY | OAY | DAY |
| Texas | No. 22:  0.113 | No. 31:  0.542 | No. 33:  0.426 |
BCF Toys – 2022 Available Yards Percentage
Net points per drive (NPD).  NPD is the difference between points scored per offensive drive (OPD) and points allowed per opponent offensive drive (DPD).
| | | | |
| --- | --- | --- | --- |
|   | NPD | OPD | DPD |
| Texas | No. 12: 1.25 | No. 19:  2.91 | No. 16:  1.67 |
BCF Toys – 2022 Points Per Drive
Net yards per play (NPP) are the difference between drive yards per offensive play (OPP) and drive yards allowed per opponent offensive play (DPP). Drive yards are calculated as the difference between starting field position and ending field position on offensive drives. The percentages of offensive drives that average at least four yards per play gained (O4+) and allowed (D4+), at least seven yards per play gained (O7+) and allowed (D7+), and at least ten yards per play gained (O10+) and allowed (D10+) are also provided.
Ratings and supporting data are calculated from the results of non-garbage possessions in FBS vs. FBS games
| | | | |
| --- | --- | --- | --- |
|   | NPP | OPP | DPP |
| Texas | No. 7: 1.66 | No. 18:  6.64 | No. 19:  4.98 |
BCF Toys – 2022 Yards Per Play
No. 1 Texas Volleyball
Texas started the NCAA Tournament as the Number 1 National Seed, and Thursday night the Horns swept Fairleigh Dickinson.  Texas plays Georgia Friday night at 8:00 p.m.  LHN from Gregory Gym.
The Polls – Week 14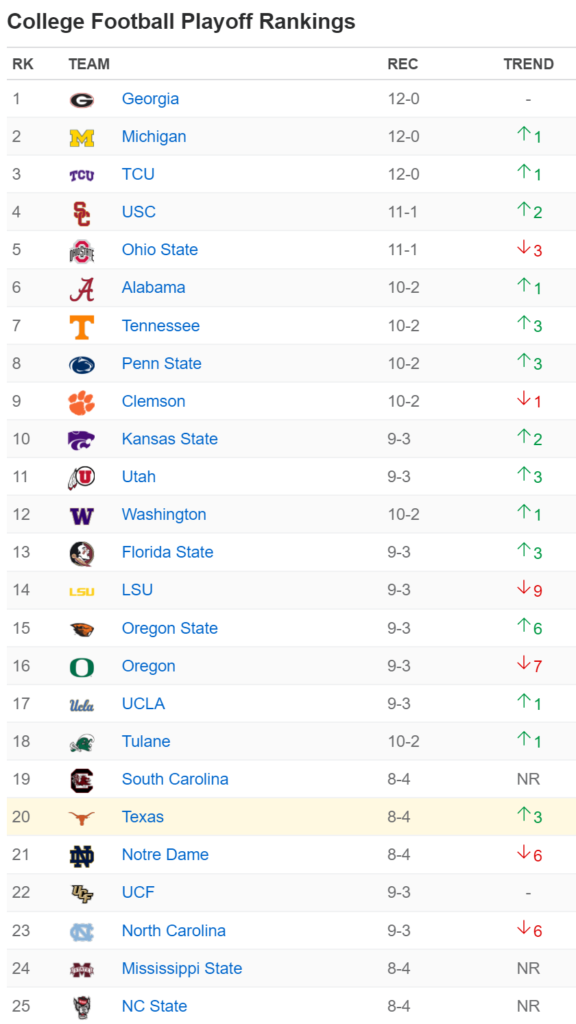 AP Top 25:  Georgia, Michigan, Texas Christian, Southern Cal, The Ohio State University™, Alabama, Tennessee, PSU, Washington, and Clemson.  LSU at 11, Kansas State at 13, Notre Dame at No. 19, the Texas Longhorns at No. 21, UTSA at 23, and North Carolina at 24.
AFCA Coaches Poll:  UGA, Big Blue, Horny Toads, Trojans, Buckeyes, PSU, Vols, U Dub, and K State.  Bayou Bengals at 13, , Roll Tide, Dabo Tigers, and Ducks.  K State at No. 13, Fighting Irish at 19, Texas Longhorns at 21, the Tar Heels at 22, and the UTSA Roadrunners at No. 24.
Statistical Rankings Week 14
Texas is No. 6 in Nate Manzo's composite rankings.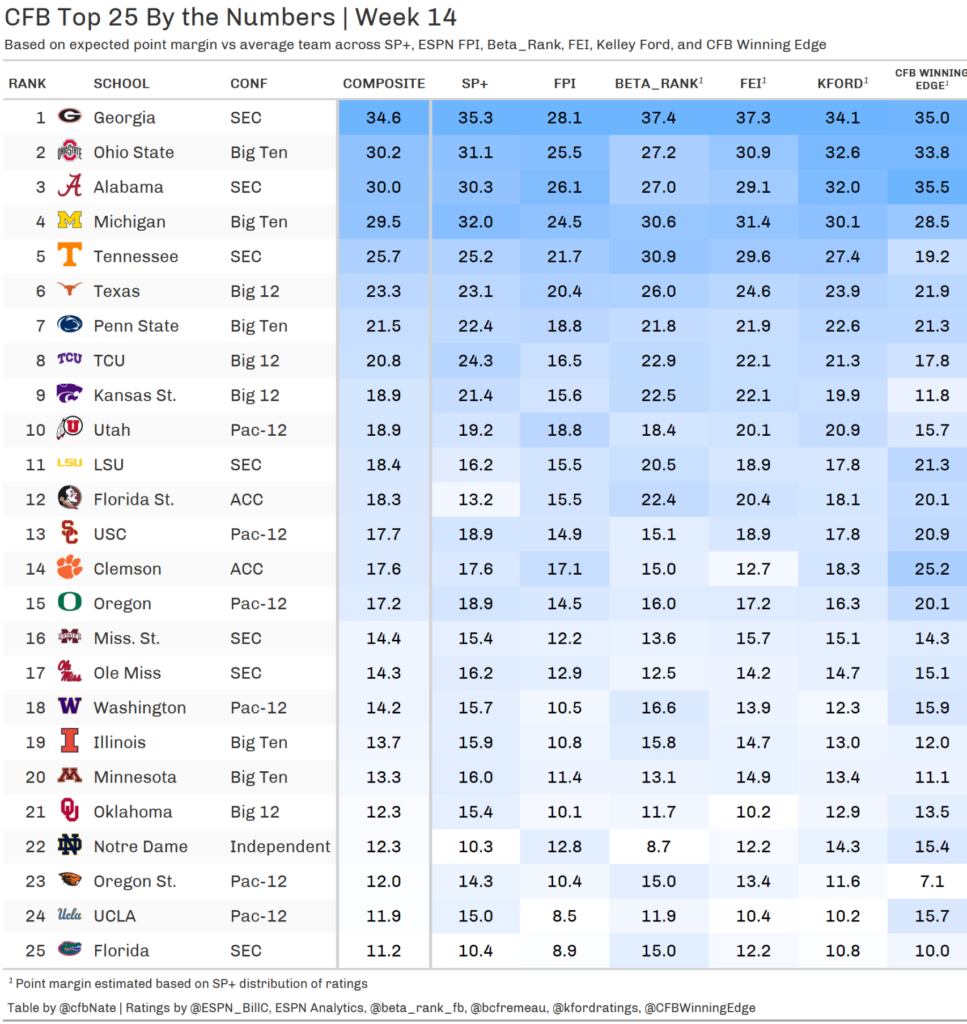 Massey Ratings.  Texas finishes the regular season at No. 10.  That's pretty damn good.
https://masseyratings.com/cf/compare.htm
ESPN's Football Power Index.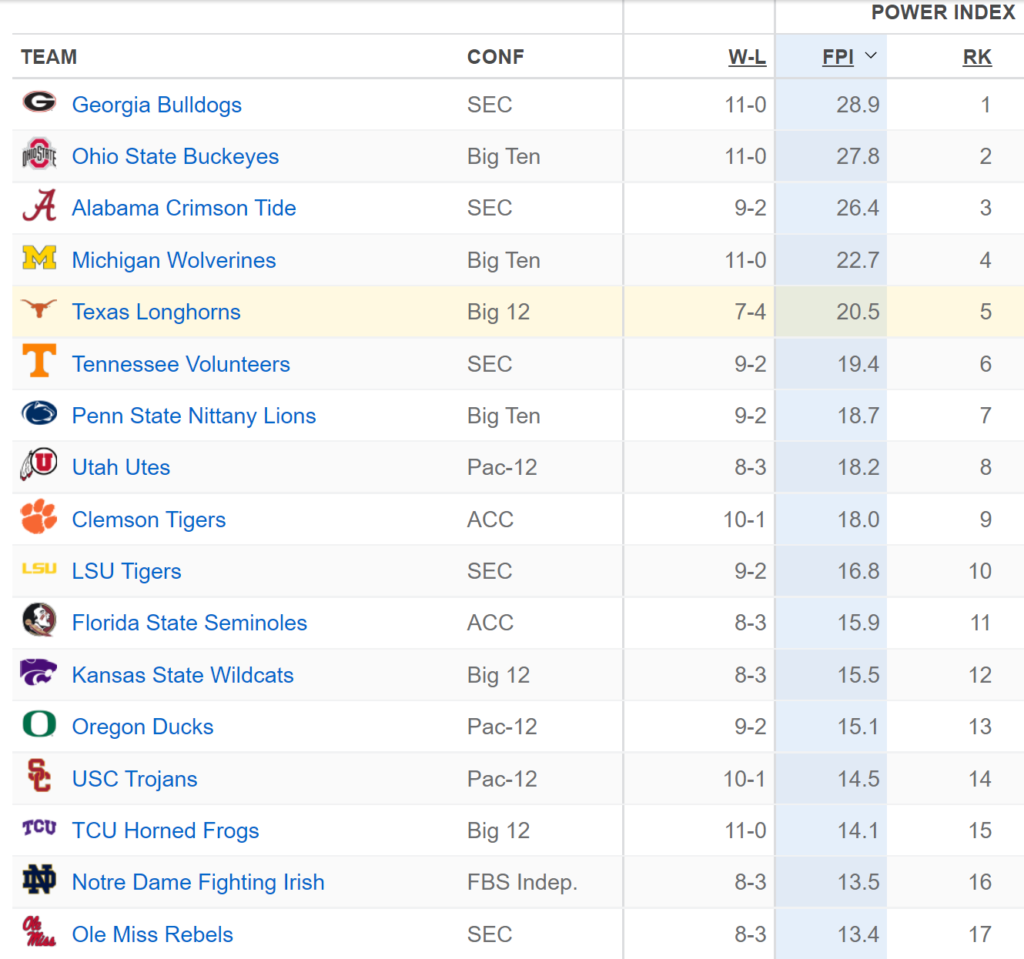 Big XII Standings – Week Fourteen – Final Regular Season

Juan Heisman Tailgate
A chilly tailgate, but a fun one. Great to see so many friends before the big win.  More on the 2022 Tailgate in the Bowl Game Dispatch.
Championship Saturday
I really, really did think we would be in Arlington giving Jerry Jones our money on Saturday.  I would have been happy to do so.  Still can't believe we have to watch (or perhaps elect not to watch) the two purple teams play.  Frankly, this may be one of the more uninspiring Championship Saturdays in a good while.
Friday
Conference USA:   North Texas (7-5, 6-2) vs. The University of Texas at San Antonio (10-2, 8-0), 6:30 p.m. on CBSSN.  The Roadrunners and Coach Jeff Traylor had one helluva season.  Only two losses were to Texas and Houston (who was ranked No. 21 at the time, a 2 point loss in triple overtime).   I am happy for Traylor and for San Antonio, a Texas city I truly love.  The Roadrunners finished 13 in the nation in scoring (37.9 ppg) and 13 in total offense (479 ypg).  UTSA favored by 8.5, over/under is 69.5.  Birds Up!
Pac-12:  No. 11 Utah (9-3, 7-2) vs. No. 4 Southern Cal (11-1, 8-1).  7:00 p.m. on FOX.  As most of y'all know, the Dirty Thirties began when a severe drought hit the Midwest and south plains in 1930, with the Great Depression underway, leading to the Dust Bowl and the migration of thousands of folks west, especially to California.  The drought and Dust Bowl hit Oklahoma particularly hard, a mere 37 years after the "Land Run of 1893", which was of course started by the boomers and sooners illegally entering the Territory and becoming what I fondly call the Land Thieves.  So anyway in the 1930s, a bunch of those Land Thieves and/or their friends or descendants started heading to California in the midst of the Great Depression and to escape the Dust Bowl.  So many that it became known as The Great Okie Migration.  It was such a marked event in American history that one of our greatest authors, John Steinbeck, wrote the novel The Grapes of Wrath, for which he won a Pulitzer Prize.  Here we are less than a century later, and Lincoln Riley and Caleb Williams escaped Oklahoma for California, landing in Los Angeles.  I don't know where I was going with this, and I could certainly get even further off track talking about the migration to Utah and Brigham Young but I don't know.  I guess my point is this:  Utah, a state and a team I just can't figure out a real reason to dislike, or Southern Cal, coached by and quarterbacked by 21st Century Okies?  Sorry Art. Go Utes.  Southern Cal favored by 2.5, over/under is 67.
Saturday
Big 12 Championship:  No. 10 Kansas State (9-3, 7-2) vs. No. 3 Texas Christian (12-0, 9-0).  11:00 a.m. on ABC from Jerry World.  My dad died about 57 weeks ago.  His parents went to Texas Christian University.  Glenn loved the old Southwest Conference, and while he bled burnt orange and loved the Texas Longhorns as much as anyone I have ever known, he also always seemed to be for the other Texas SWC teams – mainly Southern Methodist, Baylor, and especially TCU – when they weren't playing Texas.  Hope the Frogs win for Mimi and Leon and my dad.  Texas Christian favored by 2.5, over/under is 62.
MAC Championship:  Toledo vs. Ohio, 11:00 a.m. on ESPN. If anyone reading this is going to Ford Field in Detroit, please let me know, and send a photo.  Rockets favored by 3, over/under is 54.
Sun Belt Championship:  Coastal Carolina vs. Troy, 2:30 p.m. on ESPN.  Trojans favored by 8.5, over/under is 48.
SEC Championship:  No. 14 Louisiana State (9-3, 6-2) vs. No. 1 Georgia (undefeated), 3:00 p.m. on the Columbia Broadcasting System from Mercedes-Benz Stadium in Atlanta.  I think this is going to be a good, good football game. And I think the Tigers are going to surprise everyone.  Georgia favored by 17.5, over/under is 52.5.
American Championship:  No. 22 UCF (9-3, 6-2) vs. No. 18 Tulane (10-2, 7-1), 3:00 p.m. from the Big Easy, broadcast on ABC.  Go Tulane.  What a great season.  Tulane favored by 4, over/under is 57.
Mountain West Championship:  Fresno State (8-4, 7-1) vs. Boise State (9-3, 8-0), 3;00 p.m. on FOX.  As y'all know, I am a night owl, and I love staying up late on Saturday nights watching West Coast football. Back when Pat Hill was coaching Fresno, for some reason, I loved watching those games.  And I would watch Boise State some, blue field and all. But then in 2007, I became a Boise State Broncos fan:
Boise favored by 3, over/under is 54.5.
Big Ten Championship:  Purdue (8-4, 6-3) vs. No. 2 Michigan (undefeated), 7:00 p.m. on FOX.  This might be a good game.  The Boilermakers have had some good moments.  But if Harbaugh and the Wolverines play like they did last weekend and run the ball, this will be blow-out.  Big Blue favored by 17, over/under is 52.
ACC Championship:  No. 9 Clemson (10-2, 8-0) vs. No. 23 North Carolina (9-3, 6-2), 7:00 p.m. on ABC.  This should be an excellent college football game.  Both teams a bit bumpy down the stretch, but still good teams.  Clemson favored by 7.5, over/under is 63.5.
Big XII – Last Week's Games
West Virginia beat Oklahoma State 24-19, leaving the Cowboys with a 4-5 record in Big 12.  I bet Gundy wishes Kevin Mar's crew had been in Stillwater last weekend instead of Austin.
No. 4 Texas Christian simply demolished Iowa State 62-14.  It was 34-7 at half and 55-7 after 3 quarters.
Land Thieves lost to Texas Tech in overtime, 48-51.
Alas, the Horns hope in Kansas was not to be, as K State scored 23 first quarter points in route to a 47-27 beating of the Jayhawks.
Top 25 – Last Week
Egg Bowl:  Ole Miss lost a heartbreaker to rival Mississippi State, 22-24.  Good news in Oxford though, as Lane Kiffin is staying.  Good move Lane.
No. 19 Tulane with a big 27-24 win at No. 24 Cincinnati. What a year for the Green Wave.
Mack Brown and his Tar Heels dropped the final game to rival North Carolina State 27-30.  Tough loss.
A good battle between No. 18 University of California Los Angeles and Cal Berkeley, with the Bruins getting 18 points in the second half to win 35-28.
The Sunshine Showdown.  No. 16 Florida State 45-38 over Florida.
What a game in Columbus.  It was in fact The Game on Saturday.  No. 3 Michigan dominated No. 2 Ohio State and left the Horseshoe with a 45-23 win over their archrivals.  Buckeyes were 7.5 point favorites.  Hail to the Victors.
Clean, Old-Fashioned Hate.  Georgia 37-14 over Georgia Tech.
The Palmetto Bowl.  South Carolina with the 31-30 upset of No. 8 Clemson.  Not sure how the Gamecocks did it the last few games of the year, but talk about some momentum going into the bowl game and off-season.
Kentucky 26-13 over Louisvile.  Good.
Iron Bowl.  No. 7 Alabama thumped Auburn 49-27.  Bama was favored by 22.
Oregon State upsets the Ducks 38-34 with a furious 21 point fourth quarter.  What a comeback.
Michigan State 16, No. 11 Penn State 35.
No. 14 Utah beat Colorado 63-21.  Not sure it was that close.
No. 5 Louisiana State University ran out of time in College Station, as Texas Agricultural & Mechanical outscored the Tigers 38-23.
No. 22 Central Florida 46-39 winners over South Florida.
No. 15 Notre Dame falls to No. 6 Southern Cal 27-38.
No. 10 Tennessee with a 56-0 shutout of Vanderbilt.
No. 13 Washington 51-33 over Washington State.
Week Thirteen:  Service Academies
Army beat Massachusetts 44-7.
Air Force 13-3 over San Diego State.
Week Thirteen:  Other Games of Interest
Arizona 38-35 over Arizona State.
Rice loses to North Texas 17-21.
Minnesota 23, Wisconsin 16.
Southern Methodist gets its 7th win, 34-31 over Memphis.
UTSA 34-31 over UTEP.
Tulsa 37-30 win in Houston.
Music
An eclectic collection of some of my favorites.
Archie Bell & The Drells, Tighten Up
Lenny Williams, Shoo Doo Fu Fu Ooh!
Redbone, Come and Get Your Love.
Blues Brothers, Soul Man
Johnny Guitar Watson, Gangster of Love
Central Texas Food Bank
Support you your local food bank.  In Austin, support CTFB:
https://www.centraltexasfoodbank.org/
Photo of the Week
This week, a downtown Austin photo from @AerialAustin_ on Instagram.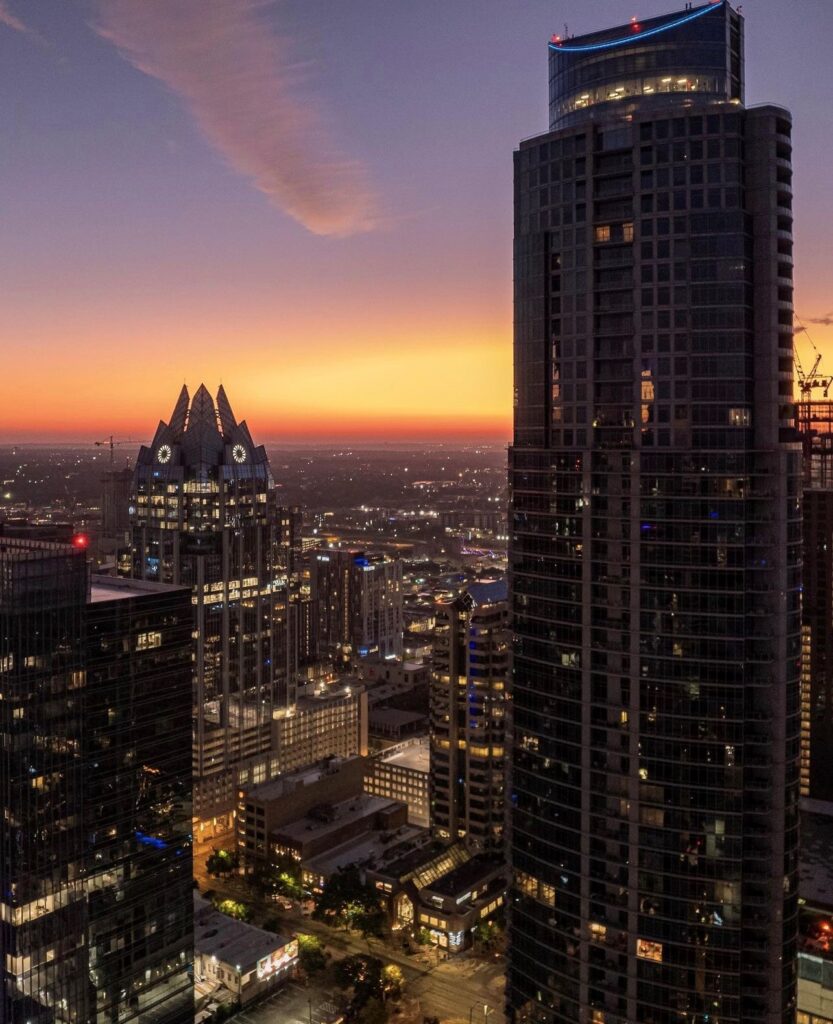 Photo by aerialaustin_, posted on Instagram December 1, 2022.  @JType.
Full Post:
https://www.instagram.com/p/ClooaeCpFvI/?igshid=MDJmNzVkMjY
God Bless Texas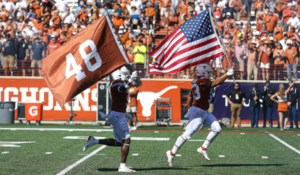 God Bless America
Tim Taylor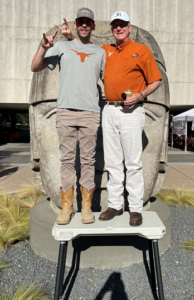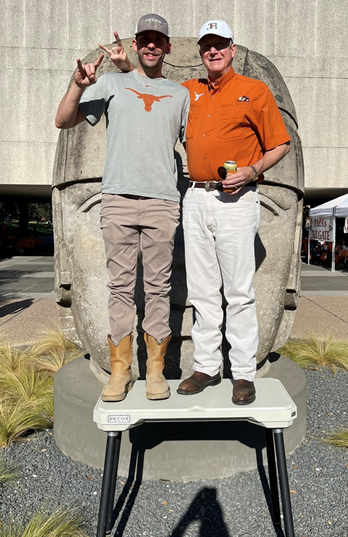 Tailgating before Home Football Games
The Juan Heisman Tailgate
Lot 38, East of Sid Richardson Hall.

HOOK EM HORNS!!
The Austin Horns Fan Dispatch
© Timothy C. Taylor, Sr. 2022.  All Rights Reserved (as to original material).
On Twitter:  @tctayloratx
On LinkedIn:  www.linkedin.com/in/tctatx
On Instagram:  @tctayloratx
On Facebook:  www.Facebook.com/Tim.C.Taylor
and:  www.Facebook.com/Juan.Heisman
You can contact me by mail:
Tim Taylor
P.O. Box 5371
Austin, Texas 78763-5371