The Austin Horns Fans Dispatch
Welcome to the final Austin Horns Fan Dispatch of 2022.  The Texas Longhorns football team has a big bowl game in San Antonio tonight, but first:
Texas Volleyball:  2022 National Champions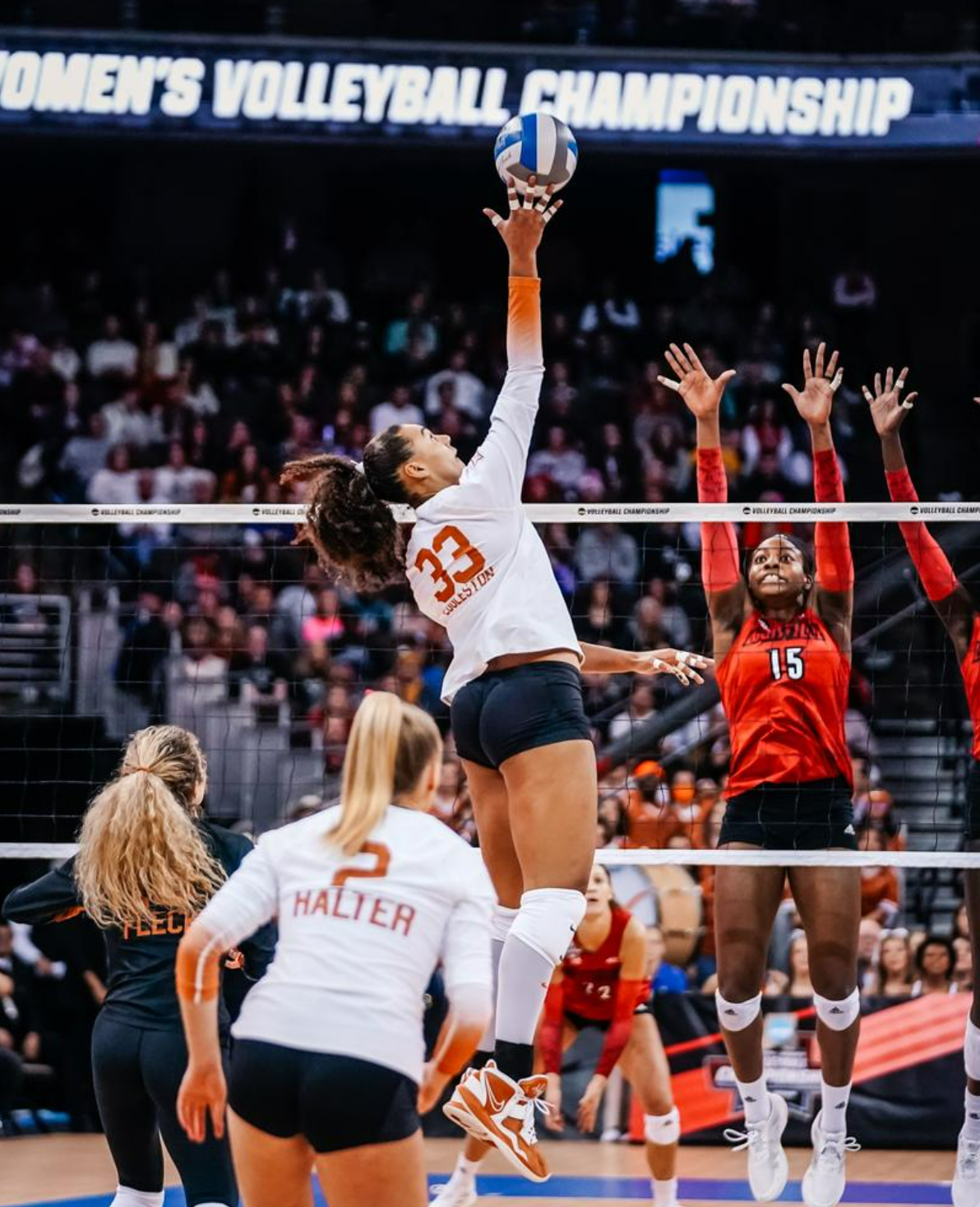 Photo from TexasSports.com
For those wondering, the top of the net is at 7 feet, 4 1/8 inches.
The 2022 Texas Longhorns swept the Louisville Cardinals to win The University's fourth national championship in volleyball.  Led by AVCA Player of the Year Logan Eggleston, Texas dominated college volleyball this year.  An exceptionally good team which finished the season with just one loss, a close 5 set loss at Iowa State.  They swept 15 out of 23 matches before the NCAA tournament, and that loss to the Cyclones was the only match to go to five games.
Texas was just as dominant in the tournament, sweeping Fairleigh Dickinson and Georgia at Gregory Gym in the first and second rounds, earning the right to host the NCAA Regionals.  Texas defeated No. 16 Marquette 3-1, then beat No. 10 Ohio State 3-1 to advance to the Final Four in Omaha.  A tense 3-1 win over No. 3 San Diego, a Toreros squad that was 31-1 coming to Omaha. Texas beat the Cardinals 3-0 to win the championship.  Jerritt Elliott's second at Texas, the first one was in 2012.
Logan Eggleston was The Final Four Most Outstanding Player, adding to her senior season accolades (which include Academic All-American).  Saige Ka'aha'aina-Torres had 37 assists in the finals match, while Asija O'Neal, whose story of perseverance inspired us all, had a .430 hitting percentage.  Libero Zoe Fleck finished with 14 digs.  All contributed to giving us that most special of Texas moments, a Burnt Orange No. 1 Tower.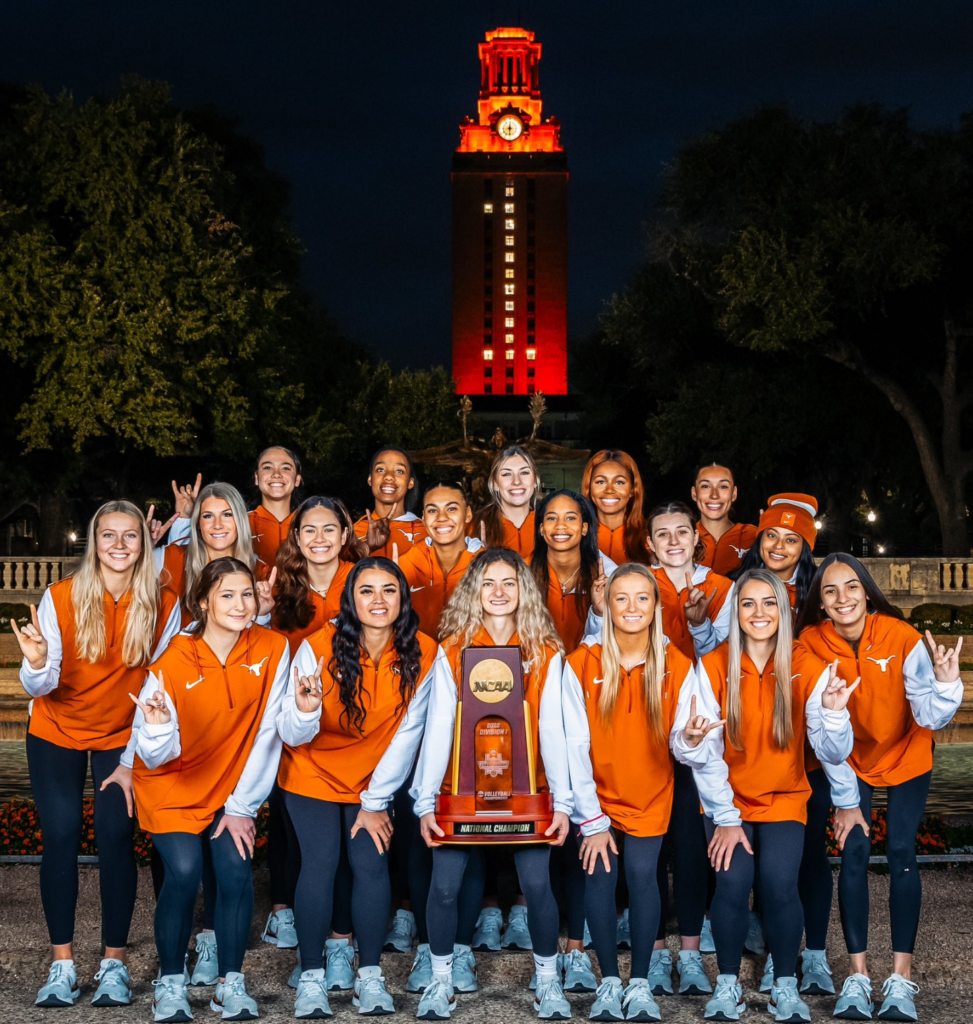 No. 12 Washington Huskies vs. No. 20 Texas Longhorns
The Texas Longhorns will face the Washington Huskies for the fifth time Thursday night in the Valero Alamo Bowl.  Texas leads the series 3-1.  The Longhorns will be playing in their 58th Bowl Game, third in college football history behind Alabama and Georgia.
San Antonio always makes for a good road trip, and this should be a fun one.  Kickoff is at 8:00 p.m. on ESPN.  I thought I had never heard of the three folks who the World Wide Leader has sent to Bexar County to call the game:  Tom Hart, Jordan Rodgers, Cole Cubelic. Tom Hart rang a bit of a bell after looking him up, maybe from his days with the Atlanta Braves.   Cole Cubelic played center for Auburn from 1996-2001, and he does a lot of SEC for ESPN.  I did remember Jordan Rodgers, on the other hand, after refreshing my memory.  His brother Aaron has found success in Green Bay, Wisconsin.  Jordan didn't find much success in football, but he did on The Bachelorette, winning Season 12 and the heart of Baylor alumnae Joelle "JoJo" Fletcher.  The loving couple were married just last May.  So sweet.
Fortunately, Longhorn fans can tune into the Longhorn Radio Network and listen to the Great Craig Way call the game, joined by Roger Wallace and Will Matthews.  KKSA 1260 AM in San Angelo, KTBB 600 AM in Tyler, and KGAS 1590 AM in Carthage.  The ESPN national radio broadcast will be on SXM Channel 84.
Texas has been the favorite since the line opened, bouncing around 4 to 3.5.  ESPN's predictor gives the Longhorns a 75.1% chance of winning, which gives me great hope after my dive into the statistics and UW quarterback Michael Penix, Jr.  Early Thursday morning, Texas was favored by 3, and the over/under was 67.5.  Money line:  Texas minus 165, UW +140.
The match-up has some interesting side story lines, starting with our coach, Steve Sarkisian.  Sark's first head coaching job was at Washington, from 2009-2013, where he compiled a record of 34-29.  Longhorn Defensive Coordinator Pete Kwiatkowski came to Austin from Seattle, where Coach PK spent seven seasons coaching the Husky defense.  Co-Defensive Coordinator Jeff Choate was at Washington 2014-15.  Our Director of Football Performance, Torre Becton, was on the UW strength and conditioning staff 2011-2015.
The oldest tie between Montlake and Austin is Darrell K Royal.  Coach Royal left Starkville to become the Huskies head coach in 1956.  A year later, he was on The Forty Acres.
The Washington Huskies
Washington began the season unranked in the preseason polls (which of course, we all know, have become more and more worthless – Texas Agricultural & Mechanical was No. 6 in the AP preseason, just a couple of weeks before they would lose to Appalachian State in College Station).  But by Week 4, the Huskies were 3-0 and ranked No. 18.  They dropped out in Week 7, and then climbed back into the AP at No. 24 in Week 11, also getting in the CFP at No. 25.  They finished at No. 12 in the CFP, AP, and Coaches Poll.   The Huskies' road to San Antonio:
Washington swept through their non-conference schedule with wins over Kent State (45-20), Portland State (52-6), and Michigan State (39-28).  They rolled Stanford 40-22 to start Pac-12 play, then suffered their only two losses of the season.  A 32-40 loss to University of California at Los Angeles in the Rose Bowl, as the Bruins overcame a good game from Michael Penix, Jr. behind 315 yards and 3 TDs from Dorian Thompson-Robinson and 124 yards from Zach Charbonnet.  Then a loss in Tempe to Arizona State, 38-45, which is hard to fathom looking at the boxscore.
Since that October 8 loss to the Sun Devils, the Huskies have run the table.  A 49-39 win over Arizona, 28-21 win over Cal Berkeley, 24-21 win over Oregon State, that huge 37-34 win over Oregon in Eugene, then easy wins over Colorado (54-7) and Washington State (51-33).
A very solid 10-2 season for first year head coach Kalen DeBoers, who's previous HC experience was 2 seasons at Fresno State.  He is a native of Millbanks, South Dakota (population 3,544, motto "You'll Like Millbanks", and the 1925 birthplace of American Legion Baseball).  I looked at the bios of most of the other coaches, and I didn't recognize any of them.  DeBoers brought a bunch of guys from Fresno.  Most of them seem to have most of their experience in the Northern Plains and on the West Coast.
The Washington Huskies roster is led by their star quarterback Michael Penix, Jr.  No. 9 is classified as a Junior, but he is in his fifth year of college football.  He spent 2018-2021 as an Indiana Hoosier, playing in 20 games, and going 12-5 as a starter.  He was off to a hot start in 2021 as a redshirt junior, leading the Big 10 in passing yards, yards per game, passing touchdowns, attempts, and completions, before a season-ending in injury.  He transferred to Washington, and he has lit it up in 2022, so much so that he is the 2022 AP Comeback Player of the Year:
1 in passing yards: 4,354
1 in yards per game: 362.8
2 in total offense: 370 yards per game
5 in attempts per game – 41.7
3 in completions: 330.
26 in completion percentage – 66%
14 in yards per attempt – 8.7
19 in QB Rating at 155.49
I have tried to watch a few bowl games, and it was interesting that in two that I tuned in to, they were talking about next year's Heisman, and Penix is on ESPN's talking points short list.
The Tampa native is a big kid at 6-3 and 213 pounds.  29 touchdowns passing, just 7 interceptions. He passed for over 300 yards in 10 games, going over 400 yards twice and hanging 516 on Arizona.   The one thing Michael Penix, Jr. is not:  a running quarterback.  32 attempts in 12 games, for 86 yards (net), and that includes a long run of 30 yards.  4 rushing touchdowns, 2 of them in the game against Washington State (and 34 of his rushing yards).  Despite this apparent lack of mobility, the combination of his ability to get rid of the ball and a good Husky line has resulted in only 7 sacks allowed all year, good enough for second best in the country.
The Husky ground game is led by Wayne Taulapapa (No. 21, 5-11, 207 pounds, Honolulu), a grad student transfer from Virginia (where he rushed for 1,192 yards and 19 scores in 40 games).  This season, Taulapapa has rushed for 779 yards and 10 scores, averaging 6.2 yards per carry and 64.9 yards per game.  He has also caught 21 passes for 208 yards and a score.  Cameron Davis (No. 22, 6 foot, 208 pounds, a sophomore from Rancho Cucamonga California) has 522 yards on 107 attempts with 14 scores.
U-Dub has two receivers with over a thousand yards this season.  Jalen McMillan (No. 11, 6-1, 186 pound sophomore wide receiver, no relation) has 71 catches for 1,040 yards and 8 touchdowns, averaging 14.6 yards per catch and has a long of 84 yards.  Rome Odenze (No. 2, 6-3. 201 pounds sophomore Wide Receiver out of Bishop Gorman in Las Vegas) has 70 catches for 1,088 yards, 7 scores, a 15.5 ypc average, and a long of 76.  Ja'Lynn Polk (No. 2, 6-2, 199 pounds) has 38 catches for 649 yards, which is an amazing 17.1 yards per catch average; he's got 6 touchdowns.  Four other Huskies have over 20 receptions, each with a score, and nearly 1,110 yards in the aggregate.
The Husky D:
Alex Cook (No. 5, 6-1, 196 pound senior safety) leads UW with 77 tackles (54 solo) and had 3.5 TFL for 9 yards.
Alphonso Tuputala (No. 11, 6-2, 238 pound sophomore linebacker) has 66 tackles (33 solo) with 6.5 TFL for 27 yards and 3 sacks for 15.
Cam Bright (No. 2, 6 foot, 222, senior linebacker) has 58 tackles has 58 tackles (30 solo), 4.5 TFL for 32 yards and 2.5 sacks for 27.
Jeremiah Martin (No. 3, 6-4, 267 pounds, senior Edge who transferred from Texas Agricultural & Mechanical) has 38 tackles (22 solo), but 11 of those are TFL (61 yards), and 8.5 are sacks for 58 yards. He's a machine.  As is
Bralen Trice (No. 8, 6-4, 269 pounds sophomore Edge) who has 33 tackles (19 solo), a third of which are TFL (47 yards) and 8 sacks for 43 yards.
The rest of the Huskie defense include more tough Pacific Islander men, including Tuli Letuligasenoa (No. 91), Zion Tupuola-Fetui (No. 58), Siaosi Finau (No. 93), and Faatui Tuitele (No. 99).
The Huskies depth chart for the Alamo Bowl: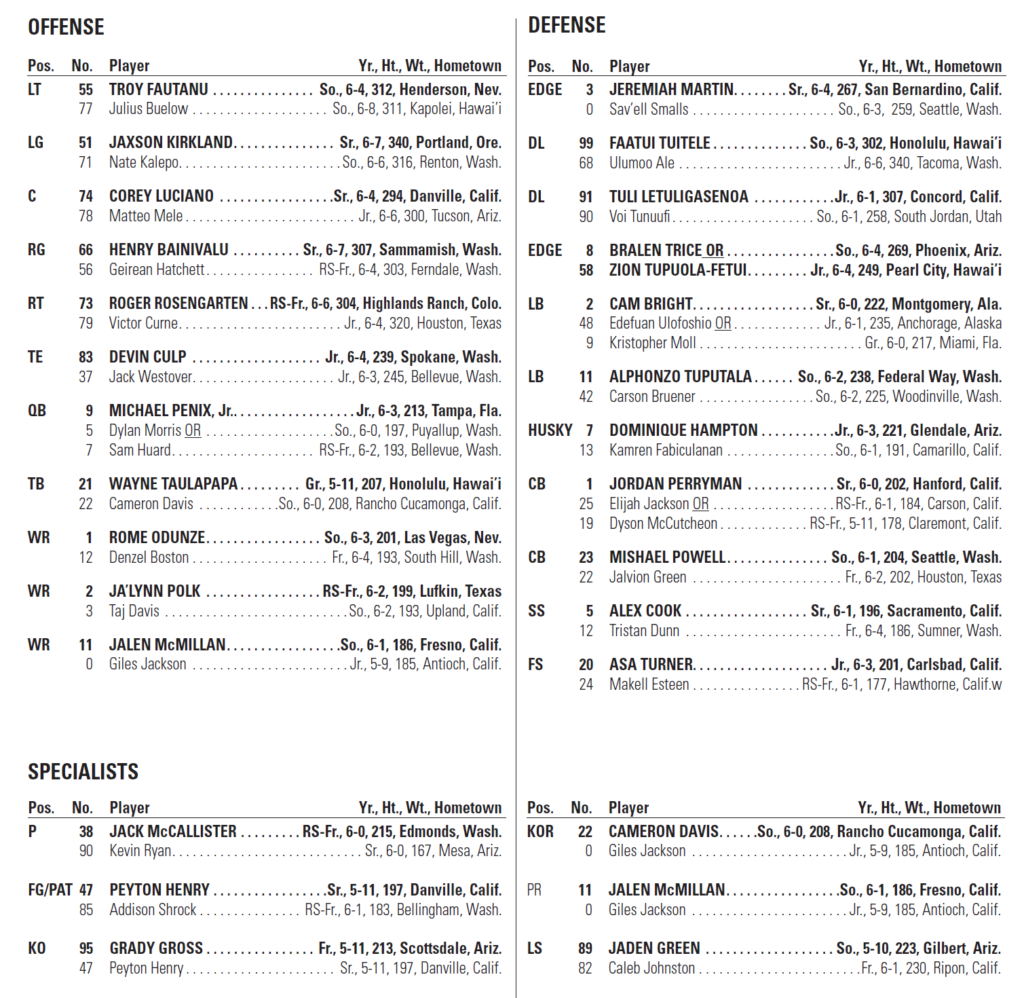 The Texas Longhorns
The Longhorns will have a little bit of a different look for the Alamo Bowl, most significantly on offense.  Bijan Robinson, Roschon Johnson, and DeMarvion Overshown are sitting out to get ready for the NFL draft.  That is a lot of talent and leadership, and we can't really replace a talent like Bijan or the leadership of Roschon.  Overshown will be missed against the UW passing attack, but despite the holes, the Next Men Up will no doubt shine.
At the running back position, we will get to see a lot of Jonathan Brooks.  He has had some good outings this year, but all late in games which were already decided.  Keilan Robinson is a talented back, especially in the passing game.  Mix in freshman Jaydon Blue, and the Longhorns will have a solid corps to carry the ball in San Antonio.  All running on fresh legs behind a very well-seasoned damn good offensive line that has improved throughout the year.  I don't think that if things get tough we can just turn to one of these guys and say "go win the game" like we could with Bijan.  But on the other hand, this is a huge opportunity for Brooks and Blue to showcase their skills.  I am not too worried.
Quinn Ewers will almost certainly get the start at quarterback, but Sark has mentioned a couple of times how good Maalik Murphy has looked in bowl practices.  We have not gotten to see Maalik yet, but he is a big (6-5, 225 pounds), gifted athlete.  Some highlights from high school:
I don't think we will see much of Murphy, although I wouldn't be surprised to see him step in to Roschon's role in the wildcat and run a bit out of that.
My hope is that Ewers is fully healed from whatever was ailing him, and that these good weeks of bowl practice have him back to the Quinn we saw to start the season.  I have a feeling we are going to see a very good performance.
Which brings me to what is now our biggest strength among the skill positions on offense, our receivers.  I am starting with my favorite, and the player who I think may be the decisive force on offense for a Texas win:  Jordan Whittington.  He doesn't have a lot of flashy scores, in fact, just one touchdown.  But what he gets are key catches that deliver first downs.  12 of his 45 receptions have gone for at least 20 yards.  608 yards on the season, averaging 13.51 yards per catch and 50.67 yards per game.
The leading receiver for the Horns is Xavier Worthy.  Leads in catches (53), yards (676), and touchdowns (9).  Worthy is a truly talented young man, I am just hoping his head is in the right place.  We are going to need him Thursday night.  We might see him go for over 150 yards receiving.
With Ja'Tavion Sanders, Texas finally has a real go-to tight end.  That seemed to be the norm in the Golden Decade and even before, but not so much the last decade or so.  But Sanders is the Man.  49 receptions for 577 yards and 5 scores, with an 11.78 ypc average.
Bijan was our 4th leading receiver with 19 catches for 314 yards and 2 touchdowns, and Roschon was 6th with 14 catches for 128 yards and a score.  Texas has just 21 touchdowns passing on the season, and other than the guys mentioned plus Keilan Robinson (3 TDs), no one else on the team has a touchdown catch.
On defense, we will no doubt miss Overshown.  He was second on the team with 96 tackles and also had 4 sacks, 5 pass break-ups, and 2 quarterback hurries. The good news, this defense is so improved, and so many guys have gotten good playing time, that I am confident that Coach PK and the Special Assistant and the rest of the defensive brain trust are going to be ready for Penix and the Husky passing attack.  This is a very solid, much improved defense: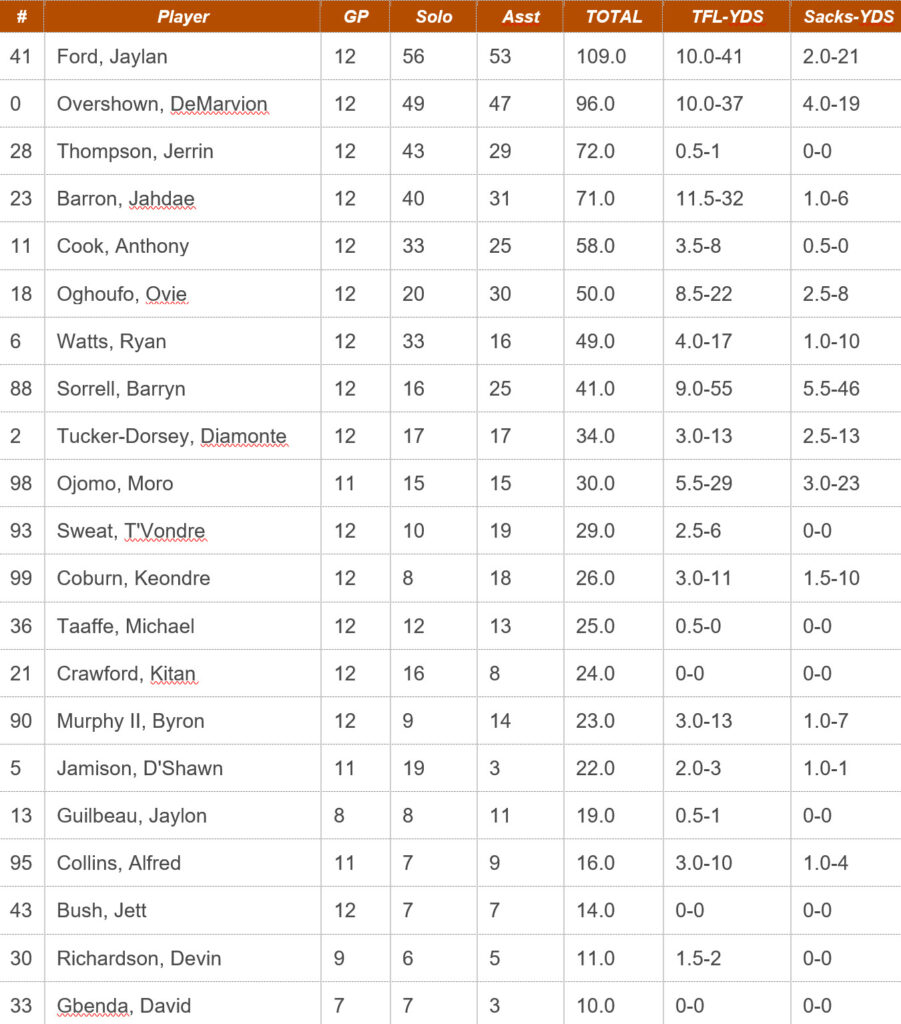 The Statistics
Offense
| | | |
| --- | --- | --- |
| Statistic | Texas | Washington |
| Rushing Offense | #26 – 199.6 ypg | #71 – 145.5 ypg |
| Passing Offense | #63 – 230.8 ypg | #1 – 376.7 ypg |
| Total Offense | #36 – 430.4 ypg | #2 – 522.2 ypg |
| Scoring Offense | #20 – 35.7 ppg | #4 – 40.8 ppg |
| First Downs | #27 – 23.3/game | #1 – 27.4/game |
| Sacks Allowed | #30 – 17, 136 yards | #2 – 7, 54 yards |
| Tackles for Loss Allowed | #29 – 55, 230 yards | #1 – 31, 102 yards |
| Third Down Conversions | #74 – 38.7% | #1 – 57.1% |
| Fourth Down Conversions | #62 – 52.6%  10/19 | #45 – 56%   14/25 |
| Red Zone Attempts | #27 – 55 | #6 – 65 |
| Red Zone Offense | #25 – 89% / 64% | #49 – 86% / 66% |
| Long Run Plays | #47 – 65/10, 22/20, 13/30, 7/40 | #75 – 53/10, 13/20, 6/30, 3/40 |
| Long Pass Plays | #46 – 118/10, 46/20, 16/30, 6/40 | #1 – 182/10, 61/20, 23/30, 14/40 |
Defense
| | | |
| --- | --- | --- |
| Statistic | Texas | Washington |
| Rushing Defense | #29  – 123 ypg | #33 – 127.1 ypg |
| Passing Defense | #88 – 239 ypg | #90 – 241.7 ypg |
| Total Defense | #50 – 362 ypg | #57 – 368.8 ypg |
| Scoring Defense | #29 – 21.2 ppg | #62 – 26.3 ppg |
| First Downs Allowed | #81 – 20.9/game | #91 – 21.4/game |
| Sacks | #56 – 27, 173 yards | #19 – 35, 239 yards |
| Tackles for Loss | #12 – 87, 312 yards | #74 – 67, 305 yards |
| Third Down Conversions | #81 – 39.9% | #120 – 44.9% |
| Fourth Down Conversions | #85 – 56.3, 18/32% | #44 – 47.1%, 16/34 |
| Red Zone Attempts | #30 – 38 | #30 – 38 |
| Red Zone Defense | #15 – 76.3% / 50% | #15 – 76.3% / 60.5% |
| Long Run Plays Allowed | #18 – 41/10, 7/20, 3/30, 3/40 | #75 – 58/10, 10/20, 0/30, 0/40 |
| Long Pass Plays Allowed | #93 – 116/10, 39/20, 14/30, 8/40 | #88 – 115/10, 40/20, 22/30, 8/40 |
Other
| | | |
| --- | --- | --- |
| Statistic | Texas | Washington |
| Turnovers | #16  – 12:  5F, 7I | #7 – 10:  2F, 4I |
| Turnover Margin | #63  13:12  +1 | #53  12:10  +2 |
| Penalties | #66 – 73, 570 yards | #97 – 82, 741 yards |
*Based on total number of penalties.
Match-up Comparison
| | |
| --- | --- |
| Texas Offense | Washington Defense |
| Rushing Offense – 199.6 ypg | 127.1 ypg – Rushing Defense |
| Passing Offense – 230.8 ypg | 241.7 ypg – Passing Defense |
| Total Offense – 430.4 ypg | 368.8 ypg – Total Defense |
| Scoring Offense – 35.7 ppg | 26.3 ppg – Scoring Defense |
| First Downs – 23.3 game | 21.4/game – First Downs Allowed |
| 3rd Down Offense – 38.7% | 44.9% – 3rd Down Defense |
| 4th Down Offense –  52.6% | 47.1% – 4th Down Defense |
| Red Zone Offense – 89%/64% | 76.3%/60.5% – Red Zone Defense |
| LRP – 65/10, 22/20, 13/30, 7/40 | 58/10, 10/20, 0/30, 0/40 – LRP Allowed |
| LPP – 118/10, 46/20, 16/30, 6/40 | 115/10, 40/20, 22/30, 8/40 – LPP Allowed |
| | |
| --- | --- |
| Texas Defense | Washington Offense |
| Rushing Defense – 123 ypg | 145.5 ypg – Rushing Offense |
| Passing Defense – 239 ypg | 376.7 ypg – Passing Offense |
| Total Defense – 362 ypg | 522.2 ypg – Total Offense |
| Scoring Defense – 21.2 ppg | 40.8 ppg – Scoring Offense |
| First Downs Allowed – 20.9/game | 27.4/game – First Downs |
| 3rd Down Defense – 39.9% | 57.1% – 3rd Down Offense |
| 4th Down Defense – 56.3% | 56% – 4th Down Offense |
| Red Zone Defense – 76.3%/50% | 86%/66% – Red Zone Offense |
| LRP Allowed – 41/10, 7/20, 3/30, 3/40 | 53/10, 13/20, 6/30, 3/40 – LRP |
| LPP Allowed – 116/10, 39/20, 14/30, 8/40 | 182/10, 61/20, 23/30, 14/40 – LPP |
 Longhorns vs Huskies
Available Yards Percentage.
| | | | |
| --- | --- | --- | --- |
|   | NAY | OAY | DAY |
| Texas | No. 22:  0.116 | No. 32:  0.542 | No. 34:  0.426 |
| Washington | No. 10:  0.169 | No. 1:  0.700 | No. 109:  0.532 |
BCF Toys – 2022 Available Yards Percentage
Net points per drive (NPD).  NPD is the difference between points scored per offensive drive (OPD) and points allowed per opponent offensive drive (DPD).
| | | | |
| --- | --- | --- | --- |
|   | NPD | OPD | DPD |
| Texas | No. 10: 1.25 | No. 19:  2.91 | No. 16:  1.67 |
| Washington | No. 11:  1.20 | No. 1:  3.85 | No. 104: 2.65 |
BCF Toys – 2022 Points Per Drive
Net Yards Per Play (NPP).
| | | | |
| --- | --- | --- | --- |
|   | NPP | OPP | DPP |
| Texas | No. 8: 1.66 | No. 18:  6.64 | No. 19:  5.49 |
| Washington | No. 14:  1.23 | No. 7:  7.02 | No. 70: 5.78 |
BCF Toys – 2022 Yards Per Play
BCF's Game Projection.  "Game Projections are calculated from current FEI ratings and include the projected win likelihood (PW), projected margin of victory (PM), projected points scored (PF) and allowed (PA), and projected total points scored (PT) for each FBS game."
| | | | | | | |
| --- | --- | --- | --- | --- | --- | --- |
| Projected Winner | Projected Loser | PW | PM | PF | PA | PT |
| Texas | Washington | .754 | 10.2 | 44.6 | 34.4 | 79.0 |
Not sure what adjustments if any they make given the opt-outs.  But for the bowl season, the system is 11-10 straight-up and 13-8 against the spread.
TCT Preview
This is going to be a fairly high scoring game.  The good news is that I think Texas is going to score more than Washington.
The Husky defense isn't great.  As you see from the stats, they are in the bottom half of the nation in several key categories.  But it is a defense good enough to have allowed their excellent offense to win 10 games.  And it is pretty comparable to the Texas defense, although I believe that Texas played against much better offensive teams, overall.
Ewers and Worthy have reportedly been putting in extra work, which is a good sign.  Worthy rumors aside, even if true, he should be motivated to perform to the very best of his God-given talents.  But the bigger key may be Ewers connecting with Sanders, Whittington, and Keilan Robinson to convert first downs and keep the offense on the field.  We cannot afford a bunch of three and outs, especially early in the game [more on that below].  One thing we know:  Ja'Tavion Sanders is one of the best players on the offense and will need to step up as one of the leaders with Roschon moving on.
Defensively, we have three big, experienced men in the middle of the line – Keondre "Snacks" Coburn, Moro Ojomo, and T'Vondre Sweat, all seniors, all with the desire and drive to finish their Longhorn careers as winners. Backing them up are Alfred Collins (11 games), Byron Murphy (12 games), and Vernon Broughton (11 games).  If those 6 guys can control the line like I think they can, then Texas has a chance to win.
The expected success of the middle will hopefully key more success from the edge, with Oghoufo and Sorrell getting pressure while keeping containment and getting quarterback pressure help from a blitzer when possible.  But I think it will be more important to make sure our coverage is good and tight, or Penix will pick us apart.  As noted, he doesn't get sacked much, and I don't think we are going to have a lot of impact on that stat.  The most glaring statistical match-up is UW long passing plays to Texas defense allowing long pass plays. It is a bit scary.  Somehow, Texas is going to have slow them down.  182 pass plays over 10 yards, and 61 over 20 yards, in 12 games is a bunch.  That coupled with UW's No. 1 ranking in third down conversions (versus Texas No. 81 ranking in third down conversion defense) is cause for concern.  Okay, so are the three other top offensive rankings, but we got this.  That is what these coaches get paid to figure out, and they have had plenty of time to prepare.
The best and maybe only way to keep Penix from beating Texas is to keep him off the field.  So we are back to Texas needs to have smart, ball-control, field position offense.
Look back at the Points Per Drive stats:  UW is No. 1 in the base stat, but digging a little deeper, one sees that UW is No. 1 in OMD (points per drive from middle starting field position for the offense) and No. 3 in OSD (points per drive from short starting field position for the offense). They are only No. 27 in OLD (points per drive from long starting field position for the offense).  Texas is No. 55 in OLD, No. 7 in OMD, and No. 95 in OSD.
Going for it on fourth down from mid-field will not be a good idea.  Punting and pinning will be.  We need to win the field position game.  Which means winning on turnovers (like having none) and no stupid penalties.
I foresee a big game from Ewers, some offensive surprises involving Maalik Murphy and Jordan Whittington, and solid performances from Worthy and Sanders. One of the other receivers is going to step up, but not sure who; maybe Casey Cain.  Brooks will get 25 carries and rush for 168.  Robinson and Blue will add 50 more, and Texas will finish with over 230 yards on the ground.
Defense is going to surprise everyone and hold Penix to 305 yards and 3 scores.  We will get a sack and almost have an interception.
My prediction:
Texas 45, Washington 34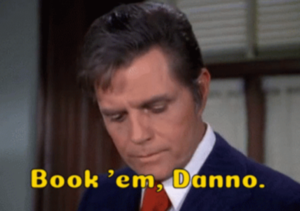 Official Texas Preview:
https://texassports.com/news/2022/12/26/no-20-football-preview-no-12-washington-alamo-bowl.aspx
Official Texas Game Notes:
https://texassports.com/documents/2022/12/17/13-TexasGameNotes-Washington.pdf
Statistical Rankings
Nate Manzo
As of the end of the regular season, Texas was No. 6 in Nate Manzo's composite rankings and Washington was No. 18.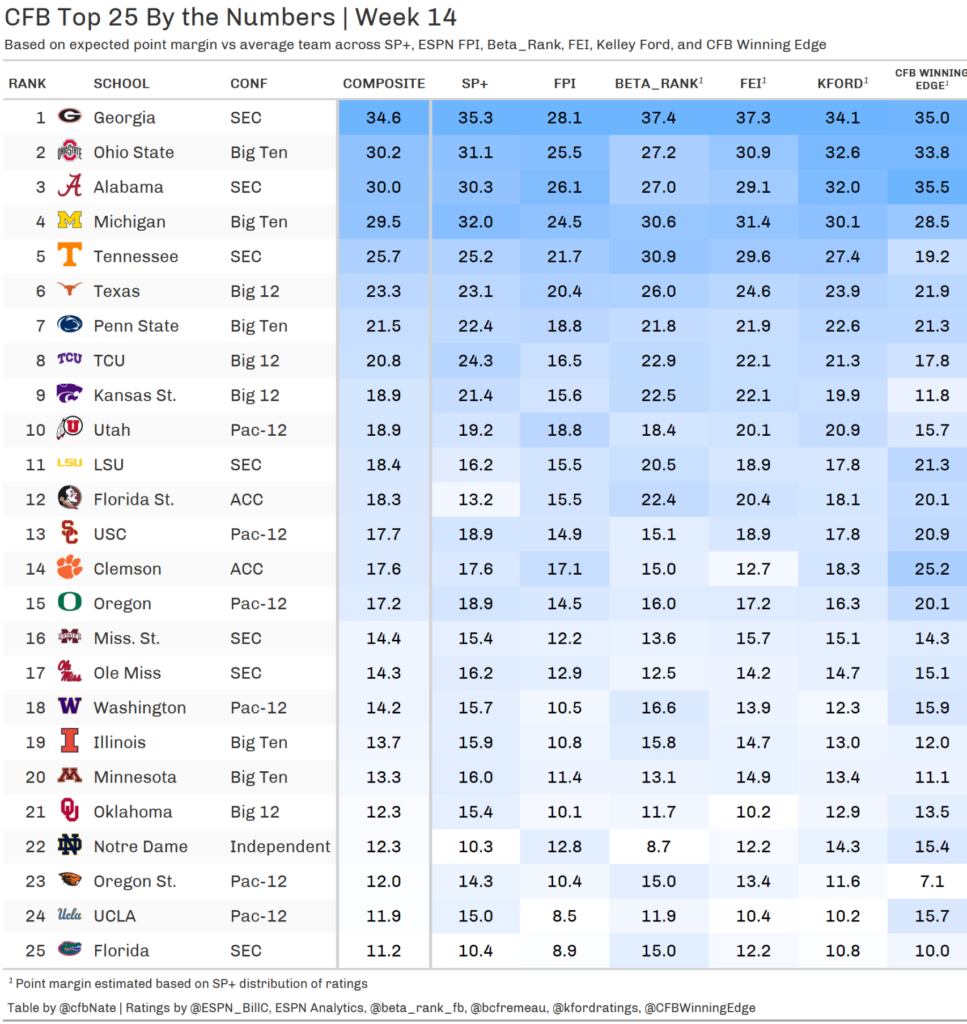 Massey
Texas Ranked No. 12, Washington No. 16.
https://masseyratings.com/cf/compare.htm
Interesting that in these Massey Composite Rankings, the top 4 teams after the conference championships were Georgia, Michigan, Ohio State, and Texas Christian.
ESPN's Football Power Index. 
Texas finished at No. 6.  Washington was No. 23.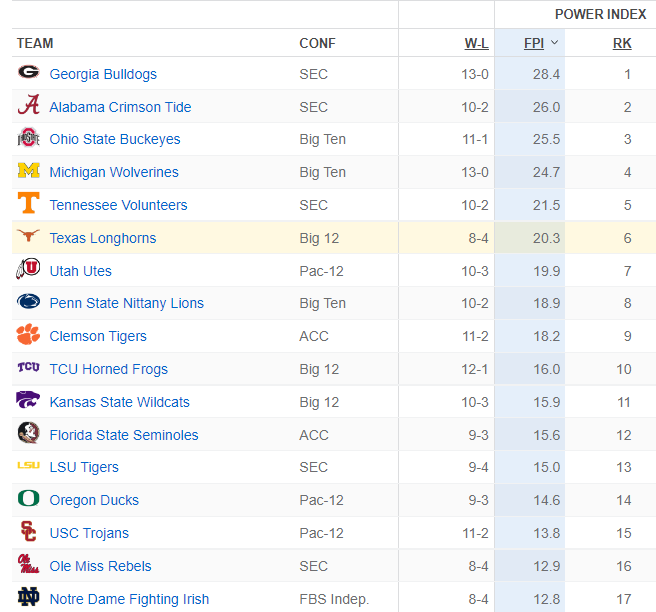 If you really want a deep dive into the Alamo Bowl match-up, I recommend this article on Burnt Orange Nation:
No. 20 Texas vs. No. 12 Washington advanced stats preview – Burnt Orange Nation
Our All-Americans
Bijan Robinson, First Team, Consensus All-American.  Doak Walker Award Winner.
Jaylan Ford, Third team AP All-American
By the way, there is a Fan Voting aspect to The Earl Campbell Tyler Rose Award.  Go vote for Bijan:
https://www.earlcampbellaward.com/voting/
No. 6 Texas Longhorns Basketball
The program has had a bumpy ride the last few weeks, but Rodney Terry is undefeated as the head coach right now, and Texas begins conference play in Norman on Saturday.  The game with the Land Thieves tips at 1:00 p.m., and it will be broadcast on Big 12 Now/ESPN+.  Texas should win by 8 or 9.
Texas closed out non-conference play Tuesday night with a 97-72 romp over Texas A&M Commerce, a game in which Marcus Carr tied Jim Krivacs' points in a half record at 33 (and personally outscored the Lions in the first half, 33-29), as well as tying the Texas record for 3-pointers in a game (10).  Freshmen Dillon Mitchell and Arterio Morris added 16 and 12, respectively.  Before Christmas, Texas lit up Louisiana 100-72, the first time the Horns hit a hundred in 5 years.  This team is finding its scoring groove.
The Horns host Kansas State on January 3rd at The Moody Center, 8:00 p.m. start.
If you have not been to see the Longhorns at this great new arena, I encourage you to do so.  It is big time fun.
As for looking forward to Big 12 play, it should be really fun.  The Big 12 is again the best basketball conference in the country.  I really think Texas can go 8-1 at home.  If they can play 1 or 2 games above .500 on the road, say 5-4 which I think is possible, then I think that may be good enough to win the regular season.  Make a run in Kansas City and win the tournament, and Texas is a 1 or 2 seed in the NCAA Tournament.  Late night dreaming?  Maybe, but I have watched every game this year, and this team is strong, athletic, fast, and deep.  Buckle up.
The University of Washington
 The University of Washington is a fine public university.  Founded in 1861 as the Territorial University of Washington, it has grown to a huge and beautiful campus sprawling over 703 acres with over 500 buildings and 20 million square feet on the shores of Union Bay and Portage Bay.
One of the few schools we have played in football in recent years who is an academic peer.
Academic Rankings
National
Texas
Washington
Forbes
43
27
THE | WSJ
60
45
U.S. News & World Report
38
55
Washington Monthly
40
11
Global
ARWU
37
17
QS
72
80
THE
47
29
U.S. News & World Report
43
6
Some cool famous alumni, including Bruce Lee, Dyan Cannon, Kenny G, and Rainn Wilson.  Bill Gates, Sr.  A lot of pilots and astronauts (Boeing ties).  Tim Paterson, original author of the MS-DOS operating system, Victor Mills, inventor of disposable diapers, and Waldo Semon, inventor of vinyl and synthetic rubber.  In sports:  Detlef Schrempf and Phil Zevenbergen in basketball, Don Coryell and Napoleon Kaufman in football, and Hope Solo in soccer.
But my favorite: Gregory "Pappy" Boyington.  Medal of Honor.  Navy Cross.  And USMC fighter ace, after having originally joined the fight against Imperial Japan as one of the pilots for Clair Chennault's Flying Tigers.  He would rejoin the Marines in 1942, eventually commanding Marine Fighter Squadron 214, famously known as the Black Sheep Squadron.  A fighter ace, he tied Eddie Rickenbacker's record of 26 enemy kills, before being shot down.  He was captured by the Japanese and spent the rest of the war in their brutal POW camps before being liberated.
The College Football Playoffs
I had hoped to have a little time to preview Saturday's big games.  I think both will be really good, and I know a whole lot of readers of The Dispatch have some strong feelings about a lot of these teams. And a whole bunch have spouses who do, especially when it comes to Texas Christian.
No. 3 Texas Christian vs. No. 2 Michigan, 3:00 p.m. on ESPN.  The Vrbo Fiesta Bowl.  Michigan favored by 7.5, over/under is 58.5.  I keep thinking back to Pasadena and the 2006 Rose Bowl, and all my Aggie friends with their "Gig Em Horns" t-shirts.  And I think about my grandmother Thelma Lawrence Taylor and grandfather Leon C. Taylor, who attended Texas Christian.  Go Frogs.
No. 4 Ohio State vs. No. 1 Georgia, 7:00 p.m. on ESPN.  The Chick-fil-A Peach Bowl.  Georgia favored by 6.5, over/under is 62.  Man I could eat a couple of spicy chicken sandwiches right now.  This game is a no brainer.  Go Dawgs.
Other Bowl Games
Congratulations to the Air Force Academy for its 30-15 win over Baylor in the Lockheed Martin Armed Forces Bowl.  A 10-win season for the Falcons.  Very impressive for one of our service academies.
Tough, tough last minute loss for Coach Mack Brown in the Holiday Bowl.  What a great win that would have been over those stinky Oregon ducks.  We were pulling for you Coach!
Kudos for Kansas for that amazing comeback and almost win over the Pigs.  Texas doesn't cheer for the Jayhawks much, but pretty sure when they are playing Arkansas most Texas fans are Rock Chalk.
Friday at 1:00 p.m., Pitt and UCLA in the Sun Bowl, CBS.  That would be the Tony the Tiger Sun Bowl.  Bruins favored by 5.5.
Notre Dame and South Carolina 2:30 p.m. Friday afternoon in the Gator Bowl.  Irish favored by 2, over/under is 52. Go Irish!
Tennessee vs. Clemson Friday night at 7:00 in the Orange Bowl.  That's a lot of orange.  Tigers favored by 4.5, over/under is 63.5.
Saturday morning at 11:00, Alabama vs. Kansas State in the Sugar Bowl.  Of course a Big 12 team is playing at eleven o'clock in the morning.  Tide favored by 6.5.
Monday at 12:00 noon, No. 16 Tulane vs. No. 10 Southern Cal in the Cotton Bowl.  I was shocked when I say the line was Trojans by just 2.  Now I want to watch the game.
Texas One Fund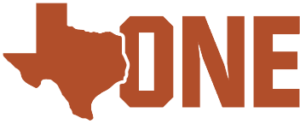 Donate.  Support our student athletes.  This is the future.
Recruiting
Maybe next newsletter.  Short answer: Arch Manning will be here in January, the rest of the class is really good.  No. 3 in 247 Sports, No. 5 in ESPN.  Future is bright.
Music
 San Antonio Rose, Bob Wills & His Texas Playboys
Is Anybody Goin' to San Antone, Charley Pride
San Antonio, Little Joe & La Familia
Photo of the Week
JType.  Bring the luck.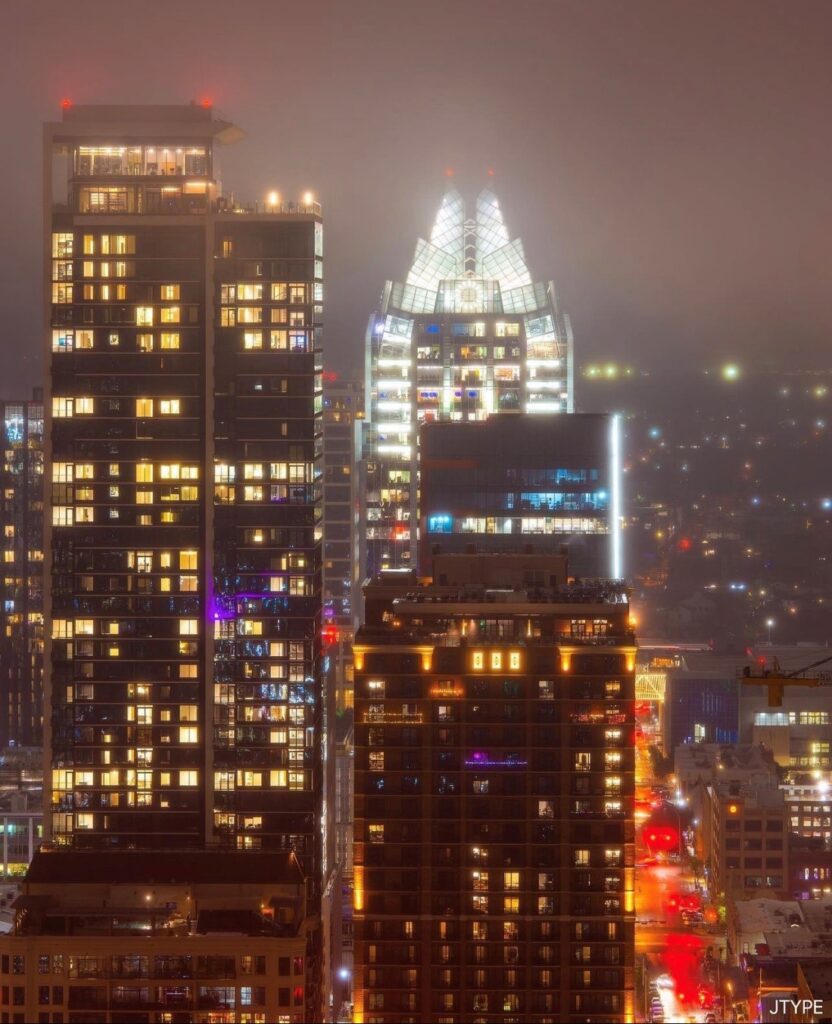 Full Post:
My best wishes to all for a healthy and prosperous New Year.  Hope to see some of you at The Moody Center and at Disch-Falk Field in the months ahead.
God Bless Texas
God Bless America
 Tim Taylor
 Tailgating before Home Football Games
The Juan Heisman Tailgate
Lot 38, East of Sid Richardson Hall.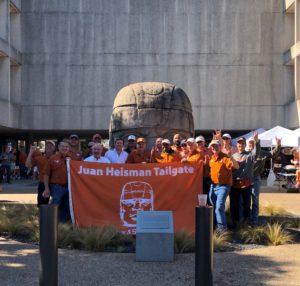 HOOK EM HORNS!!

The Austin Horns Fan Dispatch
© Timothy C. Taylor, Sr. 2022.  All Rights Reserved (as to original material).
On Twitter:  @tctayloratx
On LinkedIn:  www.linkedin.com/in/tctatx
On Instagram:  @tctayloratx
On Facebook:  www.Facebook.com/Tim.C.Taylor
and:  www.Facebook.com/Juan.Heisman
You can contact me by mail:
Tim Taylor
P.O. Box 5371
Austin, Texas  78763-5371