Good Morning Longhorn Fans!
Texas Longhorns Basketball:  The Chris Beard Era Begins
A new beginning for the Texas men's basketball team began Tuesday night, opening the first season of the Chris Beard era and the last season at the Frank C. Erwin Center.  And Coach Beard and his No. 5 ranked Longhorns opened in grand style, putting a 92-48 whupping on the Houston Baptist Huskies.  It was really fun to watch this team hustle and play offense and great defense.  It was just a pleasure to be at a Texas Longhorns sporting event and watch every single player on the team hustle and fight and claw and excel.  Just really, really cool.
I never did get a season preview written, so we will roll the preview into the review.  I will get to football later.
As I think everyone knows, last season Chris Del Conte met then Tech coach Chris Beard on April 1 at a Comfort Inn in Plainview, Texas, cutting a monumental deal to bring Beard back to Austin from Lubbock.  As widely reported, CDC had an Egg McMuffin and coffee, while Beard drank iced tea.  No report if it was regular iced tea or sweet tea.  Three hours later, Beard was a Longhorn.  Beard's chops include great success on the South Plains, with an appearance in the Final Four and Championship Game in 2019, falling to the Virginia Cavaliers in a great basketball game.  Beard has a 252-103 (.710) overall record in 11 years and took four teams to the Big Dance.  When he got to Lubbock, the Red Raiders had suffered 5 straight losing seasons, and Beard turned it around with 5 winning seasons, including 9-3 in the NCAA tournament, Elite Eight in 2018, and the aforementioned finals appearance in 2019.  Chris was the 2019 AP National Coach of the Year.
So Beard gets to Austin, and he begins a campaign to Unite the Family – the Texas basketball family.  He brings back Rodney Terry as Associate Head Coach; Terry had been head coach at UTEP for 3 seasons.  Beard brought back Chris Ogden, a true orange-blooded Texas basketball man; Ogden had been head coach at UTA for 3 seasons.  Ogden played at Texas from 2000-2003, four years in which the Longhorns made the tournament.  His seven years as an assistant at Texas (2008-2015) were great years, with 6 NCAA appearances and 6 McDonald's All-Americans (Avery Bradley, 2009; Cory Joseph, 2010; Tristan Thompson, 2010; Myck Kabongo, 2011; Cameron Ridley, 2012; and Myles Turner, 2014).
Beard also hired some other great coaches, including Jerrance Howard who came to Austin from Kansas, where he helped coach the Jayhawks to six Big 12 Conference regular-season championships and two Phillips 66 Big 12 Championship titles and seven NCAA Tournament appearances, including three trips to the Elite Eight (2016, 2017 and 2018) and one to the Final Four in 2018.  While Howard was in Lawrence, he helped develop a bunch of first-rounders, including Joel Embid, Frank Mason III, and Andrew Wiggins.
As far as the Longhorn hoops team went last spring, several guys left after Shaka Smart's resignation, but an important core remained, starting with one of my all-time favorite Longhorns and inspiring humans, Andrew Jones.  No. 1 is a Senior guard and a phenomenal driven and committed man.  Courtney Ramey came back for his senior season, and brings great experience at Guard.  Jase Febres is a four-year letterman and back, as is one of the grittiest players we have had in a while, Brock Cunningham, a Westlake kid.   That's it.  Four players still here off last season's team.
Beard went to the portal and recruited some great talent.  Marcus Carr played a year at Pitt and 3 at Minnesota and is in Austin for a fifth year of eligibility.  87 career starts in college basketball, so great experience.  He can run the point.  Timmy Allen is a 6-6, 210 pound senior forward who transferred from Utah.  Tre Mitchell is the tallest kid on the team at 6-9, and transferred to UT from UMass.  Devin Askew is a 6-3 guard who was a freshman at Kentucky last year and went to Mater Dei High School.  Askew had 20 starts for Calipari last year.  Christian Bishop is a senior forward who spent 3 years at Creighton.  Looks like he can contribute.
Two other players of note.  Gavin Perryman, a freshman out of Dallas Jesuit.  He is the son of Brandy Perryman, probably one of the best pure shooters I have ever seen on The Forty Acres.
Tristen Licón.  Licón played four years at Sul Ross State (D3 in Alpine), after an amazing high school career at Americas HS in El Paso, where he starred on a team that was undefeated.  Licón played 99 games and made 65 starts for the Lobos and is the second leading scorer in Sul Ross State history (1,579 points) and second in rebounds (548).  He is a six foot guard.  Tristen enrolled at Texas hoping to join Beard's staff as a graduate assistant, then walked on after a team pick-up game, two months into coaching.  The other players went to the coaches and suggested they take a look.  Now, Licón is a Longhorn.  And already a crowd favorite.  What a great story!
WATCH – After becoming @sul_sports 2nd all-time leading scorer, @TristenLicon thought his playing days were over. But a strong showing in a pickup game earned Licon a spot as a player for @TexasMBB on Chris Beard's first Longhorns team.

Full story: https://t.co/hOwlunTosm pic.twitter.com/uLZXu8F0Rr

— Colin Deaver (@ColinDeaverTV) October 25, 2021
Back to Tuesday night.  Biggest crowd for a UT home opener in two decades (Arizona in 2001).  Tons of excitement.  And Coach Beard and the Texas Longhorns delivered.
Texas shot 59.1% from the field (65% in the first half, which is sizzling).  It was a balanced offensive attack, as six Horns were in double-figures, led by Courtney Ramey with 14 (4-5 from 3), Andrew Jones with 11 points, Jaylon Tyson (6-7 freshman from Plano) with 11 points, and Marcus Carr, Christian Bishop, and Tre Mitchell each with 10 points.   Carr added 7 assists.
Defensively, the Horns held the Huskies to 32.7% shooting, and Andrew Jones had 5 steals.  It was impressive.  Texas got 24 defensive rebounds (HBU had 15).  Texas only had 8 offensive boards, but when 60% of your shots are going in, there aren't as many rebounds to get.
This was cool.  Licón's three-pointer:
I'll never forget this moment 🤘 pic.twitter.com/2oySsAlsJG

— Tristen Licón (@TristenLicon) November 10, 2021
Texas had 29 points off of turnovers and 18 fast break points.
A really impressive win, albeit against the Houston Baptist Huskies.
Texas takes on a much tougher breed of dogs Saturday night.  The Longhorns head to Spokane, Washington to play the Bulldogs of No. 1 Gonzaga in the Kennel.  Mark Few has another great basketball team, which includes three players on the Naismith Trophy Watch List.  That trio is led by big Drew Timme from Richardson, Texas, a 6-10, 235 pound force who led the WCC in points per game (19) and field goal percentage (65.5%) last year.  Andrew Nembhard is a 6-5 point guard who can score.  Then there is 7 foot freshman Chet Holmgren from Minneapolis, the consensus number one recruit last year.  Texas will have their hands full.  The game is on ESPN at 9:30 p.m.
Kansas Jayhawks vs. Texas Longhorns
Texas and Kansas meet for the twentieth time Saturday night at Darrell K Royal – Texas Memorial Stadium, with kick-off at 6:30 p.m.  The game will be broadcast on ESPNU with Roy Philpott, Kelly Stoufer, and Lauren Sisler (none of whom I recognize).  As always on the Longhorn IMG Radio Network with the Voice of the Longhorns, Craig Way.  The preview says Roger Wallace will be in the booth with Craig, but I think Roger is going to Spokane for the basketball game.  Anyway, Will Matthews will be there Craig.
Kansas has one win this year, the opening 17-14 win over South Dakota State.  Their losses:  49-22 to Coastal Carolina, 45-7 to Baylor, 52-33 to Duke, 59-7 to Iowa State, 41-14 to Tech, 35-23 to the Land Thieves (their only close game really), 55-3 to Oklahoma State, and 35-10 to K State.
Quarterback Jason Bean has 1,252 yards on 102-181 passing, a 56.4% completion percentage.  6 TDs, 6 picks.  He is also the second leading rusher for the Jayhawks, with 401 yards on 91 attempts.  That does concern me a little.  But Bean is listed as questionable.  Don't know much about Jalon Daniels or Miles Kendrick.
Leading rusher is Devin Neal, 505 yards on 120 carries with 4 touchdowns.
The Statistics
As you peruse these numbers, bear in mind there are 130 schools in the FBS.
Offense
| | | |
| --- | --- | --- |
| Statistic | Texas | Kansas |
| Rushing Offense | #25 – 201.7 ypg | #87 – 138.1 ypg |
| Passing Offense | #79 – 219.0 ypg | #116 – 168.0 ypg |
| Total Offense | #53 – 420.7 ypg | #120 – 306.1 ypg |
| Scoring Offense | #22 – 35.8 ppg | #127 – 15.1 ppg |
| First Downs | #87 – 19.8/game | #127 – 15.2/game |
| Sacks Allowed | #87 – 23, 154 yards | #15 – 11, 60 yards |
| Tackles for Loss Allowed | #43 – 47, 192 yards | #87 – 57, 154 yards |
| Third Down Conversions | #44 – 43.4% | #121 – 32.3% |
| Fourth Down Conversions | #70 – 50% | #108 – 37.5% |
| Red Zone Offense | #15 – 92% / 74% | #128 – 67% / 54% |
| Long Run Plays | #72 – 45/10, 17/20, 9/30, 5/40 | #113 – 32/10, 9/20, 5/30, 3/40 |
| Long Pass Plays | #83 – 74/10, 28/20, 15/30, 7/40 | #116 – 59/10, 19/20, 7/30, 4/40 |
| Long Scrimmage Plays* | #91 – 119/10, 45/20, 24/30, 12/40 | #124 – 91/10, 28/20, 12/30, 7/40 |
* Texas is 9th in Big 12, Kansas is 10th.
Defense
| | | |
| --- | --- | --- |
| Statistic | Texas | Kansas |
| Rushing Defense* | #116  – 201.7 ypg | #128 – 249.7 ypg |
| Passing Defense | #73 – 235.6 ypg | #67 – 231.8 ypg |
| Total Defense | #106 – 437.3 ypg | #124 – 581.5 ypg |
| Scoring Defense | #92 – 29.8 ppg | #128 – 42.8 ppg |
| Sacks | #100 – 15, 95 yards | #127 – 8, 56 yards |
| Tackles for Loss | #64 – 53, 165 yards | #130 – 28, 95 yards |
| First Downs Allowed* | #92 – 22/game | #118 – 23.9/game |
| Third Down Conversions | #61 – 38.7% | #130 – 56.9% |
| Fourth Down Conversions | #118 – 71.4% | #70 – 53.9% |
| Red Zone Defense | #76 – 84% / 45% | #128 – 95% / 86% |
| Long Run Plays Allowed* | #104 – 54/10, 22/20, 10/30, 3/40 | #129 – 78/10, 17/20, 7/30, 5/40 |
| Long Pass Plays Allowed | #65 – 81/10, 29/20, 9/30, 8/40 | #76 – 85/10, 28/20, 11/30, 7/40 |
| Long Scrim. Plays Allowed* | #94 – 135/10, 51/20, 19/30, 11/40 | #129 – 163/10, 45/20, 18/30, 12/40 |
*Texas is 9th in Big 12, Kansas is 10th.
Other
| | | |
| --- | --- | --- |
| Statistic | Texas | Kansas |
| Turnovers | #45  – 5I; 6F | #36 – 3I; 7F |
| Turnover Margin | #35 – 14:11,  +.33 | #83 – 8:10,  -.22 |
| Penalties | #50 – 53, 426 yards | #13 – 40, 340 yards |
*Based on total number of penalties.
Match-up Comparison
| | |
| --- | --- |
| Texas Offense | Kansas Defense |
| Rushing Offense – 201.7 ypg | 249.7 ypg – Rushing Defense |
| Passing Offense – 219.0 ypg | 231.8 ypg – Passing Defense |
| Total Offense – 420.7 ypg | 581.5 ypg – Total Defense |
| Scoring Offense – 35.8 ppg | 42.8 ppg – Scoring Defense |
| First Downs – 19.8/game | 23.9/game – First Downs Allowed |
| 3rd Down Offense – 43.4% | 56.9% – 3rd Down Defense |
| 4th Down Offense –  50% | 53.9% – 4th Down Defense |
| Red Zone Offense – 92% / 74% | 95% / 86% – Red Zone Defense |
| LRP – 45/10, 17/20, 9/30, 5/40 | 78/10, 17/20, 7/30, 5/40 – LRP Allowed |
| LPP – 74/10, 28/20, 15/30, 7/40 | 85/10, 28/20, 11/30, 7/40 – LPP Allowed |
| LSP – 119/10, 45/20, 24/30, 12/40 | 163/10, 45/20, 18/30, 12/40 – LSP Allowed |
| | |
| --- | --- |
| Texas Defense | Kansas Offense |
| Rushing Defense – 201.7 ypg | 138.1 ypg – Rushing Offense |
| Passing Defense – 235.6 ypg | 168.0 ypg – Passing Offense |
| Total Defense – 437.3 ypg | 306.1 ypg – Total Offense |
| Scoring Defense – 29.8 ppg | 15.1 ppg – Scoring Offense |
| First Downs Allowed – 22/game | 15.2/game – First Downs |
| 3rd Down Defense – 38.7% | 32.3% – 3rd Down Offense |
| 4th Down Defense –  71.4% | 37.5% – 4th Down Offense |
| Red Zone Defense – 84% / 45% | 67% / 54% – Red Zone Offense |
| LRP Allowed – 54/10, 22/20, 10/30, 3/40 | 32/10, 9/20, 5/30, 3/40- LRP |
| LPP Allowed – 81/10, 29/20, 9/30, 8/40 | 59/10, 19/20, 7/30, 4/40 – LPP |
| LSP Allowed – 135/10, 51/20, 19/30, 11/40 |  91/10, 28/20, 12/30, 7/40 – LSP |
This game doesn't need a lot of in-depth analysis.  If Texas can't go out and beat the Jayhawks soundly Saturday night, then perhaps my optimism and push for patience is misplaced.  Yes, our defenses are equally squalid, but the Texas offense is significantly better than the Jayhawks. And even with a number of guys questionable for Saturday, including Bijan, Roschon, and Overshown, the Texas football team has a lot more talent.  I probably should've started my preview before midnight Thursday night.
We also learned Thursday that Sark was not naming a starter at quarterback, which is interesting.  I guess we will see how that goes.
Official Preview:
https://texassports.com/news/2021/11/8/football-preview-vs-kansas.aspx
Texas Game Notes:
https://texassports.com/documents/2021/11/8/10_Kansas.pdf
The Longhorns are favored by 31, and the over/under is 62.  I think that perhaps Coach Davis' words of encouragement will lead to a better performance.  Texas to win and cover.  52-20.
Bo Knows
As many of you who have been reading my weekly epistle for a long time know, several years ago I started taking a more serious approach to this newsletter, a process instigated by my former law partner and United States District Judge Rob Junell.  Judge Junell gently pointed out that I was good writer, and that use of curse words and foul language really wasn't necessary.  I was of course complemented and grateful for the judge's kind words, and also, being a lawyer, I took the federal judge's advice to heart.  Particularly with respect to more civil writing.
With that in mind, including in this missive the surreptitiously obtained video of Coach Bo Davis and his heartfelt comments to the Texas football team on the bus from Jack Trice Stadium to the airport last Saturday night would be inappropriate.   As would be a transcript of Coach Davis' eloquent soliloquy.
However, the subsequent reaction to that video and the extraordinary showing for support for Coach Davis and his comments to the team certainly deserve mention this week.  I will say that listening to Coach Davis speak, I was initially, as most of us were, reminded of the great Augie Garrido rant.  (Because of Augie's lofty place in Longhorn heaven, I have included that video in the past.)  Upon re-watching the Davis video and listening to Coach Bo, I realize that his exquisite and versatile usage of the F word was much more likely to have been a channeling of my late friend and law partner Carla Jane Cox, much more than Augie Garrido. For those of you who knew Carla, that's high praise.  Carla could make a drunk sailor on shore leave with a rented date blush and take cover.
Back to the point of Coach Davis's remarks, I think they certainly reveal what many of us believed, which is that there were some players on the team that perhaps did not take the playing of the game and representation of The University of Texas quite as seriously as do Coach Davis, Sark and the other coaches, and I assume a majority of the team.  Bo's invitation for those who weren't committed to hit the transfer portal is a good thing, not a bad thing, and I hope that those who weren't committed will either free up space for other scholarship players or decide that they do indeed want to wear the burnt orange and play for the Texas Longhorns.  Commit or quit. I'm good with that.
From a guy named Rico Missita on Twitter, who is a Texas fan:  "2 weeks ago I was at game against OSU. 12th row behind bench. I can tell you the body language from many players on sidelines was they didn't give a s#it. Obviously not everyone but it was noticeable. Think we have too many guys who don't really have a passion for game."
So perhaps Coach Davis' speech will be a Churchillian moment for Texas Football, as those who are committed to the cause and the Team and The University will double down, and those who were on The Forty Acres for the fun and free ride will, as the kids like to say, "take their talents" elsewhere.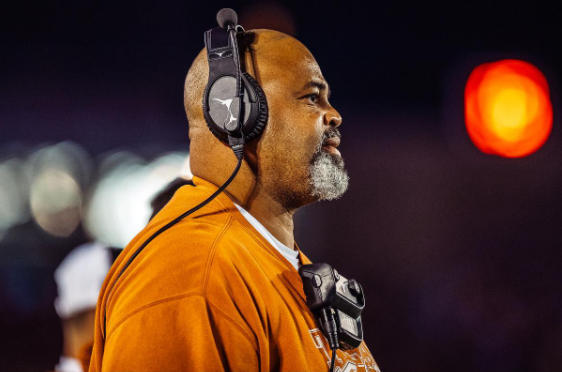 Photo by Matt Lange
Juan Heisman Tailgate
Next to last tailgate of the year, and the last one is the morning after Thanksgiving tailgate, always a bit of a low key affair.  So head by Juan Heisman Saturday for some great tamales, courtesy of Rose Marie Hagman and her sister, and some Frito Pie.  Lots of Tito's Vodka, as well as plenty of beer.  Should be a nice tailgate party.  Thanks to Judd Messer, Brad Laughlin, and Hunter Wilcox who have really carried the load this year and especially this week.  And to all the guys who have helped with Early Crew and all the other chores necessary to make our tailgate party such a good time.
Ricky Brown
One of my favorite Longhorns, Ricky Brown, was named Executive Senior Associate Athletics Director this week.  A well-deserved promotion of a much loved Longhorn.  He is a genuinely good guy, and even appeared on the cover of Sports Illustrated with another good football player named Ricky.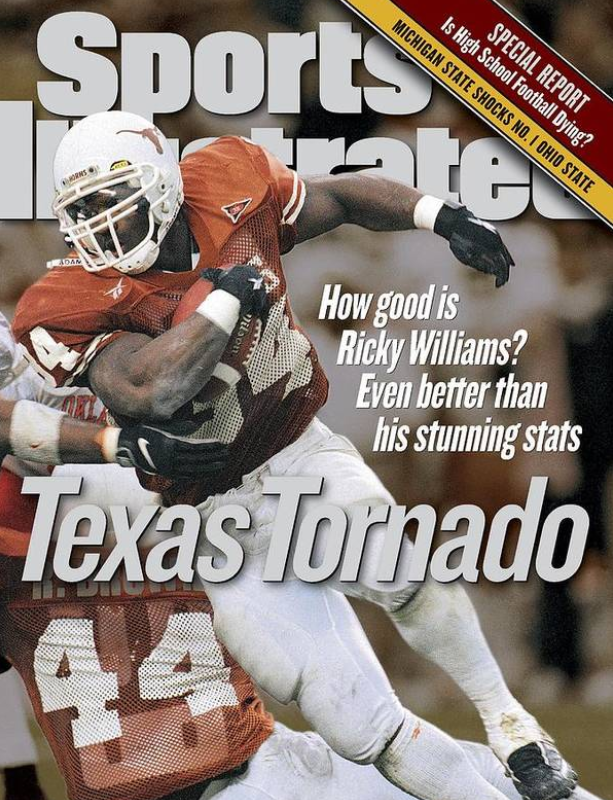 https://texassports.com/news/2021/11/8/texas-athletics-brown-promoted-to-executive-senior-associate-ad-at-texas.aspx
Patience
As Kyle Umlang pointed out, "The last time Texas started a season 4-5, they played in the Big 12 Championship and won a NY6 Bowl the following season."
Late Thursday night, I got an email from my new friend Harry Hilgers:  "Maalik Murphy.  This guy, who is ready to enroll, is the closest thing to Vince Young that I have seen.  He can start at quarterback for Texas tomorrow; he is that good. Tall, athletic, huge hands, with numbers that are hugely impressive in California. With this one recruit, our fortunes are about to change so be patient, Longhorns, your turn is just around the corner."
Texas Longhorns 7, Iowa State Cyclones 30
If you have been a Longhorn fan as long as I have, you have witnessed some ugly losses.  Last Saturday in Ames is in the Top 20, maybe Top 15.  I don't have a review of the game.  I watched every snap live, whilst enjoining very good steak and a bottle of Salus Cabernet and the company of my son Charles.  The steak, red wine, and visit with son were great.  The game sucked.  I haven't watched any replay or even highlights.  It was, as we like to say in the family, pitiful.
Texas rushed for just 104 yards and passed for just 103.  Before the last series, when Texas got about 18 or so yards (all Keilan Robinson carries as I recall), Texas was below 200 yards of total offense.  Terrible.   Card replaced Thompson early, as Casey was missing badly, but Hudson managed just 101 yards and a score, and was sacked 4 times.
Give Bijan credit for trying.  Getting 90 yards behind this line is an impressive feat.  Bijan was also the leading receiver with 8 catches for 36 yards – that was one-half of the total receptions for the Longhorns, who caught just 16 passes in an abysmal game.
Meanwhile Breece Hall pounded the Horns for 136 yards and 2 scores, averaging 7.2 yards per carry (helped by a 47 yard run).  Brock Purdy was a solid 27-38 and 252 yards.  He hits some long balls, including completing passes of 49, 24, and 23, as the Cyclone offense ripped through Texas like a twister in a trailer park.
Brenden Schooler played hard, recording 12 tackles to lead the Horns – all unassisted.
As Quan Cosby said, the only disappointing thing about the Bo Davis speech is that it had to come from a coach, not a player.
History with Kansas
Texas leads the series with Kansas, which began in 1901, 16-3.  Two of the Kansas wins came in the first half the 20th century.  The other one was on November 19, 2016, in Lawrence, when the Jayhawks beat the Horns 24-21, as Texas and Charlie Strong were about to wrap up a painful season (ended the next week with a home loss to Texas Christian, which would also be Strong's last game in Austin).
1901 was a good year for the Jayhawks in this series.  That was both the start of their only streak against Texas (1901 and 1938), and 1901 was their largest win, as Coach S.H. Thompson's Varsity would get shut-out by Kansas 12-0, one of only 2 losses that season.  The Horns would close out that 1901 campaign with wins over the Land Thieves, 11-0, and a Thanksgiving thrashing of Texas Agricultural & Mechanical College, 32-0, finishing with an 8-2-1 record.
1938 was a bad year. Coach Dana X. Bible's second year in Austin, and his worst.  Actually, one of the worst years in Texas football history (Ed Price's 1956 Horns went 1-9, 0-6 in SWC), as Texas started the season with an 18-19 loss at Kansas.  Texas would lose 7 in a row, getting shut-out by Louisiana State in Austin, shutout by the Thieves in Dallas 13-0, and then losing to Arkansas (42-6), Rice (13-6), Southern Methodist (7-6), Baylor (14-3), and No. 1 Texas Christian (28-6).  The Horns did manage a 7-6 win over Texas Agricultural & Mechanical on Thanksgiving.  Think about that:  52 points in 9 games.
Coach Bible kept his job, and he managed a 5-4 (3-3) season in 1939.  In 1940, the Horns improved to 8-2 and tied for third in the Southwest Conference at 4-2.  1941 saw more improvement, as the Horns went 8-1-1, 4-1-1 in SWC.  They climbed to No. 1 in the AP before getting tied up by Baylor in Waco (7-7), lost to Texas Christian, but got a big 23-0 win in College Station over No. 2 Texas Agricultural & Mechanical on Thanksgiving.  Texas finished ranked No. 4.  1942, similarly solid, 9-2, 5-1, winning the conference.  The SWC loss?  Yep, Texas Christian.  Texas finished ranked No. 11, then beat No. 5 Georgia Tech 14-7 in the Cotton Bowl on New Year's Day.  Bible and Horns would win two more SWC titles (1943, 1945).
Texas and Kansas would not meet again after 1938 until 1996.  1996, 1997, 2000, 2001, 2008, 2009, 2011-2015, all wins. A couple close (2004 in Lawrence, 27-23; 2012 in Lawrence, 21-17).  But most were big.  59-0 in 2001, 66-14 in 2005, 43-0 in 2011).  Then November 19, 2016.
Of course since then, Texas has won 3 in a row.  But let's not forget two years ago in Austin, as Texas had to rely on a last second field goal by Dicker the Kicker to edge the Jayhawks 50-48.  The year before in Lawrence, Texas won 24-17.
Veterans Recognition Game
Texas Memorial Stadium
The game this Saturday is the annual Veterans Recognition Game. The University recognizes all those who have served our country and who sacrificed for our freedom.  Texas Longhorns Football and those who served our inextricably intertwined, as our home stadium is Texas Memorial Stadium, dedicated to the memory of the 198,520 Texans who served and fought in the First World War, and the 5,280 Texans who died.  Texas Memorial Stadium was dedicated on Thanksgiving Day, 1924.  The University of Texas beat Texas Agricultural & Mechanical College that day, 7-0.
For more on Darrell K Royal – Texas Memorial Stadium, here is a great article by the incomparable Bill Little:
https://texassports.com/news/2021/11/11/bill-little-commentary-bill-little-commentary-the-memorial-in-the-stadium.aspx
Also, a good history of it from Texas State Historical Association:
https://www.tshaonline.org/handbook/entries/darrell-k-royal-texas-memorial-stadium
Nate Boyer
Photo by Ricardo B. Brazziell, Austin American-Statesman
Nate Boyer is a name that is familiar to almost all Texas football fans.  Nate's story is a great story of perseverance and commitment, and thanks to Billy Dale of the Texas Legacy Support Network, I was able to interview Nate in September in anticipation of this week's newsletter.
My first question was why did you choose the University of Texas?  Nate said that it was a good public school, that he loved Austin, and that Texas had a great football tradition. He also noted that Texas is very good for veterans.  Nate had joined the Army after serving as a relief work in Sudan, building refugee camps.  Boyer enlisted in 2005, and he became a Green Beret in December 2006.  His service included tours in Iraq and Afghanistan.
During a break from the Army, Nate attended summer training camp on The 40 Acres in 2009. He met Coach Mad Dog Madden and Coach Ken Rucker, and both encouraged Nate to give playing football a shot.  So upon completing his Army career, he applied to and was accepted at The University of Texas at Austin.  He walked on to the football team, even though he had never played football.  He was a 29 year old redshirt freshman, but he stuck with the team.  His hard work earned him the starting job as the Longhorn deep snapper, a position he held for 3 years, playing in 38 consecutive games.  After playing at Texas, Nate got a shot to play for the Seattle Seahawks.  While he didn't make the team, he made some great connections which would lead to the next phase of his life, which is all about service.  Nate became involved in a number of great charities.
The first is one called Waterboys, started with Chris Long.  Chris Long, Nate, and others bring together veterans and NFL alumni to go to Africa and climb Mount Kilimanjaro to raise money, which funds the drilling and development of water wells in Africa. The climb symbolizes the many miles so many African women must walk every day to find clean water for their families.  So far Nate, Chris, and Waterboys have raised money to build 32 water wells in Africa. As Nate pointed out, clean water is the key to improving life and he said that when a well goes in, a school soon follows.
Nate Boyer teamed up with FOX Sports NFL Insider Jay Blazer to found MVP:  Merging Vets & Players.  This organization pairs combat veterans and professional athletes in seven cities, bring them together in open forums to discuss the challenges and issues they face, creating a great network and support group built around peer-to-peer counseling and establishing mentoring relationships
When I talked to Nate Boyer in September, Texas was two and one, coming off the Rice win and getting ready for Tech. At that time, we were all expecting a really great season for the Longhorns.  Looking back, it is interesting that I asked Nate what he would like to pass along to the readers of this newsletter, and he said "to keep the faith and stay loyal, to the University and each other."
That's a pretty good message no matter the time or place, but given Texas' tough four game losing streak, it is especially important.  We do need to keep the faith, stay loyal to The University of Texas, and be patient and supportive of Coach Sarkisian and his staff as they toil to rebuild the great Texas Longhorns football program.  A program that attracted an American war hero and gave him the chance to play football, leading to a national platform which he now uses to help so many people.
My thanks to Nate for his time.  And my thanks to each of you who take the time to click on the links above and support Waterboys and MVP.
And again my thanks to Billy Dale for arranging the interview.  The breadth and depth of the stories and articles and the amazing photos on the TLSN website is astounding, and I encourage you to sign-up for the newsletter and to support the organization.
https://texas-lsn.squarespace.com/
Washington & Lee Generals:  2021 ODAC Champions
W&L got another W on Saturday, defeating Ferrum 28-24 and clinching the Old Dominion Athletic Conference championship at home on Wilson Field in front of a crowd of 1,055.  A back and forth game, and W&L won when Josh Breece punched it in from the 1 yard line with 102 seconds left to give the Generals a 28-24 win.  W&L rushed for 308 yards (and completed 3 forward passes!), while holding the Panthers to just 50 yards on the ground.  Ferrum did throw the ball 32 times, completing 23 of them for 273 yards and 2 scores.  Stephen Murrin (QB from Fort Worth Country Day) paced the W&L ground attack with 109 yards on 14 attempts.  Senior Josh Breece led the Blue & White with 19 carries, getting 61 yards and a score.  Jacob Romero had 81 yards on 11 carries.  W&L is fifth in the nation in rushing offense with 324.8 yards per game.  Also fifth in total yards at 2,923.
This week, W&L heads north to Winchester to play the Shenandoah Hornets.  Shenandoah is 6-4 and 4-4 in ODAC play.  The Generals lead the series, which began in 2012, by a 6-2 margin.  W&L has the conference title, but a lot to play for, as the Generals vie for a good seed in the tournament.
Game notes:
https://generalssports.com/news/2021/11/8/football-game-notes-for-the-shenandoah-game.aspx

The Polls
Well, the CFP Committee did a little better this week, at least giving the undefeated UTSA Roadrunners a spot in the Top 25.  As you know, I am not a real big fan of the Oklahoma Sooners, but the undefeated Land Thieves stay at No. 8, while 5 teams with one loss are ranked ahead of them?  Including Michigan State who lost to Purdue?  As Colonel Potter used to say, "Horse Hockey!"
CFP:  Georgia, Alabama, Oregon, and The Ohio State University TM.  5 through 10:  Cincinnati, Michigan, Michigan State, Oklahoma, Notre Dame, and Oklahoma State.  Texas Agricultural & Mechanical, at No. 11, Baylor at No. 13, Ole Miss at No. 15, and UTSA at No. 23.
AP Top 25:  Georgia, Cincinnati, Alabama, Land Thieves, Oregon, The Ohio State University TM, Notre Dame, Michigan State, Michigan, and Oklahoma State.  Texas Agricultural & Mechanical at No. 11 and Ole Miss at No. 12, a nice pairing for this Saturday's game in Oxford.  UTSA at No. 15.  Baylor at No. 18.
Coaches Poll:  UGA, Roll Tide, Cinci, Land Thieves, The Ohio State University TM, Ducks, L'Université de Notre Dame du Lac, Big Blue, Sparties, and Okie A&M.  Texas Agricultural & Mechanical is No. 11.  Hotty Toddy Gosh Almighty at No. 12.  UTSA at 16 and Baylor at 18.  Cougars 19, Ponies 24.
Of note, Sam Houston State is 8-0 and No. 1 in the FCS Coaches Poll.
In Division III, the NCAA ranks teams in six Regions.  W&L is in Region III with the Texas schools.  Mary Hardin Baylor is 1, Trinity is 2, Hardin-Simmons is 4, and the Generals are 5.  W&L not ranked by D3Football.com.  But that's okay, in Division III, we have a full-field tournament.  Hopefully the Generals can get in.
Week 11
Big 12
The fact that one of the biggest Big 12 games of the season is in Waco involving Oklahoma and with the FOX Big Noon Kickoff show providing national coverage, well that is all you need to know to guess my level of frustration with the 2021 college football season.  No. 8 Land Thieves (9-0) and No. 13 Bears (7-2, 4-2) kick-off at 11:00 a.m. on FOX.  Baylor is a 5.5 point underdog at home in McLane Stadium.  Over/under is 62.  I think Baylor has a chance.
West Virginia (4-5, 2-4) at Kansas State (6-3, 3-3), 11:00 a.m. on FS1.  Wildcats favored by 6.5, over/under is 47.  Think the Mountaineers cover that.
Iowa State (6-3, 4-2) at Texas Tech (5-4, 2-4), 2:30 p.m. on ESPN2 from the South Plains.  Cyclones favored by 10.5, over/under is 58.5.  Iowa State should win and should cover, but as we know weird stuff happens in Lubbock.
Texas Christian (4-5, 2-4) at No. 10 Oklahoma State (8-1, 5-1), 7:00 p.m. on FOX.  It will be a chilly night in Stillwater.  Cowboys favored by 12, over/under is 54.5.  I like Okie State to win and cover.
Top 25
Thursday night, the North Carolina Tarheels rallied from a 23-7 halftime deficit against Pitt to force overtime.  But Mack and his men couldn't score in OT, as Sam Howell was intercepted on fourth down to give the No. 21 Panthers a 30-23 win.  Pitt 5-1 in ACC play and alone at the top of the Coastal Division.
Friday Night, No. 5 Cincinnati plays South Florida in Tampa.  5:00 p.m. on ESPN2.  Bearcats big 23 point favorites over the 2-7 Bulls.  Over/under is 58.
No. 2 Alabama (8-1) has New Mexico State (1-8) in Tuscaloosa, 11:00 a.m. on SECN.  I am not even surprised by the 51 point line.  But with the over/under at 67, I am trying to figure out why someone in Las Vegas thinks the New Mexican Aggies are going to score?
No. 6 Michigan at Penn State, 11:00 a.m. on ABC from Beaver Stadium.  Wolverines are narrow 1.5 point favorites, and the over/under is 48.5.  Go Big Blue!  Hope Michigan puts a beating on the Nittany Lions.
Mississippi State at No. 17 Auburn, 11:00 a.m. on ESPN.  Pretty good little game in Jordan-Hare, with the Bulldogs 3-3 in SEC play and the Tigers 3-2.  Auburn favored by 5.5, and the over/under is 50.  War Eagle.
Northwestern at No. 18 Wisconsin, 11:00 a.m. on ESPN2.  Badgers 24.5 point favorites at home in Camp Randall Stadium.  The over/under is 41.
No. 24 Utah at Arizona, 1:00 p.m. on the PAC 12 Network. You may recall my mention of the Wildcats losing streak.  They snapped the 20 game schneid with a 10-3 win over Cal last weekend.  Utes favored by 24 in Tuscon, over/under is 54.
No. 1 Georgia play Tennessee in Knoxville.  The 2:30 p.m. featured SEC game on the Columbia Broadcasting System.  Bulldogs favored by 20, and the over/under is 56.  I caught part of a discussion on ESPNU radio Thursday afternoon where the guys were talking about Tennessee having a chance.  I say "part" of the discussion because I must have missed the first part where they said "to cover".  Dawgs to win, and I give the Volunteers a 50/50 chance of staying within 3 touchdowns.
No. 19 Purdue at No. 4 Ohio State, 2:30 p.m. on ABC.  Good game from the Horseshoe, but I can't see the Buckeyes losing at home to the Ducks Boilermakers.  tOSU favored by 21, over/under is 62.5.
No. 23 and undefeated UTSA Roadrunners host Southern Miss (1-8, 0-5) in the Alamodome, 2:30 p.m. on ESPN+.  UTSA favored by 33, over/under is 54.5. A big line, especially when I am guessing Sincere McCormick will be running a lot (with 1,060 yards, Sincere is No. 7 in the nation, 3 yards and one spot ahead of Bijan Robinson).  Birds Up!
Maryland at No. 7 Michigan State.  3:00 p.m. on FOX from East Lansing.  State favored by 13, over/under is 61.
College GameDay is in Oxford Mississippi on Saturday, as are the Texas Agricultural & Mechanical Aggies.  A 6:00 p.m. kickoff from Vaught-Hemingway for No. 11 Texas Agricultural & Mechanical and No. 15 Ole Miss, broadcast on ESPN.  Both teams 7-2, Texas Agricultural & Mechanical is 4-2 in SEC and Ole Miss 3-2.  Texas Agricultural & Mechanical favored by 2.5, over/under is 57.  Going to be one heck of a good day in the Grove, and I bet a really good football game that night. Ole Miss with the best offense in the SEC, 524.2 yards per game, vs. the Texas Agricultural & Mechanical defense which is third in the SEC, allowing just 317.8 yards  per game.  Hotty Toddy!
In a game of great interest in the Taylor family, No. 9 Notre Dame at Virginia.  6:30 p.m. on ABC.  Irish favored by just 5.5 in Charlottesville, and the over/under is 64.  If Brennan Armstrong, the Cavaliers quarterback, can get hot and have good game, the Hoos might pull the upset.  Maybe.
No. 16 NC State (7-2, 4-1) at No. 12 Wake Forest (8-1, 5-0), 6:30 p.m. on ACCN.  So, you may ask, who come the Demon Deacons are 5-0 in the ACC after losing to the Tarheels?  Well, that was a non-conference game, part of a home & home series for the North Carolina rivals. Wake favored by 2 over the Pack, over/under is 66.5.  Good game.
No. 25 Arkansas vs. Louisiana State, 6:30 p.m. on $ECN.  Ed Orgeron, please work some Baton Rouge Cajun magic and beat the pigs.  Arkansas favored by 3, over/under is 59.  Geaux Tigers!
Washington State at No. 3 Oregon, 9:30 p.m. on ESPN.  Night games at Autzen are cool.  Should be a good game, better than most expect.  Line is Ducks by 14, over/under is 57.5.
Nevada at No. 22 San Diego State.  Aztecs hanging in there at 8-1, but the Wolf Pack has the same 4-1 record in the Mountain West (and 7-2 overall).  9:30 p.m. on CBSSN.  SDSU favored by 3, over/under is 45.5.  I think Nevada gets the upset.
Other Games of Interest this Week
Miami got the big 45-18 win over Buffalo at home in Oxford, Ohio, to go to 4-2 in MAC play.
Saturday
UCF at Southern Methodist, who has now dropped 2 games.  11:00 a.m. on ESPNU.  Ponies favored by 7 and the over/under is 61.
Bucknell at Army.  11:00 a.m. on CBSSN.  The Bison are 1-8, and there is no line.
Western Kentucky at Rice, 1:00 p.m. on ESPN+.  Hilltoppers favored by 18 over the Owls, over/under is 61.5.
UTEP at North Texas, 3:00 p.m. on ESPN+.  Miners favored by just 1 at Apogee Stadium in Denton.
Stanford at Oregon State, 4:30 p.m. on PAC12 Network.  Beavers favored by 12.5 against the Tree.  The over/under is 55.5.
Air Force at Colorado State, 6:00 p.m. on CBSSN. I want to say thanks to CBS for broadcasting the service academy games.  Very cool.  Falcons favored by 2.5, the over/under is 45.  Good luck Air Force!
Southern Cal and California postponed.  The Golden Bears' Covid-19 issues continue (they were severely depleted last week, thus the Arizona win).
Cool & Interesting Stuff
Longhorn Colt McCoy started for the Arizona Cardinals in place of Sooner Kyler Murray, playing for Red Raider Kliff Kingsbury.  And Colt had a whale of a game.
Texas Made 🤘 pic.twitter.com/MXgnDHw8dl

— Texas Football (@TexasFootball) November 11, 2021
From Brian Davis at the Statesman: "Texas football TV ratings update. Saturday was the first time this season less than 1 million tuned in to watch Horns."
Texas football TV ratings update. Saturday was the first time this season less than 1 million tuned in to watch Horns. Was it Iowa State? Was it FS1? Was it three (now four) game losing skid? pic.twitter.com/knCa59Q3oC

— Brian Davis (@BDavisAAS) November 9, 2021
Jody Ferguson
Many of you know my good friend Jody Ferguson.  Jody, his brother Scott, and their cousin Tony Dewar are family to me.  They are the brothers I never had growing up.  For those who don't know Jody, not only is he a Longhorn fan, but also the author of a terrific novel called Above the Water.  It is historical fiction that traces the paths of two young lovers, separated during World War II.  They are confronted daily by harrowing situations and appalling choices, but they find the will to carry on in order to find one another again. It's set in Shanghai, in Texas, and in the Pacific Theater. Jody also has a website with all sorts of interesting travel blogs, book reviews, family history, and Texas sport stories (including about Clark Field and the Big Shootout). Go to the "Journeys" tab on his website.
For Veterans' Day, I wanted to include this review he wrote about a book chronicling the 1944 Army-Navy game, which was perhaps the first Game of the Century. This link will take you to the review, which he penned last year on the occasion of the 121st Army-Navy game. An important reminder of a time when people put their differences and egos aside to work for the good of the country, like the veterans we honor today.
https://www.jodyferguson.com/post/army-navy-game
From there you can access his web page and find out more about his novel (which I highly recommend!).
Last Week's Games
Big 12 Week 10
Still stunned by Texas Christian's 30-28 upset of Baylor.  Sure the Bears are too.
Oklahoma State cruised to a 24-3 win over the Mountaineers in Morgantown.  Good road win for Gundy and the Pokes.
K State 35-10 over Kansas.
Top 25 – Week 10
A few to note, but only a few, as it is quite late.
Louisiana State hung with Crimson Tide, falling 14-20.  Line was 28.5 I believe.
Purdue upset Michigan State 40-29 as the Boilermakers are the troublemakers for Big 10 foes.
Nebraska covered against Ohio State, only losing 17-26.
Michigan rolled over Indiana 29-7.
Mack Brown worked his magic, upsetting No. 9 and undefeated Wake Forest 58-55 with 24 points in the fourth quarter.
Navy sailed into Notre Dame Stadium for their annual beating, and took it like men, 34-6.
Texas Agricultural & Mechanical 20, Auburn 3.
Ole Miss 27-14 over Liberty.  Hotty Toddy!
Tennessee with the 45-42 upset of Kentucky.
Other Games of Interest Last Week
Army 21-14 over Air Force
Memphis beat Southern Methodist 28-25.
Colorado with a 37-34 double overtime win over Oregon State.  High on the victory, the Buffs fans stormed the field as their team moved to 3-6 on the season.
Undefeated UT San Antonio stays that way, beating UTEP 44-23.
Tough times for the Trojans.  Arizona State 31-16 over Southern Cal
Texas Volleyball
The Longhorn volleyball team lost its first match last weekend and are now 19-1.  They dropped to No. 2.  They bounced back with a sweep of the Land Thieves at Gregory Gym Thursday night.  They play again Friday night, 7:00 p.m. at Greg.
PECOS Outdoors
This table is an amazing product.  The accessories are really cool.  Check it out.  I have already ordered mine.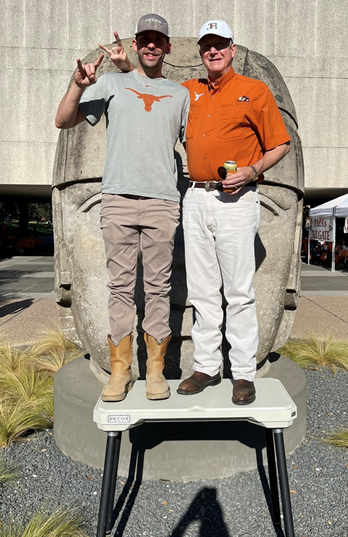 Music
When I was at W&L, I had the good fortune of being close friends with several guys who "played tapes".  That's what we called dee-jaying back then.  We all made cassette tapes with our favorite music, loaning each other LP's and putting together playlists that had two sides of a little cassette.  I learned at the KA house with William Henry Hodges III of Alexandria, Louisiana, and his playing partner Jimmy Abeloff.  Will had the equipment, Jimmy had the cool.  My pledge brother Mark Shuford got a nice mixer and some good speakers, and he started playing tapes too.  I joined him on many trips down the road to play tunes at Hollins and Randolph-Macon.  Music was a big part of college, and in celebration of the Generals' conference championship, here are my favorite songs of off of W&L Juke 1 and Beach Music 1.
Grazing in the Grass, Friends of Distinction
Both Ends Against the Middle, Jackie Moore.
The Love I Lost, Harold Melvin and the Bluenotes
Jimmy Mack, Martha Reeves & the Vandellas
Good Guys Only Win in the Movies, Mel & Tim
Cooling Out, Jerry Butler.  Man that guy had some great songs.
What Does it Take?  Junior Walker and the All-Stars, from 1969.
This Ole Heart of Mine.  The Isley Brothers
IVY LEAGUE REPORT FOR THE EIGHTH AND NINTH WEEKS  OF THE 2021 SEASON
By Lonnie Schooler
ork duties prevented my reporting on the action last weekend, so this "double edition" makes up for that.  The season has progressed to the point where now the race for the title has tightened up considerably.  As usual, the Ivy's guaranteed national television exposure on ESPNU is proving very popular among alumni and football fans everywhere.
Before this group of games was played, Princeton stood alone at the top of the heap, with its 3-0 League record (6-0 overall), and there was a 4-way tie for second, among Columbia, Dartmouth, Harvard and Yale, all with 2-1 records.  As you will see, Ivy League standings were quite jarred in the past two weekends.
RESULTS OF GAMES PLAYED ON OCTOBER 29 AND 30:
In the seventh weekend of the Ivy season, the inaugural game of the weekend featured League leading Princeton traveling to Ith-aca to play the Big Red of Cornell on ESPNU.  The first place Tigers easily prevailed over the Big Red, 34-16.
On Saturday, the Harvard Crimson hosted the Big Green of Dartmouth in a match between two second place contenders.  Dartmouth showed its mettle in holding off the Crimson, 20-17, in a battle for second place supremacy.
Coming off their shocking upset of Dartmouth, the Columbia Lions journeyed to New Haven to joust with Mr. Nondorf's Yale Bulldogs at the Yale Bowl.  Alas, the Lions could not replicate their triumph against Dartmouth, falling to the Bulldogs 37-30, as the Bulldogs' QB, Nolan Grooms, threw for 279 yards and 2 TDs.
Finally, Mr. Babcock's Brown Bruins traveled to Franklin Field in Philadelphia to play my Fighting Quakers of Penn.  Considering how well the Bruins had been playing recently, the result of the game, 45-17 in favor of the Quakers, was surprising.  Brown's QB E. J. Perry again turned in a masterful performance, completing 38 of 55 for 337 yards and two touchdowns.  But the Penn ground game, featuring Isaiah Malcome (121 yards), overwhelmed the Bruins and contributed to Penn's six touchdowns.
RESULTS OF GAMES PLAYED ON NOVEMBER 5 AND 6:
In the eighth weekend of the season, conference competition remained in full bloom.  The premier matchup of the weekend was in the opening game on November 5, as the Big Green of Dartmouth hosted the first place Princeton Tigers in the foot-hills of New Hampshire on national television.  In a surprising turn of events, the Big Green smashed the Tigers, 31-7.  And the game was not as close as the score would indicate!  Dart-mouth has now tied Princeton in won-loss records, and is co-leader after this startling result.
On November 6, the rest of the League was in conference action.  The Harvard Crimson traveled to upper Manhattan to con-front the surprising Columbia Lions.  Alas for Mr. Sharkey, the Lions were no match for the Crimson, losing 49-21.
Mr. Babcock's Bruins fared no better while hosting the Yale Bulldogs.  QB Nolan Grooms again led the way for the Bull-dogs, throwing for 330 yards on just 18 of 26 passes, as the Bulldogs turned a 35-28 halftime lead into a 63-38 victory.
Finally, in the other surprise of the weekend, the cellar dwellers Cornell and Penn faced off at Franklin Field during Penn's homecoming weekend.  The result for the Quakers was a disappointing 15-12 loss in front of the home fans, despite Penn QB Aidan Sayin's 247 yards passing.
SCHEDULE FOR NOVEMBER 13:
Here is the schedule for the ninth week of the season (all game times are CDT) and all games are on Saturday.
The weekend action begins in Cambridge, as the third-place Harvard Crimson host the Fighting Quakers of Penn at 11:00 A.M.
Brown's Bruins joust with the Columbia Lions in upper Manhattan at Noon, as do the Yale Bulldogs, in their match with the Princeton Tigers in New Jersey.
The final game of the weekend pits the "colors," the Big Red of Cornell and the Big Green of Dartmouth, squaring off in Hanover, N.H.
Enjoy your football this weekend as winter has definitely taken hold on the East Coast.  Go Quakers.  And Go Horns.
God Bless Texas
God Bless America
Tim Taylor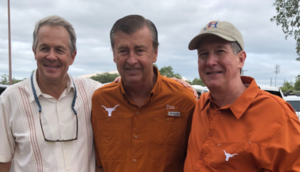 Tailgating before Home Football Games
The Juan Heisman Tailgate
Lot 38, East of Sid Richardson Hall.
HOOK EM HORNS!!
© Timothy C. Taylor, Sr. 2021.  All Rights Reserved (as to original material).
On Twitter:  @tctayloratx
On LinkedIn:  www.linkedin.com/in/tctatx
On Instagram:  @tctayloratx
On Facebook:  www.Facebook.com/Tim.C.Taylor
and:  www.Facebook.com/Juan.Heisman
You can contact me by mail:
Tim Taylor
P.O. Box 5371
Austin, Texas  78763-5371