Texas Longhorns vs. Iowa State Cyclones
Texas finally gets a night game, and it is in Ames, Iowa.  To my surprise, neither the Longhorns nor the Cyclones are ranked.  Texas limps in with a 4-4 overall record and a 2-3 record in the Big 12 with three straight disappointing losses.  Iowa State, who many (including me) thought would be competing for the Big 12 title and certainly a spot in the championship game, is 5-3 and 3-2, and is coming off a 38-31 loss to West Virginia in Morgantown.
The game kicks off at Jack Trice Stadium a little after 6:30 p.m. and will be broadcast on FOX Sports 1.  As always, on the Longhorn Network with the Voice of the Longhorns, Craig Way, joined by Roger Wallace with analysis and Will Matthews reporting from the sidelines.  It will be a chilly night in Ames, with temperatures dropping into the 40's.  It will be in the low 70's and quite comfortable in my den.
Texas holds a 14-4 edge in the series with the Cyclones.  The Longhorns are 6-2 at Jack Trice Stadium.  Iowa State has won the last two meetings, both painfully for Texas.  Cyclones Head Coach Matt Campbell lost his first three meetings with the Longhorns, but the solid results of the program he has building in Ames has led to two close wins for the Cyclones, 23-21 in 2019 and 23-20 last year in Austin.  Before 2020, the only other Texas loss in Austin (21-28) was in 2010.
Sarkisian
Don't try to read into any of my comments that I am down on Steve Sarkisian.  I am not.  I still believe he is the right guy for this job.  We just need to have some patience, as Harry Hilgers pointed out a couple of weeks ago.  Chris Beard appears to have turned the Texas basketball team around in one offseason in his first year, but hoops is a competition ski boat compared to a college football team which is more akin to a battleship or aircraft carrier.  We need to all take a deep breath and see 2021 for what it is:  a new coach who inherited a program that has been in funk for most of the last 7-8 years.  Let's all be Loyal Longhorns, support Sark, support the players, support CDC.  We will get back to the top in football.  And in the meantime, we may make a run on the hardwood with Beard, and the 2022 Texas baseball team is going to be fun.  And let's not forget No. 1 Texas Volleyball!
A University of the First Class
U.S. News & World Report released its annual report ranking of more than 1,700 universities in 90 countries.  U.T. Austin is No. 43 in the world, the top-ranked school from Texas, and the only from Texas in the top 100.  In its U.S. rankings, Texas was No. 38 overall and the No. 10 public university.  President Hartzell said "Another signal of the excellence & trajectory of our university. We bring together exceptional, diverse talent – at scale – in this amazing location of Austin, TX. We look forward to more positive recognition as we push to be the world's highest impact public research university."
Texas Longhorns 24, Baylor Bears 31
I am not as surprised that we lost as I am surprised that we lost a third straight game after a double-digit lead in the third quarter.  I guess I am not surprised that Texas couldn't run the ball but Baylor could and did so quite successfully.  As you will see in the statistics below, we are back to the putrid stage of defense.  Probably there on the offensive line too, and I guess it is a testament to Casey Thompson that he was able to generate (personally) 294 yards of offense against a good Bears defense.  But Bijan was almost a non-factor again because of his line not being able to give him a chance to run, netting 43 yards.  I didn't get to watch much of the game (first time in years – many years), and I will be damned if I was going to go watch what I missed and waste two hours.  From what I did see, I didn't see anything new and creative, either personnel or scheme, to break this slump.  Although the tight ends were a little more involved.
I looked back on ESPN and their win probability program or app or whatever you want to call it.  At one point in the third quarter, UT's win probability hit 80.2%.
No review of the game.  I really thought the Horns might win one for Glenn.  Pretty disappointing.
We have some extraordinary talent on this team, starting with Bijan and Xavier Worthy.  But I am beginning to wonder just how bare a cupboard old Tom Herman left.  Or how lacking in commitment some of the players are.  I don't want to believe that we are back to the entitled attitude problem.  But I fear we are, and I think the core issue is not lack of talent but rather attitude and commitment.  At least based on some of the reports from practice this week.  If we do have such a problem, then I hope Coach Sarkisian cleans house at the end of the season.  Or before then (note I intentionally refrain from the use of the term "sooner").  Geoff Ketchum had a harsh observation:  "On one hand, Tom Herman left Steve Sarkisian with no talent to win with.  On the other hand, Tom Herman left Steve Sarkisian with enough talent to hold double-digit leads in three straight games in the second half against ranked teams."
What I just can't figure out is this inability to hold a lead.  It is just a mystery how a team with this many decent athletes and what I still firmly believe is an excellent coaching staff can blow third quarter leads in three consecutive games and lose.
Once again, I nailed the opponent's score.  I just remain high on the burnt orange Kool-Aid, thinking this team is better than it is.  This is a mediocre college football team, and we just have to accept that Sark and his staff didn't have all the players they needed to make it a good and even moderately competitive team.
At this point, Texas is playing for an above .500 season and bowl eligibility.  As has become cliché the past couple of weeks, Texas is what its records says it is:  a 4-4 team with a losing conference record.  And it won't get much easier this week.
Glenn Taylor
I am overwhelmed by the responses I have received.  I am really grateful.  Many of you have asked about memorials.  I am working on something, and I hope to have information next week. Thank you all for your words, inspiring notes, and comforting words.  And thanks especially for all emails tying together the small, interconnected world in which we live, especially Pat Dyer.  I love Texas.
Iowa State Cyclones
 Texas fans are disappointed with how the 2021 season has gone, but our expectations were perhaps set a bit high.  Iowa State on the other hand had high expectations because both their fans and the media and pretty much anyone who followed Big 12 Football thought the Cyclones would build on 2020 and be the second best team in the conference.  As I wrote to open the 2021 season "The Cyclones are good, really good, and are coming off an 8-1 Big 12 record last year (9-3 overall) and a 34-17 win over Oregon in the Fiesta Bowl, regular season wins over Texas and Oklahoma.  And 19 starters from that team are returning, 10 on offense and 9 on defense."  So to be sitting at 5-3 and 3-2 in conference and unranked the first weekend in November, well that isn't what Coach Matt Campbell and his team was expecting.  But it doesn't mean they can't get to Arlington in four weekends, if they beat Texas and get some help along the way, so I expect them to be really aggressive and competitive on Saturday.
The Iowa State season started with a scare, as they battled to beat Northern Iowa 16-10.  Since then, the Panthers have won 5 games (mostly over teams you wouldn't recognize, other than the Southern Illinois Salukis) and lost 2 games (at least one team you would recognize – North Dakota State).
The next weekend the Cyclones lost to No. 10 Iowa 17-27, a loss which up until a couple of weeks ago looked okay given the roll Iowa was on. The Hawkeyes have dropped two in a row and are ranked 22.  Iowa State rebounded against UNLV 48-3; the Rebels are 0-8, so not much stock in that win.
Then the tough 31-29 loss at Baylor, as the Cyclones had rallied and scored with less than 30 seconds in the game, but couldn't convert the 2-point conversion to force overtime.  Baylor, of course, is having a really good season and ranked No. 12 in the first CFP poll.
Iowa State then beat Kansas 59-7 and won 33-20 over Kansas State in Manhattan.
On October 23, Iowa State got then No. 8 Oklahoma State in Ames, and the Cyclones got a big 24-21 over the Cowboys to hand them their only loss in 2021 and put Iowa State back on the road to Arlington.  Brock Purdy had a good game against that stout Oklahoma State defense, throwing for 307 yards and two touchdowns.  Cyclone receiver Xavier Hutchinson caught 12 of Purdy's passes and both of his TD's, 125 yards.  Big Charlie Kolar had 6 catches for 69 yards. Breece Hall managed to slug out 70 yards on 21 carries and got a score.
Of particular note, the Iowa State defense held Jaylen Warren to 76 yards on 18 carries; against Texas, Warren gained 193 yards.
Unfortunately for Iowa State, they had a bad trip to Morgantown last weekend.  West Virginia finally played football like I thought they could, as Leddie Brown rushed for 109 yards and 2 scores, while Jarret Doege threw for 370 yards and 3 touchdowns, including a fourth and 3 conversion for a 22 yard touchdown.  West Virginia stunned the Cyclones 38-31.  And that was despite Breece Hall having a big day with 167 yards on 24 carries, a score, and 3 catches for 19 yards.
That's the Iowa State 2021 season to date.  A look at their key players, starting with what I called pre-season one of the best quarterback-running back duos in the country, Brock Purdy and Breece Hall.  Brock Purdy is good, not great, but the two are a great pair in the backfield for Matt Campbell.
Breece Hall is fifth in the nation in rushing with 123.13 yards per game.  He is sixth in total yards (985) and tied for eighth in rushing TDs (12).  We think Bijan has had a lot of carries (163); Hall has 179.  In the Big 12, Hall is first and Bijan is second in yards per game, total yards, and rushing touchdowns.  We will undoubtedly see Hall with the ball a lot.  I am not optimistic that the No. 9 rush defense in the Big 12 (we are better than Kansas!) will stop Breece Hall.
Brock Purdy is having a good year.  No. 2 in the Big 12 with 229.1 yards per game (only good for No. 51 nationally), he is completing 73.3% of his passes (good for fourth nationally).  Not a huge threat to run.  266 gross yards (205 net).
Xavier Richardson (No. 8, Senor WR, 6-3, 210) leads the Cyclones with 590 yards on 52 catches, 5 touchdowns, and averaging 73.75 yards per game.  Charlie Kolar (No. 88, Redshirt Senior Tight End from Norman, OK, 6-6, 260) has played well against the Longhorns for what feels like a decade now.  Kolar has 358 yards on 28 receptions and 2 scores.  Texas needs to also watch out for Tarique Milton (No. 1, Redshirt Senior WR, 5-10, 195); only 214 yards on 13 receptions, but he is averaging 16.46 yards per catch.
Jake Hummel, the big linebacker, is a Senior this Year (No. 35, 6-1, 235).  He and fellow senior linebacker Mike Rose (No. 23, 6-4, 250 pounds, 2020 Big 12 Defensive Player of the Year) are tied with 51 tackles each.  Those two guys have accounted for over 16% of Cyclone tackles this season.  Hummel has 27 solo, 5 TFL for 16 yards, a sack for 11 yards, and an interception.  Rose has 21 solo tackles, 6.5 TFL for 16 yards, and a sack; and he missed the West Virginia game after 45 consecutive starts.  Looks like he will play tomorrow.
The Iowa State placekicker, Andrew Mevis, is 12-14 this year and a Lou Groza semi-finalist.
So, Matt Campbell has another solid, championship contending team.
Texas Longhorns vs. Iowa State Cyclones
A short series which Texas once dominated has turned to the favor of the Cyclones the last couple of years.  I had this game as a question mark (W or L?) before the season, and I am less confident now than was in August.  As you will see from the stats below, the Iowa State defense is very good, one of the best in the nation.  They pair that with a solid but not spectacular offense.  The Texas offense still has good statistics, but I believe those are a bit skewed by some big games against lesser opponents, and I fear that if I had time to break it down by quarters and halves, our second half and fourth quarter offense would rank rather low.  Bottom half at least I am guessing, maybe bottom third.
The Statistics
Offense
| | | |
| --- | --- | --- |
| Statistic | Texas | Iowa State |
| Rushing Offense | #19 – 213.9 ypg | #51 – 178.6 ypg |
| Passing Offense | #69 – 233.5 ypg | #51 – 249.6 ypg |
| Total Offense | #31 – 447.4 ypg | #45 – 428.3 ypg |
| Scoring Offense | #10 – 39.4 ppg | #41 – 32.1 ppg |
| First Downs | #69 – 20.9/game | #61 – 21.3/game |
| Sacks Allowed | #69 – 18, 118 yards | #18 – 10, 59 yards |
| Tackles for Loss Allowed | #31 – 39, 150 yards | #17 – 34, 114 yards |
| Third Down Conversions | #33 – 45.3% | #87 – 37.4% |
| Fourth Down Conversions | #68 – 50% | #23 – 69.2% |
| Red Zone Offense | #19 – 92% / 73% | #9 – 94% / 69% |
| Long Run Plays | #58 – 43/10, 17/20, 9/30, 5/40 | #70 – 41/10, 14/20, 9/30, 6/40 |
| Long Pass Plays | #69 – 72/10, 27/20, 15/30, 7/40 | #55 – 77/10, 29/20, 13/30, 4/40 |
| Long Scrimmage Plays | #74 – 115/10, 44/20, 24/30, 12/40 | #55 – 118/10, 43/20, 22/30, 10/40 |
Defense
| | | |
| --- | --- | --- |
| Statistic | Texas | Iowa State |
| Rushing Defense | #118  – 205 ypg | #14 – 101.9 ypg |
| Passing Defense | #64 – 227.4 ypg | #17 – 188.9 ypg |
| Total Defense | #107 – 432.4 ypg | #5 – 290.8 ypg |
| Scoring Defense | #92 – 29.8 ppg | #22 – 19.6 ppg |
| Sacks | #96 – 14, 94 yards | #68 – 17, 116 yards |
| Tackles for Loss | #71 – 46, 156 yards | #56 – 50, 183 yards |
| First Downs Allowed | #94 – 21.9/game | #11 – 16.1/game |
| Third Down Conversions | #82 – 40.5% | #54 – 37.7% |
| Fourth Down Conversions | #124 – 77% | #43 – 45.5% |
| Red Zone Defense | #66 – 83% / 46% | #32 – 78% / 56% |
| Long Run Plays Allowed | #101 – 49/10, 20/20, 9/30, 2/40 | #19 – 27/10, 11/20, 0/30, 0/40 |
| Long Pass Plays Allowed | #50 – 67/10, 25/20, 8/30, 7/40 | #35 – 61/10, 25/20, 7/30, 4/40 |
| Long Scrim. Plays Allowed | #75 – 116/10, 45/20, 17/30, 9/40 | #20 – 88/10, 36/20, 7/30, 4/40 |
*Best defense against long runs? UTSA.  25 runs of 10 yards, but zero – none – over 20.  Best in the nation on that mark.
Other
| | | |
| --- | --- | --- |
| Statistic | Texas | Iowa State |
| Turnovers | #37  – 3F; 6I | #17 – 3F; 4I |
| Turnover Margin | #25,  13:9, +0.5 | #45,  9:7, +0.25 |
| Penalties | #42 – 46, 362 yards | #15 – 36, 277 yards |
*Based on total number of penalties.
Match-up Comparison
| | |
| --- | --- |
| Texas Offense | Iowa State Defense |
| Rushing Offense – 213.9 ypg | 101.9 ypg – Rushing Defense |
| Passing Offense – 233.5 ypg | 188.9 ypg – Passing Defense |
| Total Offense – 447.4 ypg | 290.8 ypg – Total Defense |
| Scoring Offense – 39.4 ppg | 19.6 ppg – Scoring Defense |
| First Downs – 20.9/game | 16.1/game – First Downs Allowed |
| 3rd Down Offense – 45.3% | 37.7% – 3rd Down Defense |
| 4th Down Offense –  50% | 45.5% – 4th Down Defense |
| Red Zone Offense – 92% / 73% | 78% / 56% – Red Zone Defense |
| LRP – 43/10, 17/20, 9/30, 5/40 | 27/10, 11/20, 0/30, 0/40 – LRP Allowed |
| LPP – 72/10, 27/20, 15/30, 7/40 | 61/10, 25/20, 7/30, 4/40 – LPP Allowed |
| LSP – 115/10, 44/20, 24/30, 12/40 |  88/10, 36/20, 7/30, 4/40 – LSP Allowed |
| | |
| --- | --- |
| Texas Defense | Iowa State Offense |
| Rushing Defense – 205 ypg | 178.6 ypg – Rushing Offense |
| Passing Defense – 227.4 ypg | 249.6 ypg – Passing Offense |
| Total Defense – 432.4 ypg | 428.3 ypg – Total Offense |
| Scoring Defense – 29.8 ppg | 32.1 ppg – Scoring Offense |
| First Downs Allowed – 21.9/game | 21.3/game – First Downs |
| 3rd Down Defense – 40.5% | 37.4% – 3rd Down Offense |
| 4th Down Defense – 77% | 69.2% – 4th Down Offense |
| Red Zone Defense – 83% / 46% | 94% / 69% – Red Zone Offense |
| LRP Allowed – 49/10, 20/20, 9/30, 2/40 | 41/10, 14/20, 9/30, 6/40 – LRP |
| LPP Allowed – 67/10, 25/20, 8/30, 7/40 | 77/10, 29/20, 13/30, 4/40 – LPP |
| LSP Allowed – 116/10, 45/20, 17/30, 9/40 |  118/10, 43/20, 22/30, 10/40 – LSP |
 A few things that really catch my attention:
Our rushing offense has declined.  Going in to the Red River Rivalry game, Texas had the No. 5 rushing offense in the nation averaging 268.6 ypg, and we were No. 19 in long running plays. The yards per game drop is probably more significant that it might appear; as a baseball fan, I have learned that it gets harder and harder as a season progresses to move a stat.  The drop in explosive running plays is huge – from No. 19 pre-OU to No. 58 today. Here was that line after the Texas Christian Game and now:
#19 – 34/10, 12/20, 6/30, 4/40
#58 – 43/10, 17/20, 9/30, 5/40
So if I am doing my math right late, late at night, Texas has in 3 games managed 9 rushes over 10 yards, 5 over 20, 3 over 30, and 1 over 40.
Then there is the pitiful Texas defense.  In 2019, Purdy threw for 354 yards and 2 scores and Breece Hall rushed for 101 in the ISU win.  In 2020, Purdy threw for 312 yards and a TD and Hall rushed for 91 yards and a score.  I fear that unless there has been some miraculous improvement over the last few days, both will have much bigger days against this Texas defense.  And Charlie Kolar worries me.
Official Texas Preview:
https://texassports.com/news/2021/11/1/football-preview-at-iowa-state.aspx
The Texas Game Notes:
https://texassports.com/documents/2021/11/1/09_Iowa_State.pdf
Jack Trice Stadium
Saturday's game will be played in Jack Trice Stadium.  John G. "Jack" Trice was the first African-American athlete at Iowa State, and only the second playing football at a college in the country.  He was the son of a Buffalo Soldier, Green Trice.  He died from injuries sustained in a game against Minnesota on October 6, 1923.  The night before, he wrote a letter.
 "My thoughts just before the first real college game of my life: The honor of my race, family & self is at stake. Everyone is expecting me to do big things. I will. My whole body and soul are to be thrown recklessly about the field tomorrow. Every time the ball is snapped, I will be trying to do more than my part. On all defensive plays I must break thru the opponents' line and stop the play in their territory. Beware of mass interference. Fight low, with your eyes open and toward the play. Watch out for crossbucks and reverse end runs. Be on your toes every minute if you expect to make good."
During the first half of the game against the Gophers, Trice suffered a broken collarbone. He continued to play. During the third quarter, trying to tackles the Minnesota running back, and was "roll blocked" and trampled by three Minnesota players.  He died three days later of internal bleeding. Four thousand students and faculty members attended his funeral service on central campus.  The question remains today whether he was injured in a football play at a time when play was particularly rough, or were the injuries intentionally inflicted.
Jack Trice was a member of Alpha Phi Alpha.  Not sure many fraternities can boast of a brotherhood with alumni like ΑΦΑ.  Here are a few: Martin Luther King Jr., W.E.B. Du Bois, Dick Gregory, Duke Ellington, Lionel Richie, Walt Frazier, Jesse Owens, Justice Thurgood Marshall, Robert F. Smith (Vista Equity), Ambassador Andrew Young, and one of my favorite ESPN guys ever, Stuart Scott.
Jack Trice Stadium is currently the only Division I FBS stadium or arena to be named after an African-American.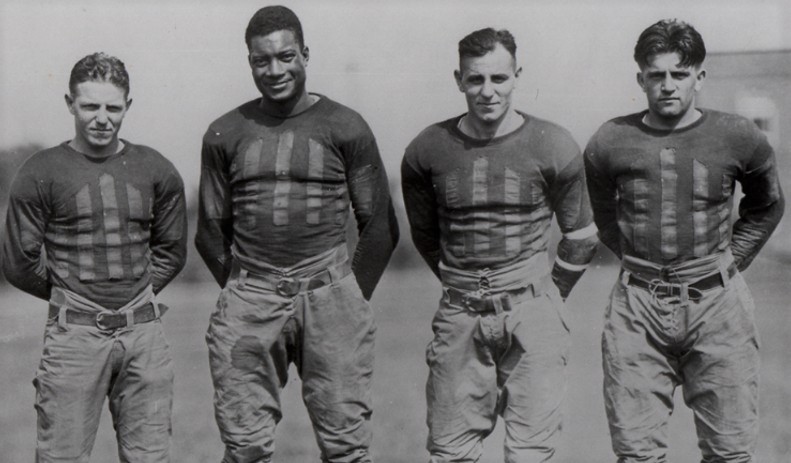 https://www.sbnation.com/longform/2014/11/25/7275681/jack-trice-iowa-state-football-profile
Iowa State University of Science and Technology
From the ISU website (https://digital.lib.iastate.edu/online-exhibits/iowa-state-sesquicentennial
Iowa Agricultural College and Model Farm (now Iowa State University) was officially established on March 22, 1858, by the legislature of the State of Iowa.  Story County was selected as a site on June 21, 1859, and the original farm of 648 acres was purchased for a cost of $5,379.  The Farm House, the first building on the Iowa State campus, was completed in 1861, and in 1862, the Iowa legislature voted to accept the provision of the Morrill Act, which was awarded to the agricultural college in 1864.  Iowa Agricultural College (Iowa State College of Agricultural and Mechanic Arts as of 1898), as a land grant institution, focused on the ideals that higher education should be accessible to all and that the university should teach liberal and practical subjects. These ideals are integral to the land-grant university.
In 1959, the college was officially renamed Iowa State University of Science and Technology.  The focus on technology has led directly to many research patents and inventions including the first binary computer (the ABC), Maytag blue cheese, the round hay baler, and many more.
Iowa Agricultural College and Model Farm was the first designated land-grant institution under the Morrill Act (although the first to be established and opened was Kansas State).  Will re-visit the Morrill Act soon I think.
Iowa Aggies.  Kudos on the round hay baler and Maytag blue cheese.  What starts in Ames changes farming and salads.
Big moments in ISU History:
1876, the university cemetery is opened, one of the few active cemeteries associated with a university campus in the U.S.
1898, renamed the Iowa State College of Agricultural and Mechanical Arts.
1913, college roads are paved.
1939, the Atanasoff-Berry Computer is invented; The ABC was the world's first electronic digital computer.
1943, James Keith Shillington earns his B.S. degree (he taught organic chemistry at Washington & Lee University for decades, influencing the lives of hundreds of young men who would go on to be fine doctors and other professionals throughout the South and other parts of the country).
Want to learn more?  Of course you do!
http://www.isualum.org/pride/traditions/traditions-and-history/
Some of Iowa State's distinguished alumni.
George Washington Carver (1894 ag, MS 1896).
Hugh Sidey ('50 journalism), presidential biographer and former White House columnist for Time magazine
John Garang (PhD '81 econ), former vice president of Sudan and former leader of Sudan's People's Liberation Army
Elwood Mead (1883 civil engineer), Bureau of Reclamation commissioner during the construction of the Hoover Dam; Lake Mead is named for him
Lee Teng-Hui ('53 ag econ), president, Republic of China (Taiwan), 1988-2000
Frederick Douglass Patterson (DVM '23, MS vet path '27), founder, United Negro College Fund
Ames and Iowa
Iowa derives its name from the Ioway people, one of the many Native American tribes that occupied the state at the time of European exploration.  It is the only state that has a state abbreviation that consists of two vowels (IA).  It is the only state who's eastern and western borders are formed entirely by rivers (Mississippi on the east and the Missouri and Big Sioux on the west).
Iowa was once part of Louisiana, and as such came to the United States in one of the greatest real estate deals of all time, the Louisiana Purchase.  (Refresher – $11,250,000 cash and debt forgiveness of $3,750,000, or 3 cents an acre.  And it came with minerals.)
Estimated population of Iowa in 2020 was 3,190,369.   The DFW MSA in 2020 was about 7,637,387, Greater Houston MSA 6,997,384.  Austin-Round Rock-San Marcos MSA os 2,183,371, and San Antonio-New Braunfels MSA is 2,590,732.
Ames is a bustling metro area of about 90,000.  Founded in 1864 as station stop for the Cedar Rapids and Missouri Railroad, by a woman named Cynthia Olive Duff (a Kellogg heiress) and a railroad baron named John Insley Blair.  Ames is named after a Massachusetts congressman, Oakes Ames, and the location was chosen because it was a good place to cross the Skunk River.  What does Congressman Ames have to do with a place to ford the Skunk River in Iowa?  Not sure, but best I can guess it is because he was the guy who got the Union Pacific portion of the transcontinental railroad built.  How?  He was in Congress, on the Committee on Railroads, and then his family firm got the contracts to work on the railroad, and then he got his brother Oliver appointed president of the Union Pacific, and then the railroad got finished.  And Ames and his family got really rich.
I listen to a lot of Cubs games on the radio.  The Des Moines, Iowa visitors bureau or whatever advertised this last summer with the tag line "Des Moines – the esses are silent but the city is buzzing".  Brilliant.
For you economic development and chamber of commerce types:  Iowa State is the largest employer with 16,647.  The City of Ames is next with 1,573.  The Ames School District is 8th with 650.
Going that way?  My choice for FBO would be Hap's Air Service at the Ames Municipal Airport.  Call ahead, 515.232.4310.  Or you can email – [email protected].  Big note on Hap's website (www.hapsair.com):  "During ISU football season the Ames Airport is under a TFR for every home game. TFRs' typically begin one hour before kickoff and end one hour after the game's conclusion. Always contact DSM ATC before landing or taking off during the TFR."  Just a heads-up Tony.
Hartley (Hap) and Jane Westbrook started Hap's Air Service, Inc. in 1947, in Guthrie Center, IA. Hap returned from flying B-24 bombers in the European theater of WWII, where he spent two years as a POW. Afterwards, they moved the operation to Atlantic, IA in 1952, where they raised their five children and succeeded in turning a small fuel stop into one of the busiest airports in Southwest Iowa. Hap's made the final move to Ames in 1975, and the family has been instrumental in making the Ames airport one of the busiest airports in Iowa. Regrettably, in November 2000, the family lost Jane (our heart) and in October 2002, Hap (our leader) suffered a heart attack and passed away due to complications.
This photo is from Hap's website.  Not sure the vintage, but pretty cool.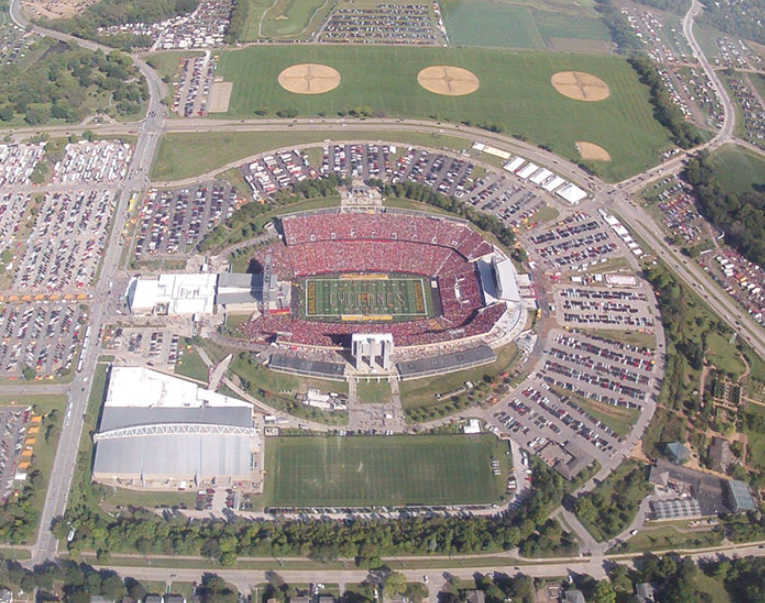 If you are driving, you are in luck.  I-35 runs right through Ames.  From West Austin to Jack Trice Stadium it is just 921 miles.  Without traffic, you can do that in about 14 hours.  There is never any traffic on I-35.  Or construction or delays.
The Polls
The first College Playoff Rankings came out on Tuesday and the uproar was immediate and loud.  I see why.  Not Oregon being ranked, because they beat Ohio State in the Shoe.  So for the first ranking, I am okay with the Ducks getting their due.  I am not a Cincinnati fan, but they got hosed.  I am re-running my argument for an expanded playoff below.  Got to get it done.
CFP:  Georgia, Alabama (7-1), Michigan State, and Oregon (7-1).  There three undefeated teams outside of the Top 4, and undefeated UTSA didn't make the cut.  Anyway, 5 through 10:  The Ohio State University TM, Cincinnati, Michigan, Oklahoma, Wake Forst, and Notre Dame.  Then Oklahoma State at No. 11 followed by Baylor, Auburn, Texas Agricultural & Mechanical, Brigham Young.  Ole Miss at No. 16, and 5-3 Mississippi State at No. 17.
AP Top 25:  Georgia, Cincinnati, Alabama, Land Thieves, Michigan State, The Ohio State University TM, Oregon, Notre Dame, Michigan, and Wake Forest.  Wake Forest!  First time the Demon Deacons have made the top 10.  Oklahoma State up to No. 11, Texas Agricultural & Mechanical at No. 13, and Ole Miss drops to 15. Baylor is 14.  UTSA Roadrunners No. 16.  Holgo and the Cougars enter the poll at No. 20, and Southern Methodist drops to No. 23.
Coaches Poll:  UGA, Cinci, Roll Tide, Land Thieves, The Ohio State University TM, Spartans, Ducks, L'Université de Notre Dame du Lac, Demon Deacs, and Michigan.  Okie A&M No. 11, Texas Agricultural & Mechanical is No. 12.  Baylor 13.  Hotty Toddy down to 14. UTSA at 18.  Cougars 19, Ponies 24.
Note Penn State is 5-3 and No. 22 in both polls.  All Texas had to do was hold a lead in Waco and they would probably have gotten back in the rankings.  Dadgummit.
Week 10
Big 12
Kansas State at Kansas, 11:00 a.m. on FS1.  The Sunflower Showdown with the winner getting the Governor's Cup.  This will be game 119.  And here is what will shock you – the Kansas Jayhawks lead the all-time series 64-49-5.  But since 1969 K State leads 35-19-1.  K State favored by 24, and the over/under is 55.5.  Kind of like the under there, and not sure about the line.  Lincoln Riley says those Jayhawks are sneaky good.
No. 11 Oklahoma State at West Virginia, 2:30 p.m. on ESPN.  Mountaineers coming off the big upset of Iowa State.  Cowboys narrow 3.5 point favorites.  Over/under at Milan Puskar Stadium is 49.
No. 12 Baylor at Texas Christian.  2:30 p.m. on FOX from Amon G. Carter Stadium.  I am still stunned that Texas Christian and Gary Patterson decided to "part ways".  Baptists versus Disciples of Christ in a football rivalry that began in 1899.  Horned Frogs lead the series 56-53-7.  Baylor favored by 6.5 and the over/under is 58.  Like the Bears in this one.
Top 25
Missouri at No. 1 Georgia, 11:00 a.m. on ESPN.  Tigers are 1-3 in the SEC and not very good, and Georgia is one of the better teams we have seen in a while.  Bulldogs favored by 39, over/under is 59.5.  Let me give you a stat:  Missouri has the worst rush defense in FBS, allowing 283.9 yards per game.  Georgia averages 193 yards per game on the ground.  Georgia has the No. 2 defense in the country, allowing 224.9 yards per game.
No. 5 Ohio State at Nebraska.  11:00 a.m. on FOX.  Since their loss to Oregon in Week 2, the Buckeyes have been playing really good football.  Although their toughest opponent has been Penn State, and Ohio State won that game 33-24.  Nebraska is 3-6 and 1-5 in Big Ten play.  Not so good.  Ohio State favored by 14.5, over/under is 66.  I like the Buckeyes to cover.
No. 9 and undefeated Wake Forest at North Carolina, 11:00 a.m. on ABC.  Tar Heels are 4-4 and 3-3, in what has to be a disappointing season for Mack Brown.  Such high expectations for 2021. Mack, I feel your pain.  But Vegas still loves you just like we do!  UNC favored by 2.5, over/under is 76.5.
Liberty (7-2) at No. 16 Ole Miss (6-2), 11:00 a.m. on the $EC Network.    Rebels favored by 9.5, over/under is 67.  Hotty Toddy!
Illinois at No. 20 Minnesota.  11:00 a.m. on ESPN2.  Another classic Big Ten battle with an over/under at 44.  Gophers favored by 14.5.
No. 25 Pittsburgh at Duke.  11:00 a.m. on ACC Network.  Panthers favored by 21, and the over/under is 64.  Seems like a big line, even against the Blue Devils.
No. 3 Michigan State at Purdue. 2:30 p.m. on ABC.  The Spartans coming off that huge win over Michigan, and yet only favored by 3.  This is of course exactly the kind of line which I will jump on, over bet, and then regret.  But I am still going to do it.  Go Spartans!  Over/under is 53.5.
Tulsa at No. 6 Cincinnati.  2:30 p.m. on ESPN2.  Now, before the CFP Rankings came out, I would have thought this might be a bit of a close game.  Tulsa just 3-6 and 2-2 in the American, and maybe Cinci would let their guard down a little.  But now, getting slotted at 6 by the Committee, I think Cincinnati is going to beat the snot out of Tulsa.  The line is 22.5 and I am on it.  Over/under is 55.
Navy at No. 10 Notre Dame.  2:30 p.m. on NBC.  A great and historical rivalry game.  Played since 1927, it is the longest running intersectional rivalry in college football (save Covid).  Yes, a rivalry, but the Irish lead 77-13-1.  Notre Dame had a 43 game winning streaked snapped in 2007 when the Midshipmen got the triple overtime win but the last Navy win before that was when Roger Staubach was in Annapolis.  Trivia for you:  the game has never been played at Navy-Marine Corps Memorial Stadium.  Navy has always hosted at a larger stadium (pro stadiums usually).  Notre Dame favored by 21, and the over/under is 47.5.  Midshipman Ford Knippa from Austin will be in South Bend enjoying the game with some buddies from the Academy.  Safe travels Ford.
Big game in College Station.  No. 13 Auburn at No. 14 Texas Agricultural & Mechanical.  2:30 p.m. on CBS.  Both teams 6-2, with Auburn 3-1 in SEC and Texas Agricultural & Mechanical 3-2.  Texas Agricultural & Mechanical favored by 4.5, and the over/under is 49.5. War Eagle!
Idaho State at No. 15 Brigham Young.  2:30 p.m. on ESPN3.  No line.
No. 21 Wisconsin at Rutgers, 2:30 p.m. on BTN.  Badgers favored by 13, over/under 37.5.
No. 17 Mississippi State at Arkansas, 3:00 p.m. on SECN.  Pigs are 1-3 in the SEC.  And favored by 4.5 over the newly ranked Bulldogs.  Over/under is 55.5.
No. 19 NC State at Florida State, 3:00 p.m. on ACCN.  Wolfpack a narrow 2.5 point favorite at Doak Campbell Stadium.  Over/under is 56.  Seminoles are playing a bit better, but still like NC State in this one.
Louisiana State at No. 2 Alabama.  6:00 p.m. on ESPN.  Good game.  Yes, Crimson Tide favored by 28.5, but I just hope Orgeron and his kids play well and give Bama a game.  Over/under is 66.5.
Tennessee at No. 18 Kentucky.  Remember when the Wildcats had a decent chance at the SEC title game, before we knew just how good Georgia is?  Now Kentucky is a 1 point underdog at home to 4-4 Tennessee.  Over/under is 56.5.
No. 22 Iowa at Northwestern, 6:00 p.m.  From No. 2 in the nation to No TV.  Wow.  Iowa favored by 12, Over/under is 40.5.
Boise State at No. 23 Fresno State. I think 7-2 Fresno State being ranked by the committee while undefeated UTSA got ignored may be what irks me the most, and therefore I hope Boise State goes to the Valley and beats the crap out of Fresno. Bulldogs 5 point home favorites, over/under is 60.
No. 4 Oregon at Washington.  6:30 p.m. on ABC.  The Border War, played since December 1, 1900.  Huskies lead the series 60-47-5.  Looks familiar.  Ducks favored by 7, and the over/under is 51.
No. 7 Michigan hosts Indiana at the Big House.  6:30 p.m. on FOX.  Hoosiers 0-5 in Big Ten play, and Wolverines are 4-1.  Michigan favored by 20, over/under is 51.  Got Big Blue to win and cover.
No. 24 San Diego State at Hawaii.  10:00 p.m. on FS1.  Aztecs favored by 7 over the Rainbow Warriors, and the over/under is 45.5.  A good late night game.
Other Games of Interest this Week
Friday Night
Utah at Stanford, 9:30 p.m. on FS1.  Utes favored by 9 at the Farm.  Over/under is 54.  Should be a good game.
Saturday
The biggest game outside of the Top 25 and Ames Iowa is in El Paso.  Undefeated UT San Antonio UTSA and UTEP (6-2, 3-1) tee it up in the Sun Bowl.  9:30 p.m. on ESPN2.  Huge game for the Roadrunners and Coach Traylor.  If they can beat the Miners, their remaining games are Southern Miss (1-7), UAB (5-3), and at North Texas (2-6).  Sincere McCormick, the UTSA running back, is 11th in the nation averaging 111.38 yards per game.  He has 891 yards on the season and 9 touchdowns.  Roadrunners are 11 point road favorites, and the over/under is 53.
Great game to start Saturday morning with Army vs. Air Force from Choctaw Stadium in Arlington Texas. Yes, I had to look it up too.  It is the old Ballpark in Arlington, former home of the Texas Rangers, now re-purposed for football and soccer.  The game is at 10:30 a.m. and is on CBS.  Those military guys like getting up early.  Air Force favored by 2.5, and the over/under is a Big 10ish 38.
Southern Methodist at Memphis, 11:00 a.m. on ESPNU.  Mustangs are 7-1, Tigers 4-4.  Southern Methodist a 4.5 point favorite, over/under is 70.5.
Rice at Charlotte, 2:30 p.m. on ESPN+.  Owls are 6 point underdogs.
Southern Cal at Arizona State, 9"30 p.m. on ESPN.  Trojans are 8.5 point underdogs in the desert.  Over/under is 60.
Washington & Lee Generals
W&L got another W on Saturday with a last second field goal to defeat the Wasps 30-28.  Heck of a battle with the Eagles, and the Generals were fortunate to get out of Washington County and northbound on 81 with the victory.
From W&L, with a few edits.
The final drive began with 2:50 remaining.  On second down, sophomore quarterback Stephen Murrin (Fort Worth Country Day) hit sophomore wide receiver Gabriel Stulce for a 26-yard gain to the 49-yard line.  The Blue & White picked up one more first down, eventually driving to the E&H 36-yard line for a 4th-and-7 with 39 seconds remaining.  Ramirez (Braswell HS, Providence Village, which is just east of Denton and north of Lewisville, northwest of Frisco; W&L recruits Texas well) lined up for a 53-yard field goal attempt, which fell short.  However, the Wasps were called for running into the kicker, setting up a 4th-and-2 from the 31-yard line.  Senior running back Coby Kirkland picked up the first down with a 4-yard rush, keeping the drive alive.  The Generals picked up another six yards on a rush by senior running back Josh Breece, and W&L ran the clock down to one second before calling its final timeout.  Ramirez made good on his second attempt, extending the Generals' winning streak to seven in a row.
Another W&L classic.  Two passes completed (out of 12) for 49 yards and a pick.  But Murrin was a beast carrying the ball, rushing for 195 yards (he broke one for 82).  Josh Breece continued to add to his record career with 74 yards and a score.
This week, W&L hosts Ferrum at Wilson Field.  The Panthers are 6-2, 3-2 in ODAC Play.  Just the third time we have played Ferrum, who joined the ODAC in 2018.  W&L has won the prior 2 matches.  The chilly autumn has arrived in the Blue Ridge Mountains.  Temperatures will drop below freezing Friday night, and the high Saturday will be 55.  The game kicks-off at 1:00 p.m., Shenandoah Valley time.
Cool Stuff
An amazing announcement in my hometown of Tyler on Tuesday.  The R.W. Fair Foundation has made a donation to The University of Texas at Tyler and the new medical school there which will provide four year scholarships for all 40 students in the first class, allowing them to graduate with almost no debt.  The medical school itself was approved in record time.  Really, really good work by Chairman Eltife.
"To our knowledge, we have never had a medical school launched in the state of Texas that received legislative approval in the very first session requested, that received $100 million in local philanthropy and now has been granted this incredible gift from the R.W. Fair Foundation, where every student in the inaugural class will receive a four-year scholarship to cover their full tuition," Eltife said. "This is just an incredibly phenomenal day for our community thanks to the Fair Foundation."
https://tylerpaper.com/news/education/4-million-donation-to-cover-tuition-for-ut-tyler-medical-school-s-first-class/article_897e8190-3cca-11ec-9cd2-db239a164295.html
From MLB, the skydiver's helmet camera video as he drops into Truist Park for the World Series game.
Not Cool
I have been very disappointed in the officiating in the Big 12 Conference for a long time.  It has deteriorated over the years, in all three sports which I watch, although baseball isn't nearly as bad and inconsistent as the others.  My criticism isn't of the referees' treatment of Texas.  Rather, I think they are consistently bad "on both sides of the ball", be it football, basketball, or baseball.  For example, John Higgins, a Big 12 basketball ref, is the Angel Hernandez of the hardwood (I don't understand his "high ratings").  But the call against Iowa State for taunting, assessing an unsportsmanlike conduct penalty and taking a Cyclones touchdown off the board may be one of the worst football calls I have ever seen.
The egregiousness of a single penalty call in a football game is nothing compared to the NCAA's penalization of Oklahoma State and the Cowboy basketball program in a mess that goes back to the 2017 bribery scandal that scarred college basketball.  An OSU assistant coach, Lamont Evans, was part of that scandal and was arrested by the FBI in 2017.   Evans pled guilty to accepting bribes (among other things – I didn't research too deep), but I believe what he was involved in was recruiting players to a basketball marketing agency, not to Stillwater.  The NCAA prosecuted Oklahoma State based on "proof of Evans being involved in a $300 payment to former Oklahoma State senior Jeffrey Carroll, who later paid back the money and served a three-game suspension during the 2018-19 season."  That was the NCAA's evidence.  And for that heinous crime, Oklahoma State is on probation for three years, no 2022 postseason, scholarship reductions, and recruiting restrictions.
Please watch this.  I am a Mike Boynton fan now.
Mike Boynton speaks candidly on the process of appeals.

Says the NCAA made him fly to Atlanta the day before a Bedlam game and a hearing was also held THE DAY OF a game against Kansas.

The raw emotion is so hard to watch. pic.twitter.com/fPKiKrcwdb

— Tyler Wiederhoeft (@TDWiederhoeft) November 3, 2021
Read more here:
https://www.cbssports.com/college-basketball/news/oklahoma-state-banned-from-2022-ncaa-tournament-after-losing-appeal-of-case-tied-to-fbi-bribery-investigation/
College Football Playoffs
This is a bit of a re-run, but the first CFP Rankings beg for continued advocacy for restructuring and expansion.  Not that I really think it is going to happen, but what if this happened in 2021 (this week's rankings in parenthesis):  Georgia (1) and Alabama (2) win out, and Georgia loses to Bama in the SEC title game; Michigan State (3) wins out and loses to Ohio State (5) in the Big Ten CG; Oregon (4) wins out and wins the Pac 12 regular season and wins the championship game; and then undefeated Cincinnati (6), the Land Thieves (8), and Wake Forest (9) all run the table and finished undefeated?  Only four of those teams play for a national title?  Sure, the odds of all of those teams finishing like that are very long, but you can pull one or two out and you still have at least six teams that should have a shot.
Anyway, we need to expand the playoffs, and to my chagrin it won't happen anytime soon.  Heather Dinich, ESPN Senior Writer reported Thursday that: "College Football Playoff expansion talks have been tabled again until Dec. 1, but the CFP's management committee needs to make a decision on eight or 12 teams by January if the format is going to expand in time for the 2024 season, CFP executive director Bill Hancock said on Thursday following an in-person meeting at the DFW Grand Hyatt."  Why 3 years off?  "Hancock said the deadline is January because the CFP has to identify the dates of the games, and determine logistics like lodging, convention centers and stadiums — in addition to determining the cities for the early rounds and the championship game."
I call bullshit.  It isn't that hard.  Especially with my plan.
I want 12 teams, minimum.  I would prefer a full grid of 16 teams, but I get and accept the idea of rewarding the Top 4 with a bye.  Here is what last season's playoff would have looked like in my 12 team playoff.
The top 4 teams, Alabama, Clemson, Ohio State, and Notre Dame would have had first round byes.
First round, played at higher seed's home stadium, the week or second week after conference championships:
Coastal Carolina at Texas Agricultural & Mechanical
Indiana at Oklahoma
Iowa State at Florida
Georgia at Cincinnati (that was the Peach Bowl game, Georgia won 24-21)
Can you imagine Aggieland and Kyle Field with the Aggies playing for a chance to meet Notre Dame in a New Year's Day Bowl game and a shot at the Football Final Four?
I am going to make an educated guess, and here is what would have been the second round, played either at home stadiums (maybe my preference, but understand the money and bowls) or at New Year's Day bowl games (my suggestions):
Georgia at Alabama (Sugar)
Iowa State at Clemson (Cotton or Peach)
Oklahoma at Ohio State (Rose)
Texas Agricultural & Mechanical at Notre Dame (Orange or Fiesta)
Then the winners of these 4 games would playoff like we have it now.  The two NY6 Bowls that didn't host the Elite Eight would get the semifinal games the next weekend.  That would have been a great tournament.
Week Nine
It is really late, and so taking a bit of a pass.  But I did promise Chris Whitt I would make prominent mention of:
Michigan State 37, Michigan 33.  A battle of undefeated teams in a huge rivalry game ended when the Spartans intercepted Cade McNamara with a minute left in the game to seal the win for Michigan State.  Sparty outscored the Wolverines 15-3 in the fourth quarter to get the win, ending any playoff hopes of Harbaugh and Big Blue.
Last Week's Games – The Big XII
As noted above, a big win for West Virginia, 38-31 upset of No. 22 Iowa State.
Land Thieves hammer Texas Tech 52-21 in Sonny Cumbie's head coaching debut.  Land Thieves covered.
Texas Christian 12, Kansas State 31.  Wow.
Oklahoma State 55-3 over Kansas.
Last Week's Top 25 Games
Tough losses for a few of the family teams.
Auburn 30, Ole Miss 21.
Notre Dame 44-34 over North Carolina.
The Cavaliers gave up 21 points in the fourth quarter to lose in Provo.  Brigham Young 66, Virginia 49.
Southern Methodist upset by Houston, 37-44.  Mustangs kicked a field goal with 30 seconds left to tie the game and go to overtime – nope.  Cougars returned the kickoff 100 yards for a TD.
Texas Baseball
Texas beat McLennan 15-4 on Sunday.
The Fall World Series continues Friday night at 6:00 p.m. and Saturday at 2:00 p.m.
The 2022 schedule is out.  We open with a 3 game home series with Rice, and then host Alabama at the end of February.  Going to be awesome.
https://texassports.com/news/2021/11/4/baseball-announces-2022-schedule.aspx
Texas Volleyball
The Longhorn volleyball team is still No. 1.  Huge match this weekend with No. 10 Baylor.  Friday night at 8:00 p.m. and Saturday at 6:00 p.m. in the Ferrell Center.  Texas leads the all-time series against Baylor, 88-3, with the Longhorns winning all four matches last season.
PECOS Outdoors
This table is an amazing product. The accessories are really cool.  Check it out.  I have already ordered mine.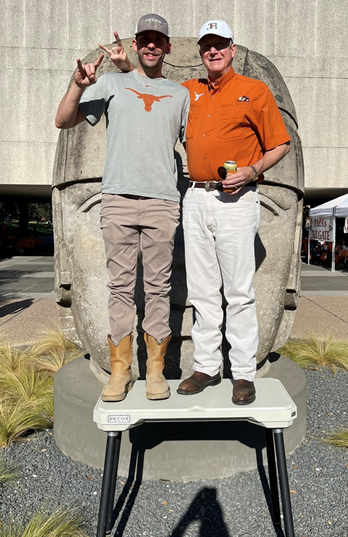 Music
I searched "Songs about Iowa", and there is not much to share.  One bad song from a Rodgers & Hammerstein musical and some bizarre heavy metal.
Haven't listened to much music this week.  Pretty much just KMFA to soothe the soul a bit, and some classical of my own selection.
I enjoy Bach's Brandenburg Concertos.
Allegro from No. 3, one of my favorites.
No. 2:
No. 1 in F Major
Mozart's Symphony No. 5, the Haffner Symphony:
Jim Nicar
1914: Main gate to U.T.'s original Clark Field, where the Gates-Dell Computer Science Complex is today. Students built the first stadium on campus, starting with 3,000 seats in 1907 – constructed in one week! Clark Field grew to 20,000 seats.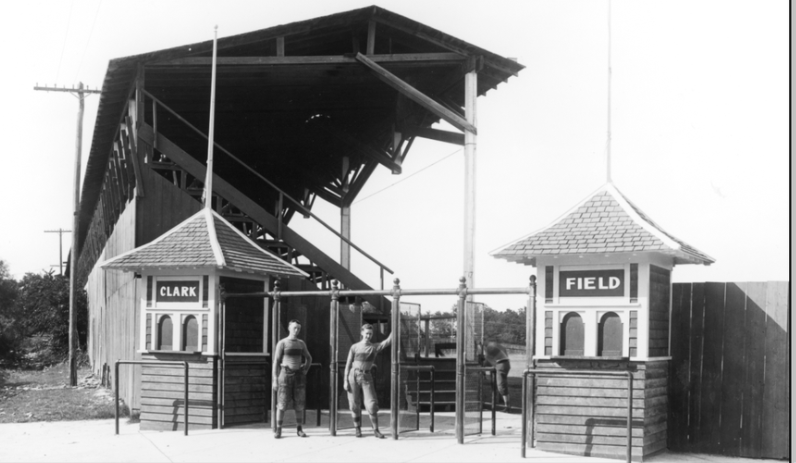 https://jimnicar.com/2014/12/27/the-one-week-stadium/
God Bless Texas
God Bless America
Tim Taylor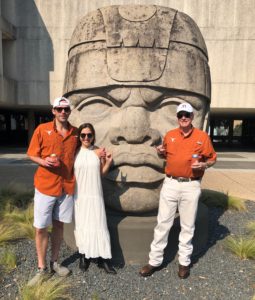 Tailgating before Home Football Games
The Juan Heisman Tailgate
Lot 38, East of Sid Richardson Hall.
HOOK EM HORNS!!
© Timothy C. Taylor, Sr. 2021.  All Rights Reserved (as to original material).
On Twitter:  @tctayloratx
On LinkedIn:  www.linkedin.com/in/tctatx
On Instagram:  @tctayloratx
On Facebook:  www.Facebook.com/Tim.C.Taylor
and:  www.Facebook.com/Juan.Heisman
You can contact me by mail:
Tim Taylor
P.O. Box 5371
Austin, Texas  78763-5371