Texas Longhorns vs. Baylor Bears
The Longhorns make the short trip north on I-35 to Waco to take on the No. 16 Baylor Bears on Saturday.  The game will kick-off shortly at 11:00 a.m. at McLane Stadium, and it will be broadcast on ABC.
Texas has played Baylor 110 times, with the Horns leading the overall series 79-27-4.  Texas is 31-17-2 in Waco.  So while the Longhorns have dominated the all-time series, like so many opponents our record since the advent of the Big 12 is a bit more balanced, in this case Texas 18 wins to Baylor's 6.
Here is the preview.
https://texassports.com/news/2021/10/25/football-preview-at-no-16-18-baylor.aspx
The Texas Game Notes:
https://texassports.com/documents/2021/10/25/08_Baylor.pdf
Except for a short summary below, that's it for this week on the game.  The rest of this newsletter was written before Monday.
Glenn Taylor
My dad passed away on Monday at the age of 88 after a short illness.  I was blessed to have a great father for 61 years.  Glenn Taylor is very important to this newsletter (all of them, not just this week).  But for my dad, I probably would not have become the passionate Texas Longhorns fan I am today, groomed from childhood to love The University of Texas.  So without Glenn, I doubt this newsletter would have begun, much less evolved to where it is now.
Glenn came to The University in 1951 after graduating from Tyler High School.  He pledged Beta Theta Pi, and he made many friendships which would last a lifetime.  After graduating in 1955, Glenn moved back to Tyler, and he was a passionate and proud Longhorn the rest of his life.  He was a Life Member of the Texas Exes, and he was active in the Tyler chapter for many, many years, including serving as President and on the chapter board of directors.  Glenn served on the Ex-Students Association Executive Council for many years in the 1970's and I believe into the 1980's, both as a Regional Vice President and a District Council Representative.
So, bear with me, as I have spent my limited writing time this week on remembering my dad instead of researching and writing about the Baylor game.  It has been a great release and escape for me.  These are a few tiny snapshots of 61 years together as father and son and of my family and some other memories, and really just the things I have been remembering as I celebrate his memory and give thanks for a life well-lived.
Glenn loved Texas Longhorns football.  I can't remember the first game he took me to, but I was very young.  We probably stayed at the Villa Capri.  It was a rare treat to come to a game when I was young, as a trip to Austin for Glenn was usually associated with business, either insurance or Texas Exes, and it didn't include children.  But he took me to the Texas-OU game regularly, where I developed the tradition of getting mustard from my corny dog on my shirt, much to his dismay.  And I have good memories of games in Fort Worth and Waco.
Glenn ended up with season tickets in the late 1970's or early 80's, "inheriting" some bond option seats in Section 5 from a longtime friend in Tyler.  Those seats were the ones he had when I came to law school in 1982, and where I first met many Austin friends I still know today, including Dealey and David Herndon.  Those were the seats I sat in with Kathy when we began dating, and her dear family friends Virginia and Bob Duke sat next to us.  We had some great times in those seats and the law school years and the years that followed.  The games at Texas Memorial Stadium with my dad in those years solidified the bond we shared in our love for the Longhorns.
Glenn graduated from The University in 1955, and my mother Joan graduated in 1956.  Both loved The University, and the friendships which they made in Austin in the 1950's continue in my life.   So many examples, but the one that jumps to mind is my mom's sorority sister Diana Braley.  Diana and her husband Dudley, a dentist in Beeville, were lifelong friends of my parents.  Friday night at Javier's before the Red River Rivalry a couple of weeks ago, I got to see and visit with Diana & Dudley's daughter Anita Braley English.  That is a tradition which we have enjoyed for many, many years, part of the annual dinner with the Crowley's and Young's and festivities at Javier's.
Going back a ways, when I came to Austin in 1982, the place I was going to be living in for law school wasn't ready.  So I lived with Shirley and Larry McPhail for a few weeks.  Shirley and my dad had started first grade together at Gary Elementary in 1936 or so and were lifelong friends.  Shirley's mom, Miss Harriett, was my kindergarten teacher at St. Andrew's.  Shirley and her daughter Edwina taught my older daughters dance at the Shirley McPhail School of Dance.  And in the last few years, I have become friends with Edwina and Neil's son-in-law, Dustin McComas, who until recently was with OrangeBloods.  A fun example of the interweaving of my father's friendships and my life that spans almost a century.
My greatest Texas memory with my dad was the 2005 Rose Bowl against Michigan.  When the game was announced, he called and said he was taking Kathy, Charles, and me to Pasadena.  For my dad and football fans of his generation, the Rose Bowl really was the granddaddy of them all, imbued with a mythical quality that commanded his attention for decades.   To see his beloved Texas Longhorns play in the Rose Bowl was epic for Glenn.  To see them play the Michigan Wolverines made it magical.  We still remember seeing the tears streaming down Glenn's face when Dusty Mangum's 37 yard kick made it through the uprights to give Texas the 38-37 win over Michigan.  It is a memory I will always cherish.
So many cool "firsts" in my life were with my dad.  My first thoroughbred horse race was with Glenn when I was four years old, in Mexico City.  According to family legend, I pointed at a chestnut horse, and despite the long odds Glenn put a few pesos down, and we won.  I am pretty sure the first play I ever saw was the Tyler Civic Theatre production of Neil Simon's The Odd Couple, in which Glenn was somewhat typecast as Speed, an impatient poker buddy of Felix and Oscar who enjoyed a smoke and a drink.  As my sisters Becky and Diana can attest, patience was not Glenn's strong suit.  The first baseball game was at the Astrodome, against the Dodgers and some guy named Koufax; sadly, I was too young to remember anything about the game, although I can remember being in the Dome.  The first cock fight I ever saw, in Bali, Indonesia in 1971, which is a story unto itself.  Suffice to say that in 1971 in a tiny village in Bali, the bank was easily broken, and Glenn and my uncle Bill Cieply were, for a brief moment in time, the owners of at least one fine Balinese fighting cock.
My first buck was on a father-son hunt at the Caiman Ranch with Johnny Glass and my great friend Ken Glass (and Ray Cozby and his dad Wilson, among others).  A very nice 11 point, who is on the wall to my right as I type.  Many, many great memories of hunts there and other hunting trips.  When I got old enough to drive (in Glenn's mind, not in the view of the State of Texas), long Friday night drives to a deer lease would usually end with Glenn "letting" me drive the last hour or two.  I didn't figure out until I was a bit older that I was given that privilege so Glenn could make and enjoy a large scotch or two, as we listened to AM radio and bonded with night driving.
Going back to the Texas Exes EC years, I have great memories of the summer meetings at Lakeway.  Back then, Lakeway was a fancy new resort and it was way, way outside of Austin.  The narrow 2 lanes across Mansfield Dam were the quickest route from Austin, and it wasn't quick.  Rosie's Tamales in Bee Cave was there, but on the Austin side of the 620 & 71 intersection.  That was the closest place to Lakeway to eat, or at least it seemed that way.  The Texas Ex meetings were a blast.  I was a teenager, and the sons and daughters of other Texas Exes were always there for a good party.  One of my most vivid memories is that there was a wonderful lady who was on the Council named Jean Kaspar from Shiner who was always in attendance.  And that is how I came to love Shiner Beer.  She brought a lot of Shiner Beer to Lakeway.  A lot.
Glenn loved to play golf.  His dad, Leon Taylor, was a somewhat famous amateur golfer in Texas, particularly in the post-war years.  Glenn was quite good too, and he could watch a golf tournament on TV from the Colonial in Fort Worth or Pebble Beach or some other course he had played in his long life and tell you about a shot he hit on a hole or a putt he made.  Sadly, I inherited none of Leon's or Glenn's golf abilities, a deficiency I often regret.  This is a pretty cool article about Glenn and Willow Brook Country Club in Tyler:
https://tylerpaper.com/long-time-member-glenn-taylor-recalls-willow-brook-country-club-history/article_9bd7ab6f-5fd1-5866-b2af-e09d92494bcf.html
Glenn didn't just love the Texas Longhorns and football and golf.  He loved sports.  And he imparted that love of sports to me.  Some of my earliest memories are going to basketball games with Glenn and my grandfather Leon at Tyler Junior College, where the legendary Floyd Wagstaff was the coach.  We watched thrilling wins over Lon Morris (not so often when Leon Black was the head coach) and San Jacinto and Kilgore.  To this day, the smell of popcorn at a basketball game reminds me of being at TJC games with my father and grandfather.  I never came close to playing basketball, but thanks to Leon and Glenn, I have been a lifelong fan.  Then there was the Dallas Cowboys.  While Glenn didn't take me to my first Cowboys game, Leon did.  When Dallas played at the Cotton Bowl and Leon had season tickets.  I don't think he missed many home games, and he had season tickets at Texas Stadium too.  At home as a boy and teenager, we rarely, if ever, missed a Cowboys game when it was on TV.  I loved the Cowboys as passionately as a young boy as I love the Longhorns today.  A love I shared with father and grandfather.  There is more to that story, but will save it for another day.
There were of course many other facets of my father.  He was a hardworking, successful independent insurance agent, and he had his license until it expired this past summer.  He didn't really retire until some point during the pandemic.  He was an active civic leader in Tyler, including serving on City Council and as Mayor Pro Tem.  He deeply loved my mom Joan and my sisters Becky and Diana.  We still laugh about family road trips in the Oldsmobile station wagon.  Family trips to Florida, where his sister Suzanne lived, are among the most memorable.  He was beloved by all six of his grandchildren – Charles, Kathryn, Mary Elizabeth, & Claudia, and Diana's kids Taylor & Marshall.  And he got to meet two great grandsons, Kathryn and Mark's Peter and Micah.
This Saturday, for the first time in decades, I won't get to talk about a Texas Longhorns football game with Glenn.  The opposite of the other "firsts" I described above, I face a long list of other firsts in the weeks and months ahead.  But I face them with gratitude for the great memories of my dad and of my mom, memories which will be a blessing for as long as I live.
I am grateful for all the memories, as they are and will be a blessing.  But those memories are for this life.  The greatest legacy from my mom and dad is their faith and the influence they have had on my faith and life.  Their steadfast Christian faith and commitment to the Church was part of our lives, with Sunday School and church every week, and covered dish suppers on Wednesdays during Lent.  We often went to church when we were on family vacations, which gave us the opportunity to see cathedrals, experience High Church, and experience casual church (in Aspen, Christ Episcopal Church in Tyler was not casual).  There is no greater gift parents can give to their children.  "You shall teach them diligently to your children, and shall talk of them when you sit in your house, when you walk by the way, when you lie down, and when you rise up."  Deuteronomy 6:7.
Rest in Peace Glenn.  Love you.
Baylor
The Bears come into the game with a sparkling 6-1 record, 3-1 in conference.  In their early non-conference games, they survived a first game of the season scare with Texas State, winning 29-20.  Then overwhelmed Texas Southern 66-7.  They opened Big 12 play with a 45-7 win over Kansas.  The Bears beat then No. 14 Iowa State 31-29 in Waco, providing the first legitimate evidence that the 2021 Baylor team was in fact a solid squad.  Bears lost at Stillwater in their next game, falling 14-24 to the Cowboys.  They rebounded with a dominating 45-20 win over West Virginia.  And their last game was, like Texas, two weeks ago.  Unlike Texas, Baylor got an important win over a ranked team, beating then No. 19 Brigham Young 38-24.  Against BYU Baylor had 534 yards of offense (303 rushing) and the first penalty-free game in Baylor history.
Baylor quarterback Gerry Bohanon is a junior and playing in his fourth season in Waco.  This of course his first year starting and with significant playing time.  Having a solid season, ranked fifth in the Big 12 with 222.4 yards per game.  Fourth in completions (with 139) and in yardage (1,557).  Third in passing touchdowns with 12, and tied for first with just one interception on the season.  He has also rushed for 134 yards and 6 touchdowns.  He is very competent and playing clean football.
Baylor has a two-headed monster at running back, with seniors Abram Smith and Trestan Ebner, both ranked in the top 10 in rushing in the conference (ypg).  Smith is averaging 112.14 yards per game (Bijan first with 132, Breece Hall second with 116.86).  Smith averages 7.48 yards per carry, tied for second with Garrett Greene of West Virginia (behind Caleb Williams who averages 10.69 yards per carry [with 46.33 ypg] ouch).  Smith is tied for second with Bijan with 10 rushing touchdowns (both trailing Breece Hall with 11).  Total yardage:  Bijan 924, Hall 818, and Smith 785.  So just facing Smith would be a challenge for the eighth ranked rush defense in the Big 12 (114 in the nation), but add Ebner to the mix, and we have a problem. Ebner averages 70.86 yards per game and 6.44 yards per carry.  When you have two running backs who can move the chains in two downs, you better be able to play great run defense.
The Baylor offense is No. 9 in the nation in Rushing at 239.14 yards per game.  No. 1 Rushing offense in the Big 12.
Tyquan Thornton is the leading Bear receiver, with 32 catches (third in Big 12), 541 yards (second in Big 12), 5 touchdowns (tied for second in Big 12), and 77.3 yards per game (3rd in the conference). R.J. Sneed averages 56.9 ypg, good for 11th in the Big 12.  He has 25 catches for 398 yards and a score.  Xavier Worthy is the only active Texas receiver (with J Whitt out) in the top 30 in the conference.  Bijan checks in at No. 31 with 29.6 ypg, and Josh Moore is No. 36 with 24.1 ypg.
This is a quote from Trestan Ebner's bio on the Baylor website.  Hope that Sark and Jeff Banks will be mindful of this.  "2020 Walter Camp Second Team All-American … 2020 Sporting News Second Team All-American as a return specialist … 2020 Phil Steele Third Team All-American (kick returner) … 2020 Big 12 Special Teams Player of the Year (2nd  in BU history) … 2020 Second Team All-Big 12 as a returner … 2020 Phil Steele First Team All-Big 12 (kick returner)."  Ebner leads the Big 12 in punt returns, averaging nearly 10 yards per return, and he is fourth in kickoff returns, averaging 24.58 yards, and he has a return for a TD.
Both Baylor and Texas still have a path to a Big 12 Championship or at least a chance to play in the Championship Game.  For both, it either continues or ends in Waco on Saturday.  The winner of this game will have a shot.  Baylor still has to play the Land Thieves on November 13, although the get them in Waco.  But a win over Texas, and they have a chance.  If Texas can win Saturday then win in Ames on November 6, a spot in the title game is truly possible.  This is a very big game.
Worth noting that on ESPN.com, in their SP+ rankings, Baylor is No. 22 and Texas is No. 25.
Texas is a 2.5 point underdog, late Thursday night.  Tough road game for the Horns, but if Coach PK can find a way to slow down Baylor's ground game, we have a chance.  The odds will get a little better if the Texas offensive line can somehow find a way to block this week, but the Baylor defensive line will be a challenge.
Baylor has the No. 1 offense in the Big XII with 471 yards per game, Texas is No. 3 with 456.7 yards per game.  Texas has the No. 2 Scoring offense (41.6 ppg), while Baylor is No. 3 scoring, with 38.3 ppg.  Something to consider with the over/under around 61.
Like so many games with closely matched teams, this will likely come down to who makes the fewest mistakes, who avoids the costly penalties, and who makes a big play on defense or special teams.  Texas will have to block and tackle much better.  And to be blunt, for Texas, it will depend on the Longhorns' ability to play effective football in the fourth quarter, something they have not done the last two games.
I hope Texas can win.  I think they will.  Texas 34, Baylor 31.
The Week That Will Be:  Thriller Night
https://www.barkingcarnival.com/2021/10/28/22750069/the-week-that-will-be-thriller-night-longhorns-football
The Polls
AP Top 25:  Georgia, Cincinnati, Alabama, Land Thieves, The Ohio State University TM, Michigan, Oregon, Michigan State, Iowa, and Ole Miss.  Notre Dame No. 11, Texas Agricultural & Mechanical No. 14, Okie State No. 15.  Baylor is No. 16.  Southern Methodists are at No. 19.  Iowa State back in at No. 22.  UTSA Roadrunners No. 23.
Coaches Poll:  UGA, Cinci, Roll Tide, Land Thieves, The Ohio State University TM, Big Blue, Michigan State, Ducks, Hotty Toddy Gosh Almighty, and the Hawkeyes.  L'Université de Notre Dame du Lac at No. 11.  Texas Agricultural & Mechanical is No. 14.  Okie A&M No. 15. Southern Methodist at 16.  Baylor at 18.  UTSA No. 22.  Cyclones at No. 23.
No. 1 Texas Volleyball
Texas swept Iowa State in Ames last week.  They get this weekend off before getting to spend a weekend in Waco.  Not sure that is enough.
Week Nine
Some great games, some great rivalry games, and some really important games.
This Week's Games – The Big XII
A good game in Morgantown, West Virginia, where the Mountaineers host No. 22 Iowa State.  1:00 p.m. on Big 12 / ESPN+.  Which says something about where the conference is.  Cyclones favored by 7.
No. 4 Land Thieves get Texas Tech in Norman. 2:30 p.m. on ABC.  Former Raider QB and current offensive coordinator Sonny Cumbie will be making his head coaching debut.  Hope he gets his first W.  Land Thieves favored by 20.
Texas Christian and Kansas State.  2:30 p.m. on ESPNU.  Purple on purple violence between two teams who, are to my great surprise, both 1-3 in Big 12 play.  Wildcats favored by 3.
Kansas at No. 15 Oklahoma State.  6:00 p.m. on FS1.  Cowboys favored by 30.5
This Week's Top 25 Games
The Big Ten East is this year's monster division of college football, at least to this point of the season.  And what may be one of the best games of the season is opposite the Texas-Baylor game at 11:00 a.m. on FOX.  No. 6 Michigan at No. 8 Michigan State.  Both undefeated.  In a different week, this game would have had an in depth preview.  113 games since the first in 1898.  Playing for the Paul Bunyan Trophy.  An academically stellar state flagship university playing the state's agricultural college.  So much good stuff.  Michigan favored by 4.5.
World's Largest Outdoor Cocktail Party.  No. 1 Georgia and Florida, 2:30 p.m. on CBS.  Georgia favored by 14.
No. 10 Ole Miss at No. 18 Auburn, 6:00 p.m. on ESPN.  Tigers favored by 3?  Hotty Toddy.  We will all be in Tyler, so Charles and I will watch some of this sitting in the chairs in the kitchen where we used to sit and watch games with Glenn.
No. 19 Southern Methodist at Houston.  6:00 p.m. on ESPN2.  Huge game for Coach Dykes and the Ponies.  Houston favored by 1.  Pony up!
The other big Big Ten game, No. 20 Penn State at No. 5 Ohio State.  It would have been a lot bigger if the Nittany Lions hadn't choked against Illinois.  Buckeye favored by 18.5.
North Carolina at No. 11 Notre Dame, 6:30 p.m. on NBC.  Irish favored by 3.5.  Love you Mack, but Peter Dean loves his Daddy's Fighting Irish.
Virginia at No. 25 Brigham Young.  9:15 p.m. on ESPN2.  Will watch some of this with Parker and the rest of the family.  Hook em Hoos.
Texas Longhorns Baseball
The Horns played a 14 inning fall ball match with San Jacinto College and put up a bunch of runs to win the scrimmage 16 to 3.
This Sunday, October 31, Texas hosts McLennan CC at 1:00 p.m.
The Fall World Series is November 4 (3:00 p.m.), 5 (6:00 p.m.) and 6 (2:00 p.m.).
Washington & Lee Generals
W&L got the W over the Eagles last Saturday, 17-0.  Josh Breece had a big day, 25 carries for 117 yards and both Generals touchdowns.  I was wrong about Murrin having a big game.  2 completions in 8 attempts for 14 yards and 2 interceptions.  Sometimes you win by not letting the other guys have the ball.  W&L's time of possession was for 41:35.  24:50 of the second half.
This week, W&L heads to Emory, Virginia, to play Emory & Henry.  The Wasps are 4-3.  This will be Game 50 in a series that dates to 1921.  Emory & Henry hold a 31-18 series edge, but W&L has won 7 of the last 10.
Cool Stuff
A couple of cool things
First, this photo from one of my favorite photography Instagram accounts, @dailyoverview.  I think they may have Australian ties, which may explain this photo being upside down.
Second, if you ever wondered where yell leaders from Texas Agricultural & Mechanical plied their unusual skills after college, it would appear to be on aircraft carriers.  @flightdeckvideos is a very cool account.
Week Eight
Last Week's Games – The Big XII
So, I know how to stop the Land Thieves!  Bet on them!  Land Thieves end up with a seemingly respectable 35-23 over Kansas, but we all know what happened.
K State 25-24 over at Texas Tech.  Line was even.  And the rope for Matt Wells was short.  Texas Technical fired him after three (3) years.
As suspected, Iowa State protected Jack Trice Stadium and beat Okie State 24-21.  Cowboys did cover.
West Virginia upset the Texas Christians 29-17.  Rumors starting to swirl about Patterson, which I think is a shame.
Last Week's Top 24 Games
Ole Miss 31, Louisiana State 17.  Hell Yeah.
Notre Dame 31, Southern Cal 16.  I will always remember this as the last college football game I watched with my dad.
Tennessee showed signs of life with a 14-7 first quarter lead in Tuscaloosa, but it was short-lived.  Alabama 52, Volunteers 24.
Ohio State is hot and crushed Indiana 54-7.
Michigan 33-7 over Northwestern
Nine overtimes.  Illinois 20, Penitentiary State 18.  Hahahahaha.
Oregon rallied to beat UCLA 34-31, and, more importantly, cover.
The Midshipmen tried, but Cinci held off Navy's surge, winning 27-20.
Crazy game at West Point.  Wake Forest 70, Army 56.
Texas Agricultural & Mechanical 44, South Carolina 14.
Miami with the 31-30 upset of North Carolina State.
Pitt 27-17 over Clemson.
UTSA 45-16 over LA Tech, winning and covering!  Bird Up!
Wisconsin 30-13 over the Boilermakers.
Other Games of Interest Last Week
Virginia 48-40 over Georgia Tech. And they covered.  Thank you Wahoos!
Memphis goes down at the Bounce House to Central Florida, 24-7.
Washington 21-16 over Arizona, noteworthy because the Wildcats are on an epic losing streak, now at 19 games, the worst in FBS.
Rice 30-24 over UAB
Miami, 5 point road underdogs, win at Ball State, 24-17.
Brigham Young 21-19 over Washington State.
Music
On Eagle's Wings.  Found this amazing version, the U.S. Naval Academy, at H. Ross Perot's funeral.
Be Thou My Vision.  Nathan Pacheco.
Lift High the Cross.
Jerusalem.  Cadet Glee Club of West Point.
Jim Nicar
This is a good one.  Perfect for this week.
"1961: At the Texas vs. Cal football game, a UT Austin cheerleader alumnus hired San Francisco night club girls (from Bimbo's Club – still there!) to be substitute UT cheerleaders. Texas won 28‑3."
https://twitter.com/JimNicar/status/1452681931850719245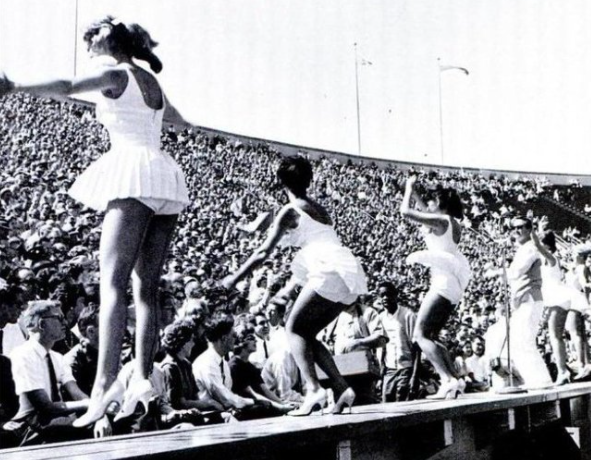 https://jimnicar.com/2015/11/09/the-longhorns-secret-weapon/
For those who don't click, the Club is "Bimbo's 365 Club", and Bimbo was a young Italian immigrant named Agostino Giuntoli.  His first boss in San Francisco couldn't pronounce his name, so he called him "Bimbo", Italian for boy.  Pretty fascinating history.  Google it.  I am guessing the link to the Club will run afoul of most spam programs.
IVY LEAGUE REPORT FOR THE SIXTH AND SEVENTH WEEKS OF THE 2021 SEASON
By Lonnie Schooler
Work duties prevented my reporting on the action last weekend, so this "double edition" makes up for that.  The season has progressed to the point where now all of the League teams are playing conference games from here on.  As usual, the Ivy's guaranteed national television exposure on ESPNU is proving very popular among alumni and football fans everywhere.
Results of Games Played on October 15 and 16: 
In the fifth weekend of the Ivy season, there were two conference games.  On Friday night, October 15, the Big Red of Cornell hosted the Colgate Raiders.   The Raiders prevailed, 34-20.
The Saturday (October 16) games began with Yale traveling to Storrs Connecticut to play the Connecticut Huskies, and alas for Mr. Nondorf's Bulldogs, the Huskies triumphed, 21-15.
The Princeton Tigers journeyed to Providence to take on Mr. Babcock's Brown Bruins, and in a surprisingly high-scoring slugfest, the Tigers won, 56-42.  Princeton jumped out to a 28-14 margin at halftime, and then held on as Brown matched score for score in the second half.  The game featured 476 yards passing by Princeton, and 331 yards by Brown.
The Big Green of Dartmouth traveled to Durham, New Hampshire to play in-state rival the University of New Hampshire Wildcats, and Dartmouth prevailed 38-21.
The Lafayette Leopards made their way to Cambridge to battle the Crimson of Harvard, with the Crimson easily winning, 30-3.
Finally, in the other conference game, the Fighting Quakers of Penn traveled to Upper Manhattan to play the Columbia Lions, and Mr. Sharkey's Lions prevailed 23-14.  The Lions were led by RB Dante Miller's 187 yards from scrimmage.
Results of Games Played on October 22 and 23: 
In the sixth weekend of the season, all games were conference matchups.
The premier matchup of the weekend occurred at Tiger Stadium in Princeton, N.J., in a match between the two preseason favorites, Princeton and Harvard.  The Princeton Tigers prevailed over 18-16 in a 5-overtime game.  The game was tied at the end of regulation 13-13.  The teams matched field goals in the first overtime.  Neither team scored on their next three overtime possessions.  Using the new collegiate overtime rule, the two teams resorted to rushing the ball from the 3-yard line in an effort to score a two point conversion after the third overtime.  Harvard failed twice; Princeton didn't fail the last time.
The shocker of the weekend occurred in Hanover, N.H.  the Columbia Lions journeyed to the hills of the White Mountain State to play the Big Green of Dartmouth (a preseason pick to vie for the League championship).  In a stunning result, the Lions shut out the Big Green, 19-0, with their masterful defense holding Dartmouth to just 57 yards rushing.  It has been a LONG, LONG time since Columbia has won in Hanover.
In a real barn burner in upstate New York, the Brown Bruins clashed with the Big Red of Cornell.  The news was excellent for the Bruins, who rallied from a 23-21 halftime deficit to prevail, 49-45.  Bruins QB E.J. Perry completed 23 of 36 passes for 275 yards and four touchdowns.  An impressive road victory for the Bruins.
Finally, the Fighting Quakers of Penn traveled to New Haven to take on the Yale Bulldogs in the Yale Bowl.  The Bulldogs jumped out to a 28-14 lead at halftime, and held on to win, 42-28.  The Bulldogs were led by the passing and the running of QB Nolan Grooms, who threw for 283 yards on just 18 tosses, and also compiled 113 yards on the ground on just 16 carries.
Princeton now stands alone at the top of the heap, with its 3-0 League record (6-0 overall).  There is a 4-way tie for second, among Columbia, Dartmouth, Harvard and Yale, all with 2-1 records.  Alas, the Fighting Quakers are at the bottom, tied with Cornell at 0-3.
Schedule for October 29-30:
Here is the schedule for the seventh week of the season (all game times are CDT).
The inaugural game of the weekend features League leading Princeton traveling to Ithaca to play the Big Red of Cornell on Friday night at 6:00 P.M., with the game being broadcast on ESPNU.
On Saturday, the action kicks off at Noon at Harvard Stadium in Cambridge as the Crimson host the Big Green of Dartmouth in a match between two second place contenders.  [This game and all others this Saturday will be shown on ESPN+].
Coming off their shocking upset of Dartmouth, the Columbia Lions travel to New Haven to joust with the Yale Bulldogs at the Yale Bowl, in a game that also starts at Noon.
Finally, the Brown Bruins travel to Franklin Field in Philadelphia to play the Fighting Quakers of Penn, in a game kicking off at 1:00.
Go Quakers.
Enjoy your football this weekend, now that there is a crispness in the air and the hint of winter on the way.
Go Horns!  Go Astros!
God Bless Texas
God Bless America
Requiescat in Pace Glenn
Tim Taylor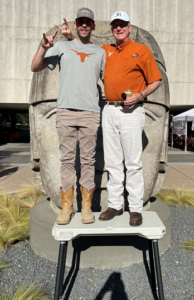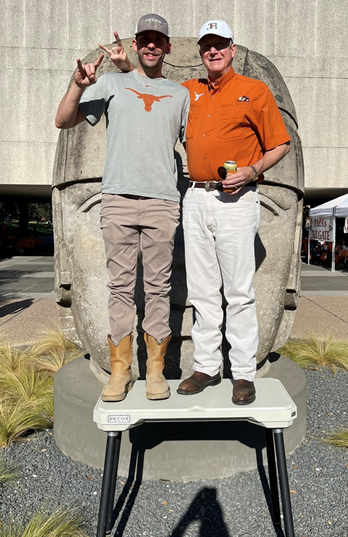 Tailgating before Home Football Games
The Juan Heisman Tailgate
Lot 38, East of Sid Richardson Hall.
HOOK EM HORNS!!
© Timothy C. Taylor, Sr. 2021.  All Rights Reserved (as to original material).
On Twitter:  @tctayloratx
On LinkedIn:  www.linkedin.com/in/tctatx
On Instagram:  @tctayloratx
On Facebook:  www.Facebook.com/Tim.C.Taylor
and:  www.Facebook.com/Juan.Heisman
You can contact me by mail:
Tim Taylor
P.O. Box 5371
Austin, Texas  78763-5371