HORNS WIN!
Texas Longhorns 27, Baylor Bears 16
 Texas played a pretty decent football game for the majority of 60 minutes, and good enough to get a win in a must win game.  A slow and sluggish first quarter and a 3-0 Baylor lead, a couple of Dicker the Kicker field goals and finally a good touchdown drive by Sam Ehlinger in the second quarter, and Texas had a 13-3 lead at half.  An unusually good third quarter, starting with a solid touchdown drive to open the second half, and another scoring drive for a 27-3 lead going to the fourth quarter.  Baylor promptly scored first in the final frame to close the gap, and on the next Texas possession capitalized with an interception and turned that into quick points to cut the lead to 27-16 halfway through the fourth quarter.  The Horns settled down and remained in control, including ending the game with a first and goal on the Baylor 4.  Texas took 3 victory formation snaps to get to the final score and an eleven point win.  I heard that the line had moved to 11 Saturday morning.  More on the game below.
Requiescat in pace Jerry Jeff Walker
We have lost a lot lives in the last year, but last weekend we lost part of our soul.  Jerry Jeff was part of the soundtrack of my life.  From Viva Terlingua to Cowboys & Bathing Suits, from Mr. Bo Jangles to LA Freeway and Redneck Mother to Gringo in Belize, and Leavin' Texas, his songs played in the backdrop of my life from junior high to the present.  JJW may have sung about leaving Texas, but he never will.  His music will be here forever.
Texas Longhorns vs. Oklahoma State Cowboys
The Horns leave the Great State of Texas for the first time this season and head north of the Red River to Stillwater.  Texas and the Okie Aggies kick-off in the Pickens Palace at 3:00 p.m. Saturday afternoon.  The game will be broadcast nationally on FOX with Joe Davis and Mark Helfrich.  The game will be broadcast on the Longhorn IMG Radio Network with the Voice of the Longhorns Craig Way, Roger Wallace, and Quan Cosby on the sideline.  National Radio on Westwood One with Ted Emrich and Chuck Long, if you are somewhere you can't get Craig, Roger, and Quan.
Texas leads the series with Oklahoma State 25-9 and 8-3 in Stillwater.
As of today, Coach I'm A Man With a Mullet Mike Gundy's team is the best in the Big 12.  [As an aside, I saw that mullets were coming back in style.  Can 2020 please end?  Who had "Mullets Return" on their 2020 Bingo Card?  I had global pandemic before that, for crying out loud.]
The Cowboys are undefeated.  Their opening game was against Tulsa, and we were in Memphis visiting Kathryn and Mark and the grandsons.  I watched part of the game at lunch, and I remember looking up and seeing Okie State trailing 7-3 in the third quarter thinking how is this possible?  Well, I then figured out that their starting quarterback, Spencer Sanders had been knocked out of the game.  Replacement Bullock was not good, but late in the game the third stringer and true freshman, Shane Illingworth came in, and he rallied the Pokes to the 16-7 win (13 points in fourth quarter).
The Cowboys went on the road to Morgantown and got a 27-13 win over the Mountaineers. 20 points in the second quarter, 7 in the fourth.  Illingworth QB'd and was a pedestrian 15-21 for 139 and a pick.  What carried the Pokes to victory was a 2-headed rushing attack of Chuba Hubbard (101 yards on 22 rushes and a score) and LD Brown (11 rushes for 103 yards and a score).
OSU opened October by steamrolling Kansas 47-7 in Lawrence.  Illingworth a big day (17-23, 265 yards & 3 TDs).  Chuba had 145 yards on 20 carries (a 7.3 ypc average, and his long was just 28); two touchdowns.  Dezmon Jackson had 10 carries for 91, and LD Brown had 37 yards on 8 carries.  Dominic Richardson got 12 carries and picked up 27.  Throw in Micah Cooper, and the Cowboy running back corps carried the ball 53 times for 311 yards.  That's good.  Even against Kansas.  Their game with Baylor was postponed.
Their last match was with the very good Iowa State Cyclones, in Stillwater.  Gundy got Spencer Sanders back, and he threw for 235 yards and a score (20/29) but did get intercepted twice.   However, his return added to the potent Poke ground game, as he contributed 71 yards and a score rushing.  Chuba led the way with 139 yards on 25 carries and a score.
The Vegas line is Oklahoma State by 3.5, and the over/under is 58.5.
Official Preview:
https://texassports.com/news/2020/10/26/football-preview-at-no-6-6-oklahoma-state-oct-31-2020.aspx
Game Notes:
https://texassports.com/documents/2020/10/25//Texas_2020_Notes_6.pdf
Texas Depth Chart
I should note that the Depth Chart I include in this newsletter is the one included in the Game Notes, which are published early in the week.  There is always a chance that a player could get hurt in practice (or these days, test positive for the virus), and so the depth chart on Saturday may be a bit different than the one put out on Monday or Tuesday.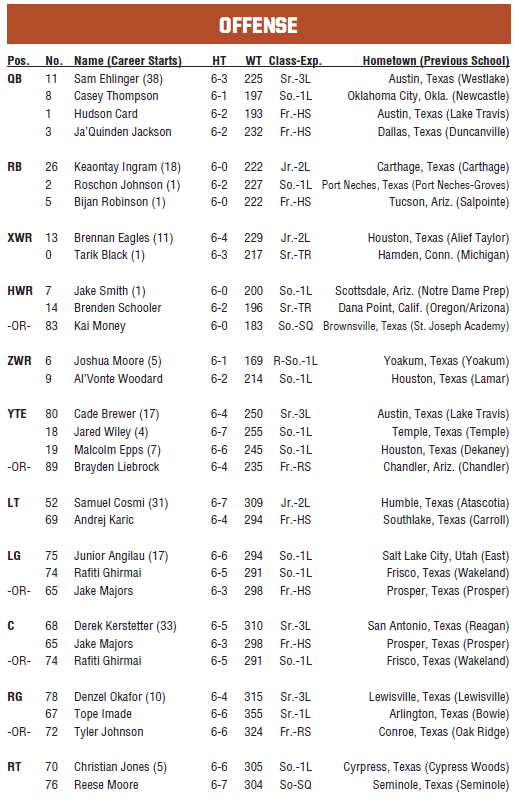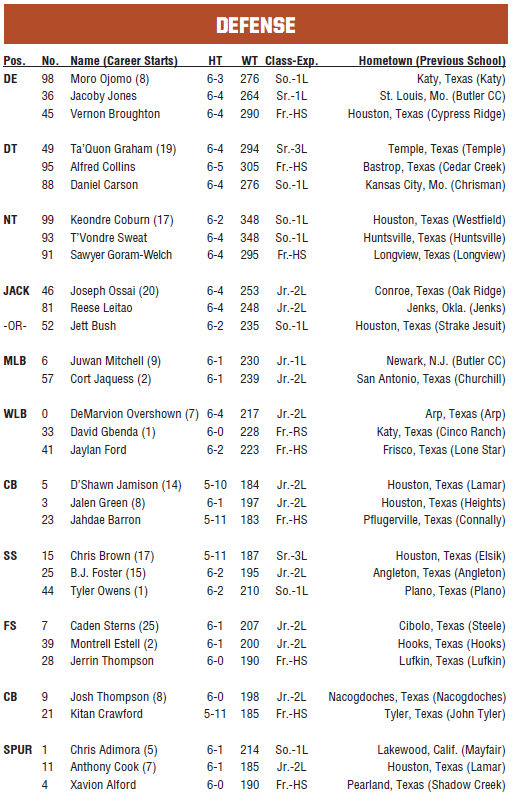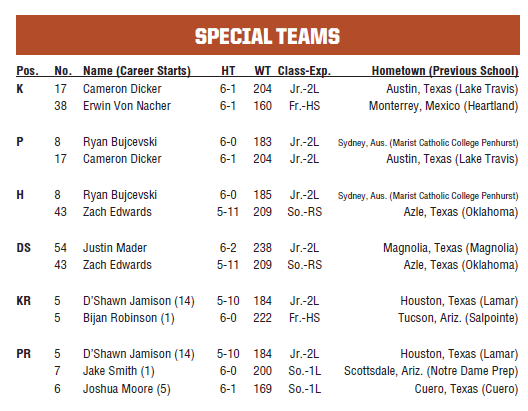 Honestly, at this point of the season and with what we have seen, I don't understand Bijan Robinson being listed third.  At worst, "OR" with Roschon.  I am convinced he is our most talented running back.  I know he's a freshman, but we have had some freshman running backs have some pretty special games over the years.  As you will see in the stats below, Okie A&M's strength thus far has been pass defense.  Still very good against the run, but given our occasional inability to protect the quarterback, unless Yurcich has some new plays to run, I think Texas is going to have to rely heavily on the running game Saturday to have a shot at winning.  I hope I am wrong.  With some smarter play calling (e.g., a few more crossing patterns, or heck, just opportunities, with Wiley and Epps) could change that.  But the numbers suggest Texas is going to need to be in the 175-200 range on the ground, and we can't do that with Sam carrying a third of the load.  I don't entirely disagree with the coaching staff's preference to rotate backs and have fresh legs in the backfield, but we may need to get 20 good carries out of both Ingram and Robinson to get the W.
The Statistics
Offense
| | | |
| --- | --- | --- |
| Statistic | Texas | Okie State |
| Rushing Offense | #42 – 174.8 ypg | #19 – 216.3 ypg |
| Passing Offense | #16 – 307.2 ypg | #73 – 203.8 ypg |
| Total Offense | #18 – 482.0 ypg | #39 – 420.1 ypg |
| Scoring Offense | #6 – 45 ppg | #54 – 28.5 ppg |
| First Downs | #32 – 23.4/game | #34 – 23.3/game |
| Sacks Allowed | #63 – 10, 68 yards | #53 – 9, 45 yards |
| Tackles for Loss Allowed | #57 – 27, 98 yards | #73 – 35, 113 yards |
| Third Down Conversions | #47 – 43.1% | #47 – 44.4% |
| Fourth Down Conversions | #14 – 80% | #32 – 66.7% |
| Red Zone Offense | #53 – 84% / 71% | #21 – 93% /40% |
| Long Run Plays | #26 – 28/10; 8/20; 3/30; 2/40 | #26 – 29/10; 8/20; 3/30; 1/40 |
| Long Pass Plays | #21 – 57/10; 23/20; 12/30; 9/40 | #61 – 32/10; 10/20; 7/30; 3/40 |
| Long Scrimmage Plays | #26 – 85/10; 31/20; 15/30; 11/40 | #54 – 61/20; 18/20; 10/30; 4/40 |
Worth noting that K State and TCU are in a group tied for #1 in Red Zone Offense.  Both 100%.  KSU 20 for 20, with 15 Touchdowns.  TCU 10/10 with 7 Touchdowns.
Defense
| | | |
| --- | --- | --- |
| Statistic | Texas | Okie State |
| Rushing Defense | #40  – 130.4 ypg | #32 – 127.0 ypg |
| Passing Defense | #68 – 253.0 ypg | #16 – 176.0 ypg |
| Total Defense | #43 – 383.4 ypg | #19 – 303.0 ypg |
| Scoring Defense | #63 – 32.2 ppg | #8 – 12 ppg |
| Sacks | #60 – 7, 46 yards | #15 – 15, 101 yards |
| Tackles for Loss | #16 – 39, 138 yards | #26 – 36, 143 yards |
| First Downs Allowed | #71 – 23/game | #17 – 16.8/game |
| Third Down Conversions | #43 – 38.3% | #3 – 19.3% |
| Fourth Down Conversions | #10 – 28.6% | #7 – 25% |
| Red Zone Defense | #35 – 79% / 58% | #11 – 67% / 44% |
| Long Run Plays Allowed | #50 – 19/10; 7/20; 1/30; 1/40 | #45 – 18/10; 2/20; 2/30; 2/40 |
| Long Pass Plays Allowed | #77 – 54/10; 13/20; 4/30; 1/40 | #30 – 26/10; 7/20; 4/30; 3/40 |
| Long Scrim. Plays Allowed | #64 – 73/10; 20/20; 5/30; 2/40 | #32 – 44/10; 9/20; 6/30; 5/40 |
Other
| | | |
| --- | --- | --- |
| Statistic | Texas | Okie State |
| Turnovers | #71  – 8; 3F, 5I | #38 – 5; 1F, 4I |
| Turnover Margin | #47 – 8:8, 0.0 | #66, 4:5, -0.25 |
| Penalties | #88 – 43, 283 yards | #59 – 30, 241 yards |
*Based on total number of penalties.
Match-up Comparison
| | |
| --- | --- |
| Texas Offense | Okie State Defense |
| Rushing Offense – 174.8 ypg | 127.0 ypg – Rushing Defense |
| Passing Offense – 307.2 ypg | 176.0 ypg – Passing Defense |
| Total Offense – 482.0 ypg | 303.0 ypg – Total Defense |
| Scoring Offense – 45 ppg | 12 ppg – Scoring Defense |
| First Downs – 23.4/game | 16.8/game – First Downs Allowed |
| 3rd Down Offense – 43.1% | 19.3% – 3rd Down Defense |
| 4th Down Offense –  80% | 25% – 4th Down Defense |
| Red Zone Offense – 84/71 | 67/44 – Red Zone Defense |
| LRP – 28/10; 8/20; 3/30; 2/40 | 18/10; 2/20; 2/30; 2/40 – LRP Allowed |
| LPP – 57/10; 23/20; 12/30; 9/40 | 26/10; 7/20; 4/30; 3/40 – LPP Allowed |
| LSP – 85/10; 31/20; 15/30; 11/40 | 44/10; 9/20; 6/30; 5/40 – LSP Allowed |
| | |
| --- | --- |
| Texas Defense | Okie State Offense |
| Rushing Defense – 130.4 ypg | 216.3 ypg – Rushing Offense |
| Passing Defense – 253.0 ypg | 203.8 ypg – Passing Offense |
| Total Defense – 383.4 ypg | 420.1 ypg – Total Offense |
| Scoring Defense – 32.2 ppg | 28.5 ppg – Scoring Offense |
| First Downs Allowed – 23/game | 23.3/game – First Downs |
| 3rd Down Defense – 38.3% | 44.4% – 3rd Down Offense |
| 4th Down Defense –  28.6% | 66.7% – 4th Down Offense |
| Red Zone Defense – 79/58 | 93/40 – Red Zone Offense |
| LRP Allowed – 19/10; 7/20; 1/30;1/40 | 29/10; 8/20; 3/30; 1/40 – LRP |
| LPP Allowed – 54/10; 13/20; 4/30; 1/40 | 32/10; 10/20; 7/30; 3/40 – LPP |
| LSP Allowed – 73/10; 20/20; 5/30; 2/40 | 61/20; 18/20; 10/30; 4/40 – LSP |
The Cowboys lost Spencer Sanders the first game of the season, but he returned last week.  Freshman Shane Illingworth filled in admirably, with season stats to date of 36/49, 783 yards, 3 TDs, and 1 interception.  By comparison, Sanders (#3, 6-1, 205, RS Sophomore from Denton Ryan), in his return against Iowa State, was 20-29, 235 yards, 1 TD, 2 picks (a little rusty).  If Sanders is healthier and has another week of practice under his belt, expect him to be better this week.  And he has lots of targets.  He's not an exceptionally talented quarterback, but he manages Gundy's offense well.  What he also does is turn the ball over.  We need to go after him.  If Ossai and others can get pressure, I think we can force a couple or 3 turnovers, and that might be the difference in the game.
Tylan Wallace (#2, 6-0, 290, Senior WR) is having another good year.  24 receptions, 401 yards, 16.71 ypc, 2 scores, and averaging 100.25 yards per game.  Braydon Johnson (#8, 6-0, 200, RS Junior WR) has 8 catches for 102 yards and a score.  Dillon Stoner (#17, 6-0, 200, RS Senior from Jenks HS in Tulsa; how does a kid named Stoner not end up in Austin?  Maybe because those boys from Oklahoma roll their joints all wrong) has 11 catches for 82 yards.  Two big tight ends (they are "CW" in Gundy's offense):  Jelani Woods (#89, 6-7, 275 RS Junior) has 5 catches for 60 and a score; and watch for Carter Logan (#87, 6-3, 245, RS Senior) who has 4 catches for 44.
The real strength of the Cowboy offense is their running back corps, led by all-everything Chuba Hubbard.  In 2019:  First Team All-American (AFCA, Associated Press, FWAA, The Sporting News, Walter Camp, ESPN, CBS Sports, Sports Illustrated); Big 12 Offensive Player of the Year (Coaches & AP); 2019 Finalist – Walter Camp POY and Doak Walker; First Team All-Big 12 (AP  & Coaches).  Hubbard wears No. 30 (6-0, 208, fast), and he joins a great legacy of outstanding Cowboy running backs.  Through 4 games, he's got 478 yards (500 gross) on 94 carries, 5 scores, a long of 32, and solid 119.5 yards per game average.  There are 20 FBS teams who don't have that average – as a team (out of 101 now).
The Pokes have a herd of talent in the RB room.  LD Brown (#0, 5-9, 205, RS Senior from DeSoto) has 37 carries for 229, averaging 6.2 a pop, a long of 66, and has a TD.  Dezmon Jackson (#27, 5-11, 218, RS Junior from El Dorado, Arkansas) only has 13 carries, 101 yards, averaging 7.8 yards per rush.
I didn't go back and look at the last few years' pregame stats for our annual rodeo with the boys from Stillwater, but I am pretty sure this is one of the better, if not the best, Okie A&M defenses we have seen in a long time.  Leading tackler is Tre Sterling (#3, 5-11, 200, RS Junior from Sunnyvale) has 28 tackles (22 solo), plus 4 TFL for 6 yards.  Malcolm Rodriguez (#20, 5-11, 220 Senior linebacker) has 26 tackles (18 solo), plus 5 TFL (31 yards) and 2 sacks (22 yards), with 4 QBH.  Amen Ogbongbemiga (6-1, 235, RS Senior LB, from Lagos originally, lived in Houston, graduated from Notre Dame HS in Calgary, Alberta, Canada; pronounced AY-men awg-BONG-beh-MEE-guh ) has 25 tackles (13 solo).  Those 3 men are ballers.  After that, there 7 Cowboys with double digit tackles, but the two of most note are Kolby Harvell-Peel (#31, Junior Safety out of A&M Consolidated in CS) who has 13 tackles (9 solo), and 2 interceptions, and Calvin Bundage (#1, RS Senior LB, 6-1, 220) , who has 11 tackles (6 solo), with 5 TFL for 23 yards and 3.5 sacks for 20 yards.
Head Coach Mike Gundy is well-known to us all now.  He's spent more than half his life in the Oklahoma State football program, from quarterback to being the most successful coach in Cowboy history.  He is 129-64-0.  Before he got there, Oklahoma A&M was 473-492-47 (seems like a whole lot of ties, doesn't it?).  In the 104 years before Gundy, 16 bowl games.  In 15 years under the Mullet, 14 bowl games.  Really nice hair.  I bet Lincoln Riley is so jealous.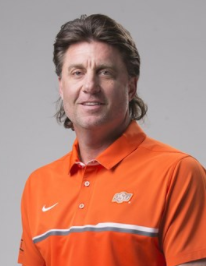 The other coach I want to note is Jim Knowles, the defensive coordinator.  Came to Stillwater from Duke (slightly different academic environment, but both great basketball schools) in 2018.  He has really done well with OSU.  1987 graduate of Cornell, he was also head coach there from 2004-2009.  Smart guy.
So, what do we have?  We have a long-tenured coach who has a very experienced team.  I am sure you noted the number of seniors (and redshirt seniors) in brief overviews above.  22 seniors – 19 of them redshirt seniors on the OSU roster.  19 redshirt juniors too. They have earned a top-10 ranking in the oddest of seasons, but they are playing good football.  Good.  Not great.
But.  Okie State has 12 touchdowns on the season.  Texas has 29, and Sam Ehlinger is responsible for 24.  Remember who they have beat to get to #6 and undefeated:  Kansas, Tulsa, West Virginia, and Iowa State.  Worst case, they would be 3-1.  And we certainly know what worst case feels like.  Yes, a great defense statistically, especially in points allowed.  But Kansas is ranked #93, Tulsa #58, West Virginia #44, and Iowa State #56 in scoring offense.  So, is OSU's defense that good, or is it a reflection of who they've played?  Of course, it is a mixture of both.  But in this case I believe more of the latter.
Setting aside how important a road win over a top-10 opponent could be for the Texas football program right now, which requires some focused cognitive work, and being objective, I really think Texas can with this game.  I think there is a reason the consensus line in Vegas is Okie A&M by 3.5.  Because this is going to be a close game.  This is a game Texas can win.  Oddly, before the season, it was the one I had circled as most likely to be a loss.  Now, in the wee hours of Friday morning, I think we can win.  When we did the college football preview at Headliners in August, both of our star experts, Cedric Golden and Ed Clements, were in agreement that Texas could win the Big 12.  I seem to recall Ced thought Texas could run the table.  I know I did (think we could).  But I think we all also agreed that the Halloween game in Stillwater was the toughest on the schedule.  And it very well may be.  But that by no means means it is a game that Sam Ehlinger and the Texas Longhorns can't win.
I will go with Texas 31, Oklahoma State 27.  (Although I will confess I first had it Texas 42-38 in double overtime; not sure why.)
Good luck Longhorns.
The Series
I want to look at 3 games.  Two from the 60's first.
In 1967, Texas was on the cusp of some of our greatest seasons, 4 years removed from the Longhorns' and Coach Royal's first National Championship, and 2 years before those amazing teams in 1969 and 1970.  Oklahoma State came to Austin back to back years.  1967 was a 19-0 shutout.  Bill Bradley was our quarterback, and to say that this game exemplified DKR's opinion of the forward pass is an understatement.  Bradley was 2 for 9 with 2 interceptions, 27 yards.  Ragen Gennusa and Ed Small (two great men who are closest of friends to this day, and Ed has been my mentor and friend for over 3 decades) caught those 2 passes, Gennusa for 19 and Big Ed for 8.  Chris Gilbert carried 26 times for 126 yards and a score, Bill Bradley 21 times for 58 yards and a score.  Ted Koy tacked on 33 yards and a touchdown.  Bill Bradley also punted.  And our punt returner was Bill Bradley.  Corby Robertson had 9 tackles, Mike Perrin had 7.
1968, the Horns won 31-3.  Ted Koy ran for 79 yards, Chris Gilbert had 56, Worster 20 and a TD, and Billy Dale 12 yards.  James Street was 7-19, 140 yards and a touchdown.  Speyrer caught one of the TDs, Bill Bradley the other.  Randy Peschel had a 25 yard reception.  Bill Bradley punted 7 times for 314 yards with a long of 67.  Rob Layne missed all 3 field goal attempts.  What caught my eye especially were all the names in the defensive box score, including:  Glen Halsell, Loyd Wainscott, Scott Henderson, Tom Campbell, Corby Robertson, Fred Steinmark, Mike Perry, Paul Kristynik, Randy Peschel, Bill Atessis.
Bill Bradley, who may be the best all-around football player ever to set foot in Texas Memorial Stadium, was replaced by James Street in the third quarter of the Texas Tech game in 1968.  For the Longhorns, the rest is history.  Bill Bradley was a team player.  He moved to WR for a couple of games, then to DB.  He was still returning kicks and punts.  He still holds the Texas record for interceptions in a game (4, against Texas Agricultural & Mechanical in 1968).  Bill went on to a great career in the NFL, an All-Pro Safety for the Philadelphia Eagles where he played from 1969-1976.
A pretty special year. In the 3 prior meetings with the Cowboys,
Simply known as "VY Pump Fake"
https://www.espn.com/video/clip/_/id/16369844
Texas trailed 28-12 at halftime, after the Cowboys had scored 21 in the first quarter.  Texas got the ball to start the second half, and on third and 10, VY with the pump fake and 80 yard touchdown run to close the gap to 19-28.  VY owned the second half.  He finished the game with 267 yards rushing and 2 TDs on 21 carries, and 239 yards passing and 2 TDs.  Tight End David Thomas led the Horns in receiving with 104 yards on 6 catches  Billy Pittman had 3 for 39, and Neale Tweedie had 2 for 29 and a score.  Ramonce Taylor had 71 yards rushing and 2 TDs.  Other RBs in the boxscore:  Jamaal Charles, Chris Ogbonnaya, Henry Melton and Selvin Young.
I found this quote of particular interest:
Texas employed a two-TE set for much of the final 30 minutes, thwarting the free safety blitz which had given the Horns fits in the first half, thus allowing Vince more freedom of movement in the backfield and more time to throw. And, with Young often operating from under center and play actioning to the lone back (a new twist, according to Davis), it also got Thomas and Tweedie into space. The two TEs accounted for five second half receptions for 117 yards.
https://247sports.com/college/texas/Article/2005-Flashback-Texas-47-Oklahoma-State-28-104336485/
Oklahoma A&M
Oklahoma Territorial Agricultural & Mechanical College was founded December 25, 1890, "just twenty months after the Land Run of 1889".  Not yet a state, because all the original land thieves were still busy getting their land.  Founded as a land-grant university under the Morrill Act.  1890 was the year that the Oklahoma Territorial legislature authorized the establishment of three schools:  the state university in Norman, Oklahoma Agricultural & Mechanical in Stillwater, the Territorial Normal School (now the University of Central Oklahoma).
Anyway, 67 years later, someone at Oklahoma Agricultural & Mechanical looked around at their geographic neighbors and said "We need to change our name".  So they became Oklahoma State University on July 1, 1957.  (Technically they were "Oklahoma State University of Agricultural and Applied Sciences" until 1980).
Their motto is "America's Brightest ORANGE".
Pistol Pete
The Okie State mascot is Pistol Pete.  Based on the famous cowboy Frank Eaton, his story is one of the great (and true) tales of the Old West.  I include a little write-up on the great Frank Eaton for most even year games with the Pokes.  Unabashedly recycled, because I live in Austin.
Frank was just eight years' old when he witnessed his father's murder.  Frank's life mission was to avenge his father's death.  By age 17, he had killed a couple of the murderers, and went on to become a Deputy U.S. Marshal under Judge Parker (the Hanging Judge) in Indian Territory.  For more on Pistol Pete, check out the website.  It is really pretty fascinating.  http://www.eatonhome.org/legend.html
Here is a sample from that web article:
    In 1885, Eaton served as scout for Capt. Emmett Crawford in his fight against Geronimo and the Apache's.  It was during these battles that Eaton was nearly scalped.  Afterwards, he returned to Indian Territory where he served as a deputy U. S. Marshal under Isaac Parker, the "Hanging Judge," adding six more notches to his pistol in the line of duty.

In 1887, Eaton learned Wyley Campsey was tending bar in Albuquerque, New Mexico, so he headed west.  With the help of Pat Garrett, Eaton located Campsey and entered the saloon.  Campsey was at the bar with two of his hirelings.  Eaton ordered Campsey to "fill your hand, you son of a bitch!" shooting him twice through the heart as he reached for his gun under the bar.
For fans of True Grit, you might recognize that challenge.
Also of interest, at least to those of us in Austin and fans of Texas cowboys and the stories of the cattle drives, is that Frank Eaton's buddy was Rolla Goodnight.  Rolla was Charlie Goodnight's cousin.
Worth a look:  http://www.pattianndickinson.org/hollywood_the_hard_way__a_cowboy_s_journey_109702.htm
After the Civil War, Charlie Goodnight, with his friend Oliver Loving, formed a partnership to drive cattle to western markets.  They established the famous Goodnight-Loving Trail.  The breed of cattle which many of those cattlemen drove to market descended from the cattle brought to the New World as far back as Christopher Columbus, in 1493.  In the decades that followed, Spanish explorers and colonists of the New World continued the import and expansion of this breed, particularly in Mexico.  The breed grew tougher and tougher, and when early settlers of the Nueces Strip sought to raise cattle, they chose the wild Mexican cattle descended from those brought by the Spanish, and bred them with some of their own cattle they had brought to Texas.  The result was the Texas Longhorn.
Stillwater
As long-time readers know, I sometimes include information in away game newsletters about the town and restaurant and bar offerings.  That isn't easy in the Big 12.  Waco, Lubbock, Norman, Ames, Manhattan Kansas.  And with the pandemic, I am assuming that other than Megan Grigsby (@TexasFancyBoots on Twitter; she owns Clyde, the Burnt Orange Lincoln which McConnaughey drove in to College Gameday) and Scott Wilson, the road crew for this weekend is sparse.  But, if you go, there is no doubt you got to go to Eskimo Joe's.  If they are open.
Info here for game day, assuming they update it:  https://eskimojoes.com/game-days-at-joes/
Flashback to the Minister of Culture's College GameDay entrance:
Alright alright alright …

That's how you make an entrance, @McConaughey 🤘🚘 pic.twitter.com/pyLkX6Hh0r

— College GameDay (@CollegeGameDay) September 7, 2019
Baylor 16, Texas 27
Not going through all the series in the game.  Didn't get to watch the replay, so wouldn't be so good.
First Texas drive was 4 yards in 3 plays then a terrible 19 yard punt that gave Baylor the ball on the Texas 36.  Great response from the defense, as they pushed the Bears back 12 yards, and Baylor punted instead of even getting a FG opportunity.
Second Texas drive was 22 yards in 6 plays.
That was the first quarter.  Texas got 2 possessions and managed 26 yards of offense on 9 snaps.  That's not working for me.
Texas had the ball when the first ended, and that drive did go for 52 yards and ended with a 42 yard Dicker the Kicker special to tie the game at 3.
We finally had a sustained drive on our next possession.  75 yards in 9 plays, and every play was Sam Ehlinger.  Every single play, he either ran or passed.  Of course, that is where stats can be kind of funny.  The drive started with Sam getting sacked for 12.  On second at 22 from our own 8, Ehlinger hit Tarik Black on a 72 yard catch and run that got us to the Baylor 20.  Not real sure why none of our running backs touched the ball from the opponent's 20 yard line.
Next possession after another Baylor 3 and out (Texas defense was solid), an 80 yard TD drive.  Ingram ran for 2 yards.  After that, Sam.  Highlight was that 42 yard pass to Joshua Moore.  He's good.  13-3 at half.
Second half was much better.  The opening drive was 75 yards on 12 plays, with some nice runs by Bijan Robinson, a great catch by Eagles, and capped with a trademark Sam Ehlinger touchdown run.  20-3 Horns.
Texas tacked on another 75 yard drive at the end of the third, to put the game away at 27-3.
Charlie Brewer did rally his Bears for a TD drive to open the fourth quarter, but too little too late, even after Baylor capitalized with another TD after picking off Sam.
Ehlinger had a nice game.  15-23 for 270 yards, 1 TD, 1 pick.  51 yards and 2 TDs on the ground with 15 carries.  He actually grossed 67 yards, and but for the sacks would have been our leading rusher.
Ingram 58 on 16 carries and Bijan with 55 yards on 12 carries.  Not great ypc averages.  We need to have at least one back averaging in the 5 ypc range.  That's on the line.
Black led the receivers with just that one catch.  Wiley had 2 for 70, Moore 2 for 45, and Eagles 4 for 36.
Our biggest issue, on the field anyway, is punting.  Bujcevski just has to do better.  I may be exaggerating a little on "biggest", but it is huge.  Impacts field position, puts the defense on their heels.  Just an unnecessary weakness.  If that is a problem again in Stillwater and it isn't corrected for the next game, then we got someone somewhere who may not be thinking clearly.
Intentionally Omitted
Not going to do it.  Wouldn't be prudent.
Polls Week 9
AP Top 25:  Clemson, Alabama, The Ohio State University™, Notre Dame, Georgia, Oklahoma State, Cincinnati, Texas Agricultural & Mechanical, Wisconsin, and Florida.  North Carolina at 15, Kansas State at 16.  Southern Methodist drops to 22, Iowa State falls to 23.  The Land Thieves re-enter the poll at 24.   Texas in "others receiving votes"; doubling over last week with 2 votes.  Go Horns!
Coaches Poll:  Clemson, Roll Tide, The Ohio State University™, L'Université de Notre Dame du Lac, Georgia, Okie A&M, Cinci, Texas Agricultural & Mechanical, Florida, and Brigham Young.  UNC at 13, K State at 16.  Iowa State 22, Southern Methodist at 23.  Land Thieves ranked 24, and ARMY is No. 25.  About time.  Horns  in "others receiving votes", with 18 (for perspective, Clemson had 1,540 votes).
This Week in the Big 12
 Another full slate of conference games this week on the schedule.
No. 16 Kansas State (4-1, 4-0) at West Virginia (3-2, 2-2).  11:00 a.m. on ESPN2.  K State is a 4 point road dog in Morgantown, which surprises me a little.  Over/under is 45.5.  I think the Wildcats keep winning.
No. 23 Iowa State (3-2, 2-1) at Kansas (0 for the season).  11:00 a.m. on FS1.  Cyclones heavy 28.5 point favorites, and over/under at 52.  ISU should win easily.  Not as confident that the cover.  I'm kidding.
The Revivalry.  Texas Christian (1-3) at Waco (1-2).  2:30 p.m. on ESPN2.  The horny toads are narrow 2.5 point favorites in Waco, over/under at 48.  116th meeting between these schools, the first going back to 1899 when both were located in Waco and TCU was AddRan Christian University.  After seeing Charlie Brewer in person last Saturday, I am convinced that fine young man is playing hurt.  If he was 100%, I think Baylor would get this one.  Not so sure.  Also, still wondering about the Bear locker room after that rumor that Lovett and Ebner were opting out of the rest of the season.  Anyway, should be a good game between two teams not having their best year.
No. 24 Oklahoma (3-2, 2-2) at Texas Tech (2-3, 1-3).  7:00 p.m. on FOX.  A night game in Lubbock on Halloween should be a bit scary for the visiting team, even the mighty Land Thieves.  Will be interesting to see how Tech plays in this one.  Boys from Oklahoma are favored by 14.5, over/under is 68.  Safe travels Billy!  Guns Up!
This Week in the Top 25
Saturday morning action starts at the top with No. 1 Clemson hosting Boston College, 11:00 a.m. on ABC.  Tigers favored by 23.5, over/under is 61.  Going to be rough day in South Carolina for the BC Eagles if Lawrence plays.  Worth noting the line opened at 32, then rumors that Lawrence is covid-positive.  ESPN not showing a line early (really early) Friday morning.
No. 6 Georgia at Kentucky, 11:00 a.m. on $EC Network.  UGA favored by 17, over/under at 42.5.  Bulldogs will beat the Cats, but look for UK to cover.
Memphis at No. 7 Cincinnati. 11:00 a.m. on ESPN.  What is my deal with Ohio teams?  Has my dislike of Ohio State leaked across the state?  Can't be.  I pull for Jimmy U's Miami Redhawks, at least to cover.  Cinci favored by 6.5 at home in Nippert Stadium, over/under is 55.  I think Memphis covers and maybe pulls the upset, which will really tighten up the American.
Michigan State in the Big House to play No. 13 Michigan.  The Spartans lost to Rutgers last weekend to open their season.  Michigan is favored by 24.5, over/under is 52.5.  Those two statements are connected.  11:00 a.m. on FOX.  This year, I will not include the link to the game video from 2015 when the Michigan punter fumbled on the last play of the game which was picked up and run in by Sparty for a winning touchdown as time expired.
No. 20 Coastal Carolina in Atlanta to play Georgia State.  11:00 a.m. on ESPNU.  Undefeated Chanticleers are only favored by 2.5. Over/under is 60.5.  Gosh, to think of the headlines across America if the Panthers pull of the upset.
No. 4 Notre Dame at Georgia Tech.  Undefeated Irish against a not so good GT team.  2:30 p.m. on ABC from Bobby Dodd Stadium.  Notre Dame favored by 20, over/under is 57.5.
Battle of undefeated No. 17 Indiana and undefeated Rutgers!  Don't write that very often.  Hoosiers and Scarlet Knights coming off huge opening wins (Indiana beat Penn State; how nice).  SHI Stadium in Piscataway will be rocking.  No it won't. Just kidding.  Wouldn't be rocking without the covid.  Not sure who "SHI" is that paid for that naming right, but I am sure that is not the abbreviation for a stadium name.  Don't need much paint for that.  Indiana favored by 11, O/u 53.5.  ESPN not listing the line; not sure why.
No. 25 Boise State at Air Force.  5:00 p.m. on CBSSN.  Broncos are favored by 14 at USAF Academy, Colorado.  Over/under is 49.
Mississippi State at No. 2 Alabama.  6:00 p.m. on ESPN.  After the Pirate's opening win, it hasn't gone so well.  A roadtrip to Bryan-Denny Stadium to play the Crimson Tide is not going to change things for State.  Roll Tide favored by 30.5, and the over/under is 64.5.
No. 3 Ohio State at No. 18 PSU for a night game in Beaver Stadium.  First of all, PSU is ranked before they play a game, then they lose their opener to Indiana.  Indiana. In football.  And they stay ranked?  Remember what I said above about Ohio?  Go Buckeyes!  That's how I feel about Penn State.    Ohio State favored by 12.5, over/under is 64.5.  Buckeyes to win, Nittany Lions to cover.
Arkansas at No. 8 Texas Agricultural & Mechanical.  6:30 p.m. on $EC Network.  At least they are playing this at Kyle Field and not Jerry World.  Mama always said, if you can't say something nice, don't say anything at all.  I have said what I can.  Texas Agricultural & Mechanical favored by 12, over/under is 55.  Actually, Gig Em Aggies!
Missouri at No. 10 Florida.  6:30 p.m. on $EC Alternate.  Gators favored by 12.5, over/under is 62.  Chomp.
Navy at No. 22 Southern Methodist.  6:30 p.m. on ESPN2.  Important conference game for Dykes and his ponies.  Southern Methodist favored by 13, over/under is 59.
No. 15 North Carolina (4-1) at Virginia (1-4).  Tough year for the Cavaliers.  7:00 p.m. on ACC Network.  Tarheels favored by 7, over/under is 62.  I think Mack gets to light that tower blue again.
Western Kentucky at No. 11 Brigham Young.  9:15 p.m. on ESPN.  Hilltoppers aren't going to like LaVell Edwards Stadium.  Brigham Young favored by 29, over/under is 52.
No. 9 Wisconsin at Nebraska cancelled.  Cancelled, not postponed and rescheduled.  As of Wednesday morning, 12 people in the Badger program had tested positive for the coronavirus in the past 5 days. That includes 6 players and 6 staff, including QB Graham Mertz and head coach Paul Chryst.  Big 10 Covid-19 protocol is any player who tests positive has to sit 21 days.  Going to be hard for the Big 10 teams to play much of their schedule.  Hope all return to good health.
Other Games of Interest
Thursday night, two games.  Georgia Southern 24-17 over South Alabama.  Fresno State 38-17 over Colorado State.
Friday night there are 3 games for those looking for something to watch.  Minnesota at Maryland, 6:30 p.m. on ESPN (Gophers favored by 19.5, but watch out for those terps).  East Carolina at Tulsa, 8:00 p.m. on ESPN2 (Tulsa favored by 17).  Hawaii at Wyoming, 8:45 on FS1 (Rainbow Warriors favored by 1).
Saturday
UTSA at Florida Atlantic.  Roadrunners are 5 point road dogs in Boca Raton.  11:00 a.m., not on TV apparently.
UCF at Houston, 1:00 p.m. on ESPN+.  Houston actually 2.5 point underdogs at home.  Of note, the over/under is 82.5.
Rice!  The William Marsh Rice Owls played (and lost) last week.  Rice at Southern Mississippi.  2:00 p.m. on ESPN3 (I think that comes with the Disney Channel).  Southern Mississippi only favored by 1.5.
Louisiana State at Auburn, 2:30 p.m. on CBS.  I wonder when the last time this game was not included in the Top 25 run-down?  Tigers are 2-2 in $EC, and the Tigers are 3-2.  Louisiana State favored by 3, over/under is 65.  Bet this is a darn good football game.  Auburn to cover.
Ole Miss at Vanderbilt.  3:00 p.m. on the $EC Network.  The Rebels and Commodores have one win between the two of them, and that is Ole Miss's 1 point win over Kentucky.  Ole Miss favored by 16.5 in Nashville. Over/under is 64.  Rebels to win and cover.  Hotty Toddy!
Louisiana at Texas State.  7:00 p.m. on ESPNU from Bobcat Stadium.  Texas State having a tough year.  1-6.  Ragin' Cajuns (4-1) are favored by 17, over/under is 56.
The Week That Will Be
Standing Outside the Fire.  HornMafia (Matt Craig) on Barking Carnival.
https://www.barkingcarnival.com/2020/10/29/21539645/the-week-that-will-be-standing-outside-the-fire
Kyle Umlang
A couple of Kyle Umlang facts for this week, one good and one that is a bit distressing.
Oklahoma State quarterbacks have accounted for 5 Total Touchdowns overall this entire season, while Sam Ehlinger is averaging 5 Total Touchdowns per game this season.

Oklahoma State has never lost against Texas when they are ranked and the Longhorns aren't.
@kyleumlang
And this gold:  "The 1st mention of Texas' mascot being named "Bevo" can be found in the Dec. 1916 issue of its alumni magazine, The Alcalde, a full 2 months BEFORE Aggies branded the steer "13-0". In true Aggie fashion, they have spread this lie for over 100 yrs"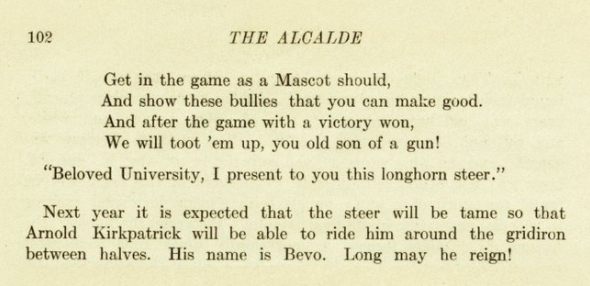 Hey @ESPN,

The 1st mention of Texas' mascot being named "Bevo" can be found in the Dec. 1916 issue of its alumni magazine, The Alcalde, a full 2 months BEFORE Aggies branded the steer "13-0". In true Aggie fashion, they have spread this lie for over 100 yrs#ThisIsTexas #HookEm pic.twitter.com/nxU6DSci2k

— Kyle Umlang (@kyleumlang) October 25, 2020
Texas Volleyball
The Longhorns volleyball team is still ranked No. 1 in the country.  This weekend's games in Fort Worth with Texas Christian postponed.
Juan Heisman Tailgate
Pretty depressing in Lot 38 and around Juan Heisman last Saturday.  We had a couple of beers.  Nice visit with Wes Poole, who normally runs the Papa's Tailgate across from us.  I don't miss some of the work of the tailgate (although most of it has been shouldered by others the past few years).  But I do miss some of it, especially working the pit and cooking.  And I really miss seeing everyone.  Sure hope we are back at it in 2021.
Texas Basketball
The Big 12 released the conference schedule.  For the first time in my memory, we have conference games before Christmas, opening in Waco on Sunday December 13 (can they do that there?) and at home with Oklahoma State on December 20.
Senior guard Matt Coleman is pre-season All-Big 12 Team.   Top recruit Greg Brown, Courtney Ramey, and Jericho Sims (also a senior) are all Honorable Mention.
Going to be interesting to seek what Shaka Smart does with a pretty experienced team, especially with Coleman and Ramey, and Greg Brown III who is most likely a one and done.  Big 12 is really, really good in basketball.
Last Week in the Big 12 – Week 8
 Kansas State with a thorough butt-whipping of Kansas, 55-14, in the Sunflower Showdown to take the Governor's Cup back to Manhattan.
Oklahoma 33-14 over Texas Christian, easily covering as expected.
Okie State with a big 24-21 win over Iowa State.  Line was 3.5.
West Virginia loses in Lubbock to the Red Raiders, 27-34.  Good win for Texas Technical.  Had a hunch on that one.
Last Week in the Top 25 – Week 8
Wisconsin with the first win of the season over Illinois 45-7.  Just hope it isn't their last.
Vegas was no more right about Syracuse at Clemson than I was.  Tigers were 46 point favorites, and it was respectable 21-47 loss for Syracuse.
Nebraska scored first on Ohio State.  Buckeyes 52-17.
North Carolina with a big 48-21 win over NC State.
Coastal Carolina 28-14 over Georgia Southern, winning and covering.  All those Chanticleers do is win, win, win!
Florida Atlantic covered losing to Marshall 9-20.
Freudian slip last week when I said "No. 1 Alabama at Tennessee".  Or premonition?  We shall see.  Anyway, Tide took care of the Volunteers 48-17, covering easily.  Noteworthy that the over/under was 65.
Notre Dame 45-3 over Pittsburgh.  Notre Dame was favored by 10 and the over/under was 42.5.  Irish covered both.
Hoosiers!  Indiana with a thrilling overtime win over PSU, 36-35.  Indiana got a touchdown with 22 seconds left and then a 2-point conversion to tie, then went for 2 in the first overtime to get the win.  And it was pretty exciting before all that. 25 points scored in the fourth quarter.
I thought Wake might get the cover on Virginia Tech, but I sure didn't see this upset coming.  Hokies go under at Wake Forest, 16-23.  Big win for the Demon Deacons.
Michigan 49-24 over Minnesota.  Line was 3, and Michigan just crushed it.
Virginia dang near got the upset at Miami (Florida).  14-19 loss for the Hoos. But they covered!
I was wrong about the Southern Methodist game.  Had the Mustangs to win and cover, and they got ripped 42-13 by Cinci.  If there was a year when a Group of 5 team could make the playoffs, 2020 would be it.  Just not Cincinnati.  (over/under was 55.5.)
Texas State with the expected Provo beatdown, 14-52 at the hands of Brigham Young.
Other Games of Interest – Week 8
Tulsa 42-13 over South Florida, covering.
Louisiana 24-20 over UAB (also covering, Ragin' Cajuns were favored by 3).
Auburn 35-28 over Ole Miss.  C'mon Lane.
Army 49-3 over Mercer.  Not stiff competition, but Army is legit.
UTEP beat by Charlotte 38-28.  Miners did cover.
Rutgers 38-27 winners at Michigan State.  Wow.  Big 10 might actually be entertaining this year.
Liberty Flames are 7-0 after their 56-35 win over Southern Mississippi.
Rice took Middle Tennessee to double overtime.  The game was 34-34 at end of regulation.  Both teams missed field goals in the first OT.  Rice missed again in the second OT.  The one position I would most expect Rice to have a great player at would be field goal kicker. Or maybe long snapper.  Rice could be 1-0!
Houston 37-21 over Navy.  Dadgum bookmakers are good.  Vegas had Cougars by 15 and over/under at 55.  Impressive.
Louisiana State saw that 6 point line and snickered.  Tigers 52, Gamecocks 24.
Roadrunners Win!  UT San Antonio with 14 points in the fourth for the 27-26 win over Louisiana Tech.
San Diego 34-6 over UNLV.  San Jose State 17-6 over Air Force.
Rest in Peace Jerry Jeff
It wasn't the first album I ever owned, and it wasn't even an album.  But Viva Terlingua was one of the first 8-track tapes I owned.
Mr. Bojangles.  My dad and I named one of our first Dalmatians Mr. Bojangles.  Bo was a great dog.  Loved that boy.
Up Against the Wall Redneck Mother
L.A. Freeway.  Maybe my favorite.
London Homesick Blues.  Listened to this one a lot in the fall of 1978.
Hill Country Rain
Come Away to Belize With Me
Gringo in Belize
Leavin' Texas
DKR Fund
As many of you know, I lost my mom to Alzheimer's in 2013.  It is a horrible, heart wrenching disease.  Coach Royal was similarly afflicted.  I bet most of you know someone who has faced it too, and especially if that person is a mother or father or husband or wife, you know just how bad it is.  The Darrell K Royal Research Fund for Alzheimer's Disease is helping medical science make progress.  We can help them.  The DKR Fund is running a campaign to wish Edith Royal happy birthday and raise money for the Fund.  I hope you will join me in making a contribution.  Lots of well-done videos for this appeal, but it won't surprise many of you that I chose Earl Christian Campbell, of Tyler, Texas.
https://www.dkrfund.org/95th-earl-campbell/
Jim Nicar
Texas Halloween flashcard from Memorial Stadium.  Pretty sure this was 1963, but 1967 and 1968 are possibilities.  Those games noted above.  Texas hammered the Cowboys 34-7 in 1963.  But maybe the photo was from the 1950's and used in one of the games in the 1960s.
1950s: A Halloween flashcard cat and some @UTAustin football flare.

Beat OSU! 🤘 pic.twitter.com/2ombjCctT0

— Jim Nicar (@JimNicar) October 30, 2020
Lots more great stuff on his website, The UT History Corner, https://jimnicar.com/
Stay healthy folks, and let's hope the Horns do too!
God Bless Texas
Tim Taylor
Tailgating before Home Football Games
The Juan Heisman Tailgate
Lot 38, East of Sid Richardson Hall.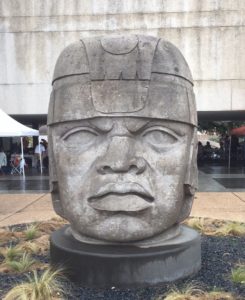 HOOK EM HORNS!!
© Timothy C. Taylor, Sr. 2020.  All Rights Reserved (as to original material).
www.jw.com/ttaylor
On Twitter:  @tctayloratx
On LinkedIn:  www.linkedin.com/in/tctatx
On Instagram:  @tctayloratx
On Facebook:  www.Facebook.com/Tim.C.Taylor
and:  www.Facebook.com/Juan.Heisman
You can contact me by mail:

Tim Taylor
P.O. Box 5371
Austin, Texas  78763-5371