Texas Longhorns 41, Oklahoma State Cowboys 34, in OT
 The Texas Longhorns went to Stillwater as 3.5 point underdogs to play the No. 6 team in the country, the previously undefeated Oklahoma State Cowboys.  Lead by two really great college football players, Joseph Ossai and Sam Ehlinger, the Longhorns overcame a big day by Cowboy quarterback Spencer Sanders, who threw for 400 yards and 4 touchdowns, another Biletnikoff-worthy performance by Tylan Wallace (11 catches for 187 yards and 2 scores), and, amazingly, 13 penalties for 142 yards, to force overtime and then get the win.  It was a great college football game, filled with all the highs and lows that make it such an incredible spectator sport.  The difference was, in large part, the interception and 3 fumbles (as I had speculated "If Ossai and others can get pressure, I think we can force a couple or 3 turnovers, and that might be the difference in the game.")  The pressure put on Sanders by Joseph Ossai was decisive, especially the final play of the game as Sanders scrambled to find an open target and force a second overtime, but was forcefully denied by Ossai.  Joseph Ossai was the Walter Camp Football Foundation Defensive Player of the Week, the Big 12 Conference Defensive Player of the Week.
Cedric Golden with the Austin American-Statesman said it so well:
Saturday will go down as one of the greatest displays of will in program history.

Joseph Ossai, Texas' new jack defensive end, certainly had help from his teammates in the 41-34 overtime win over sixth-ranked Oklahoma State, but it was a testament to his selfless leadership, the value of hard work and a glimpse of where the Longhorns should go moving forward.
Ced's article is excellent:
https://www.hookem.com/columns/20201031/golden-dominant-joseph-ossai-kept-texas-season-afloat-help-though/
Highlights, 13 or so minutes:
Highlights from Big 12, under 8 minutes:
Full review of the game below, but man was this fun (all these clips are short). First two are end of game.
.@joseph_ossai is a BEAST! pic.twitter.com/i0kjWDEkta

— Texas Football (@TexasFootball) November 1, 2020
Ossai ➡️ Ball Game ➡️ Chaos ➡️ "TURN ME UP" – @joseph_ossai pic.twitter.com/H8SimaV9SY

— Texas Football (@TexasFootball) November 2, 2020
Some other particularly good videos:
Sam to Smith, call by the Voice, Craig Way:
You love to see it. 🤘 pic.twitter.com/EVdRZ8ZqSt

— Texas Football (@TexasFootball) November 3, 2020
Texas down 11 points with 8 minutes to play in the third, and DeShawn Jamison (@D_JAMISON5) with a 100 yard return to close the gap to 5
— Texas Football (@TexasFootball) October 31, 2020
Taquon Graham's fumble return, forced by Ossai:
Big TQ 😤pic.twitter.com/SogMCvA0s0

— Texas Football (@TexasFootball) October 31, 2020
Ehlinger to Eagles:
Fly like @_BrennanEagles_ 🤘 pic.twitter.com/L48VghNTgk

— Texas Football (@TexasFootball) October 31, 2020
And lastly, this locker room celebration:
Celebrate with family! 🤘 pic.twitter.com/W3r6LGWyAw

— Matt Lange (@mattjlange) November 1, 2020
Number 46 finished the day with 12 tackles (7 solo), 6 TFL, 3 sacks, and a forced fumble.  It was an historically good performance.  As has been floated, it might be appropriate for him to wear No. 60 for a game; maybe for Iowa State in our final home game of the season.  Probably his too, although I wish he would come back.
West Virginia Mountaineers vs. Texas Longhorns
West Virginia and Texas have an 11:00 a.m. kickoff on ABC.  The World Wide Leader's top talent calling the game, with Joe Tessitore, Greg McElroy, and Holly Rowe.  On the radio in English with Craig Way, Roger Wallace, Quan Cosby, and in Spanish with Dr. Rubén Pizzaro‑Silva and Jesus Mendoza.  National Radio on "Touchdown Radio" with Brett Dolan and our friend and favorite Longhorn/Cub, Keith Moreland.
If you happen to be in Great Britain or Ireland, you can watch the game live on BT Sport, at 5:00 p.m. GMT.  First live Longhorns game over there this season, per @UKIrishHookEm on Twitter.
Texas is favored by 6.5, and the over/under is 55.  ESPN's matchup predictor gives Texas an 82.1% chance of winning.  I think that's about 94.3% right.  But odds and polls are sometimes wrong.
As you will see below, West Virginia has a top 5 defense.  Our offense has been putting up much bigger numbers than WVU has been allowing, across the board.  Texas defense compared to their offense is different:  their season offense stats are pretty consistent with what Texas has been giving up.  So, the key will be, can our offense hold steady and produce like we know it can, or will Coach Neal Brown and his staff find a way to stop Sam Ehlinger and a really good Texas offense.  That is one of the keys to the game.
Before digging into the Mountaineers and the game, important to take stock of the conference.
Big XII Football
Critical game for both teams.  Here is the top of the Big XII standings:
Iowa State              4-1
Kansas State            4-1
Oklahoma State          3-1
Oklahoma                3-2
Texas                   3-2
West Virginia           3-2
After Saturday, Texas has Kansas (a W, barring a disaster), Iowa State here on Friday after Thanksgiving (a very challenging game), and on the road December 5 at Kansas State (always a tough game for Texas).
Iowa State has Baylor this weekend, then K State, Texas, and West Virginia at Ames.
Kansas State has Oklahoma State this weekend at home, at Iowa State, at Baylor, and then the game with us to close the season.
Oklahoma State is at K State, then Bedlam at Home on November 21 with the Land Thieves, Tech, at Texas Christian, and at Baylor (make-up game).
Land Thieves are at Kansas, Okie State, at West Virginia, and Baylor in Norman on December 5.
West Virginia has Texas Christian and Oklahoma in Morgantown, then at Iowa State December 5.
A third loss pretty much eliminates one of these 2 teams from a shot at the conference championship.  Cyclones are unlikely to lose 2 of the next 3.  K State might drop 2; they are most likely of the bunch.  Okie State should win all except Bedlam, as I think the Land Thieves are going to run the table.
The coaches and players are still saying the right thing, that they still have the opportunity win the conference.  A win over West Virginia Saturday, and that remains true.  A loss and this is another mediocre season, most likely ending in San Antonio on Tuesday night, December 29.
So, that is where things stand.  Texas wins out, and we can say it was a good season.  A loss this weekend, then I will have some other stuff to write about.
Mountaineers vs. Texas Longhorns
West Virginia started playing football in 1891.  For most of their history, the Mountaineers were Independents.  Mountaineer football joined the Big 12 in 2012.
They played in the "WVIAC" from 1924-27.  I am guessing that not a lot of y'all have heard of the West Virginia Intercollegiate Athletic Conference.  Not surprised.  Founding members were Alderson, Bethany, Broaddus, Charleston, Concord, Davis & Elkins, Fairmont State, Glenville State, Marshall, Potomac State, Shepherd, West Liberty, West Virginia, West Virginia Tech, and West Virginia Wesleyan.  If any of you have ever heard of any of those schools besides Marshall, I am impressed.
WVU was independent from 1928 through 1949.  In 1950, they joined the Southern Conference, which we now just call the SoCon.  The Southern was quite an athletic conference.  Established in 1921, and is one of the oldest continuously operating conferences in the NCAA.  The Big 10 and Missouri Valley are for sure older, lots of arguments about the PAC-12 and its roots in the Pacific Coast Conference (1915) and the Big 12 (SWC roots, founded 1914).
My alma mater, Washington & Lee, was a founding member of the Southern, along with some other good football schools, Alabama, Auburn, Clemson, Georgia, Georgia Tech, Kentucky, Maryland, Mississippi State, North Carolina, North Carolina State, Tennessee, Virginia, and Virginia Tech.  In 1922, Florida, Louisiana State, South Carolina, Ole Miss, Tulane, and Vanderbilt joined.  Sewanee (1924), VMI (1924), and Duke (1929).  This great conference was the source of the Southeastern Conference (1932, Alabama, Auburn, Florida, Georgia, Georgia Tech, Kentucky, LSU, Mississippi, Mississippi State, University of the South [Sewanee], Tennessee, Tulane, and Vanderbilt) and the Atlantic Coast Conference (1953, Clemson, Duke, Maryland, North Carolina, North Carolina State, South Carolina, and Wake Forest).
West Virginia left the Southern after 1967, going independent again.  Among the coaches in that independent stretch was Bobby Bowden, who found much greater success and better crab legs in Tallahassee.  West Virginia would join the Big East in 1991, and that lasted until 2011, when they left to join the Big 12.  Their years in the Big East were probably among their best, including a legitimate shot at a national title in 2007, when they were ranked No. 2 in the AP, No. 1 in the Coaches Poll going into the Backyard Brawl with Pitt.  The 100th meeting in that storied rivalry, and the Mountaineers got beat 13-9.  Just short.
West Virginia is one of those enigmas for me.  15 conference titles.  8 in the SoCon, when they were beating up on the W&L Generals, Virginia Tech, Richmond, George Washington, the Citadel, Davidson, Furman, and William & Mary.  Seven in the Big East, as noted above, against Division I/FBS schools.
Texas and West Virginia met in 1956.  The Ed Price coached Longhorns lost in Austin 6-7.  Not a good one.  The teams would not meet again until WVU joined the Big 12, and we have split those 8 games.  Dana Holgorsen was the Mountaineer coach for most of that era.  He won the first match with Mack Brown in 2012, 48-45.  The next year in Morgantown, Texas avenged that loss with a 47-40 win.  In 2014, Charlie's Stronghorns got the win in Austin, 33-16.  Holgo got us the next 2 years, 38-20 and 24-20.  Tom Herman is 2-1 against West Virginia.  In 2017, Texas won in Morgantown 28-14, a particularly memorable game for Parker Fleming and me.   In 2018, WVU with the 42-41 last minute win (33 yard TD pass and 2 point conversion with 16 seconds left; that one hurt).  Texas with that nice 42-31 win last year, as Roschon Johnson carried for 121 yards, Sam had 2 running scores and 2 TD passes, to Epps and Burt.  Duvernay ran for a touchdown, as did Sam Cosmi:
http://www.espn.com/video/clip/clip?id=27775200,
Last year's leading tackler in Morgantown.  Joseph Ossai.
Official Preview:
https://texassports.com/news/2020/11/2/no-22-football-preview-vs-west-virginia-nov-7-2020.aspx
Game Notes:
https://texassports.com/documents/2020/11/2//Texas_2020_Notes_7.pdf
Texas Depth Chart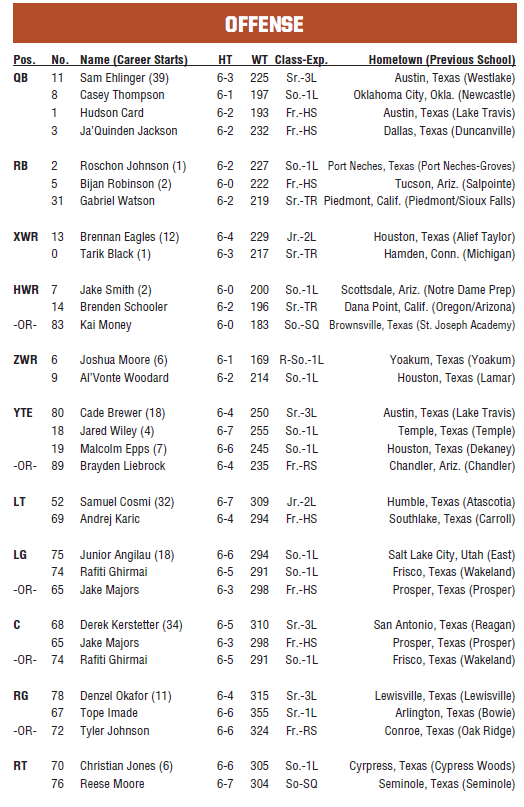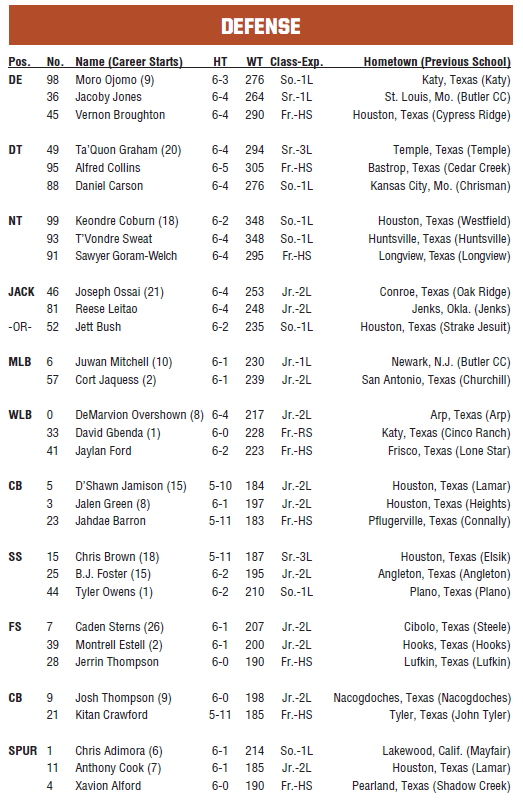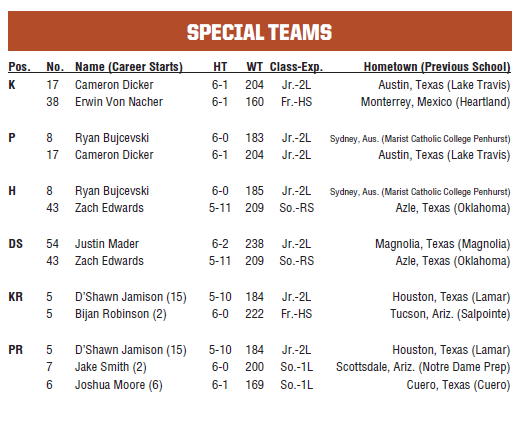 Worth noting after my criticism of the coaches and the depth chart last week that Bijan Robinson started.  So take the depth chart with a grain of salt.
The Statistics
Offense
| | | |
| --- | --- | --- |
| Statistic | Texas | West Virginia |
| Rushing Offense | #57 – 165.3 ypg | #46 – 172.0 ypg |
| Passing Offense | #25 – 284.2 ypg | #24 – 292.8 ypg |
| Total Offense | #23 – 449.5 ypg | #19 – 464.8 ypg |
| Scoring Offense | #8 – 44.3 ppg | #33 – 33.0 ppg |
| First Downs | #43 – 22.3/game | #25 – 24.2/game |
| Sacks Allowed | #73 – 15, 100 yards | 54 – 11, 83 yards |
| Tackles for Loss Allowed | #65 – 35, 140 yards | #86 – 47, 170 yards |
| Third Down Conversions | #71 – 37.9% | #62 – 39.2% |
| Fourth Down Conversions | #8 – 85.7% | #33 – 66.7% |
| Red Zone Offense | #47 – 86% / 69% | #12 – 96% / 77% |
| Long Run Plays | #39 – 31/10; 10/20; 3/30; 2/40 | #34 – 32/10; 8/20; 5/30; 1/40 |
| Long Pass Plays | #21 – 65/10; 24/20; 13/30; 10/40 | #16 – 68/10; 22/20; 12/30; 3/40 |
| Long Scrimmage Plays | #26 – 96/10; 34/20; 26/30; 12/40 | #17 – 100/10; 30/20; 17/30; 4/40 |
Defense
| | | |
| --- | --- | --- |
| Statistic | Texas | West Virginia |
| Rushing Defense | #38  – 130.3 ypg | #10 – 97.8 ypg |
| Passing Defense | #83 – 277.5 ypg | #5 – 157.8 ypg |
| Total Defense | #60 – 407.8 ypg | #4 – 255.7 ypg |
| Scoring Defense | #68 – 32.5 ppg | #17 – 19.8 ppg |
| Sacks | #40 – 12, 83 yards | #6 – 20, 125 yards |
| Tackles for Loss | #6 – 51, 187 yards | #9 – 49, 199 yards |
| First Downs Allowed | #85 – 24.5/game | #3 – 13.7/game |
| Third Down Conversions | #36 – 36.6% | #18 – 33.3% |
| Fourth Down Conversions | #9 – 25% | #57 – 60% |
| Red Zone Defense | #41 – 81% / 58% | #27 – 77.8% / 55.6% |
| Long Run Plays Allowed | #53 – 23/10; 8/20; 2/30; 1/40 | #32 – 17/10; 5/20; 2/30; 2/40 |
| Long Pass Plays Allowed | #93 – 71/10; 20/20; 6/30; 2/40 | #33 – 33/10; 12/20; 6/30; 3/40 |
| Long Scrim. Plays Allowed | #78 – 94/10; 28/20; 8/30; 3/40 | #30 – 50/10; 17/20; 8/30; 5/40 |
Other
| | | |
| --- | --- | --- |
| Statistic | Texas | West Virginia |
| Turnovers | #58  – 8; 3F, 5I | #73 – 9; 6F, 3I |
| Turnover Margin | #26 – 12:8, +0.67 | #45 – 10:9, +0.17 |
| Penalties | #96 – 56, 525 yards | #95 – 52, 488 yards |
*Based on total number of penalties.
Match-up Comparison
| | |
| --- | --- |
| Texas Offense | West Virginia Defense |
| Rushing Offense – 165.3 ypg | 97.8 ypg – Rushing Defense |
| Passing Offense – 284.2 ypg | 157.8 ypg – Passing Defense |
| Total Offense – 449.5 ypg | 255.7 ypg – Total Defense |
| Scoring Offense – 44.3 ppg | 19.8 ppg – Scoring Defense |
| First Downs – 22.3/game | 13.7/game – First Downs Allowed |
| 3rd Down Offense – 37.9% | 33.3% – 3rd Down Defense |
| 4th Down Offense –  85.7% | 60% – 4th Down Defense |
| Red Zone Offense – 86/69 | 77.8%/55.6% – Red Zone Defense |
| LRP – 31/10; 10/20; 3/30; 2/40 | 17/10; 5/20; 2/30; 2/40 – LRP Allowed |
| LPP – 65/10; 24/20; 13/30; 10/40 | 33/10; 12/20; 6/30; 3/40 – LPP Allowed |
| LSP – 96/10; 34/20; 26/30; 12/40 |  50/10; 17/20; 8/30; 5/40 – LSP Allowed |
| | |
| --- | --- |
| Texas Defense | West Virginia Offense |
| Rushing Defense – 130.3 ypg | 172.0 ypg – Rushing Offense |
| Passing Defense – 277.5 ypg | 292.8 ypg – Passing Offense |
| Total Defense – 407.8 ypg | 464.8 ypg – Total Offense |
| Scoring Defense – 32.5 ppg | 33.0 ppg – Scoring Offense |
| First Downs Allowed – 24.5/game | 24.2/game – First Downs |
| 3rd Down Defense – 36.6% | 39.2% – 3rd Down Offense |
| 4th Down Defense –  25% | 66.7% – 4th Down Offense |
| Red Zone Defense – 81%/58% | 96%/77% – Red Zone Offense |
| LRP Allowed – 23/10; 8/20; 2/30; 1/40 | 32/10; 8/20; 5/30; 1/40 – LRP |
| LPP Allowed – 71/10; 20/20; 6/30; 2/40 | 68/10; 22/20; 12/30; 3/40 – LPP |
| LSP Allowed – 94/10; 28/20; 8/30; 3/40 | 100/10; 30/20; 17/30; 4/40 – LSP |
  West Virginia Mountaineers
West Virginia comes to Austin with a 4-2 record.  The Mountaineers opened the season with the Eastern Kentucky Colonels.  WVU had a 42-7 lead at half, and the game ended 56-10.  A trip to Stillwater went poorly, as the Cowboys beat the Mountaineers 27-13.  Home games against Baylor and Kansas went better, wins of 27-21 and 38-17, respectively.  The win over the Bears is just a W in the record books, but it was a tough game, as Baylor tied the score at 14 with 1:19 in the fourth (Brewer to Fleeks).  Both scored in the first OT, and after scoring first in the second OT, WVU intercepted Brewer on Baylor's possession to get the win.  The road trip to Lubbock resulted in a Red Raider 34-27 win, but then West Virginia again rebounded at home with a 37-10 upset of then No. 16 ranked Kansas State.
As is obvious from the stats above, the strength of this West Virginia team is defense.  Truly impressive numbers on the season.
Linebacker Tony Fields II (#1, 6-1, 220, senior linebacker) leads with 53 tackles (18 solo), 2 TFL for 12 yards, 1 sack for 4 yards, and a pick.
Alonzo Addae (#4, 5-11, 189, junior cornerback) has 43 Tackles (24 solo), 0.5 TFL for a yard, and 2 interceptions.
Josh Chandler-Semedo (#7, 5-11, 220, junior linebacker) has 40 tackles (18 solo) and 2.5 TFL for 4 yards.
Tykee Smith (#23, 5-10, 198, "spear", which is like a safety/linebacker hybrid) has 39 tackles (22 solo), and 6 TFL for 21 yards.
Dante Stills (#55, 6-4, 280, junior on the defensive line, primarily tackle I believe) has 24 tackles (11 solo), 7 TFL for 34 yards, with 2 sacks for 17 yards
Akheem Mesidor (#99, 6-2, 268, freshman d-line) has 19 tackles (11 solo), 5.5 TFL for 28 yards, with 4 sacks for 23 yards.
Pooler (#9, 6-2, 250, line), Bartlett (#50, 6-2, 232, RS Freshman "bandit", part defensive end, part outside linebacker), and Darius Stills (#56, 6-1, 285, senior on the d-line, primarily nose tackle) have 6, 5.5, and 6.5 tackles for loss, respectively.
Some stats on the offense below, but here are key players:
Quarterback Jarret Doege. #2, RS Junior out of Lubbock Cooper, 6-2, 208.  149-232, 11 TDs, 3 picks, 1690 yards.    Don't want to jinx us, but he is minus 55 yards on the ground this season (31 positive, 86 lost).
Running Back Leddie Brown (#4, 5-11, 210, Junior). 126 carries, 694 yards, 8 TDs, averaging 5.5 yards per carry and 115.7 per game.  Very good.  He's also third leading receiver for the Mountaineers, with 23 catches for 166 yards and 2 scores.
Top receiver is Winston Wright Jr. 32 for 391 and 12.2 scores.  #16, 5-10, 180, Sophomore wide receiver.
Sam James (#13, 6-0, 184, RE sophomore WR) has 26 catches for 242 and 2 scores.
Bryce Ford-Wheaton (#0, 6-3, 218, RS sophomore, WR) has 16 catches, 3 for scores.
Neal Brown is in his second year in Morgantown.  He is one of those hot young coaches who jumped from the Group of 5 to the Power 5 after great success at that lower level.  In 4 years at Troy (Sun Belt), Brown was 4-8, 10-3, 11-2, and 10-3.  Tied for first in conference in 2017 and 2018. Three bowl wins in a row (Dollar General, New Orleans, Dollar General).  He has apparently already won over the hearts of most of the Mountaineers.  He will probably find success in Morgantown.  What I can't figure out is, how are they having all this success without a designated defensive coordinator?  Vic Koenning left over the summer, and the defensive coaches are coordinating and sharing responsibilities.  DC by committee, and look at their stats.  Makes you wonder.
Big XII Stats
Although it is technically week 10 of the season, I feel like we just got to the point last week in the conference where looking at the stats is really instructive.  In particular, the individual stats.  So a few notes as we head into a critical game with the Mountaineers:
Sam Ehlinger leads the conference (and is 2nd in the country) in passing TDs, at 20.  WVU QB Jarret Doege is second with 17.  On the traditional ranking, Doege is 2nd behind Rattler with 281.7 yards per game, Sam third with 275 ypg.
Scoring, Leddie Brown, Mountaineer RB (not to be confused with Oklahoma State's RB, LD Brown), is third in the conference with 10 touchdowns, averaging 10 points per game.  Dicker is No. 5 with 9.8 ppg, and Ehlinger and Joshua Moore tied for 8th with 7 points per game (those are Sam's rushing TDs.  He is third in the conference in rushing TDs, behind Breece Hall at Iowa State (11) and Leddie Brown (8).
Receiving, Texas spreads the ball around so much that in the Big 12 our leading receiver is Joshua Moore at No. 7, with 57.2 ypg.  He leads with 7 TD receptions this season.  Winston Wright, Jr., WR at WVU, is No. 5 in Big 12, with 61.2 ypg.
Rushing, Leddie Brown is No. 2, with 115.67 yards per game (and those 8 scores).  Sam is tops for Texas, at No. 12 (4.3 ypg), but right behind him are Ingram at No. 15 and Robinson at No. 15.
Sam leads the conference in total offense, with 322.3 yards per game.
As far as the teams:
WVU No. 3 rushing offense, Texas No. 5.
WVU No. 2 in passing offense, Texas No. 3.
WVU No. 2 in total offense, Texas No. 3.
Texas No. 1 in scoring offense, WVU No. 3
WVU No. 1 in rush defense, Texas No. 5
WVU No. 1 in pass defense, Texas No. 9
WVU No. 1 in total defense, Texas No. 7
WVU No. 2 in scoring defense, Texas No. 8
So what happens?  Horns favored by nearly a touchdown, must win game to keep any hope of a conference title alive.  An opponent who we should beat.  What does that all add up to?  Usually a really close game.  Probably too close.  I will go with Texas winning 38-31, but I also think we could win by more, something like 41-27.
Texas 41, Oklahoma State 34
Texas got the ball first, and to my very pleasant surprise, Bijan Robinson was in the backfield.  He got dropped for a loss of 4, but on second down scampered for 24 yards to almost mid-field.  Drive stalled, and a decent punt put the Cowboys back at their own 14.
The opening Cowboys drive featured everything I was worried about:  28 yards to Tylan Wallace, a little Chuba, a 15 yard roughing the passer penalty, a 19 yard run by Johnson, capped with a 11 yards Sanders to Wallace TD.  All in less than 2 minutes.
Texas answered splendidly, getting a delay of game penalty on first down out of the media timeout.  3 and out, but at least Bujcevski got a great punt off – 49 yards to OSU 16.  Texas got the first break of the game, as Sanders fumbled and Jacoby Jones recovered for the Horns at the OSU 15.  Ehlinger to Jake Smith, for 10, and 2 plays later Ingram was in the endzone.  7-7 after the PAT.
The Texas defense was different on the next OSU possession.  Jamison's PI got the Pokes out to the 42, and then a 15 yard completion to Wallace set up OSU at the Texas 43.  But all of sudden, Ossai.  He drops Chuba for a 1 yard loss, then sacked Sanders.  Third and 16 and Jones got the sack, forcing the punt on fourth and 23.
Pinned back at our 8, Texas got a first down on an OSU offsides, a nice run by RoJo of 9 for second and one.  I liked the next call, taking a shot to Tariq Black, but the ball was underthrown, Black was well covered, and the safety closed as the ball got there for what amounted to double coverage.  On third and one, Kerstetter somehow didn't know that Sam was not underneath center, but where Sam usually is, in the gun, and Kerstetter snapped it to Harvey the Rabbit.  Fortunately, Sam fell on it at the 25, avoiding catastrophe.  Another good punt from Ryan.
OSU drove the ball well, with passes of 32 to Brown, 25 to Wolf, then a 5 yard touchdown to Wolf, to go up 14-7 with 1:36 in the quarter.  There wasn't a Texas defender with 5, maybe 7 yards of Wolf.  Terrible coverage.
Texas answered with a drive that started with bad call by the Big 12 refs (offensive PI on Wiley after a nice 7 yard completion to Brewer).  But Sam got it back with 11 yards to Eagles, 19 to Smith, and a couple of Bijan runs later Texas was in Cowboy territory.  And a few plays after that, a sweet 41 TD yard completion to Eagles who got behind his man, and Texas got it tied at 14.
The next Cowboy possession ended quickly, as Jalen Green intercepted Sanders and got it back to the OSU 8 on a 41 yard return.  Somehow, Texas could not get it in from there, burned a timeout, and settled for 3.  But it was the lead.
Next series, was a good mix of plays and tempo by Gundy, but the back-breaker was Sanders getting loose after dropping back and running right up the middle as several Horns played matador, getting to the Texas 5.  Chuba punched it in from there for the 21-17 OSU lead.
A Texas 3 and out, but again a good punt from Bujcevski, 58 yards to the OSU 17.  So, last week I complained about our punt game.  So in all fairness, Ryan had a great game in Stillwater, and he deserves some of the credit for the win.
Next series, Chuba Hubbard carried the ball 9 times.  No big plays, most 2-3 yards.  But mix in a holding call on Texas, the opening completion of 28 yards so Wallace, and it was a scoring drive, as OSU got a 31 yard field goal to go up 24-17.
Down 7 with 1:44 in the first half, it was an opportune time for Sam and the offense to cut the lead to 4 or tie at half.  No such luck. Sam got sacked on first down, and it was a 3 and out in 35 seconds.  Another good punt kept OSU from having field position and scoring.  But Texas gave up a 41 completion to Johnson, and the Cowboys were at the Texas 34.  Graham sacked Sanders for 6, and then after an incompletion, Ossai sacked Sanders, forcing another fumble, and Graham rumbled 33 yards to the Poke 20.  Amazingly and despite Sam getting sacked on first down, Texas turned what could have resulted in a 2 score deficit into a 4 point game, as Dicker nailed the 40 yarder.
So, 24-20 at halftime in Stillwater against an undefeated top 10 team?  I was pretty pleased actually.  Some bad passes and dropped balls, some typical bad tackling, but we were in it.  Ossai was playing really well, and one of my keys to victory, turnovers, was in play, with the fumbles and Green's pick.
Texas opened the second half by forcing a 3 and out.  But the Horns didn't take advantage, as the drive was again hurt by a penalty (false start on Kerstetter, who was not having his best game).
Oklahoma State and Gundy came out firing on the next series.   They got the ball on their own 28, and Gundy mixed running by Hubbard and Brown with passes to the best weapon on the Cowboy offense, Tylan Wallace. Completions of 18 yards, 13 yards, 18 yards and a 9 yard touchdown (a great catch).  31-20 Okie A&M, and I was a bit deflated.
D'Shawn Jamison took care of reversing that deflation, with the 100 yard return for the touchdown.  I was pretty unhappy with the unsportsmanlike penalty he got for "shushing" the crowd after this hundred yard dash and we missed the PAT.  But in hindsight, the play turned the game around, he made a magnificent run, and Dicker should've made the PAT.  Anyway, 31-26, and the Horns are still in the game.
A 3 and out from OSU.  A Texas drive hurt when a false start turned a third and 6 into a third and 11.  A stop by the Texas D after a couple of Cowboy first downs (including another defensive pass interference).  And then a stop by OSU after Texas opened a possession with a great 29 yard run by RoJo.
The Cowboys were in possession and moving the ball as we opened the fourth frame.  The OSU drive was aided by another defensive PI call, this one on Green.  Gundy was mixing it well, and the Horns were on their heels, as a 13 yard completion to Stoner had OSU on the Texas 31.  But then again, a big play.  Overshown forces the fumble, Ossai picks it up, and he gets it 8 yards the other way.
After this next series, I believed we would win.  12:15 to play in the third, and Sam Ehlinger and Yurcich put together an 18 play drive that took nearly 8 minutes.  Yes, the roughing the punter on fourth and long was key, but still, Texas controlled and drove the ball.  This despite another offensive PI call (why does Texas get called for those rub plays and no one else seems to?  Do we not do it right?).  The drive ended with a 12 yard TD pass to Jake Smith as Texas went for it on fourth and 7 from the 12.  Sam scrambled out of a huge blitz to find Smith in a great play, and then a 2 point conversion to Brewer, and Texas took the lead 34-31.  (Worth noting that Sam was minus 1 yard rushing at the point, due to sacks, and Texas was 1 for 12 on third down conversions).
Okie State got the ball back with 4:27 to play.  The Texas defense got the 3 and out, after a good review by the Big 12 officials (the ball hit the ground), and Texas got the ball back with 3:44 to play and a 34-31 lead.  I was thinking this is nice.  Sam runs the 4 minute offense, and we either score or run the clock out.  Sam scrambled for a critical third down conversion (our second of the game I think). Then a huge sack for the Cowboys for third and 20.  Texas ran it down to 2:05 and took a timeout.  A huge play, with 20% of the field needed for a first.  Texas kept it on the ground and played it safe, letting clock run again before the timeout with 1:22 left.
Cowboys at their own 20 with 1:14 to play.  I really thought Texas would hold.  But 7 yard pass to Wolf, 20 yards to Wallace, 28 yards to Stoner, 7 yards to Stoner, and it was second and 3 at the Texas 18.  Sanders with another try, but pressure got him and OSU had to spike it at the 17.  Gundy and his staff showed their experience, as they got the FG unit on and were ready to kick.  The Texas icing TO didn't work, and with seconds left the game was tied with the 34 yard field goal.
Okie A&M won the toss for OT, and Texas got the ball first.  It didn't look great, as Bijan got 2 yards, incomplete to Moore (way overthrown, or way under-run), and Sam went back to Moore on third and 8 (at which point Texas was 2 for 15).  Incomplete, but a good call by the officials (since it went our way) as they flagged OSU for pass interference as Ehlinger scrambled from pressure and Moore was mugged at the goal line.  First down at the 8, but then Sam sacked for 7 (Lacy untouched basically).  Second and goal and he hits Moore, finally, who hangs on for the touchdown despite a wicked hit.  Dicker for 1, although it gave me a scare.  The crowd in the Pickens Palace was stunned.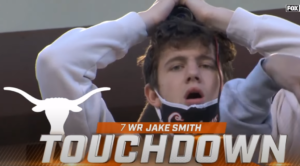 An 11 yard run by Brown gave OSU a first down at the Texas 14.  It looked like OSU tied it on the next play, but it really was a good and right call for illegal man downfield.  First and 15.  Sanders for 1 (big hit by Ossai), Hubbard for 4.  Third and 10.  Great coverage, and Sanders had to eat it out of bounds.  Fourth and 8.  Texas brought the house.  Sanders didn't have a chance, and of course, it was Joseph Ossai who chased him down from behind to win the game for the Texas Longhorns.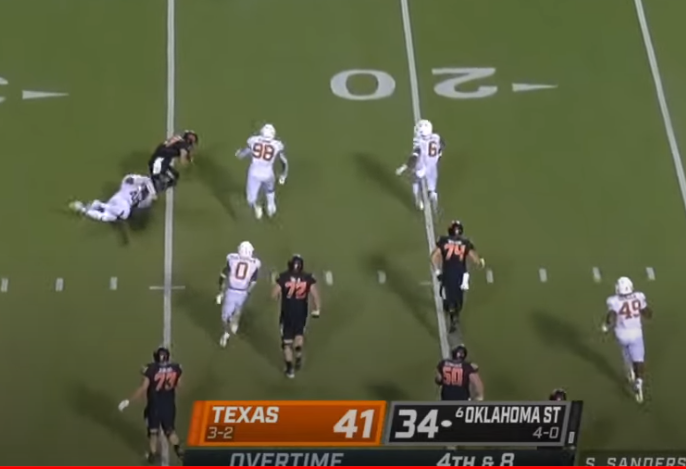 I read later that after Herman heard the play call of 0-coverage, he looked at Ash and said "At least it wasn't third and 17".  Pretty good sense of humor.
My observations, questions, and criticisms.
Sam really didn't play a role in the running game.  Part of me is glad, because he takes too much of a beating.  And we won without it.  But going to be interesting to see what we do Saturday with Ingram out.
The announcers kept pointing out how bad Texas was on third down.  True.  2 for 15 which is just putrid.  But OSU was 3 of 12.  Add in the fourth down conversions, and Texas was 4 for 17 and OSU was 3 of 13, so not that far apart.
Texas was 5-5 in the redzone, OSU 6-7.
21 points off of four turnovers.  That's how you win a game when your offense produces 287 yards and the opponent produces 530 yards.
Also this:  Texas had 165 yards in kickoff returns (yes, 100 on 1).  But OSU had zero.
Bujcevski punted 9 times for 424, a 47.1 average, with 5 inside the 20.
Astounding we overcame 142 yards in penalties.  I understand we want our defensive backs to press and that we are going to play man, but maybe we need to do a little more turning around to play the ball?
That was a huge win.  Joseph Ossai really was the key to the victory.  12 tackles (7 solo), 6 tackles for loss (30 yards), 3 sacks (24 yards), a forced fumble, and fumble recovery.
My last comment on the Cowboys game, from last week's newsletter:  "I will go with Texas 31, Oklahoma State 27.  (Although I will confess I first had it Texas 42-38 in double overtime; not sure why.)"
Veterans Recognition
As is our custom, Texas will honor our veterans at the home game at Texas Memorial Stadium closest to November 11.  A small, private ceremony was held Thursday at the Frank Denius Veterans Memorial Plaza, with a wreath laying.  The photo below from a similar event several years ago.  We miss you Mr. D.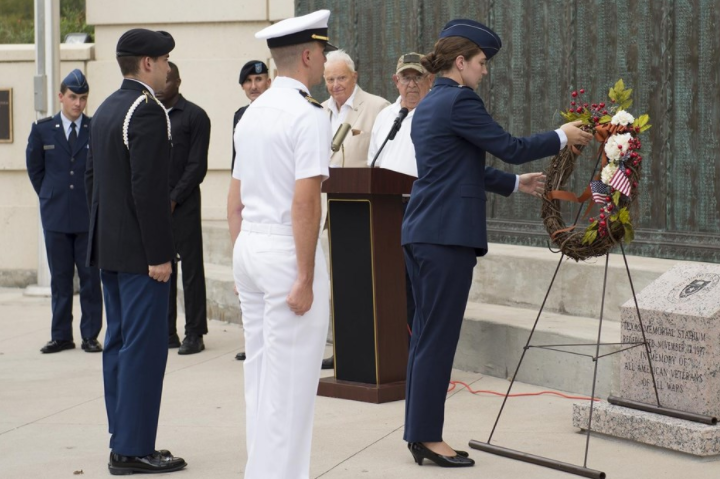 Polls Week 10
AP Top 25:  Clemson, Alabama, The Ohio State University™, Notre Dame, Georgia, Cincinnati, Texas Agricultural & Mechanical, Florida, Brigham Young, and Wisconsin.  Oklahoma State falls to 14.  Iowa State at 17.  Southern Methodist up to 18, Land Thieves at 19, and the Texas Longhorns back in at No. 22.
Coaches Poll:  Clemson, Roll Tide, The Ohio State University™, L'Université de Notre Dame du Lac, Georgia, Cinci, Texas Agricultural & Mechanical, Florida, Brigham Young, and Miami (Florida).  Okie State to 12.  Iowa State, Southern Methodist, and the Land Thieves 17, 18, & 19.  Army at 22.  Texas sits right outside the top 25 as next in.
This Week in the Big 12
 The Land Thieves hung 62 points on Texas Tech last Saturday night, winning by 34. Line was 14.5.  This week, Lincoln and the Thieves get winless Kansas in Norman, and the line is 38.  Over/under is 63.5.  I so want to load up on OU, but I would just feel dirty winning money on the Sooners.  2:30 p.m. on ESPN2.  I would look for a prop bet on Rattler yards.
Texas Tech (2-4, 1-4) at Texas Christian (2-3, 2-3).  2:30 p.m. on FS1 from Amon G. Carter Stadium in beautiful Fort Worth.  Frogs favored by 9.  Over/under is 61.5. I think the game will be closer.  Red Raiders to cover.
No. 14 Oklahoma State (4-1, 3-1) at Kansas State (4-2, 4-1).  A Casey Dobson Cow College Special.  3:00 p.m. on FOX.  K State interesting team.  Cowboys favored by 12.5.  Over/under at 46.  Wildcats to cover.
Baylor (1-3) at No. 17 Iowa State (4-2, 4-1).  6:00 p.m. on FS1.  Cyclones on favored by 14, over/under is 47.5.  Betting Purdy has a big game.
This Week in the Top 25
Friday Football
Two good games.
North Carolina State hosts No. 11 Miami (Florida) in Raleigh.  6:30 p.m. on ESPN.  Hurricanes favored by 10.5, but it is that kind of year.  Over/under is 58.5.
No. 9 Brigham Young at No. 21 Boise State.  8:45 p.m. on FS1.  Cougars on the Smurf Turf of Albertson's Stadium.  Broncos 3.5 point dogs at home, over/under is 61.5.  Boise may get this, and end the CFP hopes of Brigham Young.
Saturday
No. 23 Michigan at No. 13 Indiana.  No. 13 Indiana.  In football, not basketball.  Hoosiers 2-0!  11:00 a.m. on FS1.  Wolverines favored by 3.5.  Look, I like Michigan.  Never hated them, started liking them after the 2005 Rose Bowl and meeting Braylon Edwards at Maestro's Steakhouse.  Go Blue.
No. 18 Southern Methodist at Temple.  11:00 a.m. on ESPN+.  Mustangs favored by 17.5.  That should be on real TV.  Over/under 62.5.
Pac-12 action opens in the Los Angeles Memorial Coliseum, as No. 20 Southern Cal plays Arizona State in the FOX Big Noon game.  Problem is, that is 9:00 a.m. on Los Angeles.  Ridiculous.  I guess it doesn't matter to the fans, since Cali is shutdown.  But nine o'clock in the morning?  That was early for 7 year old flag football.  Two things I am particularly displeased with in college football:  ridiculous guaranteed coaches' salaries and games that kick-off locally before 12:00 noon.  Oh yeah, Trojans favored by 10.5, over/under is 57.5.
No. 25 Liberty (6-0) at Virginia Tech (4-2).  11:00 a.m. on ACC Network.  Hokies favored by 14.5.
UMass (0-1) at No. 16 Marshall (undefeated.  Alright.).  1:30 p.m. on ESPN+.  Thundering Herd favored by 45.  Damn.
World's Largest Outdoor Cocktail Party!  Jacksonville Florida should be quite a petri dish.  But it will be on heck of a football game.  No. 8 Florida and No. 5 Georgia.  Bulldogs favored by 3.5, over/under is 52.5.   Maybe the best game of the day.
Houston at No. 6 Cincinnati.  2:30 p.m. on ESPN.  Okay Holgo, make it happen.  Bearcats favored by 13.5.
Purdue at No. 10 Wisconsin cancelled.
No. 7 Texas Agricultural & Mechanical at South Carolina.  6:00 p.m. on ESPN.  Texas Agricultural & Mechanical favored by 10, over/under is 59.  Cocks to cover.
No. 1 Clemson at No. 4 Notre Dame.  6:30 p.m. on NBC. This should be a really interesting game, especially if Clemson and ACC stick with protocol and Trever Lawrence sits.  Tigers favored by 5.  Over/under is 51.  I think I know who will play like a champion on Saturday.  Irish to win and cover.
Rutgers at No. 3 Ohio State.  6:30 p.m. on BTN.  No line Monday night on ESPN.  No line Friday morning on ESPN.  But, the Vegas odds are tOSU by 38, over/under at 64.5.
Stanford at No. 12 Oregon.  6:30 p.m. on ABC.  Should be a good game at Autzen.  Ducks favored by 9.
South Alabama at No. 14 (and undefeated) Coastal Carolina.  Chanticleers favored by 18.  Over/under is 55.5.
Other Games of Interest
MACTION!!  I am so glad the MAC IS BACK!
Wednesday night, Kent State edged Eastern Michigan 27-23, Western Michigan flattened the Akron Zips, 58-13.  Buffalo 49-30 over Northern Illinois.  Ohio falls to the Chippewas 27-30.  Toledo 38-3 over Bowling Green.  And yes, Miami over Ball State, 38-31.
Thursday
Wyoming lost at Colorado State, 24-34.  Nevada 3-0 after hammering Utah 34-9, but who's counting?
Friday
Two Mountain West undefeateds.  San Jose State at San Diego State.  8:00 p.m. on CBSSN.  SDSU favored by 9.5.
Saturday
One of the coolest games of the day, Air Force (1-2) at Army (6-1), was supposed to be 10:30 a.m. on CBS from West Point.  But postponed.  Tulsa and Navy also postponed.
North Carolina at Duke, 11:00 a.m. on ESPN2.  Heels favored by 11, over/under is 63.5.
UTSA at Rice.  2:30 p.m. on ESPN3.  Rice favored by 5!  Over/under is 46.5.  Rice better hope they don't have to win with field goals.  2 weeks ago they missed four, all on doinks.
The Week That Will Be
Buying in.  HornMafia (Matt Craig) on Barking Carnival.
https://www.barkingcarnival.com/2020/11/5/21550528/the-week-that-will-be-buying-in-texas-longhorns-big12
Texas Volleyball
The Longhorns volleyball team is still ranked No. 1 in the country.  Texas rallied from down 0-2 against No. 3 Baylor Thursday night to win 3-2 and remain undefeated.
Juan Heisman Tailgate
With an 11:00 kick-off it will be pretty sparse in Lot 38, but a beer or two will still be in order.  No tailgating.
Last Week in the Big 12 – Week 9
Kansas State went to Morgantown as a 4 point underdog, and I noted my surprise.  The oddsmakers knew something, because the Mountaineers soundly beat the Wildcats, 37-10.  Missed on that one, for sure.
Iowa State 52-22 over Kansas.  Cyclones covered the 28.5 point line and hit the 52.
Texas Christian 33-23 over Baylor, covering.
Oklahoma went to Lubbock favored by 14.5.  I thought that was reasonable, but figured it might be a bit light.  Man, the Land Thieves went nuts.  62-28 over the Red Raiders.  Over/under was 68.
Last Week in the Top 25 – Week 9
Clemson got off to a sluggish start, clearly missing Trevor Lawrence.  Boston College took a 28-13 lead into halftime, and that undefeated season and number one ranking were shaky.  But the Clemson defense came out in the second half and shutout the Eagles, and Travis Etienne finished with a great day, 20 carries for 84 yards and a score and 7 receptions for 14 yards and a TD.  D.J. Ulagalelei got it together and finished with 342 yards and 2 TD passes and he ran for 25 and a score.
Georgia 14, Kentucky 3.  UK did cover.
Cincinnati keeps rolling.  49-10 over Memphis. I really missed on that one.
Michigan State and Michigan play exciting games.  The Spartans rolled into Ann Arbor and pulled off a pretty surprising upset, 27-24.
No. 4 Notre Dame rolled over Georgia Tech 31-13, although GT covered.
HOOS!  Virginia upsets North Carolina 44-41.  Big win for the Cavaliers, tough loss for Mack and his Heels.
Indiana defeated Rutgers 37-21.
Coastal Carolina cruised to a 51-0 win over Georgia State.
Southern Methodist all over Navy, 51-37.
No. 25 Boise State 49-30 over Air Force.
Alabama keeps rolling, flattening Mississippi State 41-0.  Leach still sitting on one win.
Ohio State 38, PSU 25.  Ohio State was favored by 12.5.  Almost.
Arkansas ran out of time against Texas Agricultural & Mechanical, coming up short 31-42.
Florida with an easy 41-17 win over Missouri.
Brigham Young 41-10 over Western Kentucky, covering.  Over/under was 52.  Pretty close.
Other Games of Interest Last Week
Friday night upset warning was right, as Maryland beat Minnesota 45-44.
East Carolina loses at Tulsa, 30-34.
Wyoming 31-7 over the Rainbow Warriors.
Saturday
UTSA goes under at Florida Atlantic, 3-24.
UCF was favored by 2.5 at Houston.  Wasn't close.  44-21 UCF.
Rice!  Huge upset and road win for the Owls at Southern Mississippi.  30-6.
A bit of a letdown this year for Ed Orgeron and his Louisiana State Tigers.  LSU when to Auburn favored by 3.  And they got whipped, 48-11.  War Eagle.
Ole Miss 54-21 over Vanderbilt.  Rebels win and cover.  Hotty Toddy!
Louisiana 44, Texas State 34.
Rest in Peace Billy Joe Shaver
One of the great songwriters of Texas, ever.
Live Forever.
Get Thee Behind Me Satan
Georgia on a Fast Train
Old Five and Dimers Like Me
Good
Social media can work for the good.  @wes1416 posted this, which tells the story of him returning Paden Kelly's helmet to his family.
Thank you Texas Twitter. Because of all of you, I was able to give Paden Kelley's helmet back to his family tonight outside of DKR. This is a moment I will never forget. I love being a Texas Longhorn. Hook'em. 🤘 pic.twitter.com/JwekWSK34I

— TexWes (@Wes1416) November 6, 2020
Jim Nicar
The original design for Texas Memorial Stadium.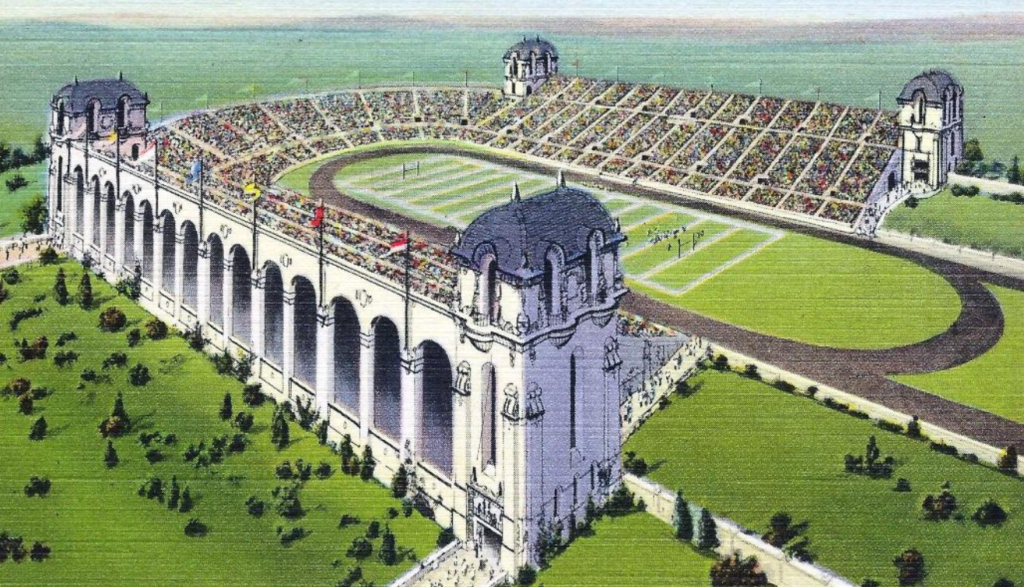 It's a @UTAustin game day!

1924: The original concept of Texas Memorial Stadium, with Spanish-style towers at the corners and four-story arches on the sides. Dallas architect Herbert Greene designed it, along with Gregory and Anna Hiss gyms, and Garrison and Welch Halls. pic.twitter.com/p90zB5KEL9

— Jim Nicar (@JimNicar) October 31, 2020
Never forget that the UT student body chose to name the new stadium in honor of the 198,520 Texans who fought in World War I and the 5,280 who lost their lives. In 1977, the stadium was rededicated to veterans of all wars and renamed Darrell K Royal-Texas Memorial Stadium in 1996 in honor of the Longhorns' legendary coach.  And also, Never Forget.
Stay healthy folks, and let's hope the Horns do too!
God Bless Texas
God Bless America
Tim Taylor
Tailgating before Home Football Games
The Juan Heisman Tailgate
Lot 38, East of Sid Richardson Hall.

HOOK EM HORNS!!
© Timothy C. Taylor, Sr. 2020.  All Rights Reserved (as to original material).
On Twitter:  @tctayloratx
On LinkedIn:  www.linkedin.com/in/tctatx
On Instagram:  @tctayloratx
On Facebook:  www.Facebook.com/Tim.C.Taylor
and:  www.Facebook.com/Juan.Heisman
You can contact me by mail:
Tim Taylor
P.O. Box 5371
Austin, Texas  78763-5371