Good Morning Longhorn Fans!
Welcome to the 130th Season of Texas Longhorns Football!
Traditions
I always start my first newsletter of the season with some of my favorite Texas videos.  I have those below.  This year, I share a more recent one that is really, really good.  Don't miss the Earl Campbell run at the 1:26 mark or so.
Three of my all-time favorites.  The first is a campus fly-over set to the Eyes of Texas.  The other two are among my favorites from the "What Starts Here Changes the World" series, narrated by the legendary Texas Ex Walter Cronkite.
Would be great to see some of these What Starts Here videos remade in HD with the new Austin skyline.
Another good one and highly recommended:
Special shout out to one of my favorite Longhorns, Michael Shaw, who makes an appearance at the 1:07 mark.
https://news.utexas.edu/2019/02/06/directing-positivity-michael-shaw-connects-the-campus/
ULM Warhawks vs. Texas Longhorns
The 2022 Texas season opens at Darrell K Royal – Texas Memorial Stadium Saturday night at 7:00 p.m.  The game will be broadcast on the Longhorn Network; Lowell Galindo, Sam Acho, and Alex Chappell on the call.  The game can be heard around the world on the Longhorn IMG Radio Network, with the Voice of the Longhorns, the legendary Craig Way with play by play, Roger Wallace with commentary and color, and Longhorn Will Matthews reporting from the sideline.  The Longhorns are favored by 37.5 points, and the over/under is 64.5.  Texas should win and cover, and I would bet the over.
Texas has a remarkable season opener record of 106-20-3 (.832).  In opening games at home,  110-16-3 (.863), and 78-17-3 (.809) at DKR-TMS.  Those will all be one win better come Saturday night.
The 2022 Texas Longhorns
The 2022 Texas Longhorns are going to be better and win more games than last season's team.  Guaranteed.  There is a reason that (at least at the start of fall camp), 57 of the 85 men on the roster were freshmen or sophomores and that overall there are 35 new faces on the team (41.2%. for those of you who were trying to do the math in your head; I used my trusty HP12C). That is a lot of turnover, a lot of which was apparently needed.  So the good news is we have a newer and better team.
Texas is coming off a tough 2021 season, but I believe that was an anomaly as Coach Sarkisian's first year.  Lots of change, on and off the field.  Those disruptions are now in the rearview mirror, and Sark and the Horns have a clean slate upon which to write the next chapter in the glorious history of Texas Longhorns football.
Overviews of the team and this season are below.  But the bottom line, I think, is this:
We have some tremendous – some All-American class – players at the offensive skill positions.  Starting with Bijan Robinson at running back, but then Xavier Worthy at wide receiver and, I hope, Quinn Ewers at quarterback.  Big potential at tight end, and big unknowns amongst big uglies.
On defense, some quality (and quantity – numbers and size) for the defensive line, guys with good experience, including Keondre "Snacks" Coburn and T'Vondre Sweat and Moro Ojomo.  Edge is a little concerning, but we have five seniors in the linebacker room with a lot of experience.  UT may not be DBU this season, but I am hopeful that Coach Kwiatkowski works a little of that magic he was apparently capable of before coming to Texas.
Special teams – lots of new faces.  Hard to lose a guy like Dicker the Kicker.  But we have an Aussie punter (Isaac Pearson) who has huge promise.  Several guys to kick, including Will Stone from Regents here in Austin who was ranked the No. 1 kicker nationally in his class by at least one service.
ULM Warhawks
The Warhawks are not a good football team.  In 2021, they went 4-8 overall and 2-6 in the Sun Belt Conference.  Their losses to the big boys of the Sun Belt:  59-6 at Coastal Carolina, 55-21 to Georgia State, and 59-28 at App State.  Their 2021 season opened like this year, with a payday game at Kentucky, a 45-10 loss.  They beat Jackson State, Troy, Liberty, and South Alabama.  They did stay close with the mighty Louisiana State Tigers, falling 27-14 in a night game at Tiger Stadium.  I am guessing they covered.
The Warhawks are coached by Terry Bowden, yes that Terry Bowden, son of Bobby, and the Terry Bowden who had a successful run on the Plains coaching the Auburn Tigers.  Coach Bowden was hired at ULM on December 23, 2020 (or at least that was the official announcement date).  How do I know that date?  Because on the ULM Warhawk website, Coach Bowden's page has not been updated since sometime after that, as there is no mention of his bleak first year in Monroe (as of Wednesday night).  Bowden had success at Auburn, but left under a cloud.  Coach Bowden ranks sixth among active FBS coaches with 179 wins.  Not a surprise that the top name on that list is Nick Saban with 269.  No. 2 is Mack Brown with 266.
I love this from Paul Wadlington in this year's Texas Football Prospectus about Bowden:  The colorful head coach once related that when he got the Auburn job, he was given a list of players who were being paid and what each was making.  He studied it intently and frowned. "What's the matter coach, are you upset that we're paying guys?"  Bowden responded, "No, you are paying the wrong ones."
The running backs coach is Tony Hull, who held the same position for the Kansas Jayhawks from 2016-2019.  He looks pretty legit.  I didn't recognize any of the other names on the coaching staff, although the offensive line coach is named "Maverick Morris", which sounds dang good.
ULM has 29 men from Texas on the Warhawks roster, four projected starters on offense and six on defense, including Chandler Rogers of Mansfield, the starting quarterback (No. 6, 6 foot, 194 lbs).  Other Texans who will likely start on offense are running back Andrew Henry (Allen), wide receiver Zach Jackson (Grand Prairie Lake Ridge), tight end Zach Rasmussen (from Anna, Texas, played at Newman Smith in Carrolton).
One guy to watch out for is No. 17, wide receiver Boogie Knight (super senior grad student).  Boogie transfer to ULM from Akron, after lettering three years for the Zips.  Why of course a kid named Boogie played for the Zips.  Boogie is a Preseason All-Sun Belt Conference Second-Team selection after his big season in 2021 when he led the Warhawks in receptions (45), receiving yards (588), touchdown receptions (3), and all-purpose yards (824) last season.  ULM returns its top three rushers from 2021: Andrew Henry (131 carries for 482 yards and 4 TDs), Malik Jackson (80 for 451 and 3 TDs), and Chandler Rogers (139 for 367 and 1 TD).  Their collective 1,300 rushing yards was 80 percent of the Warhawks ground game last year.  Translate:  experience.
Warhawk defense is led by super senior Zack Woodward, Mike linebacker, a transfer from Jacksonville State (no. 9, 6-1, 238 lbs).  The Texans on defense:  defensive tackle Quincy Lead (West Orange-Stark), nose guard Caleb Thomas (Mansfield), defensive end Seth Mason (Allen), linebacker Tristan Draggers (Hallsville), cornerback David Godey Jr. (Mansfield), and safety Tre Odom (Lufkin).  Not sure of this connection between Mansfield and Monroe, other than Interstate 20 of course.
Noteworthy:  The Warhawks ranked as the least-penalized team in the FBS in 2021. ULM committed just 44 penalties, or 3.67 penalties per game, for 384 yards, 32.0 yards per game, all of which as the fewest in the FBS. The Warhawks were penalized just four times for 17 yards in the season finale against the Ragin' Cajuns in 2021.
University of Louisiana Monroe Warhawks  vs. Texas Longhorns
Official Preview:
https://texassports.com/news/2022/8/29/no-rv-18-football-preview-ulm.aspx
The Texas Athletics Communications team does an outstanding job of pulling together great information on the game and the team.  Kudos on this preview.
ULM Game Notes:
https://ulmwarhawks.com/documents/2022/8/30/2022_Game_1_ULM_at_Texas.pdf
Texas Game Notes:
https://texassports.com/documents/2022/8/29/01_-_Texas_Game_Notes_-_ULM.pdf
If you download the Texas Game Notes, you will note that there is not a Depth Chart.  Nor was one released at Coach Sarkisian's press conference on Monday.  We know most of the projected starters (my guesses below), and of course we know that last week we got the long awaited announcement of the Longhorns starting quarterback – Quinn Ewers.  So let's start there.
Texas Offense
Quarterbacks
Quinn Ewers left Southlake Carroll after his junior year of high school, enrolling at Ohio State (after having previously committed to Texas), and, reportedly, cashing in on some nice NIL deals.  He decided to come back to Texas and to join the Longhorns, and by all accounts, Quinn Ewers is the Real Deal.  Several of people of said he has "it".  Guys who have been to practices talk about his quarterback skills and football intelligence.  Crisp and accurate passes.  I can't wait to see him on the field in a game.
Backing up Mr. Ewers is Hudson Card of Lake Travis, who was named the starter to begin the 2021 season, but as we know that gave way to Casey Thompson (now at Nebraska, and 0-1 after the loss to Northwestern in Dublin).  Hudson is an excellent athlete and accomplished quarterback, and in today's game, we need at least one high quality back-up (we need a better word) quarterback if not 2.  As soon as the Ewers announcement came out, I started getting hand-wringing emails and texts about how Card would probably transfer, etc., especially with the portal and NIL and "recruitment".  I prefer to view the glass half full.  Let's hope that because of those exact reasons – portal & NIL, Hudson Card sticks around.  Why those reasons?  Because wherever he might go, there is always the possibility of someone else transferring in to who just might be better.  And NIL, because I am hoping that the NIL forces at play in support of Texas football will reward Mr. Card for patience and loyalty.  Up front.
Also in the quarterback room is Maalik Murphy, a freshman from California.  I have had a couple of people (who know football and are not prone to hyperbole) tell me that Murphy (6-5 and 227 pounds) is the next Vince Young.  Also in there is Charles Wright, a redshirt freshman from Stephen F. Austin High School, the oldest public high school west of the Mississippi.  Loyal Forever.  Ben Ballard is another good kid, now a Senior, who went to Hyde Park Baptist here in Austin.
Running Backs
I started with Quarterback, but the reality is that the biggest star on the team is No. 5, Bijan Robinson.  The sophomore begins 2022 as the Big 12 preseason offensive player of the year.  Heisman hopeful.  Every watch list that a running back can be on.  He is a special talent and based on what I have seen and heard, a special young man.  Last year, Bijan carried the ball 197 times, rushing for 1,127 yard, 112.7 yards per game, 5.78 yards per attempt, and 11 touchdowns.  He was tied for second on the team in receptions (26) with Jordan Whittington, 295 yards receiving, 4 touchdowns, 11.35 yards per catch.  From the Official Preview:  "Over his last 12 games, his ratio of long plays is even more impressive. During that time, he has 21 plays (15 rushes/6 receptions) of 20-or-more yards, including four runs of 50-plus. He's accomplished that in just 245 plays (214 rushes/31 receptions) in that 12-game span, or a play of 20-plus yards on average about every 11 plays."  No. 5 is pretty important to the Texas 2022 season.  He's also crushing the NIL game.
I heard several times over the summer that Roschon Johnson (No. 2, Senior) had emerged as one of the key leaders on the team.  I am not surprised, and that was confirmed by Rod Babers and Kasey Studdard on Wednesday.  I went to the RBI Austin lunch with my friend Jason Becker (at Matt's El Rancho – Always Good), and the speakers were Studdard and Babers.  It was quite entertaining (Jonny you did a good job, when Rod let you get a word in).  Anyway, Roschon Johnson is a man who, in my estimation, embodies the team-first attitude and who has shown Texas fans his big heart, his loyalty, and his superb football skills, all of which make for a great locker room leader.  RoJo carried 96 times last year, gaining 569 yards, 5.93 yards per attempt, and 5 rushing touchdowns.
Another quality running back is junior Keilan Robinson, the Alabama transfer who gave us a lot of good carries last year.  And Jonathon Brooks from Hallettsville, a redshirt freshman.  Among the freshman on the team is Jaydon Blue from Klein Cain.  Supposed to be very good.
Wide Receivers
A couple of months ago, we were talking about how amazing it was that we were so stacked at quarterback, running back, and wide receiver.  The latter took a hit when Isaiah Neyor, the Wyoming transfer who was expected to start opposite Xavier Worthy (and who had a great spring camp and was doing great this summer) tore his ACL in the first scrimmage.  Out for the season.  Fortunately, Xavier Worthy did not transfer and is back on the Forty Acres.  Big 12 freshman of the year last season, lots of award watch lists, and probably the best receiver in the Big 12.  Sixty-two catches last season for 981 yards and 12 scores.
Jordan Whittington.  December 21, 2018 was a long time ago, and seems like a decade ago.  That was the day that Jordan led the Cuero Gobblers to the State Championship, rushing for 334 yards, 43 yards receiving, 6 touchdowns, 11 tackles; he was the Offensive MVP and the Defensive MVP in a 40-28 win over Texarkana Pleasant Grove.  I love this kid.  I just want him to have a full season of football on the Forty Acres, and I hope it is 2022.  He is a special athlete, and he deserves it.
The only other upper classman is the graduate transfer from Iowa State, Tarique Milton.  We need him; and he should contribute.  Nice career in Ames (44 games, 1,519 yards).  The rest of the wide receiver room is, best I can tell, a redshirt sophomore who hasn't played yet after 2 years of injuries (Troy Omeire), a redshirt freshman (Jaden Alexis), some other freshman and some guys who are on the squad.  If any of them start playing, we will learn more about them.  Let's pray that Worthy and Whittington stay healthy and that we have some tight ends and we throw the ball to them.
Tight Ends
Which brings me to Ja'Tavion Sanders (No. 0), who will start at tight end.  The sophomore out of Denton Ryan (6-4, 242 pounds) is the real deal (No. 1 athlete prospect in the country in his recruiting class).  He played in all 12 games last year, but didn't catch a ball; he played on special teams, mostly field goals.  This year, he is on preseason watch lists, and I expect we will be very pleased with Ja'Tavion Sanders.  Big, fast, talented.
Jahleel Billingsley is another transfer from the Crimson Tide.  Six-four and 220 pounds, he played in 36 games for Saban.  He's good.  No. 85 Gunnar Helm (6-5, 251 pounds) out of Colorado also played on special teams last year, as did No. 81 Juan Davis (6-4, 219 pounds).  That's a lot of large men.
Offensive Line
That leaves us with the offensive line.  Oh boy.  So many great skill players, and a lot of young guys to block for them.  Losing Junior Angilau, a senior who had started in 34 straight games for Texas, is a blow.  Next man up as they say.  I hope so.  At the RBI lunch, Studdard, one of the great offensive linemen in Texas history, said something about the large humans and the importance of development.  He talked about the wide gulf between an 18 year old lineman fresh out of high school and a big man who has 3 or 4 (or maybe even 5 these days) of strength and conditioning under a good S&C coach at the college level, especially at the good schools.  Basically, almost all the time, no comparison.  So you got some senior defensive tackle who is 6-4 with 308 pounds of intentionally tuned muscle, strength, agility, etc., versus a very good freshman offensive lineman who might be the same size or bigger.  But the pounds don't match up pound for pound.  So, a bit of a reality check as one realizes that 2 or 3 guys on the O line at any given time are likely to be freshmen or sophomores.
But we do have some returning talent.  Christian Jones (No. 70, 6-6, 333 lbs) is a senior with 22 starts and played left tackle last year.  He is supposed to be moving to right tackle, and I expect him be the man opening some holes for Bijan.  Jake Majors (No. 65, 6-3, 314 lbs) is a sophomore who started at center last year.  If his technique has improved, then we should see a fine season from Jake.  Andrej Karic (No. 69, 6-5, 306 lbs) is a sophomore out of Southlake Carroll, playing in his third year.  I like how the SID framed his redshirt freshman year:  "Played in 11 games with one start … started at right tackle against Oklahoma in the Red River Showdown … also saw time at left tackle during the season and worked with the field goal unit … blocked for Bijan Robinson's 137 rushing yard performance against Oklahoma and 135-yard outing against Oklahoma State … helped Keilan Robinson rush for 111 yards on nine carries at West Virginia, the first 100-yard game of his career … blocked for Roschon Johnson's career-best 179 rushing yards against Kansas State".  It is true.  And he is very good.  Left tackle.  Hope he can provide the protection his fellow Dragon, Mr. Ewers, needs to put his golden arm to work.  Another sophomore, Hayden Connor (No. 76, 6-5, 324 lbs), and a physics major.  Real physics, and that is a hard degree.  Safe to assume he is very smart, and he made the Big 12 Commissioner's Honor Roll both semesters last year.  I think he will be starting at one of the guard positions, and his upside is big, like him.   The rest of the OL are freshmen (or RS freshmen).  But remember the 2022 offensive line class was regarded by many as one of the best in Longhorn history.  I will leave you with their names, sort of in order, starting with most likely to see a lot (pure guess on my part):  Cole Hutson, Kelvin Banks, Jr., Malik Agbo, Connor Robertson (Westlake), Cameron Williams, and DJ Campbell.
Texas Defense
Defensive Line
As I mentioned above, we have some good guys in the middle of the D Line.  Big, experienced, and anchored by the best nickname on the team – Snacks.
Keondre "Snacks" Coburn (No. 99, 6-2, 344 lbs) is a senior (fifth year) with 33 starts and 38 games.  All-Big 12 Honorable mention the last three seasons, we really need him to have a big season and be All-Big 12 First Team.  The big nose tackle needs to play big.  T'Vondre Sweat (No. 93. 6-4, 346 lbs) is also a senior and has played in 35 games.  Big, strong, and smart (Academic All-Big 12 First team last year).  Great talent, good football player.  Moro Ojomo (No. 98, 6-3, 284 lbs) is a senior majoring in Business Finance (i.e., the acclaimed McCombs School of Business) who has played in 38 games and has 25 starts.  Academic All-Big 12 First Team in 2020 and 2021, a six times on Big 12 Commissioner's Honor Roll (basically the last 6 semesters).  Really like all 3 of these guys, and they bring a ton of game experience:  106 games played, 58 starts.  They have to turn their size and experience into domination of the line of scrimmage.  Whether they are starting or rotating in.
Byron Murphy II (No. 90, 6-1, 302) is a sophomore who didn't play as much as he probably should have last year.  (I encourage you to read Paul Wadlington's assessment on page 105 of the 2022 TFP.)  BON (Wescott Eberts) projects Murphy to start at nose.
Vernon Broughton (No. 45, 6-4, 293 lbs) is another sophomore with big upside.  Another interesting player, and of note BON projects him starting at DT (ahead of Ojomo).
Alfred Collins (No. 95, 6-5, 291 lbs, Junior from Cedar Creek HS in Bastrop) is one of the best talents Texas has playing in the box.  When he finally got a start against Oklahoma State last year, he crushed it.  If that trajectory carries over to 2022 and the ascending trend continues, we will be hearing a lot about Mr. Collins once he gets back from injury.
Edge/ D Ends
I will start with Ovie Oghoufu (No. 18, 6-3, 239 lbs) because that's probably my favorite name on the team (name, not nickname – Snacks wins that).  Ovie transferred to Texas from Notre Dame and started 8 games.  I think he's our best, but the best thing that could happen to the Texas D is for Ovie to play better than he did last year and not be our best – because we need some other new guys to step up.
Barryn Sorrell (No. 88. 6-4, 258 lbs), sophomore from New Orleans (Holy Cross) will probably start on the other end.  Justice Finkley (No. 1, 6-2 248 lbs, freshman from a high school in a town in Alabama you have never heard of), gets a nod at the top part of the depth chart because he was an early enrollee, very talented, and there are not a lot of other guys.  Let's hope he is as good as projected.  Ethan Burke (No. 91, 6-6, 245, a freshman out of Westlake) is supposed to be good.  D.J. Harris, Jr. (No. 42, 6-2, 236 lbs, RS freshman) should play some, maybe a bunch  A kid who I heard a lot about when he came to Texas (because Tony Dewar likes to talk about Highland Park a lot) is Prince Dorbah (No. 32, 6-3, 232 lbs).
Linebacker
I have always liked the linebacker position and watching great linebackers play the game.   Sort of like tight ends, but more entertaining and more intellectually stimulating.  Great linebackers can make the difference between a winning team and a losing team and between a winning team and a championship team.  Texas has had some great ones.  Tommy Nobis, Derrick Johnson, Scott Appleton, Kiki DeAyala, Britt Hager, Brian Orakpo, Winfred Tubbs.  Samuel Onyedikachi Acho who will be in the booth for LHN.
The question is, can Demarvion Overshown (No. 0, 6-4, 220 lbs, fifth year senior out of Arp [by Tyler]) add his name to that list?  Or at least have a season worthy of inclusion on perhaps a slightly longer list like that of Longhorn Linebackers?  He led the team in tackles last year with 74.  2022 preseason watch list candidate for the Butkus Award, Bednarik Award, Lombardi Award, and Bronko Nagurski Trophy.  All-Big 12 preseason (and a bunch of others).  Even if you are a casual fan, you know who Agent Zero is – the dynamic athlete with nearly a dozen armbands on his arm.  I know that no one over there is reading this, but I ask that question as a challenge to Overshown, who I think is a great athlete and who can be the leader this defense needs.  Texas needs him.
David Gbenda (No. 33, 6 foot, 229 lbs) is a junior who played a lot last year and probably will again in 2022.
Jaylan Ford (No. 41, 6-3, 234 lbs) is another junior with lots of playing time (22 games, 3 starts).  He will be the middle linebacker position, or Mike, and most likely the starter there.  This is the QB position on defense, and Ford is majoring in Communication and Leadership and has made the Big 12 commissioner's honor roll twice.
Jett Bush (No. 43, 6-2, 238 lbs) is a senior who has played in 31 games after coming to Texas from Strake Jesuit in Houston.  A few of the depth chart projections I saw have Jett no. 2 at either one or both OLB spots.  So I expect we will see a lot of him.
Diamonte Tucker-Dorsey (No. 2, 5-10, 219) transferred to Austin from James Madison.  He's a senior, and he had a good year last year for the Dukes, who were an FCS playoff team last year.  DTD led the Dukes in tackles (116) and played well in coverage.
Devin Richardson (No. 30, 6-3, 234 lbs) is in his second year at UT after coming to the Forty Acres from New Mexico State (went to Klein).  The Senior played in 11 games last year.  At New Mexico State, he was a freshman All-American.  So we know Devin has talent.  Hope he has a good season for the Horns.
Luke Brockermeyer (No. 47, 6-3, 224) is a fifth year senior who started 10 games last year, 72 tackles.  He is a true orangeblood, and a loyal one.
Cornerbacks
D'shawn Jamison (No. 5, 5-10, 187 lbs, fifth year senior) has started 31 games for the Longhorns and played in 48 games.  A key to the defensive backfield, he is best known to many for his kick returns [ranks fourth all-time in UT history in career kick returns (54) and kick return yards (1,435)].  He is the senior man of DBU, and we need him to have his best year ever.
Ryan Watts (No. 6, 6-3, 212 lbs) is a junior from Little Elm, Texas, who transferred to Texas from Ohio State (and is playing in his fifth season).  I like him already.  He played in 19 games for the Buckeyes.  He will likely be our other starting cornerback.
Jamier Johnson (No. 31, 6 foot, 175 pounds) is a sophomore who played in 10 games last year – mainly special teams.  I don't remember much about him, but he's on a lot of depth chart projections as a back-up at corner.
Jaylon Guilbeau (No. 13, 6 foot, 182) is a freshman (early enrollee) from Port Arthur Memorial.  He may also play the Star position (see below).
Terrance Brooks (No. 8, 6 foot, 197 pounds) is a freshman (also early enrollee) from Little Elm, Texas.
Star
The Star is the extra DB when the defense is in the nickel.  In a lot of schemes, it is a hybrid defensive back & linebacker.  I thought we used to call this the nickelback, but I guess some coach or sportswriter somewhere doesn't like that band.
Jahdae Barron (No. 23, 5-11, 190) is a junior from John B. Connally HS in Pflugerville.  He is one of our better backs and will be the star starter, more likely than not.  He's played in 14 games for the Horns, with 2 starts.  He will be backed up by one or more of the other guys who also play cornerback.
Safety
Anthony Cook (No. 11, 6 foot, 182 pounds).  The fifth year Super Senior from that heralded bunch out of Lamar is one of my favorite players.  Don't know why, just like him. 46 games, 15 starts.  He was our Star/Nickel last year, and had a darn good season.  46 tackles, including 3 TFL and a sack.  He plays smart.  Technically the "Boundary Safety", what we used to call the strong safety (I think, it is late).  I hope he adds his name to the list of great Texas safeties.
Jerrin Thompson (No. 28, 6 foot, 187 lbs) is a junior with 8 starts and 22 games.  Another great defensive player from behind the Pine Curtain (Lufkin), Thompson will probably start at Free Safety.  He had a good season as a sophomore, with 41 tackles, 3 TFL.
Morice Blackwell, Jr. (No. 37, 6-1, 196 lbs) was a linebacker and has moved to safety.  Hard hitting young man, one of my favorite traditional qualities of great Texas defensive backs.  Think Stanley Richards.  He will probably back up Cook.
Kitan Crawford (No. 21, 5-11, 202 lbs, from Tyler High School [f/k/a John Tyler]).  The junior has played in 10 games for Texas.
Special Teams
If there was ever a season when Texas needs some great play (and plays) on special teams, this is it.  Basically half the team is new, so you got a lot of guys who, at least the first few weeks, are still learning what to do and where to be.  Special teams can make up for some possible deficiencies (maybe not the right word) on offense and defense.  We have D'shawn Jamison returning kicks, and he can make a huge difference for the Horns on starting field position.  That could mean a lot for the young offensive line.  With Michael Dickson and Cameron Dicker, we have seen that great punts can turn the field over, especially when coupled with good coverage.  We want short fields on offense and long fields on defense, and special teams can have a big impact on that.  As noted several times above, we have a number of players who are starters or likely second on the depth chart who have played in a lot of games – just on special teams. So they tend to be a bit faceless, other than the punter and the kicker (and the placeholder, although the fact is he wants to be faceless too).
Punting will be Isaac Pearson, No. 49, of Newcastle, Australia.  Pearson played Australian rules football until he was 19, then began training to be an American football punter.  He was the No. 1 punter in his class coming to this hemisphere from Australia.  He apprenticed as a mechanic in a coal mine.
Kickoffs and field goals:  Will Stone or Bert Auburn or both?  Will Stone is a freshman from Austin who had a high school career playing for the highly regarded and respected Beck Brydon at Regents School.  Bert Austin is a sophomore from Flower Mound, and he did kick some last year.  3 for 3 on extra points against Rice and kicked off some.
Texas Depth Chart
Not this week.
The 2022 Season
As is my tradition, I take a quick look at the season.  Usually I predict the wins, and not surprisingly in August of most years, as I churn the Burnt Orange Kool-Aid, Texas might very well go undefeated and play for a national championship.  Last year I had Texas with 9 wins to start the season.  Only 9?  Yes, new head coach, new system, etc.  I thought 9 was reasonable.
This year?  We will see.  Texas is better, but I will confess to being very uncertain about how good other teams are going to be.  Between the portal and NIL, we live in a Brave New World of Unprecedented Times.  Compound cliché intended and sadly true.  I would add "unpredictable".  So it isn't just sitting here looking at the Texas roster and trying to make an educated guess.  It is wondering just who all the new faces are on other teams, and how good their transfers are, how will that team's chemistry meld and when, how much turnover did they have in the assistant and position coaches (and how much of that will have a real impact on a team's performance), etc.
I believe in Steve Sarkisian's second year Texas will have a very, very good football team.  I also know we are going to play some really good, really well-coached teams.
This is a heck of a schedule, with 7 home games, including 3 in September.
Alabama:  September 10 at 11:00 a.m.  DKR ‑ TMS.  Going to be a bit toasty.  I will get it over with now – save you from the shock of this admission next week:  Nick Saban is the best college football coach of my lifetime and probably the best ever.  The Crimson Tide is the Gold Standard of American college football.  The only comparable programs in major college sports I can think of are UCLA basketball under Coach John Wooden (10 national championships, including 7 in a row from 1967 to 1973) and Southern California baseball in the Rod Dedeaux era (10 national championships, 6 in the 1970's).  We are going to see a great football game.
UTSA:  September 17 at 7:00 p.m.  DKR ‑ TMS.  The Roadrunners are coming off a great season where Jeff Traylor coached a 9 year old football program to 12-2 record.  This will be a hard fought game.  Don't think for a second that the Birds Up kids from San Antonio won't fight like hell to beat big brother Hook Em.  But Texas will get the W.
Texas Tech: September 24 at Lubbock.  The good news is that the newsletter that week will include the Casey Dobson Lubbock Travel Alert.   The bad news is a lot of folks have to go to Lubbock.  The good news is Texas should win handily.  W.
West Virginia:  October 1, DKR ‑ TMS.  W.
Land Thieves in the RRS:  October 8 at the Cotton Bowl.  Javier's, Fletcher's Corny Dogs, Wax Paper Cup Beer, lots of fried stuff.  And a Texas W.  The only thing I won't have is a drive to Tyler for dinner with my dad Saturday night.
Iowa State.  October 15, DKR ‑ TMS.  W.
Oklahoma State.  October 22 in Stillwater.  Mike Gundy is now the dean of Big XII coaches and, frankly he's earned it and he's earned a lot of respect.  Mine included.  And we can't joke about mullets anymore anyway.  Going to be tough road game against a very good football team.
Kansas State.  November 5 in Manhattan.  Wildcats are not going to be a great team, but they tend to play Texas well and win more often than they should. I don't think that will be the case in 2022.  W.
Texas Christian, November 12 at DKR – TMS in Austin, Texas.  Gary Patterson is also in Austin, Texas, full-time, and Sonny Dykes is the head coach of the Horned Frogs.  Back-to-back games against purple teams makes me nervous.  But, W.
Kansas, November 19 in Lawrence.  Not even going to talk about it.  W.
Baylor, November 25 (Friday), DKR ‑ TMS.  I think Baylor is the best or second best team in our league, and I think this will be hard game.  Will Sark and his staff do what I believe they can do, and coach and teach a bunch of elite athletes at The University of Texas who improve week to week and develop not only individually but also as a team with a culture that befits the Forty Acres and the traditions of Texas Football?  If so, then Texas will win this game and play in the Big 12 Championship Game, with a shot at really good New Year's Six Bowl Game.  Sugar or Cotton.
Let's go Texas.  Time to start a new Golden Decade.  Maybe with a marker date of September 10, 2022.
The Preseason Polls
AP Top 25:  Alabama, The Ohio State University TM., Georgia, Clemson, Notre Dame, Texas Agricultural & Mechanical, Utah, Michigan, Oklahoma, and Baylor at No. 10.  Oklahoma State is 12, Southern Cal is 14, Ole Miss at 21.
AFCA Coaches Poll:  Roll Tide, Buckeyes, UGA, Clemson, L'Université de Notre Dame du Lac, Big Blue, Texas Agricultural & Mechanical, Utes, Land Thieves, and Brazos Baptists.  Okie A&M at 11, Southern Cal at 15, the Texas Longhorns at No. 18, and Ole Miss at 24
As far as the Horns go, the most interesting thing is that Texas received 164 points in the AP poll, placing 2 spots out of the Top 25, right behind the Other UT (the Volunteers).  Meanwhile, in the Coaches Poll, Texas got 383 points in the voting to place 18th, but the Longhorns also got one first place vote.  To put that in perspective, Alabama had 54 first place votes (1,634 points), Ohio State had 5 first place votes (1,564 votes), and Georgia had 6 first place votes (1,542 points).
So, you may ask, how does the Coaches Poll work?  There are 65 head coaches from FBS schools who are chosen by random draw from a group of coaches who have agreed to vote in the poll.  Each voting coach submits his top 25 rankings with a first-place vote worth 25 points, a second-place vote worth 24 points, third-place vote worth 3 points, and so on (one point for 25th place).  We don't know who voted this year.  But at the time the final poll of the season is released, USA Today and ACFA releases the voters.  So you can see who voted last year:
NCAA College Football Coaches Poll for January 11, 2022 | USA Today Sports
Back to a high altitude look at the polls and looking at the season predictions.  I bet I heard a dozen talk radio shows over the last 2 months that all said, basically, "Alabama and Ohio State are head and shoulders above everyone else, and the rest of the field is playing to get to the College Football Playoffs and lose to the Tide or Buckeyes."  These guys get paid to say that stuff.  It is American college football.  Anything can happen.  But odds are, the pundits are probably at least half right.
Let's start with the predictions from this year's crew for the venerable ESPN College Gameday.  (As opposed to FOX's Big Noon Kickoff pregame whatever, which I will complain about next week).  Lee Corso predicted Alabama, Ohio State, Utah, and Georgia, with the Tide beating the Utes and the Buckeyes beating the Bulldogs, and Ohio State winning the Natty.  Safe predictions and solid.  Kirk Herbstreit, who I have come to respect and admire, has Ohio State beating Georgia and Alabama beating Baylor (yes, the team in Waco – they are really good again this year) and then Ohio State winning it all.  David Pollack has Ohio State beating Utah and Alabama beating Clemson, with the Tide winning the title.  And Desmond Howard.  Desmond.  He has Michigan beating Baylor and Texas Agricultural & Mechanical beating Pittsburgh.  And Texas Agricultural & Mechanical beating Michigan to win the National Championship.  Okie dokie.
First, I think Texas Agricultural & Mechanical is very good, and the Aggies will have an excellent season.  They have a lot of talent, and they are probably the second best team in the SEC West.  Aggies play at Alabama.  But I think Ole Miss is good and going to have a great season, likely upsetting a team or two, and I just can't see Texas Agricultural & Mechanical winning it all.  Not this year.  I think the Baylor predictions are spot on.  David Christopher Aranda shocked a lot of folks last year, but not everyone. He is a very good football coach, and his team played well.  Baylor has a great defense, and they have a good shot at winning the Big 12 again. If they do, they may get a shot at the CFP.
For comparison, The Athletic's college football writers (who are very good:  Stewart Mandel, Bruce Feldman, Nicole Auerbach, Andy Staples, David Ubben, Max Olsen, among others) all had either Alabama or Ohio State winning, and none of them had Baylor or Texas Agricultural & Mechanical in the CFP (Utah, Georgia, Clemson).
2022 Longhorn Football Prospectus:  Thinking Texas Football
 Paul Wadlington's preseason book on the Longhorns is a must read.  (He used to blog under the name Scipio Tex, which may be a more familiar name to some of you).   Here is the link to purchase it.  Not too late, and well worth it.
Smashwords – 2022 Longhorn Football Prospectus: Thinking Texas Football – a book by Paul Wadlington
Conference Realignment
Conference realignment – really at this point it is the restructuring of the FBS and college athletics – continues to be a dominant topic in college football.
The biggest news was the stunning – truly stunning – news that the University of Southern California and the University of California Los Angeles were leaving Bill Walton's beloved Conference of Champions to join the Big 10 (can you imagined how stoned Walton probably got after than announcement?).  This is, to put it bluntly, a devastating kick with a steel-toed boot right in the Pac 12 groin.  The Pac 12 is losing its premier football blue blood in Southern Cal, and one of its two basketball blue bloods with UCLA (I give Arizona blue blood status, but some might say that's a stretch).
Kevin Warren, the Big 10 Commissioner, then topped that coup with the announcement of the Big 10's new TV deal:  A mammoth 7 year media rights agreement with Fox, CBS, and NBC that is worth over $7 billion.
Meanwhile, as we all know, Texas and the Land Thieves are biding their time with a planned departure to the Southeastern Conference in 2025.  Many of us hoped it would come sooner, but the Sooners weren't up for the early buyout, despite their heritage.  So for now, we shall remain in the Big 12, as we plan to welcome Brigham Young, Cincinnati, Central Florida, and Houston on July 1, 2023.  I like the BYU addition, and I begrudgingly accept the other Cougars from Houston, as an old Southwest Conference foe and of course the geography makes good sense.  Better than Brigham Young, West Virginia, and Central Florida.  It is 2,325 miles from Provo, Utah, to Orlando, Florida; a 34 hour drive without traffic.  By comparison, Lubbock to Morgantown is 1,466 miles and 22 hours.  But, clearly, geography is out the window when it comes to conferences, and I will delve into that another day.  Smaller conferences with smaller schools are somehow making it work, so the big boys in the Power 5 conferences can.
Anyway, I assume we will still be Big 12 members next season, and if so, I think the football season will be fun.
So, I wrote most of this section last weekend. Then on Wednesday, the Big 12 announced that it was opening early renegotiation of its media contracts.  And that meant that Texas and the Land Thieves might in fact get to leaver before 2025.  When I say things are changing quickly, I am not kidding.
The Winning Tradition of The University of Texas
First, I am grateful for Billy Dale and his fantastic website and newsletter, which chronicle the history and traditions of The University of Texas Longhorns, and for the good work that the Texas Sports Legacy Network does to support so many Longhorns.
https://www.texaslsn.org/mission-statement
As the inimitable Spanky Stephens tells the story, as originally published by Billy Dale on the TLSN website, when the Texas baseball team moved from Clark Field to Disch Falk, they cleaned out an old store room and found a sign that hung in Billy Disch's locker room.  The original sign said  "THE WINNING TRADITION OF THE UNIVERSITY OF TEXAS WILL NOT BE ENTRUSTED TO THE TIMID OR THE WEAK".  The legendary trainer Frank Medina hung a similar sign in the Longhorn football locker room at Texas Memorial Stadium.  When Texas built the new strength and conditioning facility in the Mack Brown era, Mad Dog Jeff Madden tweaked the sign, and the words have become part of the Texas Longhorn lexicon:
The Pride and Winning Tradition of The University of Texas will not be entrusted to the timid or the weak.
I have my usual football history stats below.  But thanks to Kyle Umlang for this:  The university of Texas is the only Division 1 program ever to reach No. 1 in the 3 major Men's & Women's sports (football, men's basketball, baseball, women's basketball, softball, and volleyball).
More on U.T.'s second Director's Cup and last season's national championships below.
You can read the rest of the sign story here.  Short read, definitely worth the time, and especially for Texas Baseball fans:
https://www.texaslsn.org/managers-and-trainers-tring-reflections
Texas Longhorns Football History
Texas is among the most storied football programs in American college football history.  Not as many championships as Alabama or Notre Dame or even those guys in Norman, but a blue blood nonetheless.  That comes from a true winning tradition.
All-Time Wins
| | | | |
| --- | --- | --- | --- |
| 1. | Michigan | 143 years | 976 wins |
| 2. | Alabama | 130 years | 942 wins |
| 3. | Ohio State | 131 years | 940 wins |
| 4. | Notre Dame | 135 years | 930 wins |
| 5. | Oklahoma | 127 years | 928 wins |
| 5. | Texas | 129 years | 928 wins |
| 7. | Penn State | 135 years | 909 wins |
| 8. | Nebraska | 132 years | 908 wins |
| 9. | Tennessee | 131 years | 856 wins |
| 9. | Southern Cal | 134 years | 856 wins |
This is harder to track than one might think, as the win totals do not include vacated games and seasons.  I looked at several different sources, but settled on an article published on NCAA.com.
By Winning Percentage
| | | |
| --- | --- | --- |
| 1. | Ohio State | .73150 |
| 2. | Alabama | .73103 |
| 3. | Notre Dame | .72965 |
| 4. | Michigan | .72874 |
| 5. | Oklahoma | .72752 |
| 6. | Texas | .70171 |
| 7. | Southern Cal | .69473 |
| 8. | Penn State | .68635 |
| 9. | Nebraska | .68386 |
| 10. | Tennessee | .67008 |
A Twitter account I follow and enjoy is @CFBHome.  They went through the record books to make an educated guess at total wins versus FBS schools (what we used to call Division I-A).  They came up this:
Oklahoma     819
Texas        818
Alabama      795
Michigan     790
Nebraska     781
Ohio State   772
Notre Dame   751
USC          717
Tennessee    670
Penn State   640
Steve Worster, 1949 – 2022
Steve Worster is, best I can remember, my first Longhorn hero.  For sure, one of the first two names I remember from childhood, along with James Street.  I cannot do his memory justice, but I can tell you where his memory is well-served.  On the Texas Legacy Support Network's website, thanks to Steve Worster's good friend Billy Dale.
https://texas-lsn.squarespace.com/steve-worstersstory?
No. 30, Woo Woo Worster, was one of the great Texas backs of all time.  His recruiting class at The University would come to be known as the "Worster Bunch", and those men would bring to the Forty Acres two National Championships.  One word jumps out in most of the writings about Steve Worster:  bruising.  He was a hard-hitting, tenacious back who was one of three great backs on Coach Darrell K Royal's team:  Ted Koy, Chris Gilbert, and Steve Worster.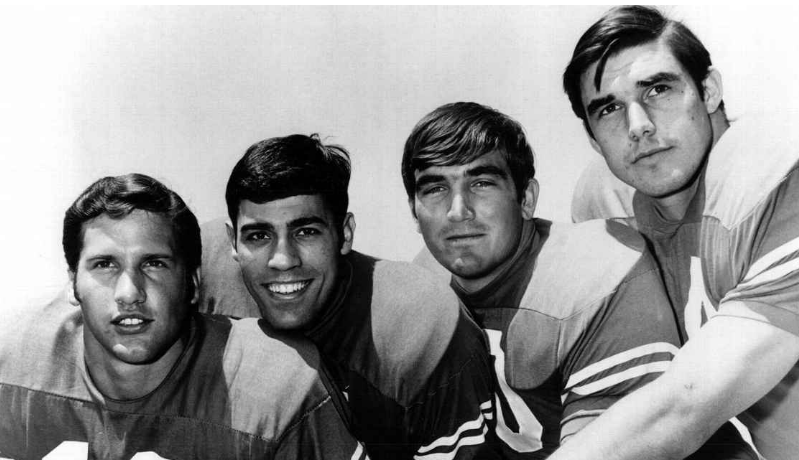 The story of DKR, Emory Bellard, and the Wishbone is a great one, but this is about Steve Worster.  But who knows if Steve Worster would have become the legend he was and is without the Wishbone.  So, you can read more here (picture above from this article).
Texas' iconic Wishbone offense, at 50, still influential in college football (espn.com)
Steve Worster was a two-time First Team All-American, three-time All-SWC, a Texas Athletics Hall of Honor member, and in the Texas High School Football, Texas Sports, and Cotton Bowl Halls of Fame.  Texas won the Southwest Conference all three years that Steve Worster was on varsity, with Worster rushing for 2,353 yards and 36 touchdowns on 457 carries in those 3 seasons.  He did that on a team with two other great running backs in an option offense where the quarterback carried often.
Longhorn legend Steve Worster passes away – University of Texas Athletics (texassports.com)
From Billy Dale:
It is a sad day when any teammate passes away, but a collective void occurs in the hearts of many when the symbolic namesake of a whole recruiting class called the "Worster Bunch" passes away. I have nothing but fond memories of being Steve's pre-game roommate (home and away including three Cotton Bowls.)
Every Saturday morning before breakfast, we started our day preparing for the game by watching the cartoon "George of the Jungle." It is what boys turning to men still liked to do.
Two photos of Worster Bunch reunions. This group of men still holds the record for the highest percentage won/loss ratio during a 4 year period ever recorded in the history of Longhorn football. The first photo was 2004. The second was in 2009.
2004 Worster Bunch Reunion – Steve is first row for right kneeling with a black shirt on.

A Worster bunch reunion – Steve is hands to knees back row next to Buddy Hudgins wearing the "T" Longhorn cap. Greg Ploetz who passed away with CTE is bottom row second from left.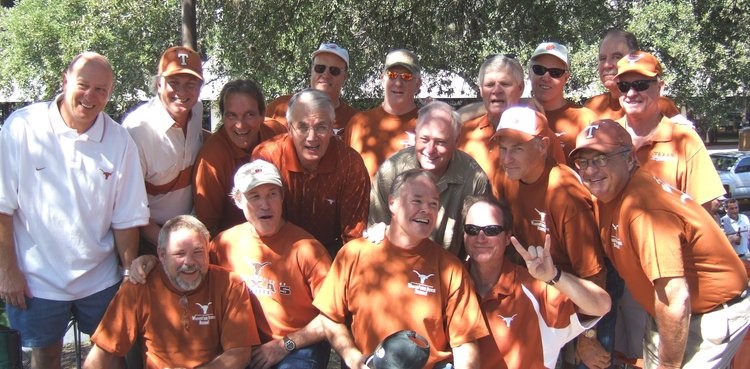 Requiescat in pace Steve Worster.
National Champions
This is about Texas Football, and I am excited for this season.  But I must pay tribute to some National Champions.
Men's Golf
The Texas men battled at the NCAA championships, defeating Oklahoma State, then Vanderbilt, and then Arizona State in the final match to win the Longhorns' fourth national championship in golf.  The first two titles were won in 1971 and 1972, teams led by Ben Crenshaw and Tom Kite.  The third title was a great golf team led by Jordan Spieth, Cody Gribble, and Dylan Frittelli (2012, Texas beat Alabama).  This year the Horns were led by the Cole Hammer and the Coody brothers, Parker and Pierceson, and by a great young talent Travis Vick.  John Fields is one heck of a coach.  Good video:
Video: Men's Golf captures NCAA Championship – University of Texas Athletics (texassports.com)
And enjoy this:
Women's Tennis
The Texas Women's Tennis Team won the National Championship this year – by beating Oklahoma.  Can't get much sweeter than winning a natty by defeating the Land Thieves.  That's two natty's in a row.
Rowing
The Texas women have become a powerhouse in Rowing, and they won their second national championship this year, edging Stanford for the title.
Track and Field
The Longhorns are coached by Edrick Floréal, known as Coach Flo.   He led the men's track and field team to its first ever national championship, winning the indoor.  The men and women won the Big 12 Championships and both finished second in the NCAA Outdoors.  Quite a season for Coach Flo and the Track & Field teams.
Director's Cup
The University of Texas won their second consecutive Directors Cup. This award is given to the university that accumulates the highest number points scored in a maximum of 19 sports, four of which must be baseball, men's basketball, women's basketball, and women's volleyball.  The Longhorns' success and an array of athletic excellence is briefly reviewed below, but the overall performance of the men and women who represent The University of Texas on the fields and courts of athletic competition, and the rivers, has given Texas the 2022 Director's Cup award. Congratulations to all the Texas Longhorns who put on the Burnt Orange and represent The University, and to Chris del Conte, Chris Plonsky, all of the coaches, and all of the staff. Quite an accomplishment.
Softball
The Texas softball team made it to the finals last year, battling Oklahoma in the women's College World Series in Oklahoma City.  While not able to get the national championship, it was a great run for Coach Mike White and his Longhorns.  White has become one of my favorite coaches on The Forty Acres.
Baseball
Baseball made it back to Omaha.  A heck of a season.  They got there by winning the Austin Regional and then going to East Carolina and winning a really hard-fought Super Regional against the Pirates.  My favorite memory of the season may be the final game of the Austin Regional – a really special night.  Please watch this clip from the end of the game and what followed.
What a magical moment to close out the season at the Disch last night.@TexasBaseball will play East Carolina in the Greenville Super Regional. pic.twitter.com/bvCnbydKrO

— Longhorn Network (@LonghornNetwork) June 6, 2022
University of Louisiana Monroe:  The Best on the Bayou
One of the things I do for about every newsletter is research the opposing University's rules and policies on logo, branding, etc., and get their official colors.  This newsletter includes the official primary colors of ULM:  Maroon (Warhawk) and gold (Heritage Gold).  I use the RGB formula, which is easy in Word and usually easy to find.  The other part of that is seeing how the university wants to make sure it's brand is conveyed, logos are used etc.  I know, nerdy.  But it sometimes give me inspiration for something that then pops up in the write-up.  And I also do it because (this will shock you) I think The University of Texas at Austin has some of the best branding in the world.  I love almost everything The University does.  And so I find interest in what others do.  For ULM, for example, they have a twenty page guideline and policy book that includes strict instructions on the "brand voice", with the policy that any communication coming from ULM must include one of SIX message pillars, to be "communicated clearly and simply".

And they follow that up with the Pillars:  University of Louisiana Monroe, ULM, Warhawks, ULM Warhawks, Talons Out, Take Flight, We Are The Warhawks, and (my favorite) The Best on the Bayou.
Best on the Bayou?  Yes, part of Message Pillar No. 6.  And after looking at a lot of pictures, Bayou DeSiard is beautiful.  Pretty cool.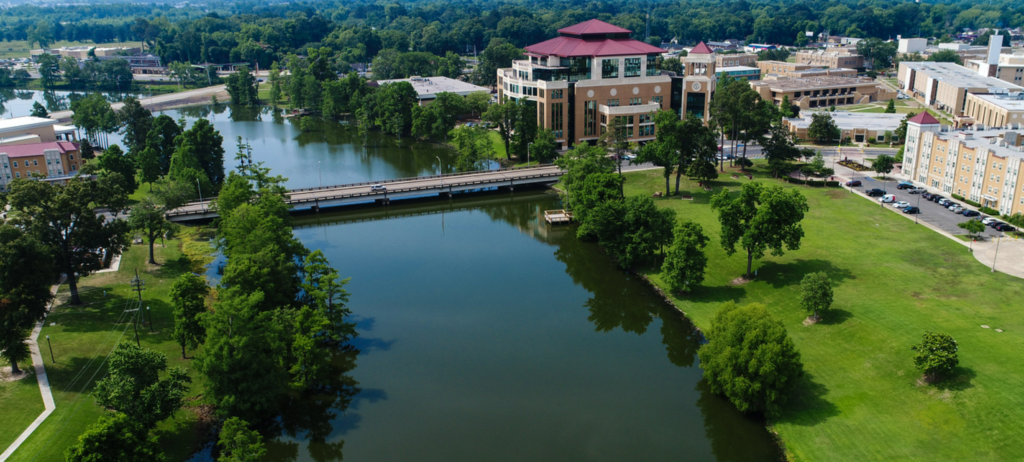 ULM began as Quachita Parish Junior College in 1931.  In 1934, it became Northeast Center of Louisiana State University.  In 1949, Northeast Junior College of Louisiana State University.  In 1950 they became a 4 year school and Northeast Louisiana State College.  In 1969, it became a university and another name change, to Northeast Louisiana University, a name it held for 30 years.  And a name that most of us older folk know and remember, as part of the many "directional colleges from Louisiana".  (There are still 2 – Northwestern State University and Southeastern Louisiana University).
ULM is part of the University of Louisiana System, which includes Grambling, the aforementioned 3, ULaLa, La Tech, Nicholls State, McNeese State, and The University of New Orleans.
Back to ULM.  Two things jumped out in my research.
ULM boasts the only 4 year Meteorology program in the state of Louisiana.  I am not making fun of this – if any state needs good meteorologists, it is Louisiana.
Second:  ULM has won 28 National Collegiate Water Skiing Association championships since 1979.  The most in the sport.  ULM is the Oklahoma State wrestling of water skiing.
Famous alumni:  Tim Brando, Tim McGraw, Ben Sheets, Stan Humphries, and Willie Robertson (Duck Dynasty).
Administrative Notes
I continue to use my antiquated tradition of sending this email manually.  Usually sometime after midnight on Friday morning, I start the process of emailing.  I make mistakes sometimes, so if you don't get the email one week, ping me.  If you want me to add a different address for you, let me know.  Yes, some of you get this more than once.  Sorry.  If you want me to add any friends or family, let me know.
Second, and importantly, the views expressed in my emails are mine alone, and not that of my employer, Jackson Walker LLP, any of my law partners, or of any other organization with which I am affiliated.  If you want to unsubscribe, email me, and I will do my best to find you in the morass of email distribution lists and delete you.
Finally, feedback is welcome.  I love to hear from folks.  I try to respond to every email.
Juan Heisman Tailgate
The Juan Heisman Tailgate returns to Lot 38.  We have a great crew hosting the tailgate, and I will go into more detail next week (this newsletter is already too long, even by my long-winded standards).  Suffice to say JHT CEO Judd Messer and CFO Brad Laughlin have us all ready to roll for what will be a terrific tailgate season with seven home games.  We also welcome Gabe Valadez as our new on-site manager.  We will set up early Saturday morning, and there will be someone there most of the day, but the party will get rolling mid-afternoon.  We are very pleased to have Tito's Handmade Vodka back as our spirits sponsor.  That is always good, and will be particularly important for an 11:00 a.m. game with the Tide.  Longtime JHT man Matt Harriss and our friends at Capitol Wright Distributing help us keep the beer coolers stocked – Coors Banquet Beer, Miller Lite, Coors Light, Modelo Especial, and Corona.  And Texas Beer Company will be back serving some of the best craft beers in Central Texas.  The JHT Crew funds the costs of the tailgate party upfront, but we welcome donations to help us offset our expenses.
Longhorn City Limits
Below Juan Heisman, on the LBJ Lawn, U.T. will again have Longhorn City Limits.  This Saturday, the Drew Fish Band will open at 4:00 p.m., and Charley Crockett takes the LCL stage at 5:30.  You can enjoy our tailgate and the great music!
Big XII – Week One
Conference play opened Thursday night.
Central Michigan at No. 12 Oklahoma State.  The Cowboys won 58-44, but Central Michigan scored 22 in the fourth quarter.  OSU was favored by 21 and the over/under was 58.  I originally started writing this newsletter with the hopes of "publishing" Thursday morning.  As for this game I said "don't sleep on the Chippewas".
West Virginia played at No. 17 Pittsburgh in the 105th edition of the Backyard Brawl.  This year's game could also been called the Portal Bowl, as West Virginia's starting quarterback J.T. Daniel was a Southern Cal Trojan from 2018 to 2022 [side note, when Southern Cal came to Austin, J.T.'s parents came to the Juan Heisman Tailgate.  I think.  Hazy…].  Pitt's starting quarterback, Kedon Slovis, was a Southern Cal Trojan from 2019 to 2022.  Pitt now leads the series 62-40-3.
Friday Night
Kansas hosts Tennessee Tech, 7:00 p.m. on Big12|ESPN+.  Tennessee Tech's baseball team came to Austin for a Super Regional a few years ago.  All 3 games were noon starts, and that may be the hottest 3 days I ever spent at Disch-Falk Field.  Kansas plays good basketball.
Texas Christian at Colorado, 9:00 p.m. on ESPN from Folsom Field in Boulder.  Horned Frogs are 13.5 point favorites.
Saturday
Iowa State hosts Southeast Missouri State at Jack Trice Stadium, 1:00 p.m. on Big12|ESPN+.
Big game in Norman!  No. 9 Oklahoma hosts UTEP.  2:30 p.m. on FOX.  Land Thieves favored by 30, over/under is 57.
Albany at No. 10 Baylor, 6:00 p.m. on Big12|ESPN+.  I don't get to write about the Great Danes of the University of Albany very often.  Last year, the Great Danes went 2-9 overall and 1-7 in the Colonial Athletic Association, including a season ending loss at Stony Brook.  Baylor won the Big 12 last year.  Baylor favored by 42.5.
South Dakota at Kansas State, 6:00 p.m. on Big12|ESPN+.
Murray State at Texas Tech.  7:00 p.m. on Big12|ESPN+.   The Red Raiders should win handily.  A fun night for the tortilla tossers on the South Plains.
Top 25 – Week One
Thursday night, No. 22 Wake Forest hosted Virginia Military Institute, and the Deacs defeated the Keydets 44-10.
Friday
Western Michigan at No. 15 Michigan State, 6:00 p.m. on ESPN2.  Spartans favored by 21, over/under is 54.
Saturday
No. 8 Michigan welcomes the Colorado State Rams to the Big House, 11:00 a.m. on ABC.  Wolverines are favored by 30.5, over/under is 61.5.  While I fully expect Michigan to win this and continue the good play from last year, remember that Big Blue has suffered an unexpected upset or two in Ann Arbor.
No. 13 NC State plays East Carolina at Dowdy-Ficklen Stadium, 11:00 a.m. on ESPN.  I bet some of those kids from the Jungle during the Super Regional are still hammered.  NC State favored by 11.5, over/under is 51.5.
Sam Houston State at No. 6 Texas Agricultural & Mechanical, 11:00 a.m. on the SEC Network.  No line.  Aggie fans should get to see a lot of different players.
No. 11 Oregon at No. 3 Georgia, 2:30 p.m. for the Chick-Fil-A Kickoff Game (1).  Bulldogs favored by 11 over the Ducks, but don't forget what Oregon did to open last season in Columbus, Ohio.  Over/under is 54.  Should be a good football game.
Bethune-Cookman at No. 16 Miami (Florida).  2:30 p.m. on the ACC Network.  No line.
No. 23 Cincinnati at No. 19 Arkansas, 2:30 p.m. on ESPN.  Pigs favored by 6.5, over/under is 53.5.  Another quality game for opening weekend.
No. 24 Houston at UTSA.  2:30 p.m. on CBSSN.  Good football game.  Cougars favored by just 4 over Jeff Traylor's Roadrunners, over/under is 62.
Troy at No. 21 Ole Miss.   3:00 p.m. on SEC Network.  Going to be hot in Oxford, but still a glorious day in the Grove.  Rebs favored by 21.5, over/under is 57.  Hotty Toddy!
No. 25 Brigham Young at South Florida, 3:00 p.m. on ESPNU.  Cougars favored by 12 over the Bulls, and the over/under is 59.
Rice at No. 14 Southern Cal.  6:00 p.m. on the Pac 12 Network.  Lincoln Riley's debut in the Coliseum, and I suspect all my Trojan friends are pumped to see the Riley Era commence.  And I am sure Lincoln Riley is too, what with a mortgage on a $17.2 million dollar house.  Google it.  Unreal.  Anyway, a few observers think Riley and the Trojans have an outside shot at the CFP.  Let's see how they handle the Owls first!
No. 7 Utah at Florida, 6:00 p.m. on ESPN.  The Utes, another team mentioned with a shot at the playoffs, are just 3 point favorites at Ben Hill Griffin Stadium against the unranked Gators.  Over/under is 51.5.
Illinois State at No. 18 Wisconsin.  6:00 p.m. on FS1.  No line, as the Badgers should roll to an easy win.
Miami vs. No. 20 Kentucky, 6:00 p.m. on ESPN+/SECN+.  The Redhawks are 16 point road dogs to the Wildcats, and the over/under is 54.
No. 1 Alabama hosts undefeated Utah State, but for some reason the Crimson Tide are still 42 point favorites.  Over/under is 62.  6:30 p.m. on SEC Network.
Game of the Day:  No. 5 Notre Dame at No. 2 Ohio State.  6:30 p.m. on ABC.  Heck of a match-up.  Buckeyes favored by 17 and the over/under is 59.  Let's go Irish!
Monday
No. 4 Clemson vs. Georgia Tech in Chick-fil-A Kickoff Game (2), 7:00 p.m. on ESPN.  This will be a pleasant way to close out the Labor Day Weekend.  ESPN.com didn't have any odds listed.  But the Vegas sportsbooks have Clemson favored by 22 to 23.5
Week One:  Other Games of Interest
I always think this will be the first thing I cut, but then I want to go see what other games are in fact of interest to me, so I just go on and write about a few.
Friday
Temple at Duke.  6:30 p.m. on ACC Network.  Good luck to the Owls – win the opener for Arthur!
Saturday
North Carolina at Appalachian State.   11:00 a.m. on ESPNU.  Mack and the Heels won their opener against Florida A&M 56-24.  But UNC is 1.5 point underdog in Boone.  Over/under is 56.
Delaware at Navy.  11:00 a.m. on CBSSN.  Go Navy!
Richmond at Virginia, 11:30 a.m. on ESPN3.  Go Hoos!
Northern Iowa at Air Force, 12:00 noon.  No TV.  Good luck to the Falcons.  I am still ticked off at Jesperson.
Arizona at San Diego State, 2:30 p.m. on CBS from Snapdragon Stadium.  Aztecs favored by 6.5.
Army at Coastal Carolina, 6:00 p.m. on ESPN+.  Chanticleers favored by just 2 points.
Southern Methodist at North Texas, 6:30 p.m. on CBSSN.  Ponies favored by 11:00.
Sunday
Florida State vs. Louisiana State, 6:30 p.m. on ABC, in the Allstate Louisiana Kickoff.  The game will be played in the Caesar's Superdome in New Orleans.  LSU favored by 3.  Geaux Tigers!
Jim Nicar:  Clark Field
The photos below are from 1912, showing UT students working on the original stadium around Clark Field.  It was built entirely by students, who also came together and raised the money to finance it.  $788.  They were getting Clark Field ready to play the A&M College of Texas.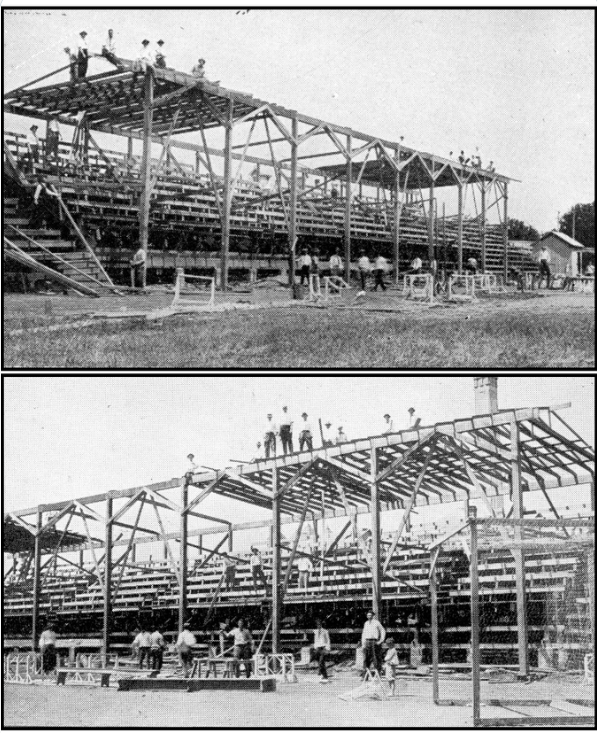 The full story here:
The One Week Stadium | The UT History Corner (jimnicar.com)
Clark Field Collective
The long-promised TCT NIL report is still in its formative stages.  I am struggling to really understand all the moving parts, and I know that there is much more to come.  From NCAA involvement (rules and guidelines, one would think), more state legislation (we will stay on top of that), and ongoing litigation.
I know it must stay top of mind for Chris Del Conte, Chris Plonsky, and the rest of the team at Belmont Hall.  When you go to TexasSports.com and click on Menu, the top item is "Name, Image, & Likeness (NIL)" [thanks for the Oxford comma, by the way].  And that link opens up a lot, starting with U.T.'s LEVERAGE program, which promises to leverage one of the most influential brands in American sports (Texas, the Longhorns – which is true) to help our "student-athletes with the knowledge and tools necessary to maximize their brand and platform."  The article is worth your time, if you have not begun delving into NIL.  Lots of good info there.
There are of course a lot of efforts underway to help our student athletes, and I will try and use my newsletter as a way to inform you about some of these efforts.  We will start with Clark Field Collective.  This initiative will bring together businesses, fans, and donors to help U.T. athletes build and grow NIL opportunities.  It should be a good program.
I will look at other opportunities and initiatives in the weeks ahead.  We all need to step and help Texas athletes.
Music
Well, with two great artists opening the 2022 season at Longhorn City Limits, I am of course providing a taste of their good music.
Drew Fish Band, Livin' for the Weekend
Drew Fish Band, Sounds Like A Plan
Drew Fish Band, Stories Left Untold.
Charley Crockett – "Welcome to Hard Times"
Charley Crockett – "That's How I got to Memphis"
Charley Crockett – "Jamestown Ferry"
Health Alliance for Austin Musicians
HAAM Day is back live and kicking this year, with tons of live music in Austin on Tuesday September 13.  Most of you know of my long involvement with HAAM. This is the 17th Annual HAAM Day.  I chaired HAAM Days 2, 3, and 4.  So this is important to me.  Please join me and contribute:
OneCause Peer-to-Peer Social Fundraising – Tim Taylor
You can learn more about HAAM Day and HAAM here:
HAAM Day General — HAAM (myhaam.org)
Thank you in advance for helping HAAM keep Austin music alive and well!
Picture of the Week
JType is one of my favorite Austin photographers and Instagram account to follow.
Website is:  https://jtypephotography.com/
Instagram:  @jtype
This photo is from the Instagram account, posted August 9, 2022.  The light appears to be on in my office.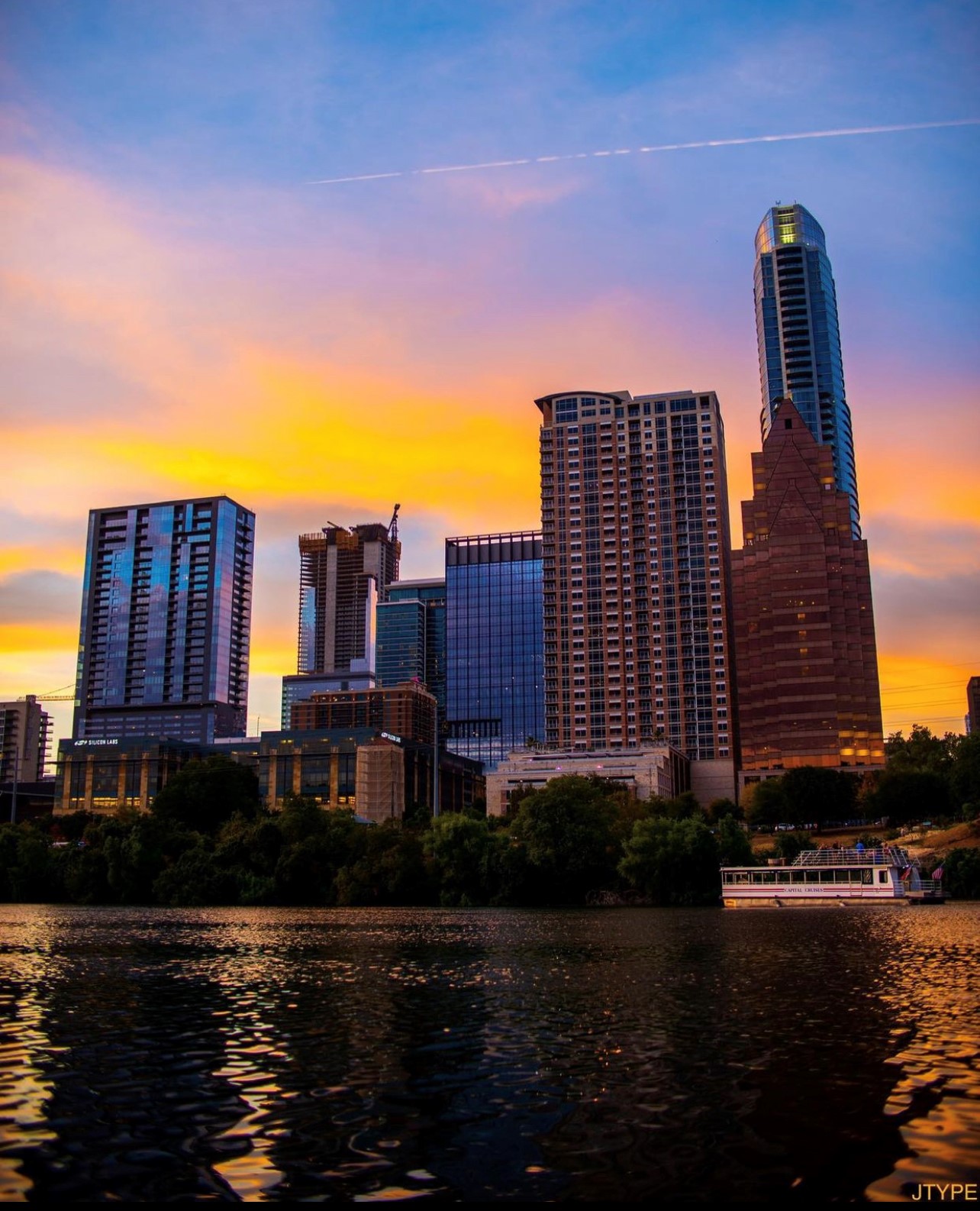 Photo © JType
God Bless Texas
God Bless America
Tim Taylor
Tailgating before Home Football Games
The Juan Heisman Tailgate
Lot 38, East of Sid Richardson Hall.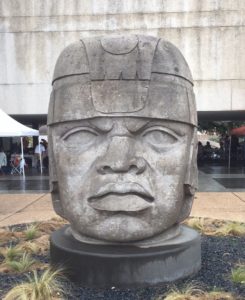 HOOK EM HORNS!!
© Timothy C. Taylor, Sr. 2022.  All Rights Reserved (as to original material).
On Twitter:  @tctayloratx
On LinkedIn:  www.linkedin.com/in/tctatx
On Instagram:  @tctayloratx
On Facebook:  www.Facebook.com/Tim.C.Taylor
and:  www.Facebook.com/Juan.Heisman
You can contact me by mail:
Tim Taylor
P.O. Box 5371
Austin, Texas  78763-5371