Alabama Crimson Tide vs. Texas Longhorns
The No. 1 Alabama Crimson Tide are coming to Austin for just the third time, for the tenth game ever with the Texas Longhorns.  The first meeting was 120 years ago in Tuscaloosa, a game won by Texas 10-0.   The last time Texas and the Tide met in the regular season was a century ago, a 19-10 win in Austin.  Remarkably, Texas leads the series 7-1-1, and we all know and painfully remember that loss.  But Texas has never lost to Alabama in Texas!  Texas beat Alabama in Austin in 1915, 20-0, and after that 1922 game, it has all been in the bowls.  Texas beat the Tide 27-7 in the 1947 Sugar Bowl and the teams tied 3-3 in the 1960 Bluebonnet Bowl.  Texas would beat Alabama twice in the Cotton Bowl, 17-13 in 1972 and 14-12 in 1982.
The most famous win was the 1965 Orange Bowl, when Coach Darrell K Royal and his men beat Bear Bryant's Bama team, who were already the 1964 National Champions (10-0).  It was a night, prime time televised game, the first.  Record crowd.  The Alabama star, Joe Namath, was hurt.  Steve Sloan was the starting Tide quarterback.  That game began great for the Longhorns, when Ernie Koy broke off a 79 yard touchdown run.  Jim Hudson would complete a 69 yard pass to George Sauer to put the Horns up 14-0 in the second quarter.  Namath came in to rally the Tide in the second quarter.  He engineered an 87 yard drive, finished with a 7 yard touchdown pass.  But Texas would score again before half on another Koy run, and the Longhorns led 21-7 before the break.  In the third, Namath connected with Ray Perkins for a 20 yard touchdown to close the gap to 7.  The Crimson Tide got a field goal to get it to 21-17, as Alabama had held Texas scoreless in the second half.  Late in the game, the Tide got to the Texas 6, but the defense held.  Alabama had the ball fourth and goal.  With the game on the line, Namath tried to sneak it in.  But the great Tommy Nobis stopped Broadway Joe short of the end zone, sealing a great Texas victory.
It was a huge Texas upset of No. 1 National Champion Alabama, quarterbacked by one of the best of his time.  Some good videos:
This huge game kicks off a bit after 11:00 a.m. at Darrell K Royal Texas Memorial Stadium.  The national TV broadcast is on FOX, Gus Johnson, Joel Klatt, and Jenny Taft on the call.  College Gameday will be here, set up below Juan Heisman on the LBJ Lawn.  Texas is 5-2 with ESPN's College Gameday in Austin.  Let's make it 6-2.  FOX's Big Noon Kickoff will be here too.  The game can be heard around the earth on the IMG Texas Longhorns Radio Network.  I failed to note last week that last Saturday's game marked the start of Craig Way's 35th season on the Longhorn Radio Network and his 22nd as the Horns play by play man.  What a blessing it is to have a talent like Craig Way.  To think how many of us turn the sound off on the TV and turn on the radio so we can listen to Craig call the game – in a lot of sports.  As a Texas baseball fan, the words "You can say goodnight to it" as a Longhorn home run clears the fence.  And of course, the iconic "Light the Tower".  Craig, I owe so many moments of joy, as your voice has been one of the soundtracks of my life for over 2 decades:
Craig Way's favorite calls of all time – CBSSports.com
Texas has played the No. 1 ranked team 16 times.  Texas has won five of those matchups:  The most recent being the 2008 RRS against the Land Thieves, a 45-35 Texas victory.  Of course the 41-38 win over Southern Cal to secure the fourth Texas National Championship.  At home in Austin, Texas defeated No. 1 Southern Methodist 23-20 in 1950, and in 2006 Texas lost to Ohio State 7-24.
With Big Noon Kickoff here for the first time, I am hoping a bunch of Lifetime Longhorns are in town and drop by to say hello and welcome them to Austin, and especially to say howdy to Matt Leinart and Reggie Bush.  You know, guys like Vince Young, Jamaal Charles, Michael Griffin (go give Mattie a hug), Michael Huff, Tarell Brown, David Thomas, Selvin Young, Limas Sweed, Quan Cosby, Cedric Griffin, Aaron Ross, Tim Crowder, anyone else from that team.  I bet Reggie and Matt would be so glad to see y'all.
Alabama is favored by 20, and the over/under is 65.5.
Health Alliance for Austin Musicians
For many years, I have written this newsletter for fun, free for all, and kept it largely commercial-free.  I have included information on charities and causes that are important to me, and I have suggested that if you enjoy the AustinHornsFan email, then consider a donation to my featured charities.  I got involved with HAAM in 2007, when Robin Shivers, Reenie Collins, and Carolyn Schwarz asked me to chair the second annual HAAM Benefit Day (now just "HAAM Day").  I did, and continued in that role two more years.  I joined the board of directors around 2009 (I think), and I am still on the board and supporting HAAM and Austin music.  I included this info last week, at the end of the email, and to say the response was underwhelming is a gross understatement.  So it is up top today – above the fold so to say.
HAAM Day is back live and kicking this year, with tons of live music in Austin on Tuesday September 13 for the 17th Annual HAAM Day.  Donate here:
OneCause Peer-to-Peer Social Fundraising – Tim Taylor
You can learn more about HAAM Day and HAAM here:
HAAM Day General — HAAM (myhaam.org)
Thank you in advance for helping HAAM keep Austin music alive and well!
Alabama Crimson Tide
 Nick Saban's offense is led by the 2021 Heisman Trophy winner, Bryce Young.  That's how good things start on the Crimson Tide side of the ball.  But it is the Alabama defense which concerns me the most, and so I am starting there.
Will Anderson, Jr. (No. 31) is 6-4, 243 pound jack linebacker who already has an "all-time great" resume.  2021 Bronko Nagurski Trophy winner, unanimous first team All-American (AP, AFCA, FWAA, Sporting News, Walter Camp), and first team from CBS Sports, ESPN.com, Pro Football Focus, and USA Today.  SEC Defensive Play of the Year and of course All-SEC First Team (AP & coaches).  He led the nation in sacks last year, with 17.5 for 108 yards.  He led the nation in tackles for loss with 33.5 for 146 yards; the second place guy had 22.  102 tackles, second on the Bama defense that finished 2021 7th in total defense and 4th in rush defense.  He's the No. 2 overall prospect in the 2023 NFL Draft.  He's going to be playing and banking on Sundays.  He's ranked No. 1 edge defender in the country.  He is considered by many the best college football player in the country who isn't playing quarterback.
Anderson anchors one end of what many consider the best defensive front 7 in college football.  Dallas Turner (No. 15) is their other edge guy, a 6-4, 240 pound sophomore strongside (Sam) linebacker coming off a Freshman All-American year.  Jaylan Moody (No. 42, 6-2, 225 lbs, fifth year) is the weakside linebacker, and Henry To'o To'o (pronounced "TOE-oh-TOE-oh", No. 10, 6-2, 228 lbs, Senior) is the Tide middle linebacker.  Defensive End Byron Young (No. 47, 6-3, 292 lbs) will be a handful.  Cornerback Kool-Aid McKinstry (No. 1, 6-1, 188 lbs) was freshman All-SEC.    The Crimson Tide shut-out Utah State last week.
Back to the offense, coordinated and coached by Bill O'Brien, who played college ball at Brown, and was Houston Texans head coach from 2014 to 2020.  The aforementioned Heisman Trophy Winner Bryce Young (No. 9, 6 foot, 194 lbs) set Alabama's single season records for passing yards (4,872) and touchdowns (47) last year.  Just 7 interceptions.  AP and Sporting News Player of the Year, won the Maxwell Award, the Manning and Davey O'Brien awards, and of course first team All-American by many.  SEC Offensive Player of the Year.  He's a great quarterback.  Last week, he ran for a 100 yards, including a 63 yarder, and passed for just 195; but five touchdowns.  The rushing yards were interesting.  He had zero net yards in 2021 in 15 games and 81 "attempts", and he was minus 23 in 9 games in 2020.  He's very good as a field leader and reading defenses and decision making.
Jahmyr Gibbs (No. 1, 5-11, 200 lbs) is probably the starting Bama running back.  Last week he had 93 yards on 9 carries.  Jamarion Miller (No. 26. 5-10, 201 lbs) had 36 yards on 7 carries.
Three Tide receivers caught five passes last week:  Traeshon Holden (WR, No. 11, 6-3, 214), 5 for 70 and 2 touchdowns.  Jermaine Burton (WR, No. 3, 6 foot, 200 lbs) 5 for 35 and 2 TDs.  Kobe Prentice (WR, No. 80, 5-10, 171 lbs), 5 for 60.  The tight end who I expect to see is Cameron Latu (No. 81, 6-5, 244 lbs, RS Senior from SLC in Utah), who started all of Bama's games last season.   Last week TE Miles Kitselman (No. 88, 6-5, 250 lbs) had 2 catches.  Note that Jase McClellan (RB, No. 2, ) had 2 catches, both touchdowns.  The Tide offensive line is big, fast, strong, and good.  But maybe not great.  If there is a possible weakness, it might be the O Line, and if so, exploiting that weakness may be the key to a Texas win and one of the biggest upsets by the Horns in Austin in my lifetime.  Let it be so.
Alabama Crimson Tide vs. Texas Longhorns
Official Preview:
https://texassports.com/news/2022/9/5/no-rv-18-football-preview-no-1-alabama.aspx
Bama Game Notes:
https://rolltide.com/documents/2022/9/6/9.10_Texas1.pdf
Texas Game Notes:
https://texassports.com/documents/2022/9/5/02_-_Texas_Game_Notes_-_Alabama.pdf
Texas is a big underdog.  20 point home underdog.  I read somewhere that Texas has not been more than a two touchdown dog at home since at least 1975.  The last time we had a spread that big against us in Austin was 1978.  We had some big spreads against in the late 1980's and didn't fare well.  But, in 2015 we went to Waco as 20.5 underdogs and won 23-17.  We were 20.5 point dogs at Nebraska in 1996 and won 37-27.  We beat Oklahoma in 1989 (+17.5) and 2015 (+15).  For betting purposes, I would take Texas to cover.  I have a feeling this game is going to be closer than the boys in the desert are expecting.  A lot closer.  Texas will cover.
Crazy fact, courtesy of Bob Ballou on Twitter:  This is only the third true non-conference road game for the Crimson Tide under Saban.  2011 they beat PSU 27-11, and in 2010 they beat Duke 62-13.  So 11 years.  That's just nuts.
So, what does Texas have and how do we do it.  First, the known top quality Texas skill players have to have great games.  Bijan has to have 125 or more yards rushing and at least 5 catches for 75 yards.  He is our best player and he has to play a really great game.  In order to do that, Quinn Ewers is going to have be good – really good, and good early.  Don't let the Tide defense key on Bijan in the running game.  Spread the field.  Make good passes.  Find Worthy.  We saw last week that we have a special talent in Ja'Tavion Sanders.  If he plays well, that could be the difference in the game.  And of course we have J Whit to help at end, and Casey Cain – hope last week was the start of something big.  We have RoJo and Keilan Robinson in to help in the backfield.  I expect some two back sets and even two back with two tight end sets.  Gain leverage at the line of scrimmage.  Put Bijan in motion and keep RoJo back to block.  Other creative pass and run blocking to protect Ewers and keep Anderson and the Crimson Tide off of him.  That is of course the biggest challenge.  That amazing defensive front 7 from Tuscaloosa, versus a very young offensive line, and most likely a freshman (Banks) blocking the best defensive player in college football.  Hard?  Yes, really hard.  Impossible?  No.
Then the obvious:  don't turn the ball over, play clean football, execute.  Texas only got flagged five times against ULM for 25 yards.  And none of them were critical.
Defensively, rinse and repeat:  Do what we did last week.  Force turnovers (Jamison had a 69 yard pick six).  Pressure the QB (we had 3 sacks).  Get penetration – eight TFL.  That has never been more important than playing against the No. 1 team in the country being led by last year's Heisman Trophy Winner who is a great quarterback.  If Young can sit comfortably in the pocket, he will complete a lot of passes.  Going to need stunts and blitzes and disguises at the snaps.
DeMarvion Overshown needs to be the Man.  He led in tackles last week with 8, and 2 of those were TFL.  I hope someone has talked to Agent 0 about Tommy Nobis.  Obviously, the Alabama offensive line is in a different league – universe – than Louisiana Monroe.  But that's why Texas dominated ULM.  We are playing a peer this week; or at least what needs to be a peer.
If there is a concern, it would be special teams.  A couple of early miscues last week, but trusting those got cleaned up.  And, Texas did block a punt for a touchdown.  If Texas can force one or two Bama errors on special teams and get a special teams score, Texas wins.
 Beat Bama!
Tweet of the Week
Southern Methodist University won Twitter with this Tweet, truly amazing.  Pony Up and Whoops!  "Watch our smoke".  Oh man, just such good bull.  Really worth watching, and if you don't get it, email me.
Watch our smoke.

Game 1 tomorrow • @ UNT • 6:30pm@EricDickerson | #SamePonyNewExpress pic.twitter.com/13248Jr8Yz

— SMU FootbaIl (@SMUFB) September 2, 2022
I actually met Eric Dickerson the summer after my second year of law school when I was clerking in Dallas.  We frequented the same night club, a place called Confetti.  He was quite popular there.
The University of Alabama
 The University of Alabama was established in 1820 and opened to students in 1831.  The oldest and largest public university in Alabama, it is nicknamed "The Capstone", based on a speech given by George Denny (then UA president) who called it the "capstone of the public school system in the state" of Alabama.  Thus its motto, "The Capstone of Higher Education".  It has a healthy endowment of $1.52 billion.  Which is a bit smaller than U.T.'s, which a few months ago hit $42.9 billion, surpassing Yale for No. 2, and which may very well surpass Harvard (about $53.2 billion), thanks to the University Lands.  [I know it isn't that simple.  Someday I will write about the AUF and the PUF and the split etc.]  Back to Bama.
Alabama has about 38,000 students, 32,000 undergraduate, and many hundreds of sorority girls on TikTok.  OOTD.  Earrings from Kendra.
Alabama alumni and faculty include 15 Rhodes Scholars, 59 Goldwater Scholars, and 16 Truman Scholars.  Fall 2021, Alabama received 42,421 applications for first-time freshman enrollment; 33,472 applications were accepted (78.9%), and 7,593 freshmen enrolled.
Academic Rankings

National

Texas

Alabama

Forbes
45
233
THE | WSJ
60
401-500
U.S. News & World Report
38
148
Washington Monthly
40
302

Global

ARWU
37
501-600
QS
72
1001-1200
THE
47
601-800
U.S. News & World Report
43
470
Texas is ranked 10th among public universities (tied with Georgia Tech, UC Davis, and William & Mary), and Alabama is No. 67 (tied with Colorado State, CUNY-City College, George Mason, Michigan Tech, Rutgers – Camden, San Diego State, Central Florida, Cincinnati, and Ole Miss).
Alabama's notable alumni include U.S. Supreme Court Justice Hugo Black, author Harper Lee, George Wallace, Bear Bryant, and Gay Talese.  And Jimmy Wales, co-founder of Wikipedia, to which I am immensely indebted, as it is the source or starting point for much my research for this newsletter.
The University of Alabama is, quite justifiably, extremely proud of their Crimson Tide football team.  As I mentioned last week, I have been honest with myself and admitted it:  Nick Saban is the best college football coach of my lifetime and probably the best ever.  And it isn't just the six completely legitimate national championships that Saban has won.  Since the CFP was introduced in 2014, Alabama has played in it every year except 2019.  The Crimson Tide have been:  1 seed, 2 seed, 1 seed, 4 seed, 1 seed, 1 seed, 1 seed.  Before the CFP, the Tide won the BCS for 2009 (beat Texas; yes, it still stings), 2011 (beat LSU), and 2012 (beat Notre Dame).  Alabama won its first CFP natty in 2013, then again in 2015 (beat Clemson), 2017 (best Georgia), and 2020 (beat Ohio State).
Before Nick Saban, there was one of the greatest of all time, Paul "Bear" Bryant.  His record in Tuscaloosa was 232-46-9, and he led the Crimson Tide to six national titles:  1961, 1964, 1965, 1978, and 1979.  His 1966 team was a perfect 12-0 and didn't win the polls.  All told, Alabama lays claim to 18 national championships.
Alabama has 36 ten win seasons.  NCAA Record.
Alabama has been to 59 bowl games and won 32.  Both NCAA records.
Alabama has four Heisman Trophy winners.  Remarkably, the first was Mark Ingram in 2009.  Since then, Derrick Henry, DeVonta Smith, and the reigning Heisman, Tide starting quarterback Bryce Young.
Welcome to Austin Alabama.  We look forward to doing this more often.
The Polls
AP Top 25:  Alabama, Georgia, The Ohio State University TM., Michigan, Clemson, Texas Agricultural & Mechanical, Land Thieves, Notre Dame, Baylor, and Southern Cal.  Oklahoma State is 11, Ole Miss at 22.
AFCA Coaches Poll:  Roll Tide, UGA, Buckeyes, Clemson, Big Blue, Texas Agricultural & Mechanical, Land Thieves, Brazos Baptists, L'Université de Notre Dame du Lac, and Okie A&M.  Texas is No. 22, Ole Miss No. 23.
 College Football Playoffs
Finally, a decision to expand, slated for 2026 (but could come earlier, maybe even 2024).   And not just expand, but expand in exactly the manner I have long thought best:  Twelve teams, with the six conference champions ranked by the Committee, then six next highest ranked teams that were not among the six highest ranked conference champs.  The top 4 seeds get a first round bye, and seeds 5 through 12 playing at the home stadium or other site chosen by the higher seed (for example, if Vanderbilt was the No. 6 seed, the Commodores could elect to play at Nissan Stadium where the Titans play, which seats 69,143, as opposed to Vanderbilt Stadium which is 40,350).  Four quarterfinal games and the two CFP Semifinal games would be played in traditional (one assumes) bowl games, rotating basis, but the agreement for that has not been reached.  Importantly, this particular tournament structure means regular season games will still really matter.
So, for fun, here is what last season would have looked like:
Opening Round:
Game 1           Pitt at Notre Dame
Game 2           Utah at Ohio State
Game 3           Michigan State at Baylor
Game 4           Oklahoma State at Ole Miss
The quarterfinals:  "With the four highest-ranked champions assigned to quarterfinal games in bowls, the opponent from first-round game winners will be assigned by the selection committee based on the bracket."  (See, https://collegefootballplayoff.com/news/2022/9/2/bom-votes-12-team-playoff.aspx).
Bill Connelly, who writes for ESPN, did a full blown look at this going back at 8 years, if you want to dig in.  He also uses SP+ stats to rank semifinal odds.  Nice work:
College Football Playoff expansion — 12-team historic simulations, storylines and more (espn.com)
2022 Longhorn Football Prospectus:  Thinking Texas Football
 One more plug for this great book from Paul Wadlington.  Here is the link to purchase it.  Not too late.
Smashwords – 2022 Longhorn Football Prospectus: Thinking Texas Football – a book by Paul Wadlington
Louisiana Monroe Warhawks vs. Texas Longhorns
A very nice football game following a great Juan Heisman Tailgate Party.  We were fortunate to be guests of Carol & Tim Crowley in the Frost Bank Suite and enjoyed the company of some great friends while watching the Longhorns put a 52-10 win over the Warhawks.  I was reading back over last week's Churchillian tome (it was long, even by my standards), and I realize I never put in a prediction.  But it was 50 something to 17 or 24.  I really do need a preseason edition and then a first game edition.  Even I am confused, and I am author, editor, and publisher.
Texas played a pretty darn good first game of the season.  A great crowd at Darrell K Royal – Texas Memorial Stadium (officially, 94,873), and my game recap below, but first a look at the individual performances.
If you have been reading my writings for a while, you know how much I like involvement of a good tight end in the offense.  I just think it is a difference maker at the college and pro level.  Get the ball to a large man already moving at speed in space, and good things happen.  Simplistic, but I am just a simple dirt lawyer.  I like it that way.  As I said last week about Ja'Tavion Sanders, "I expect we will be very pleased with Ja'Tavion Sanders.  Big, fast, talented."  Well folks, we are one week in, and I am very, very pleased.  Six balls thrown to him, six catches, 85 yards, a touchdown, and 54 yards after catch.  Longhorn Fans, we have a Tight End.
Bijan Robinson also had a fine, if somewhat quieter than expected, first game.  No. 5 had 10 rushes for 73 yards, 71 net, 1 touchdown on the ground and a long of 21.  He did average 7.1 yards per carry, which is nice.  Robinson was also our second leading receiver behind Sanders, with 3 catches for 40 yards and a score.  His YAC was 49.    He led Texas with all-purpose yards, 111.
Roschon Johnson had 4 carries for 34 yards and a score, a nice 6.8 ypc.  Jonathon Brooks had 32 yards on 5 carries and a score.  Nice work from the running back room on paper, but the 146 yards gained by those three plus 7 from Keilan Robinson is a bit light in my opinion for a game against Louisiana Monroe.  I am not looking for something to kvetch about; just my nature to worry and I wonder why this rushing attack wasn't 200+ against a team that was ranked 84th last season and gave up over 162 yards per game.  I will assuage my concern with the thought that Sark didn't want to show too much or risk too much in a game where the outcome was never really in doubt.  Rationalization is a good thing for worrier.
Quinn Ewers.  For a kid who hasn't thrown a live action game ball in nearly 2 years (or so), if you take away his first 2 passes, he was 16 of 22 with 2 touchdowns.   Yeah, add in the bad first pass and the intercepted first pass, but let's cut the young man a little slack.  Plus, in one of the funniest tweets of the weekend, his car got towed during the game.
How'd I get towed during the game🤣

— Quinn Ewers (@QuinnEwers) September 4, 2022
If you are on Twitter, scroll down to @EvilMopacATX reply and read the comments. Good stuff.  Greg Swindell even got in on the action with this:  "I've seen Earl Campbell get a boot on his vehicle before. Take it as an honor."
Casey Cain, who I didn't even have in my newsletter last week, had the second most receiving yards with 43 on one reception from Ewers.  Casey is a Redshirt Freshman from New Orleans who didn't play last year.  I think this a great sign of how good this coaching staff is.  Let's hope see more of this big (6-3, 195 lbs) kid.  One target, one catch, 43 yards, 44 YAC.  That 43 yards was 11.22% of our game offense.
Xavier Worthy.  Our All-American had a bit of slow start.  The stat book says he was targeted 7 times with only 2 catches, which was true (as Mark Twain said, "There are three kinds of lies: Lies, Damned Lies, and Statistics"). But several of those throws were off, some in very tight coverage.  So not Worthy's fault per se.  I think it was more that Sanders got lots of short throws, where Ewers was very accurate, and Worthy got long balls, where Ewers was off just a bit.  That will come around.  Not worried about that.   Worthy also returned punts, 3 for 33 yards.   I do not ascribe to the "he shouldn't do that he will get hurt" school. Not on punt returns.  He is a threat to score every single time he touches the ball, whether he receives it from our quarterback or the opposing team's punter.  Put the ball in the hands of your playmakers!  Totally on board with this.
While the offense was solid and took care of business, I though the defense was vastly improved.  Yes, ULaMo was the opponent, but they are an FBS football team.
DeMarvion Overshown showed he is ready to have a big year.  He played really well, tallying 8 tackles (6 solo) and 2 TFL for 9 yards.  That isn't a lot, but take into account 32 Longhorns got in the book on defense (i.e., something statistical).  Agent Zero led the Horns with those 8 tackles.
Next on the box score and for sure up there with Pleasant Surprises, Barryn Sorrell.  Player!  6 tackles and 2 TFL for 17 yards.
With almost half the Texas football team getting on the field to play defense (okay, a bit of stretch), it isn't a surprise that there is not a lot of other individual stats that jump out.  But some very good defense.  I think attributable to Coach PK getting his sea legs in Austin and maybe a bit to Special Assistant to the Head Coach, Gary Patterson.
The Game.
First, since we didn't have a depth chart, here is who started the game:
On offense:
The Line:  Cole Hutson, Christian Jones, Jake Majors, Connor Hayden, and Kelvin Banks, Jr.
Quinn Ewers at QB, Bijan at RB, two tight ends (!) Ja'Tavion Sanders and Gunnar Helm, and Jordon Whittington and Xavier Worthy as wide receivers.
Defense:
Barryn Sorrell, Moro Ojomo, and Snacks.
Overshown, Oghoufu, and Ford, and we opened in the nickel with Jamison and Ryan Watts, Cook, Guilbeau, and Jerrin Thompson.
This, from my friend and a great man and sportswriter, Cedric Golden of the Austin American Statesman:
In Friday's team meeting, Sarkisian told his players what he believed would happen in the first moments.

"We're going to defer if we win the toss, we're going to get a three-and-out and we're going to try and go block a punt," Sarkisian said.

The Longhorns opened on defense, forced a punt after a three-and-out and then D'Shawn Jamison blocked a ULM punt that Keilan Robinson scooped up and returned for a touchdown, the first points of the season.
I draw your attention to the names in the last sentence;  D'Shawn Jamison and Keilan Robinson.  A defensive starter and a guy who could probably start at half the FBS teams – in on special teams punt defense.  I love this.  I love putting some of our best athletes out there in these situations.  Kudos to Sark and Jeff Banks.
Quick overview of some of the game.
The first defensive series was a 3 and out, with Jaylon Guilbeau breaking up the third down pass to Boogie Knight to force the punt which was blocked and put Texas up 7-0 under two minutes into the game.
ULM got a first down on their next series, but Texas forced the punt.  Two defensive series, and Sorrell had 3 tackles, Cook had 2, and Overshown 2.
Quinn Ewers first series was a ugly.  Incomplete then intercepted.  ULM capitalized for a field goal.  7-3 10 minutes into the game, but the Warhawks they would never get any closer.
Next Texas series:  Bijan for 21, Bijan minus 2, Bijan for 7, Bijan for 1, go for it on fourth and Ewers to Sanders for the first down.  Then Ewers to Sanders, Bijan 13 up the middle, then a 19 yard touchdown pass Ewers to Sanders.  14-3.
ULM got a first down, but a couple of more penalties hurt them, and they punted a couple of minutes into the second quarter.
Ewers executed another touchdown drive which included a completion to Gunnar Helm (TE) and the great pass to Casey Cain for 43 yards, then Roschon Johnson with nice 16 yard run up the middle for the score.  21-3 Texas.
After the next ULM series (1 first down then a punt), Texas got a nice return from Xavier Worthy for 21 yards, and then the ULM personal foul tacked on 15 to set the Horns up at the ULM 48.  But, back to Worthy on punt returns:  he moved the ball one-fifth of the field.  That speed and his running ability make him a threat to return every punt if not for a score, for good field position.
Ewers and Bijan (8 yard catch, 11 yard run) moved the Horns, including a 19 yard pass to Sanders, to a first and goal at the 10.  A false start then a sack pushed the Horns back to the 24.  The money pass to Worthy in the endzone was over his head, and Texas settled for 3.  24-3.
The Horns defense got a 3 and out, and Texas got the ball back with 1:36 in the half.  Pretty good execution, including a 16 yard pass to Bijan, a 10 yard pass to Sanders on fourth and 7 (very nice), and an 11 yard pass to Whittington, but no time left.  Texas missed the field goal (not a good snap, bad hold).  24-3 at halftime.
Texas got the ball to start the second half, and a short kick and a Whittington 18 yard return set the Horns up at mid-field.  Sark and Ewers capitalized.  A quick drive that started with a Keilan Robinson 7 yard run but was then all Ewers' arm.  The flip to Sanders when he was scrambling, which Ja'Tavion turned into a 25 yard gain to the ULM 16, was really nice, and showed good field awareness.  2 plays later, Ewers swung it out right to Bijan who hit the gas and found pay dirt. 31-3 Texas.
Texas D with a 3 and out (including an 8 yard sack by Ojomo and Sorrell), and the Horns had the ball at midfield after the punt.  Ewers with an excellent 8 yard pass to Whittington then a great pass to Sanders in traffic for 25 yards to the ULM 9. Bijan with a really excellent 9 yard touchdown run.  38-3 Texas.
The next Monroe possession ended with D'Shawn Jamison picking off a Chandler Rogers pass and taking it 69 yards for the Texas touchdown.  With that Pick 6, Jamison became the first Texas Longhorn to return a kick-off, a punt, and an interception for a touchdown.  Record book! (Jamison has 2 kicks returned; his four non-offensive touchdowns are second only to the five which the great Michael Huff scored at Texas, the most in UT history [courtesy John Bianco]).
The D continued to dominate the next ULM series, which was a 3 and out after 3 yards of rushing and a 3 yard sack.  Texas again with great field position, at UT 40.
Hudson Card came in for Ewers, and he got sacked on third and 7.  The Pearson 15 yard punt was not what we hoped for.  Texas then forced a three and out, but so did Monroe, and Texas' first play of the fourth quarter was Daniel Trejo's first punt of 2022, and he hit a good one – 43 yards.  The Texas second team defense was in, but it didn't matter.  Warhawks got a first down, but held on fourth and 4.
Card, RoJo, and Jonathon Brooks (a lot of Brooks) took Texas 62 yards for a touchdown, 52-3 Texas.  ULM would finally find the end zone with 3:39 left in the game, which gave us the final score, a convincing 52-10 Texas victory.
Texas finished with 134 yards rushing to Monroe's 92 (net, gross was 157 to 130).  249 yards passing to 167 for the Warhawks.  Not thrilled with 5 for 13 on third down, but 3 for 3 on fourth down is good.  Giving up 3 sacks for 24 yards to Louisiana Monroe is a bit ominous (especially after working on the Alabama piece for this and seeing what their front 7 can do).
A couple of photos of Bijan from the game, from the Texas Sports – check out more:
FB vs. ULM – University of Texas (texassports.com)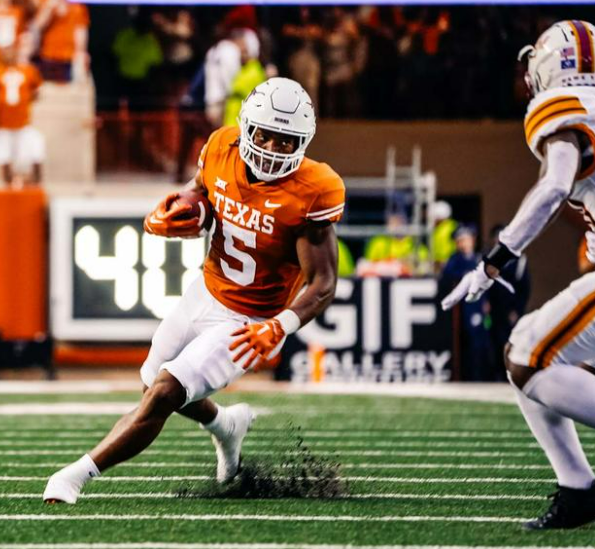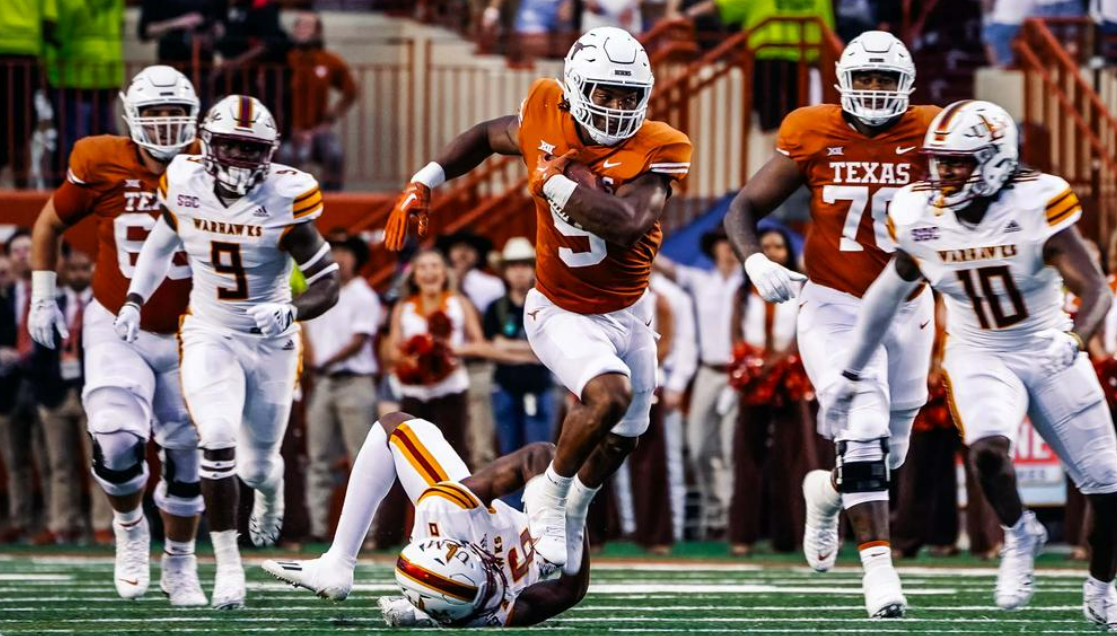 As an Earl Campbell fan, I am particularly fond of this one.
Videos
Highlights from ESPN, about 10 minutes:
Highlights from Matthew Loves Ball, 25 minutes.  I would encourage you to watch this one, and especially watch the second replay of Bijan Robinson's 9 yard touchdown run at about the 17:00 mark.  Look at that move.  He is so, so good.
The full game:
Ja'Tavion Sanders Highlights
Juan Heisman Tailgate
We had a really, really nice Juan Heisman Tailgate to open the season.  If we can get the parking issues straightened out, it promises to be one of our best tailgating seasons ever.  The Early Crew led by Judd Messer with a four o'clock a.m. arrival and then joined by Butters Barton, Hunter Wilcox, and a guy who has been there before sunrise so many times for Juan Heisman, Rick Whiteley.  Bill Skeen came early too and held the fort down until Laughlin and I arrived with beer.  Big thanks to Walter Keene Linscott Ferguson, Jr., for getting the TV and satellite up and running (that is no small task – probably took over 2 hours thanks to DirecTV).  And many, many thanks to new onsite tailgate manager Gabe Valadez, who dealt with a thunderstorm and muddy mess for his first game and handled it all masterfully.  Thanks Gabe!  Big thanks to Texas Beer Company for the excellent Wild Texas Kolsch and Hop Rodeo IPA.  Good to see you JD, Megan, and Ian!  So many great friends came by, I was really happy.  Appreciate all of y'all.
This week, we will be set up and rolling by 8:00 a.m.  Breakfast tacos and lots of Tito's for bloodies and screwdrivers.  And beer.  We have lots of beer.  But, hydrate!   It is a 7-8 hour marathon, not a sprint.
Texas Volleyball
Given last week's volume, I didn't get to the volleyball team.  By the time the first edition went to press early Friday morning, the Longhorn Volleyball team had won two matches over then No.  Ohio State (in Columbus) and No. 4 Minnesota 3-1 at Gregory Gym Friday night (by which time they were ranked No. 1).  The women went to Stanford last weekend and swept No. 12 Stanford, 25-18, 25-18, and 25-20.  Texas swept UC Davis 3-0 Wednesday night, despite resting 4 starters. Point Texas!  LFG!
Longhorn City Limits
After the Alabama game, Flo Rida will perform at Longhorn City Limits.  I assume he's good at his craft based on the promo "With over 100 million records sold worldwide, Flo Rida has entertained crowds with an onslaught of hits since his 2008 debut album Mail on Sunday.  His breakout single "Low" featuring T-Pain broke the record for digital download sales at the time of its release and was number one on the Billboard Hot 100 for 10 weeks.  … To date, Flo Rida is one of the most streamed artists of all-time with over 6.5 billion streams on Spotify alone."  If you are in any business and the word "billion" is associated with what you sell or produce, you must be pretty dang good. I have now listened to some of his work, and it is good.  Not my particular taste, but I welcome a great diversity when it comes to music.  I will try to find a good cassette tape of one of his albums for my Walkman.
Big XII – Week Two
A full slate of games, and a couple of good ones in addition to our game with the Tide.
Missouri (1-0) at K State (1-0).  11:00 a.m. on ESPN2.  The Wildcats are 7.5 point home favorites, and the over/under is 56.5.
No. 25 Houston (1-0) at Texas Tech, 3:00 p.m. on FS1.  An old Southwest Conference match-up and preview matchup of 2 of the teams that will probably dominate the future new Big 12.  Tech opened as a 3 point favorite.  Line now is 3.5.  Over/under is 62.5. I like Tech to win.
The Cy-Hawk Trophy!  Sponsored by who else but Iowa Corn.  The Cyclones and Hawkeyes meet for the 69th time on Saturday, 3:00 p.m. from Kinnick Stadium.  Broadcast on BTN.  The Hawkeyes lead the series 46-22 and has one 6 in a row.  Iowa favored by 3.5, over/under is 40.5 (bet the under!.  Kinnick Stadium has one of my very favorite traditions:  the Hawkeye Wave.  At the end of the first quarter, the fans turn and wave to the kids in the UI Stead Family Children's Hospital.  Good video on this page, worth it.
The Hawkeye Wave – University of Iowa Athletics (hawkeyesports.com)
Another good one, maybe easier to watch:
One of the best traditions in college football ❤️

The First Kinnick Wave of the season 👋 pic.twitter.com/nOxHryAsfh

— FOX College Football (@CFBONFOX) September 3, 2022
Kansas (1-0) at West Virginia, 5:00 p.m. on BIG12|ESPN+.  Mountaineers favored by 13.5, and the over/under is 60.  Expect West Virginia to cruise in this one.
Kent State at No. 7 Oklahoma.  6:00 p.m. on ESPN+.  Land Thieves favored by 33, over/under is 72.5.  I am not good at math, but something doesn't add up.
Arizona State at No. 11 Oklahoma State, 6:30 p.m. on ESPN2.  Could this be another future Big 12 match-up?  Who knows, but this will be a good football game.  Cowboys favored by 11.5, over/under is 57.5.
Tarleton State Texans vs. Texas Christian Horned Frogs, 7:00 p.m. on BIG12|ESPN+.  The Texans are coming off a big 29-13 win over the Mississippi Valley Delta Devils.  No line on ESPN.com.
No. 9 Baylor (1-0) at No. 21 Brigham Young, 9:15 p.m. on ESPN from Provo, Utah.  Brigham Young opened as 2.5 point favorites.  The line Thursday night was Cougars by 3 and an over/under at 53.5.  This is one of the best match-ups of the day.  Look forward to catching some of this one.
Top 25 – Week Two
Lots of creampuff match-ups this weekend and blowouts on the horizon.
No. 3 Ohio State plays at home again, this week against Arkansas State.  11:00 a.m. on BTN.  The Red Wolves were 2-10 last year with just one Sun Belt win.  Buckeyes favored by 44.5, and the over/under is 68.5.  Should be a blowout.
No. 15 Miami (Florida) hosts Southern Miss, 11:00 a.m. on ACCN.  Canes favored by 25, over/under is 51.  Should also be a blowout.
South Carolina at No. 16 Arkansas, 11:00 a.m. on ESPN, from Razorback Stadium in Fayetteville.  Hogs favored by 8.5, over/under is 53.  Go Cocks!
No. 23 at Vanderbilt, 11:00 a.m. on SECN.  Demon Deacons favored by 12.5 over the Commodores.  Over/under is 65.5.
[As an aside, I had to chuckle, as I realized that with Alabama-Texas at 11:00 a.m., plus Missouri at K State, and that is 4 SEC games in this time slot.  In one of the tweets announcing that Fox's Big Noon Kick-off was coming to Austin, one of the replies was how much the guy hated Fox for putting us at 11:00 a.m. and how glad he would be when we were just on ESPN so we wouldn't get all these 11:00 a.m. games.  Well, as Lee Corso says, Not So Fast.  Expect 11:00 a.m. games to continue, especially when CBS (who controls the 2:30 C.T. slot) moves to the Big 10 in their new media deal.  I hate it too, but money talks.]
Charleston Southern at No. 18 NC State.  11:30 a.m. on ESPN3.
Southern Utah at No. 13 Utah, 12:30 p.m. on Pac12 Network.  No line.
Marshall at No. 8 Notre Dame, 1:30 p.m. on NBC/Peacock.  Irish favored by 20.5 over the Thundering Herd, over/under is 50.  Go Irish!
Furman at No. 5 Clemson.  2:30 p.m. on ACCN.  No line early.
Appalachian State at No. 6 Texas Agricultural & Mechanical.  2:30 p.m. on ESPN2.  Mountaineers coming off that crazy loss to North Carolina (more below), Aggies with the win over Sam Houston State.  Texas Agricultural & Mechanical favored by 19, over/under is 54.
No. 24 Tennessee at No. 17 Pittsburgh, 2:30 p.m. on ABC. Vols favored by 6, over/under is 64.5.
Washington State at No. 19 Wisconsin.  2:30 p.m. on FOX.  Badgers are 17.5 point favorites, and the over/under is 49.  I was pleased to hear from my friend Lance Morris after last week's first edition newsletter that his nephew Eric Morris, the Elf, of Texas Tech fame, is now Offensive Coordinator and Quarterbacks Coach in Pullman.  Eric was most recently Head Coach at Incarnate Word in San Antonio, where he had a great 4 year run, including two Southland Conference titles, two trips to the FCS playoffs and, on the personal ledger, two Southland Conference Coach of the Year honors and the most UIW Cardinals wins, with 24.  Good luck in Pullman Eric.  And y'all spank the Badgers!
Samford at No. 2 Georgia, 3:00 p.m. on SECN, between the hedges.  No line.  See below.
Akron at No. 14 Michigan State, 3:00 p.m. on BTN.  The Zips are only 34.5 point underdogs, and the over/under is 56.
No. 20 Kentucky at No. 12 Florida, 6:00 p.m. on ESPN.  Assuming I am not still at Juan Heisman celebrating the Texas win over Alabama (which is entirely possible), then I will tune in for some of this game, along with USC at Stanford.  Kentucky had a great season last year, and Florida looks much improved.  Gators are favored by 6.5 (the line has gone up 1.5), over/under is 51.5.
Central Arkansas at No. 22 Ole Miss.  6:00 p.m. on ESPN+ | SECN+.  Recall above my note about the Arkansas State Red Wolves only winning 2 games last year?  One of them was against the Central Arkansas Bears.  Hotty Toddy.  No line on ESPN.com, but I bet there is a line in Tunica.
No. 10 Southern Cal at Stanford, 6:30 p.m. on ABC.  Trojans favored by 8.5, over/under is 67.5.  The only two private schools in what is for now the Pac 12, this is Southern Cal's oldest rivalry.  First game was played in 1905, with Leland Stanford Junior University prevailing 16-0.  Last year's Cardinal upset of the No. 14 Trojans, 42-28, was on September 11, 2021.  Clay Helton was fired on September 13.  On November 28, Lincoln Riley was named the 30th head coach for the Men of Troy.  Southern Cal leads the series 62-34-3.  (The 2005 USC win was vacated; Reggie Bush and Matt Leinart will be here with the FOX Big Noon Kickoff. Y'all remind them.)  I will enjoy watching some of this one.
Hawaii at No. 4 Michigan, 7:00 p.m. on BTN.  Michigan favored by 52.  Where is Timmy Chang when you need him?  Over/under is 67.
Week Two:  Service Academies
Army hosts UTSA at Michie Stadium in West Point.  11:00 a.m. on CBSSN.  Roadrunners favored by 3, over/under is 53.5.
Colorado at Air Force, 2:30 p.m. on CBS.  Looks like Falcons Head Coach Troy Calhoun has a good team this year.  Air Force favored by 18.  (I like the Kevin Bacon game.  Calhoun was hired by Gary Kubiak as a defensive assistant at the Denver Broncos in 2003.  He went with Kubiak to the Texans in 2006, before taking over at Air Force in 2007.  Gary Kubiak's sister, Susan, is married to David Pierce, Texas Baseball Head Coach.)
Memphis at Navy.  2:30 p.m. on CBSSN.  Tigers favored by 5, over/under is 49.5.
Week Two:  Other Games of Interest
North Carolina at Georgia State, 11:00 a.m. on ESPNU.  Mack and the Heels favored by 7, over/under is 64.5.  Got UNC winning and covering.  Light the Tower Blue!
Virginia at Illinois, 3:00 p.m. on ESPNU.  Illinois favored by 4, over/under is 57.5.  Virginia to cover.  Go Hoos!
Robert Morris at Miami, 5:00 p.m. at beautiful Yager Stadium in Oxford, Ohio.  Go Redhawks.  No line?
Lamar at Southern Methodist.  6:00 p.m. on ESPN+ from the Bubble.  No line.  Ponies should rumble.
Southern at Louisiana State, 6:30 p.m. on SECN from Tiger Stadium.  Oh my.
Texas Southern at North Texas, 6:30 p.m. on ESPN3.  No Vegas line, check at WinStar.
McNeese State at Rice, 6:30 p.m. on ESPN3.  No line, check out Golden Nugget in Lake Charles.
New Mexico State at UTEP, 8:00 p.m. on ESPN+ from the Sun Bowl.  Miner favored by 17.5, over/under is 47.
Mississippi State at Arizona, 10:00 p.m. on FS1.  Bulldogs favored by 10.5 over the Wildcats, over/under is 57.5.  I kind of think Arizona might have an upset in them.
How do I feel about most of this weekend's match-ups?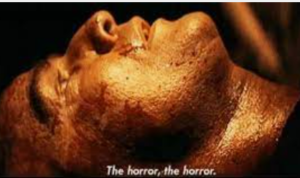 Big XII – Week One Results
Kansas scored 56 points and beat Tennessee Tech 56-10 Friday night.  Impressive season opener for Kansas, notwithstanding the opponent.
Also Friday night, Texas Christian looked really good, finishing strong with 21 fourth quarter points to beat Colorado and give Sonny Dykes an opening season first win as the Horned Frog head coach. Five Frogs ran for more than forty yards at Folsom Field.
Saturday
Iowa State 42-10 over Southeast Missouri State.
Land Thieves 45-13 over UTEP.  Oklahoma rushed for 259 yards, led by Eric Gray with 102.  The Miners netted 28 on the ground, having given up 5 sacks for 34 yards.  Not a big surprise from a Venables team.  Land Thieves covered.
The Albany Great Danes were no match for the No. 10 Baylor Bears, as Aranda's team spanked the puppies 69-10, covering.
Kansas State blanked the South Dakota Coyotes 34-0.
As expected, the Red Raiders won handily, beating the Murray State Racers 63-10.  A fun night for the tortilla tossers on the South Plains.
As noted last week, conference play opened Thursday night.  Oklahoma State beat Central Michigan 58-44 and No. 17 Pittsburgh beat West Virginia 38-31 in the 105th edition of the Backyard Brawl.
Top 25 – Week One
(Reminder:  the rankings of teams for last week's games are from that week, not this week's new rankings.)
Friday night, the No. 15 Michigan State Spartans took care of business, defeating Western Michigan by 22, 35-13.  The line was 21.
Saturday
No. 1 Alabama 55 to nothing over the Utah State Aggies.
No. 5 Notre Dame played well at No. 2 Ohio State, falling 10-21 to the Buckeyes.  The Irish covered (line was ~ Buckeyes favored by 17).
No. 11 Oregon at No. 3 Georgia was expected to be a bit close, as the Bulldogs were favored by 11 over the Ducks in for the Chick-Fil-A Kickoff Game.  But the Dawgs were having none of it, as Georgia jumped out to a 27-3 halftime lead and cruised to the 49-3 win.
No. 8 Michigan looked really good, battering Colorado State Rams 51-7.  The Wolverines rushed for 234 yards.
No. 6 Texas Agricultural & Mechanical and the Sam Houston State Bearkats kicked off at 11:00 a.m. Saturday morning.  At halftime as storms approached, a weather delay was announced due to lightening, which ended up lasting about 3 hours, and the second half didn't being until nearly 4:00 p.m.  Haynes King threw for 364 yards with 3 TDs and 2 picks in the 31-0 Aggie shutout.
No. 7 Utah went to the Swamp as narrow 3 point favorites over the Gators, and lost by 3.  Florida scored 15 fourth quarter points to get the 29-26 win.
No. 13 NC State survived a strong second half attack by the Pirates and escaped Greenville with a 21-20 win after East Carolina missed a 42 yard field goal with 4 seconds left in the game.
The Lincoln Riley era at No. 14 Southern Cal debuted as expected with a 66-14 drubbing of the Rice Owls.  Caleb Williams threw for 249 yards and 2 TDs (19/22) and was the leading rusher for the Trojans with 68 yards on 6 carries.  Been there, seen that. Glad he's gone.
Well, one of my least favorite teams in college football if not the known universe, Miami (Florida), is back in the upper quartile to my dismay.  The No. 16 Hurricanes showed no mercy, beating the Bethune-Cookman Wildcats 70-13.
A fine college football game in the Ozarks, with No. 23 Cincinnati at No. 19 Arkansas.  The Hogs held on for a 31-24 win (line was Pigs by 6.5 and the over/under was 53.5; I still don't see how they do it this early in the season).
No. 18 Wisconsin only rushed for 221 yards in their 38-0 shutout of Illinois State.
Miami fell at No. 20 Kentucky, 13-37.  The Redhawks failed to cover the 16 point line.
Hotty Toddy Gosh Almighty!  No. 21 Ole Miss 21-10 over Troy.  A win, but the Rebels didn't come close to covering (21.5).
What a game in San Antonio.  After a game-tying goal with the clock hitting zero, Jeff Traylor and his UTSA Roadrunners took No. 24 Houston to 3 overtimes before falling 35-37.  UTSA quarterback Frank Harris threw for 337 yards and 3 touchdowns and was also the Roadrunners leading rusher with 63 yards on 8 carries.
No. 25 Brigham Young looks strong.  50-21 over South Florida, obliterating the Bulls and the 12 point line.
Monday night, No . 4 Clemson clobbered the Ramblin' Wreck from Georgia Tech, 41-10.  Dabo covered.
Week One:  Other Games of Interest
I didn't have this one as a Game of Interest, but it does get in the post-weekend review.  Virginia Tech lost at Old Dominion 17-20, after giving up 10 fourth quarter points (and two interceptions).
Temple lost 0-30 at Duke.
One of the games of the weekend turned out to be North Carolina at Appalachian State.  Yes, the Tarheels were 1.5 point road underdogs, and ended up winning 63-61, but I don't think anyone saw this coming.  At halftime, UNC held a 28-21 lead.  Pretty normal first half, although a lot of points.  Then Mack's Heels scored 13 in the third to head to the fourth up 41-21.  Then, there the Tarheels were, dipping their cookies in their milk, and the $#it blew up.  The Mountaineers scored six four quarter touchdowns and gained over 350 yards, before the 2 point conversion with 9 seconds left failed.  I should note that the Tarheels scored 22 fourth quarter points, for a total of 62 points in that one 15 minute frame.   The 124 point total was more than last year's UNC-App State basketball game, which the Heels won 70-50.  Anyway, congrats Mack.  Would have loved to have been a fly on the wall hearing his post-game discussion with Gene Chizik (Mack's DC).
Wahoo Wa!  The Cavaliers squash the Spiders, 34-17.
Pretty bummed about the Navy 7-14 loss to the Delaware Blue Hens.
Air Force crushed Northern Iowa 48-17 with 582 yards rushing (really – five hundred eighty-two yards on the ground).
Army fell at Coastal Carolina, 28-38.
Arizona is undefeated!  38-20 road win at San Diego State.
Southern Methodist 48-14 over North Texas.
Sunday night a nice football game in New Orleans between Florida State and Louisiana State for Brian Kelly's debut.  The Tigers' fourth quarter rally fell short, as the Seminoles won 24-23.  Of course the Big XII referee crew played a role with a 48 minute (I am kidding) review of the next to final play of the game.  Oh well, congrats to Mike Norvell, who I perceive to be a good coach.
Jim Nicar:  Some UT Campus Myth Conceptions
A great post which debunks a lot of the myths about the Forty Acres and our buildings, including that the Tower looks like an owl when viewed from an angle because it was designed by a Rice graduate.  And of course the myth that needs constant refuting because of Aggies, that Bevo was named Bevo because the farmers branded him 13-0 after a Texas Agricultural & Mechanical win, and U.T. students altered the brand to say "BEVO".  False.  The steer was named Bevo long before the game.
https://jimnicar.com/2022/05/02/myth-conceptions-some-ut-campus-myths/
Washington & Lee Generals
So, I didn't have my W&L Generals in the first edition of 2022.  Just too long.  Sorry about that.  The 2021 ODAC Champions deserve better.
The Generals opened the 2022 season last weekend at home at Wilson Field, falling to the Captains of Christopher Newport University, 3-9.  A tough start to the season, especially on offense.  Last year, the Generals had the fifth best rushing offense in the nation (315.7 yards per game) and averaged 33.4 points per game.  W&L netted 100 yards (117 gross) on the ground.  I think they miss Josh Breece.  On the bright side, the Generals' defense kept the Captains out of the endzone, allowing 138 yards rushing and 180 yards passing.
Saturday, the Generals will be in beautiful Sewanee, Tennessee, for the 70th meeting between the University of the South and Washington & Lee, two old Southern Conference foes.  That shared conference rivalry which began in 1923 when Sewanee joined, and ended in 1932 when 13 SoCon members, all south and west of the Appalachians, left to form their own conference, the Southeastern Conference.  Sewanee was joined by Tulane and Georgia Tech, who have also moved on, and by Alabama, Auburn, Florida, Georgia, Kentucky, Louisiana State, Ole Miss, Mississippi State, and Tennessee.  Washington & Lee would stay in the Southern Conference until 1958, when W&L moved to Division III.
Washington & Lee has won 9 of the last 10, including the Generals' 52-0 win last season.  The game kicks off at 12:00 noon, Eastern time on the mountain, at Harris Stadium (officially Benjamin Humphreys McGee Field at Eugene O. Harris Stadium).  The Tigers have been playing on this field since November 7, 1891, a 22-0 loss to Vanderbilt, and it is the oldest in the south and fourth oldest in the nation.
Music
Not my usual fare, but I was impressed with Flo Rida, and that's from a guy who doesn't like much about the modern music scene.  But a good time to broaden our horizons.  LCL is going to be lit.
Flo Rida – Good Feeling (over 551 million views; I guess I didn't know what I was missing)
Flo Rida – Wild Ones featuring Sia
Flo Rida – Club Can't Handle Me, featuring David Guetta
Switching gears (well, really cars), one of my favorite Southern Rock songs off all time, in honor of our guests this weekend and for all my Bama friends.  Sweet Home Alabama from Lynyrd Skynyrd.  If there is a more iconic sequence of chords at the start of a rock song, tell me.  And turn it up.
In addition to having new towns about which I can write as we move to the Southeastern Conference, I am looking forward to some Southern Rock music selections.  Some great American music.
Fortunate Son has been on my mind a lot for some reason.  God Bless those who serve.
The Crimson Tide make an appearance in Deacon Blues, one of my favorite songs from one of the best albums by one of my favorites, Steely Dan.  In January 1979, John Northington and I were driving back to Lexington from Tyler after Christmas break – Johnny in his GMC Jimmy and me in my Chevy Blazer.  It was brutal 3 day trip due to a winter storm.  For most of what was probably a 30 hour trip, I listened to about three cassettes, Aja being one of them.
Picture of the Week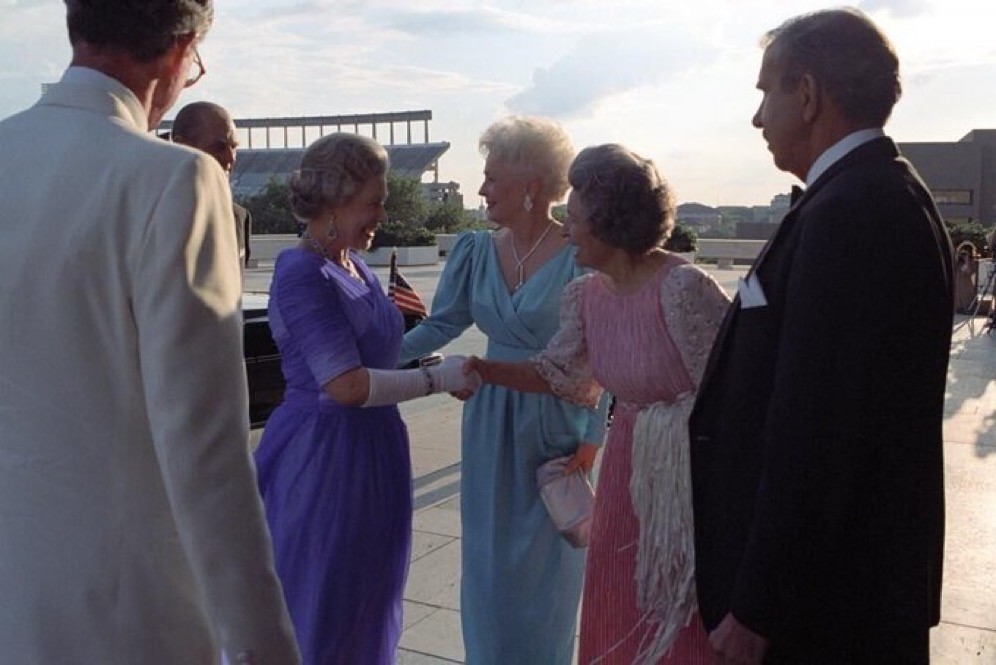 Lady Bird Johnson welcomes Queen Elizabeth II and Prince Philip (along with Texas Governor Ann Richards) to the LBJ Library on the campus of the University of Texas, with Texas Memorial Stadium, home of the Texas Longhorns, in the background.  Photo from the Austin American Statesman, provided by the LBJ Presidential Library.
I confess I am an Anglophile.  I love Great Britain.  England.  London especially.  I fell in love with London through the eyes of a young teenager, reading Sherlock Holmes stories, and in the intervening 50 years I have only grown more fond.  Sir Winston Churchill is one of my heroes.  I could go on, but shall not.
Requiescat in pace Queen Elizabeth II.
God Bless Texas
God Bless America
 Tim Taylor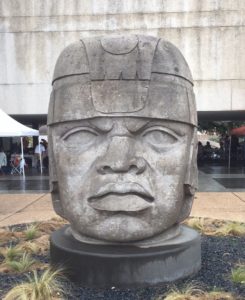 Tailgating before Home Football Games
The Juan Heisman Tailgate
Lot 38, East of Sid Richardson Hall.
HOOK EM HORNS!!
© Timothy C. Taylor, Sr. 2022.  All Rights Reserved (as to original material).
On Twitter:  @tctayloratx
On LinkedIn:  www.linkedin.com/in/tctatx
On Instagram:  @tctayloratx
On Facebook:  www.Facebook.com/Tim.C.Taylor
and:  www.Facebook.com/Juan.Heisman
You can contact me by mail:
Tim Taylor
P.O. Box 5371
Austin, Texas  78763-5371