No. 7 Texas Longhorns 29, Texas Christian Horned Frogs 26
The Longhorns escaped Fort Worth with a win on the scoreboard Saturday night, but we woke up Sunday to learn Jonathon Brooks is out of the season with a torn right anterior cruciate ligament.  The highs and lows from the game carried over to Sunday like a couple of Negronis and red wine hangover.  Texas won and is 9-1, Brooks is done for 2023.  Rollercoaster.  Texas barely avoided an occasional unpleasant result that has been around for a long time.  As Coach Royal said in 1961, Texas Christian "is like a bunch of cockroaches. It's not what they eat and tote off, it's what they fall into and mess up that hurts."  Not only are the teams we are leaving behind wanting to beat us because of our upgrade, but also because a win over the Horns this year spoils our best season in 14 years.  Well, didn't work Frogs.  We still won.  Enjoy your games with Central Florida and Cincinnati.  Riff, Ram, Bah, Zoo, see ya later TCU.
No. 7 Texas Longhorns vs. Iowa State Cyclones
The mighty 2023 Longhorns are on the road again this week. Well, in the air.  Texas heads to Ames for another critical game with Iowa State.  Texas needs one win this week or next to clinch a spot in the Big 12 Championship Game.  Texas needs both wins to play on December 2nd for a shot at the College Football Playoffs, if we get some breaks.
The Cyclones are 6-4 overall and 5-2 in Big 12 play. This will be our 21st game with Iowa State.   We are 15-5 against the Cyclones.  Three of Iowa State's five wins have come in the last 4 years.  Let's face it: a lot of our opponents have managed more wins than losses against Texas the last few years.  Those days are over as we leave this cow school/hypocrite school conference.
Texas and Iowa State kick-off in Jack Trice Stadium a little after 7:00 p.m. Saturday night.  Will be a chilly night in Ames, getting down in the 40's.  The game will be broadcast on FOX, Jason Benetti, Brock Huard, and Allison Williams.  Not a bad crew.  But since the low bar is Tim Brando, everyone else is somewhere between "not bad" and "outstanding".  On the radio with the Voice of the Longhorns, Craig Way, Roger Wallace with analysis and commentary, and new father Will Matthews is back to work on the sidelines.  Listen to Craig, Roger, and Will on KCMC 740 AM in Texarkana, KBAT 99.9 FM in Midland, KWKC 1340 AM in Abilene, and on the Flagship in Austin – KVET 1300 AM & 103.1 FM and K2476EL 103.1 FM.  This week, on Channel 83 on SiriusXM and on the SXM App.  And you can always listen on the Longhorn app.
The Spanish Broadcast on the Longhorn Radio Network with Dr. Rubén Pizarro-Silva and Arturo Mata.  KTXX-HD2 or KZNX 1530 AM out of Creedmoor for the Spanish and online, I think.
Texas is favored by 7.5.  The over/under is 46.5.
Austin Horns Fan Dispatch
I am restructuring the newsletter based on some good and much appreciated feedback.  I am moving most of the advanced stats and rankings to the bottom, as it sounds like most folks aren't as enamored with some of that nerd stuff as I am.  Remember, I was goofy chemistry major in college, then got worse by going to law school.  Those who are interested can scroll toward the end and still read it.  I welcome other feedback.
College Football Week Eleven
What is going on Gundy?  In September after losing to South Alabama and Iowa State I was questioning what the hell was happening in Stillwater, wondering if I'm A Man had lost his fairly golden touch, and then Bam, you roll off 5 wins in a row including 2 over ranked teams (Jayhawks and the Land Thieves), and then you go to Orlando and lose the Space Game to 1-5 in Big 12 newcomer Central Florida 45-3?  What da hell?
Georgia put an old-fashioned beating on the Ole Miss Rebels, 52-17.  That big win vaulted the Bulldogs to the No. 1 spot in this week's CFP.
Louisiana State's Jayden Daniels is the best player in college football this year and may finish the season as one of the best ever.  And holding a bronze trophy in New York City.  We all remember Vince Young's National Championship game where he passed for 267 and rushed for 200 and 3 touchdowns.  It was epic. Saturday, Daniels became the first player to ever pass for 250+ and run for 200+ in a single game.  17/26 for 372 yards and 3 touchdowns in the air, 12 carries for 234 yards and 2 touchdowns rushing.  He is 1st in the nation in passing touchdowns with 30 (to 4 picks), 1st in rating (202.12), 1st in yards per attempt (11.6), and 2nd in the nation at 316.4 ypg.  Amazing.  Louisiana State beat Florida 52-35.
Iowa State Cyclones 2023
The Cyclones have rebounded from a bad 2022 with a 6-4 record over and 5-2 conference record in 2023, tied for second place in the Big 12 with Kansas State, Kansas, and the Land Thieves.
Iowa State opened the season with a 30-9 win over the Northern Iowa Panthers (damn you Jesperson).  Northern Iowa is no 6-4 and in third place in the MVFC.
Iowa beat the Cyclones 20-13 to win the CyHawk Trophy.  Iowa is 8-2 and in first place in the Big 10 West.
Iowa State lost their next game 10-7 to the Ohio Bobcats (no state, no buckeyes; the MAC Ohio University).  Iowa State rushed for 38 yards against the Bobcats.  Ohio is 7-3 and in second place in the MAC East.
The Cyclones rebounded with a 34-27 win over Oklahoma State.  Rocco Becht, the ISU QB, passed for 348 yards and 3 touchdowns.
Their trip to Norman was ugly.  But I repeat myself.  The Land Thieves pounded Iowa State 50-20.  Oklahoma rushed for 157 yards and 2 scores and Dillon Gabriel threw for 366 and 3 scores.  Rocco Becht was 15/33 for 188 with 2 TDs and 2 picks.
Iowa State got Texas Christian in Ames and got a 27-14 win.  That was the game in which Frog QB Chandler Morris was injured.  Rocco Becht was 16/28 for 138 and 1 TD.  But the Cyclones rushed for 215.  Eli Sanders for 99, Abu Sama III for 59, and Cartevious Norton for 47.
ISU beat Cincinnati 30-10.  Becht 15/25 for 241 and 2 TDs.  123 yards rushing – Sanders for 52, Cartevious Norton for 28, Hansen for 25.  Their kicker, Chase Contreraz also rushed once for 6 yards. Tried to figure that out (design, trick, or scramble), but gave up.
The Cyclones beat Baylor 30-18 in Waco.  Bears were held to 67 yards rushing.  Becht 19/31 for 238, 1 TD, 1 pick.  Sanders had 90 yards and Cartevious Norton 58.
The Jayhawks ended Iowa State's 3 game winning streak with a 28-21 win.  ISU rushed for just 75 yards.  Becht was 20/26 for 216 and an interception (he did run for a score).
Iowa State got an impressive 45-13 win over Brigham Young in Provo.   Abu Sama III rushed for 110 yards and 2 touchdowns for the Cyclones, Sanders 57 yards and a TD, and Cartevious Norton 42 yards and a TD.  Becht was 15/23 for 203 and 2 TDs.
Folding that into a comparison with common opponents (thanks Harry!):
| | |
| --- | --- |
| Texas | Iowa State |
| Baylor – W – 38-6 | Baylor – W – 30-18 |
| Kansas – W – 40-14 | Kansas – L – 21-28 |
| Land Thieves – L – 20-34 | Land Thieves – L – 50-20 |
| BYU – W – 35-6 | BYU – W – 45-13 |
| TCU– W – 29-26 | TCU – W – 27-14 |
Matt Campbell is back for his 8th year in Ames.  He had a great first few years, was one of the "hot" coaches for awhile, but has stayed loyal to Iowa State.  He is an excellent coach, and I won't be surprised to see Campbell and the Cyclones as one of the perennially dominant teams in the future Big 12.  They've been pretty good with OU and Texas.
The Cyclone offense is a maybe little better than last year.  But not much.  As you will see below, at or near the bottom of the Big 12 in most categories and bottom quarter (or worse) in the country.
Redshirt Freshman Rocco Becht (No. 3, 6-1, 205) was unexpectedly handed the reins to the ISU offense when the guy who was supposed to the Cyclone starter was lost to the gambling scandal.  177/285 for 62.1% (5th in Big 12).  2,121 yards, 15 touchdowns, 7 interceptions, 7.4 yards per attempt, and 212.1 yards per game (7th in Big 12).  Throws a lot of short passes.  He can scramble, but has 81 net yards rushing on the year (49 attempts, a 1.7 average) and 3 touchdowns.  He's gained 137 gross, so even taking out the lost yardage, ye is just averaging 2.8 yards per attempt and 13.7 yards per game.  I am not going to say something that will jinx us.  Nope.
As you have discerned from some of the games discussed above, Iowa State has three middle of the road running backs.  Eli Sanders (No. 6, 6 foot, 205, sophomore) has  96 carries for 467 yards, 4 TDs.  That is 4.9 yards per attempt and 58.4 yards per game (12th in Big 12).  Cartevious Norton (No. 5, 5-11, 335) has 341 yards on 84 carries, which is just 4.1 yards per attempt, 32nd in Big 12.  He does have some ability to hit a big lick.  Their third string freshman back is Abu Sama III (No. 24, 5-11, 200).  He's actually 4th in the Big 12 with 6.59 yards per carry, and he is great after contact.  But overall, just 323 yards in 49 attempts.  I won't be surprised if he gets more carries this week.
Jayden Higgins (No. 9, 6-4, 210 pound Junior, transfer from Eastern Kentucky) leads ISU with 810 yards and 61 yards per game, on 35 catches.  Long of 75 yards.  4 touchdowns.  He's a big receiver who can catch the long ball.  He averages 14.43 yards per catch, 6th in the conference.  Jaylin Noel (No. 13, 5-10, 200) has 52 catches, 536 yards, 4 scores, long of 66 yards.  Gets lots of screen passes and short plays.  He is fast, and he gets yards after catch.
Easton Dean (No. 87, 6-6, 265) is a redshirt senior tight end from Labette County High School in Oswego, Kansas.  I once had a Labette County Grizzlies t-shirt that I loved and wore often. Long story but not very interesting.   Dean has 14 catches for 90 yards and a score.  He has only caught 49% of this targets, but he is still a threat.  Benjamin Brahmer (No. 18, 6-7, 240, freshman) is actually third on the team with 271 yards on 21 catches.
The offensive line is not great in pass protection, bottom quarter of the big 12.  Bottom 5% in the country in run blocking ratings.
Kicker Chase Contreraz is 18 for 22 for 81.82%.  Perfect under 29, 6-8 at 30-39 & at 40-49, and 2-2 50+.
Defensive Coordinator John Haycock has another very good defense in Ames, statistically the best in the Big 12.  He is pretty much the innovator of the 3 High safety defense, which a lot of Big 12 teams now utilize.  This is a  well-coached defense who play good football.
Safety Beau Freyler (No. 17, 6-2, 220, freshman) leads Iowa State with 74 tackles (33 solo), 3 TFL (1 sack), and 3 interceptions.  With his 74 tackles, he is tied with Jaylan Ford for 8th in the conference.  Cornerback Myles Purchase (No. 5, 5-11, 205) is second with 42 tackles ((28 solo), 4 TFL for 18 yards (1 sack), and 7 pass breakups.  A very good all-around defensive back.  Malik Verdon (No. 7, 6-4, 225, RS sophomore from Hamilton, Ohio, hometown of my pledge brother Mark Rentschler) has 37 tackles (21 solo) and tied for third on the team, plus 2 interceptions.  Jeremiah Cooper (No. 4, 6 foot 185 pound DB) leads the Cyclones with 5 interceptions, tops in the Big 12, but he got hurt in the Baylor game; don't know if he will play Saturday night.  He is also 3rd in the conference with 11 passed defended.
Caleb Bacon (No. 50, 6-3, 240, linebacker) is tied for third with 37 tackles (21 solo), 6.5 TFL for 30 yards (3 sacks for 22).  6 quarterback hurries, and he is very good against the run.  Will McLaughlin (No. 23, 6-4, 230, sophomore linebacker from Defiance, Iowa) has 18 tackles (14 solo), 5 TFL (1 sack), and 2 interceptions.
Big Domonique Orange (No. 95, 6-4, 335) down lineman is a unique, colorful guy.  Decent in run defense, 5 QBH, but no sacks.  J.R. Singleton (No. 58, 6-2, 300) has 15 tackles (10 solo), 3.5 sacks for 29 yards (leads ISU), and has 7 QBH.   Our big men need to keep him out of the backfield and off of Quinn.
The Statistics
Offense
| | | |
| --- | --- | --- |
| Statistic | Texas | Iowa State |
| Rushing Offense | #34, #6 – 183.5 ypg | #98, #11 – 129.2 ypg |
| Passing Offense | #28, #3 – 275.8 ypg | #78, #12 – 218.6 ypg |
| Total Offense | #14, #3 – 459.3 ypg | #94, #13 – 347.8 ypg |
| Scoring Offense | #26, #3 – 33.8 ppg | #78, #10 – 25.7 ppg |
| First Downs | #46, #8 – 21.7/game | #118, #14 – 16.7/game |
| Sacks Allowed | #54, #8 – 18, 113 yards | #7, #1 – 9, 46 yards |
| Tackles for Loss Allowed | #47, #9 – 51, 197 yards | #42, #7 – 50, 135 yards |
| Third Down Conversions | #88, #12 – 36.57% | #73, #10 – 38.46% |
| Fourth Down Conversions | #42, #4 – 60% (15/25) | #15, #1 – 69.2% (9/13) |
| Red Zone Attempts | #37, #6 – 41 | #105, #14 – 30 |
| Red Zone Offense | #91, #10 – 80% / 46% | #13, #1 – 93% / 60% |
| Long Run Plays | #73, #9 – 45/10, 18/20, 10/30, 5/40 | #104, #12 – 37/10, 11/20, 4/30, 3/40 |
| Long Pass Plays | #21, #3 – 111/10, 38/20, 21/30, 10/40 | #81, #13 – 82/10, 26/20, 16/30, 7/40 |
Of note, because this highlights the complexity of football statistics and the nuances one must consider.  Texas has 19 redzone TD's, Iowa State has 18.  However, overall Texas has 40 touchdowns while Iowa State has 11 less, just 29.
Defense
| | | |
| --- | --- | --- |
| Statistic | Texas | Iowa State |
| Rushing Defense | #9, #1 – 90.1 ypg | #36, #3 – 124.7 ypg |
| Passing Defense | #106, #12 – 247.0 ypg | #34, #1 – 204.3 ypg |
| Total Defense | #37, #2 – 337.1 ypg | #29, #1 – 329.0 ypg |
| Scoring Defense | #21, #1 – 18.4 ppg | #29, #4 – 19.9 ppg |
| First Downs Allowed | #33, #2 – 18/game | #39, #3 – 18.3/game |
| Sacks | #29, #1 – 26, 179 yards | #107, #11 – 17, 104 yards |
| Tackles for Loss | #21, #2 – 69, 271 yards | #93, #11 – 52, 187 yards |
| Third Down Conversions | #2, #1 – 26.52% | #22, #4 – 32.62% |
| Fourth Down Conversions | #46, #5 – 45.5% (10/22) | #87, #9 – 53.9% (14/26) |
| Red Zone Attempts | #32, #4 – 30 | #24, #3 – 29 |
| Red Zone Defense | #3, #1 – 67% / 37% | #22, #2 – 76% / 55% |
| Long Run Plays Allowed | #6, #1 – 28/10, 6/20, 2/30, 2/40 | #34, #4 – 40/10, 4/20, 3/30, 2/40 |
| Long Pass Plays Allowed | #89, #9 – 91/10, 33/20, 17/30, 8/40 | #44, #3 – 80/10, 31/20, 12/30, 6/40 |
Other
| | | |
| --- | --- | --- |
| Statistic | Texas | Iowa State |
| Turnovers | #54, #7 – 13 (6F, 7I) | #11, #1 – 8 (1F, 7I) |
| Turnover Margin | #33, #4 – 17:13   +4 | #10, #1 – 17:8   +9 |
| Penalties | #66, #11 – 59, 470 yards | #29, #5 – 50, 442 yards |
*Based on total number of penalties.
Match-up Comparison
| | |
| --- | --- |
| Texas Offense | Iowa State Defense |
| Rushing Offense – 183.5 ypg | 124.7 ypg – Rushing Defense |
| Passing Offense – 275.8ypg | 204.3 ypg – Passing Defense |
| Total Offense – 459.3 ypg | 329.0 ypg – Total Defense |
| Scoring Offense – 33.8 ppg | 19.9 ppg – Scoring Defense |
| First Downs – 21.7/game | 18.3/game – First Downs Allowed |
| 3rd Down Offense – 36.57% | 32.62% – 3rd Down Defense |
| 4th Down Offense –  60% | 53.9% – 4th Down Defense |
| Red Zone Offense – 80%/46% | 76%/55% – Red Zone Defense |
| LRP – 45/10, 18/20, 10/30, 5/40 | 40/10, 4/20, 3/30, 2/40 – LRP Allowed |
| LPP – 111/10, 38/20, 21/30, 10/40 | 80/10, 31/20, 12/30, 6/40 – LPP Allowed |
| | |
| --- | --- |
| Texas Defense | Iowa State Offense |
| Rushing Defense – 90.1 ypg | 129.2 ypg – Rushing Offense |
| Passing Defense – 247.0 ypg | 218.6 ypg – Passing Offense |
| Total Defense – 337.1 ypg | 347.8 ypg – Total Offense |
| Scoring Defense – 18.4 ppg | 25.7 ppg – Scoring Offense |
| First Downs Allowed – 18/game | 16.7/game – First Downs |
| 3rd Down Defense – 26.52% | 38.46% – 3rd Down Offense |
| 4th Down Defense – 45.5% | 69.2% – 4th Down Offense |
| Red Zone Defense – 67%/37% | 93%/60% – Red Zone Offense |
| LRP Allowed – 28/10, 6/20, 2/30, 2/40 | 37/10, 11/20, 4/30, 3/40 – LRP |
| LPP Allowed – 91/10, 33/20, 17/30, 8/40 | 82/10, 26/20, 16/30, 7/40 – LPP |
 One interesting comparison.  Iowa State's passes defense is 6th nationally allow just a 53.6% completion percentage.  The have given up 14 touchdowns and intercepted 15 passes (third in the country).  Texas, despite our perceived woes, has also only allowed 14 passing touchdowns, is allowing 59.5% pass completion, and has 11 interceptions.
Texas Stats
Jonathon Brooks' sophomore season ends with him third in the Big 12 with 1,139 yards, averaging 6.1 per attempt, and 10 touchdowns.  In yards from scrimmage, second in the conference with 1,425 yards, 6.7 per play.  We lost not just a lot of offense, but a lot  of yards gained when we really needed them.  Thank you Jonathon.  I sure hope we see you back in Burnt Orange next fall to help lead us in a successful first season in the SEC.
Bert Auburn is 9th in the nation and 1st in the Big 12 in scoring with 100 points per game, 6th nationally and first in conference in total points with 98. He is very good.
Xavier Worthy is third in the Big 12 with 75.7 yards per game on 59 catches.  4 touchdowns.
Adonai Mitchell is seventh in the Big 12 with 63.7 yards per game, tied with Drake Stoops for most TD catches with 9.
Jaylan Ford leads Texas and is tied for 8th in the Big 12 with 74 tackles (36 solo).
TCT Thoughts
Offensively, Texas is going to have to figure out how to get some yards on the ground against this excellent Cyclones defense.  It will be a good match-up, as the Texas Longhorn offense is as good or better statistically (straight and advanced) as the Iowa State defense is.  Losing Brooks really hurts, as he made plays more than the offensive line created opportunities, gained yards when it appeared none were to be had, and almost always had an extra little push or forward lunge that was good for another yard or two.  The hallmarks of a great running back.
Next Man Up time, and that man is CJ Baxter.  Despite Baxter's limited role, he is 20th in the Big 12 in rushing and has 435 yards and  3 scores, averaging 4.48 yards per carry.  I think we all know that the talent is there; otherwise, he would not have been the starting back when the season started.  In the games where he has gotten 10 or more touches (other than Alabama), he has gained good yards.  67 on 15 carries against Kansas, plus 2 catches for 16.  90 yards on 10 carries and a TD against K State.  61 yards on 18 carries against TCU.  (Against Bama he only managed 31 yards on 11 carries, but did have 4 catches for 21.  But recall he got hurt early.)  Sark was very high on Baxter and his progress and his future in his Thursday presser.  I am going to be an optimist and say Baxter is going to be a pleasant surprise tomorrow night.
More good news is that with our talent, there are more Men Up behind Baxter.  Jaydon Blue has shown some good stuff, and Keilan Robinson is a talented, experienced running back who is excellent catching the ball out of the backfield and the slot.  With Baxter and Robinson being great catching the ball, I think that may be critical to our success.  Just protect the Rock!
I can be my usual burnt orange kool-aid chugging optimist like this, but we all know what will be the difference between winning and losing in Ames will rest pretty much with one man:  Quinn Ewers.  The one good news item among the ISU defensive stats is that they are not very good at sacking the quarterback, although they are good at getting pressure.  Ewers should have time to make his reads.  He is going to have to do it quickly and then make good decisions and make really good throws.  If not, the other team may be catching the ball.  With 15 interceptions, the Cyclones are second in the conference and third in the country.  As I have been working on this week's edition, that one stat has probably gotten me the most nervous.  Quinn has done a good job in protecting the ball with only 4 interceptions, but even one Saturday night could have a big impact on the game.  Quinn needs to play like he did in Tuscaloosa.  Sark says he's healthy.  Have a game Quinn.
The Texas receivers have got to help Ewers in this.  Get to the ball and fight for the ball.  If you can't catch it, make sure the Cyclone can't either.  I am pretty confident in this group of Longhorns.  Worthy is incredible, Adonai has played better and better, to the point of really winning the last 2 games for us.  We need more Jordan Whittington. And what we really need is for Ja'Tavion Sanders to be 100% or very close and have a big game.  He is due.
In both pieces of the offensive game, the most important factor is protect the ball.  Iowa State is tops in the Big 12 and 10th in the nation with a +9 turnover margin.  Texas needs to flip that Saturday night.
My other big concern is third down conversions.  We have not been good and have gotten worse. 88th in the country (36.57%), while the ISU defense is No. 22 in third down defense (32.62%).  Losing Brooks isn't going to help that issue.
Defensively, Texas got to play (and coach) first half ball both halves.  No more of this crap second half B.S.  The Texas defense has surrendered 674 yards in the air in the second halves against Houston, Kansas State, and Texas Christian.  I sure hope Catalon is back and healthy.  We need our defensive backs to shut down Rocco and the Cyclones:  not because they are real good, but because the Iowa State defense is.  That is, we probably are not going to score our average this week.  Last week was the first game this season for Texas to not score more than 30 points.  So the defense is going to have to make sure they hold Iowa State to three scores, maybe 4 with a field goal in there.
The good news is that our run defense is just awesome. And, they are a bad running team against one of the best run defenses in the country with Texas.  Iowa State is the No. 98 rushing offense, Texas is the No. 9 rushing defense.  Let's make Iowa State as one-dimensional as possible, make Rocco try to beat us.  I don't believe he can.
Game 11.  Time to do two things Sark has talked about a bunch:  Play a complete game for 60 minutes.  Killer instinct:  put the opponent away when we get a good lead.
Texas really must win this game.  If we drop in to a tie (four teams are 5-2 below us) with a bunch of crazy tie-breaker rules that I am not sure I understand or can explain.  What I do understand and know is that if Texas wins, we probably avoid having to worry about that.
TCT Prediction:  Tough this week, as I just don't know how deep the loss of Brooks is going to hurt.  I still think Texas wins.  I am going Texas 31, Iowa State 19.
Official Texas Preview:
https://texassports.com/news/2023/11/13/no-7-7-football-preview-at-iowa-state.aspx
Official Texas Game Notes:
https://texassports.com/documents/2023/11/13/TexasFB23GameNotes_11IowaState.pdf
Parker Fleming, @statsowar on X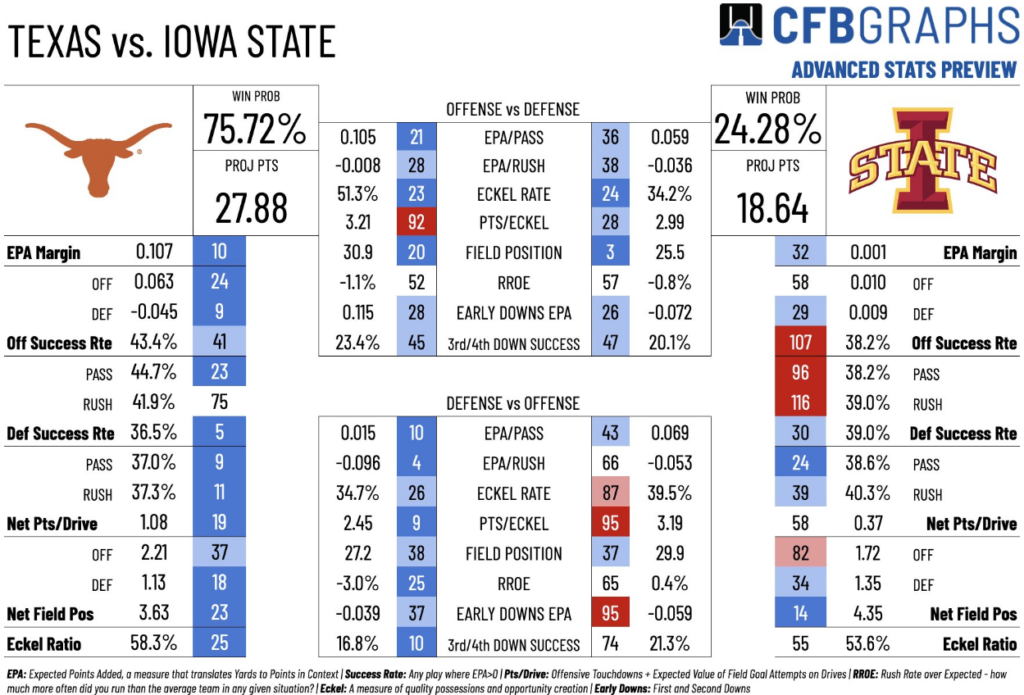 In case you didn't see Cyclone offensive lineman Jarrod Hufford's comments on Texas.
https://www.burntorangenation.com/2023/11/14/23961696/jarrod-hufford-iowa-state-cyclones-texas-longhorns-ego
Texas Homer (17 minutes):
Coach Sarkisian's Thursday Press Conference.  I really liked it this week, especially his comments toward the end.  He is a good football coach.
Joel Klatt:
Texas Longhorns vs. Iowa State Cyclones
This weekend marks the end of short-lived series with the Cyclones.  Other than a game in Austin in 1979 (won by Fred Akers' Horns 17-9), all of our matches with Iowa State have been in the Big 12 era.  Texas won the first 6, including a 56-3 curb-stomping in Ames in 2007 (Gene Chizik was coaching ISU).  Iowa State beat Mack once, in 2010 of course.  Texas won the next four, and then Charlie Strong got shut-out 24-0 in Ames.  Texas won 3 in a row (1 Strong, 2 Herman).  Matt Campbell finally beat Texas in back-to-back seasons in 2019-2020, and added a third one, the 30-7 win in Ames over Sarkisian, which produced "the Bo Davis Rant" on the Texas team bus ride to the airport after the loss (see below). The Horns bounced back last year with a 24-21 win in Austin.  Texas will finish with a 16-5 record over Iowa State (0.762).  The Winsipedia comparison: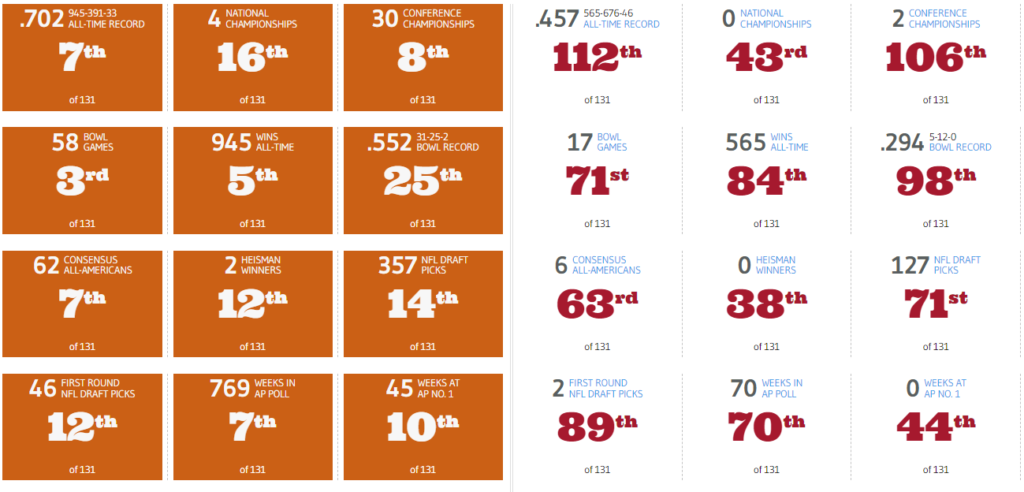 Bo's comments, which are NOT SAFE FOR WORK OR CHILDREN.  16+ choice words in 47 seconds.  This might have made Carla Cox blush.  Maybe not Augie.
https://x.com/UTBarstool/status/1724121800240415060?s=20
Hold the Lead
Coach Sarkisian has mentioned the need for the Horns to have a killer instinct for the last several games, at least going back to Houston.  It is a problem.   Another pair of purloined jewels from CJ Vogel on X:



This is not sustainable for any team with championships as its goals.  Texas has to learn to put teams away.  It isn't going to get any easier this week or next week against the South Plains Aggies.
No. 7 Texas Longhorns 29, Texas Christian Horned Frogs 26
Here's the deal:  I didn't get to re-watch the game.  It is also basketball season.  Wednesday night I went to see our Horns beat Rice.  Then drink beer with 40 Pack at Shoal Creek Saloon.  Didn't write much for a football season Wednesday.  Didn't get around to this well, it is Friday morning already as I type.  So no real recap.  Some highlights and a few thoughts.
Brooks gave us a great game before going down.  104 yards on 21 carries and 2 touchdowns.  3 catches for 74 yards.
Ewers is doing great in the first half.  He finished 22/33 for 317, 1 TD, 1 Pick.  I forgot to screenshot the halftime stats, but I know his second half was not so great.  But, he lead us to Victory.  And will do so again this week.  Kudos to the line – no sacks surrendered.
Xavier Worthy balled out.  10 catches for 137 yards.  Adonai Mitchell with 3 for 61 and a score and that critical third down conversion to seal the win.  Ja'Tavion Sanders 4 catches for 47.  I need more cowbell.
Fourth and 1 at the TCU 48.  Red for Zero.  Turnover.  TCU gets points.
Nice answer with the 73 yard pass to Brooks on first down and then letting him punch it in from the 2.  7-3 Horns.
Next series a face mask penalty (terrible call, but it still happened) helped TCU get good yardage and a field goal  7-6. Texas.
Texas had a first down at the TCU 13.  No redzone TD, but did get 3.  10-6. Texas.
Texas had a first down at the TCU 18.  Third and 1 at TCU 9.  False start on 4th and 1 and we took the field goal.  May have been a blessing.  13-6 Texas.
6 minutes to play in the second quarter, and an excellent Texas possession and drive, aided by a personal foul call on TCU, 6 yard touchdown pass to Adonai.  Muffed PAT.  19-6.
Maybe the biggest defensive play of the game, as Terrance Brooks picked off Hoover on the very first play after our score.  51 seconds.  Ewers got some yards including a Worthy 11 yarder, then a great 22 yard touchdown run by Brooks made it 26-6 Texas at half.  Great!
A scoreless third.  20 point lead going to the fourth. Texas Christian fans were leaving the stadium…
It wasn't our best quarter.
As CJ Vogel points out, the hustle and effort by Whittington & Worthy on this play turned out to be huge.  Probably a 6 point swing.  Saved the game and the season.
https://x.com/CJVogel_TFB/status/1724088430680789289?s=20
Xavier Worthy on the fumble recovery after the INT: "Sark always says 'The play is not done, you never know what could happen.' And that's what happens on that play. Keep playing through the play and good things will happen."
Some issues, but so what.  Texas won another road game and we are 9-1.  Just need to clean up a few little mistakes here and there, and Texas wins that by 2 scores.  Stuff happens. Ole ugly's a lot better than ole nuthin'.
Highlights of Victory in Fort Worth
From ESPN College Football:
Every Play, from Texas Clips.  What I should have watched Tuesday night.
College Football Playoff Rankings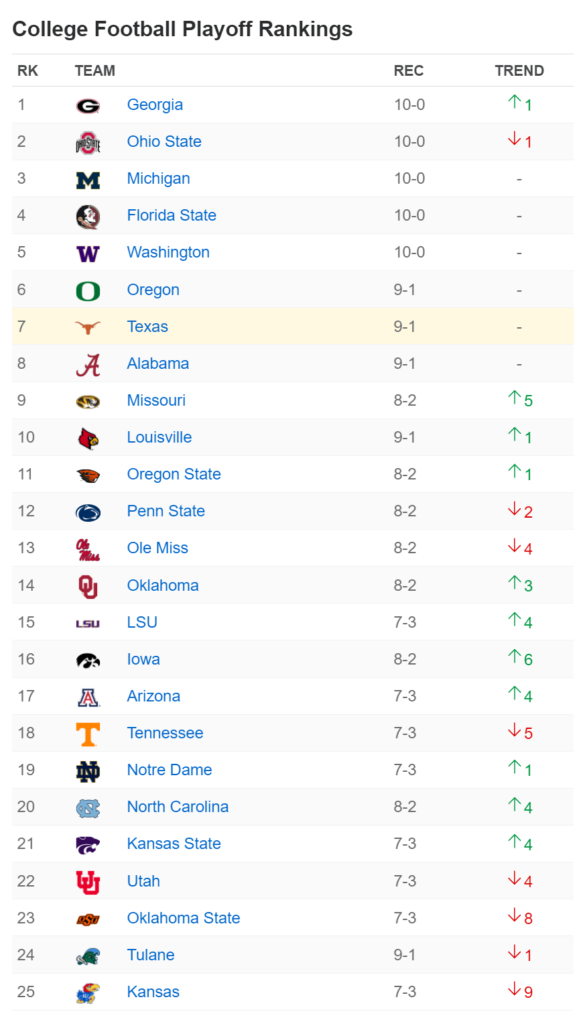 AP & Coaches polls are at the end of the newsletter.
Big 12 Standings Week Twelve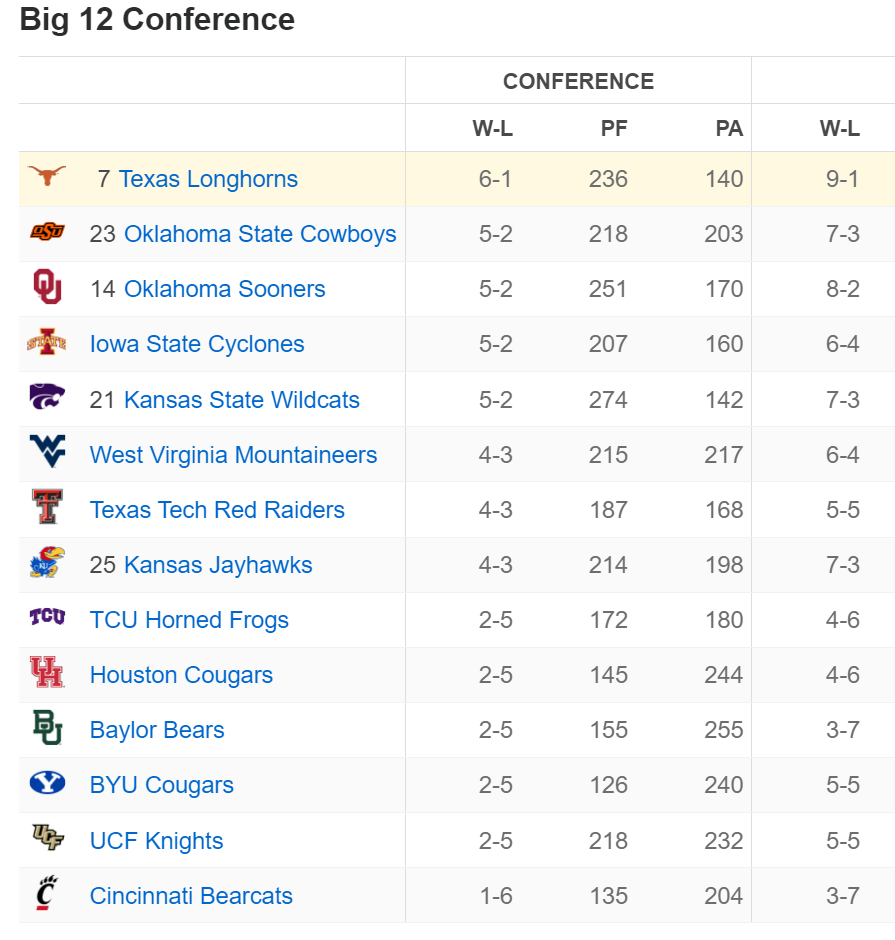 Texas Longhorns Basketball
Coach Rodney Terry and his incredible staff (all skillfully managed by General Manager Chris Ogden, or "General Ogden" as he likes to be called) have done a magnificent job putting together our 2023-24 Texas team.  Which is pretty much what every team has to do in the Brave New World of NIL and the portal.  I have done a poor job of writing about what is going to be a very good Texas team and a very good season.  But a few more notes to add to last week.  Maybe I will stitch it all together before conference play.  Anyway, it was a big Wednesday for the Horns.
Wednesday afternoon, Tre Johnson, the top point guard in this year's senior class and a consensus top-5 player in the country signed (not committed, signed) with Coach Terry and Horns.  From Dallas, played at Lake Highlands, but spending his senior year at Link Academy.  "What makes Tre Johnson special is his shot-making ability," said Joe Tipton, college basketball recruiting reporter for On3.com. "In fact, he might be the most-feared scorer in his high school class."  Johnson is the third top 50 player to sign with Texas in this class, already ranked No. 5 nationally.
https://x.com/PatMcAfeeShow/status/1724876339776274658?s=20
Back to the present.  Texas played Rice at the Moody Center Wednesday night.  And it was hard again for Rice.  Texas smoked the Owls 80-64, led by Tyrese Hunter with 18 points.  Newcomers Kaden Shedrick (the UVA grad transfer) added 15 points and Max Abmas (pronounces "ace-mus", don't know why, but trying to find out) adding 13.  Returning star Dillon Mitchell only scored 6 points, but he had 13 rebounds (11 defensive), 2 block shots, and a steal.  Rodney Terry believes in and teaches and preaches defense.
https://twitter.com/TexasMBB/status/1724992760174838163
https://x.com/TexasMBB/status/1724983984449364085?s=20
These Horns run and gun and hit big threes and execute alley oops and produce highlight reel slams.  But most importantly, they play defense.
Texas is 3-0 and heads to New York City this weekend for a Sunday match with Louisvile.  Hope the Horns win by a hundred. They play either Connecticut or Indiana on Monday.  Cool little trip.  Safe travels men.
Texas Volleyball
The defending national champion Longhorns just won their 7th consecutive Big 12 title with a 3-1 win in Ames over Iowa State.  Kudos to my great friend Mark Williams (and Linda) who went to Gregory Gym to see the Horns put away the Cyclones then made it to the Moody to watch the Horns beat Rice.  When I retire in 2038 I plan to get season tickets.  Asija O'Neal is special
https://x.com/TexasVolleyball/status/1724959427982143834?s=20
Madisen Skinner is awesome too.
https://x.com/TexasVolleyball/status/1724954914776854939?s=20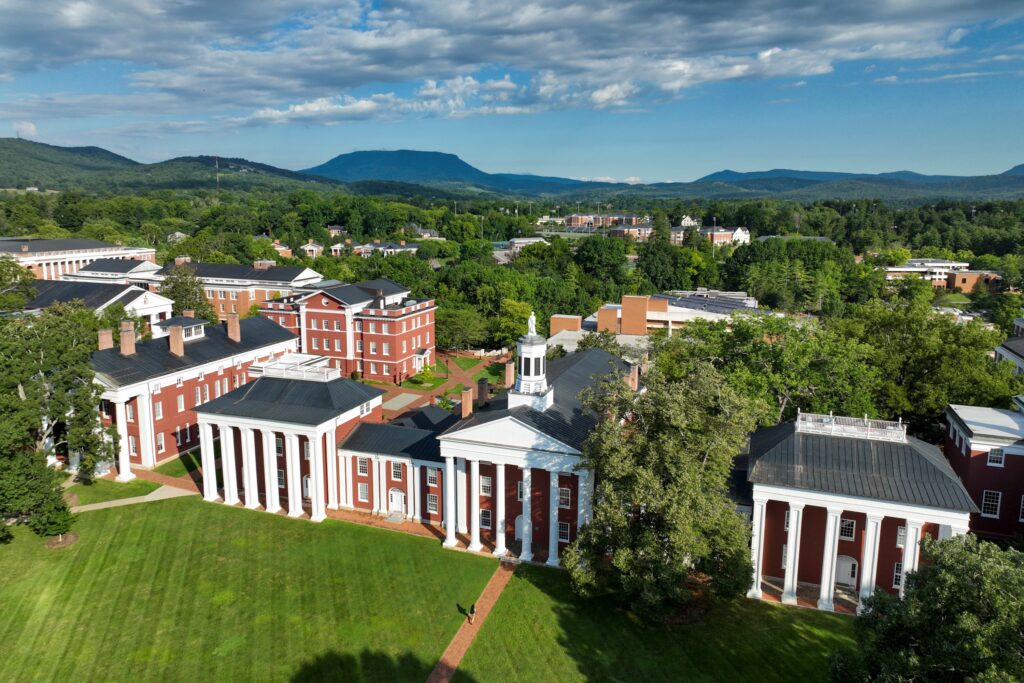 Washington & Lee University
Washington & Lee Generals 40, Shenandoah Hornets 21
The Generals capped a successful season on the gridiron with a good road win in Winchester.  Stephen Murrin, Senior quarterback from Fort Worth Country Day was 11/12 for 136 yards and 2 touchdown passes, and he was second on the team with 85 yards rushing on 15 carries.  Jacob Romero ran for 91 yards on 25 touches and added 2 TDs.  Marcus Payne 62 yards and a score on 7 rushes. Anthony Crawford 44 yards on 9 carries.   The Blue and White ran for 297 yards.  Dryden Duggins, from Episcopal in Baton Rouge, led the Generals with 4 catches for 70 yards and a score.  Shenandoah was held to 99 yards rushing.  Offense was 438 to 287.  4 for 4 on fourth downs.  Only 5 Division III schools attempted more fourth downs than the Generals, who finish the regular season 19 of 31 for .613.  6th out of 238 is pretty good.
W&L also finished 5th in Division III in rushing:  2,873 yards in 10 games on 583 attempts.  39 rushing touchdowns.  Kudos to Murrin, all the backs, and Harrison Donovan and the offensive line.  Pretty cool.  Also worth noting W&L finishes 10th with only 37 penalties in 10 games.  Discipline.
This weekend, Washington & Lee is one of the two host schools for the First Annual Chesapeake Challenge.  It is a bowl game partnership between the Old Dominion Athletic Conference and Land Mark Conference, for the top 2 teams from each who did not make the Division III playoffs.  The Cape Henry Bowl and the Cape Charles Bowl (which W&L will host).  Cape Henry and Cape Charles are the northern and southern gateways for the Chesapeake Bay.
The Generals host Lycoming College Saturday at Wilson Field.  12:00 o'clock noon, Shenandoah Valley time.  Lycoming College is a small liberal arts college in Williamsport, Pennsylvania (Little League World Series!), founded in 1812, with about 1,200 students.
The Lycoming Warriors are 4-6 overall and finished 4-2 in their first year in the Landmark Conference.  They beat Catholic, Keystone, Juniata, and Moravian.  I have heard of Catholic of course, and I believe one of W&L's opponents this year played Moravian.  Losses to Widener, Cortland (heard of them, at least), Utica, Brockport, Wilkes, and Susquehana.
Should be a beatdown. Go Gennies.
Texas Agricultural & Mechanical Aggies
So much schadenfreude. I feel guilty.  Kind of.
Honestly, I am not a hater.  I love all my Aggie family and friends.  Miss my Uncle Bob.  Ready to go back to Kyle Field for a game. Can't wait to start writing about Texas Agricultural & Mechanical again.  But the whole Jimbo Fisher Jumbo Fiasco is just too aggie to not make a few objective observations.
Jimbo's buyout is the largest in the history of college football at about $75 million.  It is more than the next four combined, which includes our old buddy Tom "It's Just Gatorade" Herman, who was owed $15+ million, but that was offset by subsequent hires/salaries; Jimbo gets his no matter what, or at least that is what I am told.  The other schools were Auburn at $21.4 for Gus Malzahn, Notre Dame at $18.0 for Charlie Weiss, and Florida State at $18 for Willie Taggart.  Don't know how much of that was guaranteed, like the well-negotiated A&M-Fisher contract, and how much was subject to setoff by subsequent earnings.  Jimbo's reported payout:
Within 60 Days: $19.4 million
Within 120 Days: $7.27 million
2025: $7.27 million
2026: $7.27 million
2027: $7.27 million
2028: $7.27 million
2029: $7.27 million
2030: $7.27 million
2031: $7.27 million
If you don't know who Bobby Bonilla is or about his contract with the New York Mets, use da Google.
The two most beloved moments of all of this are (i) the national championship trophy with date to be filled in when [not if] Jimbo won one, and (ii) John Sharp's quote (and for the record, I like Sharp, always have; he's smart and very good at what he does):  Texas A&M Chancellor John Sharp to the Houston Chronical on if they had any concern about signing Jimbo Fisher to a 10-year guaranteed contract: "Yes. We couldn't get him to agree to a 15-year deal, so this is the best we got." [BTW, I copied that from TexAgs.com, so no hate amigos.]
The firing of Fisher, after a rather large win at Kyle Field, was a bit of surprise to many.  Not many coaches get fired after a win like that, and probably none have been fired on the same day as the coach they just beat (Mississippi State fired their coach on Sunday too, after learning that the coach who just kicked their ass had been fired, because aggies).
I know many of you see the SEC Shorts on YouTube.  We have seen a lot of clever ones. The "Jimbo gets fired" episode may get an Emmy
All this aside, Kirk Bohls reported Thursday night that UTSA head coach Jeff Traylor interviewed for the job.  I think that would be a phenomenal hire by the aggies.  I have huge respect for Traylor.
Other Stats, Ratings, and Rankings
So, I have moved this down in order to have, I hope, stuff of broader interest in the first half of the newsletter.  These stats are not for everyone.  I happen to find them fascinating.  Also, a bunch of the other rankings and ratings.
Available Yards Percentage.  Net available yards percentage (NAY) is the difference between offensive available yards percentage (OAY) and opponent offensive available yards percentage (DAY) on non-garbage, regulation possessions in FBS vs. FBS games. Available yards percentage is calculated by dividing drive yards (measured from starting field position to ending field position) by available yards (measured from starting field position to end zone).
| | | | |
| --- | --- | --- | --- |
|   | NAY | OAY | DAY |
| Texas | No. 8:  0.221 | No. 12:  0.581 | No. 14:  0.360 |
| Iowa State | No. 39:  0.060 | No. 56:  0.477 | No. 31:  0.415 |
Texas dropped from No. 4 to No. 8 in NAY.
BCF Toys – 2023 Available Yards Percentage
Net points per drive (NPD).  NPD is the difference between points scored per offensive drive (OPD) and points allowed per opponent offensive drive (DPD).
| | | | |
| --- | --- | --- | --- |
|   | NPD | OPD | DPD |
| Texas | No. 14: 1.32 | No. 20:  2.86 | No. 19:  1.54 |
| Iowa State | No. 35: 0.67 | No. 50:  2.34 | No. 29: 1.67 |
BCF Toys – 2023 Points Per Drive
Net Yards Per Play (NPP).  Net yards per play (NPP) are the difference between drive yards per offensive play (OPP) and drive yards allowed per opponent offensive play (DPP) on non-garbage, regulation possessions in FBS vs. FBS games. Drive yards are calculated as the difference between starting field position and ending field position on offensive drives.
| | | | |
| --- | --- | --- | --- |
|   | NPP | OPP | DPP |
| Texas | No. 16:  1.46 | No. 24:  6.57 | No. 26:  5.11 |
| Iowa State | No. 45:  0.51 | No. 49:  5.94 | No. 40: 5.43 |
BCF Toys – 2023 Yards Per Play
My biggest takeaways from these stats this week:  First, Texas continues to drop in the rankings.  It bothers me, because I think we have done so against weaker teams.  Second, Iowa State is much more highly ranked than Texas Christian was in almost every category.  Going to be a tough, close game.
BCF's Game Projection.  "Game Projections are calculated from current FEI ratings and include the projected win likelihood (PW), projected margin of victory (PM), projected points scored (PF) and allowed (PA), and projected total points scored (PT) for each FBS game."
| | | | | | | |
| --- | --- | --- | --- | --- | --- | --- |
| Projected Winner | Projected Loser | PW | PM | PF | PA | PT |
| Texas | Iowa State | .714 | 8.3 | 23.7 | 15.4 | 39.4 |
Nike Patel's Advanced Stats Preview on BurntOrangeNation.com:
No. 7 Texas at Iowa State advanced stats preview – Burnt Orange Nation
Massey Ratings
Texas dropped to No. 8 behind Michigan, Ohio State, Georgia, Florida State, Washington, Oregon, and Alabama.  The Land Thieves are No. 10, Ole Miss at 11.  Iowa State is No. 35.
Nate Manzo (@cfbNate on X).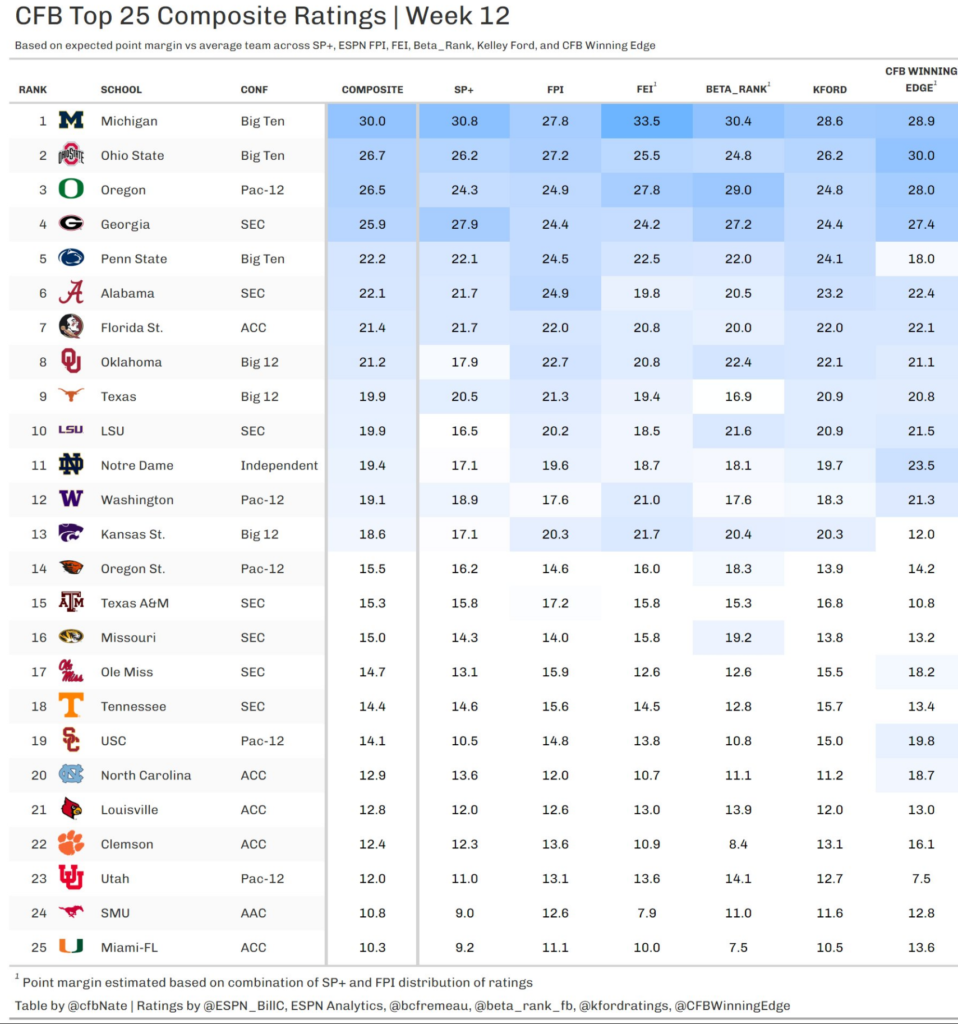 https://twitter.com/cfbNate/status/1724407926125637860
AP & Coaches Polls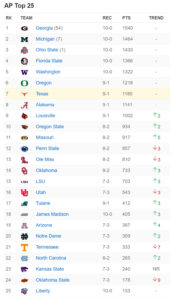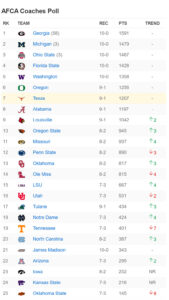 ESPN College Football Power Index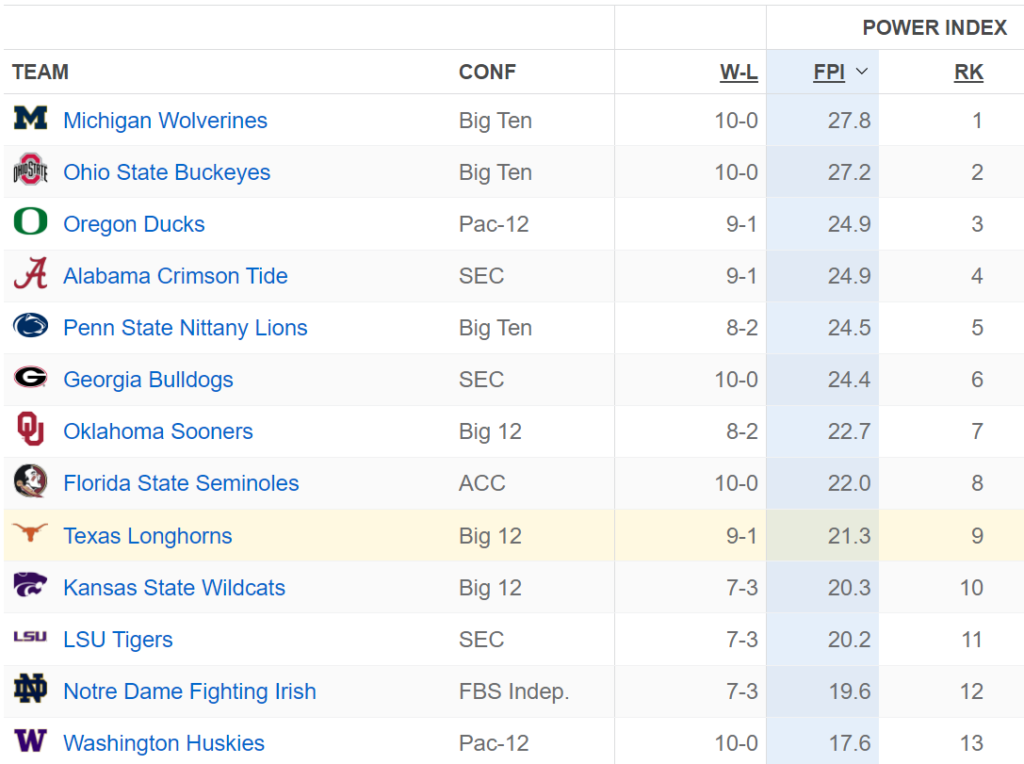 ESPN SP+ from Bill Connelly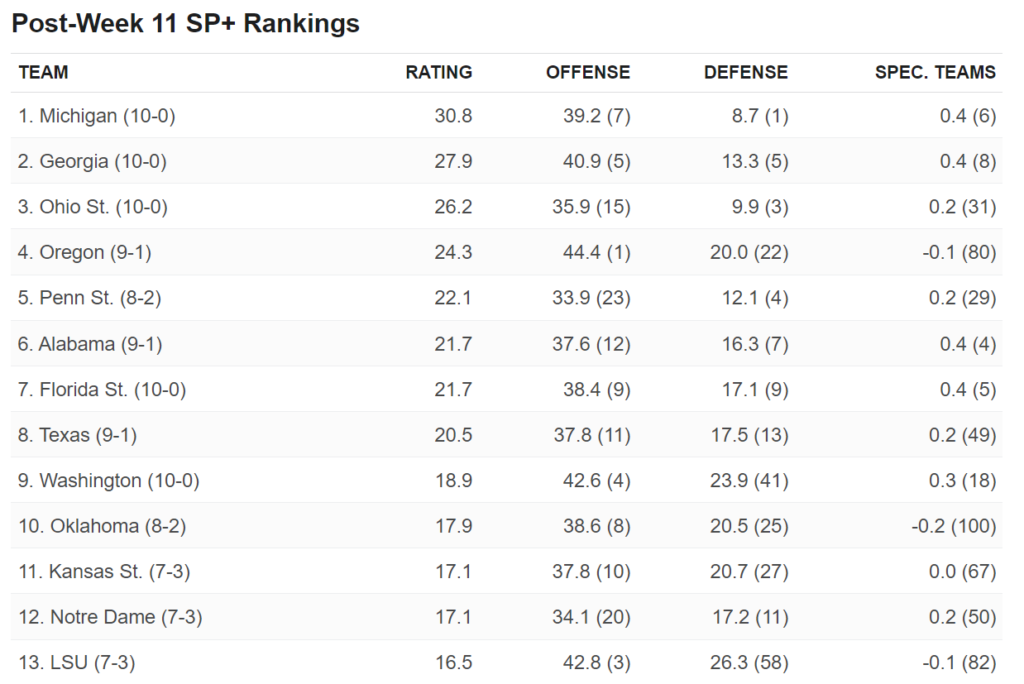 Iowa State is No. 36.
Jack Trice Stadium
Saturday's game will be played in Jack Trice Stadium.  John G. "Jack" Trice was the first African-American athlete at Iowa State, and only the second playing football at a college in the country.  He was the son of a Buffalo Soldier, Green Trice.  He died from injuries sustained in a game against Minnesota on October 6, 1923.  The night before, he wrote a letter.
 "My thoughts just before the first real college game of my life: The honor of my race, family & self is at stake. Everyone is expecting me to do big things. I will. My whole body and soul are to be thrown recklessly about the field tomorrow. Every time the ball is snapped, I will be trying to do more than my part. On all defensive plays I must break thru the opponents' line and stop the play in their territory. Beware of mass interference. Fight low, with your eyes open and toward the play. Watch out for crossbucks and reverse end runs. Be on your toes every minute if you expect to make good."
During the first half of the game against the Gophers, Trice suffered a broken collarbone. He continued to play. During the third quarter, trying to tackles the Minnesota running back, and was "roll blocked" and trampled by three Minnesota players.  He died three days later of internal bleeding. Four thousand students and faculty members attended his funeral service on central campus.  The question remains today whether he was injured in a football play at a time when play was particularly rough, or were the injuries intentionally inflicted.
Jack Trice was a member of Alpha Phi Alpha.  Not sure many fraternities can boast of a brotherhood with alumni like ΑΦΑ.  Here are a few: Martin Luther King Jr., W.E.B. Du Bois, Dick Gregory, Duke Ellington, Lionel Richie, Walt Frazier, Jesse Owens, Justice Thurgood Marshall, Robert F. Smith (Vista Equity), Ambassador Andrew Young, and one of my favorite ESPN guys ever, Stuart Scott.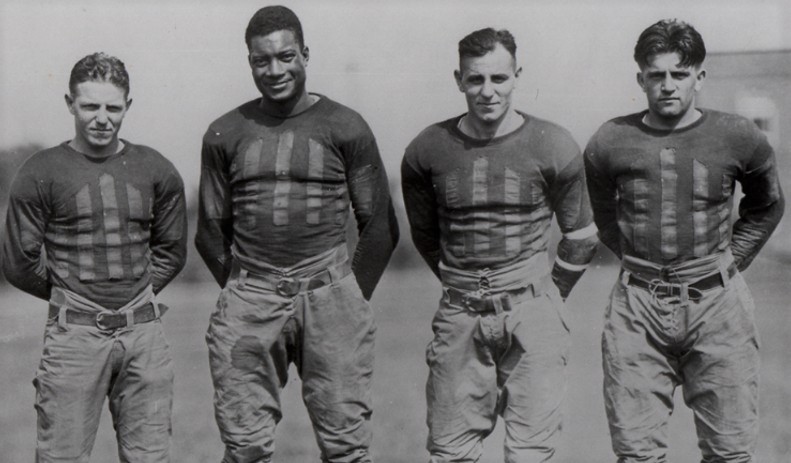 Iowa State University of Science and Technology
From the ISU website https://digital.lib.iastate.edu/online-exhibits/iowa-state-sesquicentennial
Iowa Agricultural College and Model Farm (now Iowa State University) was officially established on March 22, 1858, by the legislature of the State of Iowa.  Story County was selected as a site on June 21, 1859, and the original farm of 648 acres was purchased for a cost of $5,379.  The Farm House, the first building on the Iowa State campus, was completed in 1861, and in 1862, the Iowa legislature voted to accept the provision of the Morrill Act, which was awarded to the agricultural college in 1864.  Iowa Agricultural College (Iowa State College of Agricultural and Mechanic Arts as of 1898), as a land grant institution, focused on the ideals that higher education should be accessible to all and that the university should teach liberal and practical subjects. These ideals are integral to the land-grant university.
In 1959, the college was officially renamed Iowa State University of Science and Technology.  The focus on technology has led directly to many research patents and inventions including the first binary computer (the ABC), Maytag blue cheese, the round hay baler, and many more.
Iowa Agricultural College and Model Farm was the first designated land-grant institution under the Morrill Act (although the first to be established and opened was Kansas State).
Iowa Aggies.  Kudos on the round hay baler and Maytag blue cheese.  What starts in Ames changes farming and salads.  
Big moments in ISU History:
1876, the university cemetery is opened, one of the few active cemeteries associated with a university campus in the U.S.
1913, college roads are paved.
1939, the Atanasoff-Berry Computer is invented; The ABC was the world's first electronic digital computer.
1943, James Keith Shillington earns his B.S. degree (he taught organic chemistry at Washington & Lee University for decades, influencing the lives of hundreds of young men who would go on to be fine doctors and other professionals throughout the South and other parts of the country).
Some of Iowa State's other distinguished alumni, besides Dr. Shillington.
George Washington Carver (1894 ag, MS 1896).
Hugh Sidey (1950 journalism), presidential biographer and former White House columnist for Time magazine
Elwood Mead (1883 civil engineer), Bureau of Reclamation commissioner during the construction of the Hoover Dam; Lake Mead is named for him
Lee Teng-Hui (1953 ag econ), president, Republic of China (Taiwan), 1988-2000
Frederick Douglass Patterson (DVM 1923, MS vet path 1927), founder, United Negro College Fund
Ames and Iowa
Iowa derives its name from the Ioway people, one of the many Native American tribes that occupied the state at the time of European exploration.  It is the only state that has a state abbreviation that consists of two vowels (IA).  It is the only state who's eastern and western borders are formed entirely by rivers (Mississippi on the east and the Missouri and Big Sioux on the west).
Estimated population of Iowa in 2022 was 3,190,369.   The DFW MSA in 2023 is about 7,805,459, Greater Houston MSA over 7.34 million.  Austin-Round Rock-San Marcos MSA is 2,352,426, and San Antonio-New Braunfels MSA is 2,558,143.
Ames is a bustling metro area of about 90,000.  Founded in 1864 as station stop for the Cedar Rapids and Missouri Railroad, by a woman named Cynthia Olive Duff (a Kellogg heiress) and a railroad baron named John Insley Blair.  Ames is named after a Massachusetts congressman, Oakes Ames, and the location was chosen because it was a good place to cross the Skunk River.  What does Congressman Ames have to do with a place to ford the Skunk River in Iowa?  Not sure, but best I can guess it is because Mr. Ames was the guy who got the Union Pacific portion of the transcontinental railroad built.  How?  He was in Congress, on the Committee on Railroads, and then his family firm got the contracts to work on the railroad, and then he got his brother Oliver appointed president of the Union Pacific, and then the railroad got finished.  And Congressman Ames and his family got really rich.  'Merica.
College Football Week Twelve
Not a great weekend slate of games.  Georgia-Tennessee is about it.  Cupcake Weekend in the SEC West, which means a bunch of unwatchable games from teams we usually might watch.
Big XII – Week Twelve
No. 14 Oklahoma in Provo for a 10:00 a.m. game with Brigham Young.  Absurd.  11:00 C.S.T. on ESPN.  Land Thieves favored by 24, over/under is 57.5.
Cincinnati at West Virginia, 1:30 p.m. on BIG12 | ESPN+.  Mountaineers favored by 6.5, over/under is 53.5
The Revivalry.  Baylor at Texas Christian, 2:30 p.m. on BIG12 | ESPN+.  The Briles Bowl. If you didn't see the newest information from the scandals in Waco, just go look at this tweet and go to the website.  They have extracted information from the Pepper Hamilton report. Including lots of [redacted] text messages between Art Briles and others, including senior administrators.  And, current TCU offensive coordinator Kendal Briles and current TCU S&C coach Kaz Kazadi (ironically, his official title is Assistant Athletics Director – Football Human Performance).
https://x.com/DefectorMedia/status/1724069582451695900?s=20
Oh yes, the game.  Officially named The Bluebonnet Battle just this week.  Frogs favored by 13.  Over/under is 58.5.
Texas Christian leads the series 58-53-7 over the Brazos Hypocrites.  118 games.  A great long rivalry.  And they get to keep playing each other.  And their fans can watch on streaming services.  Bless their hearts.
No. 23 Oklahoma State at Houston, 3:00 p.m. on ESPN2.  If you recall my comments last week on the Cowboys, you realize how wrong I can be.  Okie A&M favored by 6.5.   Over/under is 58.5.
Central Florida at Texas Tech, 4:00 p.m. on FS2.  Golden Knights have 2 Big 12 wins now.  Guess that's why the South Plains Aggies are just 2.5 point home favorites.  Over/under is 59.5.
No. 21 Kansas State at No. 25 Kansas. The Sunflower Showdown.  6:00 p.m. on FS1.  Wildcats are 9.5 point road favorites, over/under is 57.5.
Week Twelve:  Service Academies
Army (4-6) has a tough opponent this week in Coastal Carolina (7-3), but a least the Black Knights have them at home at Michie Stadium in West Point.  11:00 a.m. on CBSSN.  Chanticleers favored by 4.
East Carolina (2-8) at Navy (4-5).  11:00 a.m. on ESPNN/ESPN+. Midshipmen favored by 2.5.  Navy has to win this to have a shot at a bowl game.  Remaining games after this are Southern Methodist (Dallas) and America's Game with Army on December 9.
UNLV (8-2, 5-1) at Air Force (8-2, 5-1), 2:30 p.m. on CBSSN.  Battle for first place in the Mountain West.  Falcons favored by 3 over the Rebels.  Good luck Air Force.
Top 25 – Week Twelve
No. 3 Michigan (10-0, 7-0) at Maryland (6-4, 3-4), 11:00 a.m. on FOX.  Wolverines will be in College Park, Maryland.  Jim Harbaugh will not.  Frankly, the 3 game ban seemed oddly right to me.  I probably would've fined him too, enough that the boosters would've had to pitch in.  Make the adults feel some pain.  Let the kids play football.  Michigan favored by 19, over/under is 49.5.  Hope Michigan covers by 2 scores.  Just don't care much for the Terps.
Chattanooga at No. 8 Alabama (9-1), 11:00 a.m. on ESPN+/SECN+.  No line.  Chattanooga Choo Choo was always one of my favorite Glenn Miller songs.
No. 10 Louisville (9-1) at Miami (Florida) (6-4).  11:00 a.m. on ABC.  For a second week in a row, I have to at least theoretically consider being "for" the Hurricanes.  Miami favored by a point.
Rutgers at No. 12 PSU, 11:00 a.m. on FS1.  PSU favored by 20.5.
Louisiana Monroe at Ole Miss, 11:00 a.m. on SECN.  Rebs favored by 37.5!   Hotty Toddy!
No. 24 Tulane (9-1) at Florida Atlantic (4-6), 11:00 a.m. on ESPN+.  That's seven 11:00 a.m. Top 25 games (Land Thieves too).  Green Wave favored by 9.
No. 22 Utah (7-3, 4-3) at No. 17 Arizona (7-3, 5-2), 1:30 p.m. on PAC12.  Hard to believe how well the Wildcats have played this season, and to be ahead of the Utes right now.  And favored by 1 at home.
No. 1 Georgia (10-0) at No. 19 Tennessee (7-3), 2:30 p.m. on the Columbia Broadcasting System.  Bulldogs favored by 10.  Go Dawgs!
Illinois (5-5) at No. 16 Iowa (8-2), 2:30 p.m. on FS1.  Hawkeyes favored by 3.
Wake Forest (4-6) at No. 19 Notre Dame (7-3), 2:30 p.m. on NBC.  Irish favored by 24.5.   Seems big.
No. 20 North Carolina (8-2) at Clemson (6-4), 2:30 p.m. on ESPN. Good luck Mack!  Tigers 7.5 point favorites.
Minnesota (5-5) at No. 2 Ohio State (10-0).  Buckeyes favored by 27.5,  If you haven't watched Ohio State play, you should.  Marvin Harrison, Jr. is really something special.  59 catches for 1,06.3 yards, averages 18 yards a catch, second in the nation with 12 receiving touchdowns.
No. 6 Oregon (9-1) at Arizona State (3-7), 3:00 p.m. on Fox.  Ducks are really good.  Favored by 23.5,
North Alabama at No. 4 Florida State, 5:30 p.m. on the CW Network.  No line.
No. 5 Washington (10-0) at No. 11 Oregon State (8-2), 6:30 p.m. on ABC,  Beavers actually 1 point home favorites.
Florida (5-5) at Missouri (8-2), 6:30 p.m. on ESPN.  Tigers favored by 11 at home.  Which I hear called "CoMo" all the time now.  Florida needs a win to get to a bowl game, and I don't think it is coming next week against the Seminoles.
Georgia State at No. 15 Louisiana State, 7:00 p.m. on ESPN2.  Tigers favored by 32.  Should be an ass-kicking.
Other Games of Interest – Week Twelve
Wednesday night, Miami shutout beat Buffalo 23-10 at Yager Stadium in Oxford, Ohio.  Redhawks are having a great season.
Friday
UT San Antonio hosts South Florida in the Alamodome, 8:00 p.m. on ESPN2.  Roadrunners still undefeated and tied for first place in the American (with Tulane and SMU).  UTSA favored by 16.  Birds Up!
Colorado at Washington State, 9:30 p.m. on FS1.  Buffs need to win this week and next week (against Utah) to get bowl eligible.  Pullman a tough place to play, especially at night.  Cougars favored by 4.
Saturday
Abilene Christian (5-5) at Texas Agricultural & Mechanical (6-4).  11:00 a.m. on ESPN+/SECN+.  No line.  Presumably because Vegas thinks the Aggies will beat the Wildcats so bad, and not the other way around.  Gig em.
Southern Methodist (8-2, 6-0) at Memphis (8-2, 5-1).  11:00 a.m. on ESPN2.  Ponies favored by 8.5.
Rice at Charlotte. 1:00 p.m. on ESPN+  Owls favored by 2.5.
Duke at Virginia.  2:00 p.m. on the CW Network from Scott Stadium in beautiful Charlottesville, Virginia.  Blue Devils favored by 3.5.  Go Hoos!
North Texas at Tulsa.  Both 3-7 and 1-5.  2:00 p.m. on ESPN+.  Eric Morris' Mean Green favored by 2.5.
UCLA at Southern Cal, 2:30 p.m. on ABC.  Game No. 91 in the history between a college football blueblood and a college basketball blueblood.  The winner gets the Victory Bell.  One of my favorite rivalry games in which I generally have not stake, but having developed so many friendships with Trojans over the years.  Love the tradition of both teams wearing their home colors.  Fight On.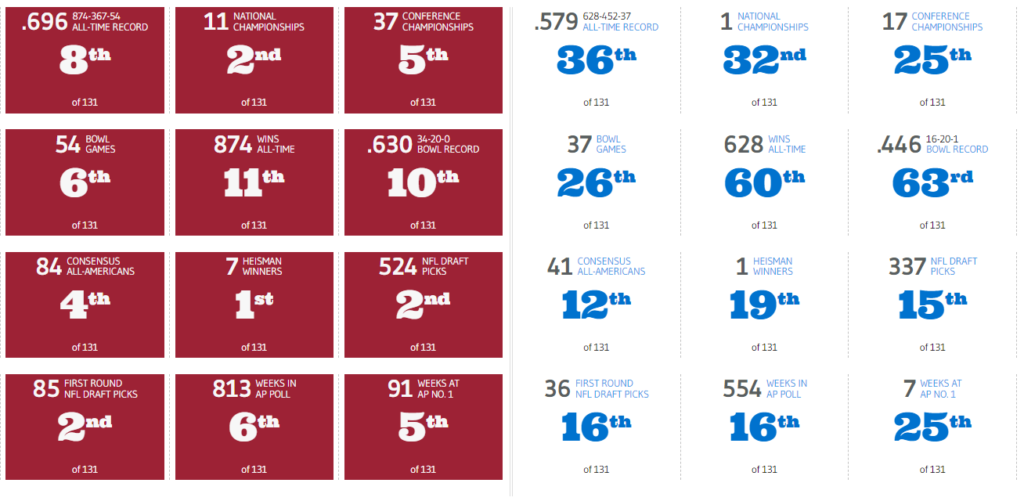 BCf Toys projects Southern Cal to win by 9.6, 34-24.4.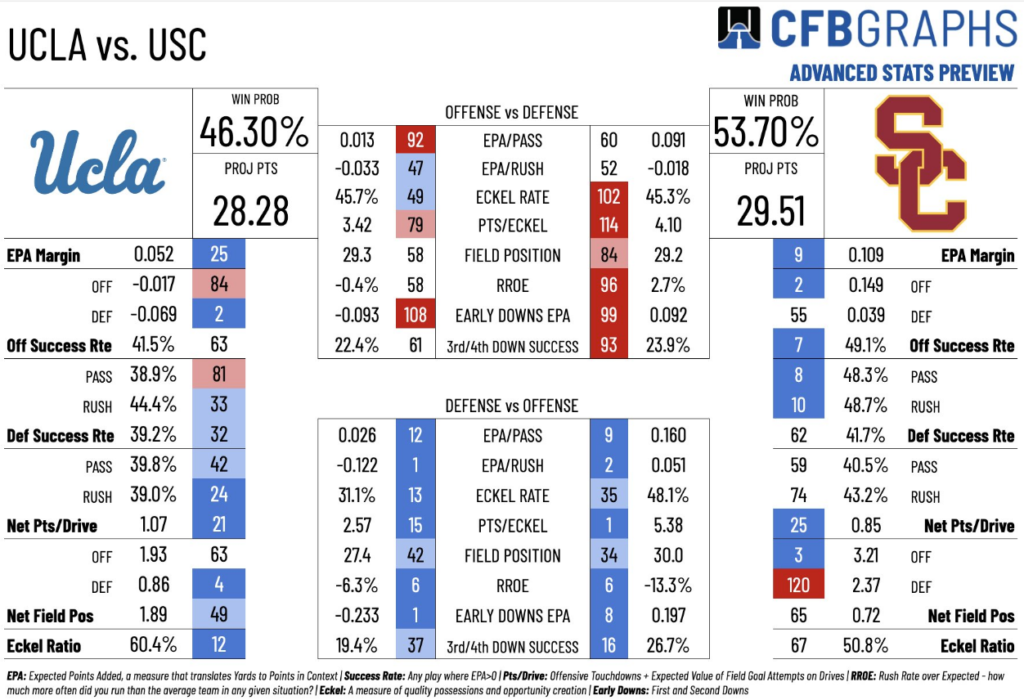 California Berkeley at Leland Stanford Junior University.  5:30 p.m. on PAC 12 Network  A shame a great rivalry game like this can't be seen nationwide.  Golden Bears favored by 6.5.  Go Cardinal.
Big XII – Week Eleven
Central Florida blow-out of the Cowboys is noted above.  Still shocked.
Another score that might shock one is the 16-13 win Texas Technical got in Lawrence over the No. 16 Kansas Jayhawks.  Unless you knew that KU's second string QB, Jason Bean, went down and out with a first half injury and freshman quarterback Cole Ballard struggled, completing 9 of 20 passes.  Plus a pick. South Plains Aggies kicked a game winning field goal as time expired.  Along with what was left of the season for the Jayhawks.
No. 17 Oklahoma 59-20 over West Virginia.  Land Thieves box:  14, 17, 14, and 14.  While West Virginia got one touchdown in the third quarter and was held scoreless in the fourth.  That's four quarters of football on both sides of the ball by OU.  Take note.Speaking of 59 points, that's how many Baylor let Kansas State score.  21 in the first quarter.
Cincinnati got its first Big 12 win 24-14 over Houston.  Pity.
Iowa State 45-13 over Brigham Young.
Week Eleven:  Service Academies
Army got their fourth win of the season with a 17-14 win over Holy Cross.
Navy smoked UAB, 31-6.  Also Navy's fourth win.
Air Force lost to Hawaii 13-27.  Not sure what has happened to the Falcons.
Top 25 – Week Eleven
I noted a few big ones above.
Other big scores and games:
Michigan dispatched PSU 24-15.  Good work.
Miami (Florida) nearly upset Florida State.  But Seminoles got the 27-20 wing.  Good game.
Washington beat Utah 35-28 to stay perfect.
Lincoln Riley's defense is now 126th in total D and 123rd in scoring defense.  And his team is 7-4/4-3 after losing 36-27 to the Ducks.
Alabama 49-21 over Kentucky.
North Carolina needed two overtimes to beat Duke 47-45.  After Duke scored 22 points in the fourth quarter to tie.
Other Games of Interest – Week Eleven
Southern Methodist 45-21 over North Texas.  Mustangs cover.
Maryland 13, Nebraska 10.  Dadgummit.
Clemson 42-21 over Georgia Tech.  Tigers are bowl eligible.
Memphis 44-38 over Charlotte in overtime.
Sam Houston got their first conference win, 42-27 over LA Tech
Auburn 48-10 over Arkansas.  Pigs were favored by 2. War Eagle!
Texas Agricultural & Mechanical 51, Mississippi State 10.  Aggie boosters, minus $76 million.
UTSA stays perfect in the American with a 34-14 win over Rice.  Roadrunners cover.  Jeff Traylor may not be coaching in the 210 much longer.
Arizona State 17, UCLA 7. Wow.
Requiescat in pace Dr. Jim Vick
As Jim Nicar accurately stated, The University of Texas community lost a giant with the passing of Dr. Jim Vick.  I suspect many if not most of you know who Dr. Vick was and the immense influence his intellect and character had on our University, our athletics in particular.  For those who didn't know or know of Dr. Vick, I encourage you to read his obituary.
https://x.com/JimNicar/status/1724941632150126866?s=20
Music
I was flipping through radio stations the other day, and Bob Marley was on.  I don't think I ever heard reggae music before I got to college.  Didn't get a lot of air time on the radio stations in Tyler, Texas.  But I became a big fan, especially of Marley and the Wailers, when I got to Lexington (not that it was some sort of reggae hot spot, just had plenty of friends who listed to it).  I really began to appreciate reggae music when I saw "The Harder They Come" at a reggae film festival we checked out one weekend. It is not a very well-known film, but an iconic one.  It tells the story of young Ivanhoe Martin, played by Jimmy Cliff, who goes to Kingston from rural Jamaica.  Ivan records "The Harder They Come", but only gets paid $20 for it.  Ends up dealing drugs, etc.  Crime and exploitation.  The 1972 film has an interesting tie to Austin and UT, because the Jimmy Cliff character was portrayed on the iconic mural on the south wall of what was the Varsity Theater, at 24th and Guadalupe. Probably every UT student for a couple of decades walked by Jimmy, guns drawn, a few hundred times a year.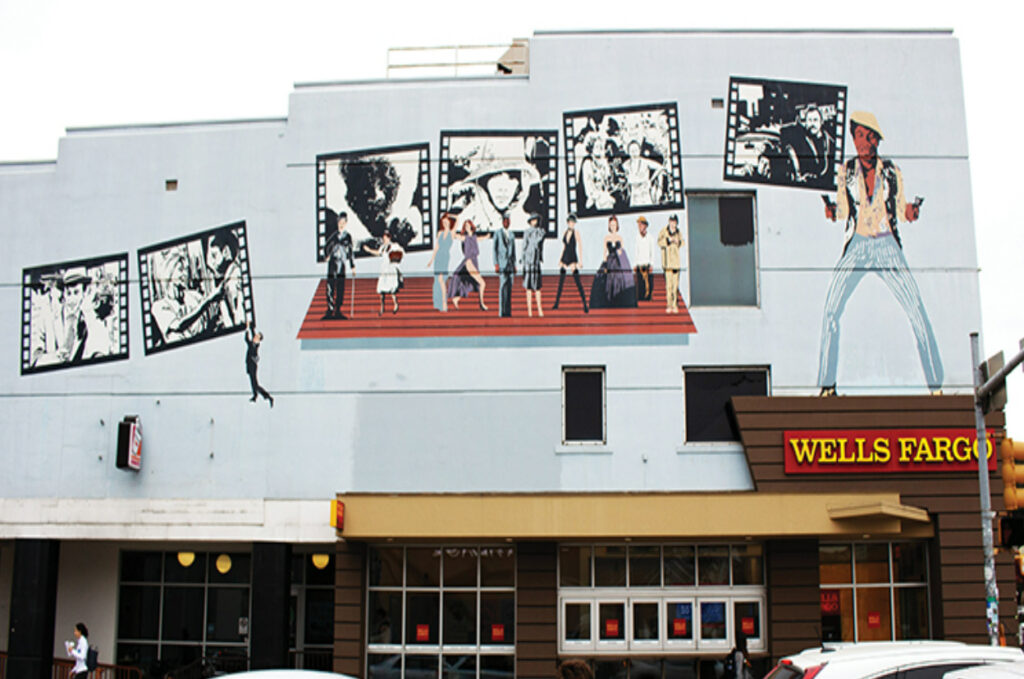 The song:
You can actually watch the whole movie on YouTube.
https://youtu.be/j9U1zc8ys-Q?si=CiLXfeSrV1mIm6Ek
Back to Bob Marley and the Wailers.  At one time, it was said that Bob Marley was the most recognized man on the planet. Not sure if that is true, but his music crossed cultures and oceans and languages.
Buffalo Soldier
No Woman, No Cry, live
Stir It Up, Live at The Old Grey Whistle, 1973:
Jammin'
A couple of Jimmy Cliff favorites, that aren't really reggae but among my favorites.
I Can See Clearly Now:
Wild World
Jim Nicar
1895: Looking east at the corner of Austin's Congress Avenue and 6th Street. In the left background is the Driskill Hotel, a favorite location for many early UT Austin student banquets and all-University dances. The Austin Texas Exes chapter was also founded there.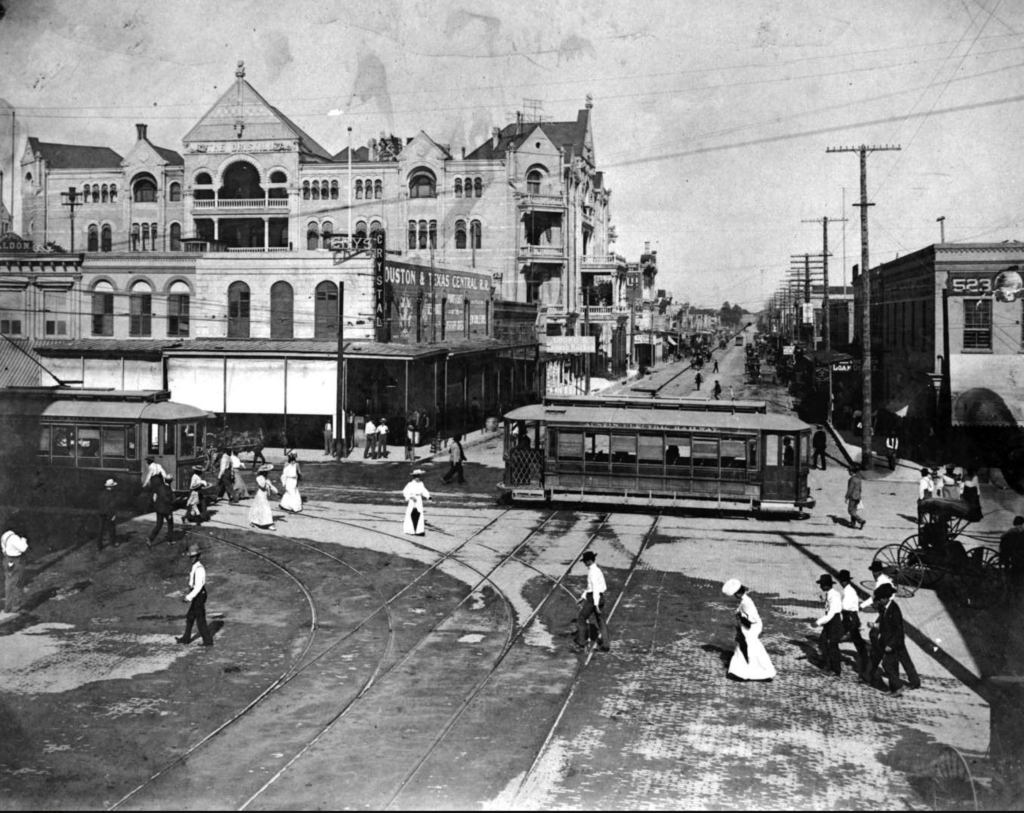 Follow Jim on X
https://x.com/JimNicar/status/1724114408823996708?s=20
Picture of the Week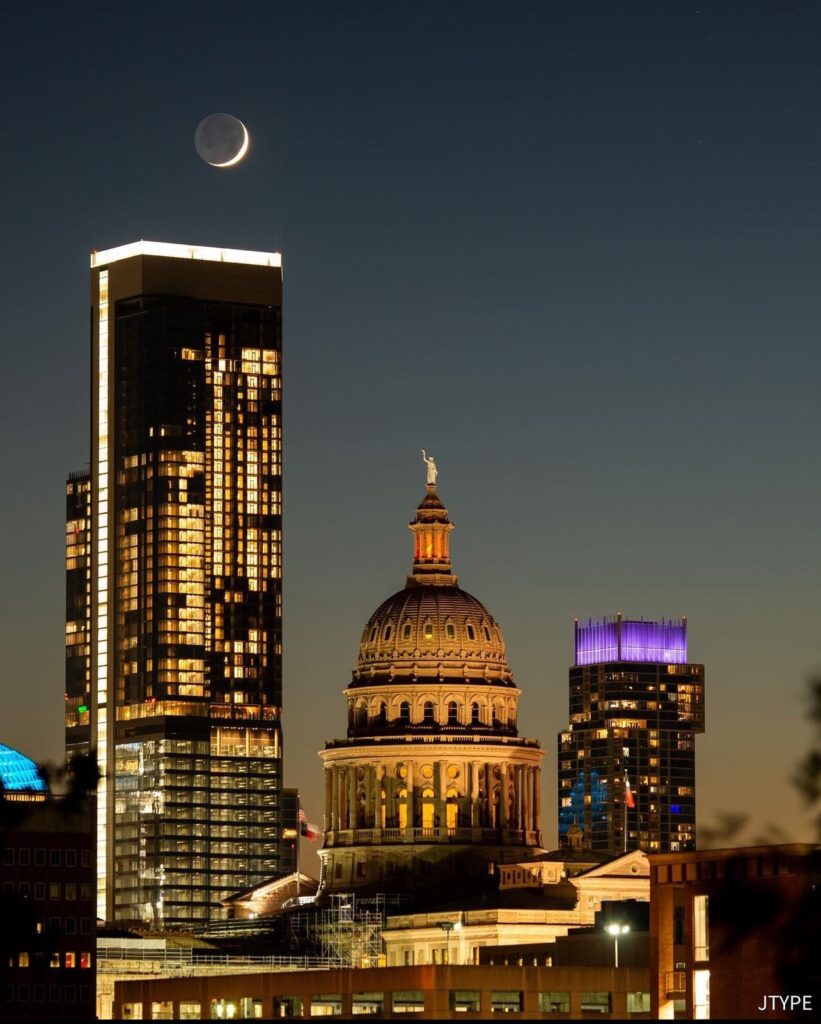 From JType's Instagram account:
https://www.instagram.com/p/CzuqlbbO631/
God Bless Texas
God Bless America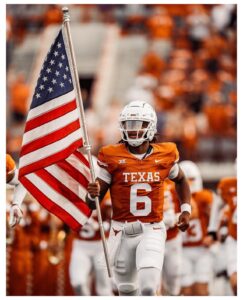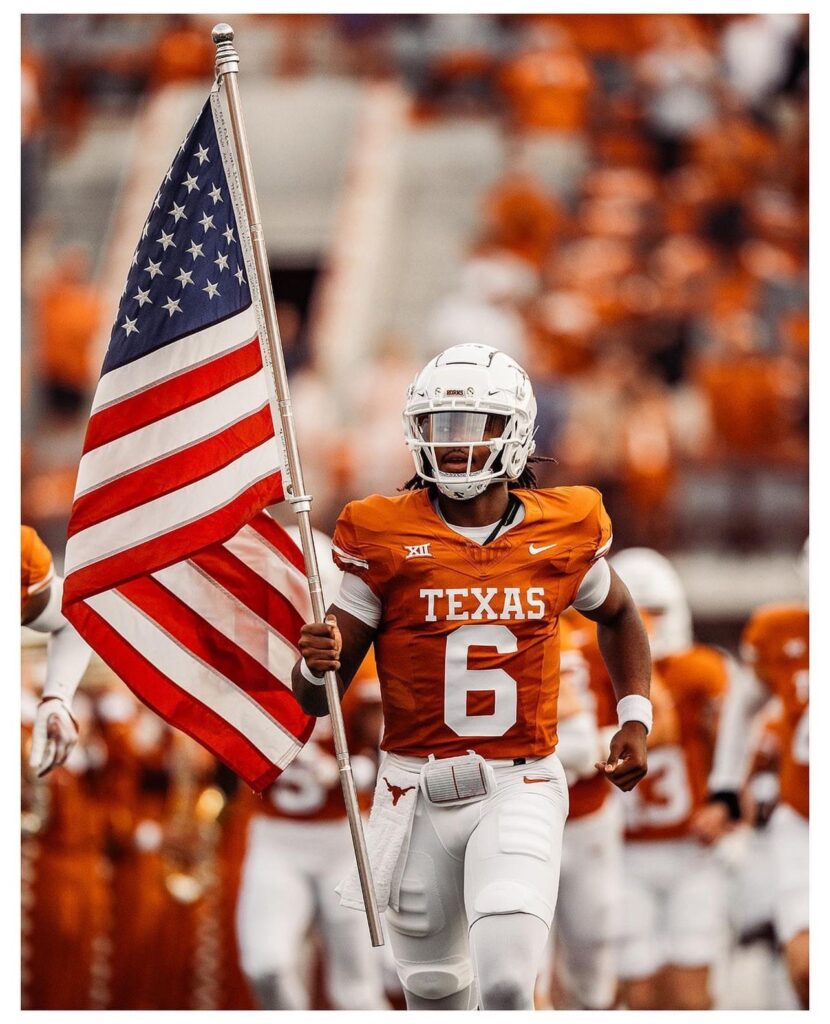 Tim Taylor
Member, Football Writers Association of America
Tailgating before Home Football Games
The Juan Heisman Tailgate
Lot 38, East of Sid Richardson Hall.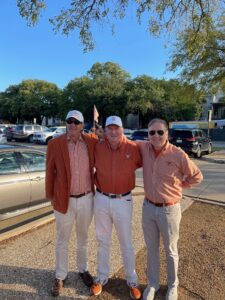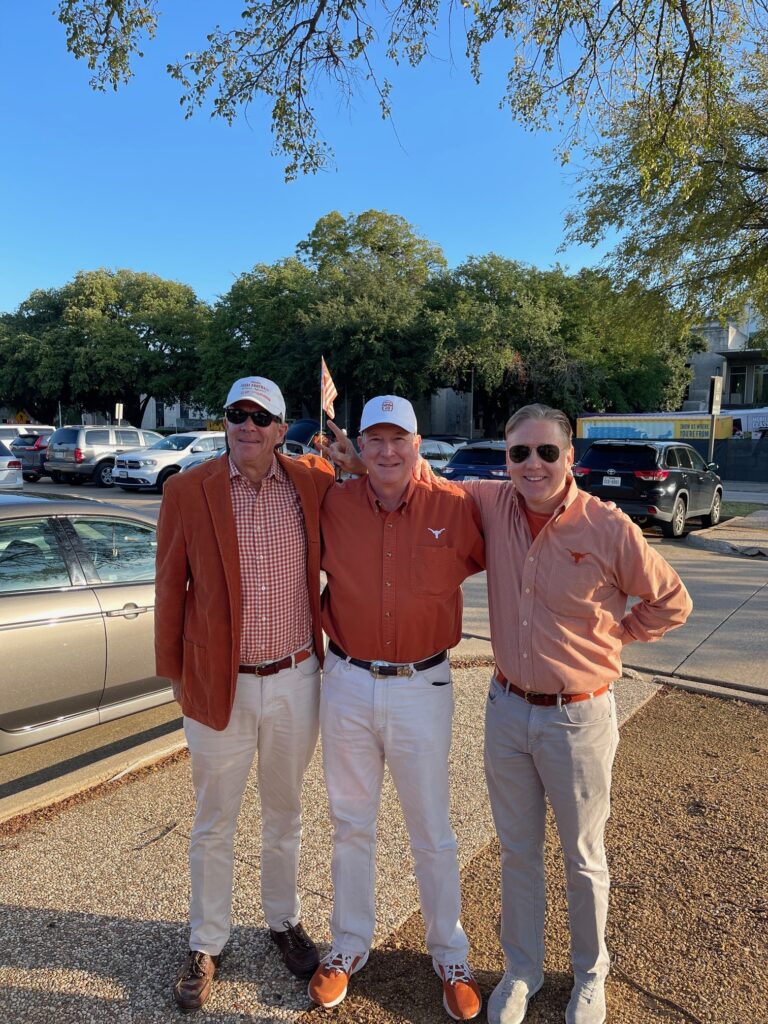 HOOK EM HORNS!!
The Austin Horns Fan Dispatch
© Timothy C. Taylor, Sr. 2023.  All Rights Reserved (as to original material).
On Twitter:  @tctayloratx
On LinkedIn:  www.linkedin.com/in/tctatx
On Instagram:  @tctayloratx
On Facebook:  www.Facebook.com/Tim.C.Taylor
and:  www.Facebook.com/Juan.Heisman