No. 7 Texas Longhorns vs. Texas Christian Horned Frogs
Quinn Ewers is back.  Thank you Maalik.
The Texas Longhorns are on the road to Amon G. Carter Stadium for a 6:30 p.m. match with Texas Christian University Saturday night.  This will be the second time in the last 30 years we will have played a "last conference game" with the Frogs.  The last time was in 1995, when No. 10 Texas won 27-19.  Texas rushed for 208 yards in that game, led by Shon Mitchell with 109 and 2 touchdowns.  The other guy in the backfield was okay; Ricky Williams ran for 68 yards on 12 carries.
Like last year, the Texas Christian game is Veterans Day weekend after a Texas win over Kansas State and is a 6:30 ABC broadcast.  Not like last year, Texas is going to win the football game with the Frogs.  Last year, the Horned Frogs came to Austin No. 4 in the CFP rankings.  This year, Texas goes to Fort Worth No. 7 in the CFP rankings.
Sark also announced that Christian Jones and Jalen Catalon are back.  So big.
The game will be broadcast by the American Broadcasting Company.  Our familiar friends Dave Pasch, Dusty Dvoracek, and Tom Luginbill.  A world better than Brando and Tillman.  On the radio with the Voice of the Longhorns, Craig Way, Roger Wallace with analysis and commentary, and National Champion Hall of Honor Lifetime Longhorn Quan Cosby reporting from the sidelines.  Listen to Craig, Roger, and Quan on KTBB 600 AM & 92.1 FM in Tyler, KRLD 1080 AM in Dallas, and on the Flagship in Austin – KVET 1300 AM & 103.1 and K2476EL 103.1.  I need to get up to speed on these HD radio channels.  This week, on Channel 84 on SiriusXM and on the SXM App.  And you can always listen on the Longhorn app.
The Spanish Broadcast on the Longhorn Radio Network with Dr. Rubén Pizarro-Silva and Arturo Mata.  KTXX-HD2 or KZNX 1530 AM out of Creedmoor for the Spanish. Escuche en línea:  https://texassports.com/sports/2014/11/19/GEN_1119144623.aspx
The Longhorns are favored by 12, and the over/under is 54.5.  I bet the line moves some more.
Texas Longhorns 33, Kansas State Wildcats 30
The Texas Longhorns are 8-1, are alone at the top of the Big 12, ranked No. 7 in the second College Football Playoff rankings of 2023, ranked No. 6 in Bill Connelly's SP+ system, and in the top 10 in every ranking and rating system I have included.  Kirk Herbstreit ranked Texas No. 5 in his Top Performing Teams of Week 10 (behind Washington, Alabama, Okie State, and Clemson).
Our defense held the No. 23 Wildcats to 33 yards rushing.  Going into the game, Kansas State was No. 5 in the nation, averaging 226.0 rushing yards per game.
K State had not allowed a touchdown in 9 straight quarters.  Less than halfway through the first quarter, Texas was in the endzone.
When I started fiddling around with this edition of the Austin Horns Fan Dispatch on Sunday, my lead was pretty different.  Lead lost.  Red zone troubles.  Turnovers and penalties.  All the stuff all of us spoiled fans were carping about.   About 80 hours later, I was reminding myself about gratitude.  About the good stuff.  Texas won.  Texas has won 2 games in a row with its back-up quarterback in his first two collegiate starts.  We have some serious injury issues.  But we won.  We have one of the best running backs in college football this year, two of the best receivers (Adonai is in – watch his hands when he catches a ball).  We have two of the best interior defensive lineman in college football in Sweat and Murphy.  Our defense is the best it has been in a long, long time.  We are ranked No. 2 in the nation in both third down defense and redzone defense.  No. 9 rushing defense in the country.
Jaylan Ford is a semifinalist for the Butkus Award for the nation's best linebacker.  This made my day.
https://twitter.com/ThomasJonesAAS/status/1721635894459847124
We are blessed.
Big thanks to two big men.  T'Vondre Sweat and Byron Murphy.
https://x.com/CJVogel_TFB/status/1721538086553710785?s=20
Texas is 8-1. We just beat a ranked team, our conference's defending champs.  The most important takeaway from the game is not the negatives, but the potential enormity of the win.  Rece Davis explains it well:
https://x.com/ReceDavis/status/1721709848285360317?s=20
The Monday Morning Highlights from @TexasFootball.
https://x.com/TexasFootball/status/1721529367128400023?s=20
En Español:
https://x.com/TexasFootball/status/1722298189229769032?s=20
K-State The Mini-Movie
I mentioned last week that I thought Adonai Mitchell might play a big role in the K State game.  8 catches for 149 yards and a score.  Adonai's 1st quarter touchdown catch was beautiful.
I love college football.  But sometimes it is really stressful.
College Football Week Ten
Scores and a few other notes below, but what a weekend.  Some real rood games.  Oklahoma State won the final Bedlam game, 27-24 over the Land Thieves to pretty much end all hopes for anything great for Oklahoma in the postseason.  Bummer.  (But I have empathy.)
Missouri didn't get run out of the stadium by the Dawgs in Athens.  Southern Cal fired their defensive coordinator Alex Grinch after the Trojans lost to Washington 52-42.  The Huskies have not been a great rushing team, but Dillon Johnson ran for 256 and 4 touchdowns, averaging 9.8 ypc.  He now has 686 on the season.  Do the math.  Clemson beat Notre Dame 31-23, a tough hard loss for the Irish and all the Dean men in the family.
The biggest upset was Army 23-3 over previously undefeated Air Force.  Unbelievable.  Falcons were favored by 17.5. The Black Knights forced 6 turnovers (4 fumbles) and held Air Force to 104 yards passing.  Army's Bryson Daily only threw for 40 yards (4/9), but he rushed 36 times for 170 yards and 2 touchdowns, including a 62 yarder.  Shades of Taysom Hill…
Michigan
I have been holding off on commenting on the Michigan sign-stealing scandal.  But it seems that the Big 10 Conference, is closing in on doing something.
Stealing signs is wrong.  But calling it "stealing" is, in some ways, a bad choice of words.  Coaches and players in all sports scout opponents and try to learn as much as they can.  I am unequivocally against cheating.  One of the greatest attributes of Washington & Lee University was its Honor System.  If you cheated, you got kicked out of school. Gone.
But I say make sure you punish the cheaters, not the players.  Fine the school, suspend Harbaugh, fine him, ban the most egregious participants in the scheme.  But let the kids and this great team play football.
This is pretty crazy:
https://sports.yahoo.com/sources-tcu-knew-of-michigans-sign-stealing-scheme-prior-to-cfp-game-used-dummy-signals-to-dupe-wolverines-224848698.html?
2023 Texas Christian Horned Frogs
Sonny Dyke's frogs are 4-5 in his 2nd year in Fort Worth.  At 2-4 in conference play, Texas Christian is tied for 9th with Houston and Baylor.  Their starting quarterback, Chandler Morris, went down at Iowa State.  Redshirt freshman Josh Hoover replaced him and has done well. The Frog defense is not so good.  The team that played for a national championship last year is going to be lucky to get 6 wins and make a bowl game this year.  Part of that is the loss of 8 key players to the National Football League and graduation (QB, 2 best RBs, 3 best WR, among others).  Part of that is a lot of injuries.  Part of that is OC Garret Riley going to Clemson, and this year's offensive coordinator is Kendal Briles, son of the offensive in every single way Art Briles.
Texas Christian's 2023 Season:
The defending national runner-up and No. 17 Frogs opened with 42-45 loss at home to Colorado in Deion Sanders' debut with the Buffaloes.  A shocking upset at the time, but a loss which, for a few weeks, looked like a loss to a surprisingly good Colorado team.  But then the Buffs got good.  A 36-14 win over Nebraska (now 5-4), and then the double overtime 43-35 thriller over Colorado State (now 3-6).  Colorado hit Pac 12 play and a wall.  Just one more win, 27-24 over Arizona State, the last place team.  Losses to Oregon (42-6), Southern Cal (48-41), Stanford (46-43), UCLA (28-16), and Oregon State (26-19).  The Buffaloes are currently tied for last in the Pac 12, with Arizona State, Washington State, and Cal Berkeley.
Texas Christian whipped the Nicholls State Colonels 41-6.  The Colonels are now 4-4 (and in 1st place in the Southland Conference). Other losses to Sacramento State, Tulane, and Southeast Missouri; wins over McNeese, Houston Christian, Northwestern State, Texas A&M-Commerce, and Incarnate Word.
The Frogs beat Houston 36-13.  The Cougars are now 4-5, with conference wins over West Virginia (41-39) and Baylor (25-24), and losses to Tech, K State, and of course Texas.  Chandler Morris was 24-37, 314 yards, 2 TDs and 1 pick; ran for 53 yards.  Emani Bailey gained 126 yards on 23 carries and a score.  Four Frogs had over forty yards receiving, led by JP Richardson with 6 for 60.
Texas Christian won the Frying Pan with a 34-17 over Southern Methodist.  A very good win for the Frogs; Ponies are 7-2 and in 1st place in the American.  Only other loss was week 2 at Oklahoma, 28-11.  Wins over La Tech, Charlotte, ECU, Temple, Tulsa, and Rice.  Chandler Morris was 24-33 for 265 yards and 3 touchdowns and ran for 38 yards.  Emani Bailey carried 25 times for 126 yards and a score.
West Virginia beat the Frogs 24-21 in Fort Worth.  The Mountaineers are 6-3.  A bad loss to Houston (41-39), and losses to Penn State and Oklahoma State.  Wins over Duquesne, Pitt, Texas Tech, Central Florida, and Brigham Young.  West Virginia rushed for 201.  Chandler Morris was 23/41 for 298 yards and 2 TDs, and he ran for 51 yards and a score.  Emani Bailey was held to 55 yards rushing.  Cyclones rushed for 215 and 2 touchdowns.
TCU lost at Iowa State, 27-14.  Morris got hurt in the third quarter, but was having a rough game, with 2 interceptions and 1 score.  Hoover came in and was 11-19-1-1 for 119 yards and got sacked. Bailey rushed for 152 yards on 21 carries.
The Frogs thumped Brigham Young pretty good, 44-11.  Josh Hoover was 37-58 for 439 yards and 4 scores, with 2 interceptions.  Bailey only gained 61 yards on 13 carries.
Kansas State beat the Frogs 41-3.  Josh Hoover was 23-43 for 187 with a pick, and he got sacked twice. Emani Bailey gained 100 yards on 12 carries.
Last weekend in Lubbock, the South Plains Aggies kept Bailey in check and picked off Hoover twice, getting the 35-28 win.  Hoover did throw for 353 yards (32/52) and a score.  Bailey also had two touchdowns but only got 57 yards on 19 carries, 3 ypc.  Texas Tech is 4-5 and 8th in the Big 12.
2023 Texas Christian Horned Frogs:
I am assuming Josh Hoover will be starting at QB for the toads.  Hoover (No. 10, 6-1, 196, RS Freshman from Rockwall) is completing 60% of his passes (105/175), is averaging 6.6 yards per attempt, has 7 touchdowns and 7 picks.  He is tied for 16th in the Big 12 with those 7 interceptions.  QB rating of 120.3, 10th in the conference (Ewers is 2nd at 163.73).  He has rushed 11 times for 7 yards.  Keep that in mind.
Emani Baylor (No. 9, 5-9, 207, Junior from Denton Ryan) leads the Horned Frogs somewhat mediocre rushing game.  Bailey has 908 yards on 165 attempts, 4 touchdowns.  He has caught 19 passes for 141 yards.  He's had a couple of big games (152 against Iowa State), and some stinkers as noted above (55 against WVU, 61 BYU, and 57 Tech).  Bailey is 4th in the Big 12 at 100.9 ypg, which is very respectable.
JP Richardson (No. 7, 6 foot, 190 pound Junior WR from Missouri City) is the top TCU receiver.  33 catches for 437 yards, 2 TDs, and a long of 59.  Savion Williams (No. 3, 6-5, 225, Junior WR from Marshall) has 25 catches for 310 yards and 3 scores.  Jaylon Robinson (No. 13, 5-9, 180 Senior WR from All Saints Episcopal in Fort Worth) has 24 receptions, 264 yards, 1 score.  Warren Thompson (No. 84, 6-3, 205, Senior WR from Seffner, Florida) has 19 catches for 246 yards and 2 scores; he is injured and unlikely to play.
Former Longhorn Jared Wiley (No. 19, 6-7, 260, Senior tight end from Temple) is having a nice season with 26 catches for 238 yards and 4 scores.
Their offensive line is pretty good, and it includes:  Andrew Coker (No. 74, 6-7, 315, 5th-year senior) at right tackle, John Lanz (No. 53, 6-4, 315, 5th-year senior, from Argyle), and Brandon Coleman (No. 77, 6-6, 320, senior) at left tackle,
A couple of good linebackers lead the Horned Frog defense.  Namdi Oblazor (No. 4, 6-3, 225,, Junior from Eden Prairie, Minnesota) has 72 tackles (41 solo), 5 TFL (42 yards) and 4 sacks (40 yards), and 6 QBH.  Jamol Hodge (No. 6, 6-2, 235, Senior from Reynolds HS in Winston-Salem; smoke 'em if you got 'em) has 51 tackles (22 solo), 5 TFL (24 yards) and 2.5 sacks (19 yards) and 8 QBH.  That is a lot of pressure on the quarterback from those two guys.  The rest of the frog defense has 10 quarterback hurries combined.
Mark Perry (No. 3, 6 foot, 215 pound Senior Safety from Rancho Cucamonga) has 40 tackles (31 solo).  Millard Bradford (No. 28, 5-11, 190 Senior safety from O'Connor in Helotes) 35 tackles (28 solo).
Damonic Williams (No. 52, 6-2, 320 sophomore DL) has 29 tackles (13 solo).
Josh Newton (No. 2, 6 foot, 190, 6th year Senior cornerback) is really good and projected to go high in the 2024 draft.
The Statistics
Offense
| | | |
| --- | --- | --- |
| Statistic | Texas | Texas Christian |
| Rushing Offense | #32, #6 – 185.6 ypg | #54, #10 – 165.6 ypg |
| Passing Offense | #35, #4 – 271.2 ypg | #16, #2 – 296.6 ypg |
| Total Offense | #18, #4 – 456.8 ypg | #16, #3 – 462.2 ypg |
| Scoring Offense | #25, #4 – 34.3 ppg | #58, #9 – 29.2 ppg |
| First Downs | #48, #9 – 21.7/game | #5, #2 – 25.6/game |
| Sacks Allowed | #65, #10 – 18, 113 yards | #37, #6 – 14, 71 yards |
| Tackles for Loss Allowed | #57, #9 – 48, 190 yards | #12, #1 – 37, 141 yards |
| Third Down Conversions | #87, #12 – 37.19% | #25, #5 – 45.65% |
| Fourth Down Conversions | #34, #5 – 62.5% (15/24) | #49, #6 – 56% (14/125) |
| Red Zone Attempts | #34, #6 – 37 | #41, #7 – 36 |
| Red Zone Offense* | #101, #10 – 78% / 46% | #127, #14 – 69% / 53% |
| Long Run Plays | #64, #8 – 44/10, 17/20, 10/30, 5/40 | #44, #6 – 49/10, 12/20, 6/30, 1/40 |
| Long Pass Plays | #22, #3 – 100/10, 34/120, 18/30, 8/40 | #3, #1 – 116/10, 34/20, 10/30, 2/40 |
The Texas redzone touchdown percentage is #125 in the nation. Come on Sark.
Defense
| | | |
| --- | --- | --- |
| Statistic | Texas | Texas Christian |
| Rushing Defense | #9, #1  – 90.7 ypg | #73, #8 – 148.4 ypg |
| Passing Defense | #96, #11 – 240.9 ypg | #82, #9 – 236.4 ypg |
| Total Defense | #29, #2 – 331.6 ypg | #80, #8 – 384.9 ypg |
| Scoring Defense | #17, #1 – 17.6 ppg | #57, #5 – 24.3 ppg |
| First Downs Allowed | #31, #1 – 17.6/game | #75, #8 – 20.1/game |
| Sacks | #35, #2 – 23, 155 yards | #45, #2 – 22, 152 yards |
| Tackles for Loss | #21, #2 – 62, 231 yards | #67, #8 – 52, 212 yards |
| Third Down Conversions | #2, #1 – 26.45% | #71, #7 – 38.85% |
| Fourth Down Conversions | #56, #6 – 45% (9/20) | #21, #2 – 36.4% (8/22) |
| Red Zone Attempts | #27, #3 – 26 | #56, #7 – 30 |
| Red Zone Defense | #2, #1 – 65% / 31% | #69, #10 – 83% / 53% |
| Long Run Plays Allowed | #5, #1 – 25/10, 6/20, 2/30, 2/40 | #84, #9 – 45/10, 11/20, 3/30, 1/40 |
| Long Pass Plays Allowed | #78, #7 – 80/10, 28/20, 14/30, 6/40 | #58, #4 – 75/10, 31/20, 18/30, 11/40 |
Other
| | | |
| --- | --- | --- |
| Statistic | Texas | Texas Christian |
| Turnovers | #59, #10  – 12 (6F, 6I) | #97, #12 – 15 (2F, 13I) |
| Turnover Margin | #39, #6 – 15:12  +3 | #116, #12 – 9:15  -6 |
| Penalties | #60, #10 – 52, 411 yards | #84, #13 – 57, 475 yards |
*Based on total number of penalties.
Match-up Comparison
| | |
| --- | --- |
| Texas Offense | Texas Christian Defense |
| Rushing Offense – 185.6 ypg | 148.4 ypg – Rushing Defense |
| Passing Offense – 271.2 ypg | 236.4 ypg – Passing Defense |
| Total Offense – 456.8 ypg | 384.9 ypg – Total Defense |
| Scoring Offense – 34.3 ppg | 24.3 ppg – Scoring Defense |
| First Downs – 21.7/game | 20.1/game – First Downs Allowed |
| 3rd Down Offense – 37.19% | 38.85% – 3rd Down Defense |
| 4th Down Offense – 62.5% | 36.4% – 4th Down Defense |
| Red Zone Offense – 78%/46% | 83%/53% – Red Zone Defense |
| LRP – 44/10, 17/20, 10/30, 5/40 | 45/10, 11/20, 3/30, 1/40 – LRP Allowed |
| LPP – 100/10, 34/120, 18/30, 8/80 | 75/10, 31/20, 18/30, 11/40 – LPP Allowed |
| | |
| --- | --- |
| Texas Defense | Texas Christian Offense |
| Rushing Defense – 90.7 ypg | 165.6 ypg – Rushing Offense |
| Passing Defense – 240.9 ypg | 296.6 ypg – Passing Offense |
| Total Defense – 331.6 ypg | 462.2 ypg – Total Offense |
| Scoring Defense – 17.6 ppg | 29.2 ppg – Scoring Offense |
| First Downs Allowed – 17.6/game | 25.6/game – First Downs |
| 3rd Down Defense – 26.45% | 45.65% – 3rd Down Offense |
| 4th Down Defense – 45% | 56% – 4th Down Offense |
| Red Zone Defense – 65%/31% | 69%/53% – Red Zone Offense |
| LRP Allowed – 25/10, 6/20, 2/30, 2/40 | 49/10, 12/20, 6/30, 1/40 – LRP |
| LPP Allowed – 80/10, 28/20, 14/30, 6/40 | 116/10, 34/20, 10/30, 2/40 – LPP |
Other Stats
Available Yards Percentage.  Net available yards percentage (NAY) is the difference between offensive available yards percentage (OAY) and opponent offensive available yards percentage (DAY) on non-garbage, regulation possessions in FBS vs. FBS games. Available yards percentage is calculated by dividing drive yards (measured from starting field position to ending field position) by available yards (measured from starting field position to end zone).
| | | | |
| --- | --- | --- | --- |
|   | NAY | OAY | DAY |
| Texas | No. 4:  0.244 | No. 10:  0.592 | No. 11:  0.348 |
| Texas Christian | No. 46:  0.053 | No. 21:  0.558 | No. +0:  0.505 |
Texas moved up a notch to No. 4 in NAY, down 2 in OAY, and up 3 in DAY.
BCF Toys – 2023 Available Yards Percentage
Net points per drive (NPD).  NPD is the difference between points scored per offensive drive (OPD) and points allowed per opponent offensive drive (DPD).
| | | | |
| --- | --- | --- | --- |
|   | NPD | OPD | DPD |
| Texas | No. 10: 1.45 | No. 16:  2.91 | No. 16:  1.47 |
| Texas Christian | No. 63: 0.04 | No. 49:  2.38 | No. 79: 2.34 |
BCF Toys – 2023 Points Per Drive
Net Yards Per Play (NPP).  Net yards per play (NPP) are the difference between drive yards per offensive play (OPP) and drive yards allowed per opponent offensive play (DPP) on non-garbage, regulation possessions in FBS vs. FBS games. Drive yards are calculated as the difference between starting field position and ending field position on offensive drives.
| | | | |
| --- | --- | --- | --- |
|   | NPP | OPP | DPP |
| Texas | No. 12:  1.57 | No. 20:  6.57 | No. 22:  4.99 |
| Texas Christian | No. 63:  -0.08 | No. 53:  5.91 | No. 86: 5.99 |
BCF Toys – 2023 Yards Per Play
BCF's Game Projection.  "Game Projections are calculated from current FEI ratings and include the projected win likelihood (PW), projected margin of victory (PM), projected points scored (PF) and allowed (PA), and projected total points scored (PT) for each FBS game."
| | | | | | | |
| --- | --- | --- | --- | --- | --- | --- |
| Projected Winner | Projected Loser | PW | PM | PF | PA | PT |
| Texas | Texas Christian | .820 | 13.5 | 31.8 | 18.3 | 50.0 |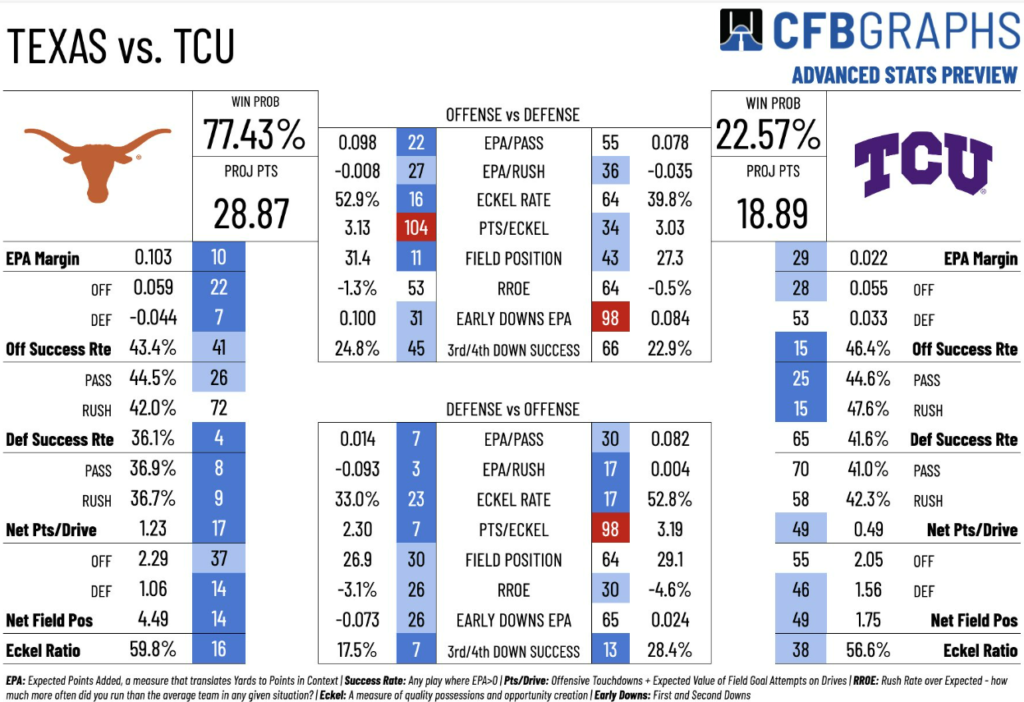 Texas Stats
Updates:
Jaylan Ford
Leads the team with 65 tackles (28 solo). 11th in the Big 12
10 tackles for loss for 29 yards (leads team). 5th in Big 12
2 interceptions, 4 QBH, 1 fumble recovery, one forced fumble.
Jahdea Barron
Second on team with 42 tackles (21 solo). 33rd in Big 12
5 tackles for loss for 15 yards.
1 interception, 3 BU, and a fumble recovery.
Anthony Hill, Jr.
Third on team with 35 tackles (22 solo). 33rd in Big 12
5 tackles for loss for 17 yards and 3 sacks for 14 yards.
3 QBH and 2 BU.
Other notes:
Ethan Burke leads the team with 5 sacks (for 30 yards).
Barryn Sorrell leads Texas with 8 QBH. Also has 4 sacks for 32 yards.
T'Vondre Sweat is second on the team with 6.5 TFL for 11 yards
Jonathon Brooks
115 yards per game, second in Big 12 behind Ollie Gordon II
1,054 yards, second in Big 12 behind Ollie Gordon II
8 touchdowns, tied for third in Big 12 with 3 other guys.
23 yards per attempt, 6th in Big 12
1,247 all-purpose yards, second in Big 12
6 all-purpose yards per game, second in Big 12 (same in yards from scrimmage)
Xavier Worthy
1 yards per game, tied for 4th in Big 12
620 yards, 4th in Big 12
4 touchdowns, tied for 9th in Big 12 with a bunch
5 all-purpose yards per game, 8th in Big 12
6 yards per play, 5th in Big 12
801 all-purpose yards
Adonai Mitchell
64 yards per game, 7th in Big 12
576 yards, 7th in Big 12
9 touchdowns, tied for 1st in Big 12 Nic Anderson
5 all-purpose yards per game, 8th in Big 12
TCT Thoughts
What I am most worried about is that despite facing a freshman back-up quarterback, we are so vulnerable in pass defense.  The Frogs are second best in the Big 12 behind the Land Thieves.  The defensive backs are going to have to step it up.  I expect the front 7 to have another stellar game.  I don't think Emani Bailey will get many yards on this Texas defense.  Not worried about Hoover running on us, but if Morris is somehow back and healthy, that might be more of an issue.  We need to keep an eye on Wiley, especially in the redzone.  TCU has, overall, a good offense statistically.  Higher ranked in passing and scoring that Texas.
Offensively, having Quinn Ewers back is incredibly great news.  No knock on Maalik.  As I have said, he has performed admirably in his first two collegiate starts, all things considered.  Some really bad interceptions, but more really great passes. He clearly has a connection with Adonai Mitchell. But Quinn Ewers is the better quarterback.  I just pray he is healthy and healthy enough not to be easily re-injured.  If he is close to 100%, expect a big day.  Worthy and Mitchell will get yards and scores.  We need more Whittington and Sanders.  The TCU pass defense is barely better than the Horns.  The No. 73 TCU rush defense might be in for a long night.  Brooks, Baxter, and Blue will all get yards on Saturday.  I kind of think another 150, 100, 50 sot of day. Close to 300 anyway.  Their third down defense is bad (and we could use some help there), and their redzone defense is bottom half (and we really need some help there).  Hoping that a healthy and good Quinn and the great Texas receivers and Brooks and Baxter and Blue put up big yards and scores.  I think they can.  Easily 500+ yards off offense.
What Texas cannot do is have another game filled with mistakes.  We were lucky to survive 10 penalties last week.  And time after time, a false start or other miscue put Texas in second and long that we didn't shorten enough and then we couldn't convert the third and long.  Hurt us bad.  Let's hope the offensive line is in better shape, mentally and physically.
All the "guys back from injury" news is huge.  Ewers, Jones, Catalon, Crawford.  This is the team that beat Bama.  They are not going to lose to the cockroaches.
TCT Score Prediction:  Texas 38, Texas Christian 17
Official Preview from The University:
https://texassports.com/news/2023/11/6/no-7-7-football-preview-at-tcu.aspx
Game Notes:
https://texassports.com/documents/2023/11/6/TexasFB23GameNotes_10TCU.pdf
Preview from Burnt Orange Nation
https://www.burntorangenation.com/2023/11/8/23952298/texas-longhorns-tcu-horned-frogs-preview-josh-hoover
More from Inside Texas "On Texas Football"  update with the Quinn Ewers news.
Texas Homer's Preview.  20 minutes:
Big 12 Officiating Stats
From @HornsSports on X
Week 10 update: 



Holding calls on opponent: 


   
Rice - 0
Bama - 1   *SEC crew
Wyoming - 0
Baylor - 1 (declined)
Kansas - 1
Oklahoma - 0
Houston - 1 (declined)
BYU - 0
KSU - 1 (Texas was called for a late hit on the play)



Pass interference calls on opponent

:    

Rice - 0
Bama - 2    *SEC crew
Wyoming - 0
Baylor - 1
Kansas - 0
Oklahoma - 0
Houston - 0
BYU - 0
KSU - 0

https://x.com/HornSports/status/1721185610184987006?s=20
This:
https://x.com/CJVogel_TFB/status/1721593441459503438?s=20
Going on Fourth Down:  Let's Watch it Again!
Nick Saban: "A lot of people are going for it on fourth down now and they talk about analytics saying you got this percentage chance to make it.  What the analytics don't tell you is what happens when you don't make it and those consequences are pretty significant."
https://x.com/PatMcAfeeShow/status/1720133208803528785?s=20
Texas Christian Horned Frogs and The University of Texas Longhorns
Frog fans are fast to point out that since Chris Del Conte convinced DeLoss Dodds to let Texas Christian join the Big 12, the Frogs are 8-3 against the Horns.  Six of those wins were when CDC was still in Fort Worth.  All of them came under Gary Patterson except last year's win in Austin under Sonny Dykes.  The overall record stands 64-28-1.  From the day I was born until I turned 50, Texas won 33 games and the Frogs won 4.  That includes 24 in a row from 1968 (47-21 Texas) to 1991 (32-0 Texas).
Almost all of Texas Christian's wins have come in two clusters (more than 2 consecutive wins over Texas).  One is the stretch described above.  But the first was from 1932-42, when the Frogs won 8 of 11.  The 1932 loss on November 11, 14-0, cost Clyde Littlefield's Longhorns an undefeated conference season and a Southwest Conference title.  In 1935 and 1936, the Frogs won; but so did just about everyone else Texas played in Jack Chevigny's last 2 seasons, both of which saw 1-5 SWC records (although Texas did beat the Land Thieves both seasons.
Of course, the 1930's were a golden age for Texas Christian football, with legendary coach Dutch Meyer (1934-1952, 109-79-13 record) and from 1934-36, with Sweetwater's favorite son, Sammy Baugh (born in Temple, but went to Sweetwater HS a few years ahead of Brad Hawley) quarterbacking the Frogs.  [Of note, Meyer also coached the Frogs baseball team from 1926-1934 and a few other years, and the TCU basketball team 1934-37.]
Under Meyer, Texas Christian would claim two National Championships, 1935 (12-1) and 1938 (11-0), and three SWC titles (1938, 1944, and 1951).  National Champion but not Southwest Conference Champion?  Yes, there were as many as a dozen organizations and publications crowning champions.
TCU's 1935 title came from AFCA Blue Ribbon Commission (BRC, The Coaches' Trophy) and the Williamson System (WS, https://www.newspapers.com/article/fort-worth-star-telegram-1935-williamson/115690941/).  Paul Williamson was an accomplished sportswriter, his rankings are claimed by a lot of schools.  The Coaches' Trophy is legit.  Other MNC's in 1935 were Minnesota, Princeton, and Southern Methodist.
The 1938 National Championship was awarded by several, including the Associated Press, BRC, and WS.  Notre Dame has a quasi-MNC from 1938, the other school with a claim on 1938 was 11-0 Tennessee, with a half a dozen selectors picking the Volunteers.
None of that is to take anything away from those National Championships.  Those were some great teams nearly 100 years ago.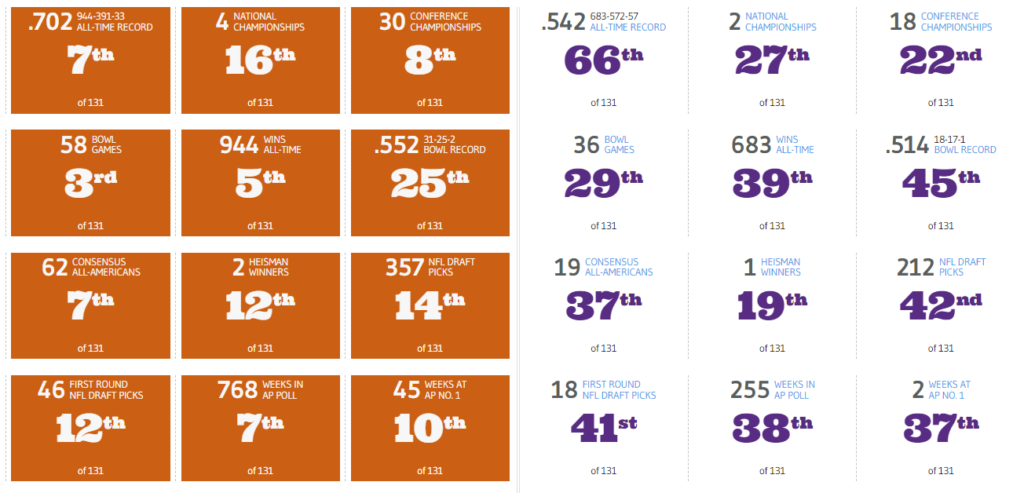 Texas Longhorns 33, Kansas State Wildcats 30
The Longhorns averted disaster on Saturday, thanks to our incredible defensive line and others on that unit.  After the Horns managed all of 1 yard in their first overtime possession and got a 42 yard field goal from Bert Auburn, K State responded by getting the ball to Ben Sinnott on their first play, for a first and goal at the Texas 6.  The Texas Defense brought it all, and the game ended when Barryn Sorrell got to Will Howard on fourth and 4 after Chris Klieman elected to go for the win.  T'Vondre Sweat, who had one helluva day, swatted the ball to the ground to give Texas the overtime win and keep this great team's hopes and dreams alive and goals achievable.
The Game
A quick look at some of the key plays and drives of the game.
A fruitless first Texas possession, as Murphy opened the game with 24 yard pass to Worthy to have Texas at midfield seconds into the game, and 2 plays later a 12 yard pass had the Horns at the KSU 38.  We stalled there, in part due to false start that put Texas in third and 10.
The good Sanborn punt pinned the Wildcats back at their own 7 and they ended up punting from their 15.  An excellent Worthy 19 yard return set Texas up in plus territory. 10 yards from Brooks on 2 carries and then that great 37 yard touchdown to Adonai Mitchell.  7-0 Texas.
Good Texas D, including a Sorrell sack of Howard, but this time it was K State's turn to play field position, and Texas started at its 7 yard line.  A good drive, keyed by a 47 yard pass to Mitchell to the KSU 35.  Another false start fouled up the drive, but Bert Auburn salvaged points with a 32 yard field goal.  10-0 Texas.
The Texas D forced a 3 & out.  This time, Texas would overcome two penalties (including another Williams false start), in spectacular fashion.  Facing fourth and 1 at our own 46, Sark went for it.  Horns got set, bunched up tight.  Great call as Maalik pitched right to  CJ Baxter, and he ripped through a great hole and went 54 yards for the score.  17-0 Texas.
Texas got two 3 and outs.  The Horns would get a huge opportunity after the second one, as Worth returned the punt to the KSU 41, and then Brooks ran 21 yards to the 20.  I get staying with your big hoss, but Brooks would only gain 8 yards on 3 consecutive rushes.  With fourth and 2 on the Wildcat 12, Sark went for it with the Red Cat.  Terrible.  Savion fumbled, and while he recovered it, it was, like any failed fourth down attempt, a turnover.
Yet another huge 3 and out as the Wildcats went backwards a yard, and after a punt and Kansas State Penalty, Texas again started with great field position (KSU 47).  Good call by Sark to go deep to Worthy on first down.  Unfortunately, Kevin Mars & crew decided this was not defensive pass interference (video above at intro).  In the picture below, that is the ball right in front of the referee's face, as he watches the Wildcat defender wrap up and tackle Xavier before the ball gets there.  Just atrocious.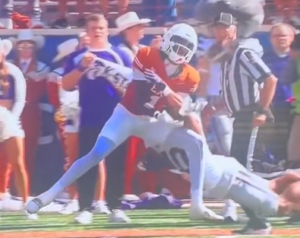 That call really hurt. I am confident if that got called, Texas would have least gotten 3 points, probably 7.  Even a field goal would've put Texas up 20-0.  Instead, a very bad special teams moment as Texas allowed a blocked punt, and K State turned it into points with a 4 play, 42 yards, 41 second scoring drive.  17-7 Texas.  That score would hold until halftime.
17-7 was uncomfortable, especially after the 3 miscues (fourth down fumble and the blocked punt, on the part of the Horns, and the blown no-call on the pass interference, by one of the worst officiating crews we have ever seen at the college level) and with K State receiving the ball to start the second half, I was a bit concerned.  That was alleviated quickly, as Michael Taaffe picked off Will Howard on a deep shot.  Texas was driving and had a big first down on a 39 yard pass play to the KSU 17, but the Horns were flagged for illegal shift (declined) and holding (accepted).  Instead of first and 10 in the redzone, it was third and 22 at the Texas 34.  I liked the call to Jaydon Blue, but it didn't pan out.  Huge penalty that impacted the score.
After the Texas punt, another huge Texas defensive play, as Ethan Burke sacked Howard, forcing a fumble recovered by Jaylan Ford at the Wildcat 5.  No redzone issues this time, as J Brooks punched it in to extend the Texas lead to 24-7.  My concerns were washed away with great Texas defense and cold Modelo, even more so after another K State three and out.
Texas got a big 49 yard field goal on the next possession (a scoring drive keyed by a great 27 yard run by Brooks).  27-7 with 4:13 to play in the third quarter.
K State is a good football team, and Chris Klieman is a good coach.  Down by 20, Howard led a big 75 yard scoring drive capped by a 26 yard pass to Brooks that really was poor defense.  27-14.  Still a good lead as the third quarter ended.
The fourth quarter was not ours.  Murphy was picked off on the first series (after being in long yardage after a false start [CW again] had Texas second and 14 and then third and 14).  K State got the ball at the Texas 12.  15 seconds Two plays later, 27-21.
Texas would fail to respond, with a rare Brooks fumble on the second play after the KSU kickoff.  K State was in business at the Texas 32.
1 play later, Howard to Brown, 32 yard touchdown.  Texas got is first big break in this swirling tempest of bad luck, as the snap on the PAT was off and the score stayed tied at 27.  How big that would be.
This next drive, at least Texas answered.  Texas drove 79 yards before stalling at the KSU 16.  Another Bert Auburn field goal got Texas back in front 30-27 with 6 minutes to play.
K State had a great drive to the Texas 9.  With less than 2 minutes to play on fourth and 2, Klieman kicked.  Another break for Texas, as the ball sailed wide.
Texas got the ball with 105 seconds.  That was good.  K State had all 3 timeouts.  That was not good.  Texas would have to get at least one first down.  No such luck, and Texas punted after less than 30 seconds of clock time.  Not good luck on the punt either, as a rare weak 35-yard kick from Sanborn.  K State tied it on a 45 yarder with 1 second left on the clock.  30-30 and overtime.
Texas went first.  Incomplete, Brooks got 1 yard, incomplete.  God Bless Bert Auburn.  42 yards at least gave us hope.
That hope almost evaporated after Howard connected with Ben Sinnott for 19 yards (for his 5th catch of the day) to set up the Wildcats six yards from the Texas goal line and a win.  But our defense. Wow.   Howard stopped after 2, Sweat swats down a pass (which probably would have been caught for a touchdown), and Howard's third down to pass to Johnson in the endzone was just out of reach.  Fourth and four, and Klieman goes for it.  I love Scott Ingraham's description of this play:
THUS, one of SINGLE GREATEST PLAYS IN THE HISTORY OF TEXAS LONGHORN FOOTBALL HAPPENED. #90, NT Byron Murphy II, lined up over the KSU left guard, then slant rushed the KSU center, flat stood him up and drove him 5-yards back into QB Howard, to where their feet almost tangled up.  Murphy's mind-boggling strength on that play forced Howard to stagger to the right, where he came face to face with UT's best pass rusher, #88 Barryn Sorrell, who had whipped the KSU right tackle and twice leaped to obstruct Howard's view of his receivers in the end zone. Sorrell continued to bear down on Howard which caused the heroic KSU QB to lose his feet and fall backwards, only able to flail a desperation pass off his back, a pass well short of the end zone.
Game over.  Sorrell was officially credited with a sack.
The last 4 plays:
Some Observations
Texas got out to a great start against a very good Kansas State defense.  The way Texas (and Kansas State) played in the first quarter really had me believing we could blow the Wildcats out.  But football is fickle, and the players are human and make mistakes.  I would say the same about the officials, but making a mistake (like a false start or a fumble) and gross negligence like staring a receiver being tackled before the ball is close and keeping the flag in your pocket.
I recapped a lot of the stats above.
Texas run defense: Great – A+
Texas pass defense? Not so much  327 yards and four touchdowns.  But a big interception and Howard didn't complete the passes that could've won the games because of good defense.
Maalik Murphy? Not his best game with the two picks, but we won. He was so good early, hitting several great deep shots.  Working his reads.  Not sure what happened.
Jonathon Brooks – A. Outstanding, notwithstanding the fumble.  122 yards and a score
CJ Baxter – A. 92 yard including the 54 yard touchdown blast on 4th down.
Adonai Mitchell – A+. 8 catches on 10 targets for 149  yards and a score.
Bert Auburn – A+. Four for Four including what would be the game winner in overtime.
Jaylan Ford, 8 tackles, 1.5 TFL, and a fumble recovery.
Ryan Watts, quietly tied with Ford with 8 tackles, 7 solo
Michael Taafe, 7 tackles and an interception
Sorrell, 2 sacks for 19 yards, 2 QBH
Burke, 2 sacks for 16 yards, 1 QBH
Sweat, 1 TFL, 2 QBH. "Wreaking havoc" is not in the box score
Another observation from Ingraham, which goes to my constant harping on playing clean ball – turnovers and penalties.
Another observation from Ingraham, which goes to my constant harping on playing clean ball – turnovers and penalties.
You've prompted W to review the damage done to Texas via turnovers (against KSU). There were effectively 5, if you count the failed 4th and 2 at the Wildcat 12.  The impact on the scoreboard of those 5 blunders, in order:

2nd Quarter pick near goaline, thrown from KSU 35:  cost Texas at least 3-points
2nd Quarter blocked punt at Texas 41: gave KSU first 7-points
2nd Quarter  failed 4th & 2 at KSU 12:   Cost Texas 3-points
4th Quarter pick of screen pass: Gave KSU 7-points
4th Quarter Brooks fumble at Texas 32: Gave KSU 7- points

Tally all that and it cost Texas 6 points and handed KSU 21 points.  A gigantic 27 point swing to KSU's benefit.  Turned a blowout into a nail-biter.

But back to how I started:  This was a win.  Texas overcame those blunders to beat a good football team that was the defending Big 12 champion, coached by a guy with 5 national championships.  Unlike so many of the teams of the dark last 10+ years, this Longhorn team didn't let these errors contribute to Texas beating itself.  They rallied. They got 3 and out's after mistakes.  They forced turnovers.

I am just glad to be where we are.  Congratulations on the win Coach Sarkisian and Texas Longhorns.
Highlights
CFB on FOX, about 11 minutes:
Matthew Loves Ball , 31 minutes
The Polls
 College Football Playoff Rankings
The Horns can still get there.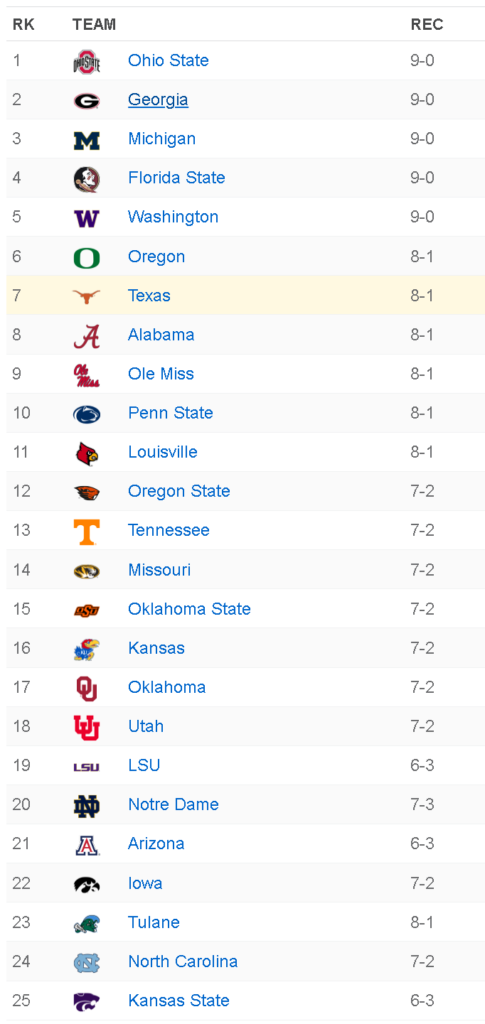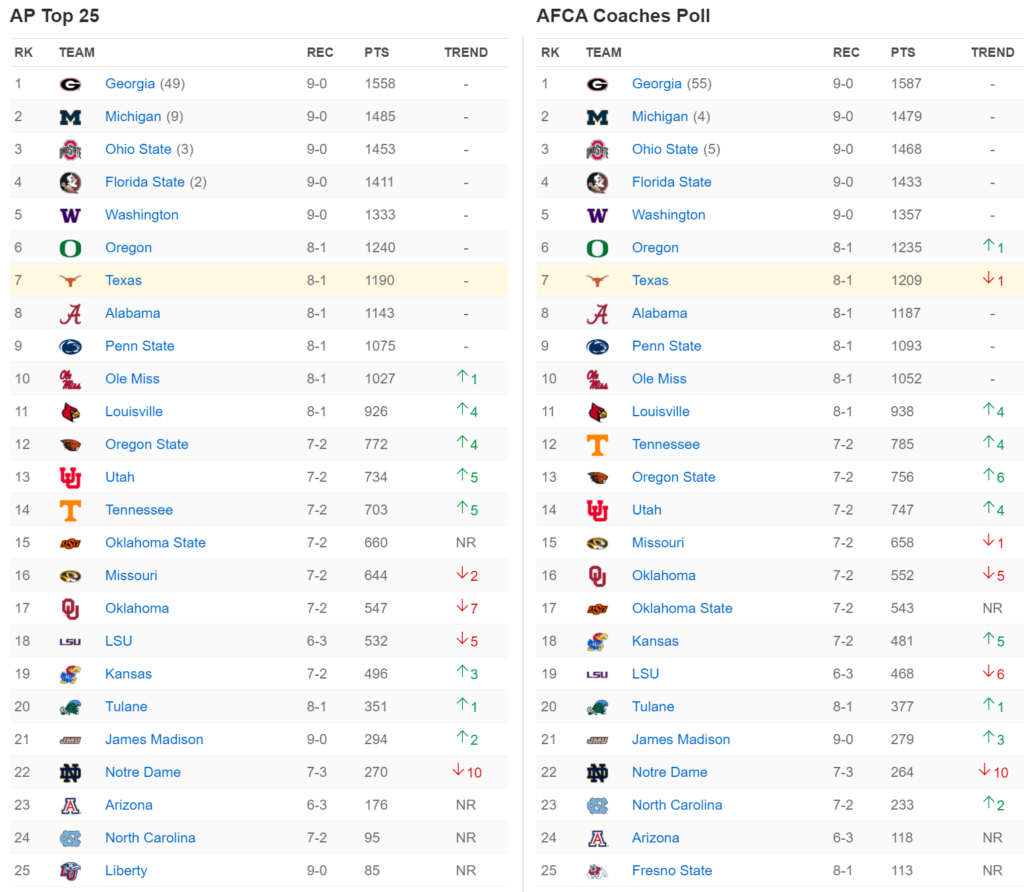 Massey Ratings
Texas dropped to No. 5 behind Ohio State, Michigan, Florida State, and Washington (all undefeated).  Interestingly ,Georgia is No. 9 behind Bama, PSU, and Oregon.  Ole Miss rounds out the top 10. Texas Christian is No. 54.
Nate Manzo (@cfbNate on x).  This is really a good one to study.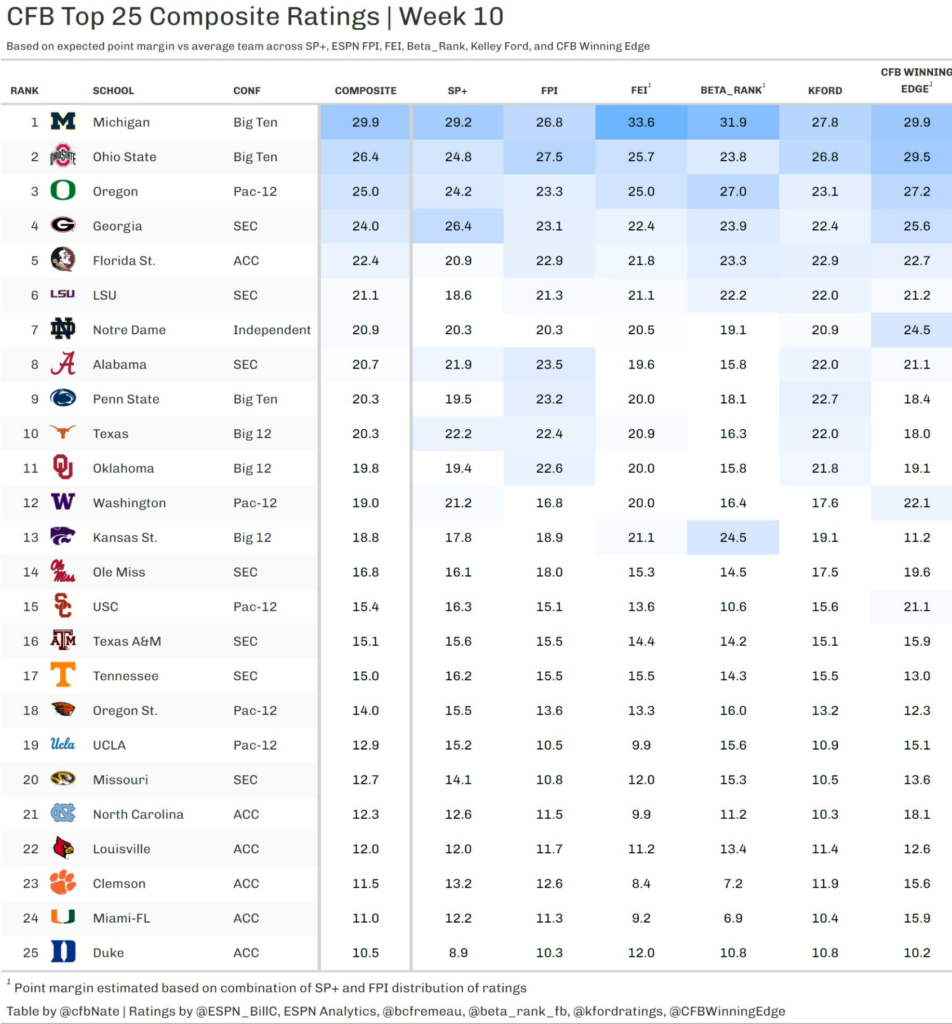 https://twitter.com/cfbNate/status/1721880031880790059
ESPN College Football Power Index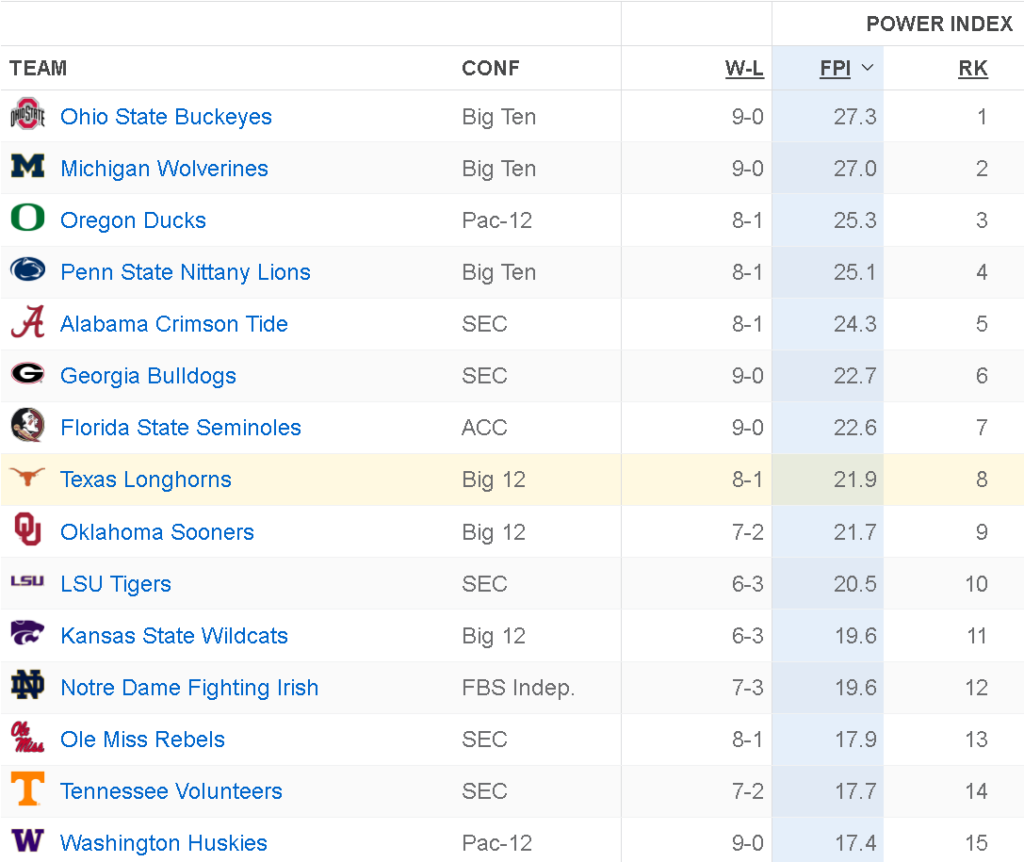 ESPN SP+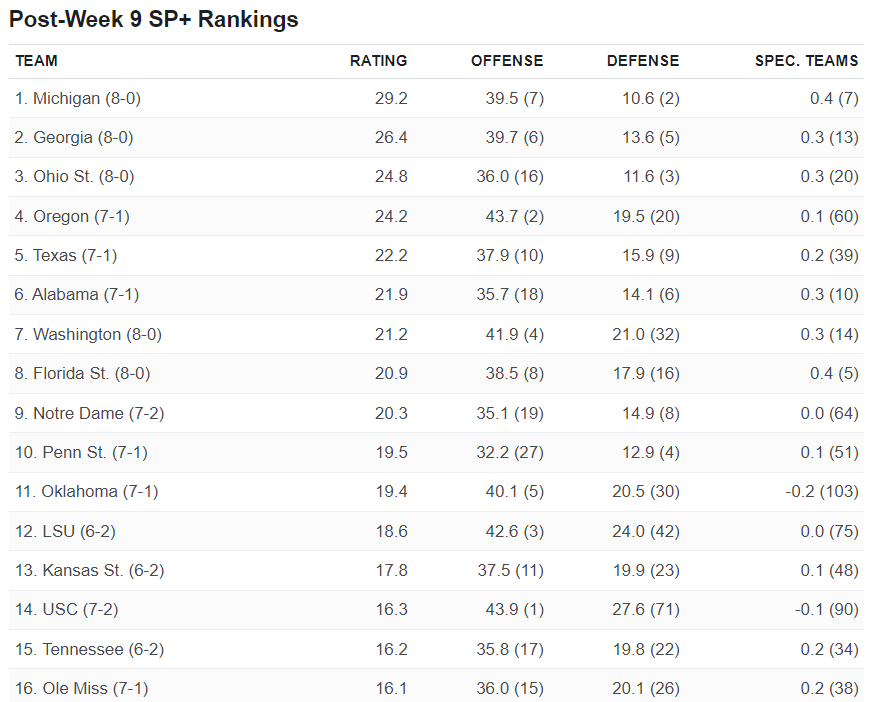 Texas Christian University
The roots of what is now Texas Christian University go back to post-Civil War Texas.  Two veterans of the War, brothers Addison and Randolph Clark, started a children's preparatory academy in Fort Worth known as the Male & Female Seminary in 1869, which they operated from 1869 to 1874.  The Clarks were preachers in the Restoration Movement.
Despite the early success of the Clark brothers' school and their dreams of establishing an institute of higher education, Fort Worth was booming, mainly because of the Chisholm Trail.  The area of town around the property the Clarks had acquired for their college became cowtown's Boys' Town – with saloons, gambling halls, dance parlors, and houses of ill-repute.  By 1872 this area of Fort Worth had acquired the nickname of "Hell's Half Acre".  For more on Hell's Half Acre, I recommend this article on the Texas State Historical Association website: http://www.tshaonline.org/handbook/online/articles/hph01
The Clarks feared that this negative environment undermined the young school's mission, so they decided to relocate to Thorp Spring, a small community near the frontier of Comanche and Kiowa territory.  So in 1873 the Clark brothers founded AddRan Male & Female College in Thorp Spring, TCU recognizes 1873 as its founding year.
In 1889 AddRan College formed an official partnership with what would become the Christian Church (Disciples of Christ) and was renamed AddRan Christian University.
The university relocated to Waco from 1895 to 1910.  The institution was renamed Texas Christian University in 1902.  It was during this 15 years' of wandering in the Waco wilderness that TCU entered the ranks of intercollegiate football and adopted its school colors of purple and white.
In 1910, the main building burned to the ground, and before they started rebuilding, some smart Fort Worth businessmen offered the university $200,000 and 52 acres of land if they would move back to Fort Worth.  By my estimation, that $200,000 is about $6.5 million in today's dollars.  I looked at a couple of tax valuations in the area a few years ago, and I am guessing that 52 acres of land is worth way more than $70,000,000 now.  Not bad.  The campus now occupies about 272 acres.
The rest is history as Texas Christian University has become a highly regarded national university, a history that includes a couple of students there in the 1920's, my paternal grandparents, the great Texas amateur golfer Leon C. Taylor and my dear grandmother Thelma Lawrence Taylor.
Some wealthy families and people in the lists of notable Texas Christian alumni, including Kyle Bass (Hayman Capital Management) and Winthrop Paul Rockefeller.
My favorite famous non-athlete alums include Dan Jenkins, a great writer (not just a great sportswriter), Skip Hollandsworth of Texas Monthly fame, and Bob Schieffer.
Some legendary names:   Davey O'Brien, Sammy Baugh, Bob Lilly.
Your trivia for the day:  On Gilligan's Island, The Professor held a Ph.D. from Texas Christian.
Academic Rankings

National

Texas

Texas Christian

Forbes
31
188
THE | WSJ
60
205
U.S. News & World Report
9
98
ARWU
24
*
Washington Monthly
87
252
Global
ARWU
43
*
QS
58
*
THE
52
*
U.S. News & World Report
43
1335
*Couldn't find it.
Juan Heisman Tailgate
We had a great tailgate party.  Excellent Bloody Marys, Bloody Marias, breakfast tacos, and cold beer.  Our thanks to Tito's Handmade Vodka, and to David Jabour and Margaret Jabour (good to see y'all today) and Twin Liquors.  One of the real joys of the tailgate is gathering with old friends.  Last Saturday, a good Tyler crew.  David Buck Edelman is of course part of JHT.  We were joined by Beth and Andy Guinn and Lanette Smith.  Miss you Wally.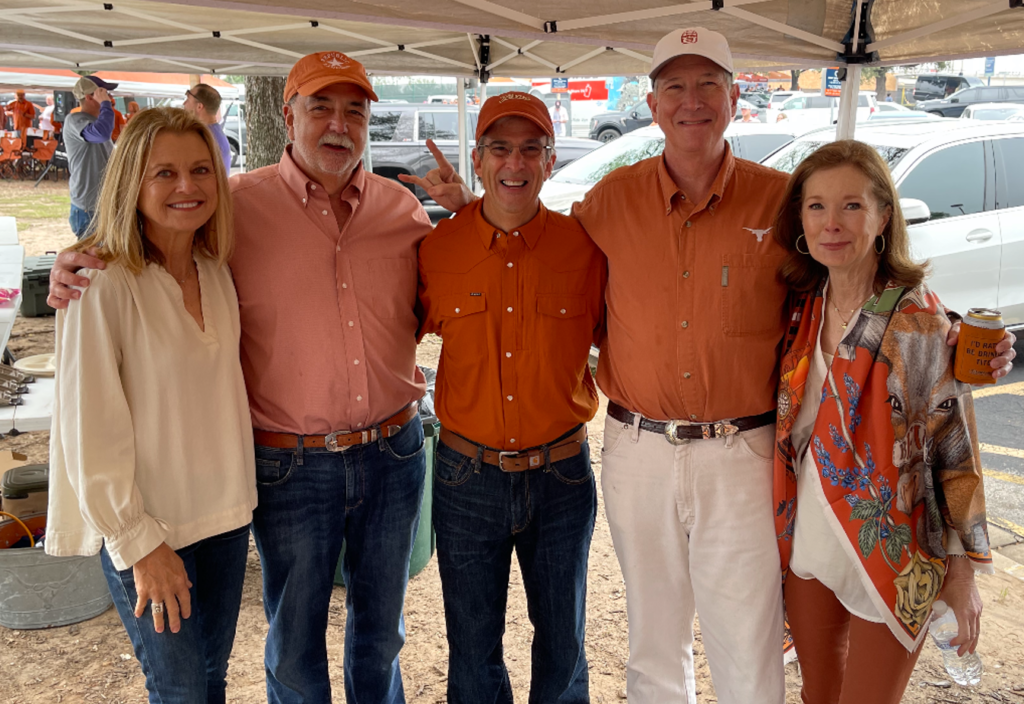 From the 1969 National Champions, Bill Hall (who officially joined the Juan Heisman Tailgate Crew) and the great Tom Campbell.   Pat Culpepper and his wife also stopped by.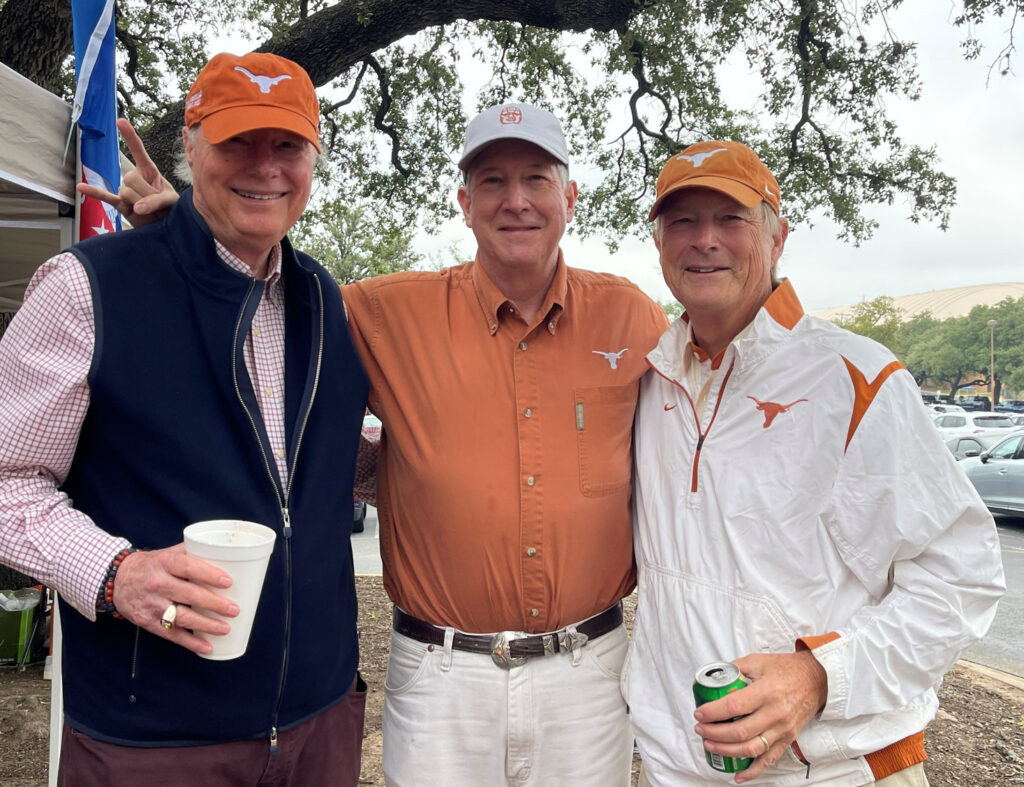 Big 12 Standings Week Eleven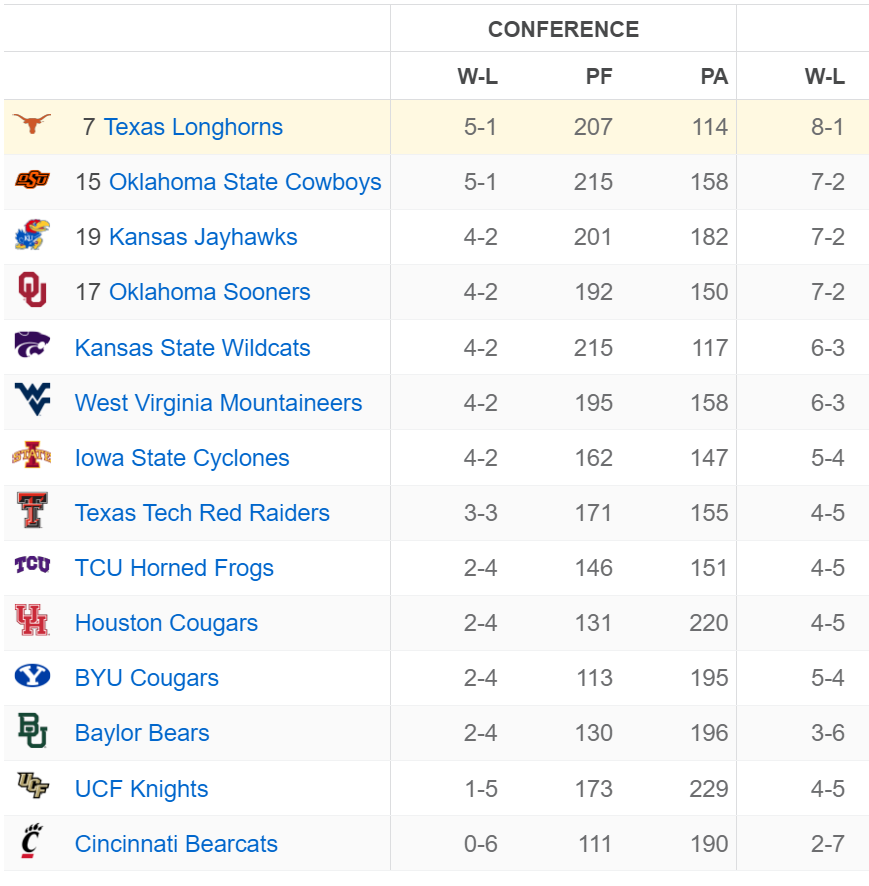 College Football Week Eleven
Some incredible games this weekend. Going to be a great day watching college football on Saturday.  All rankings below are CFP only.
Big 12 Week Eleven
Texas Tech is at No. 16 Kansas, 11:00 a.m. on FS1 from David Booth Kansas Memorial Stadium.  Remarkably, the South Plains Aggies are only 4 point underdogs.  Over/under is 62.5.
Baylor at No. 25 Kansas State, 2:00 p.m. on BIG12 | ESPN+.  If you are a Bear fan, you pretty much have to subscribe.. Wildcats favored by 21.
No. 15 Oklahoma State at Central Florida, 2:30 p.m. on ESPN.  I haven't bet hardly at all this year, but the Cowboys at minus 2.5 against a team with a losing record who just won their first Big 12 team against the team who is now DFL with no Big 12 wins? Cowboy up.  Over/under is 65.5.
West Virginia at No. 17 Oklahoma, 6:00 p.m. on FOX.  Land Thieves favored by 13, over/under is 57.5.  Hard to believe this is a game between two 4-2 teams battling to stay in third place in the conference.
Cincinnati at Houston, 6:00 p[.m. on FS1.  Houston favored by 2.5, over/under is 53.5.  Tickets as low as $2.
Iowa State at Brigham Young, 9:15 p.m. on ESPN.  Cyclones favored by 8.  Over/under is 42.5.
Week Eleven:  Service Academies
Army (3-6) hosts Holy Cross (6-3) at Michie Stadium in West Point.  11:00 a.m. on CBSSN.  No line.
Navy (3-5) at home with UAB, 2:30 p.m. on CBSSN.  Blazers favored by 2.5.
Air Force at Hawaii, 10:00 p.m.  Falcons favored by 19.5.
Top 25 – Week Eleven
Thursday night, Virginia went to Louisville to play the No. 11 Cardinals.  Louisville was favored by 20.  UVA rallied and had a 21-14 lead going to the fourth, but they couldn't stop Louisville in the last frame, giving up 17 points.  The Hoos lose 31-24.  Praying for Perris Jones.
No. 3 Michigan (9-0, 6-0) at No. 10 Penn State (8-1, 5-1), 11:00 a.m. on FOX.  Hard to believe these teams first met in 1993.  Wolverines lead the series 16-10.  Big Blue favored by 4 over the Nittany Lions.  Over/under is 44.5.  I sort of smell an upset in this one.
https://twitter.com/statsowar/status/1721869724269564258
No. 8 Alabama (8-1) at Kentucky (6-3), 11:00 a.m. on ESPN.  Crimson Tide favored by 11, over/under is 47.5.
Tulsa at No. 23 Tulane, 11:00 a.m. on ESPN2.  Green Wave favored by 23.5, over/under is 53.5.
No. 21 Arizona at Colorado, 1:00 p.m. on PAC12 Network. Buffaloes are 10.5 point home dogs to the Cats.
Miami (Florida) at No. 4 Florida State, 2:30 p.m. on ABC.  Seminoles favored by 14, over/under is 51.5.
No. 18 Utah at No. 5 Washington, 2:30 p.m. on FOX.  Huskies favored by 9.5 over the Utes.  Washington begins a tough stretch.  This game, then Oregon State, and finishing with Washington State for the Apple Cup.  Losing one of these might help Texas. Losing two would be big.  Go Utes.
No. 13 Tennessee at No. 14 Missouri, 2:30 p.m. on CBS.  Volunteers favored by 2.
Leland Stanford Junior University at No. 12 Oregon State.  4:30 p.m. on the PAC12 network from Corvallis.
Rutgers at No. 22 Iowa, 2:30 p.m. on BTN.  Iowa favored by 1.
No. 9 Ole Miss at No. 2 Georgia, 6:00 p.m. on ESPN. An immensely big Southeastern Conference Game.  Dawgs favored by 10.5.  Over/under is 58.5.  Should be a great SEC game between the hedges.  Parker Fleming thinks it will be closer.  So do I.  Sorry Robbie – Hotty Toddy!  Go Rebs.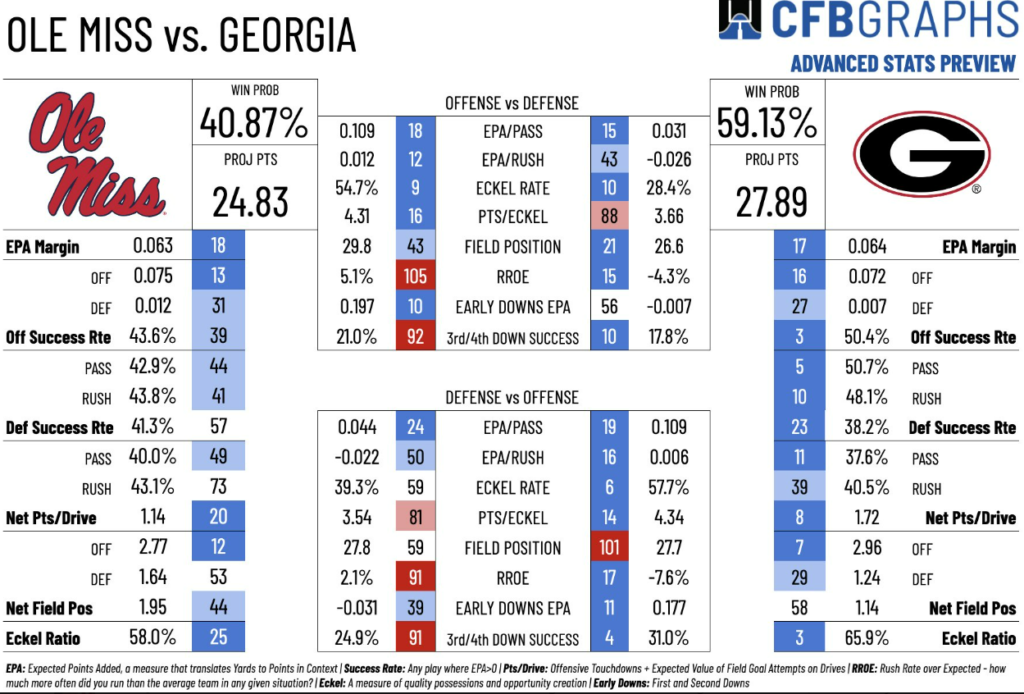 Michigan State at No. 1 Ohio State, 6:30 p.m. on NBC.  Buckeyes are favored by 31.5, and I wouldn't be shocked to see them cover.
Florida at No. 19 Louisiana State, 6:30 p.m. on SEC Network.  Jayden Daniels is having a terrific year for the Tigers.  No. 4 in the country with 310.2 yards per game; No. 2 with 27 passing touchdowns; No. 1 in total offense with 386.2 ypg; No. 1 in yards per play with 9.96; and No. 1 with 3,476 yards of total offense.  Bayou Bengals favored by 15.
Duke at North Carolina, 7:00 p.m. on ACCN.  Tarheels favored by 14.5.  Good luck Coach!
Southern Cal at No. 8 Oregon, 9:30 p.m. on FOX.  Will enjoy watching this one after the Texas win.  Not sure my Trojan friends will.  Sorry Art.  Ducks favored by 15.5, over/under is 75.5.
Other Games of Interest – Week Eleven
Wednesday night, Miami shutout Akron 19 to 0 at Yager Stadium in Oxford, Ohio.  Redhawks were favored by 17.5.
Friday
North Texas at Southern Methodist, 8:00 p.m. on ESPN2.  Ponies still undefeated in the American.  Favored by 17 over Eric Morris' Mean Green.
Saturday
Maryland at Nebraska, 11:00 a.m. on Peacock.  Huskers are 3-3.  Terps favored by 2.  GBR.
Vanderbilt (2-8, 0-6) at South Carolina (3-6, 1-5).  11:00 a.m. on SECN.  Gamecocks favored by 14.
Memphis at Charlotte, 1:00 p.m. on ESPN+.  Tigers by 9.
Auburn at Arkansas, 3:00 p.m. on SECN.   Pigs favored by 2. War Eagle!
Mississippi State (4-5, 1-5) at Texas Agricultural & Mechanical (5-4, 3-3), 6:30 p.m. on ESPN2.  Rumblings are getting louder among the Aggie faithful.  Bless their hearts.  Good news though Ags!  Y'all are favored by 17, you are playing at home in Kyle Field, it is going to be a beautiful Saturday in the Brazos Valley, and I am pulling for you.  Gig Em!
Rice at UTSA, 6:30 p.m. on ESPNU.  Jeff Traylor's Roadrunners are 5-0 in the American.  Big game in the Alamodome.  UTSA favored by 14.
Arizona State at UCLA, 8:00 p.m. on Pac12 network from the Rose Bowl.  Bruins favored by 6.
No. 18 Texas Longhorns Basketball
Head Coach Rodney Terry's Longhorns opened the 2023-24 campaign with a dominating 88-56 win over the Incarnate Word Cardinals Monday night.  Friday night, Texas plays Delaware State here.  The game is at 8:00 p.m.  On LHN.  Preview:
https://texassports.com/news/2023/11/9/no-18-18-mens-basketball-preview-delaware-state.aspx
Texas hosts Rice at Moody next Wednesday at 8:00 (also LHN).
A guy who is going to go down as one of our great players, not because of points or other lines in the scorebook, but because of heart and hustle and grit.  Brock Cunningham is back for year 6, and he is just a joy to watch play basketball.
Dillon Mitchell is back:
One of the newcomers is No. 5, Kadin Shedrick (6-11, 231), graduate transfer from Virginia.
Lance Blanks passed earlier this year.  He was a truly great Longhorn.  The B of the BMW Scoring Machine.  One of my favorite Texas teams ever, the epitome of the Runnin' Horns.   Very nice piece that Lowell Galindo and Longhorn Network produced.  Nick, if you had a hand in it, well done!
https://x.com/LonghornNetwork/status/1721710154201145725?s=20
Washington & Lee University
Washington & Lee Generals 31, Bridgewater Eagles 21
The Generals secured a second place ODAC after jumping out to a 17-0 first quarter lead in holding off a late Eagle surge for the 31-21 win at Wilson Field in Lexington.  QB Stephen Murrin was 8-1 for 191 yards and a touchdown plus 9 rushes for 66 yards.  ODAC Offensive Player of the Week.  The Generals ground attack would post 296 gross yards, netting 268 for the box score.  Jacob Romero 24 carries for 139 yards with a long of 56.  Anthony Crawford 13 rushes for 53 yards and 2 touchdowns.
The Generals road trip for the last regular season game, going up the road to Winchester to play the Shenandoah University Hornets.  Shenandoah is 6-4 and 3-3 in the ODAC.  2:00 p.m. at Shentel Field.
Big XII – Week Ten
Bedlam it was.  No. 22 Oklahoma State plays the last rivalry game with Land Thieves and gets the 27-20 win over No. 9 Oklahoma.  Stats and predictors were wrong.  Gundy was right.
No. 21 Kansas 28-21 win in Ames over Iowa State.
Houston 25-24 over Baylor in overtime after Holgorsen eschews the tie and goes for 2 in the first OT to get a win on the Brazos River.
Brigham Young 7, West Virginia 37.  Mountaineers cover.
Central Florida 28, Cincinnati 26,  Golden Knights get their first Big 12 win.  Bearcats still searching.
Week Ten:  Service Academies
Army 23, No. 25 Air Force 3.  I guess it was just a flesh wound.
Navy torpedoed at Temple 32-18.  Owls get their first conference win.
Top 25 – Week Ten
No. 1 Ohio State piddled around at Rutgers in the first half but scored 14 in both final frames to keep the Scarlet Knights at bay. 35-16 Buckeyes,  Line was 18.5.
Texas Agricultural & Mechanical 35, No. 10 Ole Miss 38.  Rebel running back Quinshon Judkins got his third touchdown with 100 seconds left to get Ole Miss back in the lead.  With 2 seconds left, Aggies lined up for a game-tying field goal from the Rebel 29.  Blocked.  Hotty Toddy.
No. 8 Alabama 42-28 over Louisiana State.  Jayden Daniels passed for 219 (15-24-2-1) and ran 11 times for 163 yards (14.8 ypc) and a touchdown.  Jalen Milroe passed for 219(15-23-0-0) and ran 20 times for 155 yards (7.8 ypc) and 4 touchdowns.  That was a great football game.
No luck for the Irish.  No. 15 Notre Dame falls 23-31 at Clemson.
No. 3 Michigan 41-13 over Purdue.  Wolverines were favored by 32.5
Seminoles keep winning.  No. 4 Florida State  24-7 over Pitt.
No. 11 PSU 51-15 over Maryland.
No. 17 Tennessee thrashes the Huskies of Connecticut 59-3.
No. 28 Utah 55-3 over Arizona State.  Line was just 10.5.
No. 1 Georgia 30-21 over No. 12 Missouri.  Tigers covered.
No. 6 Oregon with a crushing 63-19 win over Cal.  21-0 in fourth quarter.  Ouch.
No. 24 Tulane wins a close over East Carolina, 13-10.
Virginia Tech 3, No. 13 Louisville 34.
What a game in Los Angeles.  No. 5 Washington ended the season expectations of No. 20 Southern Cal with a 52-42 win.  Southern Cal's pregame defense: No. 106 in rushing, No. 106 passing, No. 114 total defense, No. 113 in scoring defense.  This week:  No. 120 in rushing (better than Baylor!), No. 123 in total defense (yikes – worse than Baylor), and No. 124 in scoring defense.  Life of Riley.  It was time for a DC change.
No. 16 Oregon State 26-19 over Colorado.  Beavers were favored by 13.5.  Amazing.
Nailed this one.  Arizona 24-10 over No. 19 UCLA.  Wildcats are bowl-eligible.
James Madison 42-14 over Georgia State. Dukes are legitimate.  Not always the case.
Other Games of Interest – Week Ten
What the heck Florida?  Arkansas 39, Gators 36.
Auburn 31-15 over Vanderbilt.
Nebraska (5-3) at Michigan State (2-6), 11:00 a.m. on FS1.
Back in the win column Mack!  Tarheels crush Campbell 59-7.
Georgia Tech 45-17 over Virginia.  Sic semper shitty teams.  Sorry Parker.
UTSA 37-29 over at North Texas.
Memphis 59-50 over South Florida.  Tigers are 7-2.
Southern Methodist beats Rice 36-31.  Owls cover!
Western Kentucky 21-13 over UTEP.
Stanford 10-7 over Washington State in Pullman.  Thriller.
Music
I was sitting in the Moody Center Monday night for the first Texas basketball game of the season, and my great friend and law partner of nearly four decades, Steve Martens told me that Steely Dan is opening for the Eagles in the Moody on February 2.  I like the Eagles.  But I love Steely Dan.
First, the Eagles.  Whenever the Eagles come up, I remember my fraternity brother Jimmy Abeloff.  Will Hodges and Jimmy would sometimes let me play tapes with them at parties, and Jimmy loved to play Take it Easy.  I never hear this song with thinking of Jimmy, who passed away right before my first exam in law school in December 1982.  Will never forget that phone call from John Northington.
Steely Dan has a great history.  Too long and complex to recount here, but suffice to say when Walter Becker and Donald Fagen decided to quit performing live and go studio-only in 1974, their influence on American music grew tenfold – maybe more.  Their music blended pop and rock and jazz.  It was their fourth album, Aja, released in September 1977, that became a soundtrack for my college years and beyond.  Peg his No. 11, Josie No. 16, and Deacon Blues No. 26 (summer of 1978).  Michael McDonald on vocals, and other artists from Lee Ritenour to Wayne Shorter to Victor Feldman.  When I went off to W&L in August of 1978, I went without a vehicle.  My super cool Cutlass had met its end going ATD after a hard night of working for Tex at the BB.  If you know, you know.  But after a good fall semester, I was allowed to buy a new vehicle, a 1976 Chevy Blazer, and take it back for winter semester.  When Northington and I left Tyler in early January 1979 to drive back to Lexington, I had basically three cassette tapes, one of which I have now, somehow, forgotten.  The two I listed too the most on a 3 day drive to Virginia were Johnny Guitar Watson's A Real Mother for Ya and Steely Dan's Aja.  Aja is still a top 10, maybe top 5, all-time favorite album.
Peg:
Deacon Blues:
If you want to listen to the whole album:
One other note. After Steely Dan broke up in 1981, Donald Fagen released, in October 1982, his first solo album, The Nightfly.  It was one of the first CD's I ever bought.  Another all-time favorite.  From the "album notes" (google it kids):  "The songs on this album represent certain fantasies that might have been entertained by a young man growing up in the remote suburbs of a northeastern city during the late fifties and early sixties, i.e., one of my general height, weight and build."  Extraordinary lyrics.
I.G.Y.
New Frontier.  One of my favorites.
The Nightfly:
Honor Flight Austin
One of the more amazing organizations that honors our veterans is Honor Flight.  Honor Flight Austin has given thousands of World War II, Korean War, and Vietnam War veterans a trip of a lifetime.
Honor Flight Austin – Honor Flight Austin
Please consider donating.  And if you are interested in doing something really significant, like sponsoring a flight, please contact me [email protected].  Three flights planned this spring:  March 22-23, April 12-13, and May 3-4.
Jim Nicar
1967: A space age Texas vs. TCU football program cover.
Just over a week before the game, on November 9th, Apollo 4 lifted off from the Kennedy Space Center as the first unmanned test flight of the Saturn V rocket.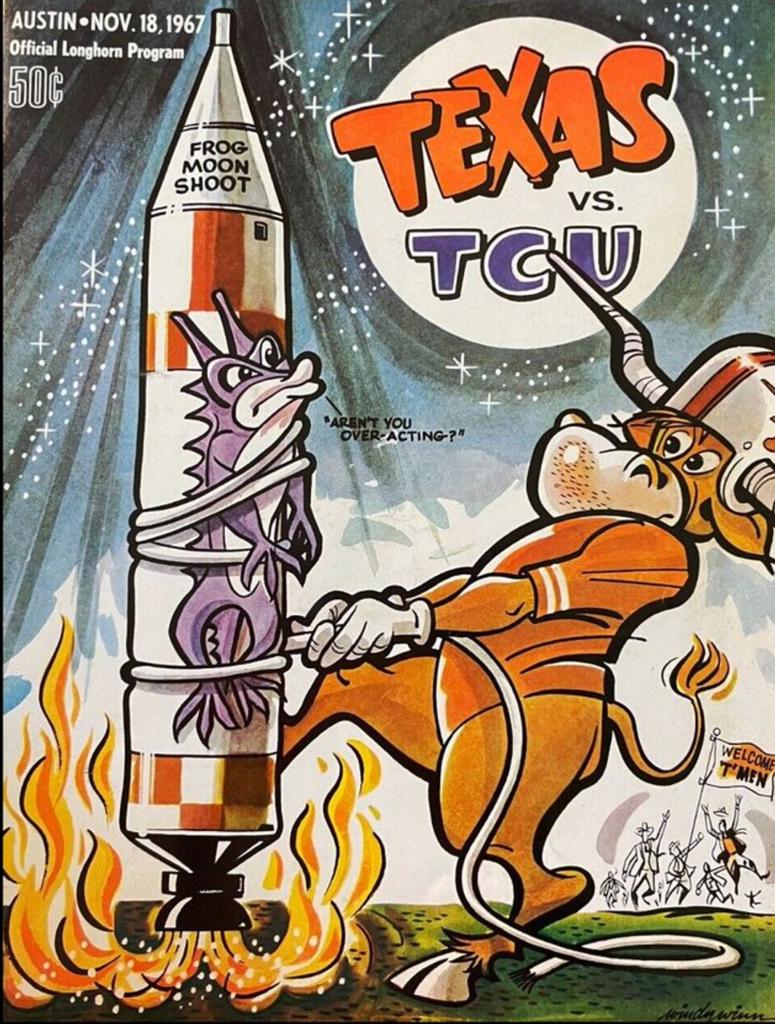 Follow Jim on X
https://x.com/JimNicar/status/1722410517287866609?s=20
Picture of the Week
My photo this week.  What a sunset from 100 Congress a couple of evenings ago.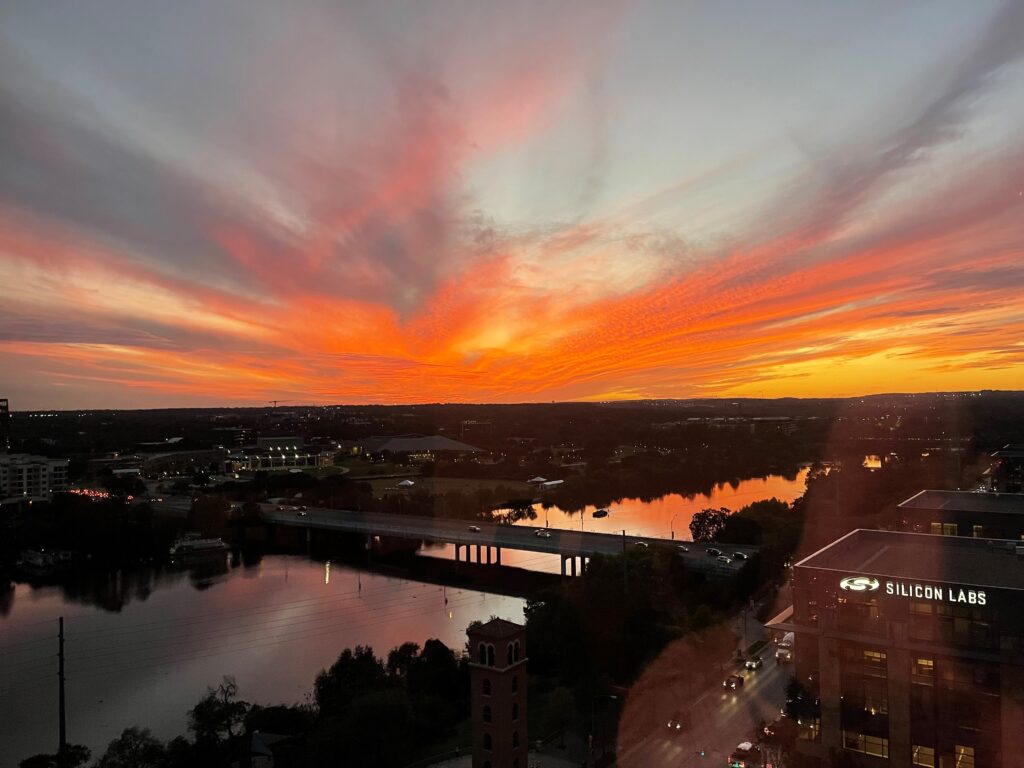 God Bless Texas
God Bless America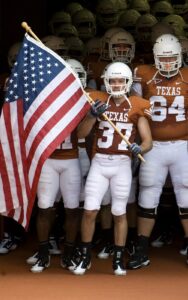 Tim Taylor
 Member, Football Writers Association of America
Tailgating before Home Football Games
The Juan Heisman Tailgate
Lot 38, East of Sid Richardson Hall.
HOOK EM HORNS!!
The Austin Horns Fan Dispatch
© Timothy C. Taylor, Sr. 2023.  All Rights Reserved (as to original material).
On Twitter:  @tctayloratx
On LinkedIn:  www.linkedin.com/in/tctatx
On Instagram:  @tctayloratx
On Facebook:  www.Facebook.com/Tim.C.Taylor
and:  www.Facebook.com/Juan.Heisman
"I used to think it was clever to confuse comedy with tragedy.  Now, I wish I could distinguish them."   David John Moore Cornwell (1931-2020), British author better known by his pen name, John le Carré
You can contact me by mail:
Tim Taylor
P.O. Box 5371
Austin, Texas  78763-5371