Good Morning Longhorn Fans!
The University of Texas Longhorns are in the Sweet Sixteen for the first time since 2008.  Texas plays Xavier Friday night in Kansas City, 8:45 p.m. on the Columbia Broadcasting System.  After the Horns beat the Musketeers Friday night, they will play the winner of Houston and Miami (Florida) on Sunday for a trip to the Final Four.
Texas got to the Sweet Sixteen with a first round 81-61 win over 15 seed Colgate and a hard fought 71-66 win over 10 seed Penn State.  The Nittany Lions had a shocking blow-out win over 7 seed Texas Agricultural & Mechanical in the first round, 76-59.  I had Texas playing the aggies in every one of my brackets I think.  I know most of my friends who are Former Students of Texas Agricultural & Mechanical were expecting to play the Longhorns in Des Moines.
Texas earned its No. 2 seed in March Madness thanks to a great season in the country's best basketball conference and a 20 point beating of the Kansas Jayhawks in the Big XII Tournament Championship Game, 76-56.  The largest Jayhawks' loss in Big 12 tournament history.  The photo below is from the game, and one of the best I've seen in a while.  Look at Coach Terry and Timmy Allen on the bench.  So fine.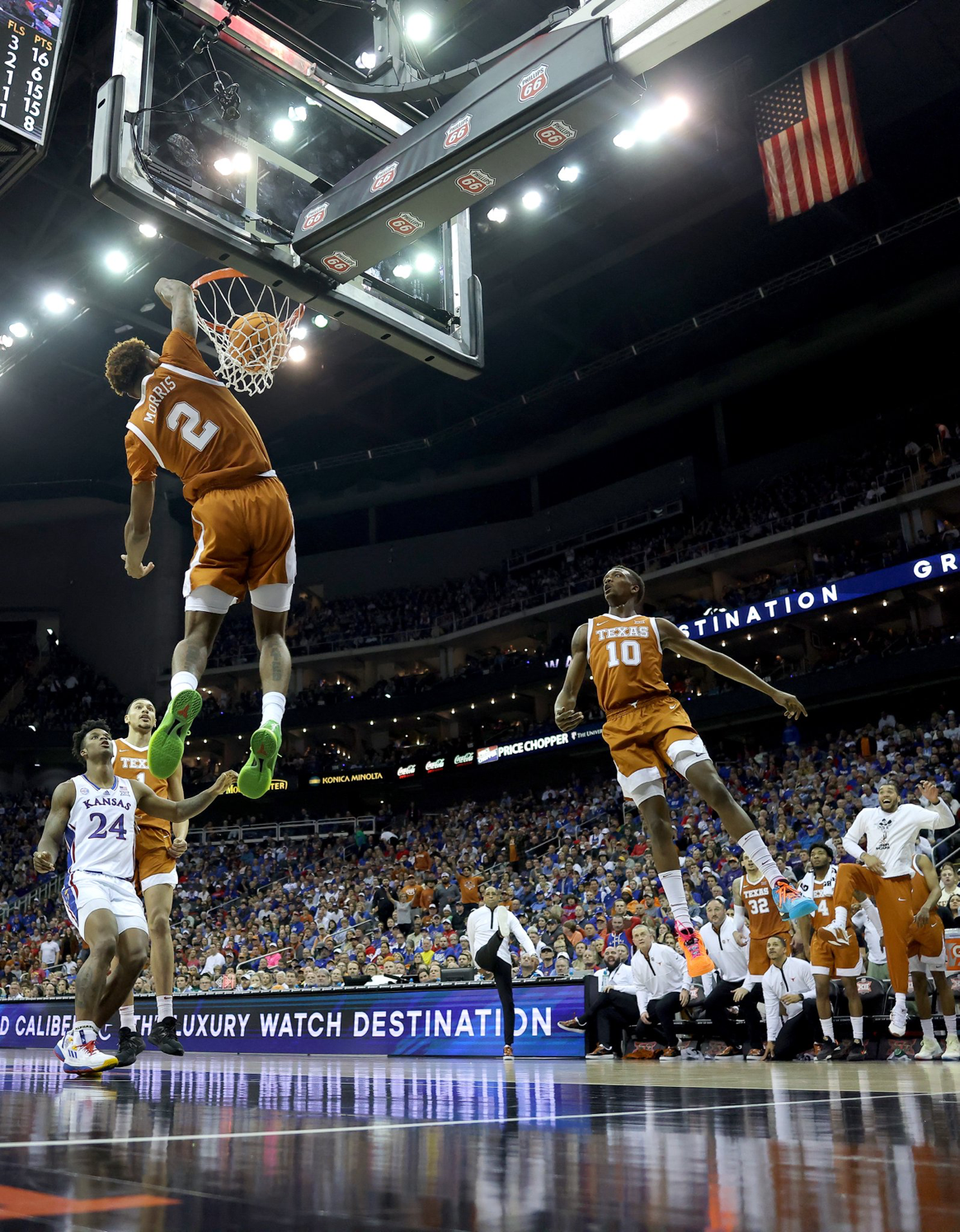 Photo by Scott Winters/Icon Sportswire via Getty Images
Xavier Musketeers vs. Texas Longhorns
The Horns and Musketeers will tip-off at 8:45 or a bit later Friday night.  Texas finished the season ranked No. 5 in the AP Top 25 poll and No. 7 in the Coaches Poll.  Xavier was No. 13 in the AP and No. 14 in the Coaches Poll.  The Longhorns and Musketeers will be meeting for the sixth time, with Texas winning the last game 78-76 in overtime in March of 2019 in Austin (NIT).  Texas leads the series 3-2.  The greatest game in the series (for Texas) was in the Sweet Sixteen in 1990, when the BMW Scoring Machine rallied the Horns from a 16 point halftime deficit to win 102-89.
Xavier plays in what I still think of as the "new" Big East – all smaller schools, most of them Catholic (of which Xavier is one).  Xavier finished second in the regular season with a 15-5 conference record, behind Shaka Smart's Marquette Golden Eagles.  The Musketeers also fell to Marquette in the Big East Championship Game, 51-65.
In the preseason, Xavier lost to Indiana 79-81.  In the Phil Knight Legacy Tournament, they beat Florida 90-83, then lost to Duke 64-71.
Games with common opponents:
Gonzaga:
Texas beat No. 2 Gonzaga 93-74 at The Moody Center on November 16.
Xavier lost to No. 6 Gonzaga 84-88 in a tournament on November 27.
Creighton:
Texas beat No. 7 Creighton 72-67 at the Moody Center on December 1
Xavier beat Creighton 90-87 at home in Cincinnati on January 11
Xavier lost to Creighton 67-84 in Omaha on January 28.
West Virginia:
Xavier beat the Mountaineers 84-74 in Cinci on December 10
Texas beat West Virginia 69-61 in Morgantown on January 21.
The Horns hammered the Mountaineers 94-60 in Austin on February 11.
In the Pomeroy College Basketball Rankings (KenPom), Texas is ranked 5 and Xavier is 15.
| | | | | | |
| --- | --- | --- | --- | --- | --- |
| | Adjusted Efficiency Margin | Adjusted Offensive Efficiency | Adjusted Defensive Efficiency | Adjusted Tempo | Strength of Schedule |
| No. 5 Texas | +24.69 | 116.4 (15) | 91.7 (10) | 68.7 (100) | +11.60 (7) |
| No. 15 Xavier | +20.08 | 118.6 (7) | 98.5 (62) | 70.4 (33) | +9.82 (24) |
2023 Pomeroy College Basketball Ratings (kenpom.com)
Bart Torvik has Texas at No. 6 and Xavier at No. 19.  His rankings also had Tennessee at No. 5 and FAU at No. 28, and FAU just took down Rick Barnes and the Vols (to my dismay; I was pulling for Rick.
I haven't watched as much March Madness as I usually do, but I have watched enough to have reaffirmed one of the keys to success in the tournament:  guard play.  The Kansas State-Michigan State game Thursday night was a showcase for that.  In the pre-season conference poll, K State was picked last in the Big 12.  Now, they are a game with Florida Atlantic away from the Final Four.  Wildcat guard Markquis Nowell, who lit Texas up in the K State win in Austin, played 43 minutes, scored 20 points, and had what I believe is a tournament record 19 assists.  Izzo's Spartans, who really weren't that great this year, got to the Sweet 16 thanks in large part to his excellent guard A.J. Hoggard, who scored 25 against K State.  Elite guard play translates to wins in the tournament.
Texas Longhorns
So let's start with our guards.  Texas is blessed with some solid men at the guard position, starting with Marcus Carr (Graduate), who has played in 162 college games, starting 155 of them.  He can be frustrating at times on offense, but his defense is stellar.  And, when he is on, he can light it up (over 20 points in 8 games, 27 or more four times this season).  Per Scott McConnell with UT, Carr is the only active Division I player with at least 2,300, 700 assists, and 500 rebounds.
Tyrese Hunter transferred from Iowa State to Texas (I know – why would anyone leave Ames for Austin?).  When the season started, a lot us were hoping the sophomore would take the point guard pressure off Marcus, as Carr seems to excel more at the 2.  Hunter played well early, and he has played solid in conference games; he is a solid point guard.  He can have great games, and Texas needs one from him tonight.
My favorite player on this team is Sir'Jabari Rice.  Rice had the good fortune to graduate from New Mexico State last May with a year of eligibility, and he came to Texas (he's originally from the Houston area, Fort Bend Marshall High).  He has the best ball fake in college hoops, and he can light it up from behind the 3 point line (36.4%) and is great at the free throw line (87.8%).  National Sixth Man of the Year, he is a supremely talented shooting guard.  He had a bit of a tough night against Penn State, but not surprising after the 7-10 from 3 night against Colgate.
If Carr, Hunter, and Rice all play well, and we get a few good minutes from freshman guard Arterio Morris, Texas will be in a good position to win.
If Dylan Disu keeps playing like he has been playing, Texas will win.  Disu went to Hendrickson in Pflugerville and played his first 2 years at Vanderbilt.  Last year he averaged 11 minutes and 3.7 points per game for the Horns.  This season, 19.5 minutes per game, 9.1 points per game, and 4.5 rebounds per game.  But he is peaking now, with huge games in the Big 12 tournament and thus far in the NCAA, and in the last 5 games he has averaged 17.8 points and 9 rebounds per game.
Timmy Allen is another graduate player, with over 2,000 career points.  In 152 career games (Utah and Texas), Timmy has 111 double digit scoring games.  He is a gritty defender, solid rebounder, and leader.  Timmy is another guy who can have really great games, and my guess is the Xavier game will be one of his good ones.
Brock Cunningham.  Just played one of his best years as a Longhorn in his fifth year at Texas, and he's coming back for a sixth season while he wraps up his master's degree in advertising in the Moody College of Communications.  Not a lot of young men like Brock Cunningham.  He doesn't have any fancy stats, although he has a couple of decent scoring games (and has found a sweet spot where he can hit 3s) and some good games on the boards.  But where Brock excels the most is toughness and defense and hustle.  There is not a harder playing guy on the court if Brock Cunningham is in the game.  He does all the little things and does them well.  Wouldn't surprise me to see Brock have a big game Friday night.
Other players we will see Friday night are freshman Dillon Mitchell (who will probably start) and Christian Bishop (our other big man, who can have some good minutes).  What I really hope is that we get up big and Rodney gets to let Anamekwe, Perryman, and Bott play a minute or two at the end.
Which brings me to Rodney Terry.  I have been fortunate to get to know Coach Terry a little bit this year.  He is a genuine, passionate, and compassionate gentleman.  A great indicator of a man's character is his ability to rise to the occasion in time of crisis and lead those impacted by that crisis through the troubled waters and onward to success.  Rodney Terry has done that brilliantly.  The players love him.  Go to the Texas Men's Basketball Instagram or Twitter account and look at the post-game and locker room videos.  Rodney is leading and coaching this team to success.  I believe in Rodney Terry, and I believe that if his players will play to the best of their ability for the next four games, Rodney Terry will be the last man coming down the ladder in Houston on April 3 with a piece of net in his hand.
As for all the noise about the "Interim" tag:  Few programs in any collegiate sport make official changes during the season.  In 2019, the Texas men's tennis coach was relieved of his duties.  Assistant Bruce Berque stepped up as interim head coach, and Texas won a national championship.  He was made head coach after that.  I am not suggesting Texas has to win the title for Terry to be named head coach.  But I do understand where we are.  And I believe that when the season ends, regardless of when and how, Rodney Terry should be named the head coach of the Texas Longhorns men's basketball team.
The rest of the coaching staff deserves a lot of credit too.  Bob Donewald, Brandon Chappell, and Chris Ogden (all Assistant Coaches) and Steve McClain (Special Assistant to the Head Coach) and John Reilly (S&C) have all, as team, been instrumental in this season's success.
Xavier Musketeers
Xavier has what it takes to win in March and April:  Great guards.
The Musketeers are led by senior guard Souley Boum, who averages 16.5 points, 4.4 rebounds, and 4.3 assists in 35.2 minutes per game. He shoots 44.2% from the field, 86.8% from the line, and 40.8% from 3.
Colby Jones (a junior), who averages 33.9 minutes and 15 points, 5.7 rebounds, and 4.3 assists; 51% from the field, 65.3 % from the line, and 38.3% from 3.
Guard Adam Kunkel, another senior, averages 30.2 minutes and 10.6 points, 2.8 rebounds, and 3.1 assists; 44.9% from the field, 87.2% from the line, and 40.9 from 3
Guard Desmond Claude is a freshman who averages 20.8 minutes and 4.8 points.
Musketeer senior forward Zach Freemantle is 6-9 and averages 15.2 points per game, 8.1 rebounds, and shoots 58.5% from the field and 63.6% from 3.  Senior forward Jerome Hunter is 6-8 and averages 20.7 minutes, 7.9 points, 4.4 rebounds.  Senior forward Jack Nunge is a 7 footer averaging 14.1 points and 7.7 rebounds per game.  He is going to be a problem size-wise.  Going to have to have Disu and Bishop play good defense and stay out of foul trouble.
Xavier beat 14 seed Kennesaw State 72-67 in the first round.  Jerome Hunter had 24 points, Boum had 17, Jones 12, and Nunge 10.  Nunge also had 11 rebounds.
On Sunday, the Musketeers beat Pitt 84-73. Nunge had 18 points and 3 rebounds.  Kunkel 15 points and 7 rebounds.  Boum 14 points and 7 rebounds.  Hunter 14 points and 5 rebounds, and Colby Jones had 10 points and 14 rebounds with 7 assists.  Claude had 11 points and 3 rebounds.
Xavier's head coach is Sean Miller.  This is his second stint with the Musketeers.  He coached there from 2004-2009 (4 NCAA appearances, 1 Elite 8, 1 Sweet Sixteen).  Then he was at Arizona from 2009-2021, where he had great success, taking the Wildcats to the tournament 7 times with 3 trips to the Elite Eight.  After Arizona fired him, he returned to Xavier and is in his first season back.
The Match-up
Our guards will match-up fine with the Musketeers back court.  We are just as big, just as strong, just as experienced.  Other than Nunge, I think Disu, Bishop, Allen, and Cunningham will be fine against the Xavier frontcourt and in fact I give us the edge with the way Disu has been playing and my expectations for Timmy tonight.  The key for our guys will be staying out of foul trouble.  As for the 7 footer, we will have to trust that the Texas brain trust has a plan.  I do.
Xavier is No. 7 nationally on offense, Texas is No. 10 nationally on defense.  Let's hope the adage that defense wins championships holds true.
The key goes back to something I have been saying since November:  if all of our guys can have a good game (not necessarily great, just good) on the same night, Texas cannot be beaten.  Add to that the offensive growth of Disu the last couple of weeks, and I think Texas can and will win this game.  If Dylan can get to the basket with that big Nunge in there.
If you want to get nerdy, go to Bart Torvik's website (link above).  You can sort the stats a lot of different ways. So I plugged in a start date of March 8 (the day before the first conference tournament games for Texas and Xavier).  Texas is ranked No. 3 (with an adjusted offensive efficiency of 113.8 [#44] and adjusted defensive efficiency of 82.1 [#3]), and Xavier No. 51 (adjusted offensive efficiency of 110.1 [#71] and adjusted defensive efficiency of 95.2 [#59]).  Not sure if any of that matters in the NCAA Tournament, as we see upset after upset from the very first day.  But it does suggest Texas has a very good chance of advancing to the Elite 8.
I got Texas 79, Xavier 71.
Texas is favored by 4 points.  Texas is minus 200 on the moneyline, Xavier is +140.  Over/under is 149.5.
Looking Ahead
As noted, Texas will get the winner of Houston and Miami.  The Cougars are coached by former Oklahoma coach Kelvin Sampson and deserved their number 1 seed. They are really good, and I know all the UH folks would love nothing more than beating Texas to get the Cougars home to Houston for the Final Four.  And there is nothing I would love more than beating the Cougars to deny them that opportunity.
The winner out of the Midwest, presumably Texas, will play the winner of Gonzaga and U Conn out of the West.  I admit I didn't see the Huskies making this run.  Gonzaga always has a chance, and the win over UCLA was a great game.  Coin toss for this one, but my best guess is the Zags get to Houston on the shoulders of Drew Timme.
The other side of the bracket is shaping up for a showdown in Houston with Alabama.  If the Tide beats San Diego State Friday night, they play the winner of Creighton and Princeton on Sunday for the finals of the South Region.  Good luck to the Princeton Tigers – really want them to get the Elite Eight.  But I just can't see either Creighton or Princeton beating Bama.  NGL, this Crimson Tide team is really, really good.  I think they get to Houston easily.  And oh how sweet it would be to beat Alabama to win a national championship.
I realize the FAU Owls are this year's Cinderella, but I can't see them getting past Kansas State, who is just on fire.  So look for the Wildcats to come out of the East bracket to get to Houston.  Amazing.  Either way, either FAU or KSU gets Bama.
So my Final Four:  Alabama vs. K State and Texas vs. Gonzaga.  Texas beats Alabama to win its first National Championship in Men's Basketball.  See you in Houston Chip.
Looking Back
Sometimes I get lucky.  Or Fortunate.  Or perhaps my educated guess from years of watching Longhorns sports and researching and writing pays off sometimes.  Anyway, my prediction for the basketball team from my pre-Alamo Bowl newsletter in December:
As for looking forward to Big 12 play, it should be really fun.  The Big 12 is again the best basketball conference in the country.  I really think Texas can go 8-1 at home.  If they can play 1 or 2 games above .500 on the road, say 5-4 which I think is possible, then I think that may be good enough to win the regular season.  Make a run in Kansas City and win the tournament, and Texas is a 1 or 2 seed in the NCAA Tournament.  Late night dreaming?  Maybe, but I have watched every game this year, and this team is strong, athletic, fast, and deep.  Buckle up.
Texas went 8-1 in the Moody Center, 4-5 on the road, finished second in the regular season, won the Big 12 tournament, and is a 2 seed in the NCAA tournament.
Texas Game Notes
https://texassports.com/documents/2023/3/20/Texas_notes_-_NCAA_Sweet_16_vs_Xavier.pdf
Xavier University
 Xavier is a Jesuit university in Cincinnati.  4,860 undergrad students, 1,269 graduate.  Founded in 1831, it has an endowment of $259 million.
Texas has 40,916 undergrad, 11,075 postgrad, and an endowment of $42.9 billion (System).
And we are on equal footing Friday night.
And Princeton is still playing and FAU beat Tennessee and it is why the NCAA Tournament is the greatest sports tournament in the world.
Texas Baseball
Texas opens Big 12 Conference play this weekend at the Disch with the South Plains Aggies from Texas Tech.  Tech comes in ranked No. 14 with an 18-4 record.  Tim Tadlock has another good team in his 11th season in Lubbock.
The Friday night game is at 7:00 p.m., and Coach David Pierce will start Lucas Gordon on the bump.  Gordon is 2-0 with a 1.37 ERA.  Doing well so far.  Texas will face Brendan Girton who is also 2-0 but with a 4.50 ERA.
Texas had a rocky start to the season, dropping all 3 games to SEC opponents in the Arlington exhibition games.  That's okay.  We did that a couple of years ago and went to Omaha and finished third in the nation.  Pierce and his staff have Texas on the right path with 11 straight wins over the last couple of weeks.  Our defense is solid, and our bats are getting better.  Eric Kennedy (leadoff) and Peyton Powell (batting second) are hot.  Powell has .419 average and 1.181 OPS, slugging .661.  EK has a .367 average and 1.158 OPS, slugging .722.

I will have more on Texas Baseball soon.  But come out to the Disch and support one of the great programs in college baseball.
Preview:
https://texassports.com/news/2023/3/23/baseball-preview-no-14-texas-tech.aspx
Game Notes:
https://texassports.com/documents/2023/3/23/2023_3_24_TTU.pdf
Texas One Fund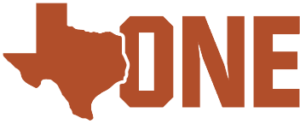 Donate.  Support our student athletes.  This is the future.
CDC and Wheels
Chris Del Conte and Patrick "Wheels" Smith are on the road again.  Follow along with CDC on Twitter.  Should be fun.
Can't help but sing "On the road again"… travel safe and bring the Longhorns back two wins! #Wheels2.0 pic.twitter.com/sLKXushhPH

— Robin Ward (@mathgoggles) March 24, 2023
Music
 All from Playing for Change.
La Bamba
One Love
Stand By Me
Photo of the Week
JType.  Bring the luck.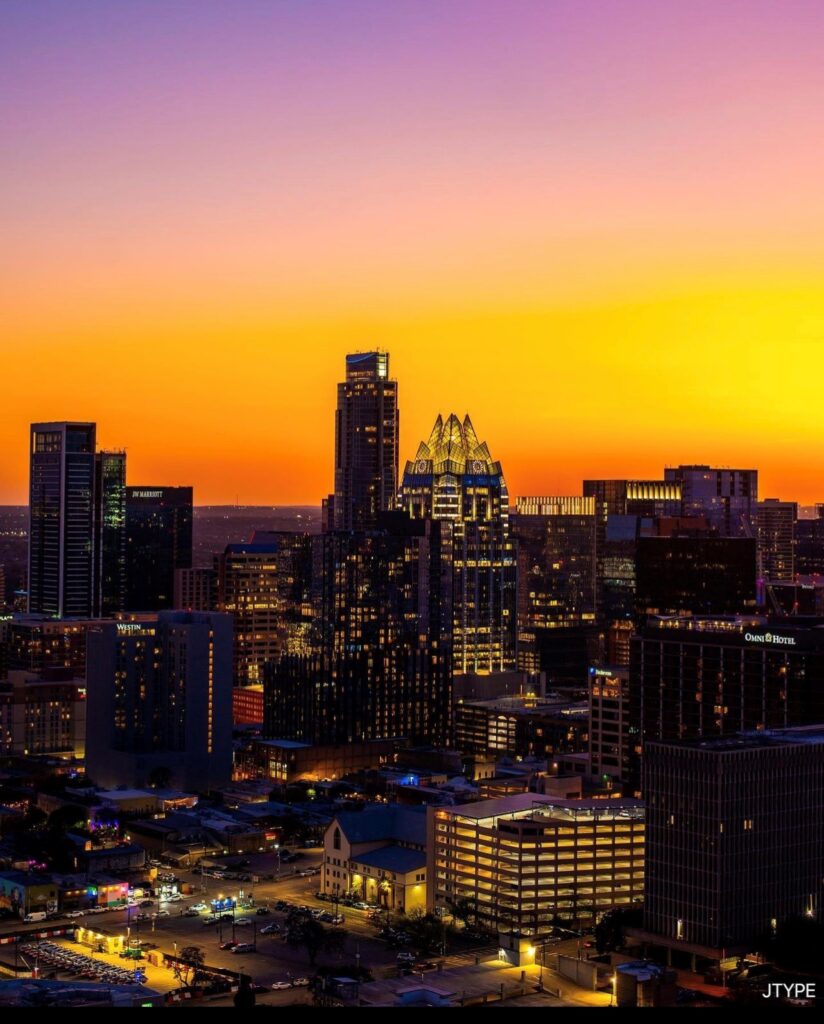 From JType, posted on Instagram March 12, 2023
Full Post:
https://www.instagram.com/p/CptXhVOtce0/
Christopher Sherman is a great photographer; here is a link to a cool photo of the UT Tower he posted on Twitter:
Tonight's crescent moon (lit with earthshine) high above the UT Tower on the campus of UT Austin. LBJ Fountain providing the reflection in the foreground. #texas #moon #utaustin #uttower #crescentmoon #austintx #atx #austintexas @Hunt_Wx @ChikageWeather @averytomascowx @spann pic.twitter.com/KL9lDc2yVf

— Christopher V. Sherman (@cvsherman) March 24, 2023
God Bless Texas
God Bless America
 Tim Taylor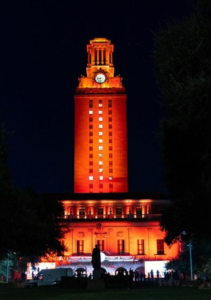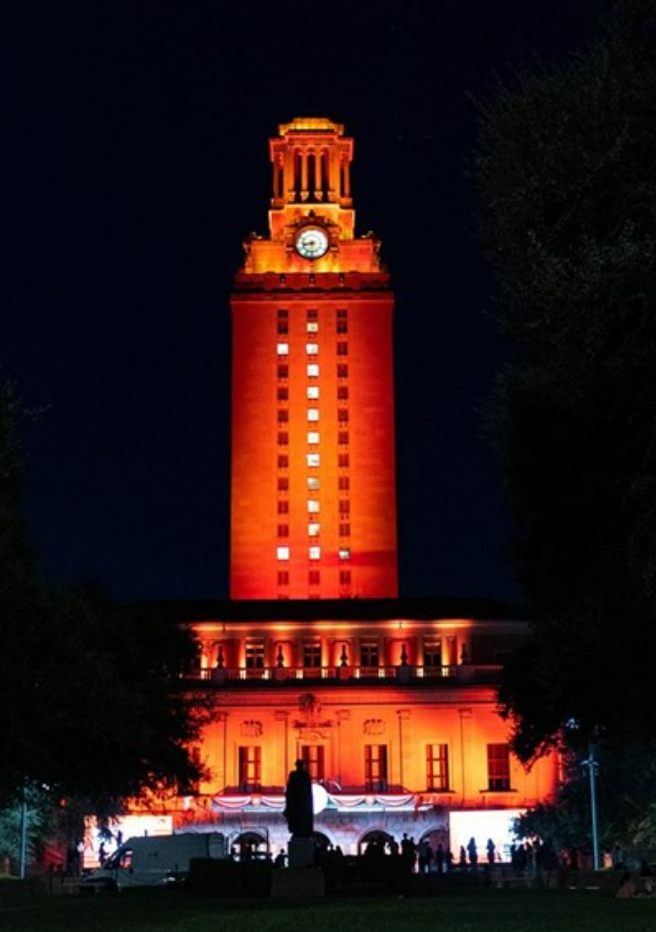 Tailgating before Home Football Games
The Juan Heisman Tailgate
Lot 38, East of Sid Richardson Hall.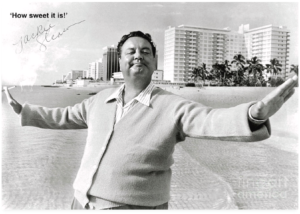 HOOK EM HORNS!!
The Austin Horns Fan Dispatch
© Timothy C. Taylor, Sr. 2023.  All Rights Reserved (as to original material).
On Twitter:  @tctayloratx
On LinkedIn:  www.linkedin.com/in/tctatx
On Instagram:  @tctayloratx
On Facebook:  www.Facebook.com/Tim.C.Taylor
and:  www.Facebook.com/Juan.Heisman
You can contact me by USPS mail:
Tim Taylor
P.O. Box 5371
Austin, Texas 78763-5371
To Unsubscribe, email me at [email protected]