The Austin Horns Fan Dispatch
Texas Longhorns 34, Oklahoma State Cowboys 41
An incredibly disappointing loss in Stillwater.  Some weeks when the Longhorns lose, I sit down Sunday night to write, using this as a cathartic mechanism.  Sometimes when I take that route, I end up re-writing or even tossing a lot of what gets penned with that first draft.  Other weeks, I may start on this Sunday or Monday but don't spend any time on the prior Saturday's game, letting my frustration or anger or whatever settle and dissipate.  It usually, almost always, does, and this was one of those weeks.  It is Wednesday night, and I am over it.  I don't feel the need to vent or criticize, having had my fill from reading other writers' take on the game, both in the traditional media and online and in my inbox.  Lots of Monday morning quarterbacking – okay, there was a lot of that going on Saturday afternoon and Saturday night and all day Sunday quarterbacking & back-seat coaching going on – but I think at this point, coaches and players have stepped up, owned it, and are, thankfully, learning from it.  Game review and thoughts below.  Let's hope that this bye week and the rest and extra prep time pays off in Manhattan and the games that follow.  Believe it or not, Texas can still get to Arlington on December 3.  The team is going to have to play Alabama-game defense and Red River Shootout level of intensity in all three phases for 240 minutes between now and the gun in the Baylor game.  We have seen this Longhorn team do it.  We know they have the talent.  Time to buckle down and run the table.
Roschon Johnson and the Paul Hornung Award
Roschon Johnson has dropped behind Jack Colletto from Oregon State in the fan voting for the Paul Hornung Award.  Come on Longhorns, it is Oregon State!  Late Thursday night, Roschon had 44.67% of the vote (8,078), and Colletto had 48.36% (8,384).  Keep voting.  Every day through November 6.  It only takes a minute.
https://www.louisvillesports.org/paul-hornung/award-poll/
Texas Longhorns Basketball
The Texas Longhorns are ranked No. 12 in both preseason polls.  They are picked third in the Big 12, and as expected Kansas and Baylor are ranked higher (5 and 6, respectively).  Texas Christian and Texas Tech are also ranked. Once again, the Big 12 is one of the best if not the best conference in the country.  Should be a great season, and I am really, really excited.
The Texas Longhorns will play an exhibition game against the No. 10 Arkansas Razorbacks on Saturday October 29 at 3:00 p.m.  It may only be an exhibition game, but really important for the team and the program, and it is the first game in front of fans in the Moody Center.  If you are a Longhorn Foundation member, you received an email on Friday October 14 about the game (if you didn't, please email me, and I will get you the information).  Get your tickets and go to the game.  If you can't go to the game, get your tickets and give them to Longhorn fans.  Let's get a strong Burnt Orange turnout to open the Moody Center for the Longhorns.
The Longhorns open the season on Monday November 7 with a game against the UTEP Miners at 8:00 p.m.  That game will be broadcast on the Longhorn Network.  Then on Thursday, Texas takes to the court to play Houston Christian (no relation to Texas Christian, as far as I know), 8:00 p.m., also on LHN.
A huge game on Wednesday, November 16, against Gonzaga.  The Bulldogs are ranked No. 2 in the country.  8:30 p.m., broadcast on ESPN2.
 Longhorns 34, Cowboys 41
Let's start with some positives.  The Longhorns came out of the locker room to start the game with tons of fight.  Playing the No. 11 team in the country in front of a hostile crowd in a packed Boone Pickens Stadium.  Despite getting picked off in the first series, Ewers and the offense exploded with big plays.  The first touchdown was a 42 yard run by Bijan Robinson up the gut for the score.  The second scoring drive included a 30 yard pass to Worthy, a 13 yard run from Roschon, and was capped with a 12 yard touchdown pass, Ewers to Worthy.  Texas had a 14-10 lead after the first quarter.
Special teams with a big play – blocked punt – which set the Horns up at the Okie State 42.  It took Bijan 2 plays to get to endzone, the second one being a great catch and run for a 41 yard touchdown completion.  21-10 Texas.  The Cowboys scored on their next possession (covered under the Not Good, below), to close the gap to 21-17, but Sark and his Horns responded to get 3 (more on that too).  24-17.  More good defense, as Watts intercepted Spencer Sanders in the endzone, giving the Horns the ball back with 5:14 in the first half.  After get the ball almost to midfield, Roschon Johnson busted one up the middle for 52 yards and the touchdown.  31-17 Texas with 3:38 in the half.
So some of the Not Good.  That 14 point lead would be the last time Texas had any distance between them and the Cowboys.  The very next possession would be where the penalties would pile up and provide Gundy's Cowboys with opportunities, of which they would take advantage.  Backing up a bit, the penalties started hurting early, on Okie A&M's second possession.  A normal drive starting at their own 25 began with an incomplete pass, but Watts was called for pass interference, and it was first and 10 from the OSU 40 instead of second and 10 from the 25.  Later in the drive, in the redzone, a second and 9 pass fell incomplete after we got pressure on Sanders, but that was negated by a Texas offsides, which gave the Cowboys second and 4 at the Texas 14.  The very next play, Sorrell jumped, and OSU had first and goal from the 8.  A 75 yard drive, 25 yards of which were gifted to the Cowboys.
In the second quarter with the 21-10 lead, Cook got that personal foul call (thank goodness they didn't uphold targeting) after a 9 yard Sanders run for a first down to the OSU 49.  But the 15 yard penalty tacked on after the run gave Gundy's offense the ball at the Texas 36 instead of back in their own territory. It was 24 yard play.  A few plays later on first and 10 from the Texas 26, Jamison made a nice defensive play, breaking up the pass, which should have put the Cowboys in second and 10.  Very workable.  Instead, the Oghoufo offsides gave OSU first and 5 from the Texas 21.  Two plays later, 21-17.
Texas was in great position to get another score after Keilan Robinson's 38 yard return set the Longhorns up at the Texas 41.  A great Ewers to Brenen Thompson (no, you may not have heard of him; true freshman from Spearman, this was his first catch of the season) 32 yard pass play gave Texas a first and 10 at the Okie State 12 yard line.  Bijan got stuffed for a 2 yard loss, then on the next play Karic called for the false start, so second and 17 from the 19, then another Ewers to Worthy miss was exacerbated with another false start.  Third and 22 from the 24.  Greg Davis phoned in the play, a 5 yard pass to Roschon.  Texas settled for 3.  I aver that the penalties on that possession cost the Longhorns 4 points.  24-17 Texas at that point.  A bit later was the big Roschon Run to put us up 31-17.
Texas had the Cowboys back on their own 15 yard line with 3:38 to play in the half and a 14 point lead.  Not Good coverage allowed Sanders to connect with Johnson for 23 yards, and on the ensuing play, Texas played good defense (pass break-up), but an unnecessary roughness call and OSU holding call made it no play.  The next play Jaden Nixon ran right through the Texas defense for 51 yards, and OSU was first and 10 at the Texas 11.  An incomplete pass, but the pass interference call on Barron gave the Cowboys first and goal from the 2, and a play later it was 31-24.
I suggest that but for the penalties, the lead at halftime should have been at least 35-17.  Maybe 35-14 or even 35-10.  There is a big difference between 35-17 and 31-24.
Coming out of halftime, Gundy and his staff made excellent adjustments, including being ready for the counter play which Sark and the Horns had used with lethal force in the first half (not sure we tried to run it).  The third quarter was uneventful, although midway through the frame, Texas had played good field position, and an excellent Trejo punt had the Cowboys starting from the own 1 yard line.  Excellent defense including a sack by Overshown, followed by a 29 yard Worthy return had Texas at the OSU 20.  And while Texas had to settle for 3, they had used defense and special teams to get points and a 10 point lead.
OSU would respond with a field goal, and Texas wouldn't (on offense).  3 and out on the next possession. Not good.  Sanders went to work and executed a solid 66 yard, 5 minute scoring drive.  Sanders was 5/7 for 44 yards and added a 16 gain on the ground.  Tie game.  Again, Texas couldn't answer, as Bijan got a first down on first down, but then after a 2 yard gain Ewers couldn't complete the next 2 passes.  A bad punt unfortunately, only 23 yards; Texas had it out to the UT 41.  A good punt there might have helped.  But the defense forced a 3 and out, and with 8 minutes to play, Texas' drive was decent, thanks mostly to Bijan, but the missed field goal gave the momentum back to the Cowboys with 5 to play.  That would be ball game, as Sanders drove the Cowboys for another score, most of it on 41 yard touchdown pass to Bryson Green. 41-34 Oklahoma State.
Texas still had a chance.  But the next possession was damaged by penalties and extinguished with an interception.  Perhaps the most costly (called) penalty of the game was a holding call on Christian Jones after he appeared to have executed an excellent pancake block (they keep stats on those for crying out loud) and Ewers scrambled for 33 yards to the OSU 35.  Time to play, time to score and at least tie. Instead, a bad call is minus 43 yards.  Four plays later, Ewers was intercepted.
Credit the defense and Sark's clock management for getting the ball back in the offense's hands with a minute to play.  Ewers completed a couple of passes (12 to Milton and 10 to Sanders) to get Texas out to the UT 46, but then a false start put Texas in first and 15.  Ewers overcame that with a great 21 yard pass to Sanders to get to the OSU 38.  Not much time, but enough with luck.  Ewers didn't have any, and he was picked off again with 8 seconds left.
The penalties.  Lots of talk about the penalties, and there should be.  Absolutely no question that Texas played sloppy.  14 penalties to none.
Five false starts on the offense, two defensive offsides (one more which was offset, so not on the books).  So 35 yards of just failure to play good football.
Texas flagged four times for defensive pass interference.  Huge penalties.  But, according to the Big 12 officials, the Oklahoma State defense never interfered or held.  Maybe, but I doubt it.
The 30 yards of penalties for personal foul and unnecessary roughness are just that – unnecessary – but they happen, and it happens with great players.  Just happened at bad times for Texas.
Lastly, the one offensive holding call in the game. This is my biggest beef.  No way two college teams run 179 offensive plays and there is only one hold.  Most egregious of course is that the one that was called wasn't, and it negated a critical long run for a first down (the minus 43 yards call).
To be fair, Oklahoma State was flagged twice. One was declined, one was offset.  Add that back in on both sides, and it was still 15-2 in favor of Mike Gundy at Home.
Texas didn't lose because of the penalties.  As we say in the law, that was not the proximate cause of the damage.  It may have been contributory negligence (okay, my orange-blooded anger says it was gross negligence by the Big 12 officials).  But Texas earned and deserved most of their penalties.  There just seems to be a lot of Texas and Oklahoma unconscious bias in the League, and I will stand behind that statement.
My friend Art Jacobson, a USC Trojan, sent me this article from the LA Times.  Not fake news.
https://www.latimes.com/sports/story/2022-10-23/usc-texas-expansion
Texas lost the game in part because Quinn Ewers had a bad day.  It happens.  Great players can have a bad game.  He did complete some great passes, and I think if in the second half there had been more check downs and more short passes and some of those swing passes, it might have been different.  But in the end, this was his third college football game, his first road game in college, and he was playing hurt.  You can make your own decisions about the rest of that thought.   But credit Quinn for stepping up and owning it:
"I don't like to make excuses. So for myself, this just shows I need to practice better. Practice habits turn into game habits. Coming into this game I thought I had a pretty good week of practice, but obviously, it wasn't the right way to practice."
Texas lost the game in part because Spencer Sanders had a great day on a day when our defense was having a bad day.  Missed tackles and loose coverage allowed for Sanders to throw for 391 yards (nearly 100 yards over his average) and run for 56.  447 yards of offense is good.  Really good.  VY kind of stats.
Back to some good stuff.
Bijan Robinson.  24 carries for 140 yards and a score.  Caught a pass for 41 yards.  Damn near won the game for us despite Quinn's Bad Day.
Roschon Johnson.  73 yards on 5 carries and a score.
Jahleel Billingsley with his first 2 catches for the Longhorns.
True Freshman Brenen Thompson with his first catch.
And the Offensive Line.  Other than the false starts, a pretty good day.
In the end, it is a really disappointing loss, more than I expected it to be.  In my first email of the year with the look at the season:  "Going to be tough road game against a very good football team."  I didn't have this in the books as a win then. But between that last week of August and last week, my expectations and hopes, and I think the expectations and hopes of most fans, for this Texas team had risen.  Some of that was fueled by the media, some supported by the stats and metrics.  And rightfully supported by what we saw on the field.  We know that Bijan Robinson is the best running back in FBS.  We know that Quinn Ewers has a golden arm (maybe missing that finger nail mattered).  We know that Roschon Johnson is a terrific team leader and football player.  We have watched the offensive line play way above expectations.  The defense has, to some degree been better.  Hell, special teams are way better.  And this Texas team had beat the Land Thieves 49 to nothing, handing the Boys from Oklahoma the worst loss ever in the history of the Red River Shootout.  We believed.  It was right to believe.  I still do. I believe and hope this team can win out.  I believe they have the talent.  I think they can, but.  But they have to clean up the penalties, they have play better in the defensive secondary, and they need to believe in themselves.  The must learn to be closers.
Highlights
There really were some highlights, especially in the first half.  Some of Bijan's runs were Heisman-worthy, a race he might be in if Texas had won in Stillwater behind him.
ESPN, Full Game Highlights, 10:20.
From Victors Valiant, a little under 14 minutes.
Bijan's Game – under 6 minutes
Bijan Robinson
 Bijan is No. 1 in the Big 12 in rushing with 920 yards, 115 ypg, and 11 touchdowns (first in all of those categories).  No. 10 in the country.
Statistical Rankings
Texas is still No. 6 in Nate Manzo's composite rankings.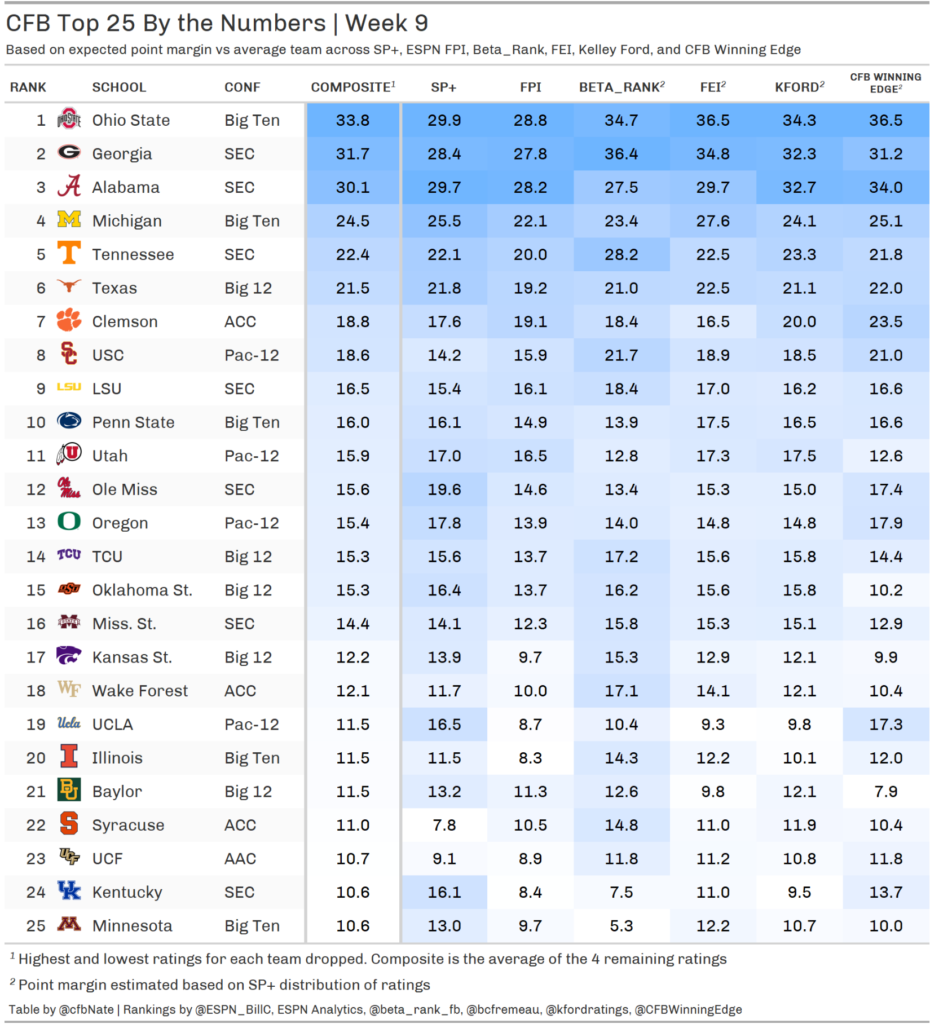 .Massey Ratings.  This composite has Texas down to No. 17.  Interestingly, I think his top 4, assuming they all win this weekend, will be top in next week's first CFP ranking.
https://masseyratings.com/cf/compare.htm
ESPN's Football Power Index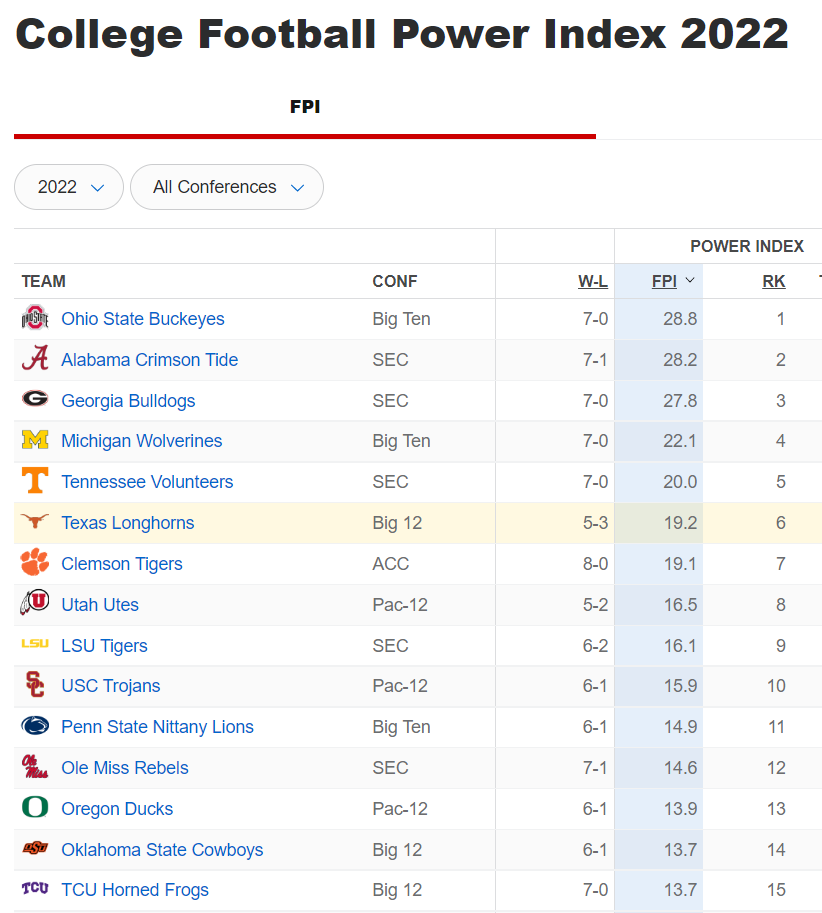 2022 College Football Power Index | ESPN
Of note, the FPI gives the Horns a 72% chance of beating K State, a 73% chance of beating Texas Christian, an 82% chance of beating Kansas, and a 78% chance of beating Baylor.  Let's hope the Longhorns turn probabilities into realities.
It pains me to say this, but one thing I get from reading these analytics is that Texas is underperforming.  In the Manzo chart, Texas is by far the highest rated team that is not in the AP Top 25.  Next one is Mississippi State at No. 14.
You can check out the full comparison here:
Here's the comparison to the AP Poll.

Red lines are significantly higher (at least 6 spots) in the Composite than the AP Poll.
Blue lines are significantly higher in the AP Poll than the Composite.
Orange indicates Top 25 in the Composite but missing from the AP Poll pic.twitter.com/gW3974hE1R

— Nate Manzo (@cfbNate) October 25, 2022
The Polls – Week 9
Texas is out of the polls, with little likelihood of returning unless we run the table.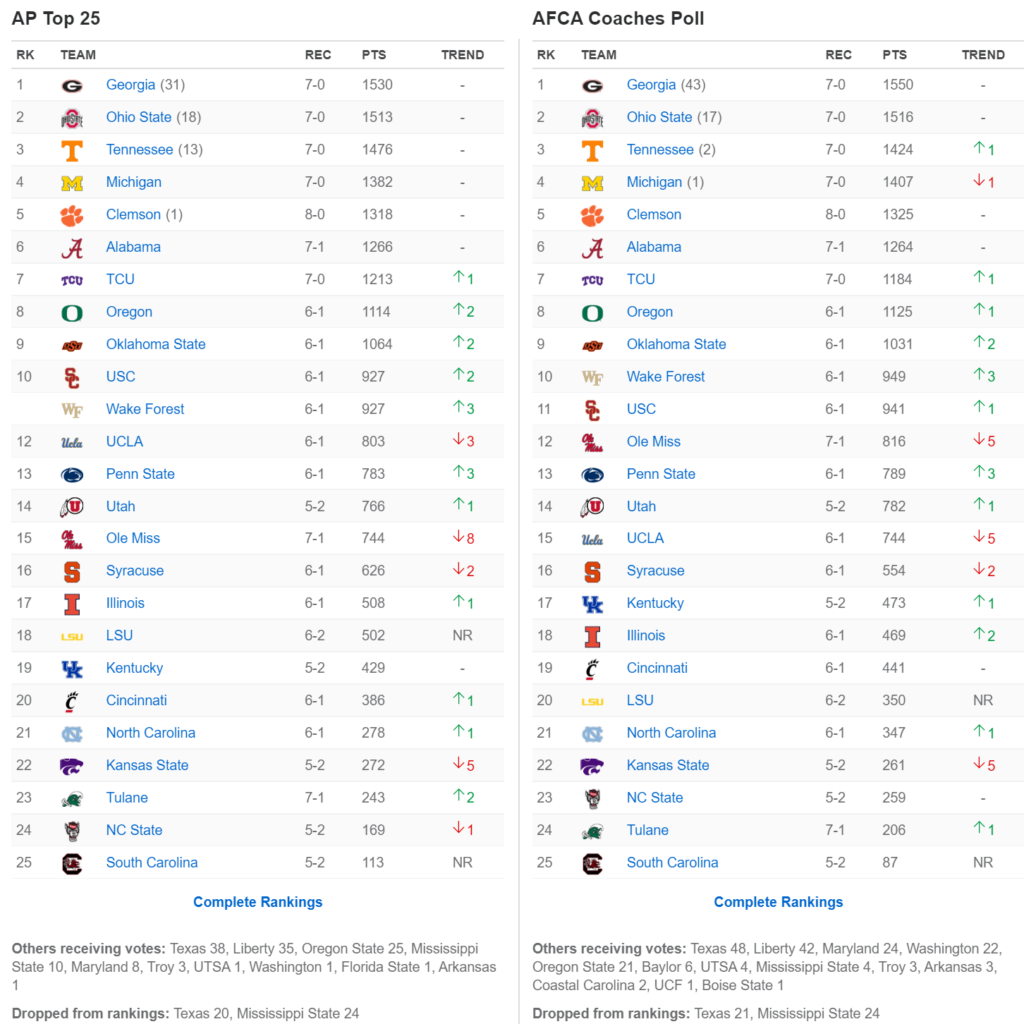 Big XII Standings – Week Nine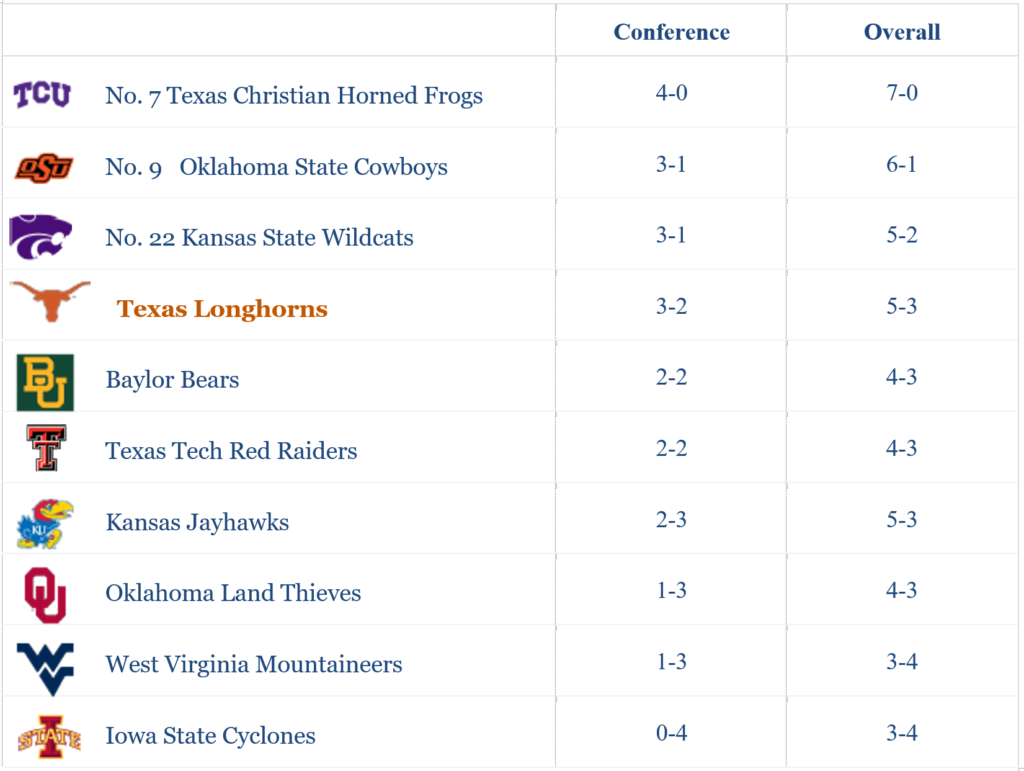 Big XII – Week Nine Games
No. 7 Texas Christian at West Virginia, 11:00 a.m. on ESPN.  Texas Christian favored by 7.5, over/under is 68.5.
Oklahoma Land Thieves at Iowa State, 11:00 a.m. on FS1 from Jack Trice Stadium.  A Cyclones win would drag Oklahoma into the basement with them.  That would be such a shame.  Land Thieves favored by 1.5, over/under is 56.5.  Going to be chilly in Ames – forecast high of 41.
No. 9 Oklahoma State at No. 22 Kansas State.  2:30 p.m. on FOX.  Tuesday night, the Wildcats were 1.5 point favorites.  Early Friday morning to my surprise, K State still favored by 1.5, over/under is 56.  Should be a good football game, and at this point I guess we want K State to win, then after we beat them the next week we will all be tied for first.
Baylor at Texas Technological, 6:30 p.m. on ESPN2.   South Plains Aggies favored by 2.5, over/under is 62.5.
Top 25 – Week Nine
Not quite sure this is "separation Saturday", but definitely some ranked match-ups and some rivalries that could at least start giving us some more insight.
Thursday night, we had two ranked teams play.
Virginia Tech visited No. 24 North Carolina State in Raleigh and almost pulled off the upset.  Hokies with a 21 point third quarter to take a 21-10 lead, but the Wolfpack with a 12-0 fourth to get the win 22-21.
No. 14 Utah went to Pullman to play the Cougars.  The Washington State rally fell short, and Utah escaped 21-17.
Saturday
The biggest game of the weekend involves my least favorite team and one of which I am not particularly fond.  No. 2 Ohio State (7-0) at No. 13 Penn State (6-1, 3-1).  11:00 a.m. on FOX.  Buckeyes favored by 15.5, over/under is 61.  I don't say this often (like maybe once a year), but good luck Buckeyes.
Notre Dame (4-3) at No. 16 Syracuse, 11:00 a.m. on ABC.  Time to cheer, cheer for old Notre Dame.  Good luck to the Irish.  Orange favored by 2.5, over/under is 48.  This would be a huge win for Notre Dame, and I hope they get it.
The World's Largest Outdoor Cocktail Party!  Florida and No. 1 Georgia in Jacksonville, Florida.  2:30 p.m. on the Columbia Broadcasting System.  Great long rivalry, first contested in 1915.  The Gators and Dawgs have met annually since 1926 except 1944-45 for the War.  The first game in Jacksonville was in 1933.  From 1915 to 1949, Georgia won 21 of the 25 games played.  Florida dominated 1950 to mid-Sixties, then Vince Dooley took over, and the Bulldogs won most of the games until 1990.  Florida would win 17 games between then and 2010.  Since then, pretty balanced.  Lots of good football, and a whole lot of cocktails.  The game was actually officially called The World's Largest Outdoor Cocktail Party until 2006.  Georgia favored by 22.5, over/under is 56.5.  Georgia to win, Florida to cover the line.
No. 8 Oregon at Cal.  2:30 p.m. on FS1.  Since the opening loss to Georgia, the Ducks have been on a roll.  They are getting CFP talk, and Bo Nix even getting some Heisman hints.  Doubt the latter, but Oregon is pretty good and might well win out in the Pac 12.  This will be a good game to check in on and see a big of 2022 Oregon football.  Oregon favored by 17, over/under is 58.5.
No. 10 Wake Forest at Louisvile.  2:30 p.m. on ACCN.  Demon Deacons favored by 3.5, over/under is 64.  Go Wake.
No. 17 Illinois at Nebraska.  2:30 p.m. on ABC. The Illini are 6-1 and 3-1 in the Big Ten.  Big Red 3-4 and 2-2.  Illinois favored by 7.5, over/under is 50.5.
No. 20 Cinci at UCF.  2:30 p.m. on ESPN.  UCF favored by 1.5.
Missouri at No. 25 South Carolina, 3:00 p.m. on SEC Network.  Gamecocks favored by 3.5, over/under is 46.
No. 19 Kentucky at No. 3 Tennessee.  6:00 p.m. on ESPN.  This is claimed to the oldest series in major college football, as the two schools first met in 1893.  A competitive series before World War I, Tennessee has dominated for the last century.  The Volunteers lead 82-26-9.  Tennessee favored by 12, over/under is 61.
No. 10 Southern Cal at Arizona.  6:00 p.m. on the Pac 12 Network.  Trojans favored by 15.5, over/under is 76.5.
Michigan State (3-4, 1-3) at No. 4 Michigan (7-0).  6:30 p.m. on ABC.  A great rivalry game with some amazing moments.  The teams vie for one of the cooler trophies in college football, Paul Bunyan's Axe.  This will be the 600th game in the Big House in Ann Arbor, and Michigan is 449-133-17 at home.  Saturday is the 115th meeting, a series led by Michigan 71-38-5.  What is interesting is that at Michigan Stadium, their record against the Spartans is 35-21-3.  State having a tough year, Coach Harbaugh and the Wolverines have been dominant.  No surprise that Michigan is favored by 22.5 (over/under is 55).  But this is a great rivalry.  I don't think the Spartans will upset Big Blue, but they might cover.
No. 15 Ole Miss (7-1, 3-1) at Texas Agricultural and Mechanical (3-4, 1-3), 6:30 p.m. on SECN from Kyle Field.  Ole Miss favored by just 1.5, over/under is 55.  Rebels coming of their first loss (to Louisiana State in Baton Rouge) and looking to rebound.  And Ole Miss needs the win to keep SEC Championship Game hopes alive.  Meanwhile it has been a rough week in College Station, with two (or three?) players suspended indefinitely for a locker room incident after the Aggie loss at South Carolina, and rumor two offensive lineman are sitting out the rest of the season to get ready for the NFL draft.  I have heard rumors and rumblings that perhaps some of the Aggie fan base is mildly unhappy and maybe even showing signs of impatience, as it looks like the date on that National Championship Trophy they gave Jimbo will not be "2022".
No. 21 North Carolina and Coach Mack Brown (6-1, 3-0) host Pittsburgh (4-3, 1-2) at Kenan Stadium, 7:00 p.m. on ACC Network.  The game sold out on Monday I believe.  Mack is having fun, and I am happy for him.  Hope he and the Heels get to light their tower blue again this week.  Tarheels favored by just 3, over/under is 65.5.
Leland Stanford Junior University plays No. 12 University of California, Los Angeles, in Pasadena.  9:30 p.m. on ESPN from the Rose Bowl.  Bruins took their first loss last weekend in Autzen Stadium as the Ducks won 45-30.  UCLA favored by 16.5, over/under is 66.5.
Week Nine:  Service Academies
Temple at Navy, 2:30 p.m. from Navy-Marine Corps Memorial Stadium.  Midshipmen favored by 14, over/under is 41.  Arthur Johnson's football program having a tough season in his first year in Philly – 2-5, 0-3.
Army and Air Force have the week off.  They play each other the following Saturday in the Commanders' Classic, to be played at Globe Life Field in Arlington at 10:30 in the morning.
Week Nine:  Other Games of Interest
Friday night, East Carolina at Brigham Young, who has dropped to 4-4.  7:00 p.m. on ESPN2.  Cougars favored by 3.
Saturday
Big game in Akron!  Miami Redhawks (3-5, 1-3) play the Akron Zips (1-7, 0-4).  11:00 a.m. on ESPN+.  Miami favored by 8, over/under is 50.
Georgia Tech (3-4, 2-2) at Florida State (43-3, 2-3), 11:00 a.m. on ACCN.  Seminoles favored by 24, over/under is 47.5.
Miami (Florida) at Virginia, 11:30 a.m. on ESPN3.  Another non-televised game for The U.  Both teams 3-4.  Hurricanes favored by 2, over/under is 48.5.  Go Hoos!
Charlotte (1-7, 0-4) at Rice (4-3, 2-1).  1:00 p.m. on ESPN3.  Owls playing some decent football.  Rice favored by 16.5, over/under is 59.5.
Southern Methodist at Tulsa, 2:30 p.m. on ESPN+.  Both teams 3-4 and 1-2 in conference.  Mustangs favored by 2.5, over/under is 64.
Middle Tennessee at UTEP, 8:00 p.m. on ESPN+.  Miners favored by 2.5, over/under is 52.
Washington & Lee Generals
The Generals had a heartbreaking loss to Hamden-Sydney after mounting a furious comeback in the fourth quarter.  W&L trailed 17-31 at the end of the third quarter.  With possession and driving as the fourth quarter began, the Generals completed a 55 yard drive with a touchdown to close the gap to 23-31, but missed the extra point.  H-S got a field goal in their following possession to get the lead to 11 at 23-34.  The Generals with another touchdown drive, and the two point conversion failed.  29-34.  Tough defense on the next Tiger possession resulted in a forced fumble recovered by the Generals' Hunter Hawk.  Give me a better linebacker's name!  With the ball on the H-S 39 and 3:41 to play, W&L drove for the score and the 2 point conversion to take a 37-34 lead with 38 seconds to play.  The Tigers are a passing team, and they started heaving the ball.  It looked like victory was secured when Isaiah Mefford intercepted the Hampster's pass at the W&L 20, but instead a DPI flag was thrown, giving Hampden-Sydney the ball at the W&L 25 with one second to play.  Field goal. Tie game. Overtime. W&L got the ball first and ran the ball as they had all game, getting the score, but again a missed PAT.  H-S got the ball and scored, and their kicker made the point after to give the visiting Tigers the win.  Just a tough loss for the Generals.  Heck of an effort against the No. 2 passing offense in the country, averaging 358.4 yards per game.  W&L rushed for 345.  H-S passed for 313.
W&L is at home again this weekend for Young Alumni weekend, and the Generals host Randolph-Macon College at 2 p.m. on Wilson Field.  The Yellow Jackets are ranked No. 16 in the AFCA Coaches Poll and No. 17 in the D3football.com Top 25.  RMC is 7-0 and 4-0 in the ODAC.  Washington & Lee No. 5 in the nation in D3 in rushing, averaging 299.9.
Texas Volleyball
Last Saturday, Texas beat No. 18 Baylor in Waco 3-1.  Wednesday night, they suffered their first loss of the season, to Iowa State.  Texas swept West Virginia last Saturday night, and followed that sweep by mopping the Gregory Gym floor with South Plains Aggies, 3-0 match in 68 minutes.  Friday night they play Kansas State in Manhattan.  Texas is ranked No. 2 behind the Nebraska Cornhuskers.
Texas Baseball
Fourteen inning fall ball games are fun and good for the players, but not always a good measuring stick for the pitchers.  But a good chance to see what the bats and defense look like.  Texas hammered Houston 18-5 on Sunday, a game that included a Dylan Campbell grand slam and Porter Brown, another immigrant from Fort Worth, hitting for the cycle in his first four at-bats as a Longhorn.
Texas plays San Jacinto this Sunday in another 14 inning game, noon at the Disch.
World Series
The Houston Astros are back in the World Series after sweeping the first two rounds of the post season, and that was with Jose Altuve going 3 of 32 with 11 strikeouts.  Sweeping Seattle didn't surprise me. But taking the broom to the Yankees did.  The Houston pitching staff is strong.
Never been a fan of Philly.
I am a big Dusty Baker fan.  Time to get that man a World Championship as a manager.  Go Stros!
Big XII – Week Eight Games
Baylor got the win over Kansas 35-23, covering.  The over/under?  Oh, it was 58.
Texas Technological may be a better team than it was getting credit for 6 or so weeks ago.  A 48-10 domination of West Virginia.  The line was 6.  I was right, Texas Tech won big.
Spike Dykes has his Horned Frogs rolling.  38-28 over No. 17 K State.
Top 25 – Week Eight
Ohio State is good. And undefeated.  54-10 over Iowa.  Covering the line and the over.
Tennessee 65-24 over UT Martin.
A really good football game between Syracuse and Clemson.  Cuse had a 21-10 halftime lead, with Clemson's starting quarterback struggling, including an interception and a fumble returned 90 yards for a Syracuse score.  After DJ Ulagalelei's second pick in the third quarter, Dabo Sweeney turned to his young back-up quarterback from the Austin area, Cade Klubnik of Westlake.  The former Chap led Clemson to a 27-21 comeback win.  Good coaching move by Dabo.
It looked like Southern Methodist might rally for the win and upset in the Bubble, but rally fell short.  The Mustangs got the late touchdown but the two point conversion didn't convert.  Cincinnati 29, Southern Methodist 27.  But they covered!.
Well, I guess I should not be too surprised that Kelly has the Louisiana State Tigers heading in the right direction.  Ole Miss had a 20-17 halftime lead, and the Rebels wouldn't score another point.  Tigers with 28 second half points (21 in the fourth quarter) to win the Magnolia Bowl 45-20.  Alright Rebs, put that one behind you and win this week!
The Oregon Ducks beat previously undefeated University of California, Los Angeles, 45-30.
Wake Forest 43-15 over Boston College.
It was parents weekend at Tulane for their match with Memphis, and the Green Wave held off the Tigers for a 38-28 win.
I didn't think Leach and is Bulldogs were going to beat Bama in Tuscaloosa, but I thought they might give the Tide a game and maybe cover.  I thought wrong.  30-6 Alabama.
PSU 45, Minnesota 17.
Week Eight:  Service Academies
Army 48-24 over Louisiana Monroe.  The Black Knights rushed for 441 yards.
Houston 38-20 over Navy.
Tough loss for Air Force as the Falcons fall to Boise State 14-19.
Week Eight:  Other Games of Interest
Duke 45-21 over Miami (Florida).  This is good.
Notre Dame got a much needed win over UNLV 44-21.  Notre Dame was favored by 27, over/under was 47.  How do the Vegas sportsbooks miss by that much in a UNLV game?
Rice Wins!  42-41 in overtime at LA Tech.
Brigham Young loses bad in Lynchburg to Liberty, 14-41.  Cougars were 7 point favorites.
Tough season for the Miami Redhawks.  They fall at home to Western Michigan 10-16.
Big win for UT San Antonio with a 31-27 win over North Texas.  6-3 UNT at half.  Then 13-10 Mean Green at the end of 3.  Then a wild fourth quarter in the Alamodome.  A heavyweight bout as the teams combined for 35 points.  Good news for the Roadrunners, they scored 21 of them.  31-27.  North Texas quarterback Austin Aune from Argyle threw for 325 and 3 scores, Frank Harris passed for 238 and 2 scores for UTSA and added 75 yards on the ground.  Birds up!
Leland Stanford Junior University victorious!  15-14 over the Sun Devils.  A bit of an ugly one on The Farm.  The Cardinal kicker is Joshua Karty.  He kicked five field goals.
UTEP with the 24-21 upset of Florida Atlantic.
Southern Miss 20-14 over Texas State.
Texas Agricultural & Mechanical loses 24-30 to South Carolina in Columbia.
Washington 28-21 over Cal Berkeley (3-3).
San Diego State 23-7 over Nevada (2-5).
Bats
A little known fact about me:  I am into bats.  The seed was probably planted when the original Adam West Batman TV series came out, and I was allowed to go to a friend's house to watch it in color, as we still just had black and white.  That seed was dormant for decades.  But when I got to law school and first started clerking and working, my first mentor was a great friend named Don Carnes.  And Don Carnes knew a guy named Merlin Tuttle, and Merlin Tuttle was the bat man.  He helped start Bat Conservation International, and that organization and many others are fighting to protect and save nature's greatest non-insect pollinator.  Why is that so important to Tim Taylor?  Bats are really, really critical to pollination of the agave plant.  Agave.  That's where tequila comes from.
I could bore you with more, but check out BCI (link below), and google the local bat rescue organization in your town.  Also, if you want to see some really cool animals, check out Australia's flying foxes.  Wild.
So this week's charity, since it is Halloween, is Bat Conservation International.  Save a bat, save an agave plant.  Salud!
Picture of the Week
On a related note, the largest urban colony of Mexican free-tailed bats lives under the Congress Avenue Bridge in downtown Austin, just below my office.  The bats help control mosquitos and other insects.
So:  bats help make tequila and they eat mosquitos.  Name a better non-domesticated mammal!
JType's photo of the Austin bats emerging.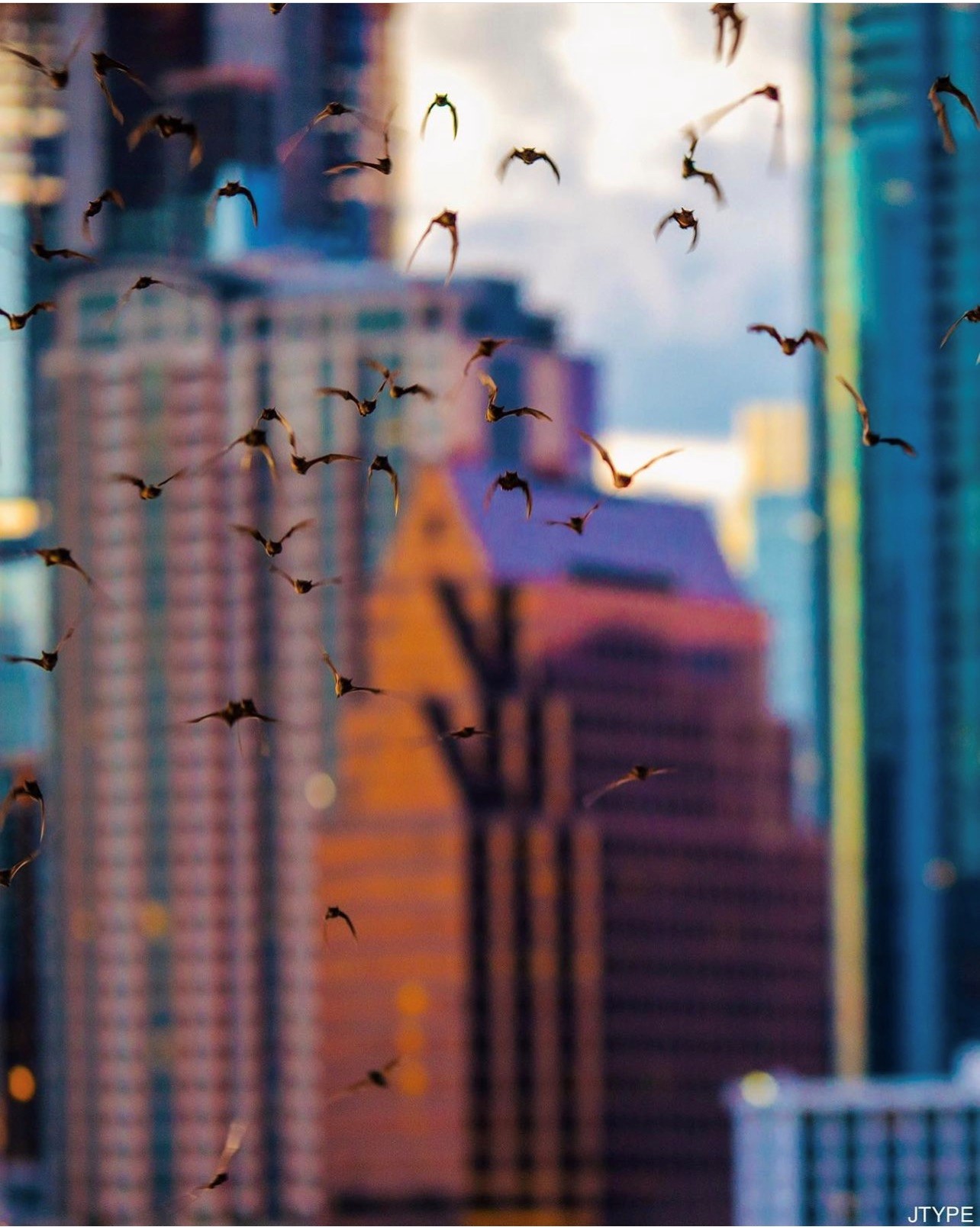 Photo by JType, from JType's Instagram Account.
Full post:
This Week's Featured Image
The beautiful sunset photo is from Carli Todd's Instagram post on October 12.
God Bless Texas
God Bless America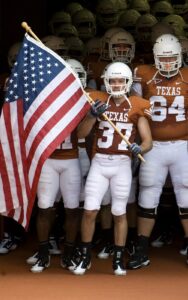 Tim Taylor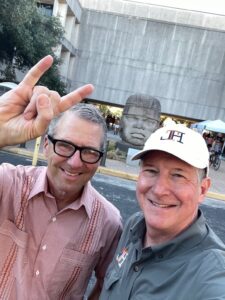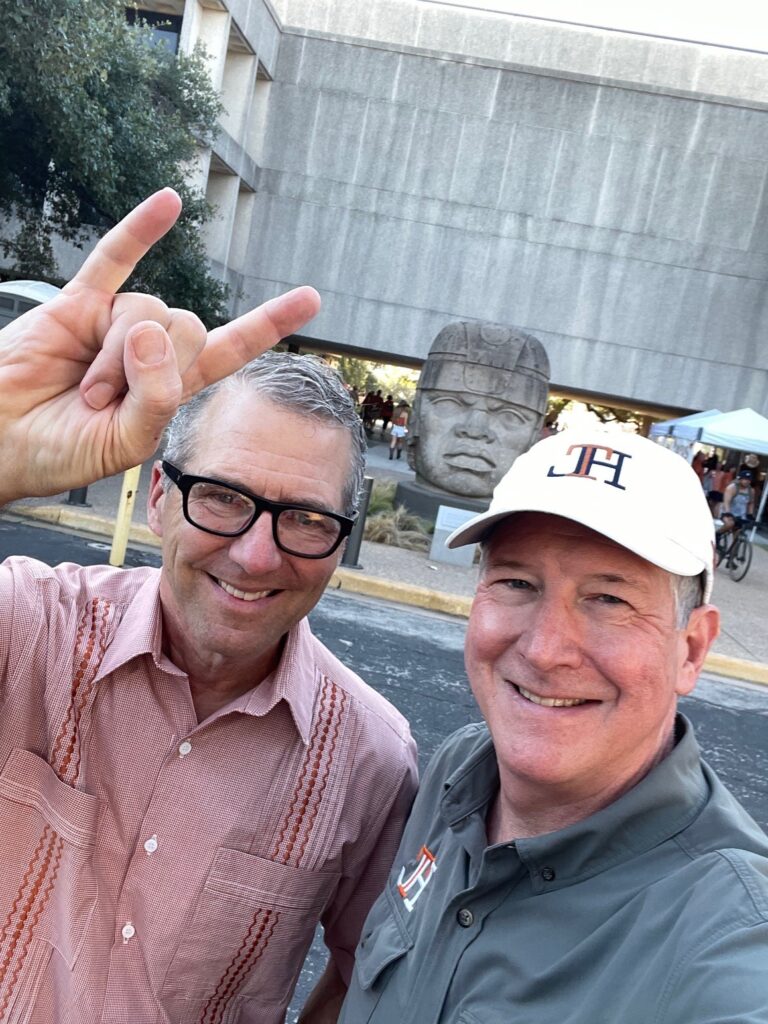 Tailgating before Home Football Games
The Juan Heisman Tailgate
Lot 38, East of Sid Richardson Hall.
HOOK EM HORNS!!
© Timothy C. Taylor, Sr. 2022.  All Rights Reserved (as to original material).
On Twitter:  @tctayloratx
On LinkedIn:  www.linkedin.com/in/tctatx
On Instagram:  @tctayloratx
On Facebook:  www.Facebook.com/Tim.C.Taylor
and:  www.Facebook.com/Juan.Heisman
You can contact me by mail:
Tim Taylor
P.O. Box 5371
Austin, Texas  78763-5371
To Unsubscribe, email me at [email protected]