Texas Longhorns 35, Brigham Young Cougars 6
Steve Sarkisian's first recruit to The University of Texas paid dividends on Saturday, as Maalik Murphy quarterbacked the Longhorns to a dominating 35-6 win over the Brigham Young Cougars.  It was a true team win:  Worthy opened the scoring with a 74 yard punt return for our first score; the Texas defense intercepted Kedon Slovis twice and sacked him twice; the Cougars never saw the endzone; and BYU only gained 95 yards on the ground.  Game review below.  The Horns have a big one this Saturday.
The Monday Morning Highlights from @TexasFootball.
https://x.com/TexasFootball/status/1718976179049226610?s=20
No. 23 Kansas State Wildcats vs. No. 7 Texas Longhorns
Texas and Kansas State drew the 11:00 a.m. FOX Big Noon Kickoff black bean. Or the Golden Ticket, depending on your viewpoint.  Good for TV ratings, and Coach Sarkisian likes it.  Not so good for tailgating.  Or for night owls.  But it is fun to have one of the morning pregame shows on The Forty Acres, even the FOX crew, showcasing The University and our Longhorns.
The Wildcats come to Austin for the last time with a 6-2 record, tied with Texas (and Iowa State, Okie State, and the Land Thieves) at 4-1 atop the Big 12.  With Bedlam also this Saturday, and Iowa State at Kansas, this is a huge weekend for the conference.  K State has not allowed a touchdown in 9 quarters (since Tech scored in the third quarter of their match on October 14).
The game will be broadcast on FOX following good times with on set with Urban Meyer, Reggie Bush, Matt Leinart, among other.  The Game will be called by Gus Johnson, with Joel Klatt providing in-booth analysis and Jenny Taft on the sidelines.  A very good crew; I am Joel Klatt fan.  On the radio with the Voice of the Longhorns, Craig Way, Roger Wallace with analysis and commentary, and Lifetime Longhorn Will Matthews reporting from the sidelines.  Listen to Craig on KWMC 1490 AM in Del Rio, KFST 860 in Fort Stockton, and KVNS 1700 AM in McAllen, and of course 50,000 watts clear channel WOAI 1200 AM out of San Antonio (not that anyone will be having a bloody mary morning ranch cruise in South Texas after an opening morning hunt).  SiriusXM 138 or 199 on the SXM App.  And you can always listen on the Longhorn app.
The Spanish Broadcast on the Longhorn Radio Network with Dr. Rubén Pizarro-Silva and Jesus Mendoza.  KTXX-HD2 or KZNX 1530 AM out of Creedmoor for the Spanish. Escuche en línea:  https://texassports.com/sports/2014/11/19/GEN_1119144623.aspx
The Longhorns are favored by 4, and the over/under is 49.5.
Veterans Recognition Day
Some extra notes about this Saturday's game.  First, it is Veterans Recognition Day. Always an important and special day at Texas Memorial Stadium.  99 years ago, on November 8, 1924, Varsity played its first game in Texas Memorial Stadium, which was so named as the students at The University wanted to honor the 5,280 Texans who lost their lives in World War I and the 198,520 Texans who fought in what was hoped to be the War to End All Wars. Photo courtesy of Austin History Center Association and my dear friends Sue Meller and Karen Sonleitner. Thanks Sue & Sonny!  [There is more to the story, but you will have to go read it on Jim Nicar's blog – link to his article below.]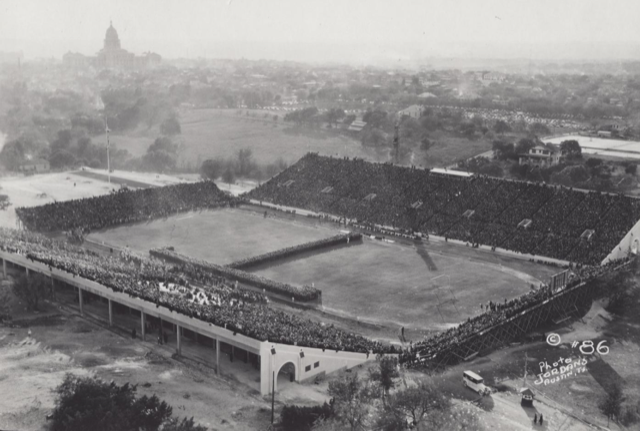 Ricky Williams
Just one of the greatest ever.  He won the Heisman 25 years ago (barely seems possible), and he will be honored for that season.  I will never forget that run for the record.
Texas Exes Distinguished Alumni
The University and Texas Exes will recognize this year's Distinguished Alumni.  In addition to Ricky Williams:  Jeannie M. Leavitt, Mitchel Wong, Ed Hyman, Ross R. Moody, and John C. Goff.  Congrats to those great Longhorns.
Texas Rangers
Congratulations to the Texas Rangers and all my family and friends who are Rangers fans.  What a postseason.  11-0 on the road.  Nathan Eovaldi tied the MLB record for most wins in a single postseason (5).  2.95 ERA and 1.12 WHIP.  Corey Seager joins Sandy Koufax, Bob Gibson, and Reggie Jackson as the only 2-time World Series MVPs. In the postseason, Seager hit 6 homeruns, drove in 12, hit .318, slugged .682, and an OPS of 1.133.  Adolis Garcia didn't get to play the last two games, and his postseason stat line was 8 HR, 22 RBI, .323 BA, .726 slugging, and 1.108 OPS.  Bruce Bochy.  Congratulations on your fourth World Series Championship.  I became a Bochy fan when he managed the Giants to three titles (including one over the Rangers) when one of my favorite Longhorns, Brandon Belt, was playing first base for San Francisco.  Bochy is one of 5 managers in Major League history to win titles with multiple teams and one of 6 managers to win four titles.  And I am pretty sure the only one born in France to do it!  And I am really happy for Eric Nadel.
Pitchers and catchers report in 103 days.
2023 Kansas State Wildcats
The Wildcats are coached by Chris Klieman, who is in his fifth year in Manhattan.  Last year he coached Kansas State to a Big 12 Championship and a final CFP ranking of 9.  He is 36-22 overall in Manhattan, and career 108-35 (with four FCS National Championships for the Bison in his 5 seasons at the helm of North Dakota State).  His 2023 Cats are led by a double-headed monster at quarterback:  Senior Will Howard and freshman Avery Johnson.  Howard gets most of the snaps, but Johnson can run it as well as he throws it; they have combined to lead K State to the No. 2 scoring offense and No. 2 rushing offense in the Big 12 at this point in the season.
K State's 2023 Season:
The Wildcats opened with a 45-0 thrashing of the Southeast Missouri State Redhawks.  The Redhawks are actually a moderately good FCS team, currently in first place in the Big South-OVC Association, an amalgamation of the football playing schools from the Big South and Ohio Valley.  The BS-OVC includes the Tennessee Martin Skyhawks, Bryant Bulldogs, Charleston Southern, and Robert Morris.
K State followed that with a 42-13 beating of Troy, who currently is in first place in the Sun Belt.  Troy's only other loss was a close 14-16 game with now AP No. 23 James Madison.  The Trojans have wins over Stephen F. Austin, Western Kentucky, Georgia State, Arkansas State, Army, and Texas State (31-13).  That win looks pretty good, albeit over a Group of 5 school.
K State lost their third game of the season to Missouri, 27-30.  The Tigers were 3-0 at the time, and I don't think many of knew how good Missouri was, as they had wins over South Dakota (35-10) and Middle Tennessee (just 23-19).  But the Tigers are 7-1 and in second place in the SEC East.  Wins over Memphis (34-27), Vanderbilt (38-21), No. 24 Kentucky (38-21), and South Carolina (34-12).  Their only loss was to No. 23 Louisiana State, 49-39.
K State won their first Big 12 game of the year, beating UCF 44-31.  UCF is 3-5 and 13th in the Big 12.   Wins over Kent State, Boise State, and Villanova.  No conference wins:  other losses to Baylor (36-35), Kansas (51-22), OU (31-29), and West Virginia (41-28).  Worth noting that UCF still leads the Big 12 in rushing: 1,816 yards and 227 per game.  K State held them to 143 yards (and as you will see below, KSU is No. 2 in rushing in the Big 12).
The Wildcats' trip to Stillwater went poorly, as the Cowboys got the win 29-21, the victory that ignited Okie State's 4 game winning streak.  Oklahoma State has wins over Central Arkansas (24-13) and Arizona State (27-15), but an ugly loss at home to South Alabama, 33-7.  Then a 34-27 loss at Iowa State.  But after that K State win, Gundy's Cowboys have beaten Kansas (39-32), West Virginia (48-34), and Cincinnati (45-13).
K State rebounded with a 38-21 win over Texas Tech in Lubbock.  The South Plains Aggies are 4-5. Losses to Wyoming (35-33) and Oregon (38-30; this looks like a good loss now), West Virginia (20-13), and Brigham Young (27-14).  Wins over Tarleton State (41-3), Houston (49-28), Baylor (39-14), and Texas Christian (35-28).
K State whipped Texas Christian 41-3.  Will Howard was 10-16 for 154 and 3 touchdowns in the air and rushed 4 times for 62 yards.  Avery Johnson was 5-10 for 90 yards and 1 TD and rushed 16 times for 73 yards.  The Wildcats totaled 343 yards on the ground.  587 yards of offense against a Sonny Dykes team.  The Frogs are 4-5.  Wins over Nicholls, Houston, SMU, BYU.  Losses to Colorado, West Virginia, Iowa State, and the South Plains Aggies.
Last weekend, K State shutout Houston, 41-0.  Won't recap Houston's season, as I just did that 2 weeks ago for that Cougar edition of The Austin Horns Fan Dispatch.  One can only hope that Houston had a massive letdown after failing to win the only game of the season that mattered.  The K State quarterbacks against the Cougs:  Will Howard was 15-17 for 164 yards and 2 TDs; Avery Johnson was 5-6 for 46 yards and a TD.  Donovan Smith, the Houston QB who threw for 378 yards against Texas (32-46-3-1), was held to 13-28 for 88 yards and an interception, although Houston did rush for 113 on the Wildcats
Their offense is a good.  22nd in the nation in plays run.  They have a very good offensive coordinator in Collin Klein, and no surprise at a program that still has Bill Snyder's fingerprints on it, they execute very well.
2023 K State Wildcats:
K State's got two starting quarterbacks.  Will Howard (No. 18, 6-5, 242 senior)  7th in the Big 12 in completions, 63.7%.  137-215-14.  He's decent, but he's also thrown 7 interceptions.  An average passer, but he knows how to run and when.   True Freshman Avery Johnson (No. 5, 6-2, 188, freshman from Maize HS in Wichita, Kansas).   9th QB in the 2023 class.  He is fast.  A very good runner.  He got 5 rushing touchdowns against Tech.
The K State running backs are led by DJ Giddens (No. 31, 6-1, 212 sophomore).  Fifth in Big 12 with 90.25 yards per game and 722 yards.  Fourth in the Big 12 in yards from scrimmage with 962, fourth with 120.3 yards per game.  He has good lateral movement.  Hill, Gbenda, and Ford are going to have their hands full with him and whoever is in at quarterback.   Treshaun Ward (No. 9, 5-10, 194, Senior transfer from Florida State).  458 rushing yards and 80.3 yards per game.  562 yards from scrimmage, 80.3 ypg.  5 touchdowns.  He has great acceleration once he gets past the line, so our big men and backers are going to have be aware and stop and contain.
No. 34 Ben Sinnot (6-4, 235 Junior) is listed as tight end but also plays fullback.  He blocks well and catches the ball.  He has 27 receptions for 364 yards and 3 touchdowns.  He's not a Christian McCaffrey (who is?), but he is a versatile athlete who is utilized well by OC Collin Klein.
Not surprisingly, the Wildcats have an offensive line with several guys who will play on Sundays.  Best of the bunch is No. 50 Cooper Beebe (6-4, 335 Senior guard).  He is one of the best blocking lineman in the Big 12, and at least 2 previews I saw said he will be the first guard taken in the next NFL draft.  That good.  At right tackle is Carver Willis (No. 77, 6-5, 291 junior).  Christian Duffie (No. 73, 6-5, 300 pound senior from Summer Creek HS in Humble).  Sweat, Murphy, Sorrell, Broughton, Collins, Burke, and Finkley are going to have kick some butt for us to win this game, and it may be won or lost on the line.
Phillip Brooks (No. 8, 5-8, 171 Senior) is the Wildcat slot receiver with 56 catches. Jadon Jackson (No. 0, 6-1, 190 pound senior, Ole Miss transfer) has 15 catches for 191 yards and 2 scores.  Need to watch Jayce Brown (No. 1, 5-11, 174 lbs freshman); he only has 8 catches for 137 yards and 1 touchdown, but like so many can bust a big one.  His long of the year is 43.
Their defense is a 3-3-3 primarily scheme.  3 down linemen, 3 linebackers, and 3 safeties (plus the 2 corners).  One of the safeties will play nickel, line up on the edge, set up as an additional linebacker – lots of sets and schemes.  Not good for the Horns.
It seems like K State always has good linebackers.   This year's guys are great against the run.  Austin Moore (No. 41, 6-1, 219 Senor) is tied for the team lead with 43 tackles (28 solo).  He also has 9 TFL for 17 yards,   Desmond Purnell (No. 32, 5-11, 224 sophomore) has 30 tackles (11 solo), and an interception.
In the defensive backfield:  No. 2 Kobe Savage (5-11, 207 senior from Paris and a Tyler Junior College Apache) is tied with Moore at 43 tackles (29 solo).  He also has 2 interceptions.  Jacob Parrish (No. 10, 5-10, 183 sophomore cornerback) is good in coverage, leads with 8 pass break-ups; 23 tackles, 20 solo, which is remarkable. No. 21 Marques Sigle (No. 21, 5-11, 197, safety/nickel) has 39 tackles (29 solo) and 3 TFL for 11 yards.  Will Lee III (No. 8, 6-3, 185 sophomore and a big cornerback) has 30 tackles (22 solo), 2 interceptions, a forced fumble, and 2 BU.  Keenan Garber (No. 1, 6 foot, 184 senior cornerback) has 17 tackles (16 solo), and is pretty good in coverage.
The Statistics
Offense
| | | |
| --- | --- | --- |
| Statistic | Texas | Kansas State |
| Rushing Offense | #35, #8 – 180.0 ypg | #5, #2 – 226.0 ypg |
| Passing Offense | #36, #4 – 274.1 ypg | #60, #8 – 238.6 ypg |
| Total Offense | #21, #5 – 454.1 ypg | #15, #4 – 464.6 ypg |
| Scoring Offense | #24, #4 – 34.5 ppg | #13, #2 – 37.4 ppg |
| First Downs | #41, #8 – 22.1/game | #11, #3 – 24.3/game |
| Sacks Allowed | #83, #12 – 18, 113 yards | #27, #6 – 11, 66 yards |
| Tackles for Loss Allowed | #65, #9 – 45, 184 yards | #20, #3 – 35, 119 yards |
| Third Down Conversions | #65, #9 – 40.57% | #4, #1 – 54.95% |
| Fourth Down Conversions | #35, #5 – 61.9% (13/21) | #109, #12 – 36.4% (4/11) |
| Red Zone Attempts | #40, #7 – 33 | #8, #2 – 40 |
| Red Zone Offense | #104, #10 – 79% / 49% | #17, #1 – 92% / 82% |
| Long Run Plays | #62, #8  –  39/10, 14/20, 9/30, 4/40 | #2, #1  –  67/10, 12/20, 7/30, 2/40 |
| Long Pass Plays | #14, #2  –  91/10, 31/20, 16/30, 7/40 | #53, #6  –  76/10, 31/20, 14/30, 8/40 |
Defense
| | | |
| --- | --- | --- |
| Statistic | Texas | Kansas State |
| Rushing Defense | #15, #1  – 97.9 ypg | #24, #2 – 109.4 ypg |
| Passing Defense | #70, #7 – 230.1 ypg | #77, #9 – 234.4 ypg |
| Total Defense | #27, #2 – 328.0 ypg | #45, #3 – 343.8 ypg |
| Scoring Defense | #15, #2 – 16.0 ppg | #14, #1 – 15.9 ppg |
| First Downs Allowed | #24, #1 – 17.3/game | #28, #2 – 17.6/game |
| Sacks | #48, #2 – 19, 139 yards | #48, #2 – 19, 139 yards |
| Tackles for Loss | #21, #2 – 55, 205 yards | #32, #4 – 53, 196 yards |
| Third Down Conversions | #3, #1 – 27.8% | #6, #3 – 29.0% |
| Fourth Down Conversions | #51, #6 – 44.4% (8/18) | #39, #4 – 40.9% (9/22) |
| Red Zone Attempts | #22, #4 – 22 | #14, #2 – 20 |
| Red Zone Defense | #6, #1 – 68%/27% | #46, #7 – 80%/30% |
| Long Run Plays Allowed | #12, #1  –  25/10, 6/20, 2/30, 2/40 | #46, #2 – 26/10, 10/20, 9/30, 3/40 |
| Long Pass Plays Allowed | #54, #5 – 67/10, 23/20, 13/30, 6/40 | #78, #9 – 71/10, 23/20, 11/30, 8/40 |
Other
| | | |
| --- | --- | --- |
| Statistic | Texas | Kansas State |
| Turnovers | #33, #5 – 9 (5F, 4I) | #24, #3 – 8 (1F, 7I) |
| Turnover Margin | #27, #4 – 13:9  +4 | #44, #8 – 10:8  +2 |
| Penalties | #30, #7 – 42, 344 yards | #21, #4 – 37, 336 yards |
*Based on total number of penalties.
Match-up Comparison
| | |
| --- | --- |
| Texas Offense | Kansas State |
| Rushing Offense – 180.0 ypg | 109.4 ypg – Rushing Defense |
| Passing Offense – 274.1 ypg | 234.4 ypg – Passing Defense |
| Total Offense – 454.1 ypg | 343.8 ypg – Total Defense |
| Scoring Offense – 34.5 ppg | 15.9 ppg – Scoring Defense |
| First Downs – 22.1/game | 17.6/game – First Downs Allowed |
| 3rd Down Offense – 40.57% | 29.0% – 3rd Down Defense |
| 4th Down Offense – 61.9% | 40.9% – 4th Down Defense |
| Red Zone Offense – 79%/49% | 80%/30% – Red Zone Defense |
| LRP – 39/10, 14/20, 9/30, 4/40 | 26/10, 10/20, 9/30, 3/40 – LRP Allowed |
| LPP – 91/10, 31/20, 16/30, 7/40 | 71/10, 23/20, 11/30, 8/40 – LPP Allowed |
| | |
| --- | --- |
| Texas Defense | Kansas State Offense |
| Rushing Defense – 97.9 ypg | 226.0 ypg – Rushing Offense |
| Passing Defense – 230.1 ypg | 238.6 ypg – Passing Offense |
| Total Defense – 328.0 ypg | 464.6 ypg – Total Offense |
| Scoring Defense – 16.0 ppg | 37.4 ppg – Scoring Offense |
| First Downs Allowed – 17.3/game | 24.3/game – First Downs |
| 3rd Down Defense – 27.8% | 54.95% – 3rd Down Offense |
| 4th Down Defense – 44.4% | 36.4% – 4th Down Offense |
| Red Zone Defense – 68%/27% | 92%/82% – Red Zone Offense |
| LRP Allowed – 25/10, 6/20, 2/30, 2/40 | 67/10, 12/20, 7/30, 2/40 – LRP |
| LPP Allowed – 67/10, 23/20, 13/30, 6/40 | 76/10, 31/20, 14,/30, 8/40 – LPP |
 My key observations on the raw stats:
Texas has dropped on third down conversion rate on offense.  They are facing a team that is No. 3 in the conference and No. 6 in the country in third down defense.   Texas can't afford to get in third and long, really third and 5.
With the goal line issues the last few weeks, our redzone offense has dropped to No. 104, and we are under 50% in touchdowns in the redzone (No. 121, bottom 15%).  Meanwhile, K State's redzone defense is pretty good, No. 46, and their defense against touchdowns in the redzone is No. 3, allowing just 30%.  That's a big one.  Worrisome. I worry a lot.  The good news there is Texas' redzone defense is better, and we are No. 2 against touchdowns.  Hopefully that will balance out against the Wildcats' very good redzone efficiency (No. 17, but No. 2 in touchdowns at 82.5% [ironically, Rice is No. 1 at 83.3%]).
A bright spot for Texas is that our defense is excellent against explosive running plays (20+), tied with many at No. 30, which counters one of K State's strengths (great at 10+ runs, but they drop to No. 39 in 20+).
And even better, albeit with most of these stats generated with Ewers at quarterback, our big pass plays (No. 14) versus their defense (No. 78).
Other Stats
Available Yards Percentage.  Net available yards percentage (NAY) is the difference between offensive available yards percentage (OAY) and opponent offensive available yards percentage (DAY) on non-garbage, regulation possessions in FBS vs. FBS games. Available yards percentage is calculated by dividing drive yards (measured from starting field position to ending field position) by available yards (measured from starting field position to end zone).
| | | | |
| --- | --- | --- | --- |
|   | NAY | OAY | DAY |
| Texas | No. 5:  0.267 | No. 8:  0.623 | No. 14:  0.355 |
| Kansas State | No. 16:  0.155 | No. 12:  0.582 | No. 38:  0.427 |
BCF Toys – 2023 Available Yards Percentage
Net points per drive (NPD).  NPD is the difference between points scored per offensive drive (OPD) and points allowed per opponent offensive drive (DPD).
| | | | |
| --- | --- | --- | --- |
|   | NPD | OPD | DPD |
| Texas | No. 10: 1.70 | No. 15:  3.09 | No. 13:  1.39 |
| Kansas State | No. 11: 1.64 | No. 12:  1.21 | No. 23: 1.57 |
Two very closely rated teams in this category.
BCF Toys – 2023 Points Per Drive
Net Yards Per Play (NPP).  Net yards per play (NPP) are the difference between drive yards per offensive play (OPP) and drive yards allowed per opponent offensive play (DPP) on non-garbage, regulation possessions in FBS vs. FBS games. Drive yards are calculated as the difference between starting field position and ending field position on offensive drives.
| | | | |
| --- | --- | --- | --- |
|   | NPP | OPP | DPP |
| Texas | No. 12:  1.66 | No. 17:  6.67 | No. 23:  5.01 |
| Kansas State | No. 41:  0.75 | No. 33:  6.33 | No. 49: 5.57 |
Our NPP dropped again, due to drop in OPP, but our DPP is improving.  Also interesting how much worse K State's numbers are in these metrics compared to their raw stats.
BCF Toys – 2023 Yards Per Play
BCF's Game Projection.  "Game Projections are calculated from current FEI ratings and include the projected win likelihood (PW), projected margin of victory (PM), projected points scored (PF) and allowed (PA), and projected total points scored (PT) for each FBS game."
| | | | | | | |
| --- | --- | --- | --- | --- | --- | --- |
| Projected Winner | Projected Loser | PW | PM | PF | PA | PT |
| Texas | Kansas State | .568 | 2.4 | 26.9 | 24.5 | 51.4 |
I think 3 points is about right.  I just hope Texas is on the winning side of that close score.
Parker Fleming, @statsowar on X, CFBGraphs: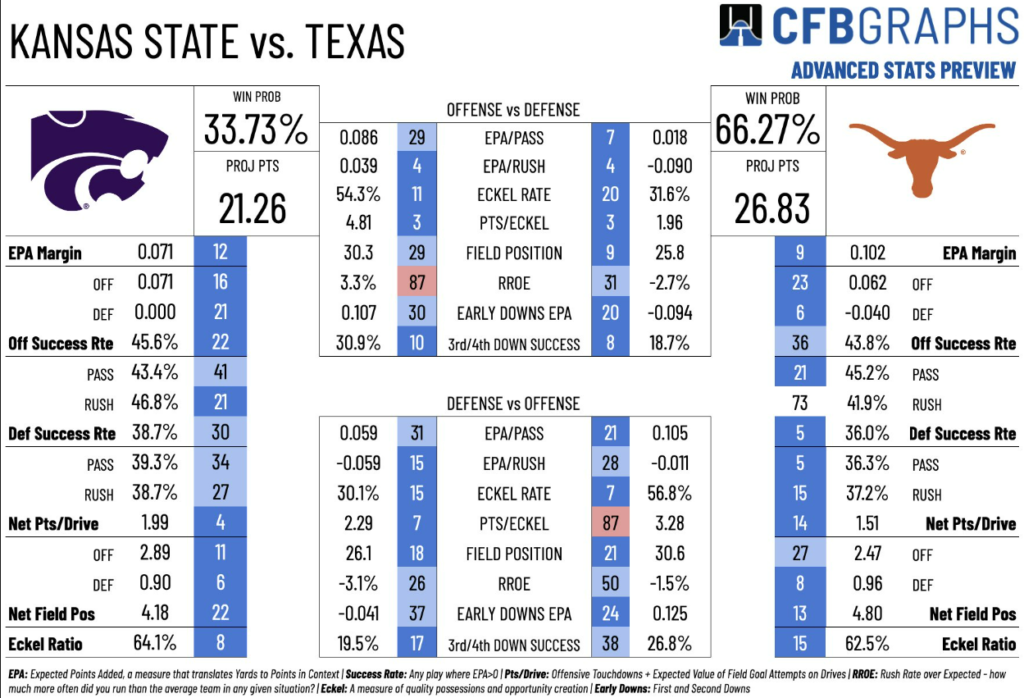 I think Parker has nailed it here.  But, obviously, as with all the other stats and metrics, it is very close.
Texas Stats
Here are where some of our top defenders are:
Jaylan Ford
Leads the team with 57 tackles (24 solo). 10th in Big 12
5 tackles for loss for 27 yards. 8th in Big 12
2 interceptions. Tied for 12th Big 12 with about 2 dozen other guys, including Jerrin Thompson and Michael Taafe.
1 sack, 4 QBH, and a forced fumble.
Jahdea Barron
Second on team with 42 tackles (21 solo). 33rd in Big 12
5 tackles for loss for 15 yards.
1 interception, 3 BU, and a fumble recovery.
Anthony Hill, Jr.
Third on team with 35 tackles (22 solo). 33rd in Big 12
5 tackles for loss for 17 yards and 3 sacks for 14 yards.
3 QBH and 2 BU.
Other notes:
Byron Murphy II and Barryn Sorrell have 6 quarterback hurries a piece and have combined for 4.5 sacks.
Ethan Burke is tied with Hill for most sacks with 3.
T'Vondre Sweat is second on the team with 5.5 TFL for 10 yards
Sweat and Murphy were last week's highest graded defensive tackles in FBS (90.3 & 87.7)
Jonathon Brooks
38 yards per game, second in Big 12
923 yards, second in Big 12 behind Ollie Gordon II
7 touchdowns, tied for third in Big 12 with 3 other guys.
18 attempts per game, third in Big 12
41 yards per attempt, 7th in Big 12
1,135 all-purpose yards, second in Big 12
9 all-purpose yards per game, second in Big 12 (same in yards from scrimmage)
If you were wondering why JB taps his right forearm after scores:
Xavier Worthy
5 yards per game, tied for 4th in Big 12
572 yards, 4th in Big 12
4 touchdowns, tied for 7th in Big 12 with a bunch
5 all-purpose yards per game, 8th in Big 12
6 yards per play, 5th in Big 12
801 all-purpose yards,
Adonai Mitchell is second in Big 12 with 7 touchdowns.  He is good, and I think he may play a big role in a Texas win this Saturday.
Jaydon Blue.  We already have two incredibly talented backs with Brooks and Baxter.  The third B of the Longhorn Killer B's, Jaydon Blue, showed just how incredibly fast he was on Saturday.  9th fasted of the week in college football.  20.9 MPH.
https://x.com/RAanalytics/status/1719420367230353502?s=20
I am convinced we have the best running back room in FBS.
And guess who clocked in faster?  Right, Xavier Worthy.
https://x.com/RAanalytics/status/1719446188447981996?s=20
TCT Thoughts
They have more of a passing game than we are used to seeing from the purple cats, but this is still a running team.  And they are very good at it.  The good news is Texas has a great run defense.  But the challenge will likely be defending the running quarterbacks, not the running backs themselves.
We have to force them in to long yardage third downs.  That is where we will find success defensively, as long as we don't let Howard or Johnson scramble out of the backfield to get the first down, or worse.
And speaking of Howard Johnson.  Now for something completely different.
While Kansas State's offense if generally higher ranked than the Horns in most of the raw stats, I think the Horns are better.  Just a sense from watching some KSU highlights.  Advanced stats suggest that too.  But our offensive line has to be better.  Murphy has to make better throws.  The bad pass that is tipped is more likely to get picked off this week.  I think Brooks may get off some big runs, and with Baxter's maneuverability and Blue's speed, I am betting we see all three guys get a 20+ yard run.  And while I like the idea of fresh legs, I am of the school of thought that great running backs need to get a lot of touches.  Let's let our Hallettsville Hammer get the ball and pound the Cats.
Sark has to be better on third down and in the redzone, and especially inside the 5.  We could afford to pass on the field goal against Brigham Young, but we may not have that luxury Saturday against Kansas State.  But more importantly, we need to not have that is a concern:  Get the ball in the endzone before fourth down so this isn't a decision point.  Just score.
With this our biggest game since the Red River Rivalry, Texas must play cleaner football.  No turnovers, limit penalties.  On the latter, no first down false starts, no third and 2 false starts, and no holding when the guy you're blocking is nowhere close to being involved in the play, but right in the line of sight of some Big 12 ref who knows part of his job is throwing a flag on Texas whenever he can.  And play clean pass coverage.  Our defensive backs are better than their receivers, so don't be stupid.  Play the ball.
A sold out Darrell K Royal – Texas Memorial Stadium may get to see Arch Manning make his Texas debut.
TCT Score Prediction:  Texas 30, Kansas State 24
Official Preview from The University:
https://texassports.com/news/2023/10/30/no-7-6-texas-football-preview-no-25-rv-kansas-state.aspx
Game Notes:
https://texassports.com/documents/2023/10/30/TexasFB23GameNotes_09KState.pdf
Preview from Burnt Orange Nation
https://www.burntorangenation.com/2023/11/1/23942000/texas-longhorns-kansas-state-wildcats-preview-will-howard-avery-johnson
Inside Texas "On Texas Football" – Tale of the Tape, with Bobby Burton and Paul Wadlington.  25 minutes:
Texas Homer's Preview.  19:46 minutes:
Eric Nahlin and Texas Homer from Inside Texas:
Going on Fourth Down
Nick Saban is pretty smart and a fairly darn good college football coach.  On the Pat McAfee Show "A lot of people are going for it on fourth down now and they talk about analytics saying you got this percentage chance to make it.  What the analytics don't tell you is what happens when you don't make it and those consequences are pretty significant."  When you don't make it on fourth down, it is a turnover.
https://x.com/PatMcAfeeShow/status/1720133208803528785?s=20
Kansas State Wildcats and The University of Texas Longhorns
Before the Big 12, Texas played Kansas State four times, winning three (all in Austin) under some legends:  46-0 in 1913 under Coach Dave Allerdice, 41-7 in 1927 under Coach Clyde Littlefield, and 64-0 in 1942 under Coach Dana X. Bible.  The only loss was in Manhattan in 1926, when Edward J. "Doc" Stewart's team lost to Kansas State Agricultural College 13-3 (more on Doc Stewart this week, below).  A tough season for the Horns in 1926, and one reason Clyde Littlefield was coaching Texas the next season.
The Horns and Wildcats became Big 12 foes and played as such for the first time in 1998, with Bill Snyder's K State team beating Mack Brown's Horns 48-7.  K State rushed for 223 yards, while holding Ricky Williams to 43 yards and Texas to 53.  It was Ricky's worst game in that Heisman season.  The next week, Ricky ran for 318 and 6 touchdowns against Rice, followed by 350 and 5 scores the next weekend against Iowa State (to put it in perspective).  And of course Ricky's 259 yards and touchdown against Texas Agricultural & Mechanical on November 27, to set the NCAA all-time rushing record.  2,327 yards that season for the Great Ricky Williams, with 1.85% of those yards gained in Manhattan.
Snyder would get Mack again in 1999, 35-17.  Mack got wins in 2002 & 2003.  But then it got a bit ugly.  K State would win 5 in a row beginning in 2006 (that one under Ron Prince), then 3 more in 2010-2012, with the Wizard back in charge.
Since 2013, Texas is 8-2 against the Wildcats, including 6 in a row.  The series sits 13-10 in favor of Texas, and it would be really nice to win this rivalry on a high note.
Texas Longhorns 35, Brigham Young Cougars 6
There has been a lot of talking and chirping and writing and posting about this game, especially Sunday and Monday.  I have had the benefit of a few days of reflection before writing about it, and I have this summary.
Texas won.  Big.  By more than 4 touchdowns.  Texas covered.
Maalik Murphy started his first college game and won.  Maalik Murphy overcame early adversity and led the Longhorns to Victory, a win that included two touchdown passes.  Murphy is 1-0 as a starter.  And loyal.
Our defense dominated.  BYU didn't score a touchdown.  In 13 possessions, the Cougars got in the redzone 3 times.  One of those got to the Texas 19, and one, on the UT 7, was the result of a Texas fumble.  7 of BYU's 13 possessions gained 10 yards or less.  Three BYU possessions went backwards. Our defense dominated the LOS:  10 different Longhorn defensemen combined for 12 tackles for loss.  Jahdae Barron and Maurice Blackwell, Jr. had 2 each and T'Vondre Sweat has 1.5.  The Cougars averaged 3.7 yards per rush.
Xavier Worthy opened the Texas scoring with a 75 yard punt return for a touchdown after BYU's first possession.  Special teams were good all day.  Worthy is Big 12 Special Teams Player of the Week.
The Game
Texas at least moved the ball to almost midfield on its first possession.  The Texas defense set the tone on the Cougars' first possession:  Short pass complete but Barron was on it and the play lost a yard.  Next play Byron Murphy got pressure on Kedon Slovis and Anthony Hill broke-up the pass.  On third and 11, Murphy got pressure again, and Kitan Crawford broke it up.  Then Worthy housed the punt.  You could not ask for a better defense + special teams start.  7-0 Texas.
Texas forced a 3 and out on BYU.  The Longhorns' second series looked promising after a short Brooks run and then an incredible 20 yard catch by Ja'Tavion Sanders to get Texas to BYU 41.  But two plays later, Murphy threw an interception.  That was bit disconcerting, but I attribute it to first start jitters.  Luckily for Maalik, the Texas defense returned the favor immediately when 3 plays into the BYU possession Terrance Brooks picked off Kedon Slovis and returned it to the Cougar 26.
Our great skill players combine for a quick Texas score:  to Worthy for 4, Brooks for 7, Brooks for 3, Baster for 3, Murphy to Brooks for 5, and then Brooks punched it in from the 4.  14-0 Texas.
The Texas defense again forced a 3 and out, and a pretty shoddy punt gave Texas the ball at the BYU 40.  A nice drive that included a 7 yard Keilan Robinson catch, a CJ Baxter 8 yard run, and a 15 yard run from Brooks to get the Horns on the Brigham Young 11.  Maalik with another error, fumbling in the redzone.
Slovis then engineered a solid and long 10 minute drive that stalled, fortunately, at the Texas 2, as Barron and Broughton combined to stop a rare Kedon positive yardage run.  On fourth and 2, it looked like BYU would go for it but a delay of game penalty ended that thought and Coach Kalani Sitake took the 3 points.  14-3 Texas.
With 4:57 to play, probably our best possession of the game in the first 3 quarters.  Key plays included Brooks for 9 yards, Murphy to Worth for 14 yards and 7 yards.  Baxter for 7.  And a really great throw to and better catch by Adonai Mitchell to put Texas up 21-3 with less than a minute in the first half.
In the first half:
Texas rushed for 58 yards, 48 by Brooks.
Murphy was 10 for 15 with 1 touchdown and 1 pick, 103 yards
Worthy, Mitchell, and Sanders all had catches.
I will confess that I was pretty darn confident that not only was Texas going to win and cover, but also that my hunch of a possible Texas blow-out was forthcoming.
Brigham Young got the ball to start the second half, and both teams sputtered with 3 and outs on their first possessions.  Then Kedon Slovis got the Cougars going with a nice fast drive that started with a 19 pass, a short run, and then a 47 yard pass to Darius Lassiter who somehow caught the ball in double coverage that was more than tight – also DPI, which BYU declined.  Cougar ball at the Texas 13.  That was as close as they would get, as 2 of the 3 plays went for losses and BYU had to settle for a field goal from the Texas 15.  21-6 Texas.
Texas drove the ball well on the next possession, with Brooks once again taking the lead on a drive that began at the Texas 21:  a 38 yard run and a 17 yard pass reception on the way to a Longhorn first down at the Cougar 6 yard line.  Time to put the game away, or at least stretch it back to a full 3 score lead.  Red Cat for 3, Red Cat for 1, incomplete pass to Adonai, fourth and 2.  When you need 2 yards, 1 yard passes aren't good.  Especially on fourth down.
Fortunately for the Horns, the defense again got a 3 and out after a 6 yard drive, and with 1 minute left in the third, Texas got the ball back at midfield.  Murphy connected with Sanders again, this time for 18 yards to get to the 34 as the quarter ended.  I miss Wally Pryor sometimes. Quarter.  On the second play of the final frame, Keilan Robinson busted a 23 yarder to the BYU 11.  On third and 11 from the 12, Murphy got it to Brooks who got the ball to the 2.  No Bert Auburn.  Brooks lost a yard up the middle.
Texas was up 15, but after the last two drives died inches from the endzone, I think many of us had some discomfort.  It didn't help that Slovis moved the Cougars out of the shadow of the goal posts fairly quickly.  But once again, the Texas defense said nope.  Michael Taafe picked off Kedon Slovis and made a very nice 45 yard return to the BYU 8 yard line.  1 play later, Maalik to Adonai for the score.  28-6.  That was the dagger score we had been waiting on.
The Cougars did move the ball on their next possession, all the way to the Texas 19, but that was it.  The Cougars had to go for it on fourth and 11 at the Texas 20 with less than 6 minutes to play.  Jaylon Guilbeau made a nice play, and Texas took over on downs.  A pitiful possession, as Texas managed to get 2 penalties in 4 downs, and Sanborn's good punt still gave BYU the ball at midfield.
And guess what happened?  Yes sir.  Texas Defense.  On the second play, Justice Finkley sacked (we need a stronger word for plays like that one) and Slovis fumbled and Jaray Bledsoe recovered at their 39 yard line.
Jaydon Blue came in, and after a couple of short gains he flipped the switch to warp speed and ran 34 yards for the final score of the game.  The run in the highlight reels.  So fine.  35-6.
Some Observations
The Texas defense completely dominated a 5-2 Power 5 team.  In the first quarter, BYU gained 5 yards on 5 rushes and the passing line was 2-7-1-7.  The Cougars managed 38 rushing yards in the second quarter, 29 of that on 2 plays.  They rushed for 7 yards in the third quarter.  The 45 in the fourth was irrelevant.   Texas whipped 'em.
We have phenomenal skill players.  Assuming Maalik is healthy, the experience he gained with a full game under his belt will be incalculably beneficial, and with this supporting cast, the Texas offense will be back hitting on all 8 cylinders.
Team win.  Great defense.  Great special teams.  Good team offense:  354 yards, and no individual rusher or receiver was over 100 yards (Brooks was 98 rush + 40 receiving).
I led this review with some key observations, mainly to put up front the counter to the observed deficiencies in the game.  Yes, there were some.  Texas must get better in the redzone, especially inside the 5.  And when I say "Texas", that includes the coaching staff.  I am not judging whether or not Texas should have taken the points, as so many have argued.  I can see a logical argument that Sark was completely confident that we would win the game, and so 7 would be great, but there wasn't a big difference between 0 and 3.  We were going to win and win by enough that the field goal, or field goals in this case, were not material to the final outcome.  Whereas touchdowns added nice style points.  But I guess I lean a towards maybe on the second time just kicking and getting 3.
Oh yes.  I predicted Texas 37, Brigham Young 13.
Highlights
ESPN College Football, about 14 minutes:
Matthew Loves Ball , 24+ minutes
The Polls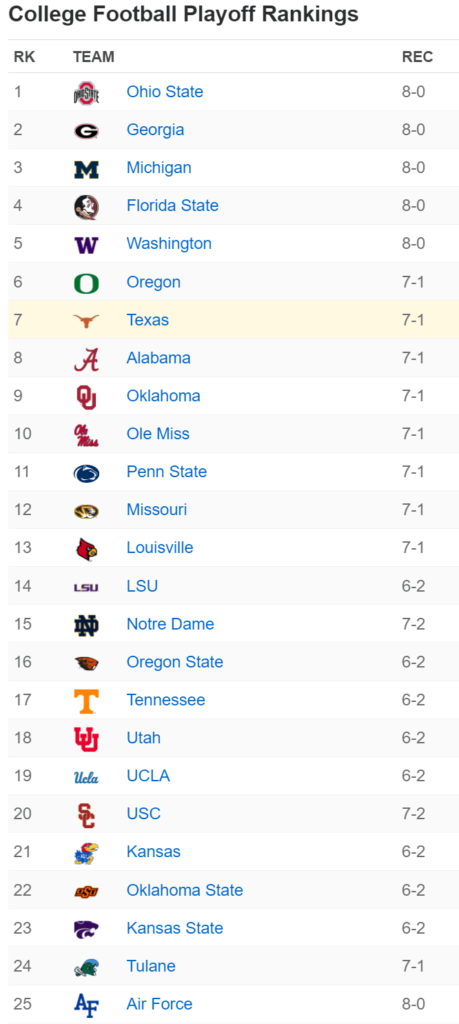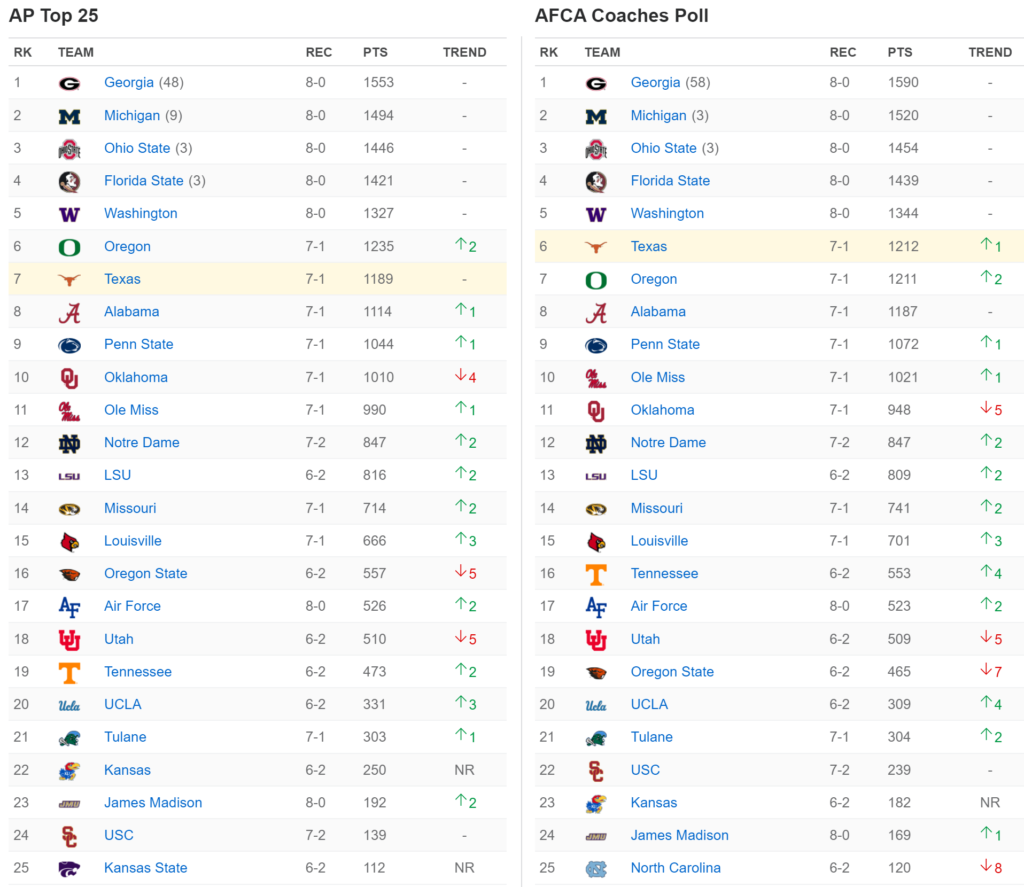 Massey Ratings
Texas moved up to No. 4, and the Land Thieves dropped to No. 10.  Ohio State, Michigan, and Florida State are still the top 3.  Notre Dame at 11, Ole Miss at 12.  Kansas State is No. 14.
Nate Manzo (@cfbNate):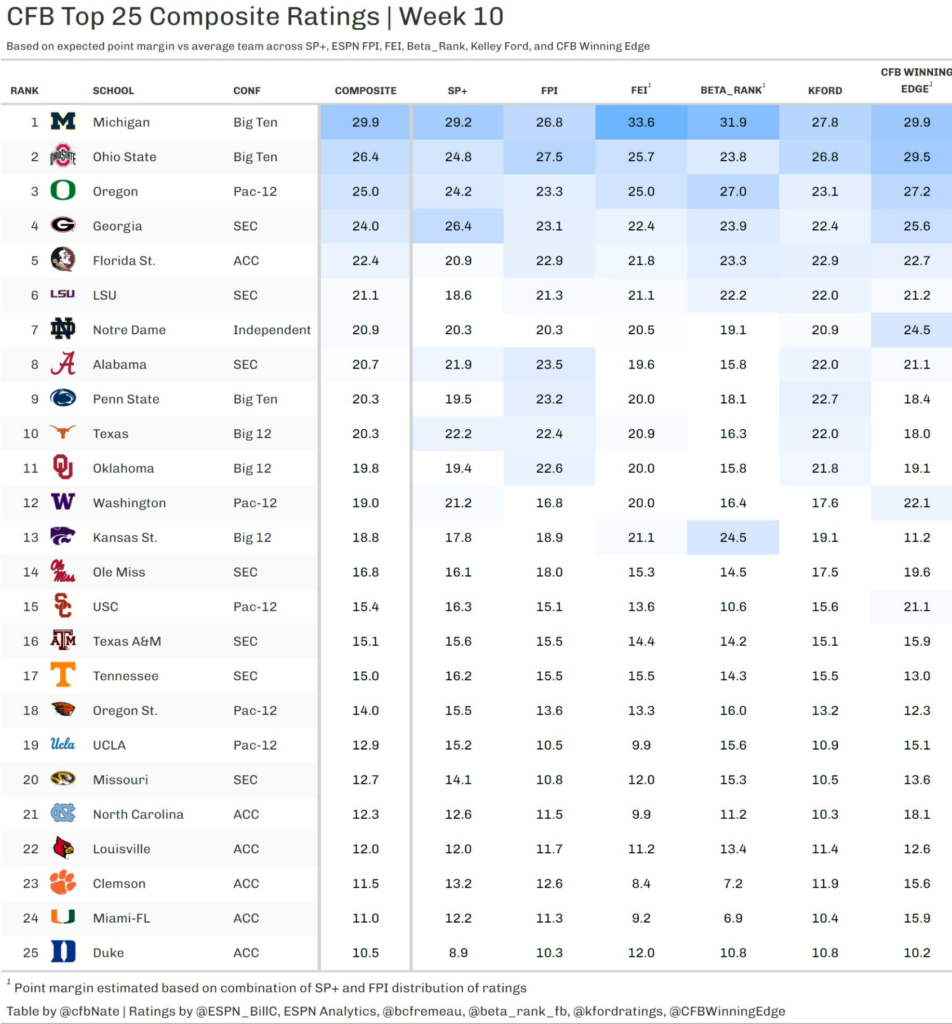 https://twitter.com/cfbNate/status/1719331765611872465
Chris Vannini – The Athletic:  Ranking All 133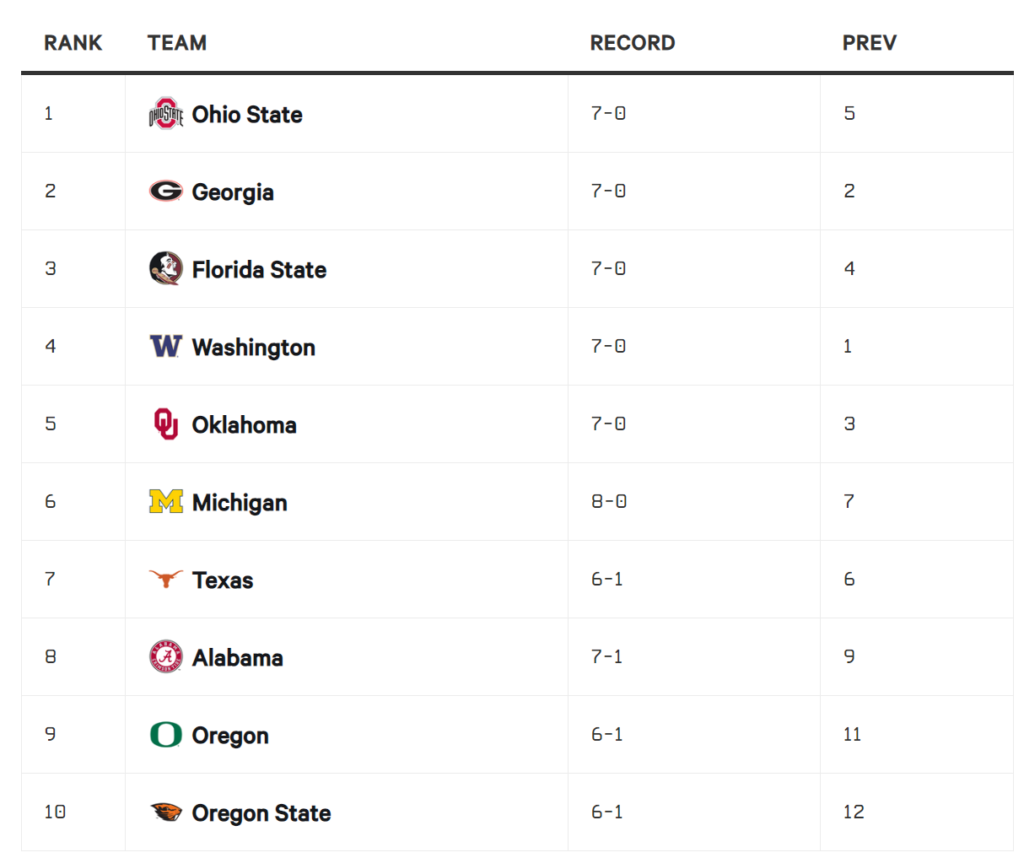 Chris has K State at 25.
ESPN College Football Power Index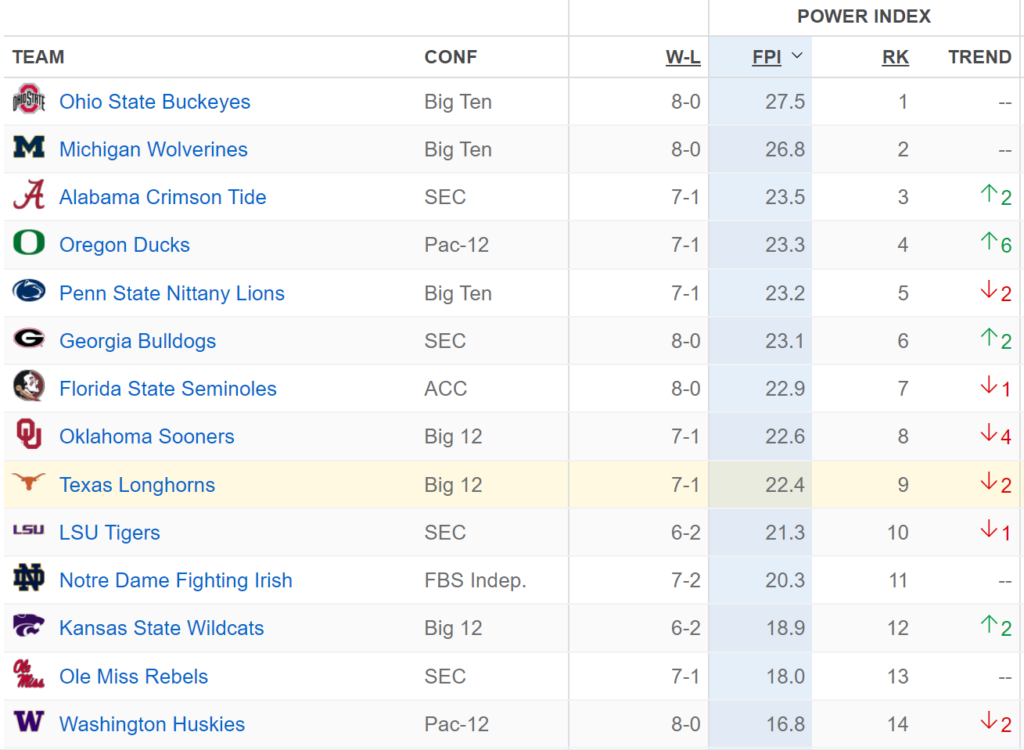 2023 College Football Power Index – ESPN
ESPN SP+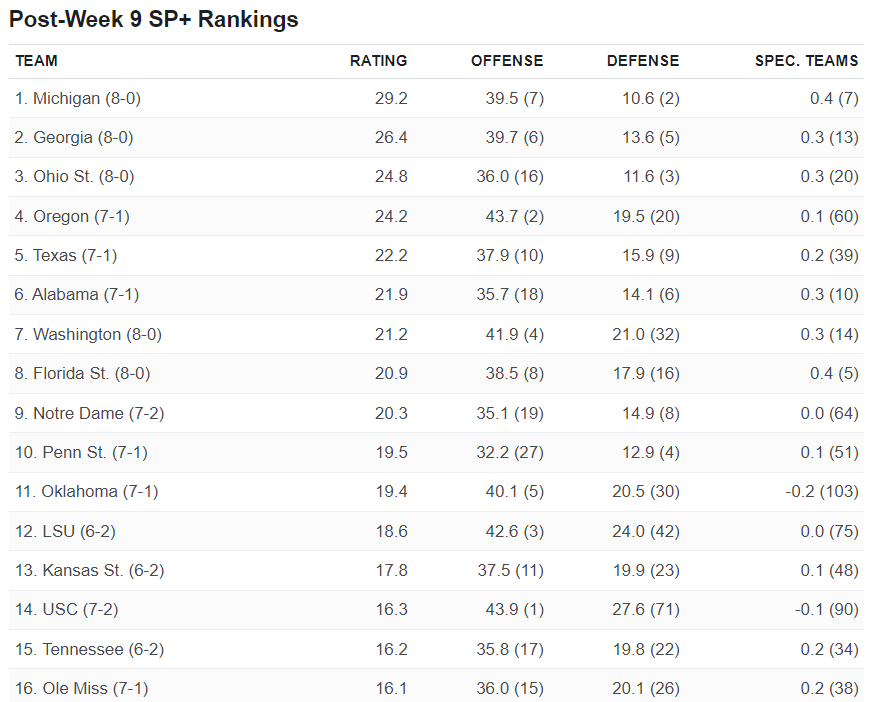 Kansas State University
Kansas State is a public land-grant school, founded under the first Morrill Act in 1863.  Kansas State Agricultural College from 1863-1931, and Kansas State College of Agriculture and Applied Science until 1959.  Purple aggies.
I couldn't find K State's academic rankings in one place, but here is what I found in the budgeted time:
Academic Rankings

National

Texas

Kansas State

Forbes
31
271
THE | WSJ
60
392
U.S. News & World Report1
9
91
ARWU
24
501
Washington Monthly
87
226

Global

ARWU
43
501-600
QS
58
851-900
THE
52
601-800
U.S. News & World Report
43
710
1 National public university rankings this week.
Famous alumni include Rex Gore and Joe Straub.
Juan Heisman Tailgate
Eleven o'clock in the morning kickoff means Bloody Marys, Bloody Marias, breakfast tacos, and cold beer.  We will be up and running by 9:00.  Our thanks to Tito, Bryan, and all the good folks at Tito's Handmade Vodka, and to David Jabour and Twin Liquors.  We drink well.
We had a great Juan Heisman Tailgate party for the Brigham Young game.  The weather cooperated, and over 100 folks made it out to enjoy sliders and sausage, cold beer, and some great Tito's Handmade Vodka.  Also some of Rose Marie Hagman's excellent homemade salsa.  Thanks to Tony Dewar for bringing sausage and German potato salad from Kuby's.  That might be the best German potato salad I have ever had.  Some most excellent strudel courtesy of Cindy Matula.  And always, great times with good friends.  We had some national champions join us: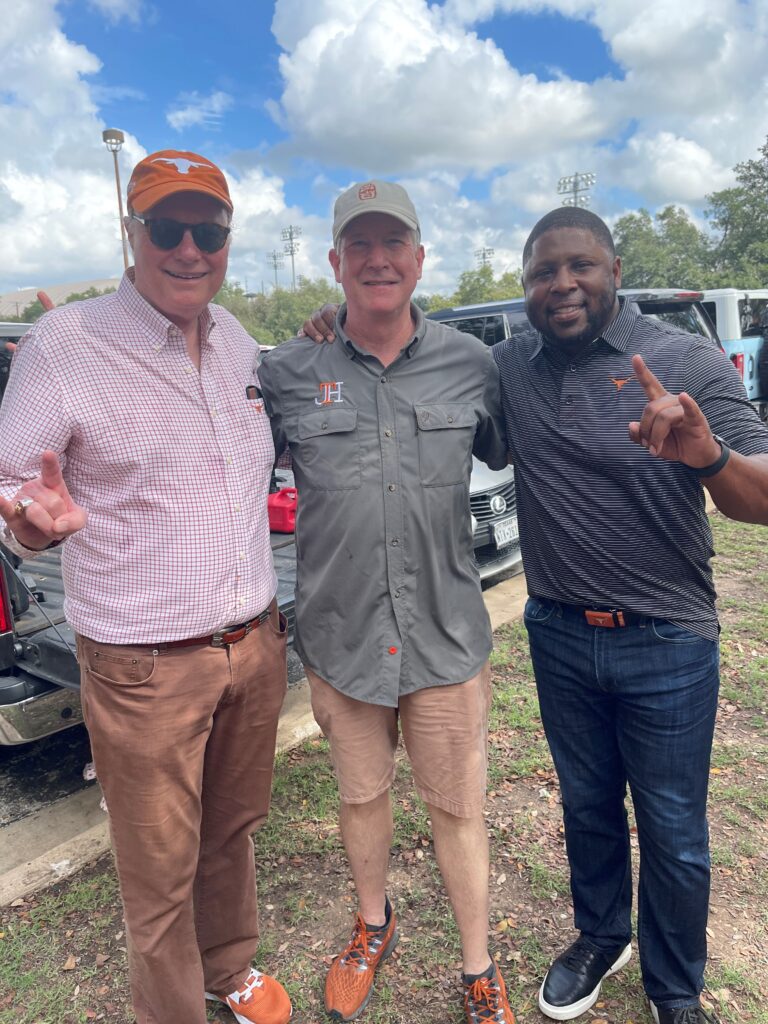 Bill Hall, 1969 National Champions, and Quan Cosby, 2005 National Champions. Blessed to know both these men.
Bill Hall (2017) – Hall of Honor – University of Texas Athletics (texassports.com)
Quan Cosby (2023) – Hall of Honor – University of Texas Athletics (texassports.com)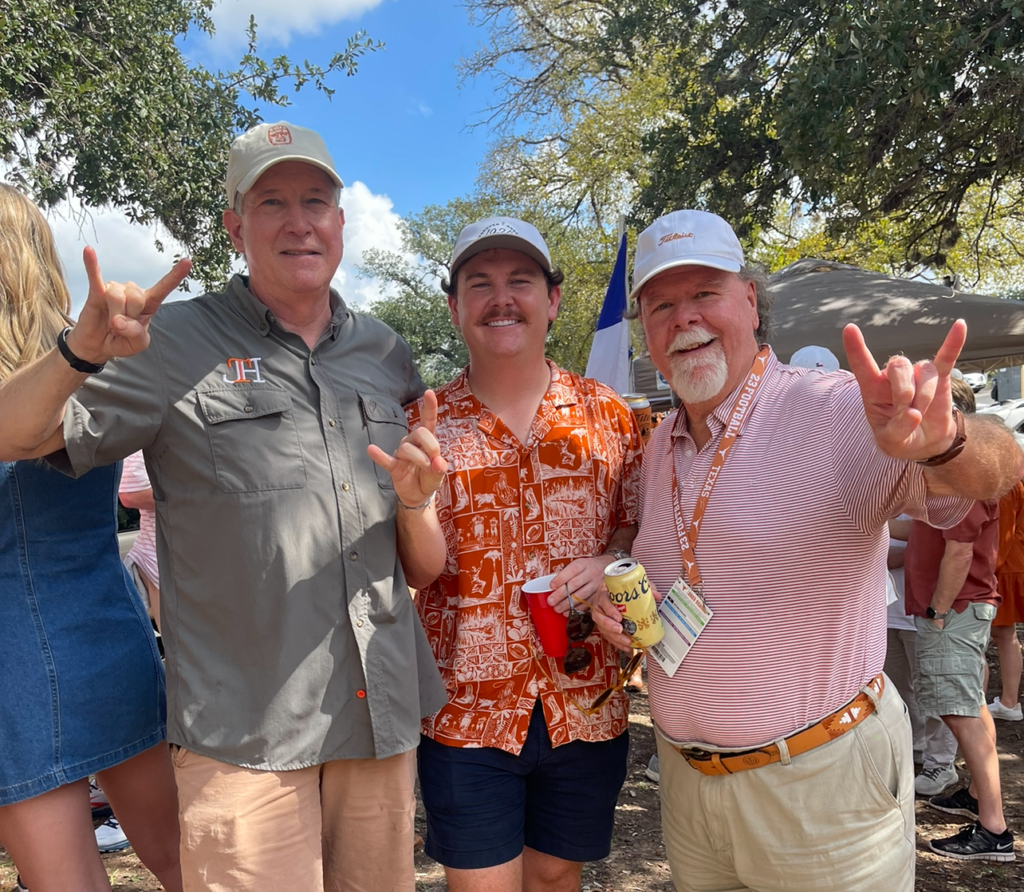 My great friend Ed "Mr. Radio" Clements and his rising star son, Ben Clements.
The End Zone with Ben Clements – KLBJ-AM – Austin, TX (newsradioklbj.com)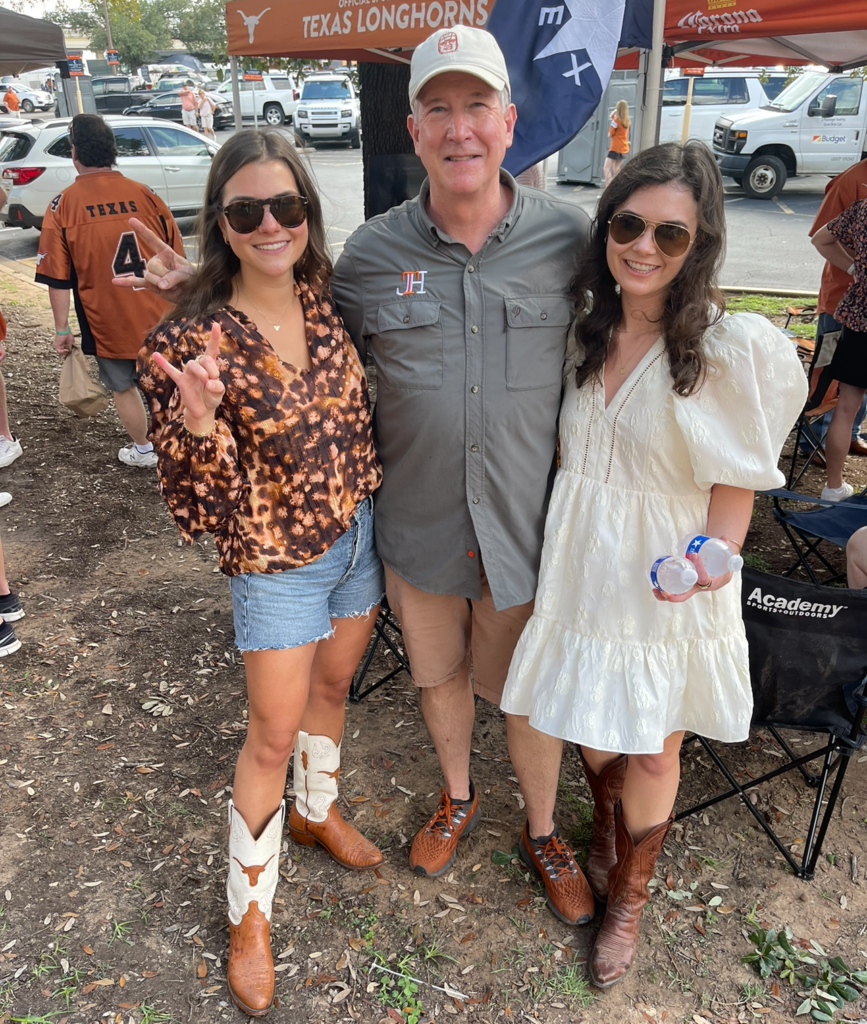 Sarah Jane Edelman and Emily Edelman, daughters of my lifelong friend David Buck Edelman.  Two of the many fine young people we have had the privilege and joy of watching grow up over the last quarter century at Juan Heisman.
Big 12 Standings Week Ten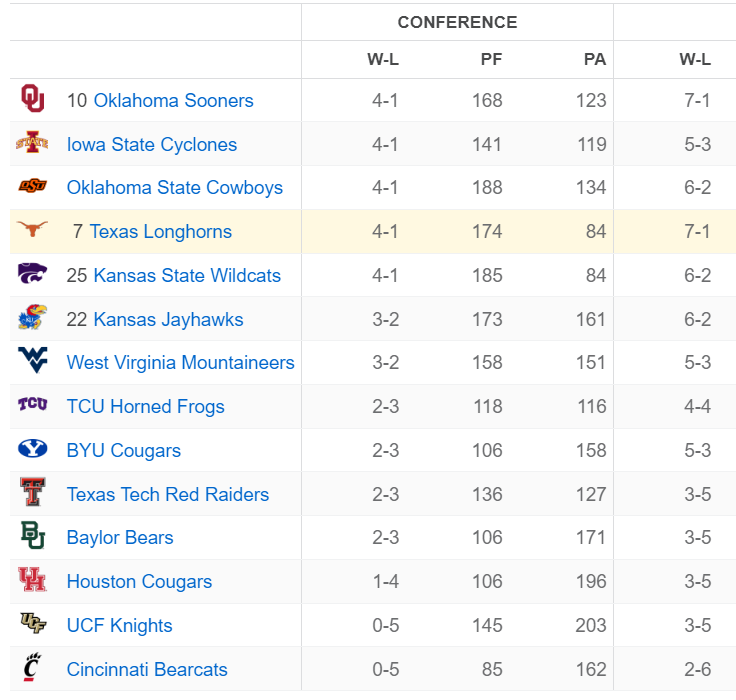 College Football Week Ten
This is a big weekend in college football for many teams, not just Texas and Kansas State.  [Note that the rankings below are CFP/AP rankings, as I wrote this section Monday night and already had the AP ranks in there.]  Big match-ups, great rivalry games.  Probably the best weekend we have had this season.  Enjoy it!
Big XII – Week Ten
Thursday night, Texas Christian went to Lubbock to play the Texas Tech South Plains Aggies.  Tech had a 20-7 halftime lead and got the 35-28 wine.  The line was Tech by 3.  Tahj Brooks rushed for 146 on 31 carries.  Feed the big dogs.
Bedlam!  No. 9/10 Land Thieves at No. 22/NR Oklahoma State, 2:30 p.m. on ABC.  Of all the rivalries and games that will be left behind when Texas and Oklahoma move to the Southeastern Conference next season, this may be the toughest loss.  A rivalry which began in 1904 when Norman Territorial University beat Oklahoma Agricultural and Mechanical College 75-0.  That pretty much set the tone.  Over the next 90 years, Okie A&M would get 10 wins, 3 of those coming during the Great Depression and 2 during the last 2 years of World War II (the 1945 win was actually the Cowboy's biggest, at 47-0).  OSU beat Howard Schnellenberger's 1995 Sooners 12-0, and then the Cowboys beat the John Blake coached Land Thieves in 1997 and 1998.  Visor Bob Stoops arrived in Norman in 1999, and the Bedlam Series reverted to the norm.  Les Miles clipped Stoops in 2001 & 2002.  Since then, Gundy has 3 wins over Oklahoma.  The series sits at 91-19-7.  The Land Thieves are favored by 6, and the over/under is 61.5.  The Parker Fleming [@statsowar] advanced stat preview has it closer:  Land Thieves with a 62.96% win probability, but the projected score is 29.13 to 24.74.
Houston at Baylor, 2:30 p.m. on BIG12 | ESPN+.  Bears getting streamed again this week.  Baylor favored by 3 (line was as high as 6, over/under at 62. Tickets available as low as $5.  Plain nachos will set you back $8.
Central Florida at Cincinnati.  2:30 p.m. on FS1.  Golden Knights favored by 3.5.
No. 21/22 Kansas at Iowa State. 6:00 p.m. on ESPN.  Cyclones favored by 2.5, over/under is 54. Rock Chalk Jayhawk.
Brigham Young at West Virginia, 6:00 p.m. on FS1.  Mountaineers favored by 13.5, over/under is 48.5.
Week Ten:  Service Academies
Army (2-6) at No. 25/17 Air Force (8-0), 1:30 p.m. on CBSSN.  Black Knights having a tough year.  Unfortunately going about like Monty Python's Black Knight when he meet King Arthur on the bridge.  Falcons favored by 17.5, over/under is 32.5
Navy (3-4) at Temple (2-6), 1:00 p.m. on ESPN+.  The Midshipmen should get a good win at the Linc on Saturday.  Favored by 7.  Be careful Ford.
Top 25 – Week Ten
Some pretty stiff TV competition at 11:00 a.m. of Horns.
No. 1/3 Ohio State (8-0) at Rutgers (6-2), 11:00 a.m. on CBS.  Buckeyes favored by 18.5.
Texas Agricultural & Mechanical (5-3, 3-2) at No. 10/11 Ole Miss (7-1, 4-1), 11:00 a.m. on ESPN.  Rebels on 3 point favorites.  Going to be a chilly morning in the Grove.   Hotty Toddy.
No. 15/12 Notre Dame (7-2) at Clemson (4-4).  11:00 a.m. on ABC.  Rough year for Dabo.  Notre Dame are favored by only 3.  Fight like Champions.  Go Irish.
Connecticut (1-7, Rice, how did you lose to these guys?) at No. 19 Tennessee (6-2), 11:00 a.m. on SEC Network.  Vols favored by 36.  Over/under is 55.5. Take Tennessee and the over.
Arizona State (2-6) at No. 18/18 Utah (6-2), 1:00 p.m. on PAC 12 Network.  Utes coming off a tough beating from the Ducks.  Probably some angry boys at Rice-Eccles on Saturday.  Utes favored by 10.5, over/under is 40.5.
No. 12/14 Missouri (7-1) at No. 1/2 Georgia, 2:30 p.m. on the Columbia Broadcasting System.  The Bulldogs biggest challenge so far this year.  Georgia favored by 15.5 at home Between the Hedges.  Over/under is 55.5.  The CFBGraphs from @statsowar:
https://x.com/statsowar/status/1719825264124088583?s=20
No. 4/4 Florida State (8-0) at Pittsburgh (2-6), 2:30 p.m. on ESPN.  Looks like the Seminoles will cruise all the way to the College Football Playoffs.  FS.  FSU favored by 21.5.
No. 24/21 Tulane (7-1) at East Carolina (1-7). 2:30 p.m. on ESPNU.  The Green Wave just keeps rolling.  I always liked Tulane.  And New Orleans.  Tulane favored by 17.
No. 11/9 Penn State (7-1) at Maryland (5-3), 2;30 p.m. on FOX.  PSU favored by 8.  Line has dropped about 3 points.
Virginia Tech (4-4) at No. 13/15 Louisville (7-1), 2:30 p.m. on ACCN.  Cardinals favored by 9.5.
No. NR/23 James Madison (8-0) at Georgia State (6-2), 2:30 p.m. on ESPN2.  Dukes favored by 6.5.  Might be a tough game for JMU.
California Berkeley (3-5) at No. 6/7 Oregon (7-1), 4:30 p.m. on PAC 12 Network from Autzen Stadium in Eugene.  Ducks are 24.5 point home favorites.
Purdue (2-6) at No. 3/2 Michigan (8-0), 6:30 p.m. on NBC.  Strange stuff with Michigan.  Will be interesting to see how this shakes out.   Can hardly wait for November 25 (OSU, 11:00 a.m. on FOX – going to be lit).  Wolverines favored by 32.5 in the Big House.
A great Saturday night of football.
No. 5 /5 Washington (8-0) at No. 20/24 Southern Cal (7-2), 6:30 p.m. on ABC.  Washington has an incredible offense.  No. 1 in Passing offense, No. 5 in total offense, No. 9 in scoring offense.  Southern Cal has an incredibly bad defense.  No. 106 in rushing, No. 106 passing, No. 114 total defense, No. 113 in scoring defense.  And the Huskies are favored by 3.0.  What the hell George?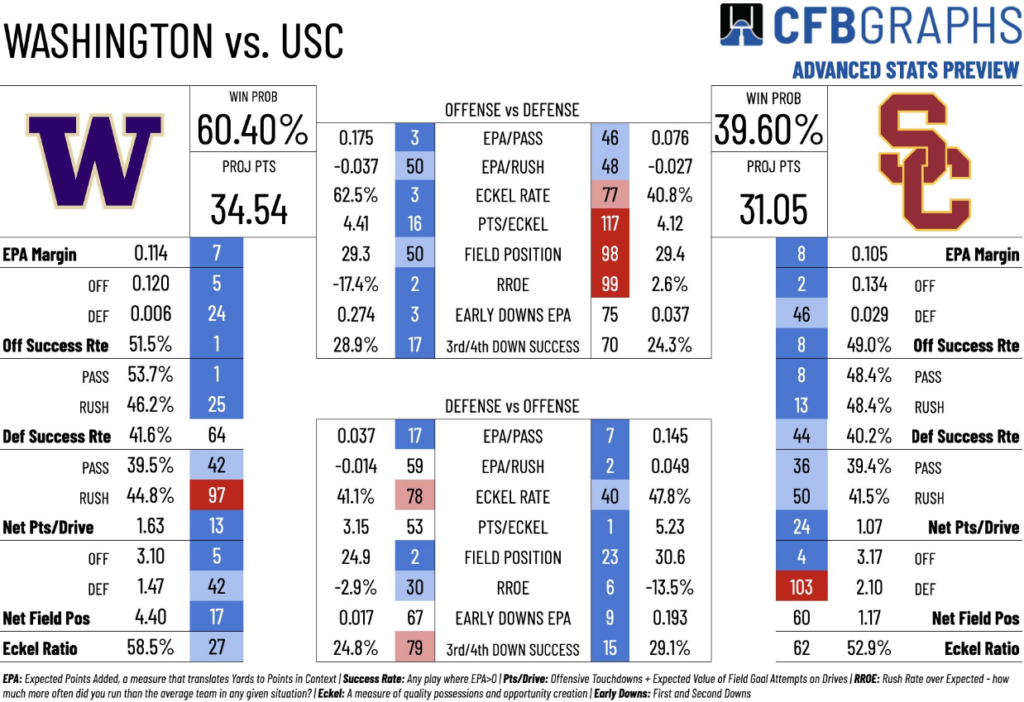 No. 14/13 Louisiana State (6-2, 4-1) at No. 8/8 Alabama (7-1, 5-0).  6:45 p.m. on CBS.  This game will likely determine the winner of the SEC West.  LSU won the first game in 1895.  Alabama has won but Alabaman has won 10 of the last 12.  Always a good story line here with Nick Saban.  Crimson Tide lead the series 55-27-5.  Alabama favored by 3.
No. 16/16 Oregon State (6-2) at Colorado (4-4), 9:00 p.m. on ESPN.  I wonder if Prime Time has found any new offensive lineman.  Beavers favored by 13.5 at Folsom Field.
No. 19/20 UCLA (6-2) at Arizona (5-3), 9:30 p.m. on FS1.  Bruins favored by 2.5.  I think the Wildcats get bowl-eligible this weekend.
Other Games of Interest – Week Ten
Thursday night, Wake Forest (4-4) was in Durham to play Duke (5-3).  Blue Devils scored 10 in the fourth quarter to get a 24-21 win.
Saturday
Arkansas (2-6, 0-5) at Florida (5-3, 3-2).  11:00 a.m. on ESPN2.  Florida favored by 4.5.  Go Gators.
Auburn (4-4) at Vanderbilt (2-7), 3:00 p.m. on SEC Network.  Tigers favored by 12.5.
Nebraska (5-3) at Michigan State (2-6), 11:00 a.m. on FS1.
Campbell (4-4) at North Carolina (6-2), 11:00 a.m. on ACCN.  A home date with the Camels ought to get Mack and the Tarheels back on track.  No line.
Georgia Tech (4-4) at Virginia (2-6), 1:00 p.m. on the CW Network.  UVA favored by 2.5. Go Hoos!
UTSA (5-3) at North Texas (3-5).  2:00 p.m. on ESPN+.  Big game for the Mean Green and head coach Eric Morris with 4 games left on the schedule.  Road Runners favored by 8, over/under is 71.5.
South Florida (4-4) at Memphis (6-2), 2:00 p.m. on ESPN+.  Tigers favored by 13.5.
Southern Methodist (6-2) at Rice (4-4), 6:30 p.m. on ESPNU.  Ponies favored by 12.5.  Tickets for this are more expensive than Houston at Baylor, cheapest starting at $21.
Western Kentucky (4-4) at UTEP (3-6), 8:00 p.m. on ESPN+.   Tough year for the Miners.  WKU favored by 9.5.
Stanford (2-6) at Washington State (4-4), 8:00 p.m. on PAC12.  Cougars favored by 13 at home in Pullman.
Washington & Lee University
Washington & Lee Generals 12, Randolph-Macon Yellow Jackets 35 
The Generals suffered their second loss of the season to the No. 9/10 RMC Yellow Jackets in Ashland, ending a 6 game winning streak for the Blue & White.  Randolph-Macon held the Generals ground attack largely in check.  W&L managed 203 rushing yards (Jacob Romero with 91 on 26 carries) and quarterback Stephen Murrin chipped in 51, while Anthony Crawford had 42 yards and a score.  RMC had a 21-6 lead at half, and got a quick score in the third quarter, but Murrin connected with Burke Cigelski for 41 yard touchdown pass to close the gap to 16.  That would be all W&L would get, as the Yellow Jackets added another touchdown in the fourth. Randolph-Macon is alone atop the ODAC at 5-0.  W&L and Bridgewater, this week's opponent, are tied for second place at 4-1.
Bridgewater comes to Lexington for a Saturday match at Wilson Field.  2:00 p.m. start Blue Ridge Mountain time.  This will be the 15th meeting, with the series tied 7 games apiece. The Eagles are coming off a 48-16 win over Ferrum, as the Bridgewater defense scored twice in the second quarter, a 31 yard fumble return and a 25 yard pick 6, part of a 28 point second frame.  The Eagles are 6-2 with other wins over Southern Virginia (I didn't realize that Southern Sem was now a 4 year coed school), NC Wesleyan, Hampden-Sidney, Shenandoah, and Averett.  Opening season loss to No. 22 Susquehanna and a loss 2 weeks ago to then No. 10/11 Randolph-Macon, 3-38.
The Eagles have a good rushing attack, led by Kennedy Fauntleroy, who has 1,048 yards with 14 touchdowns, averaging 6.4 yards per carry and 131 yards per game. Top in the ODAC, and well ahead of W&L's Jacob Romero in the second spot with 763 yards and 95.4 ypg.  Eagles have two quarterbacks who play:  Malcolm Anderson a fifth year senior, who is 49-82-3 for 577 yards and touchdowns (plus 217 rushing and 2 TDs), and freshman Jaicere Bateman, who is 64-110-6 for 646 yards and no scores.
W&L has the top rushing offense in the ODAC, with 2,380 yards and averaging 288.5 yards per game.  Bridgewater's run defense is third behind W&L, allowing 776 yards on the season and 97 yards per game. Overall, W&L's defense is ranked No. 2, giving up 305.3 ypg, and Bridgewater is No. 3, allowing 321.3 ypg.
Should be a good game.  TCT Prediction:  W&L 34, Bridgewater 31.
Texas Longhorns Basketball
I had every intention of getting a basketball preview in this week.  But a short week, a lot of day job work, and I got a bit carried away on the football writing.   But I am psyched for this season under Coach Rodney Terry.
The Horns open at The Moody Center Monday night at 7:00 p.m. with the Incarnate Word Cardinals, and the Delaware State Hornets Friday night at 7:00 p.m.  We have a great team.  Preview next week!
Texas Longhorns Volleyball
The Horns are No. 4 in the nation and 12-0 in Big 12 play.
Big XII – Week Nine
Jayhawks 38, Land Thieves 33.  I missed big on this one.  Great win for Kansas.  First time to beat Oklahoma since 1997.
K State 41-0 over Houston
West Virginia 41-28 over Central Florida.  UCF was favored by 7.  Golden Knights still winless in Big 12.
Iowa State 30-18 over Baylor in Waco.  Cyclones easily cover the 3.0 point line.  Over/under was 47.5!
Cincinnati at Oklahoma State 45-13 over Cincinnati.  Ollie Gordon II ran for 271 yards and 2 touchdowns.  That was after 282 yards against WVU the week before.  He is the real deal.
Week Nine:  Service Academies
Poor Army  Lost at home to the Minutemen of Massachusetts 21-14.
Air Force 30-13 over Colorado State.  Win and cover.  Falcons rushed for 261 yards.
Top 25 – Week Nine
An interesting week for the ranked teams.  Most of the big boys cruised to wins.  A couple of upsets.
Georgia smoked Florida 43-20 at the Cocktail Party.
Wisconsin gave Ohio State a game for a bit, but the Buckeyes got out of Madison with a 24-10 win.
Florida State 41-16 over Wake Forest.  Seminoles covered.
Stanford was within 2 of Washington going into the fourth quarter.  But the Huskies pulled ahead and got the 42-33 win on the Farm.
Oregon at Utah was expected to be a good, close game.  It wasn't.  The Utes managed a field goal in the first and a field goal in the second.  Oregon scored 35.
Indiana 24, PSU 33.
Arizona with a good win over No. 11 Oregon State, 27-24.
Hotty Toddy!  Ole Miss beat the Commodores 33-7.
Notre Dame crushed Pittsburgh 58-7.  41 second half points for the Irish, 14 on defense (pick 6 and fumble recovered for a touchdown.  Irish were favored by 20.5, over/under was 45.  Irish covered the line and the total. Good game.
Louisvile shutout Duke 23-0.
Tennessee 33-27 over Kentucky.  Vols are having a nice season.
Tulane 30-28 over Rice, but Rice covered.
A wild one in Berkeley.  Southern Cal go the win 50-49, but a crazy game.  The Trojan defense is not good.  Not good.
UCLE 28-16 over Colorado, who is now 1-4 in the Pac 12.
James Madison 30-27 over Old Dominion.
Other Games Week 9
South Carolina 17, Texas Agricultural & Mechanical 30.  Good win for the ags, but the Cocks covered.
Auburn 27-13 over Mississippi State.
Southern Methodist 69-10 over Tulsa.  Ponies had 446 in the air and 3 TDs, 192 yards rushing and 5 TDs.  And a pick 6.
Memphis 45-42 over North Texas.  Mean Green covered.
Nebraska 31-14 over Purdue.  Huskers a win away from bowl eligibility..
Virginia took Miami (Florida) to overtime, but the Canes won 29-26.  Like I said "Hoos grossly underrated at 19 point road dogs!"
UTSA 41-27 over East Carolina.  Birds up.
Music
An eclectic collection this week of some stuff I like.
Doctor My Eyes, Jackson Browne and Playing for Change.
Ode to Joy.  Flash mob in Sabadell, Catalonia, Spain, about 3 years ago.  Beethoven's Symphony No. 9.
Young-Holt Unlimited, Soulful Strut.
Friends of Distinction, Grazing in the Grass
Honor Flight Austin
This weekend's game is also Veteran's Recognition Day.  One of the more amazing organizations that honors our veterans is Honor Flight.  Honor Flight Austin has given thousands of World War II, Korean War, and Vietnam War veterans a trip of a lifetime.
Honor Flight Austin – Honor Flight Austin
Please consider donating.  And if you are interested in doing something really significant, like sponsoring a flight, please contact me [email protected].  Three flights planned this spring:  March 22-23, April 12-13, and May 3-4.
Jim Nicar:  100 Years of Texas Fight
I usually have a photo from Jim, but this week, a link to a great article on his website.  The photo of the stadium above is in this linked article.  But what the article is about is Texas Fight on its 100th anniversary and the song's history.  A good read, so something you can save and enjoy after we beat Kansas State.
100 Years of "Texas Fight!" | The UT History Corner (jimnicar.com)
At a pep rally before the 1923 Oklahoma game, Texas football coach Ed "Doc" Stewart, addressed the students:
The coach urged the students to adopt the motto, "For Texas, I Will," for the rest of the season. Thoroughly inspired, the students responded with some of their favorite UT yells, shouted so loud that "the sides of the building shook with the volume."
Texas beat OU 26-14 (in Austin), and the next big game was at College Station.  Texas Fight became a thing.  Walter Hunnicutt, a 1914 UT law school alumnus, wrote a fight song for Texas.  His original score (from Jim's post):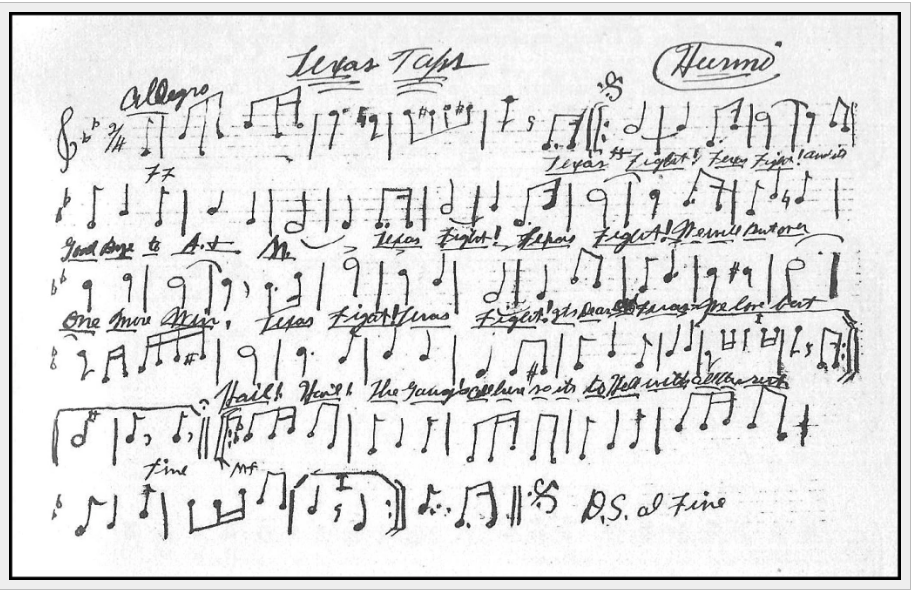 The song made its debut as "Texas Taps" on Thanksgiving Day 1923 in College Station.  Texas won 6-0, the first win at Kyle Field.  It has been with us ever since.
There is more to story – quite important "more".  I encourage you to read Jim's article.
Follow Jim on X
https://twitter.com/JimNicar/status/1719043534907449736
Picture of the Week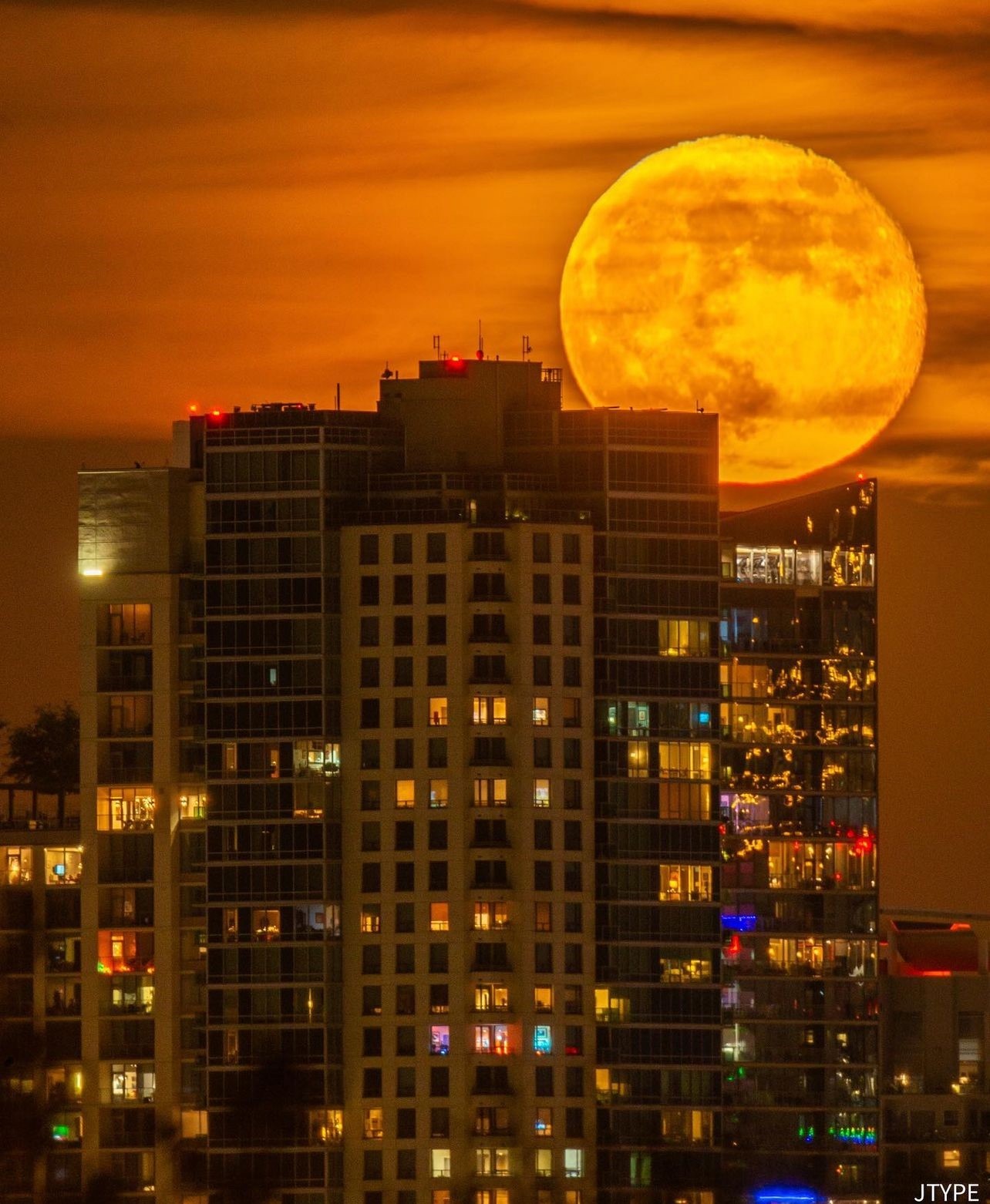 JType.  Such a great photographer.
From his Instagram account, October 31, 2023
God Bless Texas
God Bless America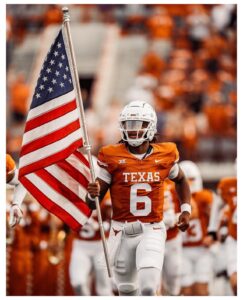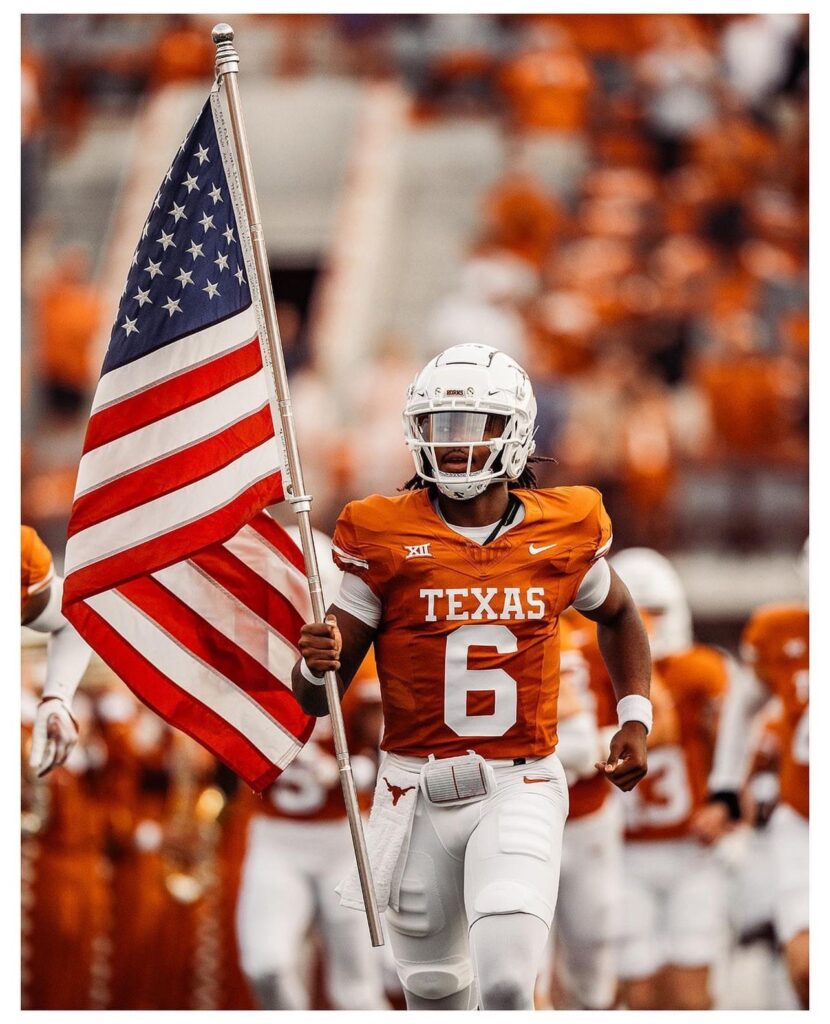 Tim Taylor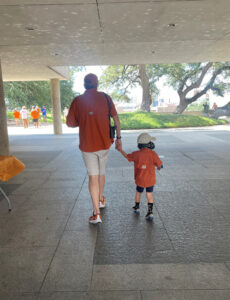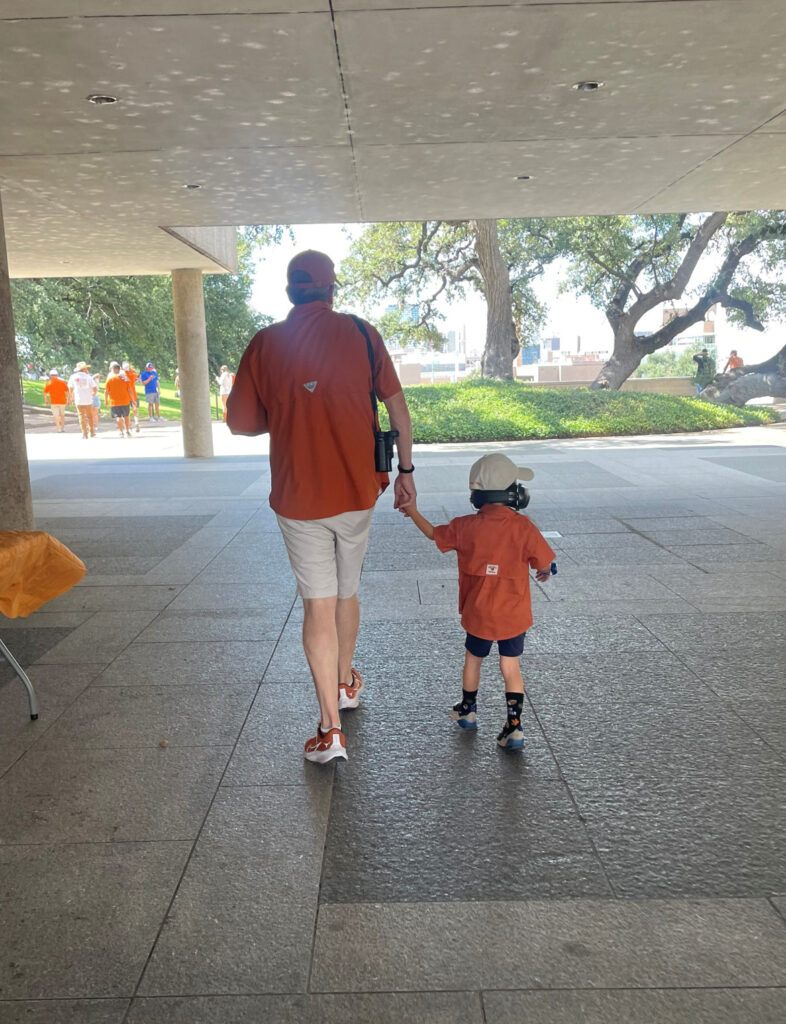 Tailgating before Home Football Games
The Juan Heisman Tailgate
Lot 38, East of Sid Richardson Hall.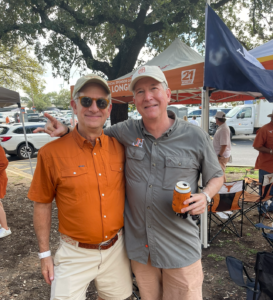 It is all about the friendships.  Always good to have Alfie in Austin and at JHT.
HOOK EM HORNS!!
The Austin Horns Fan Dispatch
© Timothy C. Taylor, Sr. 2023.  All Rights Reserved (as to original material).
On Twitter:  @tctayloratx
On LinkedIn:  www.linkedin.com/in/tctatx
On Instagram:  @tctayloratx
On Facebook:  www.Facebook.com/Tim.C.Taylor
and:  www.Facebook.com/Juan.Heisman
You can contact me by mail:
Tim Taylor
P.O. Box 5371
Austin, Texas  78763-5371