Texas Longhorns 24, Iowa State Cyclones 21
Texas survived a close one in Austin last Saturday, as the Longhorns got a few (correct) breaks on calls from the officials and three big ones with the Cyclones, and Quinn Ewers threw a perfect ball to Xavier Worthy who ran a perfect route on fourth and goal from the 3 yard line to give Texas a late 24-21 lead.  The biggest break was when ISU star wide receiver Xavier Hutchinson couldn't control the ball after he hit the ground, a catch which would have set the Cyclones up with first and goal at the eight yard line, down 3, and which would have probably been the go-ahead touchdown if he hadn't decided to leave his feet to make the catch.  Other than that drop, Hutchinson spent the afternoon schooling DBU.  A couple of plays later, Jaylan Ford recovered a Dekkers fumble after good football hits from Anthony Cook and Ford.  Hard hits, yes; targeting, no.  But in recent years, those calls always seemed to go against the Horns, and for several years, games like this seemed to slip away from Texas far too often.  An ugly win in the view of some.  But don't underestimate how big and important this win was for this team and the Sarkisian program.  The team is playing together.  The team is playing with passion.  Overshown in particular.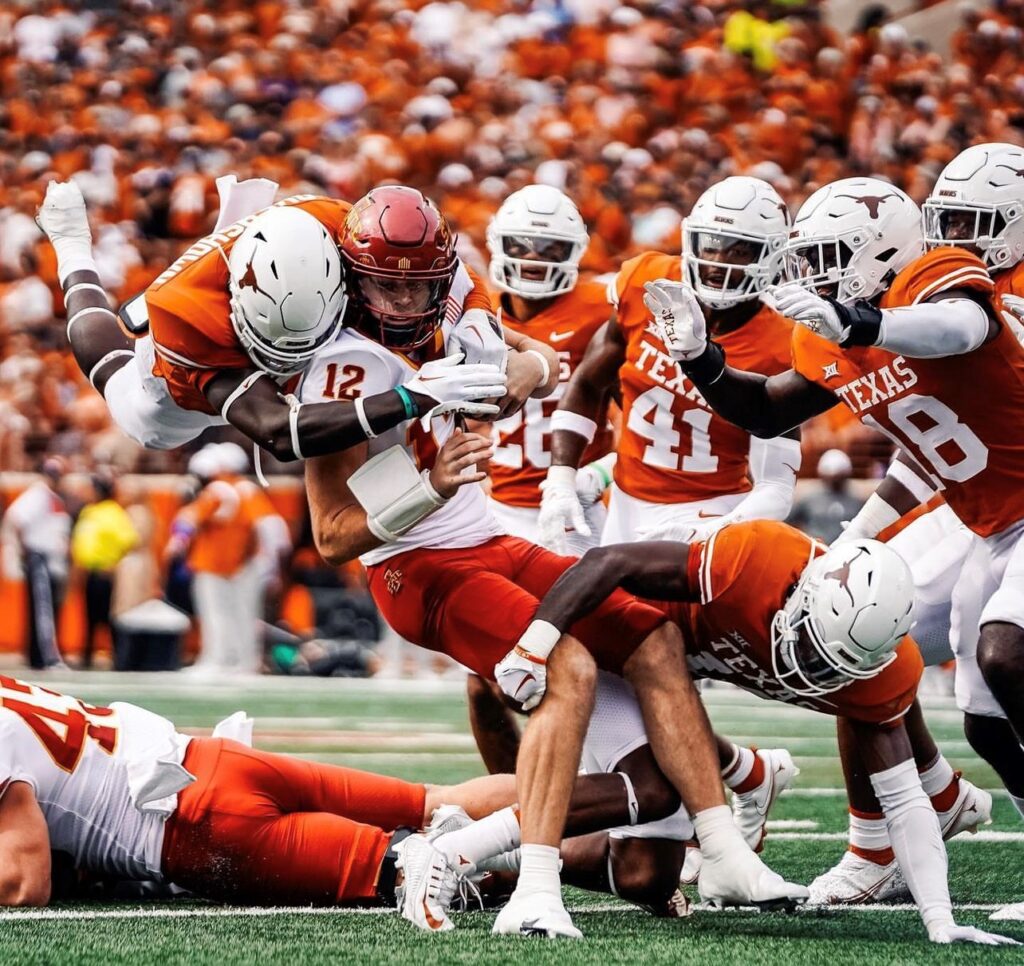 Photo – Texas Athletics (I think, from Overshown's Instagram).  Dang good photography.
Texas Longhorns vs. Oklahoma State Cowboys
Texas faces a major test on the road in Stillwater Saturday afternoon at Boone Pickens Stadium.  The Longhorns and Cowboys tee it up at 2:30 p.m.  The game will be broadcast on ABC.  After giving up 329 yards to a middle of the road passing team last Saturday, Texas gets Gundy's air attack which is No. 2 in the Big 12 averaging 299.8 yards per game and the No. 2 scoring offense in the league with 45.3 points per game.  Spencer Sanders leads the Big 12 in passing, as you might guess, with 276.2 yards per game.  Despite his injury.  Kwiatowski, Terry Joseph, and Blake Gideon, and The Special Assistant better have their charges ready.
Texas has enjoyed a great deal of success against Okie A&M over the history of the series, including one of the great plays in Texas Football History, the VY Pump Fake: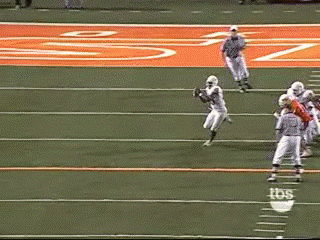 Week Seven in College Football
What a weekend.  An outright war for the right to light a cigar on the Third Saturday in October in Knoxville, with Tennessee ending up on top of Alabama 52-49.  Michigan had a 2 point lead at half and came out of halftime and beat the crap out of Penn State, 41-17, rushing for 418 yards (not a typo – four hundred eighteen yards).  Texas Christian beat Oklahoma State in 2 overtimes, 43-40.  Cam Rising lead the Utes back to a last minute victory over Southern Cal with a two point conversion, 43-42.  It was an exceptional weekend of college football.  And with all of that, there are still nine undefeated teams over halfway through the season:  Georgia, Ohio State, Tennessee, Michigan, Clemson, Ole Miss, Texas Christian, UCLA, and Syracuse.
Summary of the Newsletter
Not much feedback on the summary and "table of contents", so punting that. The organization of the newsletter has been the same for many years.  So just scroll, brother. Which made me think of the great U.S. Smokeless Tobacco Company commercial with fellow Tylerite Earl Campbell "Skoal, Brother".  Couldn't find that one, but this one with Walt Garrison was good.  He was a childhood hero.
Roschon Johnson and the Paul Hornung Award
Roschon Johnson remains my favorite player on the team.  His tackle playing on special teams on a kick-off just adds to his Longhorn Legend status.
RoJo. ALPHA. pic.twitter.com/kH4ywKUvy0

— Justin Wells (@justinwells2424) October 15, 2022
Roschon Johnson is leading the fan voting for the Paul Hornung Award.  Late Thursday night, Roschon had 52.7% of the vote (5,220), and Jack Colletto from Oregon State is second with 34.24% (3,391).  Keep voting.  Every day through November 6!
https://www.louisvillesports.org/paul-hornung/award-poll/
No. 20 Texas Longhorns vs. No. 11 Oklahoma State Cowboys
 Amicus meus, inimicus inimici mei
Texas and the Okie Aggies both enter this crucial contest with five wins.  There is not much I will miss about the Big 12, but I will kind of miss playing Oklahoma State.  Yes, they play the Horns well.  The Cowboys have won 8 of the last 12.  But you know what? My enemy's enemy is my friend.  We may think OU sucks and I call them the Land Thieves and there is no team I like beating more than those sonsabitches from Norman, but Oklahoma State hates them just as much or more. Bless em.
Texas is 9-3 in Stillwater.  All-time, 26-10.  Gundy is 8-9 against Texas, and after we win Saturday, we will close the books with Michael Ray Gundy with a winning record (as I don't expect we will play the Cowboys beyond 2023).
The game from T. Boone Pickens Stadium will be broadcast on the World Wide Leader, ABC, at 2:30 p.m.  Dave Pasch, Dusty Dvoracek, and Tom Luginbill on the call.  (I took typing in 10th grade at Robert E. Lee High School, and I swear Dvoracek is one of the hardest words to type.)
The game will be broadcast around the world on the Longhorn Radio Network with the Voice of the Longhorns, Craig Way, joined by Roger Wallace in the booth and Lifetime Longhorn Will Matthews on the sideline.  Behind the Pine Curtain:  In Carthage, on KGAS, 104.3 FM and 1590 AM; Henderson, KWRD 1470 AM; and Marshall KMHT 1450 AM.  And in Tyler on KTBB 600 AM.  For those of you in South Texas for this first somewhat crisp weekend, KWMC 1490 in Del Rio, and most of y'all will get clear channel WOAI 1200 out of San Antonio.  Sirius XM channel 83.
Texas Basketball
The Texas Longhorns will officially begin their first season in The Moody Center on Monday November 7 with a game against the UTEP Miners.  However, before that, the Longhorns will play an exhibition game against Arkansas on October 29 at 3:00 p.m.  It may only be an exhibition game, but really important for the team and the program and the first game in front of fans in the Moody Center.  If you are a Longhorn Foundation member, you received an email on Friday October 14 about the game (if you didn't, please email me, and I will get you the information). Get your tickets and go to the game.  If you can't go to the game, get your tickets and give them to Longhorn fans.  Let's get a strong Burnt Orange turnout to open the Moody Center.
Oklahoma State Cowboys Football 2022
Oklahoma State started 2022 with three non-conference wins.  58-44 over Central Michigan, 34-17 over Arizona State, and then a 63-7 pounding of Arkansas-Pine Bluff.
Oklahoma State opened Big 12 play in Waco on October 1, a rematch of last year's conference championship game.  It was a wild one.  After a relatively quiet first half that saw the Cowboys take a 16-3 halftime lead, the teams went nuts in the third quarter.  OK State's Jaden Nixon returned the second half opening kick 98 yards for a score and a 23-3 lead.  Then Baylor scored twice, once after an interception, to close to 23-17.  Two scores from OSU, and it was 33-25 after 3.  Then the only scoring in the fourth was a Cowboy field goal.  Oklahoma State did intercept Baylor twice in the fourth quarter.  Spencer Sanders was only 20/29 for 181 yards and 1 TD and had an interception, but he did run for 75 yards and a score. Dominic Richardson rushed for 73.  Brennan Presley caught 8 passes for 86 yards, Bryson Green caught 2 for 40 yards and a score. Baylor's Blake Shapen threw for 345 yards and 2 TDs (28/40) with 2 picks.  Baylor rushed for 112 yards.
OSU got Texas Tech in Stillwater the next weekend following the Red Raiders' win over Texas.  The No. 7 Cowboys would get the win, 41-31 after trailing 20-24 at half.  They shut out Tech in the fourth quarter.  Tech's Behren Morton threw for 379 yards and 2 TDs (39-62, 1 pick) and ran for 46 yards and a score.  SaRoderick Thompson had 87 yards and a score.  For the Cowboys, Sanders was back to his old self, 22/45 for 297 yards and a TD plus 56 yards and 2 scores on the ground.  Dominic Richardson rushed for 67 yards and a TD.  Bryson Green caught 5 passes for 115 yards and a score.
Last weekend's double overtime thriller at Amon Carter Stadium ended with Texas Christian on top 43-40.  OSU jumped out to a 24-13 lead at half.  In the third quarter, the Cowboys kicked 2 field goals while the Frogs kicked one, and Gundy's boys looked good with a 30-16 lead going to the final frame.  Sonny Dykes and Max Duggan had other ideas.  A 47 yard drive to close within 7, and then with 5 minutes left in the game Duggan drove the Horned Frogs 94 yards to tie the game at 30.  Both teams scored TDs in in the first overtime, but OSU went first on offense in the second OT and was called for holding on the first play, a killer.  Tanner Brown did manage a 52 yard field goal, but Kendre Miller and Max Duggan ran the ball successfully to get the win, 43-40.  Sanders threw for 245, 1 TD, 1 pick, and ran for 68 yards (including a 29 yarder) and 2 TDs.   Dominic Richardson ran for 72 yards (3.3 ypc) and 1 score, and he was also the leading receiver for the Cowboys with 3 catches for 79 yards.
Coach Mike Gundy
Mike Gundy is the Dean of Big 12 coaches, now in his 18th year as head coach in Stillwater.  He has done a remarkable job bringing the Cowboys to national prominence at a school that has, in football at least, played second fiddle to the Land Thieves pretty much forever.  Some examples:  in the 104 years before Gundy took over, the Cowboys had gone to 16 bowl games.  After not going in his first year in 2005, Gundy has taken his team bowling every year – 16 bowls in the last 17 years, including 5 New Year's Six games since 2009.  The OSU football all-time winning percentage before Gundy was 48.9% with 473 wins.  Under Gundy, the Cowboys are 149-69-0, 68.3%.
Kasey Dunn is the OC and associate head coach.  He's been in Stillwater since 2011.  Derek Mason is enjoying his first year at Oklahoma State as Defensive Coordinator after a year as DC at Auburn.  He was head coach at Vanderbilt from 2014-2020, and he was at Stanford before that.
Key Cowboys
For years, Oklahoma State football has been defined by its offense.  Mike Gundy played quarterback for the Cowboys, and he has been an offensive minded coach for the Pokes.  For the last three years, his quarterback has been Spencer Sanders (No. 3, 6-1, 210, Redshirt Senior, Denton Ryan).  2019 Big 12 Offensive Freshman of the Year (19/32 for 268 yards with 2 picks and 109 yards rushing and a score against the Horns in 36-30 Texas win).  2020 All-Big 12 Honorable Mention (27/39 for 400 yards, 4 TDs, 1 pick, plus 44 yards rushing in a 41-34 OT win over Texas).  2021 First Team All-Big 12 with 3,507 yards of offense and 269.8 yards of offense per game were Big 12 bests.  His 2021 game against Texas wasn't great – 19-32 for 178 yards with 1 score and 1 INT, and 20 yards rushing with a TD.  But OSU did win, 32-24, as Sanders led 3 fourth quarter scoring drives for the comeback win in Austin.  He led the Cowboys to a 37-35 win in last year's Fiesta Bowl over No. 5 Notre Dame with the largest comeback in OSU and Fiesta Bowl history.  In 2022, 120/205 for 1,639 yards with 13 touchdowns and 3 interceptions, plus 309 yards rushing and 8 scores.  Six of those rushing touchdowns have been in the redzone.  A healthy Sanders can be unbeatable; an injured Sanders is still better than most.  Spencer Sanders' back up is Gunnar Gundy, and as you know any alliteration makes me smile.  Being curious, I was wondering from whence Mike named his son.  "The name Gunnar means fighter, soldier, and attacker, but mostly is referred to by the Viking saying which means Brave and Bold warrior."  Hey kid, no pressure from dad.
When Spencer Sanders doesn't run the ball, Dominic Richardson does.  Richardson (No. 20, 6 foot 201 pound Junior) has 427 yards on 108 carries with 5 scores, a long of 19.  Not really great numbers, but he's a solid running back.  Also 17 catches for 212 yards.
Gundy's offenses have usually spread the ball around, and this year is no exception.  Five players with more than 200 yards receiving.  Braydon Johnson (No. 9, 6 foot, 205, Redshirt Senior WR from Arlington Bowie) leads the Pokes with 398 yards receiving, 20 catches, and 3 touchdowns.  19.9 yards per catch is really good, third best in the Big 12.  Leading OSU in catches is Brennan Presley (No. 80, 5-8, 175 Junior WR from Tulsa), who has 30 catches for 353 yards and a score.  Bryson Green (No. 9, 6-1, 205, Sophomore from Allen, Texas), has 16 catches for 284 yards and 4 touchdowns.  John Paul Richardson (No. 17, 6 foot, 180, Sophomore from Missouri City, Texas) has 22 receptions for 251 yards with 3 touchdowns.
Defensively, Cowboy linebacker Mason Cobb (No. 0, 6 foot 230 junior) has 54 tackles (30 solo), 7.5 TFL for 12, 2 sacks, 1 pick, and 6 quarterback hurries.  Very good.  Jason Taylor II (No. 25, 6 foot, 215, Redshirt Senior, no relation) has 43 tackles (33 solo), 2 TFL and an interception.  Xavier Benson (No. 1, 6-2, 224, Redshirt Junior from Texarkana) has 42 tackles (18 solo), 2 TFL.  Lacy Tyler (No. 89, 6-4, 285, Redshirt Senior from Sachse) leads OSU with 8.5 tackles for loss for 34 yards.  He and 3 other Cowboys have 3 sacks each.  So while their overall defensive stats are not great, they do get to the ball.  Best name of the week goes to Samuela Tuihalamaka, the 304 pound redshirt senior defensive tackle out of Mater Dei in California.
Cowboy Kicker Tanner Brown is 12-12 on field goals with a long of 52.
The Statistics
I have included each team's ranking in the Big 12, so below the first number is national ranking second is Big 12 ranking.
Offense
| | | |
| --- | --- | --- |
| Statistic | Texas | Okie State |
| Rushing Offense | #43, #7 – 179.9 ypg | #65, #8 – 155.7 ypg |
| Passing Offense | #56, #7 – 253.7 ypg | #21, #2 – 299.8 ypg |
| Total Offense | #49, #8 – 433.6 ypg | #33, #6 – 455.5 ypg |
| Scoring Offense | #26, #6 – 36.7 ppg | #4, #2 – 45.3 ppg |
| First Downs | #26, #4 – 24.6/game | #19, #3 – 25.2/game |
| Sacks Allowed | #33, #5 – 9, 71 yards | #24, #2 – 8, 24 yards |
| Tackles for Loss Allowed | #51, #6 – 33, 135 yards | #31,  #4 – 29, 75 yards |
| Third Down Conversions | #45, #5 – 43.9% | #65, #8 – 39.8% |
| Fourth Down Conversions | #12, #1 – 75%, 6/8 | #12, #1 – 75%, 3/4 |
| Red Zone Attempts | #22, #2, 32 | #33, #3, 31 |
| Red Zone Offense | #38, #4 – 88% / 66% | #6, #1 – 97% / 68% |
| Long Run Plays | #45, #5 –35/10, 10/20, 5/30, 3/40 | #79, #8 – 28/10, 5/20, 1/30, 1/40 |
| Long Pass Plays | #28, #2 – 75/10, 29/20, 12/30, 5/40 | #36, #3 – 71/10, 28/20, 14/30, 8/40 |
Defense
| | | |
| --- | --- | --- |
| Statistic | Texas | Okie State |
| Rushing Defense | #34, #4 – 118.7 ypg | #57, #7 – 136.3 ypg |
| Passing Defense | #65, #4 – 228.7 ypg | #126, #10 – 301.0 ypg |
| Total Defense | #37, #2 – 347.4 ypg | #110, #8 – 437.3 ypg |
| Scoring Defense | #20, #3 – 18.3 ppg | #75, #6 – 27.8 ppg |
| First Downs Allowed | #66, #6 – 20.1/game | #98, #8 – 22.5/game |
| Sacks | #46, #4 – 15, 92 yards | #28, #1 – 17, 92 yards |
| Tackles for Loss | #14, #3 – 48, 169 yards | #5, #1 – 54, 163 yards |
| Third Down Conversions | #91, #7 – 41.7% | #5, #1 – 26.9% |
| Fourth Down Conversions | #83, #8 – 56.5%, 13/23 | #54, #4 – 50%, 9/18 |
| Red Zone Attempts | #49, #5 – 22 | #58, #6 – 23 |
| Red Zone Defense | #37, #1 – 77% / 50% | #95, #8 – 87% / 65% |
| Long Run Plays Allowed | #39, #5 – 24/10, 5/20, 1/30, 1/40 | #88, #9 – 34/10, 5/20, 3/30, 1/40 |
| Long Pass Plays Allowed | #92, #7 – 66/10, 20/20, 5/30, 2/40 | #97, #9 – 69/10, 24/20, 10/30, 5/40 |
Other
| | | |
| --- | --- | --- |
| Statistic | Texas | Okie State |
| Turnovers | #5, #2  – 1F, 3I – 4 | #12, #4 – 1F, 4I, 5 |
| Turnover Margin | #44, #4  6:4, +2 | #59, #5  6:5, +1 |
| Penalties | #40, #6 – 37, 289 yards | #7, #1 – 27, 246 yards |
*Based on total number of penalties.
Match-up Comparison
| | |
| --- | --- |
| Texas Offense | Okie State Defense |
| Rushing Offense – 179.9 ypg | 136.3 ypg – Rushing Defense |
| Passing Offense – 253.7 ypg | 301.0 ypg – Passing Defense |
| Total Offense – 433.6 ypg | 437.3 ypg – Total Defense |
| Scoring Offense – 36.7 ppg | 27.8 ppg – Scoring Defense |
| First Downs – 24.6/game | 22.5/game – First Downs Allowed |
| 3rd Down Offense – 43.9% | 26.9% – 3rd Down Defense |
| 4th Down Offense –  75% | 50% – 4th Down Defense |
| Red Zone Offense – 88% / 66% | 87% / 65% – Red Zone Defense |
| LRP – 35/10, 10/20, 5/30, 3/40 | 34/10, 5/20, 3/30, 1/40 – LRP Allowed |
| LPP – 75/10, 29/20, 12/30, 5/40 |  69/10, 24/20, 10/30, 5/40 – LPP Allowed |
| | |
| --- | --- |
| Texas Defense | Okie State Offense |
| Rushing Defense – 118.7 ypg | 155.7 ypg – Rushing Offense |
| Passing Defense – 228.7 ypg | 299.8 ypg – Passing Offense |
| Total Defense – 347.4 ypg | 455.5 ypg – Total Offense |
| Scoring Defense – 18.3 ppg | 45.3 ppg – Scoring Offense |
| First Downs Allowed – 20.1 /game | 25.2/game – First Downs |
| 3rd Down Defense – 41.7% | 39.8% – 3rd Down Offense |
| 4th Down Defense –  56.5% | 75% – 4th Down Offense |
| Red Zone Defense – 77% / 50% | 97% /68% – Red Zone Offense |
| LRP Allowed – 24/10, 5/20, 1/30, 1/40 | 28/10, 5/20, 1/30, 1/40 – LRP |
| LPP Allowed – 66/10, 20/20, 5/30, 2/40 | 71/10, 28/20, 14/30, 8/40 – LPP |
Worth noting that in Red Zone Offense, Ohio State, Tennessee, and Clemson are tied at No. 1 with 100% scoring in the red zone, and TD percentages of 93.1%, 81.28%, and 74.29% respectively.
In the category of "statistics can be misleading":  Oklahoma State is No. 126 (out of 131) in passing defense in the country, and the Cowboys just fell out of the top 10.  Undefeated Tennessee, now No. 3 and coming off a win over Alabama, is No. 129 in the country, allowing 332 yards per game.  Of course, that may come back to bite both.  Also note that both teams have ugly shades of orange.
In fourth downs attempted by the opponent, Texas is tied for most in the country with Ole Miss, Ball State, and Western Kentucky.
Texas has two players at the top of the Big 12 Conference in offense and defense.
Bijan Robinson
111.43 yards rushing per game.  #1 Big 12, #11 nation
780 rushing yards – #1 Big 12, #8 nation
138 rushing attempts – #1 Big 12, #10 nation
10 rushing TDs, #1 Big 12, #5 nation
145.6 yards all-purpose per game.  #1 Big 12, #12 nation
1,019 all-purpose yards – #1 Big 12, #6 nation
154 plays – #1 Big 12, #7 nation
This young man is something special.  Bijan is also No. 33 in the conference in receiving with 34.1 ypg, 16 catches for 239 yards and a TD.
Jaylan Ford
9.43 tackles per game – #1 in Big 12, #23 nation
66 tackles – #1 Big 12, #13 nation
37 solo tackles – #1 Big 12, #12 nation
Other Stats
"Available Yards Percentage" www.bcftoys.com.
Texas dropped to No. 14 on NAY.  But still significantly better than Okie State.
| | | | |
| --- | --- | --- | --- |
|   | NAY | OAY | DAY |
| Texas | No. 14:  0.180 | No. 13:  0.613 | No. 37:  0.433 |
| Okie State | No. 56:  0.039 | No. 56:  0.501 | No. 40:  0.437 |
BCF Toys – 2022 Available Yards Percentage
Net points per drive (NPD).  NPD is the difference between points scored per offensive drive (OPD) and points allowed per opponent offensive drive (DPD).
| | | | |
| --- | --- | --- | --- |
|   | NPD | OPD | DPD |
| Texas | No. 9: 1.76 | No. 11:  3.38 | No. 18:  1.61 |
| Okie State | No. 33: 0.68 | No. 29:  2.91 | No. 67: 2.23 |
BCF Toys – 2022 Points Per Drive
Adding another new one for you  Yards Per Play.  I don't know why it is NPP instead of NYP.
Net yards per play (NPP) are the difference between drive yards per offensive play (OPP) and drive yards allowed per opponent offensive play (DPP). Drive yards are calculated as the difference between starting field position and ending field position on offensive drives. The percentages of offensive drives that average at least four yards per play gained (O4+) and allowed (D4+), at least seven yards per play gained (O7+) and allowed (D7+), and at least ten yards per play gained (O10+) and allowed (D10+) are also provided.
Note, this can be a negative.  Which OSU has.
| | | | |
| --- | --- | --- | --- |
|   | NPP | OPP | DPP |
| Texas | No. 6: 2.36 | No. 10:  7.20 | No. 13:  4.84 |
| Okie State | No. 69:   -.023 | No. 69:  5.80 | No. 86: 6.03 |
BCF Toys – 2022 Yards Per Play
BCF's Game Projection.  "Game Projections are calculated from current FEI ratings and include the projected win likelihood (PW), projected margin of victory (PM), projected points scored (PF) and allowed (PA), and projected total points scored (PT) for each FBS game."
| | | | | | | |
| --- | --- | --- | --- | --- | --- | --- |
| Projected Winner | Projected Loser | PW | PM | PF | PA | PT |
| Texas | Okie State | .774 | 11.3 | 36.9 | 25.7 | 62.6 |
I am loving working with these stats.  When I win the lottery and quit practicing law, I am going to do this stuff full-time.  For a lot of sports.
Official Preview:
https://texassports.com/news/2022/10/17/no-20-21-football-preview-no-11-11-oklahoma-state.aspx
Texas Game Notes:
https://texassports.com/documents/2022/10/17/08-TexasGameNotes-OklahomaState.pdf
Oklahoma State Game Notes:
https://okstate.com/documents/2022/10/17/7-Texas.pdf
TCT Preview
I am going to assume Spencer Sanders plays.  He played hurt last week and nearly beat the Texas Christian Horned Frogs.  His history and numbers are detailed above.  He is very good, although not having his best year.  He has a very good coach, and Gundy and his staff will call a good game.  How well the Texas defense plays against Sanders and the Cowboy passing attack and maybe more importantly, contains Sanders when he decides to run will, more likely than not, decide the game.  We have had issues in the past with dual-threat quarterbacks and our secondary did not play well against Dekkers and ISU last week.  Gundy will have 4 or 5 guys in on every play who can catch the ball, and linebackers will need to stay with whoever they pick up.  We need some guys to step up.
I feel pretty good about our front seven against the basic running game.  They run tempo, but we have a bunch of guys who can play so hope we can keep the big guys relatively fresh.
We are going to have to do better on third down – and we are playing a team who isn't great on third down conversions.  If we don't get better this week, the weeks ahead will be challenging.
The OSU defense isn't very good.  You can see their numbers and rankings above.  If our O line keeps playing like they have, Texas should rush for over 200 yards.  I think Bijan gets his 125 and RoJo gets his 75, and maybe some good rushing yards from Keilan and Whittington.  Wouldn't shock me to see Texas push 300 yards on the ground.
The offensive line will be the most critical element for the Texas passing game too.  The Cowboy defense is giving up a lot of yards, but they are also very good at pressuring the quarterback and sacks, especially off the edge, and they are deep there.  Ewers needs his time to make his reads and make good decisions.  The big men need to give it to him.  I am hoping this is the Quinn Ewers breakout game, as I am confident he can light it up and will do so soon.  Saturday in Stillwater would be an excellent time.
Vegas made Texas the favorite for good reason:  the Longhorns are a better team than the Cowboys this year.  Whether or not the better team wins will depend on execution.  No turnovers, no stupid penalties, man up on defense.  This is only our second road game, and the first one didn't end well.  Hopefully that was a lesson learned.  But as Texas enters the second half of the season, we will be facing the top half of the Big 12 every week.  We have to start this stretch with a win.  I believe we will.
Texas wins in Stillwater on Saturday, 44-38.
Other Previews
Wescott Eberts on Burnt Orange Nation:
https://www.burntorangenation.com/2022/10/19/23413579/texas-longhorns-oklahoma-state-cowboys-preview-spencer-sanders
Texas Homer, about 18 minutes.
Iowa State Cyclones 21, Texas Longhorns 24
A hard played, hard won game for Sark and his Longhorns.  Texas did manage to do the one thing that I thought would be the hardest challenge – run the ball on the ISU defense.  The Cyclones came to Austin with the No. 1 rushing defense in the Big 12 (and No. 13 in the country), allowing just 91 yards per game.  After Bijan and Roschon combined for 206 yards rushing (Texas netted 191, as Ewers was minus 13, and -2 team), ISU dropped to No. 21 nationally, although they still lead the league.  That was an incredible performance by the offensive line and Robinson and Johnson.  Ewers' line wasn't great, 17-26 for 172 yards, but all 3 touchdowns were on his arm, especially that clutch fourth and 3 conversion for a touchdown to Worthy.  Worthy led the Horns with 8 of the 17 receptions and 72 yards.  Sanders had 3 for 37, and Bijan 4 for 36.  Jordan Whittington just had 2 catches, but one was touchdown.
What I am still trying to figure it how a middlin' passing team and heretofore moderately successful (at best quarterback) lit up Texas for 329 yards.  The Texas defense was #2 in the Big 12 allowing just 212 yards per game, and the ISU offense was No. 6 in the league in passing with 257.7 yards per game.  Dekkers threw for 329 yards and 2 scores, and it easily could have been nearly 400 yards and 3 touchdowns.  Xavier Hutchinson lived up to his billing, with 10 catches for 154.  Jaylin Noel had 6 for 94 and 2 scores.  (I was right about this:  "Whoever is covering Hutchinson will need to have a good game and the safeties need to be there to help."  Not the best day for the Texas safeties.)
Texas did hold the Cyclones to just 74 yards rushing, and Dekkers was their leading rusher with 30 yards.  That was over 30 yards below the ISU season average, so hat tip to the defense for that effort.  Saved us.
The game started off with a Texas defensive stop and a blocked punt (by Keilan Robinson, of course), giving Texas the ball at the Iowa State 21 less than three minutes into the game.  Should have been a scoop and score, but dadgummit. That sure liked a sign for an early lead, but the offense sputtered (zero yards) and Auburn missed the 39 yard field goal.
The teams traded punts after that, but on the third Iowa State possession, Dekkers got the Cyclones moving.  A good punt had ISU back on their own 16, but 16 yards to Hutchinson, 21 to Noel, and 17 to Hutchinson had Iowa State in Texas territory.  Iowa State would get the score as Noel got loose in the end zone basically uncovered.
Texas failed to convert a fourth and 3 and gave the ball back to ISU at their 41 on an odd call.  Iowa State again drove the ball well, getting a third and goal at the Texas 6, when Jaylan Ford picked off the Dekkers pass in the endzone.  In hindsight, a game saving interception in the middle of the second quarter.
Texas turned defense to offense and Ewers and Bijan worked the ball down the field, aided early by a roughing the passer call, a great run after catch by Whittington, and capped with a 15 yard touchdown pass to Worthy.  7-7.
After a defensive stop, Texas started an 80 yard touchdown drive with 25 from Bijan.  Over the next 55 yards, Bijan rushed for 17 and caught a truly great pass for 26, and on first and goal from the 5 Ewers' pass to Whittington was money, 14-7.  It was not just a good drive, but well-executed from a timing standpoint, as it burned 3:35, leaving Iowa State with 6 seconds in the half.  The Bijan catch:
This catch by Bijan Robinson was just unreal yesterday against Iowa State. pic.twitter.com/tAZIHJ8Wgy

— Hook'em Headlines (@HookemHeadlines) October 16, 2022
Texas received the ball to start the second half, and after holding call when Keilan elected to return the kick, the Horns started at their own 12.  I really wonder what percentage of kickoffs that are returned these days end up putting their team in worse field position than a fair catch?
Fortunately, Bijan got it out from the shadows of the goalposts with an 8 yard run and a 7 yard run, and then Ewers hit Worthy for 21 to get us to midfield.  Two RoJo runs and Texas was at the ISU 36.  Bijan with 3 runs to get to the 20, but the Cyclone defense stiffened.  Fortunately, Auburn connected on the 31 yard field goal to put Texas up 10, 17-7.  In their next offensive possession, a few good Hutchinson receptions, but Ojomo got a huge 8 yard sack to put ISU in third and 17, and Overshown and Ford stopped the Cyclones the next play.  ISU missed the field goal, giving Texas the ball back halfway through the third quarter.  Texas was 3 and out, and after a so-so punt, ISU had good field position.  2 plays later, a 54 yard touchdown pass to Jaylin Noel who got behind the defender and Iowa State closed the gap to 17-14.
After trading possessions, Iowa State had the ball when the fourth quarter began.  A 12 play drive capped with Dekkers running up the middle for 11 yards on third and 8 gave Iowa State the 21-17 lead.
Texas answered.  Starting on the Texas 25, Bijan for 5 and 14, the Roschon for 14 and 16, a short Bijan run, a 13 yard pass to Bijan, Roschon for 7 and Texas had second down on the Iowa State 2 yard line.  Bijan got a yard, then lost 2.  Facing fourth and 3 with the clock ticking under 5 minutes, Sark did what he had to do:  go for the win.  It was one of the best plays you will see this year, as Xavier's route was wicked well run and Ewers' pass was money.  24-21 Texas.
.@TexasFootball – On fourth and goal, Quinn Ewers converted a touchdown pass to Xavier Worthy 🔥#Big12FB x @OldTrapper x @TexasLonghorns pic.twitter.com/TpLFizB6IK

— Big 12 Conference (@Big12Conference) October 16, 2022
Iowa State got the ball with 4:43 to play, plenty of time.  They moved the ball, including converting a fourth down.  The Hutchinson drop was a gift.  But ISU got it in Texas territory, a first and 10 at the UT 31.  But on a Dekkers keeper, Anthony Cook got the big hit, forcing the fumble recovered by Ford.  2:06 to play.  Texas ball.
To win the game, Texas had to convert one first down.  On third and 1, RoJo was hit behind the line, but Jordan Whittington had his back – literally – and the tandem drove forward for the first down.  Victory formation from there, and then The Eyes of Texas.
A sweet win in a hard fought, physical game.  As I said above, a game a lot of Texas teams the last few years would have lost.  But the Longhorns played 60 minutes, got the stops when they had to, and more importantly, two incredibly critical turnovers:  the Jaylan Ford pick in the endzone in the second quarter, and the Jaylan Ford fumble recovery in the fourth quarter.
Bijan Robinson and Jaylan Ford were the players of the game.  But big credit to the big men too, on both sides.  The offensive line just keeps getting better, and to run the ball like Texas did against that defense was spectacular.  And the defensive line shut down the Cyclone run game for the most part.  Still work to do with DBU.
Highlights
ESPN, Full Game Highlights, about 10 minutes.
Matthew Loves Ball, a bit over 24 minutes
Every Play from Nash Talks Texas, 38 minutes or so:
Full Game:
A look back at the BCF Toys' game projection.  Here is Iowa State with actual results in the second line:
| | | | | | | |
| --- | --- | --- | --- | --- | --- | --- |
| Projected Winner | Projected Loser | PW | PM | PF | PA | PT |
| Texas | Iowa State | .806 | 13 | 30.3 | 17.4 | 47.7 |
| TEXAS | ISU | | 3 | 24 | 21 | 45 |
Texas Longhorns Band:  The Pride of The Southwest
My friend Tracy Laquey Parker films the halftime show.  This was a good one, with the retirement of Big Bertha and the christening of Big Bertha II.
I missed halftime.  It was okay. Ran into Super Bill Bradley and Bill Hall.  Legends.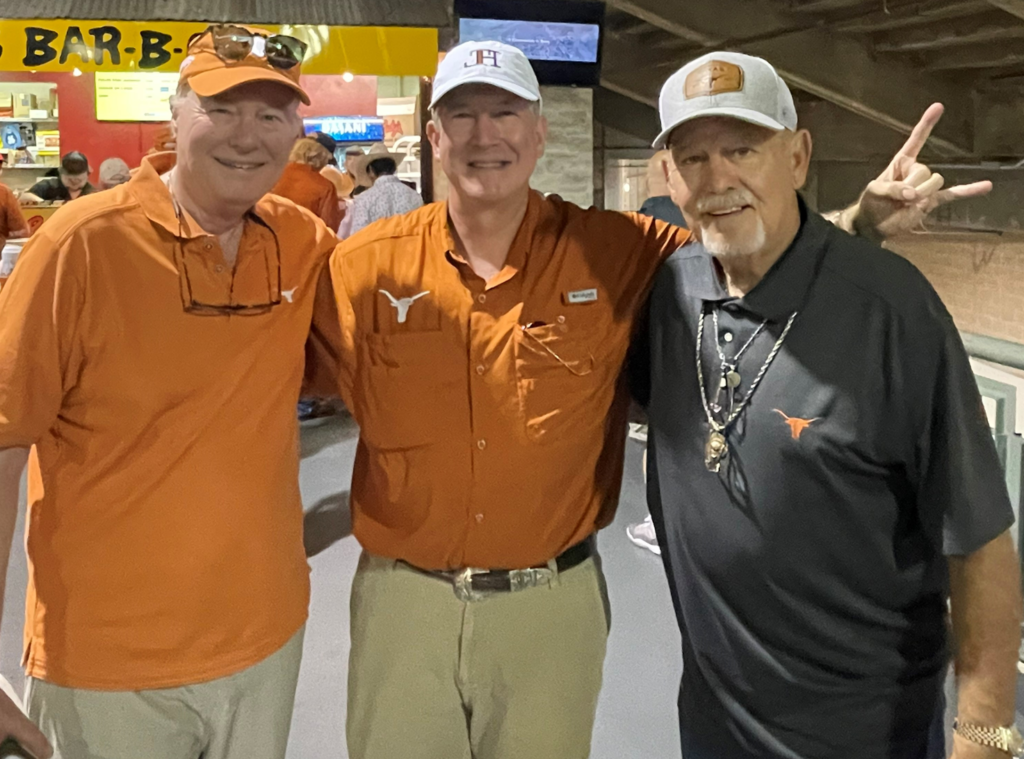 Statistical Rankings
Texas drops up to No. 6 in Nate Manzo's composite rankings.  Still impressive.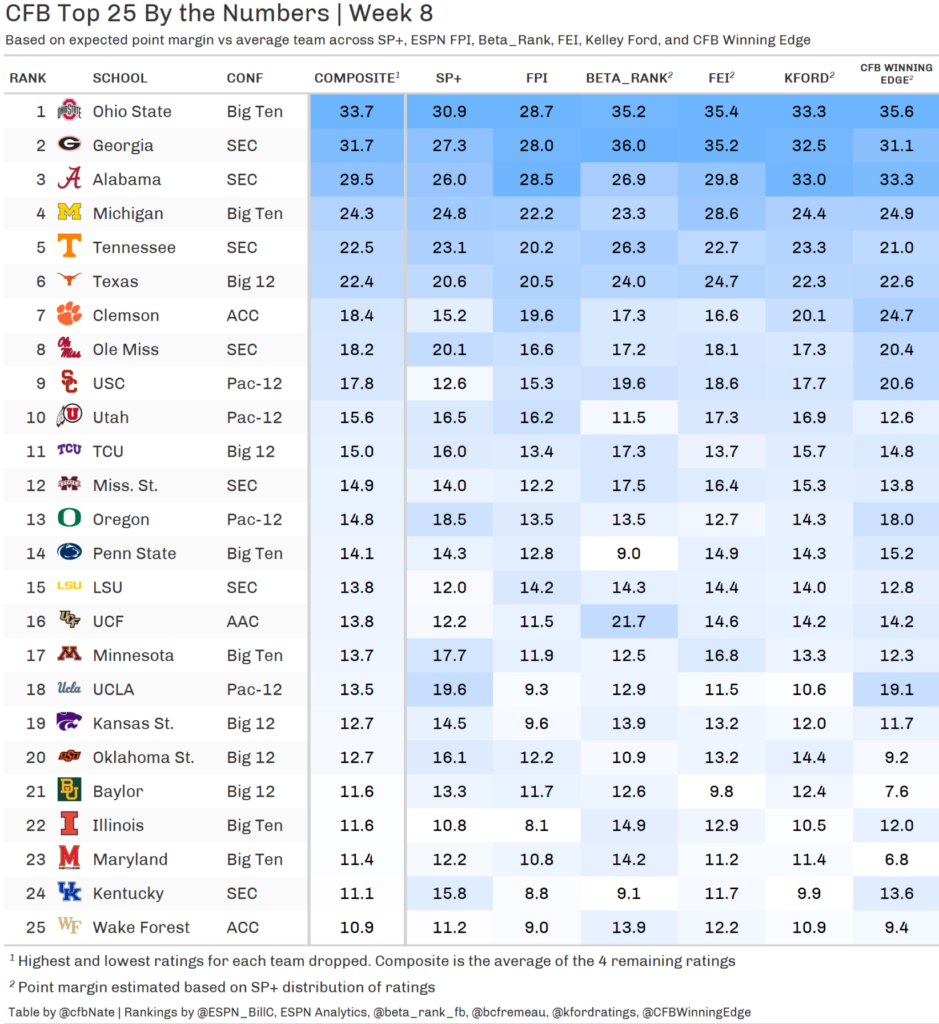 Massey Ratings.  This composite has Texas at No. 10 and Oklahoma State at No. 13.
https://masseyratings.com/cf/compare.htm
Bill Connelly's SP+ rankings.  Texas at No. 6, Okie A&M at No. 12.
From Fox College Football: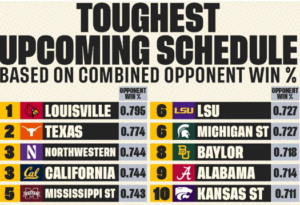 Can't run the table without winning in Stillwater.  Let's do it Texas.
Oklahoma A&M
Oklahoma Territorial Agricultural & Mechanical College was founded December 25, 1890.  Oklahoma wasn't a state then, and as once noted on their website, OSU was founded "just twenty months after the Land Run of 1889".  Founded as a land-grant university under the Morrill Act.  Anyway, 67 years later, someone at Oklahoma A&M, who was obviously pretty bright, woke up and looked south across the Red River (and the Sabine and the Neches and the Trinity) and all the way to the banks of the Brazos to College Station, and said "We need to change our name".  So they became Oklahoma State University on July 1, 1957.  (Technically they were "Oklahoma State University of Agricultural and Applied Sciences" until 1980).
By the way, speaking of bright, their motto right now is "America's Brightest ORANGE".
Academic Rankings

National

Texas

Oklahoma State

Forbes
43
204
THE | WSJ
60
313
U.S. News & World Report
38
187
Washington Monthly
40
127

Global

ARWU
37
501-600
QS
72
800-1000
THE
47
401-500
U.S. News & World Report
43
616
Pistol Pete
There is an important point to this piece on Pistol Pete, so I encourage you to read to the end.
The Oklahoma State mascot is Pistol Pete.  My favorite mascot in the Big 12 after Bevo.  Mainly because of the man for whom he is named.  But also because I intensely dislike the rest.
Based on the famous cowboy Frank Eaton, his story is one of the great (and true) tales of the Old West.  Frank was just eight years' old when he witnessed his father's murder.  Frank's life mission was to avenge his father's death.  By age 17, he had killed a couple of the murderers, and went on to become a Deputy U.S. Marshal under Judge Parker (the Hanging Judge) in Indian Territory.  For more on Pistol Pete:
http://www.eatonhome.org/legend.html
Here is a sample from that web article:
    In 1885, Eaton served as scout for Capt. Emmett Crawford in his fight against Geronimo and the Apache's.  It was during these battles that Eaton was nearly scalped.  Afterwards, he returned to Indian Territory where he served as a deputy U. S. Marshal under Isaac Parker, the "Hanging Judge," adding six more notches to his pistol in the line of duty.

In 1887, Eaton learned Wyley Campsey was tending bar in Albuquerque, New Mexico, so he headed west.  With the help of Pat Garrett, Eaton located Campsey and entered the saloon.  Campsey was at the bar with two of his hirelings.  Eaton ordered Campsey to "fill your hand, you son of a bitch!" shooting him twice through the heart as he reached for his gun under the bar.
For fans of True Grit, you might recognize that challenge.  I miss John Wayne.
Also of interest, at least to those of us in Austin and fans of Texas cowboys and the stories of the cattle drives, is that Frank Eaton's buddy was Rolla Goodnight.  Rolla was Charlie Goodnight's cousin.
After the Civil War, Charlie Goodnight, with his friend Oliver Loving, formed a partnership to drive cattle to western markets.  They established the famous Goodnight-Loving Trail.  The breed of cattle which many of those cattlemen drove to market descended from the cattle brought to the New World, according to legend as far back as Christopher Columbus.  Spanish explorers and the padres who came to colonize the New World continued the import and expansion of this breed of cattle, especially in Mexico.  The breed grew tougher and tougher, and when early settlers of the Nueces Strip sought to raise cattle, they chose the wild Mexican cattle descended from those brought by the Spanish, and bred them with some of their own cattle they brought to Texas.  The result was the Texas Longhorn.
The Polls
Texas up two in the AP Top 25 to No. 20 and up three in the Coaches to No. 21.  Tennessee with a big move after the win over Alabama.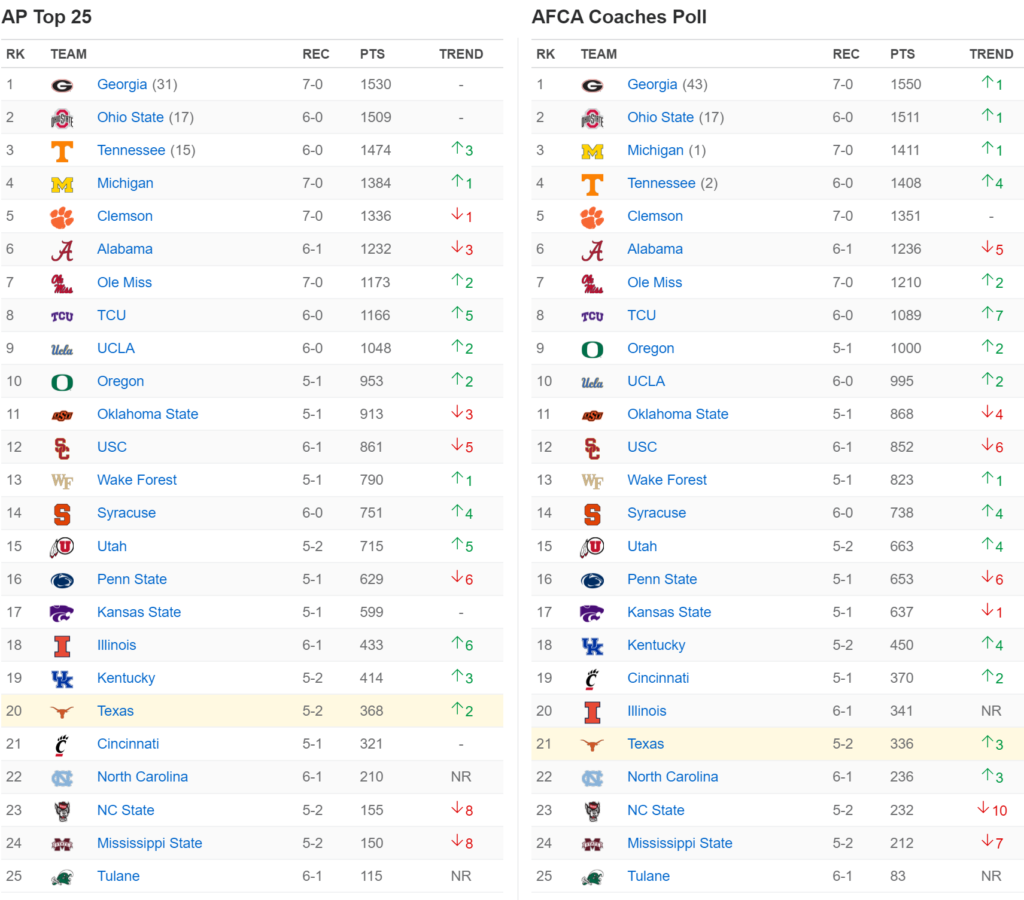 Juan Heisman Tailgate
We had another fun tailgate party, especially given hour.  I observed my sort of new personal rule of not starting drinking before 9:00 o'clock in the morning, which still gives time to get ready for the game.  Truth be told, I took it pretty easy, as I had to drive to San Antonio for the Jackson Walker firm retreat after the game, and I knew that would mean a bit of consumption for many more hours.  An excellent tailgate – good work by the Early Crew, good tacos, good work from Gabe.  Judd, thanks.  Five down, two to go.
Big XII Standings  – Week Eight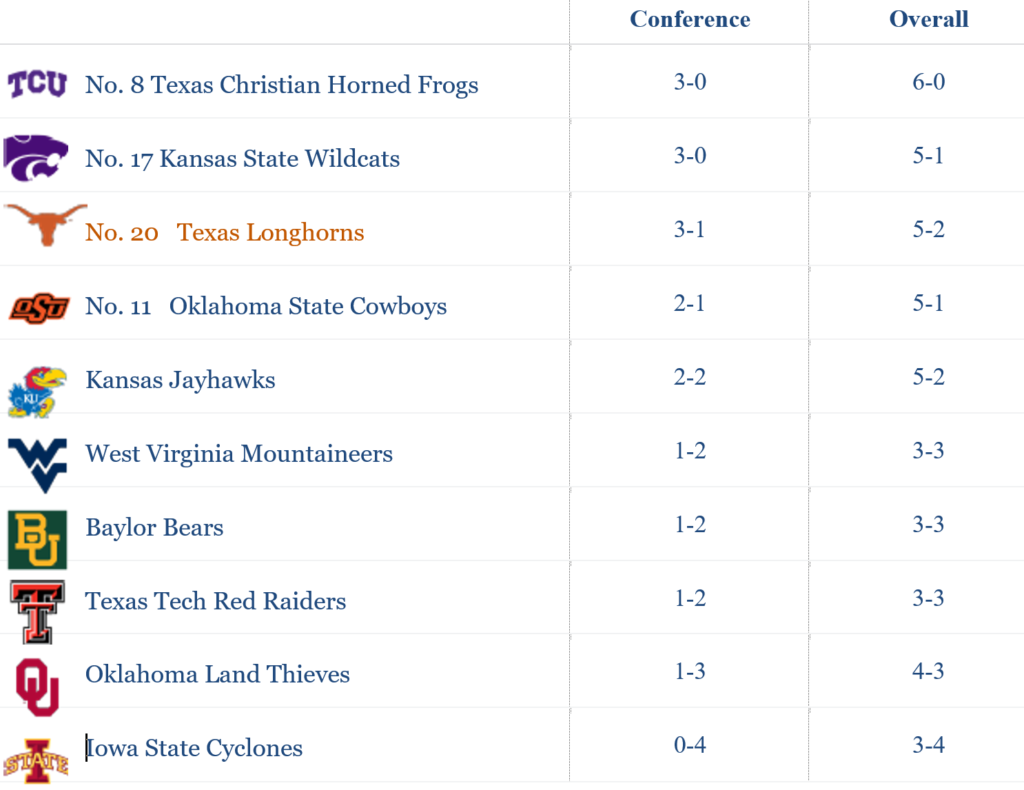 Big XII – Week Eight Games
Kansas at Baylor, 11:00 a.m. on ESPN2.  Both teams have dropped from the rankings.  Jayhawks 2-2 in conference, Bears are 1-2.  Baylor favored by 10, over/under is 58.  Should be an interesting game.  But not as good as the KU-Baylor basketball games will be this season.
West Virginia at Texas Technological, 2:00 p.m. on FS1.  Both teams 3-3 and 1-2.  Red Raiders favored by6, over/under is 64.5.  Texas Tech has the top pass offense in the Big 12, 365 yards per game, 2,190 yards, and 50.7 attempts per game.  I think Texas Tech wins big.
No. 17 K State at No. 8 Texas Christian.  7:00 p.m. on FS1.  This should be a very good game.  Texas Christian favored by 3.5, over/under is 53.  I like the Wildcats to cover.
Top 25 – Week Eight
Several teams have the weekend off.  But some very good games still on tap.
Iowa (3-3) at No. 2 Ohio State (6-0), 11:00 a.m. on FOX.  You know, FOX loves the Big 10 and these 11:00 a.m. games, maybe we should just have all of the 11:00 games be Big 10 games?  Maybe mix in an ACC game here or there for variety?  Let the South play football in the afternoons and evenings?  Seems reasonable.  Buckeyes favored by 30, over/under is 50.  Go Hawkeyes!
No. 3 Tennessee (6-0) hosts UT Martin (4-2).  A bit of a different atmosphere on Rocky Top this weekend.  11:00 a.m. on SECN.  No line on ESPN.com (Caesars Sportsbook).
No. 14 Syracuse at No. 5 Clemson, 11:00 a.m. on ABC.  An excellent game between two undefeated teams.  The Orange of Syracuse a big surprise, the Clemson Tigers back playing good ball.  Clemson favored at home by 13.5, over/under is 49.5. Good luck Dabo!
No. 21 Cincinnati (5-1) at Southern Methodist (3-3), 11:00 a.m. on ESPN.  Surprisingly, the Mustangs are only 3.5 point underdogs. Over/under is 58.5.
The Magnolia Bowl!  No. 7 Ole Miss at Louisiana State.  2:30 p.m. on the Columbia Broadcasting System.  The Rebels and Tigers first played in 1894, and this will be the 111th game.  Louisiana State leads the series 64-41-4.  In the 1950's and 1960's, this rivalry was big on the national stage, as both teams were regularly highly ranked and competing for, and claiming, national championships.  This century, the Tigers have dominated, winning 16 games since 2000.  Louisiana State favored by 2.5, over/under is 66.5.  Hotty Toddy!
No. 9 UC Los Angeles at No. 10 Oregon, 2:30 p.m. on FOX.  Bruins are 6-0, Ducks are 5-1.  This is a huge game for both teams, for conference play and, for the teams and the Pac 12, for any hope of a spot in the CFP.  Probably lucky for UCLA they got an early game (12:30 out there of course), as Autzen is an awfully hard place for visitors at night.  Will flip over to check on this one during Texas timeouts.  Ducks favored by 6.5, over/under is 70.5.
Boston College (2-4) at No. 13 Wake Forest (5-1).  2:30 p.m. on ACCN. Wake favored by 20.5, over/under is 60.5.
No. 25 Tulane is 6-1.  First time the Green Wave has been ranked this millennium.  They host the 4-3 Memphis Tigers at Yulman Stadium in New Orleans.  2:30 p.m. on ESPN2.  Tulane favored by 7, over/under is 55.5.  I think Memphis may pull the upset.
No. 24 Mississippi State (5-2) at No. 6 Alabama (6-1).  6:00 p.m. on the Entertainment and Sports Programming Network.  I bet the Crimson Tide had some strenuous practices this week.  Bama favored by 21, over/under is 61.  Tide to win.
Minnesota at No. 16 Penn State, 6:30 p.m. on ABC. PSU favored by 4.5, over/under is 44.5. Go Gophers.
Week Eight:  Service Academies
Army hosts Louisiana Monroe in West Point.  11:00 a.m. on CBSSN.  Black Knights favored by 6.5.  Over/under is 55.  Good Luck Army!
Down on the Chesapeake Bay, the United State Naval Academy plays Houston. 11:00 a.m. on ESPNU from Navy-Marine Corps Memorial Stadium.  Houston favored by 3.  Over/under is 51.5.   Go Navy!  Hope you beat 'em by 30.  Sorry Joe!
Air Force has Boise State in Falcon Stadium, 6:00 p.m. on CBSSN.  Broncos 4-2 but 3-0 in the Mountain West.  Air Force 5-2 and 2-2.   Falcons favored by 2, over/under is 47.5 Go Air Force!
Week Eight:  Other Games of Interest
Wednesday night, Appalachian State (who beat Texas Agricultural & Mechanical 17-14 Week Two in College Station), beat Georgia State 42.17.
Thursday night, Virginia and Georgia Tech played for the 44th time.   Coming into the game, the series was tied 21-21-1.  The Cavaliers got the win, 16-9.  Wahoo Wa!
Saturday
Duke at Miami (Florida), 11:20 a.m. on ESPN3.  Not even televised.  Poor Miami.  Hurricanes favored by 9, over/under is 58.  Hope Duke crushes them.
Notre Dame plays at home again this week, hosting UNLV.  1:30 p.m. on Peacock. Irish really, really need a win. Notre Dame favored by 27, over/under is 47.  Good luck Irish!
Rice at LA Tech, 2:00 p.m. on ESPN+.  Rice favored by 3, over/under is 57.
Brigham Young (4-3) at Liberty (6-1).  Lynchburg is a nice town.  Cougars favored by 7, over/under is 58.
Western Michigan (2-5) at the Miami Redhawks.  Both teams 1-2 in the MAC.  2:30 p.m. on DBSSN.  Miami favored by 6.5, over/under is 44.
Big game for UT San Antonio.  Roadrunners host North Texas in the Alamodome.  Both teams 3-0 in Conference USA.  2:30 p.m.  UTSA favored by 10, over/under is 72.5.  Birds up!
Arizona State at The Farm to play Leland Stanford Junior University.  Both teams 2-4, Sun Devils have the only conference win between the two teams.  3:00 p.m. on the PAC 12 network.  Cardinal favored by 2.5, over/under is 53.5.
Florida Atlantic at The University of Texas El Paso, 3:00 p.m. from the Sun Bowl. ESPN+.  Both teams 3-4.  Owls are 2-1, Miners 1-2 in CUSA.  FAU favored by 4, over/under is 50.5.
Southern Miss at Texas State, 4:00 p.m. on ESPN+.  USM favored by 2.5, over/under is 43.5.
Texas Agricultural & Mechanical plays South Carolina in Columbia.  6:30 p.m. on the SEC Network.  Texas Agricultural & Mechanical favored by 3, over/under is 44.5.
One moderately decent late night game and one that should have been good.
Washington (5-2) at Cal Berkeley (3-3), 9:30 p.m. on ESPN.  Huskies will be hard pressed to make the Pac 12 CG at this point, but it could happen.  If U-Dub wins Saturday.  Washington favored by 7.5, over/under is 55.
San Diego State (3-3) at Nevada (2-5), 9:30 p.m. on CBSSN.  Some games become more watchable based upon the red wine intake.  Aztecs favored by 7, over/under is 36.
Washington & Lee Generals
The Generals struggled a bit on the road at Ferrum, but did get the win 17-7.
Huge game at Wilson Field Saturday afternoon, as the Hampsters come to Lexington.  Washington & Lee is 3-0 in ODAC play, tied at the top with Randolph-Macon, but Hampden-Sydney is right behind them at 2-1.  The Tigers always play tough, and W&L really needs to beat their rivals to keep their conference championship hopes alive.  1:00 p.m. Shenandoah Valley time at Wilson Field.  Hampden-Sydney College was founded in 1775, 26 years after Augusta Academy, which would eventually become Washington College and, of course, Washington & Lee after Robert E. Lee's passing.
W&L is No. 7 in D3 Rushing Offense averaging 292.3 yards per game.  Hampden-Sydney is No. 1 in D3 Passing Offense, averaging 366 ypg.  The good news is W&L is No. 21 in D3 pass defense, allowing just 156.5 ypg.  Hampden-Sidney is No. 165 in Rushing Defense allowing 176.5 yards per game.  Should be a good football game.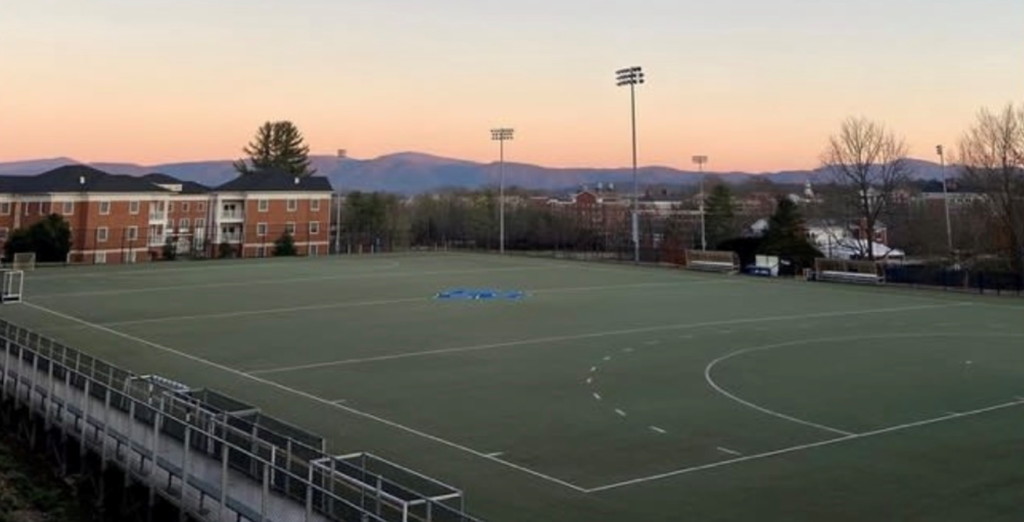 Texas Volleyball
Last Saturday, Texas beat No. 18 Baylor in Waco 3-1.  Wednesday night, they suffered their first loss of the season, to Iowa State.  Texas is back in Action Saturday night at Gregory Gymnasium, 7:00 p.m. match with West Virginia.  The game will be broadcast on the Longhorn Network.
Kelvin Banks, Jr.
Kelvin Banks, Jr. was named a mid-season first team freshman All-American by The Athletic.
Texas Baseball
Fall ball this weekend.  The Longhorns hit the diamond at the Disch Sunday, with a 14 inning game against the Houston Cougars, 12:00 noon.
Big XII – Week Seven
So, my comment about Oklahoma being 9 point favorites against No. 19 Kansas was "Vegas, you weird.".  No, Vegas is really smart, a whole bunch of the time.  Land Thieves 52, Kansas 42.  The Jayhawks without Jalon Daniels were just not quite good enough, although back-up QB Jason Bean threw for 265 yards and 4 touchdowns.  The two interceptions hurt.  Meanwhile, OU had Dillon Gabriel back, and he went off for 403 yards, threw 2 TDs, and ran for another.  Eric Gray, who Texas held to 59 yards, ran for 176 and 2 touchdowns, and Javontae Barnes had 2 scores on 69 yards.
One of the best games of the day on a day filled with amazing football was played in Amon Carter Stadium in front of 49,594 frog fans.  Texas Christian and the Cowboys battled into a second overtime with Spike Dykes' Horned Frogs getting the 43-40 win.
Top 25 – Week Seven
The Michigan thrashing of the Nittany Lions was a pleasant surprise.  The close game at half (16-14 Wolverines) turned into a rout in the Big House, as Michigan ran all over Penn State.  Most of Michigan's 418 yards were produced by Donovan Edwards, who ran for 173 yards on 16 carries (a long of 67) and Blake Corum, who pounded out 166 yards on 28 carries (a long of 61).  Very impressive win.
No. 9 Ole Miss topped Michigan's rushing production by running for 448 yards on Auburn, as the Rebels had three players go over 100 yards:  running backs Quinshon Judkins with 139 on 25 carries (2 TDs, long of 41) and Zach Evans with 136 yards on 21 carries (1 TD, long of 20).  Ole Miss quarterback Jaxson Dart added 115 yards on 14 carries (with a long of 22).  And yes, Ole Miss won, 48-34. To Auburn's credit, the Tigers ran for 301 yards.  Not often you see 749 rushing yards in a Power 5 conference game these days.  14 point win?  Line was 15.  But Hotty Toddy!
After Tennessee kicked the field goal as time expired to give the Volunteers their first win over the Crimson Tide in 15 years, 52-49, I enjoyed the enthusiastic celebration of the Tennessee fans as they stormed the field, smoked their cigars, torn down the goalpost, carried the goalpost up the stadium, then down the street, then threw it in the Tennessee River.  Hendon Hooker, the Tennessee QB, threw for 385 yards and 5 scores with one pick.  Bryce Young was 35-52 for 455 yards and 2 TDs in a losing effort.  Anyone else feel like the Big 12 and SEC traded personalities?
The other great game was No. 7 Southern Cal at No. 20 Utah.  The Utes' 43-42 comeback win was a thriller, and congrats to Cameron Rising for beating Lincoln Riley.
No. 22 Kentucky upset No. 16 Mississippi State 27-17.
No. 1 Georgia trounced Vanderbilt 55-0.
No. 4 Clemson survived Florida State, 34-28, to stay unbeaten.
No. 18 Syracuse stays unbeaten with a 24-9 win over North Carolina State.
No. 24 Illinois 26-14 over Minnesota.
James Madison's first trip to the AP Top 25 was a short one, as the Dukes lost to Georgia Southern 38-45.  That rough Sun Belt Conference!
Week Seven:  Service Academies
Friday night, Navy's fourth quarter rally fell short, as Southern Methodist held on to win 40-34.  The Midshipmen rushed for 372 yards.  Navy did cover.
Army rolled over Colgate 42-17.  Army's two quarterbacks were 0/3 for zero yards.  Meanwhile, ten Black Knights combined for 467 yards rushing and 6 touchdowns.
Air Force 42-7 over UNLV, crushing the Rebels and the 10 point line. Over/under was 50.
Week Seven:  Other Games of Interest
UT San Antonio 30-10 over Florida International.
Miami (OH) came up short at Bowling Green, 13-17.  Bummer.
Arkansas 52-35 over Brigham Young.  I may need to back and see what the Cougars have done against the line this year.  It was even Thursday night late, so we know BYU didn't cover no matter where it might have moved by kick.
Texas State, who the week before beat Appalachian State (Week 2 winners over Texas Agricultural & Mechanical 17-14 in College Station), lost at Troy 14-17.
Michigan State got a much needed win 34-28 over Wisconsin in double overtime.
Rice loses 14-17 to Florida Atlantic.
Arizona 39, Washington 49.   Wildcats covered.
Louisiana State 45, Florida 35.  Things are not well in Gainesville.
Notre Dame having a tough season, losing to Stanford at home 14-16.  Not a good one.
Purdue 43-37 over Nebraska.
Memphis Tigers lose 45-47 at East Carolina.
North Carolina survives at Duke 38-35.  Heartbreaker for the Blue Devils.  Congrats Mack!
Washington State loses 10-24 at Oregon State.
Music
I saw Charley Crockett's post on Facebook this week.  Amazing journey thus far for this young man.  I love his music, and I hope his success continues.
"I was born at Dolly Vinsant Hospital in San Benito, TX. Same town as Freddy Fender. We lived on South Padre Island, then outside of Los Fresnos nearby. My mama and I moved up to Irving, TX and I lived several summers with my uncle in New Orleans and Bay St. Louis, MS. After that I was rolling stone living out of a duffle bag and standing behind a guitar playing for tips on street corners and around campfires. New York, Colorado, Louisiana, Texas, California, and all the places in between. Nothing's really changed. I'm still a rambler gambler but I do have a woman that loves me and that's priceless for a man like me. I got my band The Blue Drifters and they know how to make me look good. We're gettin' ready to see more of the world than I've ever known and boy am I ready for it! But if you're from The Rio Grande Valley standing on top of that hard caliche you take it with you every place you go, and when you're lookin' at me, you're lookin' at Texas."
Good Time Charley's Got the Blues
Run Horse Run
Blackjack County Chain
Picture of the Week
Soon to be the tallest building in Austin, 6 x Guadalupe is being built by Lincoln Property Company, under the leadership of good friends Derek Lewis and Seth Johnston.  This photo by JType with the sunset which was posted on Instagram is spectacular.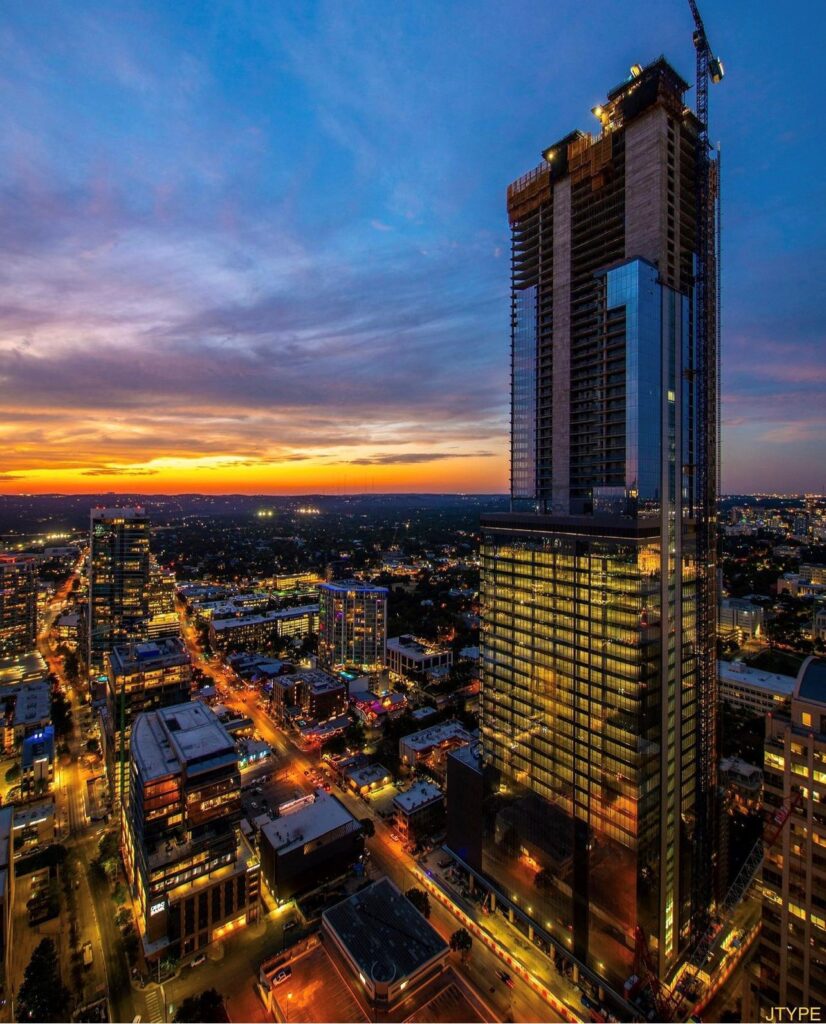 Source:  @JType on Instagram.
Full post:
I was fortunate to be invited by Derek to take a tour of 6 x Guad a few weeks ago.  We went up to the 58th floor.  The views are just unbelievable, and the photos don't really do justice to the panorama.  Here are a couple, and I have several more posted on the blog.  I also put a video on my Instagram post for this week's dispatch.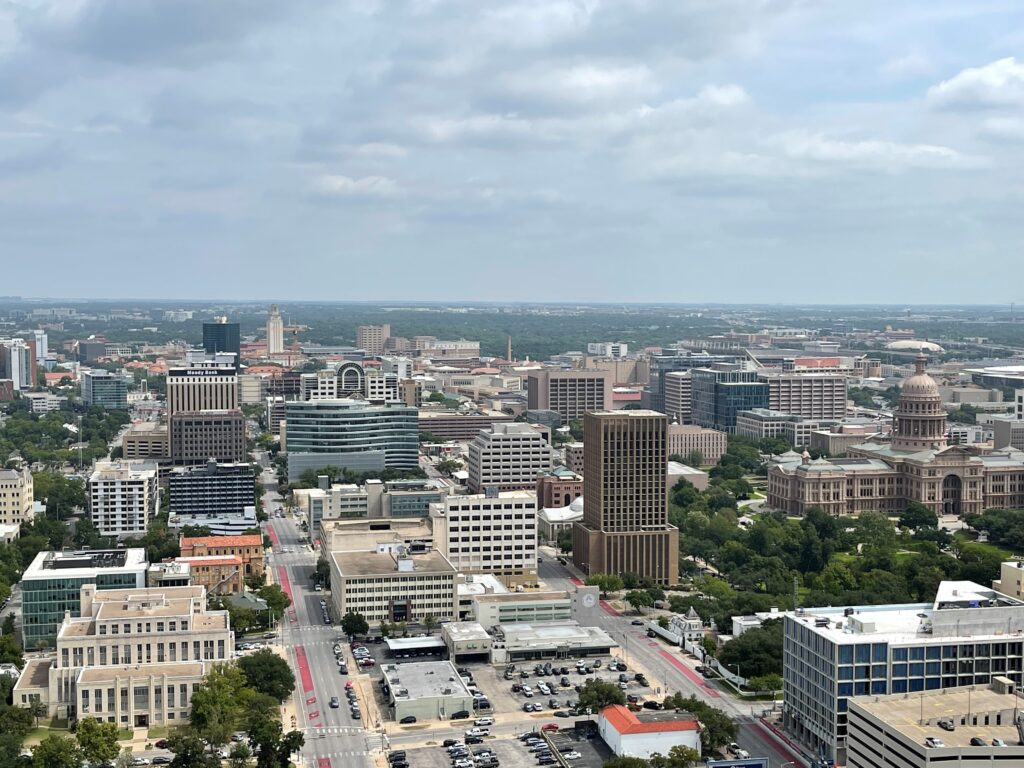 In the photo below, The Forty Acres and Tower are just 18 blocks north, it but looks like a long, long way from this perspective.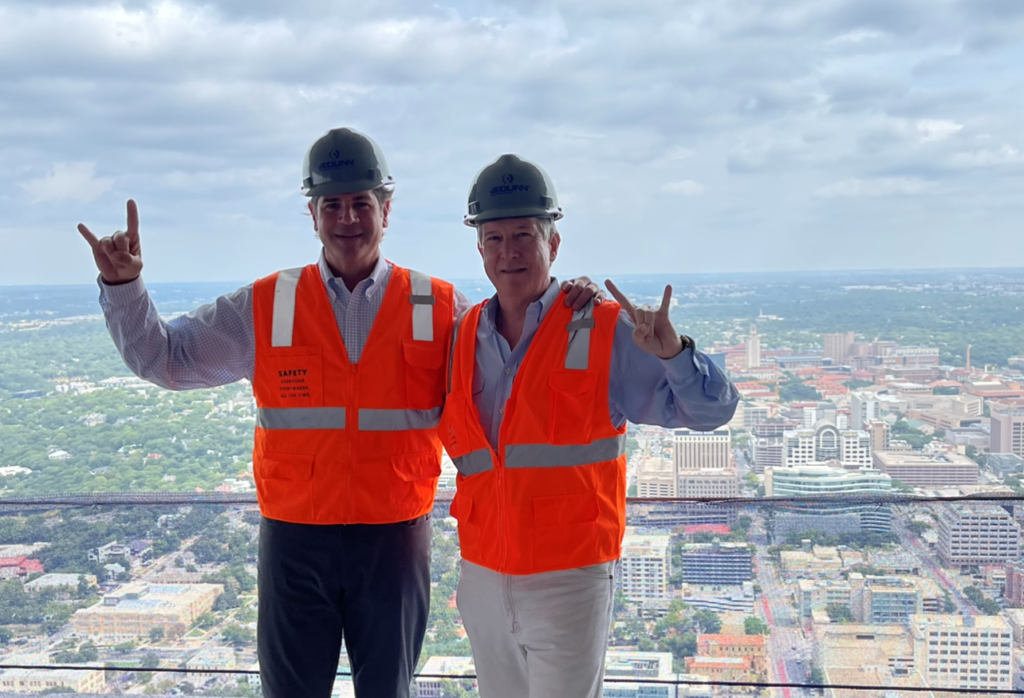 God Bless East Texas.
God Bless Texas
God Bless America
Tim Taylor
Tailgating before Home Football Games
The Juan Heisman Tailgate
Lot 38, East of Sid Richardson Hall.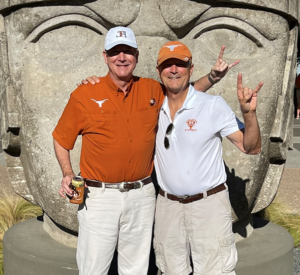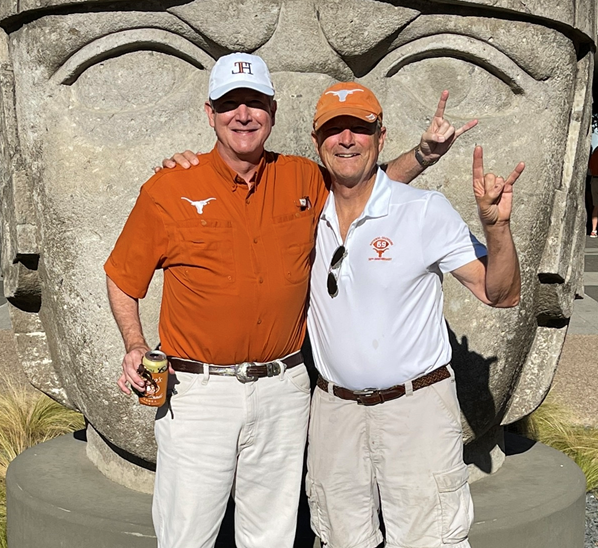 HOOK EM HORNS!!
© Timothy C. Taylor, Sr. 2022.  All Rights Reserved (as to original material).
On Twitter:  @tctayloratx
On LinkedIn:  www.linkedin.com/in/tctatx
On Instagram:  @tctayloratx
On Facebook:  www.Facebook.com/Tim.C.Taylor
and:  www.Facebook.com/Juan.Heisman
You can contact me by mail:
Tim Taylor
P.O. Box 5371
Austin, Texas 78763-5371