Texas Longhorns 31, Houston Cougars 24
The Longhorns escaped Houston with a one-score win over the Cougars.  Holgorsen and Houston came within inches of a chance to beat Texas and of fulfilling the dreams and wishes of Cougar Nation:  "Just beat Texas."  Hat tip to Holgo and Houston.  And Donovan Smith.  Great effort and obviously a much, much closer game than I was expecting.  Glad I don't wager real money on the Longhorns.  Just my emotional and mental health.
It was a weekend of close scrapes for both the Longhorns and Land Thieves (who were a 2-point conversion away from over time with Central Florida, who is worse than Houston) and for other 2023 powerhouse teams like No. 5 Washington, who got a few favorable calls to avoid a disastrous loss to Arizona State at home, and No. 13 Ole Miss with a one score win at Auburn.  Some big upsets too, the biggest in Chapel Hill as one-win Virginia took down Mack Brown's undefeated Tarheels 31-27.  A great lesson for cocky fans like me:  college football is a great sport for many reasons, not the least of which is the ability of a perceived lowly team to seize an opportunity and beat a much better opponent on any given Saturday.  Statistics don't decide games, players and their coaches do.  We are fortunate that our players made the plays they had to when they had to, and the Longhorns got the W.  Quick 2 minutes of highlights:
https://x.com/TexasFootball/status/1716438623355109691?s=20
And the highlights in Spanish.
https://twitter.com/TexasFootball/status/1717188985087213914
Adonai Mitchell's touchdown catch.  I just happened to pause a highlight at just the right moment. Pure luck.  Love the shadows.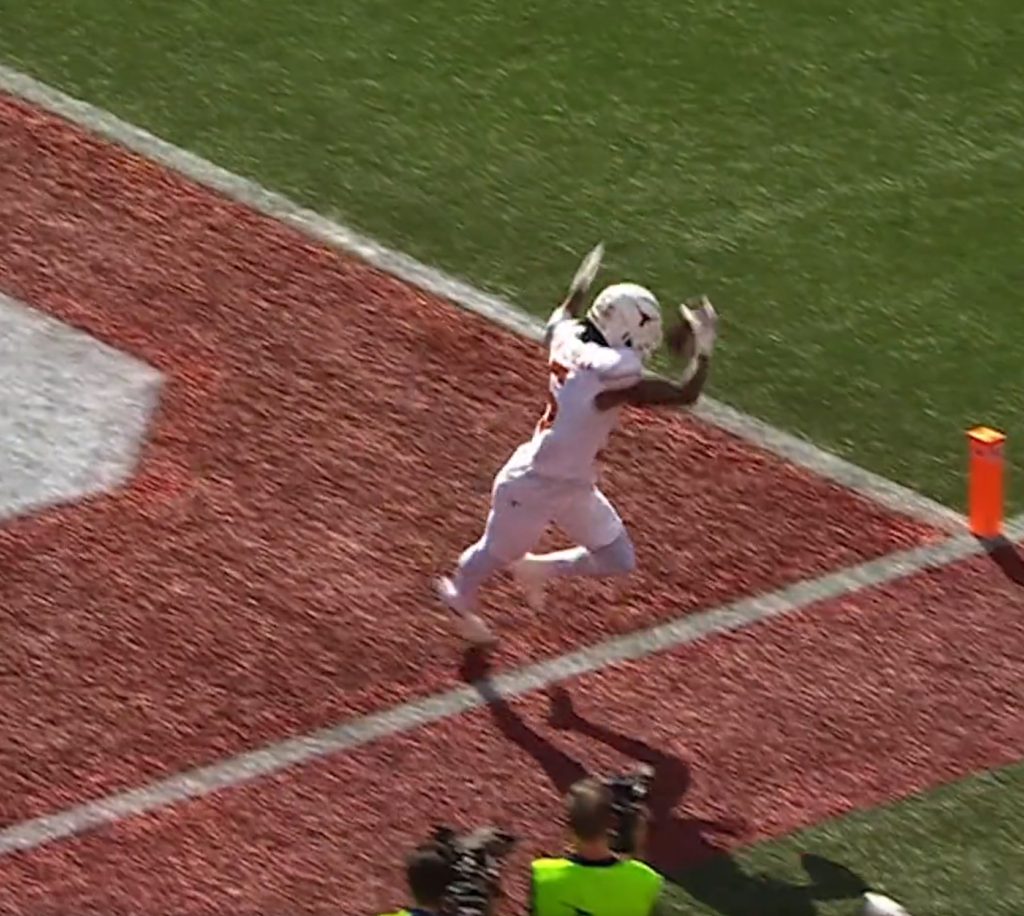 Review of the Houston game below, but onto this week's biggest topic and this week's cougars.
Maalik Murphy
It is "Maalik", with two a's.  Yes, we will be fine.  We have seen him a little, including some real bright moments in the last spring game.  If you didn't see what he could do when we recruited him, some high school highlights.  His senior season HUDL tape:
https://x.com/Fan_Prspective/status/1716840912813224389?s=20
Junior season highlights:
Here is every pass this season, thanks to the good work of @NashTalksTexas:
https://x.com/NashTalksTexas/status/1716985522185195545?s=20
Brigham Young Cougars vs. No. 7 Texas Longhorns
Texas and Brigham Young will kick-off in Darrell K Royal – Texas Memorial Stadium at 2:30 p.m. on Saturday.  Texas opened as an 17.5 point favorite.  The game will be broadcast on ABC.  Dave Pasch with the play by play, Dusty the Land Thief Dvorcek with some type of analysis, and the very good Tom Luginbill on the sidelines.  On the radio with the Voice of the Longhorns, Craig Way, Roger Wallace with analysis and commentary, and Lifetime Longhorn Will Matthews reporting from the sidelines.  Listen to Craig on KWKC 1340 AM in Abilene, KMHT 1450 AM and 103.9 FM in Marshall, and KLUB 104.9 FM in Victoria.  SiriusXM 135 or 199 on the SXM App.
The Spanish Broadcast on the Longhorn Radio Network with Dr. Rubén Pizarro-Silva and Arturo Mata.  KTXX-HD2 or KZNX 1530 AM out of Creedmoor for the Spanish. Escuche en línea:  https://texassports.com/sports/2014/11/19/GEN_1119144623.aspx
The Longhorns have exactly one win against Brigham Young, a one point victory in 2011.  BYU holds the series lead at 4-1.  The Cougars are 5-2 and 2-2 in the Big 12 in their first season in conference.
Sark had a pretty nice run as quarterback for Brigham Young, 1995-96.
The Longhorns are favored by 19, and the over/under is 50.  Noteworthy that the line has moved up the way it has.
Brigham Young Cougars 2023
The 2023 Brigham Young Cougars come to Austin for the fourth time.  They have 5 wins this season, but as you will see below, they are not exactly great wins.  That turned out to be a bad yardstick last week, but there are a lot of anomalies from the other Cougar game.  Brigham Young is not a great offensive team. They are dead last in the conference in rushing averaging just 79.3 yards per game (more than 100 less than Texas).  They are not a lot better in in the passing game, ranked 12th in the conference with 222.6 yards per game, but their quarterback is Kedon Slovis, the who was at Southern Cal for three years and a Pittsburgh last year before playing this season for BYU as a graduate transfer.  He has had some big games against lesser competition.
The Cougars are coached by Kalani Sitake, a 2000 graduate of Brigham Young who is in his 8th year.  61-36, which is pretty decent.  His OC and quarterbacks coach is Aaron Roderick, and his passing coordinator is Fesi Sitake.  These guys were all there 4 years ago, when BYU went 11-1 and finished No. 11 with an offense that was ranked No. 6.
BYU in 2023:
BYU opened at home with Sam Houston, who kept it close, losing only 14-0.  Sam Houston State is having a brutal year, with losses to Air Force, Jacksonville State, Liberty, New Mexico State, and Florida International.  Sam nearly won their first game as an FBS school this week, but UTEP rallied to win.  So a 14-0 win over an 0-8 team.
Brigham Young hammered the Southern Utah Thunderbirds 41-16, jumping out to a 27-3 halftime lead and cruising to an easy win.  Kedon Slovis threw 4 touchdowns (1 interception), 248 yards on 22/32.  The Thunderbirds are FCS and play in the United Athletic Conference.  Southern Utah is now 2-5 and 6th in the UAC (which includes Abilene Christian and Stephen F. Austin [now part of The University of Texas System – welcome Lumberjacks]).  The Thunderbirds have losses to Arizona State, UC Davis, Central Arkansas, and Austin Peay, with wins over Western Illinois (the Leathernecks are 0-7) and Tarleton State (27-26 over the Texans, as SU got a 23 yard fumble return with under 3 minutes in the game).
A road win against Arkansas, 38-31.  Slovis was 13/25 for 167 yards and 2 scores.  Not much, but enough.  Not a quality win:  Arkansas is 2-6 with wins against Western Carolina and Kent State, and losses to Louisiana State, Texas Agricultural & Mechanical, Ole Miss, Alabama, and Mississippi State.  Not a good year for the Razorbacks.  Such a shame.
The Kansas Jayhawks beat the Cougars 38-27 on September 23rd in Lawrence, as Kedon Slovis was 30/51 for 357 yards and 2 scores (and 2 picks).  Kansas is 5-2 with just the two losses to Texas (40-14) and Oklahoma State (32-39).  The other Jayhawk wins:  Missouri State, Illinois, Nevada, and Central Florida (51-22).
The Cougars beat the Cincinnati Bearcats 35-27.  Another not-quality win.  Cinci is 2-5 with wins over Eastern Kentucky and Pittsburgh to open the season, but 5 straight losses since:  Miami (Ohio), Land Thieves, BYU, Iowa State, and Baylor.
Brigham Young lost big at Texas Christian, 44-11.  The Frogs shutdown Slovis, who was 15-34 for 152 yards and an interception, as the Cougar defense allowed redshirt freshman Josh Hoover to go 37-58 for 439 yards and 4 touchdowns (2 picks) in his first career state.  BYU had just 91 yards rushing, for 243 yards of offense in Fort Worth.  The Horned Frogs are 4-4 and 2-3 in conference:  Losses to Colorado, West Virginia, Iowa State, and Kansas State, wins over Nicholls, Houston, and Southern Methodist.
Last weekend, Brigham Young got a conference win over Texas Tech, 27-14 in Provo.  Cougars got a 150 yards on the ground, Slovis was 15/27 for just 127 yards but with 2 scores.  Tahj Brooks ran for 105 and a score for the South Plains Aggies, but the Cougar defense picked off Jake Strong 3 times and had 92 return yards.  South Plains Aggies are 3-5 with other losses to Wyoming, Oregon, West Virginia, and Kansas State, and wins over Tarleton State, Houston, and Baylor.
Kedon Slovis (No. 10) is at his third Power 5 program, after 3 years at Southern Cal and a year at Pittsburgh.  He's a big kid (6-3, 215) with a big arm.  His first season at Southern Cal (2019) he threw for 3,502 yards and 30 touchdowns.  His production has dropped off since then, but thus far in his fifth season, he has 11,492 passing yards and 80 touchdowns in his career, a 64.5% completion percentage, but has thrown 37 interceptions.  This year in Provo, he is 128-226-4, with 12 touchdowns.  Real quarterback numbers.  Contrast that with his legs:  He has lost 267 yards in his career, and until this year had not scored a touchdown on the ground (3 this season).   Per Texas Homer, Kedon's completion percentage is 17th of 19 Big 12 quarterbacks.  He is not having a good year. Let's not let that change on Saturday.
The Cougar wide receiver room is talented.  Chase Roberts (No. 2, 6-4, 210), has 29 catches for 430 yards with a long of 59 and 4 touchdowns.  His size could give us some problems, especially in light of recent DB play.  Darius Lassiter (No. 5, 6-3, 205) has 23 catches for 272 and 4 scores, with a long of 42.  Parker Kingston (No. 82, 5-11, 180, freshman), 9 catches, 127 yards, and 1 score.  Keanu Hill (No. 1, 6-4, 215, junior out of Trinity HS in Bedford), 10 catches, 118 yards, and 1 score.  Cody Epps is coming back from injury.  If he is healthy, he may get some playing time.
A good offense has a good tight end, and Brigham Young has big Isaac Rex (No. 83, 6-6, 255 pounds).  Rex is second on the team with 23 receptions for 316 yards and a score, and longest pass play for the Cougars this season – 65 yards.  Their other tight ends are Mason Fakahua and Mata'ava Ta'ase, who don't do much, but are good names to hone my typing skills.
The Cougars don't run much or very well.  LJ Martin (No. 27, 6-2, 205, freshman from Canutillo HS in El Paso) has 438 yards on 96 carries and 4 scores.  Aiden Robbins has 78 yards on 26 attempts, but he was injured and missed several games, coming back last week against Tech (16 carries for 49 yards).  If he is fully healthy, he will help their running game a lot.  Miles Davis has 64 yards on 14 carries and 9 Grammies.
The Cougar D is led by a couple of good linebackers.  Max Tooley (No. 31, 6-2, 225) has 50 tackles (28 solo), a sack and an interception.  Sam LB AJ Vongphachanh (No. 10, 6-3, 235 senior) has 46 tackles (19 solo).  Cornerback Jakob Robinson (No. 0, 5-11, 170) has 41 tackles (24 solo), 4 interceptions, including a 42 yard pick 6.  Maalik is going to have to know where that kid is.  Safety Ethan Slade (No. 26, 6 foot, 190) has 38 tackles (23 solo) and an interception.  Big defensive end Tyler Batty (No. 92, 6-5, 273) has 34 tackles, 21 solo, 3.5 sacks, and 2 forced fumbles.
Texas Homer has good info on both lines.  Link to his preview below.
Brigham Young Cougars vs. No. 7 Texas Longhorns
This should be a good football game.  My best guess is a 3 touchdown win for the Horns, maybe a close Horns win.  My preferred guess is a 40 point blow-out, and my fear is a meltdown and close loss.
The Statistics
This week, we start including rankings both nationally and in the Big 12.  I have highlighted the more noteworthy rankings.  There are 133 teams in FBS.
Offense
| | | |
| --- | --- | --- |
| Statistic | Texas | Brigham Young |
| Rushing Offense | #37. #6 – 179.4 ypg | #130, #14 -79.3 ypg |
| Passing Offense | #23, #4 – 289 ypg | #75, #12 – 222.6 ypg |
| Total Offense | #45, #4 – 468.4 ypg | #124, #14 – 301.9 ypg |
| Scoring Offense | #25, #4 – 34.4 ppg | #74, #11 – 27.1 ppg |
| First Downs | #28, #6 – 23.0/game | #121, #13 – 16.3/game |
| Sacks Allowed | #86, #12 – 17, 95 yards | #24, #4 – 9, 67 yards |
| Tackles for Loss Allowed | #55, #9 – 38, 158 yards | #55, #9 – 38, 148 yards |
| Third Down Conversions | #79, #11 – 38.95% | #126, #14 – 30.11% |
| Fourth Down Conversions | #23, #3 – 68.4% (13/19) | #60, #8 – 50% (6/12) |
| Red Zone Attempts | #45, #7 – 28 | #97, #13 – 23 |
| Red Zone Offense1 | #58, #7 – 86% / 50% | #23, #3 – 91% /70% |
| Long Run Plays2 | #67, #9 – 35/10, 11/20, 7/30, 4/40 | #128, #14 – 19/10, 4/20, 2/30, 2/40 |
| Long Pass Plays | #16, #7 – 83/10, 29/20, 15/30, 7/40 | #83, #12 – 60/10, 23/20, 12/30, 5/40 |
1  BYU has scored 16 Redzone TDs, Texas 14.  Texas has 29 total, BYU 25.
2  K State has 62 10+ yard rushing plays.
Defense
| | | |
| --- | --- | --- |
| Statistic | Texas | Brigham Young |
| Rushing Defense | #17, #1  – 98.3 ypg | #81, #9 – 150.3 ypg |
| Passing Defense | #77, #7 – 234.9 ypg | #100, #11 – 246.4 ypg |
| Total Defense | #39, #2 – 333.1 ypg | #98, #11 – 396.7 ypg |
| Scoring Defense | #17, #2 – 17.4 ppg | #61, #6 – 24.3 ppg |
| First Downs Allowed | #26, #1 – 17.3/game | #93, #11 – 20.7/game |
| Sacks | #50, #4 – 17, 103 yards | #127, #14 – 7, 59 yards |
| Tackles for Loss | #65, #9 – 43, 166 yards | #130, #14 – 26, 90 yards |
| Third Down Conversions | #8, #2 – 28.7% | #103, #11 – 43.4% |
| Fourth Down Conversions | #32, #4 – 40% (6/15) | #30, #3 – 38.5% (5/13) |
| Red Zone Attempts | #21, #3 – 19 | #24, #4 – 20 |
| Red Zone Defense | #10, #1 – 68% / 32% | #51, #7 – 80% / 50% |
| Long Run Plays Allowed | #10, #1 – 21/10, 10/20, 9/30, 3/40 | #89, #9 – 37/10, 7/20, 1/30, 1/40 |
| Long Pass Plays Allowed | #60, #5 – 61/10, 21/20, 12/30, 5/40 | #98, #11 – 69/10, 27/20, 8/30, 2/40 |
Other
| | | |
| --- | --- | --- |
| Statistic | Texas | Brigham Young |
| Turnovers | #24, #4  – 7 (4F, 3I) | #24, #4 – #7 (3F, 4I) |
| Turnover Margin | #30, #5 – 10:7  +3 | #3, #2 – 16:7  +9 |
| Penalties | #27, #6 – 36, 304 yards | #22, #5 – 34, 265 yards |
*Based on total number of penalties.
Match-up Comparison
| | |
| --- | --- |
| Texas Offense | Brigham Young Defense |
| Rushing Offense – 179.4 ypg | 150.3 ypg – Rushing Defense |
| Passing Offense – 289.0 ypg | 246.4 ypg – Passing Defense |
| Total Offense – 468.4 ypg | 396.7 ypg – Total Defense |
| Scoring Offense – 34.4 ppg | 24.3 ppg – Scoring Defense |
| First Downs – 23.0/game | 20.7/game – First Downs Allowed |
| 3rd Down Offense – 38.95% | 43.4% – 3rd Down Defense |
| 4th Down Offense – 68.4% | 38.5% – 4th Down Defense |
| Red Zone Offense – 86%/50% | 80%/50% – Red Zone Defense |
| LRP – 35/10, 11/20, 7/30, 4/40 | 37/10, 7/20, 1/30, 1/40 – LRP Allowed |
| LPP – 83/10, 29/20, 15/30, 7/40 | 69/10, 27/20, 8/30, 2/40 – LPP Allowed |
| | |
| --- | --- |
| Texas Defense | Brigham Young Offense |
| Rushing Defense – 98.3 ypg | 79.3 ypg – Rushing Offense |
| Passing Defense – 234.9 ypg | 222.6 ypg – Passing Offense |
| Total Defense – 333.1 ypg | 301.9 ypg – Total Offense |
| Scoring Defense – 17.4 ppg | 27.1 ppg – Scoring Offense |
| First Downs Allowed – 17.3/game | 16.3/game – First Downs |
| 3rd Down Defense – 28.7% | 30.11% – 3rd Down Offense |
| 4th Down Defense – 40% | 50% – 4th Down Offense |
| Red Zone Defense – 68%/32% | 91%/70% – Red Zone Offense |
| LRP Allowed – 21/10, 10/20, 9/30, 3/40 | 19/10, 4/20, 2/30, 2/40 – LRP |
| LPP Allowed – 61/10, 21/20, 12/30, 5/40 | 60/10, 23/20, 12/30, 5/40 – LPP |
 Other Stats
Available Yards Percentage.  Net available yards percentage (NAY) is the difference between offensive available yards percentage (OAY) and opponent offensive available yards percentage (DAY) on non-garbage, regulation possessions in FBS vs. FBS games. Available yards percentage is calculated by dividing drive yards (measured from starting field position to ending field position) by available yards (measured from starting field position to end zone).
| | | | |
| --- | --- | --- | --- |
|   | NAY | OAY | DAY |
| Texas | No. 5:  0.249 | No. 14:  0.580 | No. 9:  0.486 |
| BYU | No. 93:  -0.094 | No. 118:  0.348 | No. 48:  0.441 |
Houston was ranked 60, 41, 84
BCF Toys – 2023 Available Yards Percentage
Net points per drive (NPD).  NPD is the difference between points scored per offensive drive (OPD) and points allowed per opponent offensive drive (DPD).
| | | | |
| --- | --- | --- | --- |
|   | NPD | OPD | DPD |
| Texas | No. 10: 1.70 | No. 13:  3.24 | No. 22:  1.53 |
| BYU | No. 58: .08 | No. 85:  1.92 | No. 39: 1.84 |
Houston was ranked 76, 59, and 89 in these categories.
BCF Toys – 2023 Points Per Drive
Net Yards Per Play (NPP).  Net yards per play (NPP) are the difference between drive yards per offensive play (OPP) and drive yards allowed per opponent offensive play (DPP) on non-garbage, regulation possessions in FBS vs. FBS games. Drive yards are calculated as the difference between starting field position and ending field position on offensive drives.
| | | | |
| --- | --- | --- | --- |
|   | NPP | OPP | DPP |
| Texas | No. 11:  1.74 | No. 14:  6.86 | No. 25:  5.12 |
| BYU | No. 82:  -0.45 | No. 110:  4.86 | No. 36: 5.31 |
Our NPP dropped from 2.20 to 1.74.  OPP went from 7.12 to 6.18, and DPP went from 4.93 to 5.12.
Houston was ranked 70, 62, and 87.
BCF Toys – 2023 Yards Per Play
BCF's Game Projection.  "Game Projections are calculated from current FEI ratings and include the projected win likelihood (PW), projected margin of victory (PM), projected points scored (PF) and allowed (PA), and projected total points scored (PT) for each FBS game."
| | | | | | | |
| --- | --- | --- | --- | --- | --- | --- |
| Projected Winner | Projected Loser | PW | PM | PF | PA | PT |
| Texas | BYU | .947 | 22.0 | 34.4 | 12.4 | 46.9 |
Another cool graphic from @statsowar on X.  College Football's Most Efficient Teams Opponent-Adjusted EPA/play through Week 8, FBS v FBS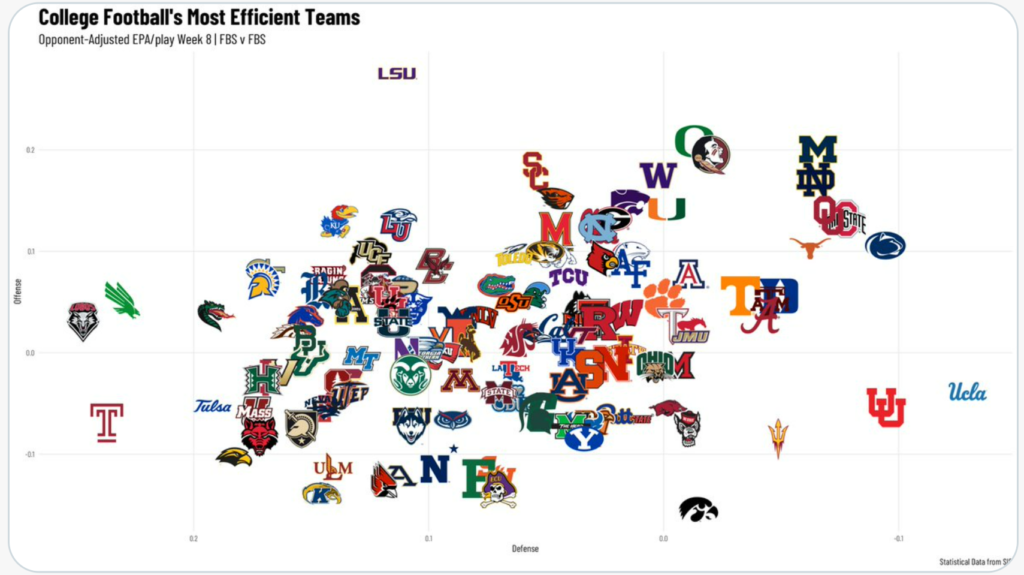 Some Texas Stats
I had planned on having a lot of Quinn Ewers stats, but plans change.  Here is where he ranked in the Big 12 and nationally as of the start of this week.
6 yards per game, third in big 12, 24th nationally
13 touchdowns, third in Big 12, 37th nationally
1,915 yards, third in Big 12, 22nd nationally
9% completion percentage, second in Big 12, 10th nationally
73 rating, second in Big 12, 16th nationally
Jonathon Brooks
86 yards per game, first in Big 12
825 yards, third in Big 12 (Tahj Brooks as 891, Emani Bailey has 851; both have played 8 games to JB's 7)
6 touchdowns, tied for second in Big 12 with a bunch of guys.
29 attempts per game, second in Big 12
45 yards per attempt, 6th in Big 12
From @HookemHeadlines on X:
Jonathon Brooks has been excellent against heavy boxes from opposing defenses this season (7+ defenders in the box).
9 rushing yards per game (1st in Big 12)
7 YPC (2nd in Big 12)
2 YAC per carry (1st in Big 12)
16 missed tackles forced (1st in Big 12)
One big issue is injuries.  The good news is that Sarkisian said all of the following would be available:  Alfred Collins, Gavin Holmes, Terrance Brooks, Ryan Watts, Cole Hutson, and Jett Bush. That is good.  Would be nice to get Catalon back.
TCT Thoughts
For those of you have read my musings for a while you know that I am lifelong fan and student of Sherlock Holmes.  I have read all of Sir Arthur Conan Doyle's Holmes novels and short stories (the Canon) multiple times since getting my first book in about 1974, including the annotated volumes (by the great Holmesian William S. Baring-Gould) cover to cover at least twice.  I love the BBC's recent modern iteration of the immortal detective with Benedict Cumberbatch.  Especially his mind maps.
I don't need to use a lot of The Master's deductive reasoning techniques to determine what the biggest wild card is in this football game:  how will Maalik Murphy do in his first career collegiate start.  What has taken a good deal of reasoning and analysis is this:  how do I think Murphy will do?  After 5 days of thought, I have decided he will do well.  Not great necessarily, but well.   Why?  First, he has a lot of raw athletic talent and good quarterback skills.  Second, he is playing for a real deal quarterback whisperer.  He has been on the sideline with Sark for a season and a half.  He has watched, listened, and learned.  Third, he has an immensely talented supporting cast.  Fourth, Harry Hilgers has been telling me about Maalik Murphy for years, and the old ball coach believes in him.  Fifth and finally, this young man has some swagger.  So, with that, the rest of the story.
Brigham Young doesn't have a great team, and they don't have close to a good defense.  Texas has the best running back in the Big 12 and maybe the nation in Brooks, and Baxter is pushing Brooks.  CJ looked really good last week, and so Sark can hopefully get the running game going early and give Murphy some time to settle in.  The line is going to need to have a good game (and they should against this defense). I am going out on a limb again on this:  Texas is going to rush for 260 yards.  Brooks 135, Baxter 70 or so, Red with 30+, and probably some runs by Worthy and Whittington.  I expect we might see the Red Cat on a few plays other than fourth down or at the goal line.   And I think Murphy will put up a few rushing yards.  He has the ability to make a play, and he could get some good yards if he needs to.  What that is going to require is super high situational awareness by our receivers and linemen.  If Murphy gets in trouble, the guys need to rally and give him some room and cover to run.
In the passing game, if Ewers was playing, I would be predicting a possible career game.  400 yard stuff.  Murphy is good, but not sure I want him slinging the ball a bunch against this defense.  Yes, they have a pretty sorry stat line in passing defense, but they are tied for 5th in the nation with 11 interceptions.  That should be setting off some warning alarms.  It is probably one reason I have heard the word "upset alert" so much this week:  a defense that finds and gets the ball, against a quarterback with a career stat line of 4-8 for 47 yards.  The burden on avoiding this as an issue is on our receivers too:  they need to be ready to play defense on poor throws, and battle their butts off for jump balls.  I have had this daydream this week of Worthy and Mitchell and Sanders and Whittington all having great days by playing great football and giving Murphy good targets.  I also hope Murphy has watched Ewers proficiency in checking down.  A good 3 yard pass to Brooks or Baxter in space can be a big play.  I emphasize "good".  A bad swing pass can also have disastrous results, so be smart Sark.
I don't dig into the yards per play very often, although the advanced stats I have now cover that.  But this week, there are some striking comparisons.
Texas averages 6.64 yards per play, No. 19 in the nation.  Brigham Young's defense allows 5.59 yards per play, ranked No. 74 (and recall who they have played).  With good play calling and execution, Sark can really take advantage of this defense.
So what happens if Murphy struggles badly?  If we get down and he can't get us in the endzone?  I don't think Steve Sarkisian will hesitate putting Arch Manning in the game.  We have 5 regular season games left, and Sark & Arch have 4 to play with without burning the redshirt.  I am not saying this is going to happen, and I hope it doesn't happen because it has to.  I want Murphy to succeed.  But I know this:  Texas has an ace in the hole, and Sark will play it if he thinks he needs to.  Texas is going to win this game.
I would have said before last week that even if Murphy struggles, we could win the game with defense.  The porosity of our pass defense was disturbing, as I observe in the Houston review below.  Slovis has struggled, but he has also played big time FBS Power 5 football for four and a half years, and he has the experience and just enough talent to expose and exploit weakness.  I hope PK and his staff have things tightened up a bit.
Some good news there:  BYU is so cruddy in the run game (No. 130 overall, No. 131 with yards per attempt at 2.78), and we are so good in run defense, that I think we can keep the Cougars in long yardage downs often, forcing Sitake and his offensive coordinator, Aaron Roderick, to get one dimensional and rely on Kedon Slovis.  I don't want to jinx us, but if that happens, then we can smother receivers and trust our line and a linebacker to assure that Kedon doesn't improve his lifetime negative 267 yards on the ground.
Texas cannot afford beat themselves.  I think we know we are not going to get any breaks from the refs, just the opposite, the third down spot in Houston notwithstanding.  With Maalik's first start, we have to get good yardage on first and second down, and not force Murphy into having to convert third and 7 or 8 or worse.  I believe our running game can get going and run roughshod over Brigham Young.  But the line is going to have to open some holes.  And we still need a good passing game, and with these receivers, I think we will be pleasantly surprised with a very solid day from Murphy.
I have been all over the board on my score prediction.  One hour a big win, the next a squeaker.  I am going to bet on Maalik Murphy.
Texas 37, Brigham Young 13
Official Preview from The University:
https://texassports.com/news/2023/10/23/no-7-7-texas-football-preview-byu.aspx
Game Notes:
https://texassports.com/documents/2023/10/23/TexasFB23GameNotes_08BYU.pdf
Preview from Burnt Orange Nation
https://www.burntorangenation.com/2023/10/25/23931879/texas-longhorns-byu-cougars-preview-kedon-slovis
Inside Texas "On Texas Football" – Tale of the Tape, with Bobby Burton and Paul Wadlington.
Texas Homer's Preview.  18:42 minutes
Brigham Young and The University of Texas Longhorns
Texas and Brigham Young have a short history that is likely coming to a close, or at least a long, long pause.  A very rare matchup where we trail the series significantly, in this case 4 to 1.  The sole Longhorn win was Mack Brown's 2011 team that got the 17-16 win over Bronco Mendenhall's Cougars in Austin.  Two years later, the Provo Disaster, where on a stormy night in the Wasatch Range it was Cougars Gone Wild, as BYU QB Taysom Hill and his offense ran for 550 yards on Manny Diaz's defense.  Hill had 259 yards rushing and 3 touchdowns (on 17 attempts), a long of 68, and averaged 15.2 yards per attempt.  Never had negative yardage.  Running Back Jamaal Williams carried 30 times for 182 yards.  The night ended with a 40-21 loss and Manny Diaz's dismissal before the plane left Utah County.  The next season, the Longhorns were coached by Charlie Strong, and the game in Austin was actually worse, as Brigham Young beat the Horns 41 to 7.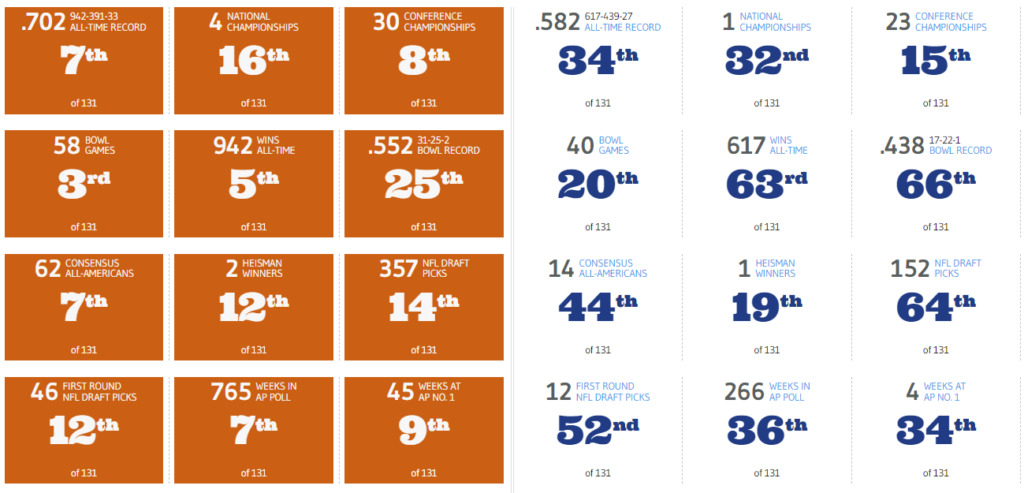 Texas Longhorns 31, Houston Cougars 24
 My prediction was 52-17.  BCf Toys said 40.4 to 18.3.  CFBGraphs had Texas winning 43.3 to 19.9.  I went back to see what the Inside Texas guys had predicted:  Eric Nahlin: 41-20; Justin Wells:  49-24; Ian Boyd:  44-17; Joe Cook:  48-20; Gerry Hamilton:  48-24; Bobby Burton:  41-31; and  Paul Wadlington:  48-21.   So a few with Houston getting 3 touchdowns pus, and Wells and Hamilton nailed it.  But they all had Texas with at least 10 more points.
So what went wrong?
 You almost could not have scripted the first 20 minutes and 25 seconds any better.
Texas got the ball first and on the first possession drove 75 yards in just under 5 minutes for a touchdown.  Ewers was deadly accurate, although with a lot of check-downs; I saw some whining about that, and I don't get it.  If you can get 3 or 4 or 5 yards checking down to the running back, who has breakaway capabilities, that is a lot better than an incomplete pass or interception.  Anyway, Ewers completed passes of 10 to Worthy, 6 to Helm, 3 to Brooks, 8 to Brooks, 4 to Baxter, missed on a short one to Sanders, then completed 16 yard to Worthy and 14 to Mitchell for the touchdown.  7 of 8, 61 yards and a score.  Mix in runs from Brooks of 11 and 4 and a 4 yard run from Baxter, and the only blemishes were the false start and the incompletion.
Texas forced a 3 and out (including declining a face mask penalty after the Alfred Collins sack.
Next Longhorn possession was even better:  Brooks for 9, Brooks for 4, 7 yard pass to Brooks, then the 42 yard touchdown strike to Worthy.  14-0 Texas.
Texas Defense forced another 3 and out.  The Texas Offense stalled on that next one as Houston got a 3 and out.  After Houston got the ball, the picked up one first down, but then the defense stiffened, and Texas again got a quick defensive stand and again did so declining a penalty, the only holding flag thrown on Houston that afternoon.  Maybe the refs thought we didn't want any more after declining that first one.
Texas got the ball with 2:20 left in the first, and another good drive that started on the UT 42, this time featuring CJ Baxter, who started the possession with a 4 yard catch, 11 yard run, and 10 yard run.  My heart was greatly warmed as Quinn connected with Ja'Tavion Sanders for a 23 yard pass to get the Horns in the redzone as the first frame ended.  Then a 7 yard pass to Helm, then CJ for 2, for 6, and for 3, to the Houston 1.  Then the Red Cat, and Savion punched it in.  21-0 Texas.  We were well on our way to easily fulfilling and surpassing my score prediction of 52 points.  I was feeling really smart and smug.
Texas held again on the next possession after just 15 yards gained by the Cougars, and so did Houston, as they sacked Ewers on third down, forcing a Texas punt midway through the second quarter.
Something woke up Donovan Smith, as the next Houston series was surgical.  13 yards to Golden, 5 yards to Sneed, 21 yards to Brown, and a 32-yard touchdown pass to Golden.  Golden was about as open as a player can get, and right at the 10-yard line.  It was a troubling sign as all of sudden the somewhat talented Houston wide receivers were finding big gaps, and Donovan Smith was shoving the ball right in those holes, with accuracy.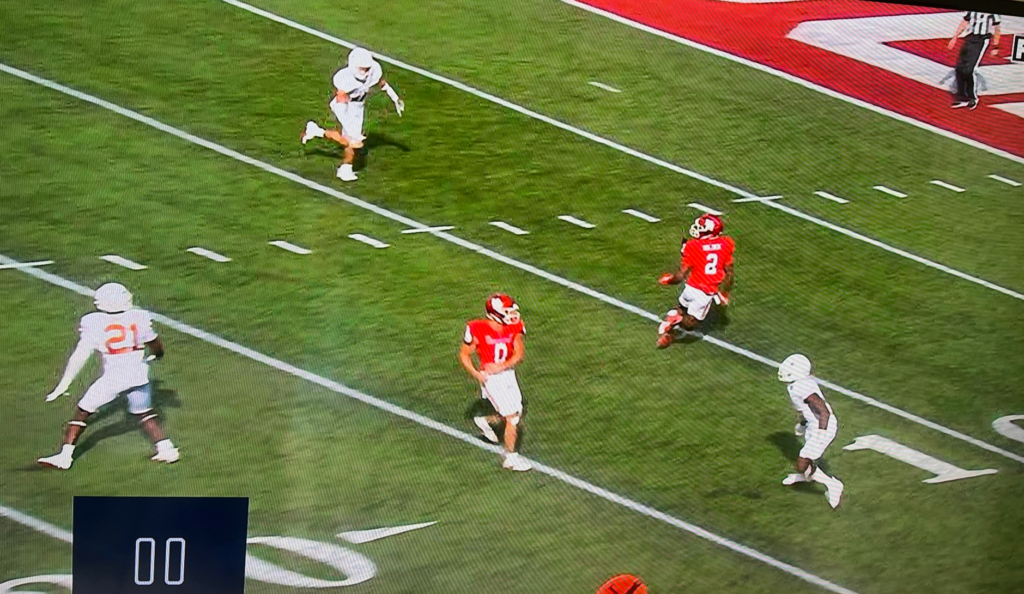 Cut to a 2 score lead, but with 5:59 left in the second quarter, Texas still had plenty of time to get another score and get a better cushion back by half.  And it looked like we would.  Keilan Robinson gave Texas great field position with a 45 yard return of the Houston kickoff, and Ewers & Co. got the ball at the Texas 45.  Quinn then quickly completed passes of 7 to Brooks, 8 to Worthy, and 10 to Worthy, and Texas was on the Houston 30.  Brooks got just a yard on first down and only 2 on second down, and then short pass to CJ Baxter only picked up a yard.
So Texas had a fourth and 6 on the Houston 26, with 153 or so seconds left in the half.  We had converted a fourth and 2 on our first possession; Texas rushed for 61 yards and Quinn was 11 of 12 for 137 yards in the first quarter (68 to Worthy).  The second quarter was not close to that, as Texas had only had 2 prior possessions, one the carryover from the first, where Texas had 19 yards of offense, then the next possession that netted all of one yard of offense.  But at that moment, Texas still looked like the dominant team, especially our offense versus their defense.
Steve Sarkisian had three choices:  Door Number 1:  kick the field goal, certainly within Auburn's range and ability.  Get the points.  Door Number 2:  Go for it on fourth and 6 with a good play utilizing one or more of our exceptionally talented skill players.  Door Number 3:  fake the field goal with a pass from Ryan Sanborn to Bert Auburn.  I didn't know about Door Number 3.  But I am not so sure Holgo didn't.  The fake failed miserably, picking up just a yard, Houston was stoked, Holgo probably went in the medical tent and shot-gunned a 14 ounce Red Bull, and Donovan Smith trotted on the field brimming with confidence.
Ethan Burke got to Smith for a 1 yard sack on first down, but that was the only defensive highlight for the Horns in that series.  The Cougars ripped down the field, plays including a 12 yard run, 7 yard pass, 16 and 17 yard receptions by Dalton Carnes, and Houston was first and 10 at the Texas 21.  Manjack was wide open and Smith hit him for the score.  The dominating lead had evaporated.  As a side note, I watch and listen to a lot of sports.  I have enjoyed the calls of many play-by-play guys, in football from Keith Jackson to Ron Franklin and Verne Lundquist and Craig Way (and of course basketball and baseball with Craig) to Pat Summerall, Al Michaels, and Brad Schram.  I listen to Pat Hughes call the Cubs about 50 or more games a year, I loved Jon Miller and Joe Morgan in the booth together, and I still listen to Jon call Giants games on KNBR.  I would watch a Dodgers game just to listen to Vin Scully.  That's just a few of dozens I like and can at least enjoy. And there are probably another hundred I can tolerate.  Tim Brando is NOT one of them.  Wherever or however he got the idea that "Hello!  How do you do!" was a good signature call is an incomprehensible mystery.
Texas ended the first half on one play:  Quinn Ewers sacked for 8 yards.
The 21-14 halftime lead was disconcerting. As I told some buddies, Donovan Smith was in the Houston locker room telling these kids, who had been told this is the ONLY game that mattered this year, that he, Donovan Smith, beat Texas last year, and he would and could do it again today.
Houston got the ball to start the second half, and it started about as poorly as one can imagine.  Cougar wide receiver Matthew Golden got off a great return, eluding Texas special teams, and Will Stone was left to make the tackle, which he did.  Which was good. Which was not, because he executed the tackle by utilizing Golden's facemask.  Houston ball on the Texas 49.  Three plays later, it looked like a Houston touchdown on a 35 yard pass to Manjack.  In what I thought was a bad call on the review, the score was overturned.  But it was first and goal from the 1.  Two plays later, Smith to Golden for 6.  Tie ballgame. 21-21 at 12:29.
There a number of things I think have improved logarithmically under Steve Sarkisian.  One, without a doubt, and one for which I am deeply appreciative, is that his teams do not quit.  They do not get down on themselves and let the negative vibes steal their confidence. They still believe in themselves, in their teammates, and in the coaches.  That critically important characteristic played out over the remainder of the game.  I think the Longhorns under our prior two administrations would have had about a 50-60% chance, at best, of winning that game (except in the Sam years).  But this team didn't quit.  And, in fact, after that Cougar score, the ESPN Win Probability still gave Texas a 79.5% chance.  I actually wish I had looked at that.  Probably wouldn't have been quite as nauseous.
Texas got the ball and made some progress, with Quinn completing his passes, and we converted a fourth and 1 with the Red Cat.  We even forced Houston to use a timeout on third and 8 at midfield and again after the next play with a fourth and 2 and the Houston 44.  That was actually a real glimmer of hope:  the Houston defensive coaching staff was really nervous.  And Dana Holgorsen was really, really mad.  He wore a black shirt, but his face at that moment was Houston Cougar red.  So mad.
The fourth and 2 failed, and how pass interference wasn't called is a Yormarkian mystery.  But the Texas defense answered with a huge play.  On third and 7 at the Houston 47, Ford sacked Smith and forced a fumble which big Vernon Broughton recovered at the 38.
The Horns only got 31 yards and stalled at the Houston 7, but the Auburn field goal got Texas the lead back with 3:17 to play in the third.  Not great, but a whole lot better than down 7 or 3.  This series was huge for the game and possible for the Texas season.  That Ford hit and Broughton recovery was, at a minimum, a 6 point swing, and probably a 10 point swing.  As those of us who score baseball say, "Put a star by that one."  In hindsight, it may have been the biggest play of the game.  But of course also in that series, Ewers lowered his shoulder on the scramble as David Ugwoegbu hurled towards him, and the resulting collision was violent.  So violent Ugwoegbu had to leave the game.  Quinn was definitely shaken up, and as we quickly figured out, the early sack had probably really done the damage.  But it was 24-21, and Texas looked in much better shape.  It got better.
Will Smith smartly kicked it out for a touchback (lessons are learned), and Houston started at their 25.  Smith and Holgo engineered a very nice drive, and some big passes:  16 to Manjack, 17 to Carnes, 9 to Byrnes.  Texas forced Houston to a fourth and 1 at the UT 31, but Smith found Manjack for 3, and Houston was first and 10 at the Texas 28.  Donovan finally made a big mistake, as he found Michael Taafe alone in the endzone for the interception, and god bless Taafe for looking up field and taking a knee.
Maalik Murphy came out to lead the Horns, and after Brooks got 7 yards on first and second down, Texas had third and 3.  Murphy threw an Aroldis Chapman fastball to Adonai Mitchell, who nearly lost a couple of fingers on his right hand trying to catch it.  Mr. Murphy was hyped up.  That's okay.
Thank goodness for Ryan Sanborn.  Sanborn boomed a huge 59 yard punt, and the Cougar muffed it.  Houston was lucky to recover and have the ball at their own 9 yard line.
What an opportunity for the Texas defense to stuff the Cougars deep in their own territory.  A three and out here would have probably given the ball to Texas with great field position and about 10 minutes in the game.
On third and 7, Smith found Samuel Brown all alone (he was lonely a lot of the game), and when we got to him we couldn't tackle him, and then Michael Taafe and Anthony Hill, Jr. finally forced him out at the Texas 37.  Hill plays with a lot of passion and aggression, which is good in a violent game.  But that was about as bad a personal foul as one can get.  Houston first and 10 and the Texas 22.
I can't recall which preview I watched or read, but I think it was Paul Wadlington who said something to the effect that Houston might be a decent team, but they had a knack for making really dumb mistakes at critical times.  What a call.  Houston's Sneed got 7 yards to the Texas 13, but Golden was flagged for the facemask when he grabbed Thompson (I think), pulling his helmet off.   Instead of third and 1 at the Texas 13, it was third and 16 at the Texas 28.  Muhammad and Ford with a good play on Brown, and the Smith pass completion only achieved 5 yards. Fourth and 11 at the Texas 23, and even Holgorsen knew to take the points.  24-24.  One half of one quarter of football left to play on John O'Quinn Field.
I wrote above about no quit.  Keilan Robinson with another big return, this one for 33 yards to the UT 47.  An absolutely gigantic return.  And the next drive was one of the most important of Sarkisian's tenure at Texas.  He went back to his better play calling, and his horses delivered.  Brooks for 5, Brooks for 15. First and 10 at the UH 32.  Murphy completed his first pass of the day, 7 yards to Jordan Whittington.  Then Brooks for 7 and Brooks for 2.  Second and 8 from the Houston 16, and CJ Brooks ran it right up the Cougar gut for 6.  Auburn's PAT made it 31-24.
But there was 5:37 left to play.  I suspect many of us remember the West Virginia game in Austin in 2018.  Holgorsen's Mountaineers trailed 41-34.  With 23 seconds to play, WVU's quarterback Will Grier found Gary Jennings behind the Texas secondary for the 33 yard score, and it was 41-40.  Holgo went for 2, and Grier waltzed into the southwest corner of the DKR Endzone with 16 seconds to play, and Tom Herman's No. 15 Horns lost a big conference game to No. 12 West Virginia.  If Houston scored, I bet the odds were about 98 to 1 that Holgo was going for 2 and the win.
The Houston drive started fast as Smith found, who else, Golden, for a 24 yard completion to get the Cougars to midfield.  Parker Jenkins picked up 8 of the 14 yards Houston would gain on the day to get to the Texas 43.  He was stuffed on the next play, and Taafe broke up the third down pass to Manjack.  Of course with fourth and 2 at the Texas 43, Holgo went for it, and he got it, as Smith hit Golden for 9.  First and 10 and the Texas 34. Somehow, the Texas defense let Carnes get open again, and 15 yards to the Texas 19.  With second and 8 at the Texas 17, Smith connected with Mike O'Laughlin get a third and 1 at the Texas 10.  After our monsters in the middle, T'Vondre Sweat and Byron Murphy, stuffed Sneed for no gain, Houston had fourth and 1.  (Okay, it was a bad spot, but the refs sucked all day.)  When the Texas defense needed its biggest play, after Smith had gashed us for 378 yards and 3 touchdowns, Jahdae Barron delivered.  He made a great play on the ball, knocking it out of Stephon Johnson's reach.  With 63 seconds left, Texas got to line up in the Victory formation.
Some Observations
In no particular order.
I thought Texas would run all over Houston.  160 yards is respectable, but not the 200+ I expected.  Brooks had 99 on 20 carries, Baxter with 42 and a score on 6 carries.  Respectable 5 yards per carry and 6 yards per carry, respectively.  Savion Red's 9 yards were big, big yards.
Overall, Quinn Ewers had a good day.  23-29-0, 211 yards, 2 touchdowns.  He was 11-12 for 137 and 2 touchdowns in the first quarter.  So 12-17 for 74 yards over the remaining two quarters he was in the game is a bit disconcerting.  3 more sacks.  Texas is now 86th in the nation in sacks allowed, with 95 yards sacrificed.
One of the downsides of watching on TV is you don't see the whole field on plays, so most of the time when Quinn checked down, I couldn't see what happened, but just assume our receivers were covered.  Which explains why Jonathon Brooks was our leading receiver, targeted 8 times, 8 catches, 51 yards net with 63 yards after catch (I know, looks weird, but I double-checked it).  When you consider those kind of pass plays as pretty much part of your run game, Brooks had a very good day.  Worthy was targeted 7 times; 6 catches, 92 yards, and a score (with 42 yards on the scoring play; so 49 yards on his other 5 catches).  The overall receiving stats, which baffle me a bit: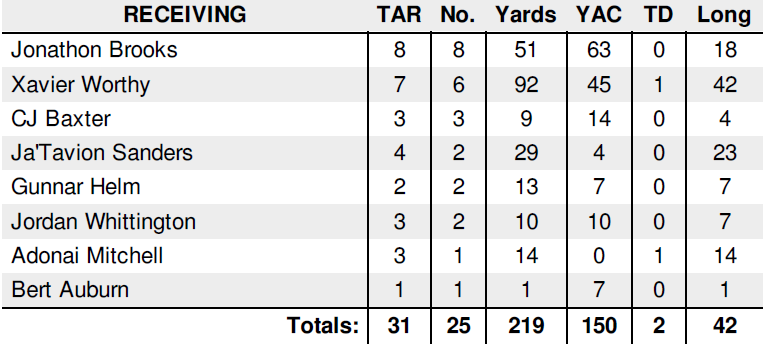 Not a terrible offensive performance in the abstract, but pretty sorry in perspective:  recall Houston came in as one of the worst defenses in football:  99th against the run, 117th against the pass, 117th overall, 107th in scoring defense, 121st in first downs allowed, 137th in third down conversions given up, 114th in long pass plays.    Houston was allowing 162.2 yards per game against some pretty crummy teams.  Texas got 141.  Houston was allowing 267 yards in the air.  Texas got 219.  Houston was giving up over 31 points per game.  At least we hit that.
Keilan Robinson's two kickoff returns for 78 yards were really big.  We might not have won the game without them.
Ryan Sanborn's 3 punts went for 157 yards, one got muffed, and Houston had 6 yards in punt returns.  Field position.
Defense.  Congratulations on the really great run defense.  Houston didn't run the ball a lot, and in fact were 95th with 134 yards per game. The Cougars netted 14 yards on 19 attempts, for 0.7 yards per carry.  Thank goodness it was 14 yards and not 15.  The Cougars are now 108th in the nation.
On pass defense, we were spectacularly mediocre for most of the game.  I will attribute some of that to good play calling by Holgorsen and great execution by Smith and his receivers.  Whatever the combination of the zone and cover defenses plus Holgo's calls and Smith's reads was, it worked for the Cougars.  Houston averaged 11.8 yards per completion (and 8.2 per attempt).  Kwiatkowski and Terry Joseph and Blake Gideon have work to do. That wasn't all on the players, by any stretch of the imagination.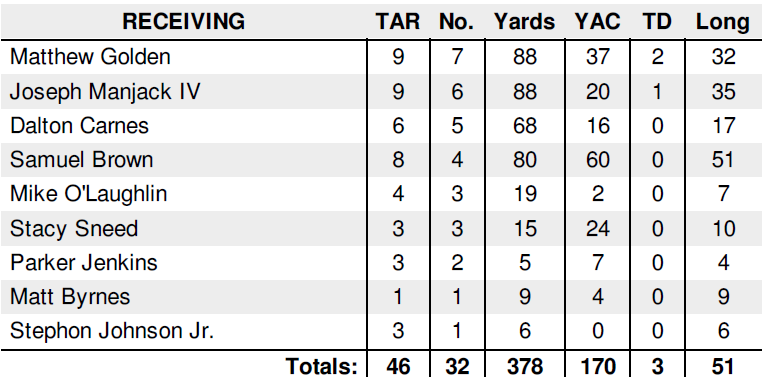 Texas won.  I was incredibly wrong in virtually every prediction, from performance to score.  And so was almost everyone else.  Even the most advanced statistical modeling and forecasting had Texas winning by about three touchdowns.  Any. Given. Saturday.
But who cares about predictions and models?  The Longhorns won, and we close out our forgettable series with the Houston Cougars up 17-7 with 2 ties.
When I think about the other games I watched some or a lot of, Texas was in the same boat as many good teams.  The Land Thieves stopped at 2 point attempt by lowly Central Florida to avoid overtime.  Undefeated Washington got bailed out by the referees in a big way to survive against Arizona State, who was 1-5 without a Pac 12 win.  The Huskies didn't get an offensive touchdown, and won on a 15-7 on a pick 6 after a blown DPI call. Jody Ferguson and I both agree:  Texas needs to go get Cameron Skattebo out of the transfer portal for next season.
CFB on FOX, about 9 minutes:
Matthew Loves Ball , 25+ minutes
The Polls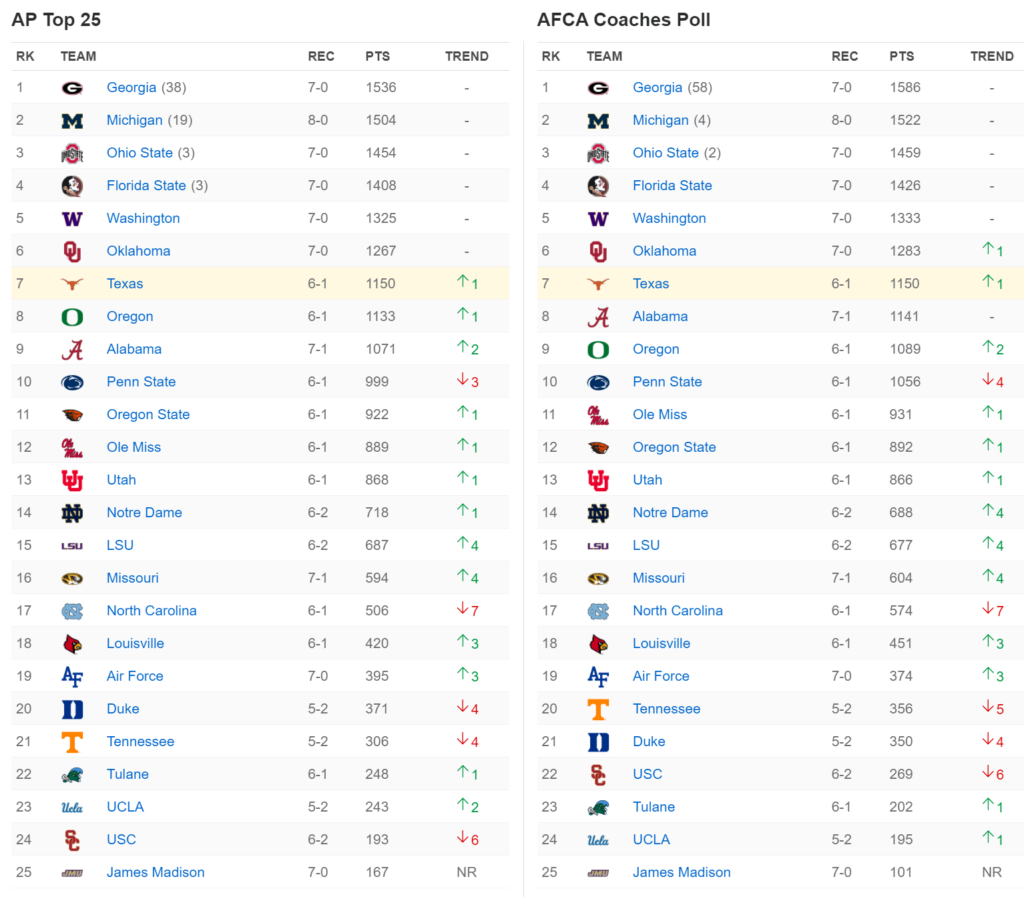 Texas moved up one thanks to Ohio State beating Penn State, and the Horns are the highest ranked one loss team.
Massey Ratings
Texas moved up to No. 5, and the Land Thieves dropped to No. 4.  Ohio State, Michigan, and Florida State are the top 3.  Ole Miss at 11 and Notre Dame at 12.  Brigham Young is No. 52.
Nate Manzo (@cfbNate):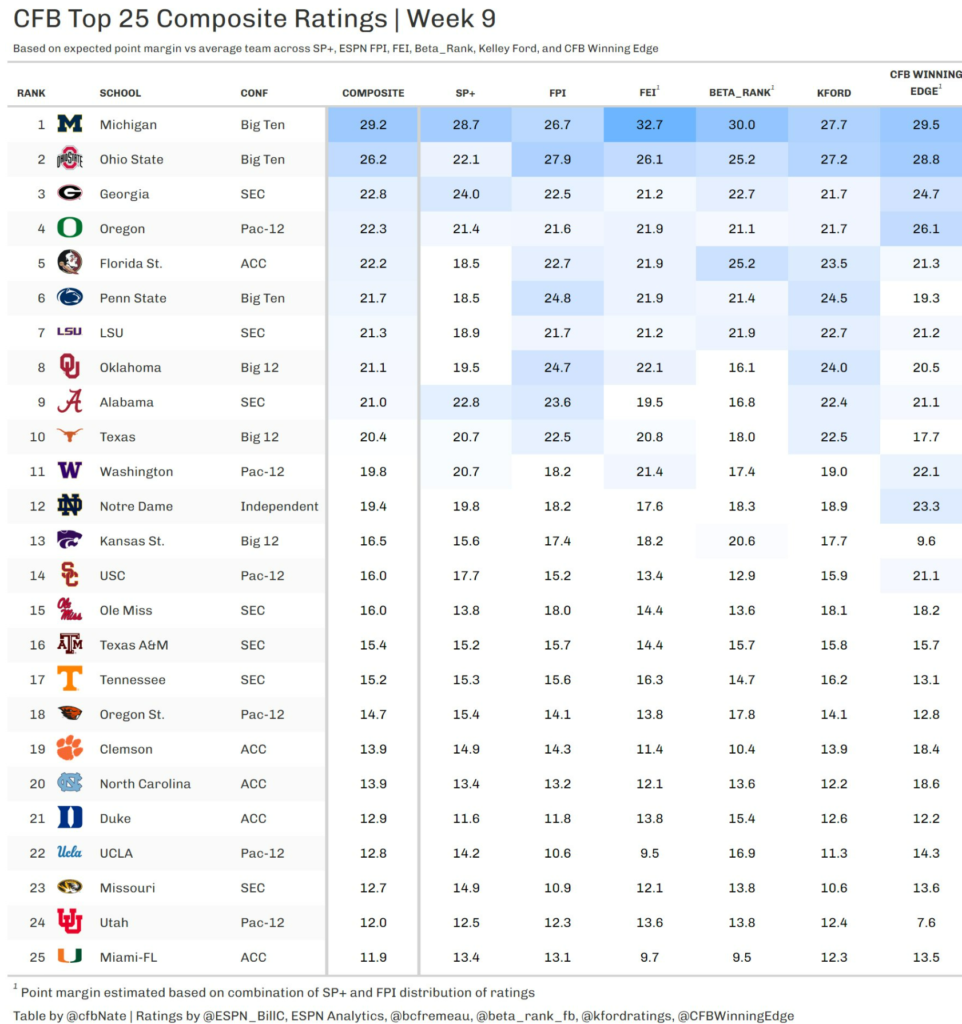 Chris Vannini – The Athletic:  Ranking All 133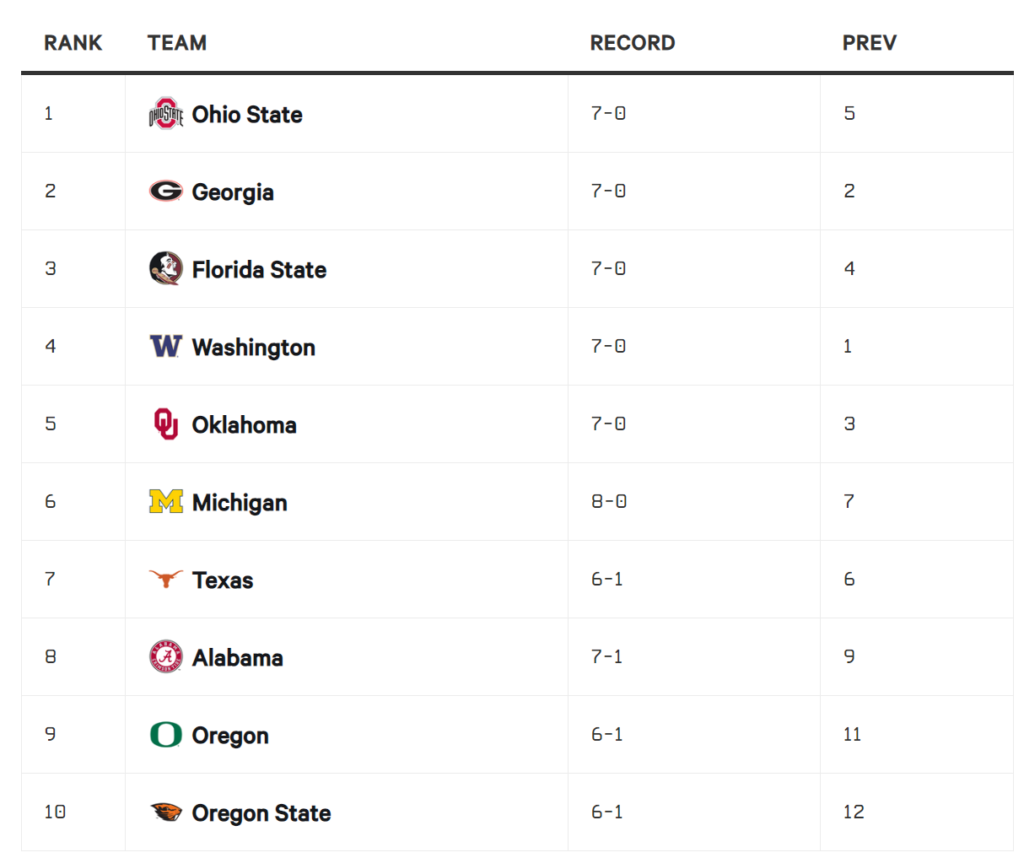 Brigham Young is ranked 44th (Houston was 78).
ESPN College Football Power Index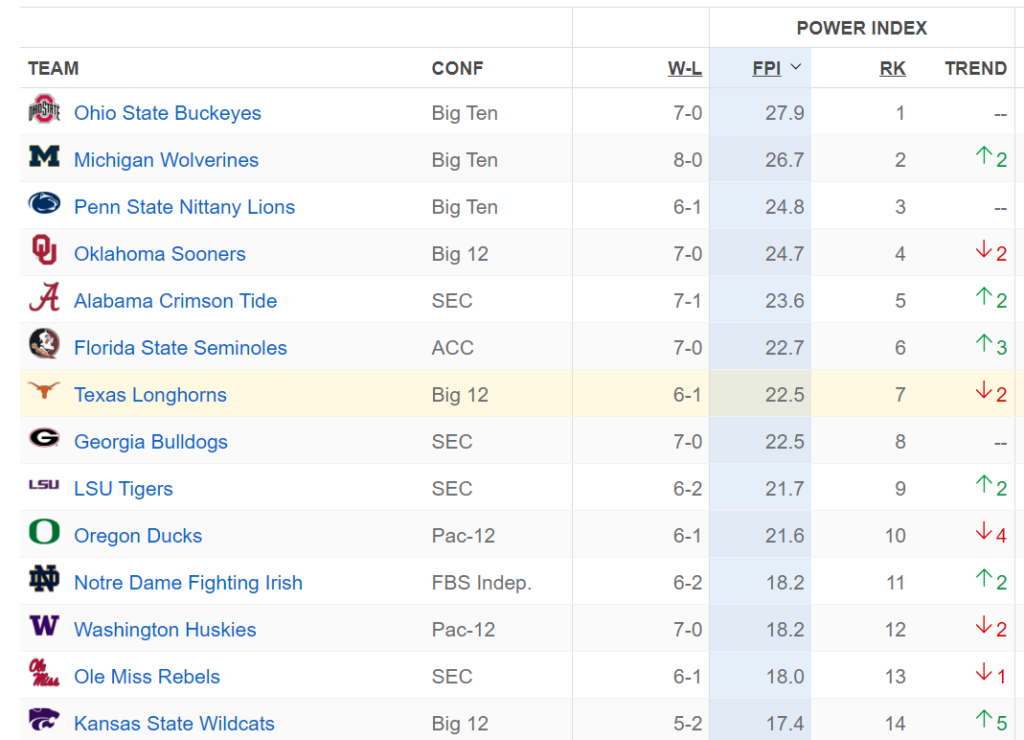 If you have never looked at the FPI information, it is interesting and worth a few minutes.  The system updates every team's projections each week.  It gives Texas just an 29.4% chance of winning the Big 12 (Land Thieves at 60%) and 25.2% chance of making the playoffs.  After last weekend, probably fair.
2023 College Football Power Index – ESPN
Brigham Young Traditions
A couple of good ones.
Their mascot is "Cosmo the Cougar", so named because "BYU is a very international, cosmopolitan school, and that is where we got the name Cosmo".
Their dance team is the Cougarettes.  The have won 24 national championships.
Cosmo dances with the Cougarettes:
I need an emoji keyboard.
Brigham Young University
Founded in 1875 by Brigham Young, the school is part of the Church of Jesus Christ of Latter-day Saints.  It is the largest religious university in the country and the third largest private university.   About 98% of the students are Mormons.  78% of the men students do their two year mission stint while in college, which is a much different way to stretch college out to 6 or 7 years than the slacker method.  Young was a big more of a prophet than I realized:  "I hope to see an Academy established in Provo… at which the children of the Latter-day Saints can receive a good education unmixed with the pernicious atheistic influences that are found in so many of the higher schools of the country."  Interesting to note that pernicious atheistic influences were a concern a century and a half ago.
Brigham Young is a pretty good school:
Academic Rankings

National

Texas

Brigham Young

Forbes
31
35
THE | WSJ
60
20
U.S. News & World Report
32
115
ARWU
24
115-133
Washington Monthly
87
32

Global

ARWU
37
401-500
QS
58
1001-1200
THE
50
*
U.S. News & World Report
43
710
Juan Heisman Tailgate
With the 2:30 kick we will have plenty of time for fun, food, fellowship, and adult beverages.  Should be a beautiful fall afternoon (Austin style – mid 80's), a great opportunity for a big Juan Heisman Tailgate.  Sliders, beer brats, venison sausage, and our favorite chauffeur, Tony Dewar, is bringing sausage and German potato salad from Kuby's.  Gary Clark, Jr. is one of Austin's greatest musical talents of the last 25 years, and he takes the stage for Longhorn City Limits at 12:30.  He is good.  I encourage everyone to plan ahead and get to JHT early, and you can enjoy some hospitality and Tito's Handmade Vodka and then catch some of the great Gary Clark, Jr. (Austin High Class of 2002), and then grab a walker to head into DKR.
Big XII – Week Nine
No. 6 Oklahoma at Kansas, 11:00 a.m. on FOX.  As anyone knows who watched the ALCS, it is Big Noon in Lawrence.  Hoo boy.  Land Thieves favored by 9, over/under is 65.5.  Land Thieves to win and cover.
Houston at Kansas State, 11:00 a.m. on ESPN2.  Wildcats favored by 17.5 over Houston, over/under is 60.
West Virginia at Central Florida, 11:00 a.m. on FS1.  Golden Knights favored by 7, over/under is 58.5.
Iowa State at Baylor, 2:30 p.m. on BIG12 | ESPN+.  Bears getting streamed again this week.  Cyclones are 3.0 point road favorites, over/under is 47.5.
Cincinnati at Oklahoma State, 7:00 p.m. on ESPN2.  The Cowboys have won 3 in a row since the opening conference loss to Iowa State.  Like clockwork, they have an emerging stud running back.  Ollie Gordon II ran for 282 yards and 4 scores against WVU last week.  Okie A&M favored by 7 at home, over/under is 535.
Week Nine:  Service Academies
Army hosts the Minutemen of Massachusetts at West Point.  11:00 a.m. on CBSSN.  Black Knights favored by 9.5 at home in Michie Stadium.   Army moving into the American Conference next year. Cool, and appropriate!
Navy has shore leave again.
No. 19 Air Force (7-0) is at Colorado State (3-4). 6:00 p.m. on CBSSN.  Falcons continue to play good football.  The Air Force Academy favored by 14 in Fort Collins.
Top 25 – Week Nine
No. 4 Florida State (7-0) at Wake Forest (4-3) 11:00 a.m. on ABC.  Seminoles are really good.  Favored by 20.5 in Winston-Salem.
Indiana (2-5) at No. 10 PSU (6-1).  11:00 a.m. on CBS.   I would not want to be Indiana this week.  Or ever, but especially this week.  I bet the Nittany Lions are pissed.  Favored by 32.
No. 1 Georgia (7-0) at Florida (5-2) for the World's Largest Outdoor Cocktail Party.  2:30 p.m. on the Columbia Broadcasting System from Jacksonville.  Bulldogs favored by 14.5.  The teams started playing in Jacksonville 1933 (with the exception of 1994-95).  The series record is disputed, because Georgia claims a 52-0 victory over a UF predecessor (but also called the University of Florida) in 1904.   If valid, Georgia leads 55-44-2.  Florida says the first game was in 1915, and that Georgia leads 54-44-2.  Regardless, two pretty good schools, with 7 national championships, and 5 Heisman Trophies between the two of them.
No. 8 Oregon at No. 13 Utah.  2:30 p.m. on FOX.  Both teams 6-1.  Ducks favored by 6.5.
Pittsburgh (2-5) at No. 14 Notre Dame.  2:30 p.m. on NBC.  Irish favored by 20.5, over/under is 45.
No. 20 Duke (5-2) at No. 18 Louisville (6-1).  2:30 p.m. on ESPN.  Louisville favored by 4.5.  Go Blue Devils.
No. 22 Tulane (6-1) at Rice (4-3), 3:00 p.m. on ESPN2.  Tulane favored by 10.  Good luck Owls.
No. 24 Southern Cal (6-2) at Cal Berkeley, 3:00 p.m. on Pac12 Network.  Trojans favored by 10.
No. 5 Washington (7-0) at Stanford (2-5), 6:00 p.m. on FS1.  Huskies are huge 27.5 point favorites.
No. 21 Tennessee (5-2) at Kentucky (5-2), 6:00 p.m. on ESPN.  The Volunteers and Wildcats first played in 1893, and Tennessee leads the series 82-26-9.  The used to play for the Beer Barrel Trophy, which I always found odd between the two states that are historically our greatest whiskey producers.  Kentucky 3.5 underdogs at home.
No. 3 Ohio State (7-0) at Wisconsin, 6:30 p.m. on NBC.  Buckeyes favored by 14.5.
Vanderbilt (2-6) at No. 12 Ole Miss.  6:30 p.m. on SEC Network.  Should be an awesome day in The Grove and a big night in Vaught-Hemingway.  Rebels favored by 24.5.  Over/under is 63.  Hotty Toddy!
Colorado (4-3) at No. 23 UCLA.  6:30 p.m. on ABC.  Bruins favored by 16.5.  Haven't gotten to watch the Buffs in a couple of weeks.  Look forward to tuning in for a bit.
No. 17 North Carolina (6-1) at Georgia Tech (3-4), 7:00 p.m. on ACCN.  Mack's Tarheels favored by 11.5 at Bobby Dodd Stadium.
Old Dominion (4-3) at No. 25 James Madison (7-0), 7:00 p.m. on ESPNU. Dukes favored by 20.5.
No. 11 Oregon State (6-1) at Arizona (4-3), 9:30 p.m. on ESPN.  Beavers favored by 3.5 in Tucson.  Good late night football.
 SEC – Week Nine
South Carolina (2-5, 1-4) at Texas Agricultural & Mechanical (4-3, 2-2), 11:00 a.m. on ESPN.  Should be a good game for the Aggies.  Favored by 15.5 at home.
Mississippi State at Auburn, 2:30 p.m. on SEC Network.  Tigers favored by 6.5.
Other Games of Interest – Week Nine
Wednesday Night
UTEP and Sam Houston met Wednesday night in Huntsville.  Sam led 21-13 at half, but the Miners dug out of the hole.  UTEP scored 17 in the fourth to win 37-34.
Thursday Night
Tonight, Syracuse was in Blacksburg to play the Hokies.  It didn't go well for the 'Cuse.  Virginia Tech with the 38-10 win.
Saturday
Tulsa (3-4) at Southern Methodist (5-2).  11:00 a.m. on ESPNU.  Ponies are 3-0 in the American.   Favored by 21 at home.
Memphis at North Texas, 2:00 p.m. on ESPN+.  Tigers favored by 7.5.
Purdue at Nebraska, 2:30 p.m. on FS1.  Huskers favored by 2.5.
Virginia (2-5) at Miami (Florida) (5-2).  2:30 p.m. on ACCN.  Hoos grossly underrated at 19 point road dogs! Go Hoos!
East Carolina at UTSA, 2:30 p.m. on ESPN+  Roadrunners favored by 18.5.  Birds up.
Not of great interest, but I do like late night football.  UNLV at Fresno State, 9:30 p.m. on FS1. Both teams are 6-1, so should be a good game.  Bulldogs favored by 8.5.
Washington & Lee University
Washington & Lee University Generals 21, Hampden-Sydney College Tigers 17. 
Huge comeback win on the road for W&L.  The Generals rallied from a 14 point deficit to get the win.  The Tigers went up 14-0 in the first quarter, with touchdown passes of 24 yards and 43 yards.  But the Generals defense stiffened, and after halting the Hampsters on fourth & 5 in the second quarter, Stephen Murrin drove the Generals and finished it with a 42 yard touchdown run.  Late in the third quarter after a Tiger field goal, Generals running back Jacob Romero busted open a 44 yard touchdown run, and it was a three point game going to the fourth.  Murrin capped another W&L touchdown drive with a 24 yard run.  The defense held from there.  The Generals ground game again dominated, as W&L rushed for 316 yards, led by Jacob Romero with 107 yards on 18 carries.  Murrin had 13 carries for 94 yards and the 2 scores.  Stephen Murrin was named ODAC Offensive Player of the Week.
Washington & Lee is on the road again this week, in Ashland, Virginia, to play Randolph-Macon College.  1:00 p.m. The Yellow Jackets are undefeated and ranked No. 9 in Division III AFCA poll.  In the NCAA rankings, they are No. 2 in Region II, behind our Trinity.  R-M is averaging 53 points per game and holding opponents to 10.  They have rushed for 1,887 yards (2,006 gross), compared to W&L's 2,105 (2,260 gross).  The big difference is the passing game.  W&L has completed 44 passes (50%) for 610 yards and 2 touchdowns.  R-M has 1,700 yards (114-158-3) and 13 touchdowns.   W&L is No. 4 in D3 in rushing, R-M is No. 7.
Randolph-Macon College in Ashland (as distinguished from, but affiliated with, Randolph-Macon's Women's College in Lynchburg, which is now just Randolph College, which is now co-ed) was founded in 1830, is the second oldest Methodist college in the country, and it is the oldest in continuous operation.
Texas Rangers
 Congratulations to the Texas Rangers.  I bleed Cubbie Blue, but I am a Texan through and through.  All if in for the Rangers.
Big XII – Week Eight
Central Florida 29, No. 6 Oklahoma 31.  Wow.  I was wronger about this one than the Texas game.  (That's actually a word in Oklahoma and Arkansas.)  The Golden Knights had the Land Thieves tied at half and led 23-17 after three quarters.  Dillon Gabriel had to light a fire under the Sooner Schooner to avoid the upset.  Most years, I would have enjoyed such a meltdown in Norman.  But not this year.  Want the rematch.
Baylor 32, Cincinnati 29.  The Bears had to withstand a 15 Bearcat surge in the fourth to get the conference road win.
Oklahoma State 48-34 over West Virginia.  I am really impressed with the improvement of the Cowboys.  Okie A&M were 3 point dogs, and they almost covered the over/under (49.5) by themselves.
Texas Tech lost 14-27 at Brigham Young.
Texas Christian just got creamed at Kansas State.  41-7.  The Frogs got a field goal in the first quarter, and that was it.  Wildcats ran for 343 yards.  Will Howard only passed for 154, but 3 of his 10 completions were for touchdowns.
Week Eight:  Service Academies
Air Force and Navy played a good game in Annapolis, but the Falcons came out on top 17-6.  In the "important decisions" category, after the Midshipmen finally scored with 50 seconds to play, Navy went for 2.  It failed.  The line was 10.5.
Sometimes you just have to say it:  Brian Kelly is a dick.  Yes, win the game.  But 62-0 over Army?  C'mon man.  Tigers doubled the line (31).
Top 25 – Week Eight
I don't think Michigan needed to know what Michigan State was going to do.  49-0 beatdown in East Lansing.
Arizona State should have upset Washington.  The Huskies win without an offensive touchdown but with an assist from the officials.  This was not called as holding or pass interference.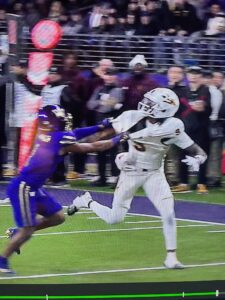 PSU lost 12-20 to Ohio State, Buckeyes covered.
The Crimson Tide looked good in a 34-20 win over Tennessee.
Duke hung with Florida State for three quarters (up 20-17), but the Seminoles dropped the tomahawk on the Blue Devils in the fourth with 21 points, three touchdowns in the last 6 minutes of the game.
Oregon took care of business at home with a 38-24 win over Washington State.
The biggest upset of the weekend, and maybe the season, was Virginia's 31-27 win over previously undefeated North Carolina in Chapel Hill.  The Cavaliers had one win this year – over William & Mary.  The first road win in Virginia history against a top 10 team.  Coach Brown, sorry it came at your expense.  But all my Virginia family and friends are happy.  Wahoo Wa.
Hotty Toddy!  Ole Miss 28-21 over Auburn on the Plains.  Rebels are 6-1.
Southern Cal had Utah at home in the Coliseum, and the Utes still managed to take down the Trojans.  USC got a big punt return to the Utah 11 late in the fourth quarter, and Caleb Williams needed one play to punch it in and get the 32-31 lead.  The two point conversion failed.  So did Lincoln Riley's defense.  The Utes had 96 seconds to get a score starting at their own 25.  93 seconds later Utah kicked the game winning field goal.  34-32 Utes.  Brutal.
Missouri 7-1 after beating the Cocks 34-12.  South Carolina drops to 1-4 in the SEC.
Tulane 35-28 over North Texas.
Minnesota 12-10 over No. 24 Iowa.  Five exciting field goals and one thrilling 1 yard run in a Big 10 masterpiece.
Tough year on the Farm.  UCLA 42-7 over Stanford.
Other Games of Interest – Week Eight
Southern Methodist 55-0 over Temple.  Owls 0-4 in conference.  I think our friend Arthur Johnson is going to have make some employment decisions.
Memphis 45-21 over UAB.
Big Red wins!  Nebraska beat Northwestern 17-9.
Toledo got the best of Miami 21-17, handing the Redhawks their first MAC loss.
UTSA with a good 36-10 road win at Florida Atlantic.
Music
From the minute they announced Gary Clark, Jr. would play at LCL, I planned for this week's music selection would feature Gary and maybe some other Texas blues.  But when I saw the news Tuesday that Richard Roundtree had passed, I knew I had to give a little tribute to John Shaft.  What a great flick.  And song.  Isaac Hayes won the Oscar, and I still love this one.  I had the whole soundtrack on 8 track (quadrophonic sound baby!).   Hard to believe this was over 50 years ago.  Remember what movie won Best Picture in 1972?  A great one.  Answer below.
The official trailer (pretty violent, like the movie).  "Hotter than Bond, cooler than Bullitt"!
Gary Clark, Jr. 
Some eclectic cuts for you:
Covering Jimi Hendrix – "Voodoo Child", the Apollo Theatre in 2020
Catfish Blues
Bright Lights, from the 2010 Crossroads Guitar Festival
Come Together (Live from Lollapalooza 2019)
Numb
Bats
Yes, bats.  I like bats.  And it is Bat Week.
I was first introduced to Merlin Tuttle and Bat Conservation International nearly 40 years ago, through my mentor Don Carnes, when I first started practicing law.  I have been a supporter ever since, watching Austin learn to appreciate our bats, and slowly most parts of the world, thanks to Dr. Tuttle's efforts and so many others.
Why bats?  First, they eat mosquitoes and are key pollinators in the ecosystems.  Second, and somedays of the week very important, without bats, no tequila.  Bats pollinate the agave plant.  Tequila is important.  I encourage you to learn more, and if you are so included, support BCI's good work.
Bat Conservation International / Ending Bat Extinctions Worldwide
Jim Nicar
1950: Looking east from the Tower.  The three white, two-story buildings just in front of the stadium were repurposed World War II Bachelor Officer Quarters (BOQs). Collectively named the "San Jacinto Dorm", they were used for post-war campus housing.  Photo credit to Travis Kaspar!   Attawaytogo!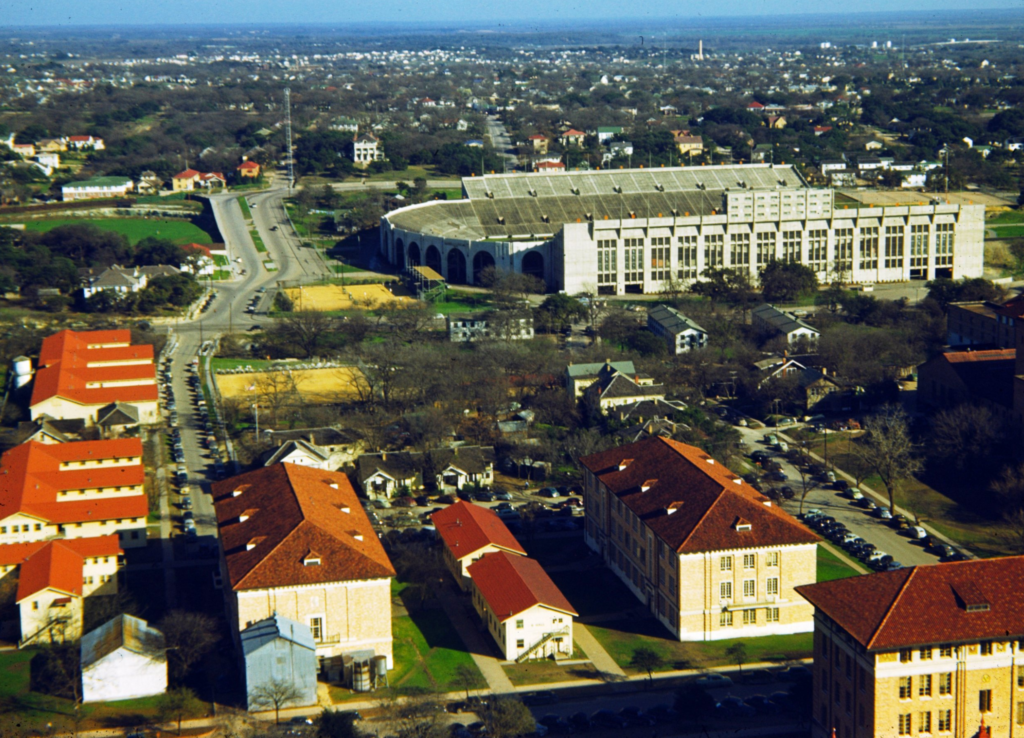 Follow Jim on X
https://twitter.com/JimNicar/status/1711794287745134818?s=20
Picture of the Week
JType with a really great one.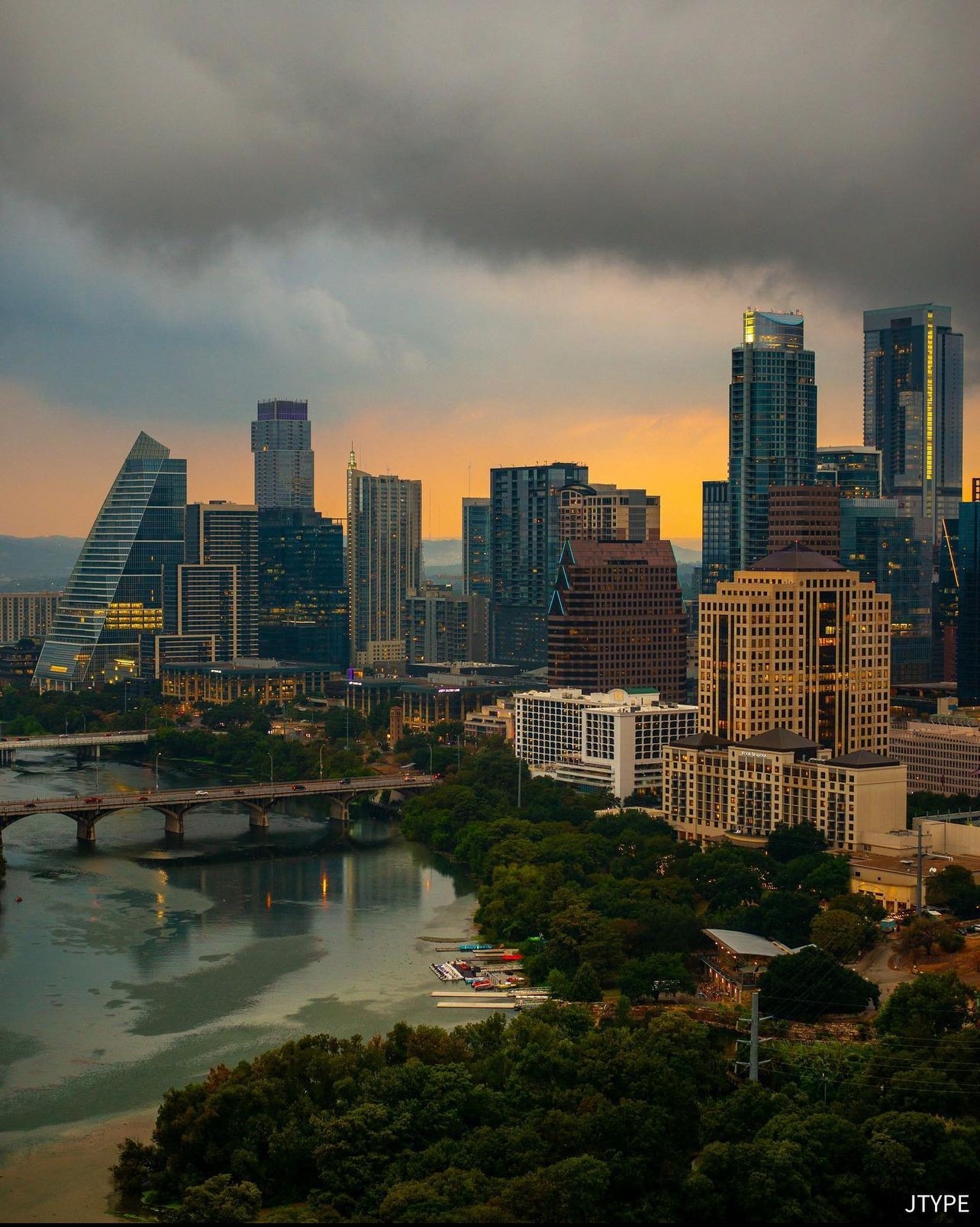 From his Instagram account, October 24, 2023
https://www.instagram.com/p/CywrYxbp1m5/?img_index=1
This week's featured image on the Austin Horns Fan Dispatch is a beautiful burnt orange sunrise from earlier this week, courtesy of the incomparable Amy Villarreal.
The French Connection.  A great movie.  And it beat out A Clockwork Orange, Fiddler on the Roof, and The Last Picture Show.  Gene Hackman won Best Actor, William Friedkin won best Director.
God Bless Texas
God Bless America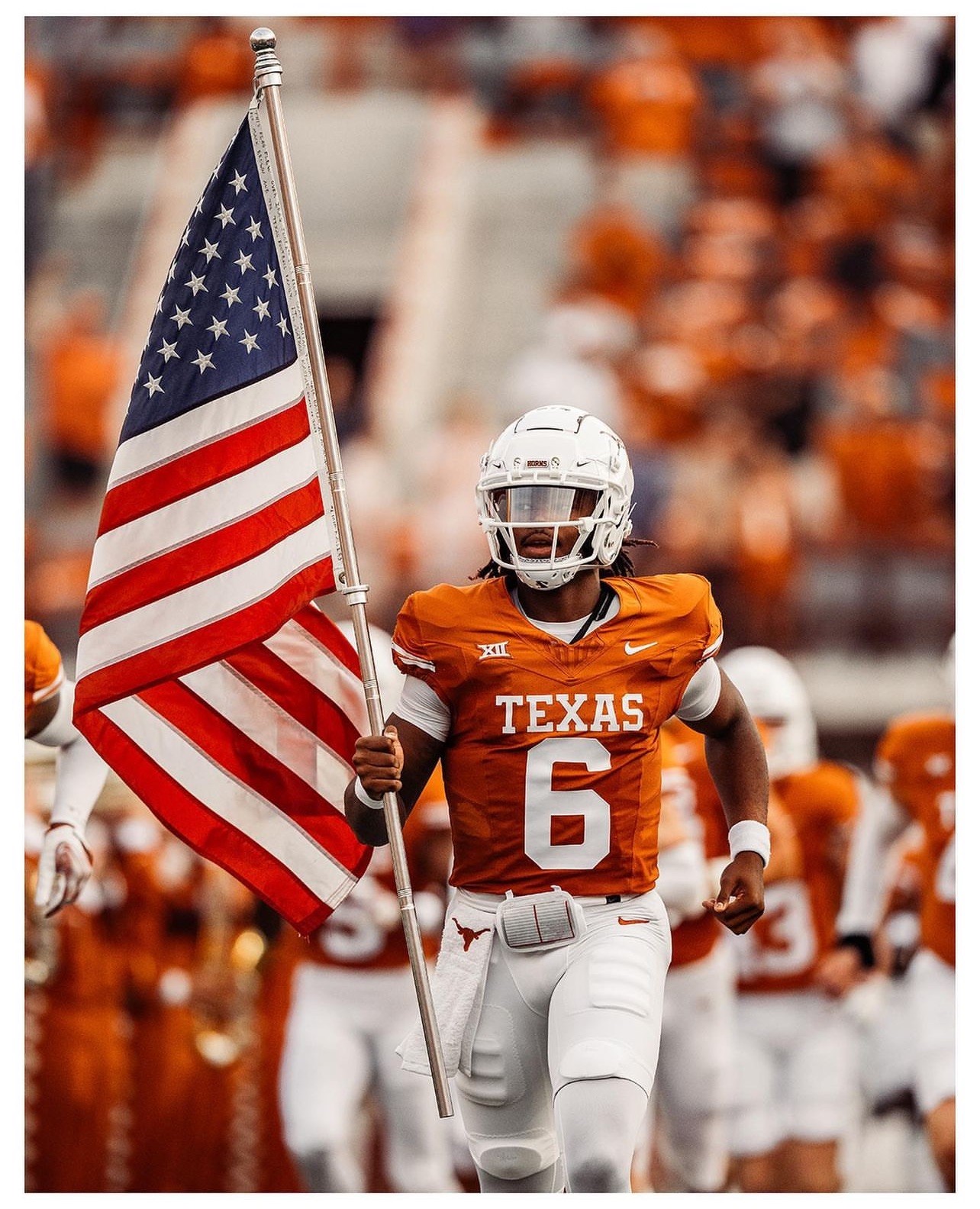 Tim Taylor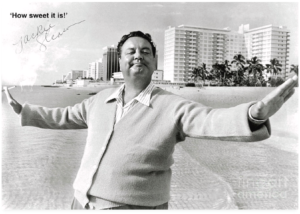 Tailgating before Home Football Games
The Juan Heisman Tailgate
Lot 38, East of Sid Richardson Hall.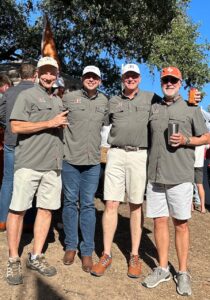 HOOK EM HORNS!!
The Austin Horns Fan Dispatch
© Timothy C. Taylor, Sr. 2023.  All Rights Reserved (as to original material).
On Twitter:  @tctayloratx
On LinkedIn:  www.linkedin.com/in/tctatx
On Instagram:  @tctayloratx
On Facebook:  www.Facebook.com/Tim.C.Taylor
and:  www.Facebook.com/Juan.Heisman
You can contact me by mail:
Tim Taylor
P.O. Box 5371
Austin, Texas  78763-5371