No. 8 Texas Longhorns vs. Houston Cougars
The Longhorns and Cougars tangle for the 26th time on Saturday afternoon in Houston.  The series began on October 3, 1953, with a 28-7 win for Ed Price's Texas team, and it will likely conclude a little 70 years later with a much larger victory for Steve Sarkisian's Horns.  Our first match with Houston since 2002.  In those first 3 years of this millennium, Texas beat Houston by an average of 35 points.
Kickoff in TDECU Stadium is 3:00 p.m. on FOX, Tim Brando and Spencer Tillman with the call.  A decent crew.  On the Longhorn Radio Network with the Voice of the Longhorns, Craig Way, joined by Roger Wallace with analysis and Will Matthews on the sideline.  Dr. Rubén Pizarro-Silva with the play by play and Arturo Mata with analysis in Spanish on the Longhorn Radio Network.  I think I may have to test drive watching some of the game with Dr. Pizarro instead of Brando.
Houston is coached by Dana Holgorsen, our old buddy from West Virginia.  And Okie State and Texas Tech.  In his weekly press conference a few days ago:
"I've got a lot of comments.  Just beat Texas. Don't care if you win any of them but you've got to win that one. You can go 1-11 and it's ok if you beat Texas."
Man, that's a lot of hate.  Horns just going to embrace it.  Thanks Dana.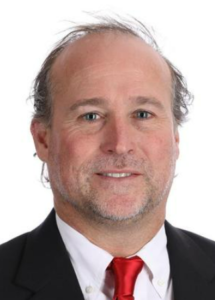 On the other side, Steve Sarkisian said on Thursday:
"I'm big on Sun Tzu, Art of War.  You need to know what you're walking into and you need to understand that the battle is won before it's fought."

"I feel like I have a team right now that's a little pissed off.  They're angry and they want to get back on the field. They want to play. These guys feel like we're a good football team and we've got something to prove."
As a side note, I am pleased to know that Coach Sarkisian is a fan of Sun Tzu.  Bodes well for the future.
Texas goes on the road to play another old foe's super bowl.  Their fan base cares more about beating Texas than having a winning season.  Let's go.
Texas opened as 22.5 point favorites. Texas is favored by 23.5.  Over/under is 61.
Not a bad graphic from the Cougar Instagram account.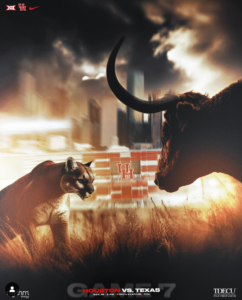 I would avert my eyes in fear too Shasta.  And get ready to lose a fight.
Red River Rivalry Recap
Last week's edition had a few errors, none more egregious then my thanking the wrong Ingraham brother for the facemask photo.  Scott Ingraham sent that. My humble apologies Coach W.  Just middle age cerebral flatulence.  But I know coaches don't allow excuses.  As Coach Busby told me at Hubbard Junior High about 1974, "Excuses are like bellybuttons. Everyone has one."  Okay, maybe he didn't say bellybutton, but you get it.
Last week's Austin Horns Fan Dispatch online, with a lot more photos.
https://austinhornsfan.com/longhorns-2023-red-river-rivalry-recap/
No. 6 Texas Volleyball
Quick shout out to the volleyball team. The Longhorns have kept their conference streak going and are 9-0 in the Big 12 after a big 3-2 win over Texas Christian Wednesday on that heinous looking court in Fort Worth.   Coach Elliott has another good team.
2023 Houston Cougars
Dana Holgorsen is in his fifth season with the Cougars.  30-23 in that time.  Houston is 3-3 this year with one Big 12 win, last week's big victory over Holgo's old team, West Virginia.  The Houston Cougars this season:
Houston got a 17-14 win over UT San Antonio to open the season.  UTSA is 3-3, with wins over Texas State (who beat Baylor), Temple, and UAB; 3 not so good teams.  Losses also to Army (who is not good; sorry Dan) and Tennessee.
The Cougars played at Rice and lost 41-43.  Rice is 3-3, with other wins over Texas Southern and East Carolina, and losses to Texas (37-10), South Florida, and Connecticut.  The common opponent analysis may not be too helpful here given the early season match-ups, but Rice is a just above .500 Group of 5 team, and Texas is generally regarded as one of the top teams in the country.  Worth noting:  Rice had 176 yards of offense against the Horns.  Rice had 470 yards against Houston, 401 passing.
Texas Christian gave the Coogs a 36-13 spanking.  Frogs are 4-3, with wins over Nicholls State, Southern Methodist, and Brigham Young.  Losses to Colorado (looking worse every week), West Virginia, and Iowa State.
Houston beat Sam Houston 38-7.  Sam hasn't won a game.  They are not good.  But they have played some good teams.  The Bearkats' other losses:  Brigham Young, Air Force, Jacksonville State, Liberty, New Mexico State, and Florida International.  Not a lot to learn here.
Cougars had a bad trip to Lubbock.  But I repeat myself.  Texas Tech 49-28 over Houston.  Tech is 3-4, with losses to Wyoming, Oregon, West Virginia, and Kansas State. Wins over Tarleton State and Baylor.  An 11 point loss to a (surprisingly) mediocre Tech team which only has one close to respectable win.
Houston got its first Big 12 win last weekend against West Virginia.  West Virginia is 4-2.  The only team with a winning record that Houston has a win against.  The Cougars won 41-39 in a game were the Mountaineers had 545 yards of offense.  WVU QB Garrett Greene passed for 391 (and a TD) and ran for 46.  Holgo's quarterback Donovan Smith was 21-27 for 254 yards and 4 scores and rushed for 34.  The last touchdown pass came on a 49 yard Hail Mary:
https://x.com/UHCougarFB/status/1712659798875894059?s=20
If that prayer wasn't answered, Houston would be 2-4 and 0-3 in conference.  Yes, I know about ifs and buts. But.  The Win Probability from that game is pretty crazy: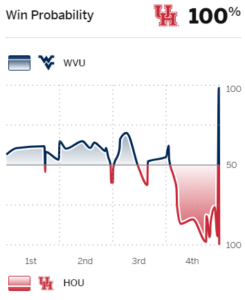 Donovan Smith is the man who makes the Cougar offense run.  The 6-5, 240 pound portal transfer from Tech is very good.  He beat Texas last year with the South Plains Aggies in one of our worst losses, where Smith threw for 331 yards and 2 scores (37/55).  Holgo is a good offensive coach from the Mike Leach Coaching Tree, and the Cougar offense has plenty of Pirate Air Raid characteristics.  Smith so far this season:  145-219-3 for a 66.2% completion percentage.  That's good for third in the conference, behind Quinn Ewers at 69.6%.  He has thrown for 1601 yards.  That's good for third in the conference, behind Quinn Ewers with 1,704.  Smith is averaging 266.8 yards per game.  That's good for third in the conference behind Quinn Ewers at 284 yards per game.  Smith has thrown 2 more TD's than Ewers (13 to 11).  Smith is the Cougars third leading rusher with 196 yards (296, but 100 negative) and 4 touchdowns (which is best on the team). Our good defensive line will have to put on a lot of pressure, but the linebackers are going to have be ready to chase Smith down when he scrambles, which the big athlete can do.
Their wide receiver corps is their strongest room. Samuel Brown (No. 4, 6-2, 195, Sophomore transfer from West Virginia) has a 69% catch rate.  A good overall receiver, with lots of targets and lots of catches (37).   He has 549 yards and 2 scores.  Matthew Golden (No. 2, 6 foot, 190, Sophomore from Klein Cain HS).  29 catches for 347 yards and 3 scores.  He is injured and questionable for Saturday.   Slot receiver is Joseph Manjack IV (No. 0, 6-3, 202, Sophomore transfer from Southern Cal but a Tomball kid).  Big, very decent receiver, with 27 catches for 295 yards and 4 scores.  Stephon Johnson Jr. (No. 12, 6 foot, 182, transfer from Oklahoma State, went to Desoto).  Not a lot of catches this season, but 4 catches last week for 96 yards and 2 touchdowns, including the game-winning hail mary.   Tight ends are not involved a lot.  But wouldn't surprise me to see them in Holgorsen's game plan for Texas.
The Houston offensive line is anchored by tackle Patrick Paul.  No. 76 is 6-7 and 315 pounds.  He's a team captain, on a pile of preseason honors lists, and projected to be a high draft pick.  Left guard No. 50 Tyler Johnson is 6-5 and 320 pounds.  Right guard No. 72 is Tank Jenkins.  Transfer from Texas Agricultural and Mechanical, he is 6-3 and 320 pounds.
Not much of a run game.  Parker Jenkins (No. 23, 5-11, 196 lbs) has 242 yards on 47 carries with 3 scores.  But he has good agility and is fast if and when he can get open.  Stacy Sneed (No. 21, 5-11, 185 lbs) is averaging 5.6 yards per attempt, with 206 yards on 37 carries and one score.
Lots of short, quick passes and a big athletic quarterback.  Not our best suit the last few years, but we are a lot better. I just can't see Smith and the Cougar O having a good day.  Not against a pissed off Texas defense.
The Cougar nose tackle, Chidozie Nwankwo (No. 10, 5-11, 295, and his name is pronounced just how it is spelled) is pretty good.  16 tackles, but 3.5 for loss.    Tackle Jamaree Caldwell (No. 93, 6-1, 325) is good too.  From Newberry, South Carolina, his prior stops include Hutchinson Community College, the Blue Dragons.  Nose Hakeem Ajijolaiya (No. 92, 6-2, 320) is also decent in terms of occupying space on the line of scrimmage; 7 tackles, 1 TFL.  Edge Nelson Ceaser (No. 9, 6-3, 250) has 25 tackles, and leads the Cougars with 4.5 sacks for 24 yards and 7 TFL for 29 yards. But the rest of the line is pretty middlin'.
The Cougar defense is led by will linebacker Malik Robinson (No. 8, 6 foot, 230, UNC, South Gwinnett).  44 tackles, 19 solo.  Linebacker Jamal Morris (No. 25, 6-2, 225, Oklahoma, Fort Bend Bush) has 32 tackles, 5 breakups, and 2 quarterback hurries.
They have a couple of good safeties.  No. 24 A.J. Haulcy (No. 24, 6 foot, 215, New Mexico transfer, Fort Bend Marshall) has 43 tackles (31 solo) with 3 breakups.
The cornerbacks are not good, low ratings in the Big 12.  Isaiah Hamilton (No. 23, 6-1, 175, Texas Southern, Channelview HS)  is the best, 3 interceptions on the year.  The rest are mediocre. At best. Probably would be a little above mediocre in the Group of 5.  Ewers should pick them apart, especially if we can scheme to keep their safeties, who are better than the corners, occupied so they can't provide support and force one on one coverage.  Expect to see a lot of empty sets as Sark sends 5 guys out on a lot of plays.
One of my takeaways from looking at this Houston team:  how many of their players are transfers.  So many guys who have commuted to U of H through the portal.  Just doesn't feel right.  And maybe one of the reasons for their lack of success.  That many guys from different cultures and different systems trying to gel under Holgo and his ways.
The Statistics
Offense
| | | |
| --- | --- | --- |
| Statistic | Texas | Houston |
| Rushing Offense | #33 – 185.8 ypg | #95 – 134.0 ypg |
| Passing Offense | #21 – 300.7 ypg | #34 – 276.5 ypg |
| Total Offense | #13 – 486.5 ypg | #56 – 410.5 ypg |
| Scoring Offense | #26 – 35 ppg | #64 – 29.7 ppg |
| First Downs | #21 – 23.7/game | #43 – 21.8/game |
| Sacks Allowed | #76 – 14, 78 yards | #90 – 15, 92 yards |
| Tackles for Loss Allowed | #62 – 35, 141 yards | #67 – 36, 145 yards |
| Third Down Conversions | #60 – 40.96% | #35 – 44.71% |
| Fourth Down Conversions | #18 – 71.43% (10/14) | #131 – 16.67%  (2/12) |
| Red Zone Attempts | #65 – 24 | #54 – 25 |
| Red Zone Offense | #69 – 83% / 46% | #109 – 76% / 68% |
| Long Run Plays | #76     30/10, 11/20, 7/30, 4/40 | #95     27/10, 2/20, 20/30, 1/40 |
| Long Pass Plays | #18     76/10, 27/20, 14/30, 6/40 | #45     64/10, 21/20, 11/30, 7/40 |
Defense
| | | |
| --- | --- | --- |
| Statistic | Texas | Houston |
| Rushing Defense | #28  – 112.3 ypg | #99 – 162.2 ypg |
| Passing Defense | #46 – 211.0 ypg | #117 – 267.0 ypg |
| Total Defense1 | #25 – 323.0 ypg | #117 – 429.2 ypg |
| Scoring Defense | #15 – 16.3 ppg | #107 – 31.3 ppg |
| First Downs Allowed1 | #21 – 16.8/game | #121 – 22.7/game |
| Sacks | #67 – 14, 85 yards | #116 – 9, 47 yards |
| Tackles for Loss | #80 – 35, 139 yards | #106 – 31, 109 yards |
| Third Down Conversions | #8 – 28.4% | #123 – 47.1% |
| Fourth Down Conversions | #18 – 33.3% (4/12) | #133 – 88.9% (8/9) |
| Red Zone Attempts | #18 – 16 | #53 – 21 |
| Red Zone Defense | #13 – 69% / 31% | #79 – 86% / 76% |
| Long Run Plays Allowed | #15      20/10, 5/20, 2/30, 2/40 | #69     29/10, 6/20, 4/30, 3/40 |
| Long Pass Plays Allowed2 | #26     47/10, 15/20, 9/30, 4/40 | #114     68/10, 25/20, 10/30, 3/40 |
          1  Texas No. 1 in Big 12, Houston last

          2  Texas No. 1 in Big 12
Other
| | | |
| --- | --- | --- |
| Statistic | Texas | Houston |
| Turnovers | #35  – 7 (4F, 3I) | #2 – 3 (0F, 3I) |
| Turnover Margin | #51 – 8:7  +1 | #9 – 10:3  +7 |
| Penalties | #25 – 30, 244 yards | #58 – 38, 341 yards |
*Based on total number of penalties.
Match-up Comparison
| | |
| --- | --- |
| Texas Offense | Houston Defense |
| Rushing Offense – 185.8 ypg | 162.2 ypg – Rushing Defense |
| Passing Offense -300.7  ypg | 267.0 ypg – Passing Defense |
| Total Offense – 486.5 ypg | 429.2 ypg – Total Defense |
| Scoring Offense – 35 ppg | 31.3 ppg – Scoring Defense |
| First Downs – 23.7/game | 22.7/game – First Downs Allowed |
| 3rd Down Offense – 40.96% | 47.1% – 3rd Down Defense |
| 4th Down Offense – 71.43% | 88.9% – 4th Down Defense |
| Red Zone Offense – 83%/46% | 86%/76% – Red Zone Defense |
| LRP – 30/10, 11/20, 7/30, 4/40 | 29/10, 6/20, 4/30, 3/40 – LRP Allowed |
| LPP – 76/10, 27/20, 14/30, 6/40 | 68/10, 25/20, 10/30, 3/40 – LPP Allowed |
| | |
| --- | --- |
| Texas Defense | Houston Offense |
| Rushing Defense – 112.3 ypg | 134.0 ypg – Rushing Offense |
| Passing Defense – 211.0 ypg | 276.5 ypg – Passing Offense |
| Total Defense – 323.0 ypg | 410.5 ypg – Total Offense |
| Scoring Defense – 16.3 ppg | 29.7 ppg – Scoring Offense |
| First Downs Allowed – 16.8/game | 21.8/game – First Downs |
| 3rd Down Defense – 28.4% | 44.71% – 3rd Down Offense |
| 4th Down Defense – 33.3% | 16.67% – 4th Down Offense |
| Red Zone Defense – 69%/31% | 76%/68% – Red Zone Offense |
| LRP Allowed – 20/10, 5/20, 2/30, 2/40 | 27/10, 2/20, 20/30, 1/40 – LRP |
| LPP Allowed – 47/10, 15/20, 9/30, 4/40 | 64/10, 21/20, 11/30, 7/40 – LPP |
Other Stats
Available Yards Percentage.  Net available yards percentage (NAY) is the difference between offensive available yards percentage (OAY) and opponent offensive available yards percentage (DAY) on non-garbage, regulation possessions in FBS vs. FBS games. Available yards percentage is calculated by dividing drive yards (measured from starting field position to ending field position) by available yards (measured from starting field position to end zone).
| | | | |
| --- | --- | --- | --- |
|   | NAY | OAY | DAY |
| Texas | No. 5:  0.304 | No. 8:  0.651 | No. 10:  0.346 |
| Houston | No. 60:  0.013 | No. 41:  0.509 | No. 84:  0.496 |
BCF Toys – 2023 Available Yards Percentage
Net points per drive (NPD).  NPD is the difference between points scored per offensive drive (OPD) and points allowed per opponent offensive drive (DPD).
| | | | |
| --- | --- | --- | --- |
|   | NPD | OPD | DPD |
| Texas | No. 10: 1.84 | No. 15:  3.26 | No. 17:  1.42 |
| Houston | No. 76: -0.27 | No. 59:  2.25 | No. 89: 2.52 |
BCF Toys – 2023 Points Per Drive
Net Yards Per Play (NPP).  Net yards per play (NPP) are the difference between drive yards per offensive play (OPP) and drive yards allowed per opponent offensive play (DPP) on non-garbage, regulation possessions in FBS vs. FBS games. Drive yards are calculated as the difference between starting field position and ending field position on offensive drives.
| | | | |
| --- | --- | --- | --- |
|   | NPP | OPP | DPP |
| Texas | No. 7:  2.20 | No. 11:  7.12 | No. 21:  4.93 |
| Houston | No. 70:  -0.23 | No. 62:  5.86 | No. 87: 6.09 |
BCF Toys – 2023 Yards Per Play
BCF's Game Projection.  "Game Projections are calculated from current FEI ratings and include the projected win likelihood (PW), projected margin of victory (PM), projected points scored (PF) and allowed (PA), and projected total points scored (PT) for each FBS game."
| | | | | | | |
| --- | --- | --- | --- | --- | --- | --- |
| Projected Winner | Projected Loser | PW | PM | PF | PA | PT |
| Texas | Houston | .947 | 22.0 | 40.4 | 18.3 | 58.7 |
 CFBGraphs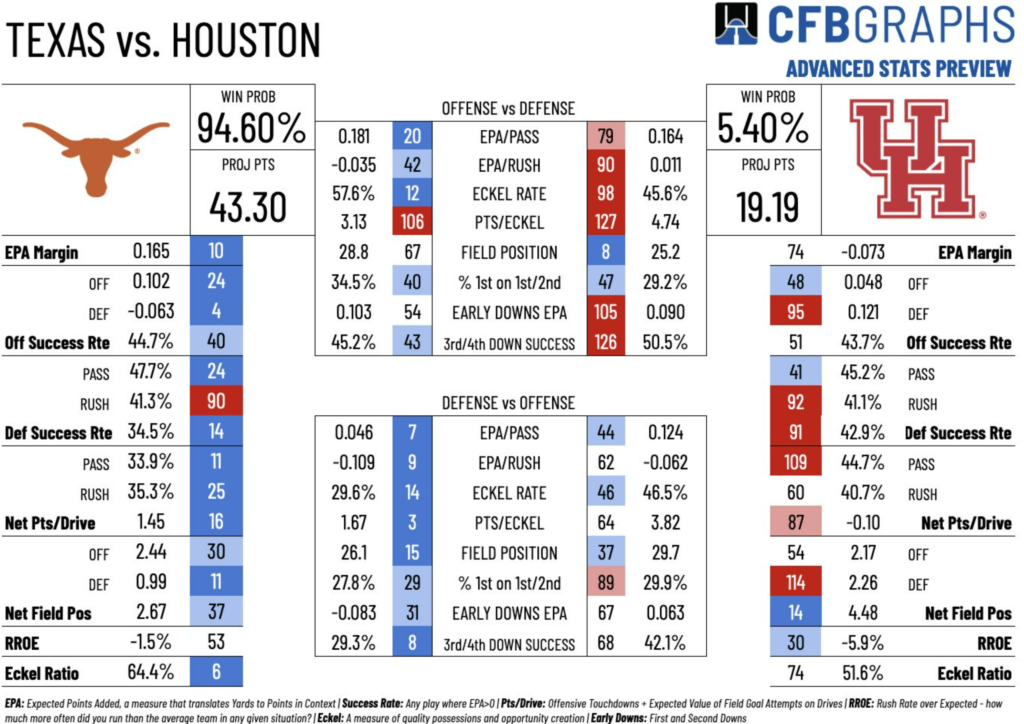 ESPN's Matchup Predictor:  Texas has a 93.6% win probability.
Some Texas Stats
I have asked about giving more Texas stats.  Working on it.  Here are some interesting ones.
From @HookemHeadlines on X:
Texas WR Xavier Worthy has a 94.7 REC% in conference play, the best of all Big 12 wideouts this season.
No Big 12 WR has a better quarterback rating when targeted this season than Texas' Xavier Worthy (132.1).
Power 5 win percentage leaders among interior defensive linemen in the pass rush this season.

T'Vondre Sweat (UT), 21.2%
Leonard Taylor II (Miami), 20.2%
Byron Murphy II (UT), 19.4%
T-4. Jonah Laulu (OU), 15.0%
T-4. Thomas Gore (Miami), 15.0%

Entering Week 8, Texas' Jonathon Brooks is the only P5 RB with over 700 rush yards, 6 YPC, 400 yards after contact, and 0 fumbles
Texas CB Terrance Brooks has allowed a completion % in pass coverage of just 20%, the best of any Big 12 DB this season.
TCT Thoughts
Texas is going win this football game.  The only questions are:  how many points will the Longhorns score?  How many points might Houston eke out?  Will Texas cover?  Will there be more Texas fans in the stadium than Cougar fans (at the beginning of the game; it will be 80% Horns Fans the last 6 or 8 minutes)?  As for the last two:  Yes, and Yes.
Our offense.  We have a better offense.  More and better weapons.  Or, as Mr. Dick would simply say, mo' better.  I submit that Houston has not seen an offense in the same quartile as Texas.  Overall, the 99th rush defense in the nation that is giving up 162.2 yards per game.  And this defense is putrid – basically bottom 10% of FBS against the rush, the pass, scoring, first downs allowed, and third down conversions.  And DFL in fourth down defense.  If Texas is in plus territory, I bet Sark goes for it on fourth down every time.  Maybe whenever he gets close to the 50.  Given how bad Houston is on third down defense (No. 123), we may not have many fourth downs.
Quinn and our receivers should light these guys up.   114th against long pass plays.  Scroll back up and look at that stat line.  I am going to go out on a limb and say Quinn is going for 388 and 4 touchdowns.  Worthy, Whittington, and Mitchell all with big days.  I bet we have 2 guys with over 100 yards receiving.
When we met Kansas, the Jayhawks had the No. 26 rush defense, allowing 93 yards per game.  Brooks ran for 218 yards and the Horns hung 336 total on the Jayhawks.  Their linebackers are not good, and Brooks is going to get some holes then easily beat the linebacker at the next level and pick up some good yardage.  I would not be surprised to see the Hallettsville Hammer have another 200 yard day.  One big one (+50), and several runs in the 20+ and 30+ yard range.  He will need to watch for the big Houston safety, Haulcy.  He is so good against the run.  If Sark can scheme to get him out of run support and back in coverage, we should be able to neutralize his strength.  My prediction:  Brooks for 205 yards, Baxter for 78, and Blue for 42.  J Brooks with a long touchdown and 1 other on the ground.
Our defense.  We have a better defense.  I think Kwiatowski & Co. will have the Texas defenders ready to play good aggressive ball.  And shut Holgo's air raid offense down.  I think this version of the air raid is more turboprop than jet, and this year's Longhorns will easily control Houston.  Not completely.  Smith is a good enough quarterback and he has enough very talented receivers to make some plays, get some first downs, and find the endzone.  But it won't be enough.  Paul Wadlington says Smith is a 3 or 4 route quarterback; he can't throw the whole route tree. So, Paul notes, deprive Smith of those routes, especially on third down, and Texas can shut him down.  I think that's exactly what is going to happen, and Houston just doesn't have the ground game to compensate for a good clamp down on their passing game.  Add to that the Cougars bad redzone offense (109th) against the Horns excellent redzone defense (13th, even after Red River), and I just don't think Houston is going to get in the endzone much.
Bobby Burton and Paul Wadlington made note of the importance of Special Teams in this game.  So I dug in a little.  Golden, one of their good receivers, has 5 returns for 255 yards and two touchdowns, including a 100 yard return.   Parker Jenkins averages 17.5 yards per return (8) with a 47 yard long.  Will Stone will need to kick last week he did in Dallas – just don't give the Cougars an opportunity to return the ball.
This game better not come down to field goals, but if it does, big edge for the Horns there.  Cougar Jack Martin is 50% on the year, 2 for 6 beyond 40 yards.  As for punting, it won't matter.  I will be surprised if Texas punts more than once in the first 3 quarters.
Texas has to play great football against Houston's strength, which is their wide receivers.
As usual, with a good offense against a not so good defense, the most important key to success is do not beat yourself.  No turnovers, no penalties.
If I have any concerns, it is the injury situation.  Our offense misses Ja'Tavion Sanders, and Jake Majors and Cole Hutson.  Not having two senior starters in the defensive backfield really hurts, with cornerback Ryan Watts and safety Jalen Catalon both uncertain.
I think, or maybe just hope, that this is the game when a superior Texas football team goes out and dominates an inferior team from start to finish, a complete game played 100% over all four quarters.
I predict:    Texas 52, Houston 17
Official Preview from The University:
https://texassports.com/news/2023/10/16/no-8-8-texas-football-preview-at-houston.aspx
Game Notes:
https://texassports.com/documents/2023/10/16/TexasFB23GameNotes_07Houston.pdf
Previews from Burnt Orange Nation
https://www.burntorangenation.com/2023/10/18/23922742/texas-longhorns-houston-cougars-opponent-preview-donovan-smith
Inside Texas "On Texas Football" – Tale of the Tape, with Bobby Burton and Paul Wadlington.  24 minutes long, but Burton and The Man Formerly Best Known as Scipio Tex deliver good analysis.
Texas Homer's Preview.  18:42 minutes
Midseason Honors and Watch Lists
Many Horns are getting midseason honors and are on watch lists for some big awards.  Midseason doesn't mean a lot, but worth noting that Jonathan Brooks is first team All-American.  That's pretty cool, and I think he is just going to get better and have some more big, big games.
Texas Longhorns vs. Houston Cougars
There really isn't a comparison.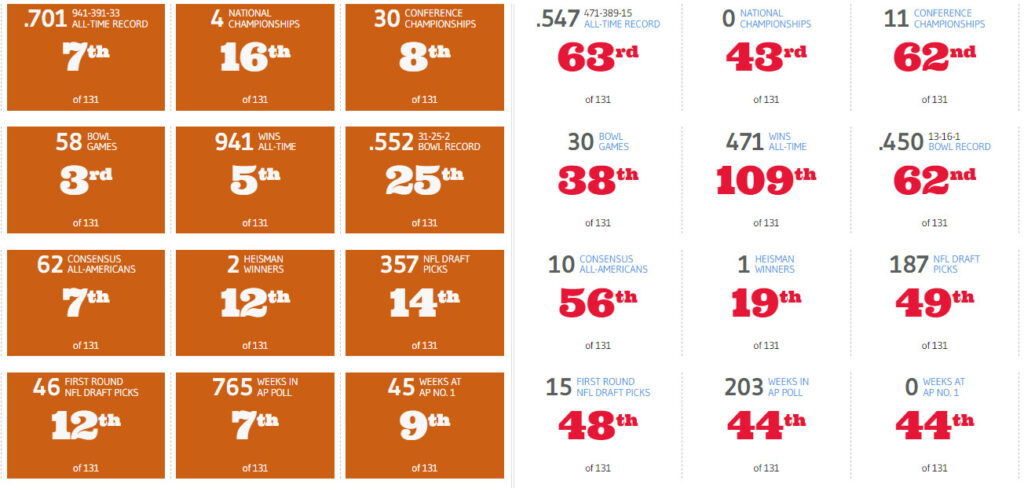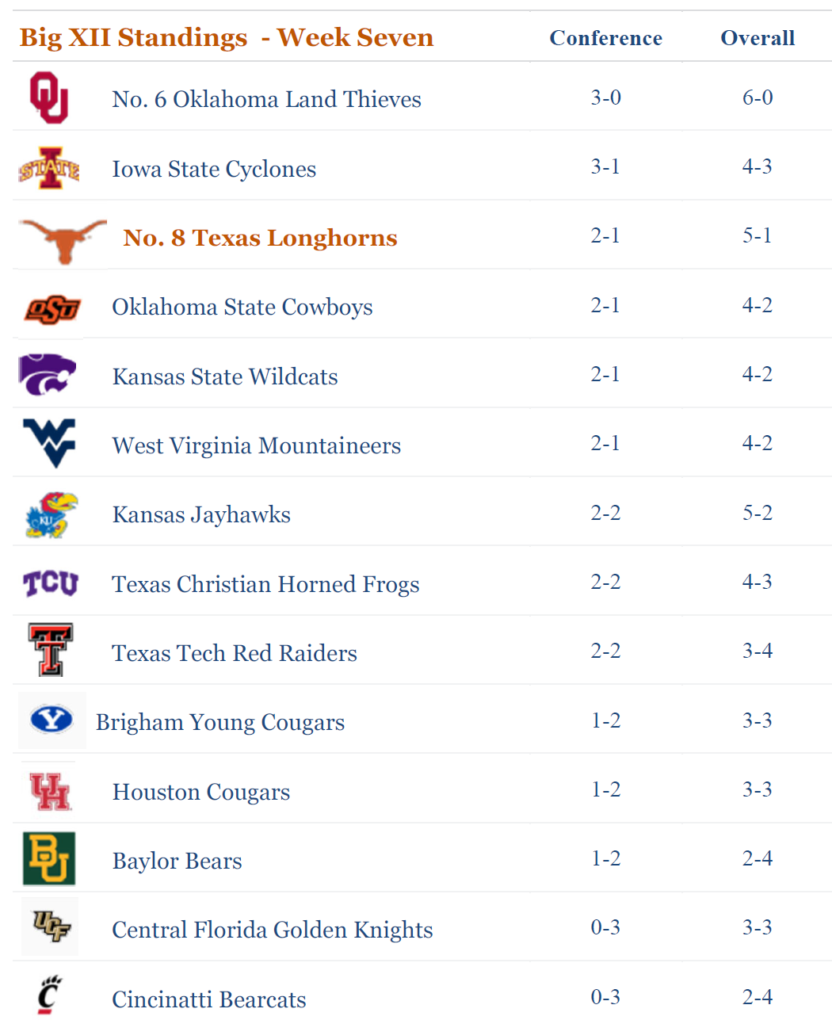 An interesting new advanced stat summary from @statsowar on X.
The Polls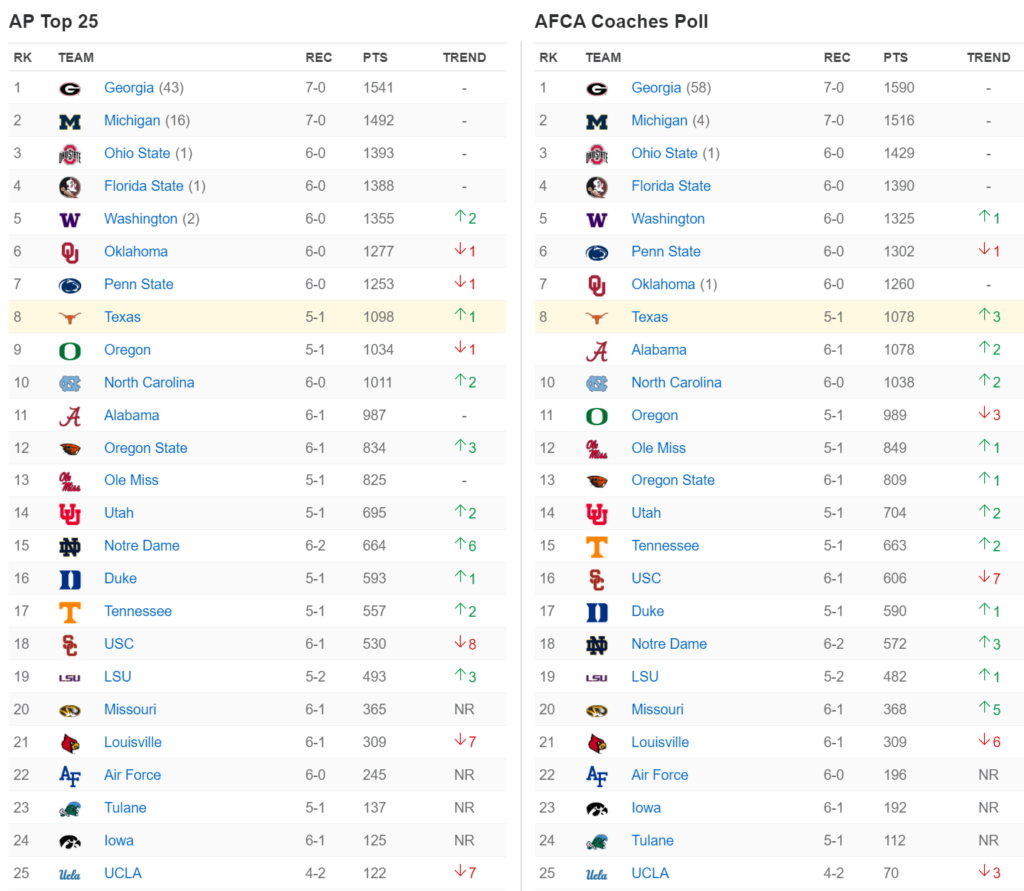 Massey Ratings
Texas dropped to No. 7.  The Land Thieves are in the top spot, followed by Ohio State, Michigan, PSU, Washington, and Florida State at 6.  Houston is No. 79
Nate Manzo (@cfbNate):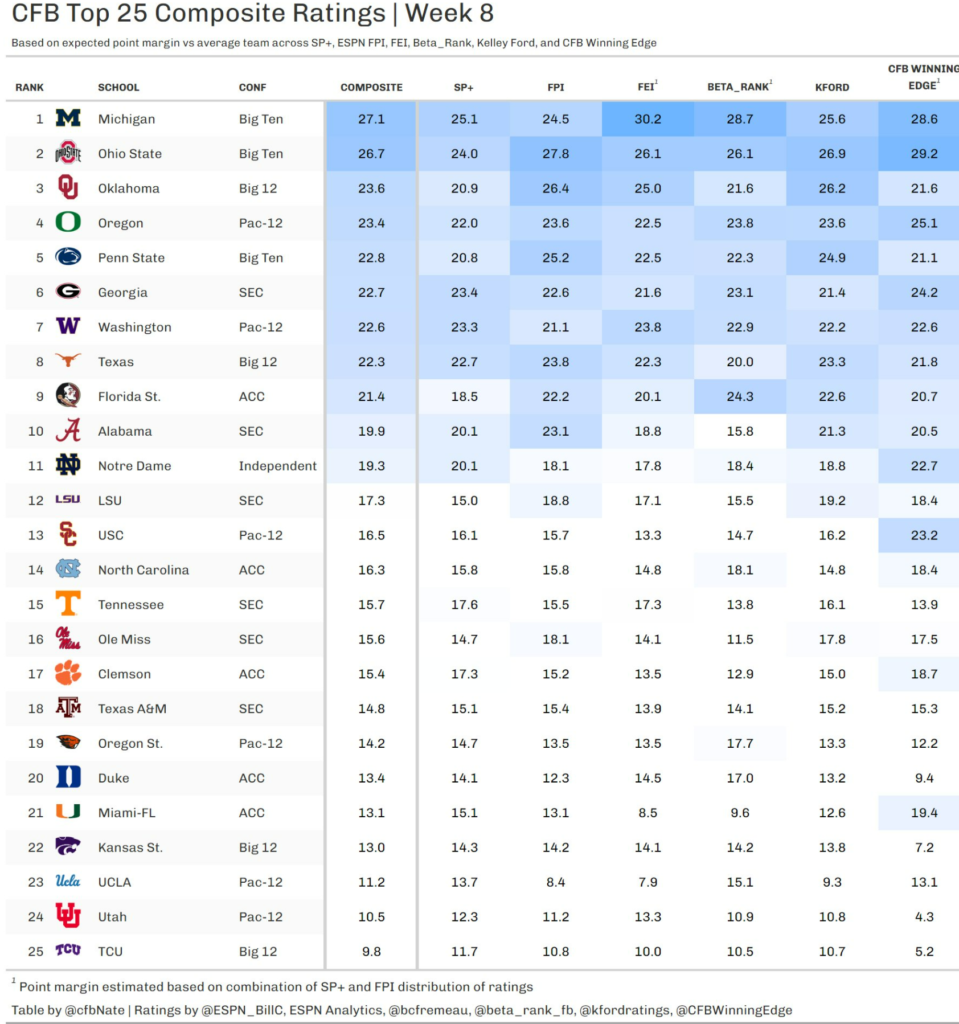 Chris Vannini – The Athletic:  Ranking All 133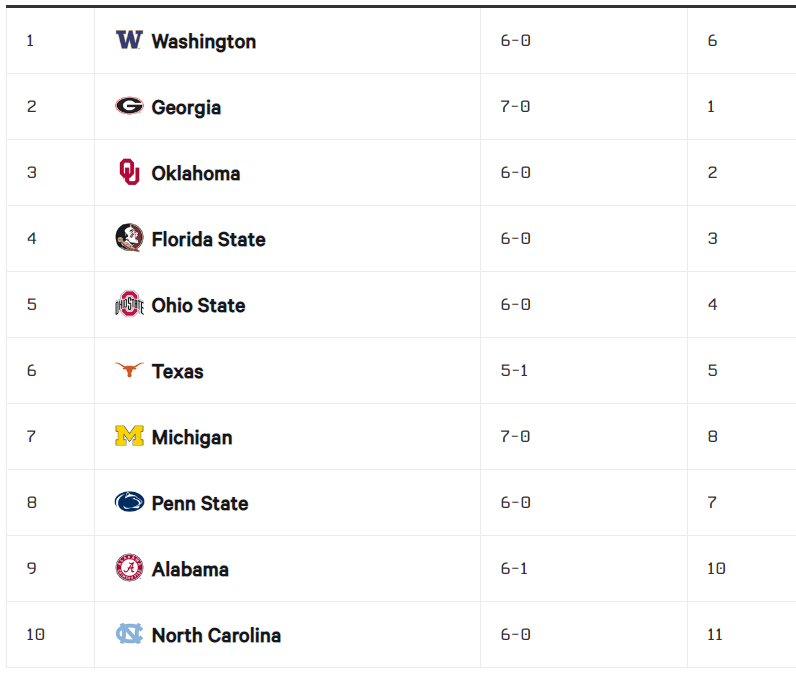 Houston checks in at No. 78.
ESPN College Football Power Index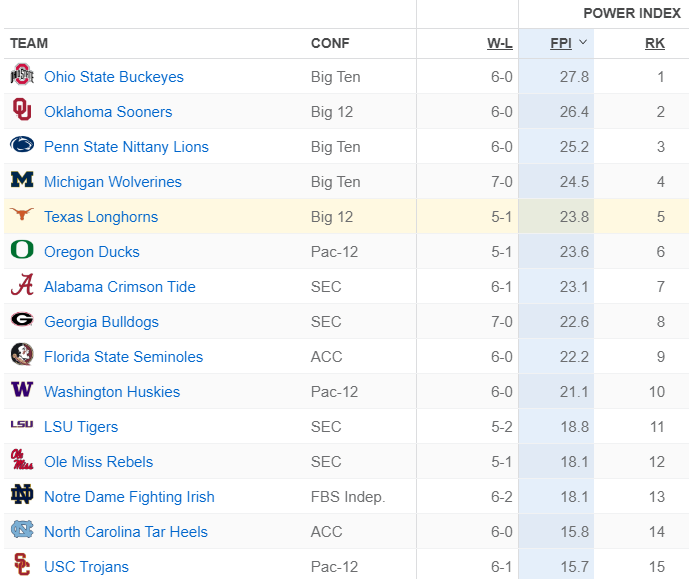 The University of Houston
 The University of Houston began as Houston Junior College in 1927.  It became a four year institution awhile back.  Time is not important, as UH's motto is "In Tempore", or "In Time", so they became a four year school in time.
Academic Rankings

National

Texas

Houston

Forbes
31
111
THE | WSJ
60
114
U.S. News & World Report
32
1333
ARWU
24
63-85
Washington Monthly
87
262

Global

ARWU
37
201-300
QS
58
641-650
THE
50
601-800
U.S. News & World Report
43
32
I will give some kudos to Houston:  They are ranked higher than Oklahoma in a couple of rating systems.
So I learn a lot of weird stuff doing my weekly opposition research.  Among the weirdest this week is that the Houston has not only as red their primary brand color, but also teal, gold, gray, cream, and white.  I get the gray, cream, and white, but teal and gold?  Teal for Tillman and all his gold?  [For reference, Texas primary colors are Burnt Orange, charcoal, and white).  Secondary colors are much more diverse for all schools, including Texas, but having teal and gold as primary colors in the Cougar color palette has left me a bit perplexed.  Such a shame that I won't be writing about the University of Houston anymore after this season.
One of the more enduring legends from the days of the Southwest Conference was that the Cougar hand sign, which is basically the Hook Em sign but with the middle finger up, was, well, a middle finger to Texas.  According to UH's official online history, that is not true, but it is tied to Texas:
At game time, Cougar fans show their support by making the "Cougar sign," made by folding the ring finger of the right hand toward the palm.

The tradition dates back to 1953, when Shasta I, the presiding cougar mascot, lost a toe in a cage door on the way to a game. The opposing team, the University of Texas, mocked UH by imitating the cougar's injury. The Cougars soon adopted that gesture as a symbol of pride.
Texas won that game 28-7.  And still wondering how in 1953 word got around so quickly that the cat lost a toe.
Seems a bit odd, since Harley Clark invented the Hook Em Horns in 1955.
Also, "soon adopted" is, as we are learning "in time".  Per the UH alumni website, it was invented after the 1953 incident, but the Cougar hand sign (the "Cougar Paw") was the "V" for Victory (I always think of Winston Churchill when I think of U of H):
The cougar faithful, still mindful of the stinging defeat suffered 15 years earlier, never forgot the taunting that they received. The next time the two teams faced off (1968… a whole 15 years later), UH tied UT 20-20. At that point, the students thought there might be a bit of magic in that sign, and the hand sign was adopted replacing the "V".
History is written by the victors, and after Saturday's Texas win, the record will be 17-7-2 in favor of the Longhorns.  So appropriate they have the "Shasta lost his toe" sign, and not the Victory sign.  Of course, if Holgo pulls off the upset and I am eating crow, then the Hook Em with the middle finger will definitely be a viable hand sign.
Lots of famous alumni from U of H, including in politics Senator Elizabeth Warren, former Congressman Tom DeLay, and Gene Green, US Congress D-29.  Jack Valenti.  Dennis Quaid and Randy Quaid.  Jim Parsons, who is on Fox 7 in Austin about every night of the week after the 10:00 news.  Larry Gatlin, Kenny Rogers, and Lizzo.
But it is in athletics where Houston has a slew of famous alums, starting with some of my favorites from the Phi Slama Jama era, Clyde "The Glide" Drexler and Hakeem "The Dream" Olajuwon, and also Larry "Mr. Mean" Micheaux, Gregory Wayne "Cadillac" Anderson, and Reid Gettys.  And some other basketball starts like The Big E Elvin Hayes, Don Chaney, and Otis Birdsong.
Lots of other great athletes, including Fuzzy Zoeller and Fred Couples, Andre Ware, David Klingler, and Case Keenum, and Doug Drabek.
Can't leave out Jim Nantz.  Lots of Shining Moments.
And speaking of March Madness.  Sorry.
Juan Heisman Tailgate for Brigham Young Game
Next week, the Horns have Brigham Young at 2:30 p.m.  Should be a beautiful fall afternoon in Austin, a great opportunity for a big Juan Heisman Tailgate.  Of note, I encourage everyone to plan ahead to get to JHT early, and you can enjoy some hospitality there and catch the great Gary Clark, Jr. (Austin High Class of 2002).  One of Austin's greatest musical talents of the last 25 years takes the stage for Longhorn City Limits at 12:30.  He is good.
Big XII – Week Eight
Central Florida vs. No. 6 Oklahoma, 11:00 a.m. on ABC.  I expect a butt-kicking.  Land Thieves favored by 17.5, over/under is 65.  Land Thieves to win and cover.
Baylor at Cincinnati, 11:00 a.m., streaming on BIG12|ESPN+.  Bearcats favored by 3.5, over/under is 49.5.
Oklahoma State at West Virginia, 2:30 p.m. on ESPN.  Big game in Milan Puskar Stadium.  Gundy seems to have someone gotten the Cowboys back on the right trail.  WVU is good.  Mountaineers favored by 3.0, over/under is 49.5.
Texas Tech at Brigham Young, 6:00 p.m. on FS1.  South Plains Aggies favored by 3 in Provo.  Good luck.  Over/under is 51.
Texas Christian at Kansas State, 6:00 p.m. on ESPN2.  Wildcats are 6.5 point home favorites, over/under is 59.5.
Week Eight:  Service Academies
Our first inter-service match of the season, with undefeated and No. 22 Air Force in Annapolis to play the 3-3 Midshipmen.  11:00 a.m. from Navy-Marine Corps Memorial Stadium.  Falcons favored by 10.5, over/under is 34.5.  Save travels to Kristy & Brad Knippa.  Ford, y'all have fun.  Go Navy.
Army (2-4) at No. 19 Louisiana State (5-2).  6:30 p.m. on SEC Network.  Will probably be a long night for the Black Knights in Red Stick.  Tigers favored by 31.
Top 25 – Week Eight
No. 7 PSU at No. 3 Ohio State, 11:00 a.m. on FOX.  Two undefeated teams from the Big 10 East meeting in a huge conference and national game.  Buckeyes favored by 4.5, over/under is 45.5.  Speaking of Provo, Utah, did you know Tarmac Manny is the Nittany Lions Defensive Coordinator.  I am not a fan of an Ohio State University, but I may have to load up this weekend.  The BCf Toys Projection:
| | | | | | | |
| --- | --- | --- | --- | --- | --- | --- |
| Projected Winner | Projected Loser | PW | PM | PF | PA | PT |
| Ohio State | Penn State | .671 | 6.5 | 28.6 | 22.1 | 50.7 |
Washington State at No. 9 Oregon, 2:30 p.m. on ABC.  Ducks are favored by 20!
Third Saturday in October.  No. 17 Tennessee (5-1, 2-1) at No. 11 Alabama (6-1, 4-0), 2:30 p.m. on the Columbia Broadcasting System.  Big game at Bryant-Denny.  The Volunteers snapped that 15 year losing streak last year in that crazy game in Knoxville.  Bama and Tennessee have been playing on this weekend since 1928.  Alabama favored by 9.5 in Vegas, over/under at 48.  The football mathemetricians at BCf Toys think it will be a lot closer.  Their projection:
| | | | | | | |
| --- | --- | --- | --- | --- | --- | --- |
| Projected Winner | Projected Loser | PW | PM | PF | PA | PT |
| Alabama | Tennessee | .611 | 4.0 | 23.0 | 18.9 | 41.9 |
I just coined "mathemetricians".  What do you think?
South Carolina (2-4) at No. 20 Missouri (6-1, 2-1), 2:30 p.m. on SEC Network.  Tigers favored by 7.5.
North Texas (3-3) at No. 23 Tulane (5-1), 2:30 p.m. on ESPN2.  Green Wave favored by 20.
Minnesota (3-3) at No. 24 Iowa (6-1), 2:30 p.m. on NBC.  Hawkeyes favored by 3.5.  Should be a barnburner.  Over/under is 31.
Virginia (1-5) at No. 10 North Carolina (6-0).  5:30 p.m. on the CW Network.  Mack Brown's undefeated Tarheels favored by 23.5 at Kenan Stadium.
No. 12 Ole Miss (5-1, 2-1) at Auburn (3-3, 0-3), 6:00 p.m. on ESPN.  Rebels favored by 6.5, over/under is 55.  Hotty Toddy!  The BCf Toys Projection has it even closer:
| | | | | | | |
| --- | --- | --- | --- | --- | --- | --- |
| Projected Winner | Projected Loser | PW | PM | PF | PA | PT |
| Ole Miss | Auburn | .621 | 4.4 | 24.0 | 19.6 | 43.6 |
No. 2 Michigan (7-0) at Michigan State (2-4), 6:30 p.m. on NBC.  What a great rivalry.  Michigan favored by 24.
No. 16 Duke (5-1) at No. 4 Florida State (6-0), 6:30 p.m. on ABC.  Blue Devils are one of the last speed bumps on the Seminoles' way to an undefeated season and playoff berth.  Would be a shame to see the brainiacs from Duke upset them at home.  Florida State favored by 14.5.
No. 14 Utah (5-1) at No. 18 Southern Cal (6-1), 7:00 p.m. on FOX.  Big game in the Coliseum.  The loss to Notre Dame will not hurt Southern Cal too much if they win out and other cards fall the right way.  But they have to run the table and win the conference title game.  Sound familiar?  Trojans favored by 7.  Fight On!
Ah, Pac 12 After Dark. Going to miss this next year, although I am getting a little old for these late, late games.  But a couple of them this week.
Arizona State (1-5) at No. 5 Washington (6-0), 9:30 p.m. on FS1.  Huskies should get a big win, especially with a night game in their stadium.  Looking forward to watching some of this.  U Dub favored by 26.5.
No. 25 UC Los Angeles (4-2, 1-2) on the Farm to play Leland Stanford Junior University (2-4, 1-3).  9:30 p.m. on ESPN.  Watch out for the bad lighting in right field.  Bruins favored by 17.  Good luck to the Tree.
Other Games of Interest – Week Eight
Wednesday Night
A couple of Texas teams were in action Wednesday night.  Sam Houston is having a tough year, as they lost to Florida International 27-33.  Bearkats still looking for a win.  UTEP lost to New Mexico State 7-28.  Hate it when any UT loses to any aggies.
Thursday Night
Tonight, Rice was at Tulsa, and the Owls put a hurt on the Hurricanes, 42-10.  I am telling you, that Texas win over Rice just keeps getting better looking.  Like at closing time, if you know what I mean.
One other game, James Madison beat Marshall 20-9.  I haven't talked much about JMU, but the Dukes are undefeated halfway through their second season at the FBS level.  Not bad for the little school from Harrisonburg.
Friday Night
Southern Methodist at Temple, 6:00 p.m. on ESPN2.  Mustangs favored by 20.5.
Saturday
Memphis at UAB, 11:00 a.m. on ESPN2.  Tigers favored by 6.5.
Northwestern at Nebraska, 2:30 p.m. on BTN.  Both teams 3-3 overall and 1-2 in the Big 10.
Toledo will be in Oxford to play Miami.  3:00 p.m. on ESPNU.  Redhawks 6-1 and undefeated in the MAC.  So are the Rockets.  BIG MACTION.  Miami 2 point home dogs.
UTSA at Florida Atlantic, 5:00 p.m. on ESPN+.  Both 2-0 in the American.  Big game for Jeff Traylor's Roadrunners.  UTSA favored by 3.  Birds Up!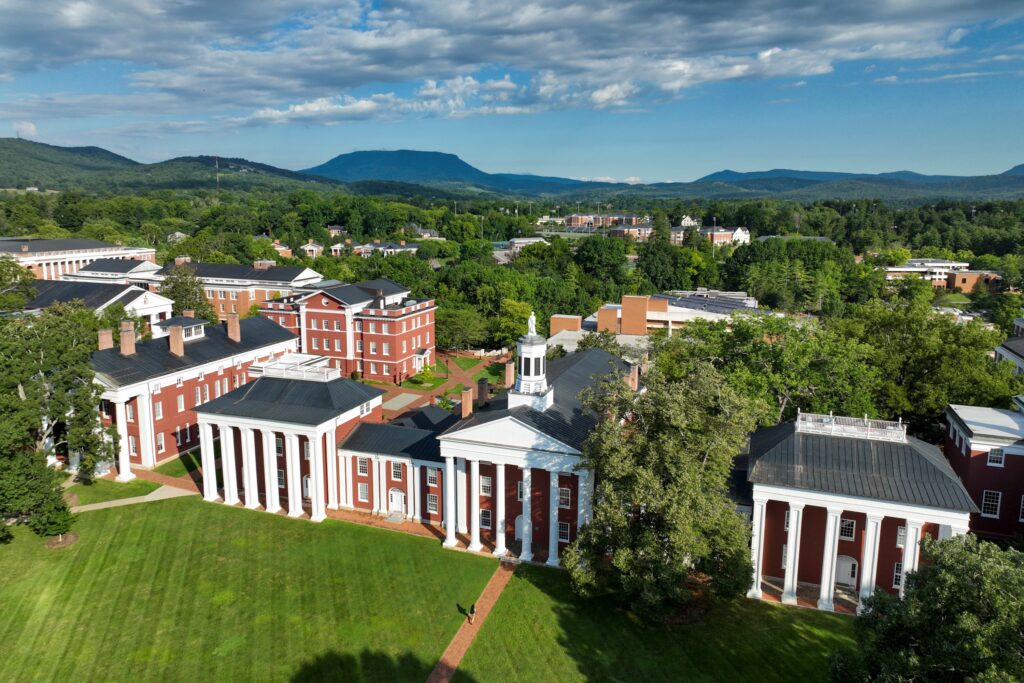 Washington & Lee University
The Generals head east to play their biggest rivals, the Hampden-Sydney College Tigers.  A series that began in 1899 and which H-S leads 40-38-2.  Kickoff is 1:00 p.m. Farmville time.  The Squids are 4-2 overall and 2-1 in ODAC play.  They opened the season with a 28-29 loss to Wabash in The Gentlemen's Classic, then wins over Brevard and Greensboro.  They lost their first ODAC game to Bridgewater 38-39.  Since then, two conference wins:  48-10 over Ferrum and 31-28 over Averett.
Tigers are led on offense by their quarter back Andrew Pucinnelli, who has 1,515 passing yard this season, 111/157, and 15 touchdowns.  303 yards per game.  He threw for over 300 against Greensboro and Bridgewater, and last week was 31-47 for 448 yards and 3 touchdowns against Averett.  As a team, 852 yards rushing and 12 scores.  Generals Defense is going to have play well.  Of note, Hampden-Sydney's coach, Marty Favret, is coaching his 24th and final season.  Favret is 149-88, five ODAC Championships, and six tournaments.  He is the longest tenured head football coach in the Commonwealth.
Last weekend at Wilson Field, the Generals gave the Ferrum College Panthers a 41-16 beating.  The W&L ground game again dominated, as nearly a dozen Generals combined for 297 yards rushing (343 gross) and 5 touchdowns.  Averaged 5.2 yards per carry.  The Generals defense sacked the Panther quarterbacks 7 times, and Ferrum gained just 76 yards on the ground (200 passing).  Austin High Maroon Josh Garcia (No. 15) rushed 6 times for 39 yards, behind the stout W&L line, including fellow Maroon Harrison Donovan (No. 62).  Loyal Forever.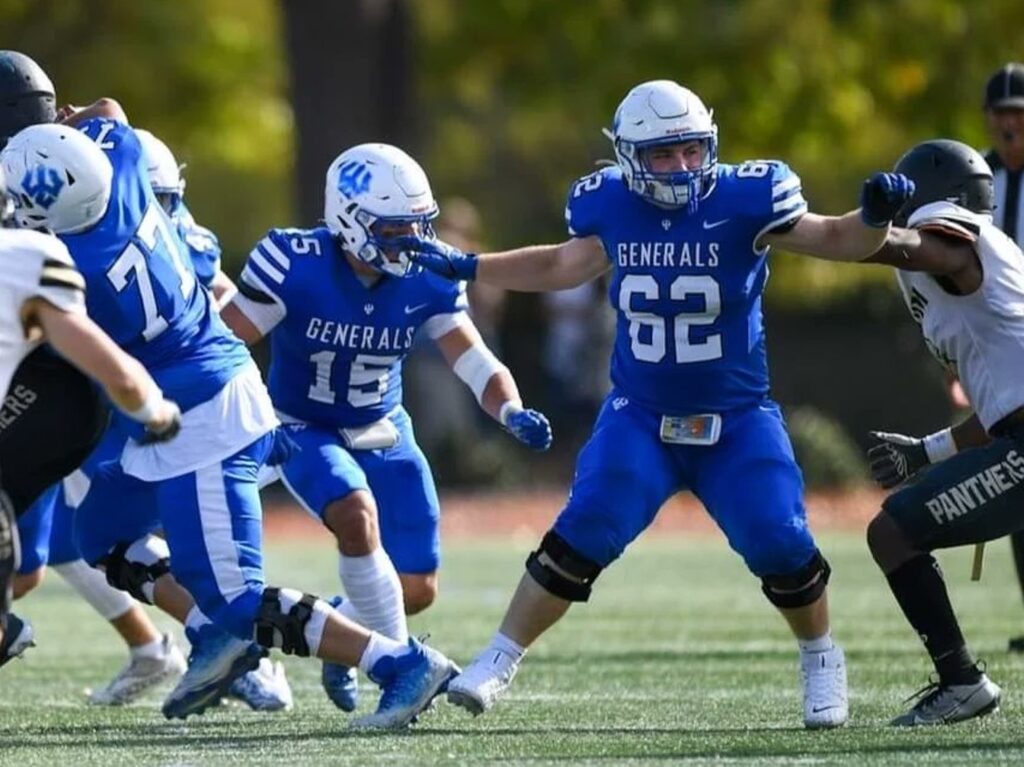 Big XII – Week Seven
As noted above, a big win for Houston over West Virginia 41-39 on the last second hail mary.
Kansas reentered the Top 25 and went to Stillwater and got beat 39-32 by Okie State.  Jason Bean still at quarterback, and he threw for 410 yards and 5 scores, but 2 picks.  Cowboy Ollie Gordon II carried 29 times for 168 yards and a score.
Iowa State improved to 3-1 in the Big 12 with a 30-10 win at Cincinnati.  Cyclones were 5 point underdogs.
Texas Christian hammered Brigham Young 44-11
Kansas State with a big road win at Texas Technical, 38-21.  South Plains Aggies were  favored by 1.5, and I really thought they would win that game.
Week Seven:  Service Academies
Very good game in Colorado, as Air Force stayed undefeated with a 34-27 win over Wyoming.  Cowboys' only other loss so far this season was in Austin.
Navy wins 14-0 at Charlotte.
Poor Army.  Shutout at home by Troy 19-0.  Tough year.
Top 25 – Week Seven
Georgia went back to what-the-hell-is-going-on play with a 37-20 win over Vanderbilt.  Commodores easily covering the 31.5 point line.
On the other hand, Michigan curb-stomped Indiana 52-7, easily covering.
Ohio State did the same to the Boilermakers, beating Purdue 41-7.
And Florida State 41-3 over the Cuse.
PSU 63, Massachusetts nothing.
Great football game between Washington and Oregon, with the Huskies coming out on top 36-33.   Enjoyed that one.
Enormous win for Notre Dame who beat Lincoln Riley and Southern Cal 48-20.
Alabama gave me a scare, but escaped with a 24-21 win over the pigs.
Mack Brown.  North Carolina 41, Miami 31.  Keep it going Coach.  We will always love you.  Until (but only when) we play you.
Pitt finally showed up and beat Louisville 38-21.  Good for the Panthers.
Oregon State 36-24 over UCLA.
Utes 34-14 over Cal Berkeley.
Duke handles the Wolf Pack 24-3.
Texas Agricultural & Mechanical ran out of time in Knoxville, as the Vols got the 20-13 win.
Shocker of the weekend was Arizona whipping Washington State 44-6 in Pullman.  Wow.
Louisiana State 48-18 over Auburn.
Missouri with the 38-21 win over now unranked Kentucky. It was nice while it lasted.
Other Games of Interest – Week Seven
Southern Methodist 31-10 over East Carolina.
Stanford was 1-4 and 12 point underdogs in Golden.  They beat Prime Time and the Buffs 46-43 in double overtime, after trailing 29-0 at halftimes.  Yes:  Twenty-Nine to zero.  Largest comeback in the storied history of the Cardinal of Leland Stanford Junior University.
Miami Redhawks 34-21 over Western Michigan.  Good teams win, great teams cover.
UT San Antonio seems back on track with a 41-20 win over UAB.  Covered too.
 Music:  The Isley Brothers
Last week Rudolph Isley, one of the founding members of one of my favorite groups, passed at age 84.
This Old Heart of Mine.  Probably my favorite Isley song, and one of my overall top 20.  Such a great tune.
Who's That Lady, on Soul Train in 1973.
Shout.  1959
Jim Nicar
1909: A Texas football game at the original Clark Field. The forward pass was new. Rules required the QB to move at least five yards before passing. To help the refs, fields were lined both ways and looked like a cooking gridiron – which led to the term "football gridiron".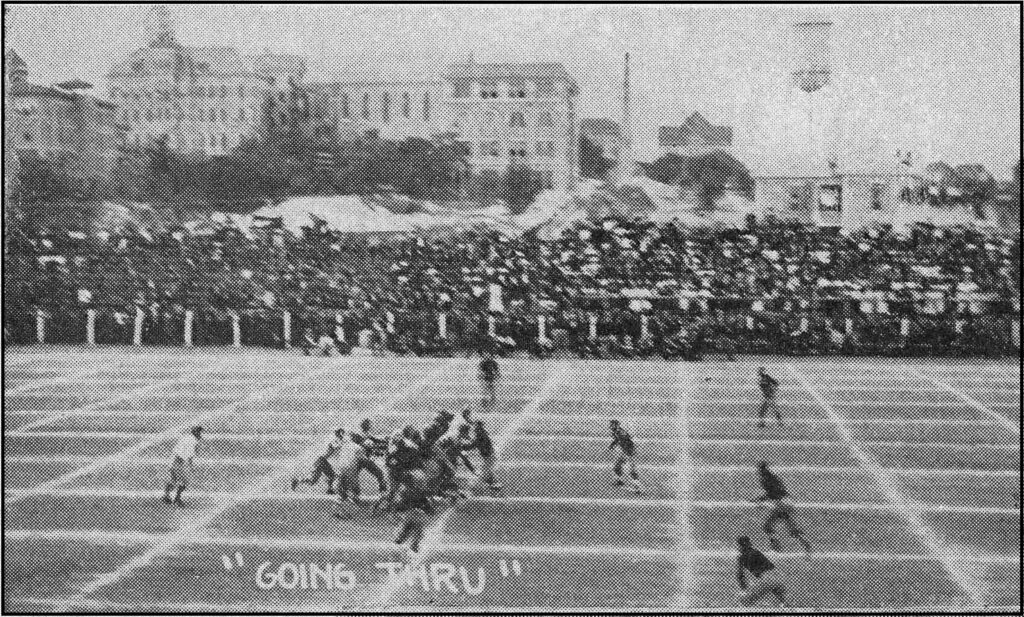 Follow Jim on X
https://x.com/JimNicar/status/1681833716623048704?s=20
Picture of the Week
JType with a really great one.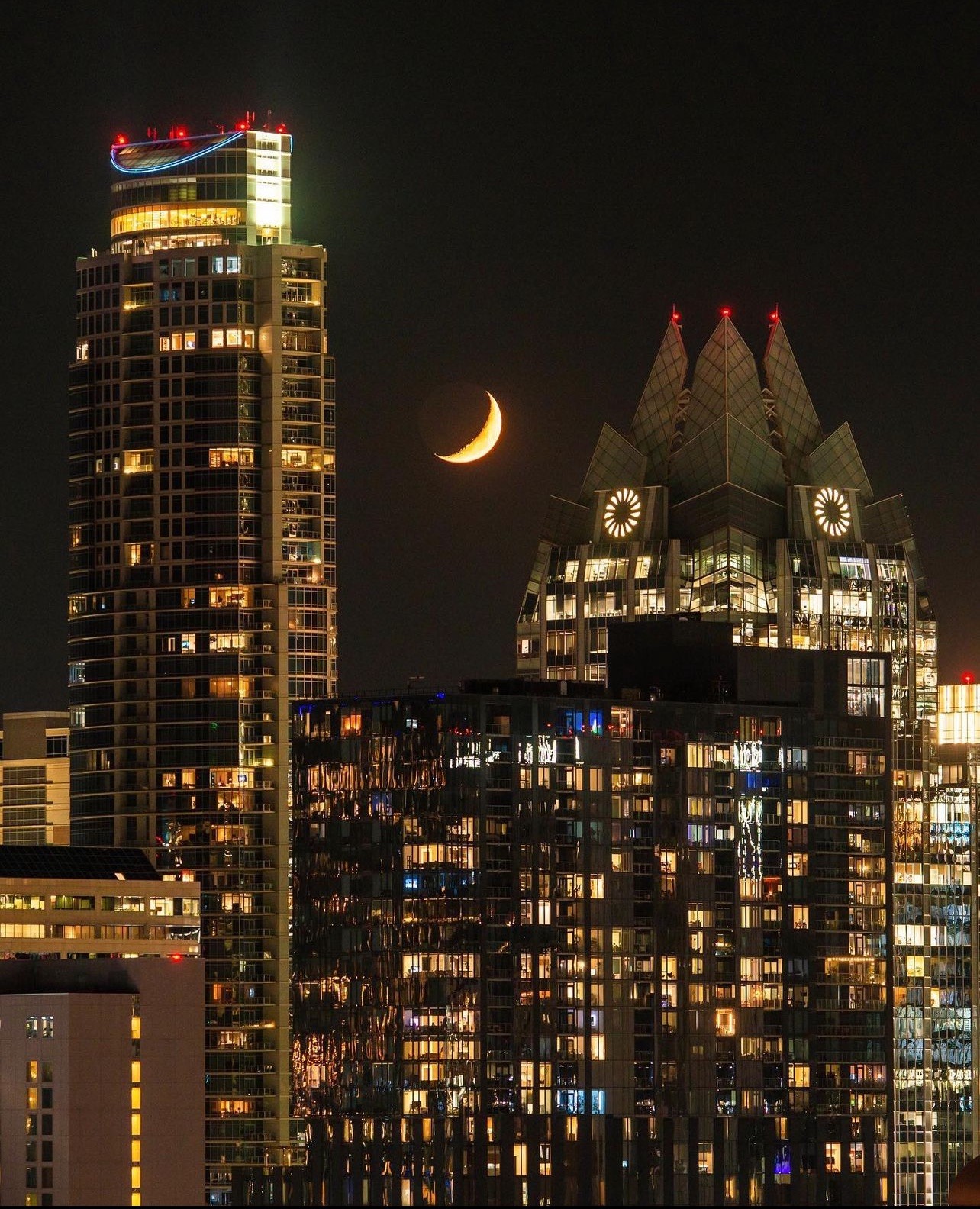 From his Instagram account, October 19, 2023
https://www.instagram.com/p/CymZY_5JsAk/
God Bless Texas
God Bless America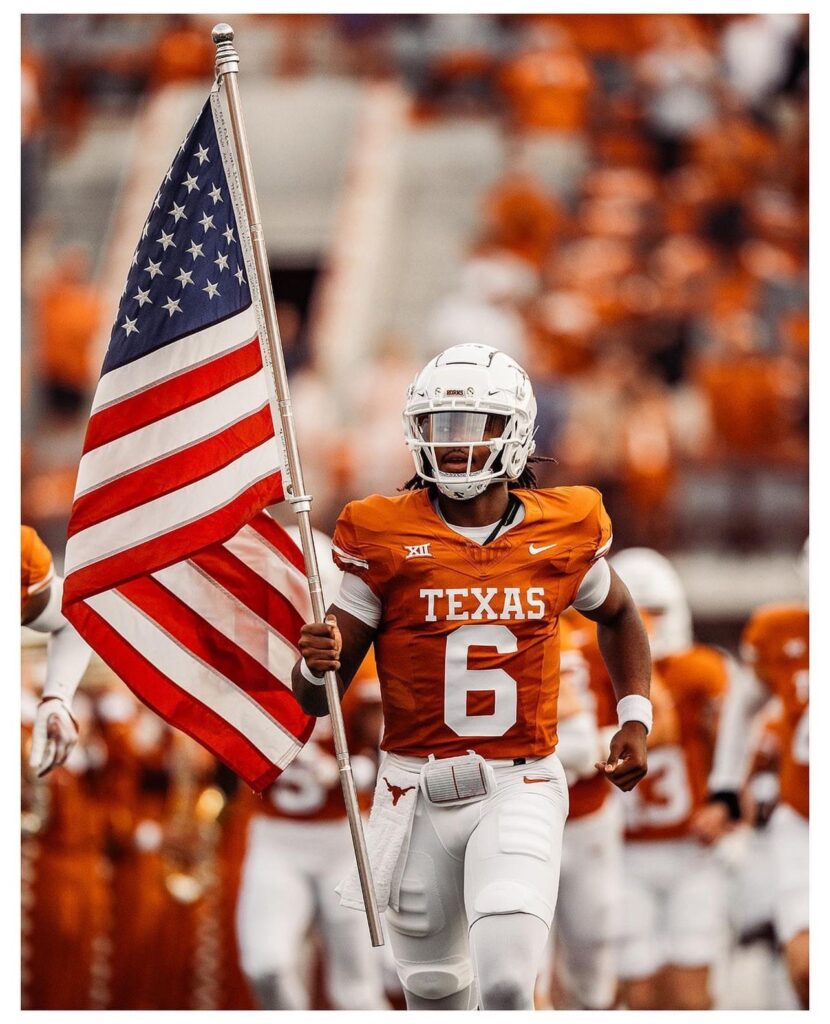 Tim Taylor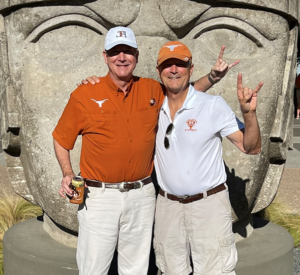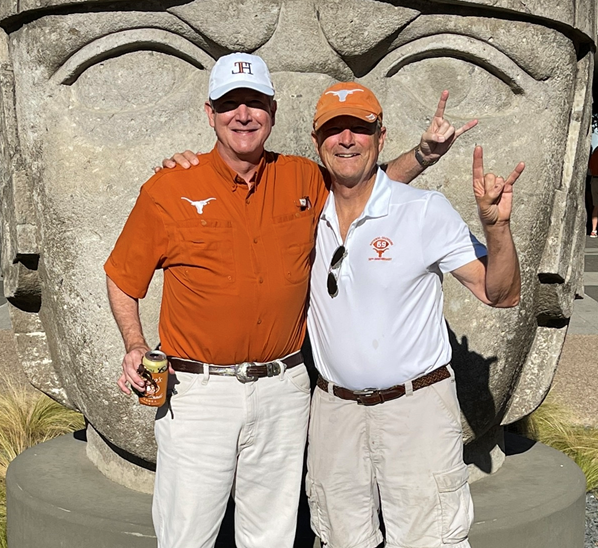 Tailgating before Home Football Games
The Juan Heisman Tailgate
Lot 38, East of Sid Richardson Hall.
HOOK EM HORNS!!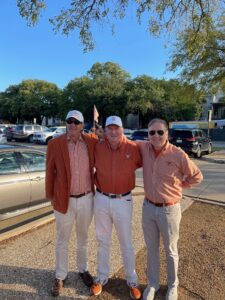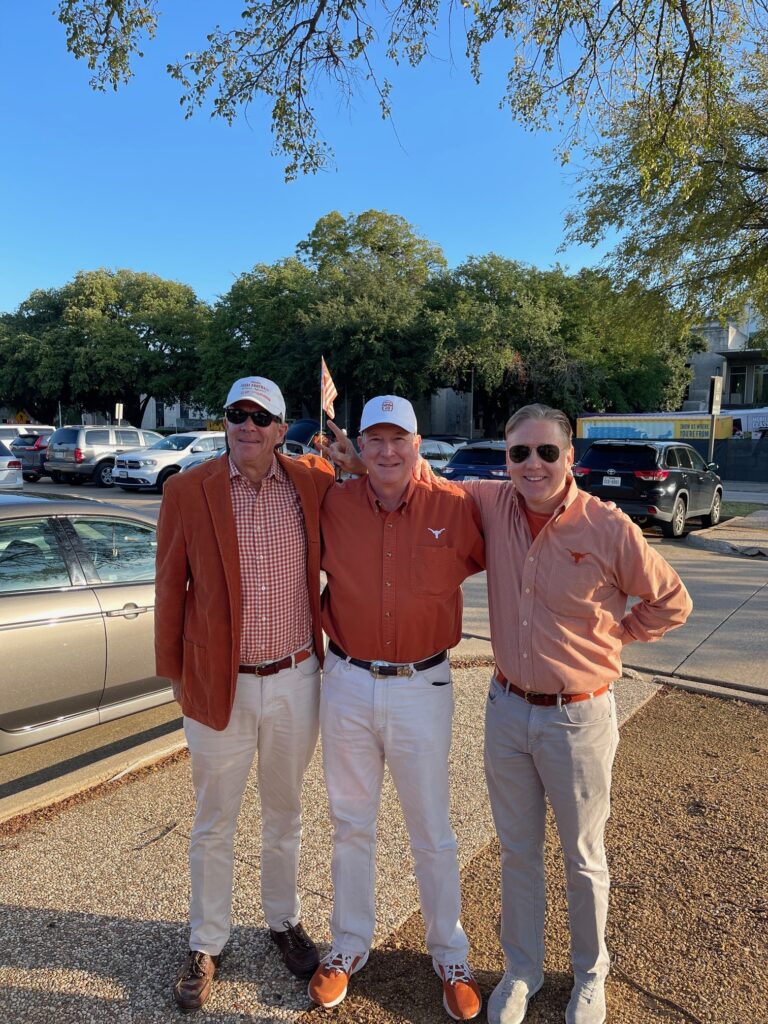 The Austin Horns Fan Dispatch
© Timothy C. Taylor, Sr. 2023.  All Rights Reserved (as to original material).
On Twitter:  @tctayloratx
On LinkedIn:  www.linkedin.com/in/tctatx
On Instagram:  @tctayloratx
On Facebook:  www.Facebook.com/Tim.C.Taylor
and:  www.Facebook.com/Juan.Heisman
You can contact me by mail:
Tim Taylor
P.O. Box 5371
Austin, Texas  78763-5371