Longhorns 49, Land Thieves Zero.  Red River Beatdown!
The 118th meeting with the Land Thieves was an epic win for the Longhorns as Texas played its most complete game of 2022.  Largest margin of victory by either team in series history.  First shutout of OU since 1965.  This was a different football team we saw Saturday for one big reason:  Quinn Ewers.  No. 3 is something special.
Sometimes statistics tell the story of the game, sometimes they don't.  The box from the Cotton Bowl on October 8, 2022, tells you just how dominant the Longhorns were, and here is a short sample:
Texas 585 yards of offense, OU got 195
Land Thieves had 39 yards passing, Horns had 289.
Longhorns with 36 first downs, Oklahoma with just 11.
Saturday was the worst shutout loss in the history of Oklahoma football, and it was third largest margin of defeat ever for the Land Thieves. It was the largest margin of victory for Texas ever in the Red River Showdown.
Some happy Longhorns.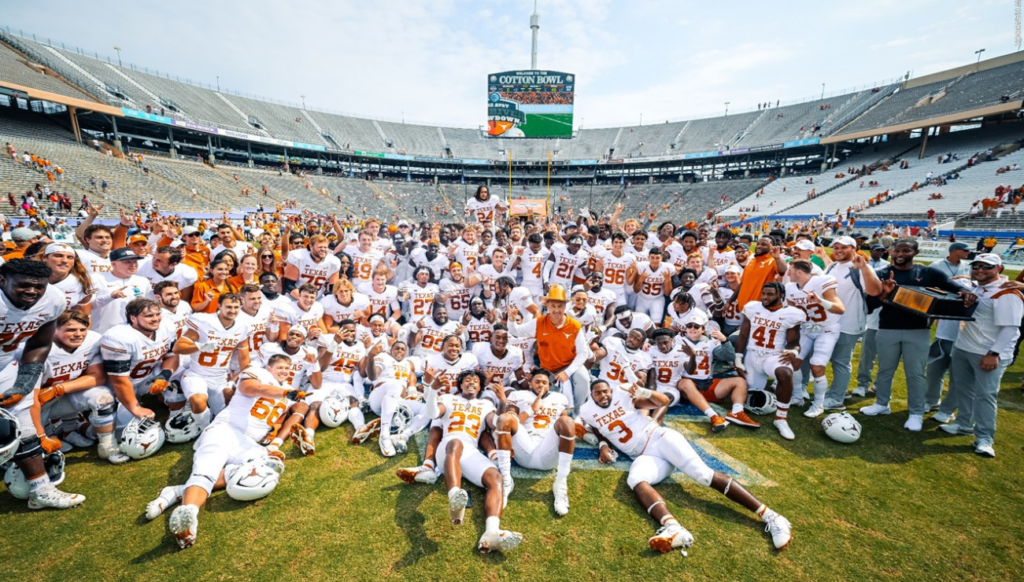 Photo from Texas Athletics.
Summary of this Week's Newsletter
A few people have asked for summary of the newsletter.  So giving it a try.  I don't know how to do that tech trick where you can click on the section title and immediately jump to down to that section, but I figure most of y'all can scroll.  Also, reading it online can be easier for those who want to scroll past some of the sections that are not of particular interest.
Vote for Roschon
Iowa State game short preview and info
Iowa State Cyclones Football 2022
Iowa State Cyclones vs. Texas Longhorns
TCT Preview
Red River Beatdown Review
Iowa State University of Science and Technology
Polls
Texas Basketball
Week Seven Game Previews
Juan Heisman Tailgate
Texas – OU Weekend in Dallas
Washington & Lee
Texas Volleyball
Good Stuff
Week Six Reviews
Music
Picture of the Week
Roschon Johnson and the Paul Hornung Award
Roschon Johnson is leading the fan voting for the Paul Hornung Award.  Late Thursday night, Roschon had 57.27% of the vote (3,967), and Jack Colletto from Oregon State is second with 29.72% (2,059).  Colletto had closed the gap, but a good surge for RoJo the past week.  No one else is close.  But keep voting.  Every day through November 6!
https://www.louisvillesports.org/paul-hornung/award-poll/
Iowa State Cyclones vs. Texas Longhorns
 Texas gets another 11:00 a.m. start on Saturday with Iowa State in town.  With the big win over the Land Thieves, I am expecting Longhorn Nation to not be too bothered by the morning kickoff and to show up and pack the stadium. I hope I am right.  The game will broadcast on ABC, Mark Jones on play by play, Robert Griffin III on analysis and commentary, and Quint Elroy Kessenich on the sidelines.
Quint is one of my favorite guys working on the lens side of things for the World Wide Leader.  I remember him from college, and he was not a football player.  Kessenich was an outstanding lacrosse player and All-American goalie for Johns Hopkins, 1987-1990, and two time winner of the award for nation's best goalkeeper.  How big a deal is that?  Well, Alabama, if the Crimson Tide can win another 2 or 3 dozen national championships, might be able to lay claim to being the Johns Hopkins of college football.  The Blue Jays have 44 National Championships, including 9 in the modern era (The NCAA Tournament era began in 1971), 1974, 1978, 1979, 1980, 1984, 1985, 1987, 2005, and 2007.  Finished second in 1972, 1973, 1977, 1981, 1982, 1983, 1989, 2003, and 2008.  Quint also played for the Mount Washington Lacrosse Club.
The Cyclones are not very good this year, but they have won three in a row against Texas, including last year's 30-7 win in Ames.  Texas leads the series with Iowa State 14-5.  Matt Campbell is 3-3 against Texas.
This year, Iowa State is 3-3, 0-3 in the Big 12.
Texas is ranked No. 22 in the AP Top 25, No. 24 in the Coaches Poll, and No. 4 on ESPN's College Football Power Index (seriously – Number Four, behind Alabama, Ohio State, and Georgia).  Iowa State not ranked in the voting polls, but is No. 33 in the FPI.
Texas opened as 14.5 point favorites.  The line Thursday night was Texas -15.5. The over/under is 48.5.  Moneyline is all over the place depending on the book, but Vegas Insider Consensus is Texas -769 and ISU +550.  The Cyclones defense is really good, so I like the fact that the oddsmakers think we can win by over two scores.  I do too.
Iowa State Cyclones Football 2022
The Cyclones started the season 3-0, getting easy wins over Southeast Missouri State (42-10) and Ohio (43-10), and besting the rival Iowa Hawkeyes 10-7.  Since then, Iowa State has gone 0-3 in Big 12 conference play, with very close losses to some of the leagues better teams.
Baylor beat them 31-24; of note, Iowa State threw for 284 yards against the Bears, but just 66 yards rushing.
Kansas managed to get the W over ISU with just 101 yards passing and 112 yards rushing.  Hunter Dekkers, the Cyclones quarterback passed for 287 and a score (and a pick), but the ISU ground game was non-existent.  57 yards gross, 26 yards net.
Last weekend, in a 9-10 loss to Kansas State, the Cyclones never found the endzone.  They did hold K State to 131 yards rushing – 77 from Martinez, 32 from DJ Giddens, and Deuce Vaughn got just 23 yards on 10 carries.  As you will see from the stats below, the Iowa State defense is solid.  The Cyclones gained 78 yards on the ground and 198 in the air against the Wildcats.
Dekkers (No. 12, 6-3, 206, Redshirt Sophomore from West Sioux HS in Hawarden, Iowa), is 153/227 on the season for 1,154 yards, 11 touchdowns, 6 interceptions, and 14 sacks.  Given the sacks, his rushing stats are a bit puny:  4 yards on 42 attempts, for an average of 3.43 inches per attempt.  That's not good.
Jirehl Brock (No. 21, 6 foot, 200, Redshirt Junior) is the leading ISU rusher, with 394 yards on 78 carries with 2 scores.  That is a 5.1 yards per carry average, which is respectable.  Brock also has 15 catches for 70 yards.  Behind him is Deon Silas (No. 22, 5-8, 180, Sophomore from Memphis, Tennessee), 36 carries for 140 yards and 2 TDs, and Eli Sanders with 82 yards on 15 attempts.  Cartevious Norton (No. 5, 5-11, 212, freshman) has 22 yards on 4 rushes.  Silas is actually fourth on the depth chart, so likely we will see all these kids. Brock got hurt in the Kansas game, but played last weekend.   Norton has been hurt too.
Receiving, Xavier Hutchinson (WR, No. 8, 6-3, 205,) has over half the Cyclones yardage:  604 yards on 57 receptions with 5 scores.  He's one of their best offensive player, if not the best.  Jaylin Noel (WR, No. 13, 5-10, 190, Sophomore), has 29 catches for 284 yards.  Starting tight end Easton Dean (No. 87, 6-6, 249 junior) has 4 catches for 47 yards and a score.  Tight end DeShawn Hanika (No. 83, 6-6, 238 Junior from Topeka) has 5 catches for 79 yards and 2 touchdowns (by way of comparison, our top tight end, Ja'Tavion Sanders, had 5 catches and 71 yards and 2 touchdowns – in the OU game).  Flex Jared Rus (No. 43, 6-2, 242, senior) has 5 catches for 35 yards.
Cyclone linebackers lead their defense.  O'Rien Vance (No. 32, 6-2, 260, Redshirt Senior) has 32 tackles (15 solo), 1.5 sacks, and 3 forced fumbles.  Gerry Vaughn (No. 32, 5-11, 231, Redshirt Senior) has 30 tackles (15 solo), 1.5 sacks, and a forced fumble.  Colby Reeder (No. 4, 6-4, 242, Redshirt Senior), has 28 tackles (13 solo), 1.5 sacks, and 2 interceptions.
Behind the linebackers, a bunch of good defensive backs.  Anthony Johnson, Jr. (No. 1, 6 foot, 207, Redshirt Senior) has 28 tackles (19 solo), and an interception.  Beau Freyler (No. 17, 6-2, 212, sophomore) has 12 tackles (12 solo), and Jeremiah Cooper (No. 19, 6 foot, 178, freshman from El Paso) has 22 tackles (12 (solo).
On the defensive line, Isaiah Lee (No. 58, 6 foot, 292, Redshirt Senior) has 15 tackles (9 solo), and Will McDonald IV (No. 9, 6-3, 236 Redshirt Senior from Milwaukee) has 15 tackles (12 solo), and 3.5 sacks for 33 yards.
Notice anything?  8 guys, 6 Redshirt Seniors.   There is a reason this unit plays good defense.
Field goal kicker is Jace Gilbert, a freshman from Marlow, Oklahoma.  9 for 12 on the season:  4-4 under 39 yards, 3/5 30-39, and 2/3 40-49.
Head Coach Matt Campbell is in his 7th season in Ames.  He has the best winning percentage in Cyclones history (55.3%), is 3 time Big XII Coach of the Year, and has taken his team to five straight bowl games, an ISU record.  Last year, Iowa State beat Oregon 34-17 in the Fiesta Bowl, the school's first ever win a New Year's Six Bowl Game.  He is a good coach, winning in a place where victory comes tough.  Lot of respect for Matt Campbell.
Iowa State Cyclones vs. Texas Longhorns
This should be a good football game.  Great weather, Texas in need of not letting last week's win distract them from the goal of playing for a Big 12 Championship.  The best defense in the Big 12 against what is probably the first or second best offense in the Big 12 now with Quinn Ewers back and healthy.
Official Preview:
https://texassports.com/news/2022/10/10/no-22-24-football-preview-iowa-state.aspx
Texas Game Notes:
https://texassports.com/documents/2022/10/10/07-TexasGameNotes-IowaState.pdf
Iowa State Game Notes:
https://cyclones.com/documents/2022/9/6/FB_Notes.pdf
The Statistics
I have added each team's ranking in the Big 12, so below the first number is national ranking second is Big 12 ranking.
Offense
| | | |
| --- | --- | --- |
| Statistic | Texas | Iowa State |
| Rushing Offense | #47, #7 – 177.7 ypg | #116, #10 – 106.3 ypg |
| Passing Offense | #39, #5 – 267.3 ypg | #50, #6 – 257.7 ypg |
| Total Offense | #36, #5 – 445.0 ypg | #96, #10 – 364.0 ypg |
| Scoring Offense | #20, #4 – 38.8 ppg | #103, #10 – 23.2 ppg |
| First Downs | #21, #4 – 24.8 game | #90, #9 – 19.8/game |
| Sacks Allowed | #44, #5 – 9, 71 yards | #87, #8 – 14, 98 yards |
| Tackles for Loss Allowed | #54, #5 – 29, 121 yards | #68, #7 – 31, 137 yards |
| Third Down Conversions | #50, #6 – 43.5% | #49, #5 – 43.6% |
| Fourth Down Conversions | #8, #6 – 83.3%, 5/6 | #23, #3 – 66.7%, 8/12 |
| Red Zone Attempts | #19, #2 – 28 | #61, #7 – 23 |
| Red Zone Offense | #52, #6 –  86% / 64% | #89, #10 –  78% / 52% |
| Long Run Plays | #52, #5 – 30/10, 9/20, 5/30, 3/40 | #114, #10 – 18/10, 5/20, 2/30, 1/40 |
| Long Pass Plays | #29, #2 – 66/10, 25/20, 12/30, 5/40 | #63, #5 – 55/10, 18/20, 6/30, 2/40 |
Defense
| | | |
| --- | --- | --- |
| Statistic | Texas | Iowa State |
| Rushing Defense | #43, #6 – 126.2 ypg | #13, #1 – 91 ypg |
| Passing Defense | #49, #2 – 212 ypg | #24, #1- 186.5 ypg |
| Total Defense | #34, #4 – 338.2 ypg | #11, #1 – 277.5 ypg |
| Scoring Defense | #22, #3 – 17.8 ppg | #8, #1 – 13.7 ppg |
| First Downs Allowed | #67, #6 – 20.2/game | #10, #1 – 14.5/game |
| Sacks | #39, #5 – 14, 84 yards | #73, #7 – 11, 91 yards |
| Tackles for Loss | #10, #2 – 45, 155 yards | #72, #7 – 31, 139 yards |
| Third Down Conversions | #77, #7 – 39% | #15, #3 – 29.3% |
| Fourth Down Conversions | #71, #8 – 55%, 12/22 | #47, #4 – 50%, 4/8 |
| Red Zone Attempts | #49, #7  – 19 | #17, #2 – 14 |
| Red Zone Defense | #47, #3 – 79% / 47% | #45, #2 – 78% / 48% |
| Long Run Plays Allowed | #46, #6 – 22/10, 5/20, 1/30, 1/40 | #11, #2 – 14/10, 3/20, 1/30, 0/40 |
| Long Pass Plays Allowed | #72, #5 – 52/10, 14/20, 4/30, 1/40 | #15, #1 – 38/10, 15/20, 8/30, 4/40 |
Other
| | | |
| --- | --- | --- |
| Statistic | Texas | Iowa State |
| Turnovers | #10, #3  – 1F, 3I  4 total | #75, #9 – 3F, 6I, 9 total |
| Turnover Margin | #64, #7  4:4  0 | #52, #5  10:9  +1 |
| Penalties | #45, #6 – 33, 259 yards | #49, #7 – 34, 291 yards |
*Based on total number of penalties.
Match-up Comparison
| | |
| --- | --- |
| Texas Offense | Iowa State Defense |
| Rushing Offense – 177.7 ypg | 91 ypg – Rushing Defense |
| Passing Offense – 267.3 ypg | 186.5 ypg – Passing Defense |
| Total Offense – 445.0 ypg | 277.5 ypg – Total Defense |
| Scoring Offense – 38.8 ppg | 13.7 – Scoring Defense |
| First Downs – 24.8/game | 14.5/game – First Downs Allowed |
| 3rd Down Offense – 43.5% | 29.3% – 3rd Down Defense |
| 4th Down Offense – 83.3%, 5/6 | 50%, 4/8 – 4th Down Defense |
| Red Zone Offense – 86% / 64% | 78% /48% – Red Zone Defense |
| LRP – 30/10, 9/20, 5/30, 3/40 | 14/10, 3/20, 1/30, 0/40 – LRP Allowed |
| LPP – 66/10, 25/20, 12/30, 5/40 | 38/10, 15/20, 8/30, 4/40 – LPP Allowed |
| | |
| --- | --- |
| Texas Defense | Iowa State Offense |
| Rushing Defense – 126.2 ypg | 106.3 ypg – Rushing Offense |
| Passing Defense – 212 ypg | 257.7 ypg – Passing Offense |
| Total Defense – 338.2 ypg | 364.0 ypg – Total Offense |
| Scoring Defense – 17.8 ppg | 23.2 ppg – Scoring Offense |
| First Downs Allowed – 20.2/game | 19.8/game – First Downs |
| 3rd Down Defense – 39% | 43.6% – 3rd Down Offense |
| 4th Down Defense – 55%, 12/22 | 66.7%, 8/12 – 4th Down Offense |
| Red Zone Defense – 79% / 47% | 78% / 52% – Red Zone Offense |
| LRP Allowed – 22/10, 5/20, 1/30, 1/40 | 18/10, 5/20, 2/30, 1/40 – LRP |
| LPP Allowed – 52/10, 14/20, 4/30, 1/40 | 55/10, 18/20, 6/30, 2/40 – LPP |
Other Stats
"Available Yards Percentage" www.bcftoys.com.
Texas moved up to No. 11 from 22 on NAY.
| | | | |
| --- | --- | --- | --- |
|   | NAY | OAY | DAY |
| Texas | No. 11 – .208 | No. 14 – .618 | No. 29 – .410 |
| Iowa State | No. 44 – .073 | No. 85 – .439 | No. 15 – .417 |
BCF Toys – 2022 Available Yards Percentage
Here's another new one for this week:  Net points per drive (NPD).  NPD is the difference between points scored per offensive drive (OPD) and points allowed per opponent offensive drive (DPD).  Texas is ranked No. 8 nationally with 1.99 on NPD:
| | | | |
| --- | --- | --- | --- |
|   | NPD | OPD | DPD |
| Texas | No. 8 – 1.99 | No. 10 – 3.49 | No. 20 – 1.50 |
| Iowa State | No. 51 – .33 | No. 97 – 1.72 | No. 14 – 1.38 |
If you watch the Joel Klatt clip below, you will hear him talk about what our OPD with Ewers in.  It is basically up there with No. 1 Ohio State.  The statistician breaks it down more if you want more info (Points per drive from long starting field position for the offense (OLD) and opponent offenses (DLD) are calculated from the results of drives that begin inside the offense's own 20-yard line. Points per drive from middle starting field position for the offense (OMD) and opponent offenses (DMD) are calculated from the results of drives that begin from the offense's own 20-yard line to its own 40-yard line. Points per drive from short starting field position for the offense (OSD) and opponent offenses (DSD) are calculated from the results of drives that begin less than 60 yards from the end zone. Note that in this data set, successful extra points and two-point conversions following touchdowns are included in the scoring results of offensive drives, and safeties are recorded as a scoring result of negative-two points.)
BCF Toys – 2022 Points Per Drive
BCF's Game Projection.  "Game Projections are calculated from current FEI ratings and include the projected win likelihood (PW), projected margin of victory (PM), projected points scored (PF) and allowed (PA), and projected total points scored (PT) for each FBS game."
| | | | | | | |
| --- | --- | --- | --- | --- | --- | --- |
| Projected Winner | Projected Loser | PW | PM | PF | PA | PT |
| Texas | Iowa State | .806 | 13 | 30.3 | 17.4 | 47.7 |
TCT Preview
Starting with the stats, I admit to being very impressed with Iowa State's defense.  Number one in all the major categories, and very highly ranked nationally.  Not too many years ago, to see a Big 12 team ranked in the top 25 in almost any defensive category was unusual.  As the league has improved, the pass-happy high scoring offenses have given ground to good defense.  Iowa State is leading the conference in 2022.
Unfortunately for the Cyclones, they have not complimented that great defense with any offense.  Opposite end in fact, ranked last or close in most every major category except passing offense.  The good news is, Texas pass defense is darn good, ranked second in the conference behind Iowa State.
Dekkers and the Cyclones throw a lot of short passes.  We won't have a lot of time to get pressure on the quarterback often, although we should get some sacks as the ISU line isn't good.  The linebackers will need to be in position and the defensive backs need to not play too soft.  But also be mindful of Dekkers' ability to hit the long ball.  Whoever is covering Hutchinson will need to have a good game and the safeties need to be there to help.
Their run game isn't good.
I think the Texas defense, assuming we get the D we saw last weekend in Dallas, then we should shut these guys down.  Maybe not a shutout, but I don't think the Cyclones will get more than 3 scores.   17 points max.
Can the Texas offense perform against this good – maybe great? – Iowa State defense?  They run a 3 safety response, created by Jon Heacock, the ISU DC.  He designed it to shut down the old Big 12 high flying, high scoring offenses.  Now that good system also shuts down the run.  It is really good, and if you want to understand it more here is an interesting piece:
The Next Step: 3 High Safety Defense — BLUE CHIP SCOUTING
Vance will be keying on Bijan or whoever is running the ball, and the other linebackers are good against the run too.  All of the ISU defensive backs are top half of the Big 12 against the run.  So my guess is that Sark is going to have to expand the playbook and have more of those excellent plays where our skill guys are getting the ball in space on short and intermediate throws and other Longhorns are schemed to be nearby to provide blocking.  That is, in fact, one of the biggest things making a difference this year:  wide receiver and downfield blocking.  Go watch some highlights, and look for wider camera shots.  Worthy had one helluva block in the OU game.  I just don't think as good as our run game is that we can rely on it control the ball and get first downs.
So, Saturday may be the Quinn Ewers show, more so than last weekend.  He is going to have be accurate, pay attention to where the Cyclone defenders are in the 3 safety scheme, and get the ball out.  Will McDonald IV, the ISU "Leo" (basically edge LB guy) is on pace to set the Big 12 career record for sacks.  He only has 3.5 this year, but that is because he commands attention.  Flood and his charges need to make sure Quinn Ewers is protected.  They will use blitzes and try to get Ewers on the ground.
My guess is that Sark has been thinking about how to beat the Heacock 3 Safety Defense.  It is an intellectual challenge, and Sark is offensive genius.  I bet Steve Sarkisian has some plays planned that we haven't seen, and neither has Jay Heacock.  Both running plays and pass plays.
With that in mind, I am convinced Texas will get the win Saturday.  I think Ewers will pass for about 275 and 3 scores.  A lot of Worthy, Whittington, and Sanders.  The run game will be good but not great, Bijan will get his 100 yards but it will be a lot of grind and pound and one big one he breaks.
The difference between winning and winning big will come down to turnovers and special teams.  If Texas stays clean in turnovers, and if Auburn hits his field goals (he will probably have to kick 3) and maybe, just maybe, we get a return for a score, then Texas covers.
Going to be tough but not impossible.  As you will remember from OU or note below, Texas had a bunch of explosive plays.  Iowa State is really good at not allowing those, and so Texas will be challenged.
Texas wins 33-17.
Other Previews
Wescott Eberts on Burnt Orange Nation:
https://www.burntorangenation.com/2022/10/13/23403200/texas-longhorns-iowa-state-cyclones-opponent-preview
Texas Homer, about 17:50 minutes.
Texas moves up to No. 4 in Nate Manzo's composite rankings.  Pretty lofty.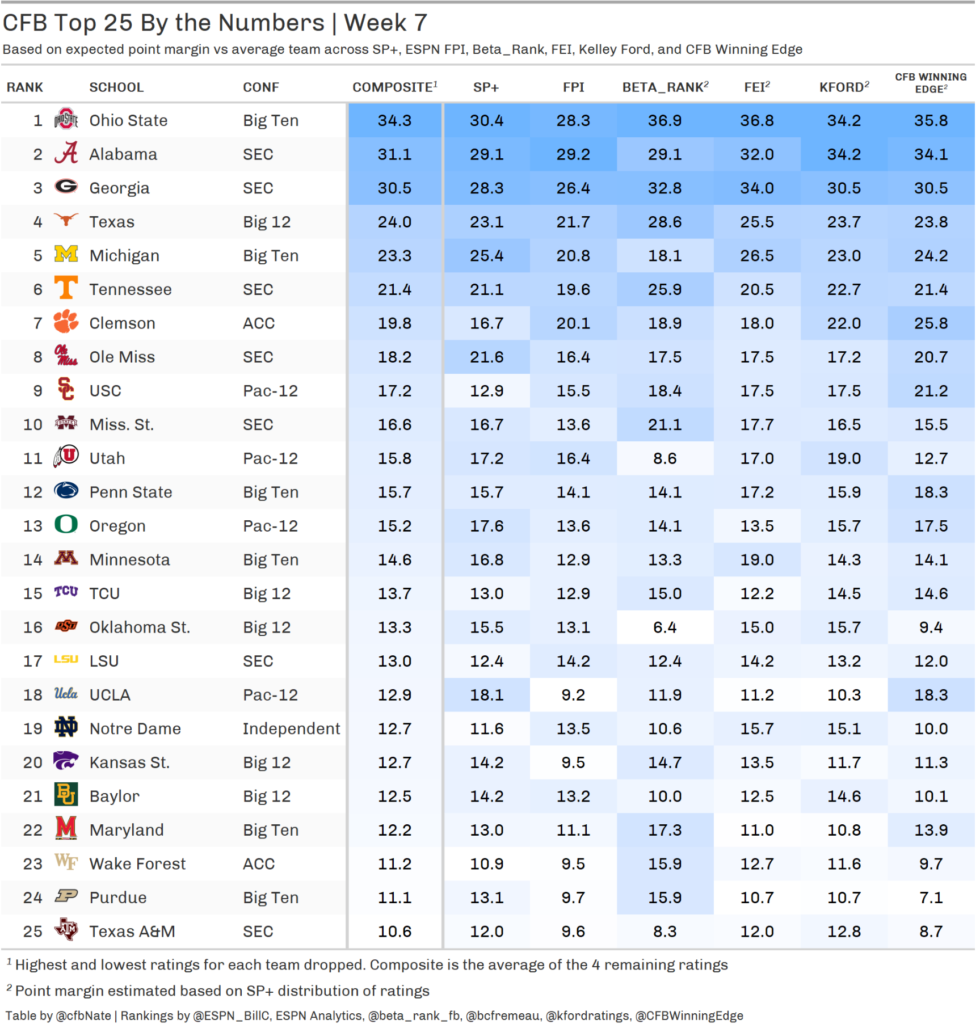 https://twitter.com/cfbNate/status/1579787165814624259
Massey Ratings.  This composite has Texas at No. 13 and Iowa State at No. 39.
https://masseyratings.com/cf/compare.htm
Texas Longhorns 49, Oklahoma Land Thieves 0
 b00mer s00ner!
You know what, after the pre-game festivities were over, we didn't have to hear that gawd-awful song hardly at all, nor was the bang of the RUF/NEK's shotguns heard much.  We did hear Smoky and Texas Fight a whole bunch.
If you saw a shutout coming, that I need to hire you.  I will pay you 50% of my net revenues from this newsletter.  Contact me.
Most of my predictions about what the Land Thieves would do were wrong, by a little or a lot.  I was right about Texas:  We scored over 40 points.  We won.
Great photos:
https://texassports.com/feature/RedRiverShowdown
The Texas offense had another going nowhere first offensive drive, as OU linebacker Danny Stutsman was in on every play and the Land Thieves got a three and out.  After giving up one first down, Oklahoma punted for the first of many times Saturday, and then Sark and Ewers got it in gear.
Texas proceeded to score on its next three possessions, with these drives:  90 yards in 12 plays, touchdown; 92 yards in 8 plays, touchdown; 80 yards in 9 plays, touchdown.  Ewers was dropping dimes to Whittington and Sanders and in between Bijan and Roschon were running well and also catching passes.  And Keilan caught a touchdown pass.  J Whit caught 4 passes on those 3 drives: 8 yards, 22 yards, 13 yards, and 22 yards.
Meanwhile, the Texas defense was holding up against the not so good Land Thief offense.  Punt, held them on fourth for a turnover on downs (after a 67 yard drive, which would be their longest), punt, punt, and then the interception when Gray tried the pass over the middle after having run the ball with a modicum of success.
Texas added another touchdown in the second half on a 79 yard drive that was saved early when Ewers scrambled for 16 yards to convert a third and 11.  That scoring drive was capped off with a very nice 24 yard touchdown pass to JT Sanders.
OU responded by throwing an interception on the first play of its next possession.  Texas took a 28-0 lead to the locker room, while I headed to the food court for Frito Pie and a cold beer.
The Land Thieves got the ball after the half and managed to get one first down before going for it on fourth and 2 at their own 44.  DTD and Cook made a great play (on a good defensive call) to sack Davis Beville for a yard, allowing Texas to start in plus territory.  In what I would say was Quinn's only mistake in the game, he was picked when he tried to throw the ball away to avoid a sack.  Good decision, bad execution.  Up 28 to nothing it didn't hurt, as the Texas defense responded with a three and out, allowing just 5 yards (three runs by Marcus Major, which is a bit inexplicable given the success they had in the first half with Brayden Willis and Jalil Farooq and Eric Gray).
Ewers and Sark went back to work carving up the Sooner defense.  Bijan run, Ewers pass (9 yards to JTS), Bijan run, Ewers pass (32 yards to JWhit), RoJo run, Ewers pass (15 yards to Worthy), Bijan 11 yard touchdown run. 76 yards in a little over 3 minutes.  35-0, and that was when the Okies started leaving the Cotton Bowl.
Another 3 and out, and after a Land Thief unsportsmanlike penalty on the punt (shocking!), Texas started at the OU 47.  25 yards running from Roschon topped off with an 18 yard touchdown pass to JT Sanders to put Texas up 42-0.  That would be Ewers' last series and the last pass Texas would throw.  I am not complaining, but as Ted Heaton likes to say at the baseball games after the Horns score a few runs, "Come on, we can't beat these guys bad enough!" – and I really wanted more Gas and no Brakes.
We had to satisfy ourselves with getting to see a lot of other Longhorns get playing time in our biggest rivalry game, which is fine.  Keilan and Jonathan Brooks ran the ball down the choking sooners' throats to start the fourth quarter, and with a bit over 12 minutes to play it was 49 to nothing and the south half of the Cotton Bowl was starting to clear out.  Fun to see Austin High Maroon Charles Wright in there with some good minutes.
An unbelievable performance on both sides of the ball.  Good play calling, good execution, good teamwork, good tackling, one of the best games the Texas Longhorns have played in years.  Certainly one of the best Red River Shootouts in a long time, maybe since 2005.
The individual performances were all stellar.
Ewers' return could not have been better scripted or better performed, as he walked off the national stage on September 10 injured and stepped back on the stage on October 8 and proclaimed his greatness with deeds not words.  His passing skills are simply amazing. The way he feathered that ball in on some passes, fired it in like a .223 on others, and threaded it on some.  Just remarkable.  21-31 for 289 yards and 4 TDs and the one bad pick.  In three quarters.  Obviously, it wasn't a hard or big decision for Sark.  He knows what he has in Quinn Ewers, and Texas is blessed.
Then Bijan.  We, and especially me, talk about Roschon and what a team player he is and all that good stuff, which is 100% true.  But Bijan is a legitimate Heisman quality running back, and in a big national game, he got less than half the carries (22 out of 50), and he was team guy.  He got his 100 yard game (130) and 2 touchdowns and caught 2 for 13 yards.
The rest of the RB Corps showcased how deep Texas is:  RoJo 9/57, Brooks 7/39, Keilan 4/32, and Blue 5/14.  Every back had at least one run 10 yards or longer.
Big kudos to the offensive line.  The year over year and week to week improvement of this unit is impressive.  We have freshmen kicking the butts of big 5th year seniors.
If you have been reading this newsletter for a few years, you know I have been enamored with Jordan Whittington since he came to The Forty Acres from Cuero, and I have bemoaned his injuries.  Let's hope that bug stays away and he keeps shining like he is in 2022.  Leading receiver with 5 catches for 97 yards with a long of 32.  JT Sanders 5 for 71 with 2 touchdowns.  Worthy 3 for 28 for a score.  And again big plays:  Every guy who caught a ball except Gunnar Helm had at least one catch over 10 yards:  J Whit 32, JTS 24, RoJo 38, Worthy 15, Keilan 15, and Bijan 12.  Helm's long was 9 yards.
So much big play power.
Defense was better.  Shutout.  In the Cotton Bowl against the Land Thieves!  Everyone played well, with Ford and Thompson leading in tackles with 7 each, each with 4 solo.  Then Overshown and Barron with 6.  Everyone played well.
The really impressive line is Tackles for Loss:  11 TFL. Not any big yardage losses, but put that in this context:  OU ran 42 offensive plays.  26.2% of them went for negative yardage.
Here is what the Texas defense did versus where OU was coming in.  That is a beatdown.
| | | |
| --- | --- | --- |
|   | Land Thieves | Against Texas |
| Rushing Offense | 220.8 ypg | 156 yards |
| Passing Offense | 260.0 ypg | 39 yards |
| Total Offense | 481.4 ypg | 195 yards |
| Scoring Offense | 37.0 ppg | 0 |
| First Downs | 24.4/game | 11 |
Missing my dad, who would have really enjoyed that butt whipping of the Sooners, all I could think was "How Sweet It Is!"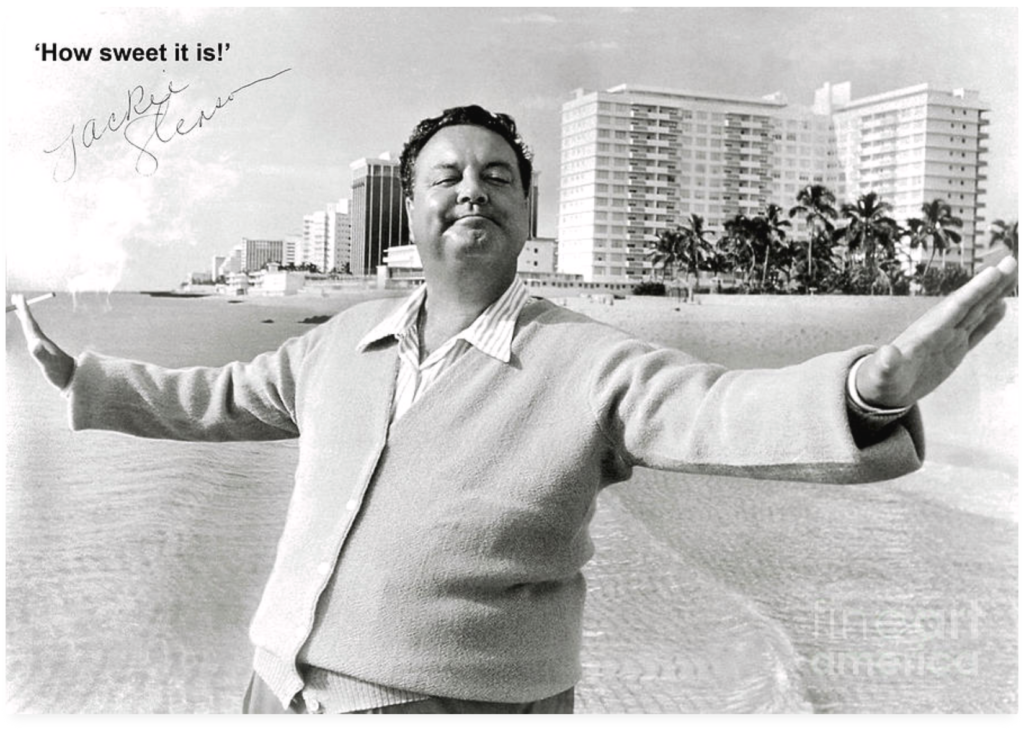 Jackie Gleason, How sweet it is, Miami Beach, FL is a photograph by Thomas Pollart which was uploaded on April 24th, 2017 – fineartamerica.com
Highlights
Most of the highlight reels are a bit longer.  No surprise.
ESPN, Full Game Highlights, just over 8 minutes.
Matthew Loves Ball, a bit over 25 minutes
Every Play from Nash Talks Texas, 45 minutes or so:
Full Game:
Commentary, worth watching. Coming from a smart football man who also knows what it is like to get destroyed by Texas:  Joel Klatt with "Texas destroys Oklahoma in the Red River Showdown:  Longhorns are the best in the Big 12".  Just under 9 minutes. Q qb 20 offensive drives.  In those 20 drives 4.5 points per drive.  C.J. Stroud, leading Heisman race, 4.49 points per drive.
Iowa State University of Science and Technology
The Iowa Agricultural College and Model Farm was founded in 1858. In 1862, the Iowa Legislature voted to accept the terms of the 1862 Morrill Act, and Iowa Agricultural College claims to be the nation's first Morrill Act land grant university.  However, the state didn't designate it as such until 1864, a year after the Agricultural College of the State of Michigan was so designated.  It was renamed Iowa State College of Agriculture and Mechanic Arts in 1898, and then the current name was adopted in 1959.  The agriculture cooperative extensions, which became a key part of American agriculture through the many great ag schools around the country, most of them Morrill land grant universities, were developed at Iowa State in the last 1800's.
The first electronic digital computer was built there, by a math and physics professor named John Atanasoff and a grad student, Clifford Berry.
Iowa State played a key role in the Manhattan Project, with the production of high-purity uranium, and the process for such is actually called the "Ames process" at the Ames Laboratory.  The Ames Laboratory is the only U.S. Dept. of Energy research lab on a college campus.
Academic Rankings
National
Texas
Iowa State
Forbes
43
156
THE | WSJ
60
287
U.S. News & World Report
38
122
Washington Monthly
40
49
Global
ARWU
37
301-400
QS
72
541-550
THE
47
401-500
U.S. News & World Report
43
27
The Polls
Texas back in the top 25, 22nd in the AP and 24th in the Coaches.  Alabama's close win over Texas Agricultural and Mechanical cost them in the AP.  Kind of interesting.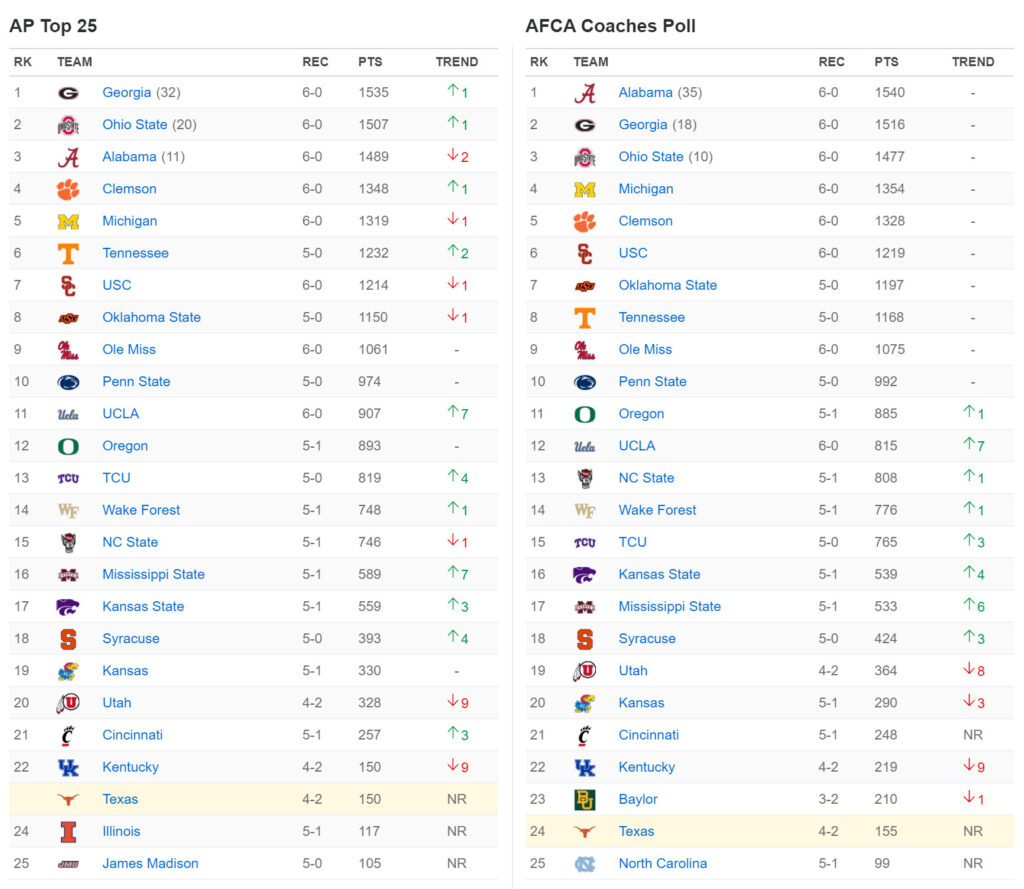 Also worth noting that No. 25 in the AP, James Madison University, is playing in the FBS for the first time this year after a great run in the FCS.  2004 and 2016 national championships, runner-up in 2017 and 2019.  The Dukes played their first football game in 1972, and 3 years later went undefeated.
Juan Heisman Tailgate
We will be back for a breakfast taco tailgate Saturday morning.  Thanks to Tito's Handmade Vodka will have plenty of bloody marys.  Lots of cold beer to get ready for the game, and lots of fun as always.
Texas – OU Weekend in Dallas
The game was of course the highlight of the weekend, but the weekend was really good.  The UT party Friday night was phenomenal, as Chairman Eltife, Chancellor Milliken, President Hartzell, and CDC got the crowd fired up.  Quite a nice gathering of Longhorns at the Crow house.  Well, like a house, except a lot bigger.
Then one of my favorite meals of the year, OU Friday Night at Javier's.  Once again the guest of Carol and Tim Crowley, joined by Joe Ivan Young, and by my goddaughter Elizabeth Crowley Davis and husband Connor and two Elizabeth's Kappa sisters, Peyton Werra and Taryn Dandurand.  The margaritas were perfect and the quail was better.  A big time as always.  The Wright's (Charles' parents), Parks, and McCartt's were next to us, and we were all next to a bar. Which is good.
Connor, Elizabeth, Peyton, and Taryn
I joined the McEachern's and English's and the Auler party for a post-dinner margarita (or 2? Can't recall).  Y'all all know Randy McEachern and Jenna McEachern; their son was roommate with the English's son and that's how Randy and Jenna and Anita and Marty became such good friends.  Of note, because Anita's mother Diana Braly was my mom's pledge sister and dear friend, and I have known Anita and her family my whole life.  Small world.  So the Friday night at Javier's reunion is always special.  Chad and Stacy had a big and fun group at the table next to Jenna and Randy, so it was a big time.
Juli and Tony Dewar again hosted me in their home, and that helps make the perfect OU weekend.
Game day was fun.  Tony had us up and at Fair Park by 9:00.  Good pregame times (although I didn't get a Fletcher's, which was the only bummer of the weekend).  Juan Heisman Tailgate in full force.  Hawley, TCT, Laughlin, and Dunn.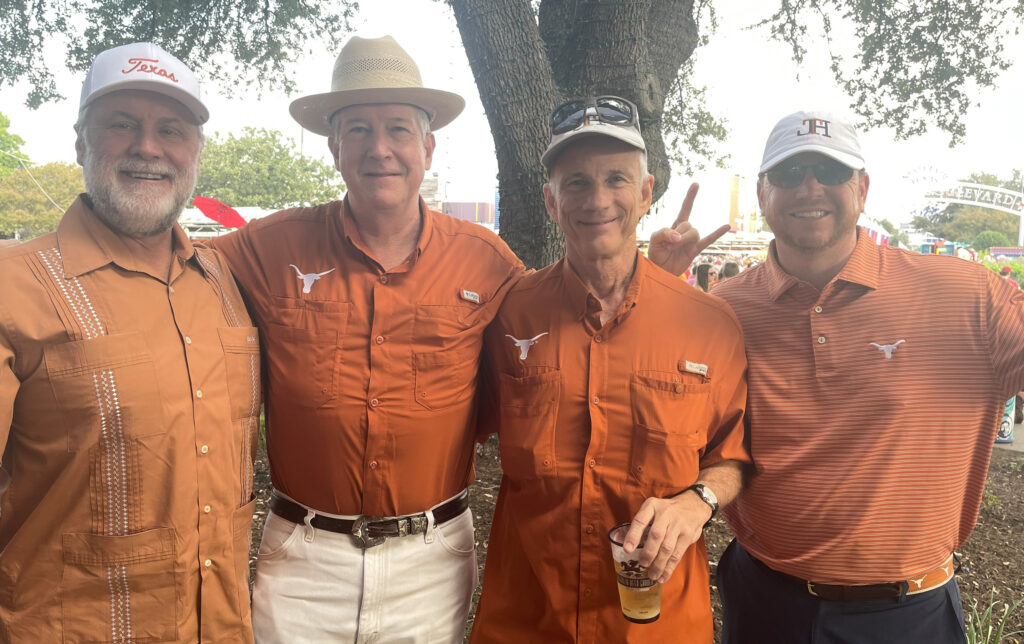 Then into the Cotton Bowl where daughter Claudia met me for another Texas-OU game.  Great times, and she even joined me at halftime for a Frito Pie, the TCT Way (Fritos, then the cheese, then the chili; hot chili melts the cheese and it is just the right way).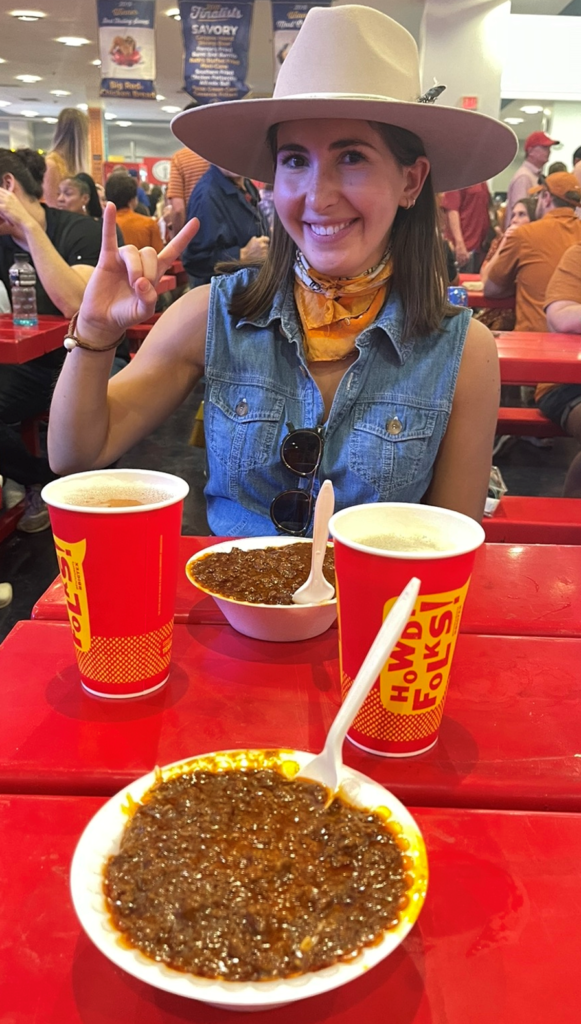 Singing the Eyes of Texas in the Cotton Bowl after beating the Oklahoma Land Thievin' Sooners is the best.  Sharing it with family is even better.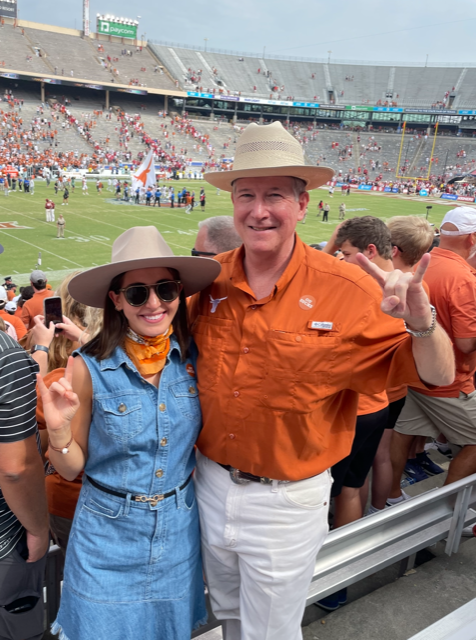 Texas Basketball
We are about 3 weeks from the start of college basketball season and the first games in the Moody Center.  Going to be great.  Coach Chris Beard has his Horns ready to make a run.  More to come on that, but this is important now:  Texas plays an exhibition game against Arkansas on October 29 at 3:00 p.m.  Yes, exhibition game, but important for the team and the program and the first game in front of fans in the Moody Center.  If you are a season ticket holder, you got an email about the game. Get your tickets and go to the game.  If you can't go to the game, get your tickets and give them to Longhorn fans.  Let's get a good Burnt Orange turnout to open the Mood.
Big XII – Week Seven
Thursday night, Baylor played at West Virginia.  One heck of a football game, but the Brazos Baptists couldn't overcome their mistakes and the Mountaineers made it 6-0 in Morgantown against Baylor with a 43-40 win to drop the Bears to 1-2 in Big 12 play.  This conference is crazy.
Saturday, No. 19 Kansas in Norman to play the Land Thieves.  11:00 a.m. on ESPN2.  Oklahoma favored 9, and the over/under is 62.5.  Okay. This is 2022's Cinderella America's Team and after one loss they are 9 point road dogs to the Land Thieves who got shut out for the first time in a quarter century?  Vegas, you weird.
No. 8 Oklahoma State at No. 13 Texas Christian, 2:30 p.m. on ABC.  Both teams 5-0, which is pretty amazing.  I was surprised when lined opened at Frogs minus 1, and then moved to -3.5.  Late Thursday night, Texas Christian favored by 4, and the over/under is 68.5.
Top 25 – Week Seven
No. 5 Michigan hosts No. 10 Penn State in the Big House in Ann Arbor.  11:00 a.m. on FOX.  Wolverines favored by 7, and the over/under is 50.5.  Wolverines and Nittany Lions both 5-0, and any hope either has for a spot in the Big 10 Championship game will require a win in this one.  Go Big Blue!
No. 9 Ole Miss (6-0) gets a mediocre Auburn team in Oxford. 11:00 a.m. on ESPN.  There are 4 Power 5 schools where 11:00 a.m. games should be prohibited:  Ole Miss, Louisiana State, Tennessee, and Texas.  I will entertain your thoughts on others with equally great tailgating and pre-game experiences (Pac 12 doesn't count; y'all almost never have to worry about a true morning game).  If elected, kick-offs before 2:30 p.m. will be prohibited, and further, in September in Texas, kickoffs before 6:30 p.m. will never happen.  Rebels favored by 15, over/under is 62.5. Hotty Toddy!
Minnesota at No. 24 Illinois. 11:00 a.m. on BTN.  Both teams with just one loss.  Interesting that Minnesota is favored by 6.5; over/under is 39.5.
Vanderbilt at No. 1 Georgia.  2:30 p.m. on SECN.  This one could get ugly.  Bulldogs favored by 38, over/under is 58.5.
Game of the Day in Knoxville: No. 3 Alabama at No. 6 Tennessee.  2:30 p.m. on CBS.  Nick Saban has never lost to the Volunteers, and the Alabama win streak is at 15.  Interesting that before Nick got to Tuscaloosa, Tennessee had won 10 out of 12 (with Bama's 2005 6-3 win vacated).  That Volunteers winning stretch was keyed by a 1995 win behind Peyton Manning, and highlighted by Tennessee's undefeated national championship season of 1998.  This series has been one of streaks:  1971 to 1981, 11 wins in a row under Bear Bryant; then Johnny Majors led Tennessee to 4 in a row; 1986 to 1994, Alabama won every official game (a 1993 tie was forfeited by Alabama),  Tennessee is coached by Joshua Kenneth Heupel, whose alma mater got ass whipped by the Real UT 49-0 last Saturday.  One can trust that for the Third Saturday in  October, unlike the Second Saturday, Josh is hoping for an orange victory over crimson.  Alabama favored by 7; over/under is 66.
No. 15 North Carolina State at No. 18 Syracuse.  2:30 pm on ACCN.  Did you know that the Orange were undefeated?  Me neither.  Syracuse favored by 3.5; over/under is 42.
No. 25 James Madison at Georgia Southern, 3:00 p.m. on ESPN+.  JMU favored by 12; over/under is 67.  Don't be surprised if the Dukes run the table in the regular season.
No. 4 Clemson at Florida State, 6:30 p.m. on ABC.  The Seminoles' woes continue, as Mack Brown just beat them and dropped them to 2-2 in ACC play.  It won't be any easier this week.  Although Clemson is favored by just 3.5; over/under is 51.
No. 16 Mississippi State at No. 22 Kentucky.  6:30 p.m. on SECN .  Bulldogs are road favorites by 4, over/under is 49.
No. 7 Southern Cal at No. 20 Utah, 7:00 p.m. on FOX.  This will be a darn good football game, as it will be Riley's Trojans first really tough road game with a quality opponent.  The Utes play well at Rice-Eccles Stadium.  And Southern Cal is a road dog.  Utah favored by 3.5; over/under is 65.
Week Seven:  Service Academies
Friday night, Navy at Southern Methodist, 6:30 p.m. on ESPN.  Both teams 2-3, but the Midshipmen are 2-1 in American Conference play while the Mustangs are 0-1.  Southern Methodist favored by 12.5, over/under is 57.
Colgate at Army, 11:00 a.m. on CBSSN.  No line.  The Black Knights should beat the Raiders handily.
Air Force at UNLV, 9:30 p.m. on CBSSN.  Falcons favored by 10, over/under is 50.
Coming into the weekend, Rushing Offense in FBS:  No. 1 Air Force with 352.1 yards per game (and 2,113 total, nearly 500 more than Alabama at 1,545), No. 2 is Army at 286.8 yards per game, and Navy is No. 12 at 231.8 yards per game.
Week Seven:  Other Games of Interest
Friday Night
UT San Antonio will be in Miami to play Florida International.  7:00 p.m. on CBSSN.  Roadrunners are favored by 33.5, over/under is 63.  Roadrunner QB Frank Harris No. 1 in the nation in  total offense with 375.2 yards per game.
Saturday
Miami (OH) at Bowling Green, 11:00 a.m. on ESPN+.  Redhawks need a MAC win, sitting at 1-1.  Miami favored by 7, over/under is 45.
Arkansas at Brigham Young, 2:30 p.m. on ESPN.  Hogs now 3-3, Cougars 4-2.  Week 3, Arkansas was No. 10 and Brigham Young was No. 12.  Line was even Thursday night late. Over/under is 67.
Texas State at Troy, 2:30 p.m on ESPN3.  The Bobcats are coming off a big 36-24 win in San Marcos last Saturday over Appalachian State who, in Week 2, beat Texas Agricultural & Mechanical 17-14 in College Station.  Troy favored by 16.5, over/under is 47.
Wisconsin at Michigan State, 3:00 p.m. on FOX.  Spartans looking for a Big 10 win.  Badgers favored by 7.5, over/under is 59.5.
Arizona at Washington, 4:30 p.m. on the PAC12 network.  Both teams 1-2 in conference.  Huskies favored by 14, over/under is 73.
Rice at Florida Atlantic, 5:00 p.m. on ESPN+.  Owls are 4 point road dogs. Over/under is 56.
Louisiana State at Florida, 6:00 p.m. on ESPN.  Gators favored by 2.5, over/under is 45.5.
Stanford at Notre Dame, 6:30 p.m. on the stations and streaming platforms of the National Broadcasting Company.  Irish favored by 17, over/under is 53.5.
Nebraska a surprising 2-1 in Big 10 play, at Purdue, 6:30 p.m. on BTN.  Purdue also 2-1 in the Big 10.  Boilermakers favored by 13.5, over/under is 56.5.
Memphis Tigers at East Carolina, 6:30 p.m. on ESPNU.  Pirates favored by 5.5, over/under is 58.
North Carolina at Duke, 7:00 p.m. on ACCN.  Coach Brown and his Tarheels favored by 7, over/under is 67.5. Good luck Mack!
Washington State at Oregon State.  8:00 p.m. on PAC12 network.  Both teams 1-2.  Corvallis is a tough place to play at night.  Beavers favored by 3.5, over/under is 52.5.  Good luck Eric!
Washington & Lee Generals
The Generals won easily in Greensboro, beating the Guilford Quakers 31-6.  W&L rushed 78 times for 411 yards on Saturday, while the Quakers ran for 16 yards on 14 attempts.  The Generals didn't complete a pass.  Guilford did throw for 201 yards and a TD.  Carrying the Ball for the Generals:  Harry Crutcher (Dallas Cistercian), 148 yards on 29 runs with 3 touchdowns; Eli Hildebrandt (QB), 93 yards on 13 carries, and Jacob Romero 11 rushes for 65 yards and a score.  Four other Generals were in double digits.  Linebacker David Onyejekwe, a biochemistry major, led the W&L defense with 7 tackles (5 solo).
W&L has another roadtrip weekend, heading down to Ferrum College in Franklin County, Virginia, south of Roanoke.  Ferrum is a small Methodist school with under 800 students, founded in 1913 as a private primary and secondary school, becoming a junior college in 1940, and then a four year school in 1976.  Notable alumni I recognized:  Billy Wagner, who pitched for the Braves, Red Sox, Mets, Phillies, and Astros, and Chris Warren, running back for the Seahawks, Cowboys, and Eagles.
The Ferrum Panthers joined the ODAC in 2018.  They have not found much success, and this year has been abysmal so far, winless for 2022.  41-9 loss to Virginia-Wise, 31-3 loss to Muskingum, 44-38 loss to Lagrange, 20-0 loss at Shenandoah, and a 35-16 to Hampden-Sydney.
W&L is No. 6 in D3 Rushing Offense averaging 313 yards per game.  Ferrum is No. 203 in D3 Rushing Defense allowing 203.2 yards per game.  That's pretty much all you need to know.
Texas Volleyball
The No. 1 Texas Longhorns volleyball team remains undefeated.  Texas swept K State Wednesday night 25-16, 25-17, and 25-13.  The Longhorns play No. 18 Baylor in Waco at 2:00 p.m. on Saturday.  Baylor is 4-1 and 14-3 overall.  Big game.
Good Stuff
Red River Shootout Highlights in Spanish
On Sunday, Dicker the Kicker hit a game winning field goal for the Eagles to beat Land Thief Kyler Murray's Arizona Cardinals.  Karma.  Take the loss.  Justin Tucker also kicked a game winner for Baltimore.
Smattering.  There is a new photo and usage sentence in the dictionary for the definition of a smattering.  "In the fourth quarter against Texas, there was only a smattering of Sooner fans left in the south half of the Cotton Bowl".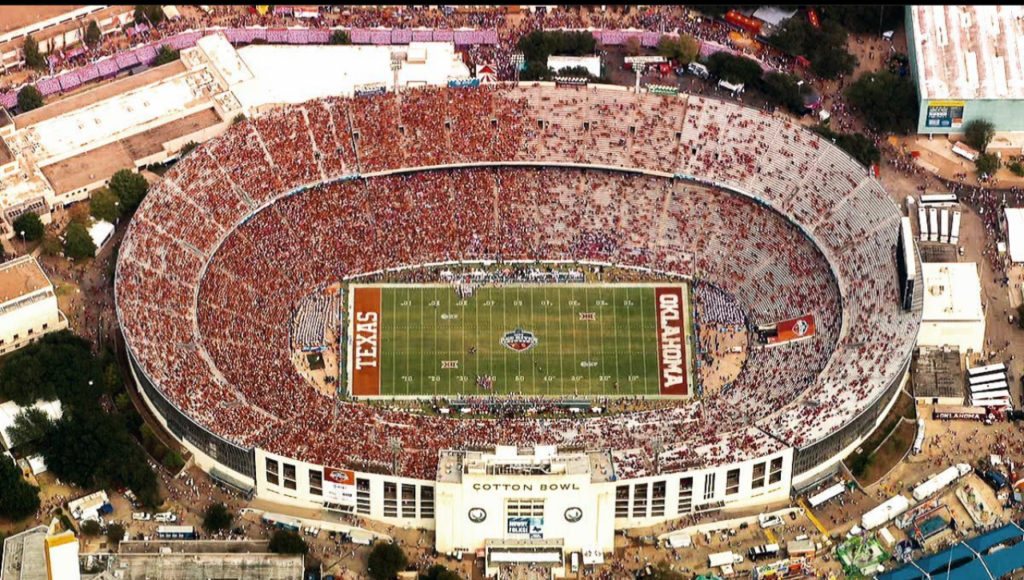 Big XII – Week Six
The Horned Frogs survived in Lawrence, defeating Kansas 38-31 in game with 56 points scored in the second half.  Each team scored 21 in the third quarter and 7 in the final frame.  Max Duggan stayed hot – 23/33, 308 yards, and 3 touchdowns through the air, plus 55 yards rushing and a touchdown.  Jayhawks quarterback Jalon Daniels was injured in the first half; back-up Jason Bean was 16/24 for 262 yards and 4 TDs with one pick.  Texas Christian is really good.
Texas Tech had the lead at No. 7 Oklahoma State at halftime, 24-20, but Spencer Sanders spurred the Cowboys to a 41-31 win.  And I questioned the 9.5 point line.  Sanders had 297 yards and 1 touchdown passing plus 56 yards and 2 touchdowns on the ground.
No. 20 Kansas State 10-9 over Iowa State at Jack Trice Stadium.  Kansas State was favored by 1.5.
Top 25 – Week Six
Texas Agricultural and Mechanical University gave No. 1 Alabama all it could handle and then some.  The Fighting Texas Aggies ran out of time and fell short 20-24.  Alabama overcame 2 fumbles by Jalen Milroe and an interception plus another fumble and 73 yards in penalties, then got the no-call when they most needed it.  Looked familiar.  Jahmyr Gibbs ran for 154 yards, while the Tide held Achane to 62 yards.  A reasonable good night by Haynes King, but Alabama remains undefeated and Texas Agricultural and Mechanical drops to 3-3 and 1-2 in the SEC.  But, hey, the Aggies covered!
No. 2 Georgia 42-10 over Auburn in the Deep South's Oldest Rivalry.
Ohio State cruised to a 49-20 win in East Lansing over Michigan State.
Indiana had Michigan tied at 10 at half, but Big Blue with 21 unanswered in the second half to stay perfect.  Hoosiers did cover.
Clemson 31-3 over Boston College.
Southern Cal with a big 30-14 win over Washington State.  Lincoln Riley seems to have settled in nicely in LA.
Tennessee is better than I realized.  3 point favorites at Louisiana State University, and the Volunteers with a big 40-13 win, despite Tiger QB Jayden Daniels throwing for 300 yards and a TD.  Problems for Louisiana State:  Daniels also threw an interception and was the Tigers' leading rusher with 38 yards.  Hard to win in the FBS with 55 yards on the ground.  Especially when you give up 263.
Hotty Toddy!  Vandy gave Ole Miss a first half scare, but the Rebels woke up in the second half and outscored the Dores 35-8 to get a 52-28 win in Nashville.
Other than Kansas, not sure any team has surprised me more than UCLA.  The Bruins had 2 votes in the AP preseason poll (for comparison, Alabama at 1 had 1,566 votes; Michigan State at No. 15 had 631) and were "ranked" 45th.  Halfway through the season, UCLA is undefeated after a 42-32 win over No. 11 Utah.  (For those wondering, Southern Cal and UC Los Angeles meet in the Rose Bowl on November 19.  That will be a fun game.)
Oregon Ducks 49-22 over Arizona.
Upset of the day was at Kroger Field in Lexington, as South Carolina took down Kentucky 24-14.
NC State 19-17 over Florida State.
Army at Wake Forest.  The line was Wake by 16.5 and I said "THIS IS THE ONE.  Load up on Wake."  Demon Deacons 45, Army 10.
Big win for the Irish as Notre Dame defeated No. 16 Brigham Young 28-20 in Las Vegas.  Notre Dame covered.
Washington State lost 38-45 at Arizona State.  The Huskies haven't won in Tempe since 2001.  That's a dry spell.
Mike Leach has Mississippi State playing good football.  40-17 over Arkansas.  Will Rogers, the Bulldog quarter back, threw for 395 yards and 3 touchdowns.  Mississippi State ran for 173 too.  And it wasn't that Arkansas was terrible – 242 yards passing and 241 rushing.
Cincinnati 28-24 over South Florida.  Meh.
Week Six:  Service Academies
Army game is above.
Navy was a 6 point underdog at Tulsa and cruised to 53-21 win, with a 26 point second quarter and 36-14 halftime lead.  Navy passed for 35 yards; Navy ran for 455 yards and 5 touchdowns.  Tulsa rushed for 25 yards.
Air Force goes down at Utah State 27-34.  Tough loss for the favored Falcons.
Week Six:  Other Games of Interest
Tough Friday night for the Memphis Tigers.  Leading 20-7 after three quarters, Holgo and the Cougars unleashed a barrage and scored 26 points (including a 100 yard kickoff return) to beat Memphis 33-32.
Oh Virginia.  C'mon Hoos!  Louisvile 34-17 over the Cavaliers.
Miami Redhawks beat Kent 27-24 and cover.
North Carolina 27-24 over Miami (Florida).  Good win for Coach Mack Brown and his Tarheels, who were 3.5 point underdogs.
UTSA 31-28 over Western Kentucky.
In San Marcos, Texas State beat Appalachian State 36-24.  The Mountaineers beat Texas Agricultural & Mechanical 17-14 in College Station in Week 2.  Bobcats were 19 point underdogs.
UTEP 31, Louisiana Tech 41., 6:00 p.m. on ESPN+.  Miners are 3 point underdogs, over/under is 52.5.
Oregon State at Leland Stanford Junior University.  I was enjoying a celebratory bottle of Darioush Shiraz Saturday night, and enjoying this game.  Lots of Stanford friends.  The Cardinal had a 24-10 lead after three quarters.   The Beavers with 18 points in the final frame to take down Stanford 28-27.  Tough loss.
Music
Grupo Fantasma is one of the best musical groups in Austin.  A nine piece Latin funk orchestra.  They will be playing Longhorn City Limits after the Texas win.  Stop by and check them out. Really good.
Nada, on Austin City Limits
Mulato.  A good introduction.
Cayuco
Listening to GF always sends me looking for some of my other Latin jazz favorites. Tito Puente may be my very favorite.
Tito Puente, Oye Como Va
Tito Puente, Five Beat Mambo
Picture of the Week
Okay, I am a lot superstitions.  Go follow @jtype on Instagram.  The Hunter's Moon over Austin.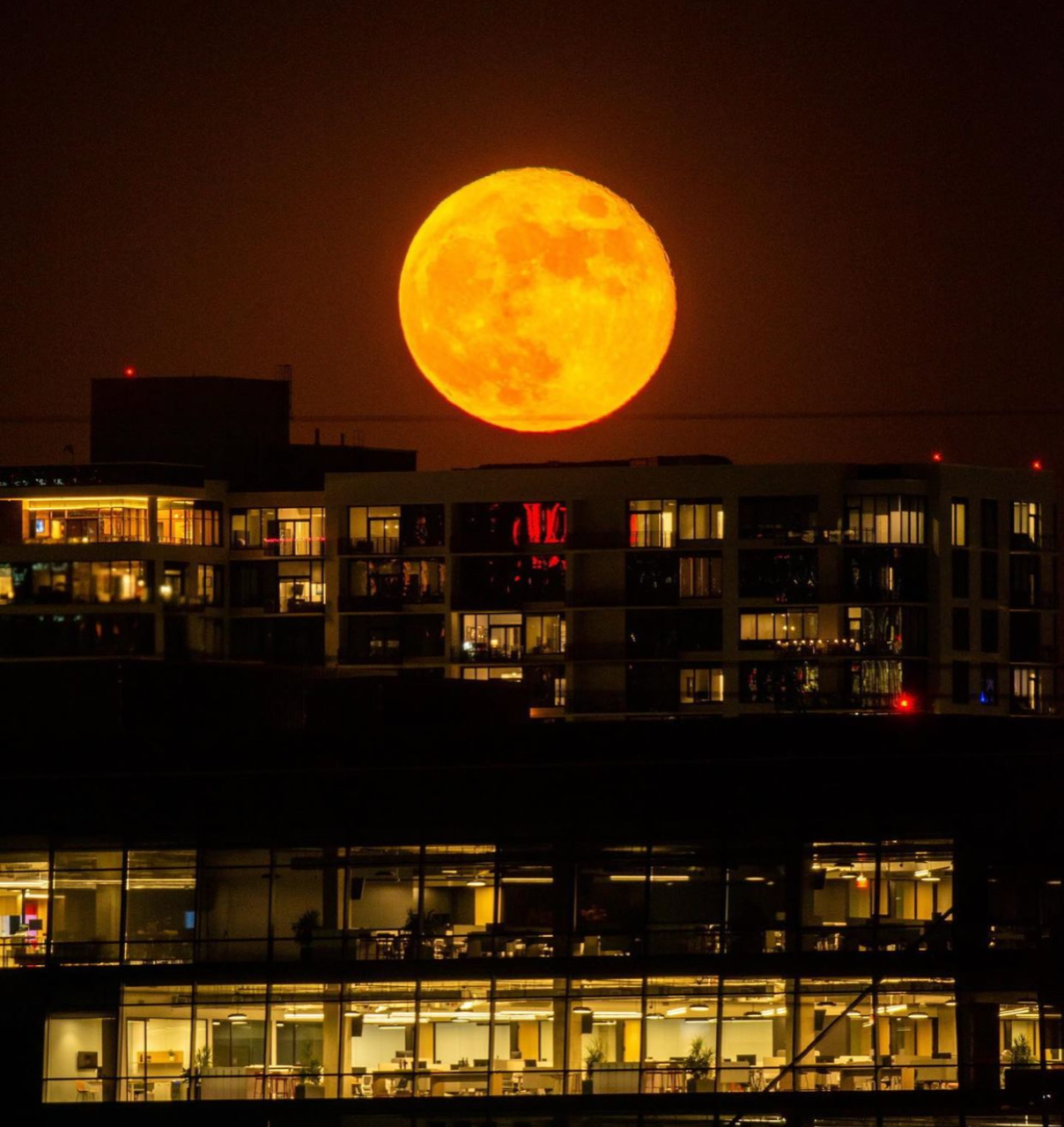 Source:  @JType on Instagram.
God Bless Texas
God Bless America
 Tim Taylor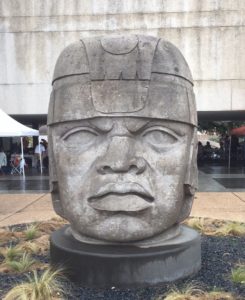 Tailgating before Home Football Games
The Juan Heisman Tailgate
Lot 38, East of Sid Richardson Hall.
HOOK EM HORNS!!
© Timothy C. Taylor, Sr. 2022.  All Rights Reserved (as to original material).
On Twitter:  @tctayloratx
On LinkedIn:  www.linkedin.com/in/tctatx
On Instagram:  @tctayloratx
On Facebook:  www.Facebook.com/Tim.C.Taylor
and:  www.Facebook.com/Juan.Heisman
You can contact me by mail:
Tim Taylor
P.O. Box 5371
Austin, Texas  78763-5371